HKG-LHR-HKG Air New Zealand, Premium Economy and Economy
When looking for a flight back from China to London, I came across this brilliant fare (600 GBP) with Air New Zealand on the Hong Kong to Heathrow route, outbound in Premium Economy, return in normal Economy. I jumped at the chance to once again fly on the upper deck, even though flying from Hong Kong wasn't particularly convenient. From Beijing, I took the train down to Shanghai, then (as I had the time), did an 8 day detour through the Philippines (Shanghai-Manila-Caticlan-Cebu-Hong Kong), before my London flight.
Hong Kong (HKG) - London Heathrow (LHR)
25th January 2008
NZ 39 (Air New Zealand)
0815-1335 (Scheduled), 13h20m
0843-1356 (Actual), 13h13m
Premium Economy (Upper Deck)
Boeing 747-400, ZK-NBW (Wellington)
The day started early, with me getting up at 4.20am, then getting a bus from Kowloon to the airport at just after 5am. The bus (N21) takes about an hour, and does a detour though all the cargo areas (affording some good views of the ramps if you sit upstairs). The weather this morning was rubbish, and it was still before dawn, so there wasn't much to see. The bus was pretty full, mostly with airport workers. As we approached the terminal, I saw the lovely inbound aircraft just docking towards the far end of the terminal.
NZ 39 is a one stop flight from Auckland to London, with a stop in Hong Kong, which is where I joined the flight. As a result of the flight arriving overnight from New Zealand, it leaves much earlier than most HK-London flights (most depart around midnight (British Airways (3), Virgin (1), Cathay Pacific (2) and Oasis Hong Kong (1)). Qantas has a flight from Melbourne to London via HKG which was scheduled for 0800, but ended up leaving late (just before we did), and arriving, I'm delighted to say, after we did at LHR. Cathay Pacific have two flights leaving during the day as well (around 9am, and 2pm I think). Oasis Hong Kong also have a daytime flight leaving early afternoon. This makes a total of twelve flights a day, with six airlines, from HKG to London, which I think is the busiest Asia-Europe route (maybe excluding London-Dubai). At any rate, it has the largest choice of airlines.
QF 29 to London from Melbourne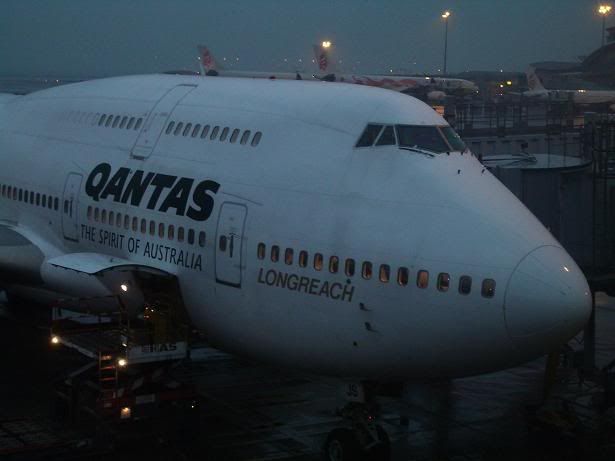 NW 2 to Los Angeles via Tokyo
NZ 39 to London from Auckland
Check in was very empty, with just one couple at the Business desk, one other guy at Premium Economy, and four people at Economy. I was given my assigned upper deck seat, and was on my way though immigration and security without any problems. Unlike in Europe, most Asian airports don't seem to wake up until 9 or 10am, and most of the shops only opened at 7am or half past, so the terminal was pretty boring, and with the poor weather, and lack of light, spotting less than satisfactory. Despite the really nice architecture of the (relatively) new HKG terminal, I'm not a great fan. Singapore Changi is much better in my opinion, with loads of shops (good value, and open 24 hours many of them), even though the terminals are a bit lackluster visually. HKG did have free internet though.
Departures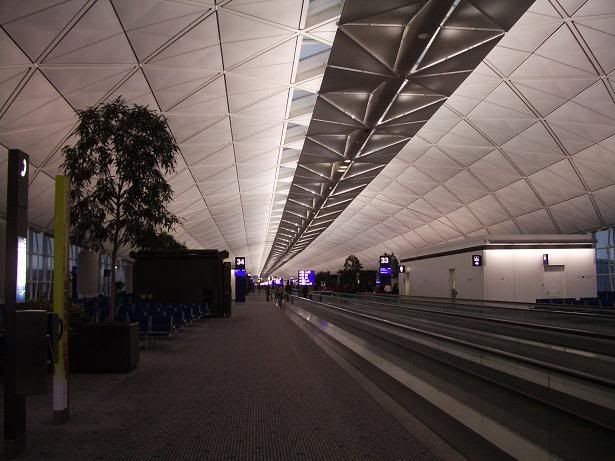 Boarding started at 0745 with a big queue for economy, but none for premium passengers. I was warmly greeted at the aircraft door, and pointed the way up the stairs. I had a look out for some magazines or something, but there only seemed to be golfing magazines. There were no newspapers either at the gate or offered on board which was a bit disappointing. Each seat had a bottle of water, a pair of noise cancelling BOSE headphones, a blanket and a pillow.
The upper deck of ANZ 744s are split between Business (5 rows, 10 seats, in front of the doors, in a 1-1 arrangement) and Premium Economy (5 rows, 23 seats, in a 3-2 arrangement). There is no curtain separating the two. There are also two smaller Premium sections on the main deck, each with eight seats.
Upper deck Business Class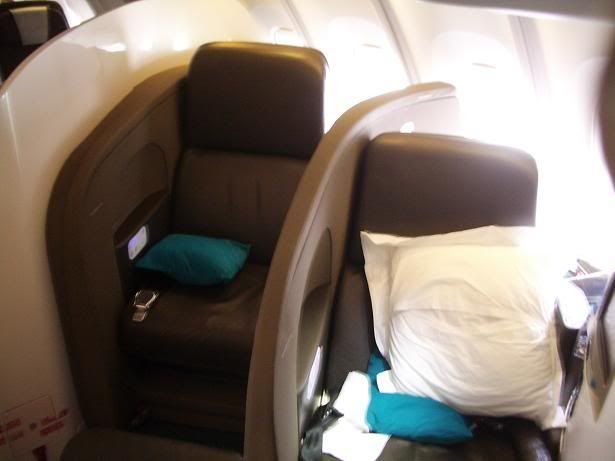 Upper deck Premium Cabin (after landing)
Lower deck Premium Cabin
As always on the upper deck, there is a handy cabinet next to each window seat. It was my first time in premium economy and long haul Air New Zealand, so I wasn't really sure what to expect from either the seat itself, or service. The seat was a little wider than standard economy, but there is a lot more legroom (40 inches), so there was a lot of room. The tray tables are in the arm rest. The TV screen is the same time as in economy (8.4 inches I think).
Welcome Drink
Once most of the passengers boarded, the crew came round with a choice of orange juice, water or sparkling wine. The last passenger to board, an elderly woman who had got a bit lost in the transit area, ended up as my neighbour. 19 of the upper deck seats were taken.
The taxi to the runway was a bit slow, and we finally rotated nearly half an hour late. The weather hadn't cleared, and for the first twenty minutes or so, there clouds were pretty thick and there wasn't anything to see. Once the seatbelt sign was extinguished, the crew came though with menus. It became clear quite soon that premium economy isn't so much an upgraded economy, but a downgraded business class. The same cabin crew served both, and the food and drink options were practically identical. Difference at meal times were quite minor – premium are served on semi-preset trays, whilst business had their table set etc. During meal services, the crew would start at the front of the business section, and then carry on though premium serving and offering the same stuff. To all intents and purposes, it was business class service. Business class have better 'hardware' (e.g. duvet, washbag), as well as a comfortable looking flat bed.
Before breakfast was served, a choice of fruit juices and smoothies were offered (the smoothie was very nice – orange and mango).
Breakfast was served in four parts - fresh fruit and yoghurt, then a choice of cereals, then the bread basket was brought around.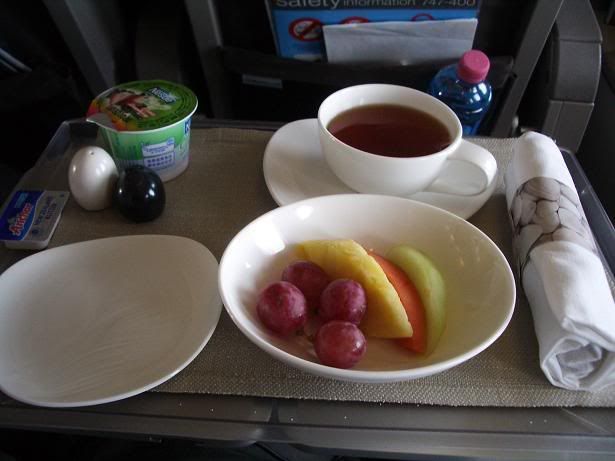 Finally, there was a choice of three hot meals (Crab and potato cake with poached eggs, beef filet and chicken tenderloin with mushroom ragout, and prawns and egg noodles).
I had the crab and potato cake which was really good. And the eggs – they were actually runny; I couldn't believe it! Very tasty. A very large and filling breakfast.
In an effort to relieve some the impending jetlag associated with an eight hour time difference, I then tried sleeping for a few hours. All the window shades were closed, and most of the passengers seemed to recline their seats. It was much more comfortable than normal economy, with the seat having a lot of recline, and a very comfy blanket. I felt that the pillow had a bit too much filling, being almost football shaped.
Mid-flight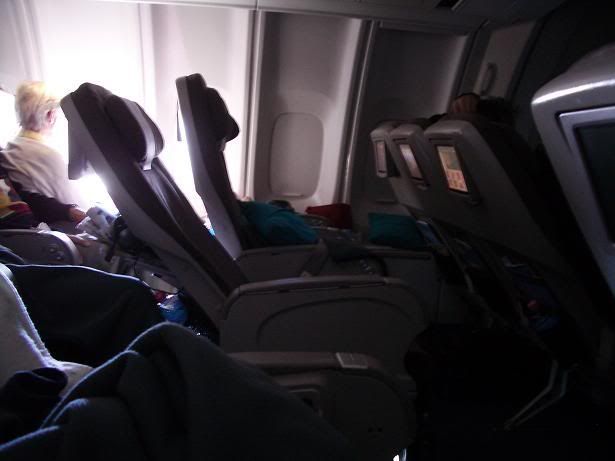 Toilet Amenities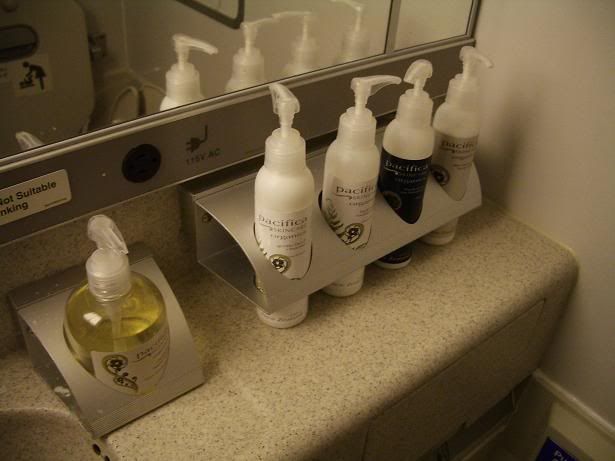 Moving Map
There were a few self service bars set up (one just in front of the upper deck doors, another just on top of the stairs, and anther near door 2L), offering drinks, crisps etc.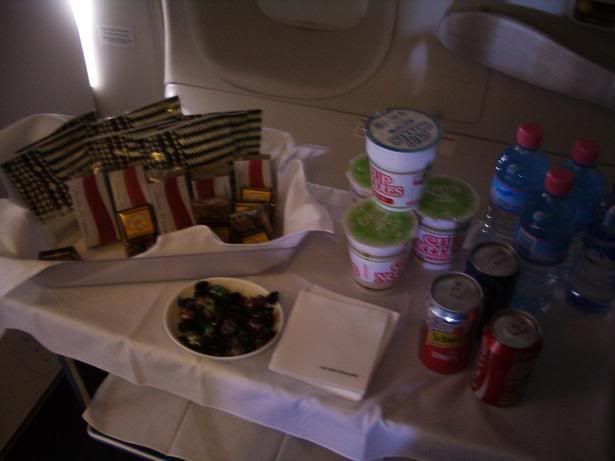 There were plenty of crew around, though as far as I saw, none came though the cabin seeing if you wanted anything. They were fast when you pressed the call button though. I ordered a '42 Below' vodka cocktail, which took a bit of time as the FA had to dig though loads of brochures to find the menu. It was a strange tasting cocktail – certainly unique tasting.
About midway though the flight, the crew started a snack service of sandwiches, cakes and scones with tea or coffee. They did a few rounds until everyone was very full – all very nice, and just what was needed by that time of the flight.
Siberian town mid-way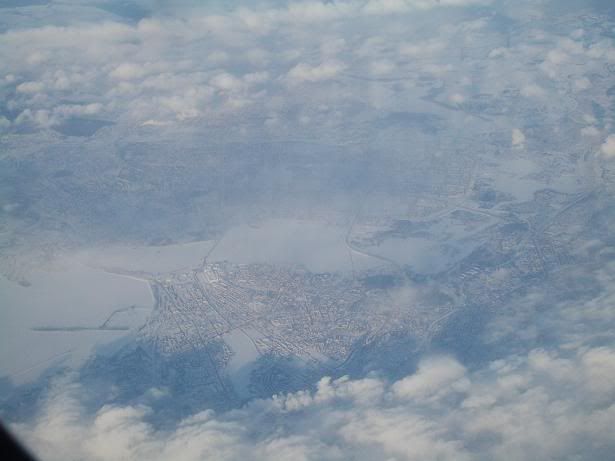 Upper deck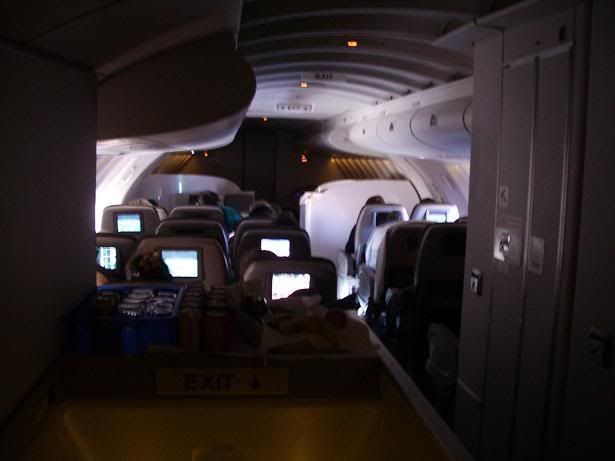 When we reached western Russia, the crew started serving lunch/diner. Starters was seared tuna, followed by a choice of beef, chicken or monkfish.
Tuna starter
Beef
It was the best beef I have had in a while. Following the main course, mango cake, cheese, crackers, grapes and port were offered, along with more tea and coffee.
Approach to London
Route map
London (can you see St.Pauls and the Tate Modern?)
Views of London were good except for the scattered cloud. We landed a few minutes late as we were left circling north London for nearly half and hour.
ANZ has a really cool moving map which includes your location at origin and destination airports.
For once, we didn't have to wait for a gate. Another ANZ B747 from Auckland via Los Angeles was already on stand not far.
Our B744 with the new Heathrow control tower in the background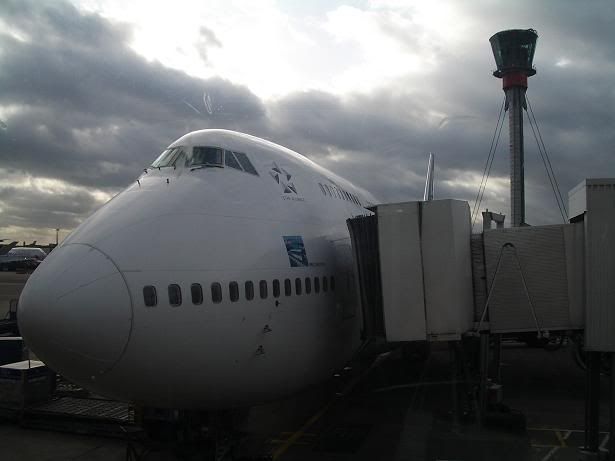 Immigration wasn't too busy, and my luggage was sprinting around the belt by the time I worked out which belt it was meant to be on.
Rating
Seat: 9/10 Very comfortable, thought the pillow was too big to be comfortable. Good legroom.
Staff: 10/10 Courteous, friendly and polite.
Catering: 9/10 Business class standard, with an enormous choice of drinks. They ran out of little bottles of water though mid-flight, which was annoying.
Entertainment: 9/10 A good choice of movies and TV shows, but the personal music playlists were hard to use.
Departure: 8/10 Small check in queue, immigration fast, but nothing to do in the terminal.
Arrival: 9/10 Only a short queue for immigration. 30 minutes from touchdown to the underground. A lot of walking to do though at Heathrow.
Value for money: 10/10 Worth the premium over normal economy (150% airmiles).
Overall (NZ Premium Economy): 91%
Skiing holiday in Laax (not LAX!) in Switzerland in between flights (see my report from London to Zurich and Dublin)
LHR-ZRH-DUB-LHR, Swiss And BMI
(by
Gabrielchew
Feb 27 2008 in Trip Reports)
London Heathrow (LHR) - Hong Kong (HKG)
8th February 2008
NZ 38 (Air New Zealand)
2115-1700 (Scheduled), 11h45m
2137-1706 (Actual), 11h29m
Economy
Boeing 747-400, ZK-NUH
Underground was suffering for its usual Friday evening woes, and so I arrived at Heathrow a little later than I was planning, but still in plenty of time for the 2115 flight to Auckland via Hong Kong. When I found the ANZ check in at the back of the terminal, there was no one there except a flight attendant from BMI who was trying in vain to use a 'Z' ticket (that's what I overheard anyway). The very nice lady at the business class check in didn't charge me for my extra bags. I enquired after the price for a Premium Economy upgrade. She checked, and it came out as costing 300 GBP. Had it been a bit cheaper I would have, but 300 was a bit too much.
Even though Heathrow was a zoo as normal, it still only took ten minutes to get though security and immigration and into the departures lounge.
Departures from one of the T3 piers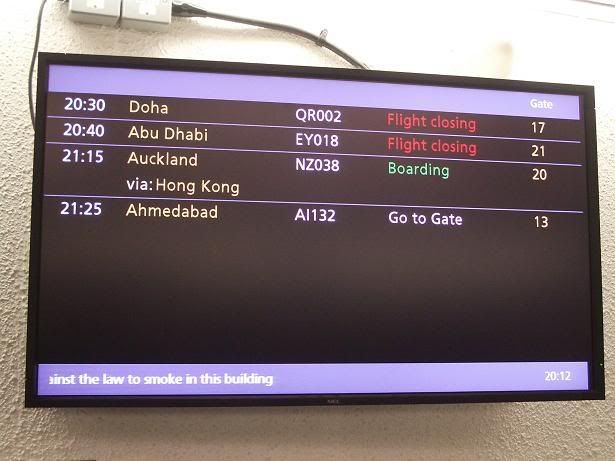 A bad picture of ANZ B744 at the gate
Boarding was from a gate that had far less seating that what could comfortably hold even half a B744, so it was a bit of a squeeze waiting. After about a half hour wait, they called Business class, then families with young children, then Golds and Silvers from Star Alliance, so I went up to board. They were very strict with enforcing who got on when.
At check in, I was told that the flight was full. Thankfully, once boarding had finished, the two centre seats remained empty, so me and the guy on the other aisle had loads of space to spread out. I was sitting in the front of the 'premium' section, which can only be reserved if you have Star Alliance status.
Pacific Economy seating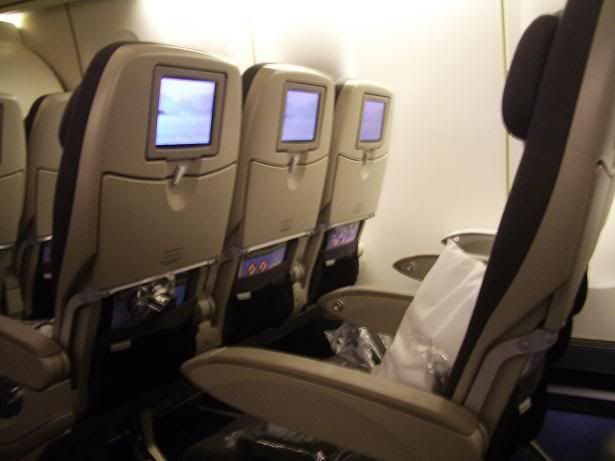 As usual, there was a delay leaving London for whatever reason. We did a loop to the south before turning around to the north of London.
Routing out of London
Once the seat belt signs were off, the cabin crew started the dinner service. There were no menus in economy so the choices were read out over the PA system. There was a choice of lamb or chicken curry. I chose the lamb which was ok.
The food was good, as were the drink choices. The cabin crew kept coming though the cabin with tea and coffee. They even offered Chinese tea in a big china tea pot which I thought was a nice touch.
Once the trays had been cleared, and the lights dimmed, I managed few hours of sleep before breakfast (choice of scrambled egg and sausage or chicken/vegetable tart). I chose the egg and sausage.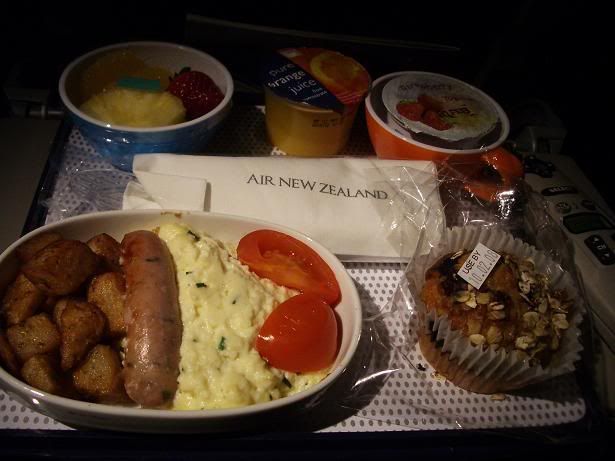 Cabin before breakfast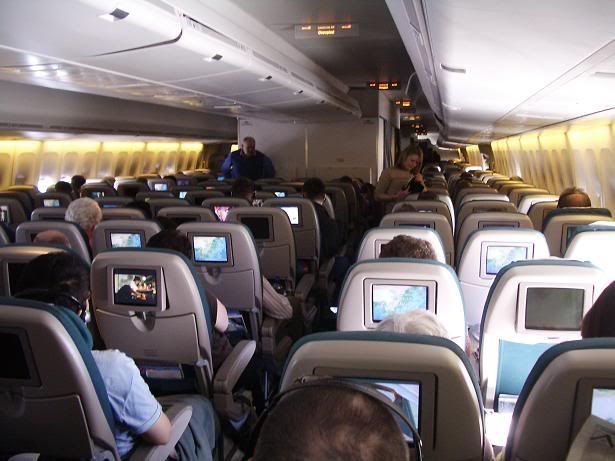 The films were different to those offered on the way out, and the choice was still extensive and pretty interesting. I watched the Nanny Diaries and Paul Merton in China (both worth watching).
Approaching Hong Kong
We landed a few minutes late, but caught up some of the lost time.
Leaving the runway in Hong Kong
On stand in Hong Kong
Disembarkation was fast as I was at the front of economy, and I somehow managed to get a people mover metro car all to myself from the end of the terminal to the baggage claim (all the others were stuffed to the gills).
Immigration was a fast as always, although the bags took a bit of time to come out.
Hong Kong by day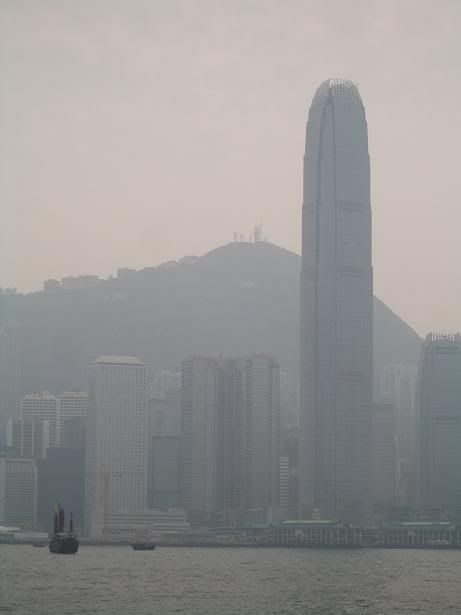 Hong Kong by night (in black and white)
Rating
Seat: 7/10 for an economy seat, it was ok. The adjustable headrest wouldn't stay up. Economy pillows were more comfortable than in Premium Economy, though were covered in cheap cloth.
Staff: 10/10 Excellent as before
Catering: 8/10 The lamb wasn't wonderful, but everything else was pretty good.
Entertainment: 9/10 Excellent selection
Departure: 6/10 The departure lounge at Heathrow was far to small for a B747. A little behind schedule.
Arrival: 9/10 Just a few minutes late. Took about 40 minutes to get out of the airport from landing.
Value for money: 9/10
Overall (NZ Economy): 83%
Overall for the two flights: 87% - Recommended
Air New Zealand is a good way to fly – pity their route network isn't very extensive unless you live in Australasia.