Hello everyone, and welcome to my fourth Trip Report. "Fourth?" you say, well I have a third, about half done, and waiting to be finished. But I decided I'd move along and do the report I've been waiting for.
For those who don't know, last August, Aer Lingus announced that it would be ending it's Shannon-Heathrow route, after more than fifty years of service, and moved, the slots, and aircraft up north, to Belfast fpr the opening of their new base there. This caused huge up roar in the West, especially as the Government turned a blind eye towards the whole scenario, and even our local politicians who vowed to protect the route after it was announced that it would be axed, turned their backs on us in a vote in the Dáil (Irish Parliament) on whether the Aer Lingus (25.3% owned by the Irish Government) should be
forced
to re-instate the route. The vote to to keep it was lost by two votes, thanks to the local councilors in my area.
But this thread isn't about everyone's opinion on the matter, so I will ask you all not to bring it up. This report is about one mans journey on a routing so ridiculous, he has not told his friends about it. Besides, Shannon has moved on, a new route was launched by Air France (operated by CityJet, who actually got Régional to inaugurate the route due to aircraft shortages), thus restoring the connectivity, and giving us even more destinations to connect to. Six new routes will be operated to Shannon from the U.S. thanks to a travel agency. Delta will bring back their ATL route for the Summer, along with US to PHL. So things are looking up.
Now, I was going to welcome you all to my report in Irish, but seeing as this report contains flights to and from Belfast, I've decided for operational reasons
not
to include Irish. Now, my routing with Air Fleet is SNN-LHR, overnight at the Renaissance, then in the morning hop on the first LHR-BFS with EI, then return on the next BFS-LHR, wait for about six hours at Heathrow, and then fly LHR-ORK, and then take a two hour drive home. Crazy, but what the hell. My dad decided to come along as well, after I had booked the flights, but before I had booked the hotel, which ment my nights accommodation was on him.
It all starts on Sunday, January 13th. We take from our house, and drive for twenty minutes until we reach Shannon Airport. I was expecting the media to be there to cover the big event, and as we walked towards the doors to the Departures hall and check in area, I noticed a TV3 news van parked outside the terminal. As we walked in, we noticed that the check in area (which is large, spacious, and overall quite nice) was buzzing, as people gathered around the Aer Lingus check in desks, watching the clown that Ryanair had hired to entertain the passengers. This is what we were greeted with. Beware, some viewers may find this disturbing.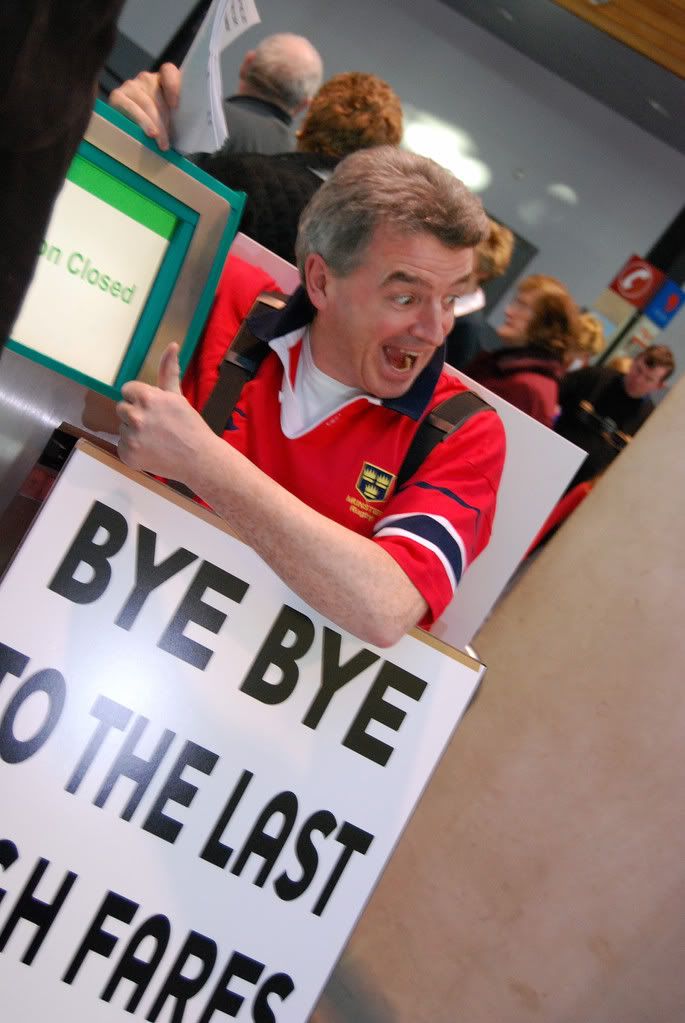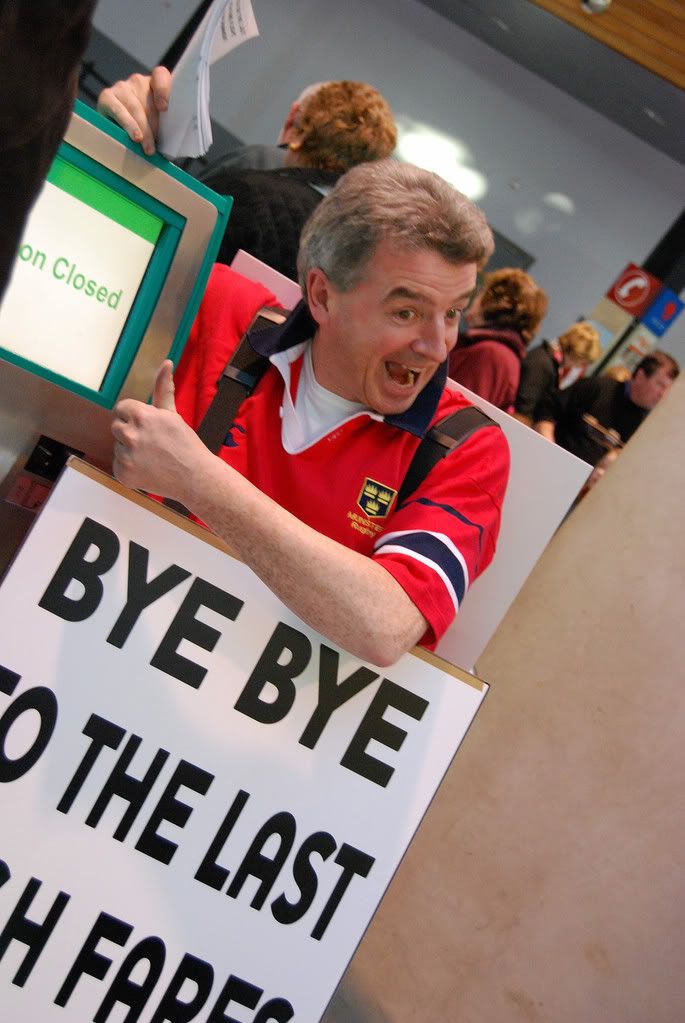 Yes, the King of the Jesters himself was there to hand out free return flights to London with Ryanair. Friendly Eastern European (and good looking) Ryanair girls handed out the leaflets, and told us to go to the Ryanair ticket desk to receive a free flight. My dad and I smelled a rat, and with O'Leary somewhere else arsing around, and I just have having a shower, decided not to take them up on the offer.
We checked in using the Self Service Kiosks (SSK) and selected our seats.
Meanwhile, several fools around the terminal meet-ed and greeted with O'Leary, many having their picture taken with him.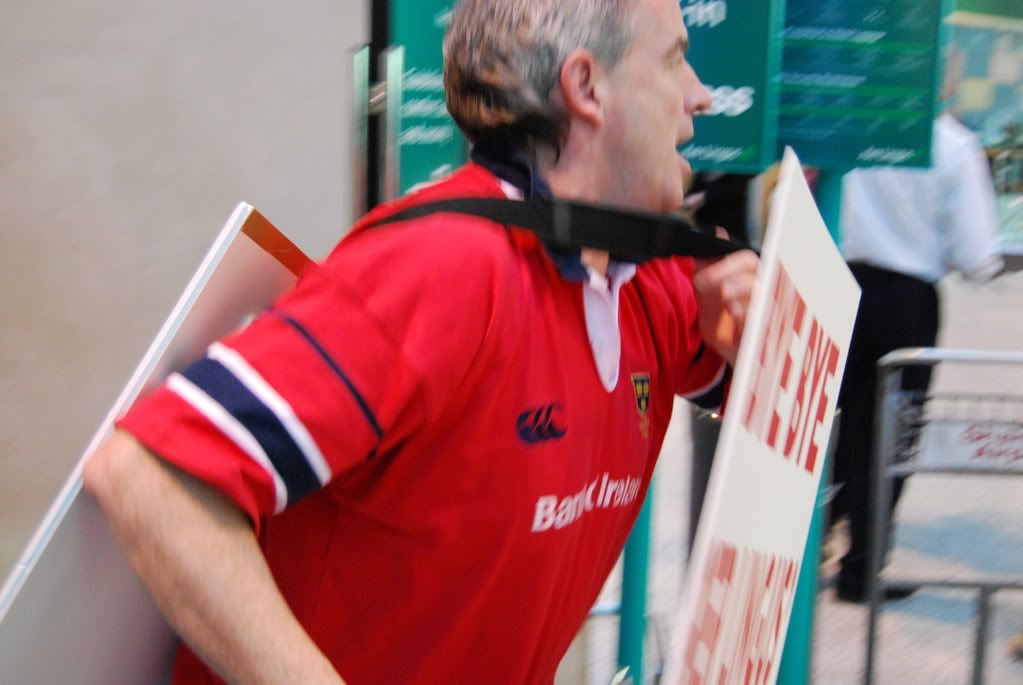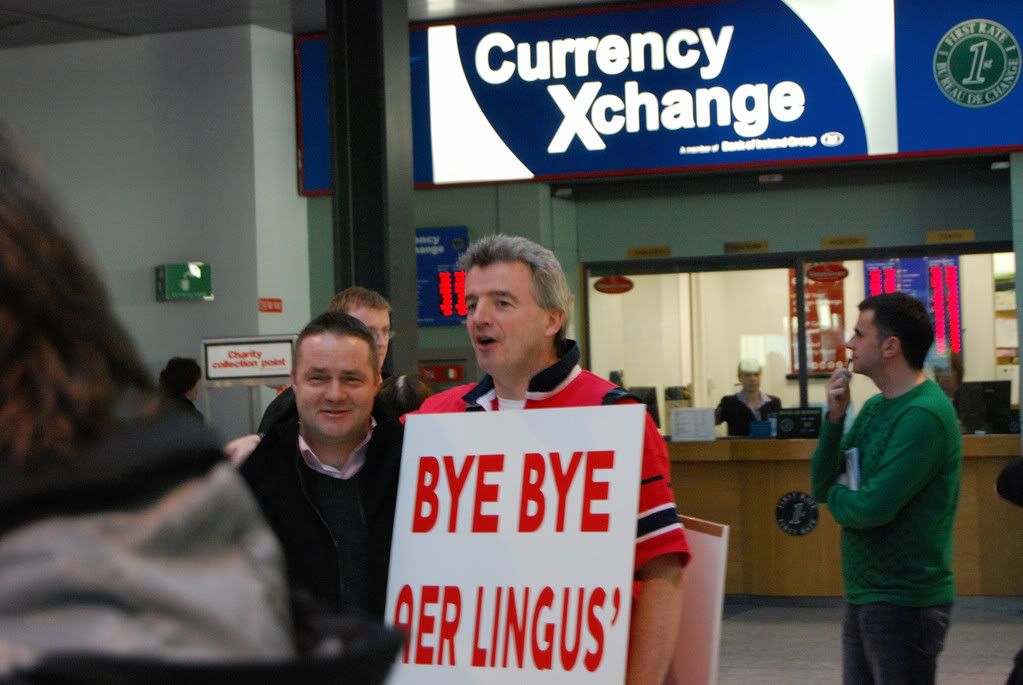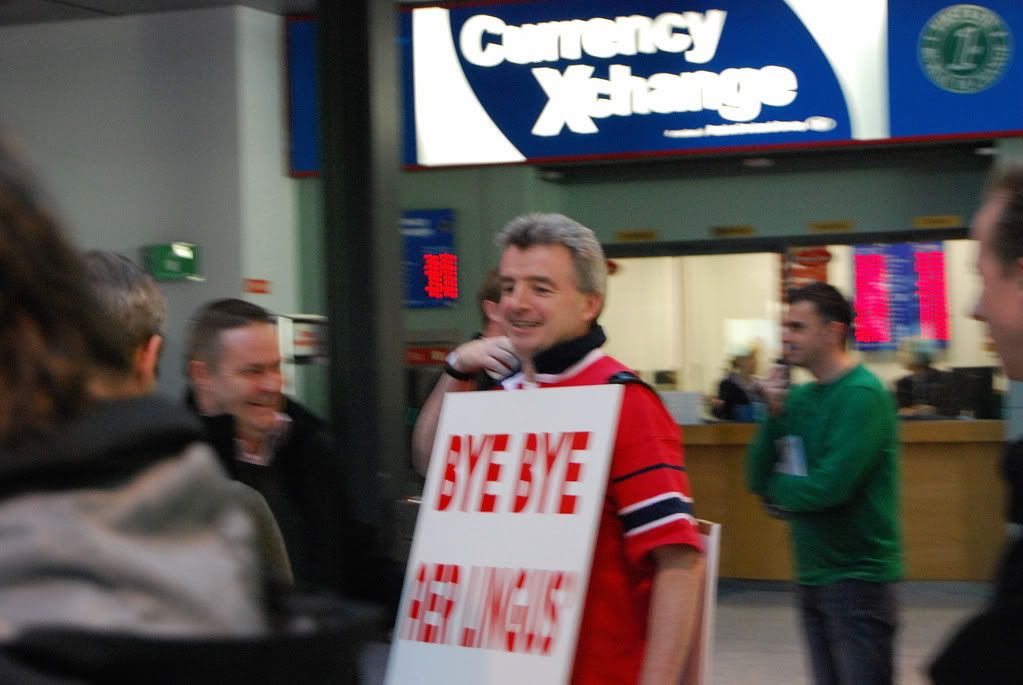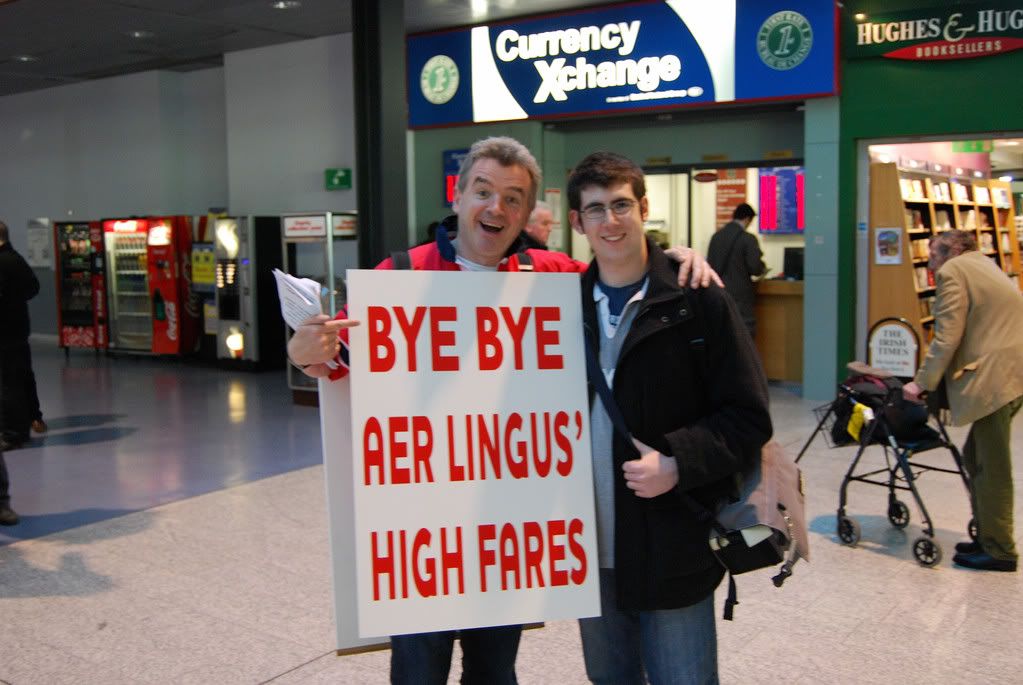 We headed up to security, but my dad realised he had brought his pocket knife with him, and not wanting it taken away, he headed back out to the car, so I took more pics.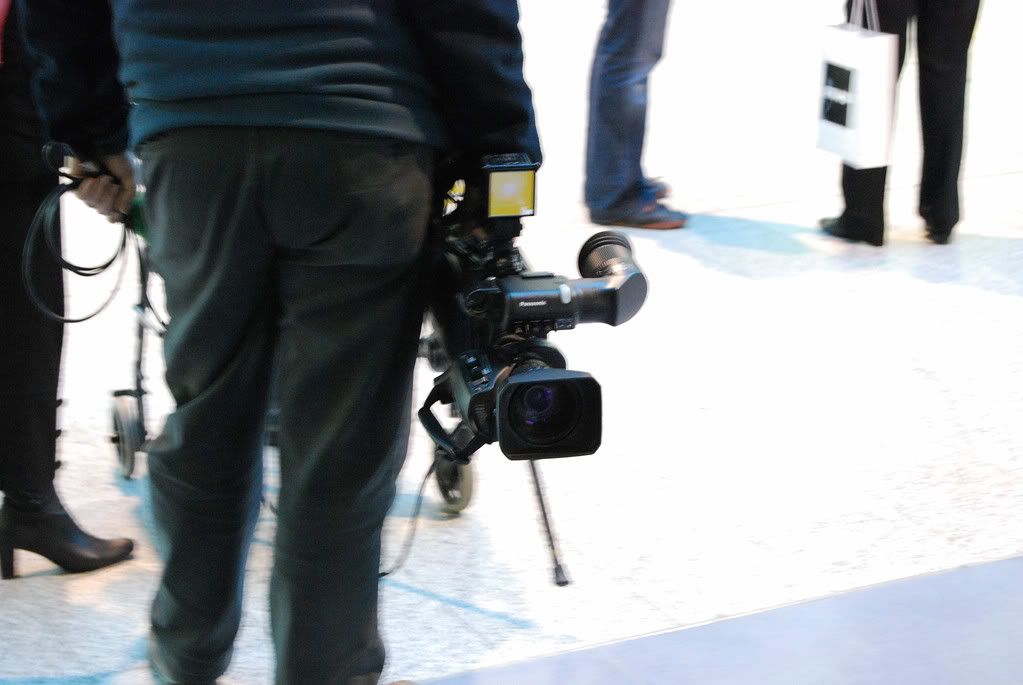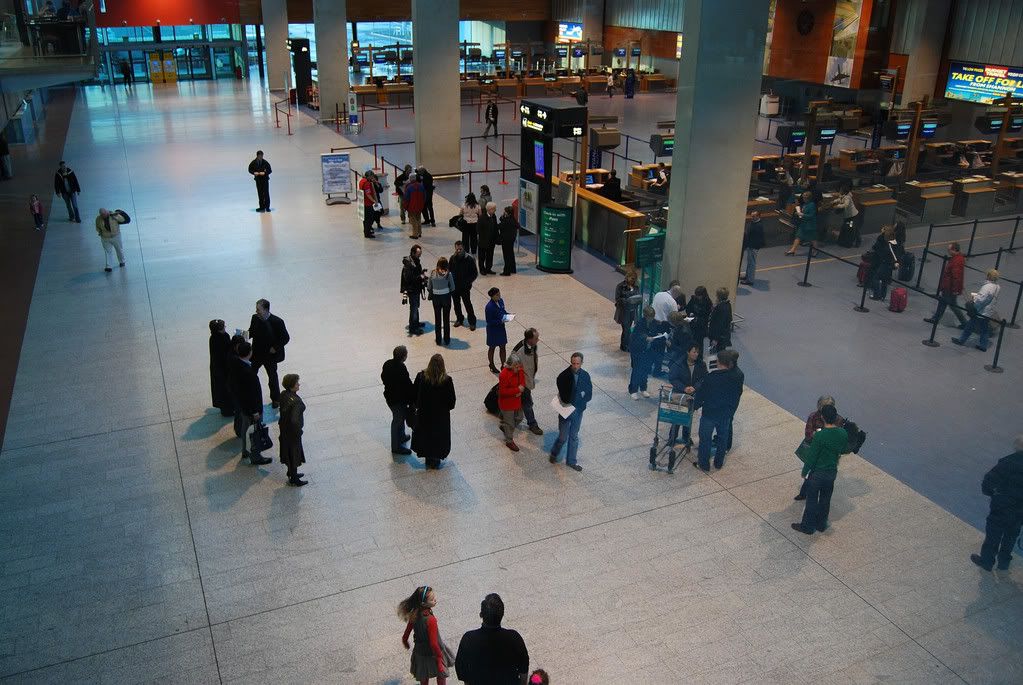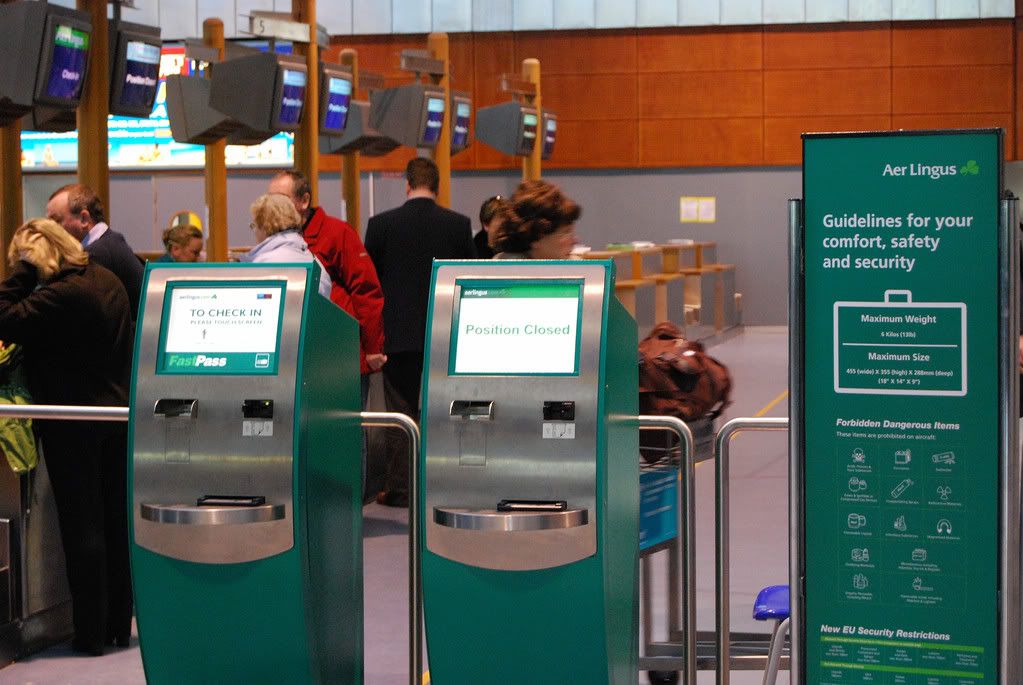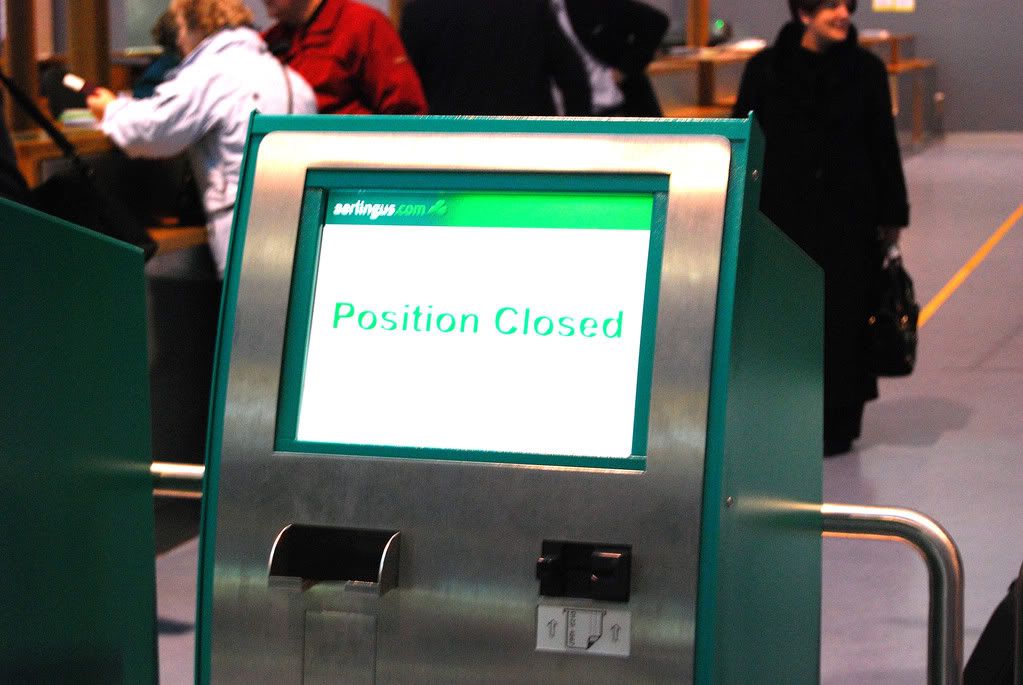 A woman approached me and asked if I would like to photograph the Clare Tourism Board (or something like that) giving an Aer Lingus woman some sort of award for something. I said yes (sure why not like?) even though it didn't mean anything to me. Now, you see, I had a large camera with my (Nikon D40X) which looked quite similar to what the hired photographers were using, and the woman had mistaken me for one of them, and asked which agency I was from, and I told her I was amateur and not with anyone, and then she just walked away. I took two photos anyway, although I'm not sure why.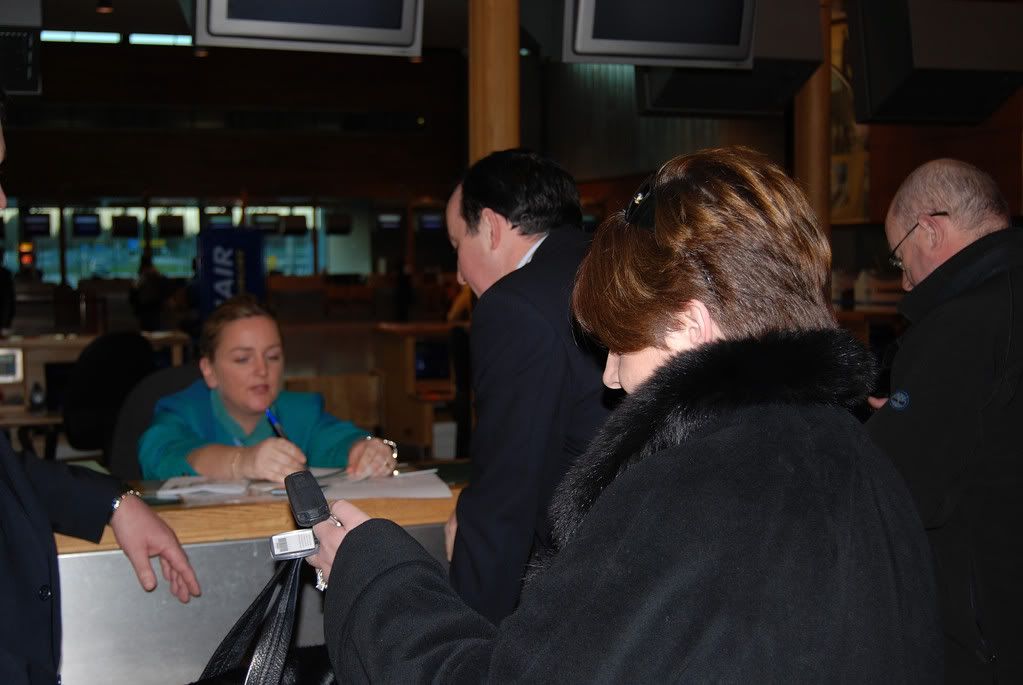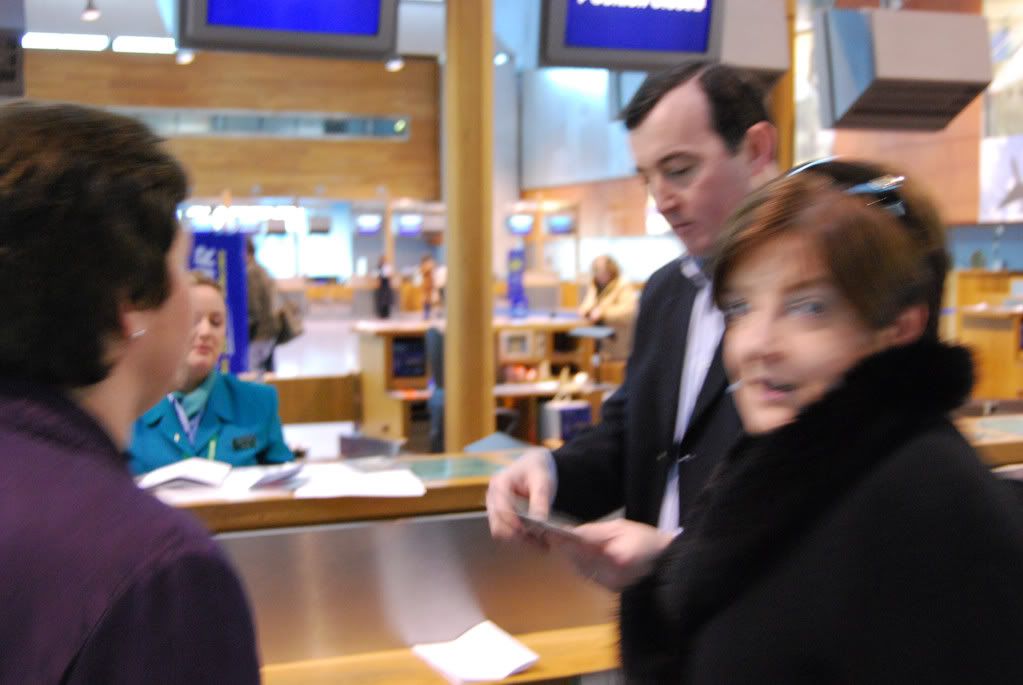 My dad came back, and we headed up to security. We saw this sign along the way.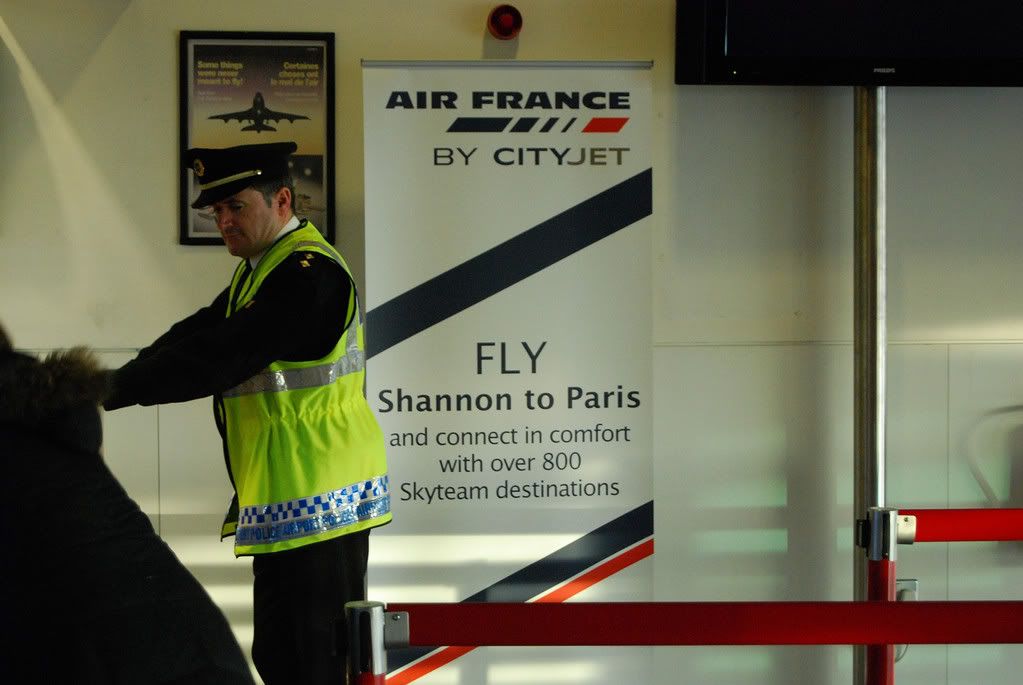 I deposited all my stuff in one of the trays, and walked through the metal detecting yoke. It beeped. I walked back out, and then through again with it beeping, again. So I got the pat down, and the magic wand. They determined that I was not going to be causing some sort of trouble, and allowed to go on through. We headed for the lounge to relax, as we had an hour before our flight. The lounge was nice, quite, free Internet access, free food and drinks, and a TV in a separate room. The bathrooms were quite nice also, with showers installed. I had a drink, some biscuits, and a flip through the papers, and a quick look at Airliners.net. We headed down to the gate after a while.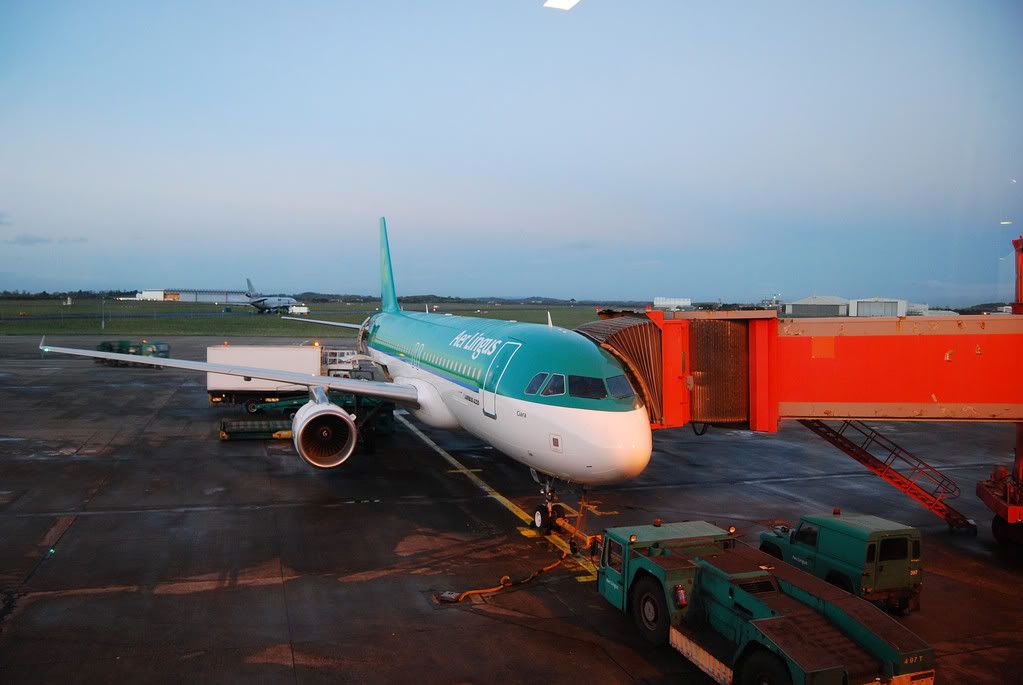 This was the newest A320 in the EI fleet, only around a month old at the time.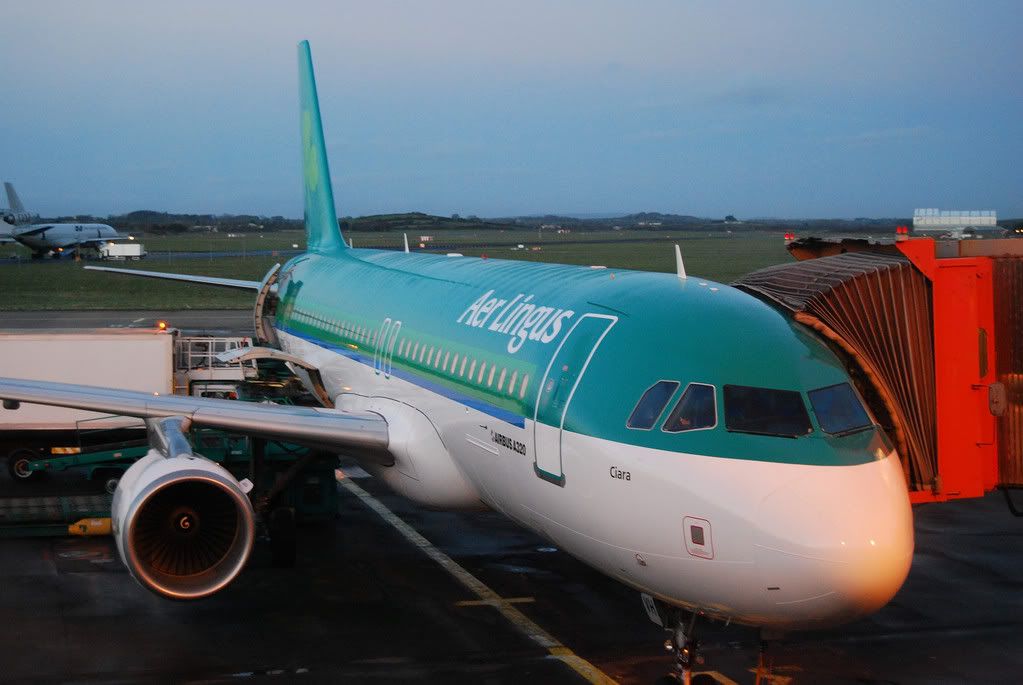 The EI staff at the gate were quite emotional, and one member made a speech, and everyone applauded. They announced that they would be giving a guard of honour as we boarded.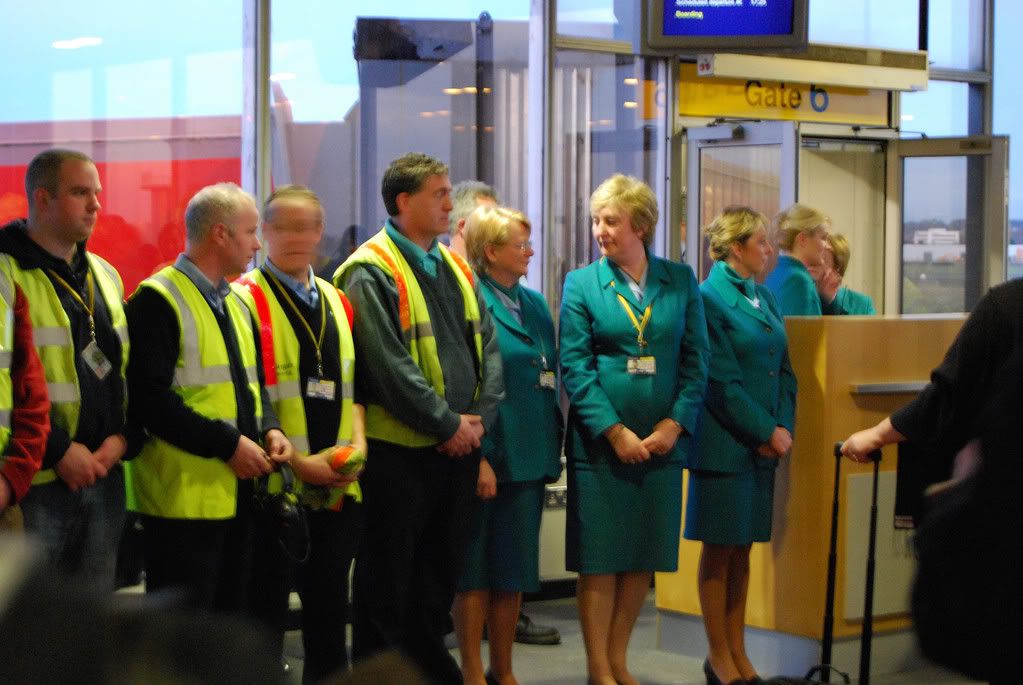 The whole thing was quite emotional, and I who had been filled with excitement over my trip, was suddenly brought down. Some of the staff were crying, others looked like they were in a trance. No doubt the job losses that were to come shortly were on their minds.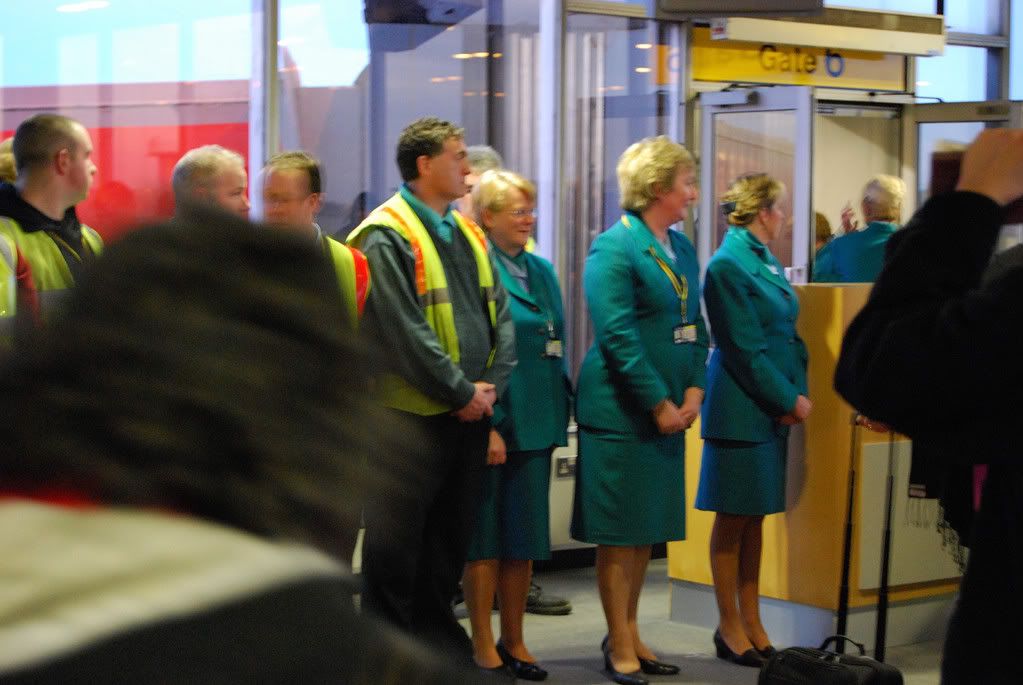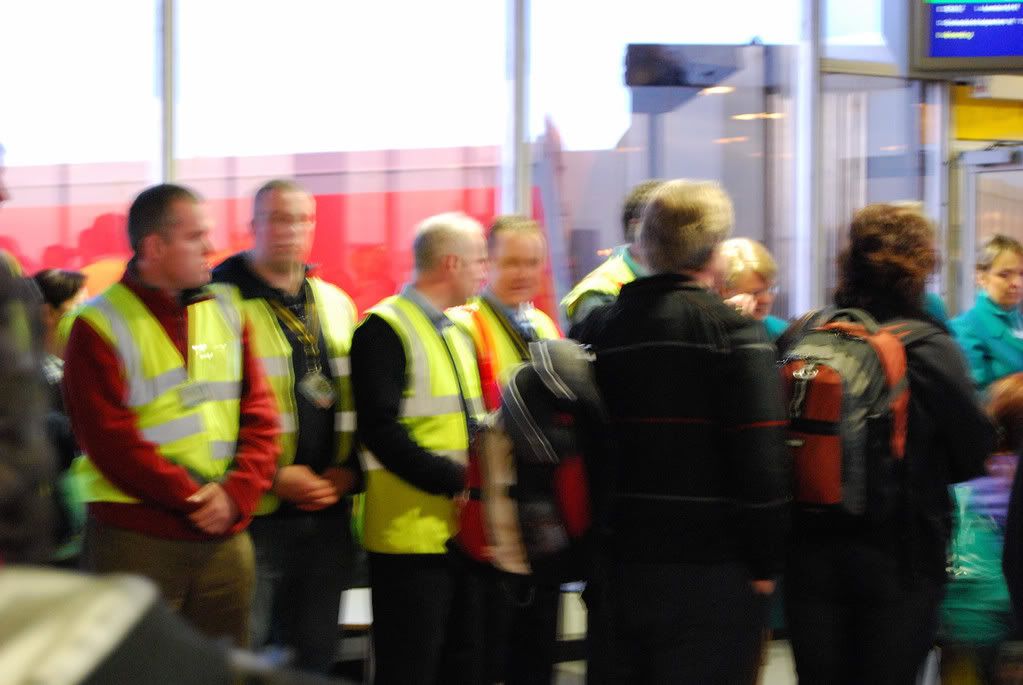 The last time this would appear on a departure board at Shannon.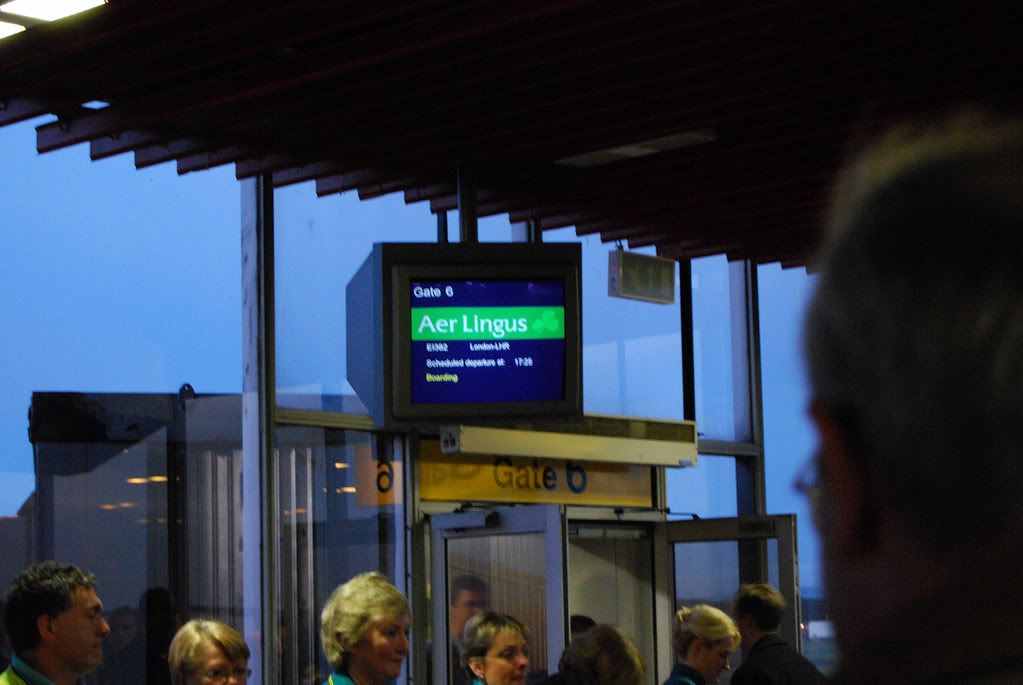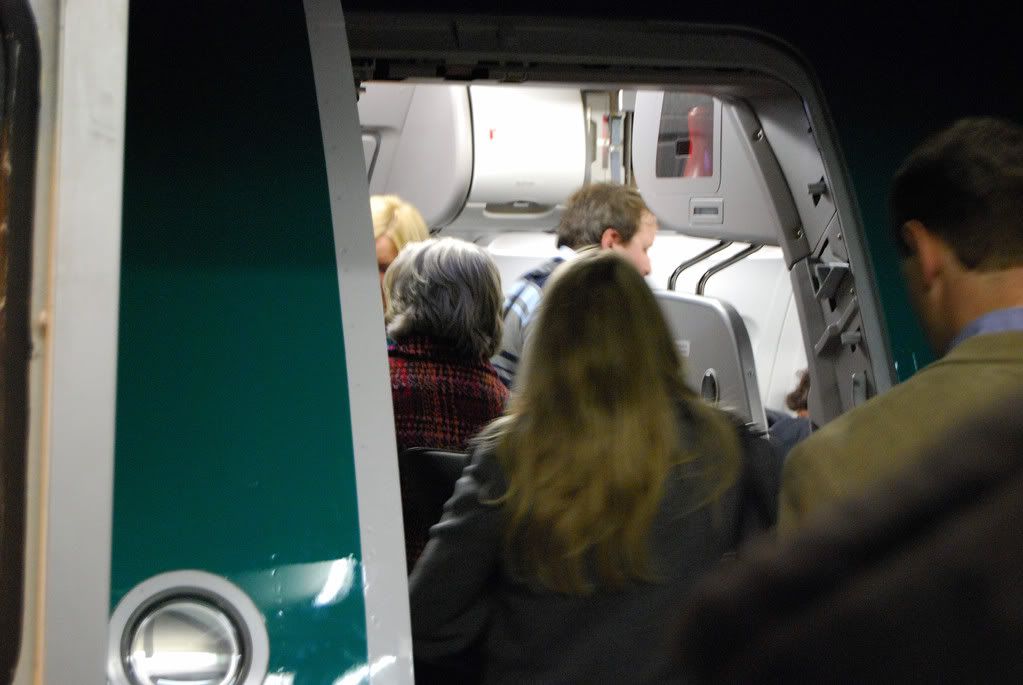 Once onboard, the FA told me that pictures were forbidden. I suppose it serves me right for having my camera slung around my neck. Perhaps she though I was with the media. The crew, whilst very nice, looked noticeably upset.
I took my seat in row 11, in the middle. My other seat mate wouldn't show up for another few minutes. When he did, I noticed he was quite young, not much older than me. He was very nice, and chatty. Our flight was delayed by about twenty minutes. As we pushed back, we could see the flash of photographers cameras outside. We taxied, and the crew performed the safety demo. Neither the flight deck crew, or the cabin crew mentioned anything about this being the last flight before take off. As we took into the air, the "woosh" of "it's all over" came upon us all, and it was a little sad. We climbed, and leveled off. The crew came around with their service, Sky Cafeé, which is a Buy On Board programme. I ordered a pannini, with ham and cheese. It was very nice. My dad agreed (after he ripped off the end of it). The crew were very nice and friendly, and all smiles. We noticed what appeared to [probably] be another aviation enthusiast at the front, who had the first row to himself, and spent the flight chatting to the crew.
The guy sitting next to me didn't say anything for the whole flight, and just read his news paper. The approach into London was quite bumpy, and the lower and closer we got, the worse it became. Luckily for me, turbulence doesn't bother me in the slightest. On a few occasions we had sudden dips, and several people either screamed or gasped. My dad, being a bit of a nervous flyer) put his feet firmly in front of him on the ground, and leaned forward, and looked at them. The guy to my left, just kept reading his paper, not bothered with the turbulence. I spent the approach looking out of the window, my dad throwing a glance up every now and then. It was quite funny, because when you looked outside, London would go up, and down, and up and down, as our wing did serious dips from side to side. In fact, we had continuous dips right up til landing, and when we were just over the thresh hold, the wing dipped to the left (my side) and all I could see was asphalt, and grass, and then came the thud. My dad and I tried to get an applaud going, but no one else was interested, which was a little annoying and disappointing considering the difficulty of the approach. My dad then said "Might as well end it with a bounce" to which I replied "Better than ending it with a bang I suppose". I noticed the itinerary of the guy sitting next to me, and he was due to go on to BKK with BA.
The cabin crew then welcomed us to London Heathrow, and told us to stay seated, no phones, or smoking, and careful when opening the over head bins.... and then, gave us a goodbye speech, thanking us for our support over the years, and through the rough time, and said the hoped to see the route, and us back soon.
Then
the cabin applauded. We docked, got off, said good bye to the crew, and headed for arrivals. Arrivals in Terminal 1 was quiet. Dad and I bought a ticket for the Heathrow Express to Paddington.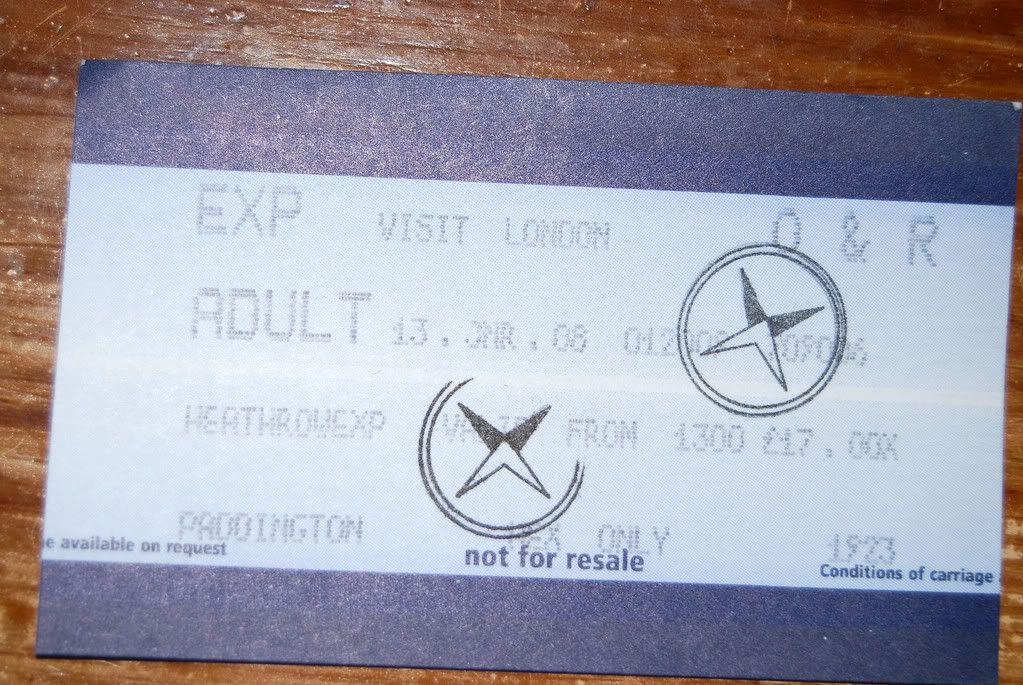 We headed out to visit my cousins in Clapham North, and nice little London Suburb.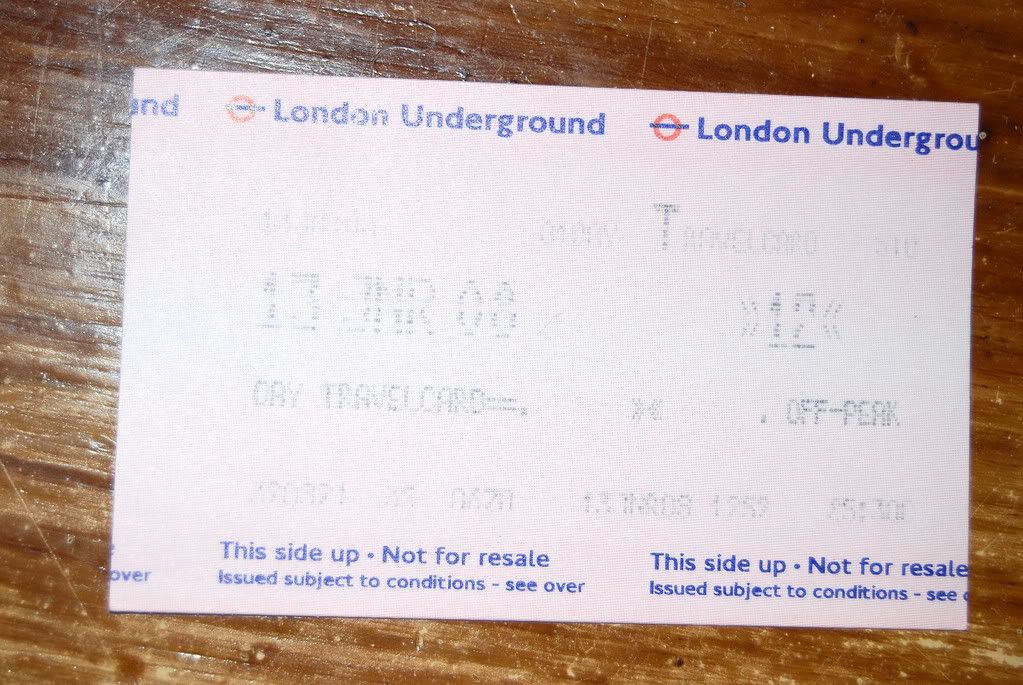 After we found one, we headed to a Mexican Restaurant. It was quite, and had a nice atmosphere. While there, we had the pleasure of explaining just what exactly we were doing. The food was great! Much better than what we had had in California, and nearly as good as what I had in Seattle last October. My other cousin arrived, and we explained our trip to him, and then his soon to be fianceé arrived, and yet again we explained to her what we were doing. Overall, it was a very nice dinner, and we had a great time. After that we headed back to the airport, and checked into our hotel, requesting a room with a view of the Runway.
We woke early the next morning to get ready. I used the opportunity to get some pictures, using my telephotic lense. But, because it was still dark out, the first few picks turned out quite bad.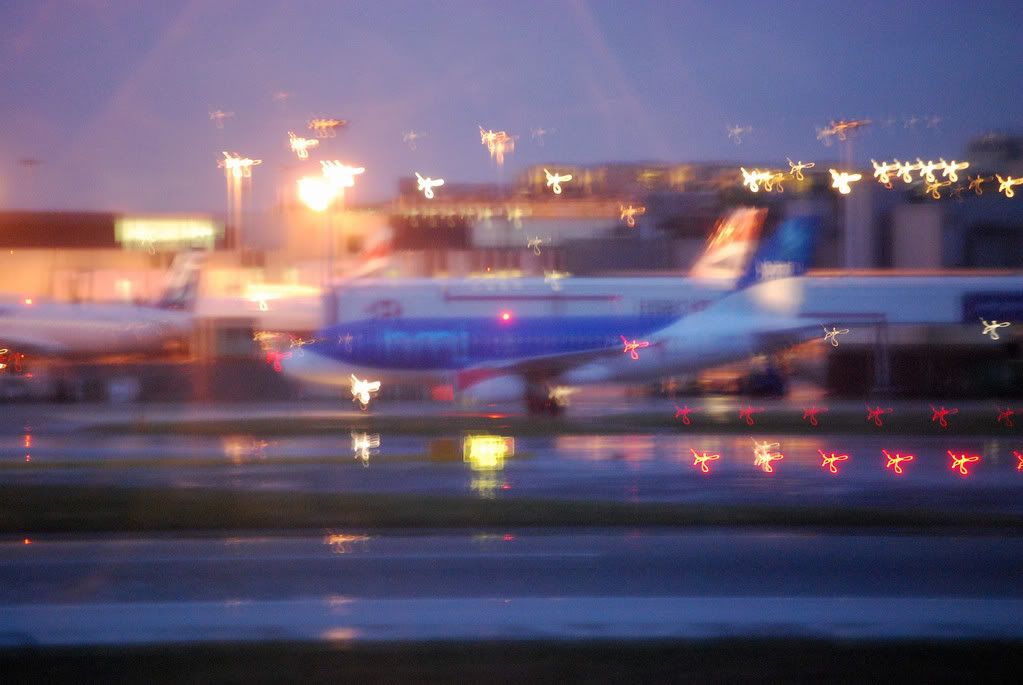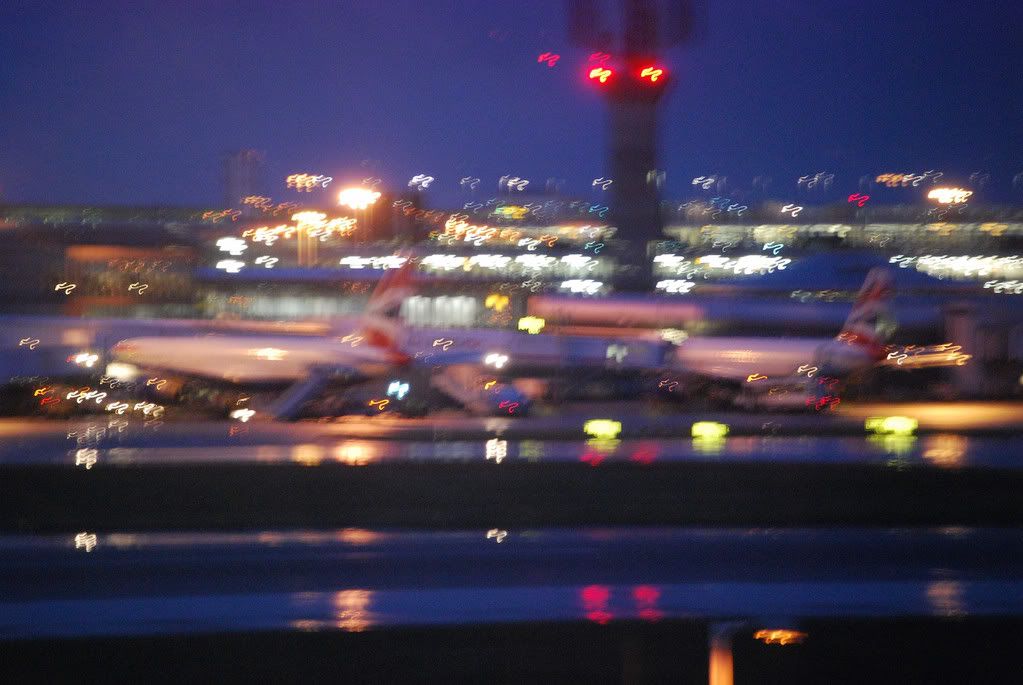 An IB A321 taking off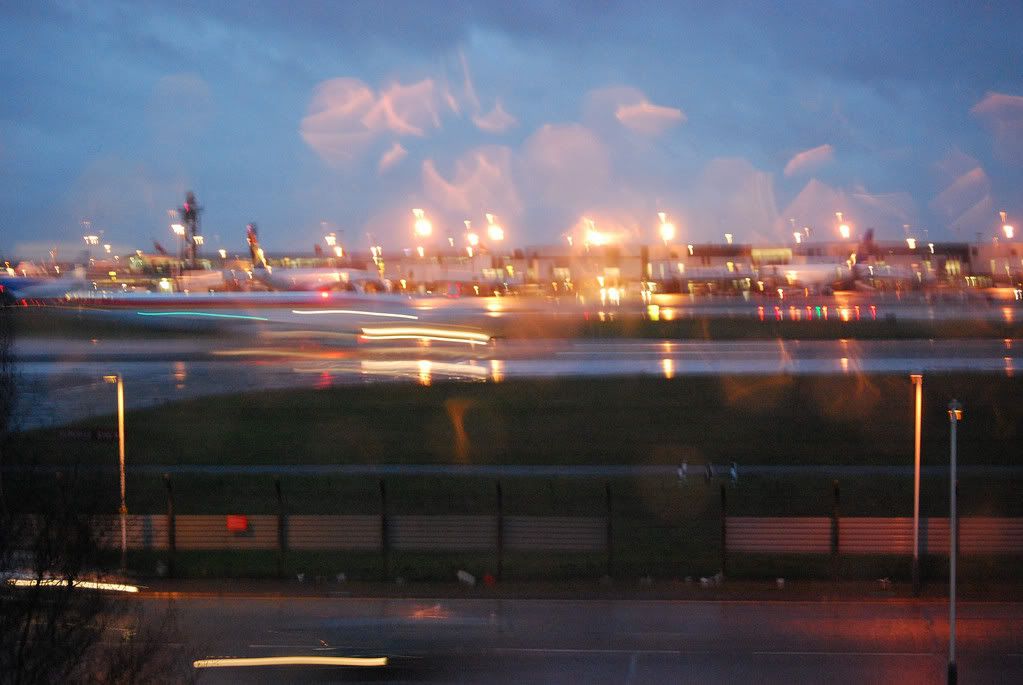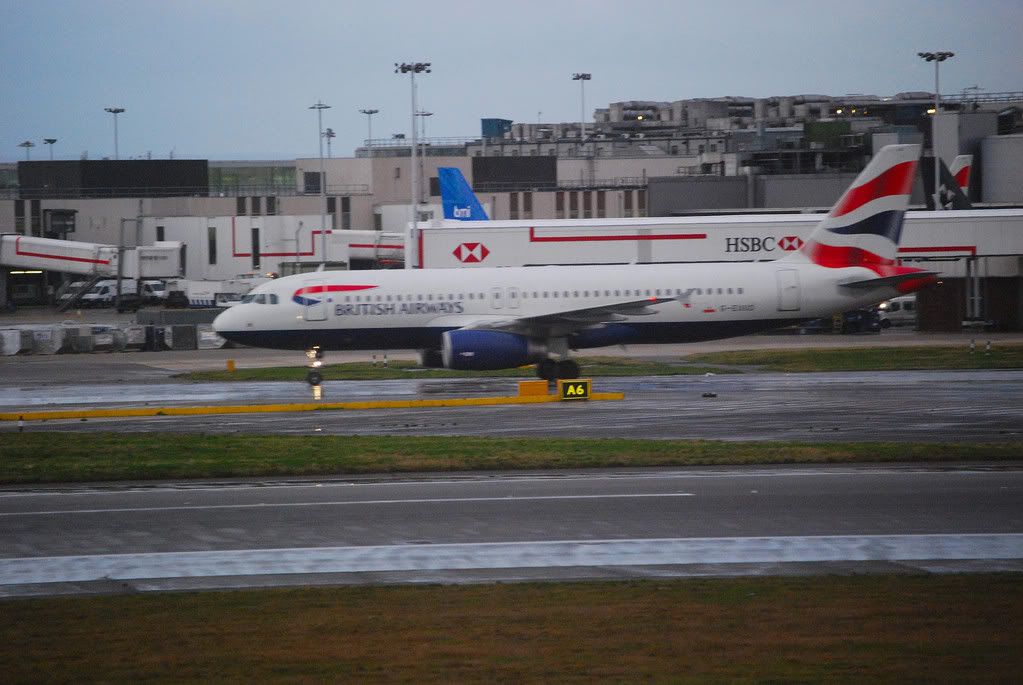 My first time seeing an A346 in person
We got on the Hop-a-Bus, and bounced over to Terminal 1 for check in.
Shamrock350, just so you know, these two are mine, although I know they look similar to one you have. Just so you don't think I've robbed some of yours.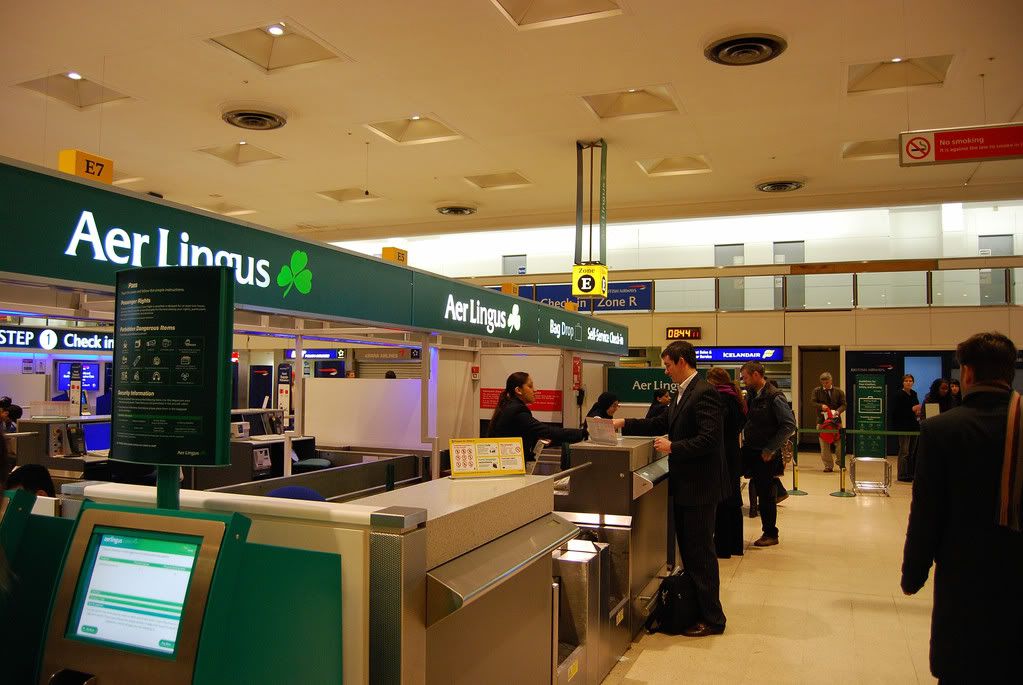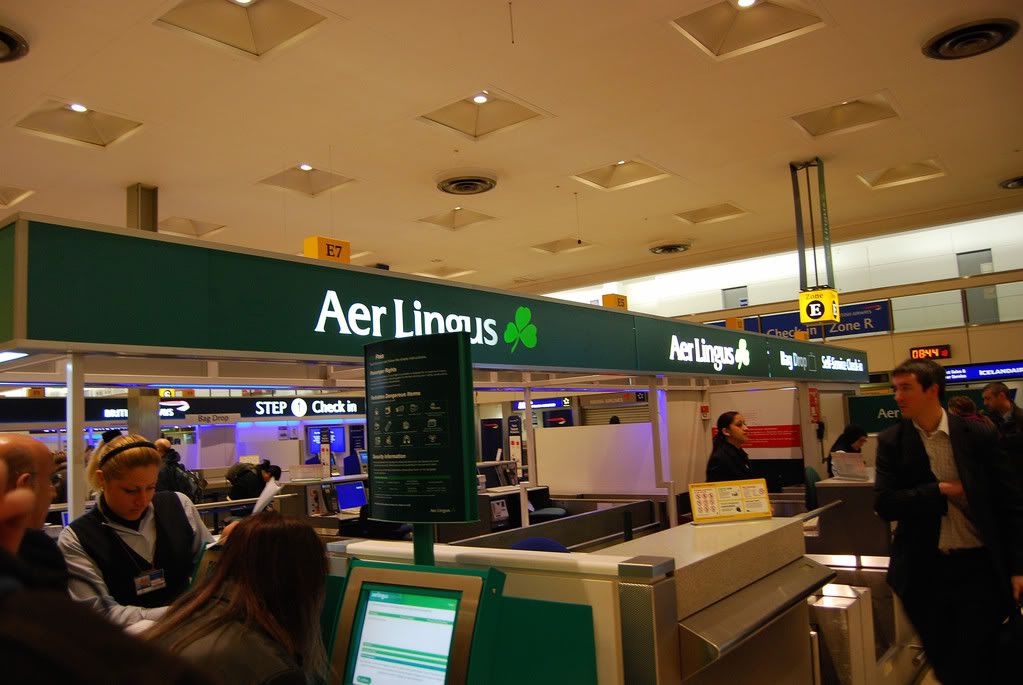 We got our passes...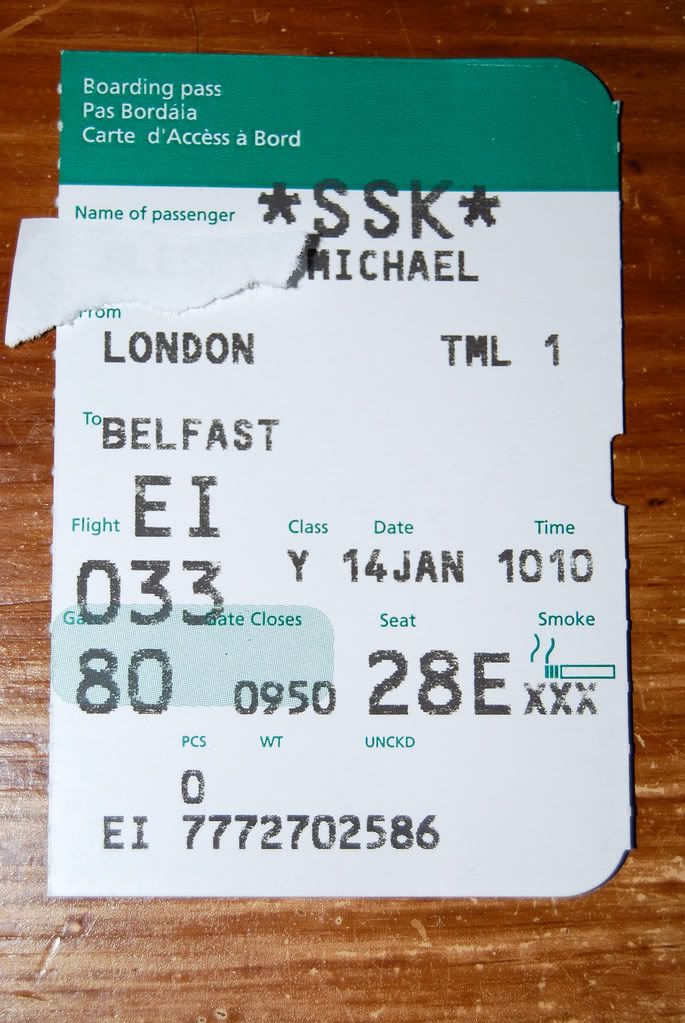 ... and headed for security for domestic, and Republic of Ireland flights.
Once again, while going through security, I beeped, walked back and forth through the yoke, and got the pat down, and magic wand. Cleared to go. We made our way for the section of the terminal for domestic flights (flights to the ROI are considered domestic). Dad and I headed for the Aer Lingus Gold Circle Lounge. Along the way, the first flight from BFS arrived, and we waited to see who got off (we were hoping for the chuckle brothers), and noticed the very, very light load.
We continued for the lounge.
The entrance to the lounge, picture courtesy of Shamrock350.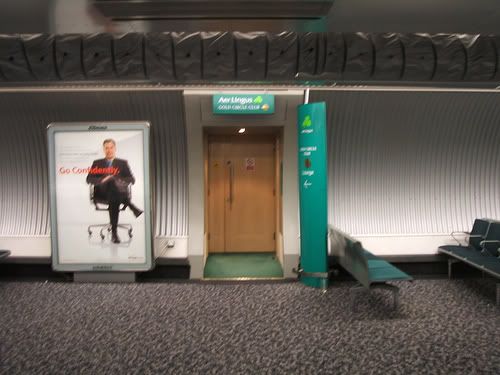 As we checked in, a woman to my left asked us our names, and after a second, we realised that they were the head of some kind of exclusive party, and we told her that we weren't on her list. The room at the back of the lounge, next to the computer station, was turned into a private party area for the special guests. Green and white balloons were hanging around the lounge, and also by the gate. the lounge, although nice, was very busy, and just a little more noisy than I would have liked. I hate some orange juice and Belgian chocolate biscuits (before I had even had my breakfast). We then went out to get ready for the flight.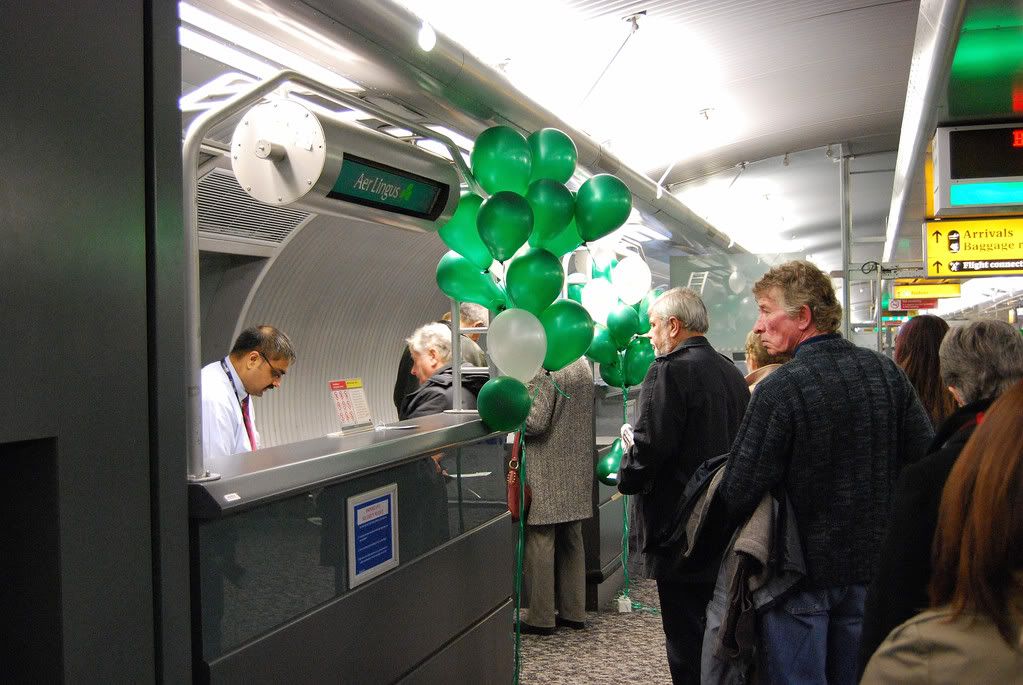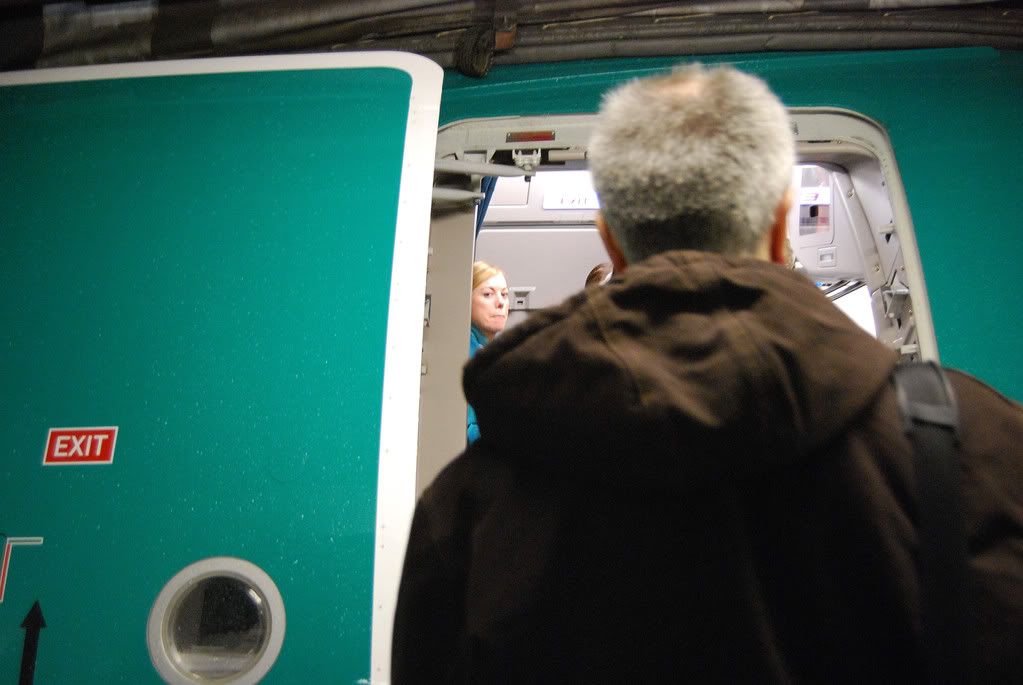 At no stage during boarding, the flight, or on arrival was the fact that this was the first EI flight between LHR and BFS announced. There were three Northern girls as cabin crew, and one Dublin based woman as the senior onboard. They all seemed a little excited, and were very friendly, damn good looking. The flight had about 100 seats filled, and we boarded quickly. The plane pushed back, and before you knew it, we were outta there, damn sure to be on schedule. The take off climb was quite steep.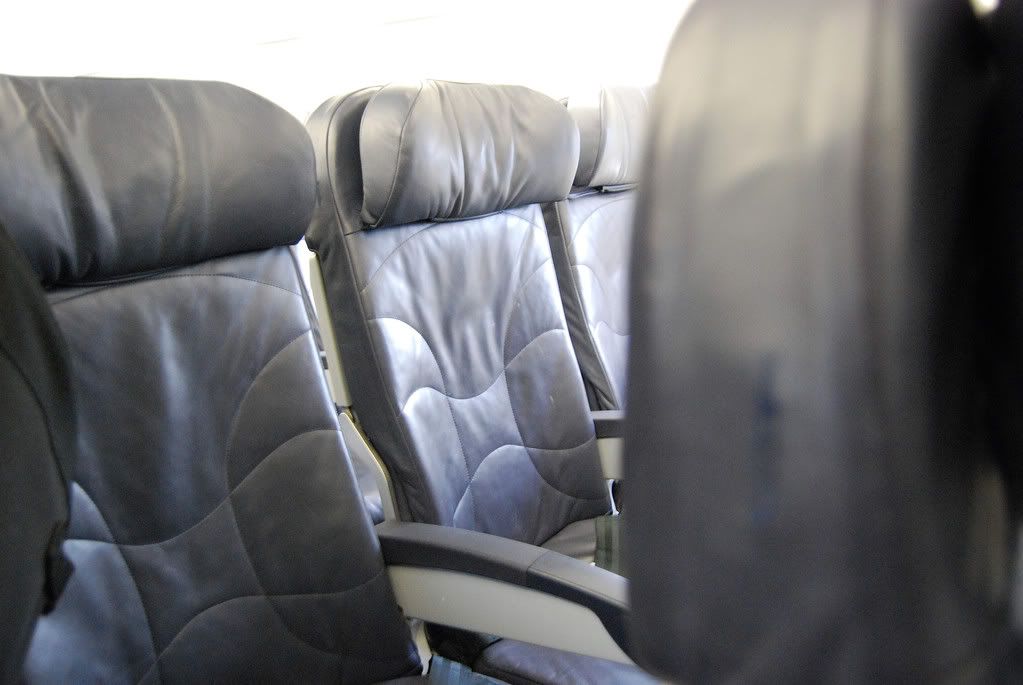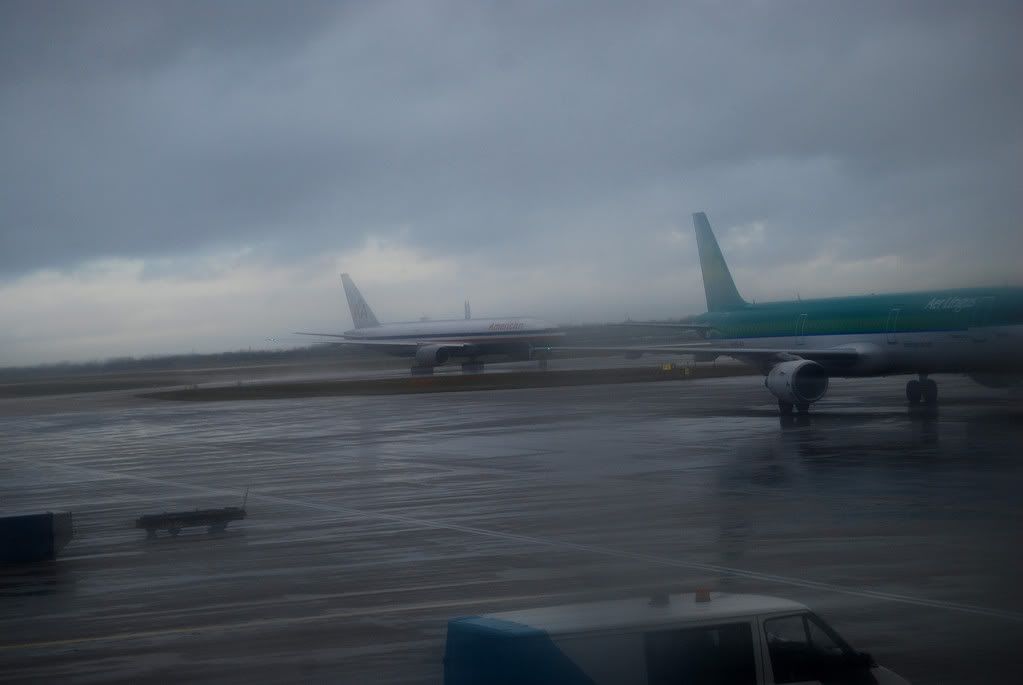 My dad and I were seated in the second last row, on the right. Once leveled off, the inflight service started. Because we were so close to the back, we were served quickly. We both had the Full Breakfast (no longer referred to as the Full Irish anymore, even though they couls just add Full Irish/English). My dad had tea with his, and I had hot chocolate. It was quite nice, but nothing beats the Full Irish dad makes at home, especially the pudding! The flight passed quickly, as the meal took up a good bit of time.
Our approach into BFS was fine, nothing unusual, just cloudy, dark, and wet.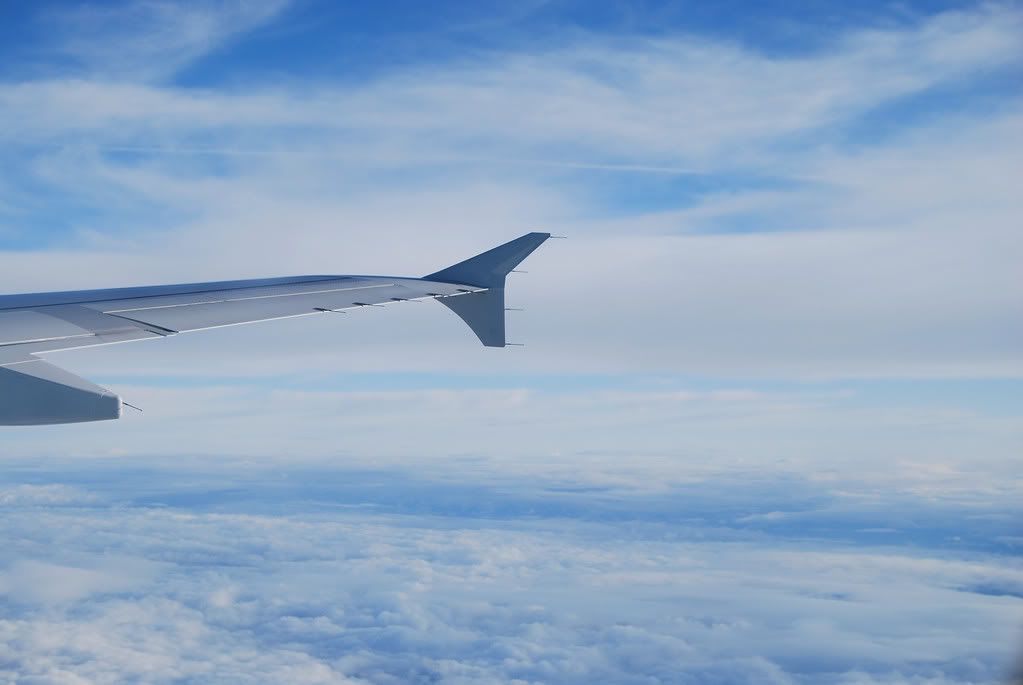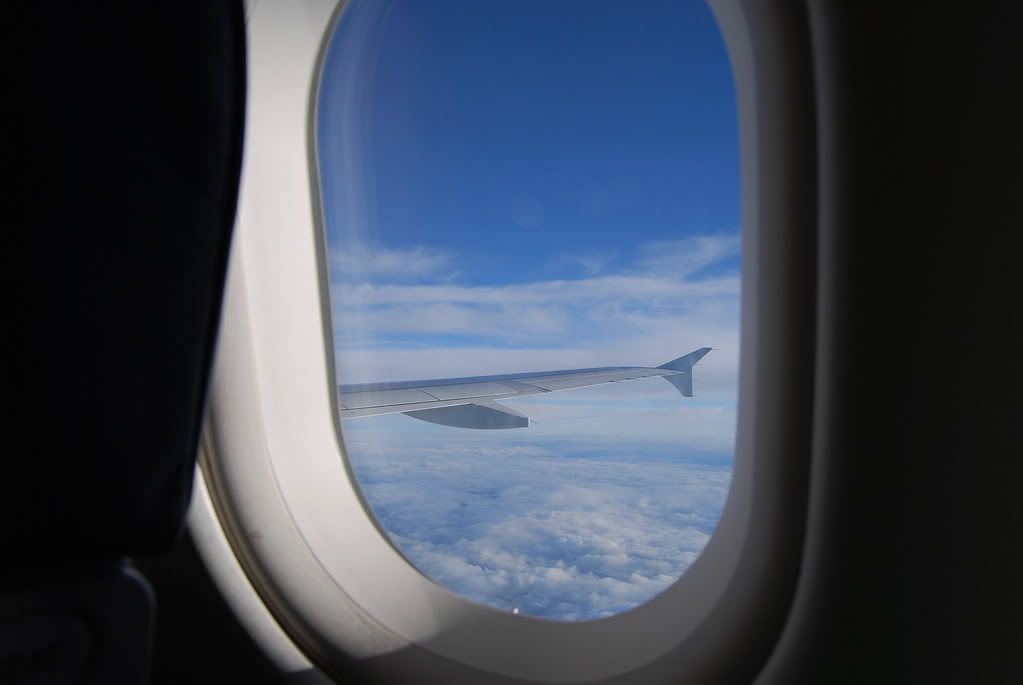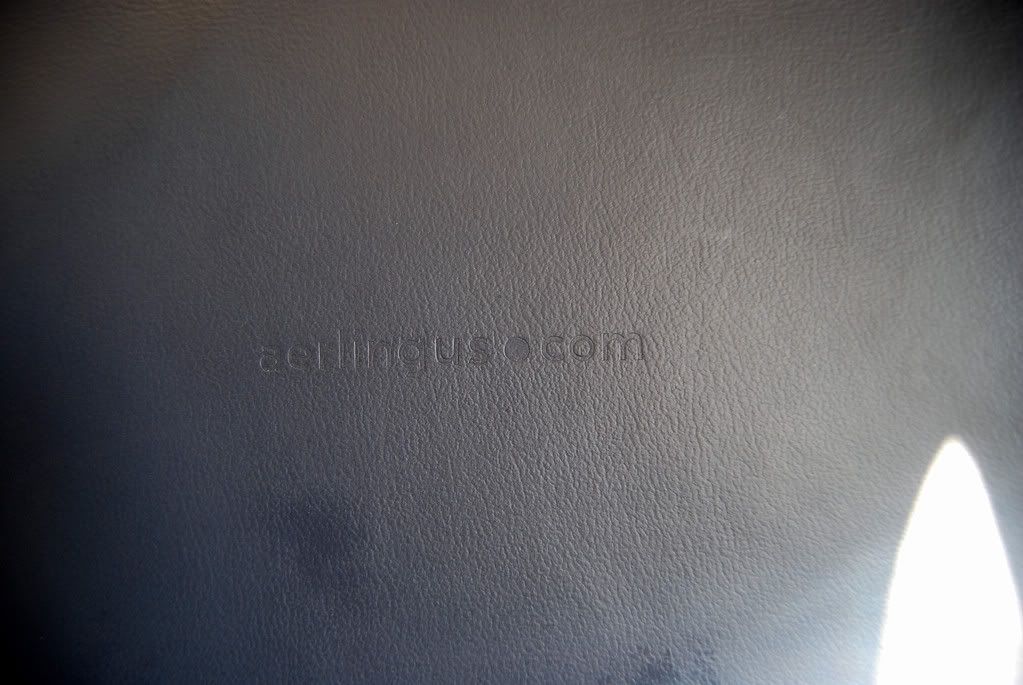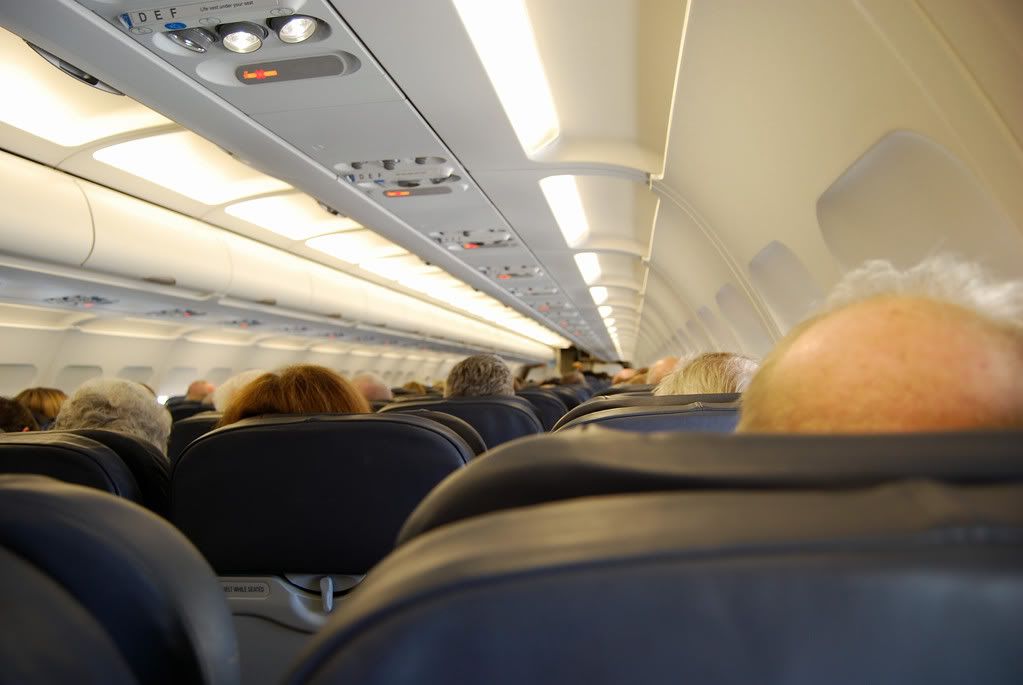 My dad asked me what i would do with all these pictures. I just told him I'd put it up on the internet. I was too embarrassed to tell him I'd be doing a TR...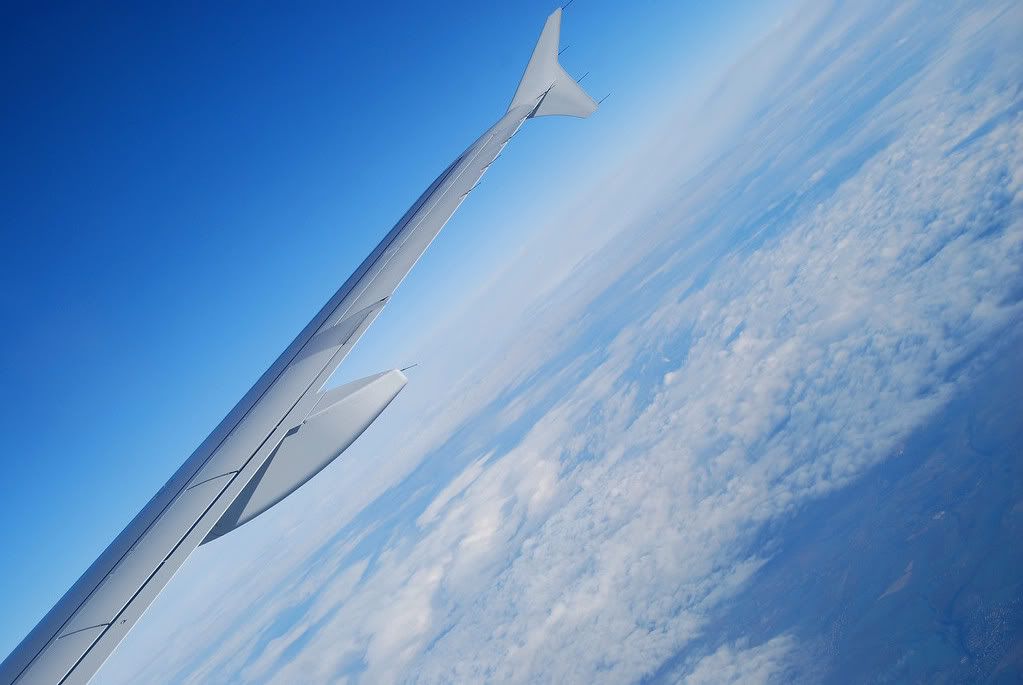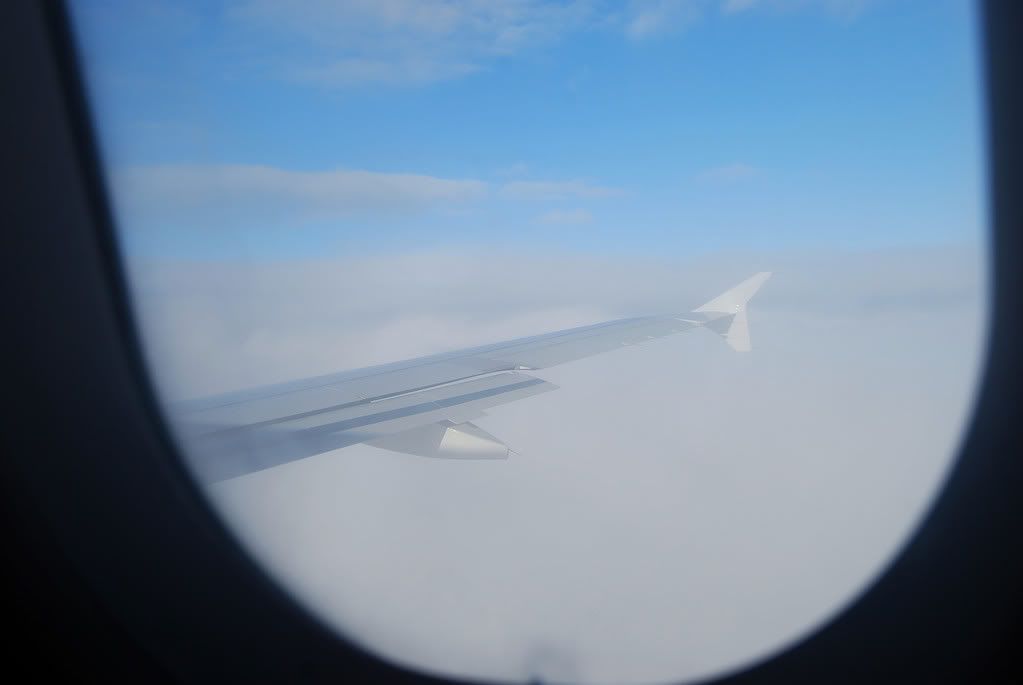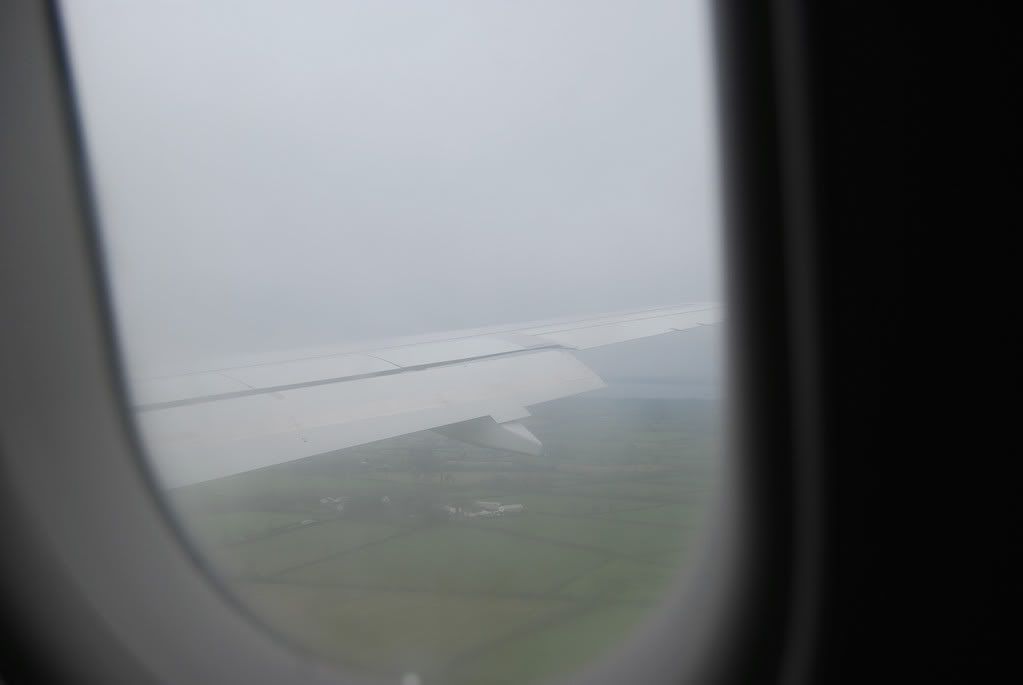 BFS was a ghost town. There was a Continental 757 taxiing for the runway, on it's way to EWR. There was also a Jet2 757 at a stand.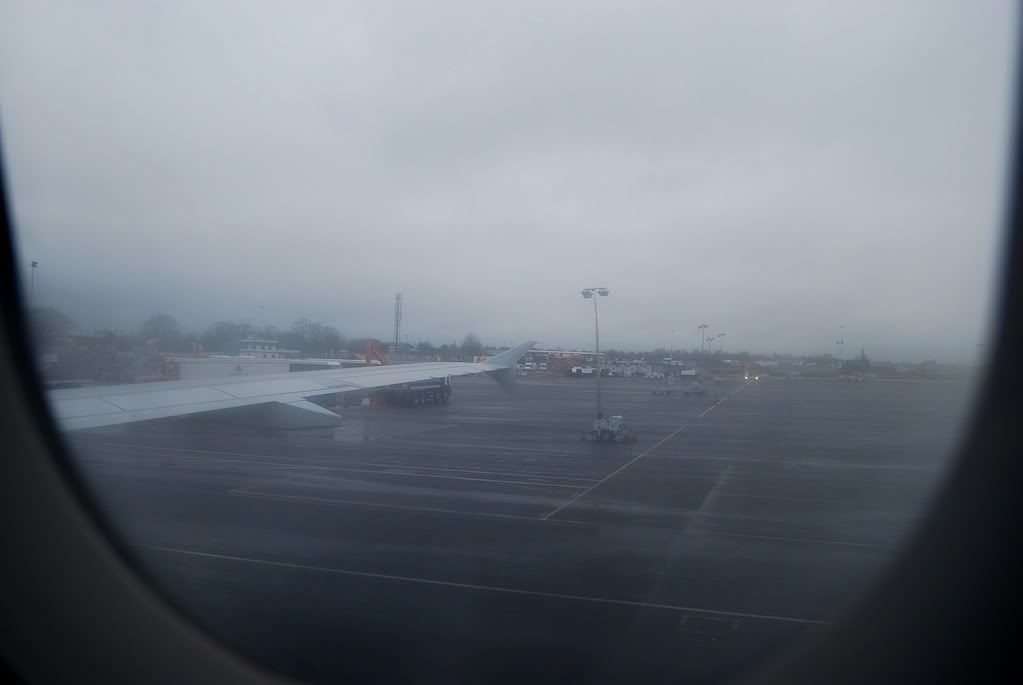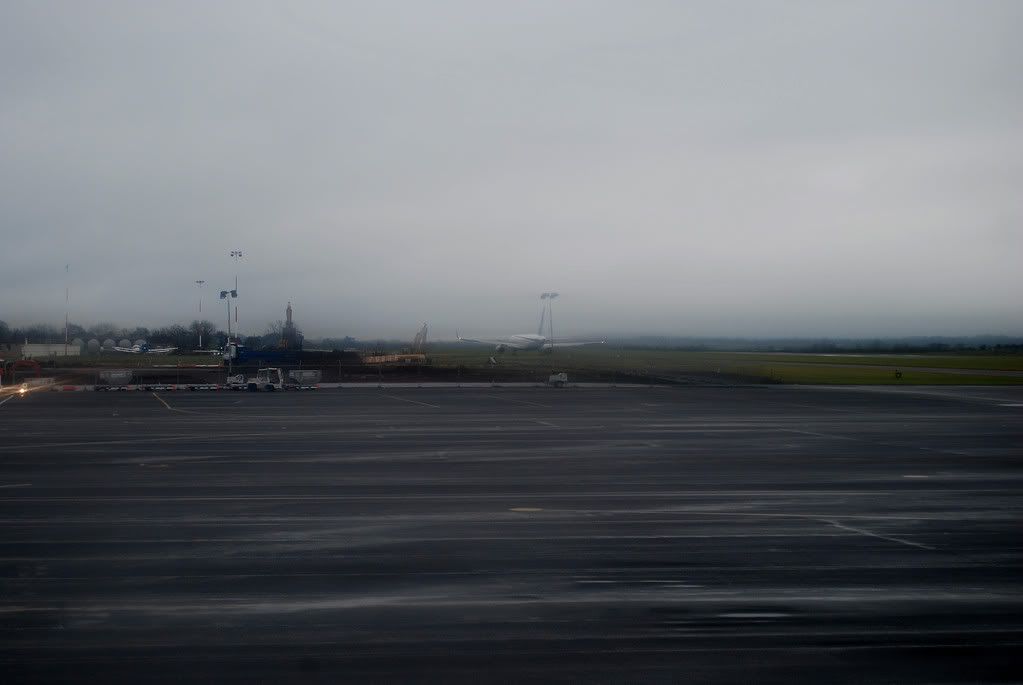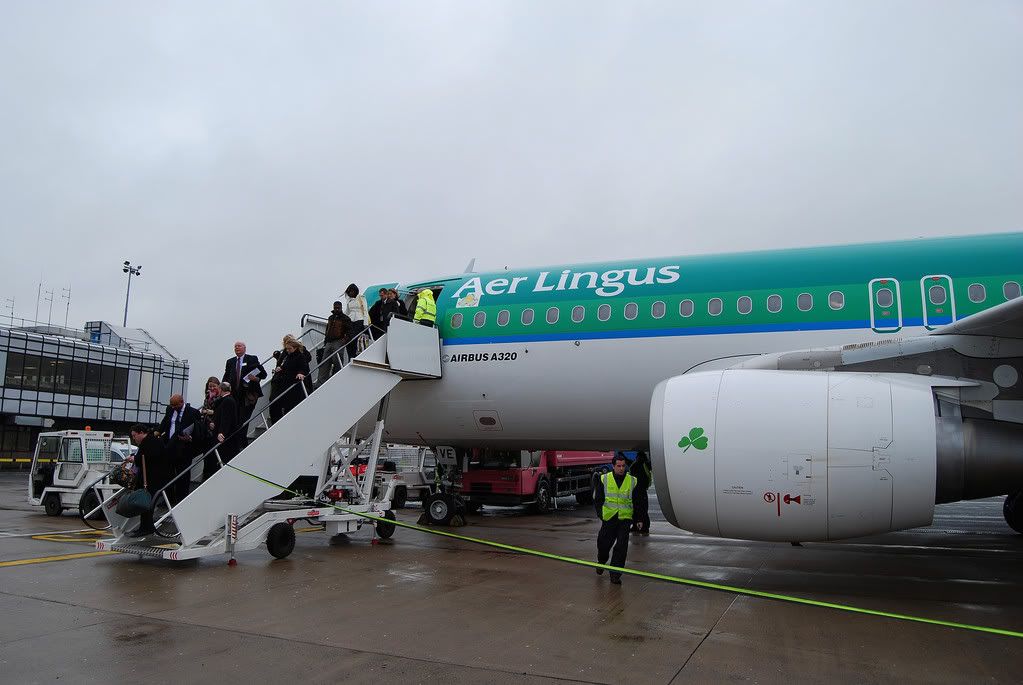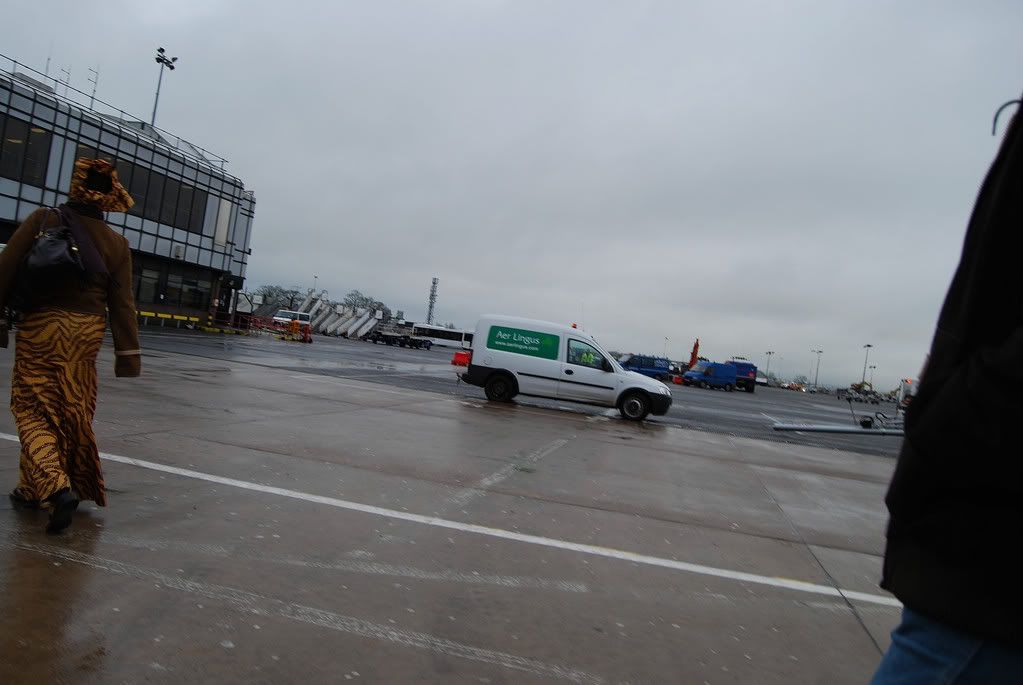 A friend told me not to take pictures on the tarmac, as BFS is still a RAF base, and that his friend had gotten in trouble for taking a picture. But me being me, I decided to go ahead and take a picture anyway. No one seemed to care.
My first impression of BFS was just how small, and old, and I'm afraid, how kind of depressing it was. It felt quite old, and less like an airport, and more like, well, a school for some reason. We headed out to the arrivals hall, and the check in area.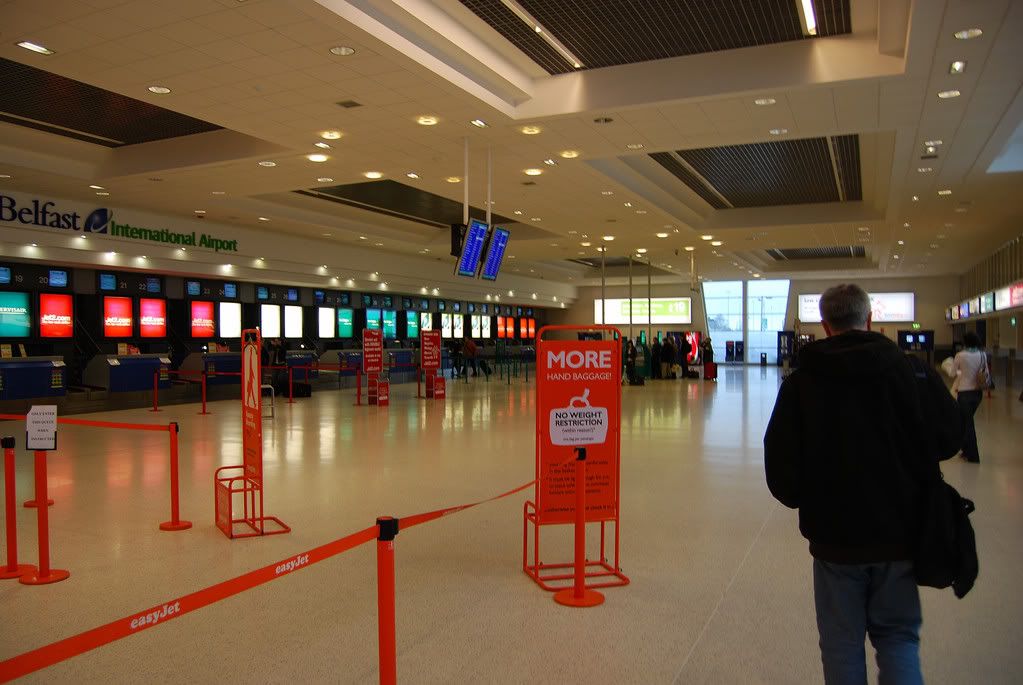 The interesting thing about BFS is, the two big boys here have two very different themes, which are quite evident here: orange, and green.
These two pictures are courtesy of OA260.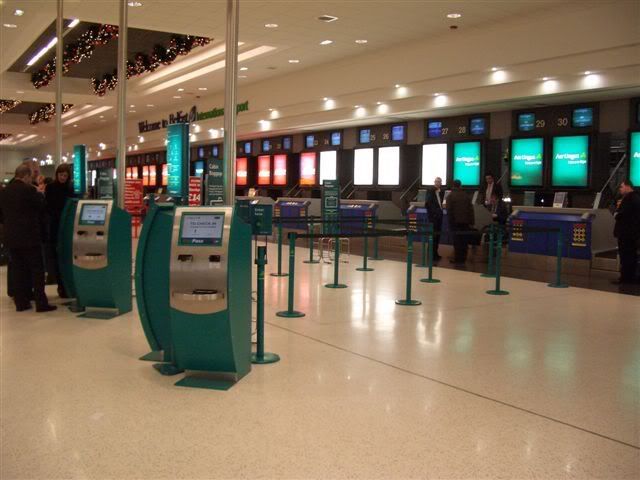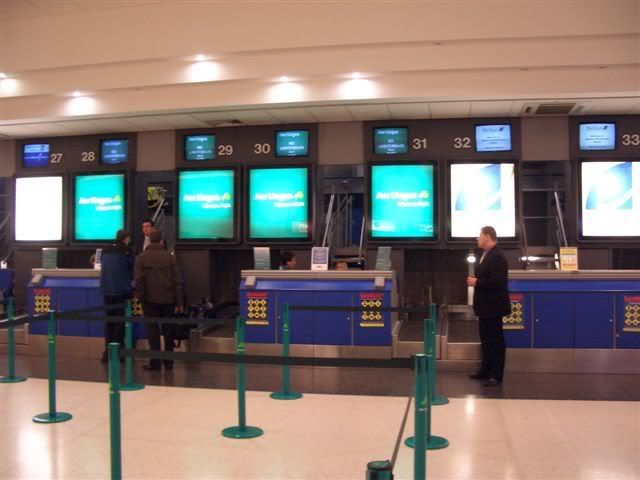 We headed through security. The two guys working it were quite friendly, and the area was quiet. My dad had his liquids inspected, and I walked through the yoke that beeped any time I passed through. I was expecting it this time, but to my surprise, nothing happened. We went through to the shops. I found it somewhat humorous, that we were on British soil, but they had a Celtic store, selling the usual Irish merchandise.
We bought an Empire magazine. I walked around and was approached with a cute girl with a big camera, who asked if I had been on the flight from LHR, to which I replied that I had, and she asked if I would like to be interviewed. So I quickly made sure the bat cave was clean, fly up, and everything else neat and tidy. She asked what I thought, and in my Irish accent told I thought the flight was great, especially the crew, and that the flight would be good for Belfast (I filled with guilt, as I let down my Munster brothers and sisters, by giving my supposrt to the route). She thanked me and moved on. My dad and I headed up to the lounge. It was wuite small, but very nice all the same, with a good selection of things on offer, and a great view of the tarmac. As we were waiting, a large group of young school kids turned up in the viewing gallery, which was just outside our lounge, and a level below. We looked out at the plane, and realised what was happening.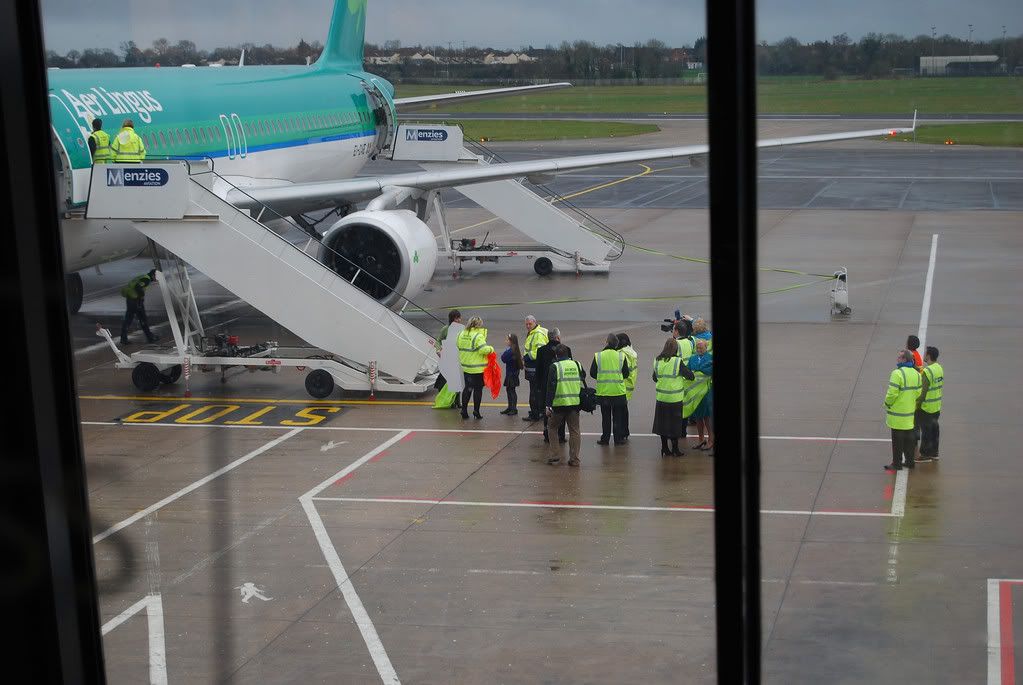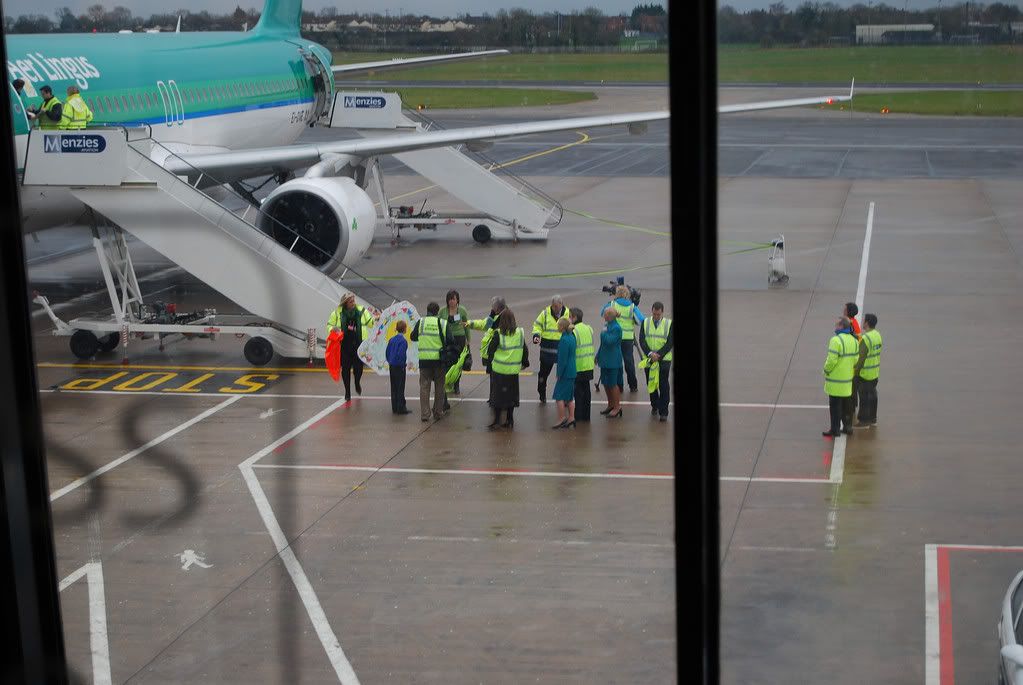 Two of their class mates were having their picture taken with Dermot Mannion, Aer Lingus CEO, and an FA for publicity. Schools in the North had been asked to create some art project for Aer Lingus, and this school had obviously won the competition.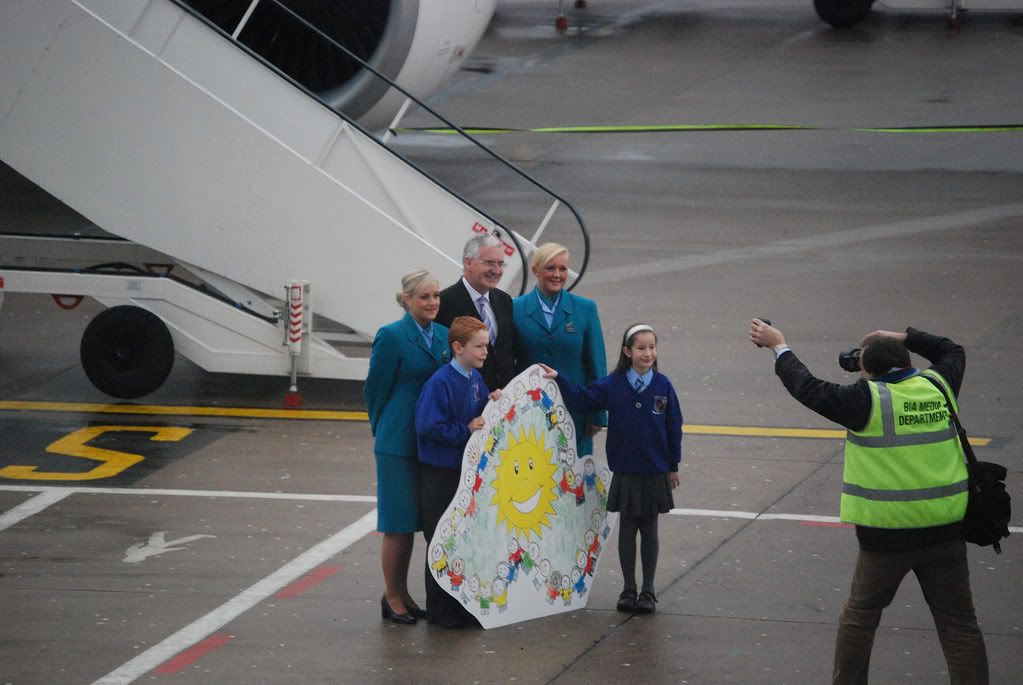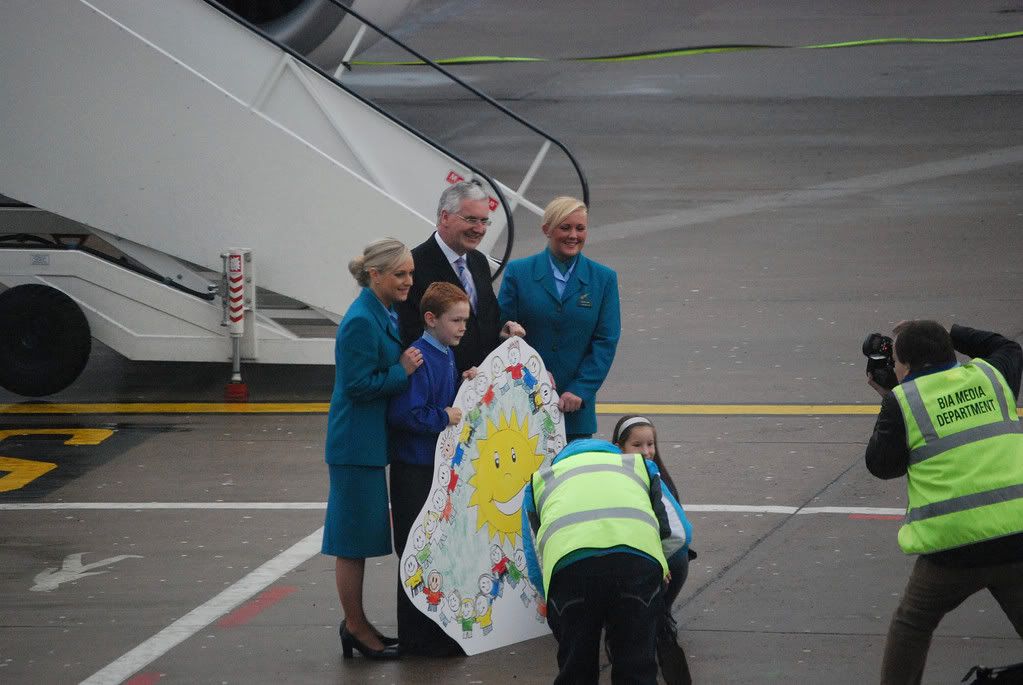 With nothing better to do, I just snapped away...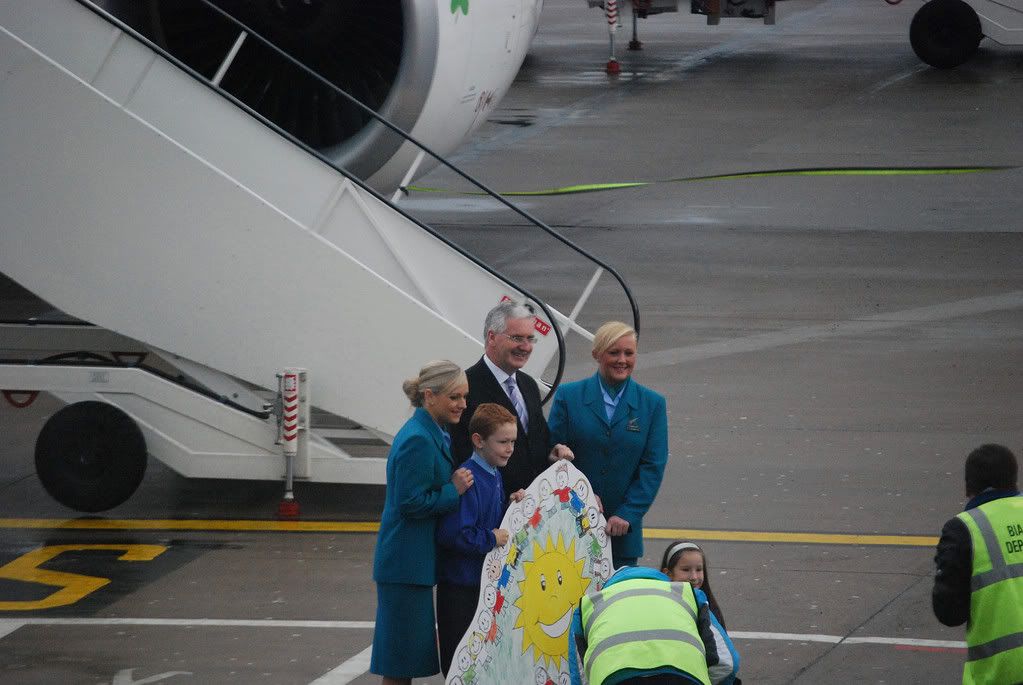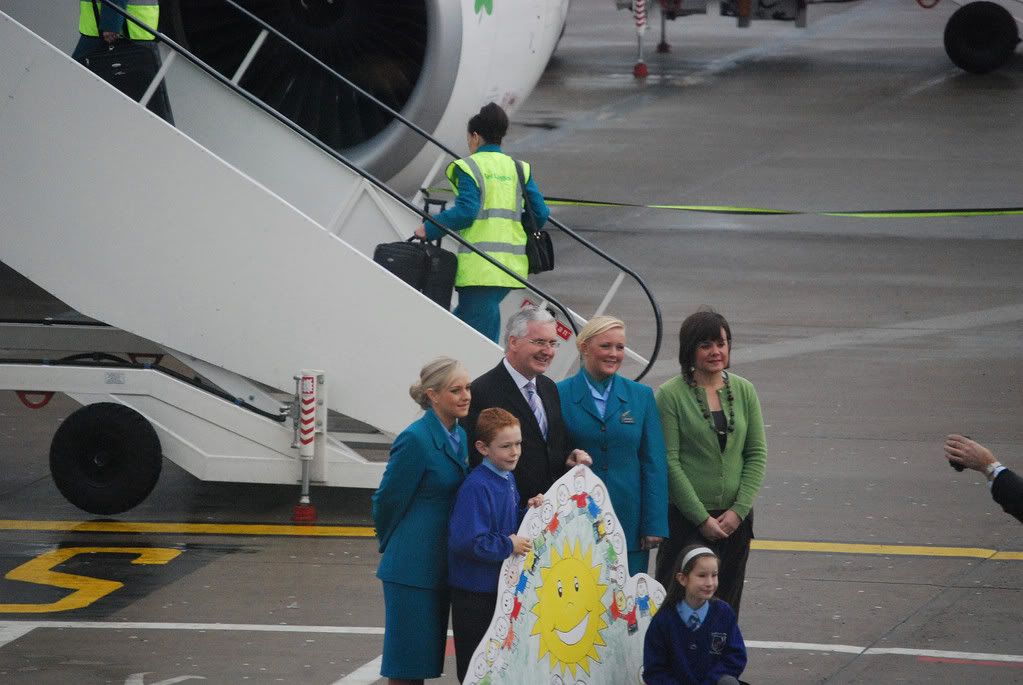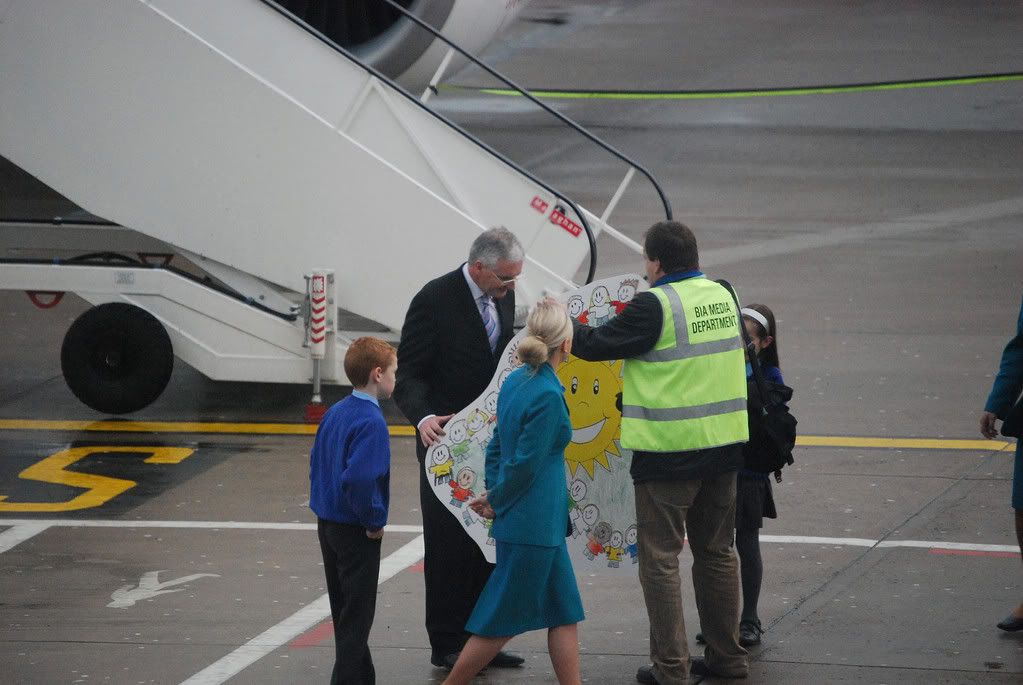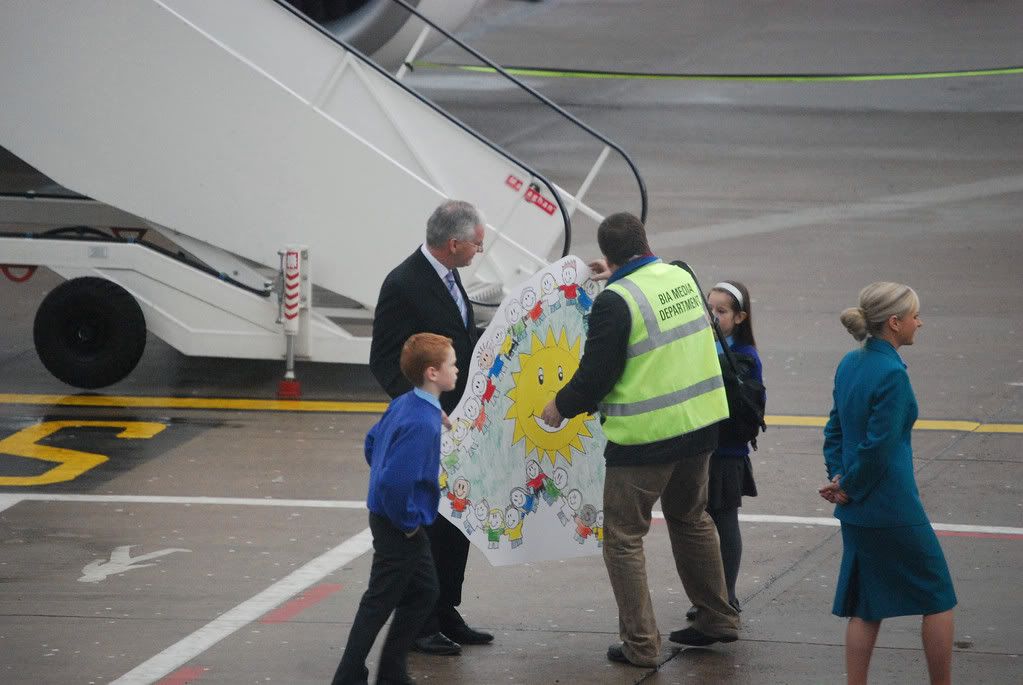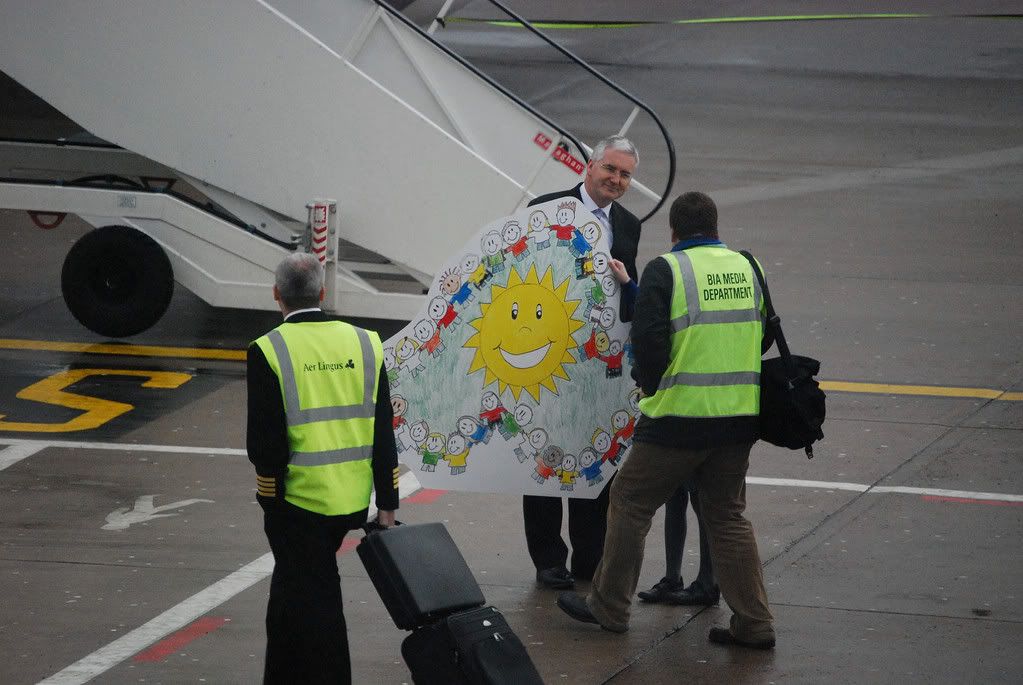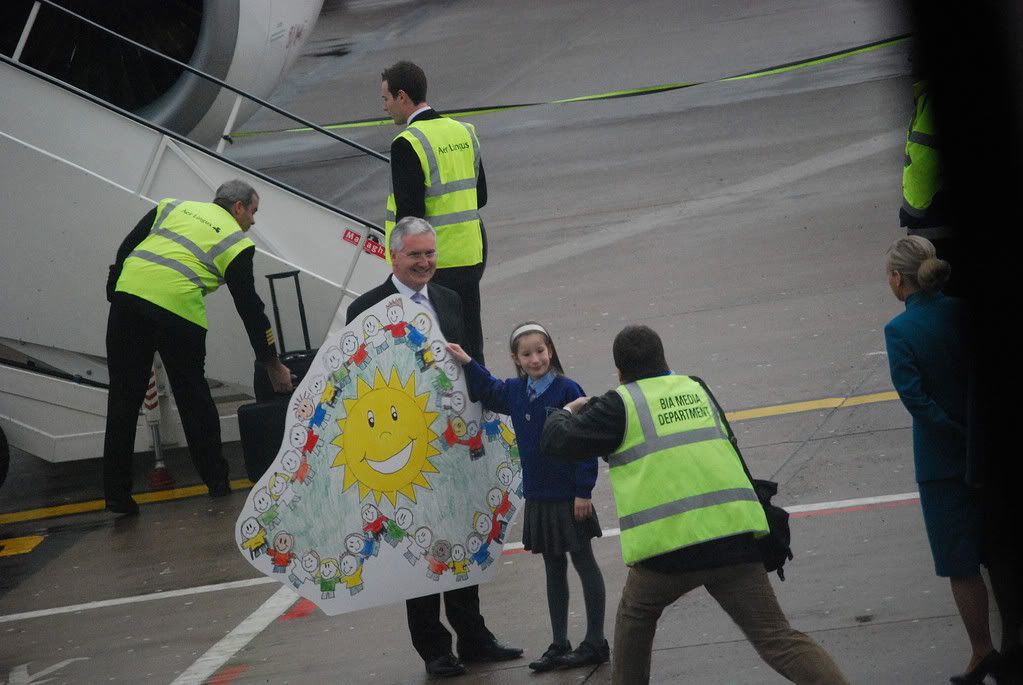 ... and snapped....
Two Easyjets arrived in the back ground.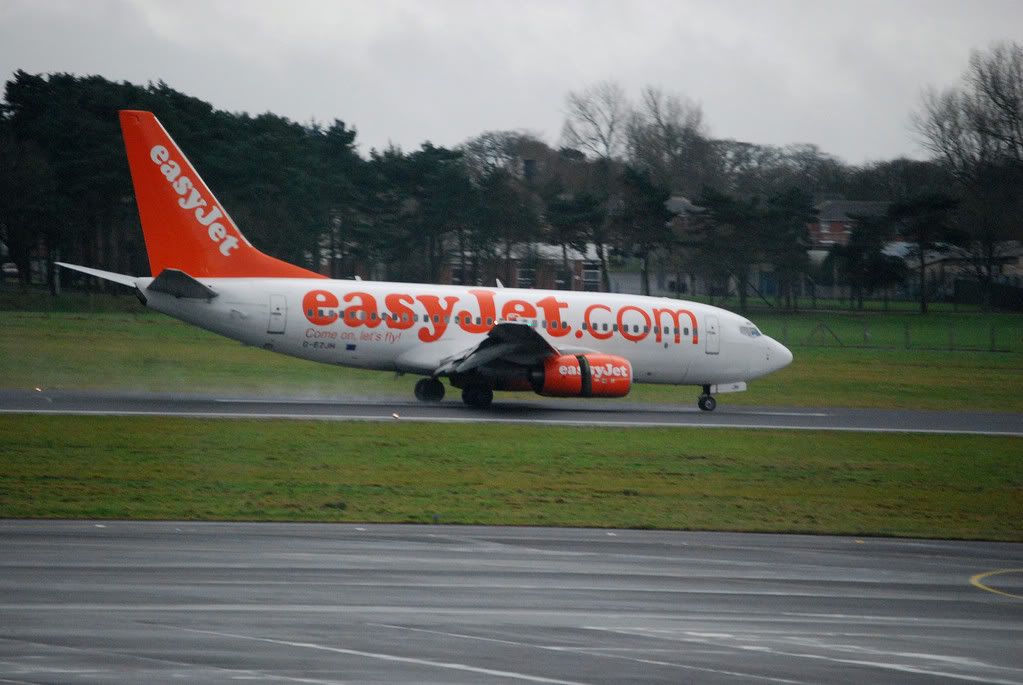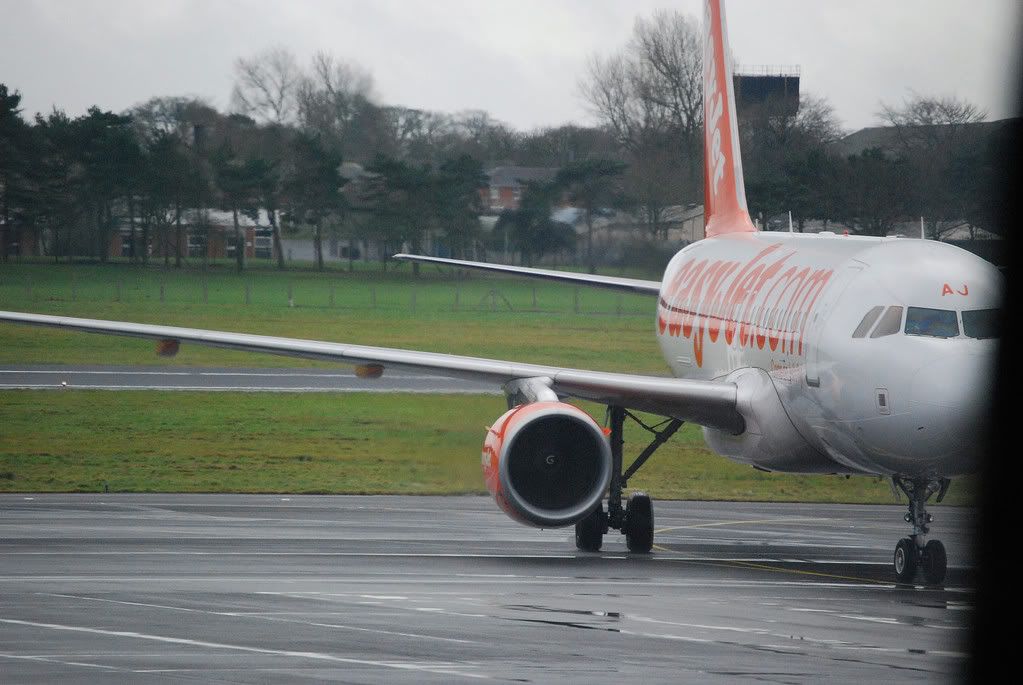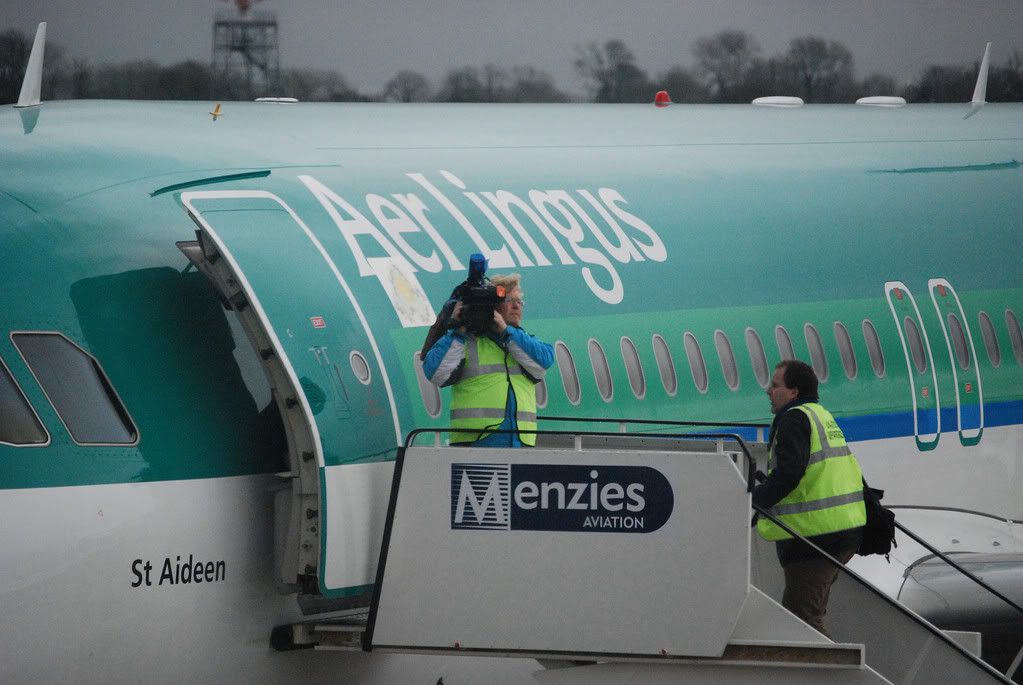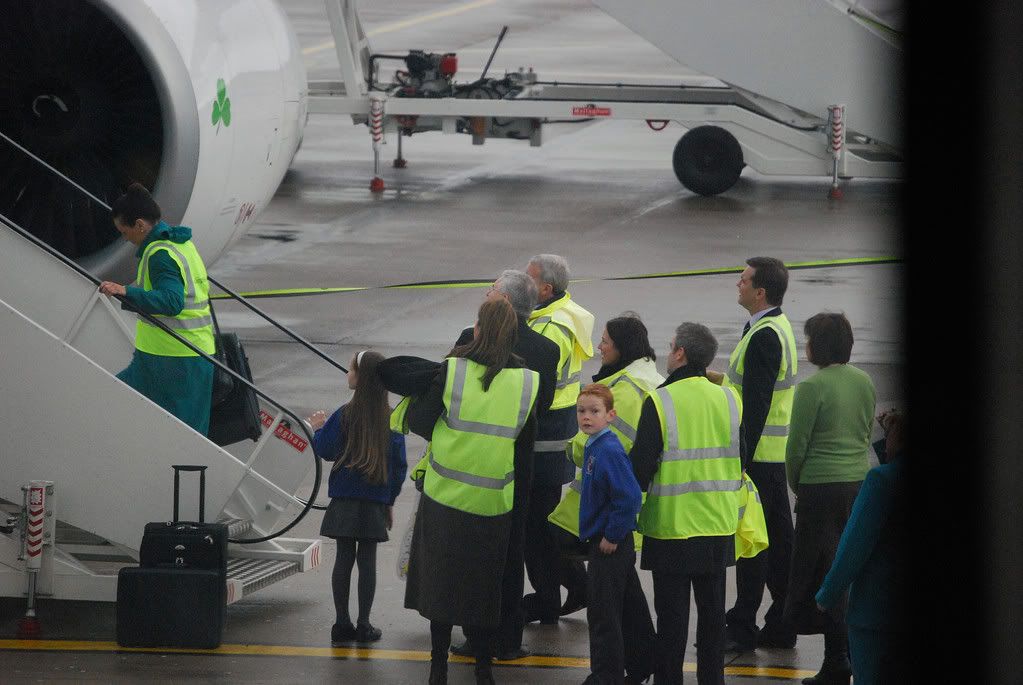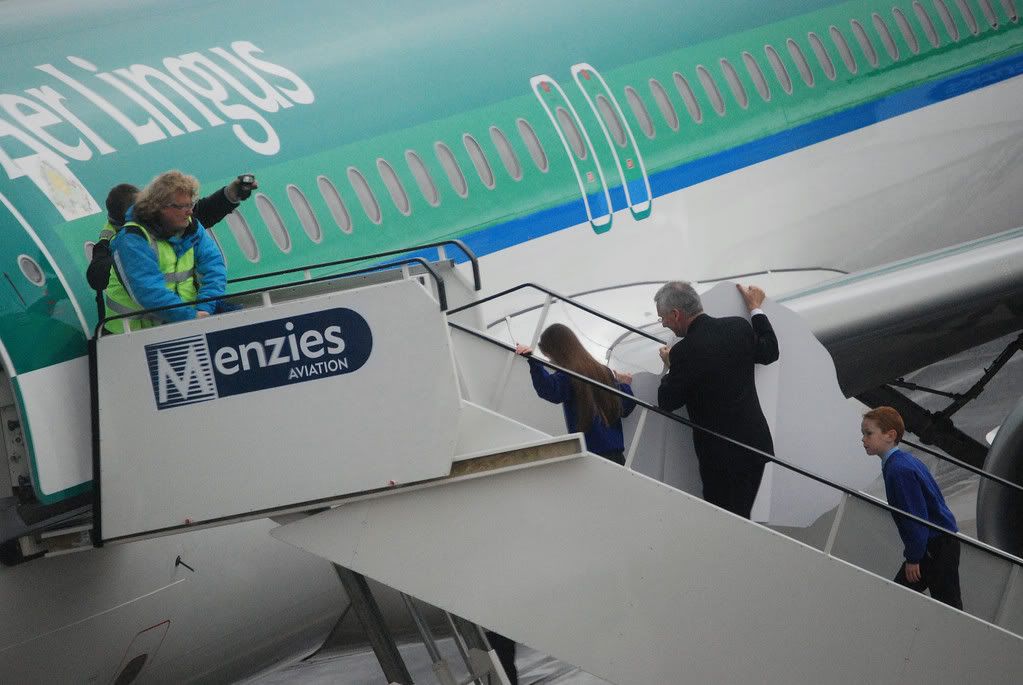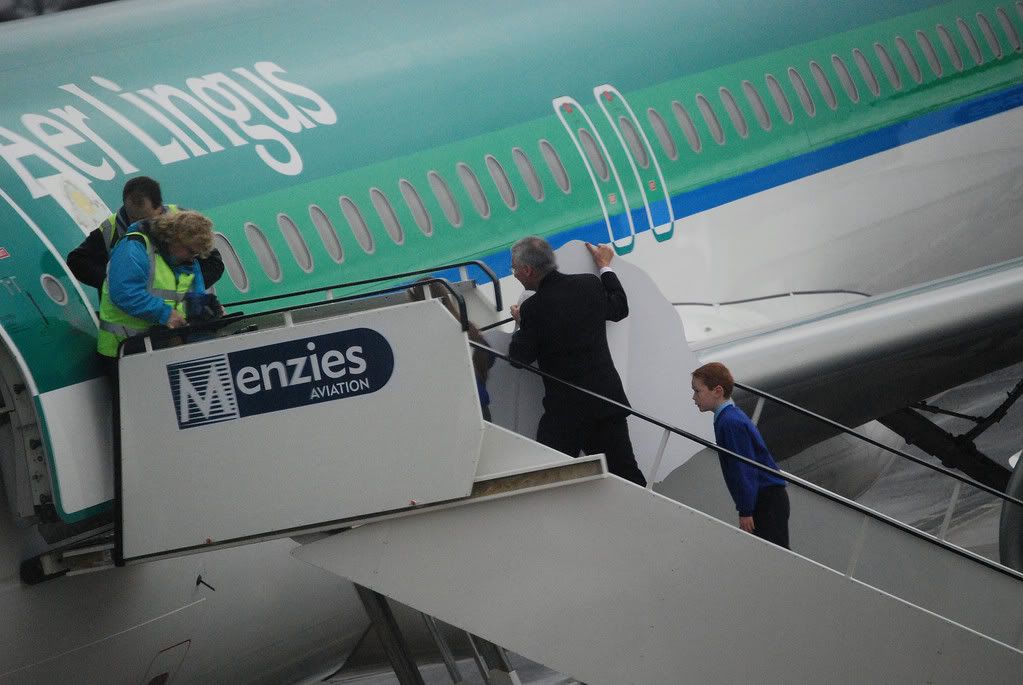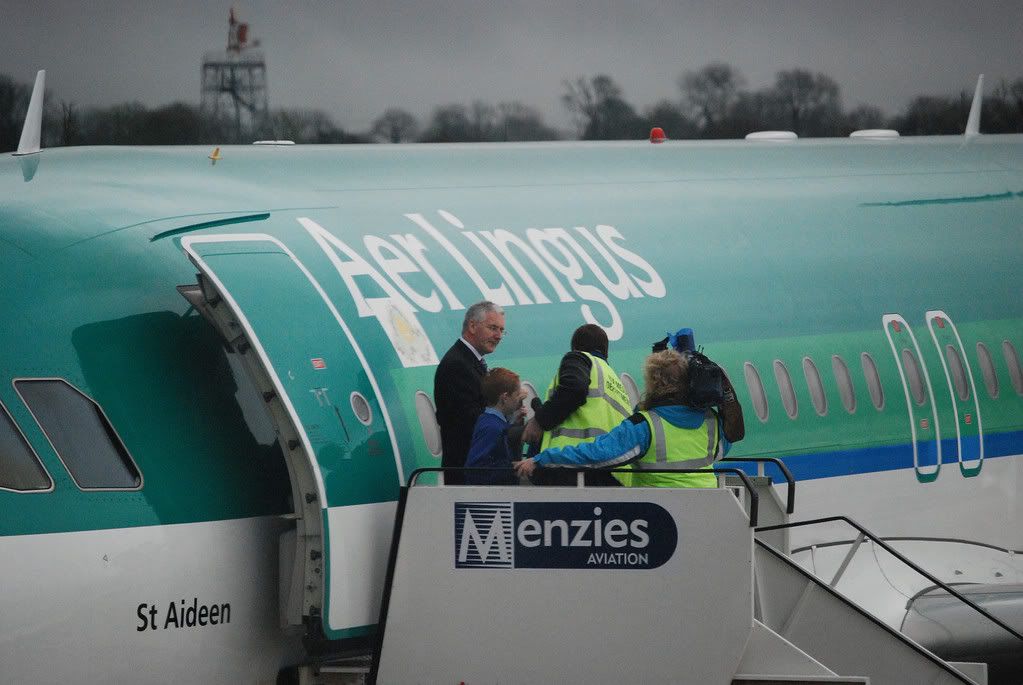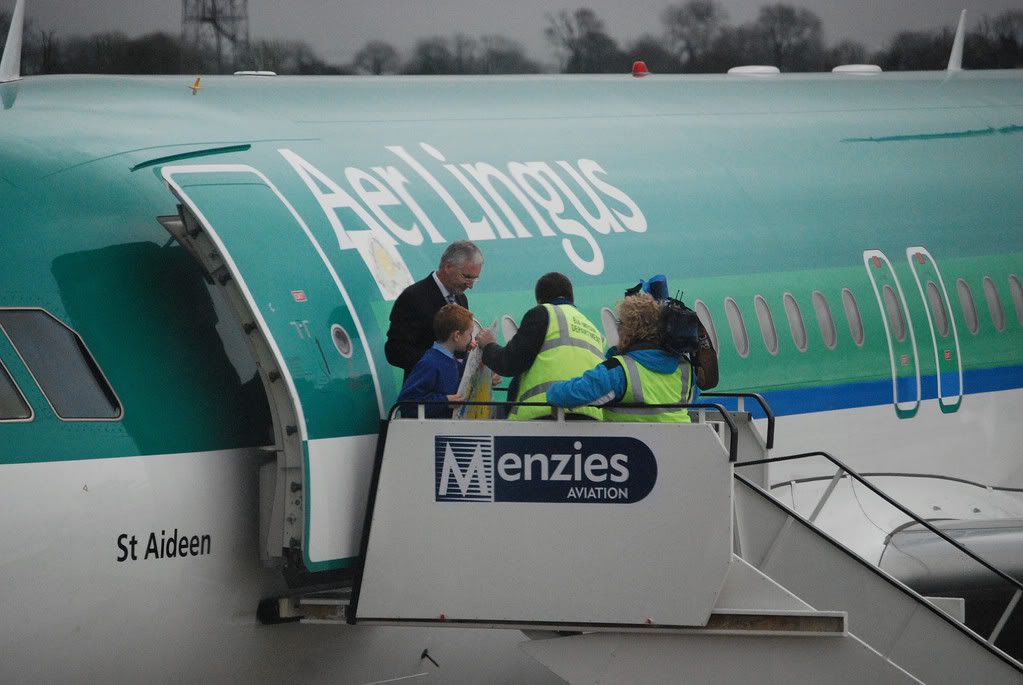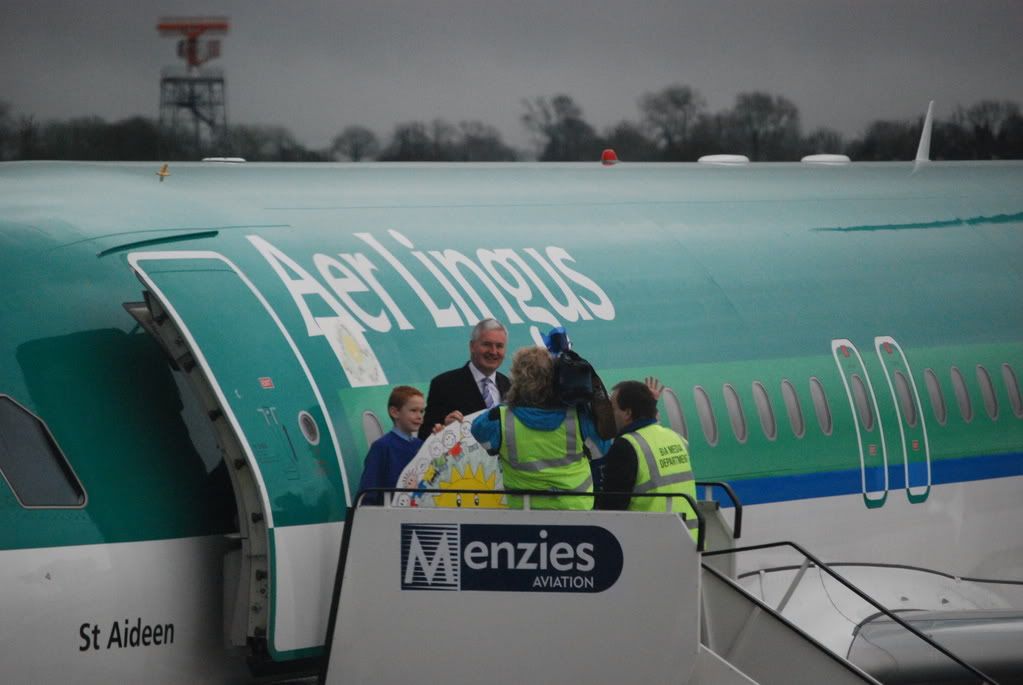 Oh the difficulties of being an airline CEO...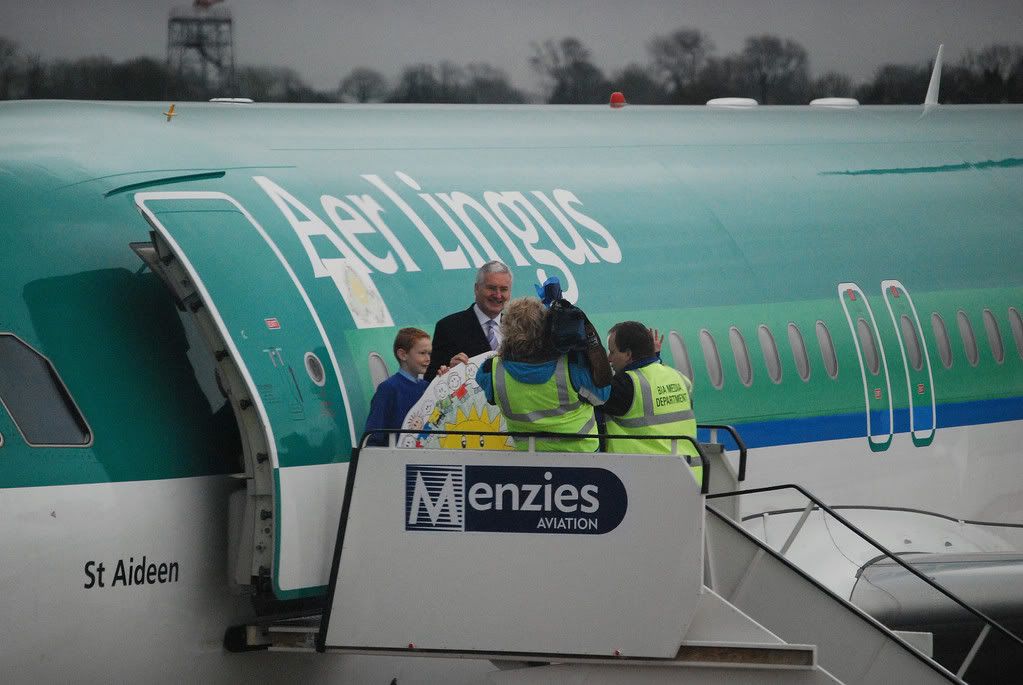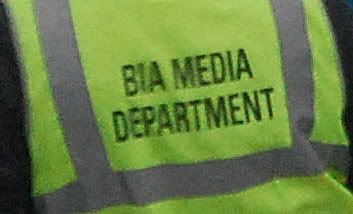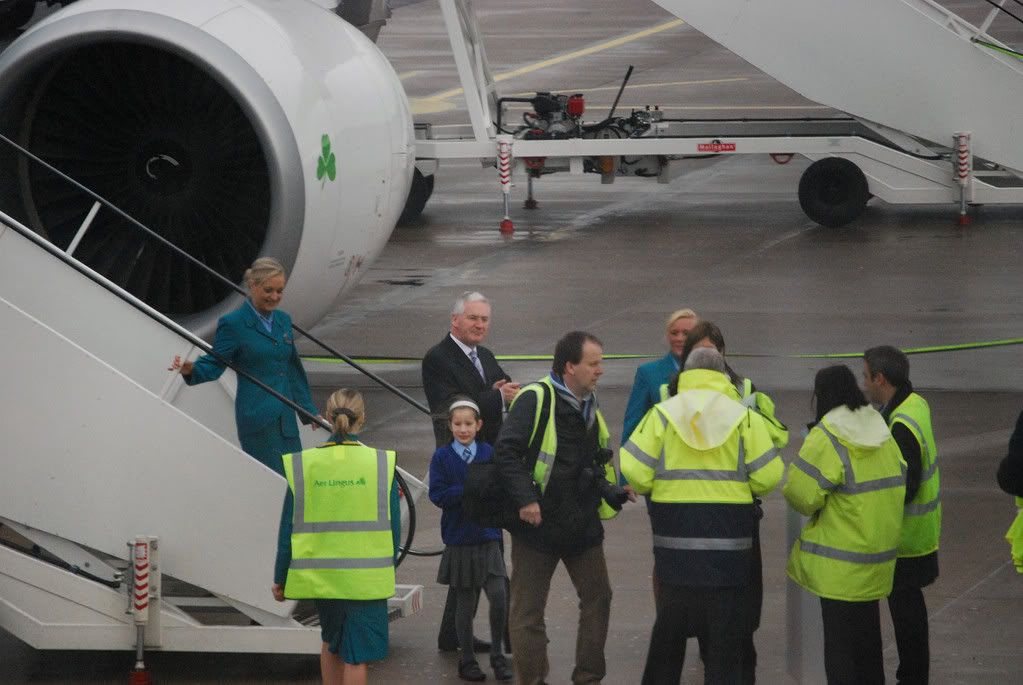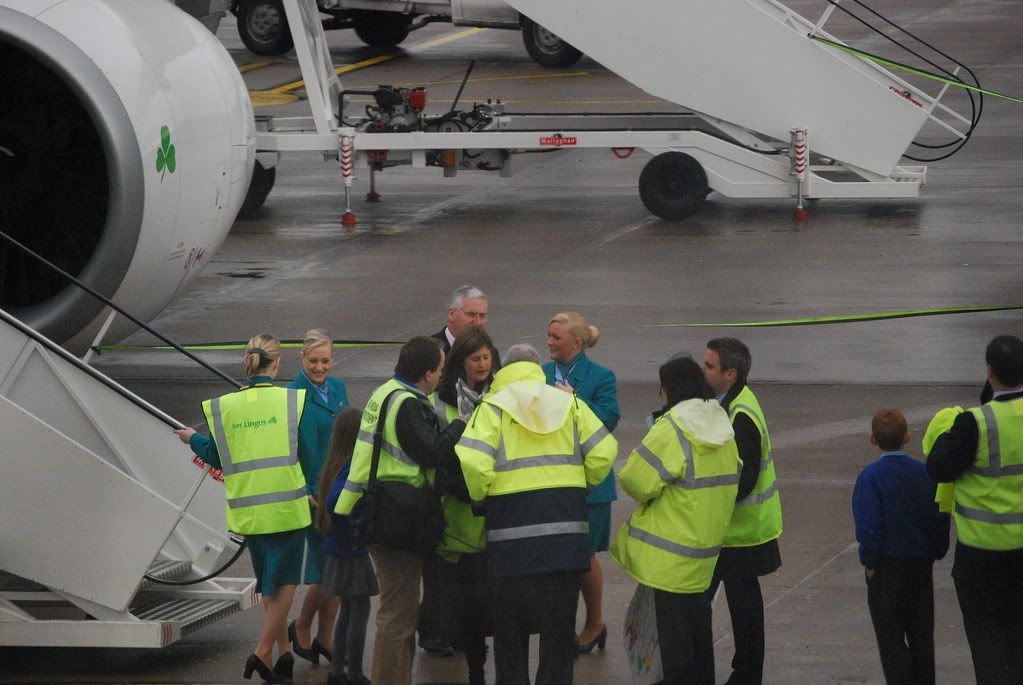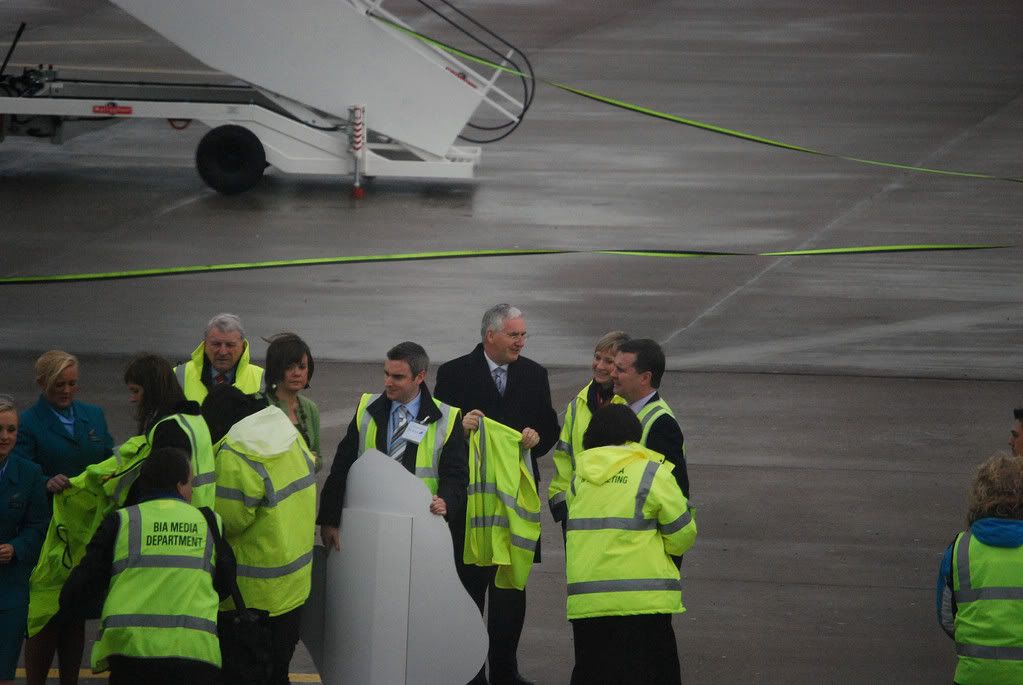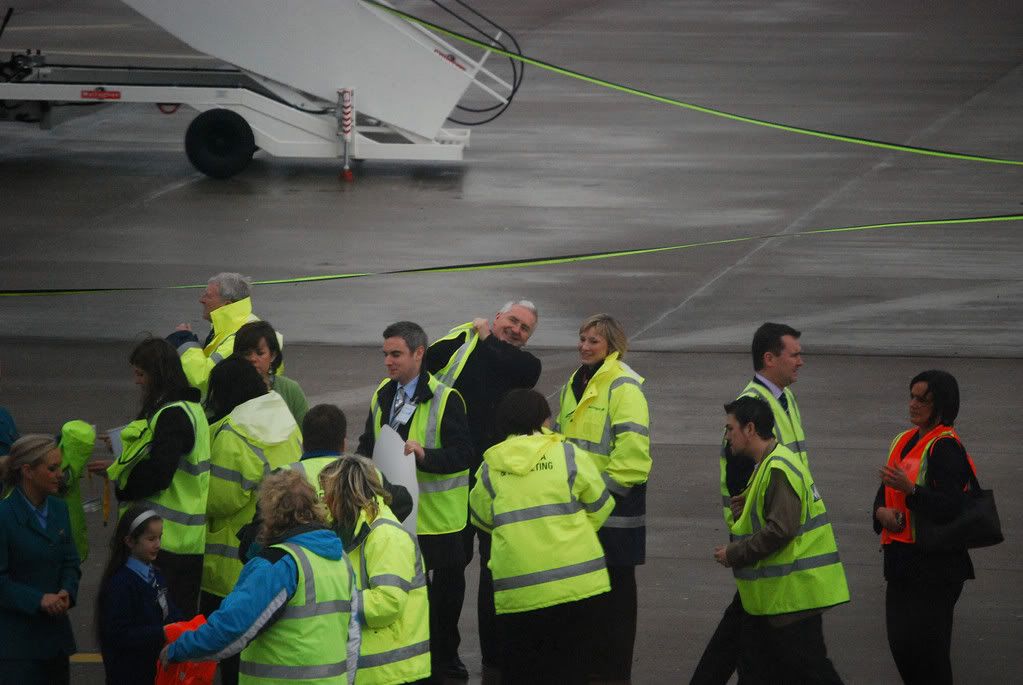 Some local "celebrity".
Anyone know who he is?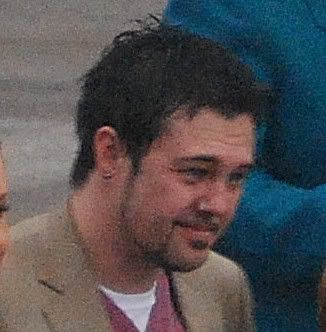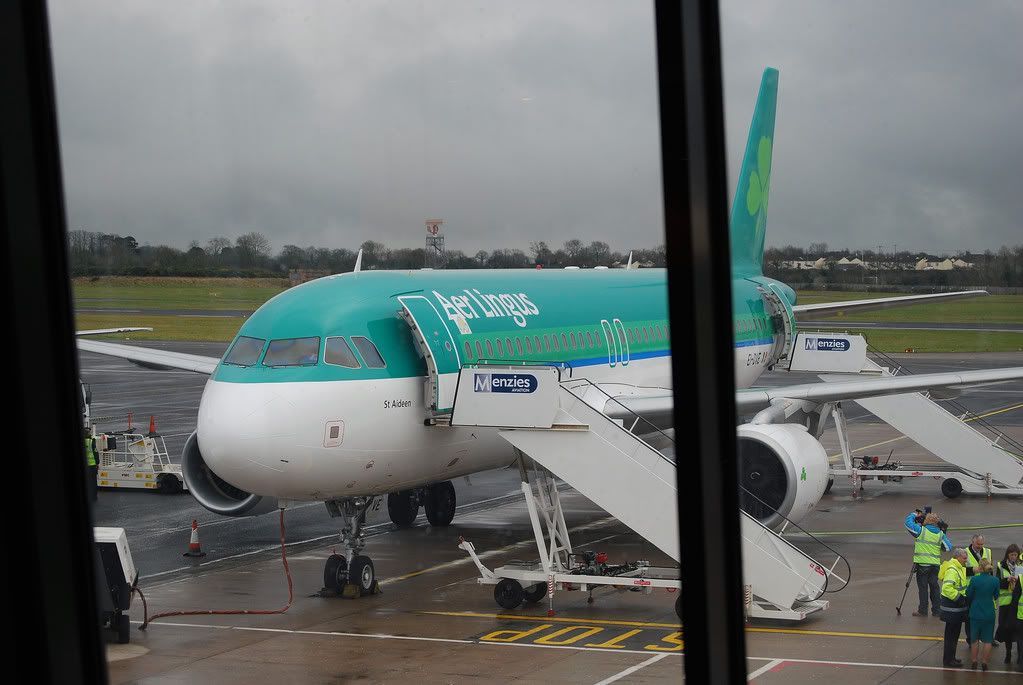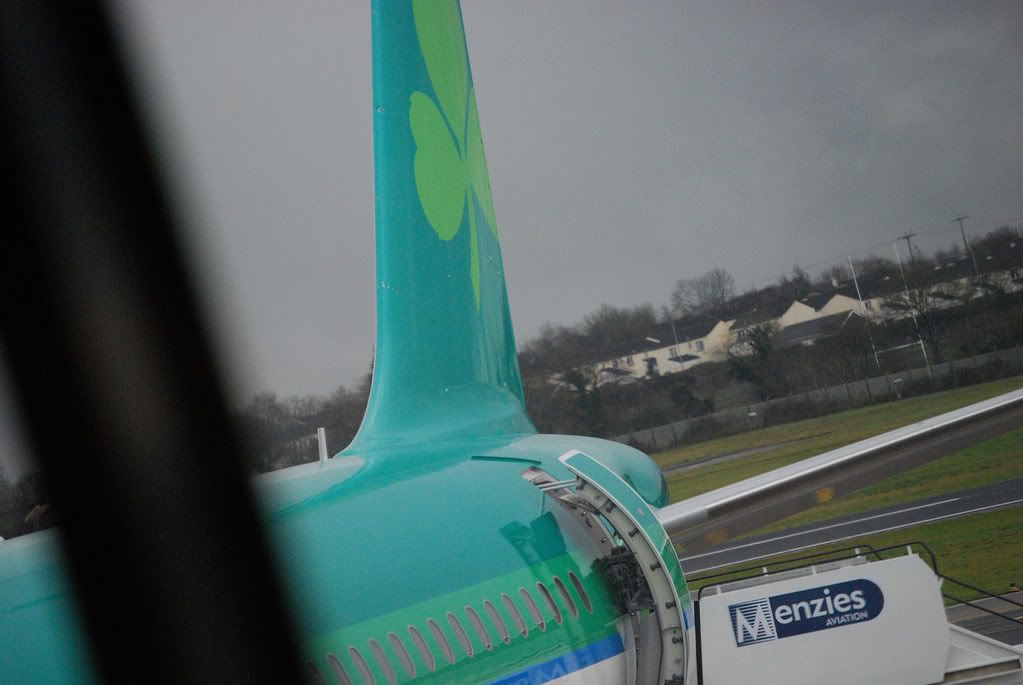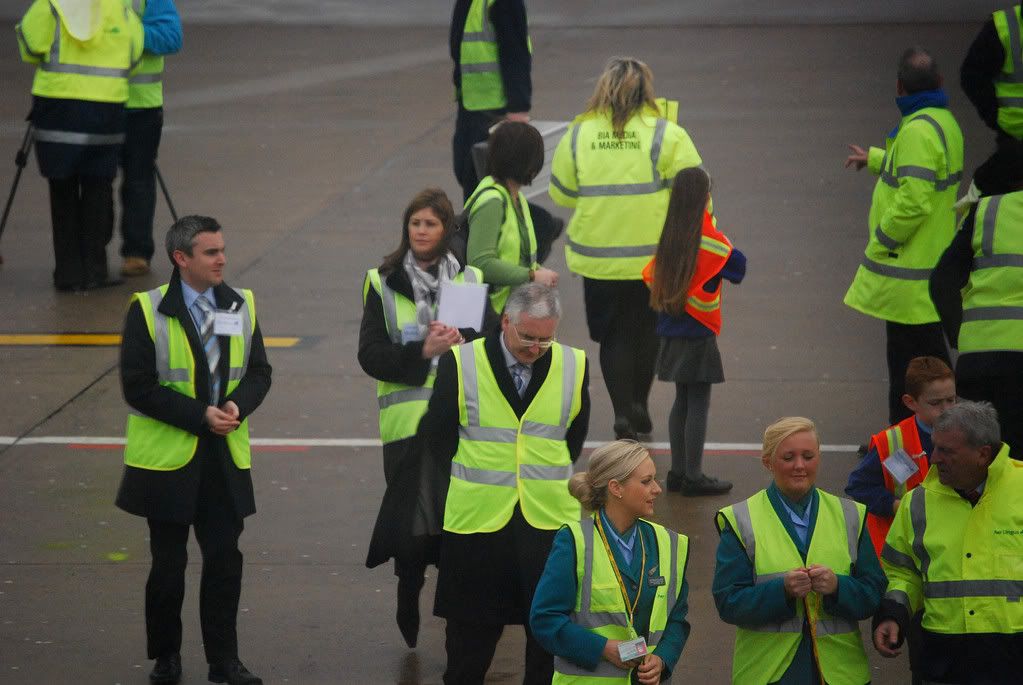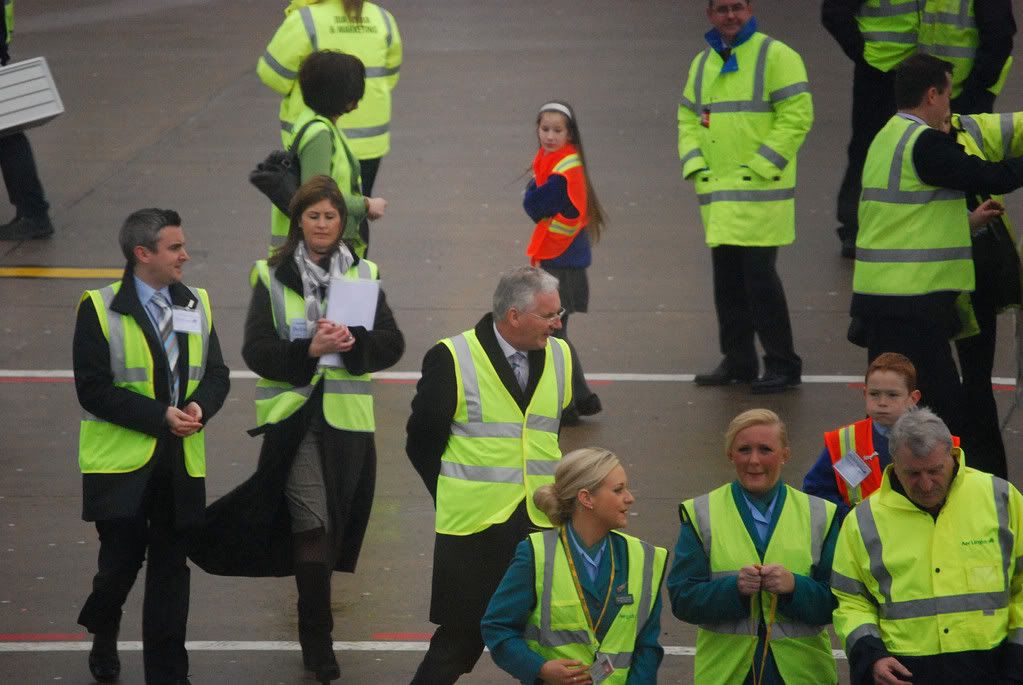 " You see, by moving the slots to the North, we knew the Government would be on our side, then we could do what we want...." tips for a budding CEO, from the man himself.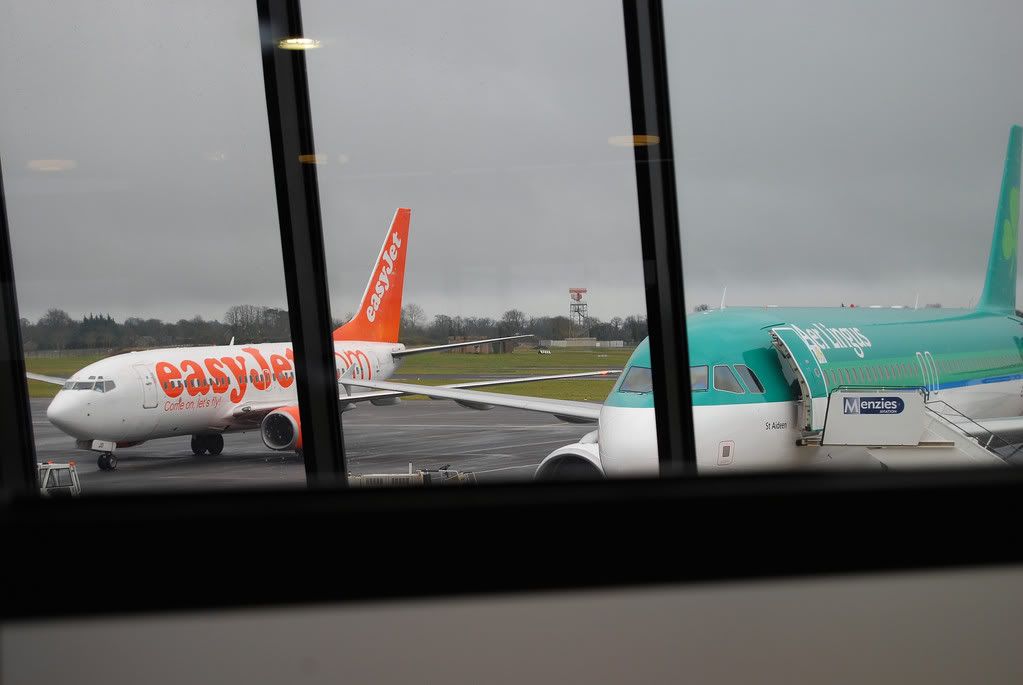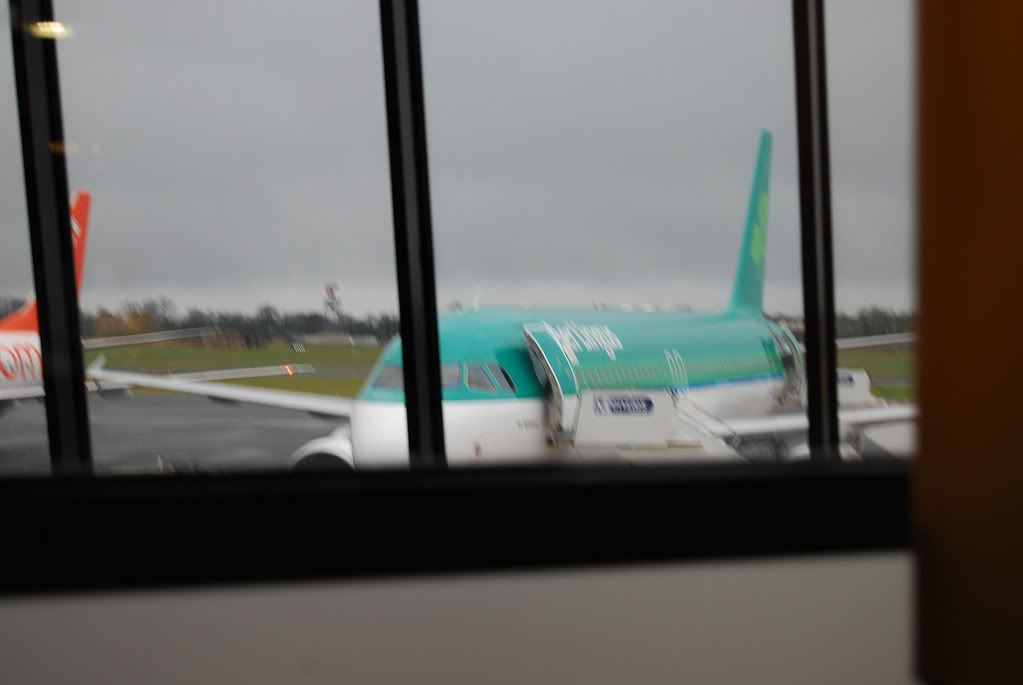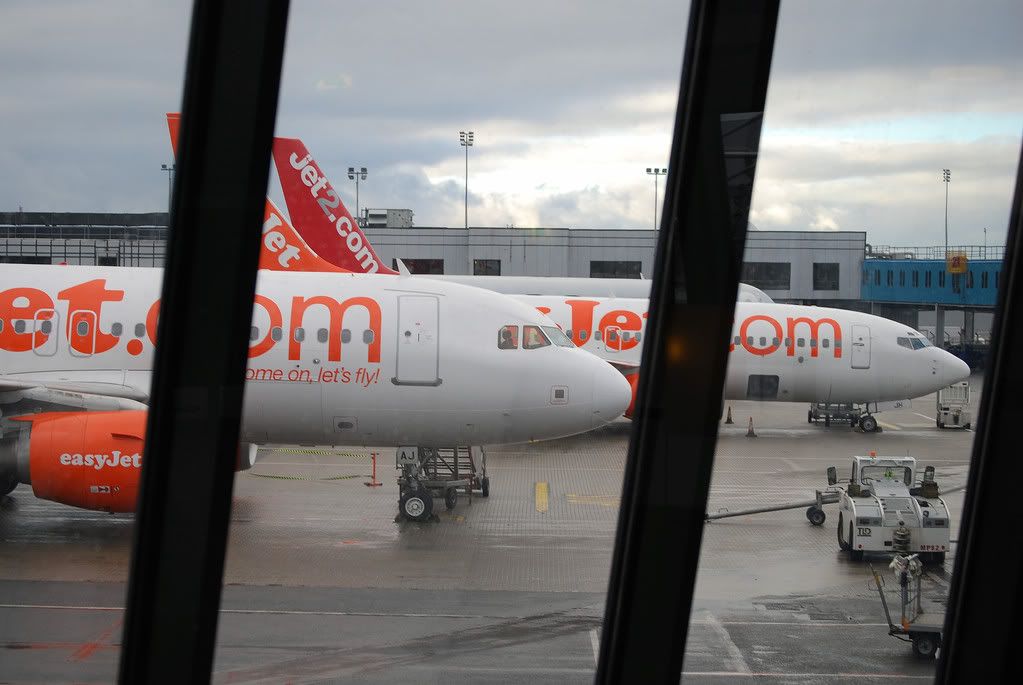 Time to head to the gate. Down there, i noticed the woman in front of me had an Australian passport, so she might have been connecting homeward perhaps?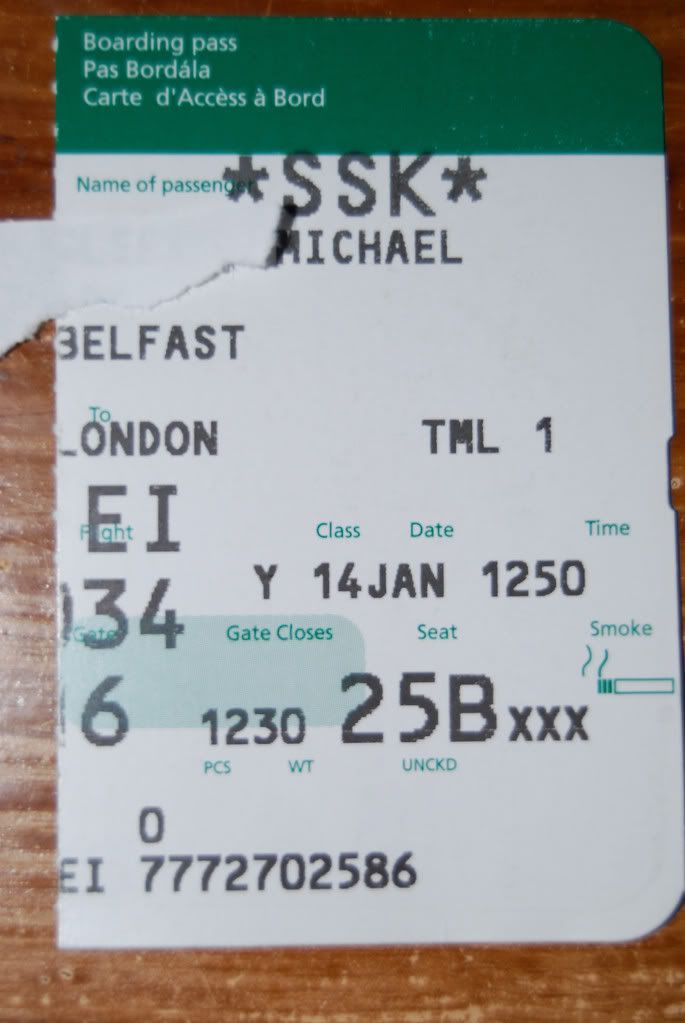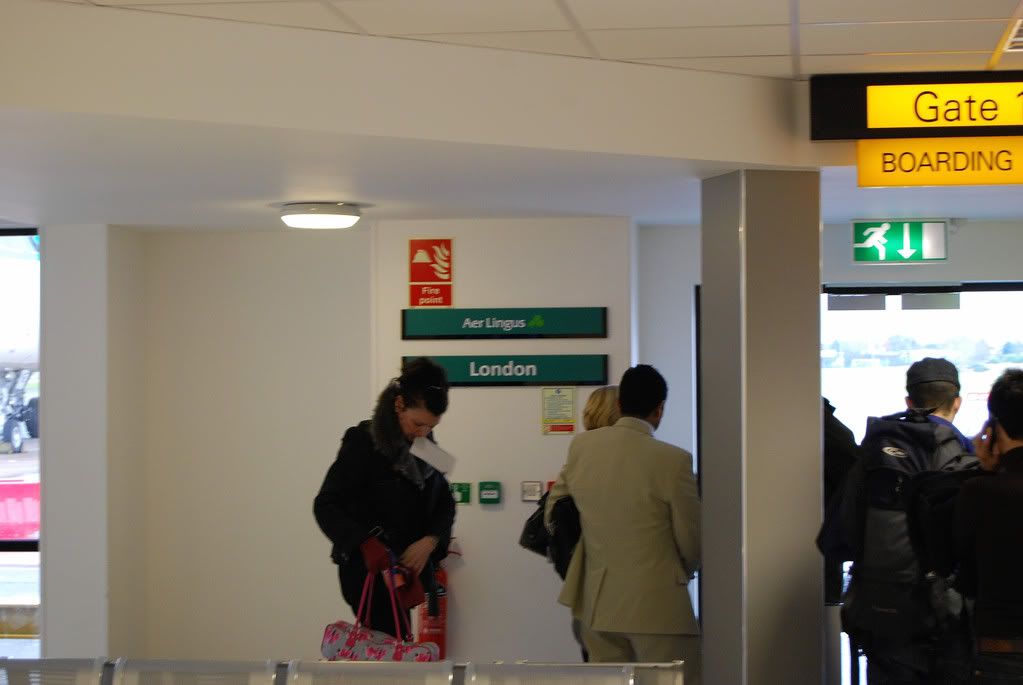 I took more pictures on the tarmac.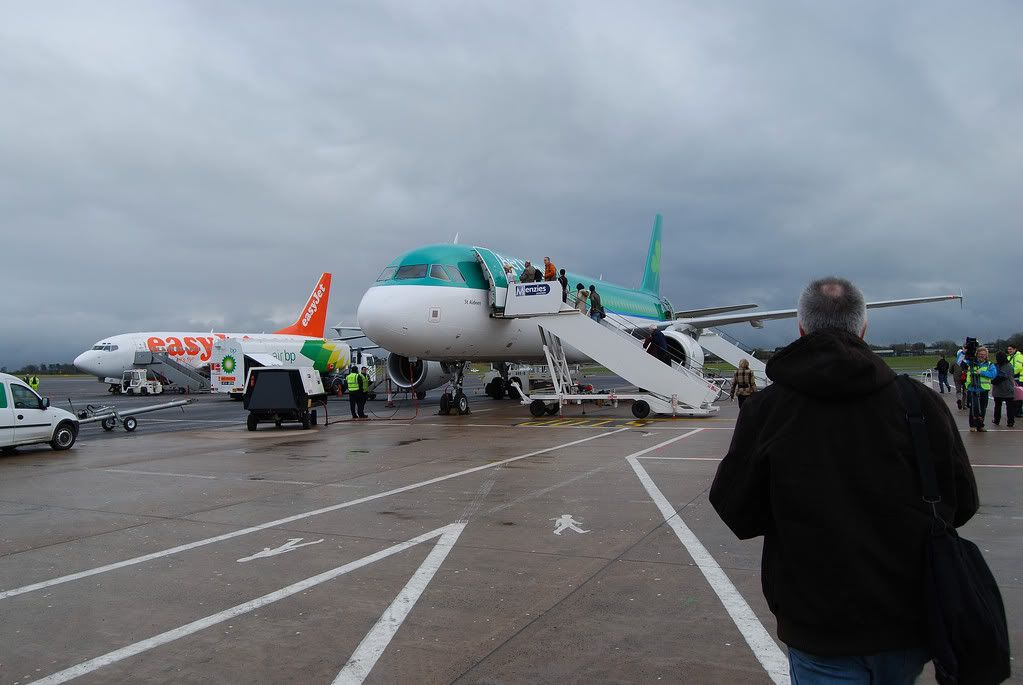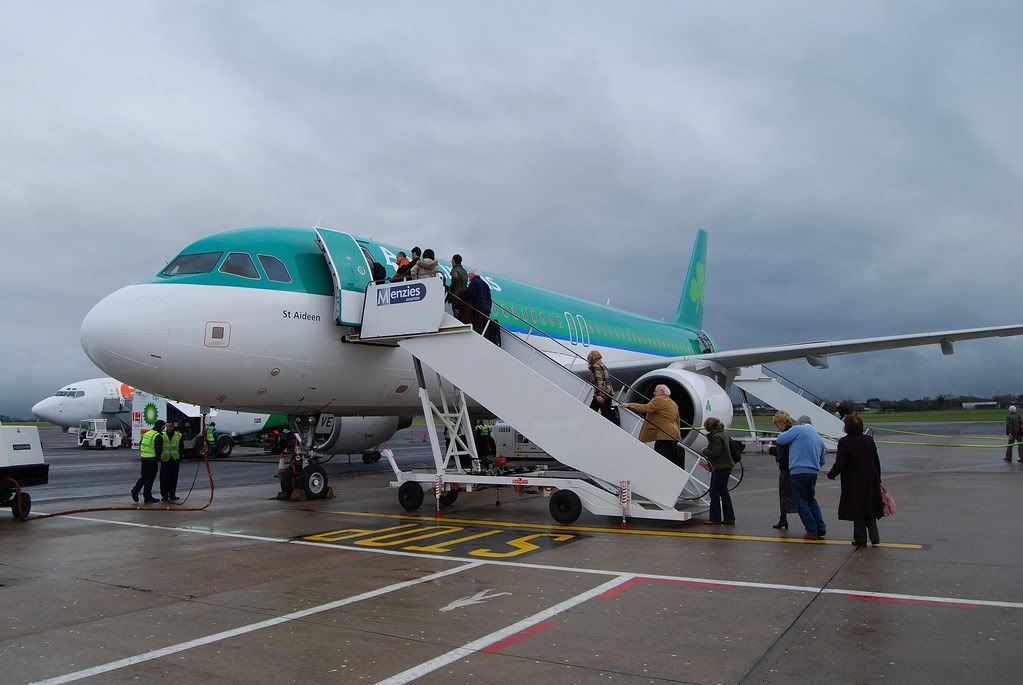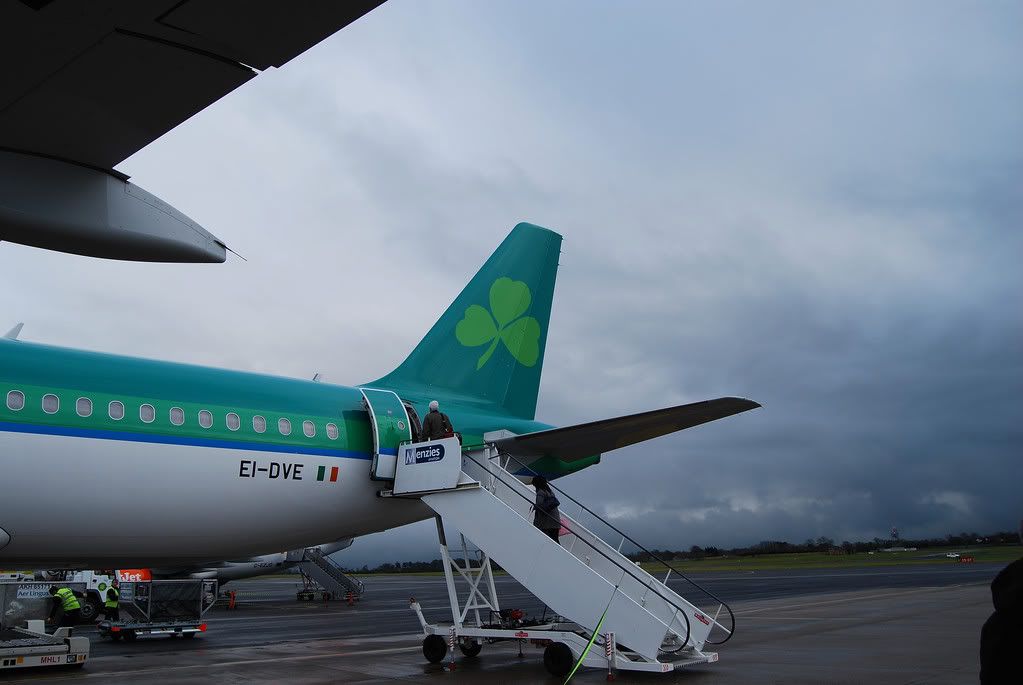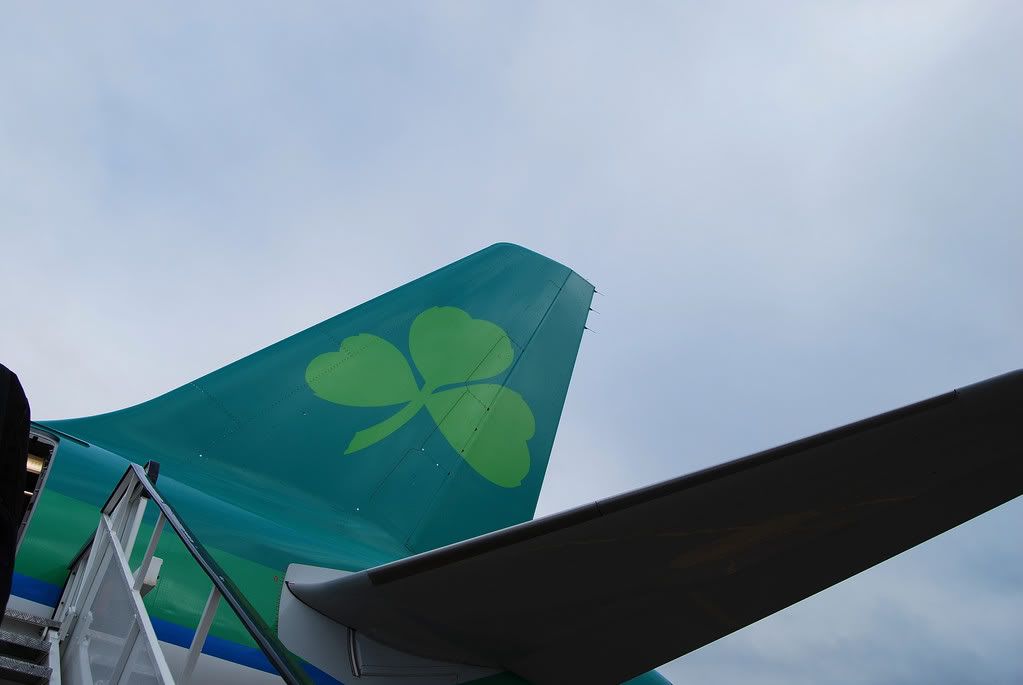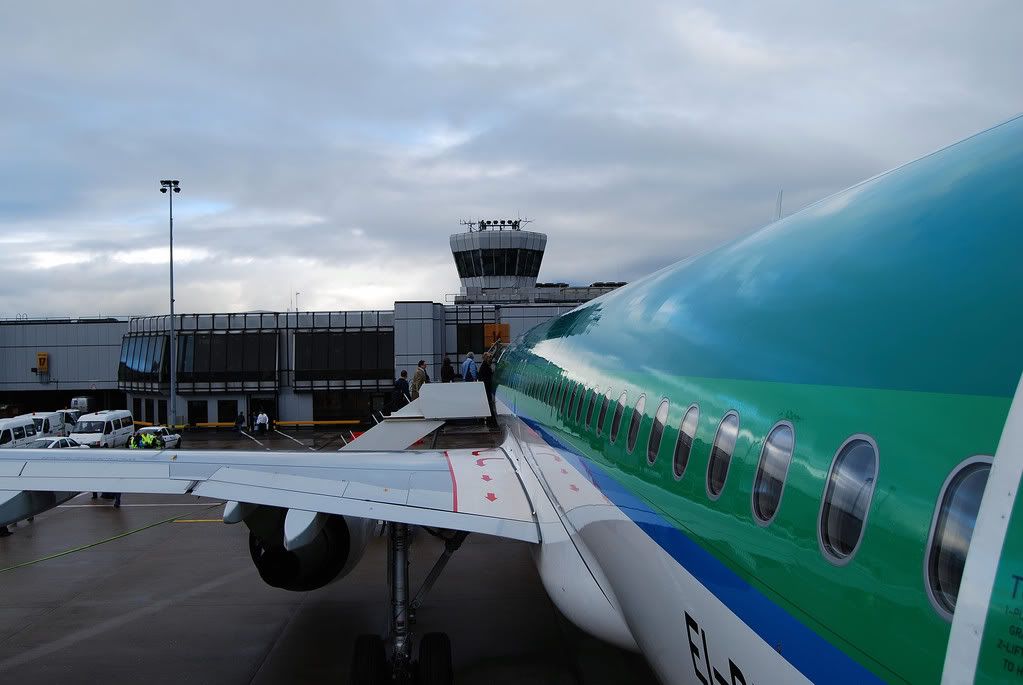 There was a different crew onboard, but same combo as before.
Because the flight was still refueling, we were asked to sit with our seat belts un-done.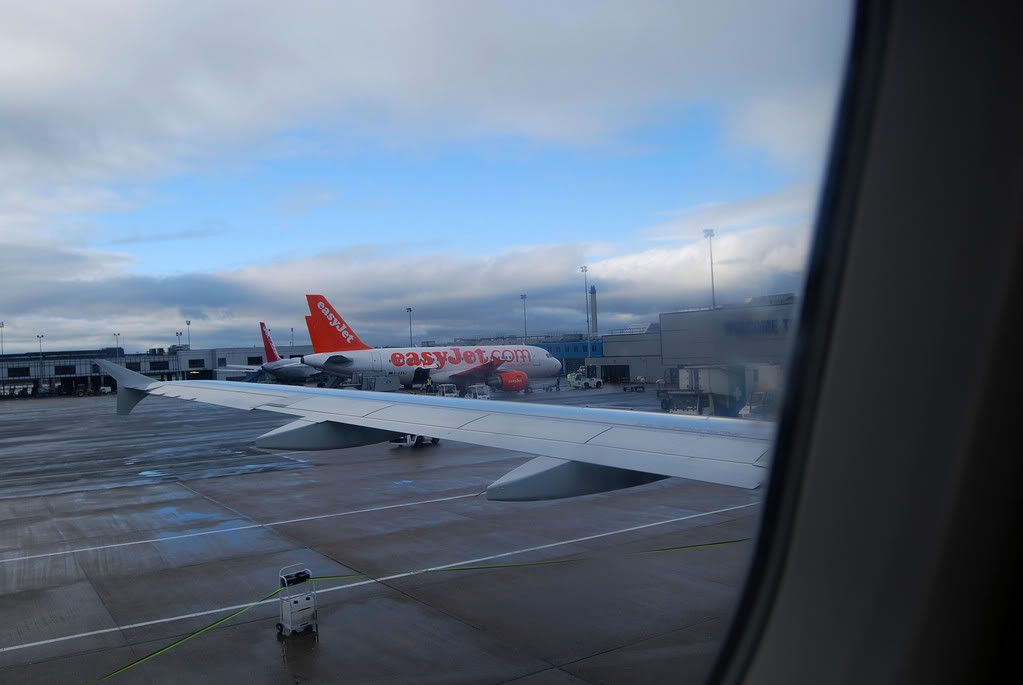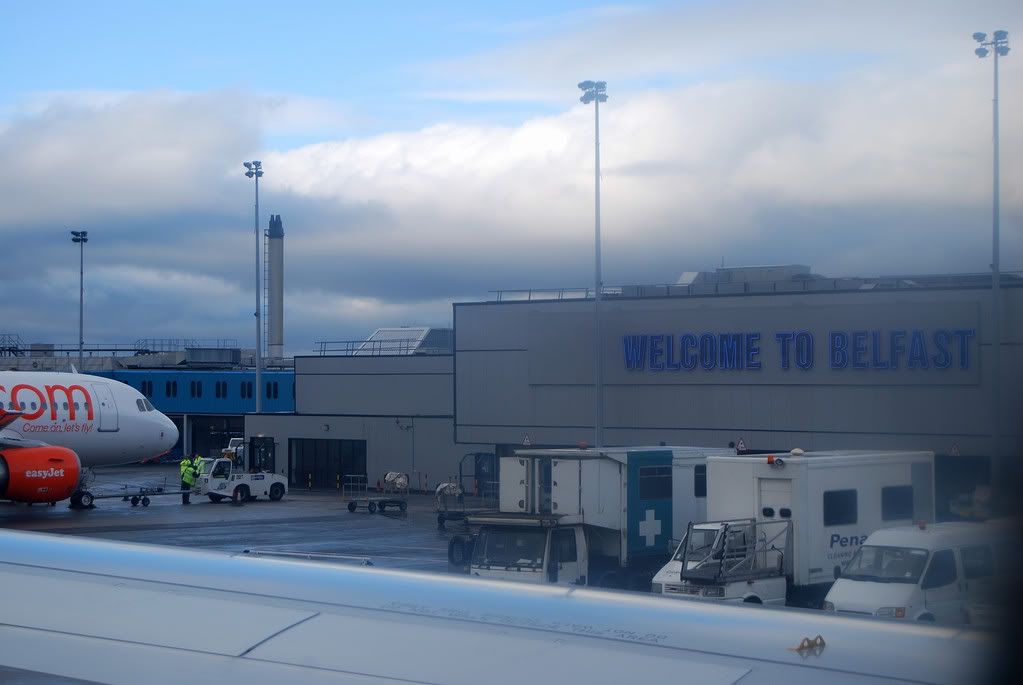 The flight was pretty uneventful, and I just read my magazine, and didn't order anything. The load was light, around 50%.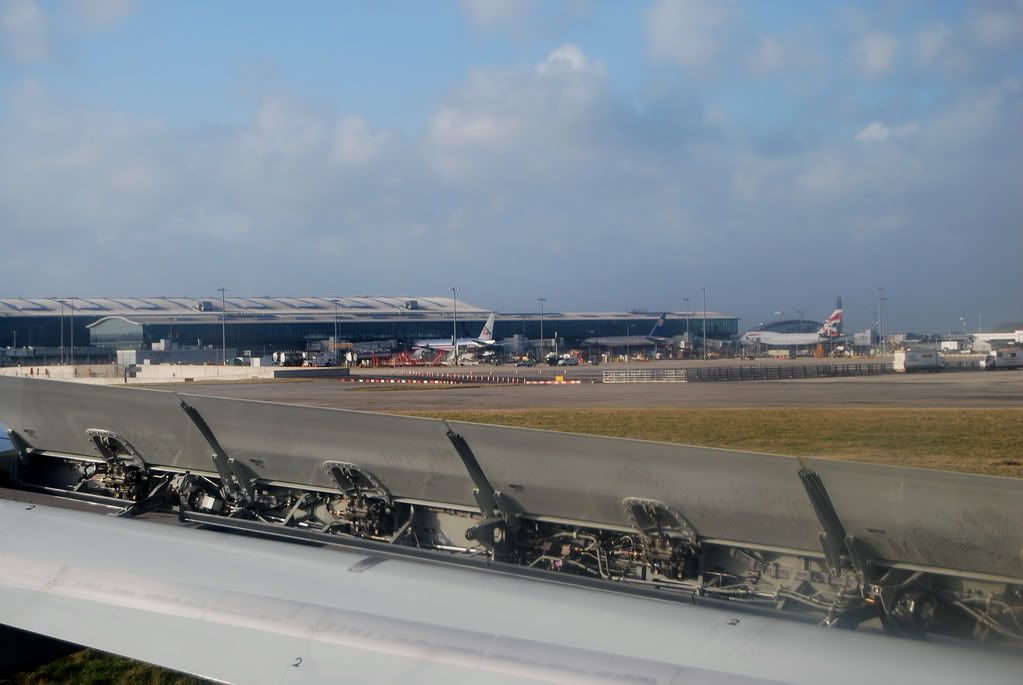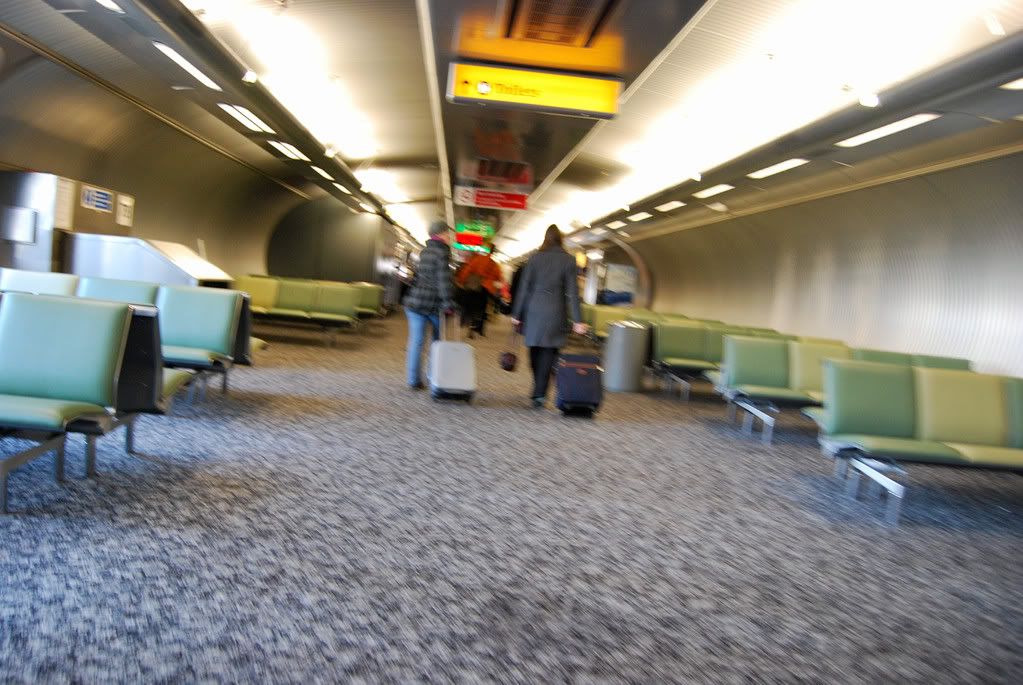 Ba 757 preparing for flight to Glasgow.
We headed out to check in for our last flight. Then we had lunch in the Café Rouge. It was pretty quiet, yet it was 15 mins before a Waiter finally came over, and only because I raised my hand. The food was good, and came quickly enough once ordered.
After that we headed for security, and this time I didn't beep. Strange. We headed to the domestic gates, and for the lounge, where we set up camp for the next few hours. I read magazines, newspapers, and the like, and eventually managed to get on the internet (I'm not sure how you're ment to normally) after someone else used it and walked away, meaning they payed for me! After about two hours I went out to look around. At the end of the pier, there were some people waiting for their flights, and one guy was asleep on the benches, and snoring so loudly I could here him from just outside of the lounge, and people up and down the pier were laughing at him. It was quite funny.
Our flight having just arrived, when it should be about to leave.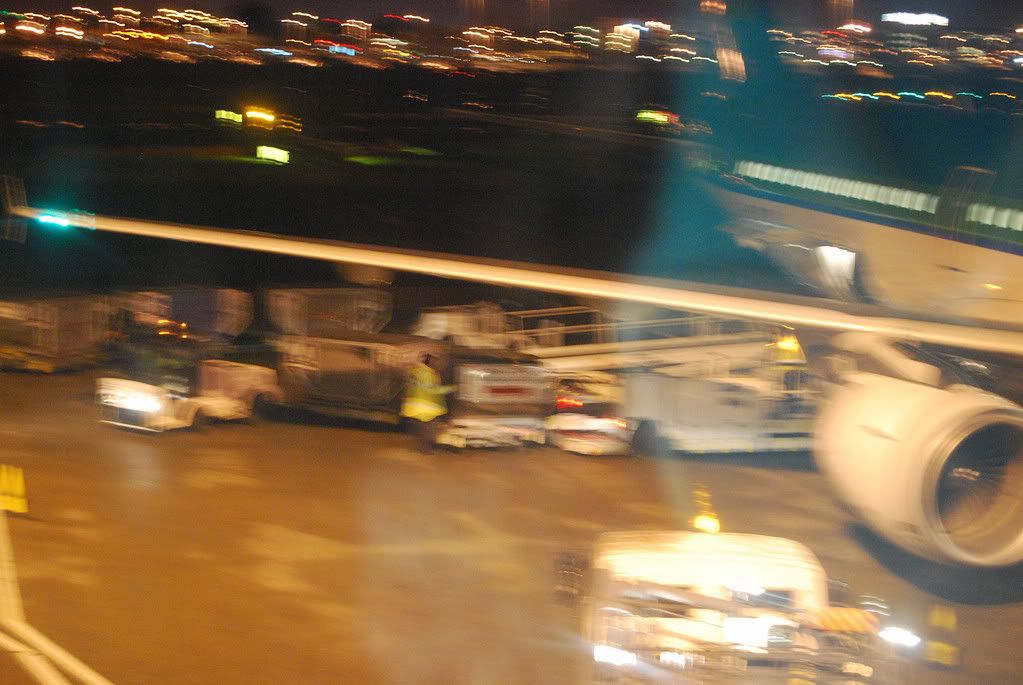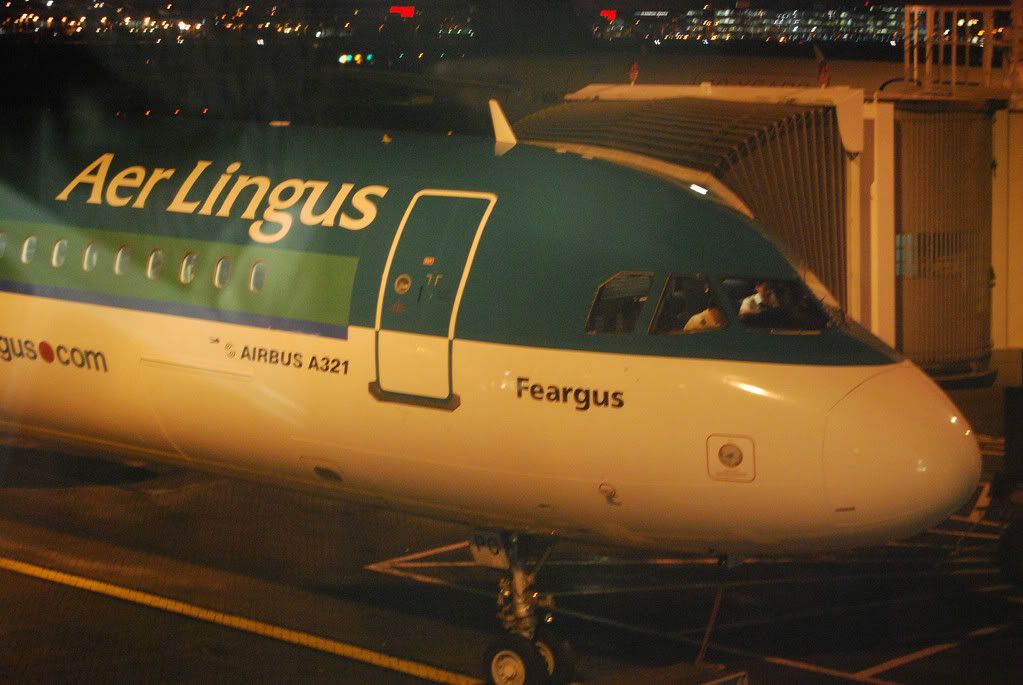 Flight to Dublin.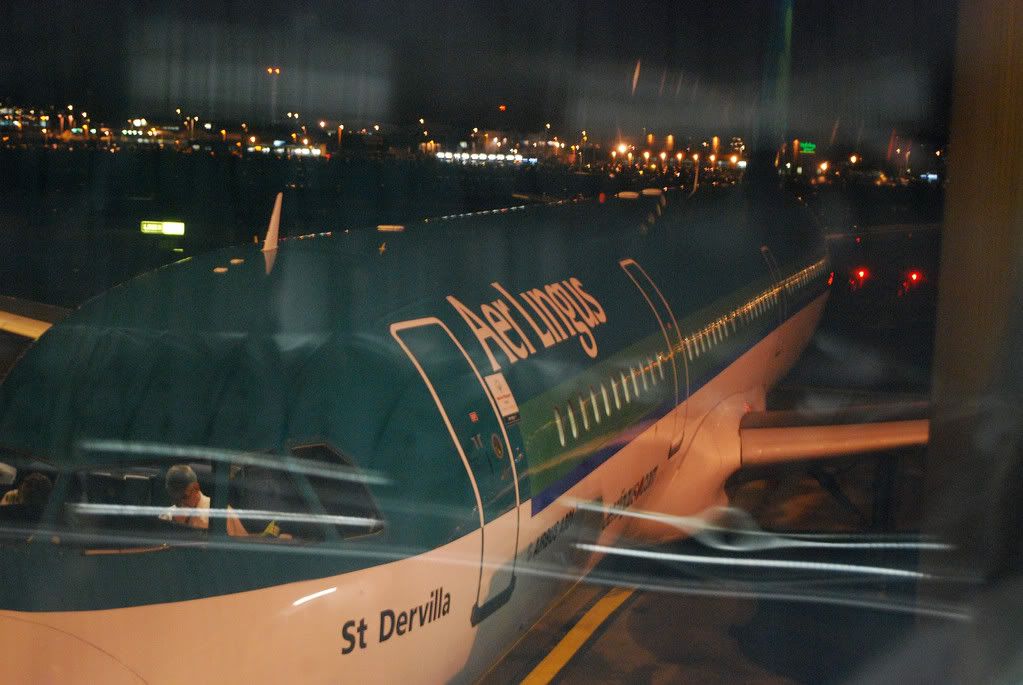 The runway nearest us had been closed do to an "incident" earlier, caused by cross winds. As a result, one of the flights to Dublin was cancelled. Our flight was badly delayed.
We went out to the gate eventually, and got in the long line for boarding. A few Cork business men in front of me were talking, one of them mentioning that the only thing he hates more than standing in a que was flying Ryanair, and he went on about how he prefers Aer Lingus, and flights to Heathrow cause he's out early in the morning, and back in the evening.
We boarded our flight.
Our A321 was fairly full for our evening flight. This was the first flight that had a male cabin crew member, who also happened to be the purser on this flight. We were delayed for 25 mins, so during that time i headed to use the loo at the back. Man, was in windy down there, the arse of the plane was swaying from side to side. It was so bad while I was in the lav, that I actually had to hold onto the railing, and then the APU was switched on. All in all, very interesting.
We pushed back eventually, and headed for the runway, passing by a lot of traffic on the way.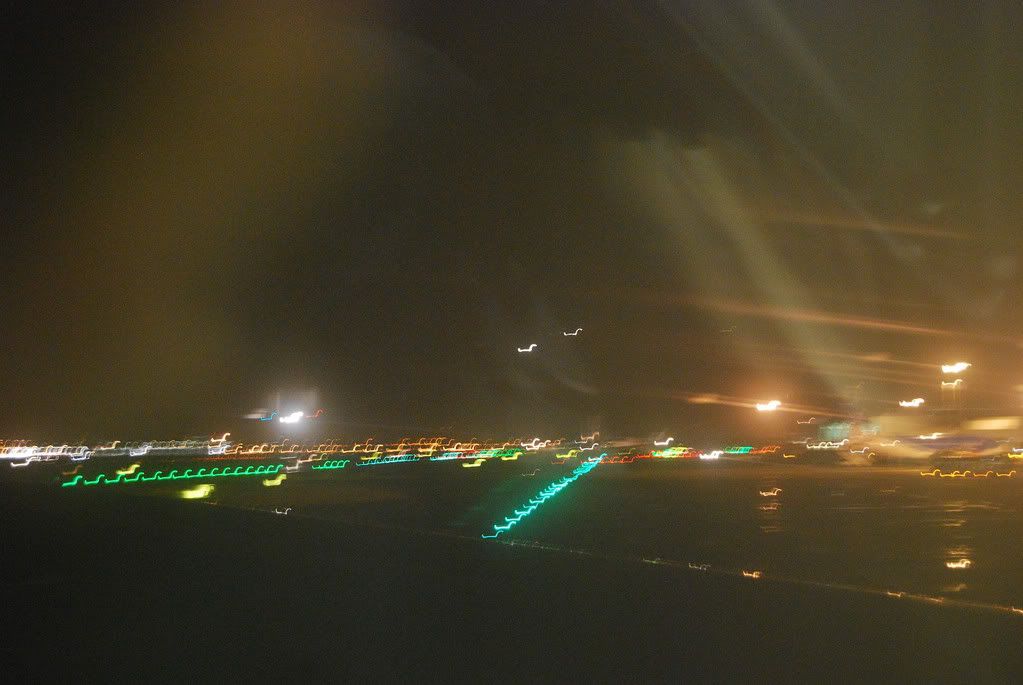 Once we finished waiting, we took off! This flight was much the same as the previous. I spent most of it reading Cara Irish for "friend") which is the Aer Lingus inflight magazine.
Picture courtesy of Shamrock350.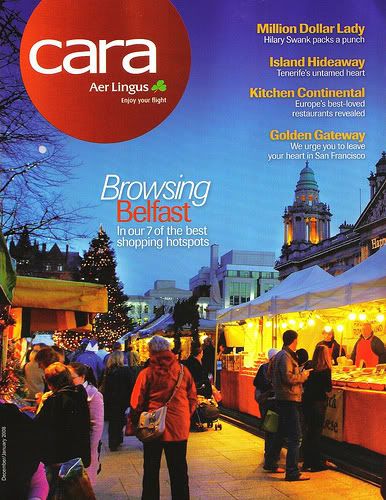 Our approach into Cork was bumpy, but we got a great view of the City, and surrounding area. We touched down quite far along the runway, and then the pilot (the Captain was a woman on this flight, can't remember the last time I had a female flight deck crew member) slammed on the brakes. We did a U-turn and we taxied to the gate, the gate we used being the only one at ORK with an air bridge. I must say the new terminal is just great. It reminds me a lot of Shannon. Passport control took a while, but then we got through and headed to the Hertz Car Rental desk to pick up our vehicle.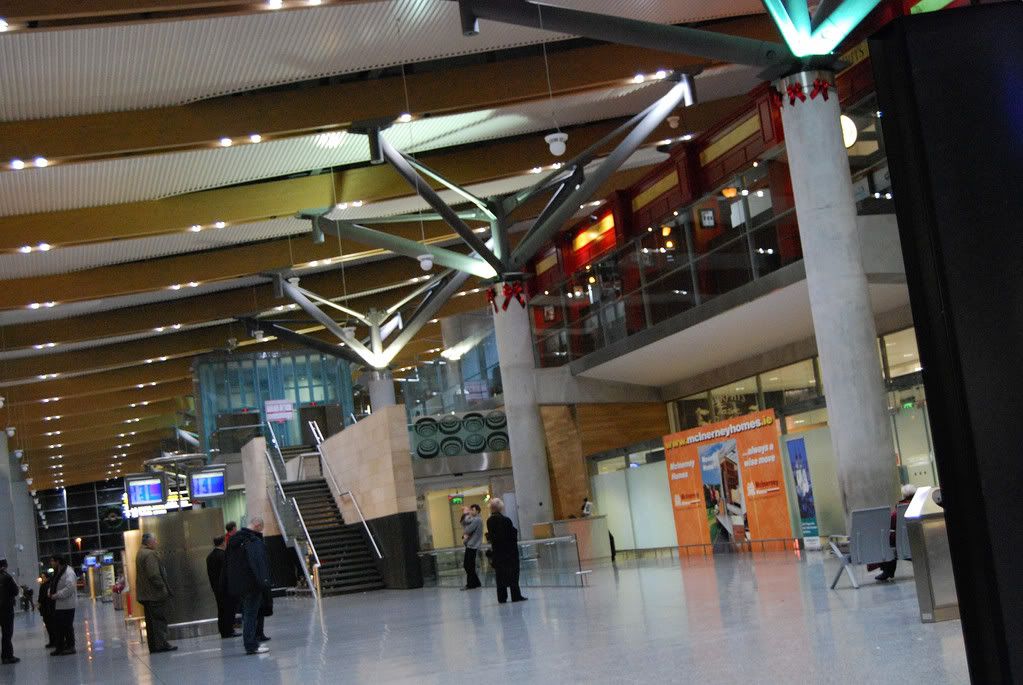 We got into our little Opel, and drove home.
Overall I really enjoyed my quick, but tiring trip. I fear I'll never live down the slagging from my cousins over my "idea of a good time", but it was worth it. I'm glad to be able to say "I was there" for the last flight, and the first flight
I hope you have all enjoyed my report, and please forgive any spelling mistakes, or grammar mistakes that were not caught by the spell checker.
Once again, I would ask you all not to comment on the Aer Lingus move to Belfast from Shannon in manners such as "it should have been done a long time ago" or "I have no sympathy for the people in Shannon" or anything along those lines. I like to think that I was a sort of ambassador for the West, and have extended my happiness and support for Belfast. Shannon has a place to play in this country and I don't see it going under in the future, with a new route to CDG, continued commitment from FR, and a recent, and trendy re-branding, they'll do well if they play their cards right.
Thanks folks!