Note: This is a long trip report.
Background:
I decided on a trip to Asia in February, due to the nice hot climate for the time of year. After a discussion with a friend from work (Nick), a Trip to Bali, Indonesia was decided upon. We decided a 12 day trip would be ok.
I looked at what SQ flights ex LHR were available, and after a short phone call to Air Canada, I secured a reward booking using air miles, after paying £95 / $180US in taxes for the trip (not bad eh?)
My trip was planned as follows:
Mon 18th Feb 2008 LHR-SIN SQ317 B744 F Class
Tue 19th Feb 2008 SIN-DPS SQ942 B772 C Class
Fri 29th Feb 2008 DPS-SIN SQ941 B772 C Class
Fri 29th Feb 2008 SIN-LHR SQ318 B744 Y Class
A couple of days later, I received my e-ticket confirmation, and that was it - I was confirmed for my first ever flight in International F class
**Just to note, Nick will not appear on the report, as he requested pics of him not be posted.
The Trip:
Leg 1:-
Date: Mon 18th Feb 2008
Departure Apt: LHR
Arrival Apt: SIN
Aircraft: Boeing 747-400 (9V SPE)
Flight No: SQ 317
Seat: 2A - First Class
After an overnight stay at a Heathrow hotel, we finally arrived at the airport just after 8am. We had already checked in online, so just needed to collect our boarding passes and hand over our baggage. Once the formalities were completed, we went to collect our pre-ordered currency, then passed thru "Fast Track" security. By 9am we had made our way to the SQ Silver Kris Lounge, where we relaxed in the 1st Class section.
Pics from the lounge.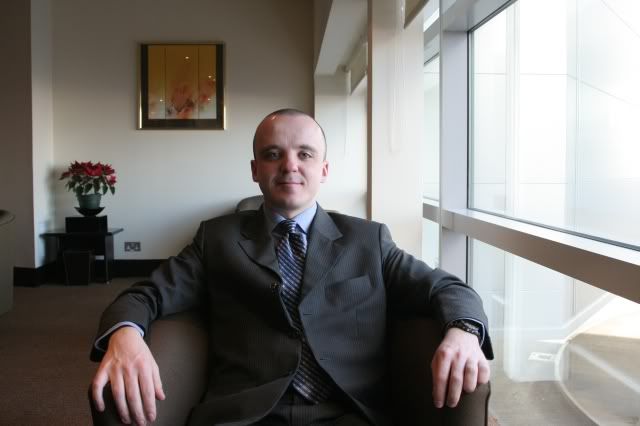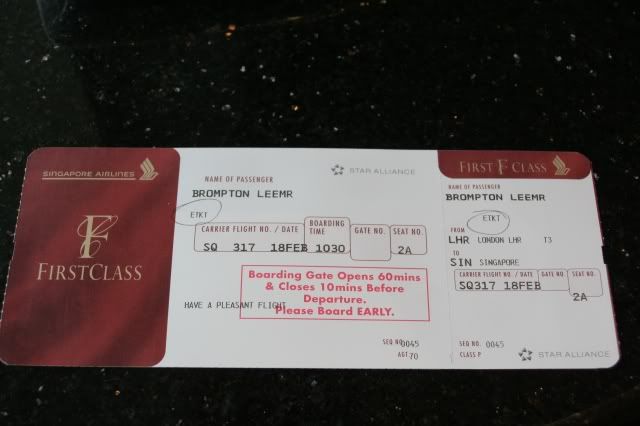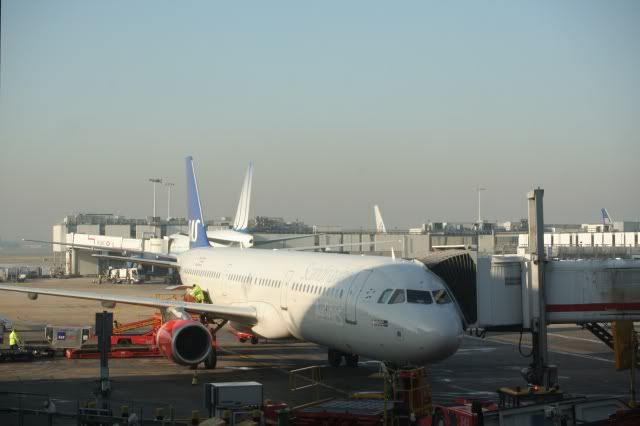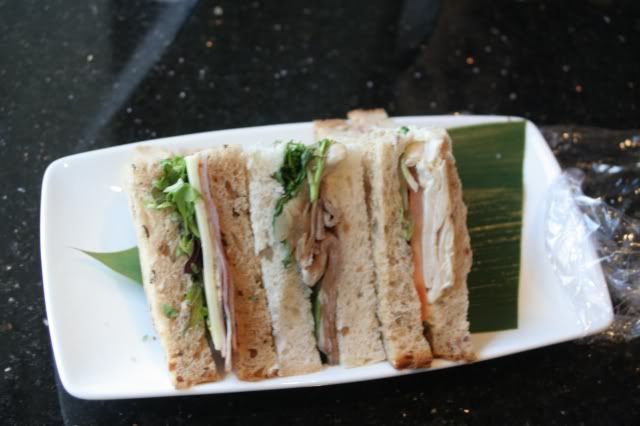 At 11am (sched departure time), it was announced that the flight was still not ready for boarding, and that "for our comfort" we should remain in the lounge. At 11:20, boarding was announced, leaving from gate 24 (324), which I know immediately was a "bus" gate, therefore we would be leaving from a remote stand.
Sure enough, we boarded the bus, and embarked on a 10 min journey via the 'airside road tunnel', where we emerged next to T5, and our aircraft sure enough was there, doors open with Flight Attendants eagerly awaiting us.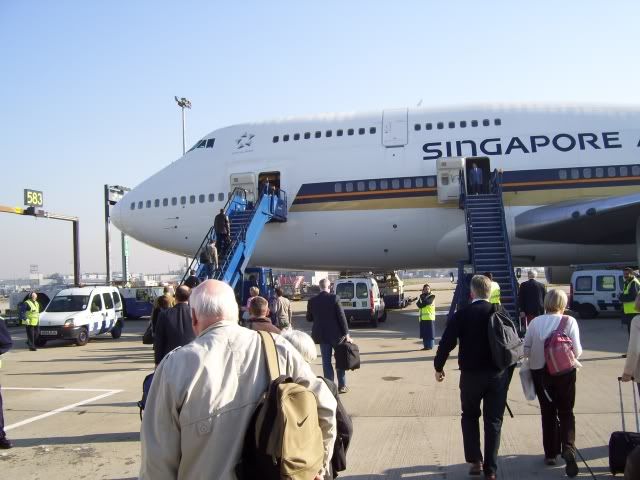 I boarded via door L1, while Nick took L2. Pre departure drinks were offered, along with hot towels, which I found very welcoming. Also, menu's, headsets, eye shades, socks, toiletry kit and Pyjamas were handed out too.
At about 12 noon we pushed back an headed for the runway, 09R for takeoff. Ahead of us were a couple of bmi A320s and a BA A320. On the opposite taxiway also awaiting departure were a BA A320 and a QF 747-400. At roughly 12:05 the captain announced takeoff was next for us, and the F/As took their seats. Our aircraft entered the runway and performed a rolling takeoff. The video of this can be seen below.
Roughly 15 mins into the climbout, cabin service started, beggining with a drink offering, which for me was orange juice. I took some more pictures whilst we climbed east towards the North Sea.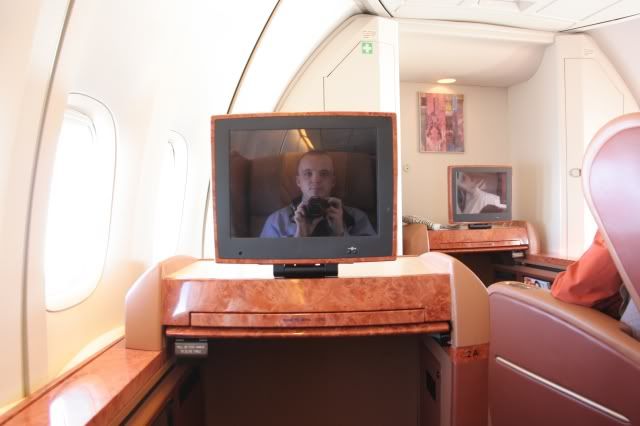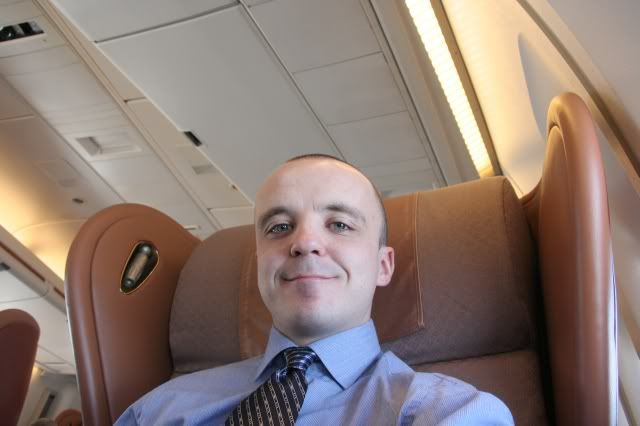 Another hot towel was offered, then the lead F/A came and confirmed my meal choices with me - I had booked my meals (main course only) via the SQ "book the cook" service a few weeks prior to the flight.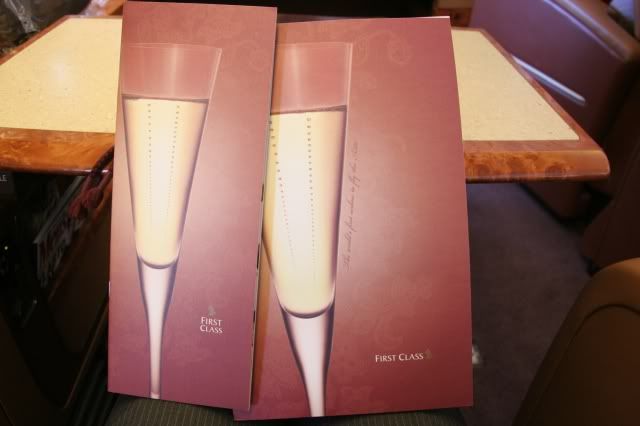 Menu:
Canape - Satay with Spicy Sauces.
Soup - Cantonese Chicken Soup with Lotus Root and Red Dates.
Salad - Caesar Salad
Main Course - Roasted Lamb with Potatoes and Gravy.
Dessert - Lemon Panna Cotta with Citrus Salad, Raspberry Coulis topping.
Cheese and Fruit Selection
Garlic Bread.
The following are pics of the meal in the order that it was presented: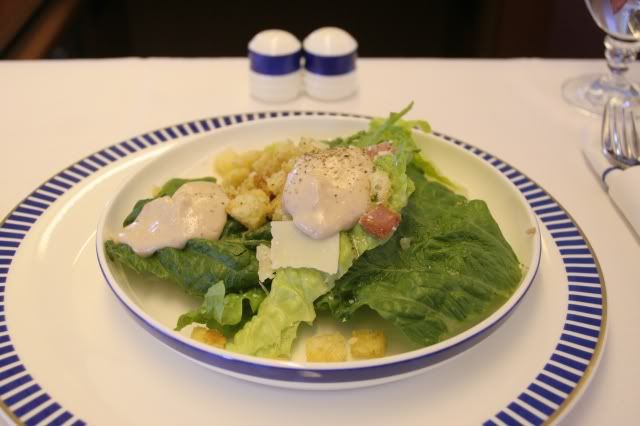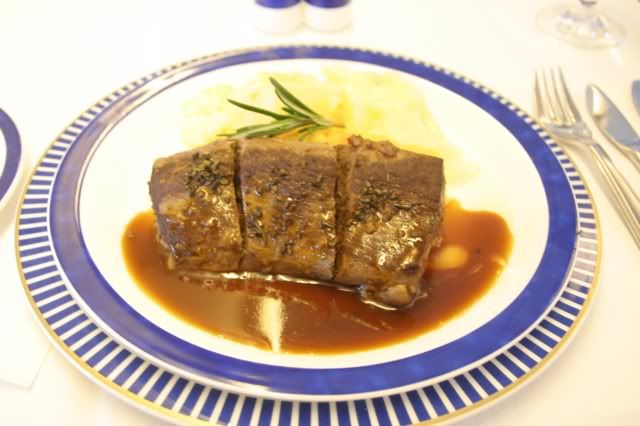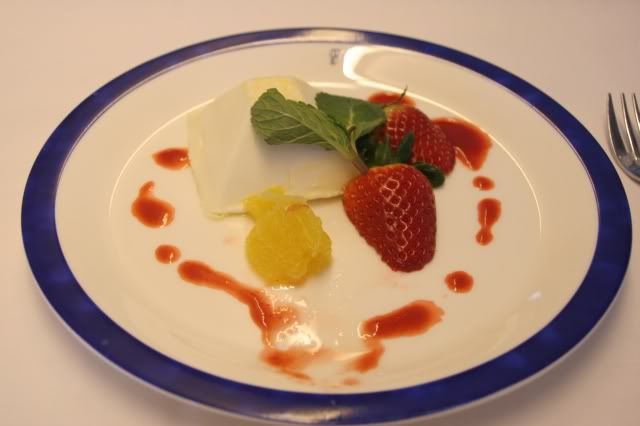 During the flight, I watched "The Kingdom" movie on the AVOD system, followed by listening to some music tracks of my choosing, then a few of the comedy programs that I found on the relevant TV section. During the night portion of the flight, the FA asked if I would like to sleep, then kindly turned down the bed for me, also providing me with a very nice thick quilt and pillow.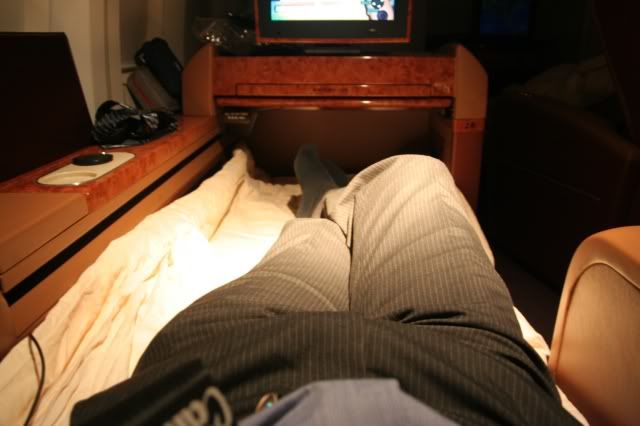 I slept pretty well, until the turbulence over the east cost of India woke me up. Not long after this, the FA asked if I would like breakfast, to which I replied yes.
Breakfast consisted of the following...
Orange Juice
Fruit Plate
Yoghurt
Noodles in Chicken Stock, with chicken and green vegetables
Bread Rolls with Preserves
Tea or Coffee
Pics of the breakfast in order of presentation are below.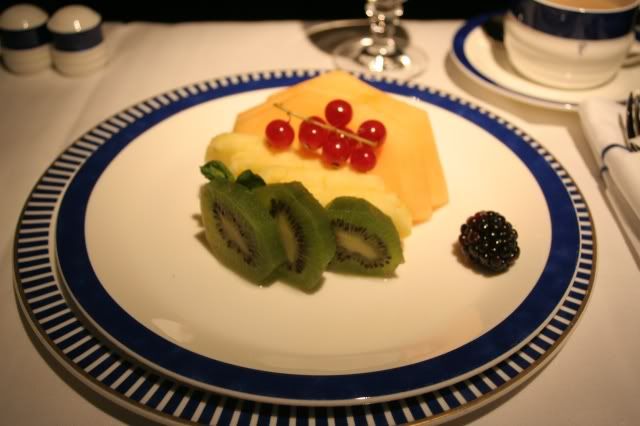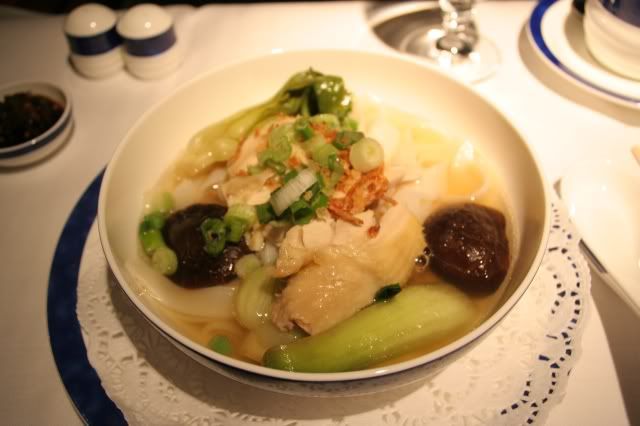 I had an opportunity to capture the sunrise, so I took some pictures, which were pretty good, but not the best.
Landing at SIN was on time, despite our 1hr late departure from LHR. It has to be the smoothest landing i've ever experienced to date. Deplaning took place around 10 mins after landing, parking 2 aircraft away from a UA 777. I was unaware that UA flew to SIN, so was it a charter?
We arrived at the brand new T3, and upon leaving the aircraft, I received a very cheerful "Goodbye" from the lead F/A and the purser. I thanked them for the excellent service that they had provided.
Landing Video
Before I continue, here are some pictures from Changi Airport. We arrived at T3, and then transferred to T1.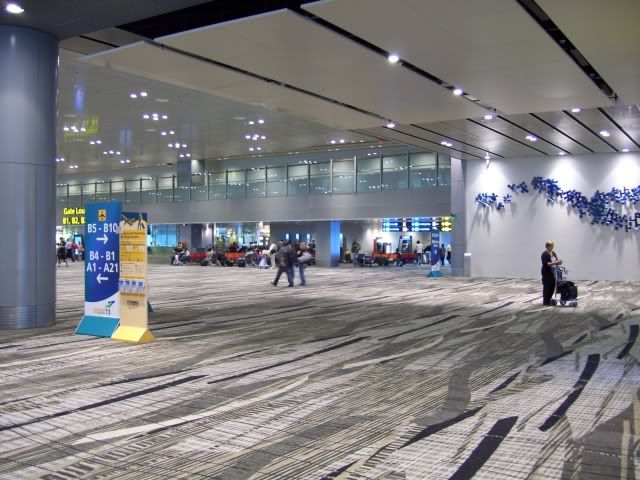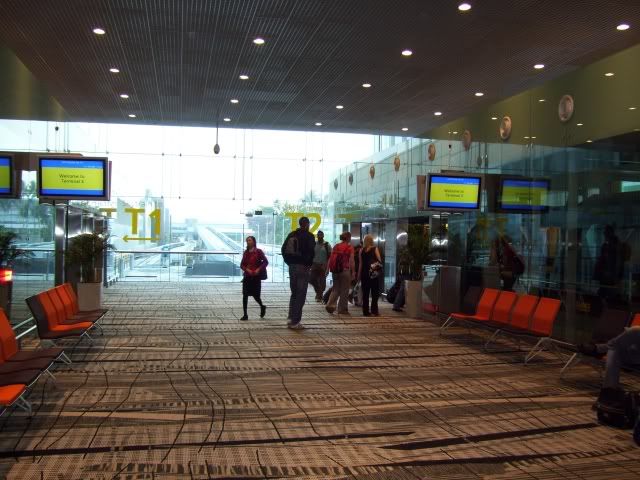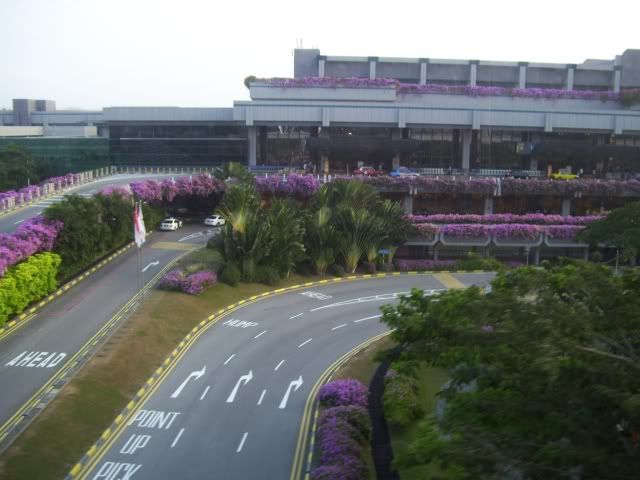 Continued.....