The Greyhound Bus. Once a household name in America and a reputable form of transportation, the Greyhound Bus now conjures up images of a third world transportation system. Maybe it's because of the clientele who travel by bus? Maybe it's because of the thought of just sitting on a bus for days on end when you can fly there for nearly the same price in much, much less time? Or maybe it's because the thought of visiting bus stations…many of which are located in, how shall we say, seedy parts of town? Whatever it is…for people who can afford otherwise…the long haul intercity bus in America has become a distant fourth option in the minds of many, falling easily behind planes, trains, and cars.
I'm no stranger to buses in my life. When I was kid…much like with Amtrak trains…my grandparents and I used to "ride the hound" to Baton Rouge and, more frequently, Biloxi. We even caught the old Trailways Bus one time: Go Big Red. And of course in college, I used to take Bonanza, Greyhound, and Vermont Transit to various part of New England to visit friends.
But I have never attempted…or wanted to attempt….a long haul bus trip. That is, until about two weeks ago, when I bought a one way Denver - Atlanta bus ticket for a measly $73. The trip…36 hours from end to end with one "equipment change" in Dallas….was really going to be an adventure. I knew what to expect going in. What I didn't expect was how it all went down. Needless to say, it's a trip I won't be forgetting for a long time. So sit back, relax, and come take to the skies and highways of America with me.
3/1/08
AirTran Airways
Flight #303
Atlanta - Denver
Boeing 737-700
Seat: 26F
Depart: 1510 (actual 1525)
Arrive: 1640 (actual 1635)
AirTran easily had the lowest nonstop fare in the ATL-DEN market that day by about $45. I was thinking of going DL to push me over the 20K limit in my SkyMiles account, but I thought against it to save the money. Besides, I'll be passing that total next month.
Anyway, I took MARTA to the airport, arriving there for about 1:50pm. After quickly printing my boarding pass at one of the many kiosks, I took my usual route thorough the small checkpoint for the T gates (a real hidden secret in ATL), and was at my gate…C-4...by 2:15pm. Boarding started right on time at 2:40pm for this mostly full flight…only about fifteen seats open, including the middle seat next to me, thankfully. We pushed a little late due to baggage loading, but with an announced flying time a short 2h45m, I figured we'd still arrive on time. After a ten minute taxi, we were airborne under a very clear sky. Thirty minute after takeoff, the in flight service began: drinks and pretzels for the coach passengers. Drinks were refilled once, immediately following the first service, and that was the last of it for the rest of the flight. It was a very smooth flight, and I spent most of it listening to my iPod, as the XM radio in my seat was not working. The guy in 26D…while obviously excited about going on a ski trip with his wife…got a little too drunk. I'm surprised the F/A didn't cut him off, but no, he kept asking for booze, and she kept serving him. I counted six small bottles of vodka on his tray table. I mean he was blasted. I was sort of glad when we landed because I only like talking to drunk people when I'm drunk…otherwise, something gets lost in the translation. Anyway, we landed a few minutes early after a typical bumpy DEN arrival, and parked at one of the C gates. It was a nice flight, excluding the lush in my row. Here are the pics from the flight:
A trio of Delta colors.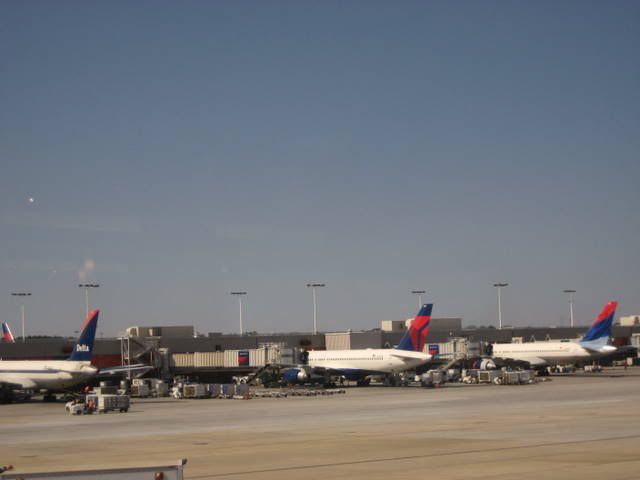 Delta's new 777-200LR!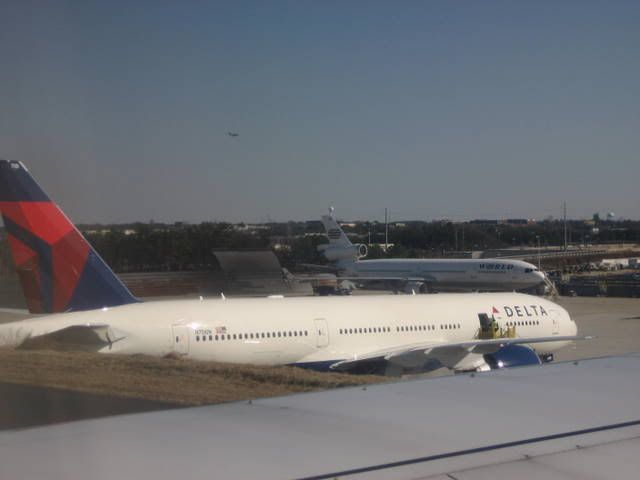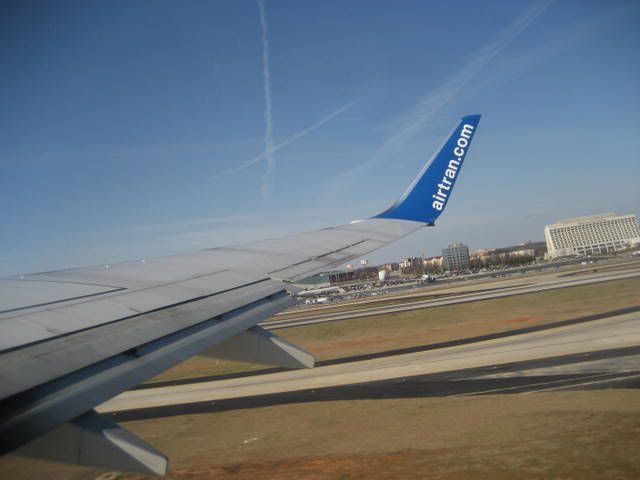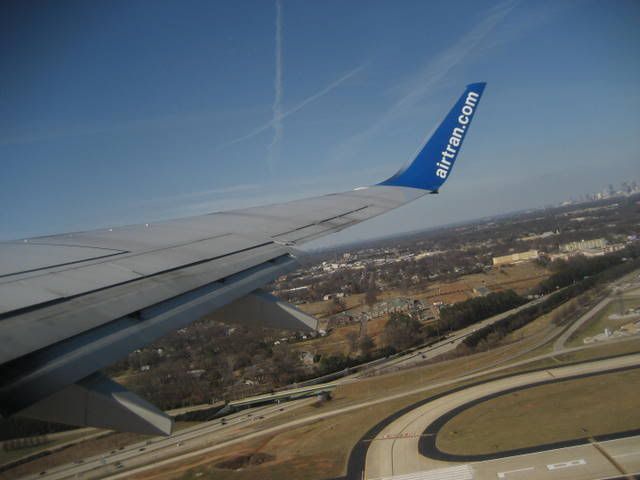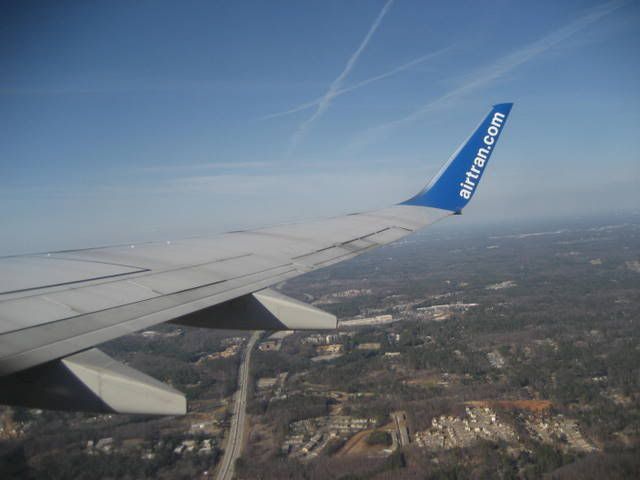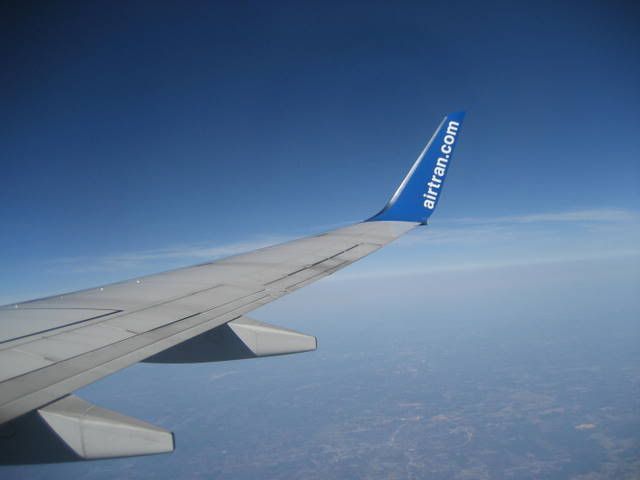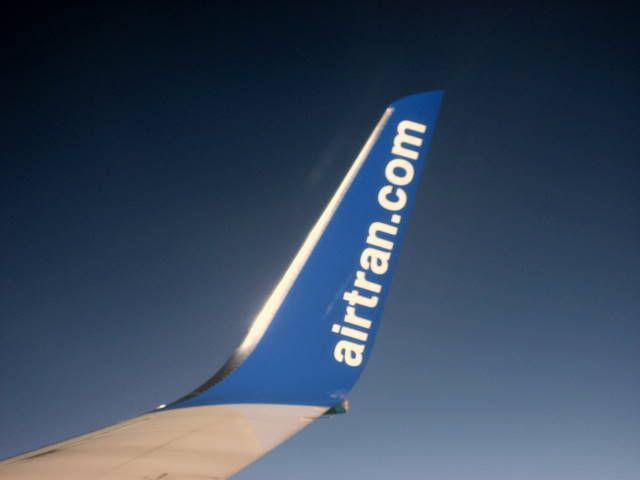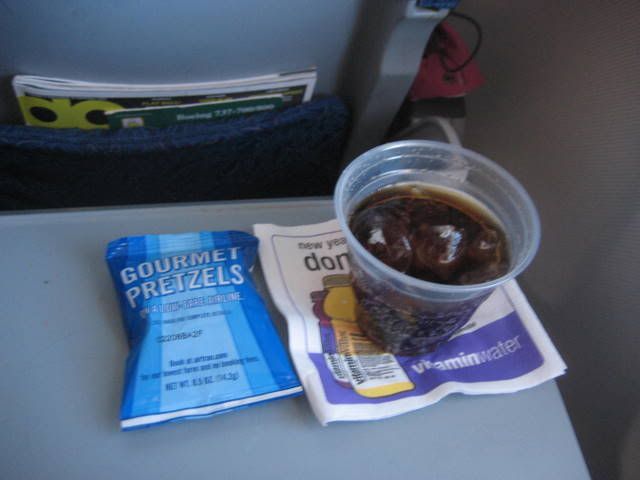 Memphis, TN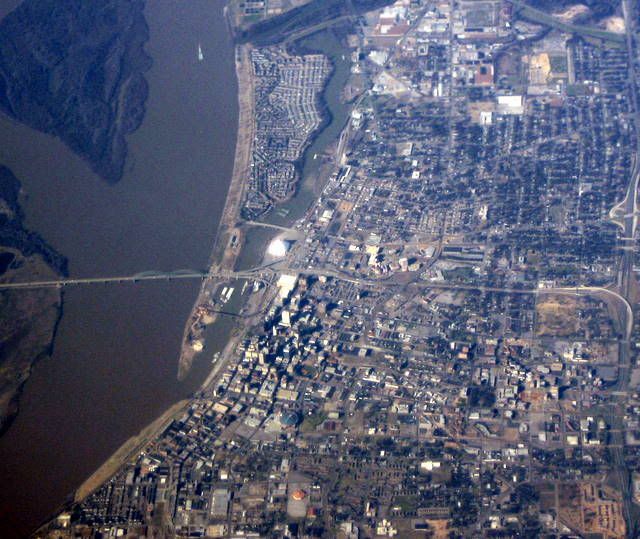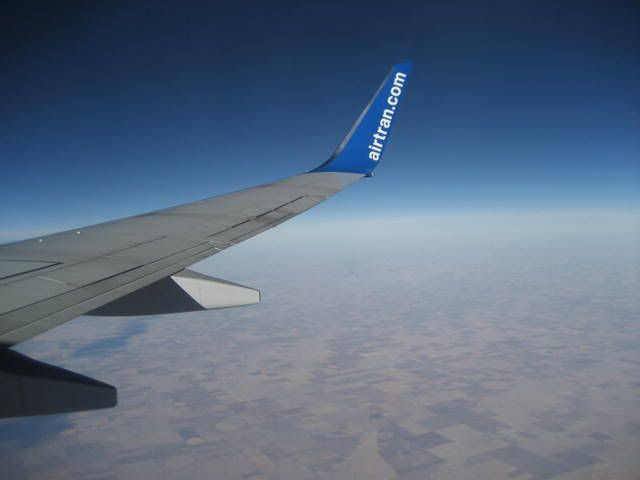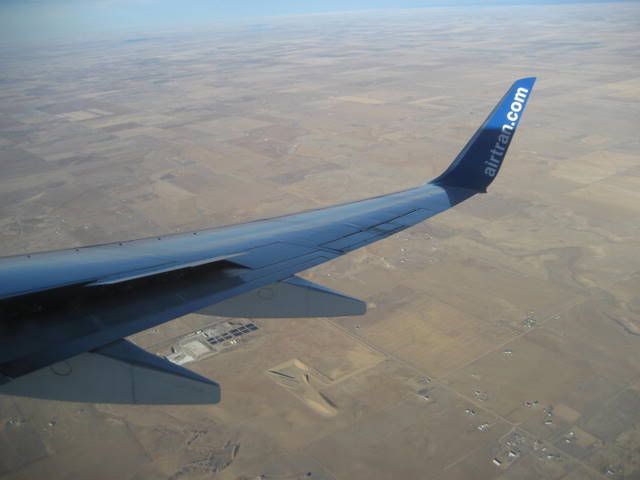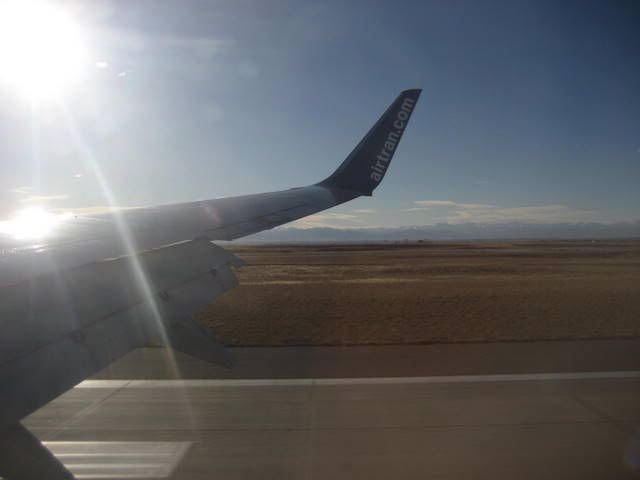 Pike's Peke, some 80+ miles away near COS.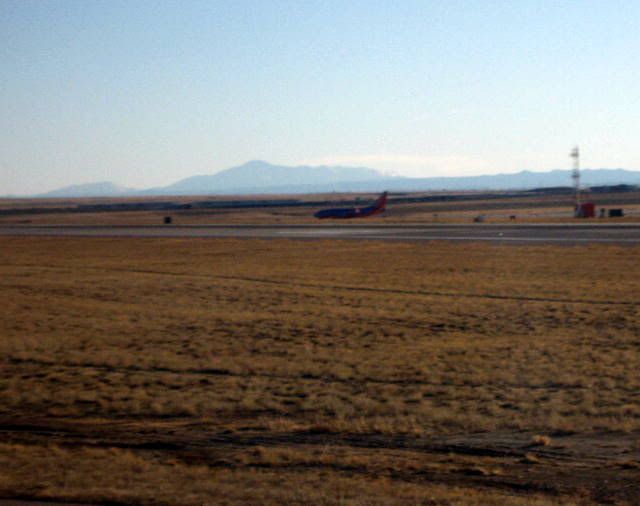 After getting off the plane, I took the train to concourse A and walked over the bridge so that I could check out Frontier's "Zoo"…luckily, it was feeding time, as a bunch of animals were there. I got a couple of nice pictures for old times sake. God, I miss that airline. Seeing those planes lined up automatically took me back over two long years ago when the last thing on my mind was a freaking hurricane screwing my life up. Anyway, a few minutes later…my trip down F9 memory lane over…my friend, former co-worker, and a.net member King Cavalier picked me up outside the FL counter. Here are a couple of shots for all the F9 lovers out there: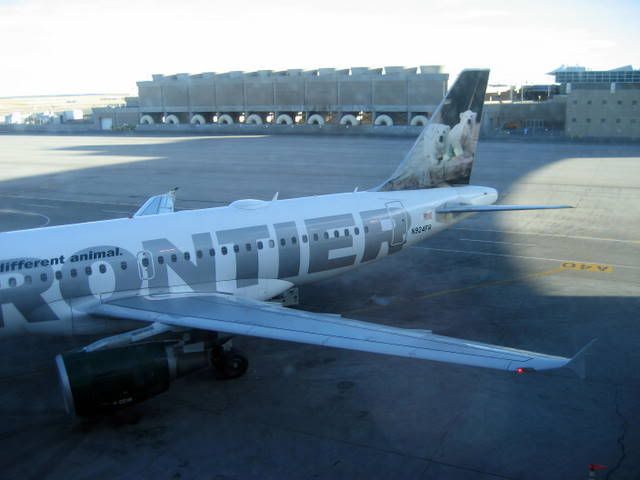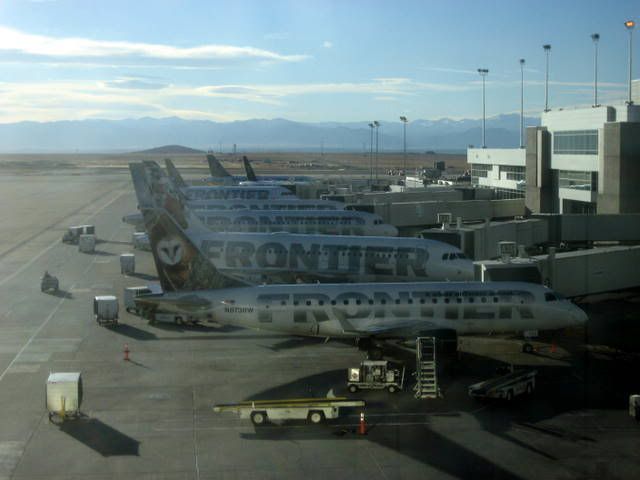 Since it was only around 5:00pm, I had a long time to kill until I had to get down to the Denver bus station, since my bus was scheduled to leave at 11:55pm. We had dinner, took a driving tour around Stapleton and Lowry, and went shopping so that I could pick up some needed supplies for my upcoming trip…drinks and snacks, mostly.
We left his place at about 10:15pm, and arrived at the venerable Denver Greyhound terminal…located smack dab in the middle of downtown Denver…about twenty minutes later. Here I am in the station. I'm probably the only person in there taking the bus on purpose, as my friend so wittingly pointed out:
My initial thought as I walked into the station: Steve, man, what the hell are you thinking? But then…as my friend pointed out…maybe it wasn't so bad in there. For a bus station…I have seen much worse. It looks as if Greyhound's new "We're on our way" improvement campaign took hold of the station because, excluding the nasty floor, the station looked nice with new signage everywhere one could look. Anyway, after waiting in line for about fifteen minutes so that I could verify some things with the agent, King Cavalier and I said our goodbye's. If things went as planned, I'd be boarding the bus just twenty minutes later…
…but things didn't go as planned, and I should have thought of that as sort of a sign of things to come. But I didn't. I decided to just go with the flow. My bus finally boarded at 12:00am, five minutes after its scheduled departure time. It was a TNM&O coach, which is a regional affiliate of Greyhound apparently. I got a seat close to the front, and hoped that the seat next to me would stay open. Luckily, it did, as it would for most of the trip. With two toots of the horn, we departed at 12:25am, with about 35 passengers on board. After making a brief stop at the Denver Amtrak station, we took to the interstate with Colorado Springs being our first major stop. I fell asleep in between DEN and COS but I quickly was woken up by the bright lights of downtown COS. We finally got to the station, where I was expecting a brief 10 minute stop. But it turned into 20. I was too tired to get off, so I just stayed on the bus. We eventually departed COS, but not before a young gentleman…escorting his mother on the bus (she was traveling, he was not)…said to the passengers fairly loudly several times: "Listen up ya'll, ya'll better take care of my momma, if not, I'm going to kill everyone on here!" No joke, he said that. His mom was just laughing and said "oh no, don't say that!" The passengers weren't really amused by that. I was just saying to myself "Oh man, here we go…let's see what else can happen!" Well, right after I said that to myself, I saw a really, really weird looking man board the bus….he looked homeless at the least, on the fringe of death at the most…and damnit if he didn't sit right behind me! The poor guy stunk to high heaven, and was one of if not the dirtiest people I have ever seen in my life. I was just hoping that he wouldn't be going all the way to Dallas, and also hoping that he wouldn't want to start a conversation with me. With that being at least a remote possibility, I quickly put on my headphones, put on my hoodie, pulled the hood of my sweatshirt over my head, and tried to doze off. It worked.
I woke up to find us in Pueblo, where we stopped for about five minutes. The crazy man behind me was still on, but he was sleeping, so that was a good thing. I fell asleep upon leaving Pueblo and woke up as we were arriving Walsenburg, just about an hour later. One passenger was apparently supposed to get off there, but didn't. The driver went up and down the bus asking who is supposed to get off, but no one answered. So, we left. And I went back to sleep.
Once again, I slept soundly until we reached our next stop…Raton, New Mexico…about an hour and twenty minutes later. The Raton stop was a small shed in a McDonald's parking lot. McD's opened about five minutes after we arrived (around 5:15am) so about six people left to get some food. But before they could get off the bus, they had to climb over crazy man, who was blocking the aisle with his legs while he was sleeping. The driver found out eventually and woke the man up and told him he could not block the aisle. And then I heard what I was dreading the most: the guy was going all the way to Dallas! I was at a crossroads. Did I want to abandon the luxury of having two seats to myself, or did I dare share a seat further back, but well away from the stench of the man? I decided to suck it up and stay where I was.
The sun was just starting to show on the horizon as we left Raton, and it was very beautiful, shining over the mountainous desert landscape. The ride between there and our next stop…Clayton…was a nice one. Pretty much everyone on board was sleeping, and the smooth ride of the bus made for a comfortable ride to enjoy the view.
The bus stop in Clayton was actually a Love's gas station/food mart. We had ten minutes here. Most everyone got off to get some coffee or some food. Since I made it a point not to use the bus bathroom…and in fact the only one that I observed heading in that direction was the crazy man…I made a well needed pit stop at the Love's, and also managed to buy a biscuit and a coffee.
Two and a half hours later, we arrived in Dumas, where a pretty nice looking girl boarded the bus. She had the unfortunate honor of sitting directly across from the crazy man, who was really coughing a lot at that point. At least I was in front of him so I didn't have to have him in my peripheral vision.
It was smooth sailing for most of the way in between Dumas and Amarillo…our next stop…until I heard this guy in his 50's one row in front and cross from me yell out to this lady a few rows back a few choice profanities. She cursed back at him, and he cursed back at her. It was very strange to say the least, because it looked like it just came out of nowhere. He said he was a former Army general so if he wanted to he could take her out easily. She said "just try and do it". The driver caught wind of the yelling and threatened to pull the bus over and call the cops if he heard any more profanity. The profanity ceased, but the bickering didn't, really. I was glad when I got off the bus in Amarillo for a one hour break. I was tired of listening to it all.
Amarillo was a service stop, so everyone had to get off the bus while they took it away to get fueled and serviced. The station…while something straight out of the 50's…was mostly clean with plenty of seats, and housed a nice sized Greyhound cafeteria. I decided to try the #6 combo, which was "two fried burritos". I was a brave man…and actually, they weren't half bad.
One hour later, our bus returned, and I saw a long line waiting to board; however, everyone who was on the bus previously got "reboarding" passes, and were boarded first, to ensure they'd have their same seats, or move to better ones. I took full advantage of it, and moved one more row to the front, now giving me two rows between the crazy man and me. I figured that'd be enough. Also with any luck, maybe he'd miss the bus….he seemed to be drunk or stoned the entire way, so it was at least a chance. The bus quickly filled up, and for the first time, I found myself with a seatmate…a lady, thankfully, just going to Childress, only two hours down the road. She seemed nice enough, and we said our hellos. She asked where I was from, and I told her New Orleans…then, she said "Oh I always wanted to go to Mardi Gras….and I want to be on that show C.O.P.S, but not for anything serious, just for a misdemeanor, I don't want no handcuffs on me." I nodded in approval at the randomness of it all. God bless bus travel. Oh yeah…and since the crazy man's initial seat was taken by the time he boarded, he found the next closest one….in the row right behind mine. There was no escape. We departed Amarillo about 11:45, or thirty minutes late.
By the time we reached Wichita Falls…about four hours after leaving Amarillo…we were back on schedule. Wichita Falls was a meal break stop, but I just stepped off to get a coke and some fresh air while countless others hit the Carl's Jr. next to the station. I noticed an old "Trailways: Go Big Red" sign on the station and snapped a picture of it for posterity's sake. Next stop: Fort Worth!
We were making real good time in between Wichita Falls and Fort Worth. Looking at the schedule, it looked like we'd be on time into Dallas as well, which was important as I only had a thirty minute connection there. So at about 5:00pm…just as I was changing CD's (I kept my iPhone hidden as much as possible)…the bus driver decided to pull the bus to the side of the highway. I thought he was stopping to close the roof hatch, which he had left open because the A/C system wasn't working really well. But no, he had to stop. You see, the bus loss power. All power. We were dead in the water 35 miles from Fort Worth. I mean does it get any better than this???
The driver didn't make any announcements as to what was going on, and in fact the only way we knew we were broke was when some college kids from the back of the bus went out and asked him, and then reported the news back to the crowd. Lots of sighs of disbelief to say the least. The driver called Dallas and they said they'd send a spare bus to come pick us up, but it wouldn't get to us until at least an hour. All we could do was wait. Some people were asking the driver about their connections. He said he had no information. I knew mine was shot.
At about 6:30pm, a Jefferson Lines bus (like TNM&O, a Greyhound partner) stopped a little ways down the road. People were asking if that was our replacement bus. I thought it could be, but it wasn't. The bus was on the way to Fort Worth and the nice driver decided to stop and see if she could be of assistance. So the decision was made to send all six Fort Worth-bound passengers on our broke bus to that bus, while the rest of the Dallas passengers had to wait for the spare Greyhound, which was still on the way. I didn't know what to do. Initially I decided just to sit and wait for the spare Greyhound. But then, I decided I was just too tired and frustrated to wait any longer…the skies looked really ominous just ahead so enjoying the cool air outside would not be an option for much longer, and I knew it'd take a long time once that spare bus got here to reload all the baggage. So, I took my bag, took my pillow, and walked on the side of road along with six others...all the while trying to avoid the traffic....and jumped on the Jefferson Lines bus, which had a fully functioning air conditioning system and lots of empty seats. I figured I'd talk to the Greyhound rep in Fort Worth and see what my options were. But at that point, I already sort of knew what I was going to do.
We arrived at the Fort Worth station at about 7:15pm, and I went straight to the Greyhound counter. I told the agent my situation and asked him how they could get me to Atlanta. He said I'd have to take the next bus to Dallas so that they could rebook me from there. Ok, fine. I then asked him when the next bus to Atlanta was. He said he didn't have that information. So he didn't have access to company schedules? Yeah, right. He just didn't want to deal with me. So, I pulled out the trusty iPhone, and saw that the next (and last for the day) ATL bus left Dallas at 11:00pm. I could have taken an 8:00pm bus to Dallas…then waited in line to get re-booked…and then hop on the 11:00pm to Atlanta, with an arrival time of 5:00pm the next day. I was considering doing that; however, I thought against it. There were too many unknowns. The weather looked horrible, and buses are delayed often due to weather it seems. I figured the 11:00pm could easily turn into 12:00am or later. And, I was just so tired, that I couldn't imagine spending another 17 hours on a bus. And all that was assuming that I could even make that one. So…since I had to work on Tuesday morning and I was tired of dealing with all the drama….I called a cab, took the cab to DFW, called my buddy with FL in MSY and had him book me a cheap one-way from DFW to ATL the next day, hit the hotel courtesy phones to call a hotel shuttle, and got a cheap room at a Super 8 near DFW for the night. My bus adventure was officially over, and let me tell you, I slept like a baby that night. Life was great at Super 8 for a weary traveler like me.
Here are pictures from my bus adventure: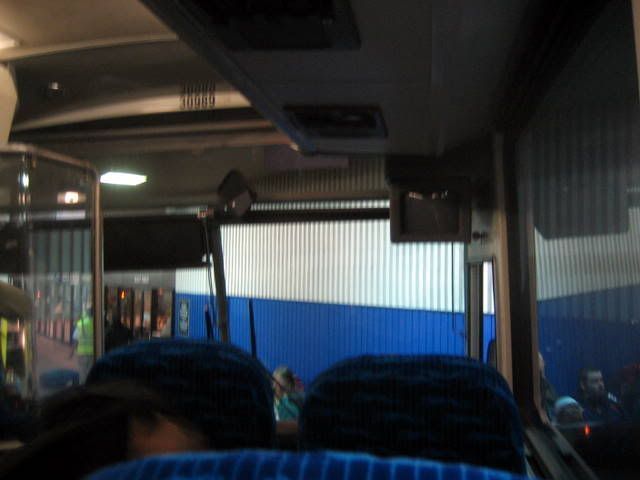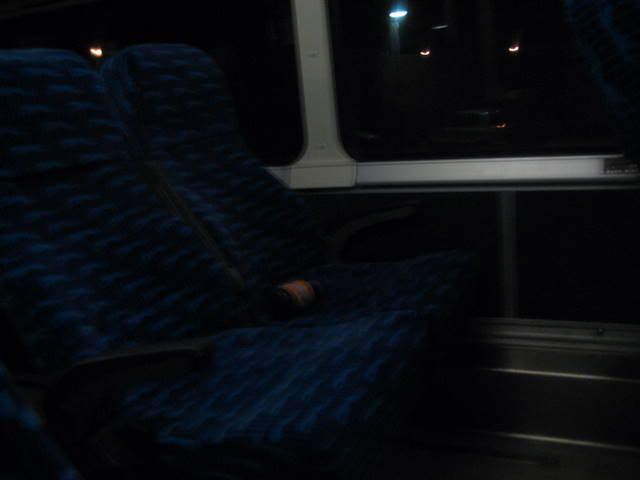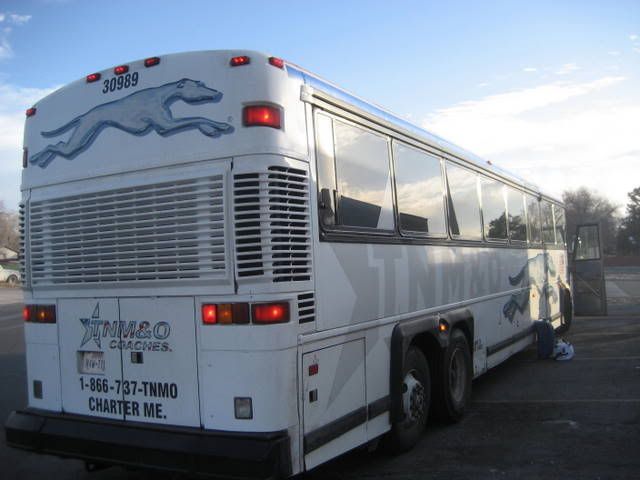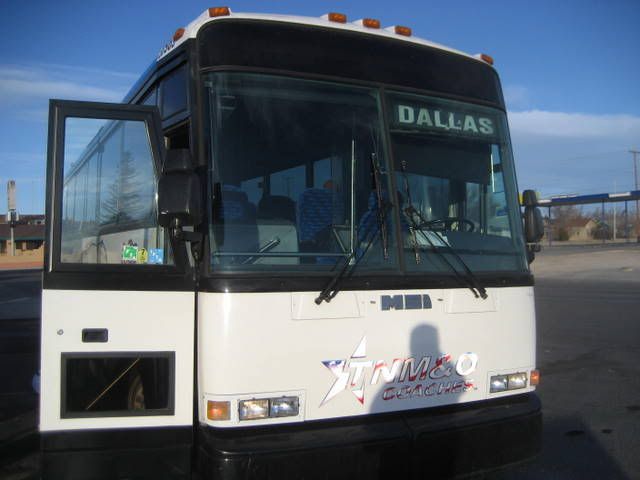 Dumas, TX station.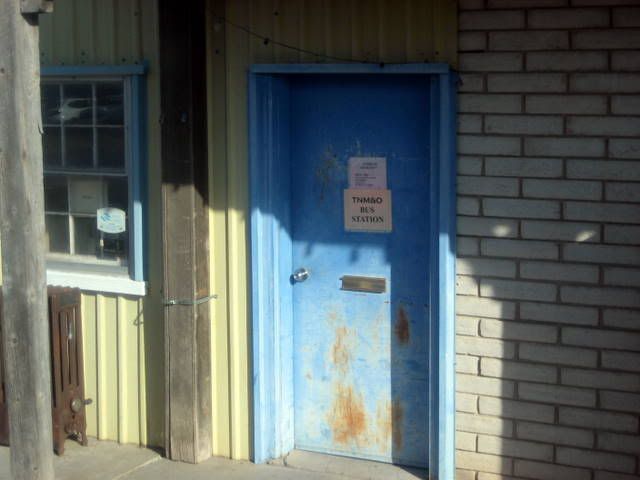 Part of the Amarillo skyline.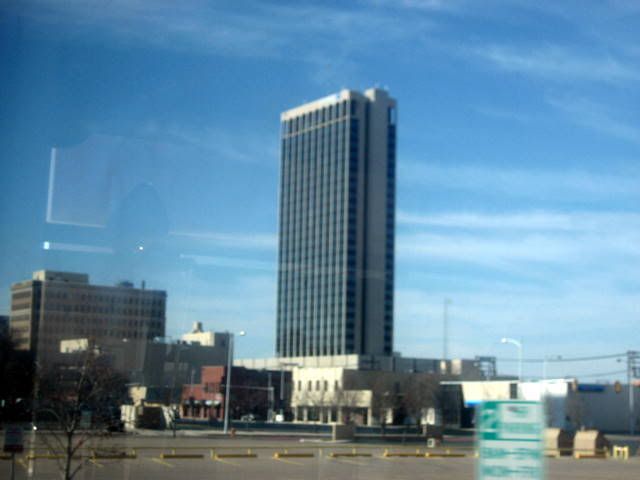 Part of the Amarillo station.
Mmm mmm mmm, fried burritos.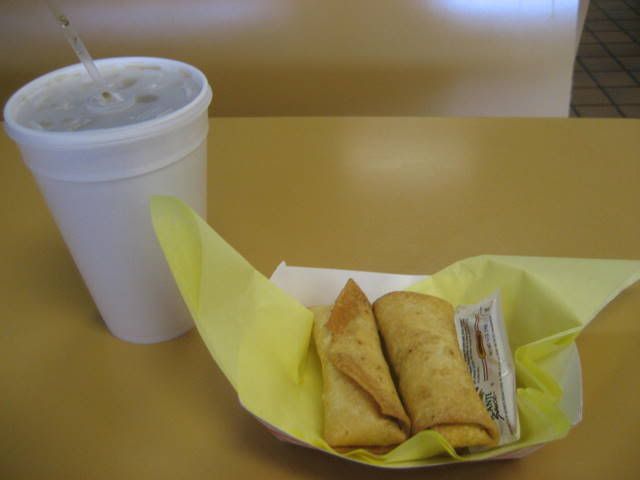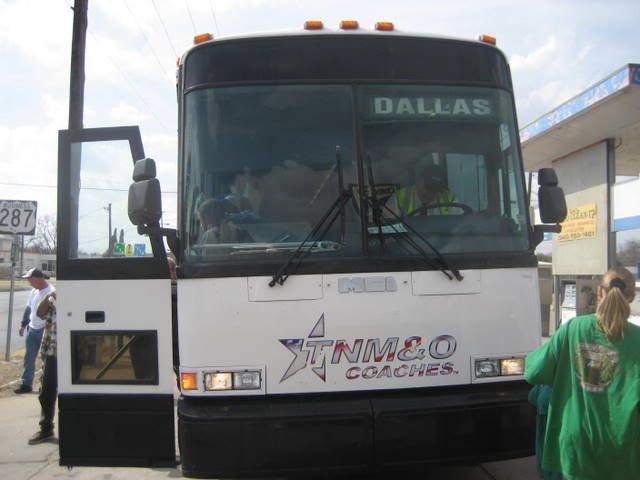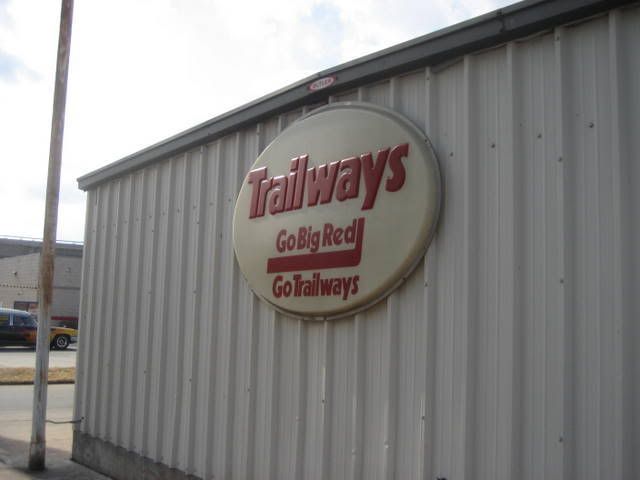 Dead in the water!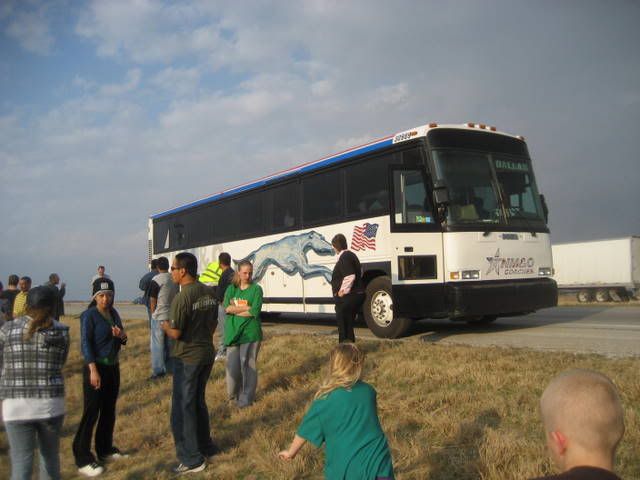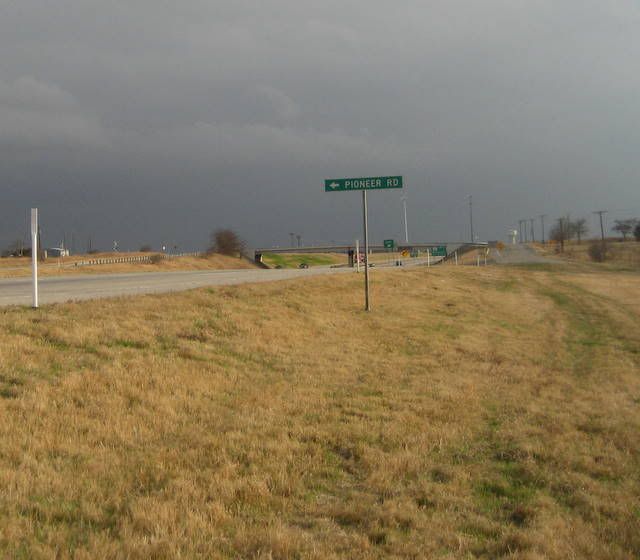 The sun sets...on the day, and on my connection.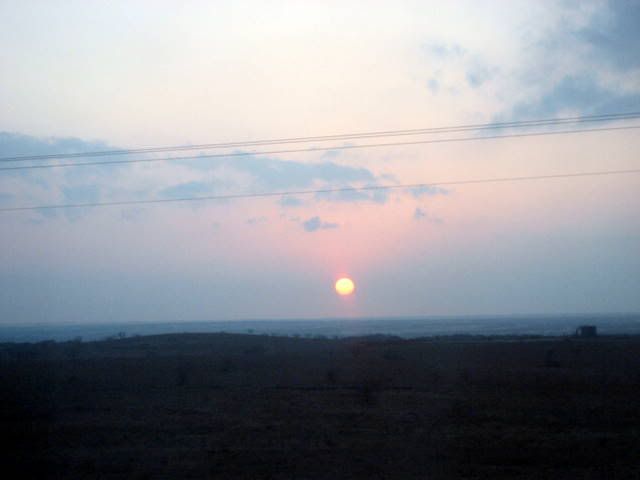 Nothing much he could do except wait at that point...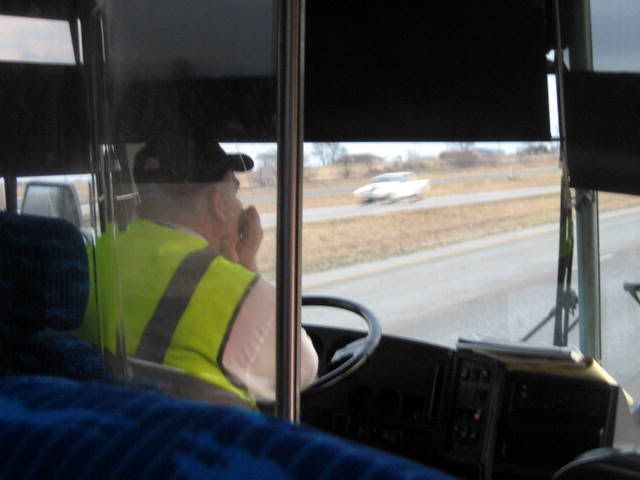 I got to DFW the next morning at 8:00am, checked in quickly, and took a ride on the train circling the terminal. I had never done that before. Also, I had breakfast at Friday's. It was garbage. It's really hard to screw up eggs, bacon, and hash browns, but they did it. Breakfast on Amtrak is better than breakfast at Friday's.
3/3/08
AirTran Airways
Flight #101
Dallas/Ft.Worth - Atlanta
Boeing 737-700
Depart: 0956 (actual 1040)
Arrive: 1258 (actual 150)
I'm not going to go into much detail about this flight. It was a pretty typical flight all in all, but was quite bump on departure and arrival…the bumpiest flight I've had in a while. But, those are fun, you know? Every seat was taken on this one. I had 28A, and enjoyed a Cherry Coke Zero and a bag of pretzels. Flying time was 1h57m at an altitude of 39,000 feet. We made a very bump landing in ATL due to a strong crosswind at about 1:50 and quickly taxied to a C gate. I made my way off the plane….hit the MARTA…and made it back to my place for 2:45pm.
Here are the pictures (and a video) from the airport and the flight: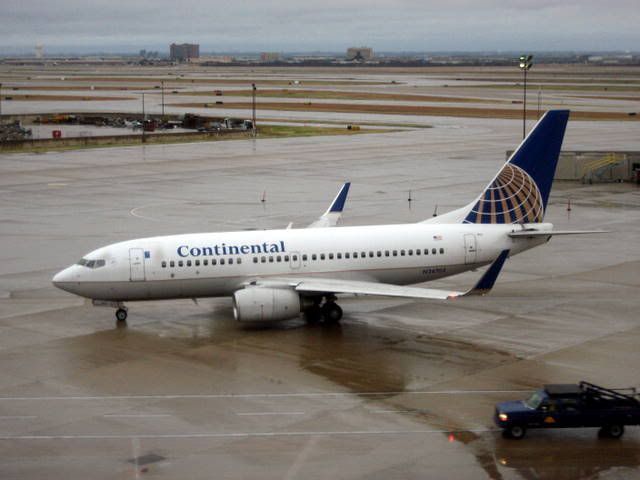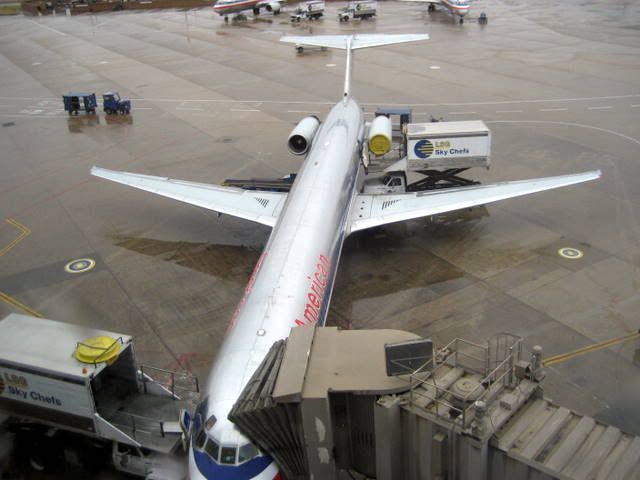 This one's for Ryan in MSY!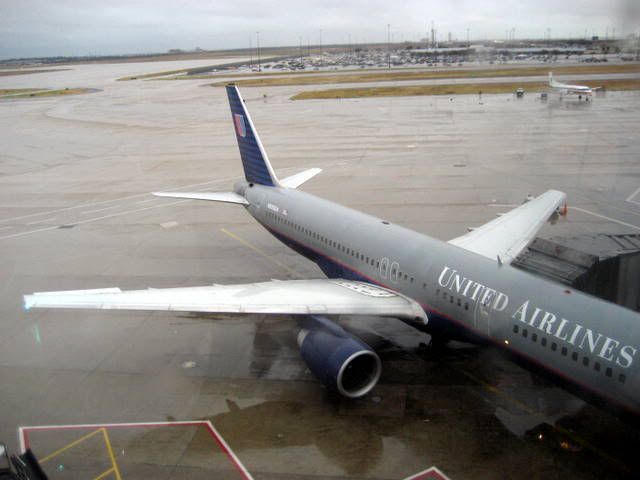 My favorite plane of all time...sad that I couldn't get a clear shot.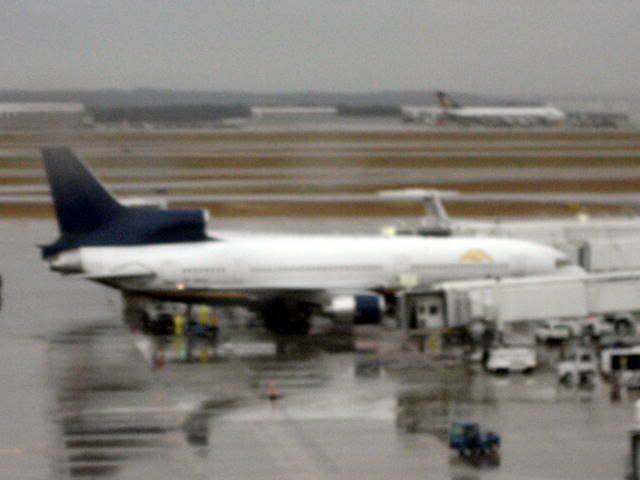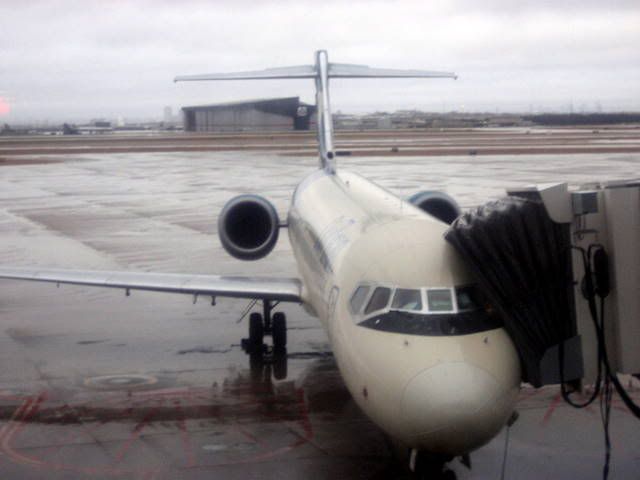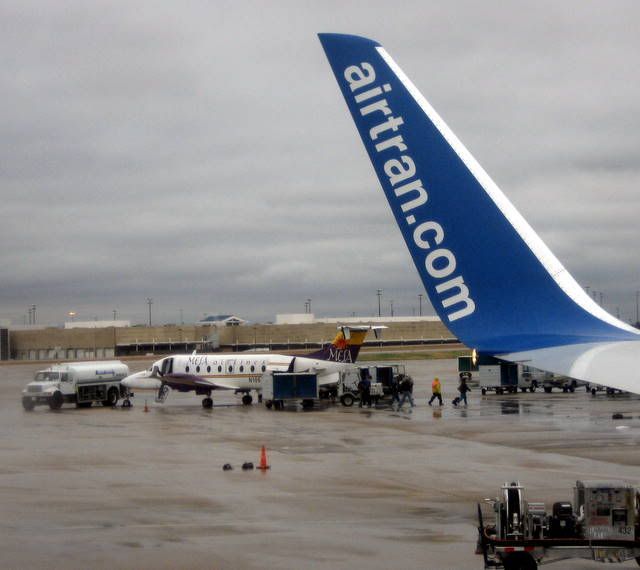 Boeing 737-700 takeoff from Dallas/Ft.Worth
Add to My Profile
|
More Videos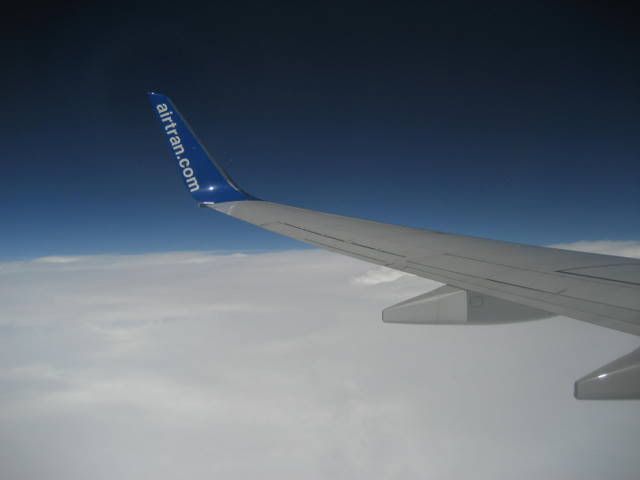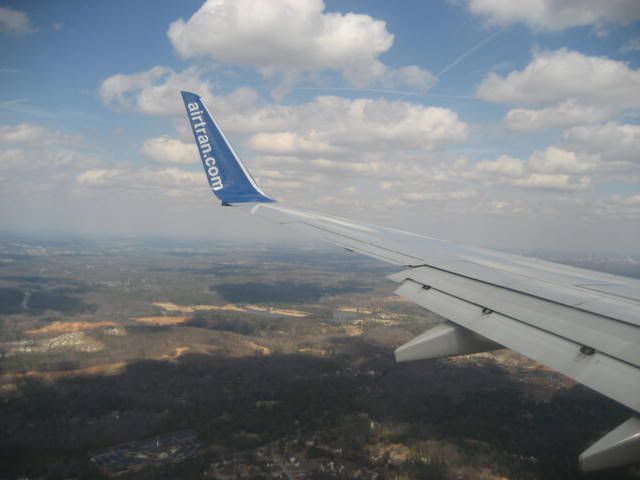 Overall Greyhound verdict:
About what I expected. Not better, not worse. Would I ride them again? I guess if I had to, but I probably wouldn't do this trip again. I did this trip on a whim just to experience it. And it was quite an experience. The buses themselves were alright…the new seats were comfortable and they were clean…but overall, it's a pretty tiring experience, and really tests your endurance. On the good side, I actually did talk to some interesting people along the way, and I got to see a part of the country I had never seen before. So I'm glad I did it. At the very least…it's another story to tell when I'm old and gray.
As for the flights...nice job by FL as always.
The end.