Well now its time for my second trip report. I recorded more details, and took slightly better photos. I took this trip to see my girlfriend after not seeing her for two months, and her school was having a formal-type ordeal in Charlottesville, so we would be spending the weekend at the UVA Marriott.
Everytime I go visit her, it seems like I take a new flight/airline to get there. Her parents live just outside of DC, and she goes to school in Lynchburg, so it's always a different combination of flying/driving, usually what works best with being cheap and having times when we don't have to miss too much class. Some past flights I've taken:
MHT-BWI on WN
MHT-PHL-BWI on US
BOS-DCA on US
BOS-CVG-CHO on DL
BOS-RDU-MCO-ATL-LYH on DL
BOS-DTW-CHO on NW
BOS-JFK-RIC on DL
And this flight would be BOS-DCA on DL, followed by a three and a half hour drive down to Lynchburg to her school. I spent the night at my Aunt's in Boston, and then she drove me in at 830 for my 11:10 flight.
2/28
DL5635
BOS-DCA
CRJ-100 N587SW
Sched: 11:10am Act: 11:45am
Sched:12:24pm Act: 12:54pm
Gate A10b
I was dropped off curbside around 8:30, along with my suitcase, backpack, and lacrosse stick. I tried to fit the stick in my suitcase, but it was about an inch and a half to long, even with the head removed. I brought it so that I could shoot around while she had class on Monday and Friday. I had checked in online, but I still had to go to the kiosk and check in again and tell it that I wanted two bags checked. There was a short line at security, and then I was on my way to the familiar gate A-10, where I've flown out of at least 4 times before. Terminal A is beautiful, and its a shame Delta can't expand its operation there. This was the first time I've been at A with Continental, and it was nice to see the CO 73G and CRJ, one heading to Newark and the other Cleveland I beleive. I took some photos of the US A319 in the Pittsburgh Steelers livery, as well as the Continental CRJ and some other action between Terminals A and B. I was also able to grab a shot of the USA319 being deiced.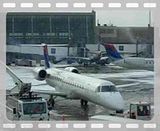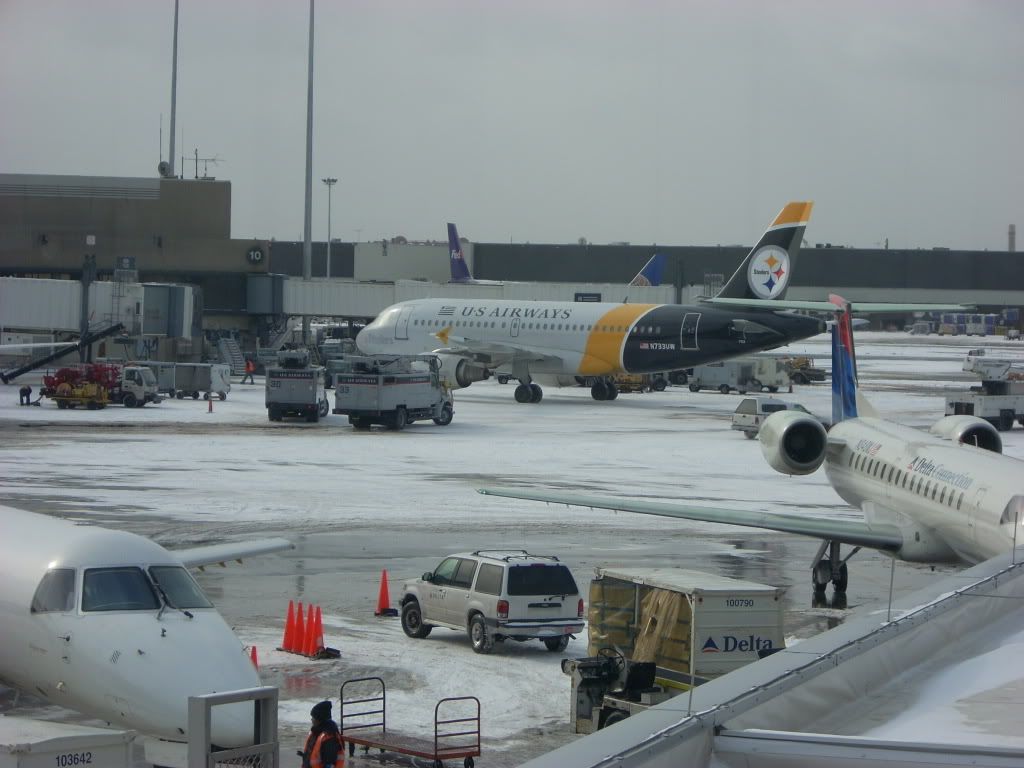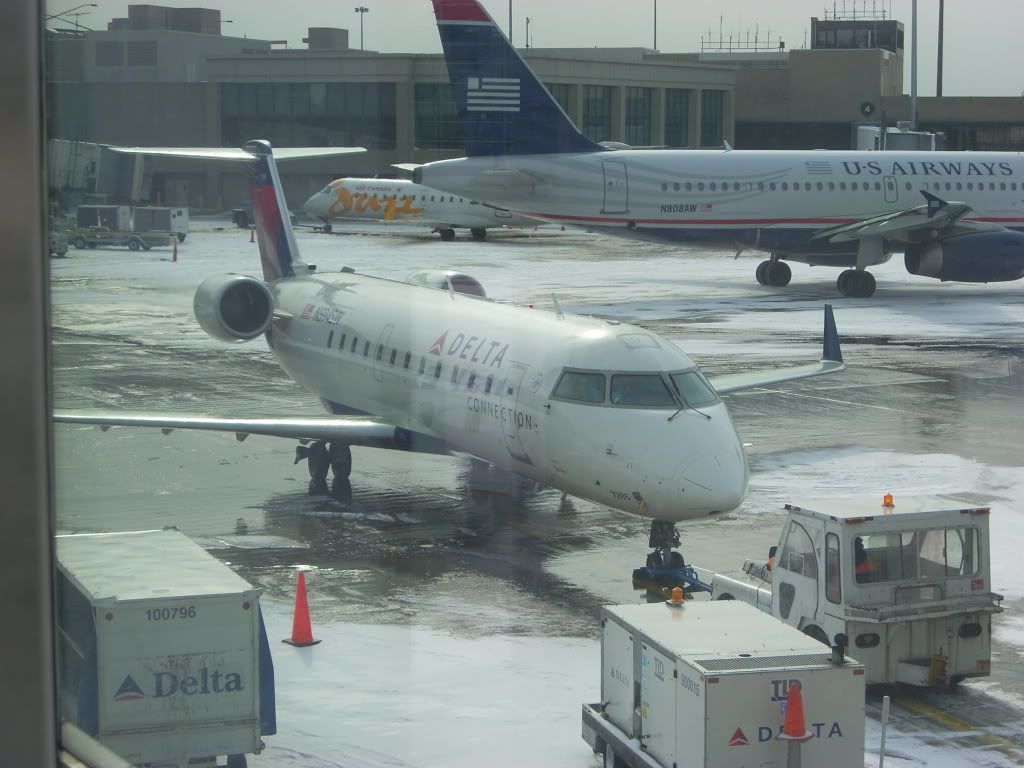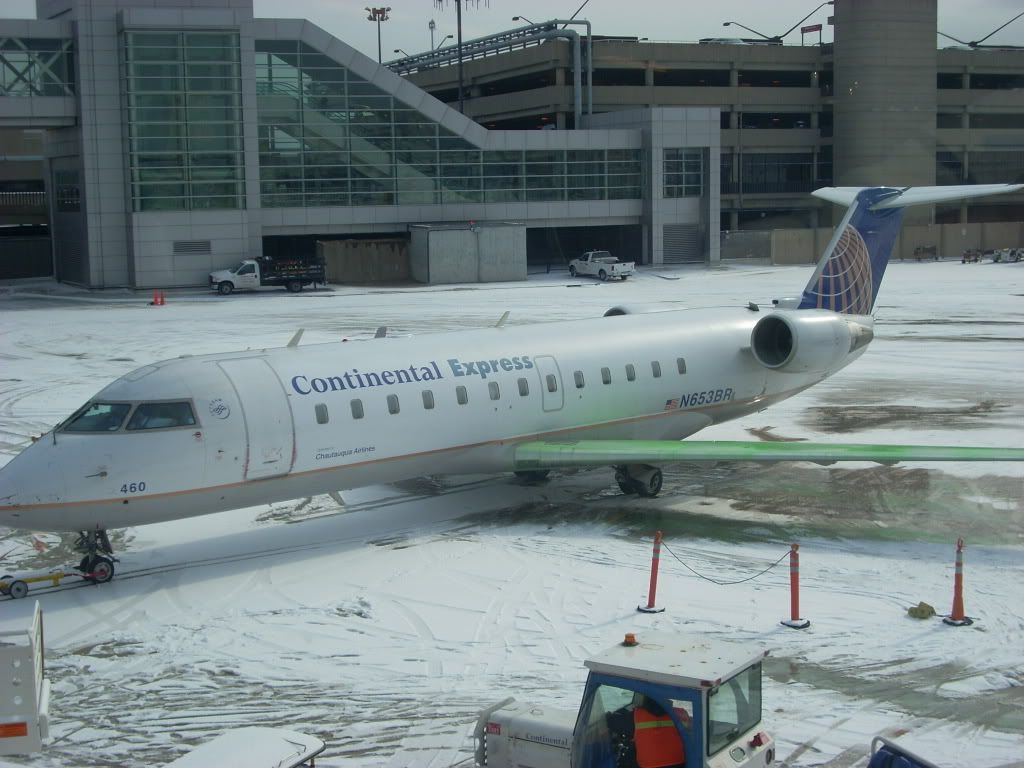 I got a Sausage Egg and Cheese croissant from Dunkin's, then went back to waiting for my flight to board. We were delayed a bit for the incoming plane, and boarding started at 11:20. I was the first one on the plane, which only had a total of 13 passengers. I was in seat 3A, and the FA made an announcement that people could switch seats because of the light load, and my seatmate moved to the row across, which I appreciated. The FA gave us a bottle of water as soon as we boarded. We pushed back a few minutes later, then we had a breif wait to be deiced. I took a video, but it turned out to be just a blur of white, nothing too exciting. We taxied out to 22L, and then had a quick takeoff and we were up in the air.
As soon as we could take out electronice devices, I took out my laptop to listen to music. Snack service followed, I got a coke and the Biscoff cookies. I was very impressed with the service on this flight. Even the seat pitch wasn't bad, however I absolutely detest the CRJ's due to their low windows. My neck was in serious pain upon landing. The ERJ is a much more comfortable airplane, especially on the 1-side; I'd even take the NW SF340 over the CRJ.
I got a good shot of Manhattan, and started to relax, as I had plenty of room and was really enjoying this flight. I know its a small plane on a short flight, but everything was working, I was excited to see my gf, I had good tunes, life was good.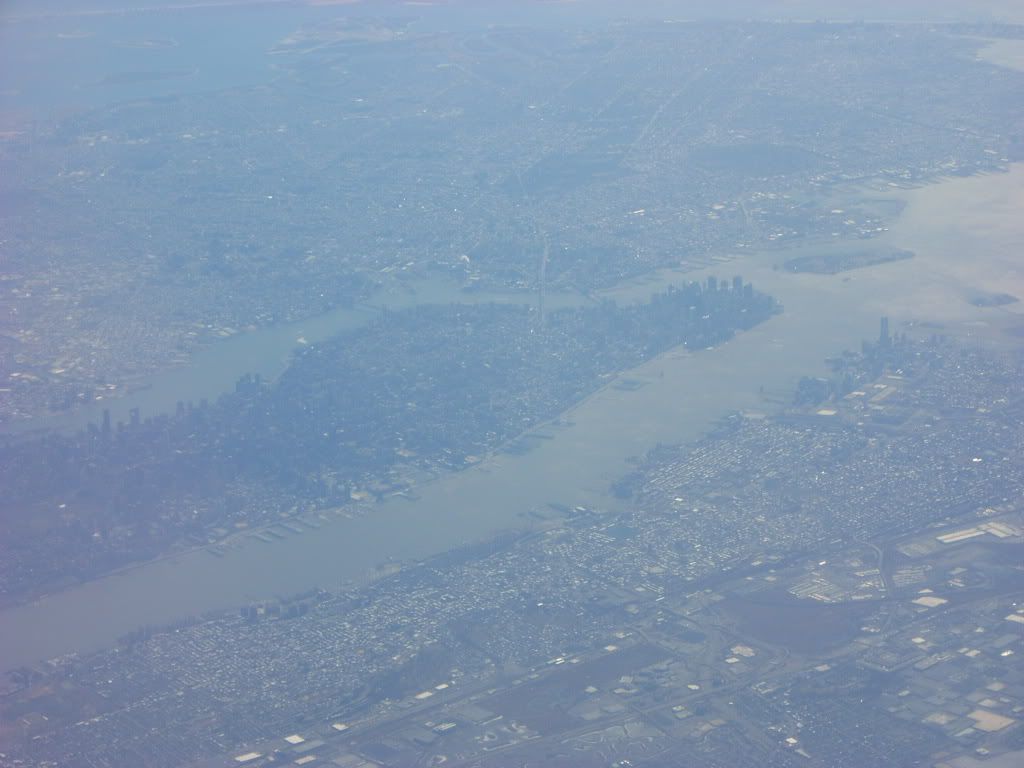 Newark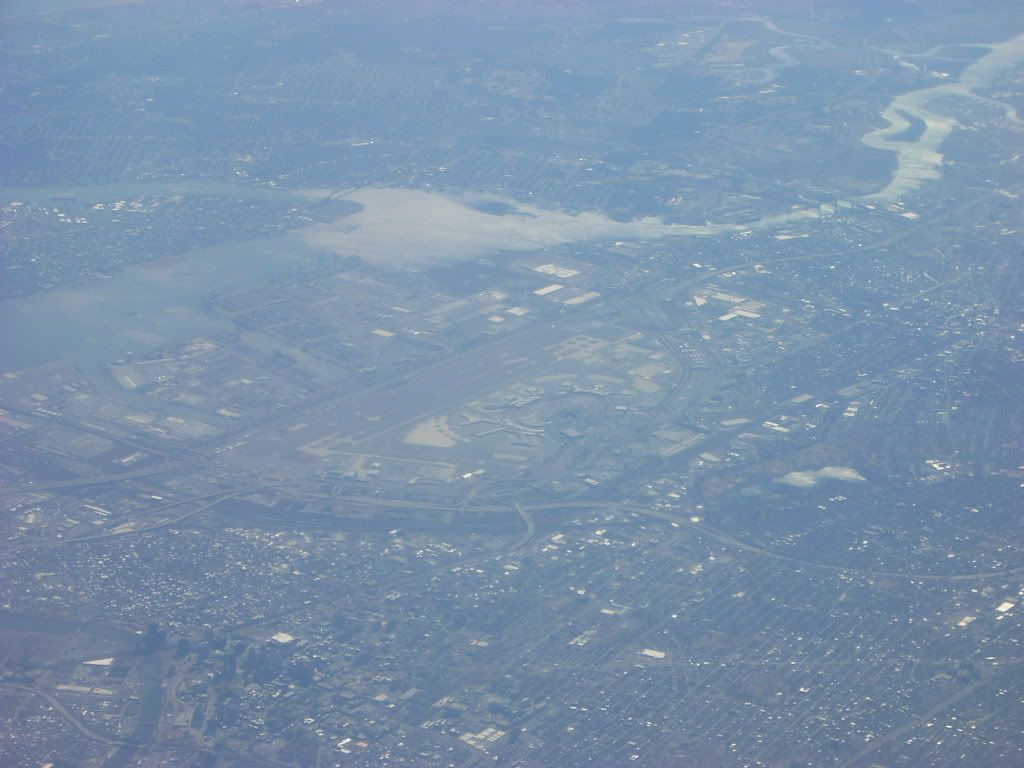 Andrews AFB, you can''t see it because my camera sucks, but there was a VC-25 there.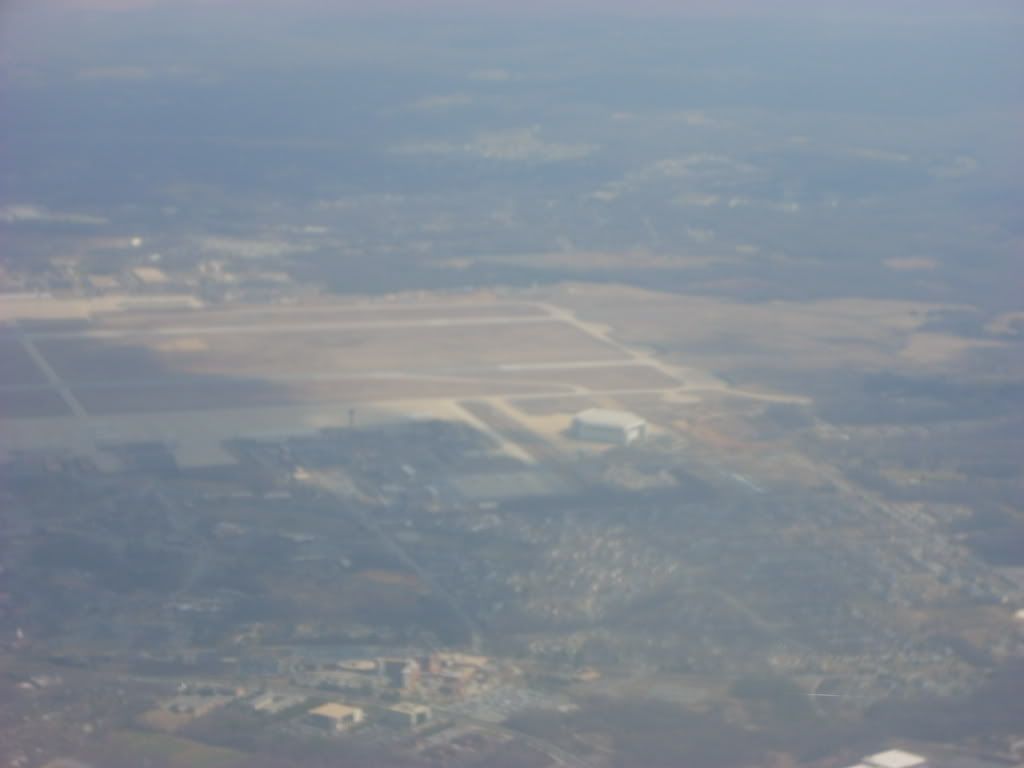 I was on the wrong side of the airplane to see Washington, but I did get a nice view of Alexandria including the Masonic Temple.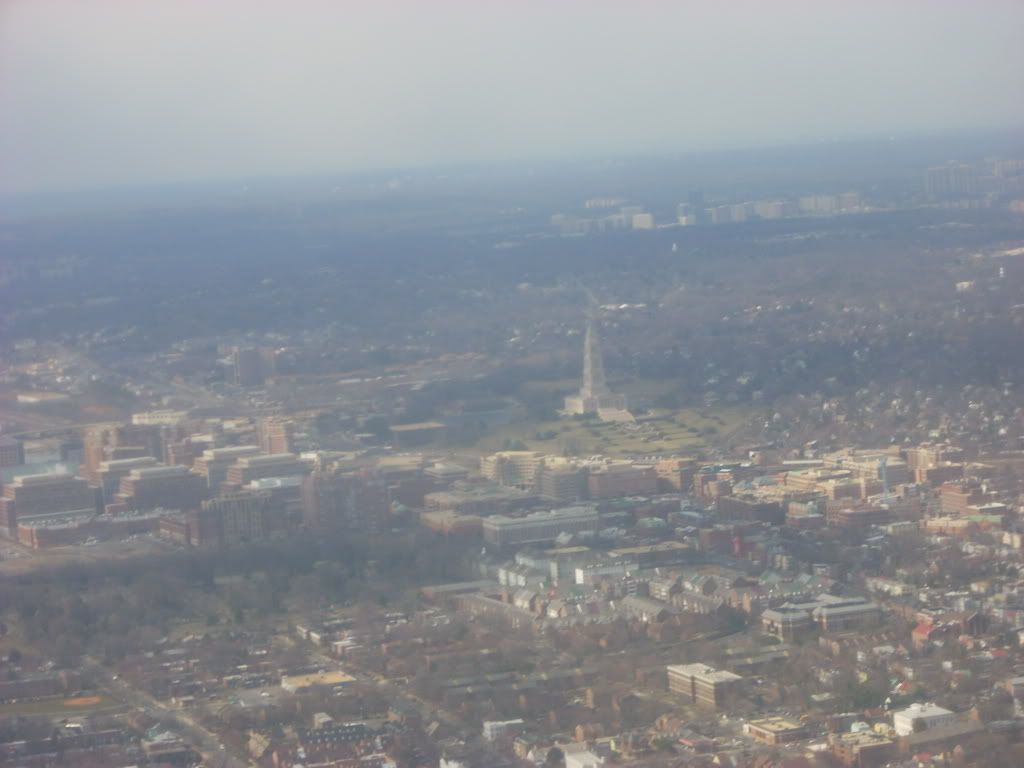 We touched down and then had a taxi back towards Gate 22. Then it was a quick walk to baggage claim where there was no wait for like the 5 bags on the plane.
I had a great time at her formal, and was sad to go on Tuesday. I left her college at 11 for the drive back up to National.
The drive was good, but the weather started to get drizzly up by DC. I got to the airport at 345, where I waited in the mess that is Delta's check in. Check-in at DCA is unusual because the desks face away from the street, meaning you have to go out and aronud to get to them. There were only 4 kiosks working, with one lady checking the bags. There was a huge crowd around the area, and I thought they were waiting to check in, turns out they were only waiting to drop their bags off. I waited about 20 minutes to drop them off, and the lines at the desk were even longer when I left. Security was quick, and I was at Gate 22 by about 10 after 4. The area was mobbed, so instead of sitting I went to the Delta Shuttle area and leaned against the silver dividers for a while.
Delta 5686
KDCA-KBOS
Sched: 500pm Act. 702pm
Sched: 635pm Act: 835pm
Gate 22b
Seat 8A
Boarding started right on time at 20 of 4, but after only 3 people had boarded I saw the agent close the door and make an announcement that the FA had not showed up and that they had to wait to board. Soon after, those few people down the jetway were back in the gate area. An announcment was made over the PA for the FA, and after 20 minutes, still no FA. This process continued fort he better part of half an hour, with the gate agent making frequent announcements and apologizing profusely. People began making jokes, but everyone was pretty understanding. Finally, the agent said that the FA who was supposed to be on our flight was at the ER because she was ill, and that she was currently talking to DL OPS to figure out what was going to happen. Another 15 minutes went by, with more apologies, when we were informed that the FA for a later JFK flight would be taking our flight. Boarding was 15 minutes later, and then we pushed back and began to taxi around 6. The plane was about 95% full, but I had an exit row, which in retrospect I would have rathered had an armrest than an extra .5" of legroom. After a short taxi the captain came on to inform us that due to weather, we'd have to hold for 45 minutes. Again more apologies, and the FA came around with water. We ended up taking off at 7:02, and then it was a quick uneventful flight up to Boston. It was dark out and I was exhausted, so I didn't bother taking pictures on the way up.
All in all, i think Delta/Comair did a great job. The service, even for a short RJ flight was good, with both bottled water and drink/snack service. Also, the staff was extremely friendly, and the frequent updates were much appreciated by everyone. As much as I hate the CRJ, I will continue to by loyal to Delta if they continue this kind of service. Just as a question, what happened with Delta Shuttle to Boston?