Date: 31 Jan 2008
Airline: Virgin Atlantic
Route: LHR-PVG
Flight No.: VS250
Aircraft: A340-642
Reg: G-VATL
Seat/Class: 60A Economy
Scheduled: 13:45 - 08:50 +1
Actual: 13:50 - 08:51 +1
View Large
View Medium


Photo © Alex Pan
This flight was to be my first time on Virgin Atlantic, I was flying with my girlfriend over to China to spend Chinese New Year with her family.
We arrived at Heathrow Terminal 3 at 11:00, 3hrs before the flight for enough time to do a bit of shopping and plane watching.
Went straight to Virgin's check-in area for the bag drop, having already checked-in online the day before, we just needed to check the luggage in. Pretty busy there, and had to wait about 15 minutes before getting to the desk.
Virgin's own check-in area at T3
Upper Class check-in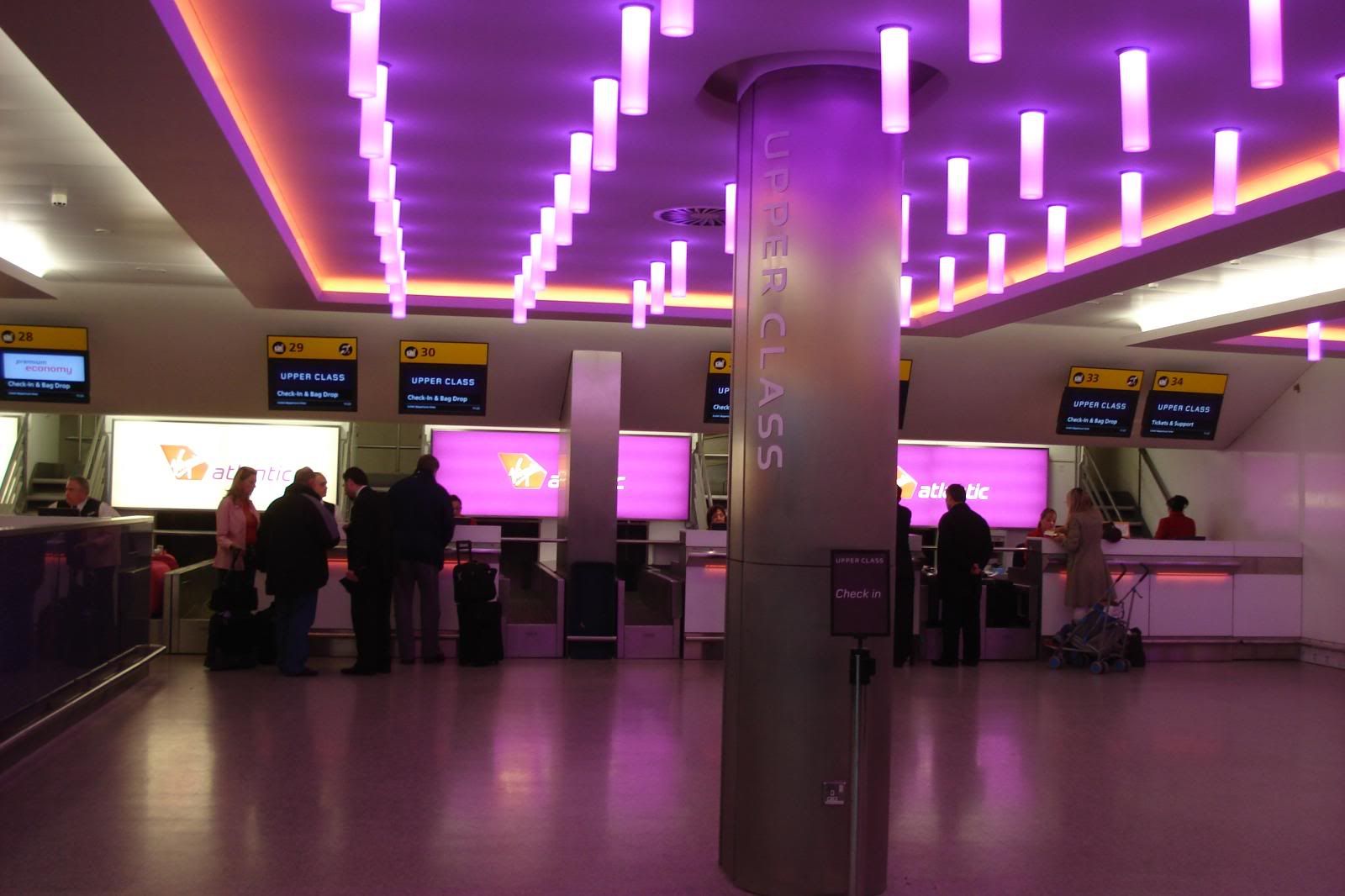 T3 departures
packed as normal
walked over to gates 13-22 to see what was around ...not much, just a UA 777 that had just pushed back, an AA 777 and a Saudi Arabian 777.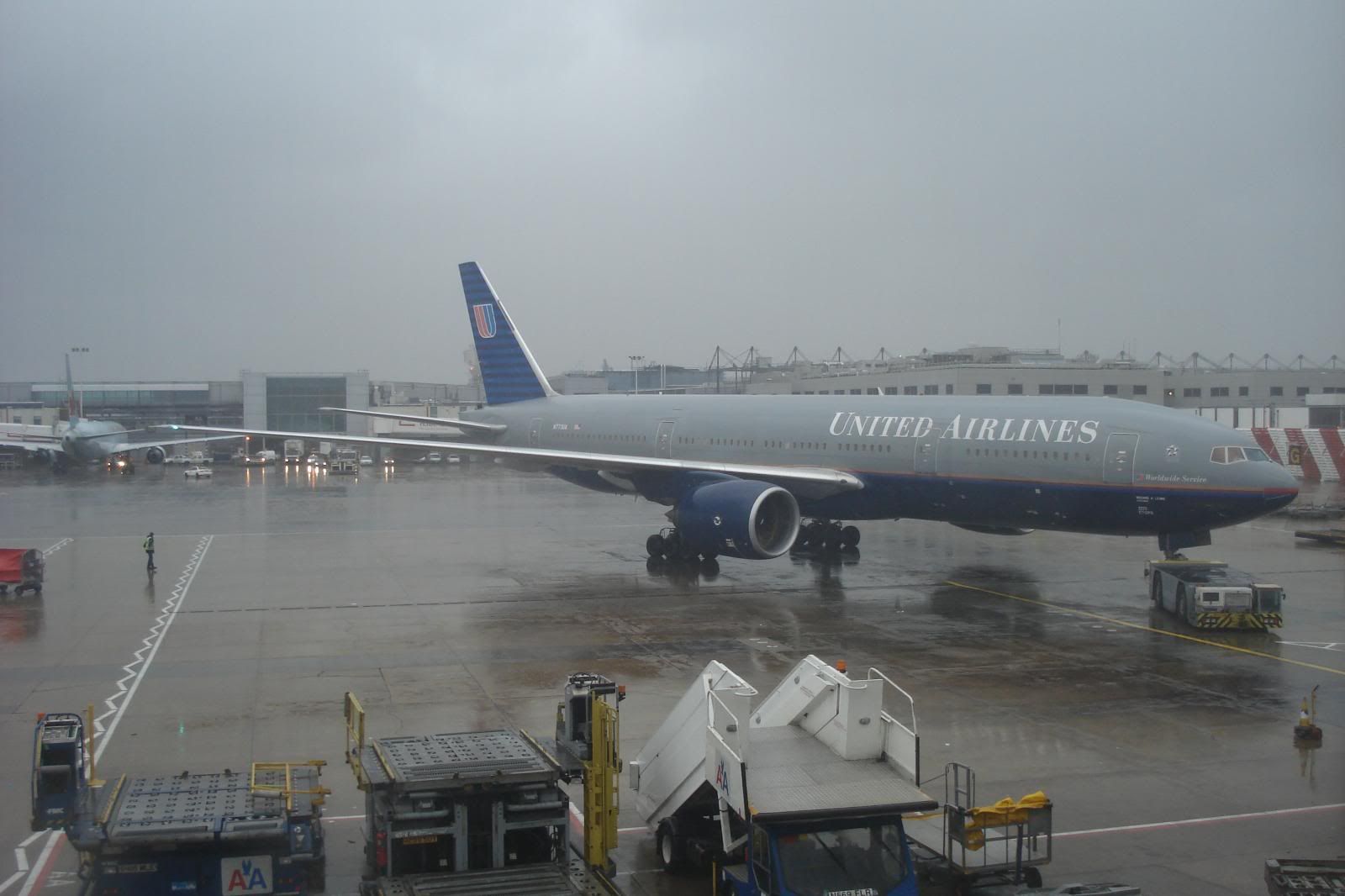 to get back into the main departures area I had to go through arrivals and to transfers and go through security again, what a hassle!
My boarding pass
at Gate 42, massive queue to enter the boarding area and once in the place was fully packed, looked like the flight would be the same. About 90% of the pax were Chinese, going home for Chinese New Year celebrations.
G-VATL, my ride to PVG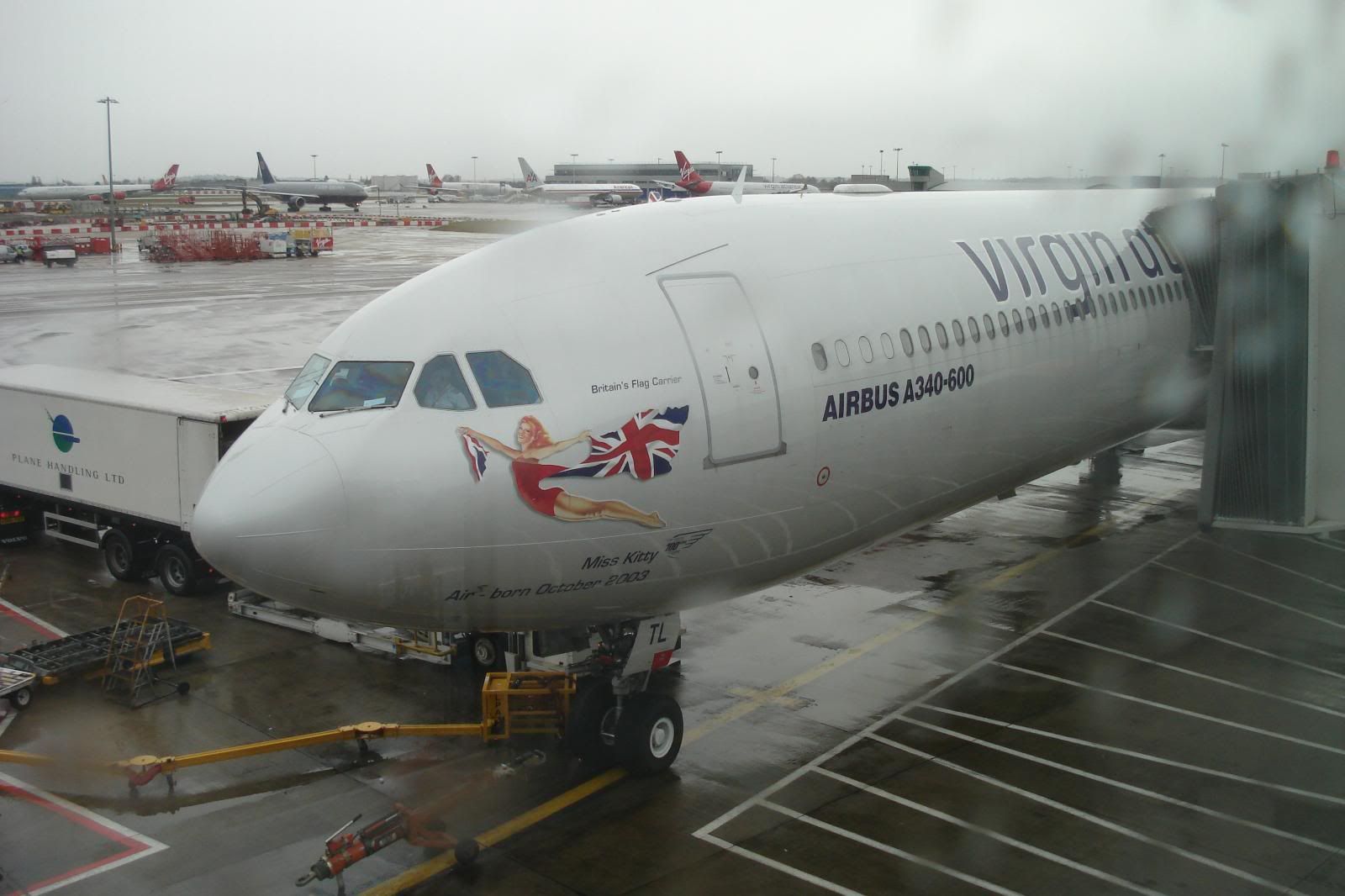 Another queue before entering the aircraft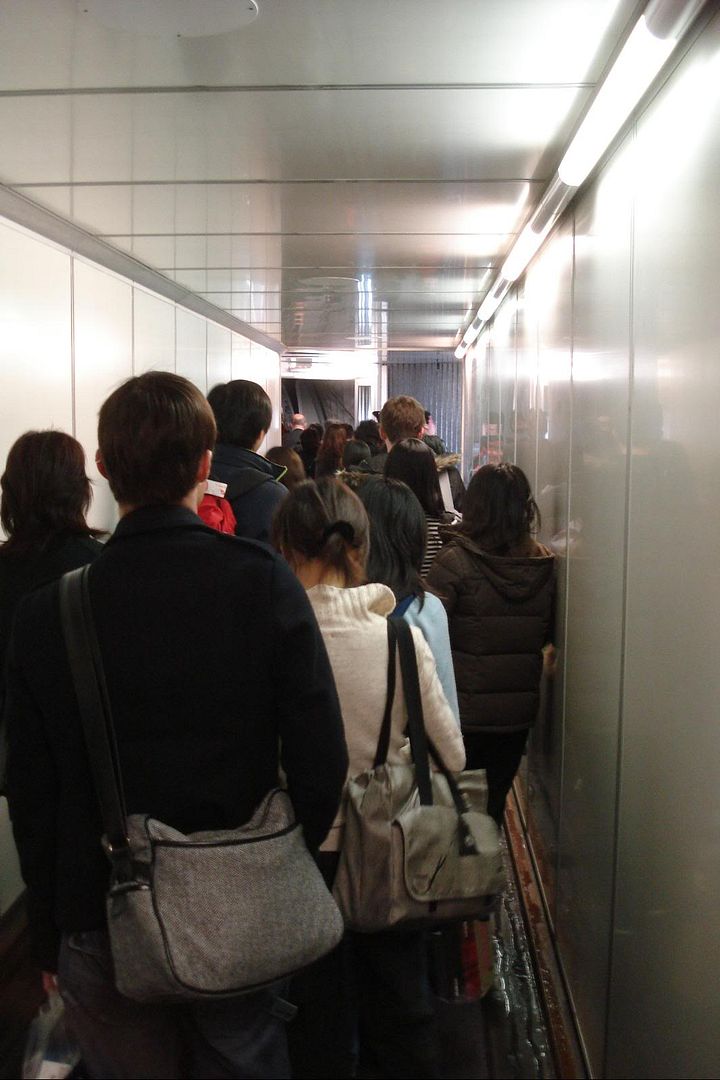 view from my seat, G-VHOT next to us getting prepared for its flight to New York.
Etihad A340-541 taxing to its stand
Safety video playing before push back
Push back was at 1350, slightly late (5 mins) as explained by the Captain was due to airport congestion. The captain then gave a detailed announcement of our routing (over the baltics, through Russia, passing over Mongolia and then Beijing before reaching Shanghai), our estimated flight time, weather conditions etc.
Runway in use today was 27R, here's a few pics taken of the departing traffic whilst taxing and holding before departure.
Iceland Air 757-200 TF-FIN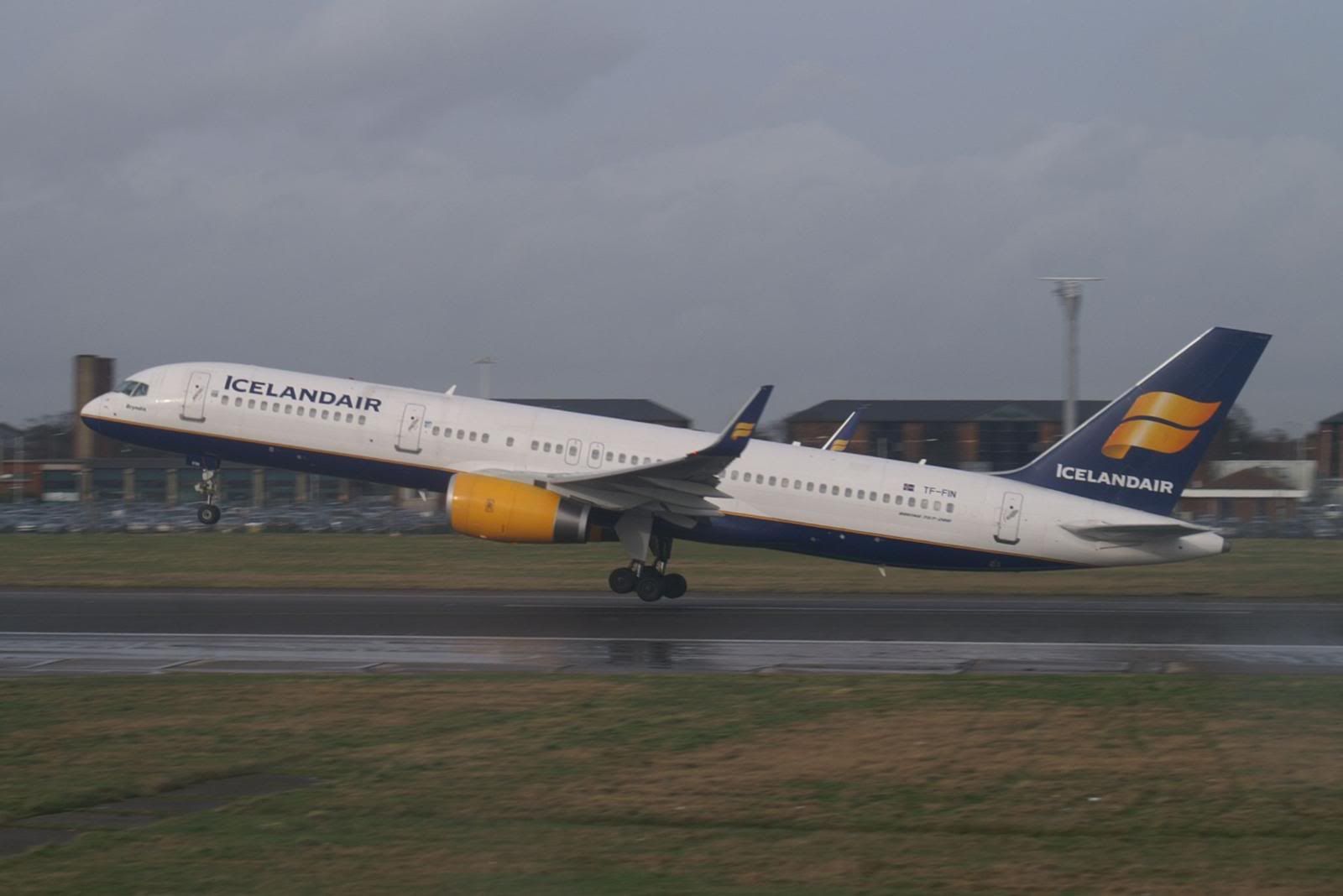 Lufthansa 737-300 D-ABEK
BMI A319 G-DBCD
British Airways 767-300ER G-BZHB
British Airways A320 G-EUUL
Air Canada A330-300 C-GHKW
British Airways A320 G-EUUT
British Airways A319 G-EUPS
British Airways 747-400 G-CIVL
After the Emirates 773ER it was our turn to line up for takeoff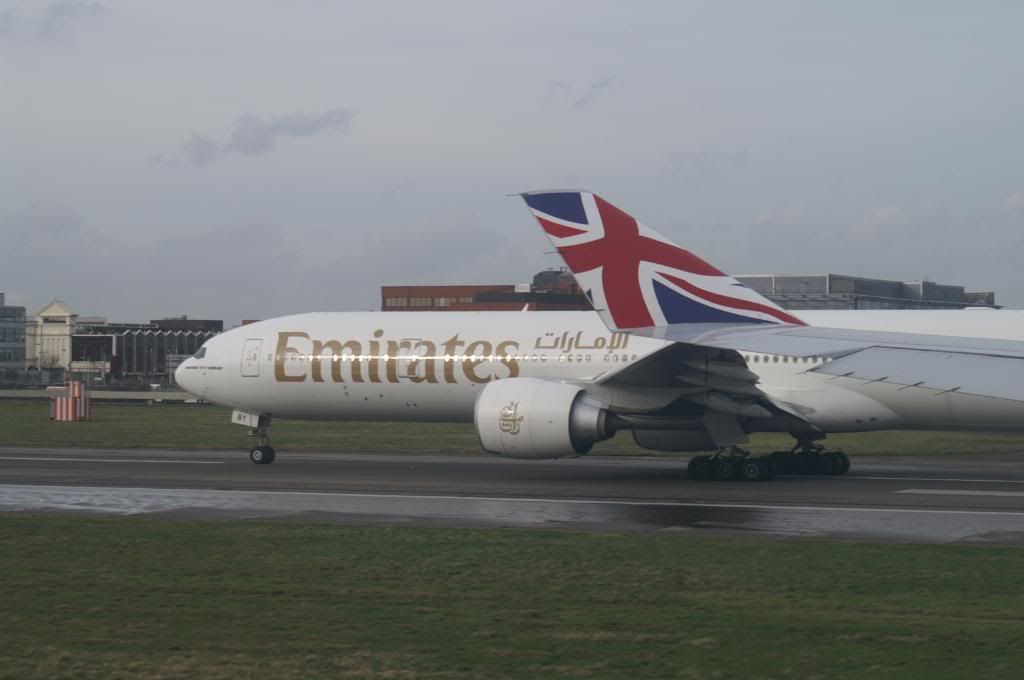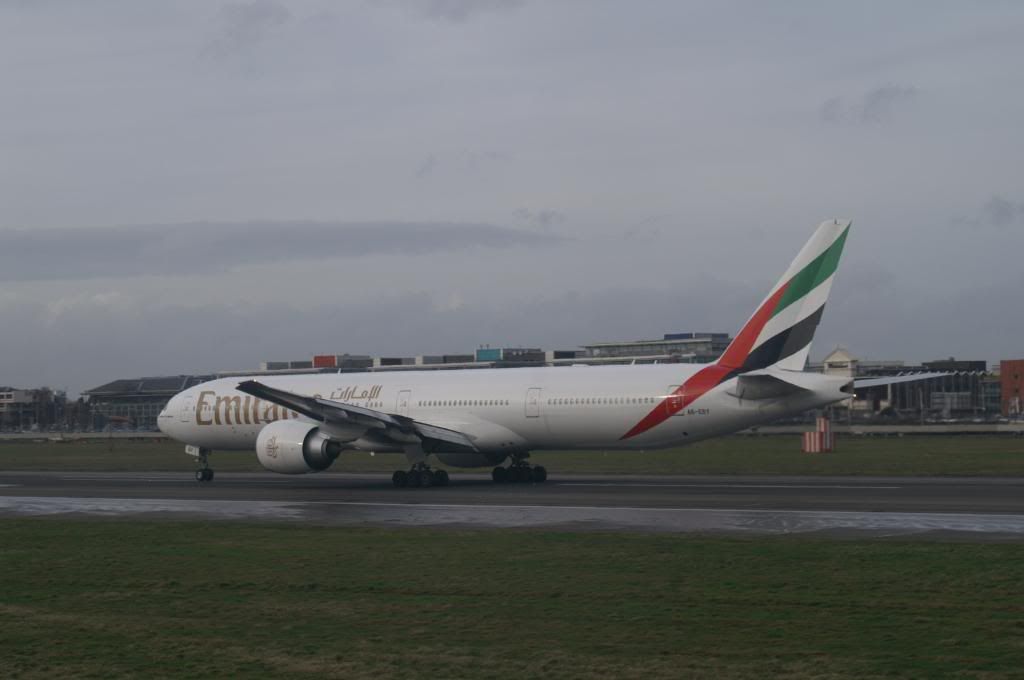 Some of the holding traffic
We began our roll down 27R at 14:12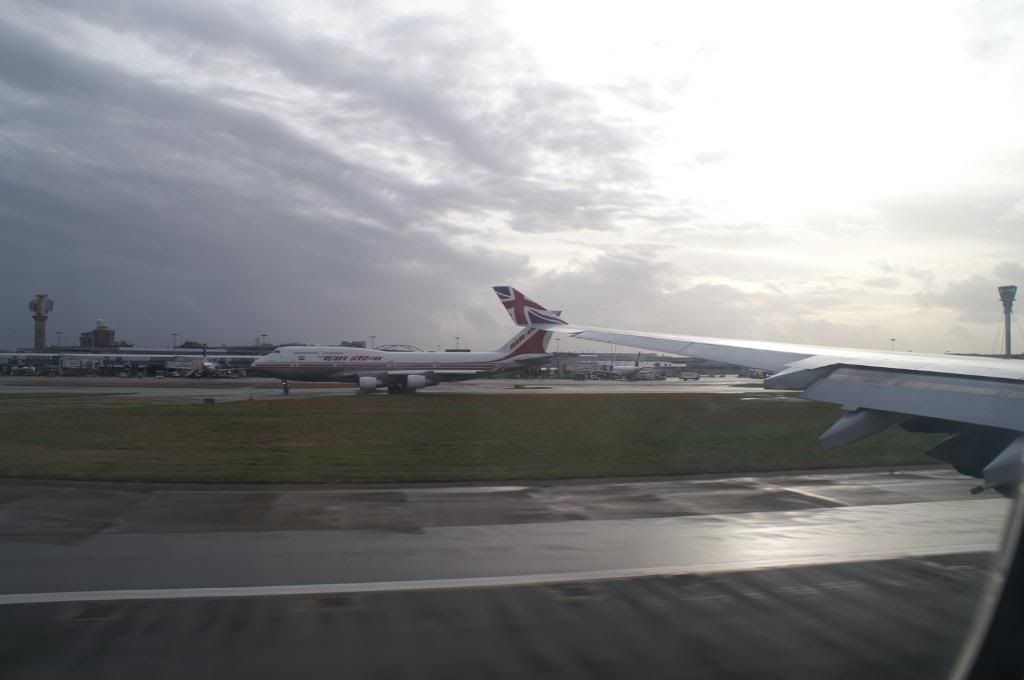 Rotate!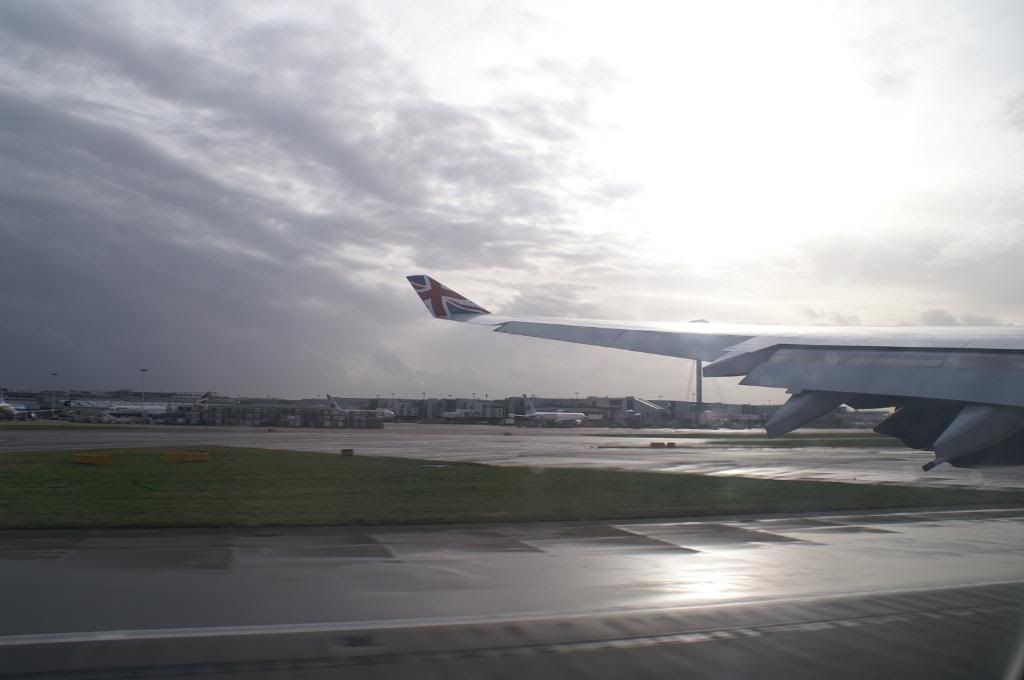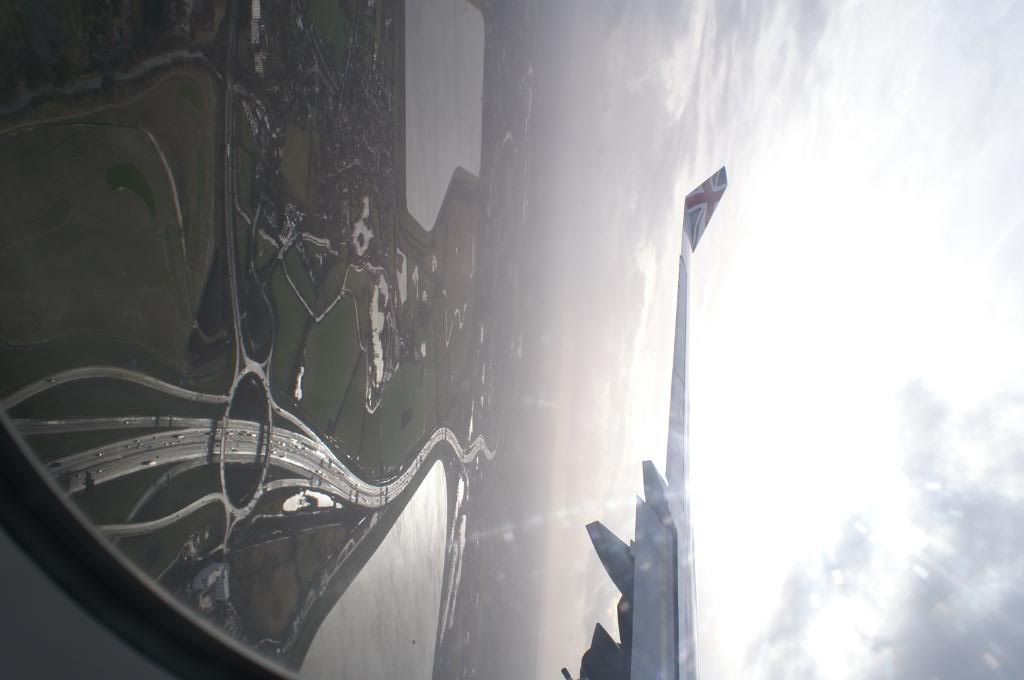 About 20 minutes into the flight the v:port system was started and headsets and amenity kits distributed
some pics of the v:port system and controller
some window views
Our current location, about 30mins into the flight and we're already flying past the coast of Holland, heading North Easterly towards the Baltics.
The drinks service didn't start until 40mins into the flight.
here's my lemonade accompanied by a small packet of Worcester Sauce Pretzels and a wet wipe. That's how it was given to me.
The meal service didn't start until almost 2hrs into the flight, which I thought was a bit late, if I hadn't bought a sandwich and eaten it whilst boarding was taking place I would have been starved by now. And no more drinks until after the meal.
Dinner was a choice of either Beef or Vegetarian, I choose the Beef. A choice of tea, coffee and Chinese tea came round a few times at the end of the meal.
Portions could have been bigger, although the meal wasn't actually that great, and that's coming from someone that usually loves airplane meals.
3.5 hours into the flight and we're around Perm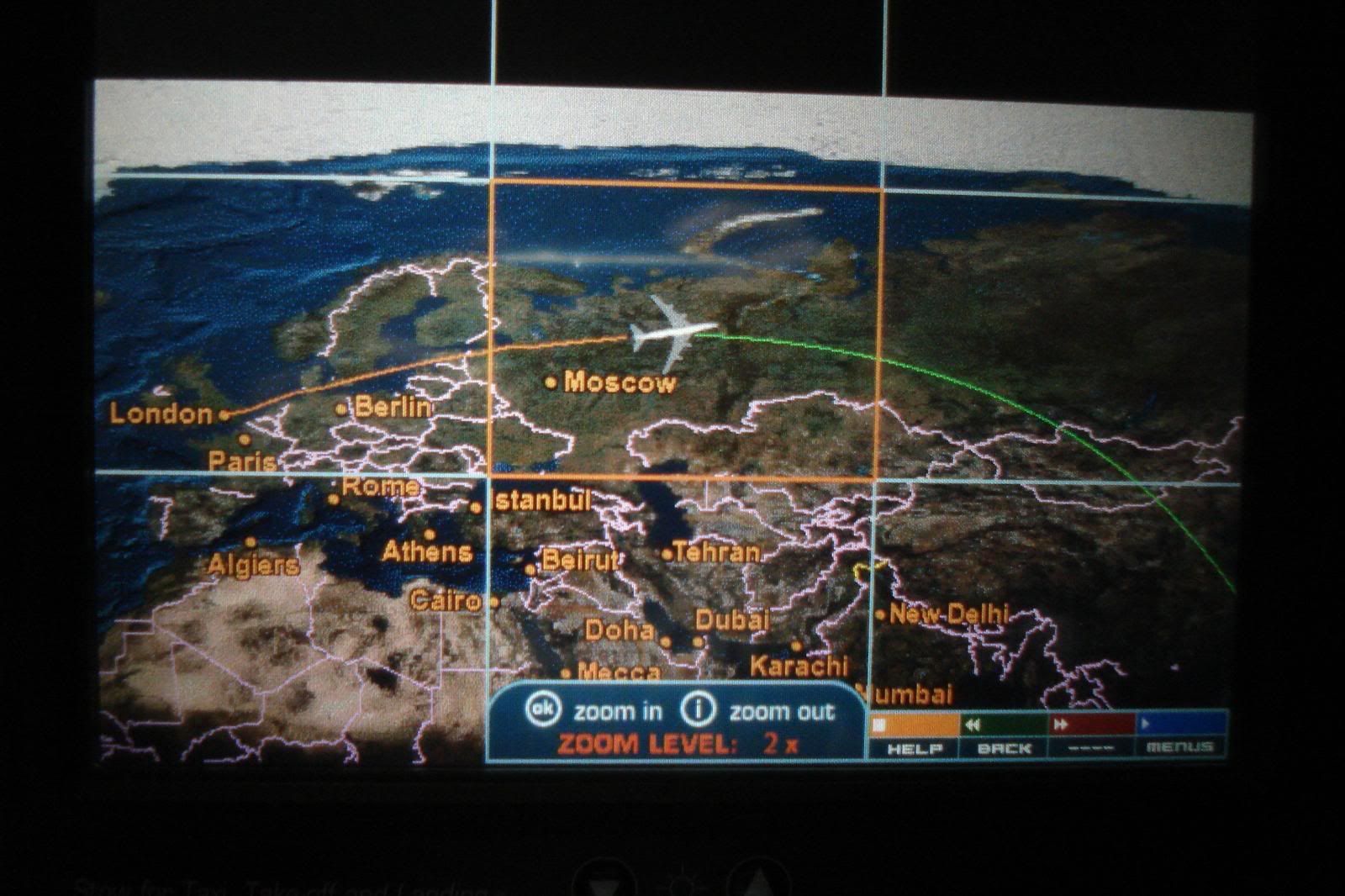 Flying through the night over Russia, lights shining on the engines and winglets were left on throughout the whole flight which I hadn't seen before. Infact I hadn't seen lights that shone on the engines and winglet before either.
Lights off in the cabin, as we flew through the night. During this time I watched The Bee Movie and Disturbia, an episode of the Peep Show, filled out my landing cards and tried to get a bit of sleep.
The seatbelt signs came on a few times due to some slight turbulence
The breakfast service came round about 1.5hrs before we were due to land at PVG.
The choice was English breakfast, Vegetable Omelette or Chinese seafood congee, I went for the English breakfast.
the congee
meanwhile the sun was starting to rise
some more cabin shots
Descending into PVG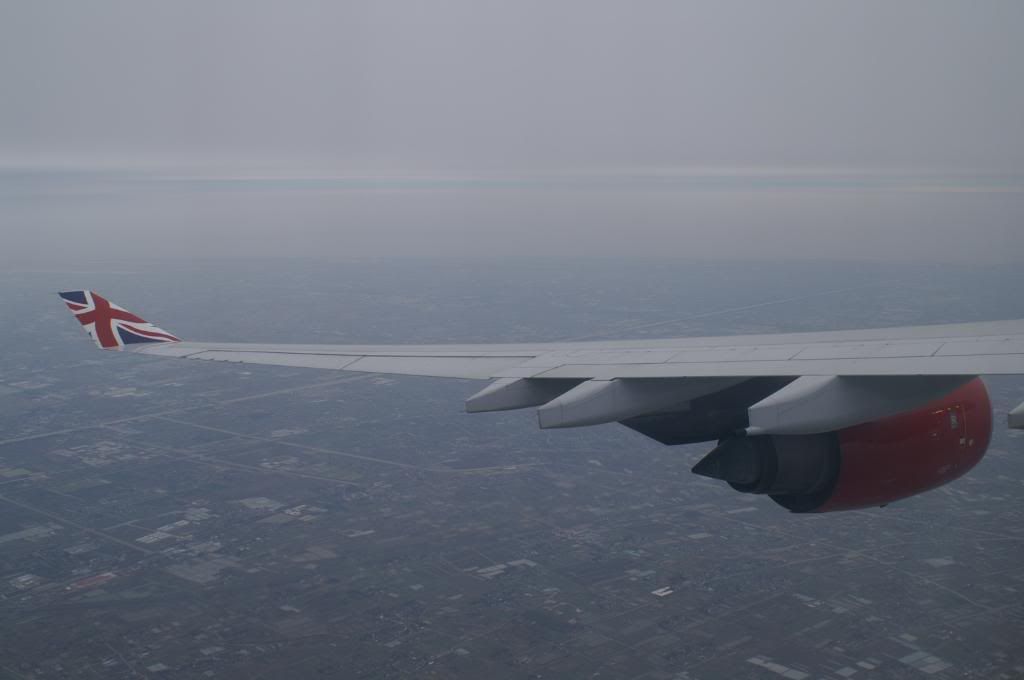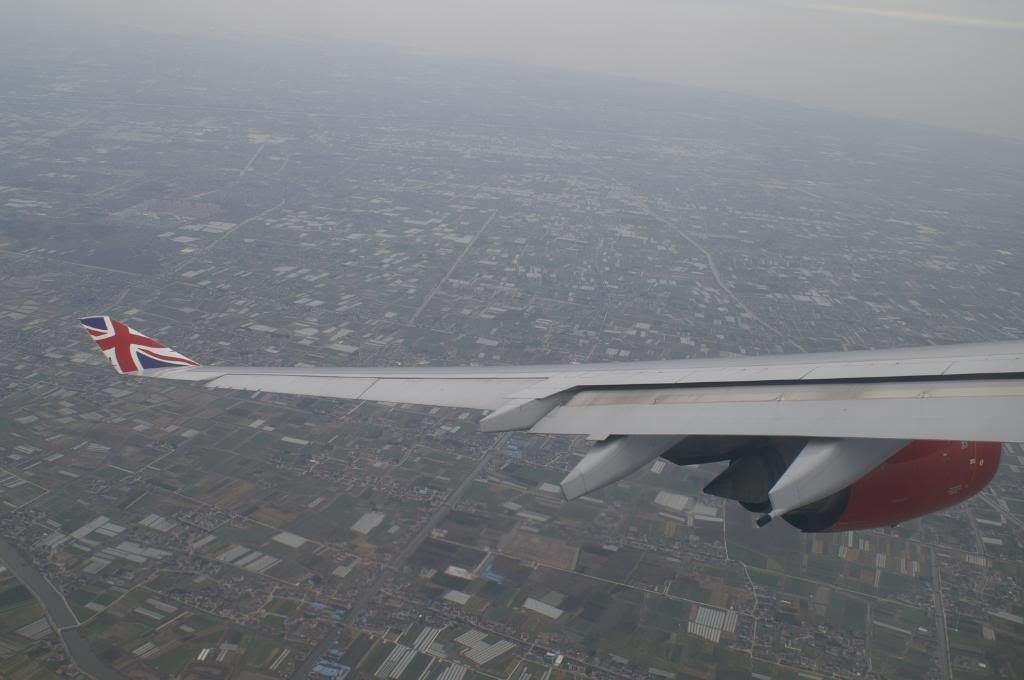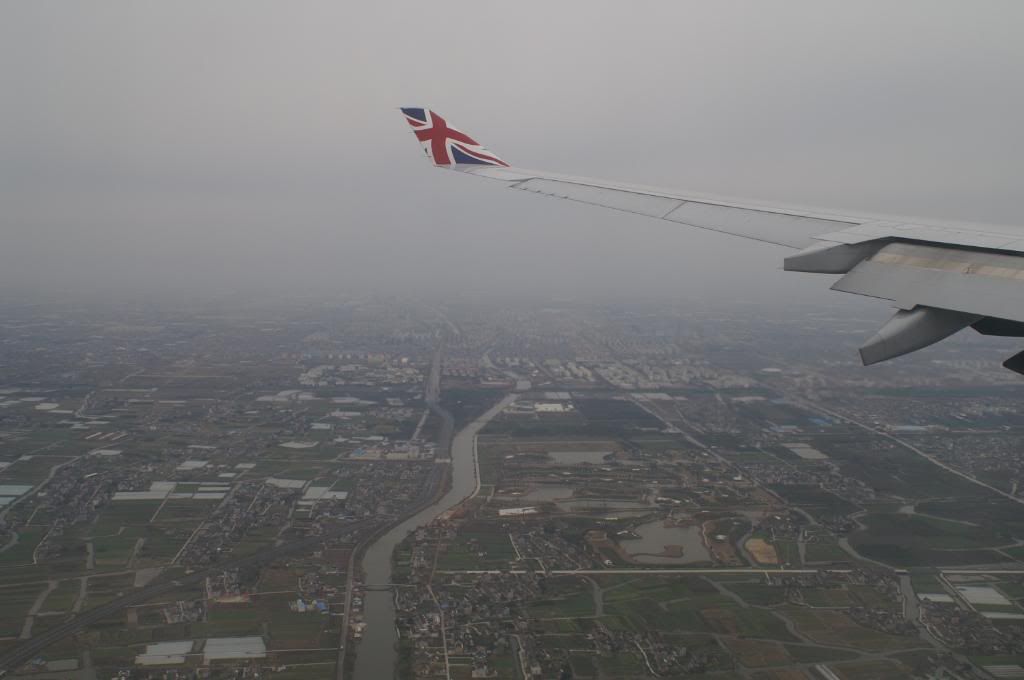 Touchdown on 35L, ATA 08:47 (00:47z)
Taxing to the terminal, as well as the many MU aircraft, there was also UA 744, NW 744, KL 744, NZ 772 and Finnair A343. Over at the Cargo terminal there was a LH cargo MD11, ABC 744ERF, EK skycargo 744 and MU cargo MD11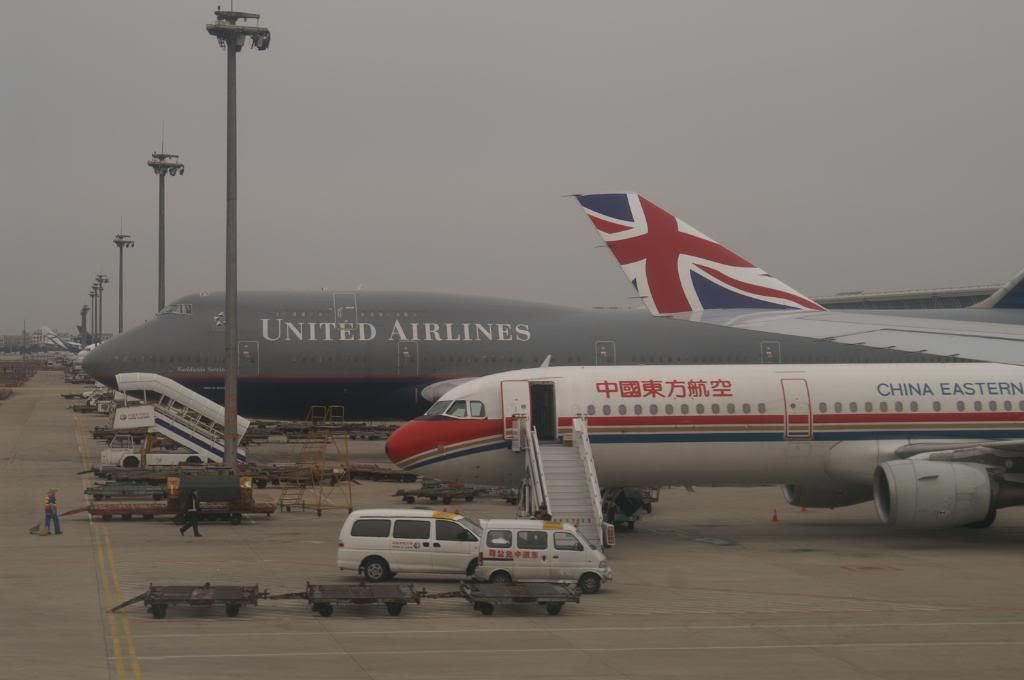 A line of tails plus winglet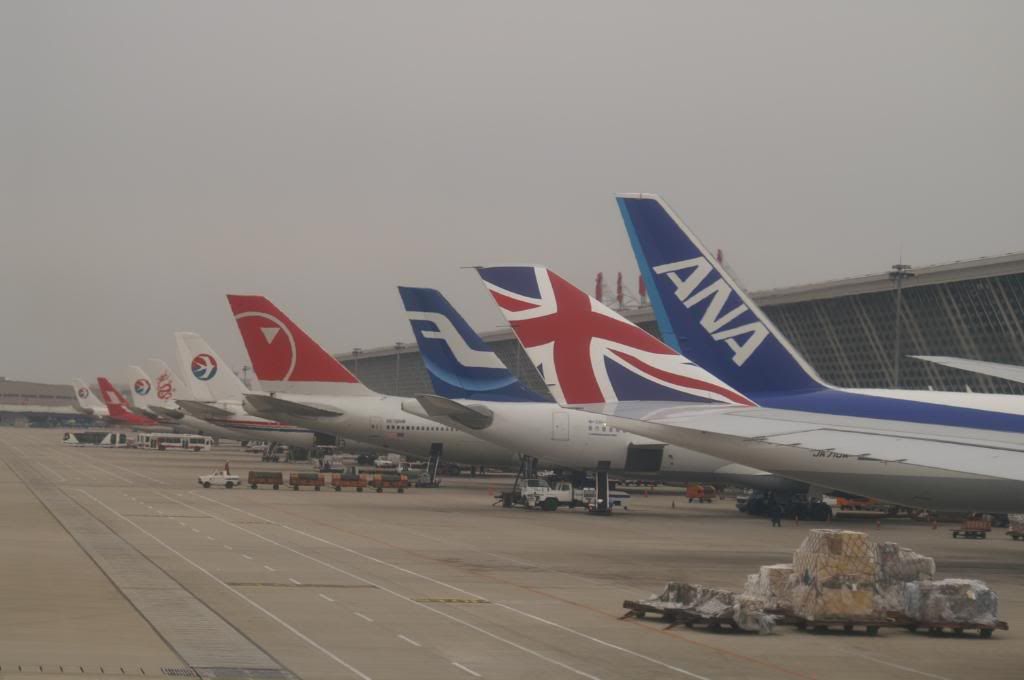 Parked at stand 22, next to KLM 744 PH-BFP, being prepared for its flight back to AMS
Shanghai Airlines 738 in new colours taxing, delivered September 2007
the mad rush to get up and collect all belongings then to wait before actually being able to move
a few more cabin shots whilst getting off the plane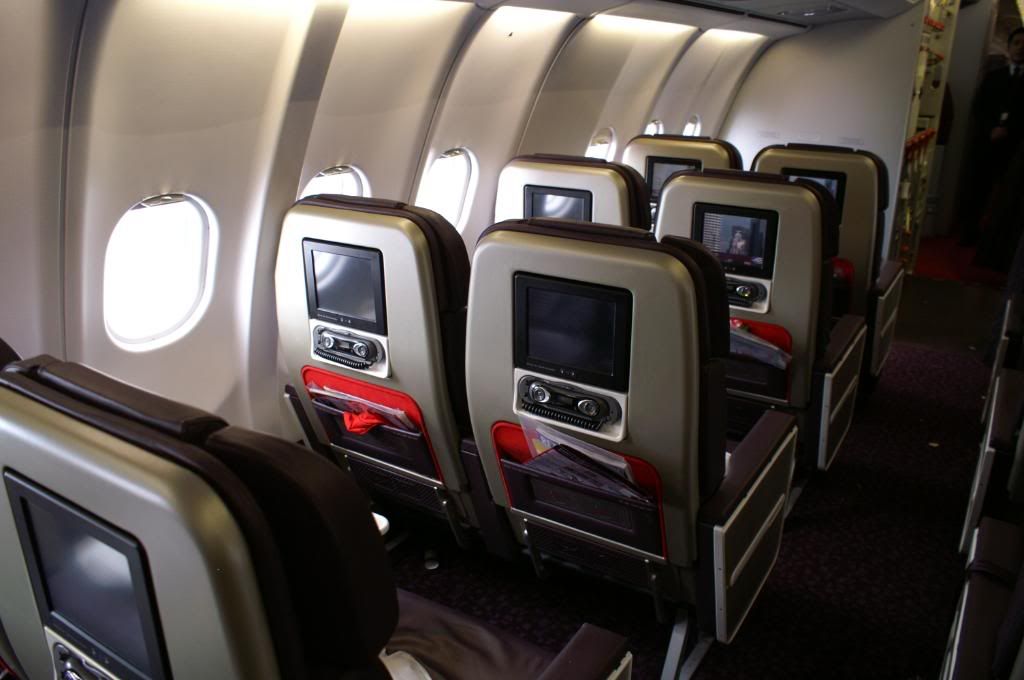 the wing seen from the airbridge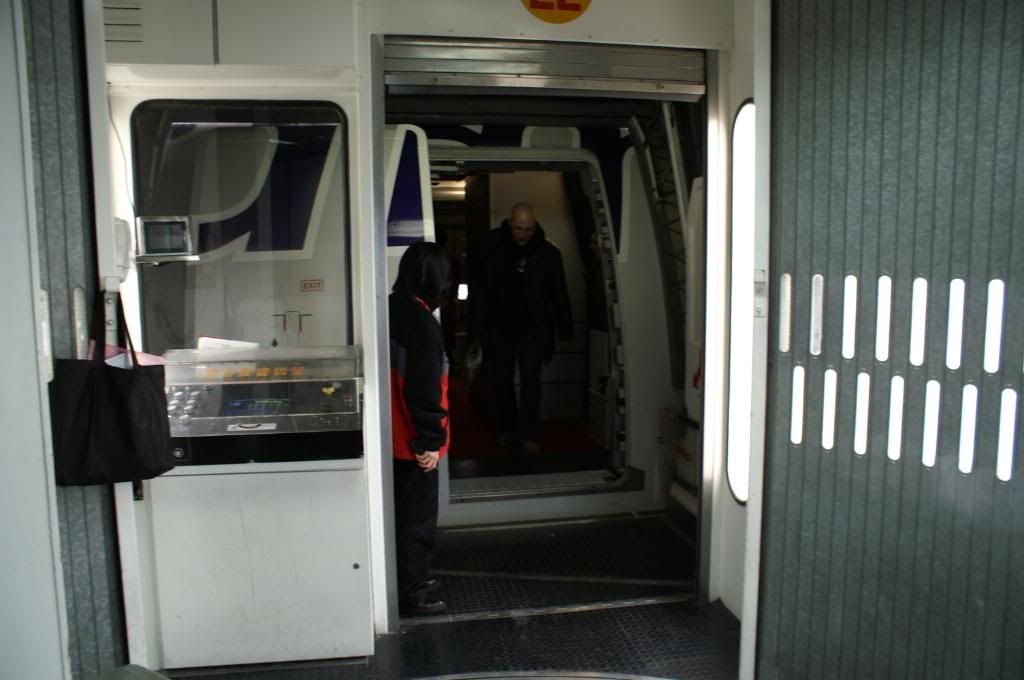 The arrivals level at PVG was very quiet and immigration was pretty quick, then down to the departures hall
This was my first time flying Virgin Atlantic, overall, the flight was pretty uneventful and but nothing special either.
The F/As on this flight were mostly Chinese, aswell as the pax which made it feel like flying on a Chinese airline.
As the flight was mostly during the night there wasn't much to see apart from a few oil field flares over Siberia, but we did fly past my home town Amersham on departure from LHR.
Return flight:
Date: 14 Feb 2008
Airline: Virgin Atlantic
Route: PVG-LHR
Flight No.: VS251
Aircraft: A340-642
Reg: G-VRED
Seat/Class: 54K Economy
Scheduled: 11:10 - 15:50
Actual: 10:57 - 15:36
View Large
View Medium


Photo © Chris Lofting
Took the Shanghai Transrapid (Maglev) to the airport, the top speed of the magleve is 431kph, but this time they only took it up to 300kph. I arrived at PVG at 08:36
Pic taken from the maglev as we approached the station:
Departures level, this is the check-in for domestic flights situated on the right hand side of the terminal.
The domestic departures
and international
The Virgin Atlantic check-in desks, not many people here! the bag drop was pretty quick and efficient
Being pretty quiet we passed through immigrations and security very quickly, no queuing at all!
One thing to say first, the terminal at PVG is horrible for photography, with all the framework of the building and not being able to get up close to the window due to there being a gap down to the arrivals level, it is impossible to get a clear shot.
Anyhow I must take some pics, no matter how bad it is.
NWA 747-400 N666US operating NW026 to NRT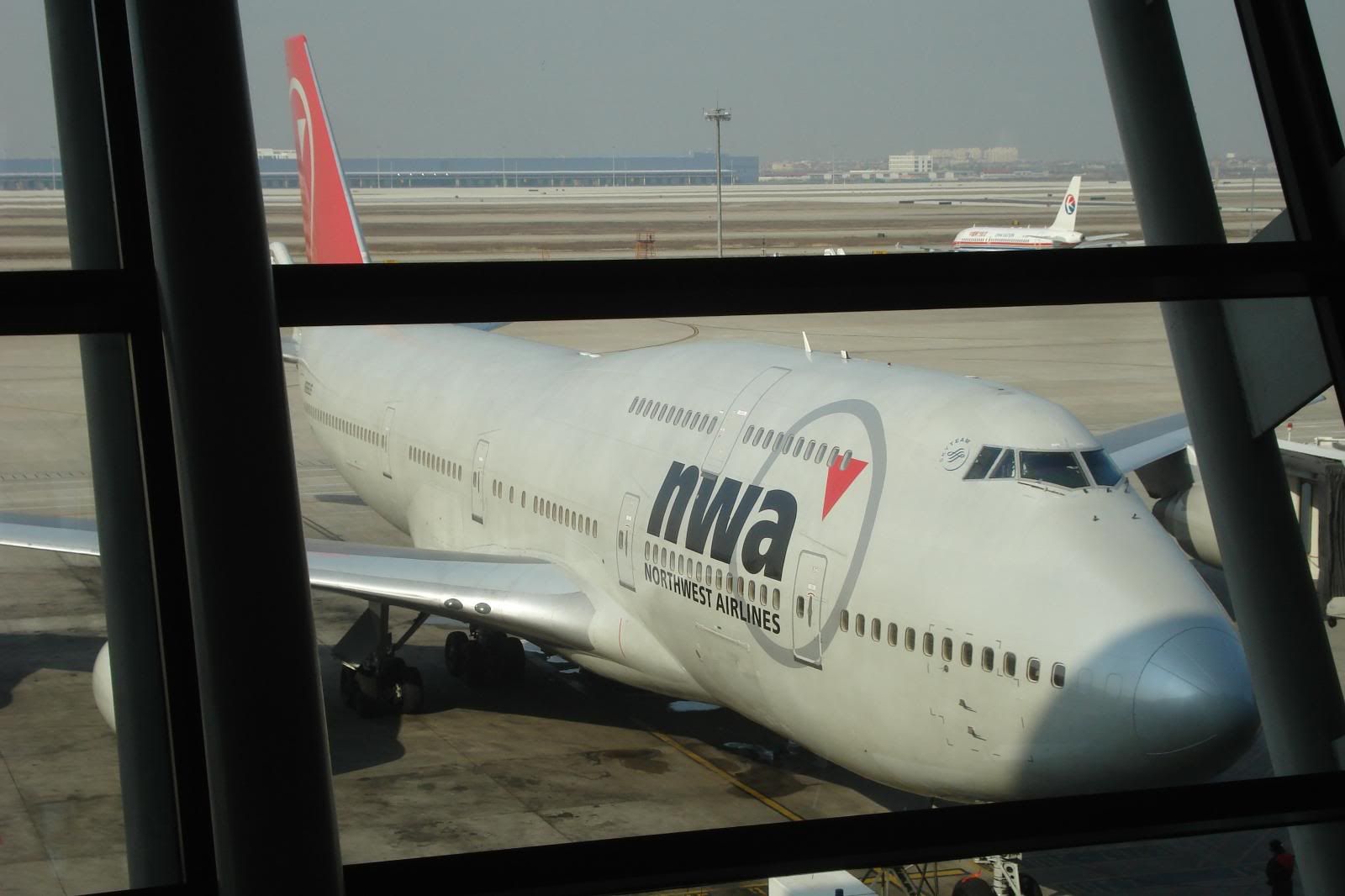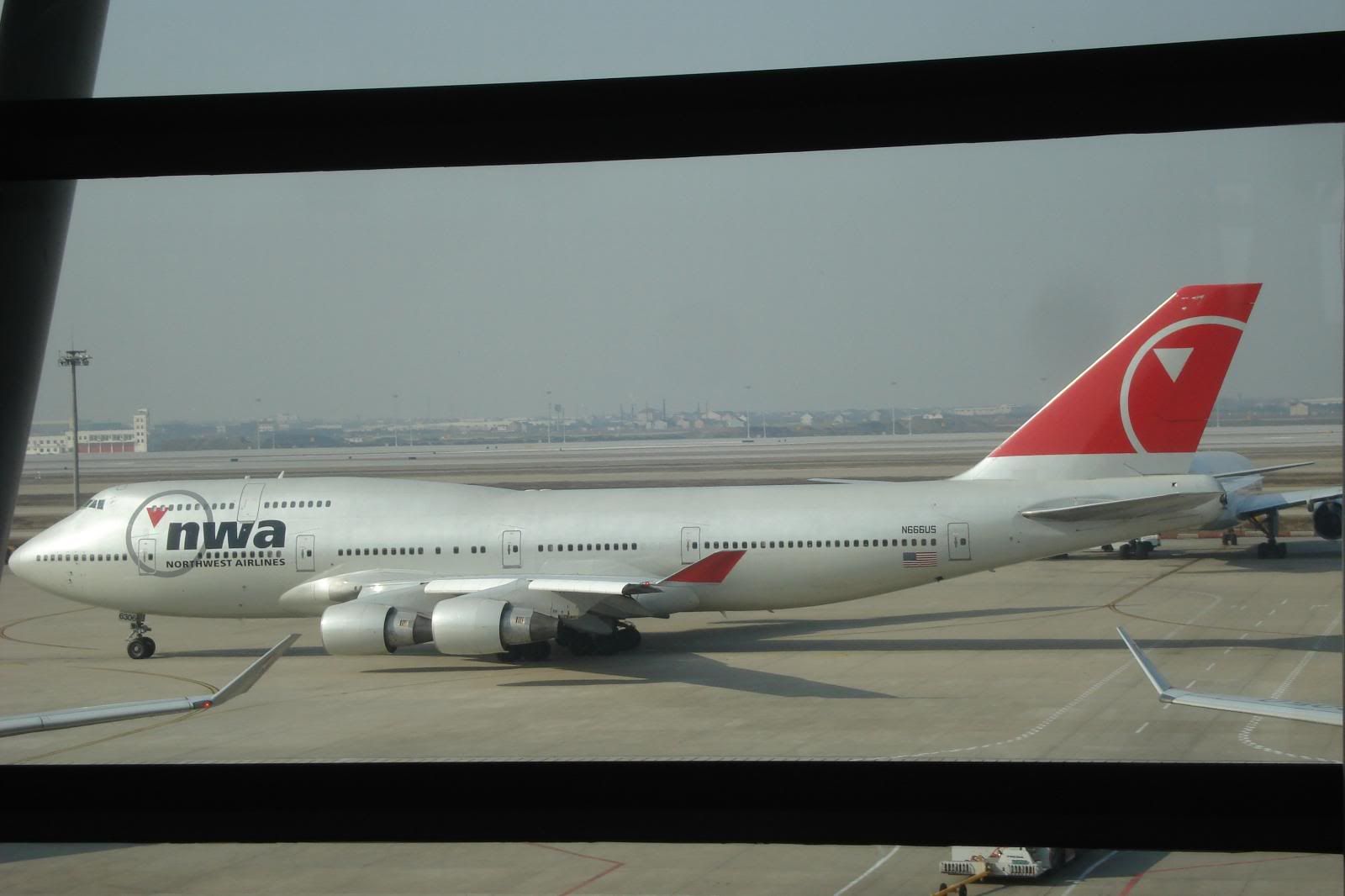 Garuda A330-300 PK-GPE being prepared for GA897 for SIN and CGK
Some China Eastern international departures
A330-200 B-6123, operating a MU5007 special New Year charter to TPE
A340-600 B-6050, operating MU505 to HKG (I flew on this one HKG-PVG a few years back in 2004)
Just landed at PVG, taxiing over to the cargo terminal
First sight of my ride back to London parked at gate 21, its G-VRED, one of the newer A340-600s in the VS fleet, and in the new colours (if you can call it new??)
PVGs international departures
British Airways 777-200ER taxiing to its stand after landing 35mins delayed from LHR, its 09:57 (LT) and its due for a 10:55 departure as BA168 back to LHR
My plane, still being prepared for VS251 to LHR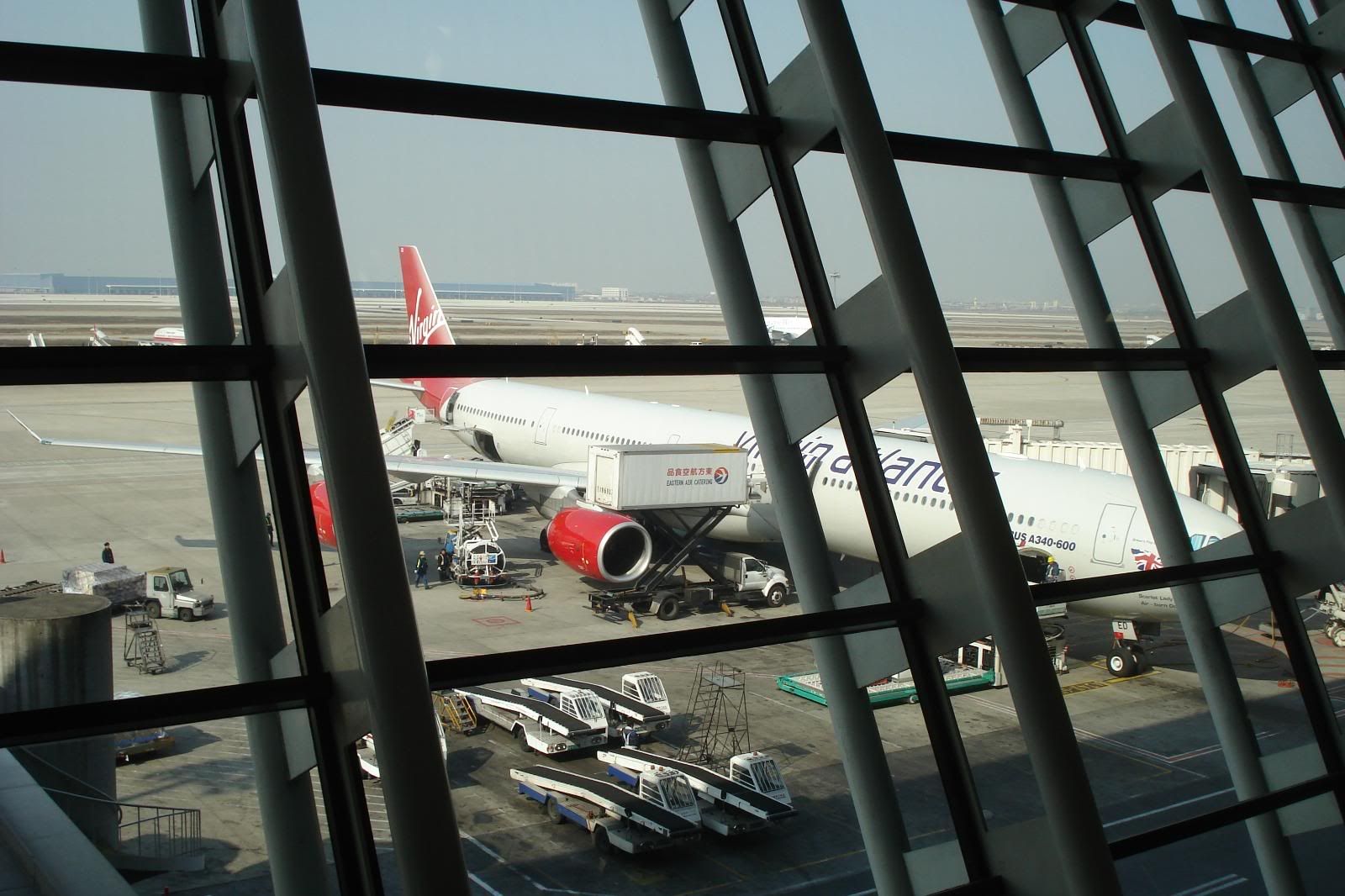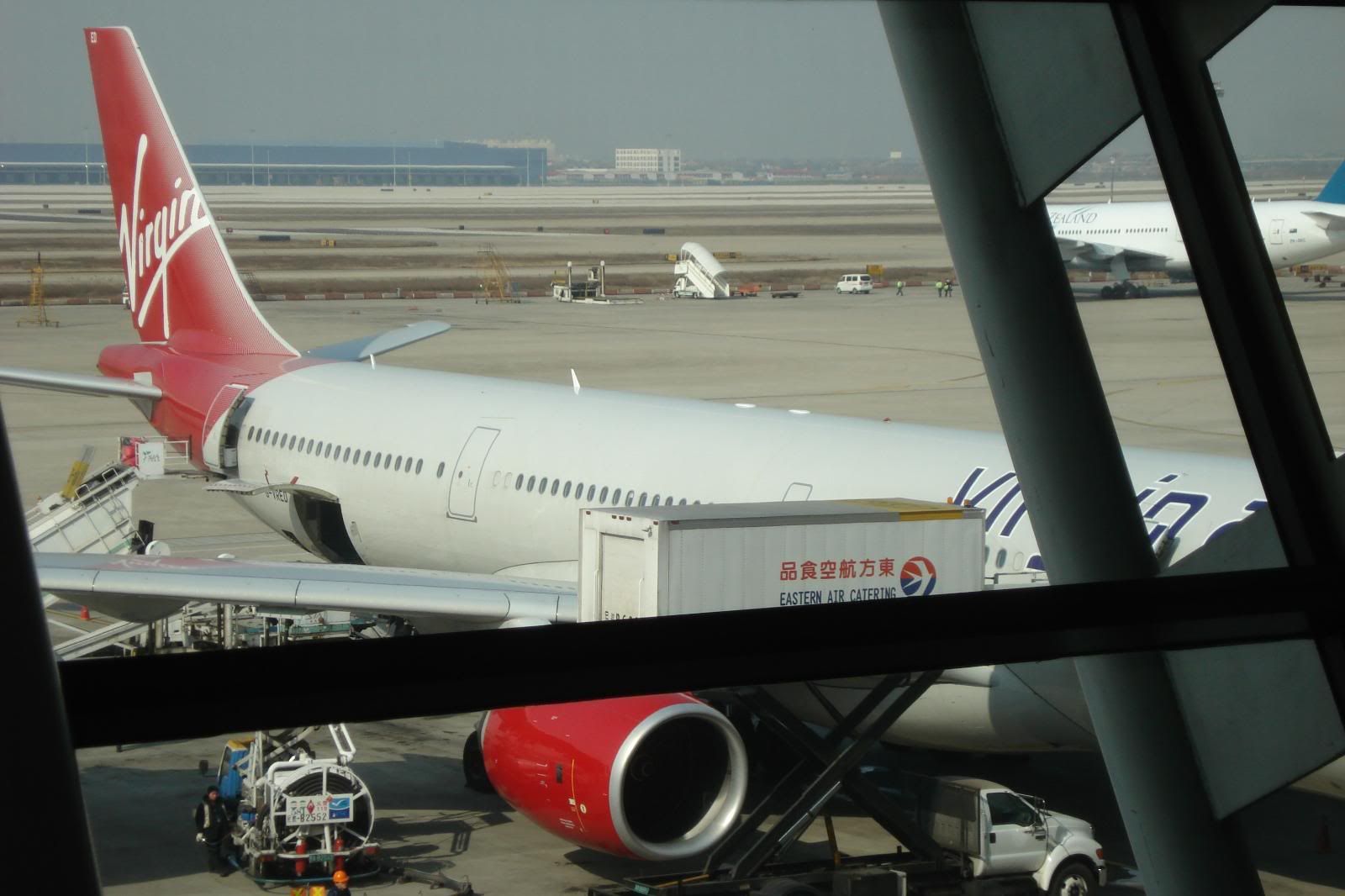 MU505 taxiing out for departure to TPE as MU5007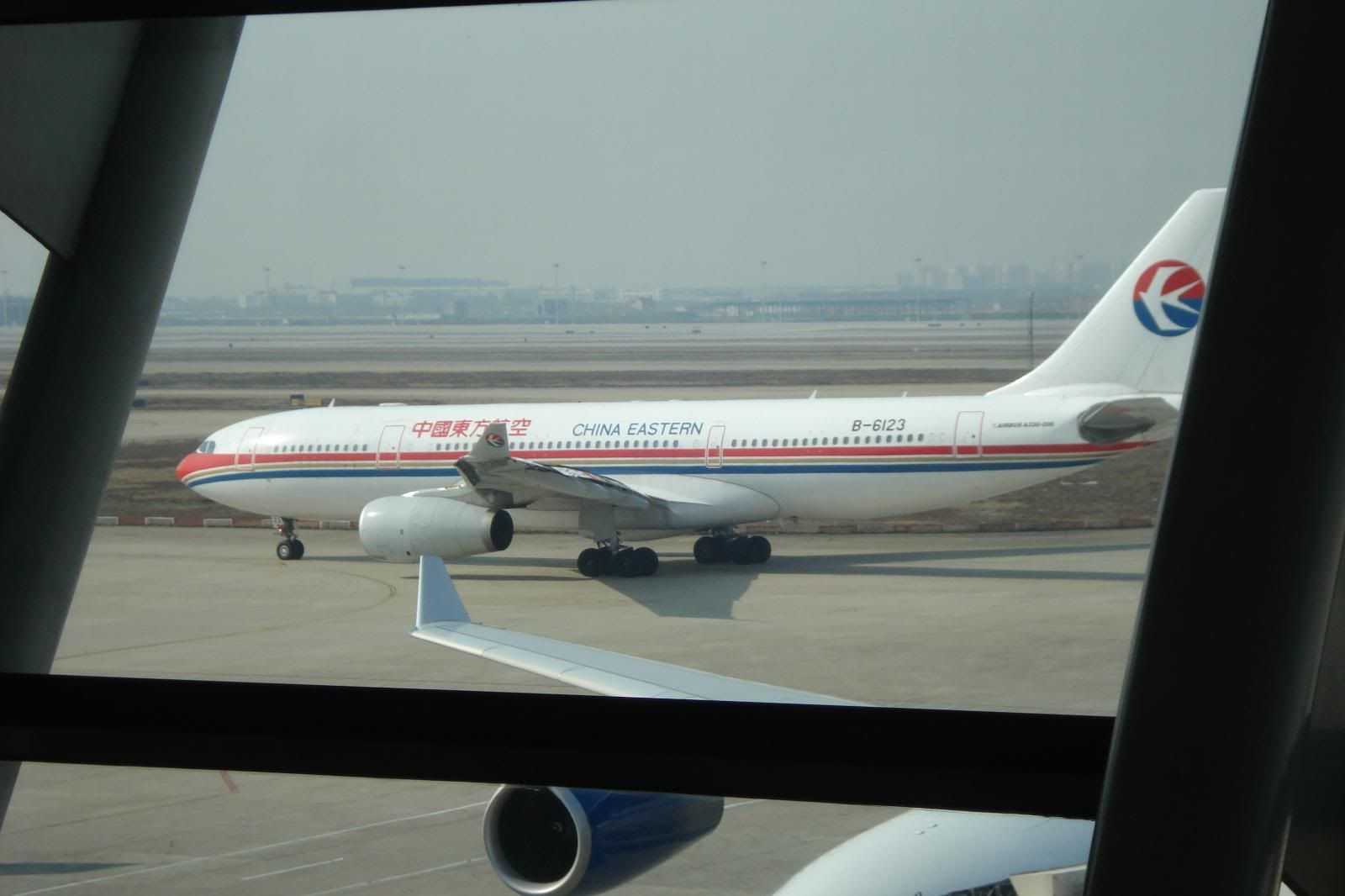 Finnair A340-300 OH-LQB operating AY058 to HEL
ANA 777-200ER JA709A operating NH922 to NRT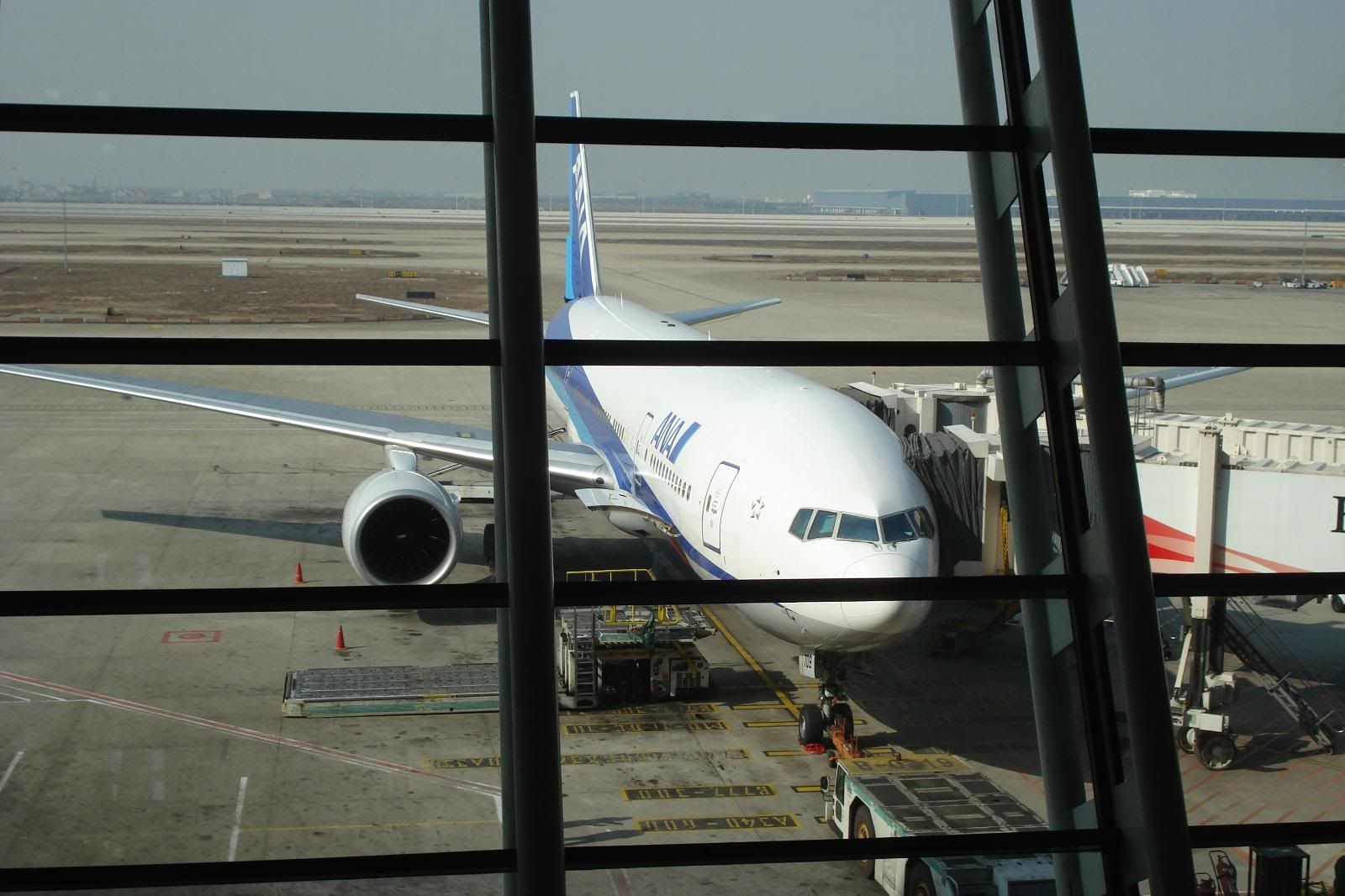 Looking down the long terminal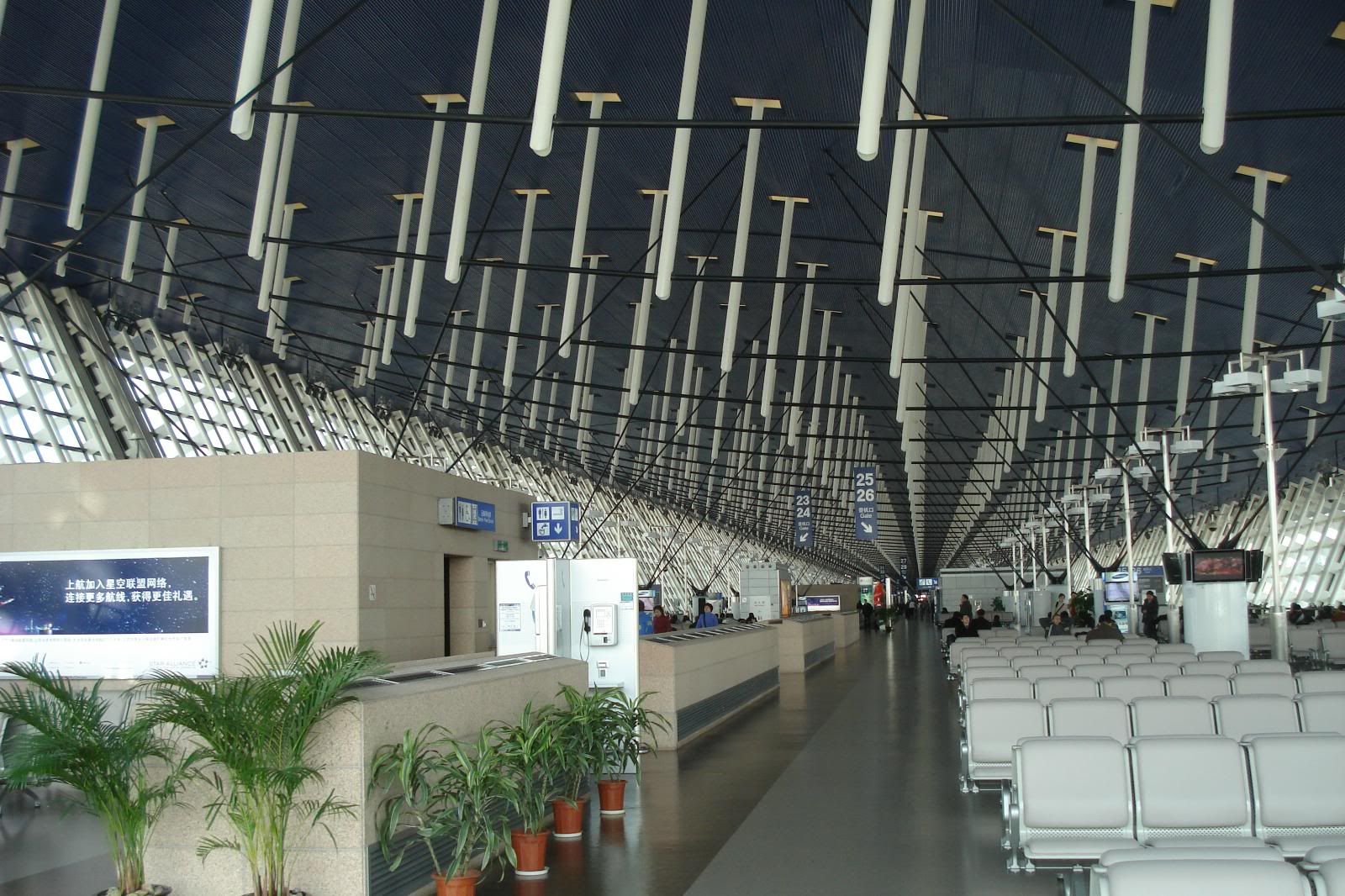 Korean Air 737-900 HL7718 operating KE876 to Pusan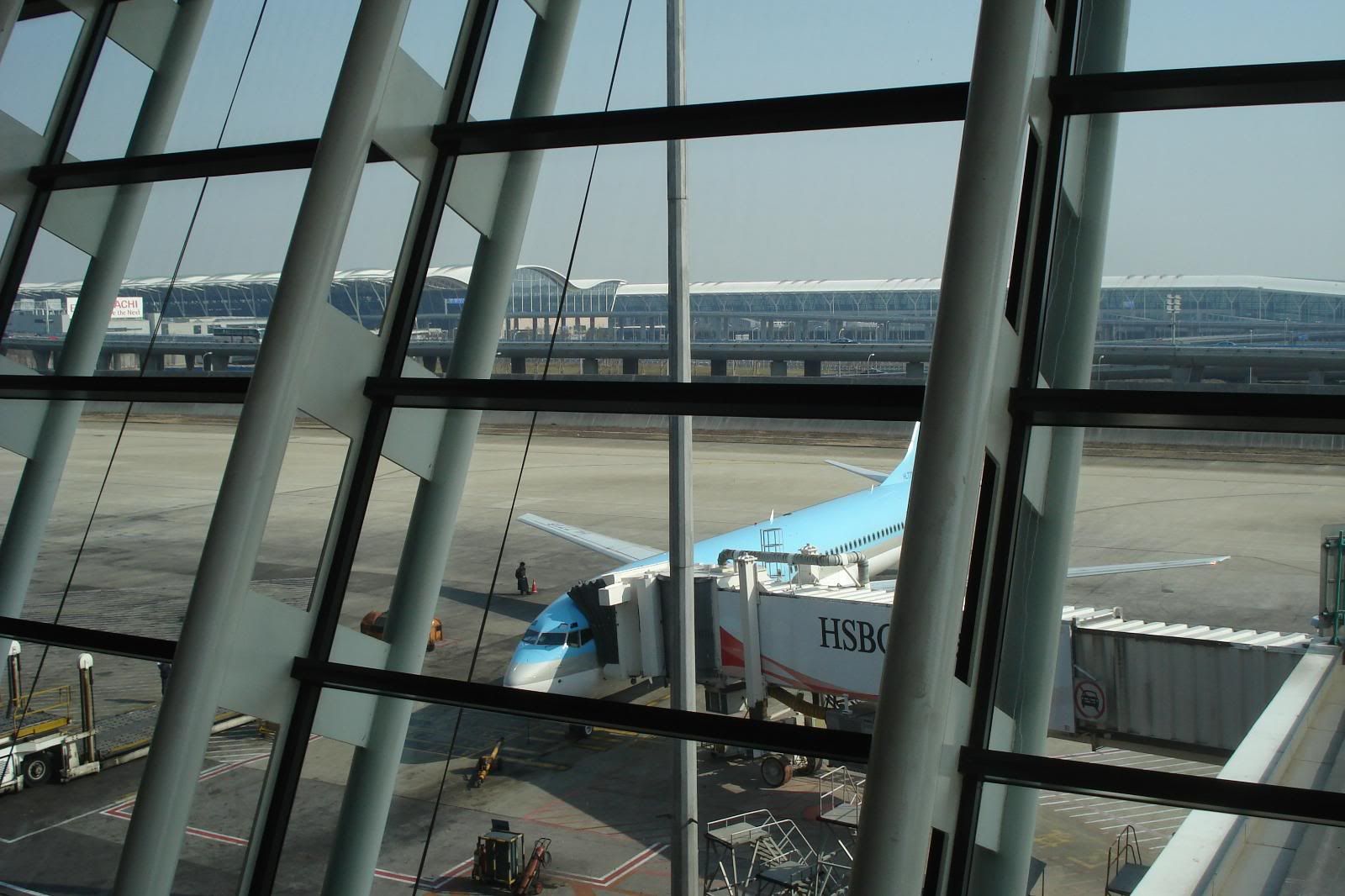 Air China A330-200 taxiing by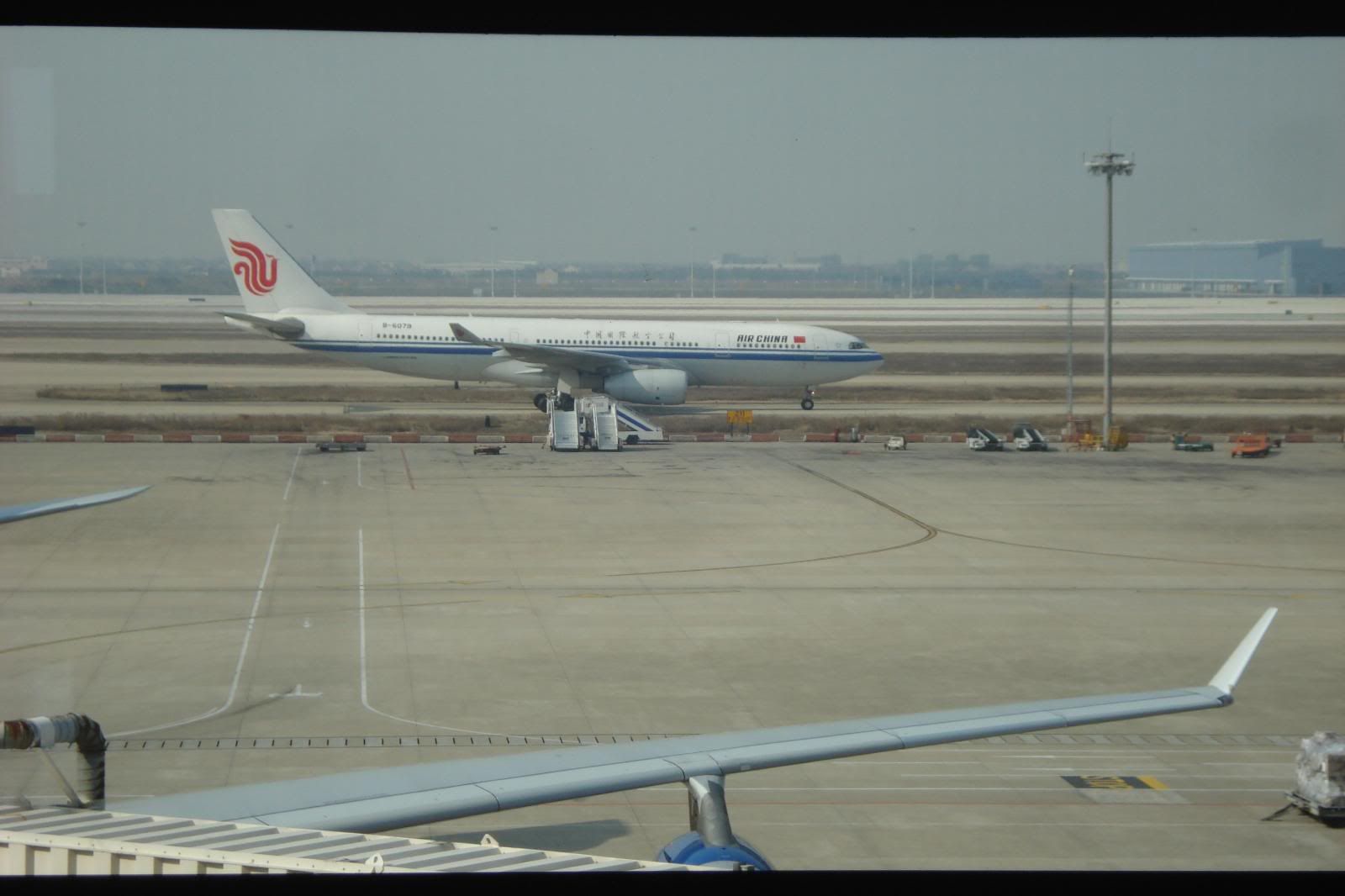 Air France 777-200ER arrival from CDG
GA897 taxiing out for departure to Singapore
AY058 just pushed back for departure to HEL
rare arrival here in China, China Airlines 747-400 is seen here landing from TPE on one of the special new year charters. Will be returning to Taipei as AE872 (Mandarin Airlines)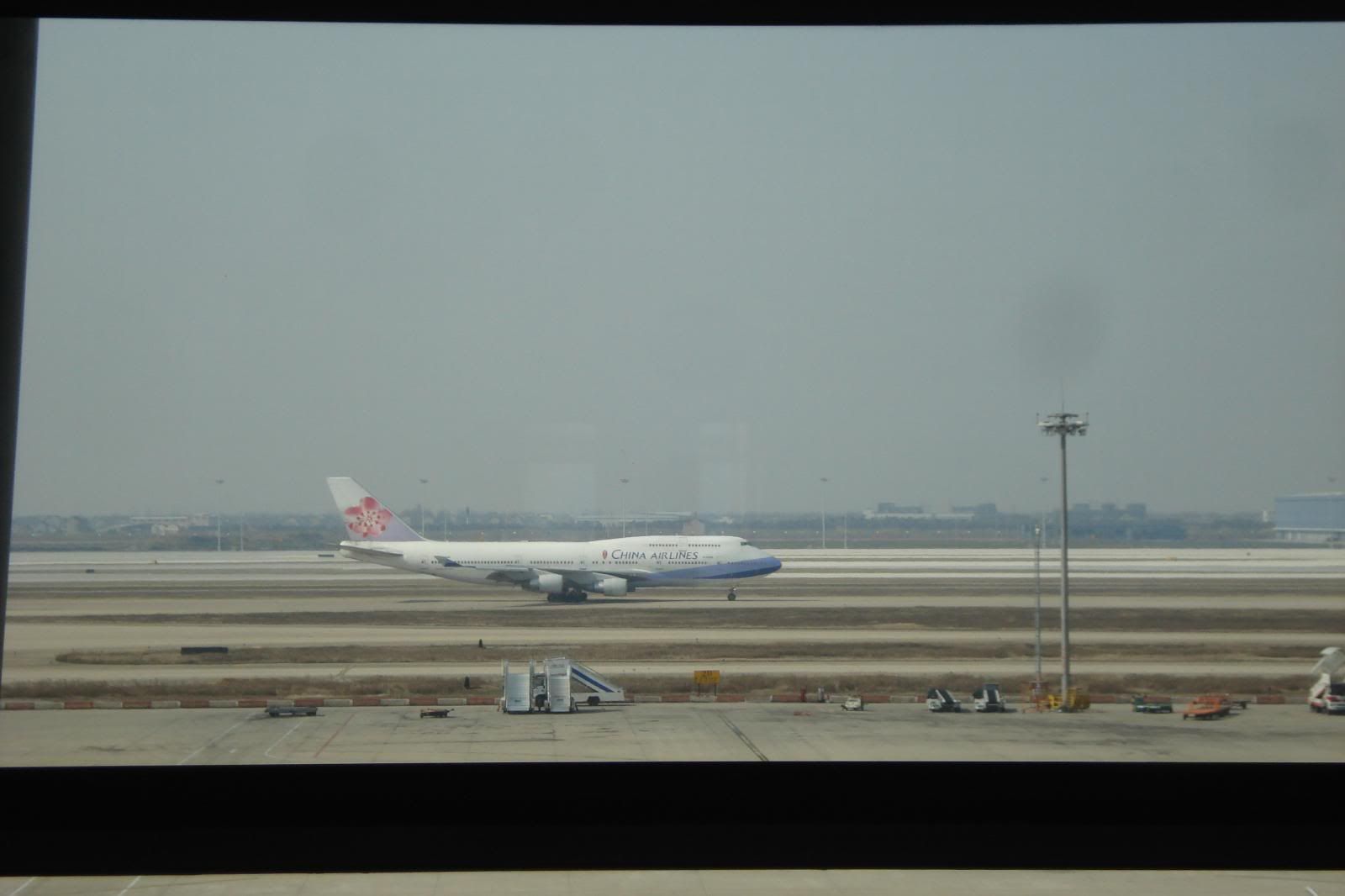 Boarding began at around 09:30 and we go down one level to the boarding gate, down on this level you can get much better pics.