Feedback always appreciated.
Trip Report: 040
Flight Category: J-ISR (See Report End)
Date: 07-Oct-07
SDT/SAT/Delay: 1255/1520/02:25 hrs
Flight:
Korean Air Lines KE 702
, 783 miles
Routing: NRT-ICN
Aircraft: 744
Seat: Business ("Prestige"), 20A – Upper Deck
I > Background:
Ok, I am back! After taking a sabbatical from trip reports for 5 months, here is the first installation from a series of trip reports. Mid-August to mid-November 2007 saw the craziest of my travel plans. 69 flights totalling 175,028 kms on 35 airlines, visiting 49 airports in 34 countries in all 6 continents. And, here is the best part … all of them were part of a 4 month break from life … pure vacation, and pure food for the mind, body, and soul. Together, they mounted to 21/2 round-the-worlds that was truly insane. As usual, all long haul flights were on Business or First Class; short haul was on Economy Class.
I have seen relatively few TR's on KE's J class product, and have actually never read a review of their J class on a shorter regional flight on A.Net. So here is hoping to fill that void. The reason for this flight was that it formed part of a convoluted routing to get from Yap (in FSM) to Auckland (New Zealand). While they are not super far apart, lack of connectivity meant that my routing ended up being YAP-GUM-NRT-ICN-AKL. Thank God, the flying was in J. It would have been far more painful sitting at the back.
II > Pre-Flight:
a) Before Airport:
Korean Air provides an excellent hub-spoke system from their beautiful and efficient hub at Incheon airport in the outskirts of Seoul. ICN is a far cry from those of us who remember SEL. Though, I must admit that getting to/from ICN is so much worse than SEL.
Given the complicated routing, booking for this segment was done through my super awesome travel agent in Caracas. She is an angel and my life here in CCS would be a logistical nightmare without her! I was surprisingly issued a paper ticket (despite all being e-ticket stations, and the entire itinerary being on Skyteam) which was viewable online on the websites of CO, but not on KE. I called KE's toll-free number in the U.S. and procured ideal seat selections with ease.
b) At Airport:
I don't understand those who find transiting through NRT to be difficult. I find it extremely pleasant, and the Japanese are A+ hosts. I can go on about their professionalism and sense of service with panache. After arriving from CO's flight ex-GUM, we proceeded through quick security to re-enter the terminal 1 at Narita.
Since I had some time to kill, I went to the rather modest KE lounge and chilled. While the lounge is nothing special, it gives you spectacular views of the tarmac … and that for any airline enthusiast is far more appealing than some food platter . So I settled down on a window seat and watched airplanes go by while nibbling on a motley assortment of snacks, and alternating on a bizarre cocktail of café and tomato juice. Free wireless internet, and several computer terminals were also useful to check some emails and catch up on the "real world".
Boarding was announced inside the lounge and I proceeded to gate 27 for boarding. There was already a long line … but I noticed a separate one for J and P passengers. It should be noted that the line (see picture) is deceiving as the load for this 744 was rather light.
Upon boarding, the lead FA motioned to her colleague to walk me upstairs and I followed a beautiful Korean stewardess to the top of the 744. It does not matter how many times I have flown … the upper deck continues to fascinate me with its air of exclusivity. Load was super light – probably 30% in J. The upper deck had only 4 other passengers. It speaks volumes on the traditional importance of the Japanese market to Korean carriers as they send a refurbished J product to NRT, but use old-style J for the long brutal flight to AKL that was to follow.
Airport - External:
NONE
Check-in:
NONE
Airport - Internal:
(Departure board, T1 – N)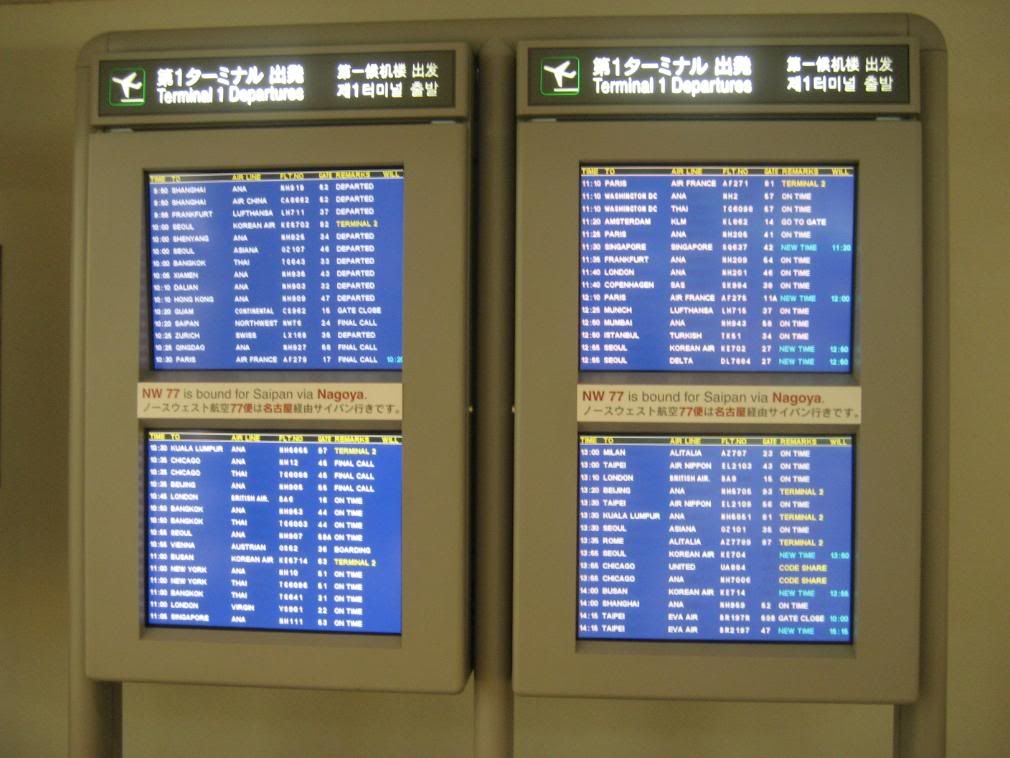 Scenes of the tarmac:
(Looks even smaller when contrasted with NRT's mostly wide-body ops)
(JL Power)
(…and the better performing rival)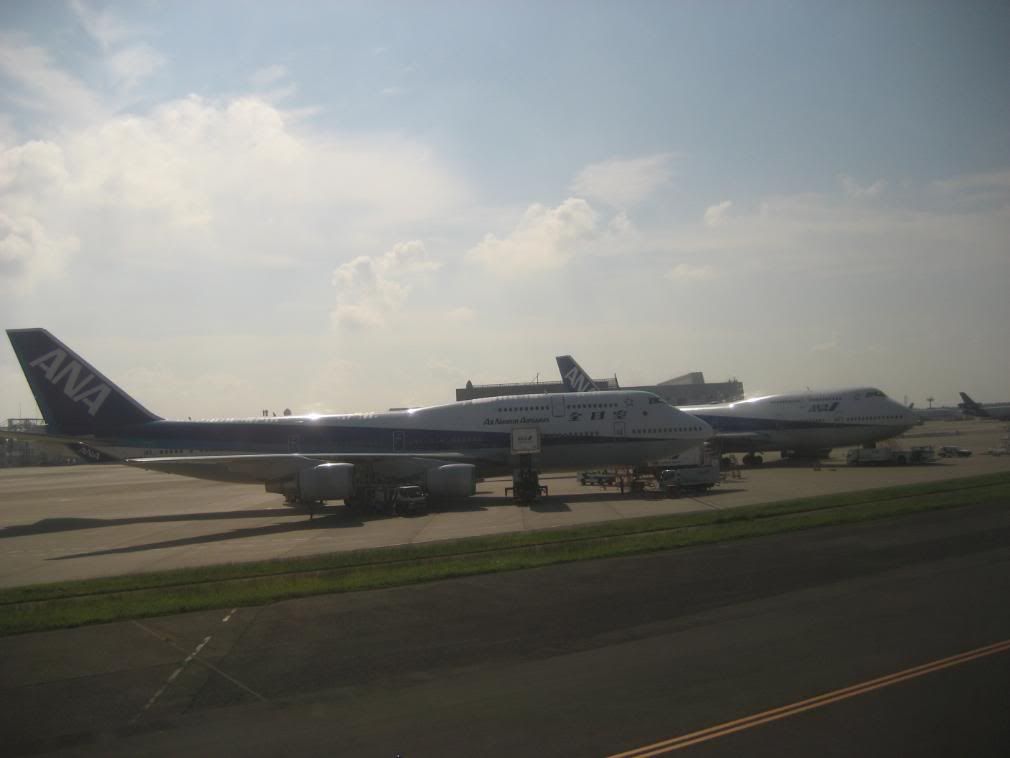 (JL Again)
(Shiny JL Cargo)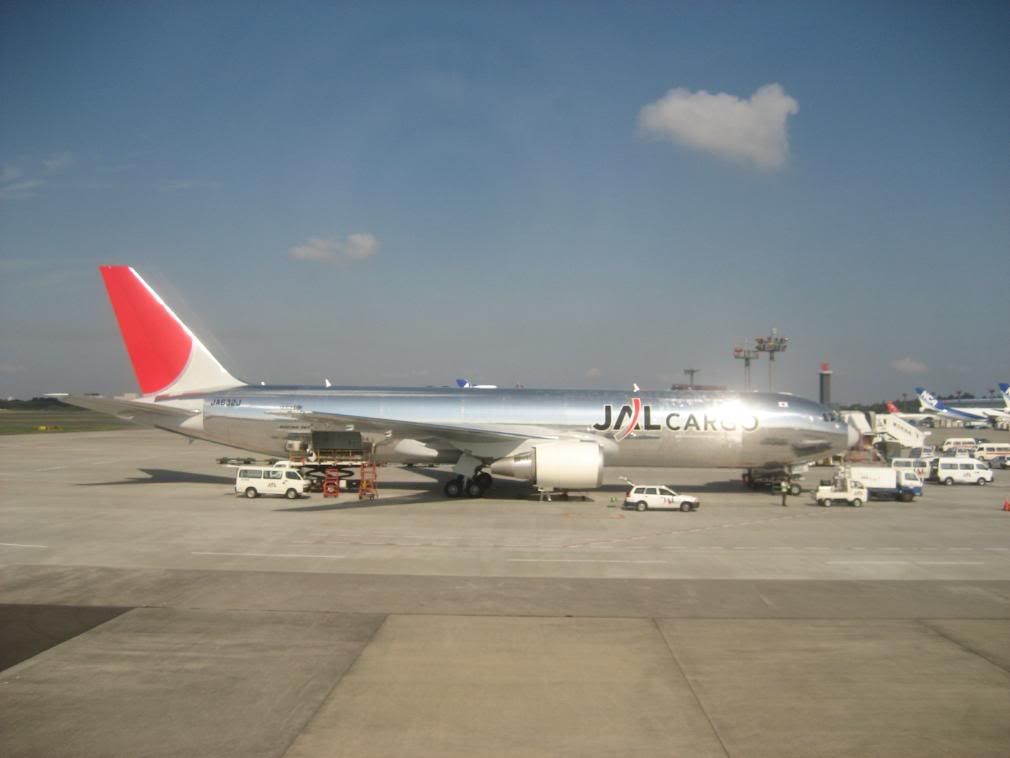 (Narita 1N)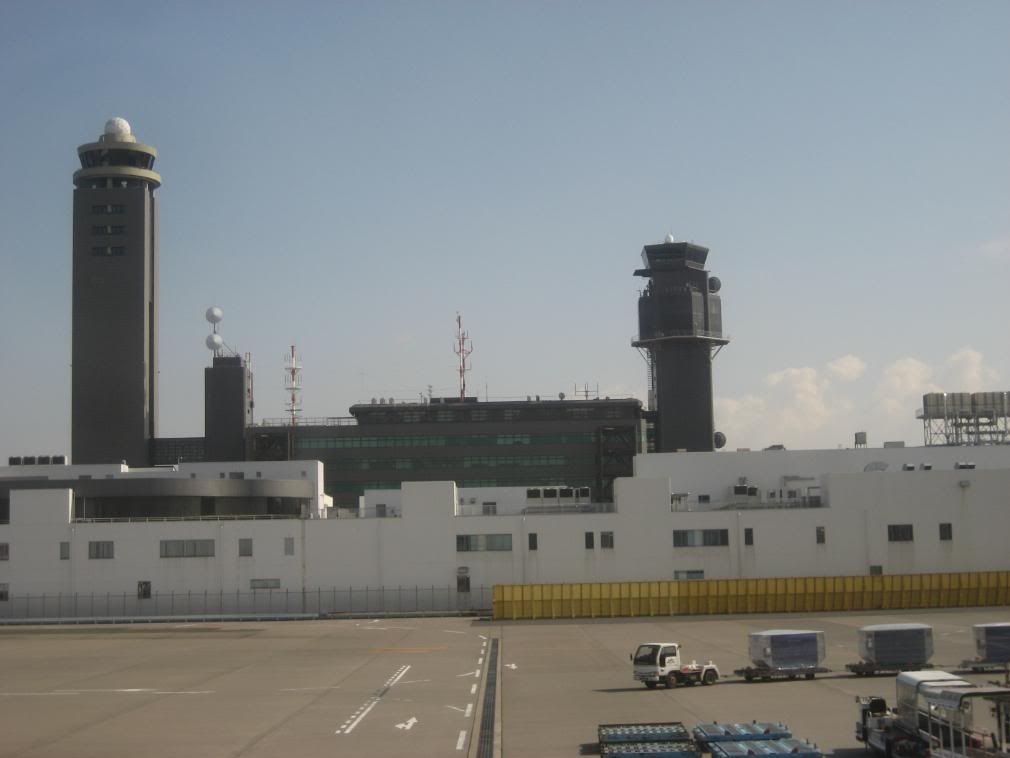 (CO 763 that brought me in from GUM)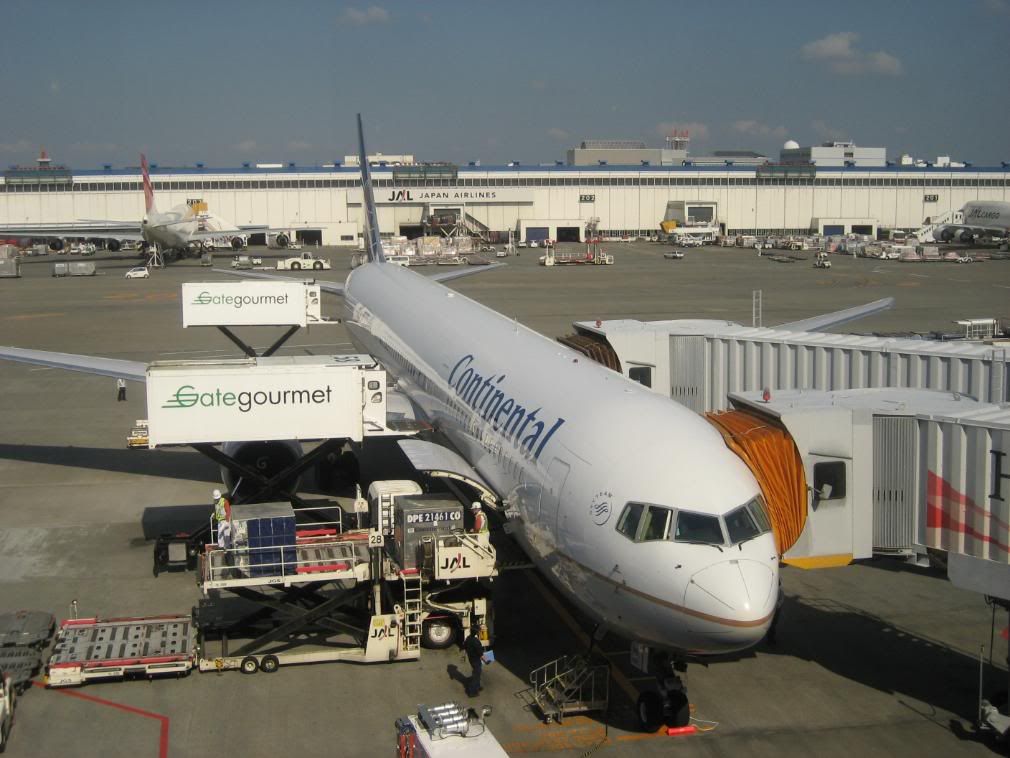 (NWA off to SEA)
(Star operators)
(More JL)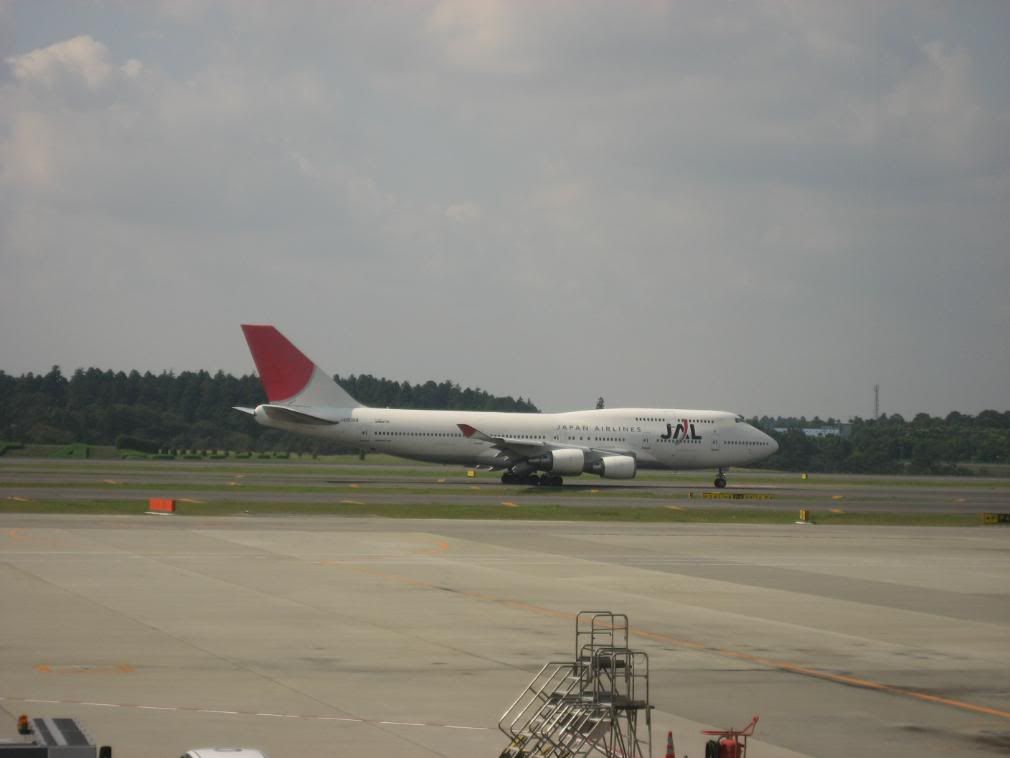 (MH to KLIA)
(Another JL Cargo)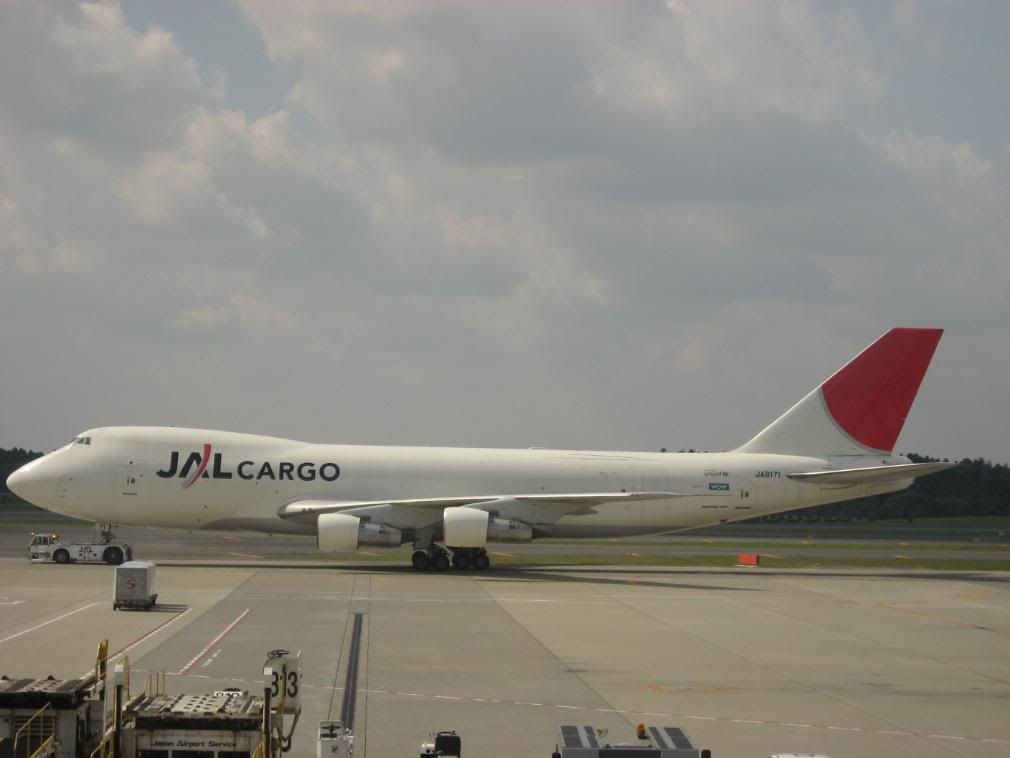 Lounge
(Invitation)
(Welcome)
(Computer terminals)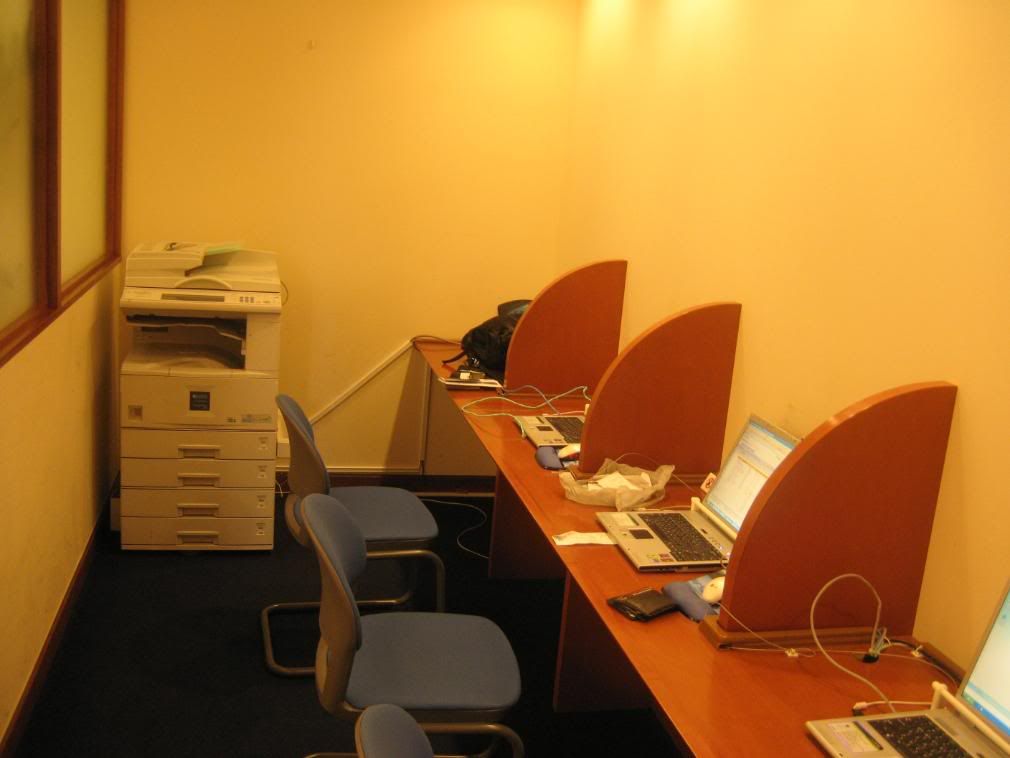 (Random collection of stuff I ate as I plane spotted)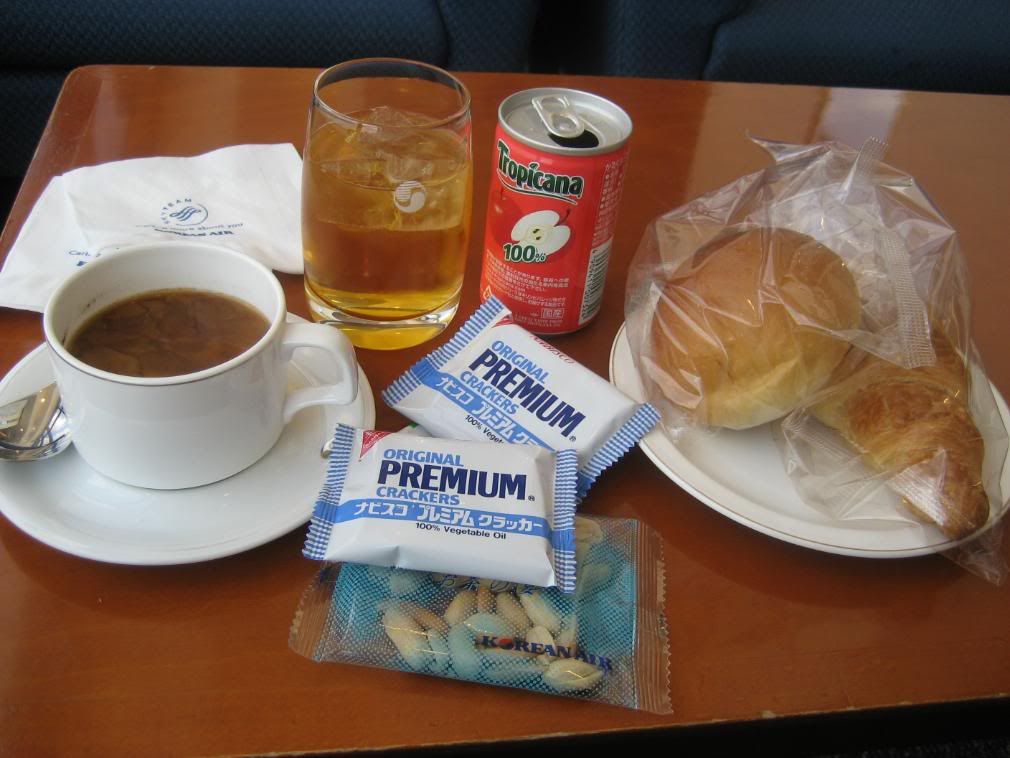 Boarding:
(YAY….I fly Business Class)
III> In-Flight:
a) Service Schedule + Impressions:
Cold refreshing towels upon embarkation and a choice of drink. Post take-off a beverage service accompanied by a complete meal service.
b) Aircraft + Seats:
I love 744's, and this was particular one was kept spanking clean throughout. KE recently went through a product overhaul introducing striking crew uniforms (they really do look great), and a new Business Class product. However, I wish they had gone full-flat instead of angular lie-flat. While it is probably one of the more comfortable angular flat seats I have encountered, it still does not beat the feeling of lying on a full-flat bed seat. However, it is to be noted that the overall space on KE is much better than comparable products on AF or NW. Even in recline mode, there was ample legroom and my knees did not get "stuck" on the top of the seat opening. Recline position is also better than most angular-flat seat. It sort of felt like the SQ Raffles seat – just more fresh.
Aircraft:
(Photo Courtesy: Alex Pan)
Views from Aircraft: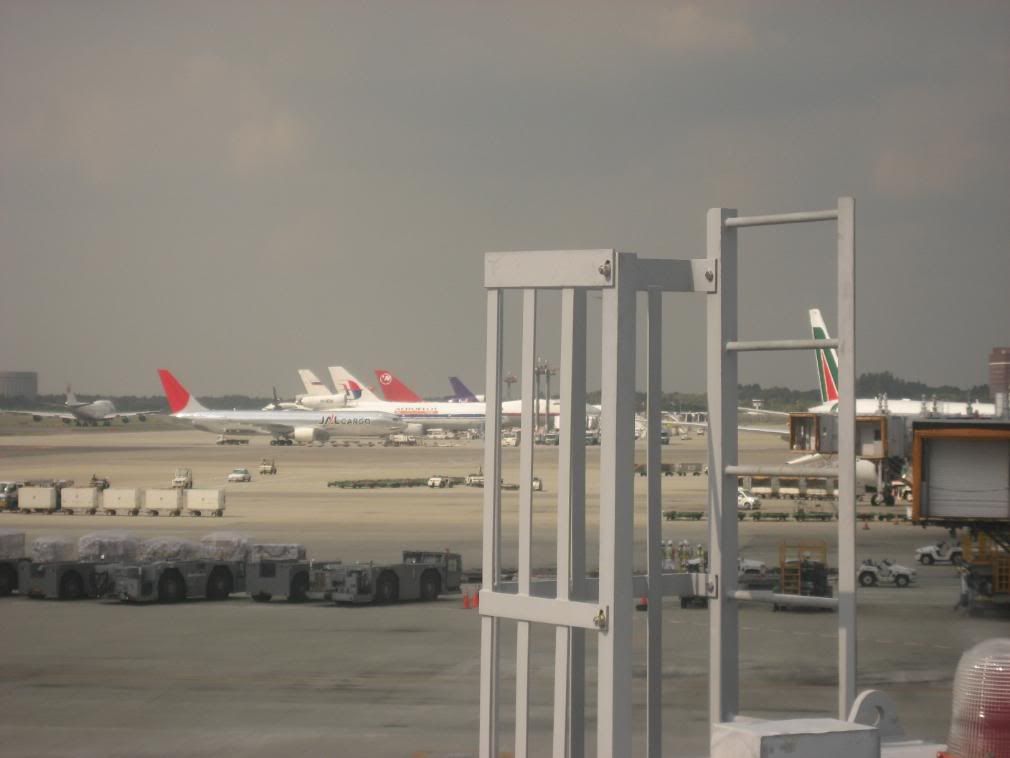 (Another ICN bound flight)
(TK to IST)
(PR to MNL. 744 justified by the tons of migrant laborers Pinoys provide in Japan)
Seat Leg-Room: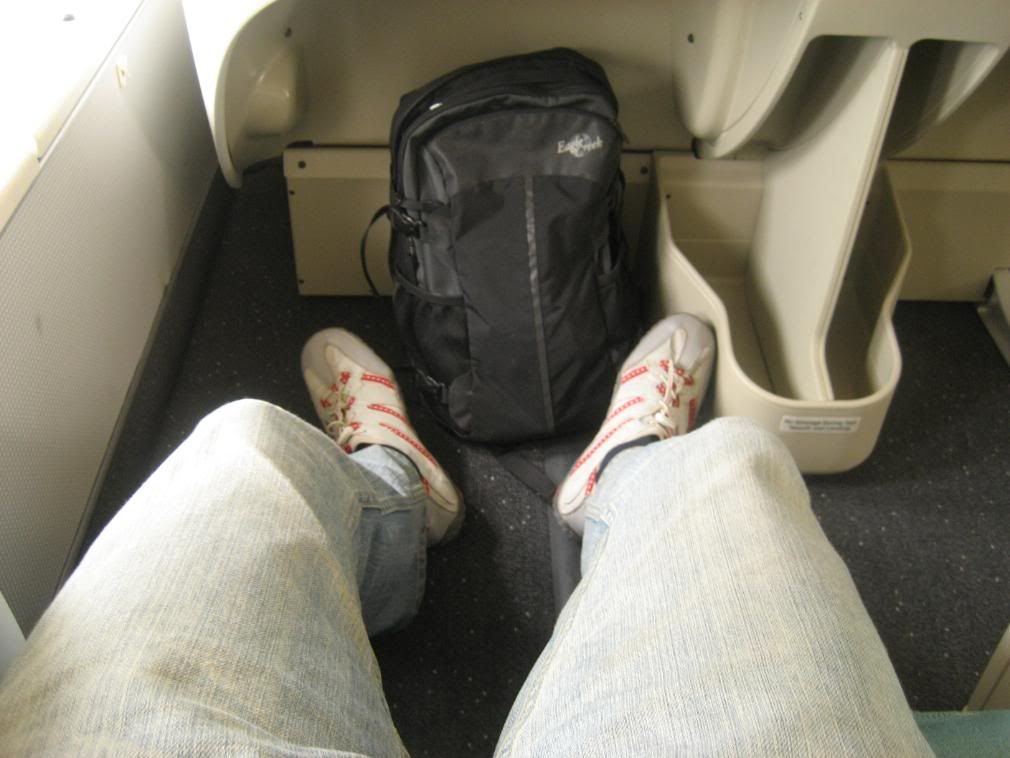 Seat Recline + Angle View: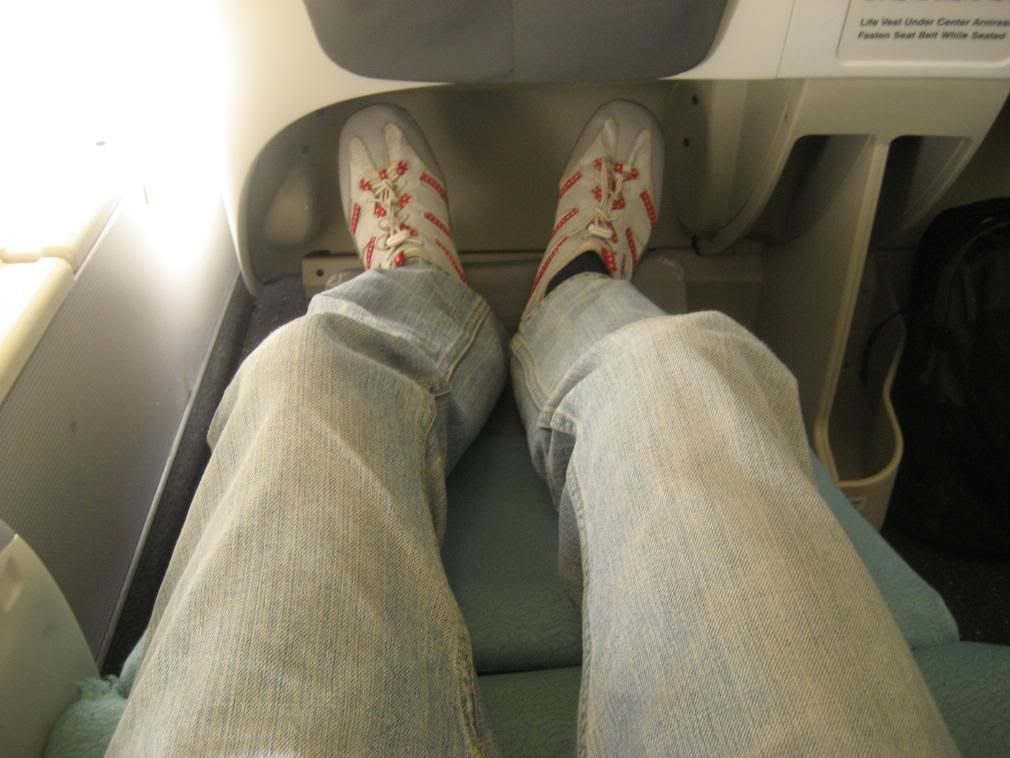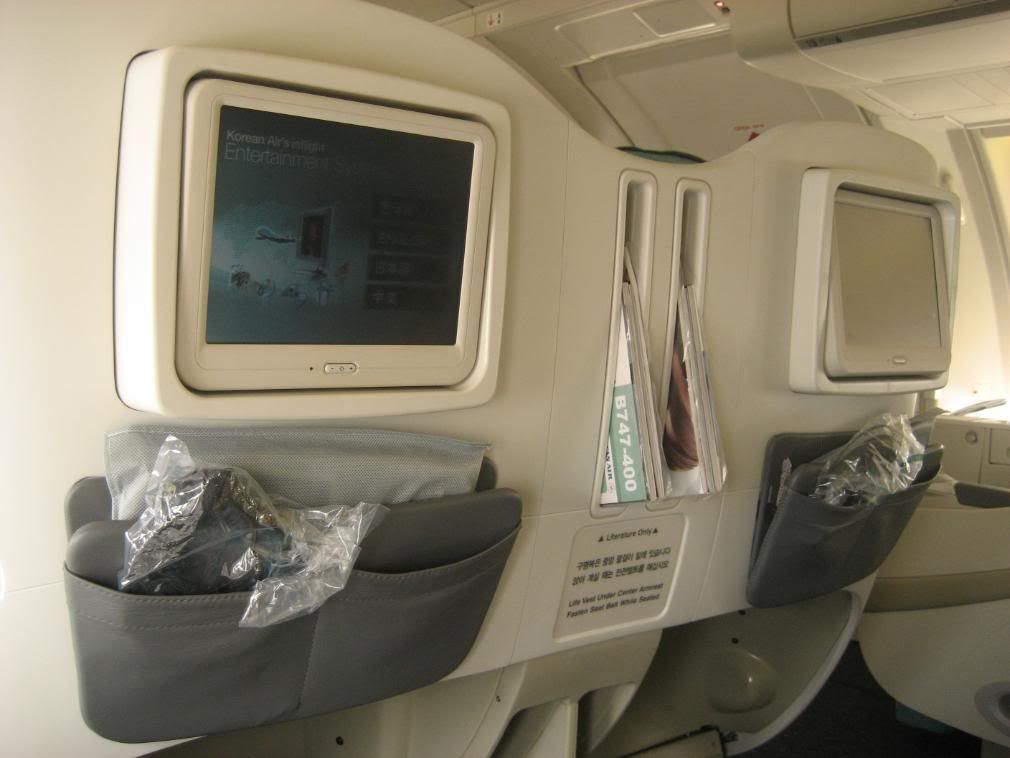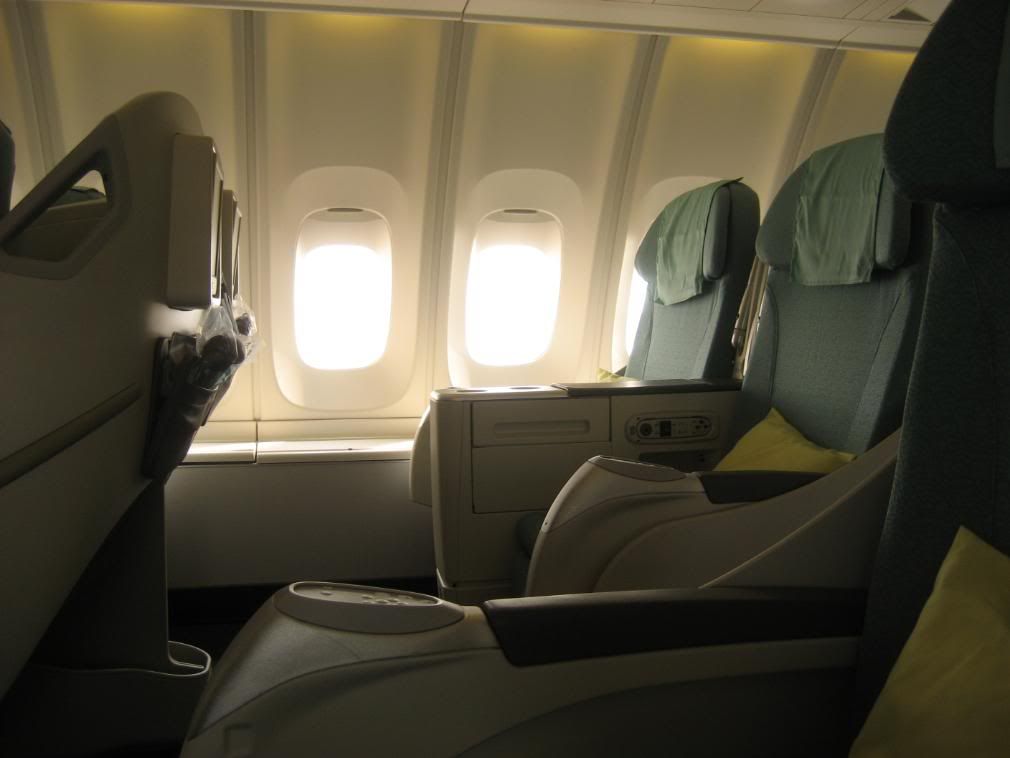 Cabin:
(Upper Deck of refurbished 744 J)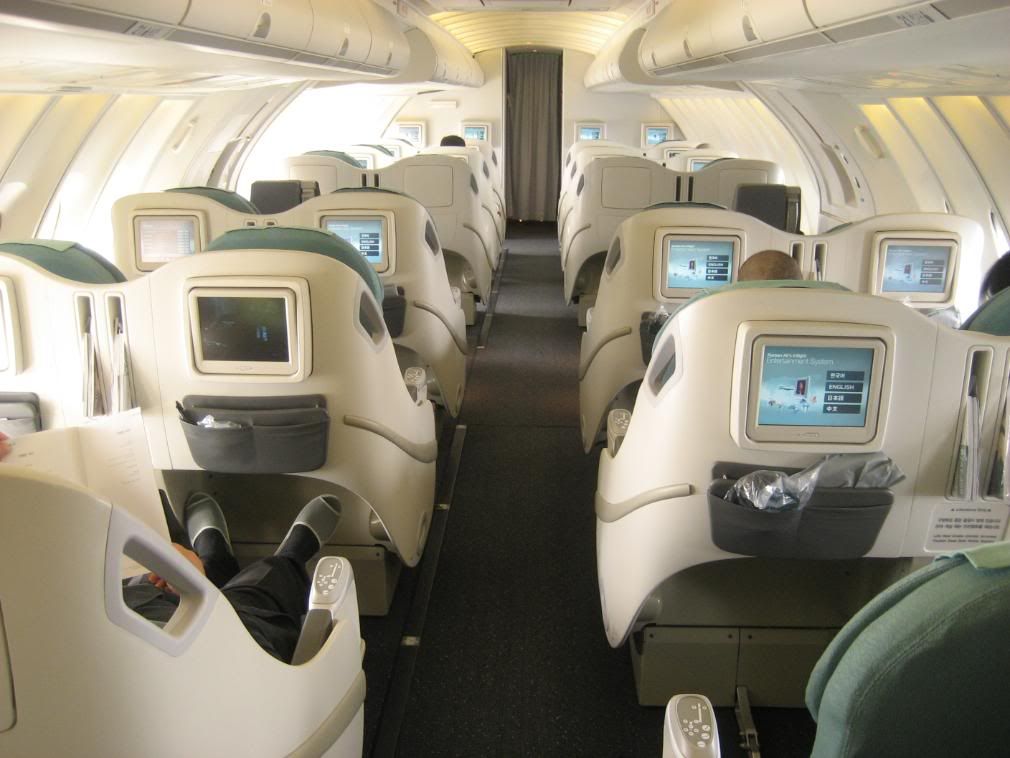 (Gotta love the windows and storage space of the 744 upper deck)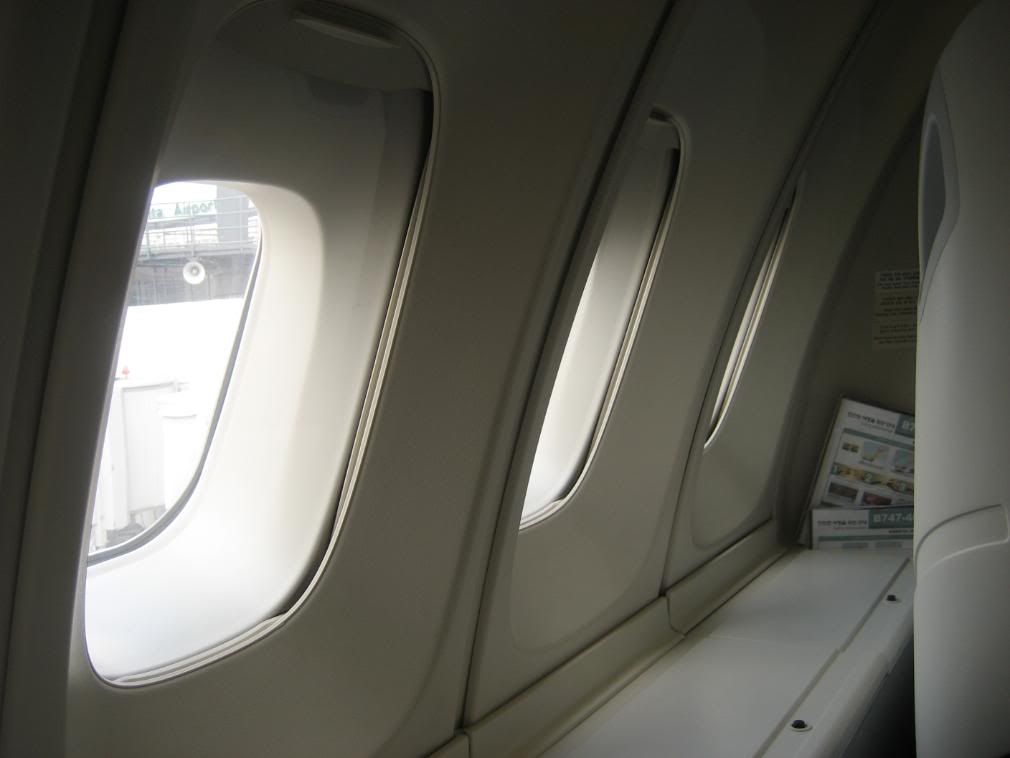 (Bathroom)
c) Meal + Beverage:
Service commenced with a choice of drinks while on the ground. For those unfamiliar with KE service, they provide an excellent guava juice that I highly recommend. It is actually one of my favourite reasons (I know, super random) to fly Korean. After take-off, a pre-"light meal" beverage service commenced where I chose to have a rather stiff Bloody Mary. Now comes the interesting part … KE's "light meal" option included basically an abridged version of its regular lunch service … just fewer options. As much as I LOVE "Bibimpap", I really hope KE got a little more creative with their food options. I have had "Bibimpap" on 9 KE J flights this year. Korean food is so diverse and there could be so many exciting things that Korean could present. Despite the unimaginative menu, the actual "Bibimpap" as always was excellent. KE's purser was cute when she said, "Mr. AM, your elite status with us shows you know how to make a Bibimpap I think."
(El Menu)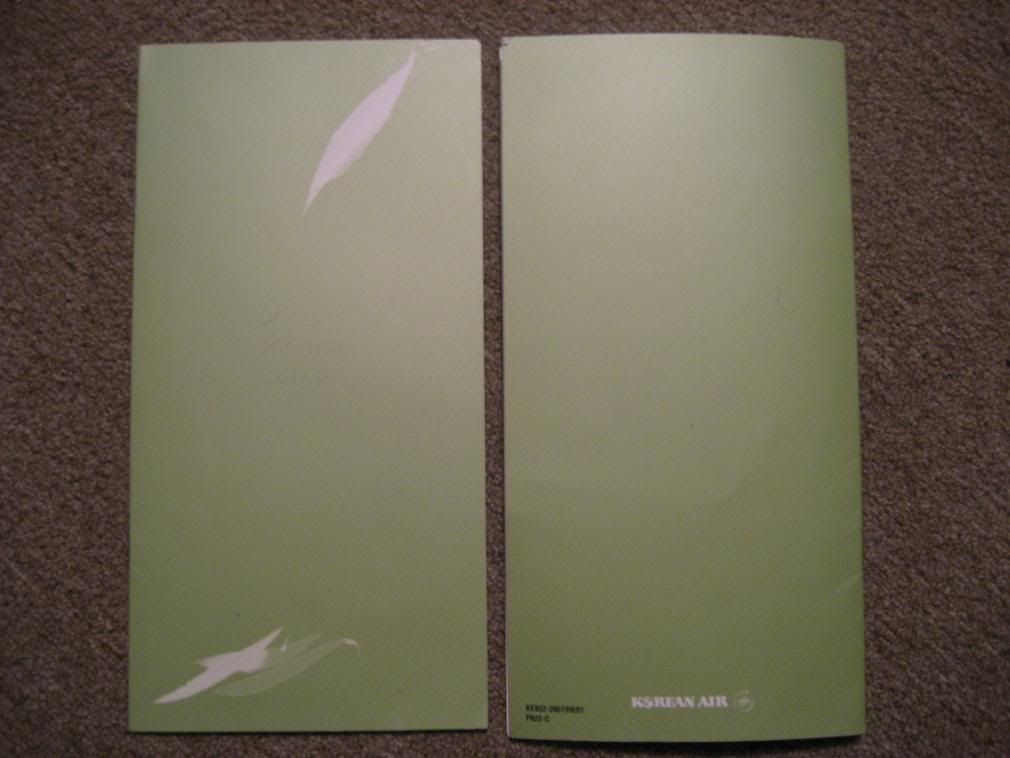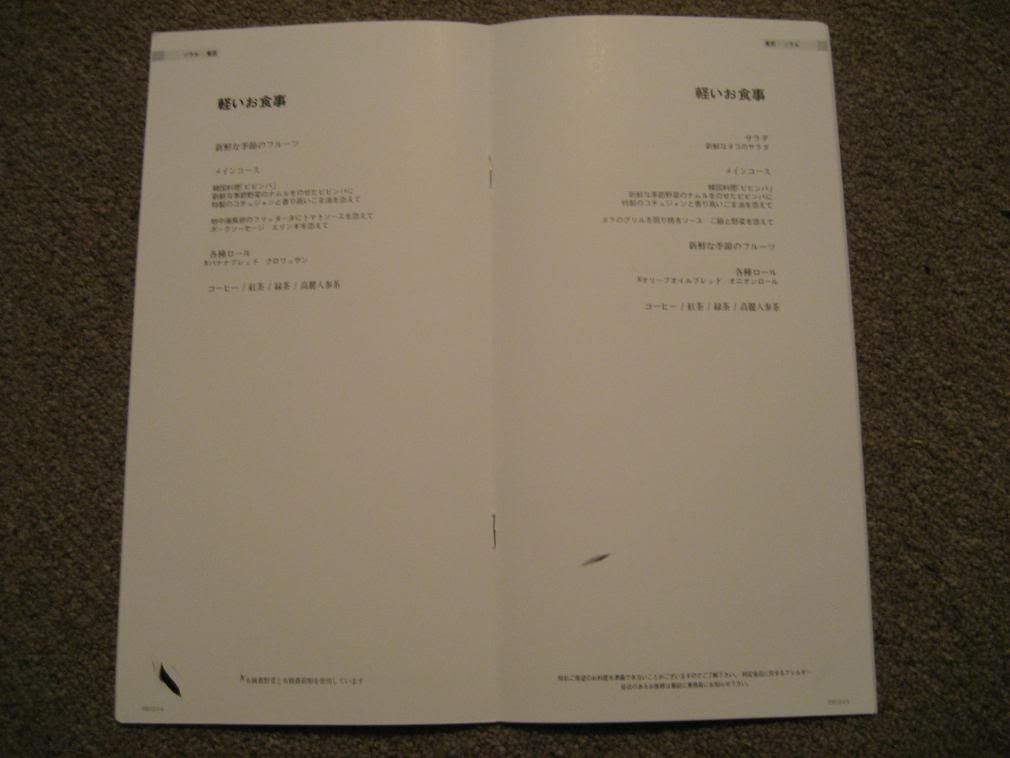 (Welcome drinks – the EXCELLENT guava juice)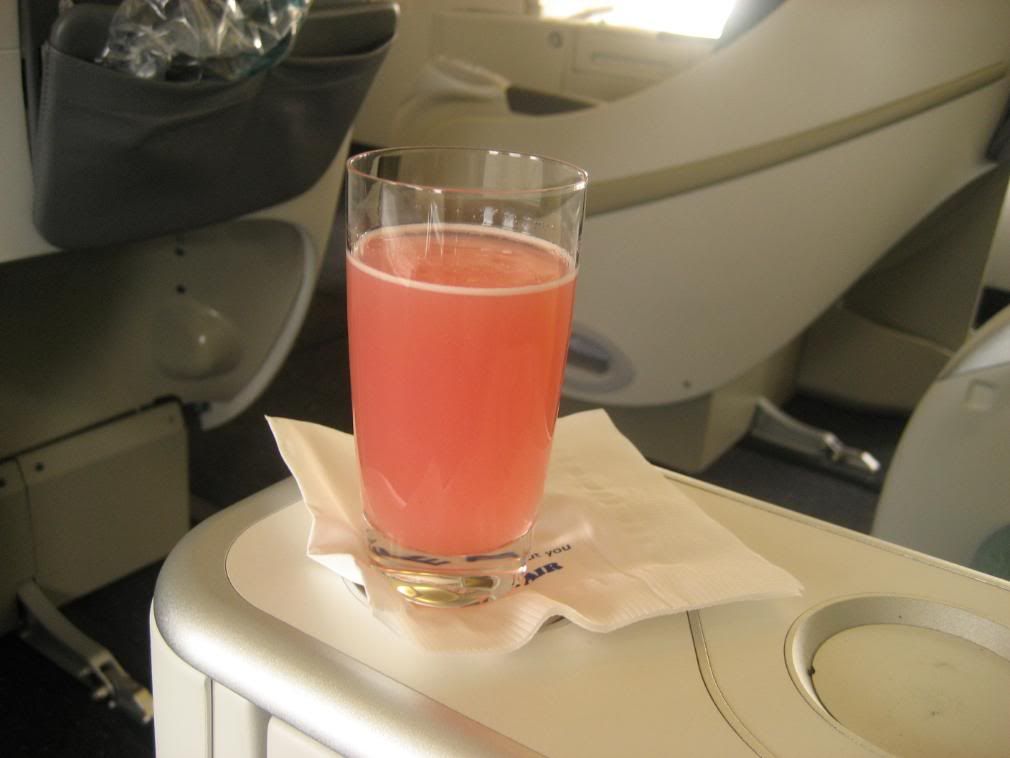 (Inflight Bloody Mary)
(Oh My God … I am shocked! Its Bibimpap!)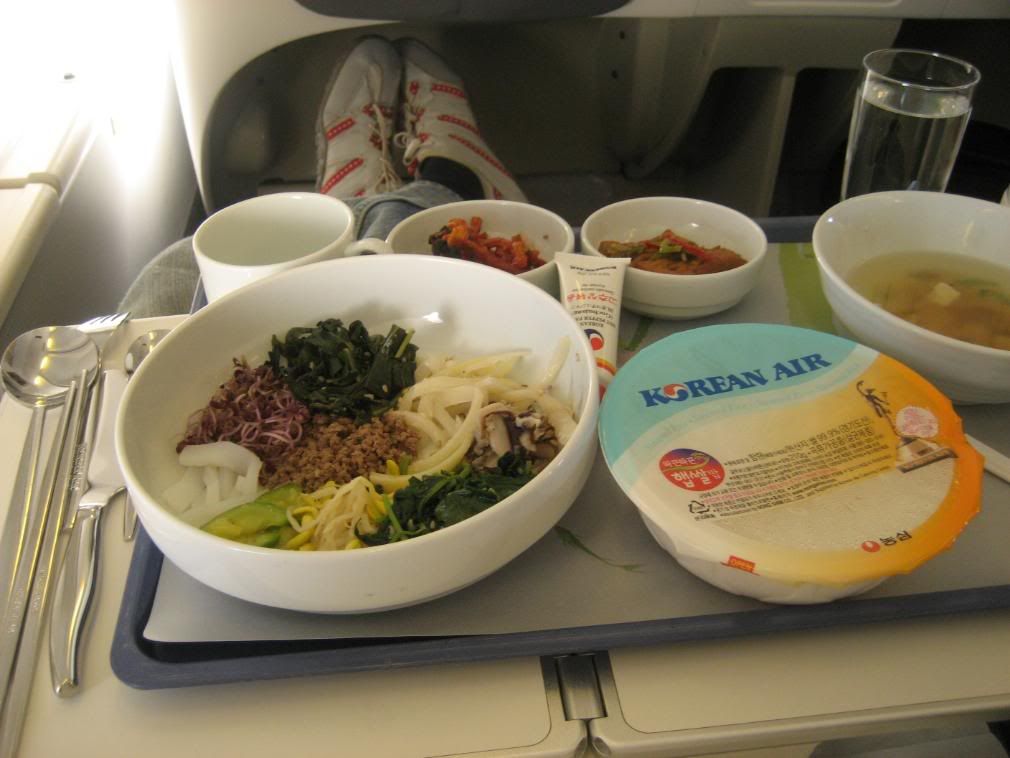 d) Inflight Entertainment:
Korean Air's new IFE provides over 300 hour of on-demand entertainment and has a decent mix of English and non-English films. However, I found the CHEAP head-sets normally found in Economy to be very classless and absolutely pathetic for premium passengers. I mean, I had paid a significant amount of money to receive cheap crappy head-sets. It really took away from the IFE experience. The "Morning Calm" magazine was great as usual.
(In-flight magazines, Boarding Passes, etc.)
(IFE System)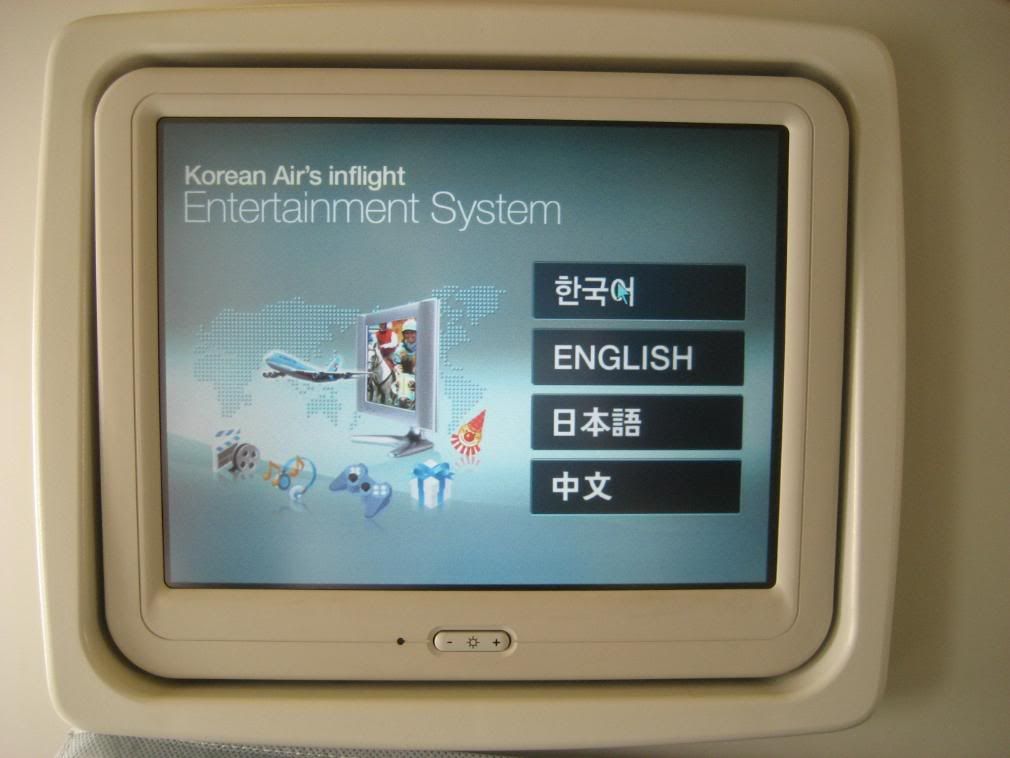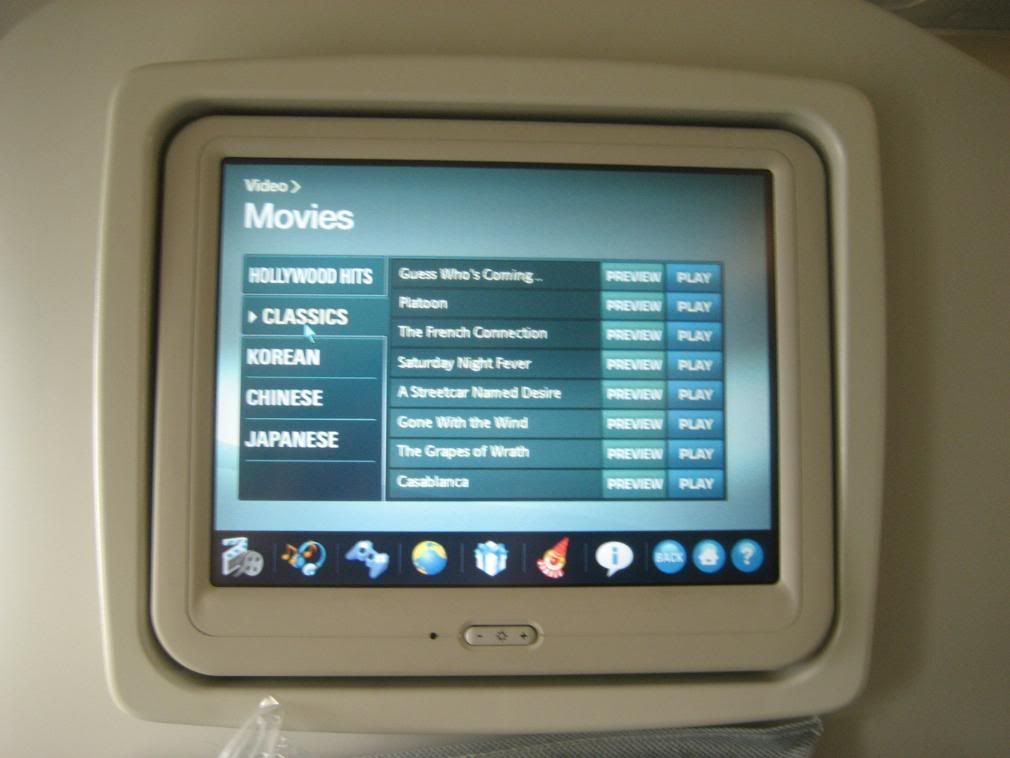 (The absolutely unacceptable headset for a premium cabin. WTF? Why would I pay so much money and get this?)
e) Crew:
I love the new KE uniforms, and the KE crew was great as usual. Polite, and anticipating needs, they did a good job within the short flight.
IV> Post-Flight:
Incheon is always a delight. I was able to transfer quickly to my KE flight to AKL after using one of the KE lounges.
(Arriving @ ICN)
(Disembarkation)
(ICN)
(ICN Lounge Shower)
V> Impressions + Scores:
KE has a lot going for it. While a lot give it sligtly unjustified criticisms on safety, it's service standard is impeccable with some fantastic crew members. I do like their new look and think the redesigned seats and interiors are miles ahead of their old J product. Moreover, small touches like new crew uniforms accentuate a bold fresh look. However, I am disappointed with the unimaginative food options, and am flabergasted at the horrible headphones provided to J passengers. C'est la vie. I would not hesitate flying them again. However, given an airline with better seats, I would equally consider the alternatives.
1.0 > RESERVATION: 7.0
2.0 > CHECK-IN: N/A
0.5 > LOUNGE: 6.0
0.5 > BOARDING: 8.0
2.0 > SEAT: 8.0
0.5 > AIRCRAFT OVERALL AMBIENCE: 9.0
1.0 > IFE: 7.0
2.0 > CREW: 9.0
2.0 > FOOD: 8.0
0.5 > BEVERAGES: 8.0
0.5 > A.KITS + OTHER FREEBIES: 8.0
0.5 > DISEMBARKATION: 9.0
1.0 > ON-TIME RECORD: 9.0
WEIGHTED OVERALL IMPRESSION (WOI): 8.04
(Pre-flight WOI of all reviews: 6.39)
* Weighted Overall Impression (WOI) aligns scores with what matters most. Weights are indicated alongside each category.
(Scores are based on comparison with other airlines in THAT class of service – No comparison of Y vs. F for example)
VI> Other Trip Reports:
PREMIUM:
8.56:
Paramount Airways (38): BLR-MAA: 09/2007
8.11:
Aeroflot (33): MOW-DEL: 09/2007
8.04: Korean AirLines (40): NRT-ICN: 10/2007
8.02:
Delta Airlines (24): JFK-CDG: 08/2007
7.82:
Singapore Airlines (06): EWR-SIN: 09/2006
6.93:
Delta Airlines (18): SEA-JFK: 11/2006
6.81:
Air Canada (17): ICN-YYZ: 10/2006
6.70:
KLM: EBB-AMS: 08/2007
5.75:
Singapore Airlines (16): CCU-SIN: 10/2006
4.42:
Air France: CDG-JNB (25): 08/2007
ECONOMY: Long + Medium:
7.38:
Avianca (01): BOG-LIM: 07/2006
6.26:
Jet Blue (21): CUN-JFK: 02/2007
6.06:
Air Canada (04): YYZ-YVR: 09/2006
5.89:
USA 3000 (19): PUJ-BDL: 01/2007
5.46:
TAP Air Portugal (23): OSL-LIS: 05/2007
ECONOMY: Short
8.24:
Kingfisher (14): IXA-GAU: 10/2006
7.87:
Indian (34): BOM-MAA: 09/2007
7.72:
Alliance Air (13): CCU-IXA: 10/2006
7.57:
Indian Airlines (10): DEL-CCU: 09/2006
7.23:
West Jet (03): YYC-YVR: 09/2006
7.15:
JetLite (37): BOM-GOI: 09/2007
6.70:
Spice Jet (09): CCU-DEL: 09/2006
6.58:
Air Tran (02): EWR-MDW: 08/2006
6.44:
CO Micronesia (39): ROR-YAP: 10/2007
6.33:
Kenya Airways (29): NBO-BJM: 08/2007
6.31:
Indigo (15): GAU-CCU: 10/2006
6.22:
Air Link Swazi (28): MTS-JNB: 08/2007
6.22:
Air India (36): HYD-BOM: 09/2007
6.13:
Adam Air (07): SIN-CGK: 09/2006
6.00:
Transairways (27): INH-MPM: 08/2007
5.95:
Air Canada (05): ALB-YYZ: 09/2006
5.85:
SAS Norge (22): OSL-AES: 05/2007
5.81:
LAM Mozambique (26): JNB-MPM: 08/2007
5.69:
Air Deccan (12): IXZ-CCU: 10/2006
5.67:
Rwanda Air Exp (30): KGL-NBO: 08/2007
5.07:
Go Air (35): MAA-HYD: 09/2007
4.96:
Valuair (08): CGK-SIN: 09/2006
4.74:
Fly 540 (31): MYD-LAU: 08/2007
4.33:
Viva Aerobus (20): ELP-MTY: 02/2007
4.11:
Air Sahara (11): CCU-BOM: 09/2006
(Note on Codes: Y – Economy, J – Business, F – First :: I/D – International/Domestic :: SR/MR/LR – Short/Medium/Long Haul)
VII> Other Pictures:
It has now become customary to share some images of the place I went to, and some other related aviation pictures. Hope everyone enjoys!
(Skimpy amenity kit)
(Earlier flight with no TR … approaching FUK)
(FUK airport)
(MU at FUK)