Feedback always appreciated.
Trip Report: 041
Flight Category: Y-DSR (See Report End)
Date: 09-Oct-07
SDT/SAT/Delay: 0800/0850/00:50 hrs
Flight:
Air Rarotonga GZ 612
, 163 miles
Routing: RAR-AIT
Aircraft: SF3
Seat: Economy, 3A
I > Background:
Ok, I am back! After taking a sabbatical from trip reports for 5 months, here is the first installation from a series of trip reports. Mid-August to mid-November 2007 saw the craziest of my travel plans. 69 flights totalling 175,028 kms on 35 airlines, visiting 49 airports in 34 countries in all 6 continents. And, here is the best part … all of them were part of a 4 month break from life … pure vacation, and pure food for the mind, body, and soul. Together, they mounted to 21/2 round-the-worlds that was truly insane. As usual, all long haul flights were on Business or First Class; short haul was on Economy Class.
While there have been a couple of TR's on GZ's "cash cow" route, I have not seen one in over 3 years and thought it was time to come with an updated review of GZ and its operations.
II > Pre-Flight:
a) Before Airport:
Air Rarotonga is the lifeline of the far flung atolls that make up Cook Islands. It provides essential services linking a variety of islands and has upto 6 flights daily on the popular Rarotonga (capital) to Aitutaki (most famous atoll) run. This flight is filled with day trippers, honeymooners, and essentially anyone else looking for a slice of (unfortunately) much discovered paradise.
Air Rarotonga should serve as a model for those bigger airlines who think a web-based reservation system is difficult to build and operate. I was pleasantly surprised at the very functional RADIXX platformed website (www.airraro.com), where I could chose my flight, pay with my foreign credit card, and have an e-ticket generated and sent via email within seconds. Additionally, one could go to the website to edit/view/modify/print the reservation as well. The only thing I could not do was seat selection … which for such a small airline, it didn't really matter.
b) At Airport:
Now I had arrived past midnight on NZ and had an overnight wait at RAR. It was the ONLY time in my life where I had the ENTIRE international gateway to a country all to myself. No security whatsoever. After taking several pictures to mark the moment, I surprisingly slept like a baby and was woken up by the morning janitor. RAR is a pleasant airport and the domestic side of the terminal has all the hallmarks of Pacific charm … open chairs, birds and dogs wandering about, etc. I was the first to check-in … which involved being weighed in (aaw) … and then the super 21st century boarding pass being issued instantly. The agent was great and we talked a lot about holding a Liechtenstein passport and being in Cook Islands.
Boarding was "announced" by the departure gate being opened and passengers just rushing to the aircraft via a short walk on the tarmac. Upon boarding, the single FA greeted me with a warm smile as I made it to my seat 3A.
Airport - External:
(Rarotonga International – Domestic side of the terminal)
Check-in:
(At 4am)
Airport - Internal:
(Where I slept)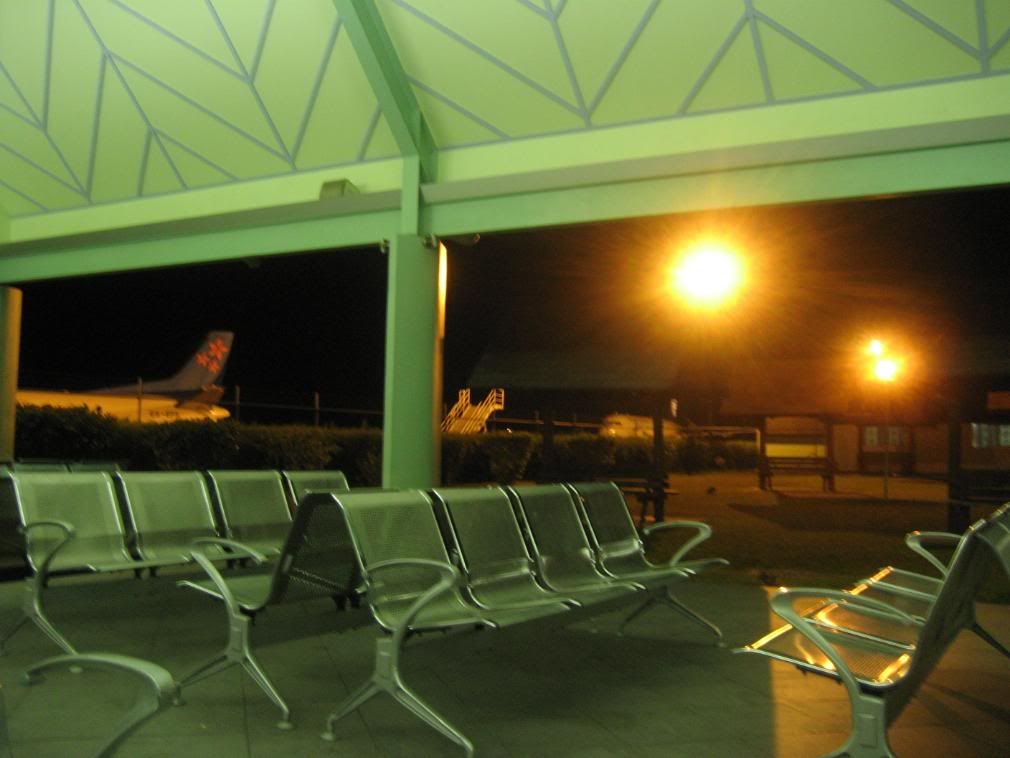 (Entire domestic terminal)
(Waiting area – at one with nature – very PACIFIC)
Scenes of the tarmac:
(NZ which brought me to RAR from AKL earlier)
Lounge
NONE
Boarding: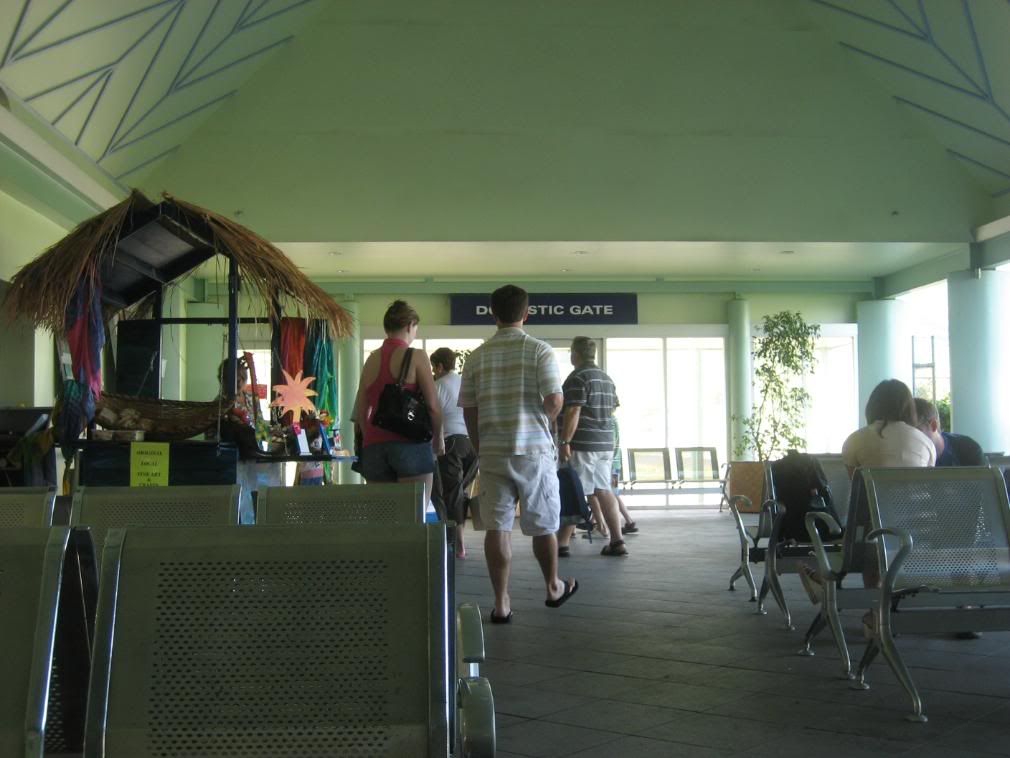 III> In-Flight:
a) Service Schedule + Impressions:
Coffee or juice after takeoff.
b) Aircraft + Seats:
Of the many turbo-props in the market, I am a sucker for the SF3 because I find them relatively quieter and faster. This well-maintained GZ SF3 was no exception. However, I found the legroom extremely tight and the seat had no recline.
Aircraft:
(Taken upon disembarkation @ AIT)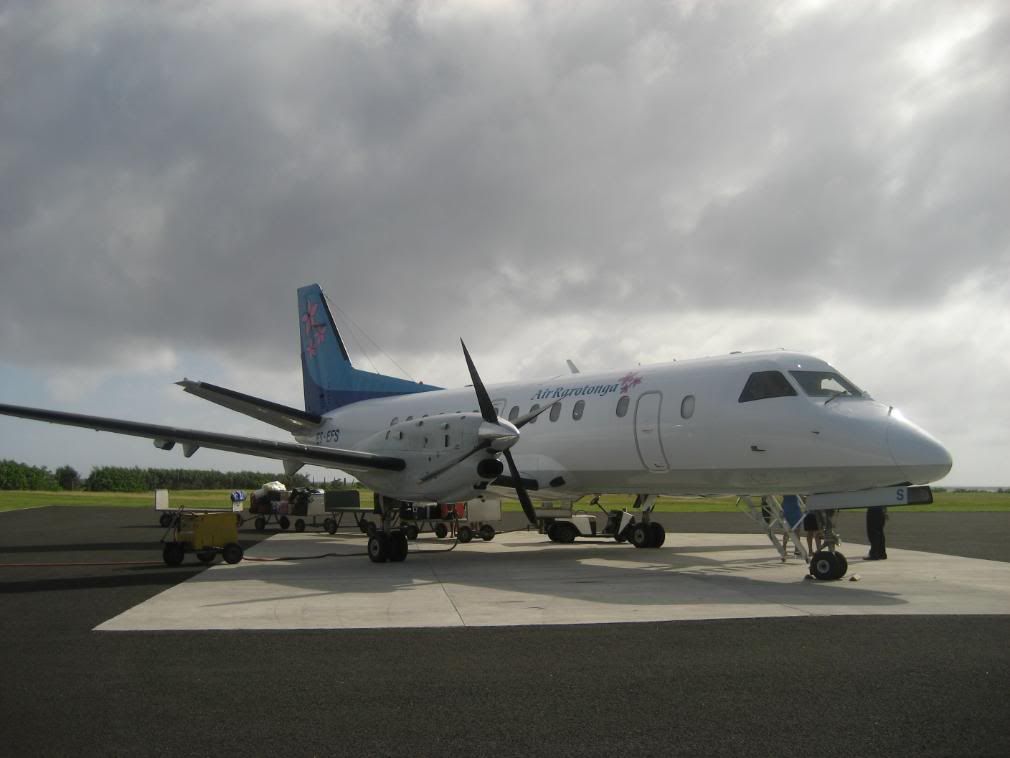 Views from Aircraft:
(Scenic takeoff)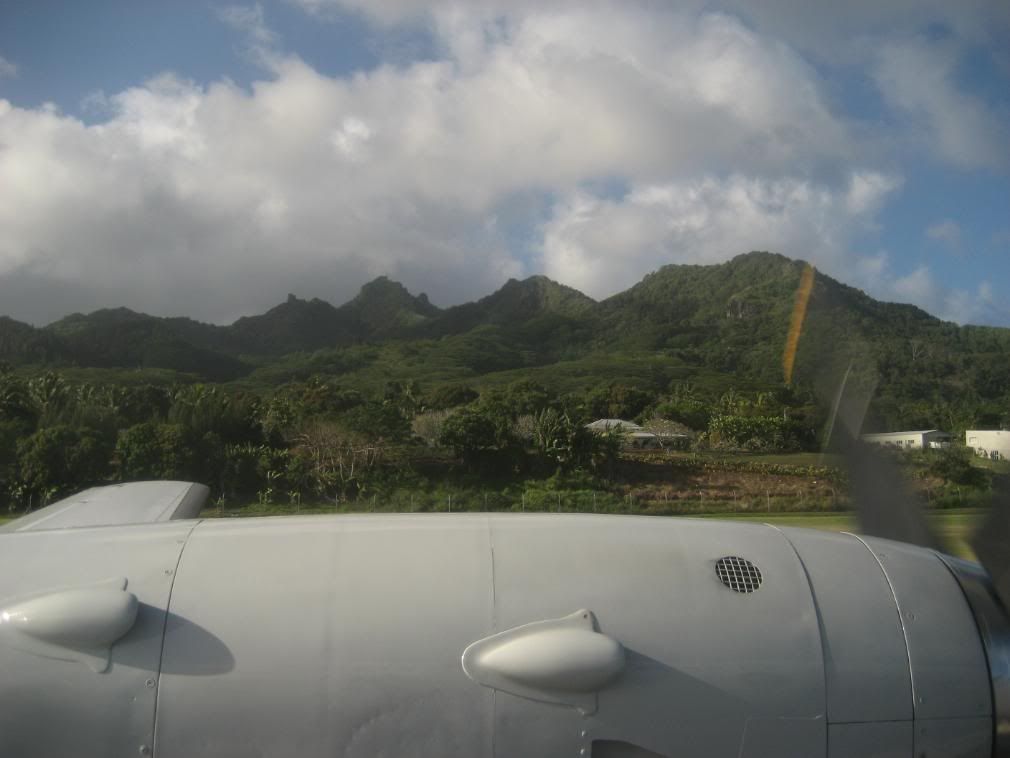 Seat Leg-Room:
(Tight to say the least)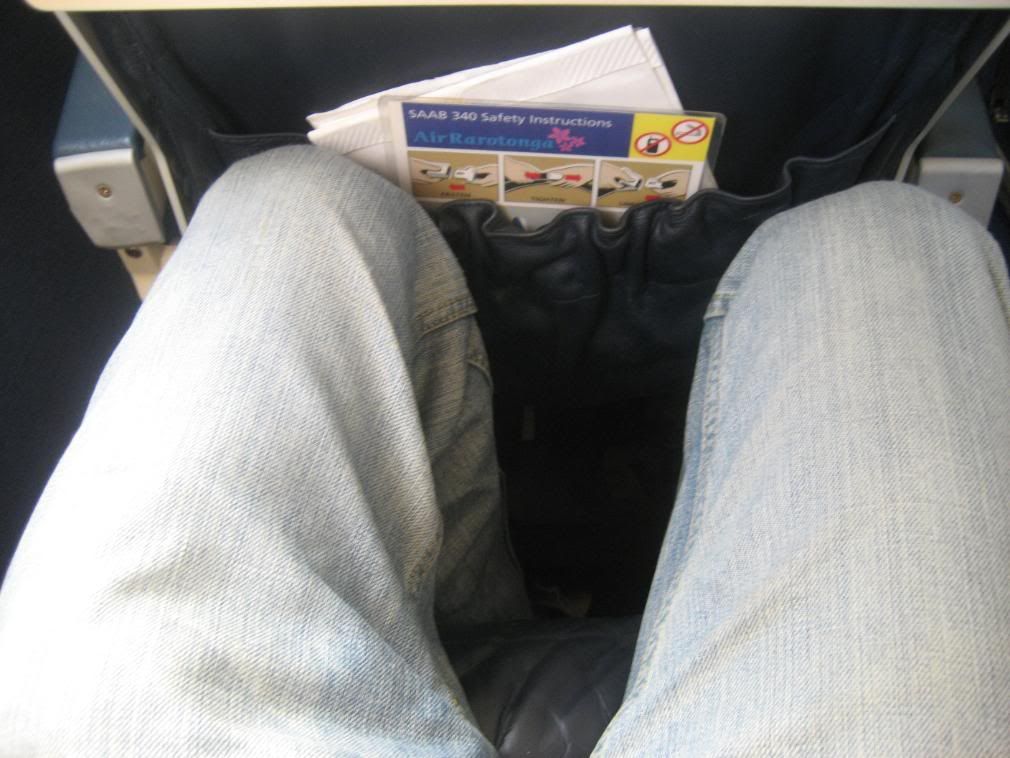 Seat Recline + Angle View: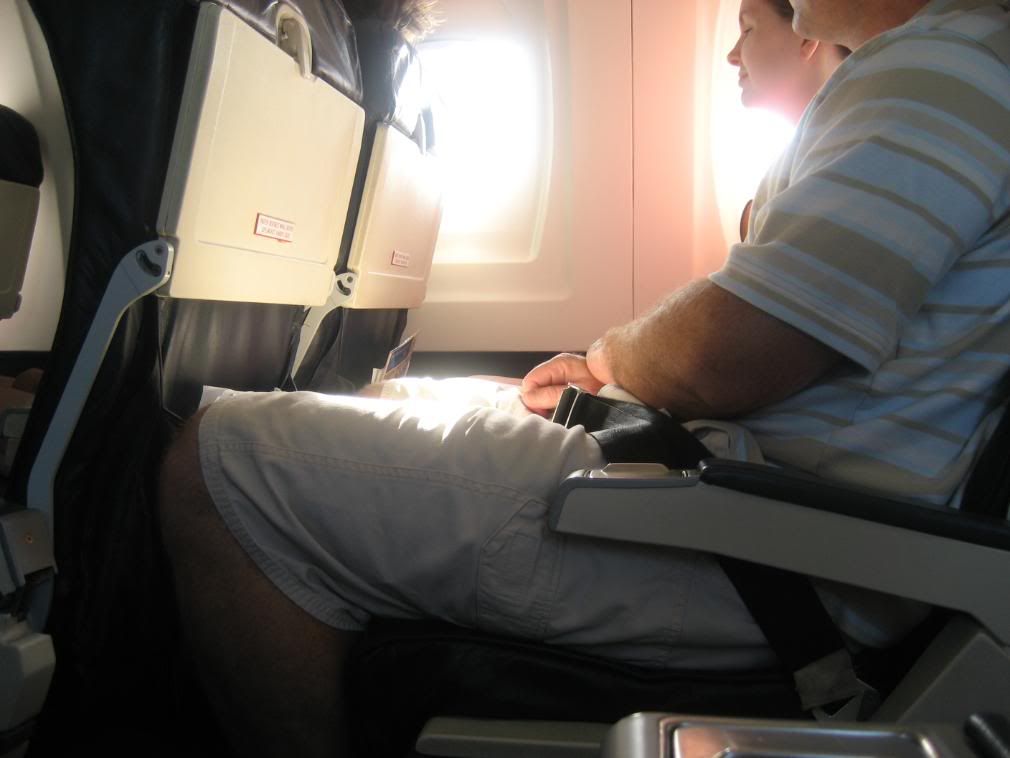 Cabin: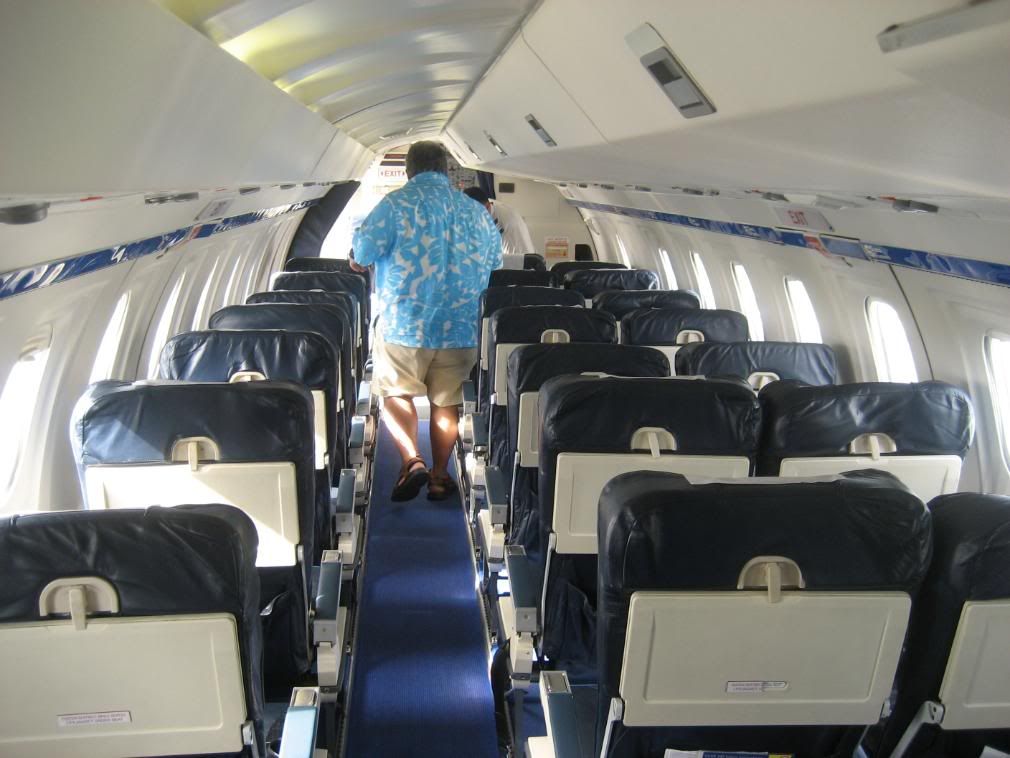 c) Meal + Beverage:
Coffee was excellent. I was hoping there would be a small snack served … but no such luck. I should take a moment to talk about the intoxicated Australian on the seat in front of me who demanded he be served alcohol. When the FA apologized for not having any for the 8am flight, his exact words were, "that's just bollocks. I f***ing paid a lot of money for this flight." Some people.
(Café with my inflight magazine from Air Caledonie flight)
d) Inflight Entertainment:
No IFE. No magazine.
(In-flight magazines, Boarding Passes, etc.)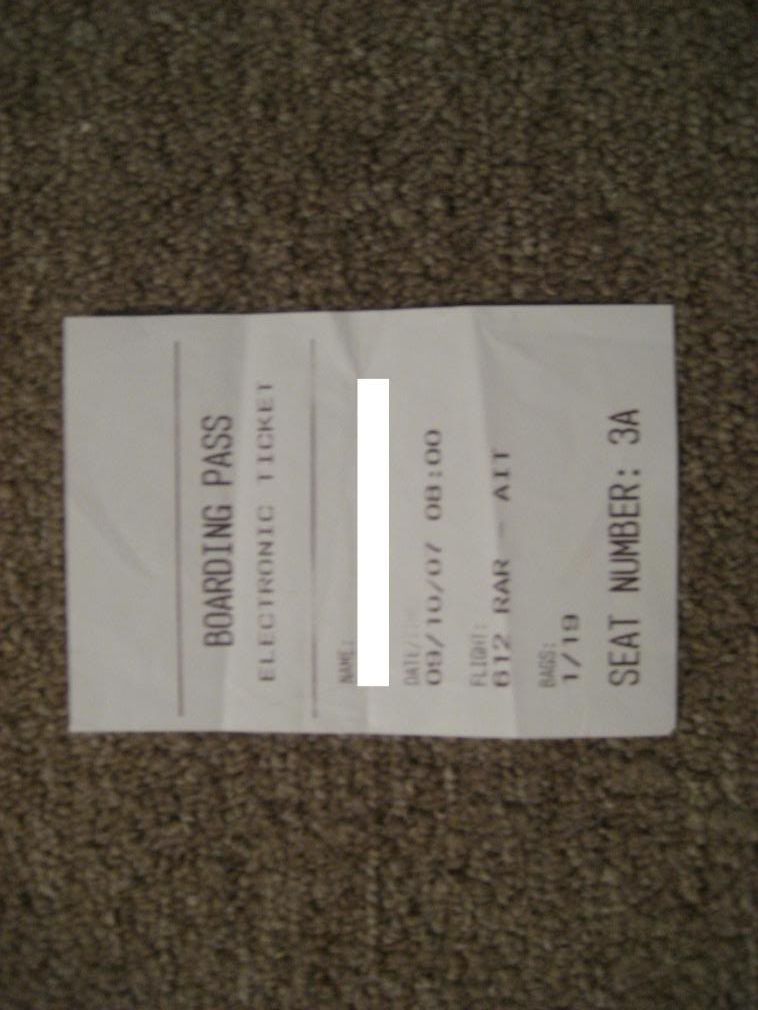 e) Crew:
Lone FA was gracious and had an award-winning smile.
IV> Post-Flight:
Aitutaki International airport is even smaller than Raro and you are pleasantly welcomed like in RAR with a man playing music. A tractor brings in the bags and leaves them on the ground for you to pick up. All very efficient.
(Commencing descent to Aitutaki lagoon)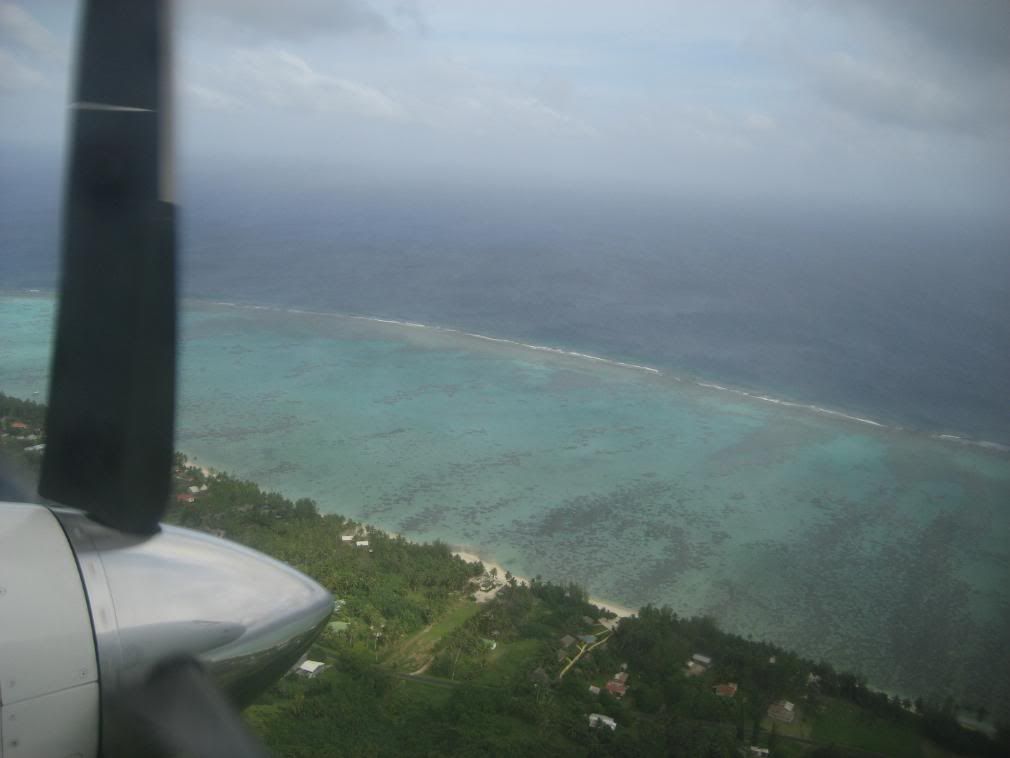 (Aitutaki Airport)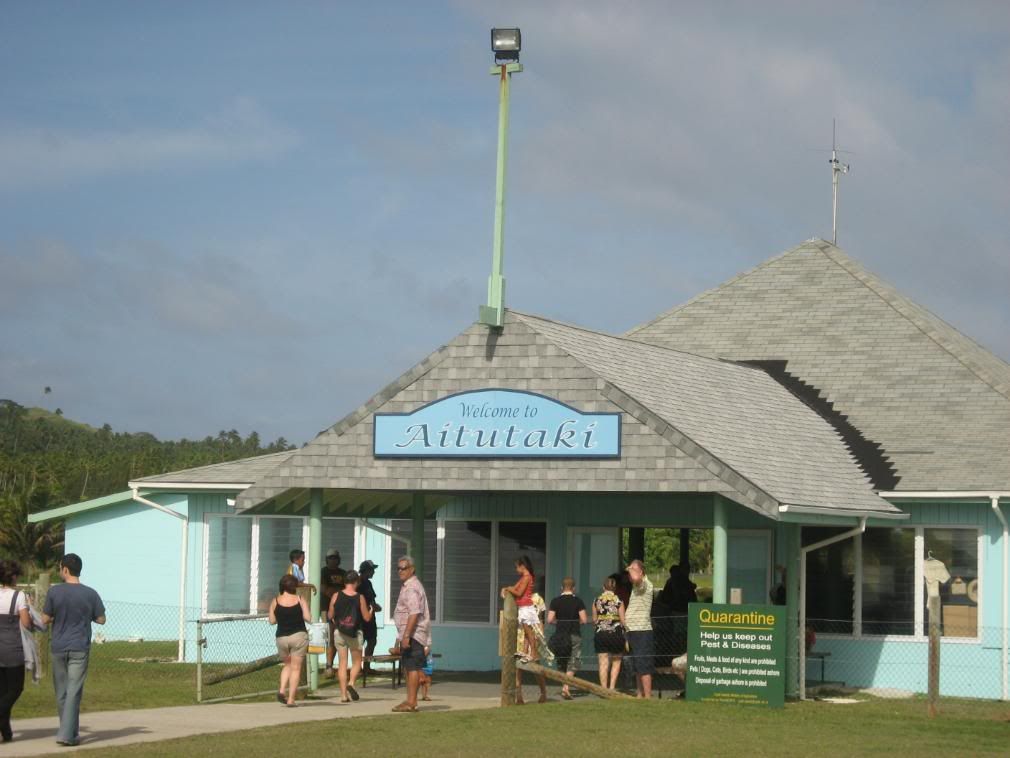 (Singers welcome you @ AIT)
(Baggage claim)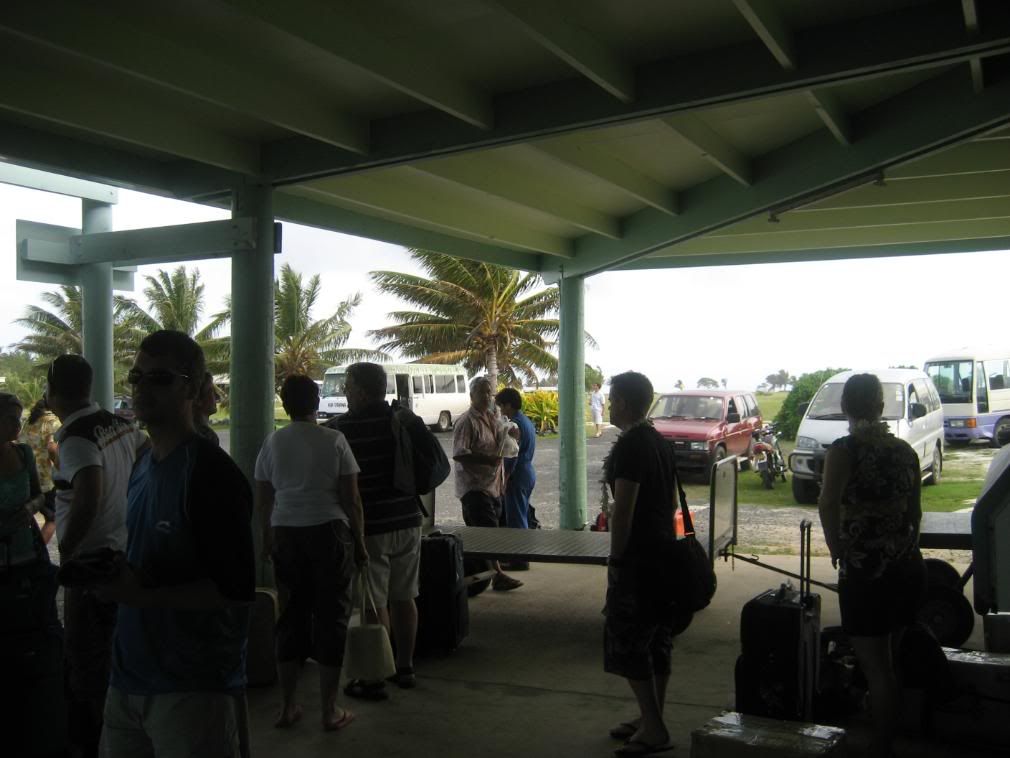 (Outside of AIT International)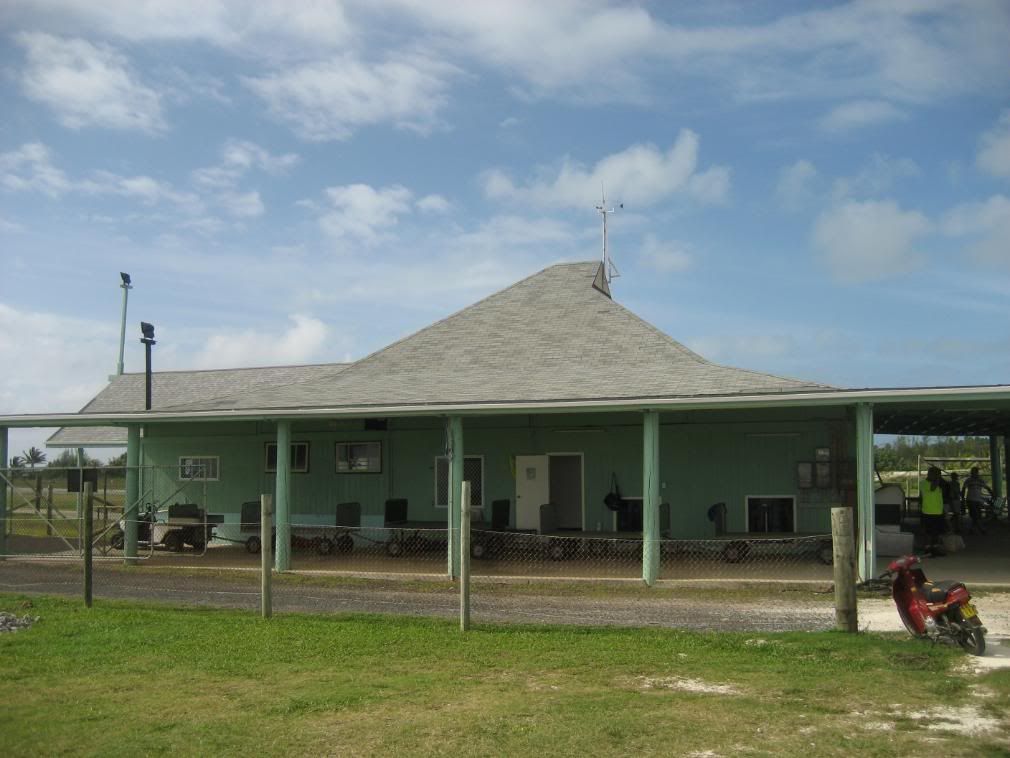 V> Impressions + Scores:
Short flight with low expectations. I wanted to share with A.Netters an Air Raro flight rather than make a commentary. For the routing in question, GZ provided all one can ask for … clean, efficient, on-time service. The bonus was a smiling member of the crew who took pride in her job. Definitely would fly with them again.
1.0 > RESERVATION: 9.0
2.0 > CHECK-IN: 9.0
0.5 > LOUNGE: N/A
0.5 > BOARDING: 7.5
2.0 > SEAT: 5.0
0.5 > AIRCRAFT OVERALL AMBIENCE: 6.0
1.0 > IFE: 2.0
2.0 > CREW: 8.0
2.0 > FOOD: 1.0
0.5 > BEVERAGES: 5.0
0.5 > A.KITS + OTHER FREEBIES: 5.0
0.5 > DISEMBARKATION: 8.0
1.0 > ON-TIME RECORD: 10.0
WEIGHTED OVERALL IMPRESSION (WOI): 6.13
(Pre-flight WOI of all reviews: 6.43)
* Weighted Overall Impression (WOI) aligns scores with what matters most. Weights are indicated alongside each category.
(Scores are based on comparison with other airlines in THAT class of service – No comparison of Y vs. F for example)
VI> Other Trip Reports:
PREMIUM:
8.56:
Paramount Airways (38): BLR-MAA: 09/2007
8.11:
Aeroflot (33): MOW-DEL: 09/2007
8.04:
Korean Air (40): NRT-ICN: 10/2007
8.02:
Delta Airlines (24): JFK-CDG: 08/2007
7.82:
Singapore Airlines (06): EWR-SIN: 09/2006
6.93:
Delta Airlines (18): SEA-JFK: 11/2006
6.81:
Air Canada (17): ICN-YYZ: 10/2006
6.70:
KLM: EBB-AMS: 08/2007
5.75:
Singapore Airlines (16): CCU-SIN: 10/2006
4.42:
Air France: CDG-JNB (25): 08/2007
ECONOMY: Long + Medium:
7.38:
Avianca (01): BOG-LIM: 07/2006
6.26:
Jet Blue (21): CUN-JFK: 02/2007
6.06:
Air Canada (04): YYZ-YVR: 09/2006
5.89:
USA 3000 (19): PUJ-BDL: 01/2007
5.46:
TAP Air Portugal (23): OSL-LIS: 05/2007
ECONOMY: Short
8.24:
Kingfisher (14): IXA-GAU: 10/2006
7.87:
Indian (34): BOM-MAA: 09/2007
7.72:
Alliance Air (13): CCU-IXA: 10/2006
7.57:
Indian Airlines (10): DEL-CCU: 09/2006
7.23:
West Jet (03): YYC-YVR: 09/2006
7.15:
JetLite (37): BOM-GOI: 09/2007
6.70:
Spice Jet (09): CCU-DEL: 09/2006
6.58:
Air Tran (02): EWR-MDW: 08/2006
6.44:
CO Micronesia (39): ROR-YAP: 10/2007
6.33:
Kenya Airways (29): NBO-BJM: 08/2007
6.31:
Indigo (15): GAU-CCU: 10/2006
6.22:
Air Link Swazi (28): MTS-JNB: 08/2007
6.22:
Air India (36): HYD-BOM: 09/2007
6.13:
Adam Air (07): SIN-CGK: 09/2006
6.13: Air Rarotonga (41): RAR-AIT: 10/2007
6.00:
Transairways (27): INH-MPM: 08/2007
5.95:
Air Canada (05): ALB-YYZ: 09/2006
5.85:
SAS Norge (22): OSL-AES: 05/2007
5.81:
LAM Mozambique (26): JNB-MPM: 08/2007
5.69:
Air Deccan (12): IXZ-CCU: 10/2006
5.67:
Rwanda Air Exp (30): KGL-NBO: 08/2007
5.07:
Go Air (35): MAA-HYD: 09/2007
4.96:
Valuair (08): CGK-SIN: 09/2006
4.74:
Fly 540 (31): MYD-LAU: 08/2007
4.33:
Viva Aerobus (20): ELP-MTY: 02/2007
4.11:
Air Sahara (11): CCU-BOM: 09/2006
(Note on Codes: Y – Economy, J – Business, F – First :: I/D – International/Domestic :: SR/MR/LR – Short/Medium/Long Haul)
VII> Other Pictures:
It has now become customary to share some images of the place I went to. Hope everyone enjoys!
(Oh no! Starbucks in paradise.)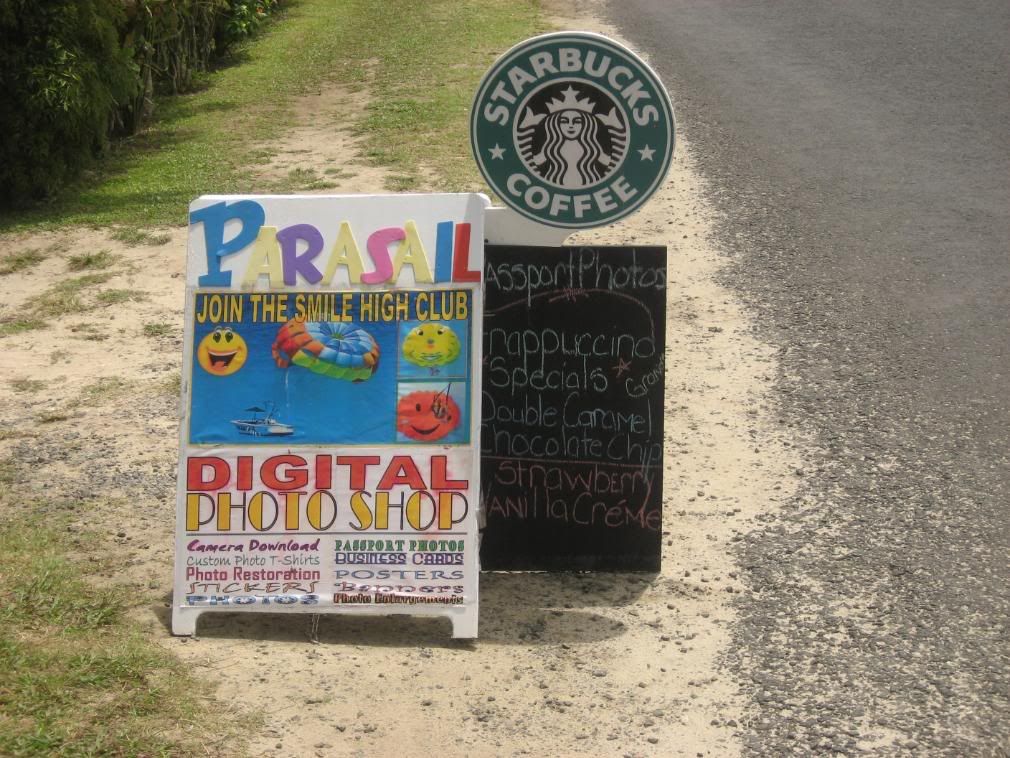 (Aitutaki Lagoon)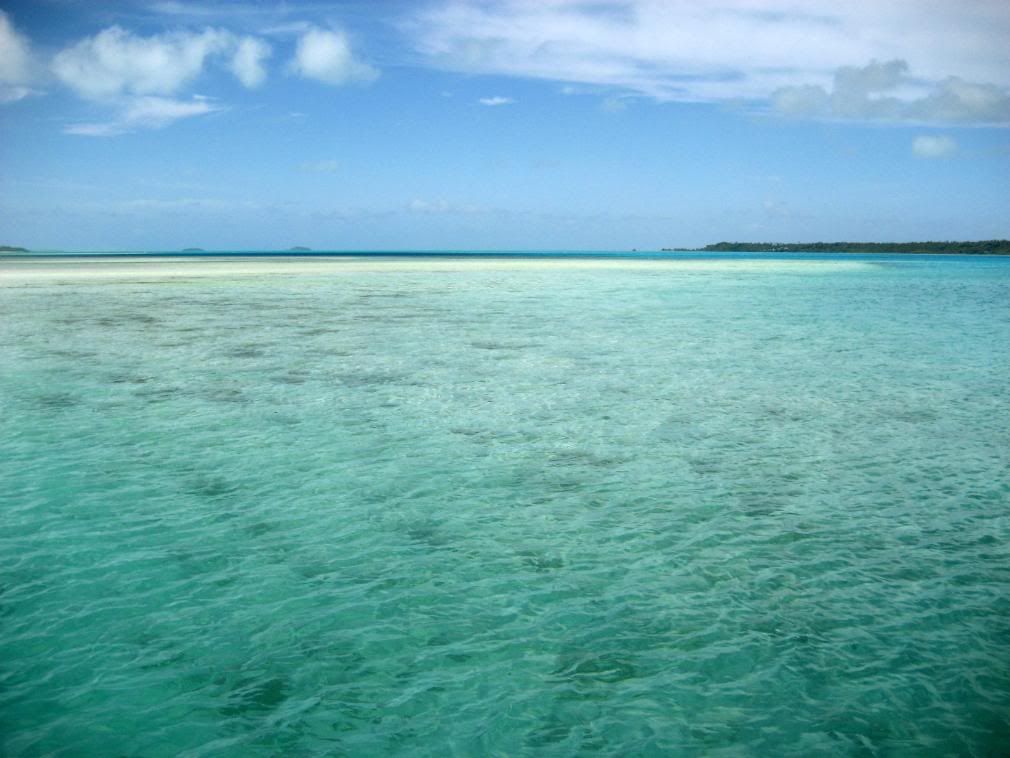 (If this is not picture postcard, what is?)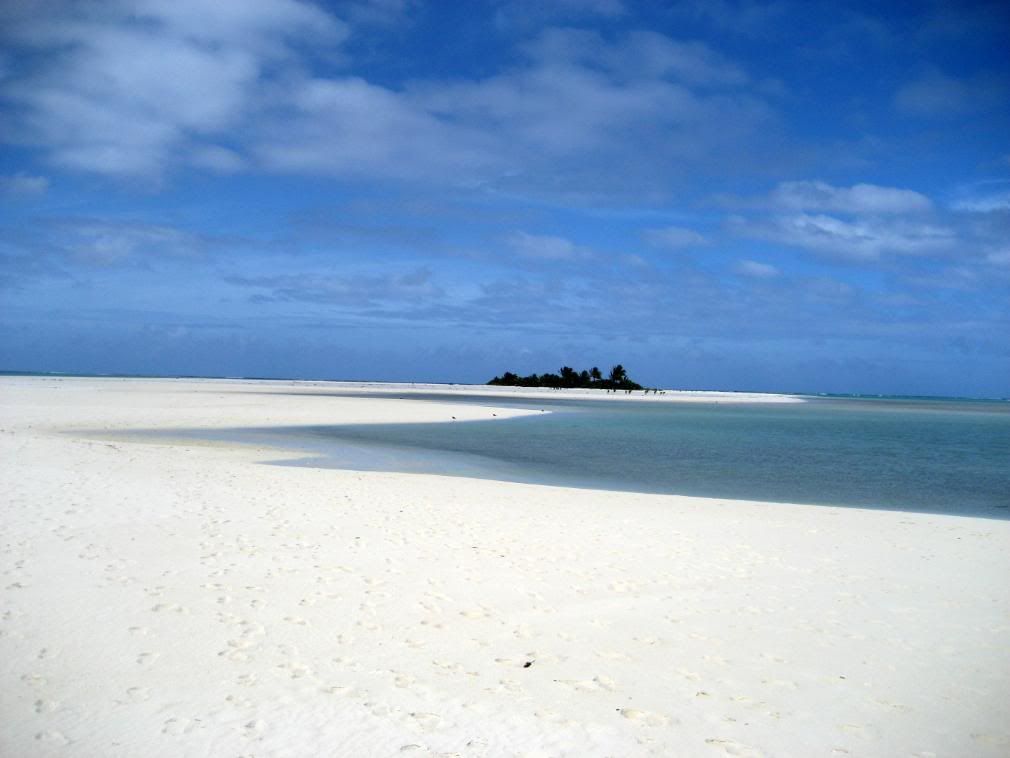 (And these 2 ladies gossiping and smiling in Rarotonga signified the best asset of the Cook Islands … its warm and gracious people!)