As it was fellow a.netter jamotcx's birthday, and we hadn't had a good drinking session for a few weeks, myself, jamotcx, MYT332 and Nighthawk decided it would be a good idea to have a day trip to Dublin. After some research, we found that Aer Lingus worked out cheaper than Ryanair, and so we booked 3 return flights from Manchester. As Nighthawk was in Aberdeen, he got the short straw and had to book with FR.
24 hours before the flight, we checked in online for our EI flight. Strangely, our EI205 flight which was scheduled to depart at 10:45, showed up in OLCI as now departing at 13:30. I called EI who told me the system was wrong, and we should turn up at MAN in time for the 1045 departure. We therefore checked into 11D,E,F and MYT332 printed the boarding passes. We agreed to meet at MAN at 09:30. Seeing as I was in York, some 75 miles from MAN, I worked out I would have to get a bus to the station, then a direct train to MAN.
The day arrived and I showed up at the local bus stop, to find a bendy bus waiting for the 0700 Park and Ride run into York.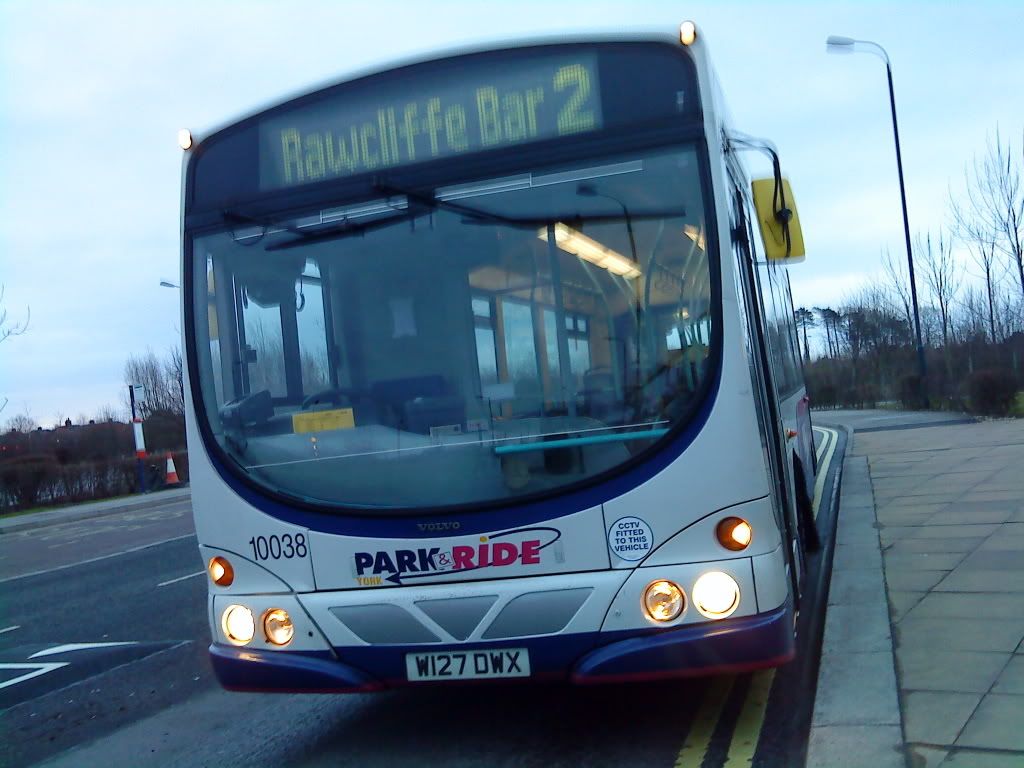 I boarded the bus and took the short 10 minute ride to the station. Not being interested in buses I didn't really pay attention to said bus, apart from noticing it was possibly the most uncomfortable and rickety thing I've ever been on. The train was on time and I boarded in the front carriage and took a seat in First Class. I was clearly the only one stupid enough to be up at this ridiculous hour and had First Class to myself for the 1 hour 40 minute train ride to MAN.
During the train journey, MYT332 called me to tell me that due to someone stealing the copper cables that control the signals on his line, his train was running late and would be terminating early. He was therefore not sure what time he would arrive. To cheer him up, I told him I was just pulling into MAN . he didn't seem impressed so to try to cheer him up some more I sent him a picture message of my train sitting at the station. This seemed to do the trick and he was happy again. I went to check the departure boards and sure enough, the train to Carlisle, which should have been operated by MYT332's inbound train was cancelled.
As our plane to DUB was due to leave at 10:45, when it got to 09:45 I called MYT332 once again to ascertain his position. He was in central Manchester getting another train to the airport. We arranged with jamotcx for him to set off from his nearby house to meet us. At 10:00 am, some 45 minutes before departure, our precision planning seemed to come to fruition; MYT332 arrived on a battered old train, and we ran from the station to Terminal One to meet jamotcx. As we reached T1 departures, we heard the screeching of tyres as jamotcx's brother came round the corner to drop him off. We ran to departures and went through Security. We checked the monitors to find that no departure gate was given yet. Jamotcx used the free wifi on his ipod to check the MAN website and found the inbound aircraft hadn't arrived yet and wasn't due until 10:35. So we went to check out the new upstairs part of MAN T1. This didn't take too long, and after changing some Pounds into Euro's, we saw the green shamrock tail heading towards us.
Finally at 10:50 we made our way to gate 4, where we handed our boarding passes in. As this was treated as a Domestic flight, there was no jetbridge and we walked across to the tarmac to our plane. Today we would be on an A320, EI-DEC – St. Fergal.
After clambering up the swaying Servisair stairs which felt like they would give way any moment, we took our seats at row 11. The plane was about 70% full. We got ready to pushback and waited whilst a newly painted Delta 752, N713TW taxied behind us. I hadn't seen this new Delta paint scheme before and was impressed.
We taxied out to 23L, passing first of all a load of VLM F50's and the stranded Dragonair 744F:
We then held short of 23L which gave us a nice view of the AVP, with Concorde and the RJX looking great in the sunshine: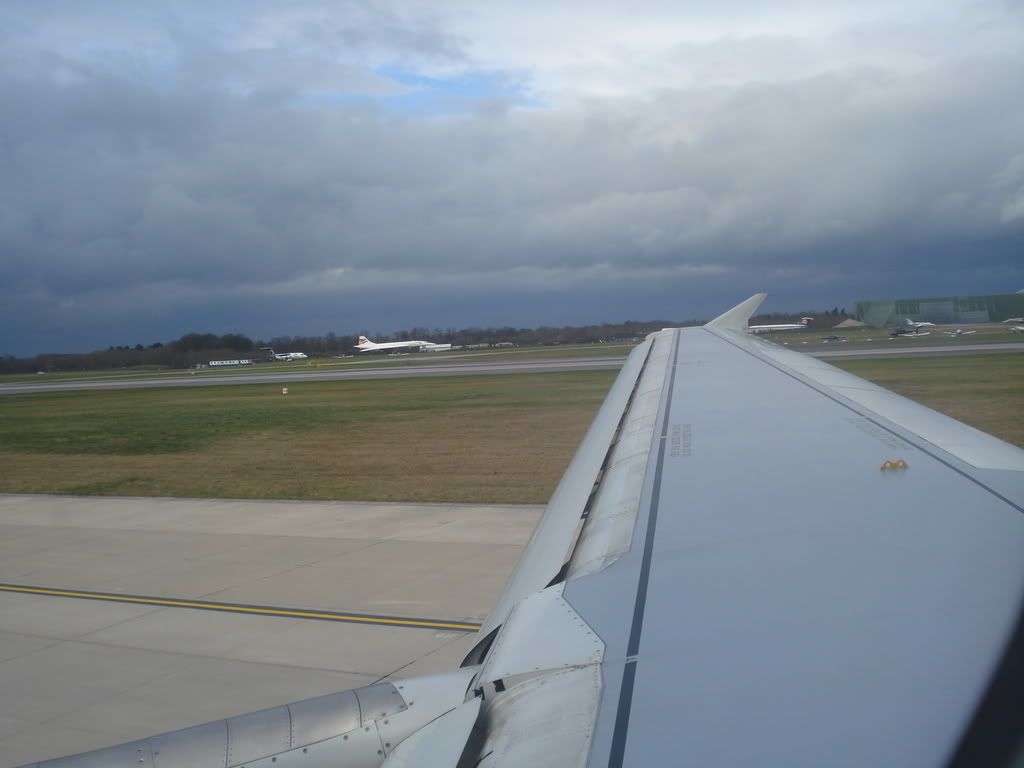 We were shortly cleared for takeoff at 11:13.
As the cloud was quite thick, and it was windy, the seatbelt signs stayed on for quite some time, but once above the cloud things were smooth and it was a lovely Spring morning.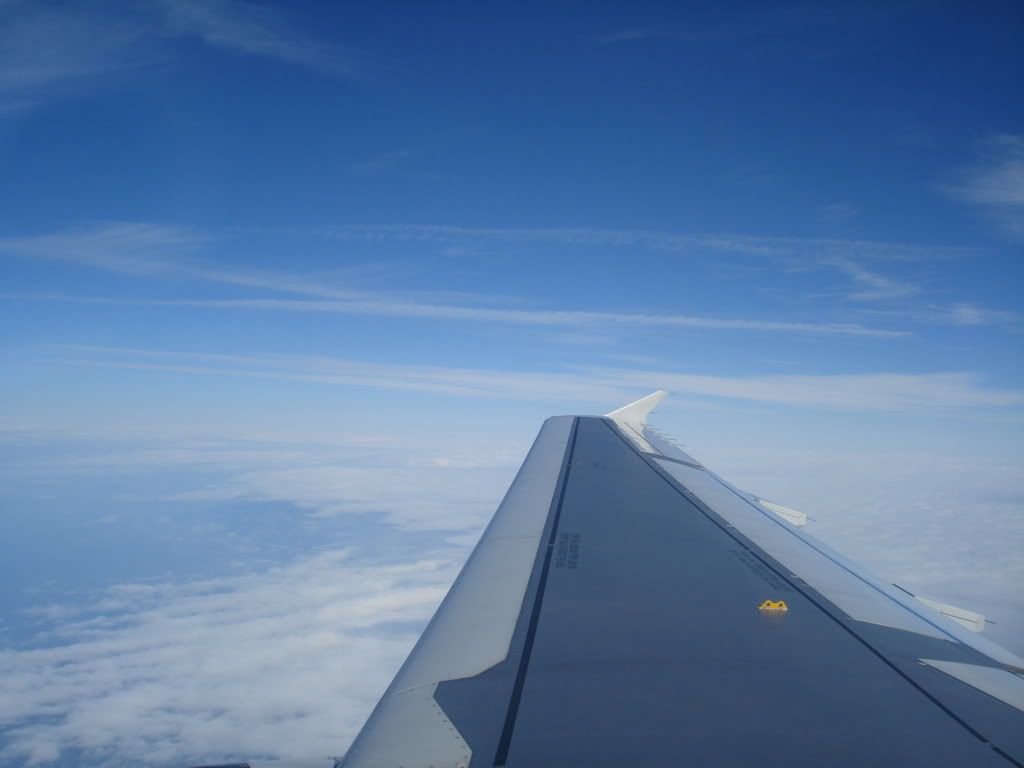 The crew soon came round offering food and drink. Being Buy on Board, I wouldn't normally bother, but as we'd all rushed around all morning, we hadn't had time to have breakfast. As we were planning on spending the day drinking Guinness, we decided a Full Irish breakfast would be in order. I ordered a Full Irish, and a can of beer. Jamotcx just took the beer option as he's more hardcore than myself and MYT332. The breakfast was just what we needed, and to be honest was much nicer washed down with the beer.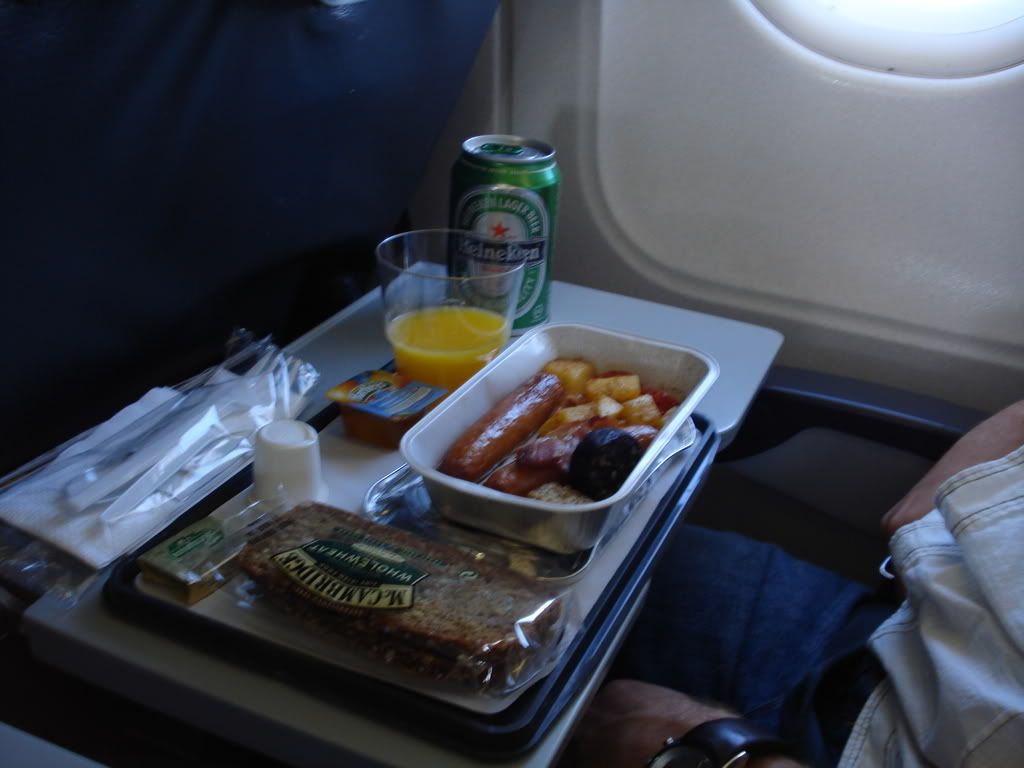 I rushed down my food as we were 20 minutes into the 35 minute flight. However, the female First Officer, Leah, came over the intercom to tell us we'd been told to slow down as there was some congestion in the DUB area due to earlier bad weather. We tried to arrange another can of beer each but the crew seemed more intent on selling Duty Free goods. So we sat around, staring out the window having some intellectual conversation, about Hollyoaks or something. Leah then came over the intercom again, to tell us we were entering the hold as we were number 17 in the queue to get into DUB. At this point, we'd been in the air nearly 50 minutes, so well over the 35 minutes we'd been scheduled to take. We held over the Irish Sea going round and round in circles.
After 15 minutes or so in the hold, we were cleared to start an approach. It was incredibly windy and our little A320 was being thrown around as if we were in a Cessna. As we approached DUB runway 28, we could see little evidence of the earlier rain storms they'd had, although it was getting windier as we got lower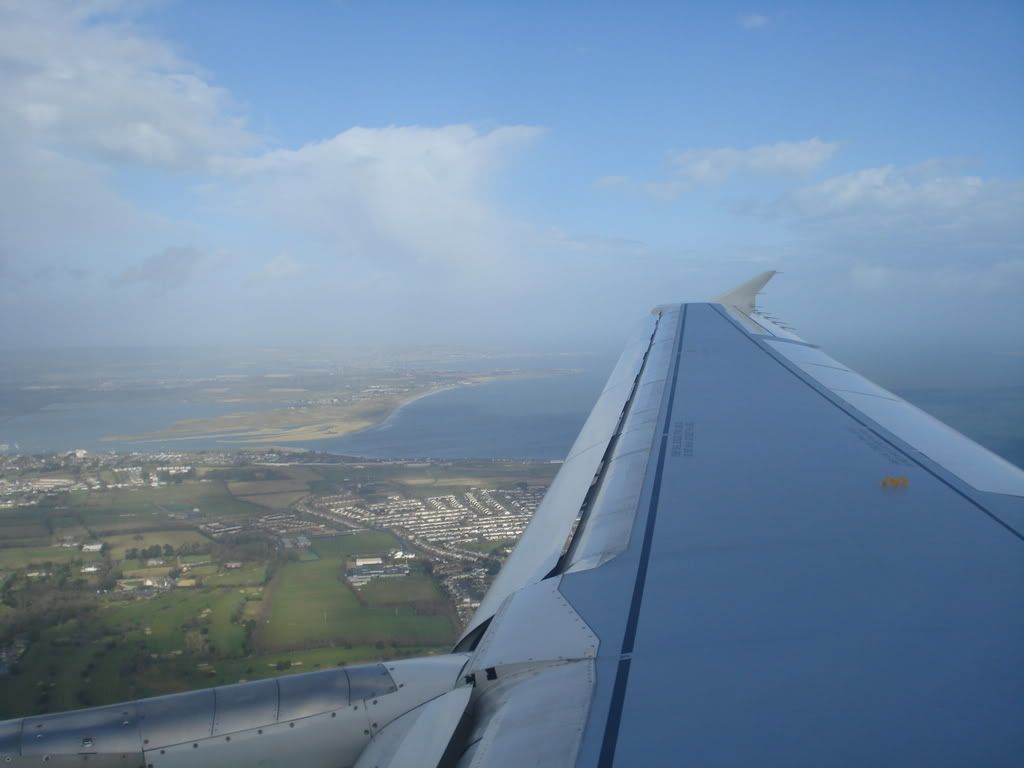 Once we got to about 100ft it was apparent why we were so delayed – it was really quite windy as you can see in the video.
We touched down at 1228 – some hour and 15 minutes after we took off – the longest UK – Ireland trip I've ever been on. Once we came off the runway about 20 people started annoyingly applauding – something I've never understood and after consulting with MYT332 and jamotcx, we decided these people were either drunk, or just simply annoying, or maybe both. As we taxied in, we saw 2 FR 738's waiting to depart.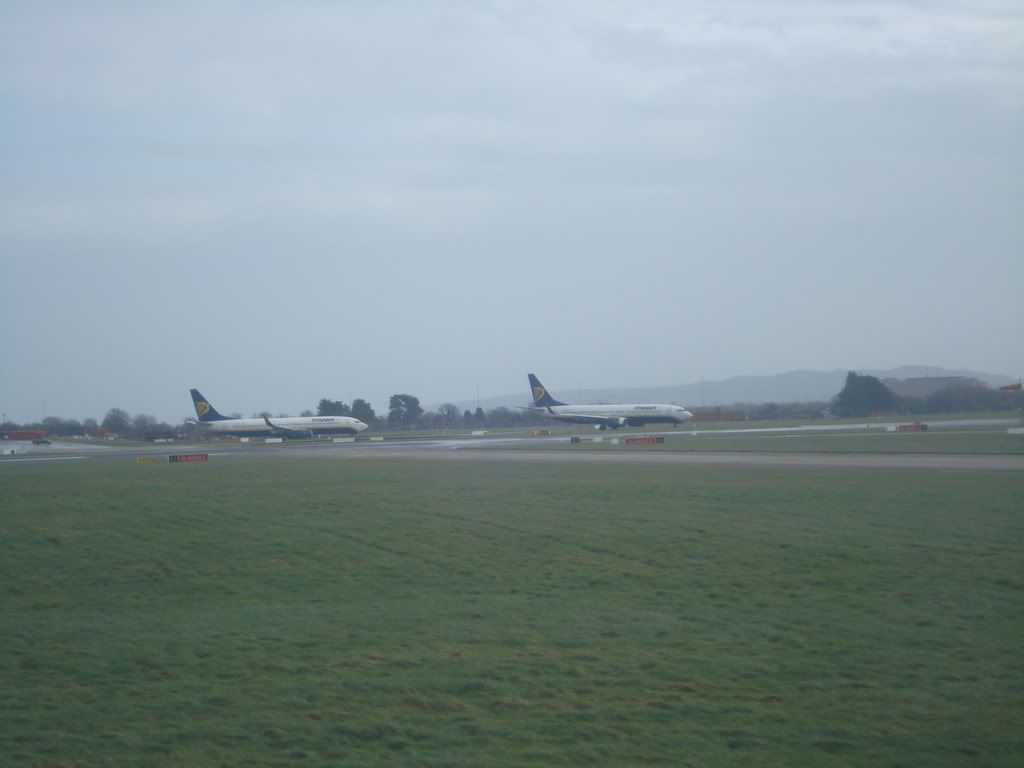 As it was now 12:35, we discussed whether Nighthawk's ABZ-DUB FR flight would be on time seeing as we'd been so delayed. We assumed he'd be delayed too and decided not to panic, and to just wait for him in the pub once we deplaned. We parked up next to one of our sister ships:
As we had no luggage we went straight through passport control and, after seeing Nighthawk was delayed too, headed straight for the pub for a Guinness. After a pint, Nighthawk landed too, and we headed to the bus stop to get on board the 747 bus to Dublin City Centre. Once aboard the bus we spotted possibly the oldest sign in the airport, still showing Air 2000 and British Midland logos. It was like stepping back in time!
We then went and had our day in Dublin, enjoying many a Guinness
As our return flight EI208 was due to depart at 20:30, we decided to get back to the airport for approximately 19:00. I put our PNR into the fast ticket machine, which printed my boarding card out. However, the other 2 boarding cards didn't print, and the machine told us to go to a check in desk. We duly did this and the check in assistant issued the other 2 cards. Very strange, but as there was no queue I didn't mind. We headed upstairs for another beer before saying goodbye to Nighthawk and going airside. Our gate was shown as A12 so we headed down to the A gates. We found another pub so got a little distracted. When our flight showed as "Boarding" we headed to the gate.
Once boarding commenced, we walked out to the plane, only to be greeted by EI-DEC, St. Fergal again! Fergal must have been allocated to the MAN-DUB run all day! This time we were in 6A,B,C so I took my seat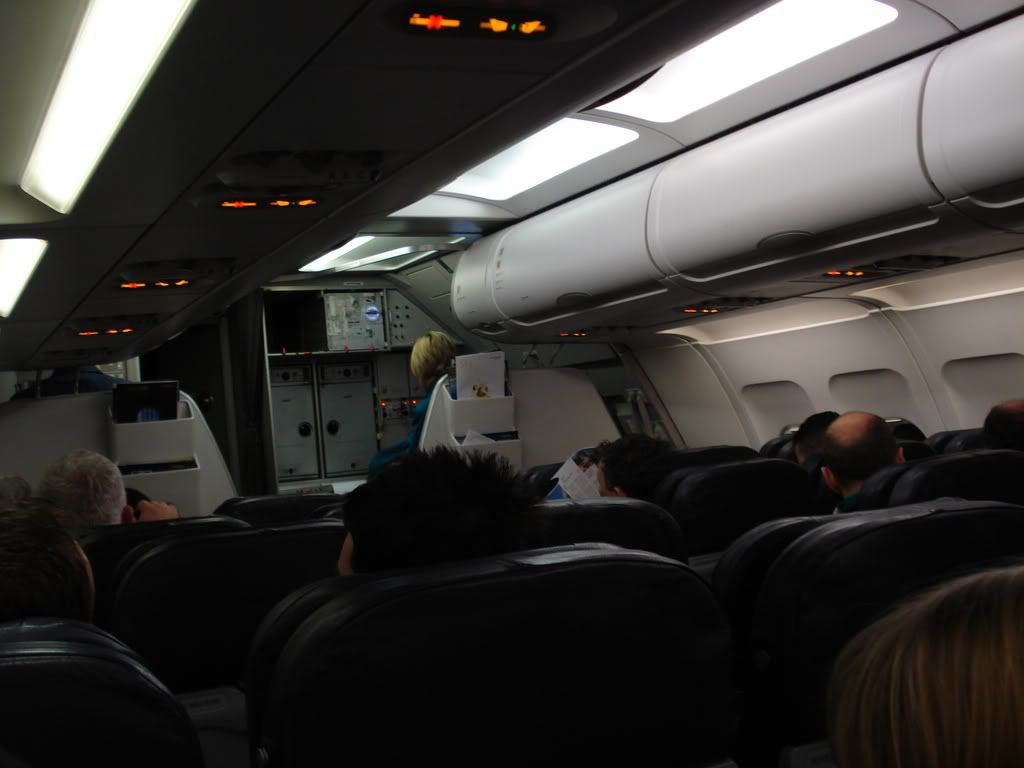 Once loading was complete, the plane was plunged in darkness, 3 times. Either someone had pulled out the GPU, or the APU wouldn't start or something, but after a few attempts it all seemed to be working ok. There wasn't a great deal to see out the window either really.
I can't remember quite as much about this flight as I do about the outbound leg, but this is likely due to the amount of alcohol consumed that day. However, there was no way I was not going to have a quick drink on the plane, so I indulged in a can of Tiger.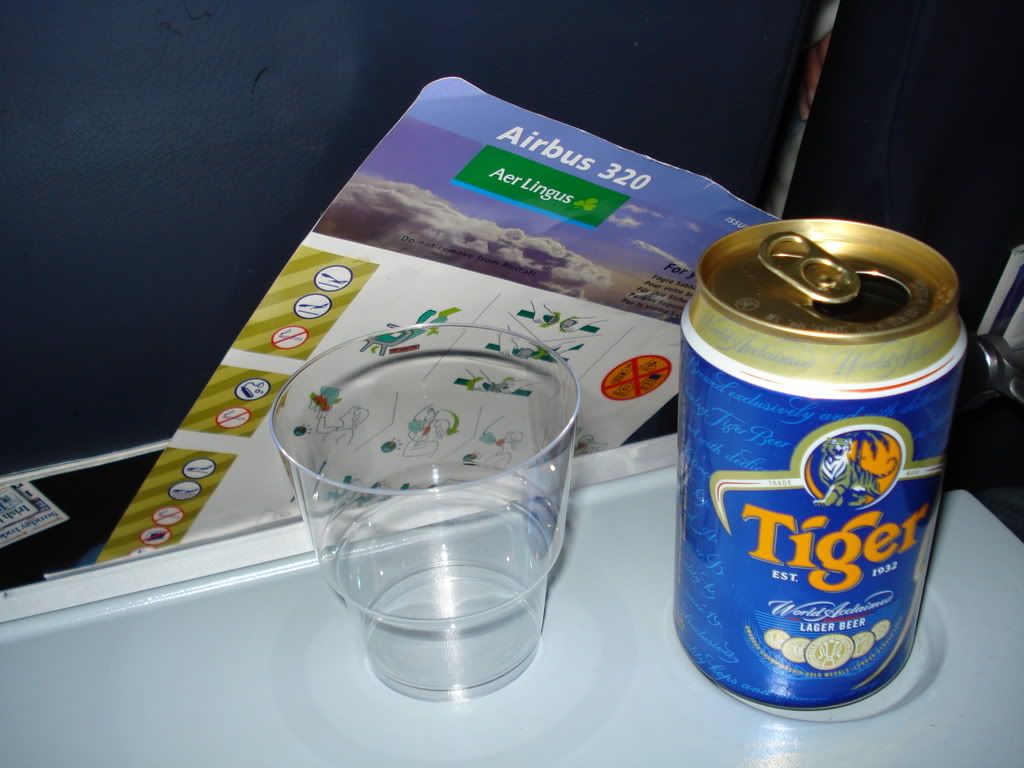 Soon after, we started our descent and after a short 35 minute hop, we were soon on the ground in MAN. We parked up next to a Jet2 733, and some buses came to collect us: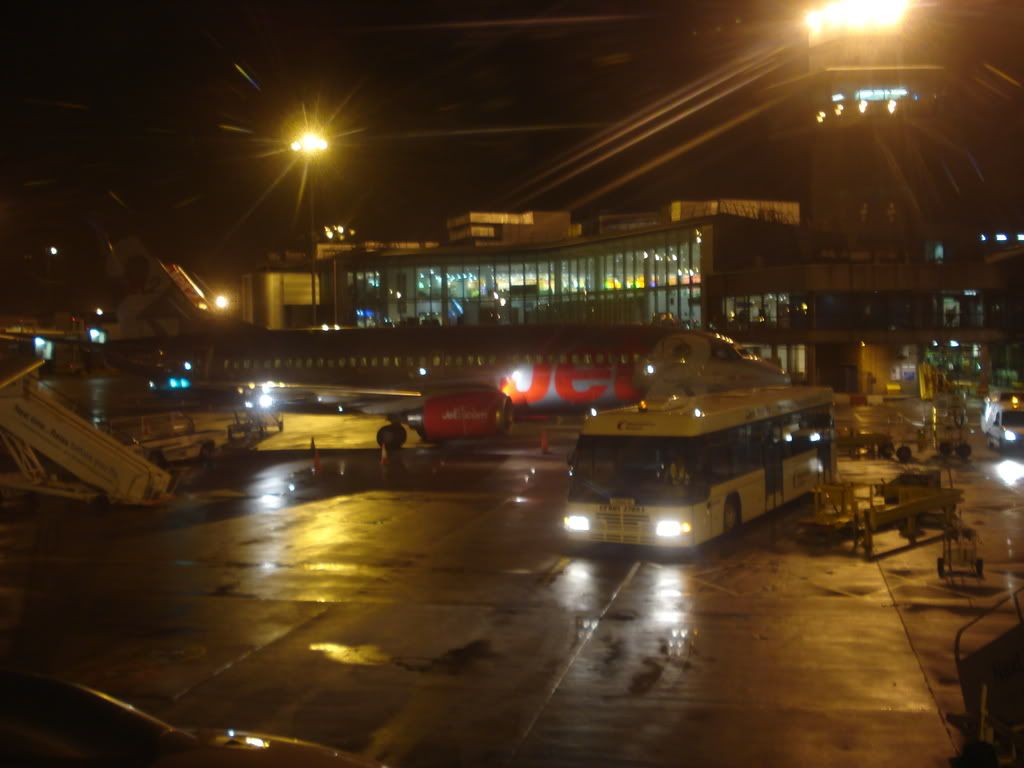 All in all, the return trip was very uneventful, compared to the outbound leg. However, I can't complain about anything on this trip – Aer Lingus' product and service are vastly superior in my opinion to those of FR, and without going back to London to travel on BA or BD, EI are really the only choice. Yes, it's a shame they're Buy on Board and you have to pay for everything these days, but you can still choose your seat, and don't just make a run for it to try and get a decent seat like you do with FR.
All in all, a very entertaining day and for £50 you can't go wrong really. We called a taxi, and continued our drinking in nearby Wilmslow