Good day A.netters!
The time for another trip arrived and so has the time for another trip report! The first of this 2008. And you're right! It's going to be long and full of pictures. In this ocassion my Irish Dancing school had chosen to participate in it's first feis/competition which was hosted by another dancing school in Dallas ( more specifically Irving, Tx).
Due to the fact that three months before I went to Atlanta to another competition I wasn't 100% sure about going to Dallas as probably there are more promising competitons to assist. One day one of my friends told me she bought the ticket at 270 USD roundtrip and told me to buy mine ASAP. When I arrived home I did a little talk with my parents about the trip and decided to look for that fare. To our surprise the ticket dramatically dropped to 170 USD taxes included ( !!!!!!!!!!!!!!!!!!) roundtrip. Which is way cheaper than taking LCC Volaris to CUN.
The fare was too good to be true and it created a sense of "buying it only cuz it's cheap" feeling in the house. After buying it I proceded to select my seats for the flights only to find a VERY nice surprise. My excitement couldn't have been bigger. Going to Dallas was not important anymore when I found out I was FINALLY going to fly the A318. A plane not that interesting to most but certainly the size of it was what called most my attention. I was finally going to fly on the A320 family's toy...
MEX-DFW
Mexicana de Aviacion
Flight: MX842
Depart: 8:55 /9:12 (Scheduled/Actual)
Arrive: 11:30 / 11:32 (Scheduled/Actual)
Duration: 2h 20min
Equipment: Airbus A318
Reg: XA-UBZ
Cabin: Economy/Turista
Seats: 16F
Seat pitch: Standard
Load: 100%
Gate: 32
Departure Runway: 5L
Arrival Runway: 18R
View Large
View Medium


Photo © Juan Carlos Guerra - APM
My dad came to my room to wake me up before 5 in the morning. Fortunately I took a shower 4 hours before so I had more time to dress and get ready ( at 5 in the morning I work in complete slow motion, I even think music goes to fast in those hours lol). At 5:35 I was on my way to the airport, traffic was non-existent and we arrived at the airport at almost 6. Considering I live in the south part of the city this was pretty fast.
Arrived at Hall F2 where Mexicana and Star Alliance check-in counters are. Mexicana's counters were full because of the departing flights to San Francisco, Miami, LAX and DFW that were checking in. Our DFW flight line was short by then, only families going with us to the competition where in line ( it ended up being that we almost had half the A318 booked). Say hi to most friends, or at least tried to say hi as I was still too asleep to get into a conversation with anyone.
15 minutes later I checked in, the check in agent was one of the nicest I've encountered so far. She figured out I was devastated and tried to make lots of jokes so I could wake up an not to put myself on the bag scale. After a very succesful check in I had to wait ( an hour) for one of my companions to check in as she was waiting for a small girl that was travelling alone. Before starting to stand there in a letargic stage, I went downstairs to see which money exchange kiosk offered me the best bet. Changed some money, bought some cigarettes and went upstairs to wait for some minutes. Later on we went to the fast food court to take breakfast and smoke before going inside the departure area.
The flight was supposed to start boarding at 8:20 ish so no time for duty free ( Not like I really wanted to buy something but I find it entretaining to always go inside and see). The gate was STILL not announced...or so we thought. Finding the gate became a mix between a treasure hunt and the amazing race until someone was very smart to call someone else and know the gate number.
Sorry for the bad quality of some of the pictures. Walking towards Gate 32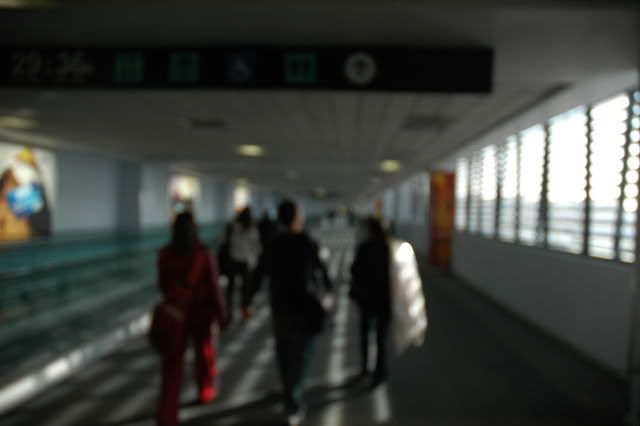 Arriving to some of the 30's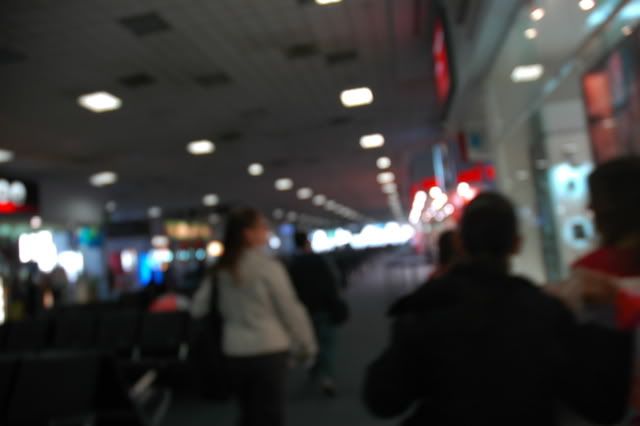 Our deepest nightmares were fulfilled and had to walk all the way to the very end of MEX T1 up to Gate 32. Not long after we arrived boarding started.
Entering the aircraft i was FASCINATED with how short it looked from the inside. Amazing...
Minutes after finding my seat.
Getting ready
Finally us the cattle class settled, business class finished up their welcome champaign and the door was closed followed by pushback.
"Full" view of gates 32 & 33 and of our "Futuristic/minimalistic/European" terminal design. ( I know that doesn't make sense but so does the look of the terminal :S)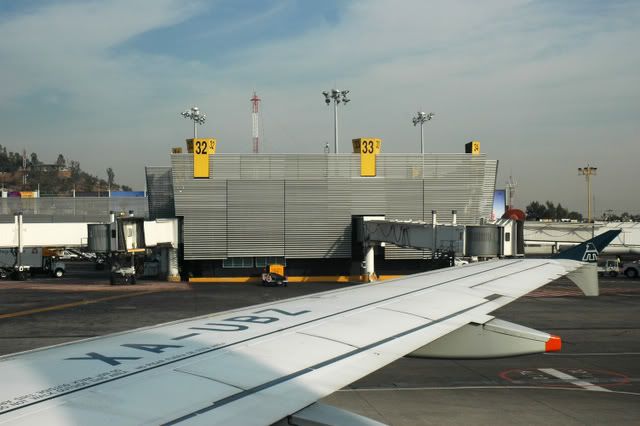 This in particular called my attention as on the outside it looks kind of empty due to AM being on T2 now.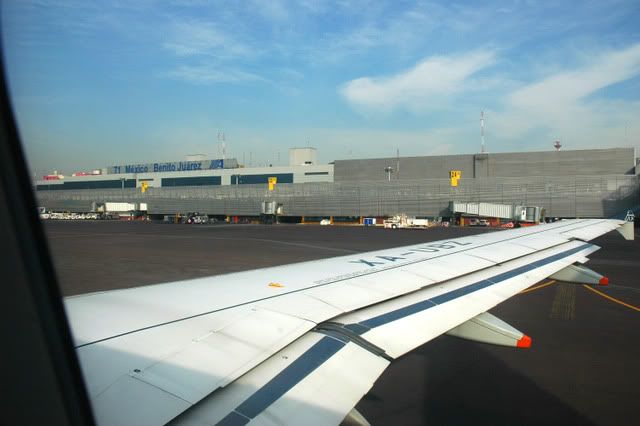 FA doing their jobs.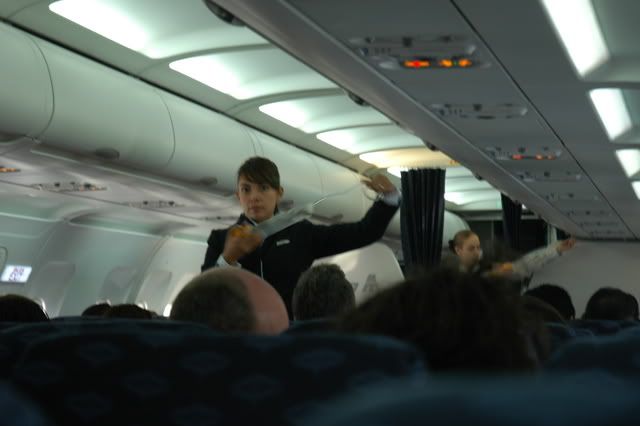 JR!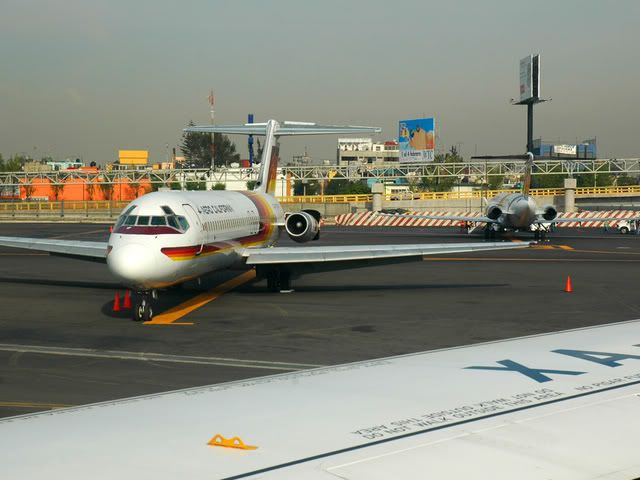 I finally got to see the airtrain!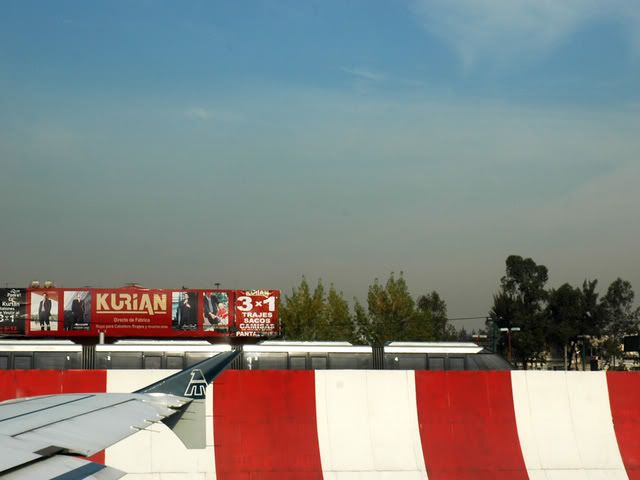 Just when "full chancla" or full thrust was applied, another A318 came to perform by our side.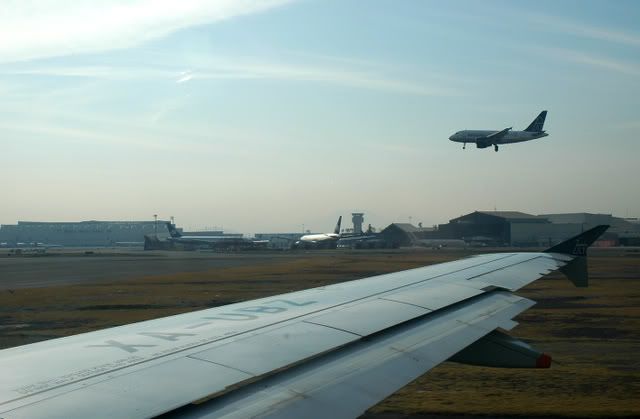 Just like an airplane ballet they arrive and we depart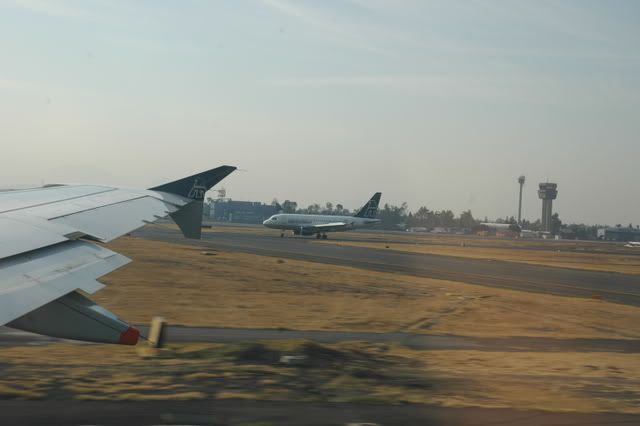 I love the buzz from the engines taking off.
Time to leave Mexico City...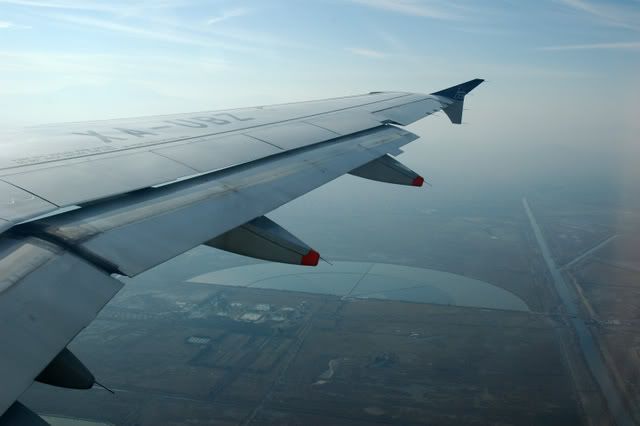 We reached enough altitude before the seat belt sign was turned off and we were allowed by this irresistible voice to use our electronic devices.
In this flight I was seated next to two ten years old girls who were going with us to the feis but whose parents were seated rows infront. So I was basically taking care of whatever they might need. Not long happened until headphones were given and one of them didn't work at all unless you hold it at a certain angle, etc... The girl was definately not happy so I only had two options:
1) fix her headphone entrance
2) gave them mine
I was too entretained and laughing tons with the comedy shows that were shown on the screens ahead. Palazuelos sketch was too funny. So I figured out I wanted to keep looking at the IFE so I found this solution
I took the plastic of the headphones and wrapped it so the headphone thing would stay still and she could here SOMETHING. Of course it worked for 5 minutes as she had to be still.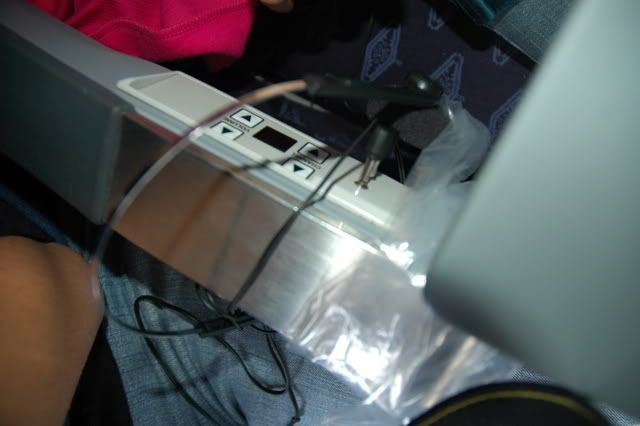 awwwww almost nostalgic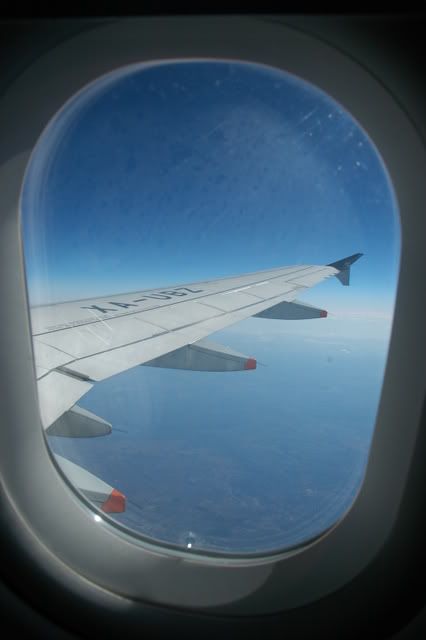 We were definately intrigued with the modern art show on display...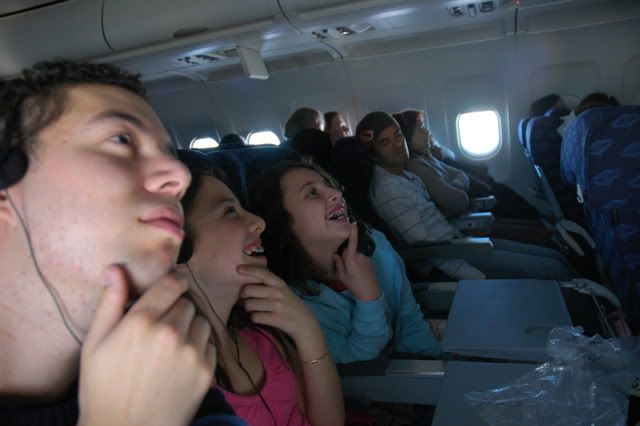 In-Flight
Drink and Breakfast service started after 40 minutes into flight. The options were scrambled eggs or enchiladas. Although I had no intention on eating the enchiladas, when the service came to us only eggs were the only option. Whatever...
Karla serving breakfast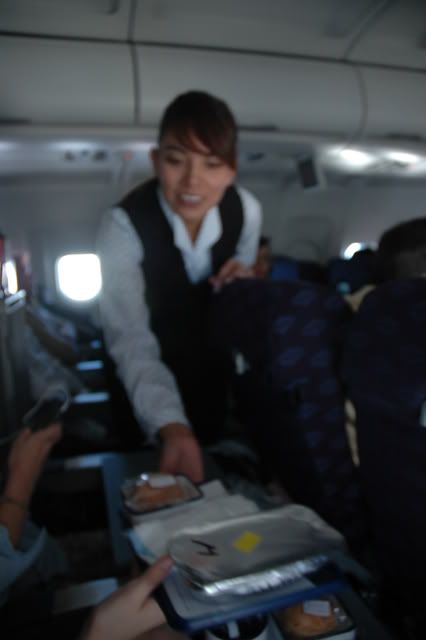 Esther giving drinks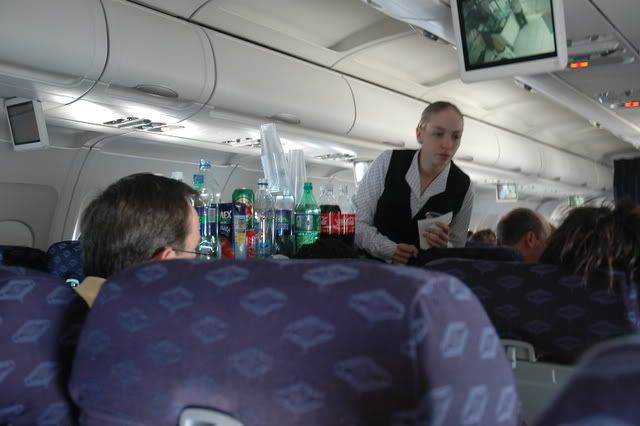 Although I have no pictures of her, Connie is my favorite MX FA now. She's awesome!
My eggs, which were actually good
After an hour or so we were already over the US. I had no headphones to watch the IFE now, and besides that they sang "Girls just want to have fun" for the rest of the flight. In my desperation I took ouy my ipod to hear some music only to find it USELESS due to an internal error ( ipod shuffle do that once in a while).
After reading the inflight magazine, sleeping and looking out the window, all in 5 minutes of course, I decided to take out my camera and try shots.
Any ideas of what this is?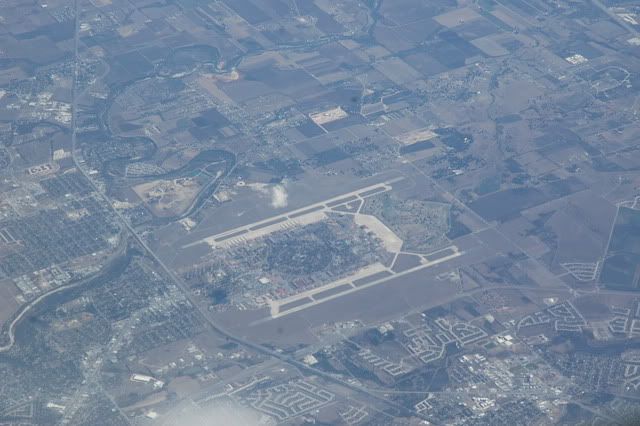 Starting our descent
Where is this airport?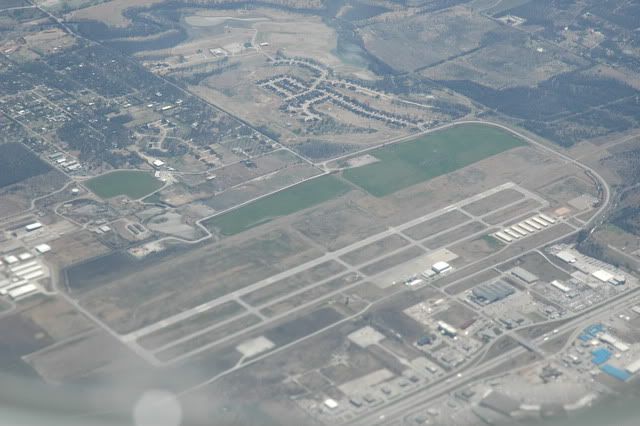 Finally we were on our path to land into DFW from the north. That gave me an excellent view of the airport.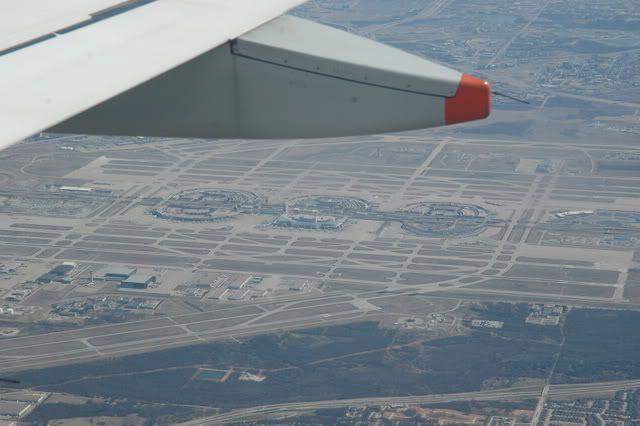 cool! DFW is HUUUGE
After an 180° degree turn we were over Grapvine lake?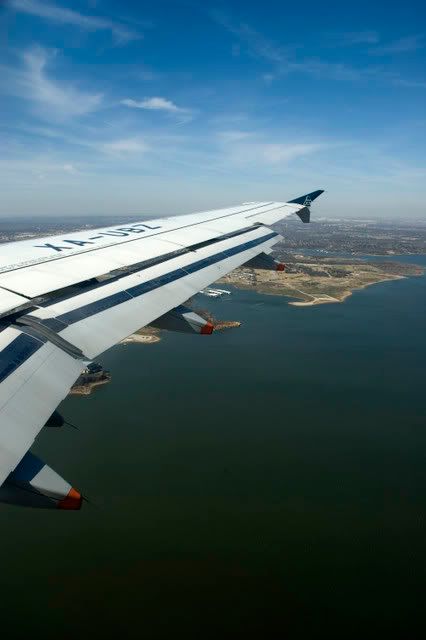 After 3 minutes of experiencing a roller coaster on finals...
LANDED!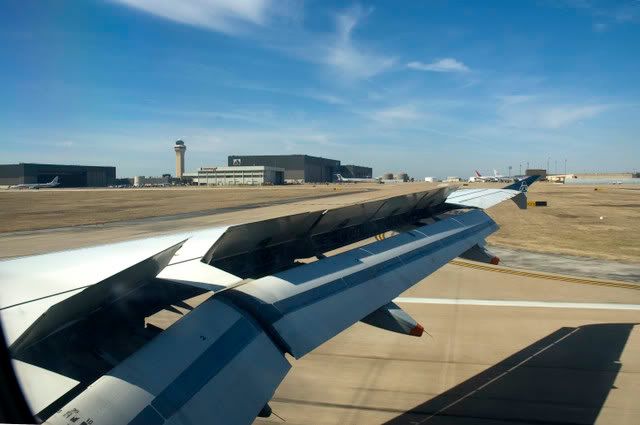 The approach was fascinating, we experienced some huge bumps which had half of the plane staring at the sickness bags. The girls on my side were pretty scared, although I'm not sure if it was because of the aircraft shaking or because of me throwing my arms in the air ( like i just don't care) in a thrill ride way.
We vacated the runway just infront of Terminal D and infront of the Cargo area. Isn't this magical?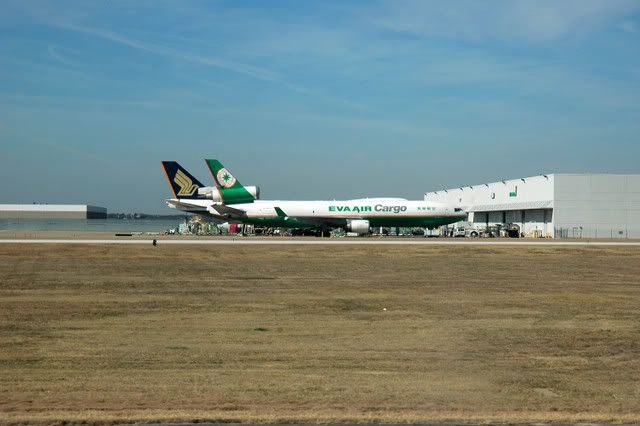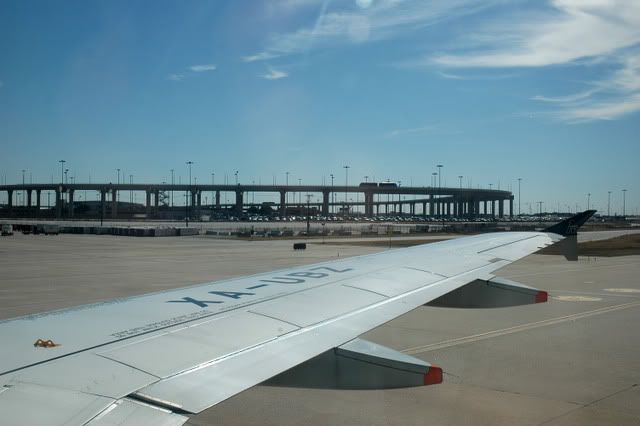 AA767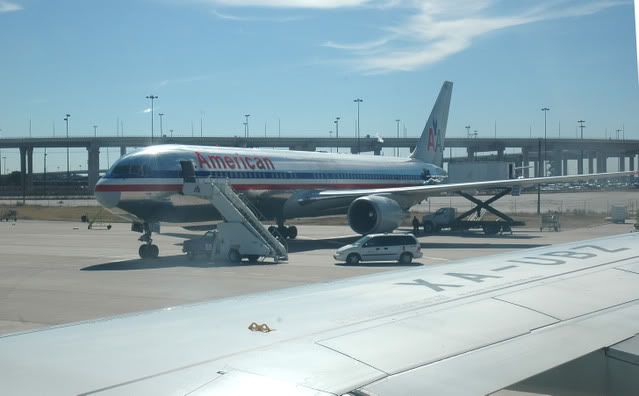 A nice gate neighbour
Different sizes in less than 100 m
Terminal D @ DFW is fantastic. It is spacious enough for it not to feel crowded, clean and of course fast! Arriving to immigration was a breeze.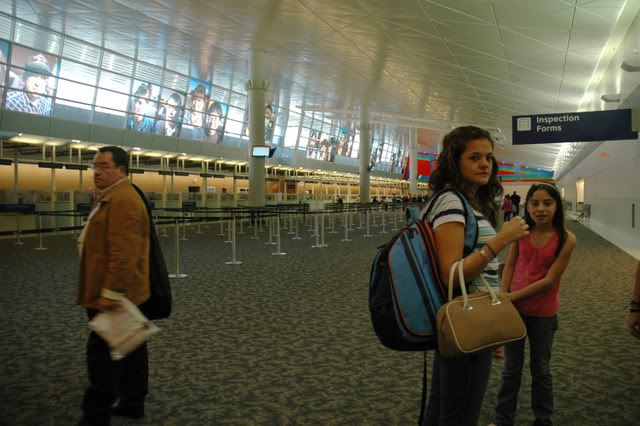 The immigration officer was very nice, although he asked lots of senseless questions. In 5 minutes I was out of there and straight to the baggage claim which has some cool airplane scale models in each baggage belt. We called our hotel shuttle to pick us and 20 minutes later we were on our way to our Ultra deluxe Quality Inn Hotel (...)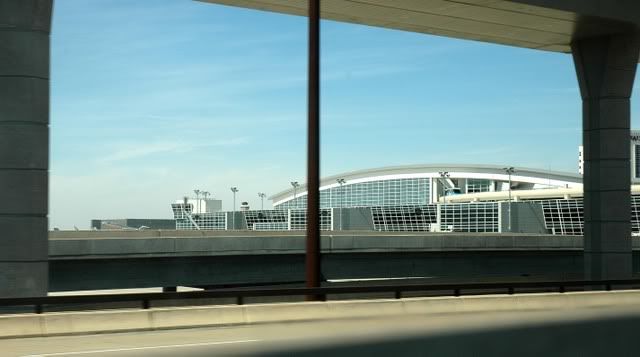 Oh yeah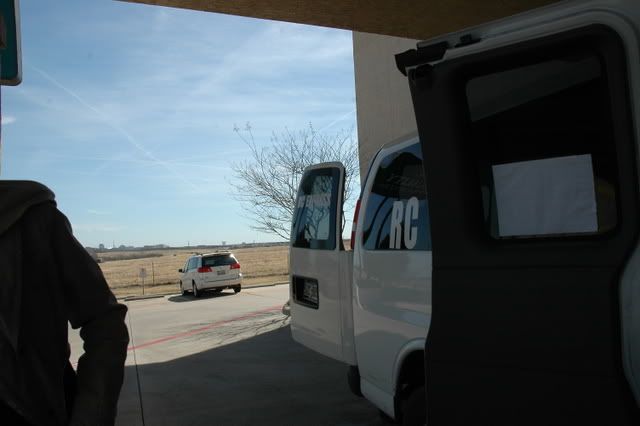 On that day only half of the people going arrived. Unfortunately I was left alone with hungry shopping girls and a firend's boyfriend who was going to buy everything his bride wanted to buy before their wedding. I felt alone and scared...
10 minutes later we were at Grapevine Mills going from store to store as if there was no tomorrow. I was seriously considering going into the movies and stay there all afternoon but I had to give it a try.
SIX HOURS Later
Went back to the hotel, eat pizza and went straight to sleep. Or so I tried cuz for a moment I thought I was sleeping in a freezer. Next day IHOP and Target were the plans for the day as I was not allowed to go to Six Flags...It was not open anyway.
Of course
Later that night we registered for the feis at the Sheraton Grand Hotel @ DFW.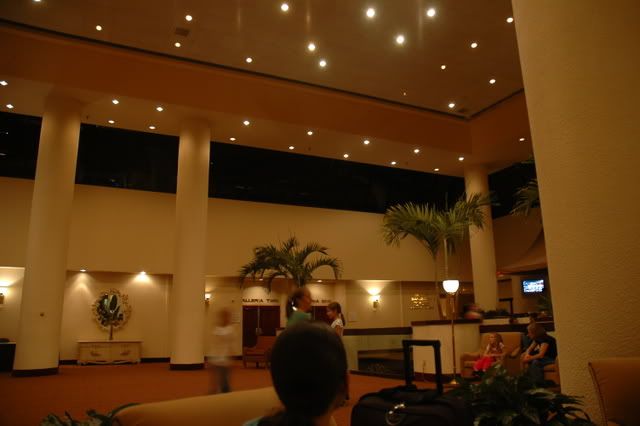 View of DFW from the Sheraton. Fedex Apron
Feis day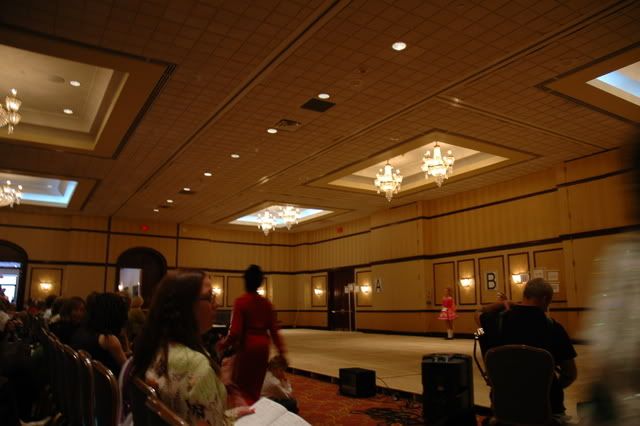 Random award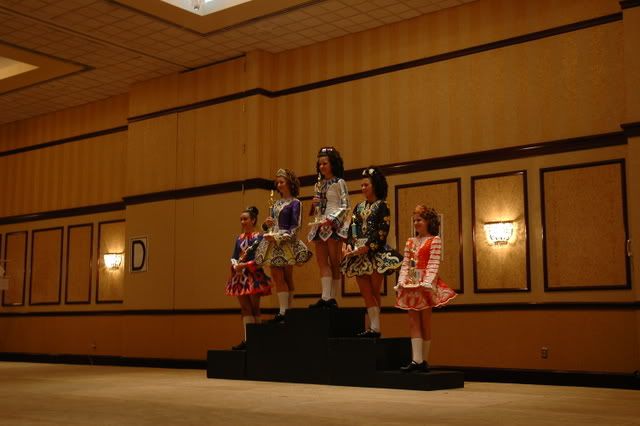 Me before competition with my top student
When it ended we went to dinner with me at the edge of collapsing with a dramatic pose going on.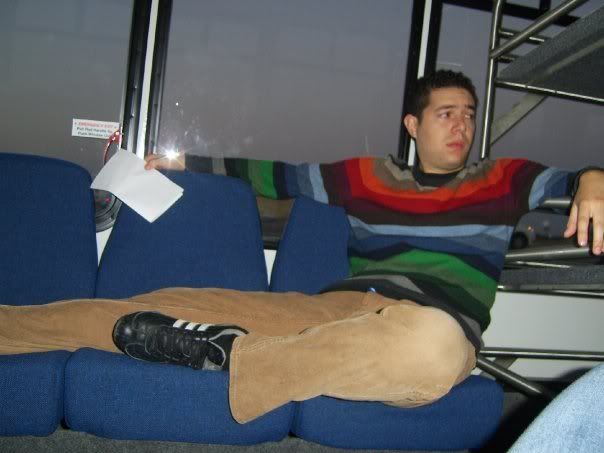 Afterwards everyone went to their rooms to pack and later on drink some beers while watching Cruel Intentions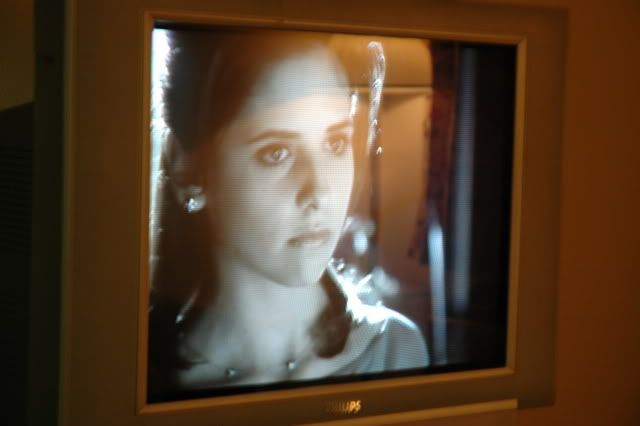 DFW-MEX
Mexicana de Aviacion
Flight: MX845
Depart: 15:25 /15:30 (Scheduled/Actual)
Arrive: 18:10 / 17:58 (Scheduled/Actual)
Duration: 2h 28min
Equipment: Airbus A318
Reg: XA-UBQ
Cabin: Economy/Turista
Seats: 9D
Seat pitch: Emergency exit row
Load: 98%
Gate: D11
Departure Runway: 18L
Arrival Runway: 5R
View Large
View Medium


Photo © Ricardo Morales Centeno - APM
Being devastated we arrived at the airport around 1:30 to find only one check-in counter open although the agent was doing a great job as the queue was moving very fast. Security was a breeze and it left us plenty of time to go around some of the stores that are inside Terminal D. We ate a chopped beef sandwich and then headed to the Gate which was a few feet away. After buying a Traveler National Geographic and doing some plane spotting I was ready to board on my second A318 adventure.
Getting into DFW terminal area with our Bangladesh driver aka Rocky which had us laughing for days!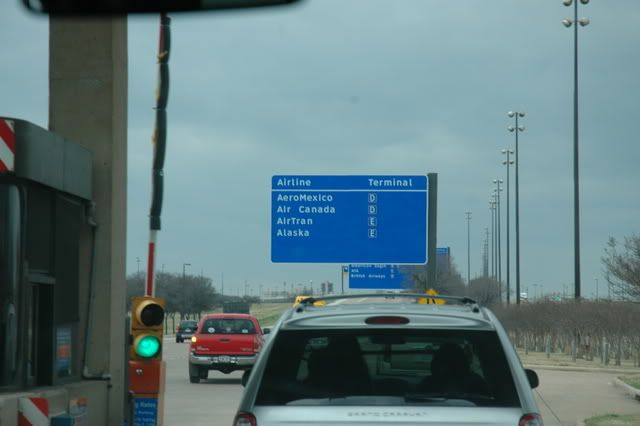 Hmmm KLM huh?
Some AA planes
Century Airlines 727?
I was actually taking a picture of the airlines sign but I wasn't going to take his ilussion away.
Welcome!
Terminal D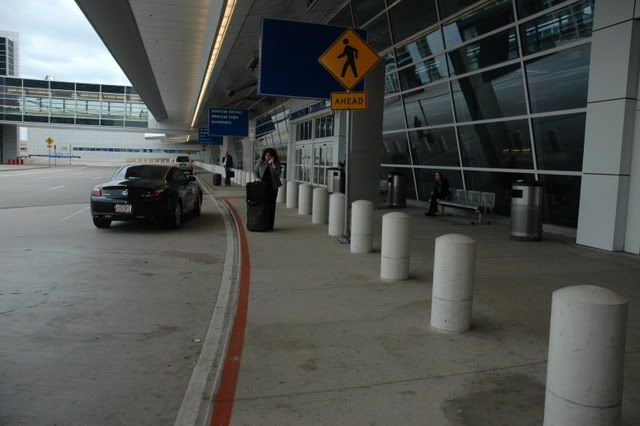 Departure Area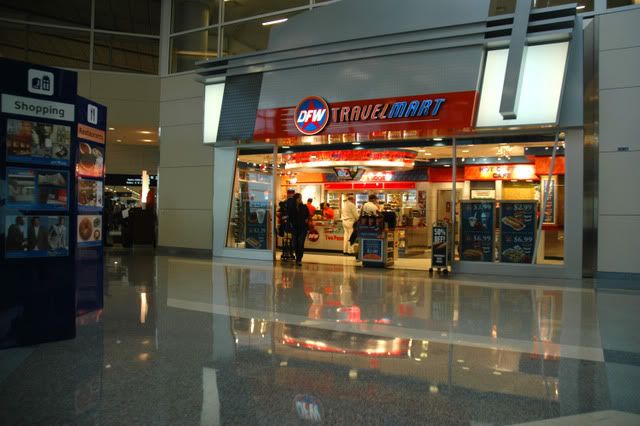 Gate Area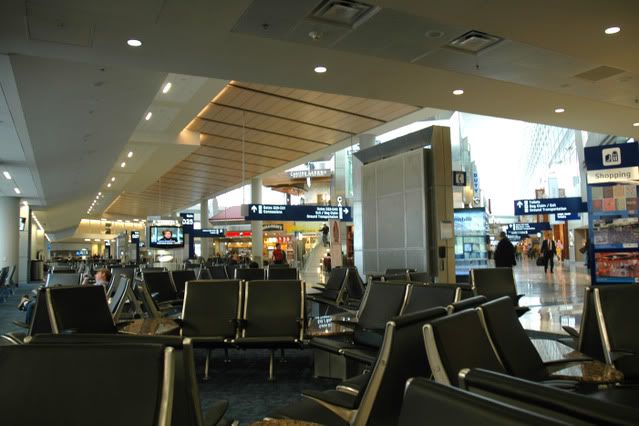 Our plane back home next to Lufty's flight to Germany
Very short isn't it?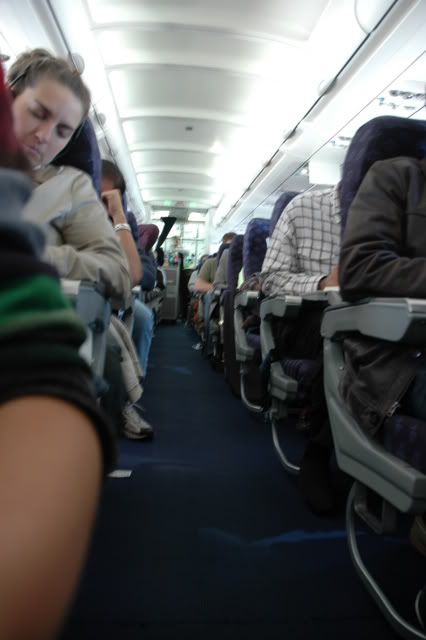 I love airline meals and eat almost everything they would give me, but this was a kick in the butt. The pasta was hard, the ham was terrible and the it looked radioactivly yellow
I slept for a while and then went back to talk to the FA and show them airplane pictures which I gave them some as a gift. They in exchange gave me a bunch ( like 15?) bags of peanuts lol. We landed in a Mexico City after a very roller coaster approach again. Headed to gate 35 and went to immigration and baggage reclaim.
Overall it was a pleasure flying with Mexicana. I find FA to be "nicer" than AM although I like AM alot as well. Mexicana offers nothing special in their flights but they don't lack the basics. In regarding going to the US, i'm indistinct into flying MX or AM.
Thanks for having the patience of reading this trip report and hopefully a MIA/FLL one will come in the future.
Cheers!
Alonso