View Large
View Medium


Photo © Manas Barooah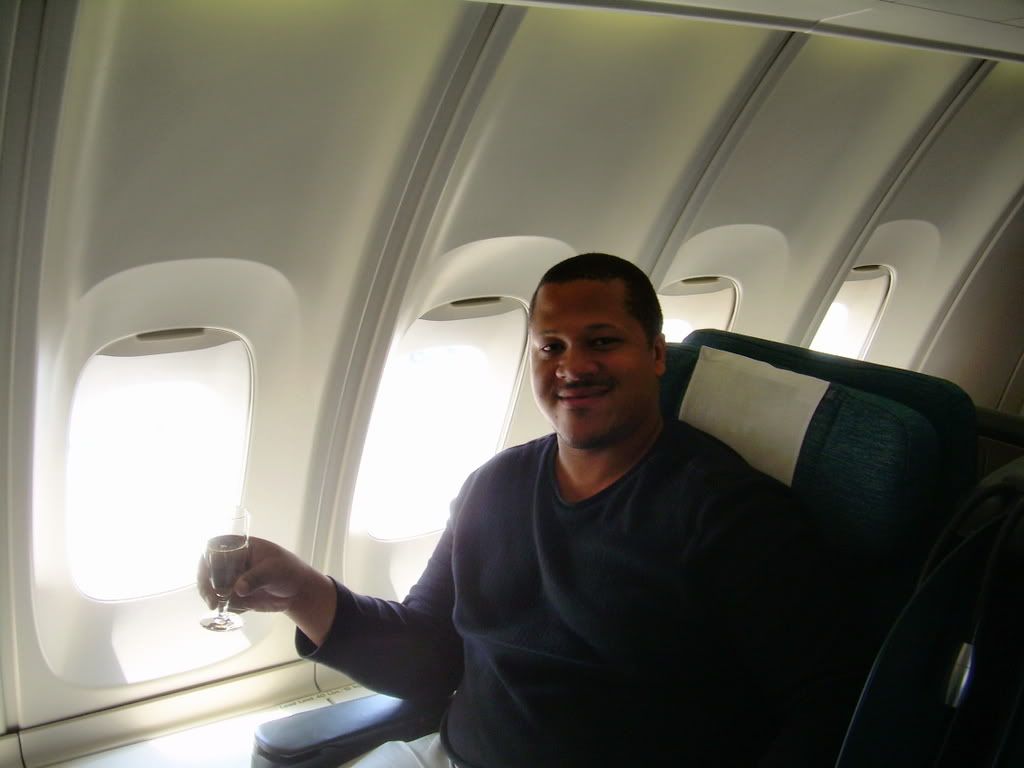 I spend the entire month of February in Thailand and briefly stopped over in Singapore.
It was mostly for business and but of course I am going to have pleasure in the process. I flew to Bangkok from San Francisco on United and again I was in business class. I was glad I flew the day of the Super Bowl. The 747 has half empty. I never saw so many open seats on a trans-Pacific flight. Considering the fact that the Green Bay Packers didn't make it to the Super Bowl, there was no point in watching it so I booked my trip the day of the game. Turned out to be a wise idea.
As usually, there service on United was wonderful. The captain announced the score of the Super Bowl during the flight. I was so tired and wasn't sure if I was dreaming or not but I was happy to hear the the Patriots lost. I went right back to sleep after the announcement. I must have slept a good 7 hours on this flight because I only had the meal after takeoff and shortly before landing. It is really hard for me to sleep the night before a long flight so I just stayed up all night packing and slept on the flight.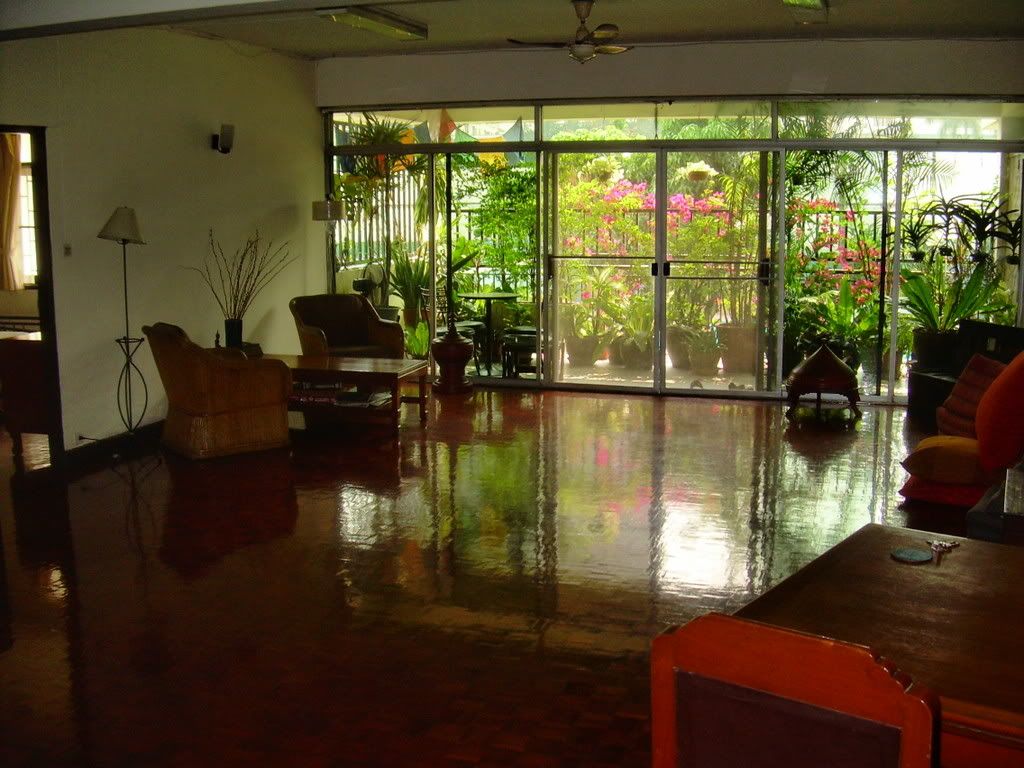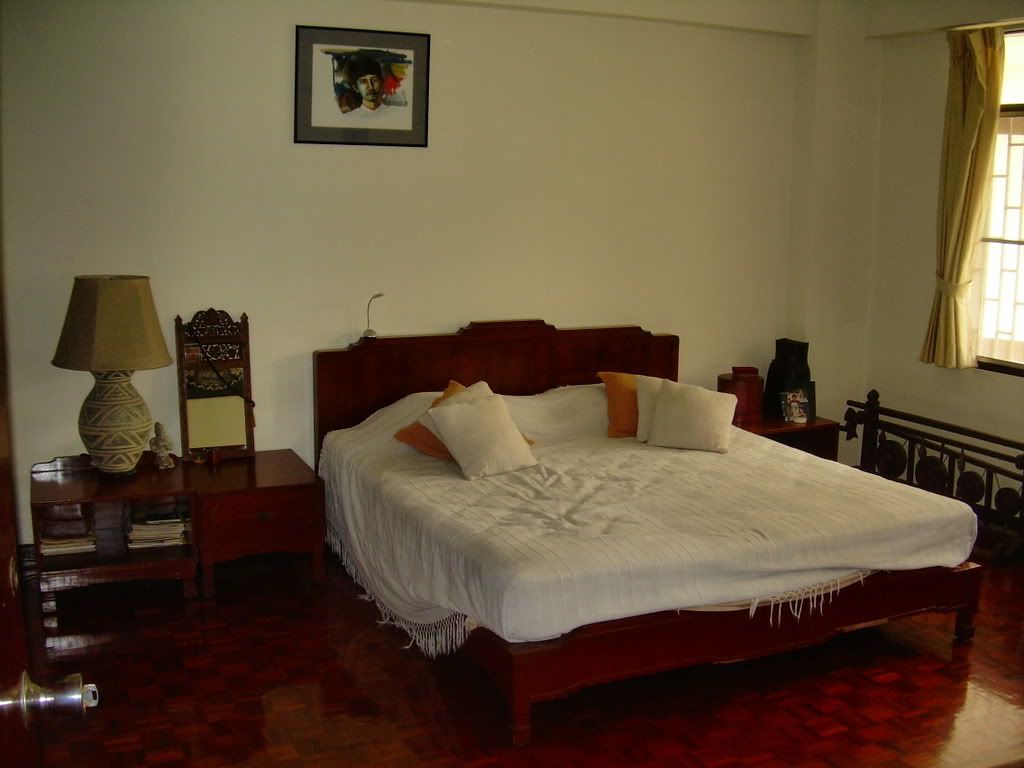 my pad in Bangkok
Instead of staying at a hotel, I rented a shared condo for the month in Bangkok. It was a nice place and relatively close to the main transit lines. I was closest to the Petchburi canal taxi. I missed this on my previous trips to Bangkok. That was amazing how people jump on to the rickety boat and cram in. The canal waters can get very choppy during rush hour when there are many boats passing through the canal. The blue tarp on the side of the boat is for you to raise up when a passing boat goes by. That is so water won't splash up on your face.
The fare collectors scale the side of the boat hanging on to a rope and walking along a plank that isn't more than 5 inches wide.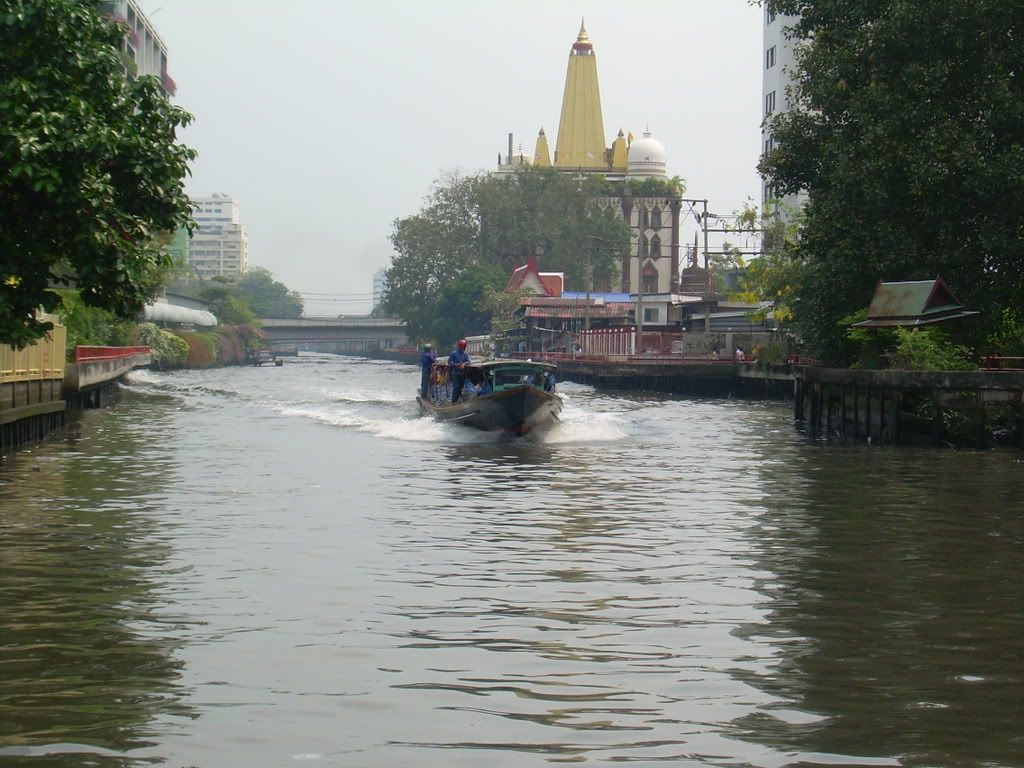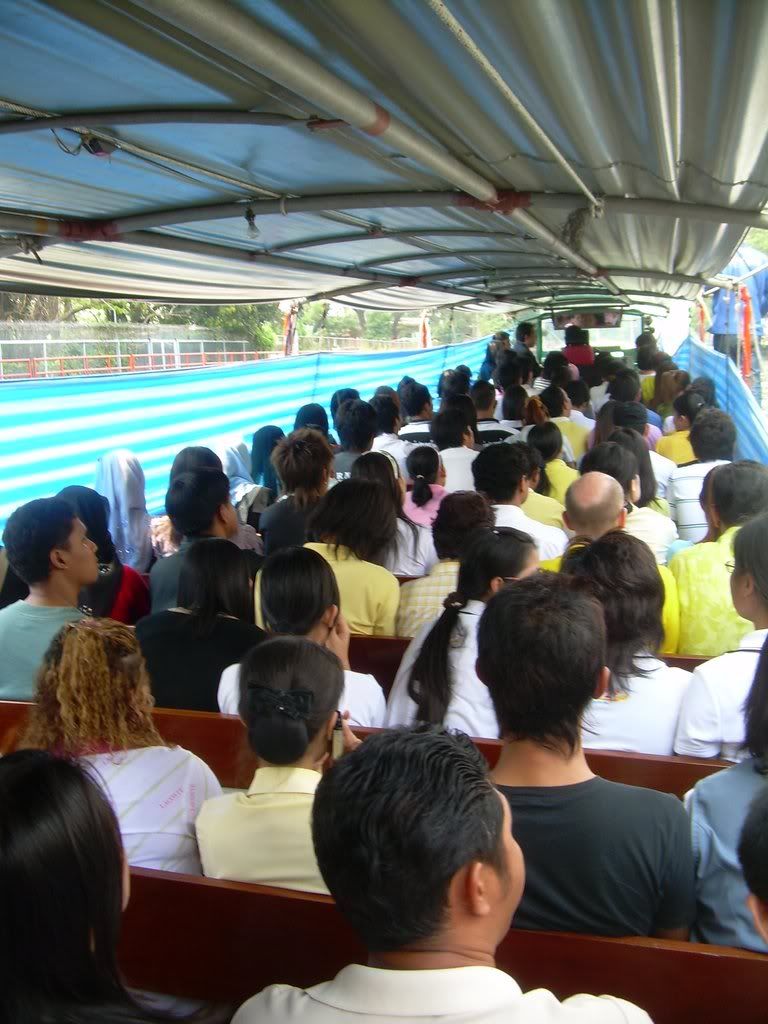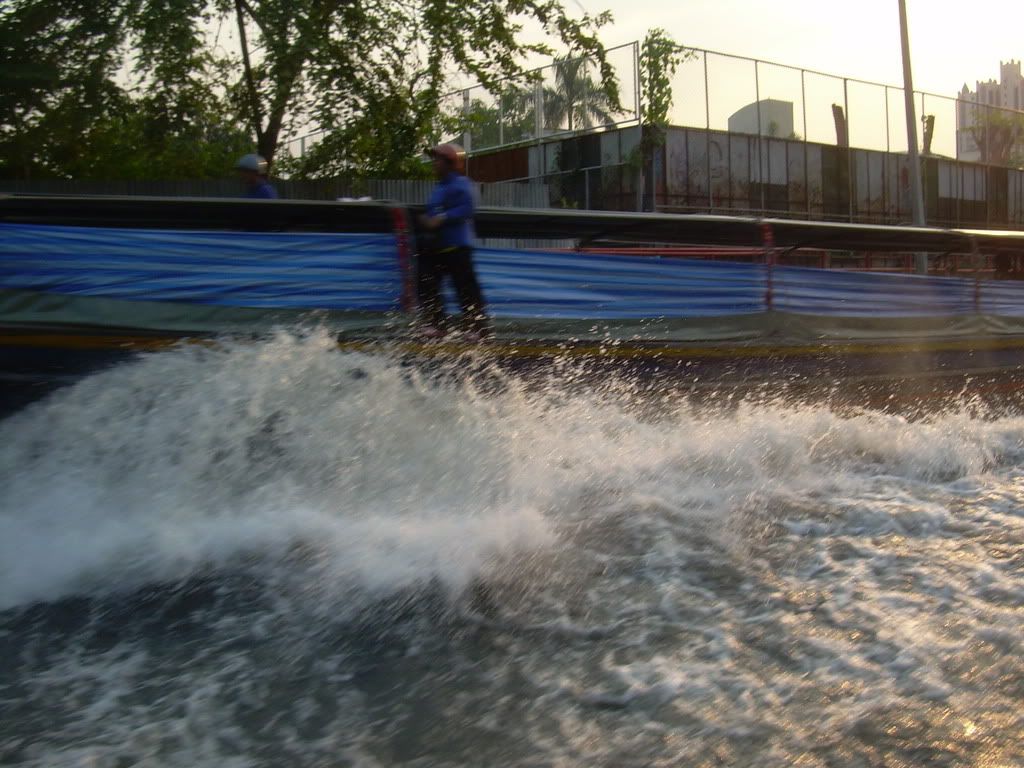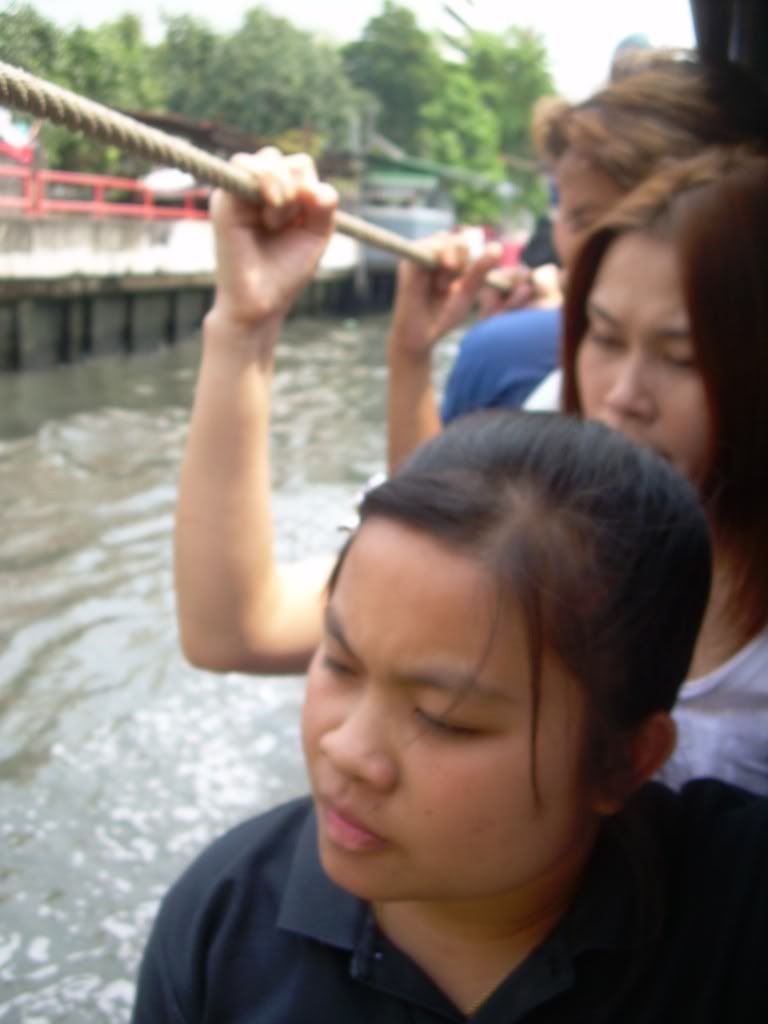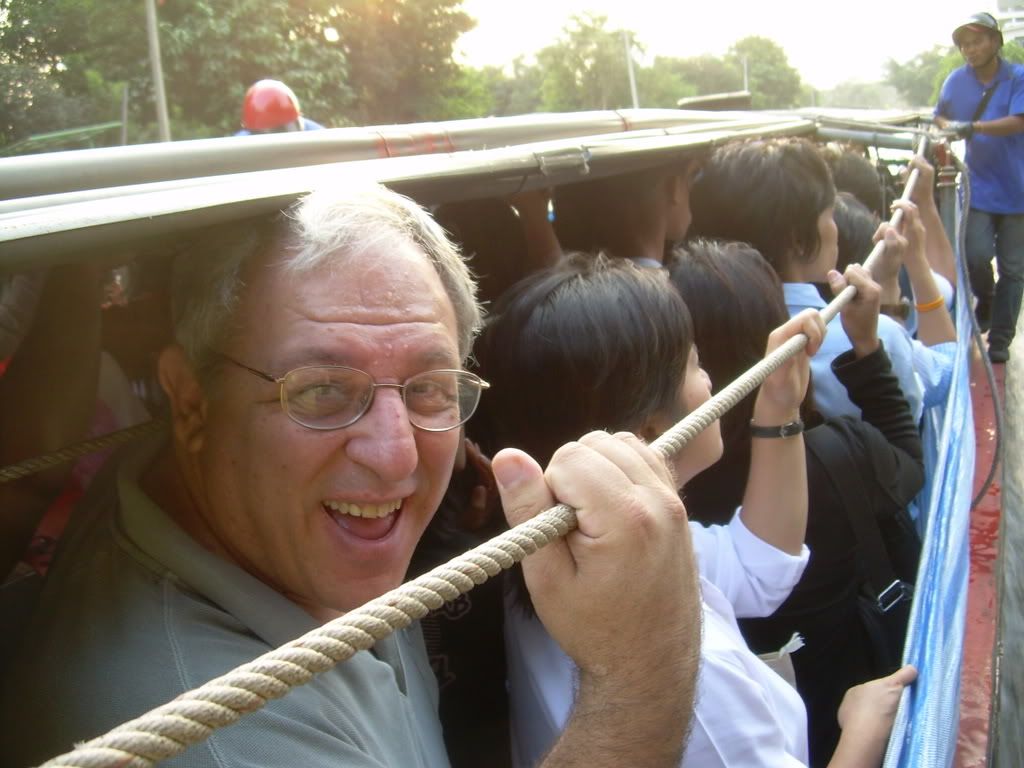 That funny looking guy in the picture is Airliners.net member Fridgmus.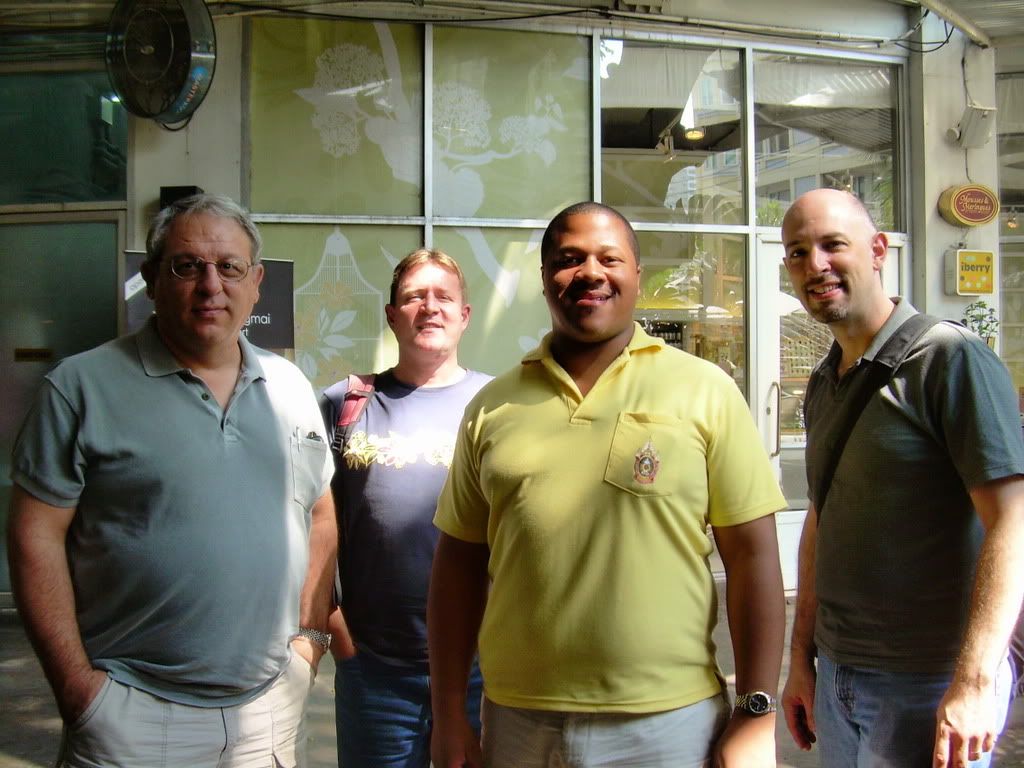 mini-meet in Bangkok
We had a small impromptu Airliners.net gathering in Bangkok with me, Fridgmus, ChrisTao17 and that other guy who I forgot to ask his username.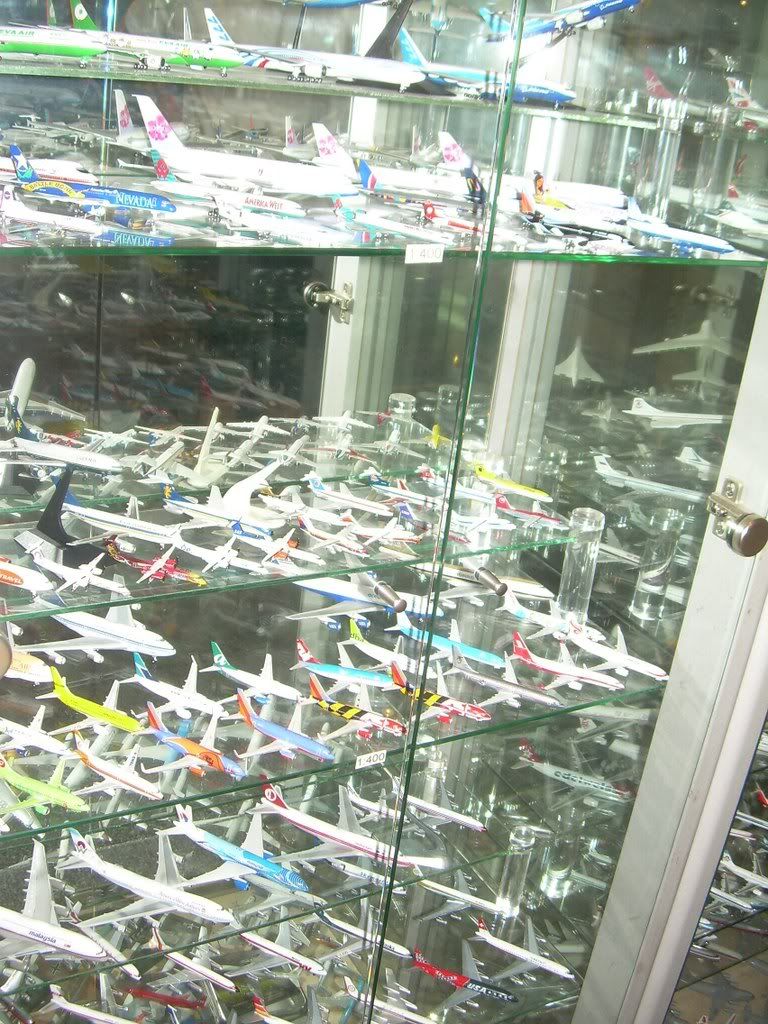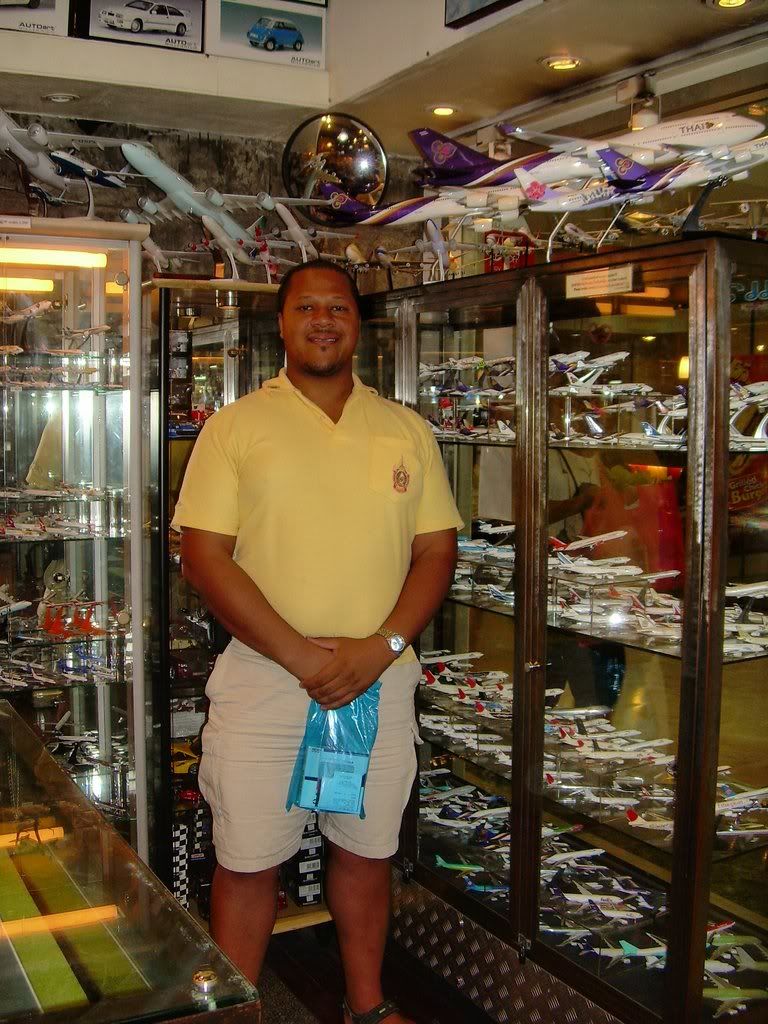 I stopped by the MBK mall to found a model plane shop. This place is awesome! I could have spent all of my money in this store. There were so many cool model aircraft at this store. I bought a 1:500 scale BOAC VC-10.
This toy is just WRONG!
This was at a different store at MBK.
I made a visit to the Civil Aviation Training Center in Bangkok. I met with a few staff members and had a tour of the facility. I would love to attend this school. All I need is $61,000.00 (USD).
Any donations?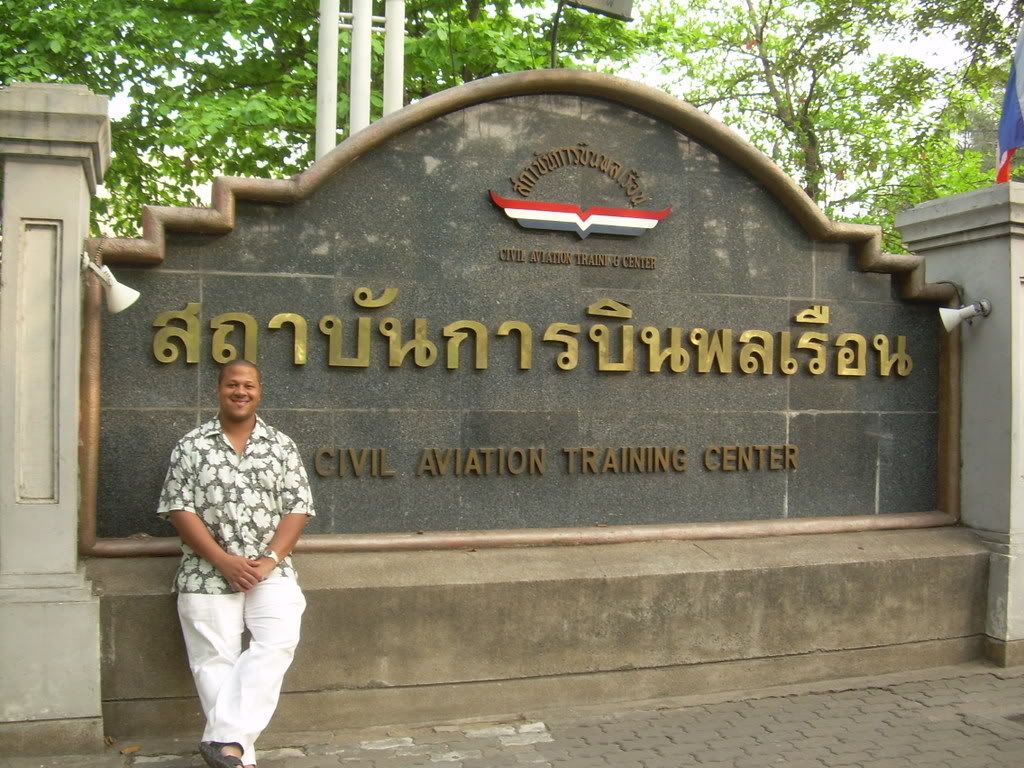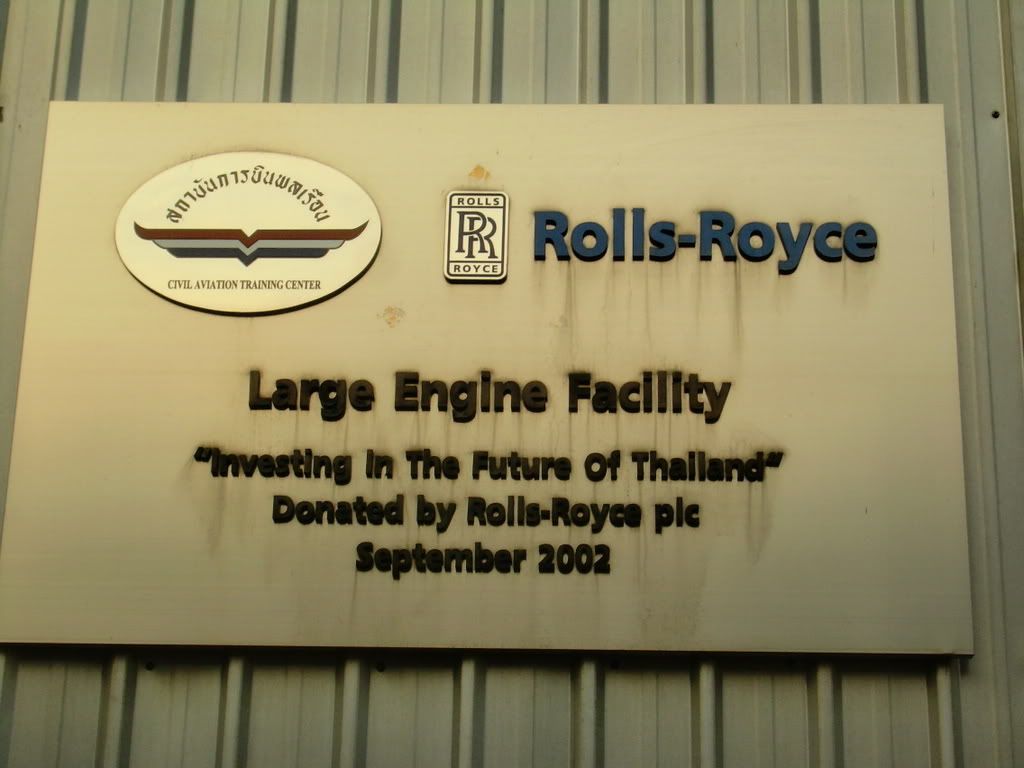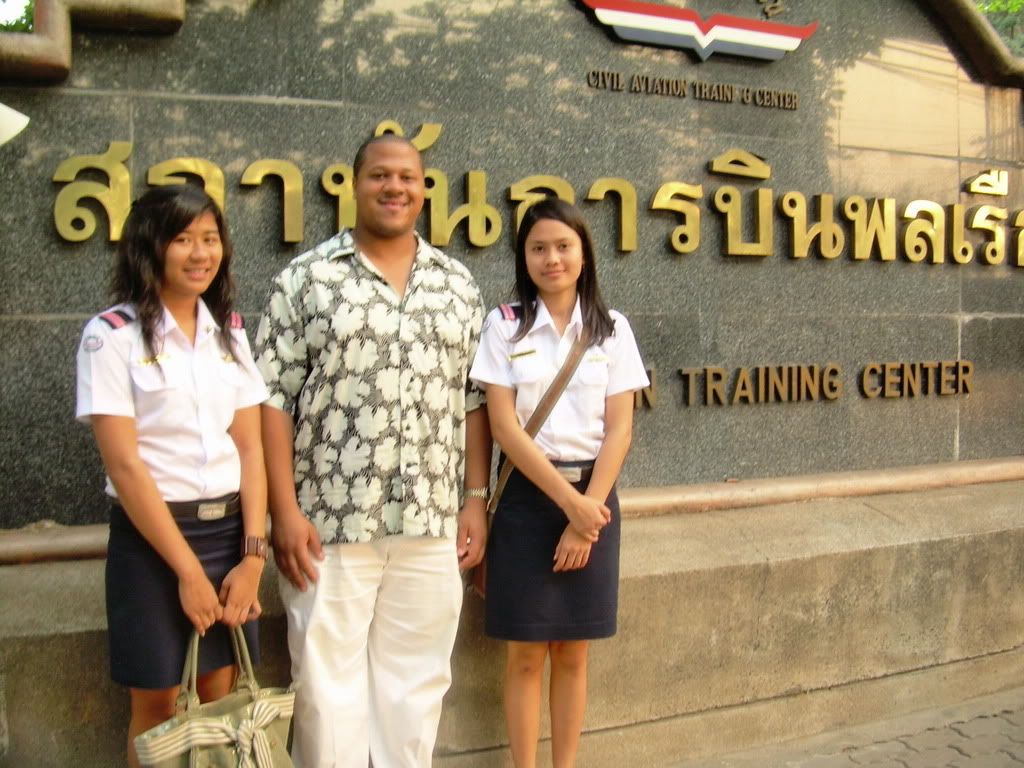 One of the things I love about Thailand is the food. A good friend of mine who works at Suvarnabhumi showed me an awesome restaurant near Suvarnabhumi. It is in the takeoff / approach pattern (north-south direction) of Suvarnabhumi .
This is a place where many of the support staff at Suvarnabhumi go and eat after work. It is one of those places where you grill the food yourself at your table. The whole menu is in Thai and so are all the customers and staff. This a great way to learn another language. No tourist go here and the food is awesome and very cheap. 99baht per person ($3USD). The only downside was the live music in which the performer placed very back versions of Lionel Ritchie covers. I was hoping to hear traditional Thai music instead. Oh well.
There were several other places similar to this on the outskirts of Bangkok that I ate at.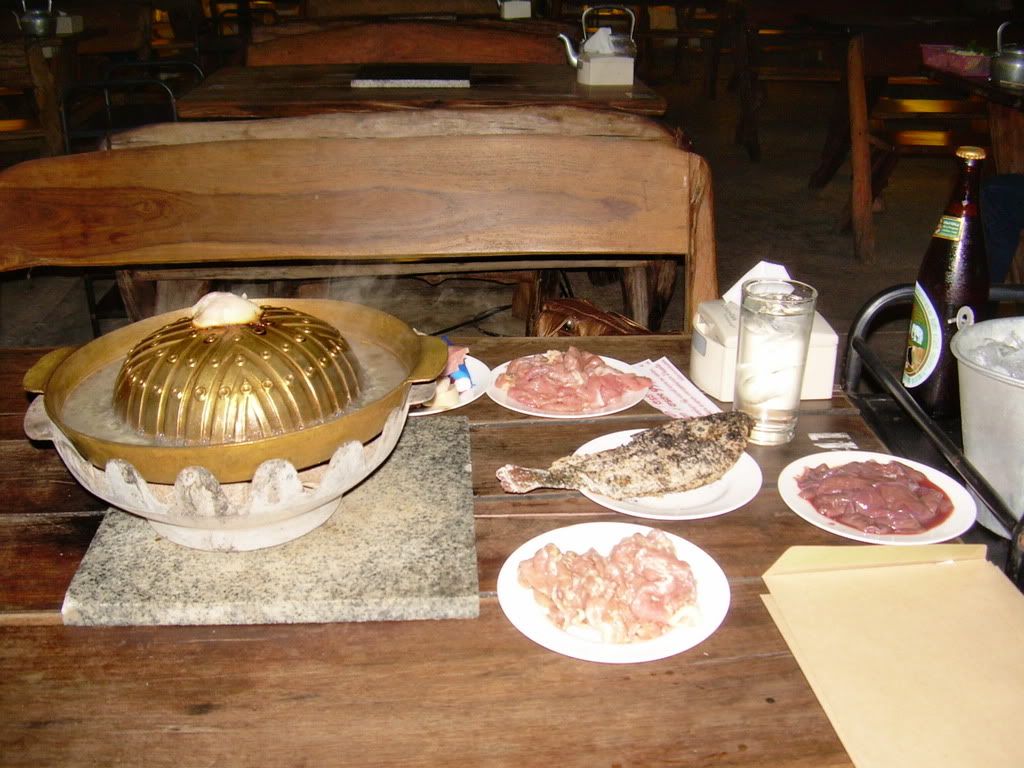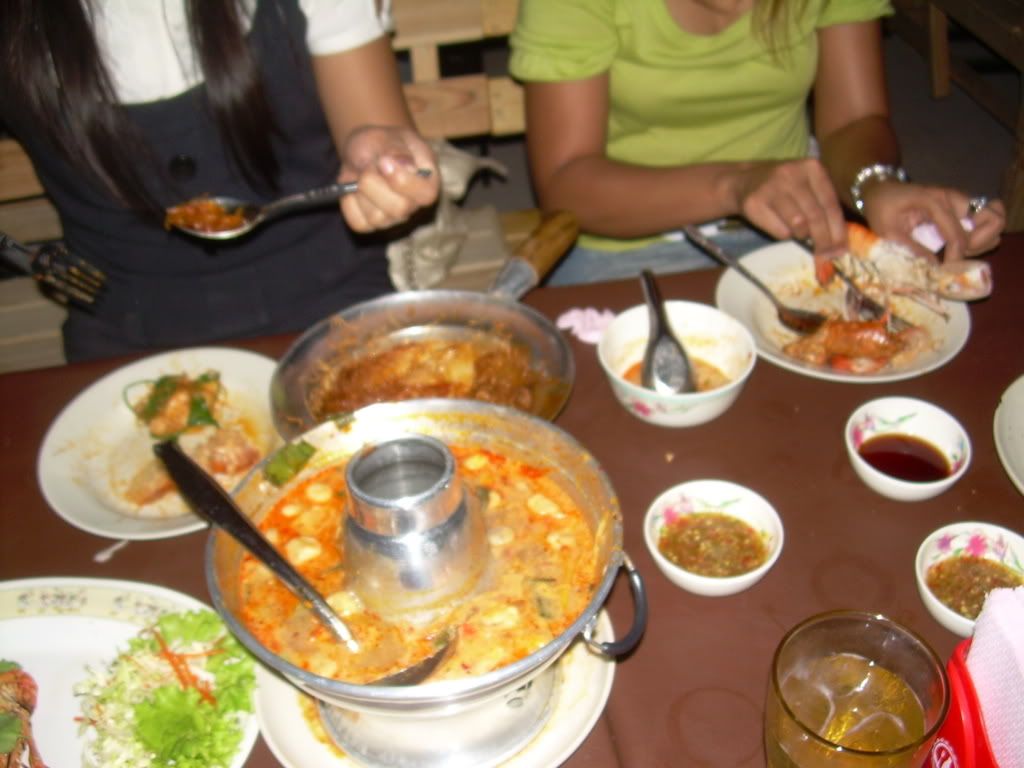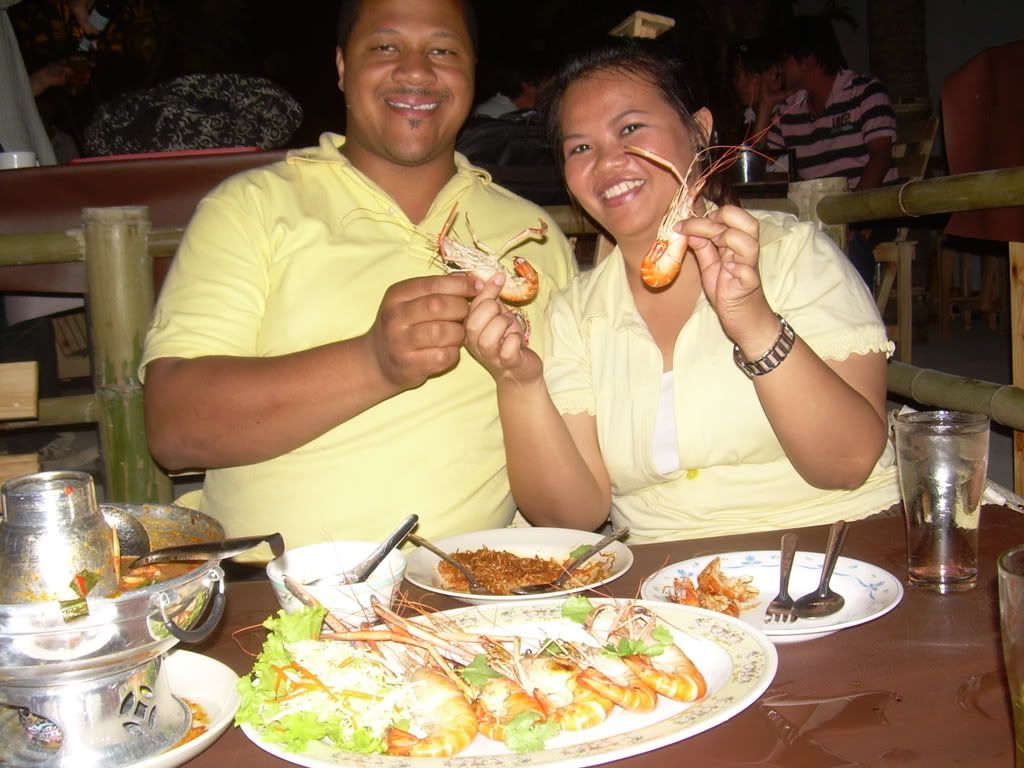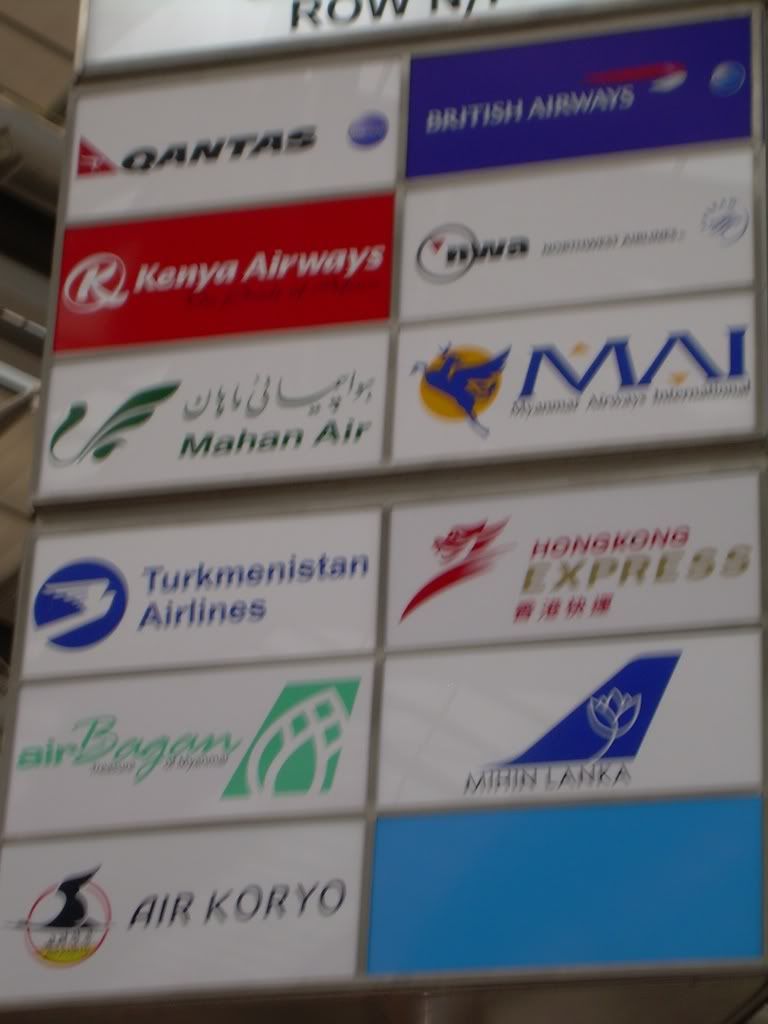 Interesting to see a sign for North Korea's Air Koryo. I wish I could have seen their IL-62 at Suvarnabhumi.
After Bangkok, I went to Singapore. This time I chose Cathay Pacific. I flew business class on the upper deck of their 747.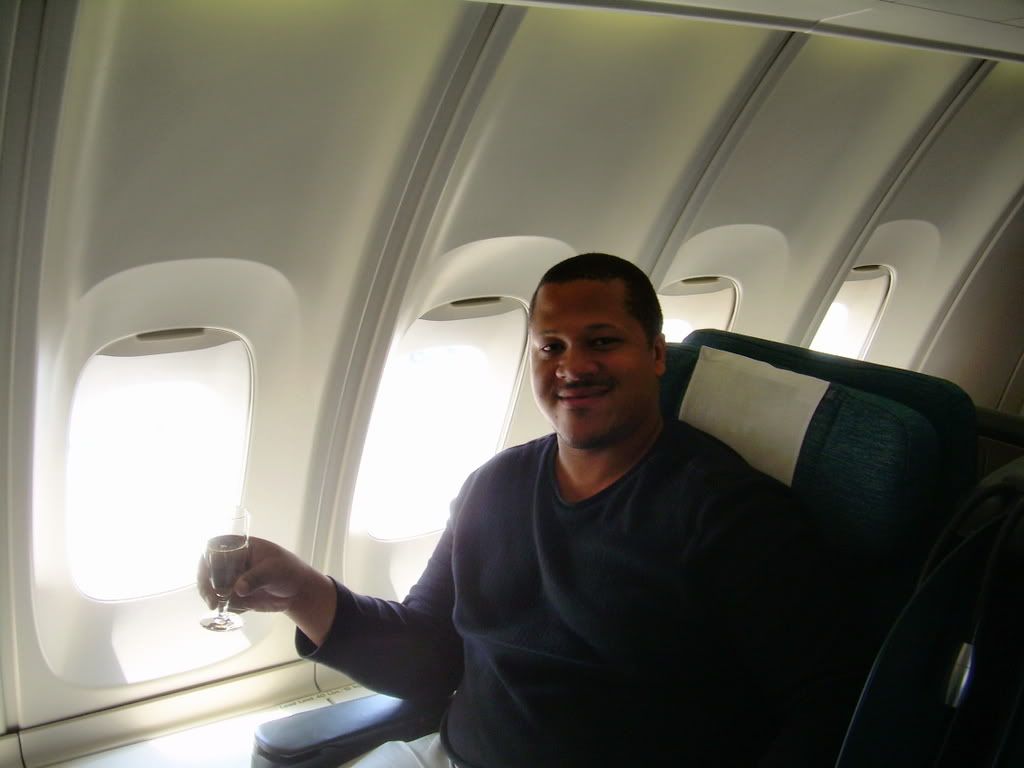 Their new business class seats are great. They are lay flat seat but at an angle. Very comfortable seats indeed. The service was very good. Prior to push back I had a few rounds of their champagne.
They served Billecart-Salmon Brut Champagne.
It's a lot better than that Andre Cold Duck I've had on the ground.  
The starter meal was marinated and smoked salmon with vegetables and parmesan cheese.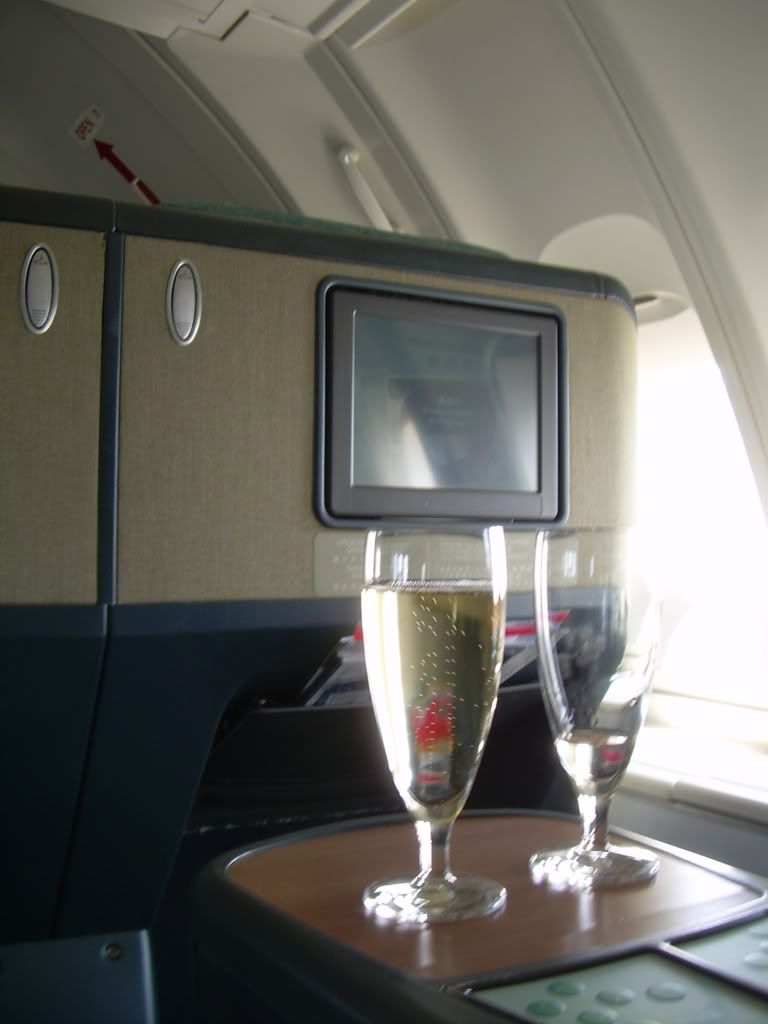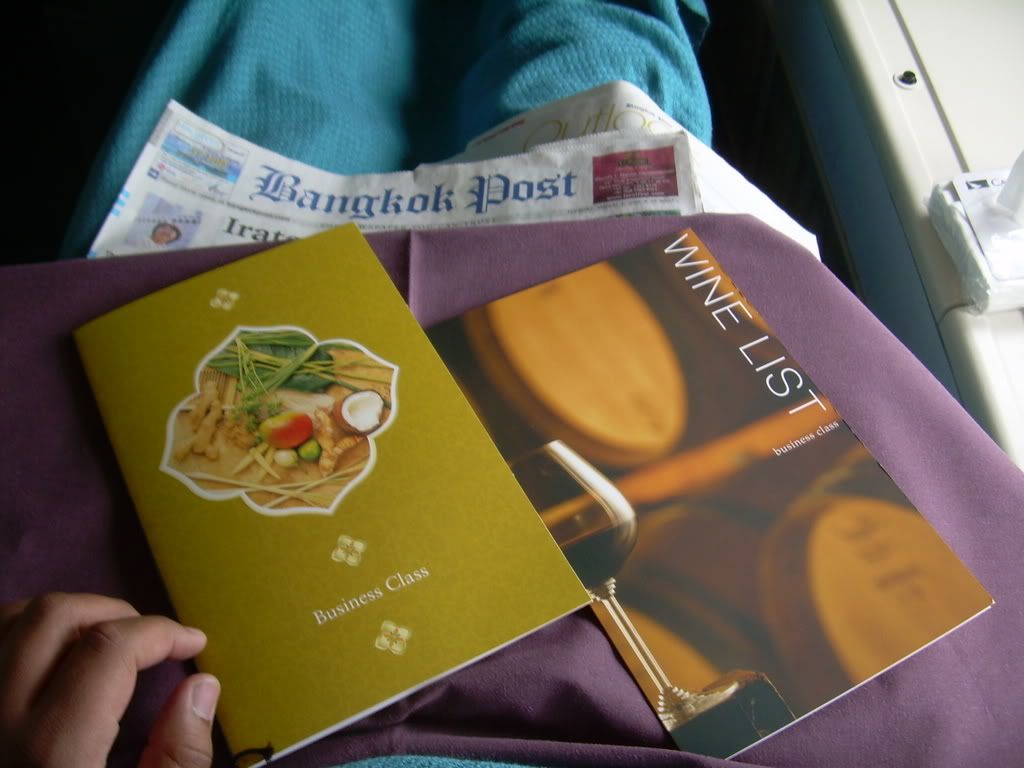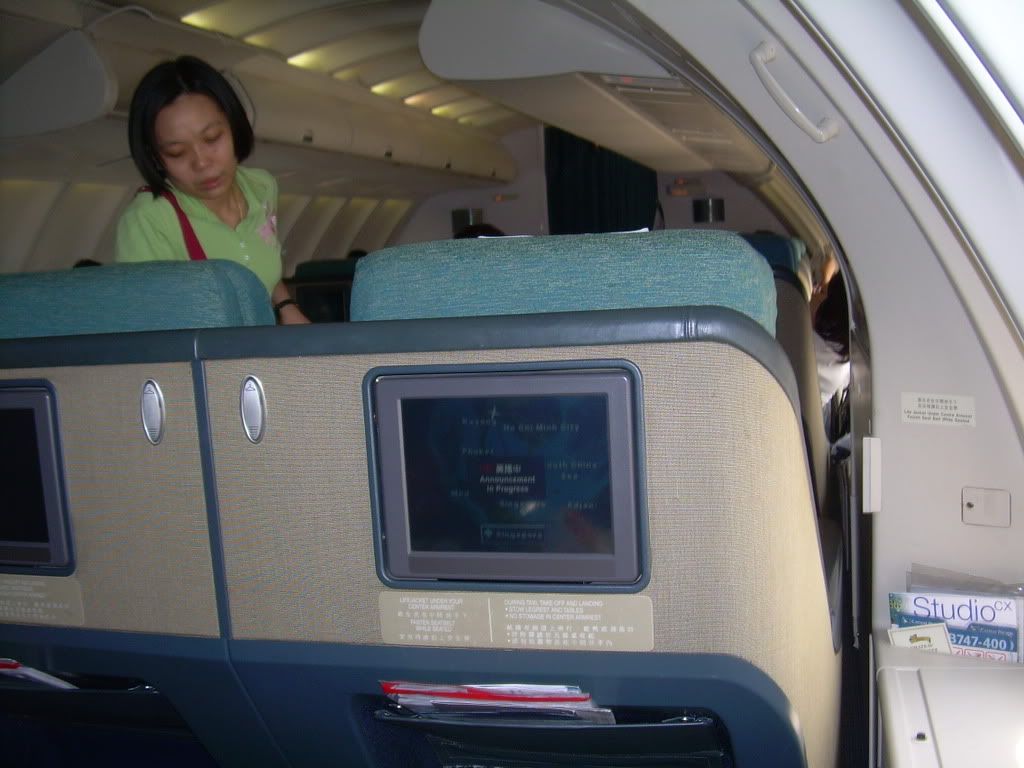 The main course meal I chose was stir-fried pork with green peppercorns, steamed jasmine rice and sautéed cabbage and carrots. I passed on dissert as I don't really have a sweet tooth. I did had Cathay Pacific's signature drink Cloud Nine. It is a concoction of vodka, cointreau and Sprite and a hint of lemon flavor.
Sorry my camera started acting up on this flight and was not able to get a good picture of the meals.
When landing in Singapore, I saw their A380 and as I tried to get a picture, my camera didn't want to focus. This is what I get for using a cheap Nikon digital. I should have brought my trusty and very reliable Canon 35mm SLR rebel.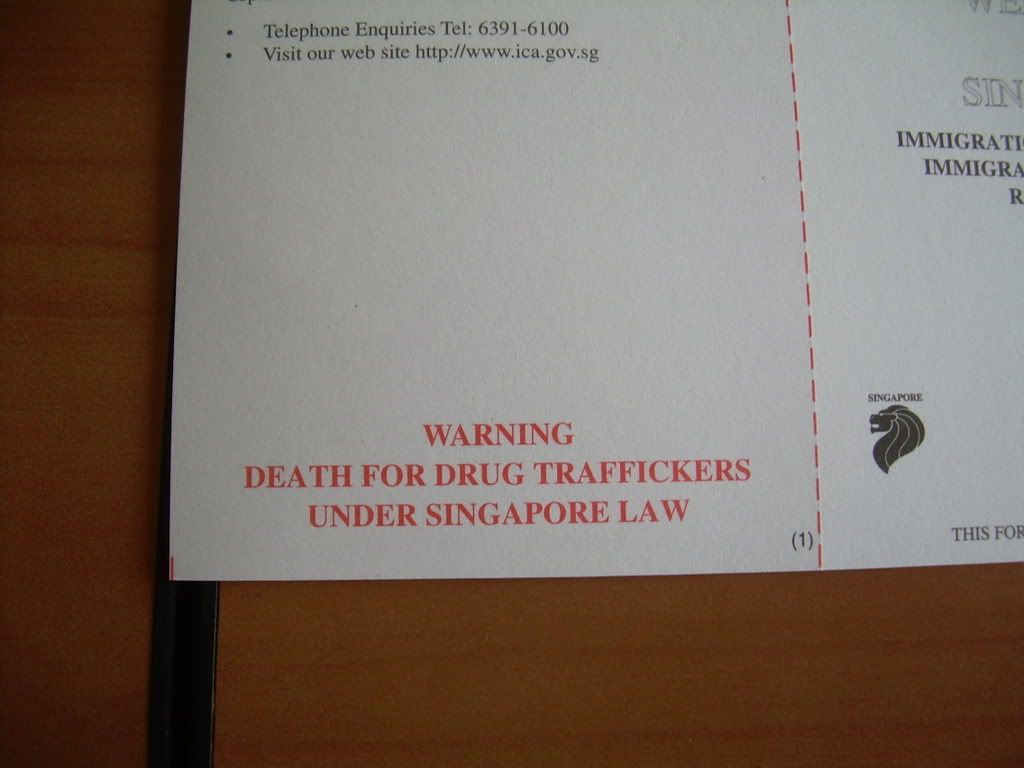 death warning for drug smugglers
You don't see these warnings often unless you are going to Singapore.
This was my first time in Singapore. I was very impressed with Singapore. I had to meet up with an associate shortly after I landing. I ended up taking the subway in to downtown Singapore. Two cute young ladies saw that I was a bit confused with the directions I had. They explained to me where I had to go and were kind enough to get off at the station I needed to get off at walked with me to where I needed to go. One of them actually liked me so we are staying in contact. Just 1 hour is Singapore and already the place has left a very positive impression on me.
Later on that evening, me and a friend went out drinking downtown and the place seemed very Western. I felt like I was downtown any major American city. Then again, I had just spent an entire month in Bangkok.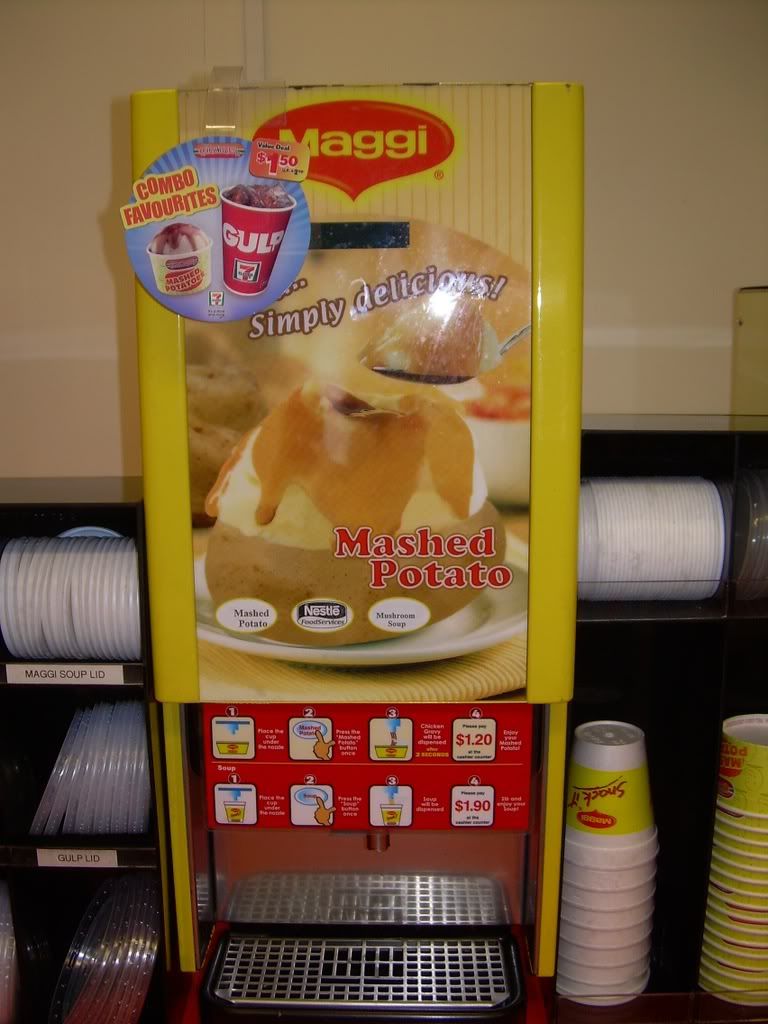 Don't ask me why I found this fascinating but this is a mashed potato and soup dispensing machine. I saw this at a 7-11 in Singapore.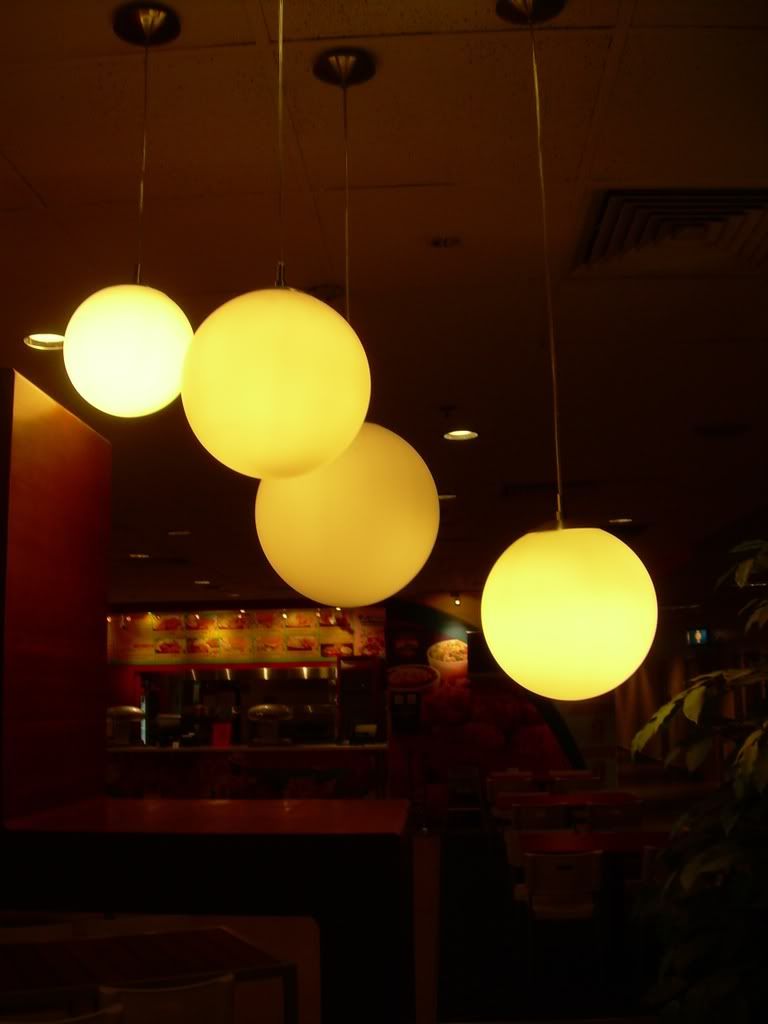 These light globes at the Singapore airport really caught my attention. I love these because they look so 1970s. This was at the 24 hour food court on the 2nd. Floor.
My flight out of Singapore back home was on United Airlines through Hong Kong. I flew business class on my flight back. They service was great on both segments. On the Hong Kong – San Francisco leg, I had the best in-flight meal ever. I wish I had saved the menu so I could have remembered the kind of steak I had. It was a steak with mashed potatoes and vegetables. I do remember the menu mentioning some sort of 'Kenyan' seasoning or sauce. Perhaps some members here might know what kind it was. The steak was on par with steaks I've had at high-end steak houses. Kudos to United Airlines for providing such outstanding meal service.
The Cathay Pacific flight was outstanding as well and someday would like to fly them long haul.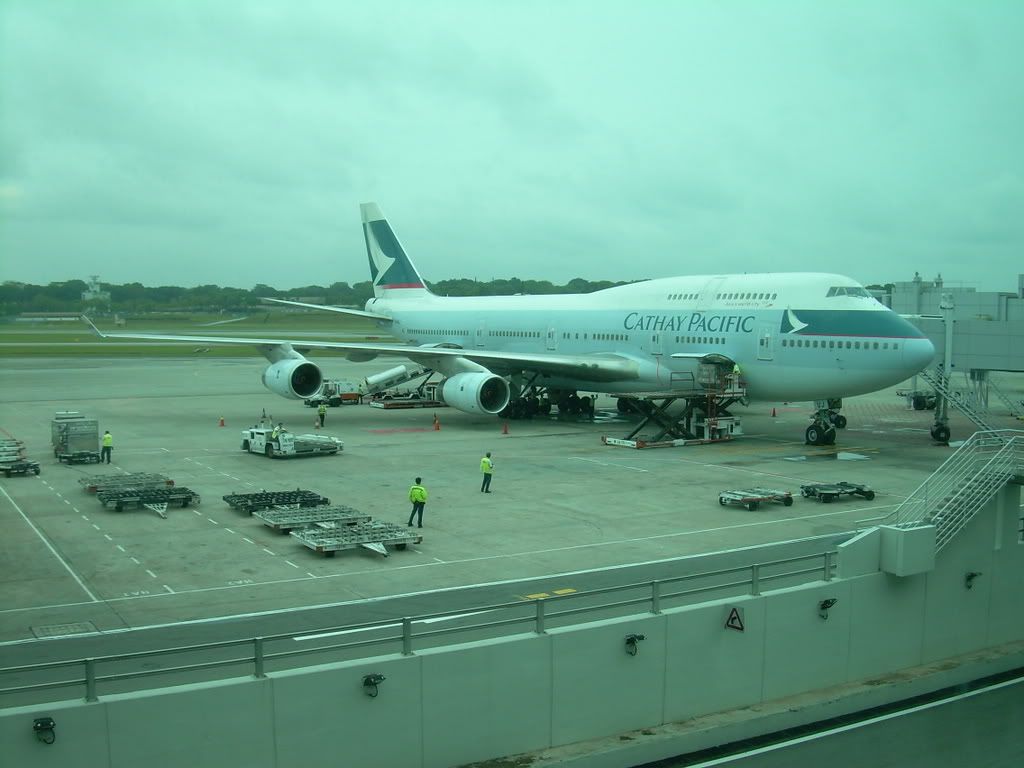 [Edited 2008-03-12 18:24:56]