The triple A trip: Aegean Airlines to Athens
Hello, dear readers,
time for some more experiences from my latest travels.
Athens was the destination, some spring sun in Greece will be nice, so I thought.
OK, follow me to southeastern Europe.
Tuesday, 11.03.2008
STR (Stuttgart-Echterdingen) - MUC (Munich-Franz-Josef-Strauss)
Duration: 40 minutes
Service Lufthansa LH 1365 operated by Contact Air Interregional ATR 42-500 D-BQQQ
Scheduled: 07.00 // 07.55
Actual: 07.15 // 07.55
Gate: 156 Seat: 11A
Load factor: Around 90 %
Fare: 53,26 EUR
History:
29.10.1999: Delivered to Eurowings
17.03.2004: In service with Contact Air
Leg no. 5 on the AT45 and the second on this machine
Tuesday morning, a windy but dry morning in southern germany.
I´ve really looked forward to this flight, the wheater forecast shows some stormy winds up to 80 km/hs.
And prop flying is from my point of view much more real flying than on the larger planes.
Not that much traffic, so I was present there at the airport around 06.00 am.
Check-in was usual done online the day before, no time to wait at T1 security and than I´ve checked my gate
on the groundlevel T1 for my flight to MUC.
Boarding no. 001, scheduled time 06.40 am.
A bus arrived and the female agent opened the doors perfectly ontime, the bus filled up, it seems a good load today.
Nearly 100% biz people for the domestic hop to MUC.
Tail shot, D-BQQQ at STR: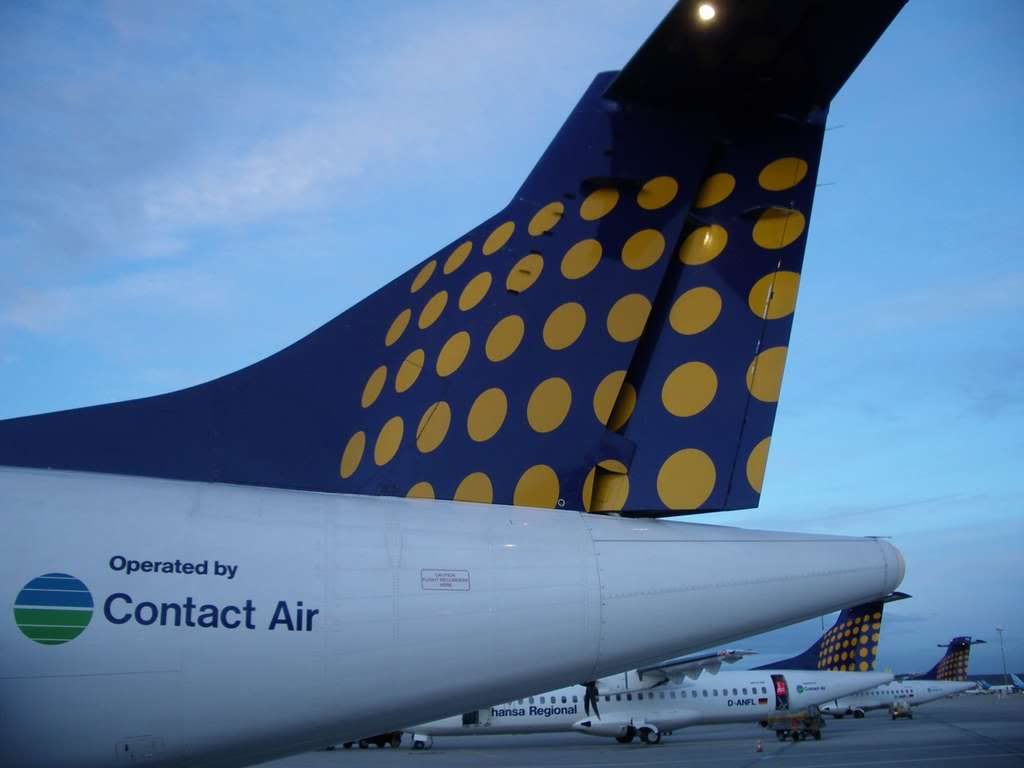 Boarding: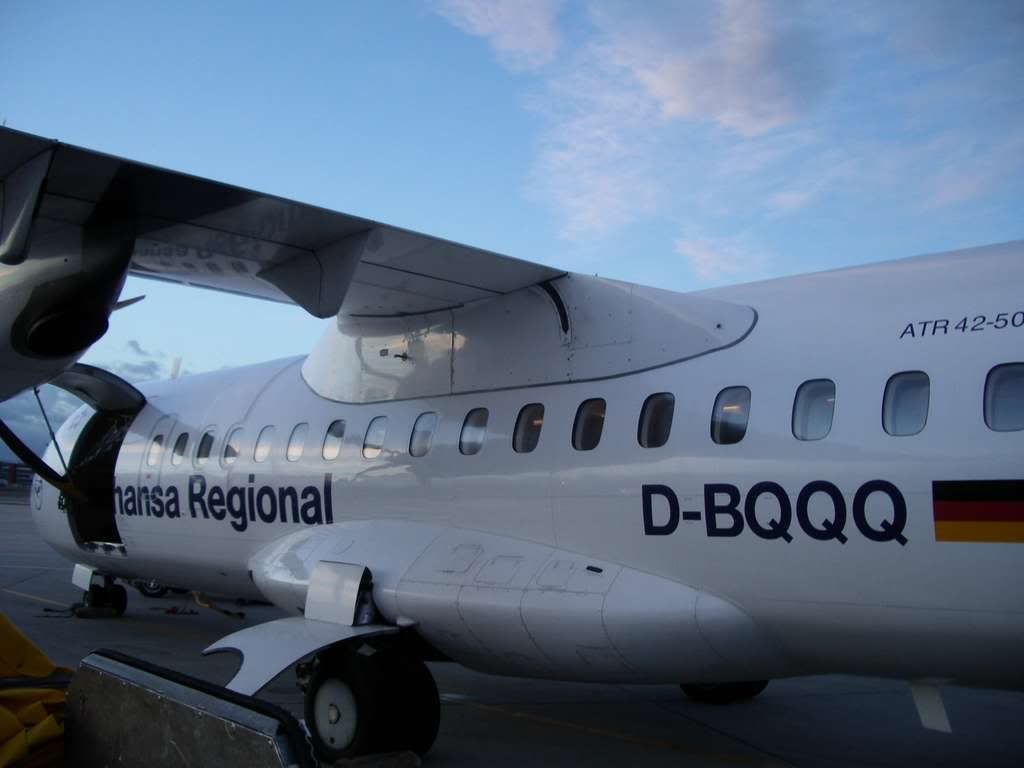 Two friendly female FA´s today, usually one FA on the ATR.
Later I´ve noticed that the younger female was a trainee.
Departure from runway 25 after some minutes to
wait, the usual 07.00 am morning rush.
STR from above: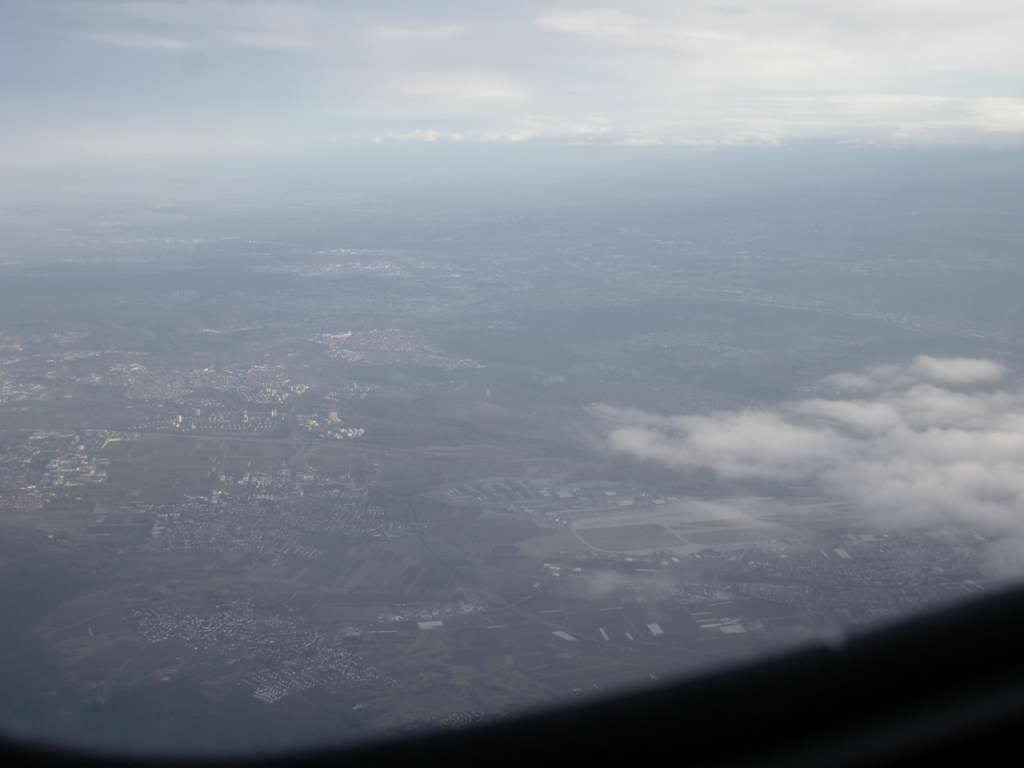 The ATR fitted with bright, grey leather seats, clean, in good conditions.
I´ve expected some shakers according to the winds, but takeoff was as usual, nothing special to notice during cruise.
There was a free drink service.
Augsburg was visible inflight, the flight deck crew was from germany, a welcome announcement earlier on the ground,
once more inflight, but nothing to understand, it seems some problem with the speakers.
The wind was much more noticable during approach to MUC´s runway 26R, the ATR shaked around, only some meters above the runway
we bounced from one side to the other, but leveled out and touched down with immediate heavy brakes to reach the exit directly to the
regional apron.
Deboarding at MUC: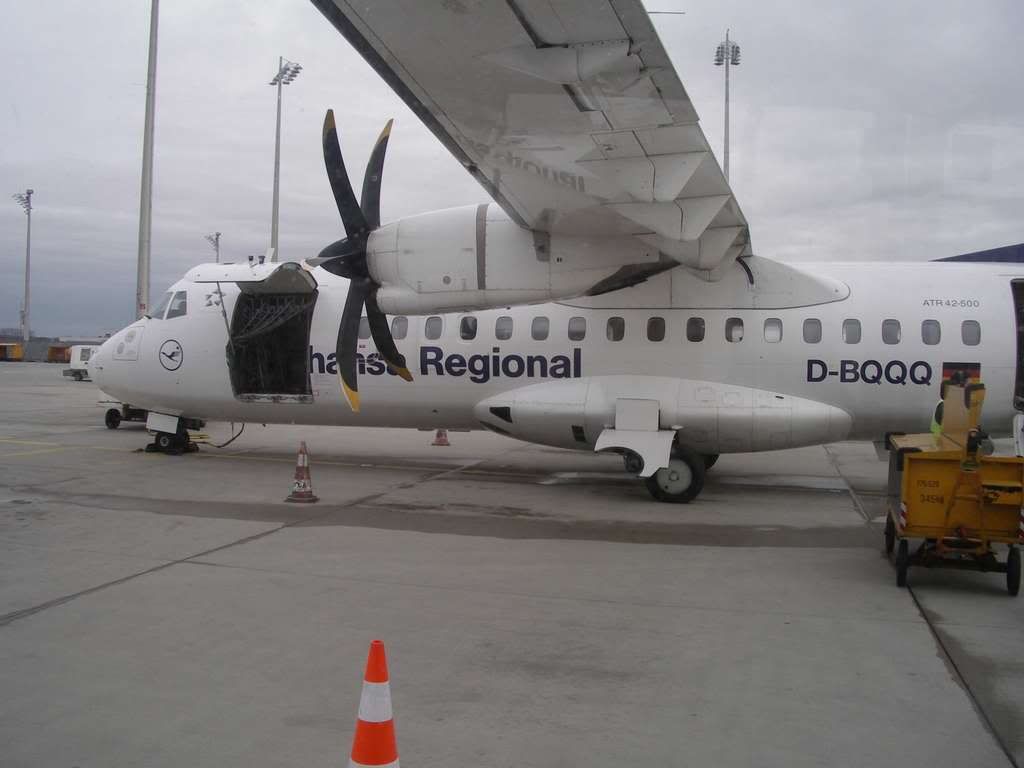 A Hon-Circle Maybach stopped beneath the plane, some special service for me today?.
Nope, the classic bus debording, a young male leaves the plane late and entered the Maybach.
Tuesday, 11.03.2008
MUC (Munich-Franz-Josef-Strauss) - ATH (Athens-Eleftherios-Venizelos)
Duration: 2 hours, 20 minutes
Service Lufthansa LH 3374 operated by Aegean Airlines Airbus A320 SX-DVK
Scheduled: 09.20 // 12.50
Actual: 09.30 // 12.50
Gate: G10 Seat: 29F
Load factor: Around 95 %
Fare: 53,26 EUR
History:
12.02.2008: Delivered to Aegean
Leg no. 38 on the A320 and the first on this machine
I´am always impressed about MUC, that large and spacious building, good views, not bad.
That second flight today was again something I´ve looked forward.
I´ve flown Aegean domestic in Greece but not on international services till now.
And I hoped for one of the new Airbus planes.
The plane was arrived early from ATH and parked at the gate when I´ve reached the area, not easy to catch the registration.
Some shots of SX-DVK at MUC: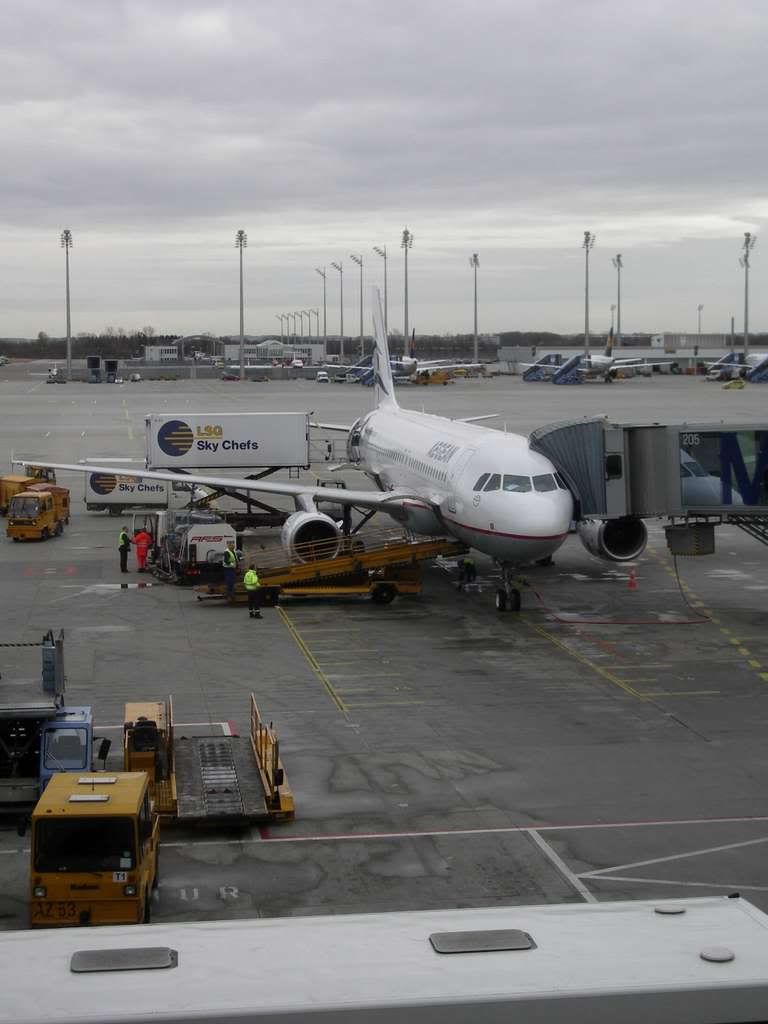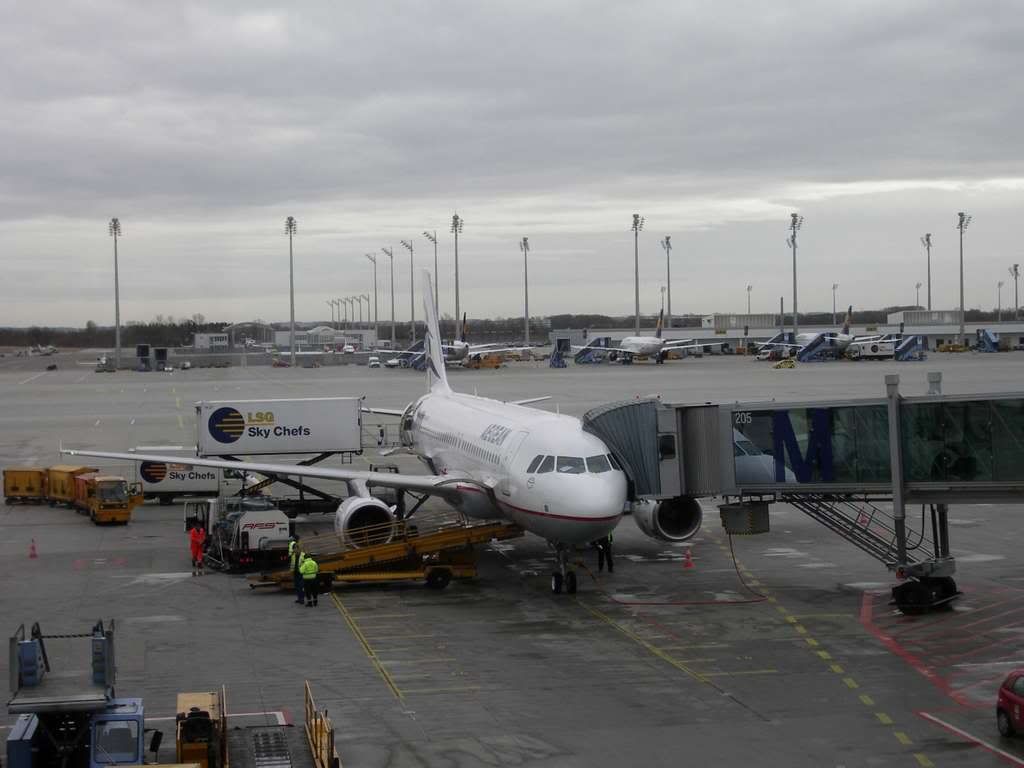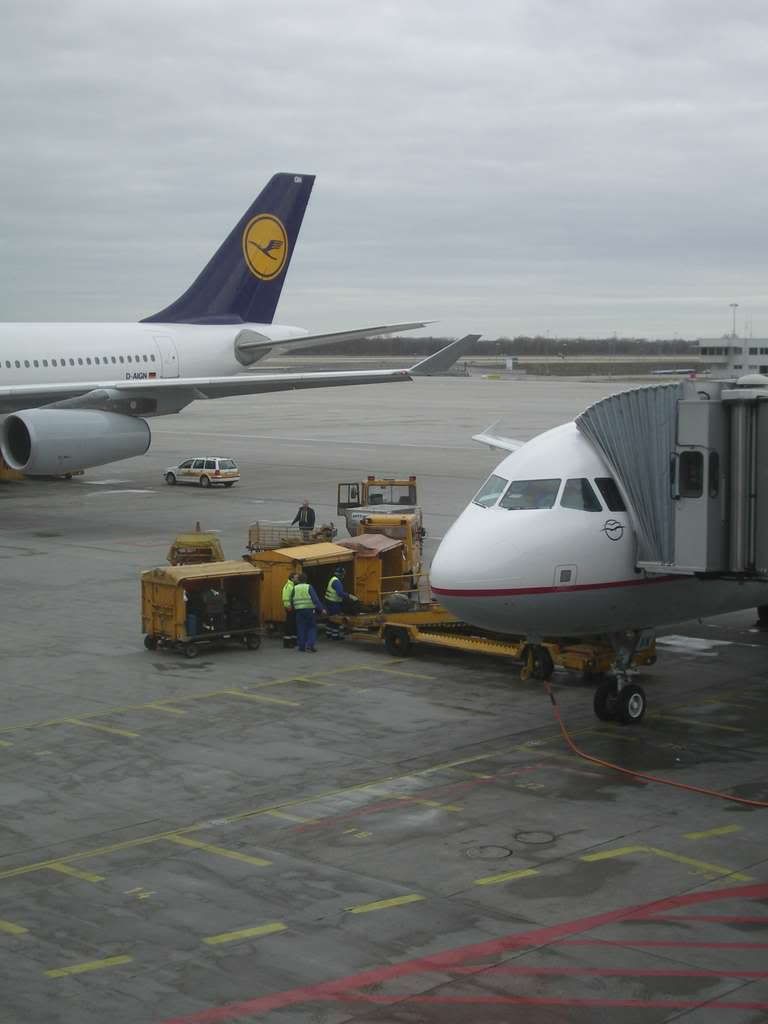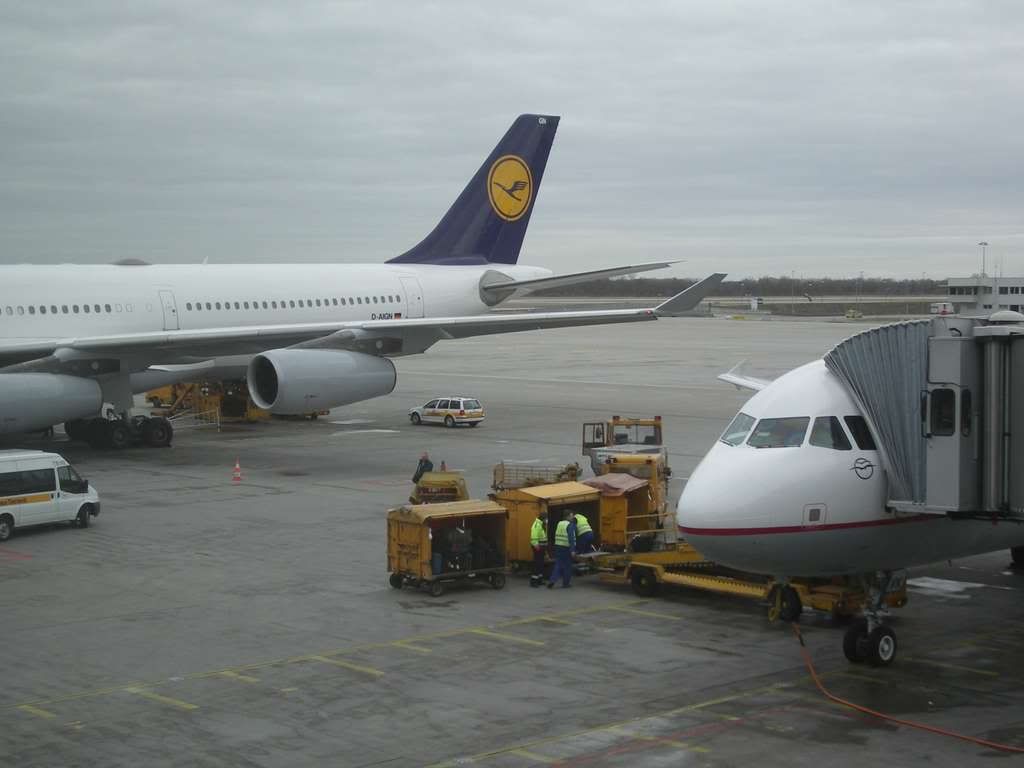 SX-DVK, according to my notices, that was the newest plane in Aegeans fleet, only three weeks after delivery, not bad.
Another ontime boarding, I was pax no. 15 for this service.
Down the finger and welcomed by a friendly all female cabin crew, in total four FA´s.
I´ve reached my seat and was more impressed, dark blue comfortable Recaro leather seats, clean and really goodlooking.
The greek pilot welcomed us in german, english and greek on the ground.
He announced some 20 minutes till departure from runway 26L according to the heavy traffic situation.
The route today was Klagenfurt-Ljubljana-Sarajevo-between Tirana und Skopje-Skopelos,
calm cruising at 37.000 feet.
The newstyle Rockwell Collins map system on the flat drop down screens during the whole flight,
is it necessary to say that I liked it really much.
Some more detailed informations from the cockpit inflight.
The FA´s served a cold plate with two breadrolls, sausage and cheese, drink service was done two times during the meal.
Close to Athens, definitely Greece: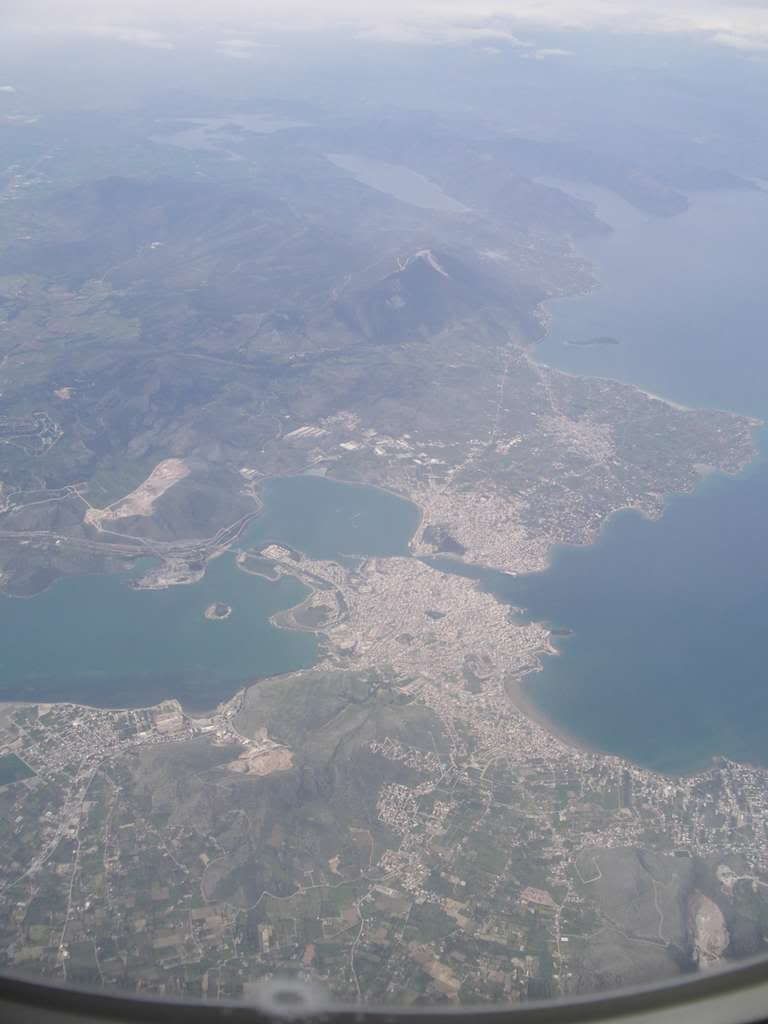 The approach to ATH´s 21L was also calm, finally arrived ontime.
ATH apron: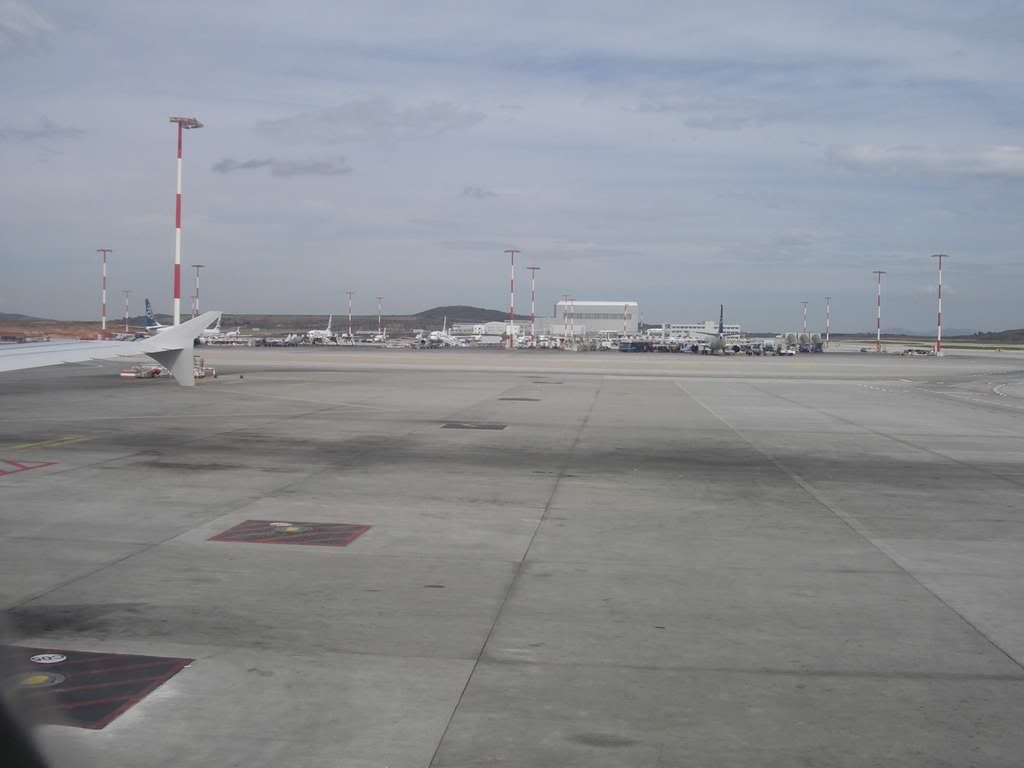 Finger deboaridng at ATH after a nice chat and some cabin pics with the two girls in front.
Cabin shots: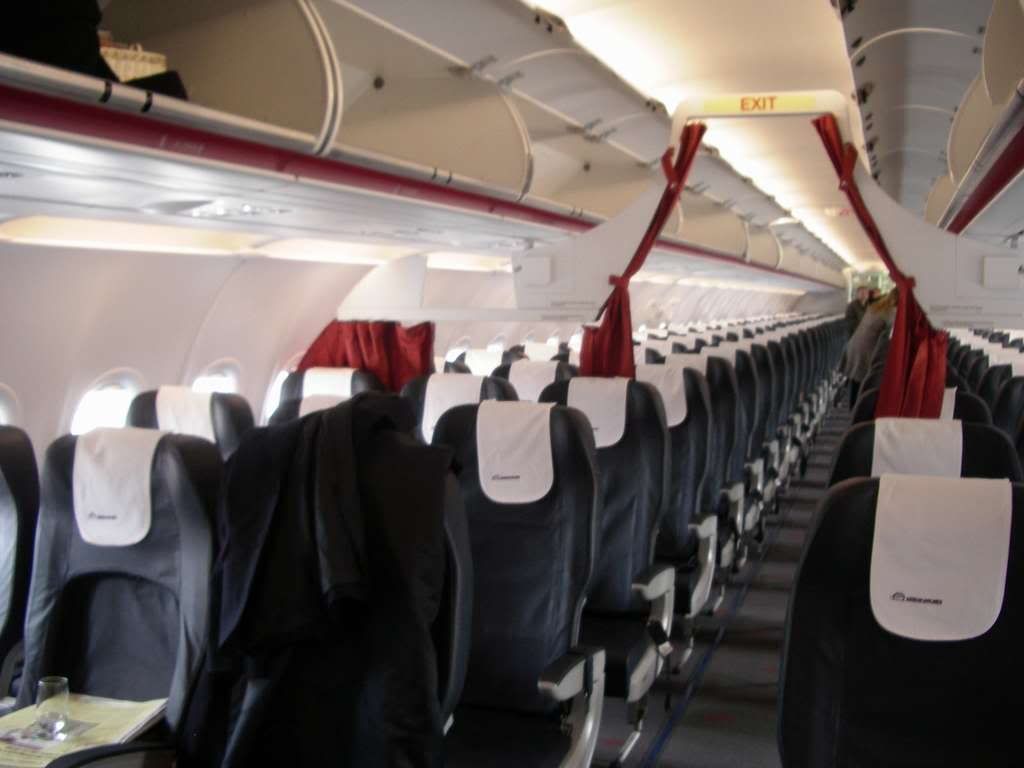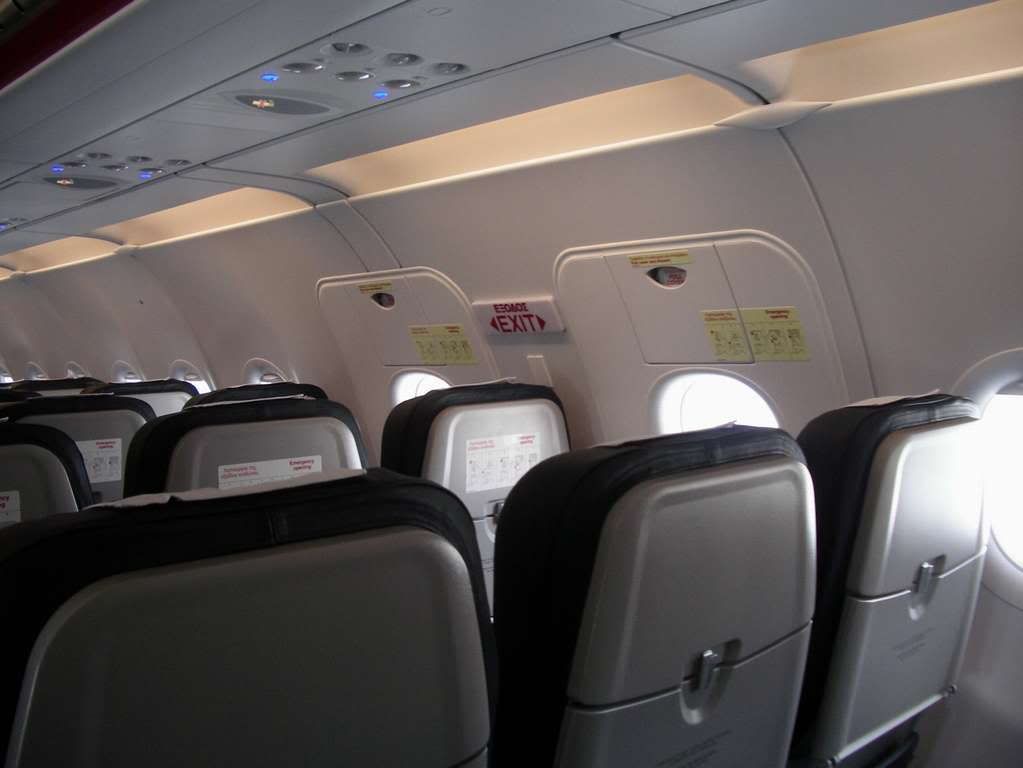 At the gate:
So, what to do in Athens?.
I was for two times in the city prior to this trip, so I decided to go for some ship spotting at Piräus.
The metro runs with one connection at Monastiraki directly to the port of Piräus. 10.-- EUR return, ok so far.
I´ve spent the whole time there, walking in the warm mediteranean sun, follow the ships and enjoyed the scenery, liked it.
Old fashioned: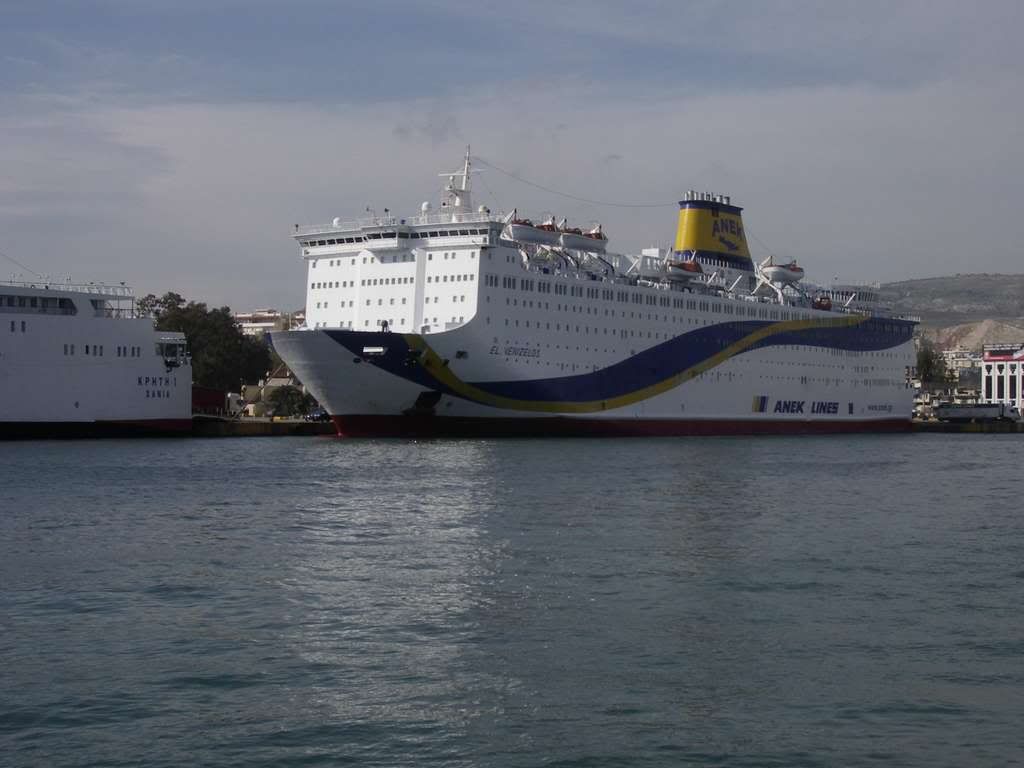 Top-modern: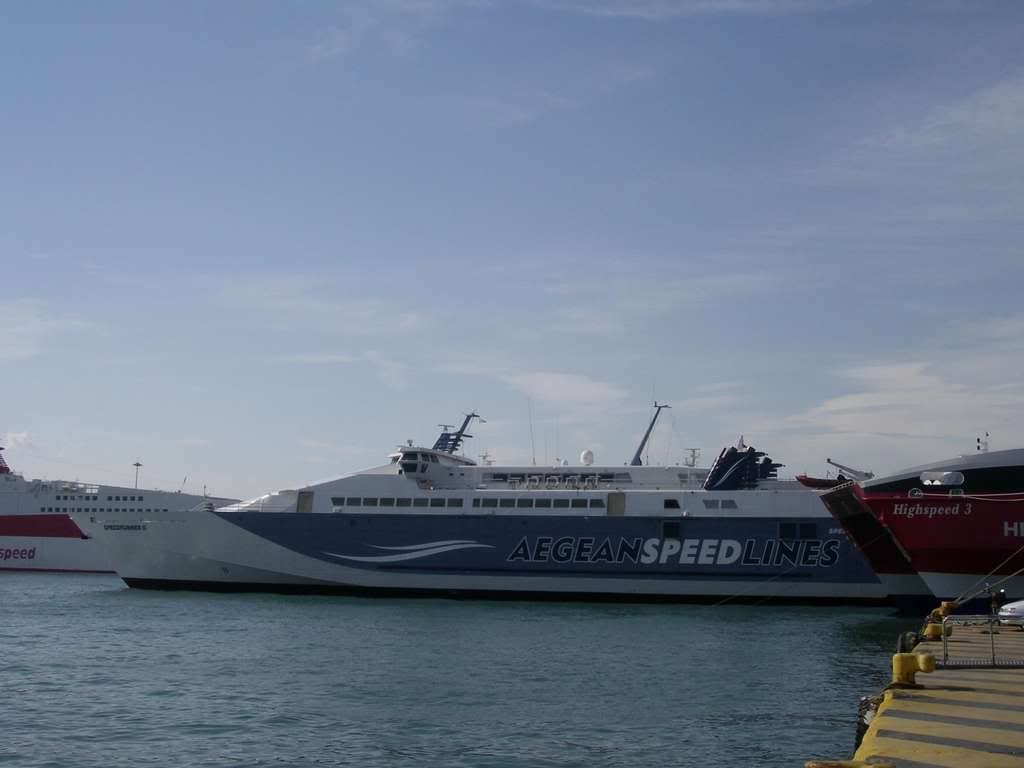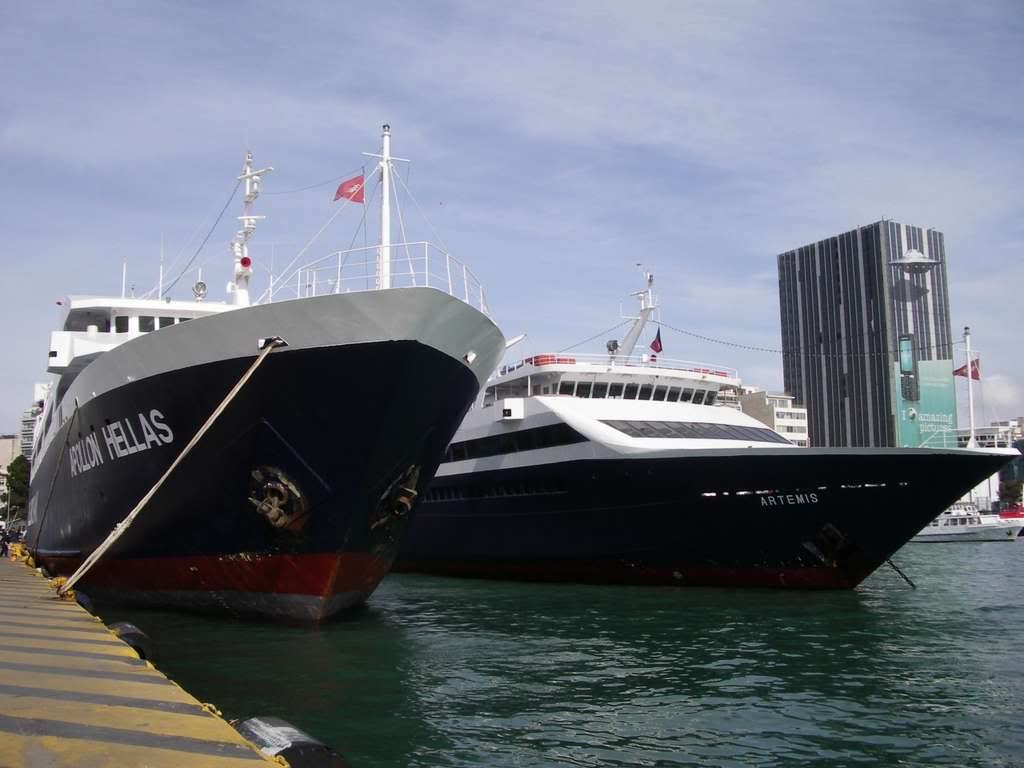 Tuesday, 11.03.2008
ATH (Athens-Eleftherios-Venizelos) - FRA (Frankfurt-Rhein-Main)
Duration: 2 hours, 45 minutes
Service Lufthansa LH 3383 operated by Lufthansa Airbus Airbus A321 D-AISH
Scheduled: 18.10 // 20.15
Actual: 18.50 // 20.35
Gate: B09 Seat: 36A
Load factor: Around 90 %
Fare: 58,97 EUR
History:
11.10.2007: Delivered to LH
Leg no. 10 on the A321 and the first on this machine
Soon it was time to head back to the airport.
A ten minutes delay was announced on the screens, nothing serious, so I thought.
No time to wait at security and well ontime at the gate for my flight back to FRA.
Where is my flight?: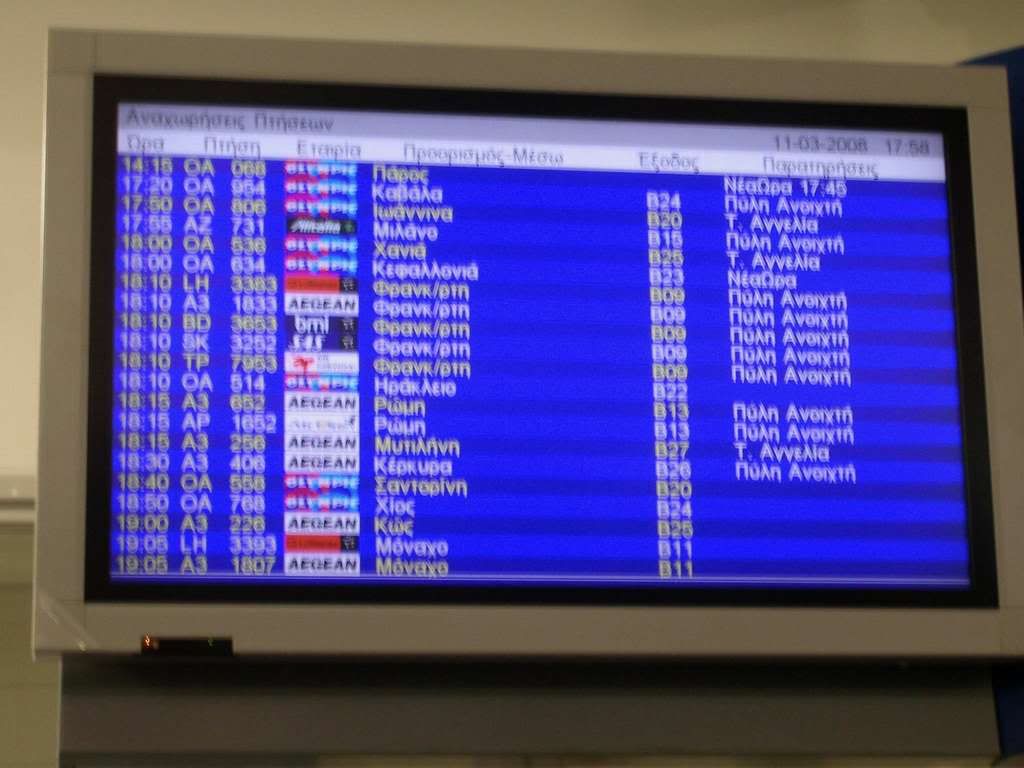 The gate was occupied with a load of unhappy OA pax.
The service to Brussels was delayed, good to follow that they changed one of the MDs front wheels at the gate,
done by Alitalia engineering, soon after boarding a emergency car arrived, the doctors running up the stairs, not all the best arround this flight.
OA to Brussels subcontracted to HellasJet operated by EuroAir: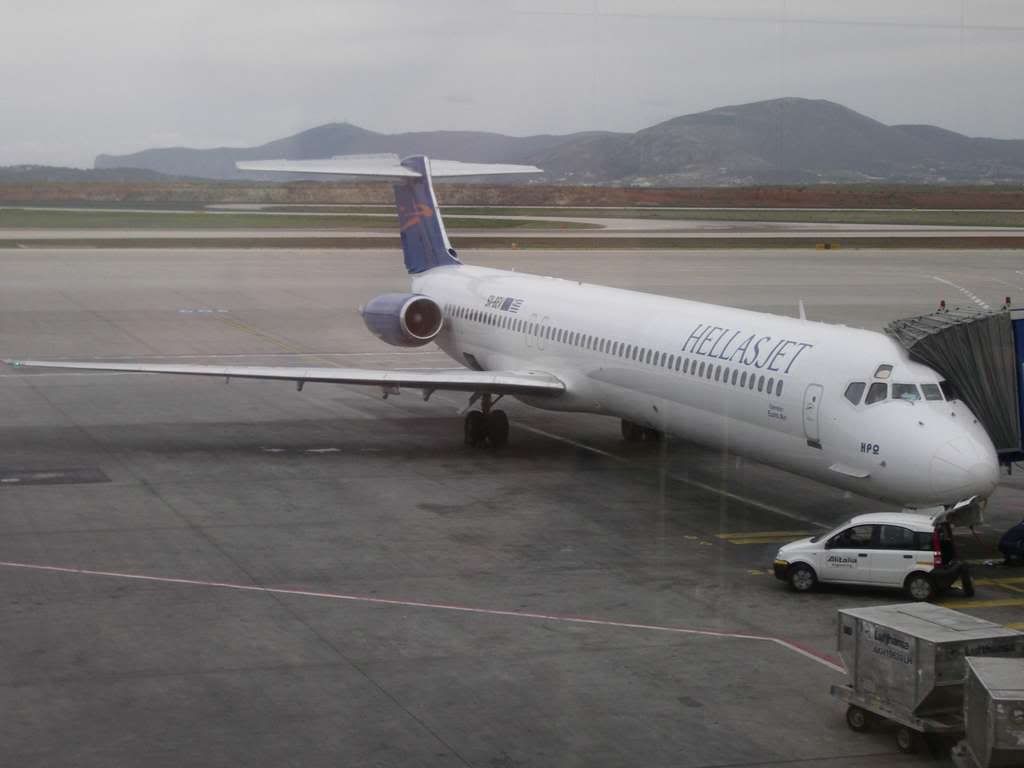 Departure EK to DXB: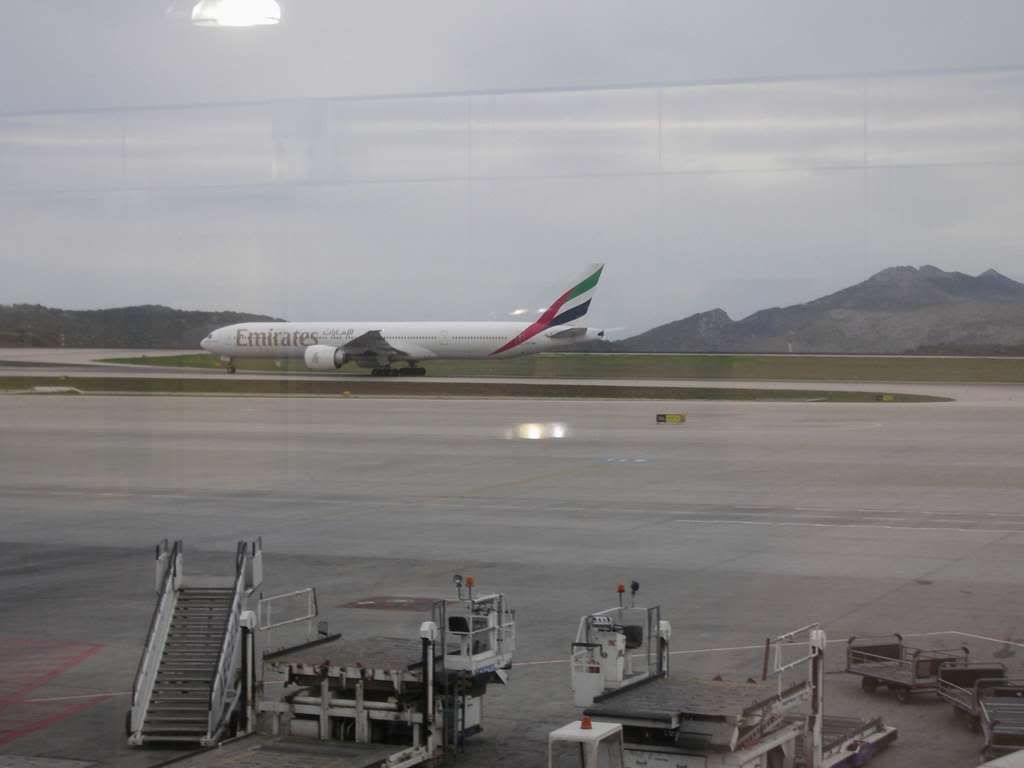 Finally my plane arrived from FRA and it was again a nearly new machine, age only five months.
Arrival D-AISH from FRA: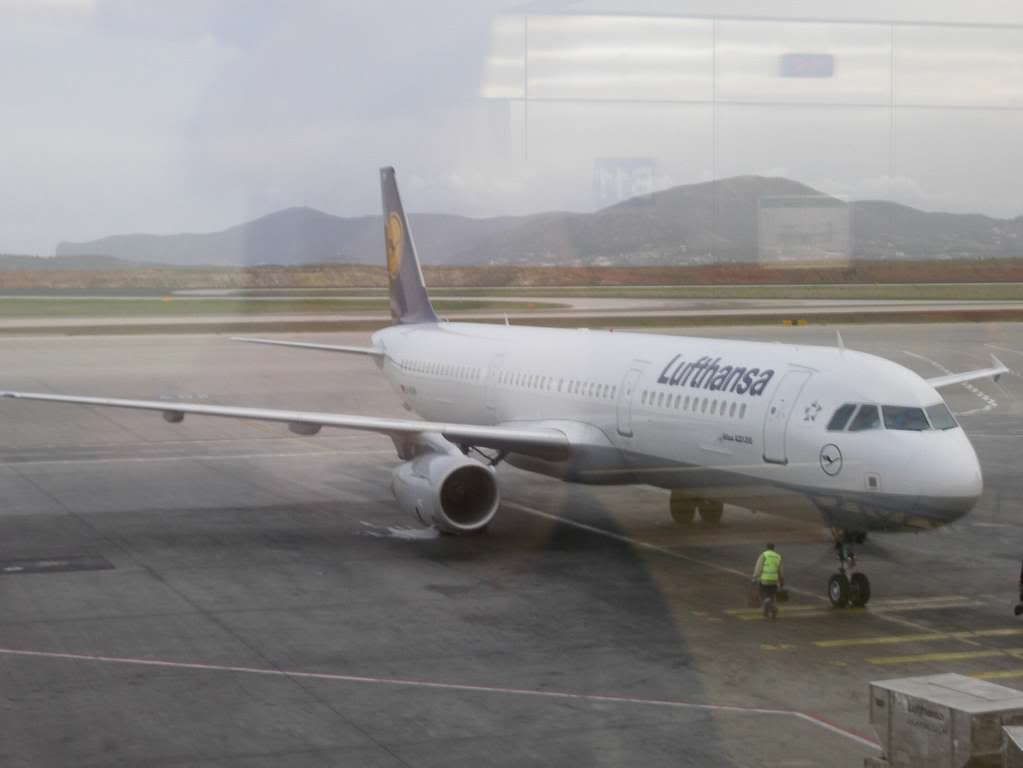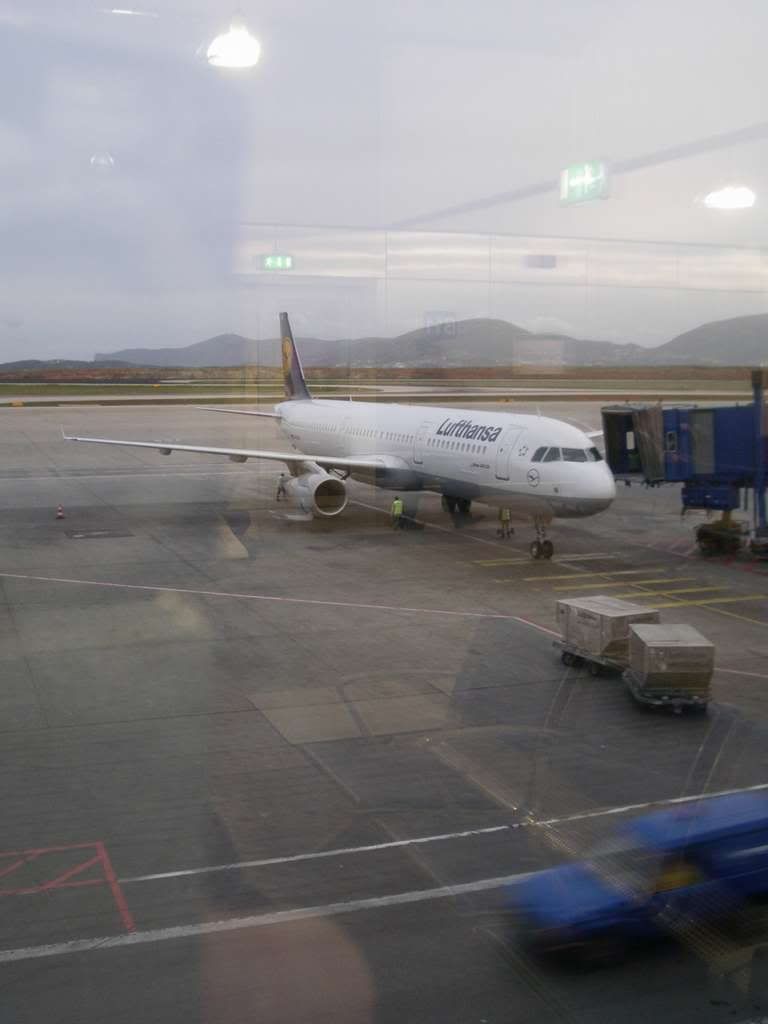 Turnaround was rather quick, there was no boarding call but the agents waved and so i´ve entered the plane. Security no. 003 this time.
One male, three females on this service, friendly, especially that girl in the rear part of the cabin!, we had a nice chat later on.
The pilot welcomed us and apologized for the delay, he also stated that we had a very short slot and he will go for taxi immediatelly.
Well done, departure without any time to wait from runway 21L.
These machine was also fitted with the bright grey leather seats, clean, comfy.
No map system, once more informations inflight, but nothing about the flight level.
The route was to Tirana-Sarajevo-Zagreb-Linz-Nuernberg.
Service was a hot pasta meal, with a bread roll and some sweets, also free drinks.
The pilot announced later low clouds, heavy wind and rain in FRA, arrival will be with some twenty minutes delay on runway 25L.
So, I thought, time enough to catch my ICE train to STR, we will see.
Finger deboarding at a gate in the A area, but far outside from the main building, I´ve rushed along, reached the long distance train station
during departure time.
No bad comment about Deutsche Bahn, but I´ve done alot of rides and some minutes delay is nothing out of the ordinary.
But today, I saw the train at the platform, thought ok, when I´ve jumped down the stairs and finally, like in the movies, the doors closed, the
train departed and I´ve stood beneath, ready to wave goodbye.
My ticket was the usual cheap, fixed train one, so I´ve spend some 40 Euros more to DB, luckily found another quick connection and
finally reached STR airport only 30 minutes after schedule.
Time for my opinion now.
MUC airport impressed me once again, spacious, large, real good, ATH was also not bad, enough space to walk around and good apron views.
LH by Contactair and LH itself, good service at all, friendly staff, have I told you about the nice FA there from ATH to FRA?. Ah, ok I´ve done it earlier!.
And what about Aegean,
ontime service, a new machine, friendly staff, the map system during the whole flight, full service at cheap fares.
No problem to fly LH by Contactair and LH itself again, and Aegean, yes indeed, as soon as possible!.
Comments welcome,
Markus (FLIEGER67)