I apologise for the lack of quality of the images, I haven't had much chance to use my new camera, so pretty much all of it was learn-as-you-go.
Having decided I would spend a day in London to watch the SQ Whalejet's first commercial arrival from SIN, I found myself freezing my rear end off at Odense Central Station, waiting for my train to arrive. Despite the train having a 7 minute stop in Odense, to make up for any possible delay along the route, it still arrived 5 minutes after it was supposed to have left.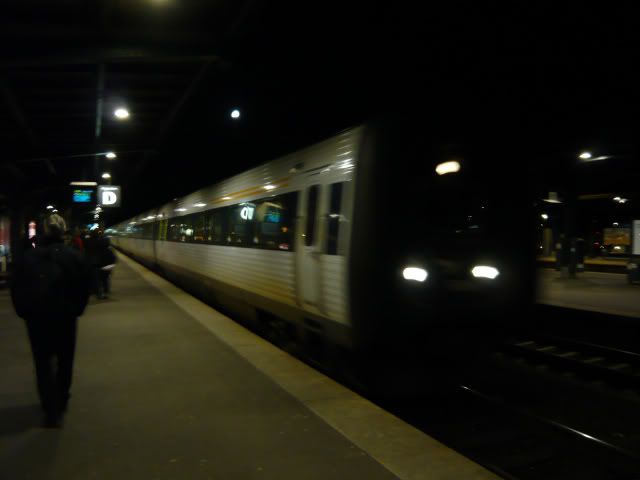 IC190
Odense - CPH Terminal 3
Scheduled / Actual Departure:
03:48 AM / 03:55 AM
Scheduled / Actual Arrival:
05:55 AM / 05:58 AM
Leading train set (registration if you will  
):
5056 "Jørgen Fibiger"
This particular train (along with its "twin" operating the opposite direction) is the closest we get to a domestic red-eye in Denmark. It leaves Aalborg in the north at midnight and arrives at Copenhagen Central Station around 5.30 the next day, having stopped at just about every station in between the two. Then, after a short stop, it continues to CPH. Since I wanted to get a bit of eye-shut, I chose the quiet cabin and found a couple of free seats to spread over. Since most people on this departure sleep anyway, there was no service nor any announcements over the speaker system.
After nodding off for about an hour and a half, I watched the sun slowly starting to rise, as we left Roskilde, the city where I was born and raised. The train had gradually been filled with passengers, most of them people going to work but quite a lot were also dragging large suitcases and bags with them, as the Easter holidays have just started. After Copenhagen Central Station, the train was virtually empty for the last short trip to CPH. Curiously, before arriving at the platform at CPH, there is a short automated message urging people to get off the train quickly. I have no idea why, but it's a bit unusual, given that most people are most likely carrying heavy luggage for their trips abroad. I got off quickly and made my way up the escalator to Terminal 3.
The rather dark platform one underneath Terminal 3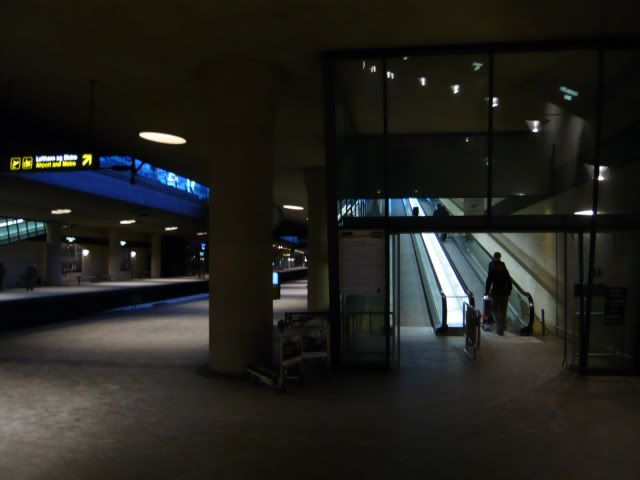 Terminal 3 hosts SAS and Star Alliance departures, as well as all international arrivals, and so it was getting a bit busy even at this early hour. I had checked in the day before (SAS allows you to check in online 22 hours before flight), so I only had to print my boarding cards (one for each sector) and off I went up the stairs to security.
Early morning passengers at Terminal 3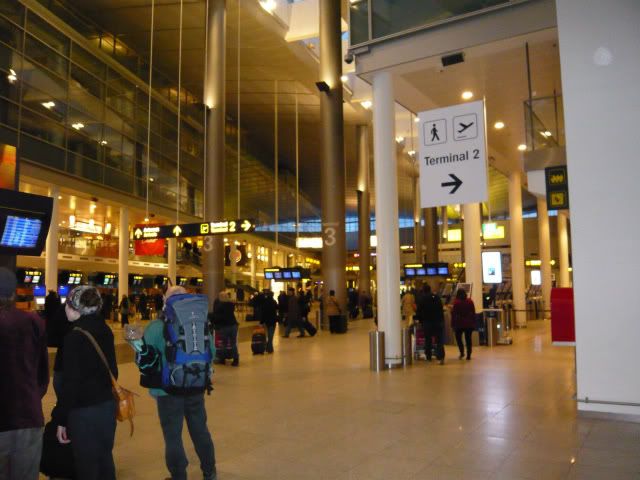 Security is a bit unusual, in that it's shared between Terminal 2 and 3, and thus passengers from Terminal 3 have to walk all the way to Terminal 2 and join the fray there. Fortunately things were going smoothly, and just 15 minutes after leaving the train, I found my self picking up a breakfast platter from Gino's and grabbing a seat to see what interesting planes were on stand.
A DK A333 OY-VKF parked, in the background the usual SU A319 that parks overnight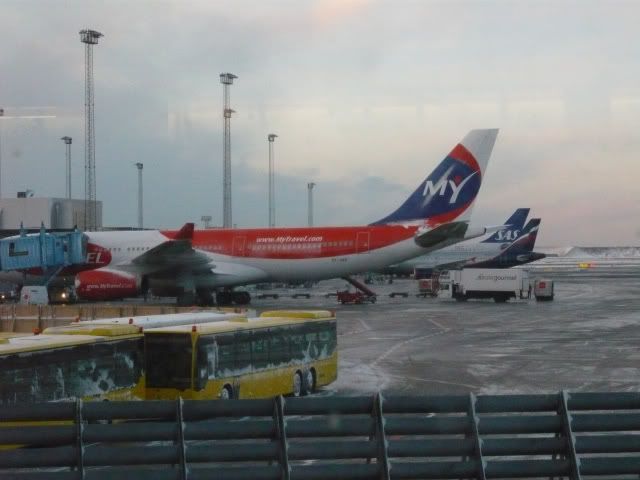 I was a bit puzzled regarding the DK A333 as to where it would be going this early in the morning, but a quick visit to the CPH website suggested it would operating flight DK3901 to Goa via Sharjah. As CPH were on Alpha ops (runway 04L/04R in use), I could watch the international longhaul arrivals trickling in, starting with the SAS A340 from BKK and followed by the TG B744 (HS-TGZ) also from BKK, SQ B772 (9V-SVD) from SIN and the CO B752 from EWR. At this point, I had passed passport control and found a raised position with a good view over the non-Schengen Star Alliance & Friends (presumably) international terminal. One peculiar visitor (at least to me) was SX-DIE of Hellenic Imperial Airways apparently operating a charter, though I have no idea who it was for.
The TG B744 from BKK docking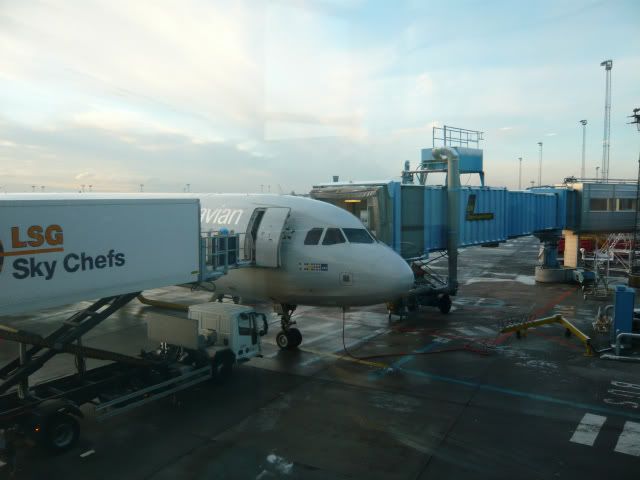 SK501
CPH - LHR
Scheduled / Actual Departure:
07:30 AM / 07:55 AM
Scheduled / Actual Arrival:
08:35 AM / 08:30 AM
Aircraft:
A321 LN-RKI 'Gunnhild Viking' (former H.C. Andersen plane)
The aircraft was parked at gate C23, with boarding starting slightly delayed just after 7 AM and whilst waiting in the queue, we had a clear view of two of the early birds to leave CPH, a KLM 737NG and a FedEx A300. Soon after I made my way towards my chosen seat for the flight, 28F. SAS has a 32" seat pitch in economy and I felt that it was okay, even for my 6' 2".
The view from 28F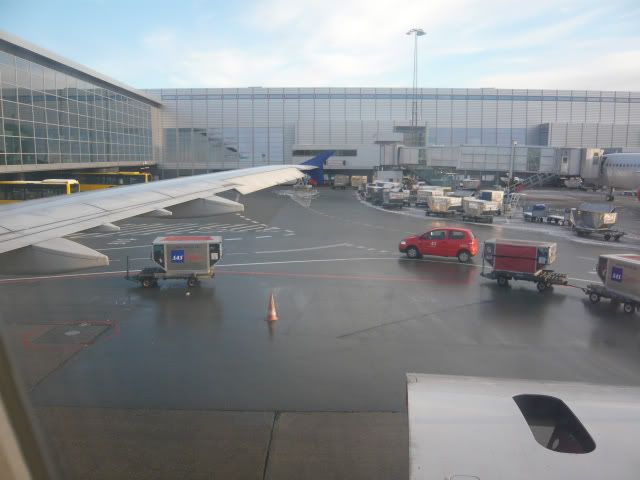 A delay was near inevitably, and soon after the captain came on and explained (in Swedish) that we had been given a slot time 07:55 AM, but despite that he expected us to arrive in LHR on time. And while I'm no good at swedish (at least not without having first drunk quite a bit of alcohol 
) I'm fairly sure he also added a bit about a slight chance of a hold before landing in LHR, something he ommitted while repeating the same speech in English. The expected flying time was 1 hour and 30 minutes. A short time after that, boarding was announced completed and when everyone was seated, the security video was played. SAS has fitted LCD screens to their Airbiis, one for every 3 rows or so on either side, and I always find the video more interesting rather than the mime performance usually done by FA's. Towards the end, the pushback was started and along with that came the well known growl as the first of the two V2530-A5 engines sprung into life.
We had quite a long pushback and once we were clear of the tug and started taxiing, we more or less taxiied all the way back again before following the taxiway towards runway 04R. At this point, the nosegear camera had been activated, giving us all a good view of the remains of the previous days' snowstorm. The snow clearing team had been hard at work, but there were still some small patches of snow laying around.
After a fairly sporty taxi to 04R, we lined up and took off at once, heading first east and then south of the airport, before heading west towards LHR.
Northern Canada? Greenland? Nope, Saltholm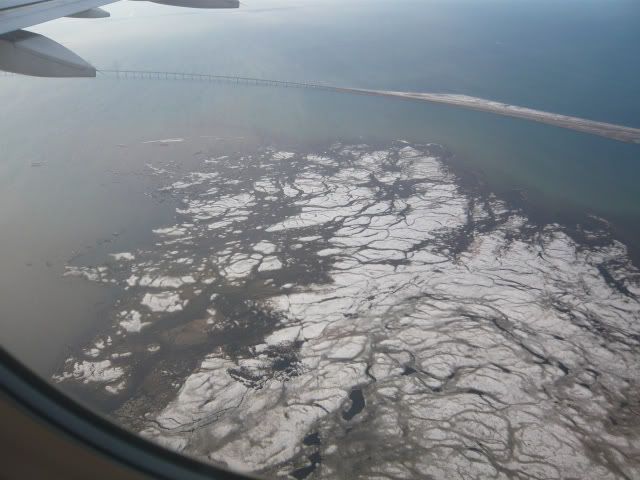 Our wingl- sorry, wing fence, about to cut a hole in the Øresunds bridge
Copenhagen in the middle of what's supposed to be spring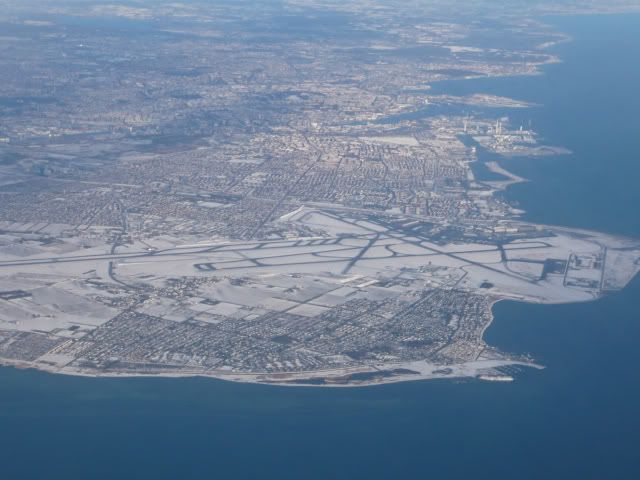 Crossing the coastline again during the climb as displayed on the LCD screens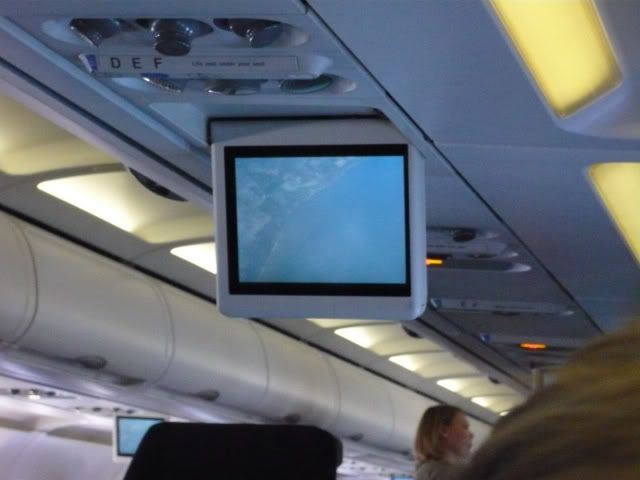 Having been released, the cabin crew set about provinding the Business and Economy Flex passengers with their breakfast meal. Having forgot to take my wallet out of my jacket befor eI placed it in the overhead compartment, I decided against buying anything and settled for looking out the window and watching the LCD screens. The latter first showed some car program, though without audio it was kind of impossible to figure out what it was about. Following that, there were two episodes of Shaun the Sheep which was pretty funny.
The captain had been on to let us know that we would be cruising at 34,000 feet and that they had sped up a bit to try and make up for the delay on the ground. Also of interest, due to a very strong sidewind hitting us from the right, there may be a few bumps along the way (as here were) so he advised us all to keep our seat belt fastened at all times.
Some views from 34,000 feet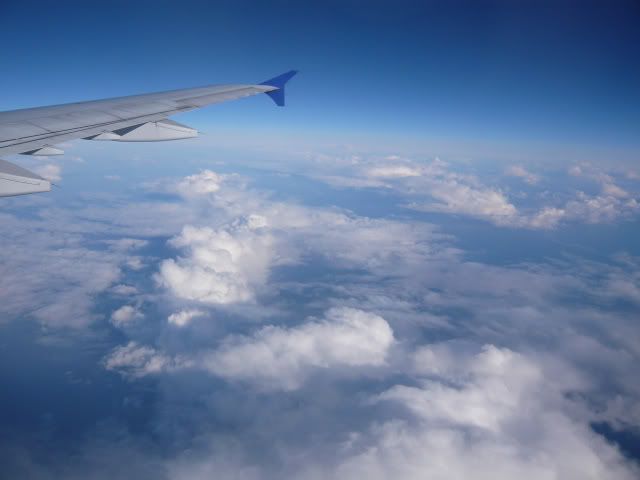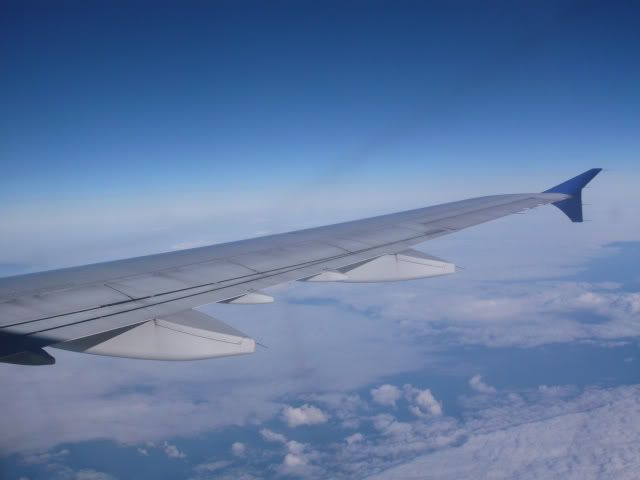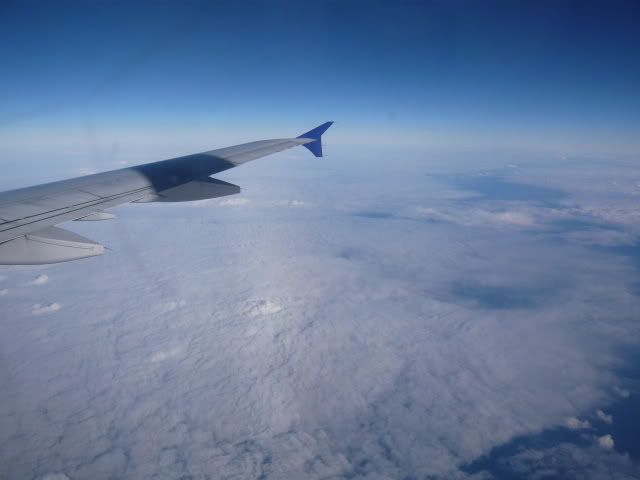 The routing was pretty much the same as always, going southwest from CPH, south of Fyn/Funen, overhead SGD, out over the Frisian Islands and passing north of Amsterdam before making the beeline towards Lambourne for the approach into LHR. The captain came on to explain that we would be making the final approach from the west, which made me a bit anxious as the best view of the A380 landing counted on the approaches coming in from the east. He also added that those seated on the left side of the airplane would be given a good view of Windsor Castle, and we would be passing right about the time the gear was lowered.
Getting closer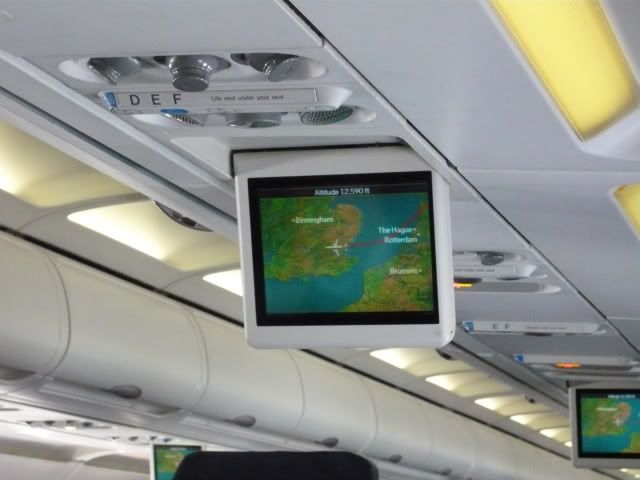 Entering the cloud base...
... and leaving it again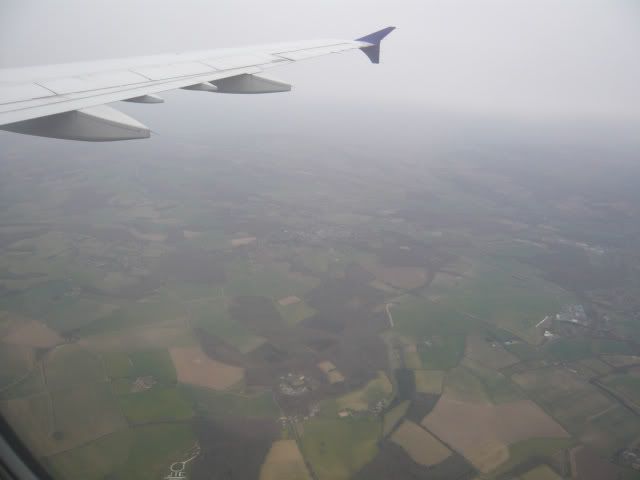 Final approach and landing on runway 09L
Following yet another sporty taxi, we docked at gate 309, one of the two Scandinavian sanctuaries at a terminal otherwise completely dominated by widebodies. Being in no hurry at all, I decieded to let the other passengers play the usual game of "Hurry up and wait" and was one of the last off the plane, thanking the crew for the flight before entering the long walk that is Terminal 3 arrivals.
Parked next to us - a Virgin A346 in the new/revised colours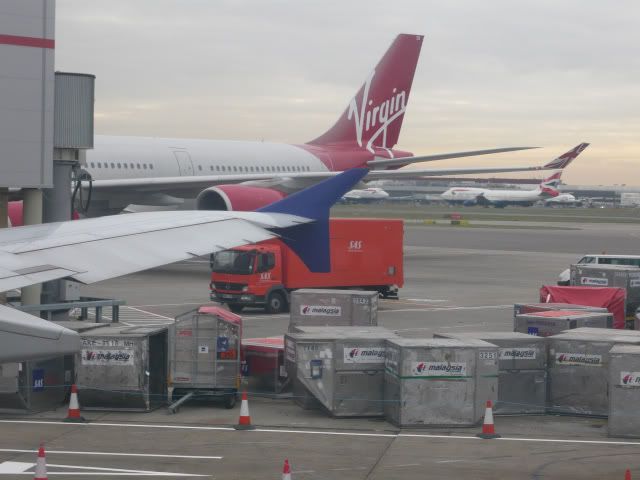 AI being pushed back while the AA and BI aircrafts awaits their turn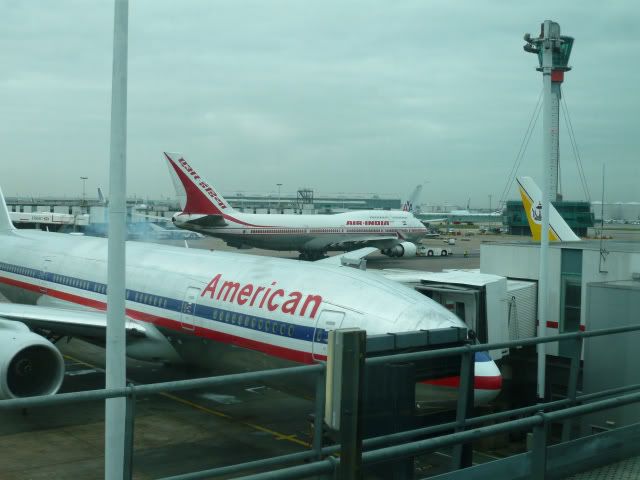 Made my way through the arrivals security which was unusually quiet, I suppose we missed the worst of the morning rush, and down to the tube station, passing through corridors that appears to be leftovers from the Blitz days. Made my way into central London and played tourist for a short while before heading back to Hatton Cross and The Green Man for the A.nutters meet  
IT IS HERE
.. with thanks to the truck driver who gave us all a round of the horn 
Having succesfully made my way from the tube station to T3 Departures (with many thanks to the guidance tips I recieved  
), I thankfully managed to pass the throngs that were waiting to check in with bagage. This was where my first pet peeve showed itself: Where the heck is the signs that say "Security Check"? I couldn't really find any of them, so I have to rely on following the stream. I passed through the first round of security, passport control, queued for the second round, X-Ray and found myself stuck at the Shoe-check line (first time I've been through that). Curiously I noticed some passengers simply managed to stroll past that check, so I wondered if it was compulsory or something. I decided to play it safe and went through it anyway.
And then my second peeve followed: Had I gone wrong and had I accidently entered a high-security mall rather than an airline terminal? Again I had to follow the stream as it snaked through the mall to get to a point that had a departure board. Great, a whole hour before it would show my flight. So I went hunting for the SQ A380 gate to try and get a good look of it. I found the remains of it at gate 3, but when I tried to walk past it and down to gate 1 for a better look, I was stopped and told employees only  
So I sat around for a short while as boarding commenced, but finally decided not to bother with the abysmal views from outside the gate 3 holding area (as the jetway structure basically blocks off most of the aircraft).
So, having given up on that, I decided to return to the central hub (quite a horrible idea to be honest, having one central area that all passengers are more or less forced to wait in until their flight boards) and bought a cold thai noodle salad and a smoothie from EAT. It was quite good to be honest. Picked up an Airliner World magazine and a bottle of water from W.H. Smith and settled into the waiting game. Finally flight SK1508 was showing gate 11, so off to the holding area I went.
One of numerous A380 posters around Terminal 3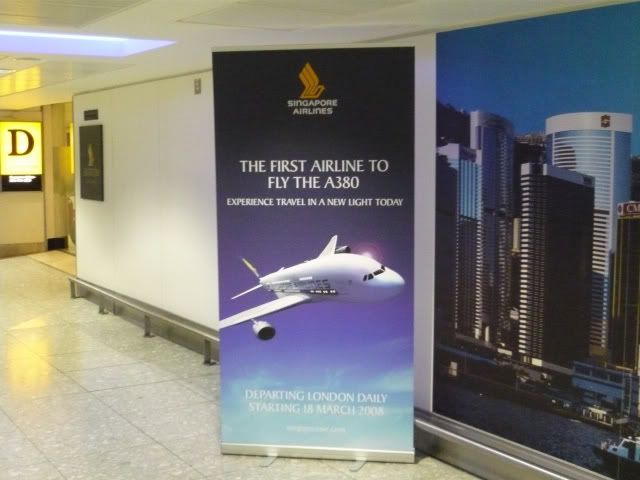 SK1508
LHR - CPH
Scheduled / Actual Departure:
8:25 PM / 8:25 PM
Scheduled / Actual Arrival:
11:20 PM / 11:05 PM
Aircraft:
MD-82 LN-RMO
It appeared that I wasn't the only one to be in a hurry to get home, so boarding commenced at 7:50 PM and I picked up a complimentary newspaper along the way. I found my seat, 26A, settled in and before I knew of it, the cabin crew announced boarding complete and the captain came on the PA and explained that we would be able to depart about 10 minutes early. The cabin crew started to perfom the security mime (alas, no drop down screens on the MD82) and in the backkground I could hear a rumble, which I knew was the Korean B747 starting up on the gate opposite to ours, before going back to to Land of Morning Calm, so we would probably be slightly delayed because of that.
And sure enough, once the mime was over, the captain once again came on the PA and told us that it would be another 5 minutes, and that we could expect a lengthy taxi, but that they still expected to arrive 10 minutes early at CPH. And sure enough, about 5 minutes later, as the Korean had buggered off, we puhsed back and started the engines. Already feeling a bit drowsy from the long day, I snoozed off a bit, before waking as we were approaching runway 27R. Ahead of was an Alitalia Airbus and before long we were thundering down the runway and lifting into the sky. The sound of the gear well doors opening on the MD-8x always take me by surprise (It's basically a couple of loud bangs), but I soon dozed off again, only waking long enough to hear the captain on the PA letting us know we would be cruising at 35,000 and that we had been giving a direct clearance to CPH, so we would be arriving very early.
I woke again as we commenced decent into CPH, where we would be landing on runway 04L. The cabin was darkened a bit, so it was fairly possible to make out major locations around Copenhagen. Approach and landing was fairly usual, and we were soon taxiing to our gate at a sporty pace. We were parked at gate D1, which is right next to the gate we had departed from in the morning. An interesting visitor at that hour, was a Zoom B763 that has apparently been leased operate charters to India and Thailand.
Whilst everyone else was deboarding, I took this quick snapshot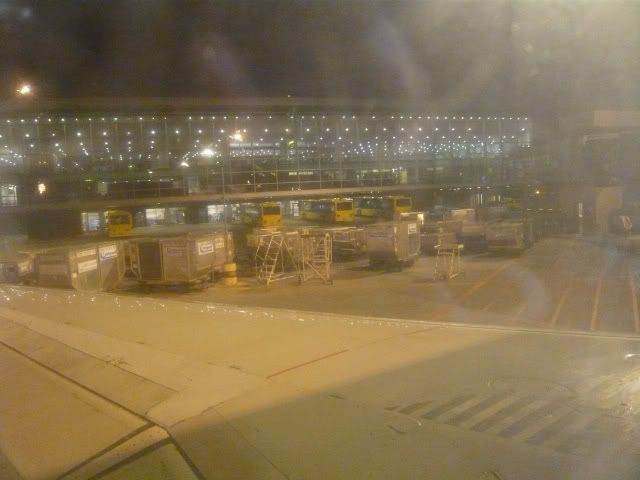 It would appear that our flight was the last of the day, so the cycle was sort of complete (one of the first flight out and the last flight back home  
), though I didn't care too much about that as I walked in a semi-dazed state through the deserted terminal. A quick passport control and an even quicker customs control (there was none) and I found myself in the same Terminal I had arrived at some 17½ hours earlier. The only bad thing about being 15 minutes early was that I had to wait 50 minutes for my train back to Odense (This is the "twin" red-eye. It departs CPH at 12:11 AM and arrives at Aalborg at 5:54 AM).
Hope you enjoyed reading this TR, feel free to ask if you have any comments, suggestions or questions  
[Edited 2008-03-19 09:41:59]