The success that Dubai brings to the table, along with its carrier Emirates, is no doubt something worth talking about. Perfectly aligned to their strategy of developing Dubai as a financial hub for the region, the two are perfect compliments for each other.
Neighboring Abu Dhabi, sitting idle and watching the show go by, has finally decided to wake up and smell the coffee. As a result, a 2030 strategic development plan was formed which started with Etihad Airways, and ends at a cultural mania promising to attract the highest of the premiums.
In view of all that, it is critical that these two carriers provide that needed support for each of their respective cities. Emirates has demonstrated its ambitions to dominate the world and place Dubai on the eternal agenda, while Etihad continues to open the world's eyes at Abu Dhabi's undiscovered opportunities.
It is a known fact by all that the two are of the leading carriers of the world. Everyday, every headline, every website, and every traveler mentions either one, sometimes even both. But what's in it for you, the everyday traveler? Does Etihad deliver that inspired service that everyone has come to believe it did? Or does Emirates prove to be the world's best as it claims to be?
This is an ultra-direct comparison, of two ultra-competitive airlines, on an ultra-long haul route. After all, this is the only way to show just how far an airline is willing to go for you!
Welcome to my 5th Trip Report.
This TR on the following trips:


Etihad Airways: AUH – JFK, Pearl Business Class

Emirates: JFK – DXB, Business Class

My previous Trip Reports can be found here:
CX: JFK-HKG-DXB In Y A346/772 (Lots Of Pics/Vids)
(by
Ronerone
Aug 28 2006 in Trip Reports)
Etihad: Pearl 2 AMM, Coral Right Back Pt 1 PixVids
(by
Ronerone
Jul 4 2007 in Trip Reports)
Etihad: Pearl 2 AMM, Coral Right Back Pt 2 PixVidz
(by
Ronerone
Jul 5 2007 in Trip Reports)
Cathay Delight: A Trip To Asia's World City
(by
Ronerone
Oct 5 2007 in Trip Reports)
Suvarnabhumi, The Etihad Way!
(by
Ronerone
Jan 18 2008 in Trip Reports)
This was a business trip to attend a conference in Cancun. I was asked to attend with my boss at the very last minute so everything happened in a quite a rush. As such, I obviously did not have full freedom to select what flights I wanted however, I managed to add a little bit of my influence into the process. Since my boss was booked on Emirates and had traveled before me, I was to return with him on the same flight. However I wanted to fly Etihad Airways and the least that I could do was request to travel from Abu Dhabi on the outbound journey. Hence, an itinerary that included both EY and EK was born.
Prior to my trip reporting days, I had flown EK's DXB-JFK-DXB sector a countless number of times on the A345, and I practically know the service inside-out. On the other hand, I had always wanted to fly Etihad on this sector, on their A345, and in Pearl Business Class, and this was the perfect opportunity for it.
Some milestones that I have achieved after this trip are as follows:


My first time to try the Pearl bed (FINALLY!)

My first time to travel ULH on Etihad Airways

My first time on EY's A340-500

My first time on an EK 77W

My first time to travel ULH on any 77W

My first business trip

My first time to visit Cancun and Mexico

Friday February 8th, 2008
At 5:15 PM I received a phone call from Al Ghazal Taxi confirming my chauffer transfer to the airport. While the suggested time for the driver to arrive was at 11:30 PM, I had requested for one at 10:30 PM instead. After that was confirmed, I had started packing my suitcases and prepared all necessary documents that I needed to take on my trip.
I was informed by my 'insider source' that tonight's aircraft to JFK will be A6-EHA, Etihad's first A345. I was also told that the flight at the time was short of five crew. When asking why this was the case, I was told that they had probably called in sick because the JFK flight is not a very favorable one. While the flight could be cancelled if not enough crew are available to operate this flight, chances are the issue would be resolved before the crew reporting time.
At 10:15 PM, I received another call from Al Ghazal Taxi:
"Mr. Hawi, this is Al Ghazal Taxi, your chauffer is waiting by your door"
"I will need another 15 minutes, can he wait?"
"Certainly, this is only a standard procedure, and he will wait until you are ready"
"Thank You"
By 10:30 PM I bid my goodbyes to my mother had headed out to the airport. After a smooth 20 minute drive, I was dropped off at AUH right in front of the premium check-in area. To my surprise, I realized that there was new signage in place:
I had a quick cigarette and proceeded inside by 10:55 PM. An agent was standing by the entrance to the 'premium area' who requested to see my documents. He then informed me that all passengers to JFK are to enter from Gate 2 across the building, regardless of their class of service.
I went across to Gate 2 and realized that this area was specifically for the New York flight. However, it had not opened up and neither had the check-in desks which were located right in front of that entrance, right after security clearance.
Gate 2: New York Check-In:
By 11:15 PM we were allowed to go through security clearance however check-in was not open yet. Once inside, I noticed that barricades were set-up to segregate the JFK check-in desks from the rest for security purposes.
JFK Check-In Desks: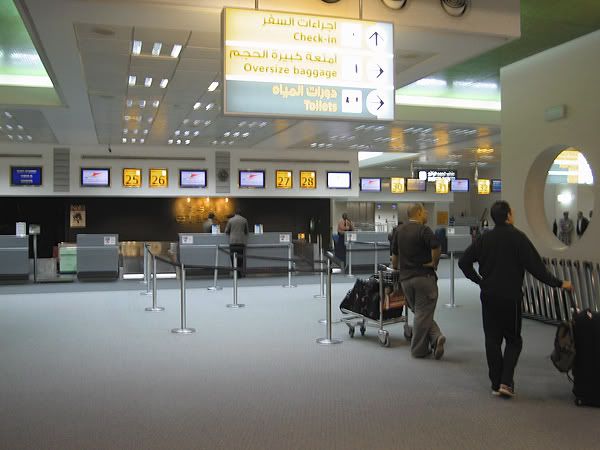 By 11:15 PM check-in was open and the few of us that were there early formed a queue. Before entering the barricaded area, a dedicated Etihad Security agent was standing by the entrance that entered all your passport details into a laptop; a typical post-September 11 requirement.
When it was my turn for check-in, I was greeted by an ADAS agent who then asked me to place my suitcase on the belt. While I was being processed, I had casually asked if I could use my Guest miles to upgrade to Diamond First. I was told that ADAS staff do not have the authority to do that and instead I have to contact the airline directly a few days prior to my departure. In my opinion, this is quite an outdated policy because Lufthansa for example allowed you to use your miles for upgrades at check-in back in the late 1990's. Maybe this is one reason why EY is pushing for self-handling?
By 11:40 PM I was given my boarding pass, lounge invitation, and my other documents, and the agent shook my hand and wished me a pleasant flight. I found the hand shake to be an odd gesture, but a nice one at that too.
Boarding Pass: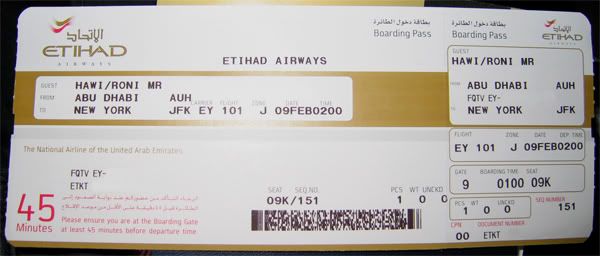 Lounge Invitation: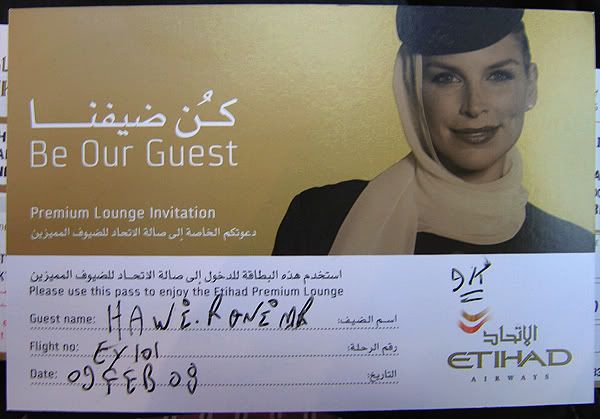 I headed to immigration, which was a breeze since I used the UAE-Gate service. After that, I had some time to kill on my hands. I was very hesitant about going to the EY Premium lounge as I know that tiny little space they allocated for a lounge will be packed to the brim at that time of night. Instead I decided to walk around the terminal for a while and perhaps later on I would go to the lounge.
Crowded terminal:
FIDS: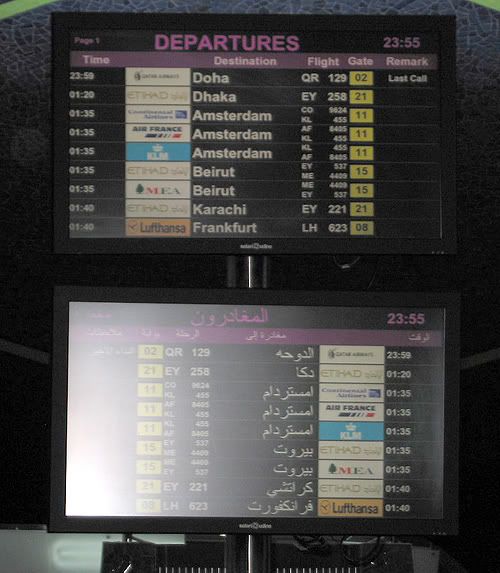 Gate 9, soon to be my gate:
A cultural display: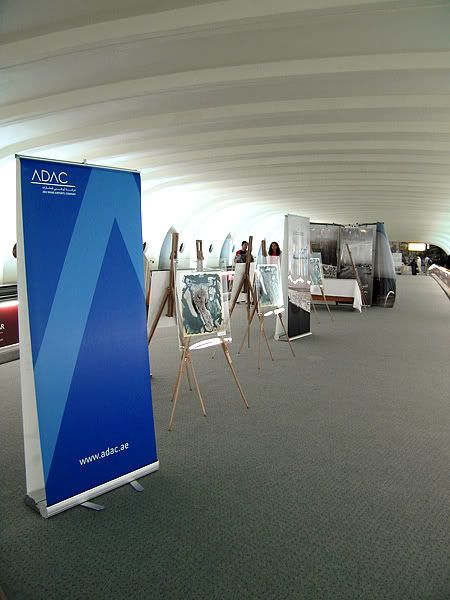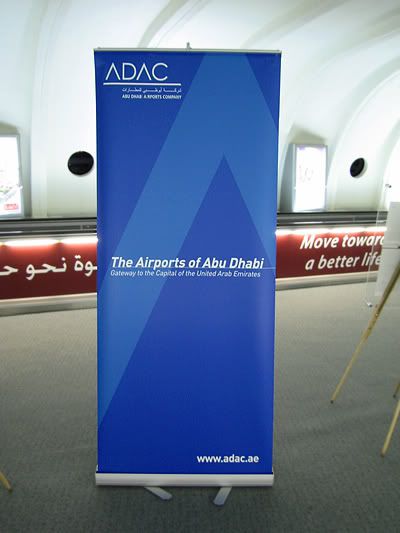 Saturday February 9th, 2008
By around 12:15 AM I decided to head over to the lounge as there wasn't much else for me to do. I stopped for a quick cigarette then continued my way over there. To my surprise there was a sign by the entrance of the lounge that stated it was under renovation. We were allowed to use the premium lounge inside the Airport Hotel instead. That specific lounge was the previous Gulf Air premium lounge and definitely had more room.
I arrived at the Airport Hotel entrance that is located immediately after immigration and found a podium with an EY employee sitting behind it. On the podium was a sign that said "Etihad First Class Lounge". I asked him what this was all about, and apparently Etihad now has a Diamond First Class lounge, also located in the Airport Hotel.
The lounge was looking rather outdated but I most definitely prefer it to the other one. It had more room in it giving it a less of a sardine-can-like feel to it.
Lounge: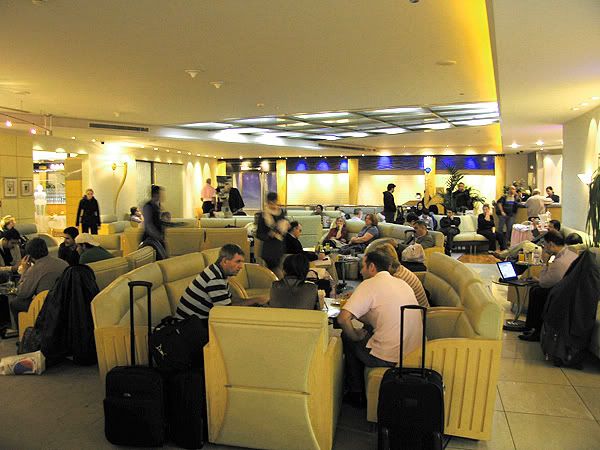 Buffet Area: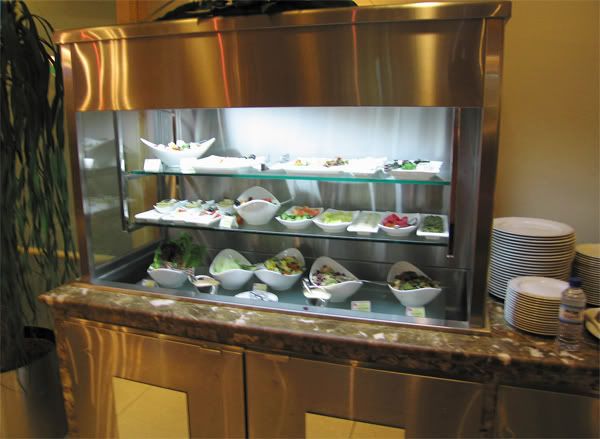 Bar: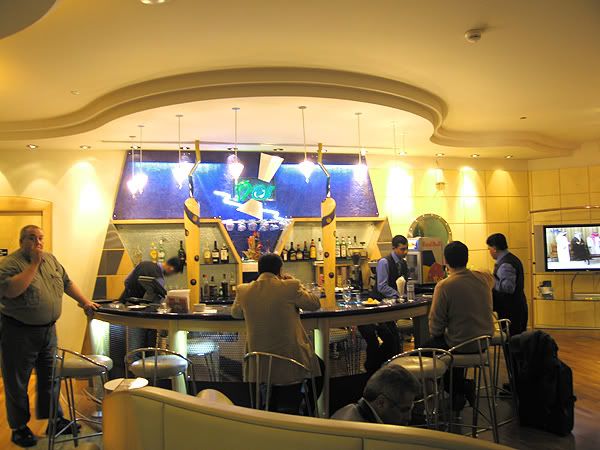 I found a seat to place my things on and headed straight for the buffet; I was completely famished. I decided to have some chicken salad, barbeque grilled chicken, and some steamed vegetables. The chicken salad was so tasty!
My meal: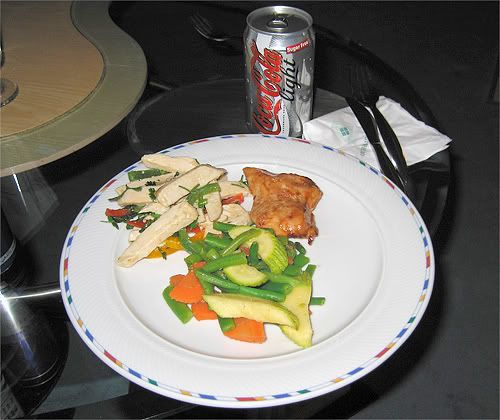 By 12:45 AM I was done eating so I proceeded towards the gate. The terminal by that time was getting very crowded.
A full A346 to YYZ tonight: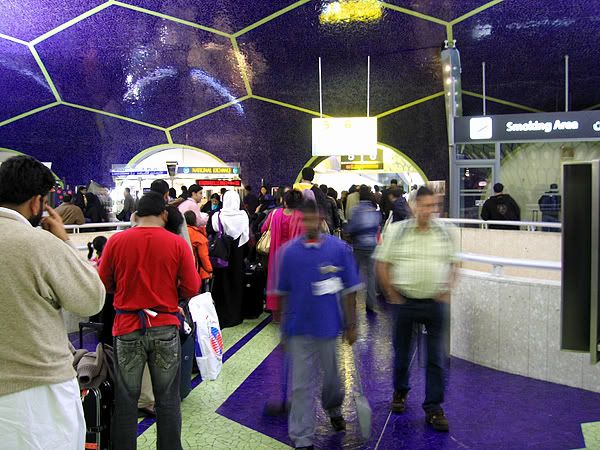 A full A345 to JFK tonight as well:
I stood in line for security. There were two security checks, followed by security screening that one had to go through before getting to the holding area. The first security agent checks your boarding passes, followed by the second agent that thoroughly checks your passport details shortly afterwards; or at least pretends to anyways.
Standing in line:
The security check was quite thorough this time around, and it involved the works; shoes off, belts as well, etc. By 1:15 AM I was inside the holding area.
Holding Area:
KLM A332 to Amsterdam (Anosh, if you're reading, this is for you buddy haha):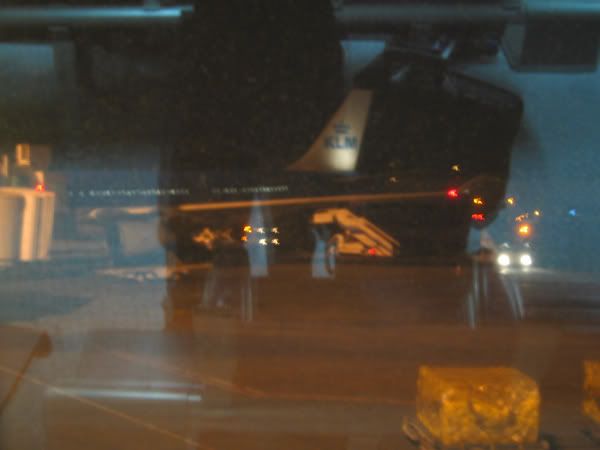 My A345 to JFK getting ready for her long journey: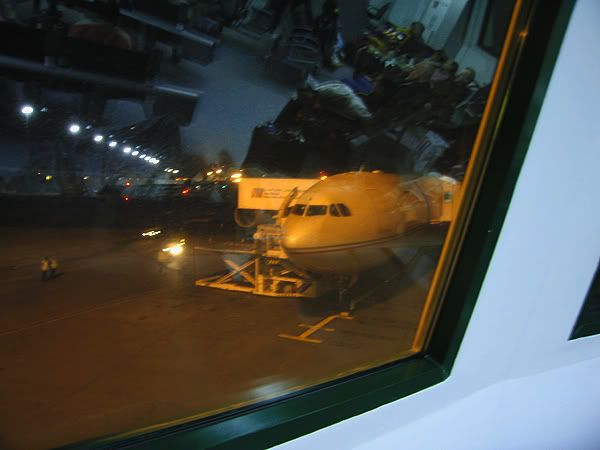 By 1:35 AM the ground staff opened the doors in preparation for boarding and everyone got up in total mayhem. It amazes me how a simple movement as the opening of one door can cause all of us to get so excited, sometimes even crazy. As everyone got up and prepared to board, a pre-boarding announcement was made at 1:40 AM allowing for all passengers needing assistance, in addition to families to board at this time. Shortly after, a boarding call was made for premium passengers, in which I then got up and proceeded inside the aircraft.
From the Aerobridge:
I arrived at door 2L, where two Asian Etihad crew were standing to greet all passengers. I handed my boarding pass to one of them, Maricar, who took a look at my boarding pass and said:
"Mr. Hawi, welcome on board, please follow me, I will escort you to your seat"
By 1:45 AM I was on board.
CONTINUED BELOW