After getting some rest after our flight from JFK, we arrived at the chaotic, hectic, run-down building they call the DEL domestic terminal 1B. I guess I'm spoiled when it comes to airports, but this was just crazy. We walked in to find that almost every, if not all, domestic flights from this terminal were delayed. Most of them were delayed about half and hour, which really isn't that bad. I wish I got a pic of the FIDS just to show you guys what I mean. Our flight was delayed by 20 min.
First off, at ALL Indian aiports, it is required that checked luggage must be X-rayed before checking them in. I'm not quite sure of the logic behind this....maybe they just don't have the room to X-ray them after check-in. Check-in was easy enough and we were told that we MUST put an airline name tag on our carry on luggage. I'm not complaining as I like collecting those, but I soon found out the reason for this.
After check-in, we were requested to proceed to "Security Check". This was easy enough, and the name tags on our carry on bags were stamped by security. I also noticed that EVERYONE going through security is patted down.
After security, we proceeded to the waiting area, which was extremely crowded with nowhere to sit. We were also surprised to see no windows and only 4 gates (all leading to buses).
Thankfully, a few seats became available when 9W boarded a flight to BOM. BTW, I'm pretty sure this terminal is only used by 9W and S2 but I'm not entirely sure.
Our flight was soon announced for boarding and we all lined up for boarding. We were then put on a bus, where I took this shot of the ramp in DEL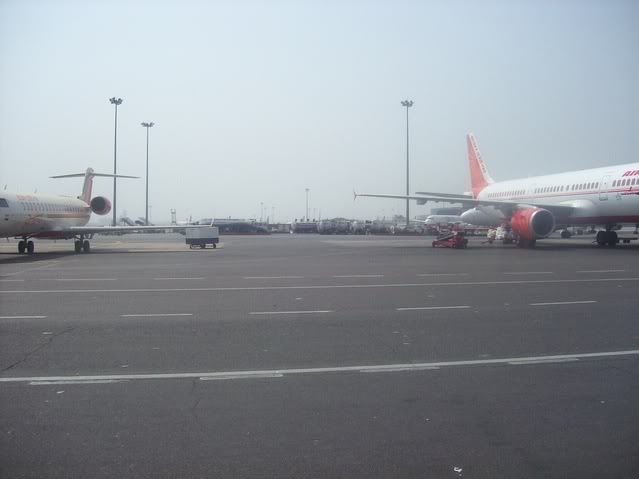 I have to say that AI's new livery is very nice.
Airline: Jet Airways (India)
Aircraft: Boeing 737-400
Reg: VT-JAR
Dep: DEL
Arr: DEL
STD: 13:45
ATD: 14:30
We arrived at our aircraft and boarded through door L1. Was surprised to see the good condition of this B734. I'm guessing that it is a newer 737 classic.
I was welcomed on board by one of the beautiful 9W F/A's in their yellow coats and walked through premiere class, which had a lot more rows than C class would on a U.S. domestic flight. When I got to my seat I was very pleased to see that I was in the row behind the emergency exit, which is missing a seat in front of it. I had a LOT of legroom.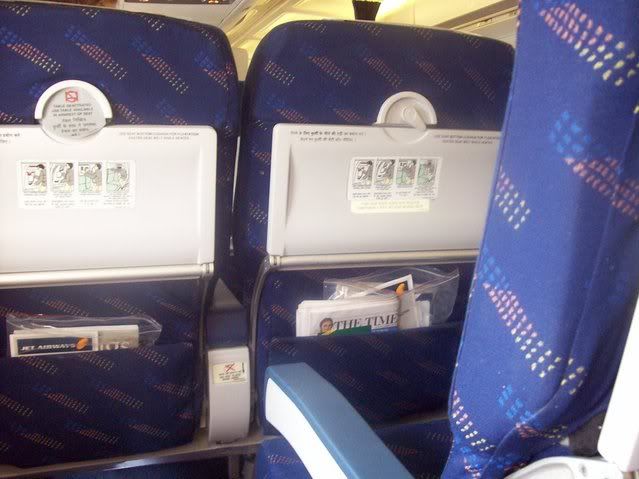 Wingview: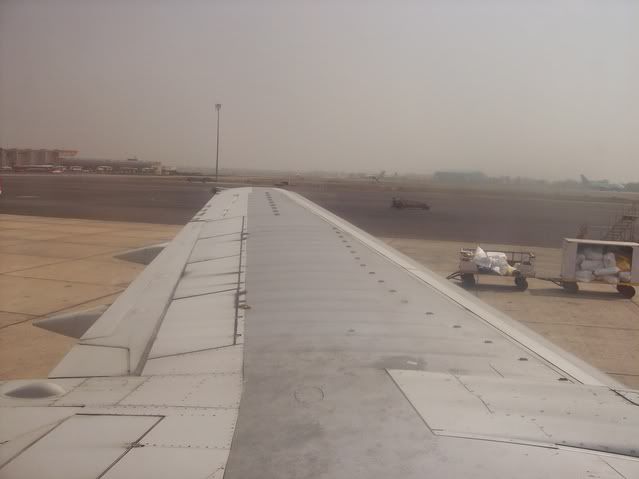 Side view: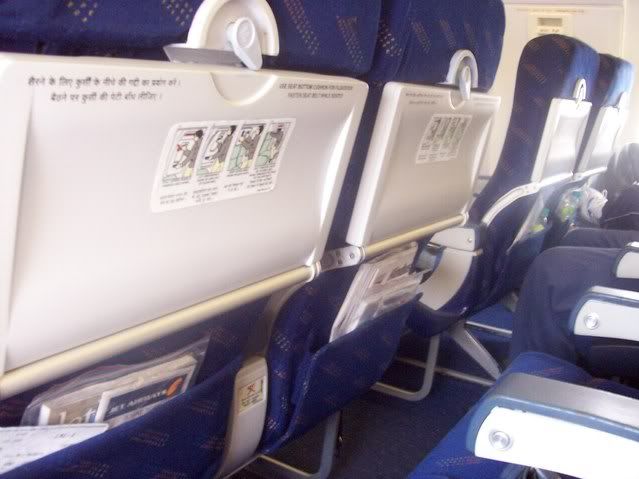 Forward view: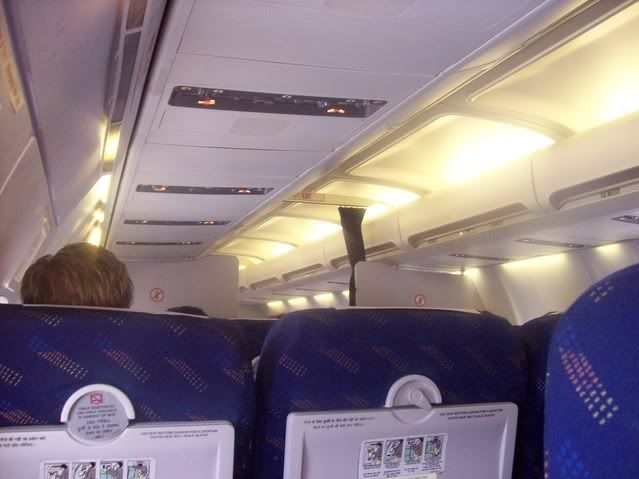 The captain then came on an apologized for the delay saying that it was because of a delay on the previous flight this aircraft did. Soon after, the airstairs were pulled away, and we soon started up and taxied to the runway.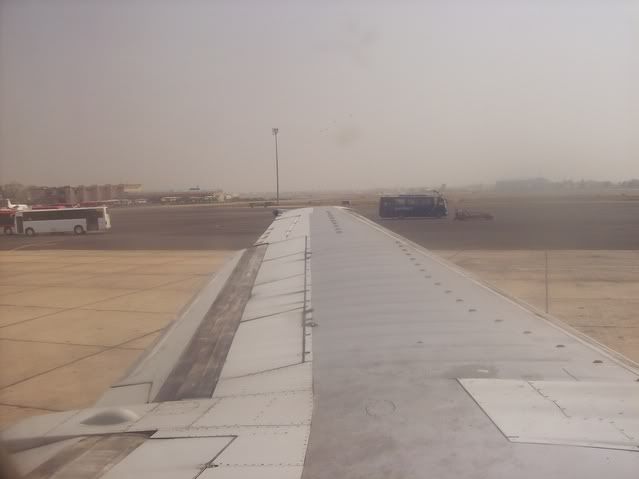 The line for takeoff was lengthy and I saw a double boggied A320 of IC.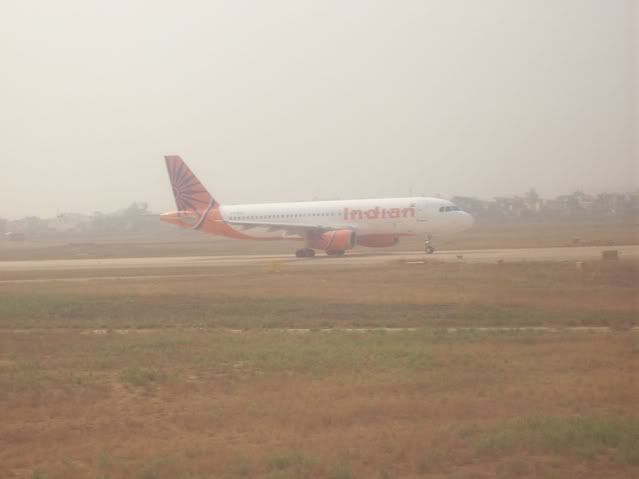 Takeoff was uneventful and we were soon on our way to UDR
The cabin crew announced that we would be receiving lunch on today's flight, which scores some points for 9W as having a meal in Y on an hour flight is almost unheard of for any American citizen.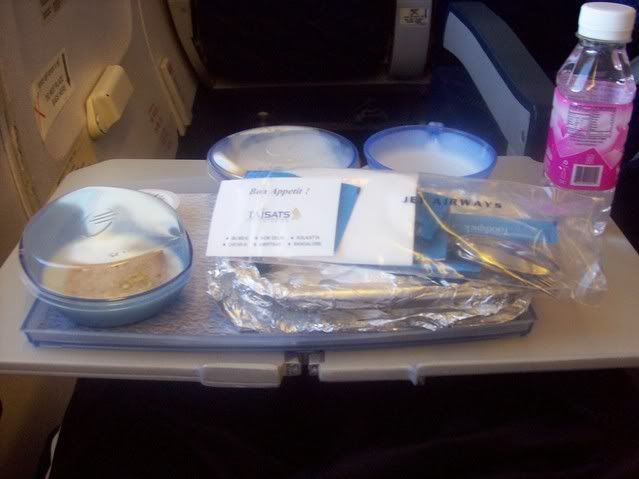 We soon began our descent in UDR when the captain came on an informed us of some intersting news. He announced that ATC has told him that there had been an incident in UDR and that the runway was currently not in a condition to land on. He said that ATC had instructed us to hold over UDR at 25,000 feet and that he did not know the extent of the delay.
A pic of us circling UDR (I moved back later in the flight to get a better view of behind the wing.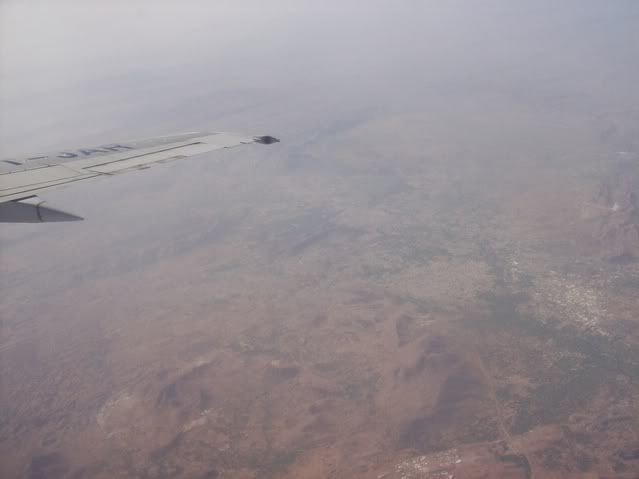 After circling UDR for about 5 min, we started flying straight, I assumed we were heading back to DEL. This assumption proved to be true when the captain came on and told us that ATC still doesn't know the extent of the delay, therefore we have set course back to DEL. The rest of the flight back to DEL proved to be uneventful and we soon landed in DEL.
After landing, it was interesting to hear the cabin crew say something like this "Ladies and gentlemen welcome to Delhi Indira Ghandi International Airport domestic terminal 1B. If you have an international connection, please follow the transfer signs and take the airport shuttle to the international terminal. Please stay seated with your seatbelt fastened until the captain has parked the aircraft at the gate. On behalf of the captain and the crew, we thank you for flying Jet Airways." I have to say, it was pretty obvious the cabin crew had no idea on what to do or say in the event of a diversion.
After we parked at the gate, the F/A's announced that we should go to arrivals, then back to departures and wait there until 1900 when the flight will hopefully depart to UDR.
So we are back at the lovely DEL domestic terminal 1B!
It was interesting attempting to go back through security with an already used boarding pass. It was also interesting seeing a tour guide along with 15 of his clients trying to explain to the security agent that we were on 9W707 and our flight had turned back to DEL due to an accident in UDR. Apparently, the security agent, still not totally trusting the guy, had to radio to one of his colleagues to further make sure that about 18 PAX were not lying to him.
After clearing that "security check", an announcement was made saying that passengers on 9W707 to UDR could proceed to the snack bar and receive some beverages and snacks. 9W definitely scores some points there. Anyway, we waited until about 1830 when boarding was announced for 9W707 to UDR.
We all filed onto the bus. Soon after, the bus started driving to what looked like out of the airport. I soon learned that we were still on airport property, but were on a road that led to the international terminal. Apparently, we were on a new aircraft that parked there. This drive took a good 15 min and I was happy to see a B738 parked at the stand! You don't understand how much I love equipment changes when they are to better and newer aircraft. When we walked out of the bus, I was delighted to see that we were parked next to one of AI's new 77L's.
Airline: Jet Airways (India)
Aircraft: Boeing 737-800
Reg: Didn't get it....sorry
Dep: DEL
Arr: UDR
STD: 19:00
ATD: 20:00
Once we boarded, I got a shot of the 77L (sorry about the quality)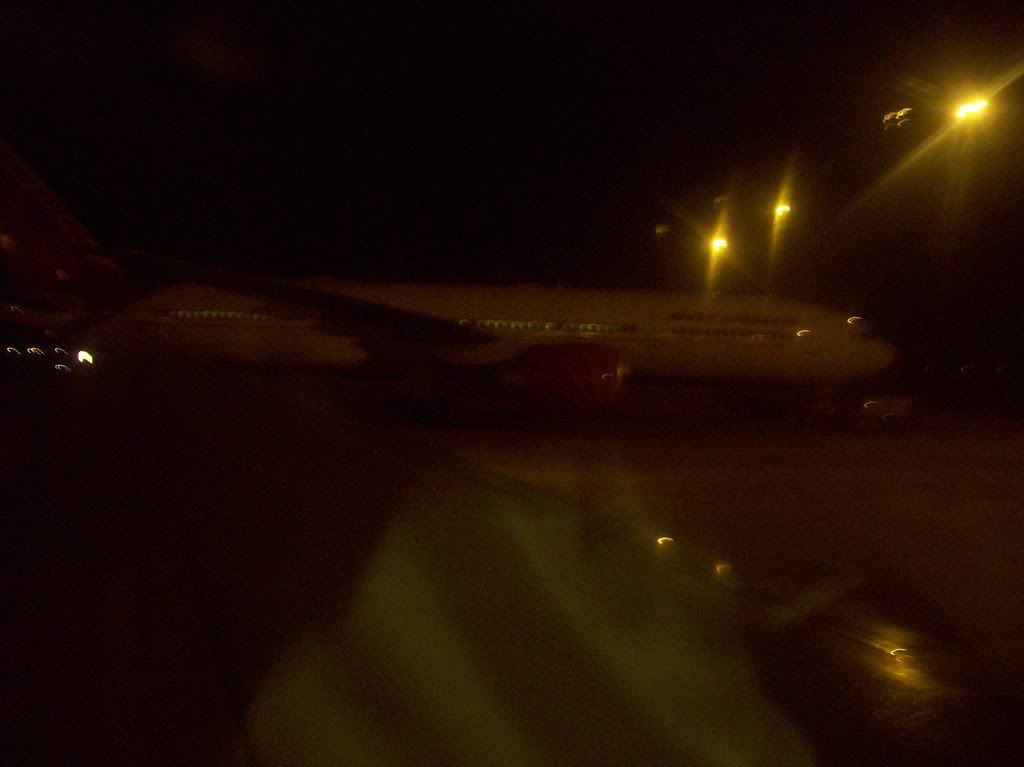 And a cabin shot: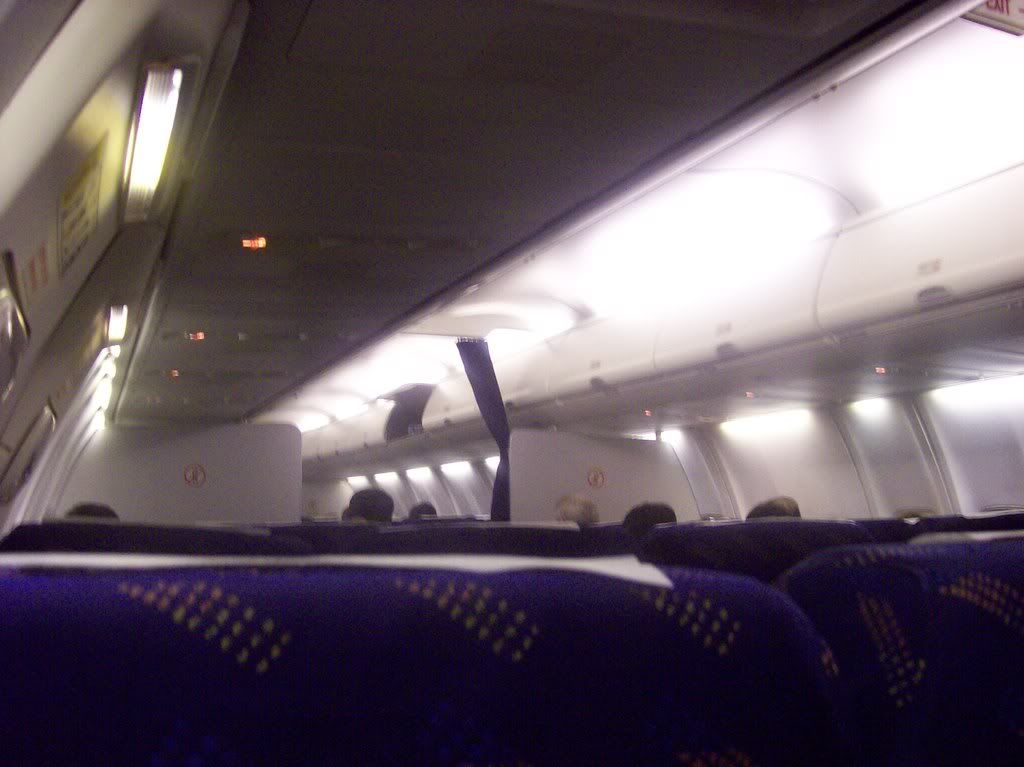 The captain then came on and sincerely apologized for what we have gone through today and stated that this crew was supposed to fly to somewhere else and that since this aircraft came from an international destination, it was parked at the international terminal.
Anyway, soon after, captain announced for the cabin crew to arm all doors and crosscheck and we were soon taxiing to the runway. We took off after an IC A320 and before a BG A310 and we were soon on our way to UDR! The flight was uneventful and we were served a light snack during the flight.
The landing in UDR was quite rough and the runway was extremely bumpy. We couldn't see any signs of an aircraft off the runway, however I did see the aircraft a few days later on a 9W flight to JAI. It was a small king air or something, and it blew its tires during takeoff or landing and hit a tree or cement wall. According some airport officials in UDR, the pilot was injured.
After landing, we backtracked the runway and disembarked on the ramp and walked to the terminal. UDR's new terminal is very nice, but looks like its still under construction. There were no FIDS anywhere to be seen. We then collected our luggage and were met by our tour guide and were transfered to the hotel.
Overall, I have to say 9W handled the situation very well....It's definitely not there fault there was an accident in UDR and I think there are several airlines out there who would have just canceled the flight and left us on our own to rebook ourselves to UDR.