Arrived at the airport about 2 hrs before departure cause we had a connection with 9W to DEL at JFK. Check-in at TPA is divided into two sections. One is for domestic and has several self check-in kiosks. The other is the old-style check-in which is for paper tickets and international travel. Since we wanted our bags checked all the way to India, we went to the international line.
Check-in was easy. We gave her our DL e-ticket receipt and our 9W e-ticket receipt and asked her if she could check our bags all the way through....she said it was no problem.
After check-in we proceeded to security and then to the crown-room club, which is very nice in TPA.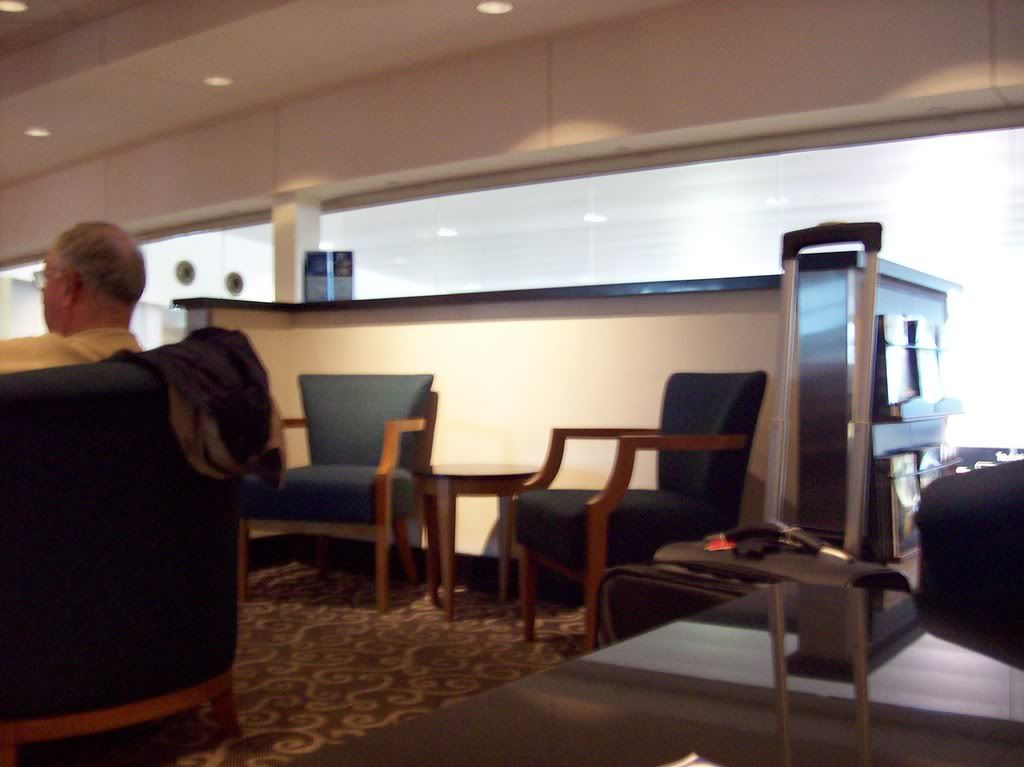 View from the club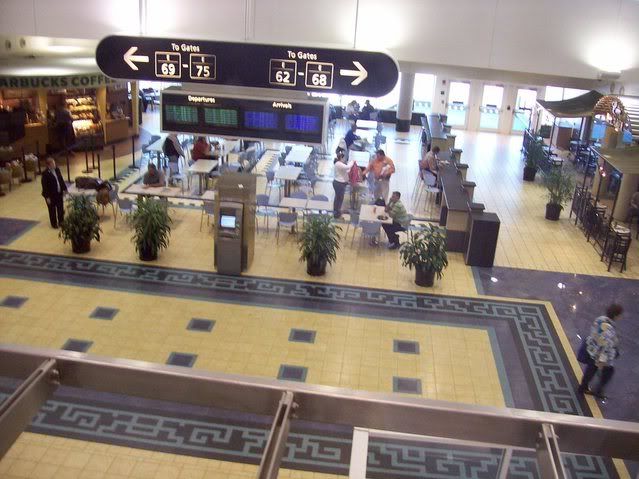 I know I'm biased because I live in TPA, but TPA is by far my favorite U.S. airport. All the airsides are brand-new, have high ceilings with great architecture, and have a bunch of food options. All the staff, even TSA, are really friendly and efficient. I have never had a bad experience at TPA.
Anyway, back the flight. We went to the gate about 10 min before boarding was supposed and got to see that our plane didn't have the new livery. Oh well there's always next time. Oh, and DL's gate areas are the nicest in TPA. They have LCD TV's with flight information, standby lists, etc.
Airline: Delta Airlines
Aircraft: MD-88
Flight #: DL1836
Date: 17Mar08
STD: 12:15
ATD: 12:05
Load factor: 100%
Seat: 12D
Boarding pass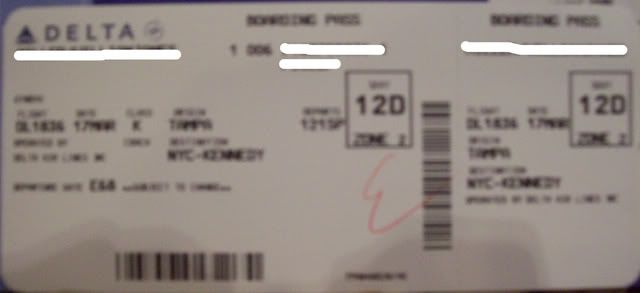 Boarding was on time and the flight was boarded by zones as usual with DL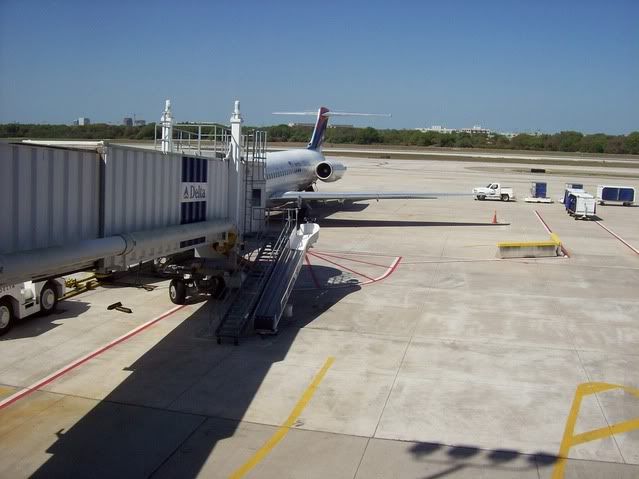 A CRJ parked next to us...no clue where it's going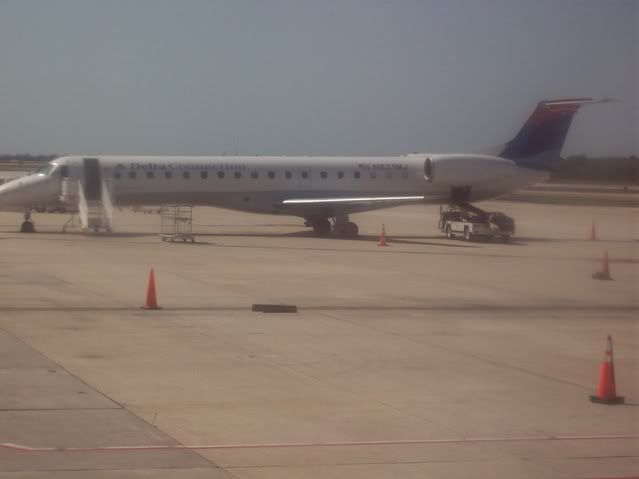 View of the ramp at TPA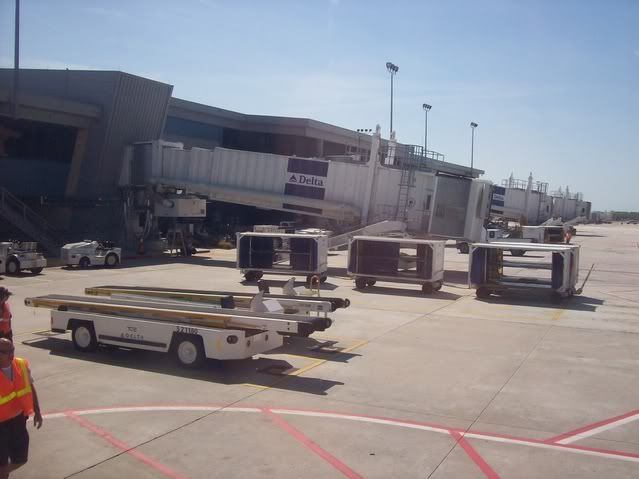 Forward cabin view.
The captain came on the PA and welcomed us on board and told us we should expect an on time departure and we should expect to arrive in JFK early. He asked for the cabin crew to arm all doors and crosscheck. We soon started pushback early.
F/A's did their safety demo and sat down for takeoff.
Another DL MD-88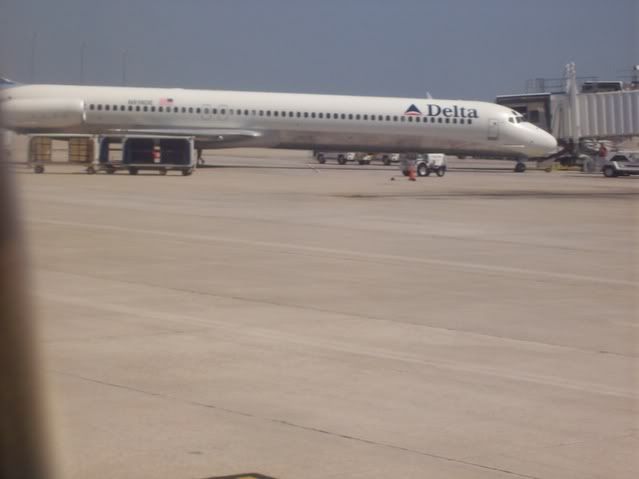 TPA ramp
Another DL MD-88 starting up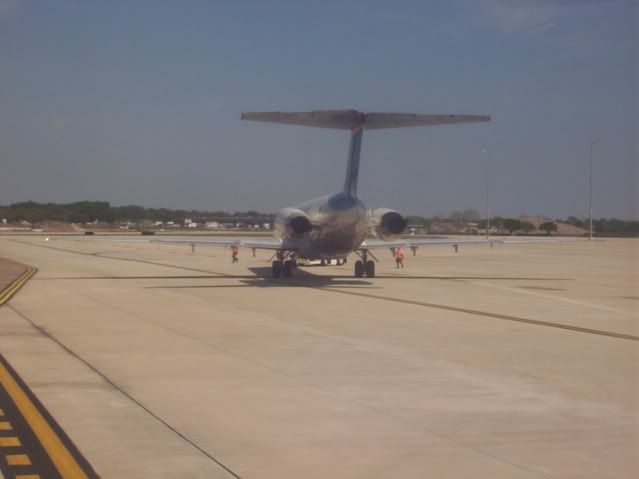 We then saw a DL 767-300 in the new livery. Why couldn't our MD-88 have it?!? lol
We taxied out to rwy 18R for takeoff...there was about a 10 min wait since the other rwy at TPA is closed for construction I believe. Anyway we taxied onto the runway only to taxi off shortly after. The captain immediately told us not to worry and that ATC was rerouting all flights going to northeast.
We taxied back onto the rwy after a DL flight took off and immediately banked to the right after departure....I've noticed that almost all flights out of TPA do this. I guess they all fly the same SID and have to avoid the traffic going in and out of MacDill AFB.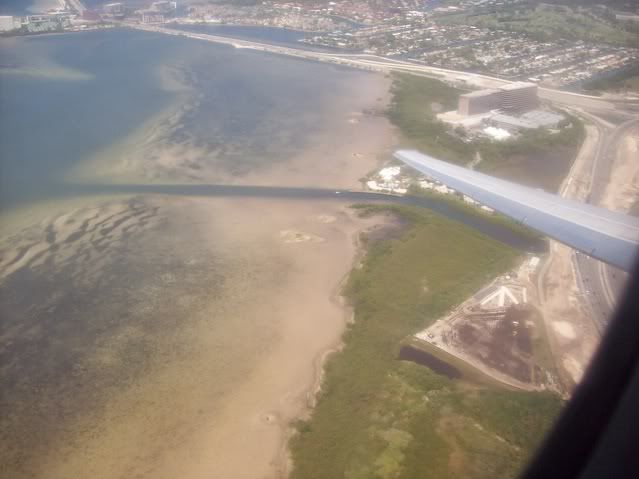 During climb, I got this cabin shot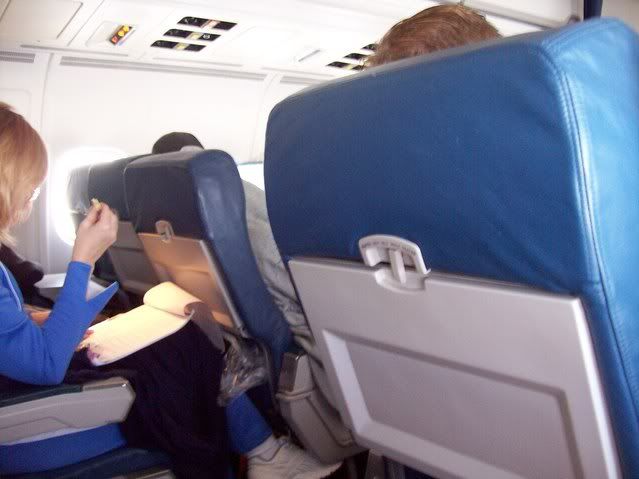 And a view of the legroom with the newly designed safety card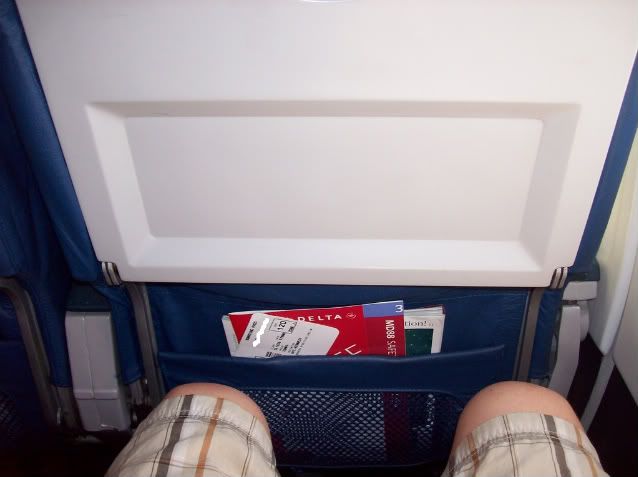 Once we got to our cruising altitude, in-flight service was started which consisted of cookies and a drink....standard for U.S. domestic I guess.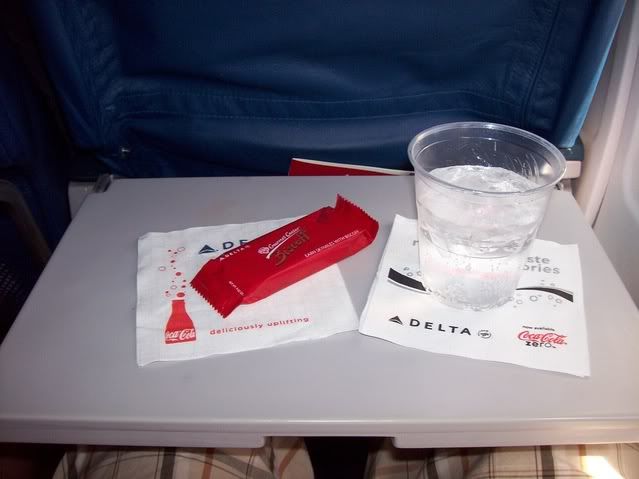 A shot of the wing during cruise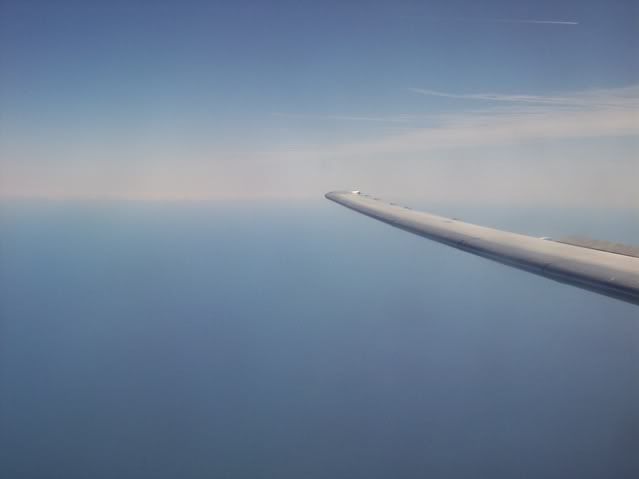 Also, the cabin crew were excellent during this flight. They all had great attitudes and seemed to proud that they were flying for DL. A VERY nice change from couple of years ago. This definitely sets them apart from other U.S. carriers.
About 30 min before arrival, the captain announced our descent into JFK but said we had to hold a bit because of traffic going into JFK. Also, during descent, I noticed the slats were deployed about 20 min before landing....not sure if this is normal or if it just that we were holding a low altitude.
Landing on runway 31L in JFK was smooth as usual with DL....those DL pilots definitely know how to land aircrafts. Taxi to the gate was short and got these shots of the ground in JFK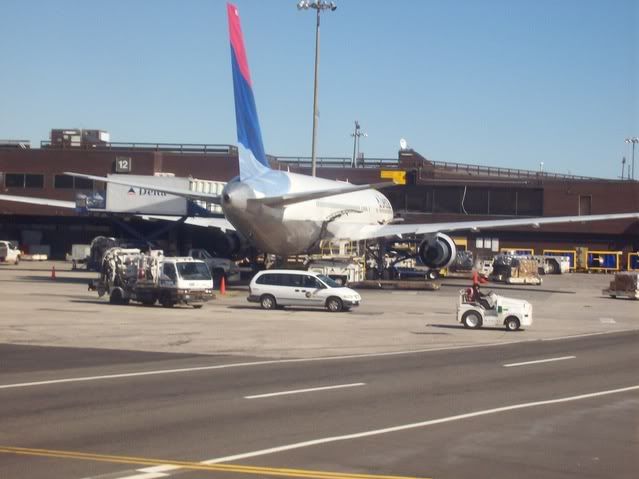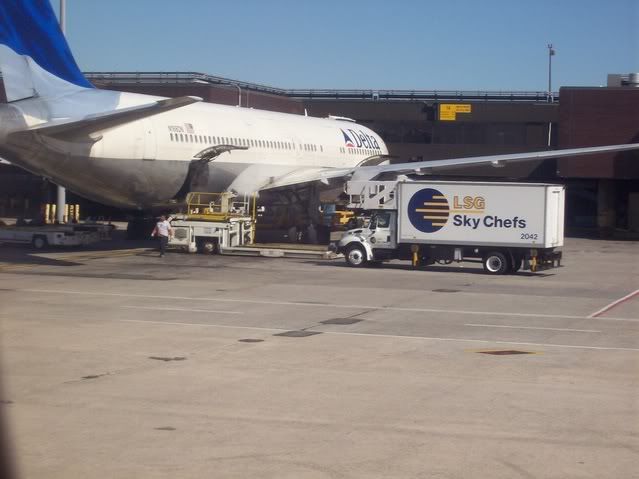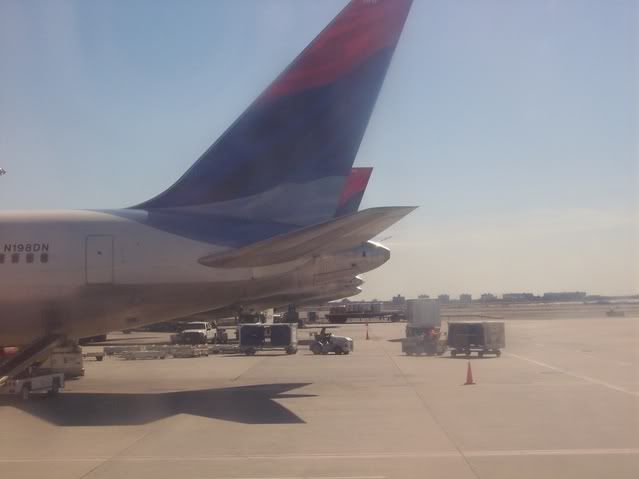 After leaving the Maddog, we went to the airtrain station to go to T8 where our 9W flight departed from. I got these shots of an LH tail and an MS 772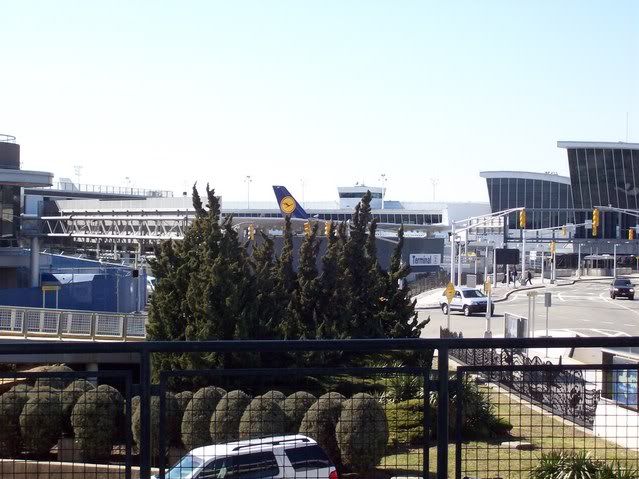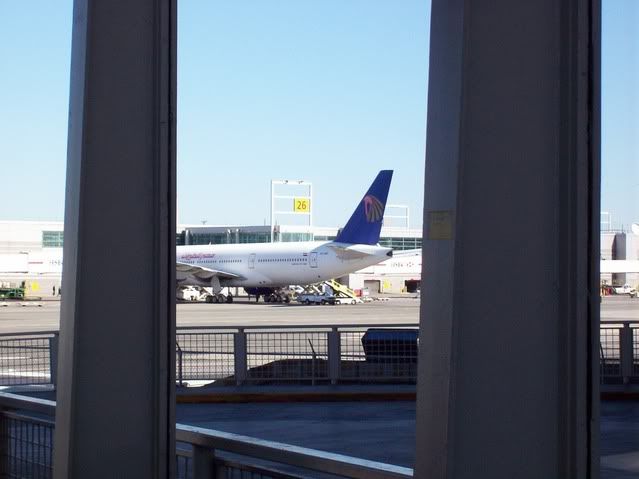 Hope you enjoyed reading and feel free to view my TR's on 9W:
Jet Airways 777-300ER JFK-DEL ( Pix)
Jet Airways 9W707 W/Diversion (Pix)