This is one of several trip reports that I've started to write, but the only one I've actually managed to finish! No doubt at some point I'll get round to finishing the others, but wanted to complete this one first as personally I find it the most interesting...I hope you do too. And be warned, it's very long. Anyway, here goes:
Gotta love TV these days. A documentary that I saw a few years ago had left me wanting to visit the Cappadocia region of Anatolia in Turkey with a view to taking a balloon flight over a landscape that is dotted with "fairy chimneys". My research uncovered a need to get to either of two Turkish airports, namely Nevşehir and Kayseri, from where I could travel to the small town of Göreme, the base for my planned adventures.
So, as I'm currently on a self-enforced sabbatical from work, now seemed like the perfect time to finally get myself to Central Anatolia and fulfil that personal ambition.
The surfing commenced in earnest some two weeks before my planned departure date. My first port of call needed to be Istanbul, from where I could catch an internal flight to either of the two nearest airports to Göreme. So, objective number one was to get to IST as cheaply as possible. Having had a great experience on a Turkish Airlines A330 LHR-IST almost exactly a year ago, I was quite keen to explore that option first. TK wanted a total of around £280 to take me all the way from London to either Nevşehir or Kayseri, which struck me as a little steep, so I started looking for other options. I didn't particularly have a problem with catching a connecting flight from somewhere in continental Europe if it meant saving a few quid, so I explored as many options as possible.
And guess who ended up coming up trumps on both the cost front and the "adding to my list of firsts" front? Yep, none other than Switzerland's own Swiss International Airlines! I'd read some very positive reports on here about Swiss and about what a joy it is to connect in Zurich, so when they wanted a grand total of £120 to take me from London to Istanbul via Zurich and back, I jumped at the chance to check them out for myself.
I was rather impressed with the whole itinerary too. My routing would have me flying from LCY to ZRH on an RJ100, then on to IST on an A321. The return journey would have me flying back into LHR, again via ZRH, on an A321 and an A320. Now even though I've flown in and out of all of the other London area airports before (yes, even LTN!), LCY was the only one that had not experienced the pleasure of my company. The deal was sealed.
My second objective was to get from IST to either Nevşehir (NAV) or Kayseri (ASR). Turkish flies both of those routes, and Onur Air flies IST-ASR, so after visiting the website for both of those airlines and finding some very cheap one way fares, the best flight timings had me flying with Turkish Airlines from IST to ASR, and with Onur Air back from ASR to IST. The two flights came to a total of about £78...not too shabby. The savings that I had made on the cost of the flights would also pay for the cost of my five night stay in the great hotel that I had found! I was a happy bunny.
So, out came the plastic and the bookings were made.
My list of firsts for this trip now looked like this:


First flight out of LCY.

First time flying with Swiss...and experiencing their famous chocolates!

First experience of Zurich airport.

First time flying with Onur Air.

First internal flights in Turkey.

First time in an RJ100 that wasn't in a 3-3 configuration (gotta love FlyBE!).

First time in Cappadocia.

First time in a hot air balloon!!!!

As usual, the flight gods were just itching to play their part in the whole affair. I don't know what I ever did to p*ss them off, but they were determined to have their say in the smoothness of my travels...but more of that later. Let's just say for now that the God involved in this particular trip is called "Flite Kansellayshun"!
Let the travels commence!
January 31st started particularly early for me. The first flight of my trip, LCY-ZRH was due to depart at 08:25, so I needed to get from my home in south west London all the way over to LCY in east London to start my journey. I checked in easily online on swiss.com the day before my flight, so I figured that arriving at LCY an hour before departure would be OK. Good job too really as it turns out that the public transport system of my home town wouldn't actually allow me to get there any earlier than 07:25! So in the winter darkness of 6am I left my house to catch the 6:13 train from West Sutton station to London Bridge station. All went surprisingly smoothly on this cold and windy morning and after using a combination of Southern Trains, the Jubilee line and the DLR...with a change of trains at London Bridge and Canning Town...I arrived at LCY at exactly 7:25.
Luckily the DLR station is right next to the terminal, so by 7:30 I was in the queue for the Swiss bag drop desk behind one other person. Two minutes later I had my boarding passes for my two flights that morning, all the way to IST. I was also informed of a half hour delay of my flight to ZRH, which obviously reduced the already short connection time for my flight to IST. My first concern was whether my bag would make the connection so I thought I'd better check with the agent as to whether the short connection time was likely to be a problem. The guy behind the desk didn't utter a word in response, but just gave me a "Don't be daft...it's Zurich" look, so I just smiled and allowed the next person in the queue to step forward!
So off I headed up the escalator to the security check and departure lounge. This was when I struck me that LCY is predominately used by business travellers who are obviously used to the whole travel experience. Instead of having to wait behind people readying themselves for the security check by emptying their pockets, removing their jackets etc. at the last possible moment, I was refreshingly pleased to see that everyone was pre-prepared for what was about to happen, and the whole security thing was over in the blink of an eye. No queues...nothing. A minute or so later I was in the departure lounge...although it did appear that I missed the part of the security check where they glue your mobile to your ear as I seemed to be one of very few people who were not sitting around talking on a phone! Oh the joys of international business...and not being a part of that world...for the time being at least!
Flight 1:
LCY-ZRH
Swiss International Airlines
Flight LX451
Scheduled Departure: 08:25
Scheduled Arrival: 11:15
Aircraft: Avro RJ100
Registration: HB-IYV
Seat: Something A!
After a quick drink, I went and sat and waited for my flight to be called. The iPod came out and I relaxed for a bit until my flight appeared on a screen as "Boarding". Off I headed down a long corridor that had staircases leading down one level to each gate. I found the staircase for gate 10, had my boarding pass checked at the desk at the bottom of the stairs, and sat for a bit looking out onto the tarmac where HB-IYV, one of two Swiss RJ100's in Star Alliance livery, was waiting for us. There are no airbridges at LCY, so once the aircraft was ready for us to board, a sliding door was opened and out we went onto the blustery tarmac. I was seated in a row that required boarding by the rear stairs and duly complied, slapping the fuselage three times with my right hand on entry as per my usual routine. I was greeted with a half-hearted "Guten Morgen" by the F/A who was manning (or is it "womanning"?!) the rear door, and headed off up the aisle to find my seat.
Ten minutes later we were all set to go. The safety demo was performed manually as we taxied for takeoff. From where I was sat, it appeared that we taxied at a rate of knots up the runway (although I could be wrong) for departure. Knowing that the winds would be from a south westerly direction that day, consequently expecting a westerly departure, I had deliberately chosen a seat on the left hand side of the aircraft in the hope of getting a good view of Canary Wharf from above. I had my camera ready as we shot off down the runway like a rocket, ready to get some good shots of my former workplace from above as I was pushed back in my dark grey Recaro seat.
Did I mention that it was windy that day?? MAAAN was it ever WINDY!! That RJ100 was thrown about like nobody's business as we left LCY's single runway! Consequently the only shot I got was this one of the Thames Barrier...I couldn't even SEE Canary Wharf! Even holding the camera steady was quite a chore! :
Eventually the captain spoke over the PA system, apologising for the delay, which had apparently been caused not only by heavy traffic in the area, but also the strong winds affecting south east England that morning. He informed us again (the 'Chef de Cabine' had already given us that information prior to departure) that our flight time to ZRH would be one hour and 15 minutes, and wished us a pleasant flight. We did a long right hand turn to head down over Kent and across the Channel into continental Europe, flying in cloud and also quite low for the first 15 minutes or so of flight, during which time plenty of "positive g" moments were experienced. The in-flight service eventually began and I was presented with a steaming cup of very nice coffee and a muffin. It seems that the F/A that had half-heartedly Guten Morgen'd me as I boarded was the less cheery of the two F/A's on board that morning, and the service was generally really rather pleasant.
Shortly after the empties had been cleared away, the moment I had been waiting for arrived...the handing out of the Swiss-branded chocolates!!! The happier of the two F/A's made her way up the aisle with a white basket laden with the milk chocolate goodies...and I have to say that I wasn't disappointed...those babies are delicious!!!
A generally pleasant and smooth flight followed, during which time I listened to the iPod and took a few pics from my seat. :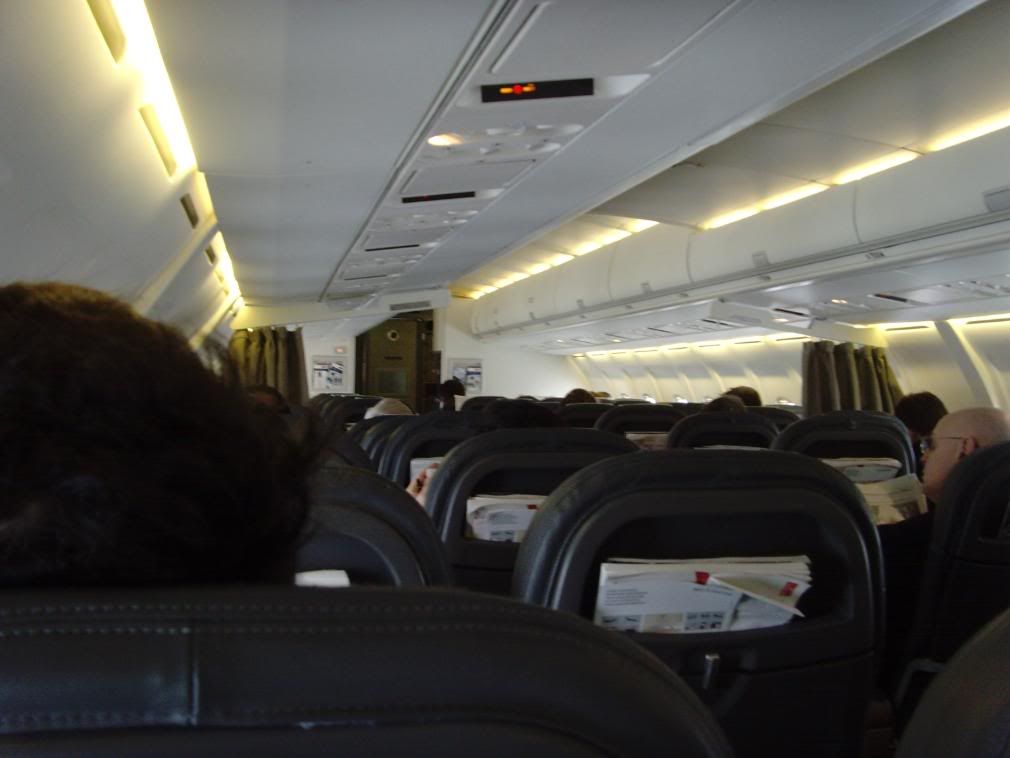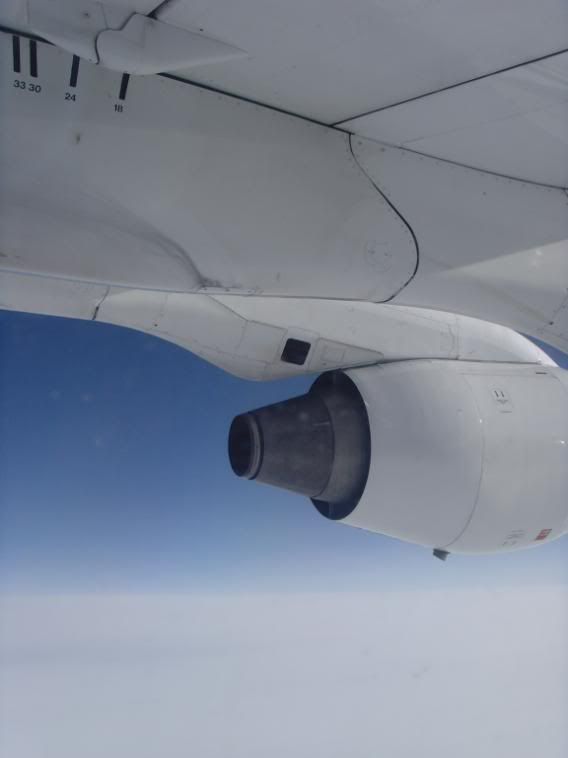 Ahhhh, the chocolates!: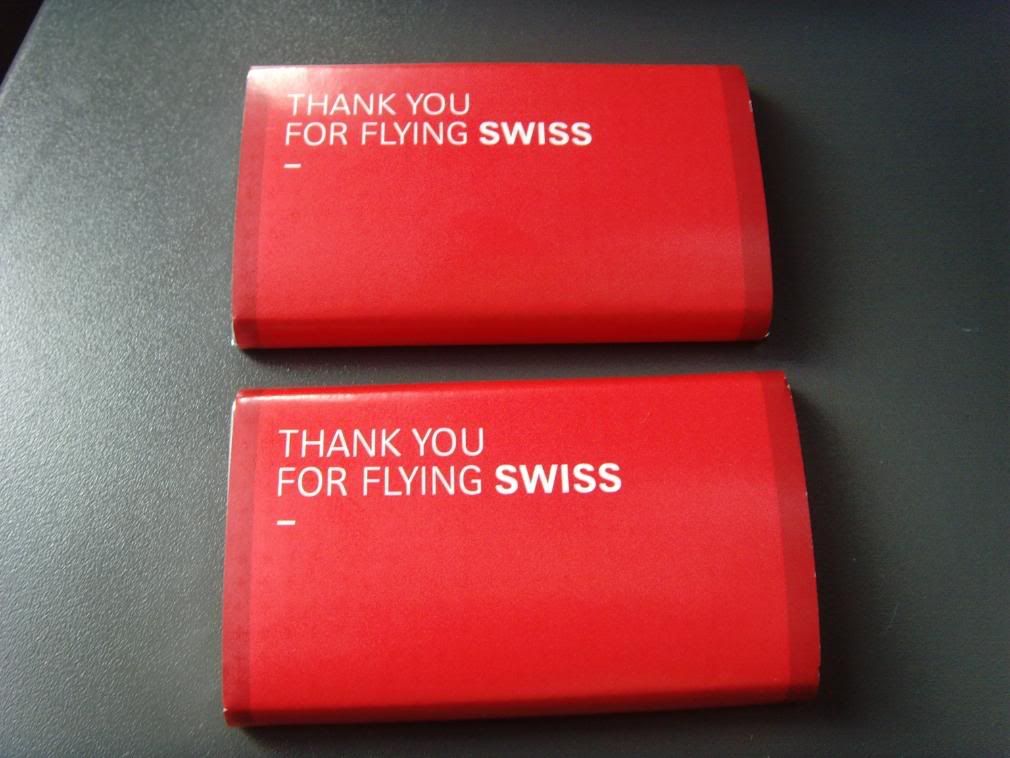 As predicted, an hour and 15 minutes after departure we plonked ourselves down onto the tarmac at ZRH having made some quite tight "RJ style" manoeuvres on approach, taxied to a remote stand and boarded a bus to the terminal. During approach to ZRH, the 'Chef de Cabine' had announced the gates for connecting flights, and I made very careful note that my flight to IST would be departing from gate A81.
I had heard that connecting at ZRH was a breeze, which indeed it was. I followed the signs to the gates in the A80 range...only to be confronted by an enormous queue for a security check. The queue was in fact so long that they turned off the moving walkway leading to the area to prevent people being stuck on an moving electric walkway with no room to step off at the end (would have been fun to watch if they hadn't)! However, despite the length of the queue, I only waited for about 10 minutes or so before I was in a gate area that included a small duty free shop, a smoking room and a smallish snack bar. Arriving at gate A81 I found that the next departure was to Moscow, rather than my Istanbul flight. I panicked for a moment as I thought that I should have checked the screens to verify the gate...I could potentially have been at completely the wrong gate area and may have needed to head to a completely different gate, additional security check etc., and all with a reasonably tight connection time. I really should learn not to panic so much...my flight to IST was in fact leaving from the next gate over, gate A82!
The owner of the hotel I was staying at in Göreme had asked if I would mind taking him a bottle of Jim Beam as whiskey is extremely expensive in Turkey. Considering that the hotel was officially closed for the winter and that he had agreed to open up just for me, I gladly nipped into the nearby duty free shop while I was waiting for my flight to board, which had been announced as being delayed by 25 minutes.
Flight 2:
ZRH-IST
Swiss International Airlines
Flight LX1804
Scheduled Departure: 12:40
Scheduled Arrival: 16:25
Aircraft: Airbus A321
Registration: HB-IOH
Seat: 11A
While checking in online, I had selected one of my favourite seats on the A321, 11A, which is directly behind the exit row, but with no seat 10A in front, giving about 8 feet of legroom. Jim Beam in my possession, I sat at the gate area and waited while the orderly boarding process took place, starting with the rear of the aircraft. However, whilst they had announced boarding of the rearmost rows, no further boarding announcements were made, so after a while I tacked myself on to the end of the queue to get onboard HB-IOH.
I made myself comfortable in my seat of choice and waited for boarding to complete. An elderly gentleman was sat in seat 10B and was chatting in German to one of the friendly F/As. Then another bloke arrived and pointed out to the elderly gentleman in English that he was sat in his seat and asked to see his boarding pass. It turned out that his allocated seat was actually 11C, but when he stood up to move, I realised why he had decided to take his chance in the exit row...he must have been at least 7 feet tall!! However, he folded himself into his allocated seat, using the leg space in both 11C and 11B!
Gotta love the legroom in 11A...but check out the funky socks of Mr. 10B!!: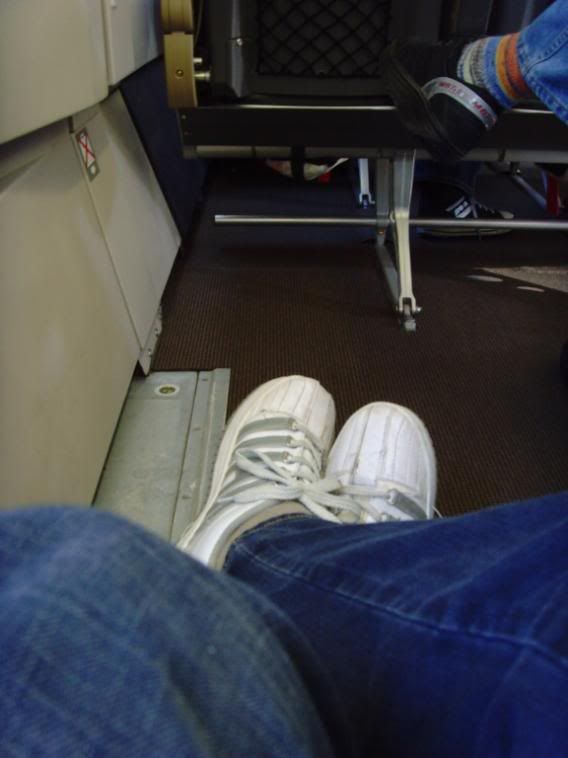 And the cabin view: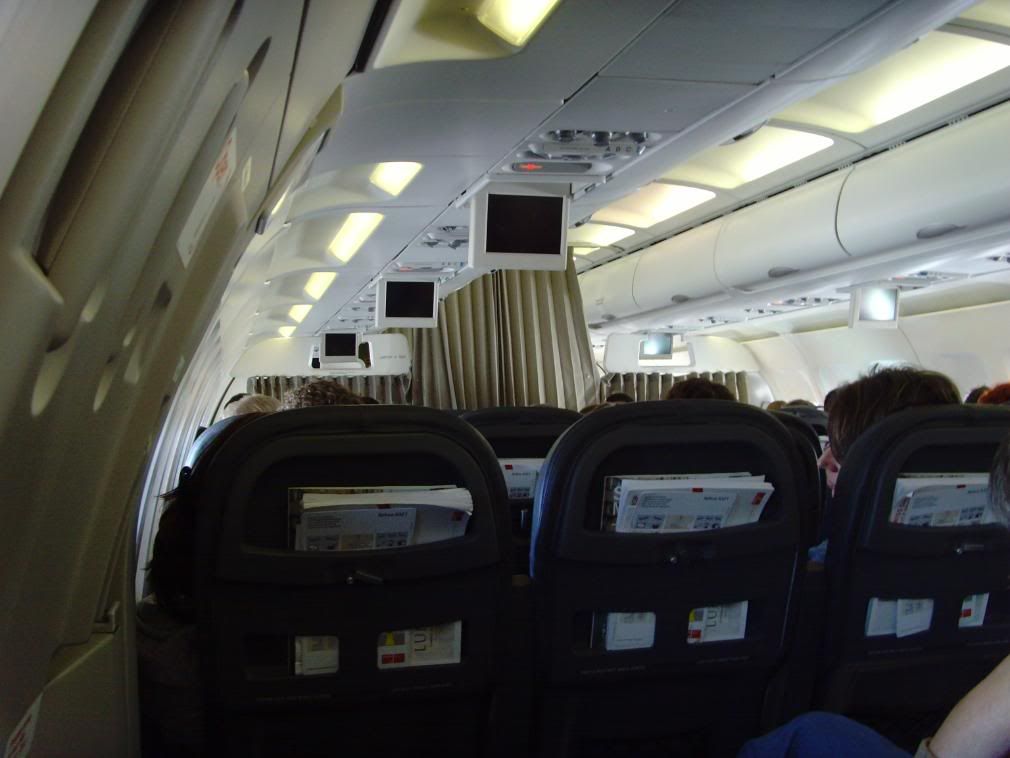 The safety announcement was done using the drop-down screens this time, and we taxied to the runway as we watched the video, complete with strange sound effects of the keypad being used on a mobile phone, and the sliding noise of evacuating passengers using the escape slides! A smooth takeoff followed, accompanied by the signature "chainsaw" sound of the engines.
The screens showed our routing over the Austrian Alps, giving good views of the snowy peaks: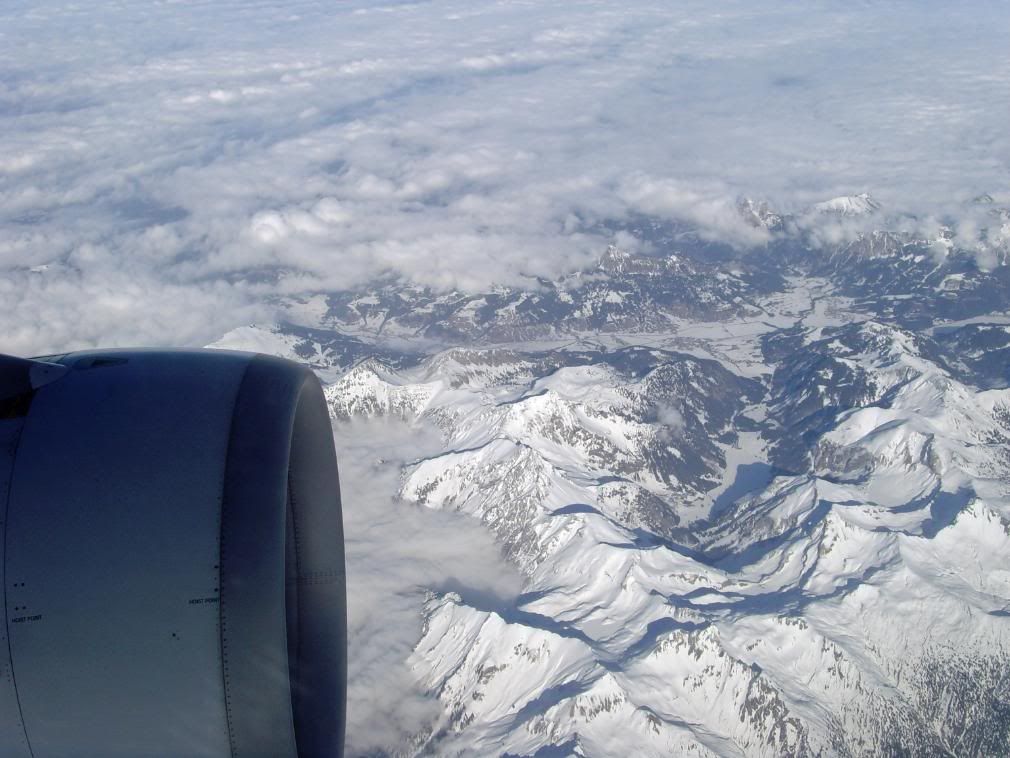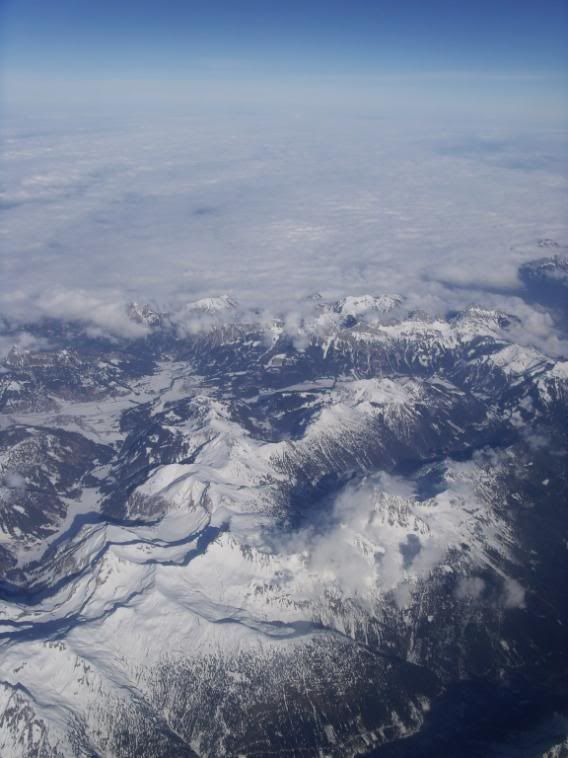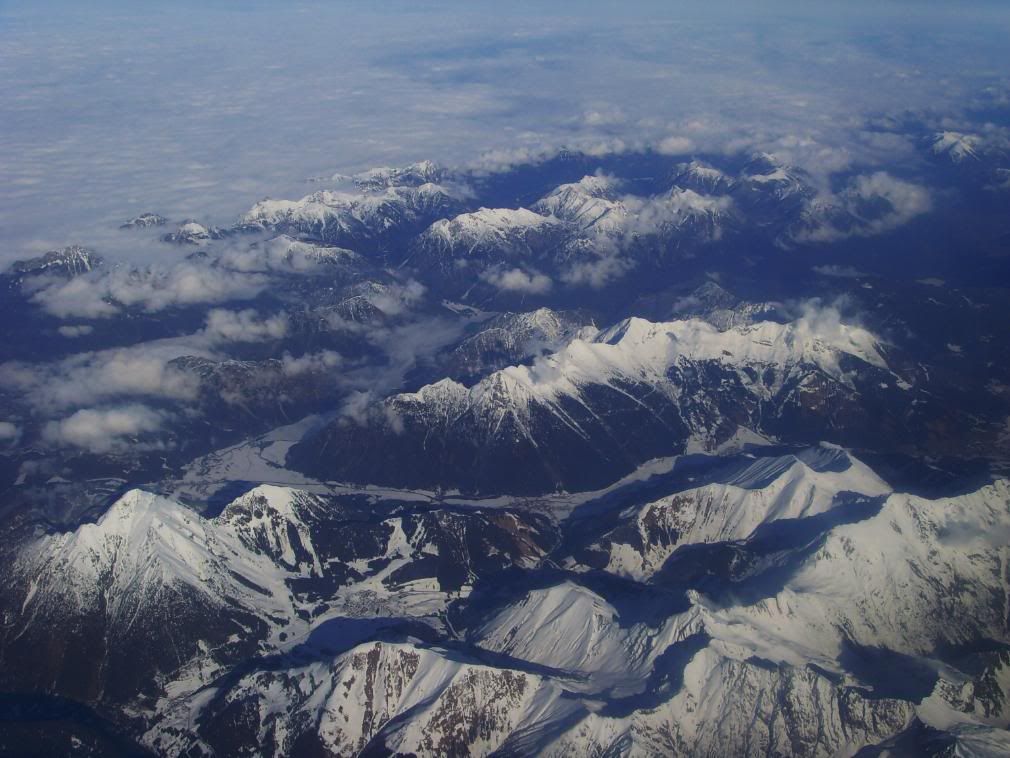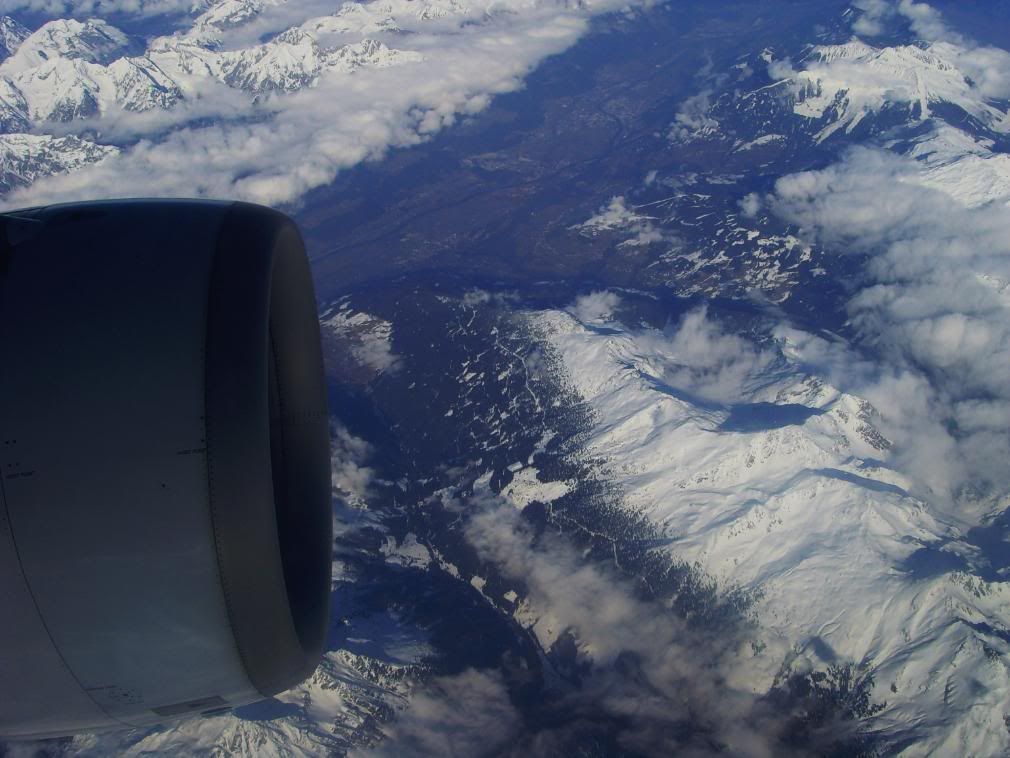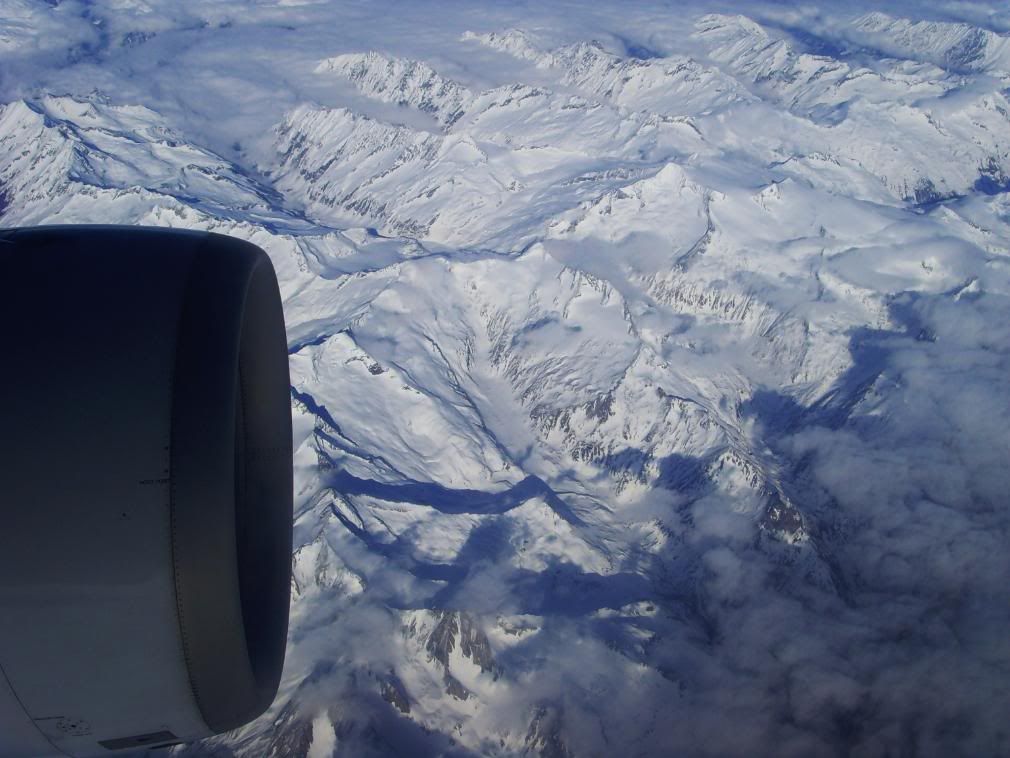 The in-flight service started with a drinks round. As it was now lunchtime I tried to ask for a vodka and Coke, although the F/A really didn't seem to understand what I was asking for. Even though I kept saying the word "Vodka", she seemed to think I was just asking for a Coke! In the end I decided to pull on my schoolboy German skills and requested a "Vodka MIT Coke"...and she finally understood what I was asking for! Unfortunately, all my efforts were in vain as they only had wine or beer on board. So I had a bottle of white wine. We were also given a tomato and mozzarella pizza pocket, which although small (about the size of a pasty), was very tasty.
Flight time to IST was announced as being two hours and 15 minutes. Skies were clear all the way, and the flight was generally smooth, with just a few minor tremors here and there. Various things were shown on the overhead screens, but I didn't pay a lot of attention...I think the standard "Just for Laughs" probably featured at some point, however I was distracted by the elderly gentleman in 11C who seemed to now be in the mood to chat! Initially I tried to indulge his need for conversation, but my early start meant that I really wanted to try and get some sleep, so wasn't particularly in the mood to chat to him about British politics! In the end I had to tell him that I wanted to take a nap, so I switched on the iPod and closed my eyes. I think I probably slept for about 20 minutes. Even when I awoke I kept my headphones on so he didn't try and pick up from where he left off. Eventually the "chocolate run" began again, and when I smiled very nicely at the F/A she said that I could take more than one if I wanted...those Swiss flight attendants are so very accommodating! Before I knew it we were descending over the western suburbs of Istanbul. We made an interesting approach over the city, which gave us great views of the Golden Horn, before we made a smooth landing at IST from the east.
Descending over Istanbul: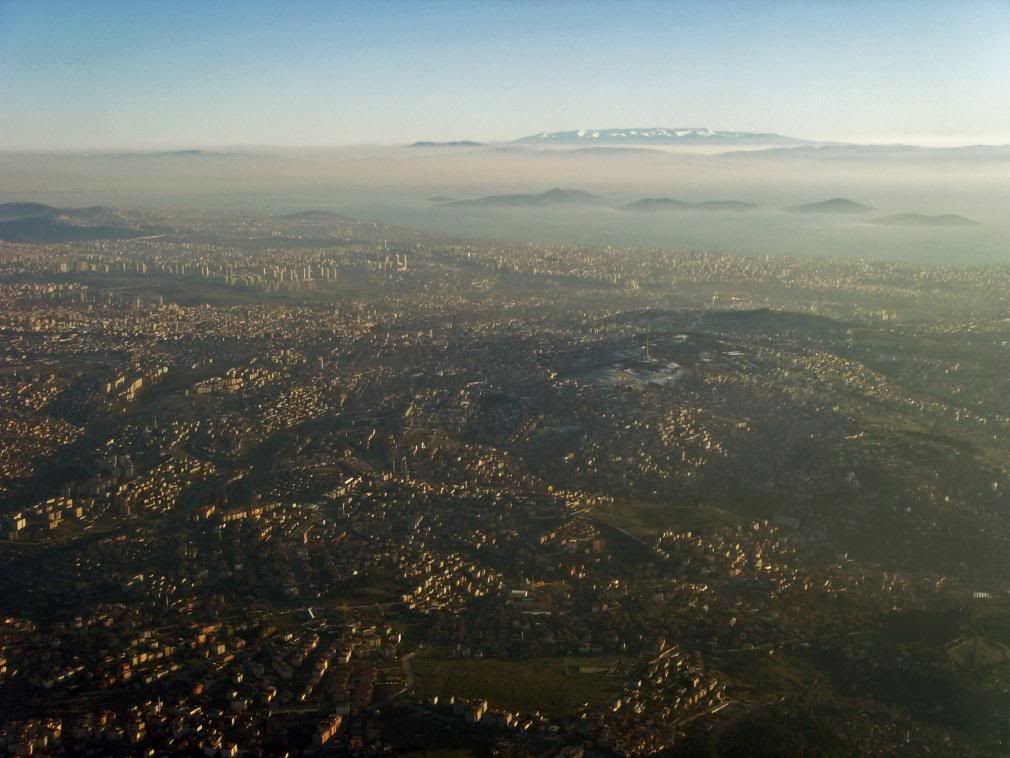 Ortakoy from above (village to the right of the bridge):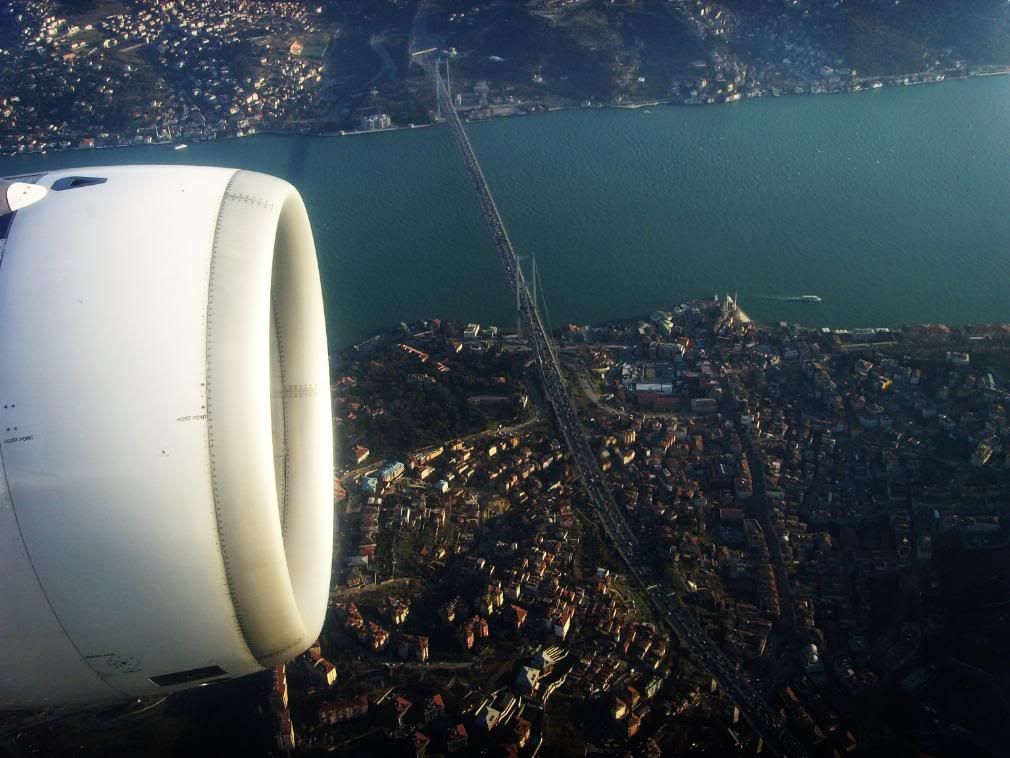 The Golden Horn:
We arrived at a gate with an air bridge, having passed the (W)Ank Air MD80 (that was discussed so humorously in the CivAv forum) and a Jetstar Airbus during our taxi (anyone know what that was doing in IST...sooooo far from home?!). I headed off and bought my Turkish visa before going through immigration then on to baggage reclaim to collect my case, which thankfully had made the connection at ZRH, and appeared just two minutes after I arrived at the belt.
(W)ank Air (well that's how it looks from the starboard side!) and Jetstar: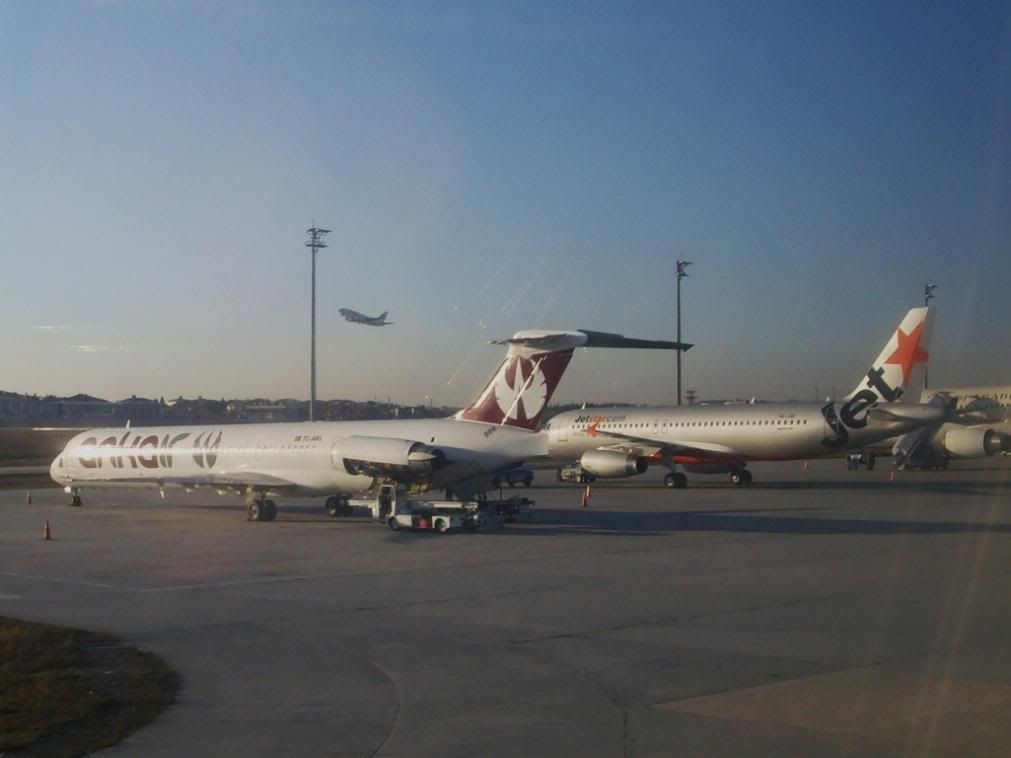 I now had just under two hours before my flight with Turkish Airlines to Kayseri, so I headed out through customs and started the five minute walk to the domestic terminal. I had already checked in online for my next flight, so just needed to find a bag drop desk.
I approached an empty desk and smiled at the lady behind. My smile wasn't reciprocated. I put my passport down on the desk, which caused a bit of tapping on a keyboard. She then barked, "Where are you flying to?"...this kind of took me by surprise as I'm assuming that if she had found my details on the system, surely those details must have included my destination? Seemingly not. Anyway, I said that I was going to Kayseri, which eventually caused the issue of my boarding pass without another word being spoken. Bad day for her perhaps?
Bag yet again out of my possession, I decided to go and have a drink in the 'North Shield' English pub (I still wasn't used to the idea that I was no longer on home ground!). What a mistake that turned out to be! I ordered a large vodka and Coke and was asked if I would like some nuts too. I was a bit peckish, so said yes. I downed my drink and nearly broke several teeth on nuts that didn't appear to have shells, but my teeth were telling me otherwise. I decided it was time to head through security to the gate so asked for the bill while I drained the last dregs of my glass. This is when I realised what a mistake it was to have a drink at a Turkish airport bar!!! I turned the bill over...and nearly fell off my stool when I saw the total...46YTL...the equivalent of £20, or $40 US!!!!! For a large vodka, Coke and a small dish of nuts??? I had bought a whole litre of Absolut vodka at Abu Dhabi airport just three weeks before for £5!! What a bl**dy rip off this bar was!!
Anyway, I put that down to experience and headed to security.
Flight 3 (original):
IST-ASR
Turkish Airlines
Flight TK264
Scheduled Departure: 18:20
Scheduled Arrival: 19:40
Aircraft: Boeing 737-800
This was the most thorough security search of the day...I had to remove my belt and switch on my laptop...neither of which I had needed to do at either LCY or ZRH. Security successfully behind me, I headed to gate 405, a bus gate on the lower level of the domestic terminal. The screen at the gate was showing that my flight to Kayseri would be boarding in half an hour, followed half an hour after that by a flight to Bodrum.
This is when the flight gods got a tad bored and decided to mess with me a little bit!
I was sat at the gate rearranging all the bits and pieces that I had repositioned prior to security when I happened to glance at the screen again, only to see that the Bodrum flight had switched places with the Kayseri flight and was now the first to board. A delay of one hour was now showing for my flight, so I fired off a text to the hotel owner so that he could inform the shuttle bus company of my late arrival into Kayseri.
With my text message hot off the press I glanced at the screen again, only to see that my flight had now disappeared completely and only the Bodrum flight was showing. That cheeky minx "Flite Kansellayshun" was having some Thursday evening fun and had decided that my flight would be cancelled, a fact that was confirmed a couple of minutes later by a barely comprehensible announcement in English.
What to do? I was under the impression that I was booked on the last Kayseri flight of the day, so was envisaging a night in an Istanbul hotel at Turkish Airlines' expense. I had just about made out the words "Turkish Airlines ticket desk" during the cancellation announcement, so headed off with a number of other people to find that source of further information. I hooked up with a Dutch couple who were in the same predicament as I, and after spending some time trying to work out how to leave the secure area, we tracked down the ticket desk, pressed the button to get one of those number tickets that you get at the supermarket deli counter and waited patiently for our turn to see an agent. I have to say that we were a lot more patient than a number of the Turkish people around, who were storming about the place speaking angrily in Turkish and doing their utmost to jump the queue whenever possible!
The Dutch couple's turn came before mine, and they shouted to me from the desk that we were being transferred to a flight to Nevşehir that was leaving some four hours later. When my turn came I was given the same information and told that my bag would be automatically transferred to the Nevşehir flight. This was contrary to what the Dutch couple had been told, who were under the impression that they had to retrieve their bags from some magical portal known as "L19" and check them in again. To clarify matters, I headed to an empty Turkish Airlines check-in desk, where it was confirmed that our bags would indeed be transferred, and was issued with a new boarding pass to Nevşehir. The Dutch folk did the same, following which we spent a lot of time discussing what the chances might be of our cases actually arriving in Nevşehir as hoped! However, we arranged to be collected from Nevşehir airport...luckily they were also staying in Göreme which meant we could split the cost of a shuttle bus. We then went and found a kiosk that was selling cans of Efes beer for 4YTL...considerably cheaper than the bars...and settled down to await our flight.
While we waited (and drank) we noticed that there had actually been a later flight to Kayseri, which also ended up being cancelled.
Flight 3 (actual):
IST-NAV
Turkish Airlines
Flight TK258
Scheduled Departure: 22:25
Scheduled Arrival: 23:35
Aircraft: Boeing 737-800
Registration: TC-JGA
Seat: 24A
Luckily our Nevşehir flight appeared to remain unscathed and as boarding time approached we staggered (Efes is quite strong!) through the "belt off, laptop on" security check to gate 401, another lower level bus gate.
Just about on the published time we boarded a bus, headed across the tarmac and pulled up alongside a 737-800, TC-JGA, that would take us, the passengers from the second cancelled Kayseri flight, plus the original Nevşehir passengers on our journey to Central Anatolia. The aircraft was packed to the rafters, and it seemed to take forever for everyone to get settled. People were standing in the aisle chatting to their friends in other rows, wandering up and down and generally taking things very casually! I don't know if it was the fact that I was by now extra tired that made me notice all these foibles of the predominately Turkish payload, but I did find that I was getting extra irritable! I sat and watched people try and stuff oversized bags into lockers that barely had enough room for a teabag or two. They seemed to think that all they had to do was stand there and repeatedly press their bag in a "CPR" fashion, which would somehow cause extra room to magically appear at the back of the locker into which bags already in the locker would easily slide, allowing their bag to fit. Oh how I love people watching!!
Eventually things seemed to settle down, buses stopped bringing more passengers and the door was closed. We taxied to the runway as we were treated to Turkish Airlines' extra long safety demo via the drop-down screens, eventually arriving at the runway as number three for departure. An Atlasjet RJ and something unidentifiable took off in front of us, and seven minutes later we were tearing down the runway towards the east before lifting off into the night sky. Flight time to Nevşehir was announced as being 55 minutes.
I had settled into my allocated seat of 24A, an old fashioned but comfortable blue leather seat, expecting little or no service on this short flight. Imagine my surprise when some 15 minutes after takeoff I was being asked by one of the F/As who had approached from behind if I would prefer a sandwich or a salad! I requested the sandwich and was handed a snack box complete with a 'Do & Co' cheese roll, cup of water and a very tasty square of cake, all accompanied by a very nice cup of coffee. The overhead screens showed us passing to the south of Ankara as I tucked in, and true enough, off to the left was a blanket of lights on the ground that was the Turkish capital. Service was still taking place after we passed top of descent on this 100% full flight, so I imagine that some passengers were asked to eat up quickly or risk having their food whipped away from under them!
My seat neighbours were a couple of Turkish guys, one of whom bore an uncanny resemblance to Borat! I'm not sure if this was his first ever flight, but for some reason he kept reaching across me to touch the cabin wall as if he was trying to feel if it was cold. When he heard me speaking in English to the F/A, he decided to speak to me in Turkish...and found it quite amusing when I couldn't understand a word he was saying. Eventually he said "English?", to which I replied in the affirmative, however he still continued to try and converse with me in Turkish!! Oh well.
Pretty soon we were on final approach into Nevşehir. I could just make out through the darkness that the aircraft lights were illuminating an area that was blanketed in snow. A slightly tense moment followed as we were on short finals...we seemed to be very close to the ground for quite some time with no sign of anything airport-related below us, let alone a runway for us to use! The tense moment ended as I saw the piano keys flash past beneath us, and we were down, braking hard on Nevşehir's runway that was lined by three foot high snow banks. We came to a stop, did a 180 degree spin in the middle of the runway and headed to a very icy apron to park as the only aircraft at this tiny airport. As he got up to leave, the Borat lookalike shook my hand, which I thought was nice, even if his friendly attempt to chat to me had been a complete waste of time! Stairs were attached to both front and rear exits, and being in row 24 I headed towards the back of the aircraft to leave. Out I stepped into the night air to be greeted by a temperature that the captain had announced as being -16C!!!
We slipped and slid our way across the tarmac towards the terminal, a number of passengers nearly coming croppers on the sheet ice! I was surprised that they hadn't gritted the tarmac in readiness for our arrival, but I was to find out in the next five days that health and safety doesn't really seem to be that much of an issue in laid-back Turkey, especially when it comes to clearing snow and ice from public places and tourist areas!
The terminal entrance lead straight into the baggage claim area, which had a single, straight conveyor belt, at the end of which stood a bloke ready to catch any unclaimed bags and put them in a pile. It took quite a while for bags to start coming through, during which time we were silently praying that our bags had been transferred from our cancelled Kayseri flight. The face of the female in the Dutch couple lit up as she spotted her lilac strolley making its way up the belt...one down, two to go! Some 15 minutes later the conveyor stopped and the hall had nearly emptied of passengers. The Dutch guy and I were both without our bags! Then I happened to look down at the end of the belt and spotted my bag sitting on the floor. It had obviously passed me by while the sea of humanity was crowding the belt. There was one other bag down there too and I asked the Dutch bloke if it was his. Unfortunately it wasn't...it seemed that his was the one and only bag that hadn't made the Nevşehir flight! Not bad really, considering, although too bad for him. A Turkish Airlines employee took his details and promised to do his best to locate the bag and have it delivered to their guest house as soon as they could.
Our shuttle was waiting for us outside and off we headed across a snow-covered Anatolia to our respective hotels in Göreme. I eventually arrived at my hotel, the 'Pasha Han' just after 1am...some five hours later than expected, but Swiss and Turkish had played their parts in getting me there safe and sound!
Cappadocia really is a stunning, fascinating place. The people are extremely friendly and helpful and overall I had an amazing time and met some great people. Below are some of the snaps that I took, including some taken from my hot air balloon ride, which turned out to be great fun. Our experienced pilot expertly flew us around and over stunning rock formations and occasionally took us up to higher levels to give us overviews of the landscape. Chatting with him after the flight he told me that at one point we got as high as 3,000 feet...the first time I've ever been that high with just a big bag of air for support rather than at least a couple of hairdryers!
My hotel...HIGHLY recommended!!: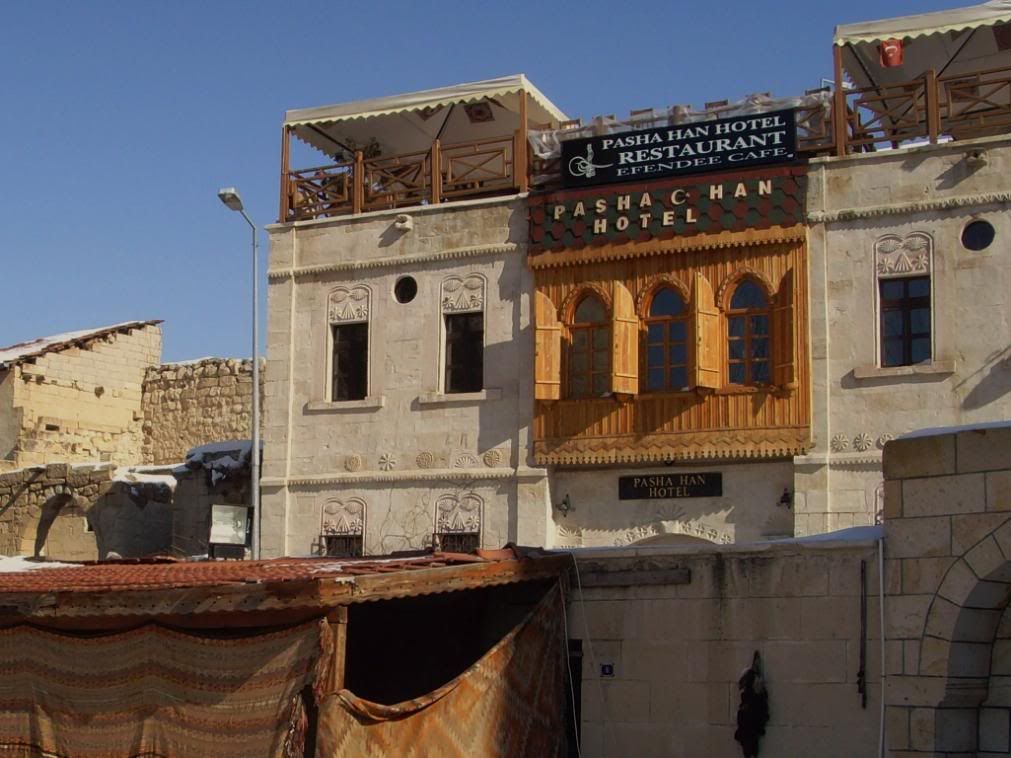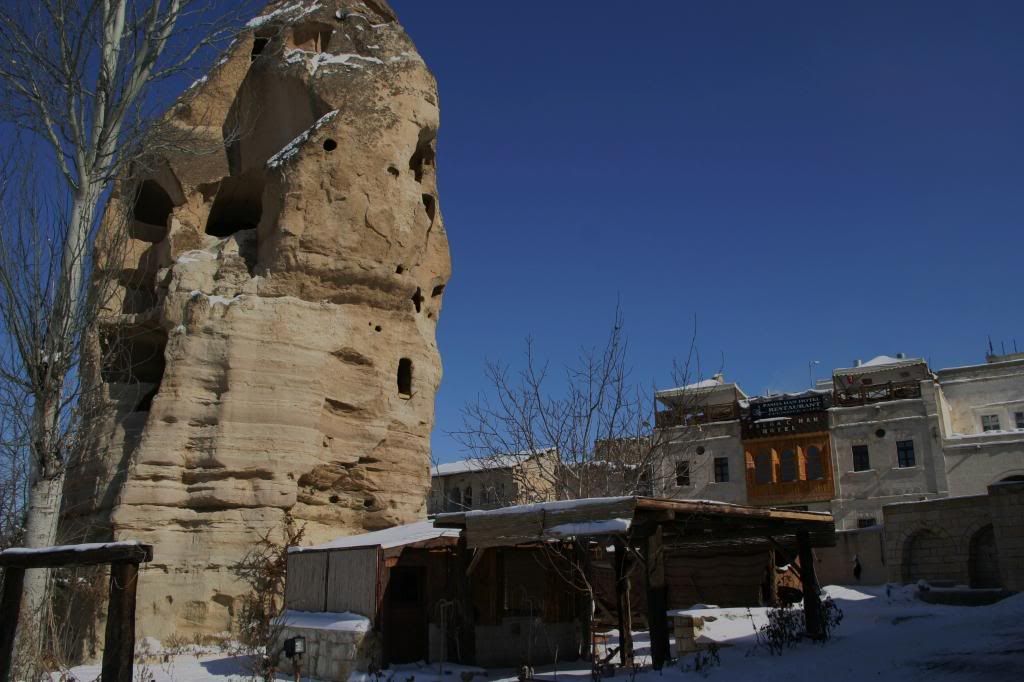 Some general shots of the countryside and "Fairy Chimneys":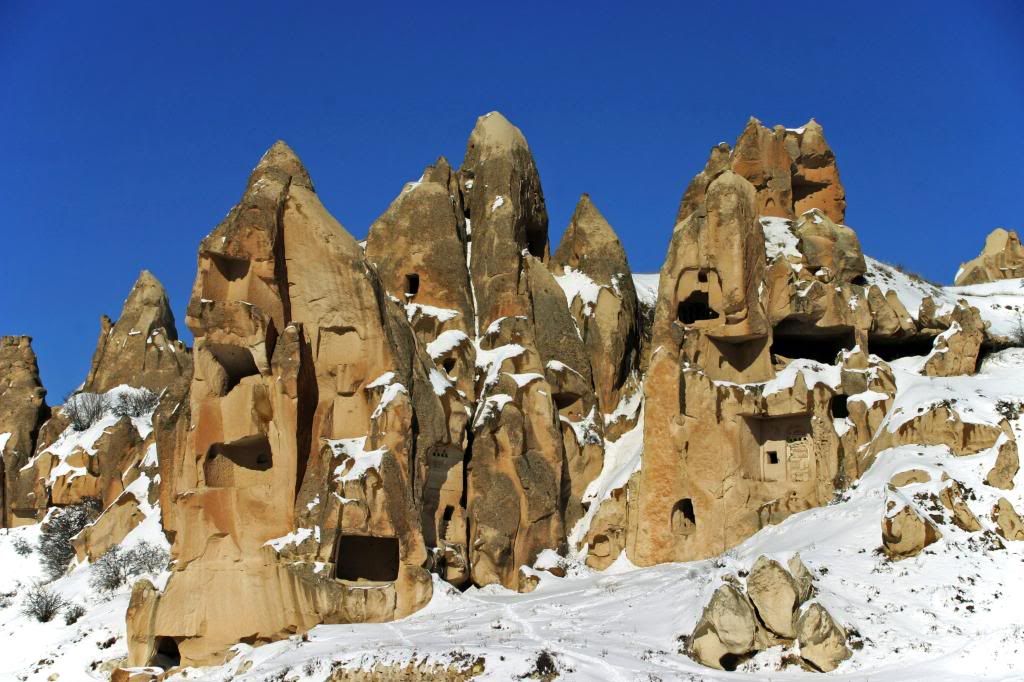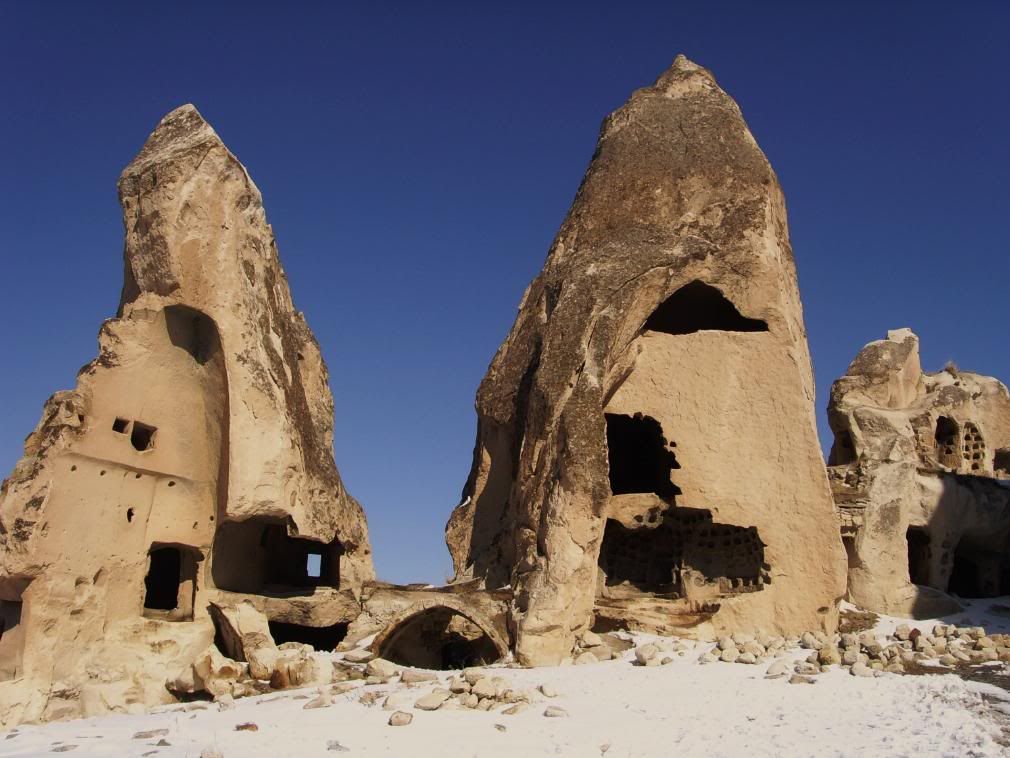 The town centre of Göreme: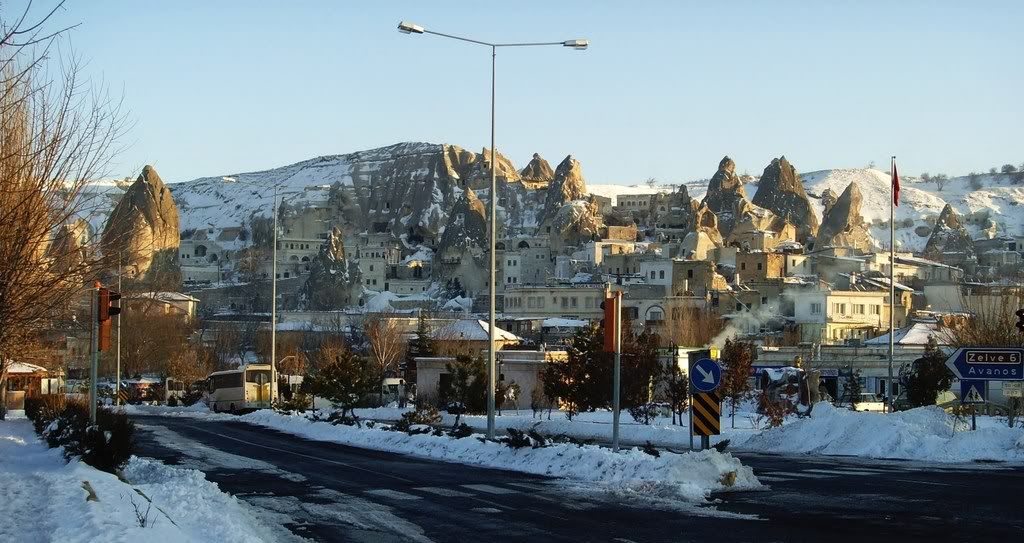 And last but not least, some shots from the balloon flight:
The pilot: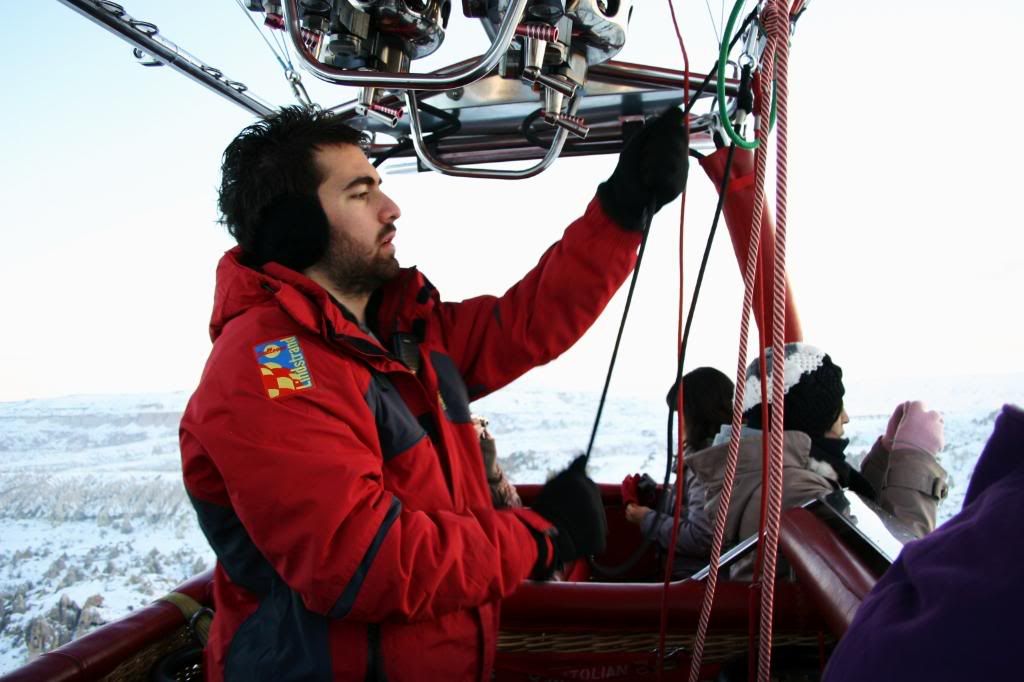 A neighbouring balloon:
Our balloon: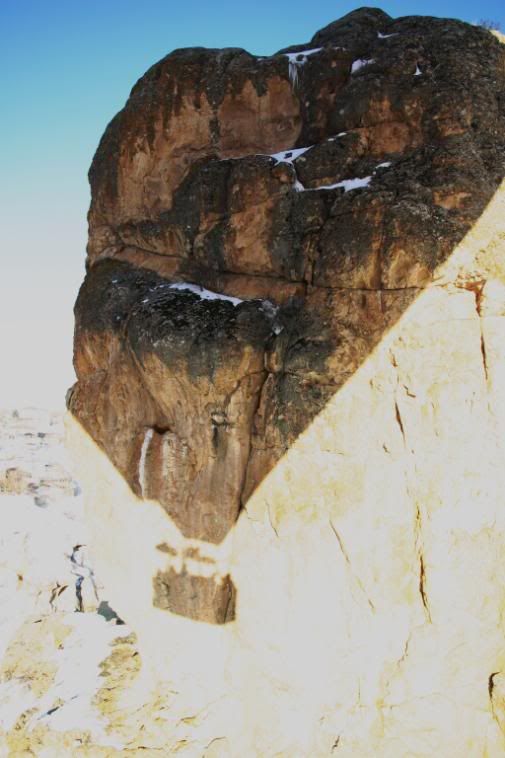 Gotta love the views!: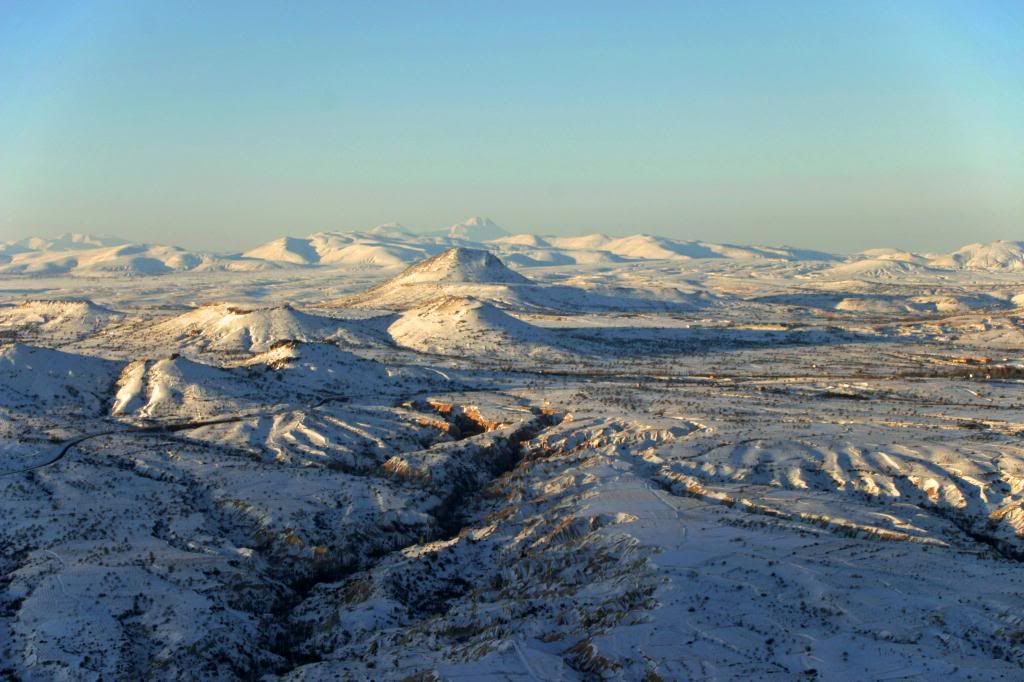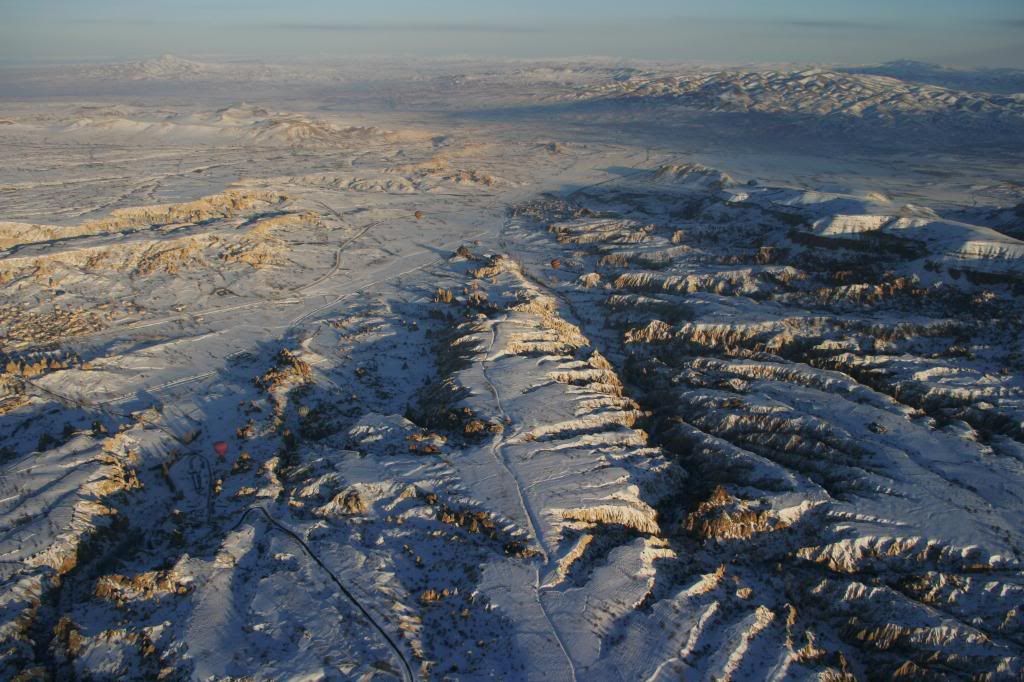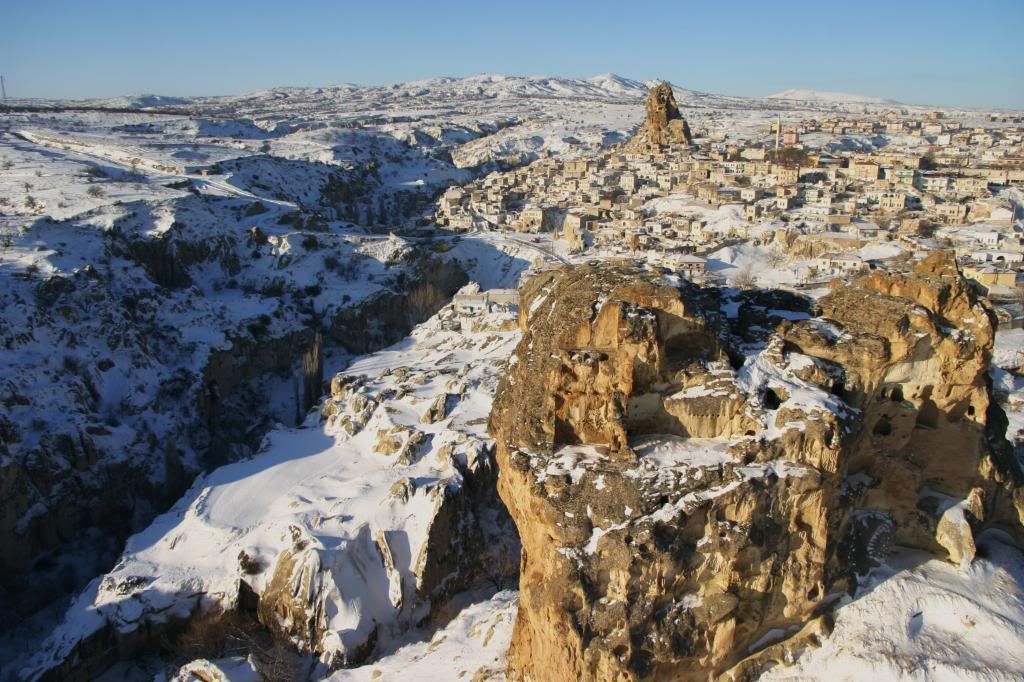 Anyway, five days after I arrived, it was sadly time to head home again.
A shuttle was booked for 6:40am to take me from Göreme to Kayseri airport to catch Onur Air's 9:15 flight to IST. The journey was supposed to take 50 minutes, however after making four additional pickups it ended up taking two hours, getting me to Kayseri airport just 35 minutes before my scheduled departure time! Anyone who's been to Turkey will know that there's a security check before you can even enter an airport terminal...and this morning's queue at Kayseri's domestic terminal was snaking out of the terminal into the bitter morning air. I was starting to worry that check-in would be closed by the time I got through. Ten minutes later I was through and running to an empty Onur Air check-in desk, where I slapped my passport on the desk and blurted out "Istanbul please" to the shocked-looking agent sat behind. Fortunately her response was, "Yes, of course", so after requesting a window seat at the front of the aircraft I was presented with a boarding pass for a window seat about a third from the back of the aircraft, but at least I was on!
Flight 4:
ASR-IST
Onur Air
Flight 8Q(OHY)65
Scheduled Departure: 09:15
Scheduled Arrival: 10:30
Aircraft: "Boeing MD-82"
Registration: TC-TUA
Seat: Something A again!
Now it was time for the second security check in five minutes to get through to the departure gate. Not many people were waiting to pass through the single checkpoint, but the disorganisation of it all meant that people behind me in the queue were trying to put their stuff through in front of mine! I looked at one of the guilty parties and snarled, "Can you see me??", to which his friend behind smiled and removed his companion's stuff from the belt, allowing mine to go through first. Anyhow, being cleared as thoroughly secure I made my way to gate 4, which was right in front of security. Large windows gave a great view of the MD-82 that would take me to IST...having just arrived from my destination and emptying both its animal and mineral contents onto the sunny but bitterly cold tarmac.
Some 15 minutes later gate 4 was opened and a queue formed to file out to the aircraft. While I was waiting I noticed that the ground handlers were creating a nice line of suitcases on the tarmac. When the gate agent spotted my British passport she informed me in English that we were required to identify our bags prior to boarding. This was a first for me, but I pointed mine out, it was loaded back onto the cart and off I went up the front steps onto the MD-82. I was welcomed on board by two friendly, smiley F/As and headed back to my seat. A male F/A was waiting near my row, I wished him a good morning and was again welcomed on board. He also seemingly made a mental note that I was an English speaker and spoke to me in English throughout the flight.
View from my seat: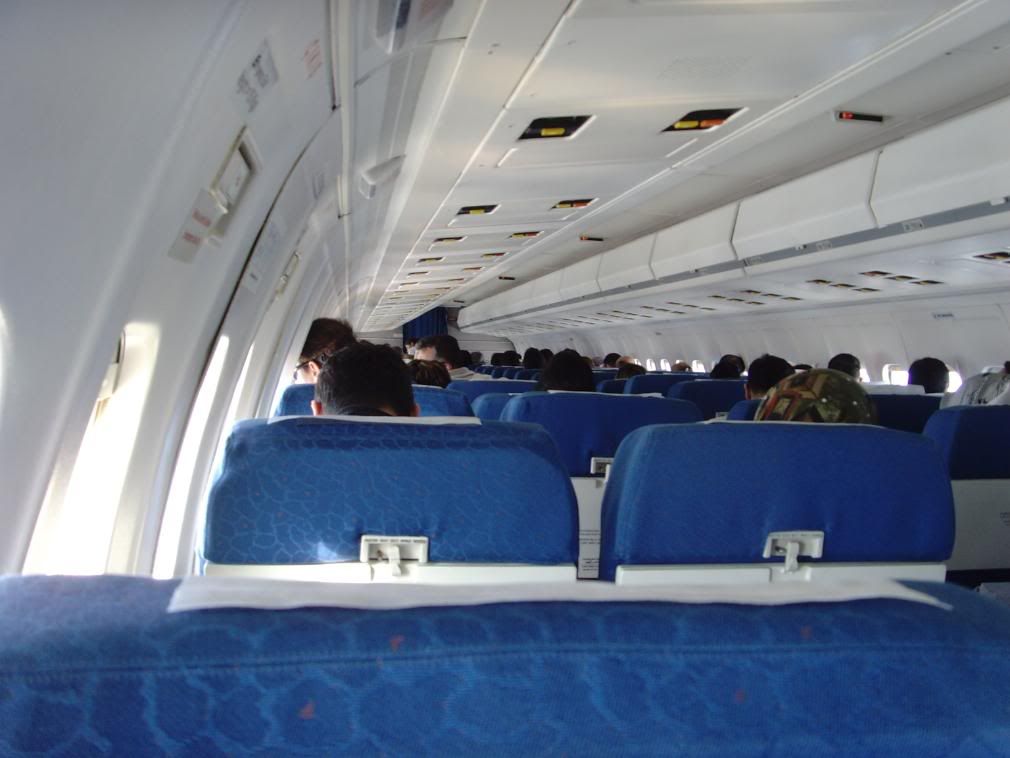 A Sun Express 738 arrived, meaning that we were no longer the only civilian aircraft at the airport (there were a number of military ones around the place). Doors were closed with a 70% load and we were welcomed aboard "this Boeing MD-82" in both Turkish and English. The seat next to me remained empty, as did the entire exit row in front. The male F/A came through the cabin with a basket of boiled sweets before joining his colleagues in performing the safety demo as we taxied to the runway. This was performed twice, once in Turkish and then all over again in English (just for me perhaps?!). The captain announced a flight time of one hour and five minutes before busying himself with shooting us off into the sky like a bat out of hell!
We took off to the west and made a long, slow turn to the east towards Istanbul. The skies were clear and we had a nice smooth flight over the Asian part of Turkey with nice views of the mountains below. A choice of cake or biscuits was offered, along with coffee, tea or juice. I settled in with my copy of the really well written and interesting 'On Air' magazine, Onur Air's inflight offering, sat back and enjoyed the short flight. Before I knew it we had started our descent into a murky Istanbul, landing exactly on time at 10:30.
We taxied to a remote stand and were bussed to the domestic terminal, where our bags arrived about 5 minutes later.
CHAAAAARGE!!: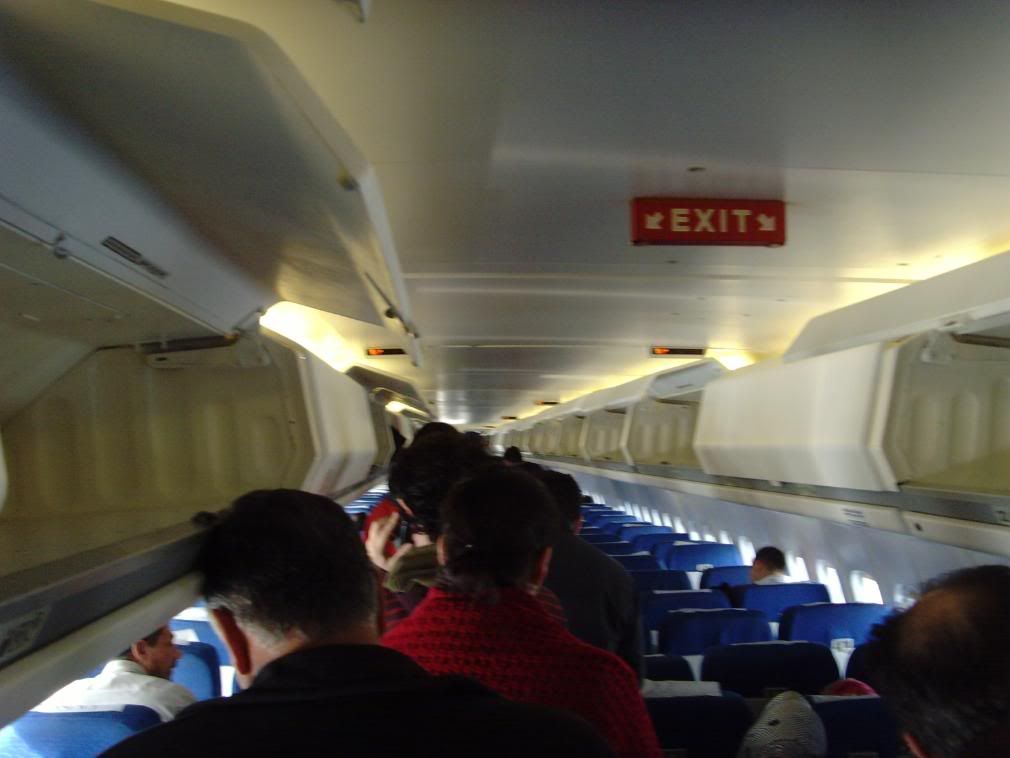 These Onur Air MD-82s come complete with a set of legs for extra stability on the ground!: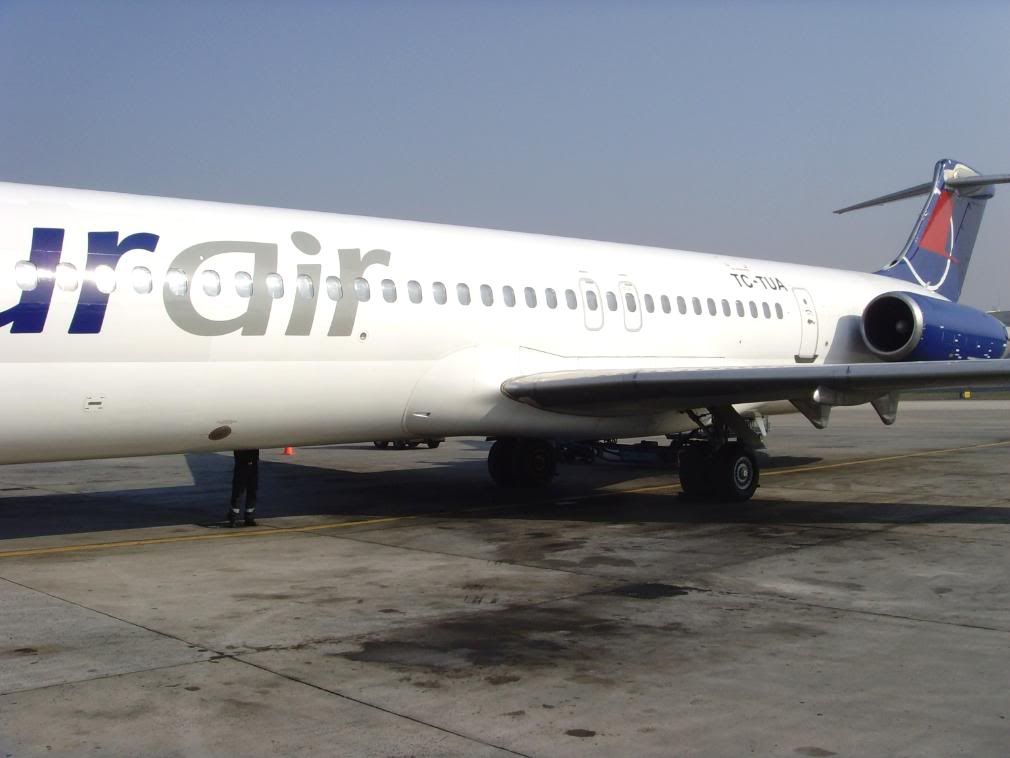 And the front end: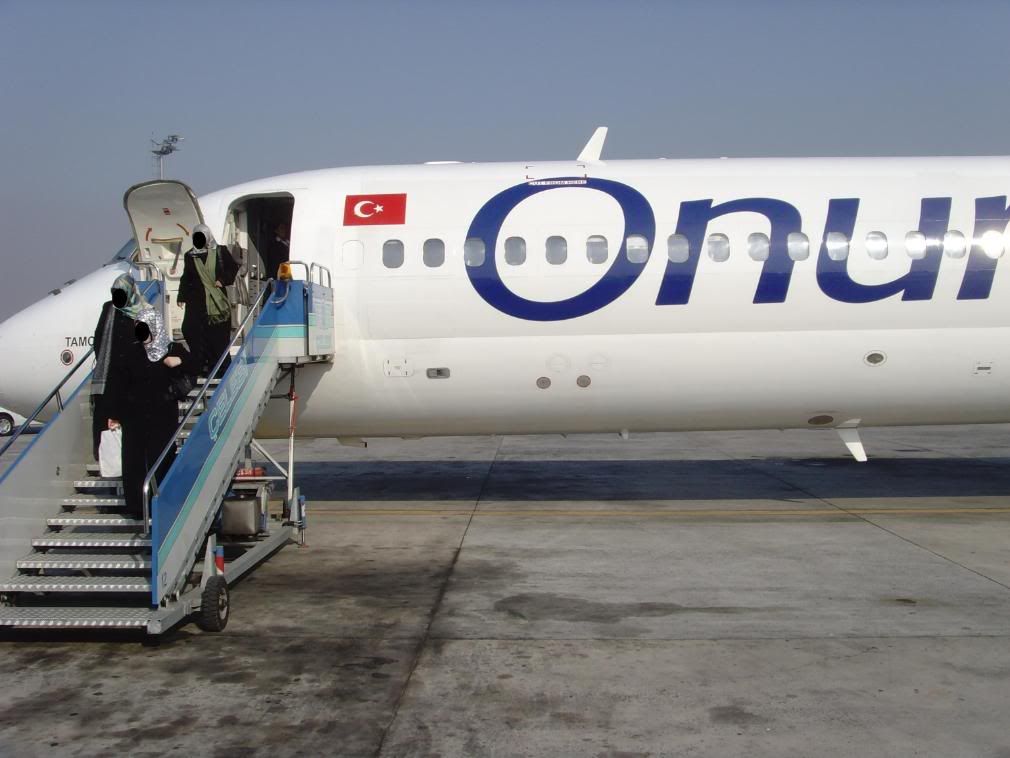 I had tried to check in online the night before for my Swiss flights back to London via Zurich, however I kept getting told that the system was unable to locate my booking, despite trying to locate it using my booking reference number, my debit card number and my Aeroplan number. A call to Swiss in London confirmed that they were having problems with online check-in and that I should either check in at IST, or try again later. As I now had about 7 hours to kill before my next flight, I had decided to head in to Istanbul for a while, so wanted to try and check in before I left the airport. I made my way to the departures level in the international terminal and attempted to locate a self check in desk, although checking with a representative of Swiss confirmed that facility doesn't exist at IST, but that check in would open at 14:15 for my 17:15 flight.
I decided to try online check in again, so headed up to a Burger King for some breakfast in the hope that there might be a hot spot for me to use. I found an unsecured network called "Free Internet", but whilst I could connect to the network, it wouldn't let me access the internet. I resigned myself to needing to be back at the airport earlier than I had hoped and headed off to find a left luggage office to store my bags. But passing back through the departures level again, I noticed a couple of people who were obviously surfing the net from their laptops. I plonked myself down amongst them and tried "Free Internet" again. After a couple of attempts I managed to connect to the internet, popped into swiss.com and grabbed seat 11F on the IST-ZRH flight (an A321), and 18F ZRH-LHR (originally an A320).
I was now checked in, but still needed to lose my bags for a while. I headed down one level to where the left luggage office is located, got ripped off for the sum of £20 for the pleasure of leaving my bags in their possession for a few hours, then booked a cab to take me into town and back.
So I spent some time in Istanbul, somewhere I had explored quite considerably almost exactly a year before, so all I really wanted to do was chill for a while, pick up a couple of last minute souvenirs, have a coffee and a kebab and pass a few hours before my next flight.
A few snaps of Istanbul: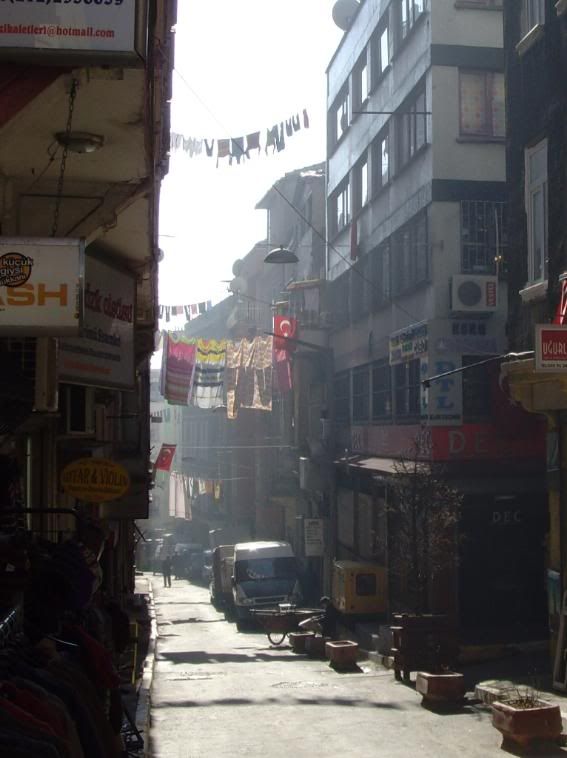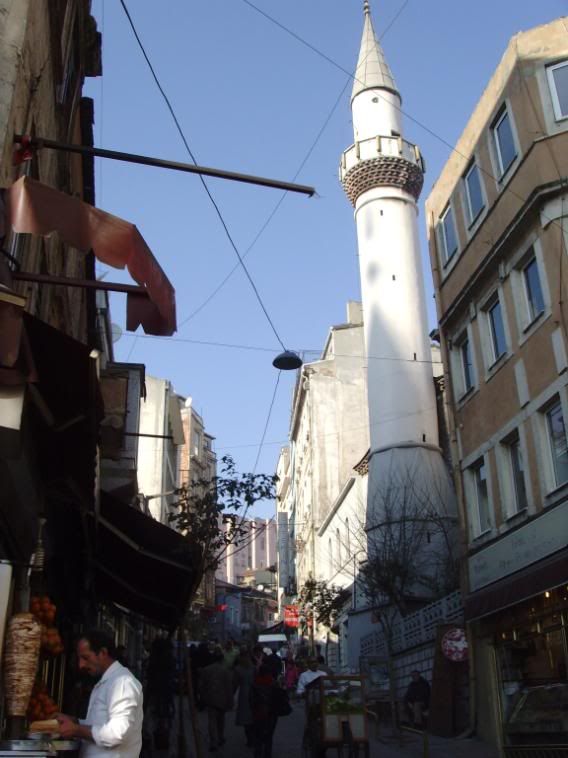 A little under an hour before departure time I was back at the Swiss bag drop desk handing over my suitcase before heading off to board my A321 to ZRH.
Flight 5:
IST-ZRH
Swiss International Airlines
Flight LX1805
Scheduled Departure: 17:15
Scheduled Arrival: 19:15
Aircraft: Airbus A321
Registration: HB-IOD
Seat: 11F
A flurry of activity was to follow that had me arriving at the gate just as the flight was boarding...and sweating like a pig! The heating that day in Istanbul's international terminal had been put on the 'Equator' setting, meaning that doing anything while dressed even remotely for winter weather was cause for the creation of one's own private sauna! So following a quick dash round the duty free shop, a brisk walk to my gate and general faffing with laptop, belt etc. at the gate security check, I presented my passport and boarding pass to the gate agent looking as if I was about to spontaneously combust! She gave me a concerned look and let out an "Ohhhhhhh", but thankfully let me head down the jet way without calling the fire brigade!
I headed onto HB-IOD and for the comfort of 11F, pointed the aircon nozzle in my direction, and with a bit of fanning with the inflight magazine had soon regained my composure and was ready for the off. I was joined in 11D and E by a young Indian couple and pretty soon we were ready for departure.
The pre-flight announcement was first made in what sounded like Dutch for some strange reason...much to the mirth of the three young English lads sat in 12D, E and F who took great joy in mimicking the northern Dutch "g" sound. The announcement was then made in English, Turkish and German before they started the safety briefing via the drop-down screens.
I was a tad jealous of the BA 767 that took off in front of us as it was heading straight to LHR, but was happy for another couple of flights on Swiss. We took off to the west and settled in for a 2 hour 30 minute flight to Zurich.
A short video of the pilot detailing our routing to ZRH:
We were again offered a pizza pocket along with a drinks run whose alcoholic content was restricted to beer and wine only. I had a white wine with my Italian-style pasty and listened to my iPod while keeping an eye on 'Just for Laughs' on the overhead screens (what is it with airlines buying up 'Just for Laughs' and 'Mr.Bean'??). With my legs stretched out in front of me where seat 10F would have been had it existed, all was well with the world, made even better by requesting a second bottle of wine after visiting the rear loos. And oh those Swiss chocolates!! I sat there and made a mental note to remind myself that I love Swiss International Airlines!!
A few shots inflight: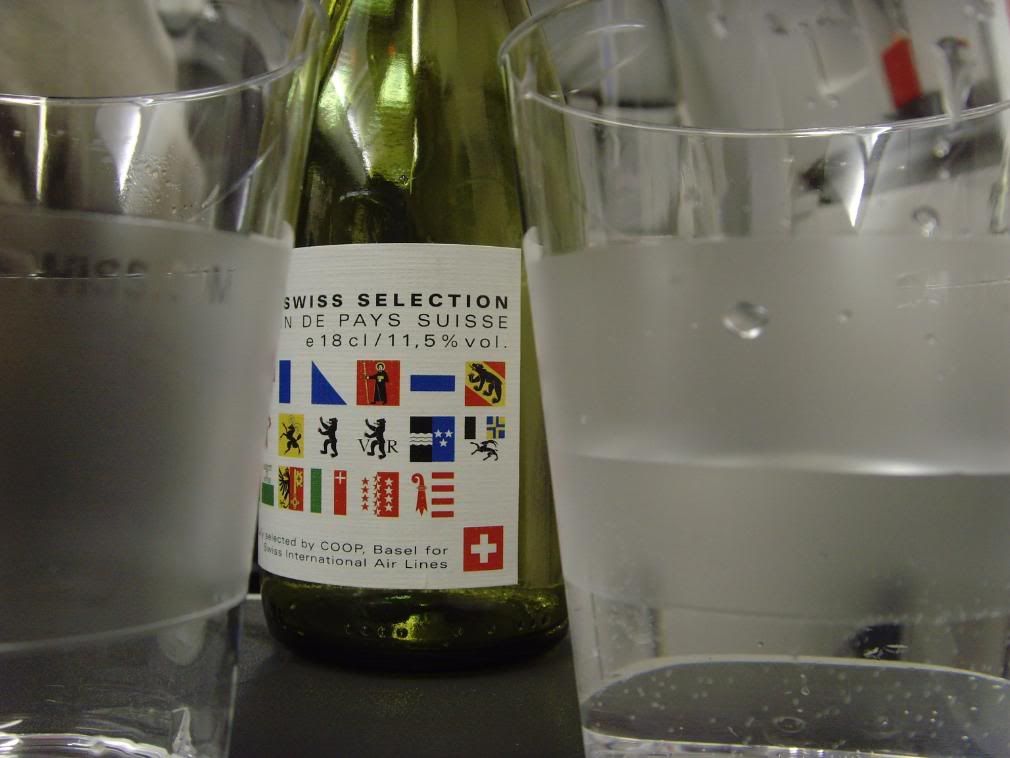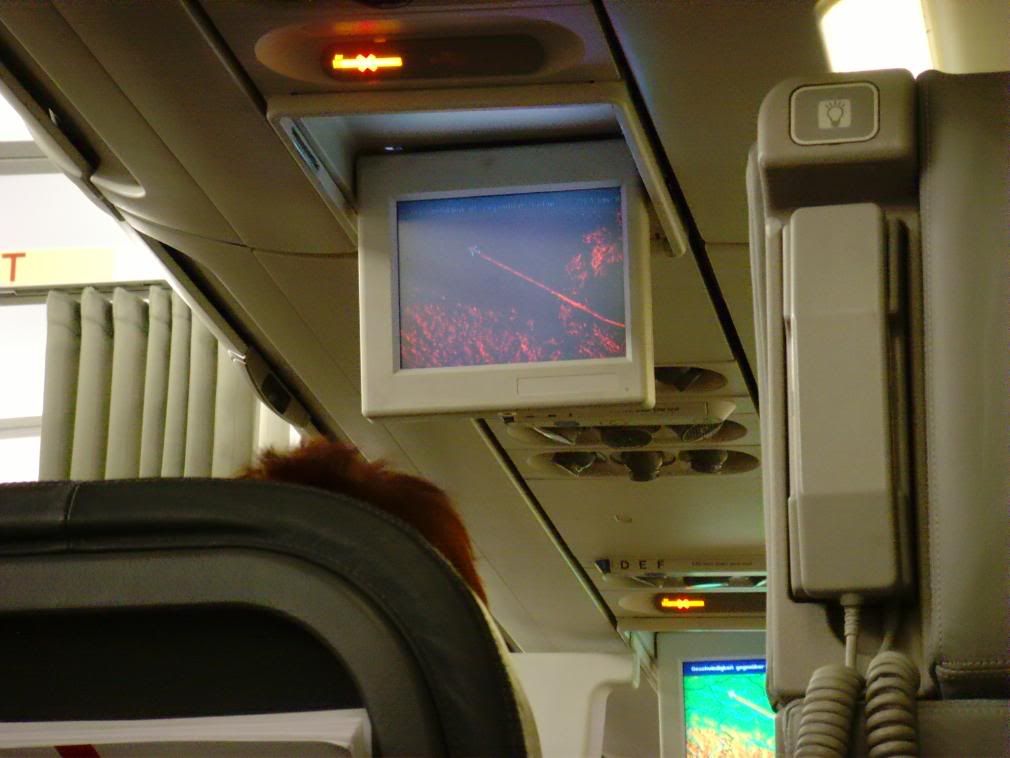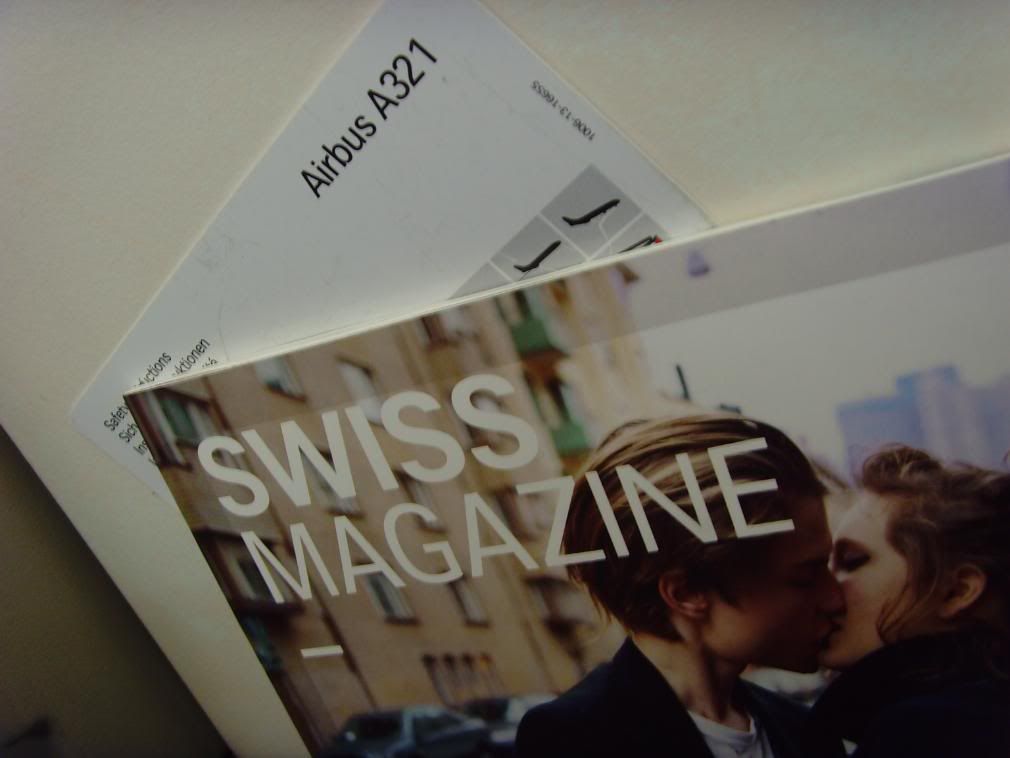 Oh look, it's that pesky chocolate again!: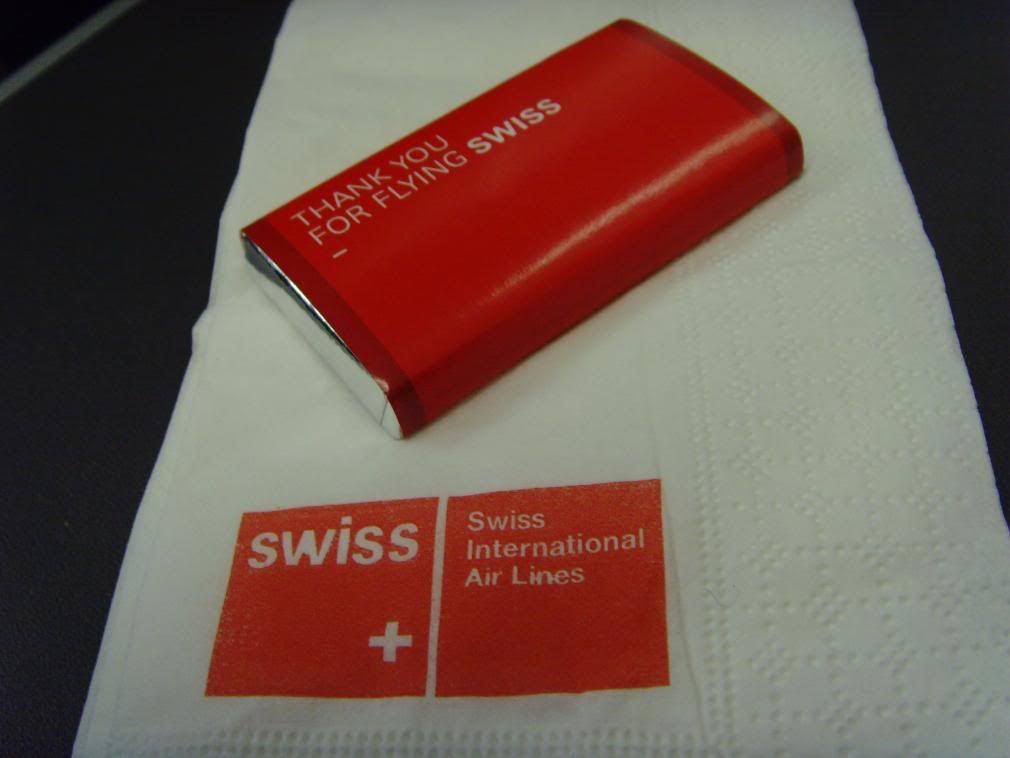 Our descent into ZRH commenced and they began to announce gate numbers for connecting flights. We were also told that we would be arriving at gate A83. I listened very carefully for the gate number of my LHR connection. Hang on a minute, what was that they said?? The flight to LHR was leaving from gate A83?? But that's our arrival gate....the penny dropped! My nearest F/A, the lovely Miss Muff, was already strapped into her seat opposite for landing, so I asked her to confirm that the very aircraft on which my behind was already sat would be flying on to LHR. She made a call and confirmed that indeed it was. I made another mental note to try and change my seat from 18F (on the expected A320) to the comfy 11F as soon as we reached the terminal!
A greaser of a landing followed shortly after, although it was a bit bumpy on approach, but eventually we parked up at A83 as promised. I was a bit peeved at having to remove all my stuff from the overhead locker knowing that shortly after I would be back on the same aircraft again, but as we all know, that's just the way things go.
We entered the terminal and I overheard a guy in front of me ask an airport employee if there was a quick way for getting back to A83. He was told just to use the lift across the way to go up one floor and he would be back at the departure level. I followed him, and moments later I was back at A83 without having to pass any kind of security check. I approached one of the Swiss desks and asked if I could change my seat from 18F to 11F for the flight to LHR. The friendly lady tapped away for a while, but eventually informed me that Business Class was being extended for the flight and that 11F would be swallowed up by those folks getting a hot meal (my words, not hers!). Oh well, 18F it is.
Flight 6:
ZRH-LHR
Swiss International Airlines
Flight LX340
Scheduled Departure: 20:20
Scheduled Arrival: 21:15
Aircraft: Airbus A321
Registration: HB-IOD
Seat: 18F
A quick drink and pretzel at the snack bar killed time before boarding for LHR was called. I had a nostalgic glance at 11F as I made my way up the aisle, and mentally wished the next passenger happiness in using it, although I took comfort in knowing that they would have paid a lot more to use it than I had!! I settled in to 18F and was eventually joined in 18D by a young lady who had recently arrived on LX's Tel Aviv flight. 18E remained vacant.
Boarding was completed and the door was closed. But we sat there. And we sat there. Eventually an announcement was made that there was a problem with the starboard engine and that engineers were on their way to attend to it. Moments later I glanced down and saw that the starboard engine had indeed been opened up and all kinds of activity was taking place around it. It did make me wonder whether the problem had existed on the flight from IST, but by this time I could hear murmurs all around me of people asking why we had been allowed to board if there was a problem with the aircraft. We were informed that there was likely to be a delay of some 45 minutes, but the F/As took everything in their stride, despite the masses being on the verge of a bit of an old seethe! They happily worked the aisle handing out chocolates, which seemed to calm everyone down (what on earth do they put in those things?!?!).
The engine being all exposed and naked!: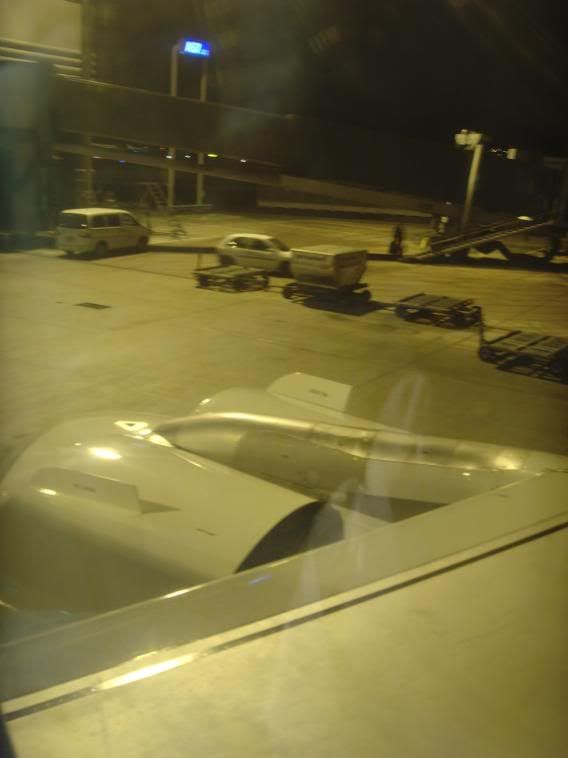 Finally the engine was returned to its flight-ready state and we pushed back.
It's probably a good idea to tell you at this point that the whole of this report is being written from memory as I didn't take any notes to work from. For that very reason, the flight back to LHR is a bit of a blur as I was getting very tired by this time and can remember little of the detail. What I do remember is that the lady in 18D got her Kosher meal (or Kosher cheese roll) as requested, although I don't remember what I had to eat! We also did a number of circuits over Biggin Hill before being given clearance into LHR. Oh, and one other thing that sticks in my mind was hearing the girl sat behind me comment on how black the clouds were as we descended over London. I'm not quite sure what she was expecting on this night flight, but it obviously wasn't black clouds!!
Final photo...the legroom of 18F...nowhere near as good as 11F, but comfortable enough!: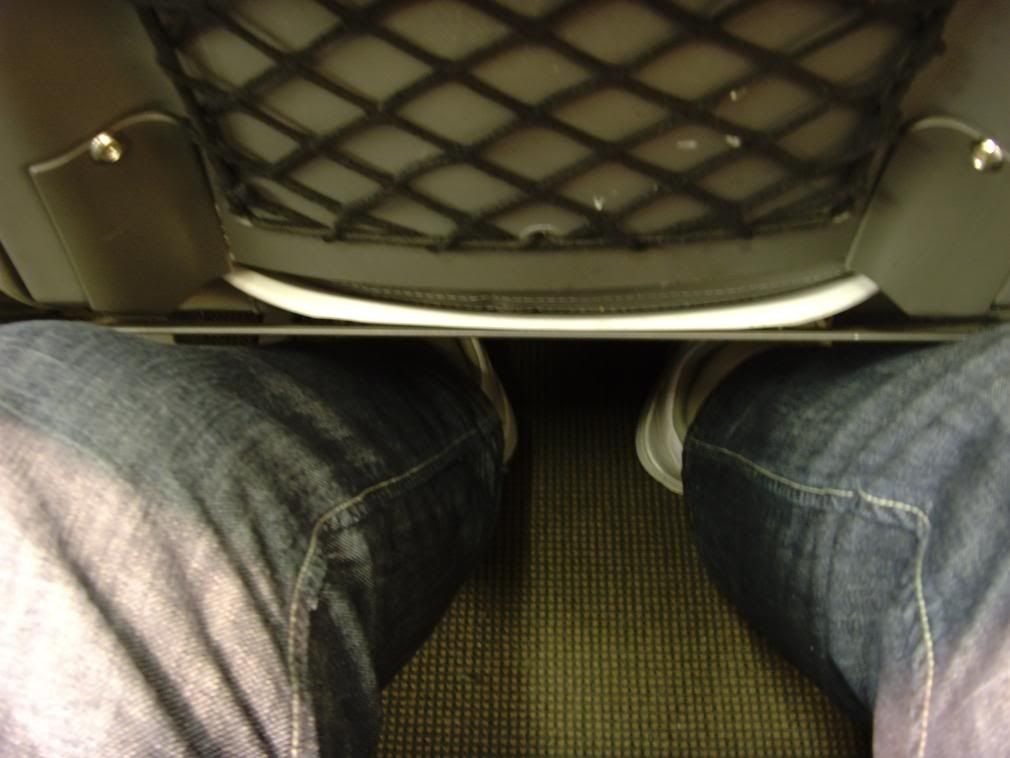 Well, that's me done. I made my usual way home from LHR on the X26 bus, and went to bed that night content that I'd had a great trip with some excellent flights.
I would definately consider flying Swiss again in the future. Turkish Airlines seem to be getting better and better (the cancellations on my outbound journey were weather-related, so not their fault), and despite reading horrendous reviews of Onur Air, I have to say that my single flight with them was perfectly fine, and their in-flight magazine was one of the only ones I've read that held my attention from cover to cover! But I do of course appreciate that I can't base my opinion of an airline on a single one hour flight!
Sorry if this report is too long, but hey, if you've managed to read as far as this apology, you can't have been THAT bored!!
Cheers.
Andy.
[Edited 2008-03-22 18:16:30]