My first trip to Berlin was exactly 2 years ago when I visited International fair FruitLogistica with my cousin. I was thrilled with the city and wanted to go there next year, however, my parents (whose main purpose is to make my life as much complicated as possible) made me cancel my visit in 2007
But I gave a promise to myself that I would go again in 2008, and that promise I kept
I was in charge of organization so I searched for flights and booked hotel. Berlinale was taking place at the same time as my trip so all the rooms in better hotels were already booked and I had to find rooms in not so known hotels.
The most important thing I was looking for was that hotel had to be placed near S station or U-bahn. On the Internet I found Königshof hotel which was located just in front S-bahn Charlottenburg station.
After I had seen the price, I consulted with my other fellow passengers (2 cousins and a lady from the company) and together we decided it was the hotel we were looking for.
At 12:00 we had flight to Stuttgart (new airport for me), and in 15:25 we had Air Berlin flight from STR to TXL.
On Wednesday (6.2.) at 8:30 we left from our company's headquarters (place near Rijeka) and went to Zagreb airport Pleso. My uncle was the driver. We made a short break in Ravna Gora and arrived at Pleso around 10:45. Right after arrival we registered for our flight. Young female agent signed our luggage and gave us boarding passes. Afterwards went to a cafe, toilet, said goodbye to uncle and headed towards international departures zone. We passed passport control and stood in line for security screening. I removed everything metal from myself and passed the frame without beeping. Yay!
Departure lounge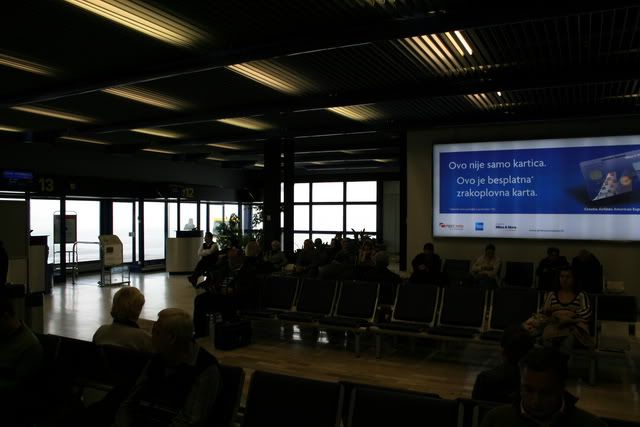 When we arrived in departures saloon it was still 50 min until plane take-off, and Croatian folks already got in the lane in front of gate and patiently waited...
My cousin couldn't understand why all those people were standing and waiting so he made few ironical comments about them. I just shrug my shoulders and sat on the chair next to him.
At 11:45 boarding for the buses began. Because my cousin and I were at the end of the line I hoped we would get into the bus and then be the first ones who would get out in front of the plane. However, I was wrong. First bus filled up and left without us.
But the second one was ready for new passengers. It transported us to our plane to Stuttgart with D-AKNM registration plates and in special colours of Baden-Württemberg.
This was my third Germanwings flight. 2 years ago on the route ZAG-SXF I flew with Berlin Bearbus and on the line SXF-ZAG I flew with the one in T-mobile colours. Airbuses in usual Germanwings scheme still haven't had the opportunity to fly
Pictures made during drive on the apron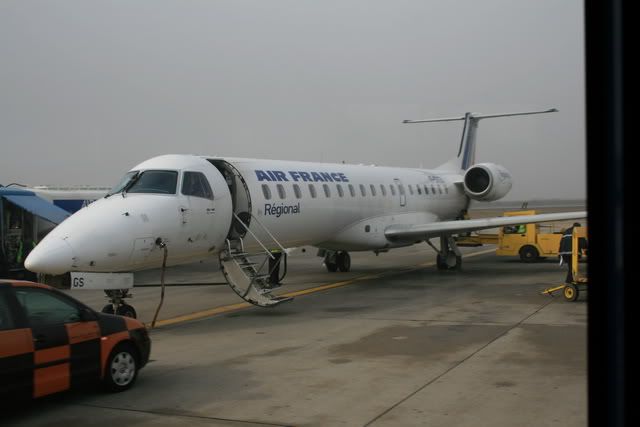 As soon as we arrived in front of the plane, chauffeur opened the door. My cousin and I went towards front door while female part of the team headed towards back door.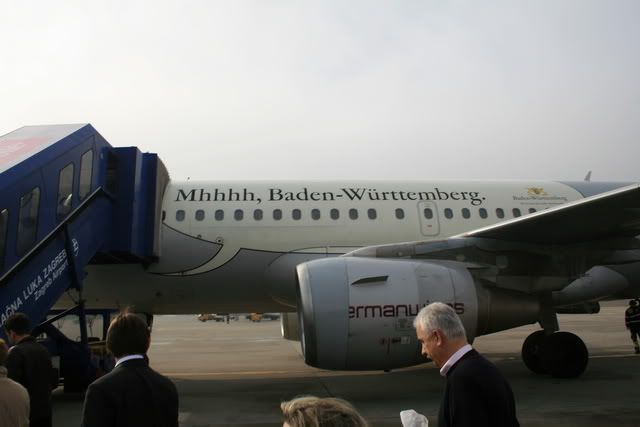 ZAG-STR
Flight No.:
4U 2977
Date:
6 FEB 08
A/C:
Airbus 319-112
Reg No.:
D-AKNM "Mhhhh, Baden-Württemberg"
STD:
1200
ATD:
1214
STA:
1330
ATA:
1332
Flight time:
1h10min
Gate:
16
Seat: free seating -
9C
Load factor:
126/142 (88,73 %)
My 16th ride on A319, and 1st on this same machine.
Delivered new to US Airways: 28/09/1999
Delivered to Germanwings: 01/12/2005
At the plane entrance we were welcomed by our purser Emel who welcomed us aboard.
We sat in row 9, cousin next to the window and I next to the passage, while middle seat stayed empty. After about 10 minutes plane was boarded, gates were closed, and through PA we were saluted by the same FA who welcomed us on the entrance.
While she was holding her little 'speech', I took my Canon and photographed the cabin. Minute or two later, Emel showed up in front of me and asked me to stop taking pictures of the cabin
. I stood confused, but I didn't feel arguing with her so I just said 'OK' and put my camera under jacket in the middle seat.
The dispute photograph
I asked my cousin if he had stop-watch on his watch because for this TR's purpose I wanted to know exact length of the flight. He sad he'll turn on his mobile phone in flight mode and with it measure the time. OK for me
In front there was a young married couple with 11-month-old baby. Since we 'met' in the plane she kept smiling at me...I found her adorable...I knew I would have a good time on this flight
.
While we were going towards runway 05, female cabin crew demonstrated safety instructions. After arriving on the runway, we waited about half a minute for plane to start speeding up.
30 seconds later we were flying high up in the sky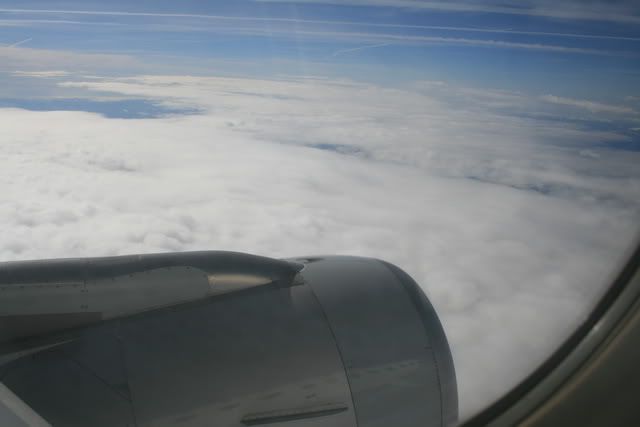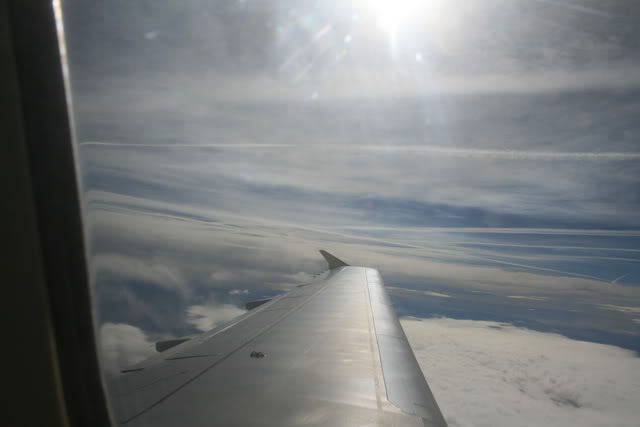 During flight, FAs were selling food, drinks and snacks. There was no word from flight deck.
Because I got a little bored (I didn't have the best IFE for myself, window, and the baby was sleeping), I took out MP4 player from my jacket and listened to Tose Proeski, a young Macedonian singer who died last year.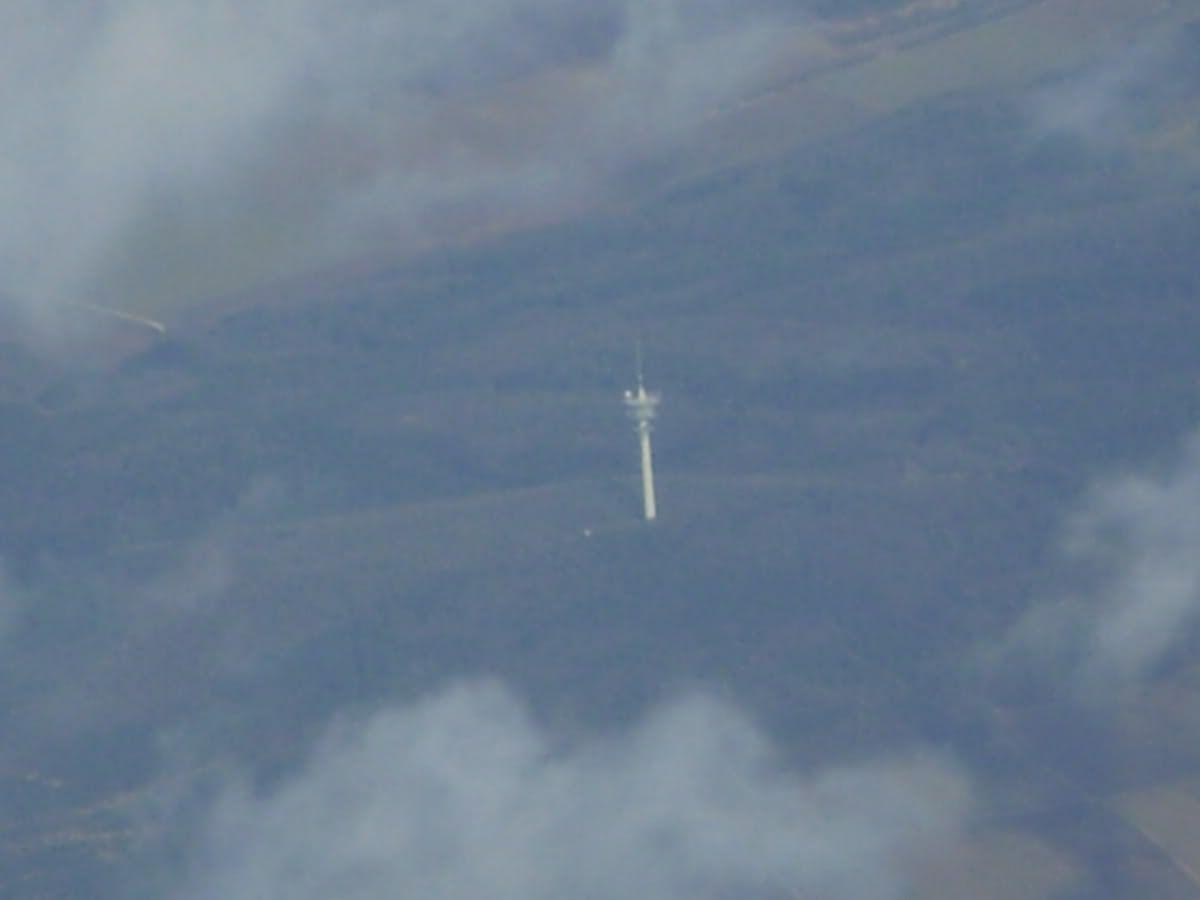 TV Tower Stuttgart
When landing begun, plane started swinging because crosswind was really strong.
We landed quite peacefully, after only 70 min of flight. During breaking pilots didn't use thrust-reversers.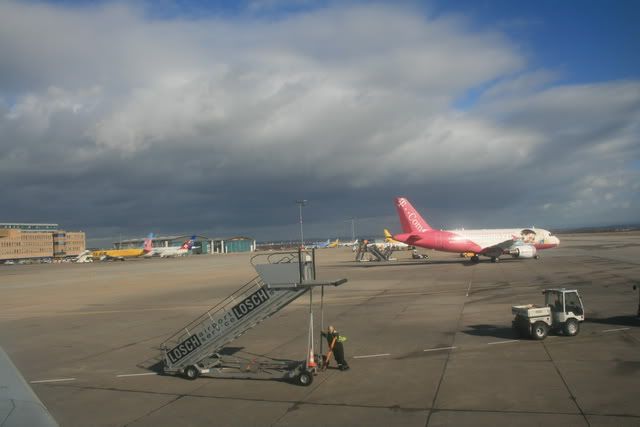 Bus drove us to the building entrance where passport control was located. I would say that ratio of passengers going towards EU and non-EU part was 50:50.
After we were finished with control, we headed to second floor where the baggage belt was. We picked up our suitcases and went towards Terminal 3 where check-in counters for Air Berlin were.
After check-in we went to terrace, it charges but it's definitely worth visiting... From there I took a lot of very good plane shots
Stuttgart airport left really good impression on me; interesting traffic, terminals are not too big and they have good lighting. I hope I'll land there again soon.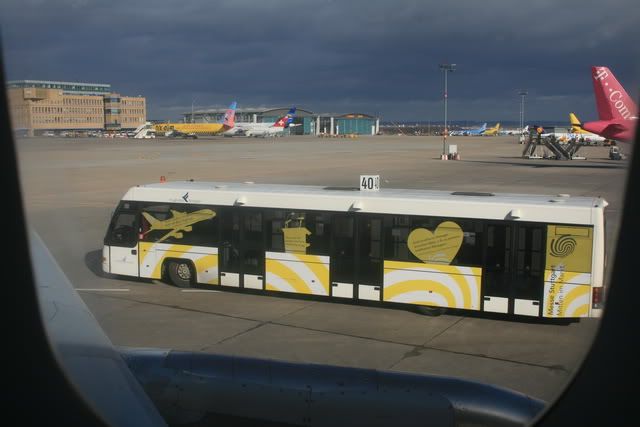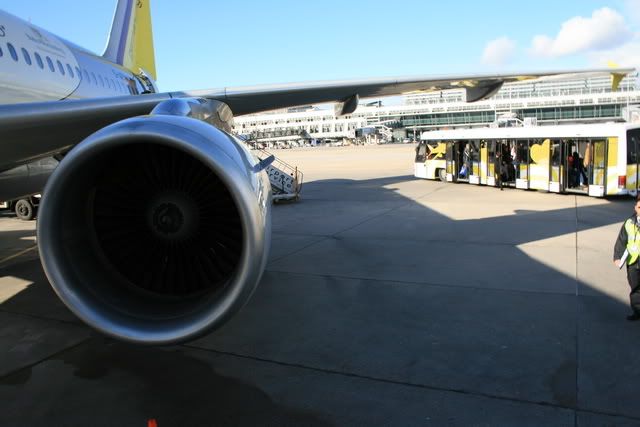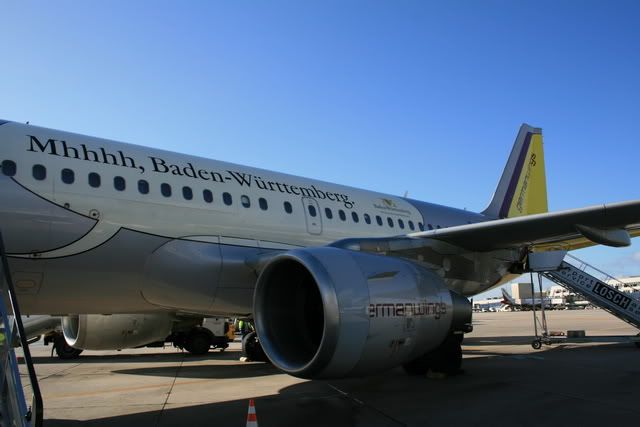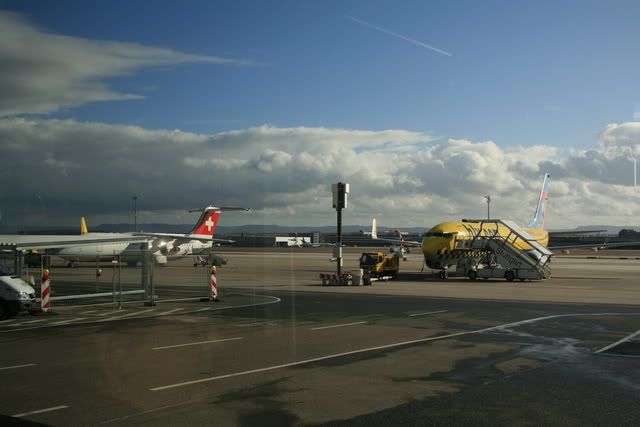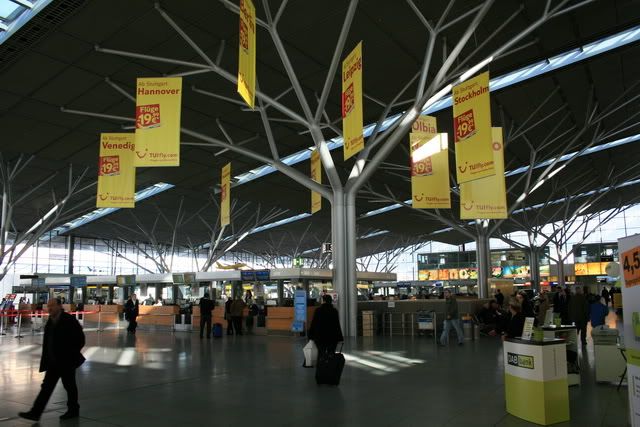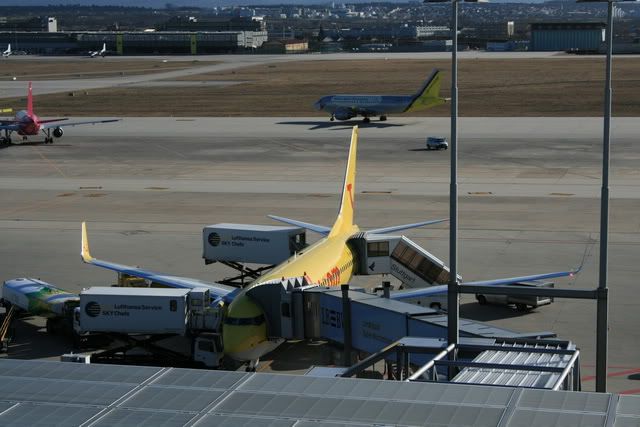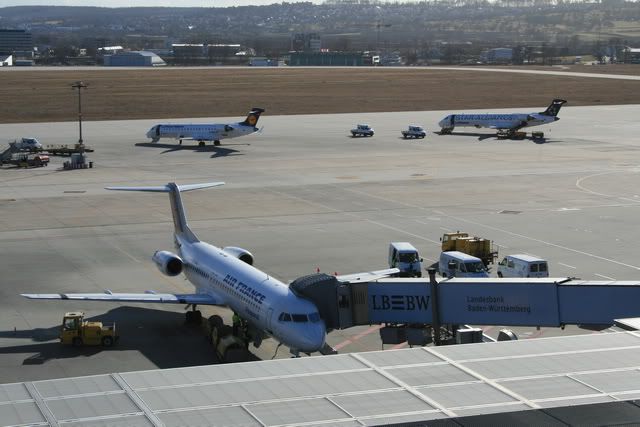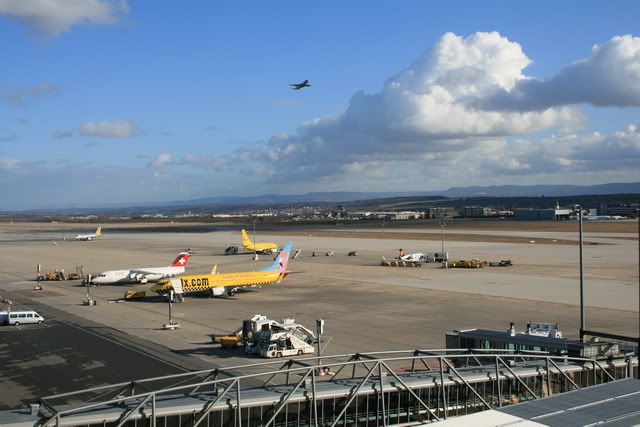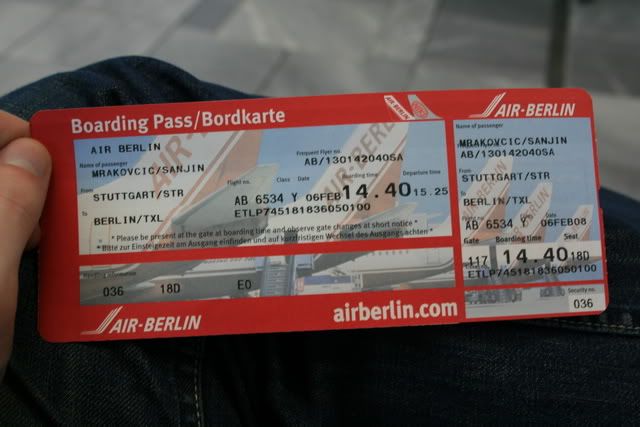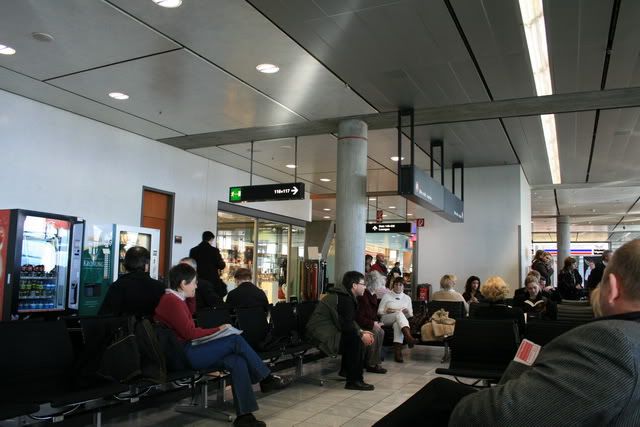 Mercedes-Benz 300 SLR coupé exhibited in hallway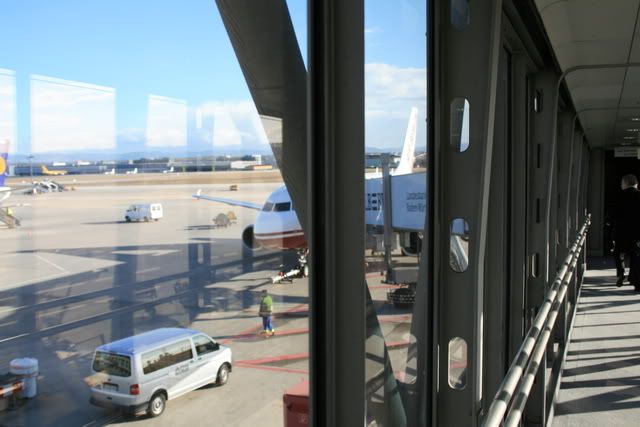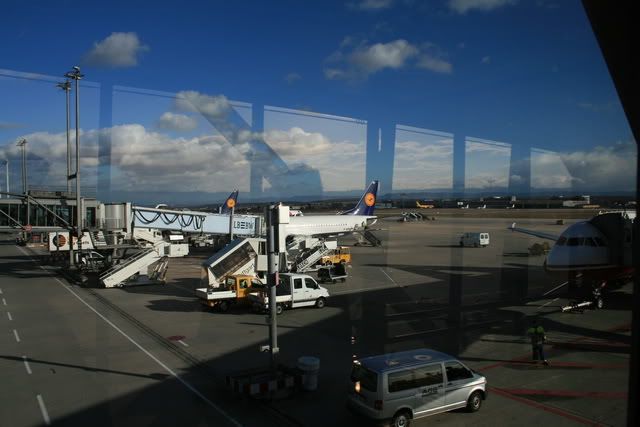 STR-TXL
Flight No.:
AB 6534
Date:
6 FEB 08
A/C:
Airbus 319-132
Reg No.:
D-ABGA
STD:
1525
ATD:
1522
STA:
1640
ATA:
1635
Flight time:
59min
Gate:
117
Seat:
18A
Load factor:
104/150 (69,33 %)
My 17th ride on A319, and 1st on this same machine.
Delivered new to Independence Air: 03/02/2005
Delivered to Air Berlin: 04/04/2006
On the plane entrance there was a purser, female, blond, about 30-years-old, who offered passengers with newspaper. I didn't take it and I went directly to my seat. In my row FA was standing so because of my latest experience I asked if I could take some cabin pictures. She said 'No problem'.
This plane (it once flew for Independence Air in US) doesn't have TV monitors above the seats like most of the fleet so FAs made the safety presentation.
But it had installed the new Recaro seats that are much more comfortable then the ones in Germanwings' plane, and it also had more space for legs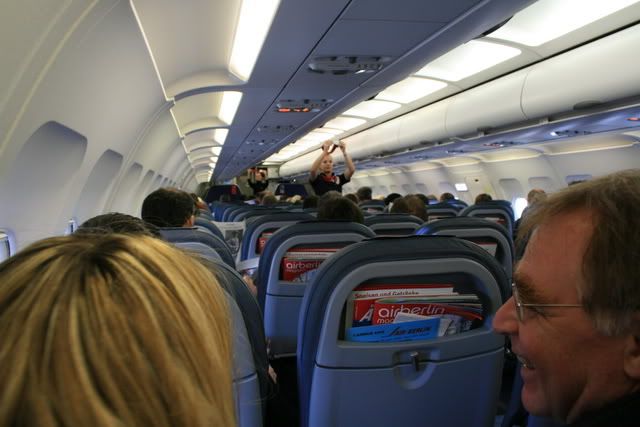 Air Berlin is huuuuuuge...!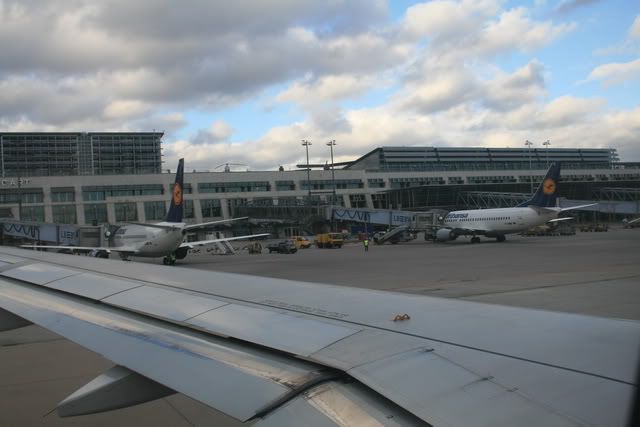 This is what happens when you get married - you must be together everywhere, and not just that, you are expected to act so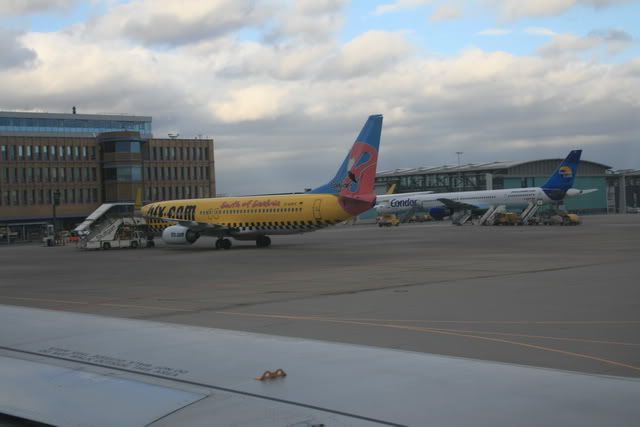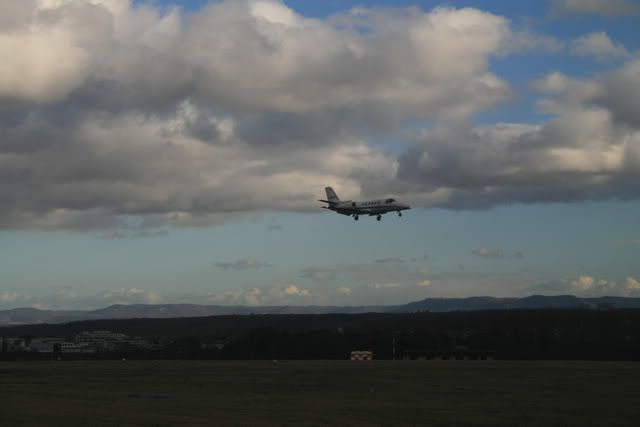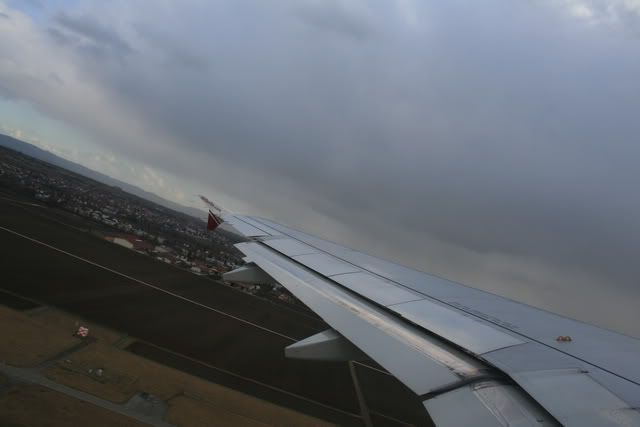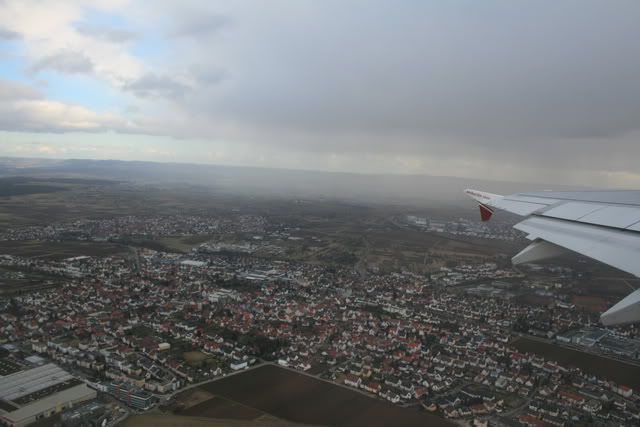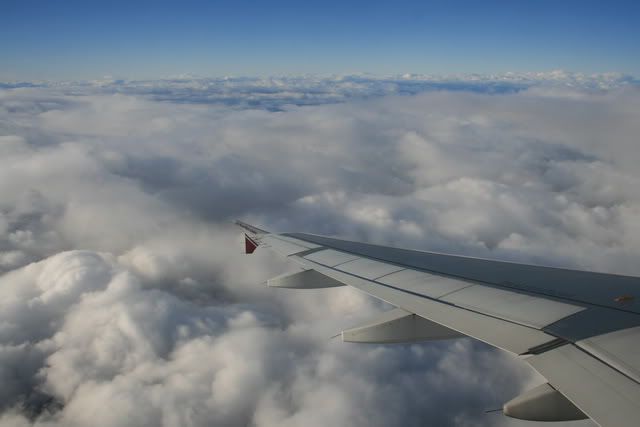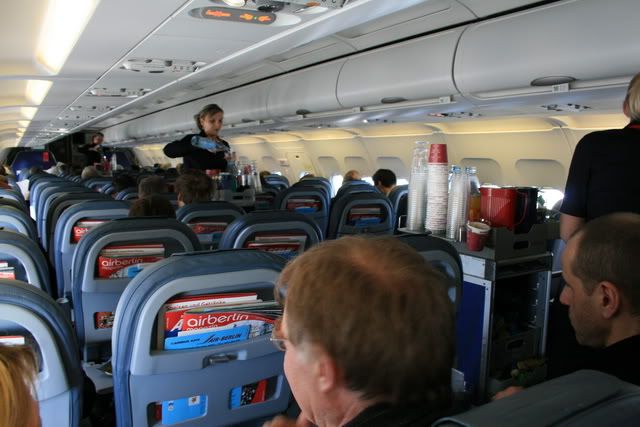 Even tough Air Berlin is a low-cost company, on every flight they offer drink and at least some snack for free. FA offered me juice and chocolate or chips. I went for apple juice and chocolate.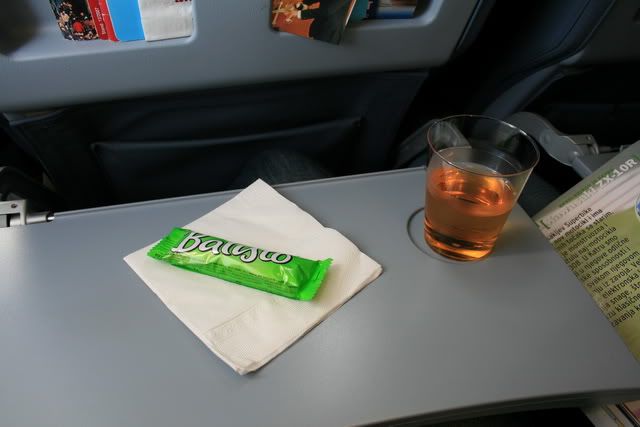 Captain Troyer informed us over PA that we were flying with speed of about 780 km/h at height of 7500m. He said that we would arrive in Berlin couple minutes before scheduled time. Finally he wished everyone a pleasant trip.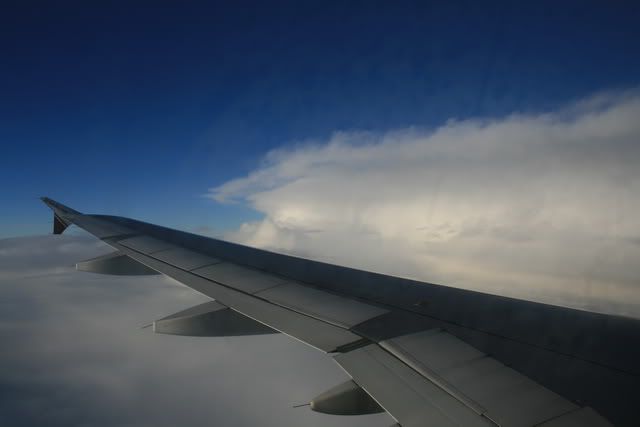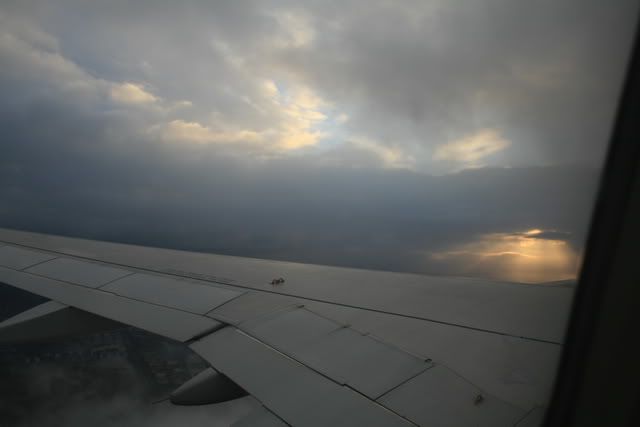 Center of Berlin is visible -- note the TV tower on Alexanderplatz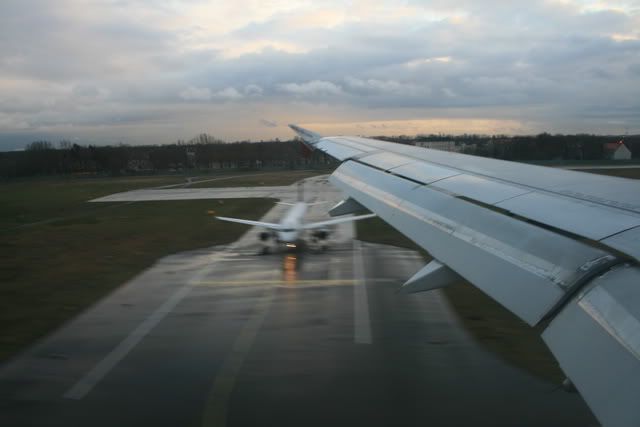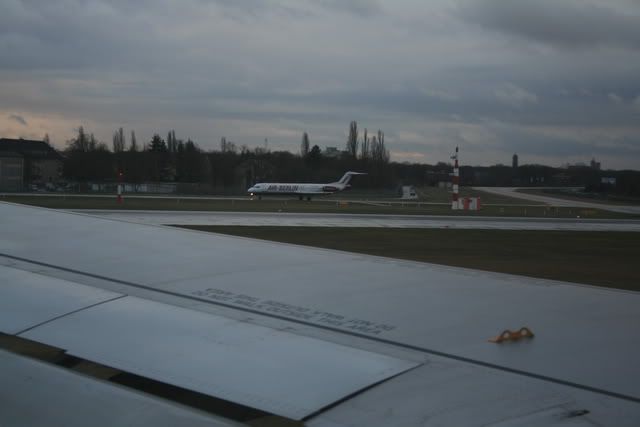 Pilots yet again didn't use thrust-reversers while breaking.
KLM's 737-800 landed just after us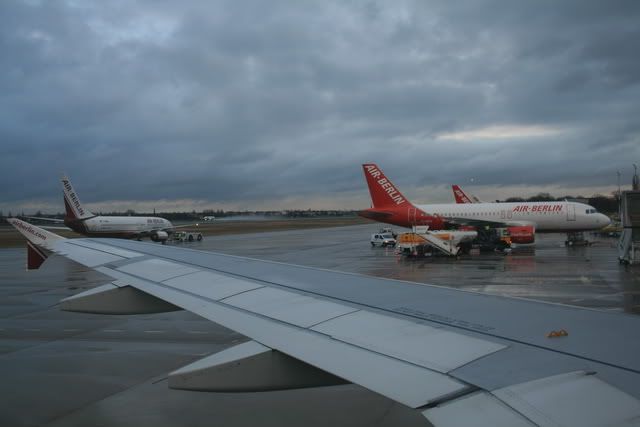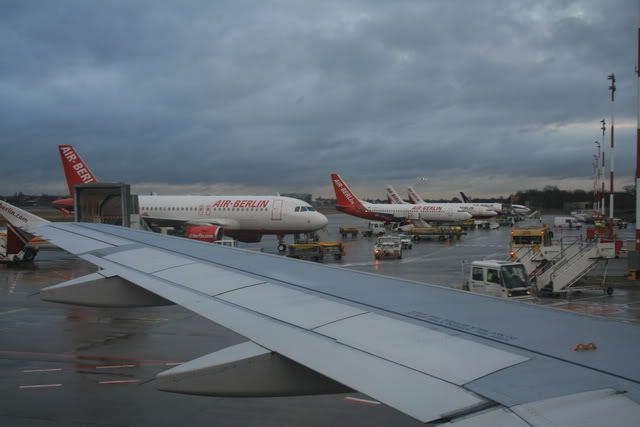 At the plane exit there were 2 FAs, one of them held a plate of chocolates shaped as hearts. They said 'Warmly your Air Berlin'. They probably picked it up from DBA, if I'm not mistaken.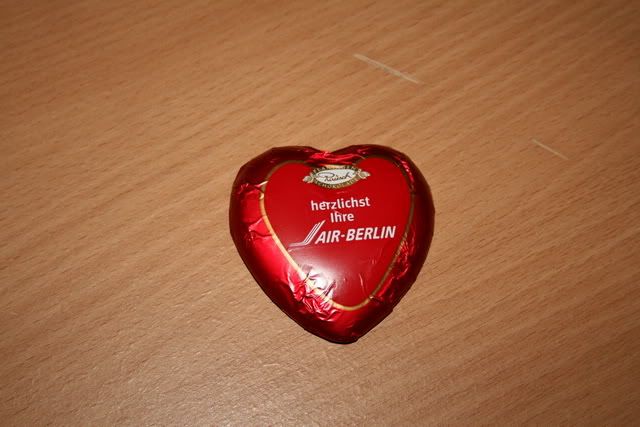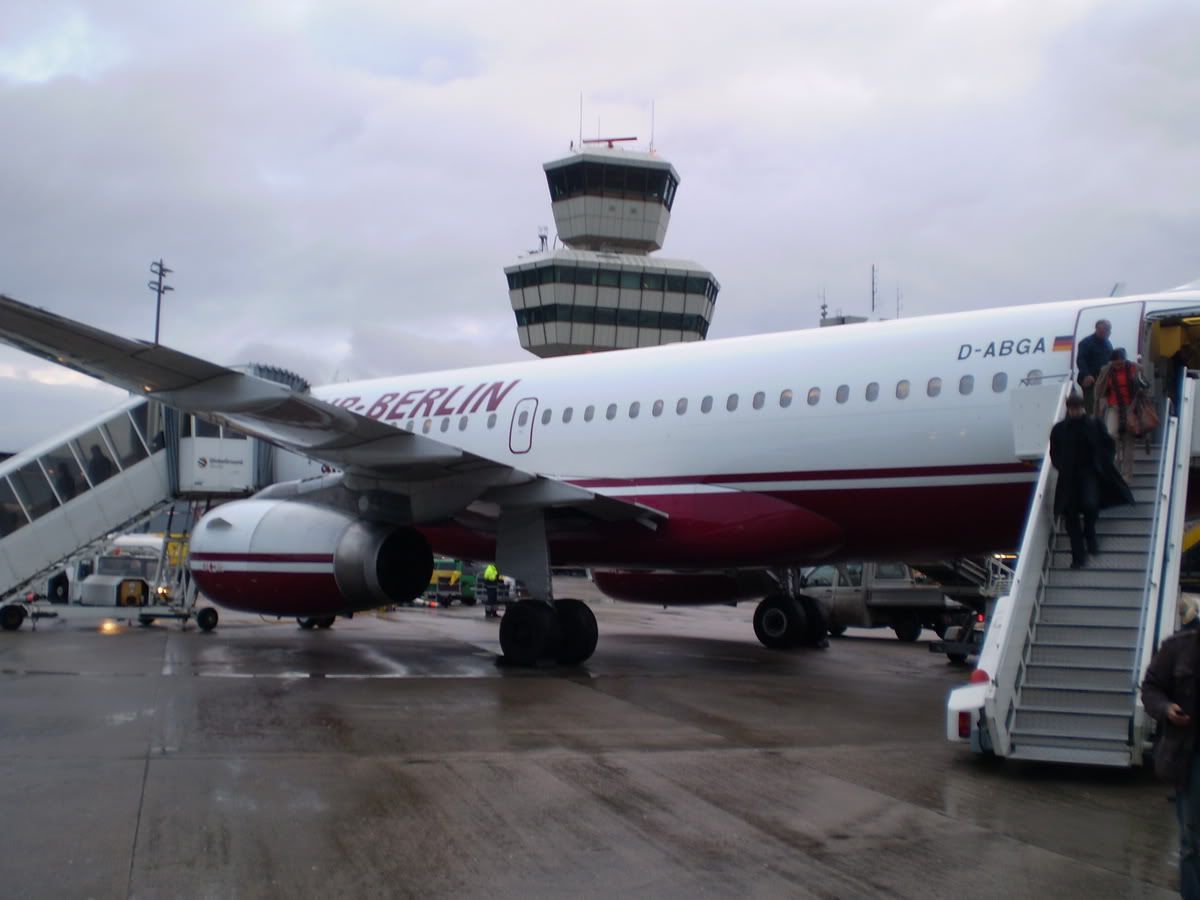 We got into a really old bus that drove us to Terminal D which Air Berlin uses. We collected our luggage, left the building and took a taxi to our hotel in Charlottenburg.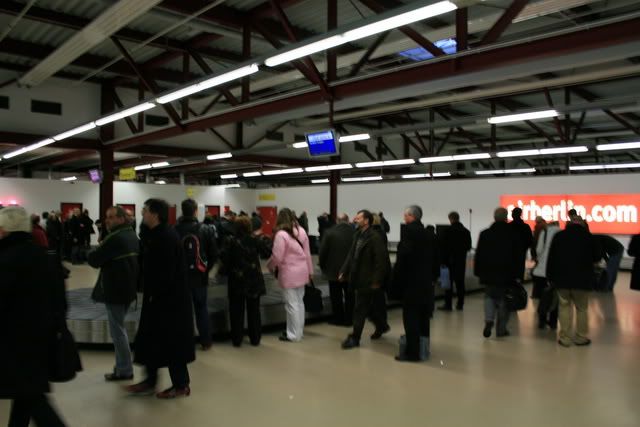 During waiting at the reception we found out that the hotel was property of Russians and of course all the staff was Russian. To be honest, that information didn't make me feel safe at all.
After we were given our room keys, we took the elevator to get to our rooms. In the corridor there were 2 Russians in black leather coats arguing. Scary.
A thought went through my head that I didn't come to Berlin to be part in some mafia clash.
I just wanted to spend the next 5 days enjoying myself in Berlin and its inhabitants, and not in Russian roulette. Do I even have to mention that there was armour store next to our hotel?
Next morning at breakfast I noticed 3 young good-looking girls, they were about 20-years-old. They looked like models. They were sitting at the same table and speaking Russian. That day I saw them at the fair where they were working as hostesses for some Russian company. Because of that I called them Miss Russia, Miss Belarus and Miss Ukraine. If there was a fourth girl she would be Miss Kazakhstan. LOL
We spent our days at the fair and nights having dinner at Alexanderplatz. Our shopping destination was Galleria Kaufhof, the biggest shopping mall in former East Berlin.
Enjoy the photos from Berlin (as we spent all days in Messe, photos were mostly made in dark)
FruitLogistica Berlin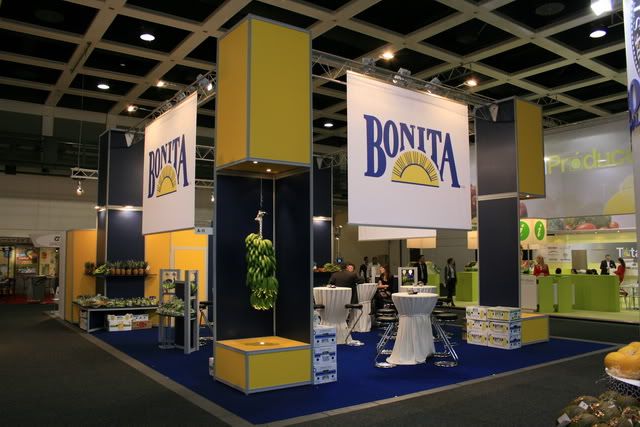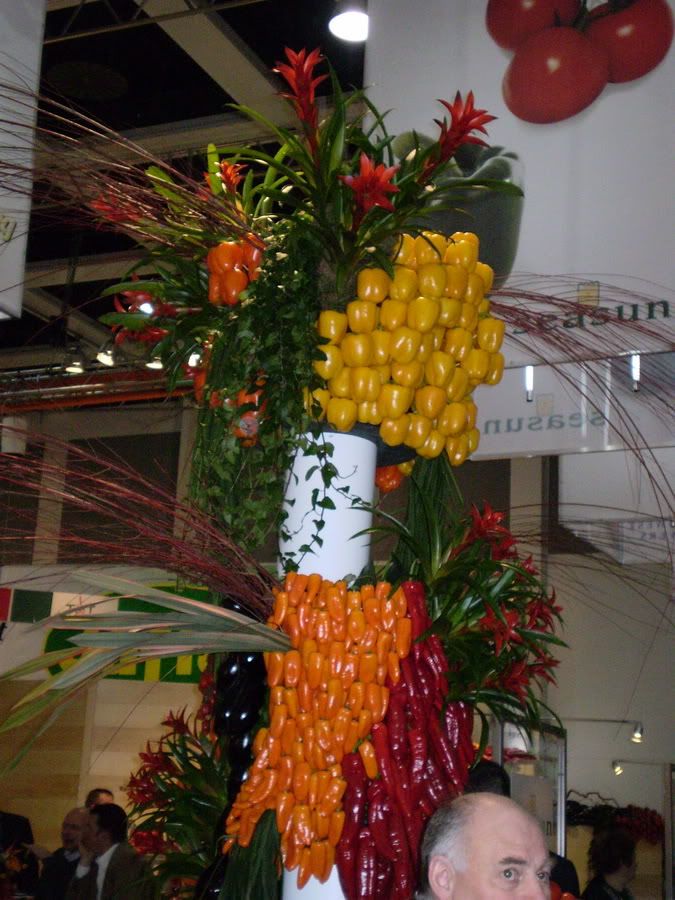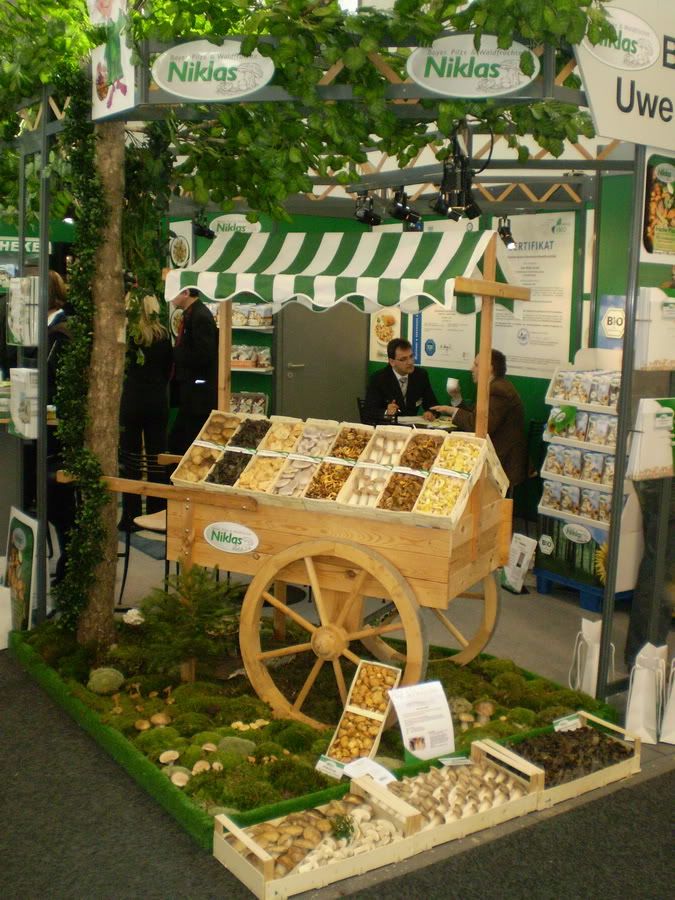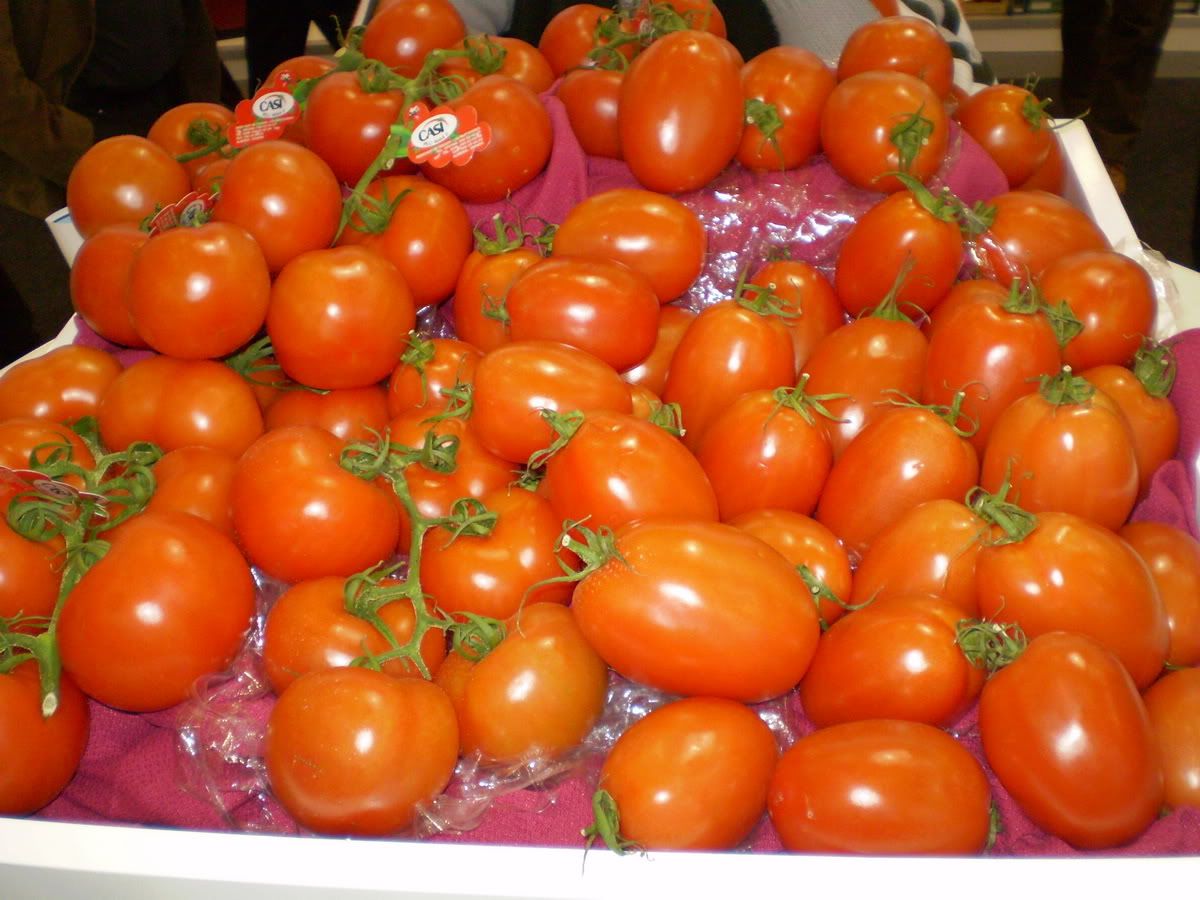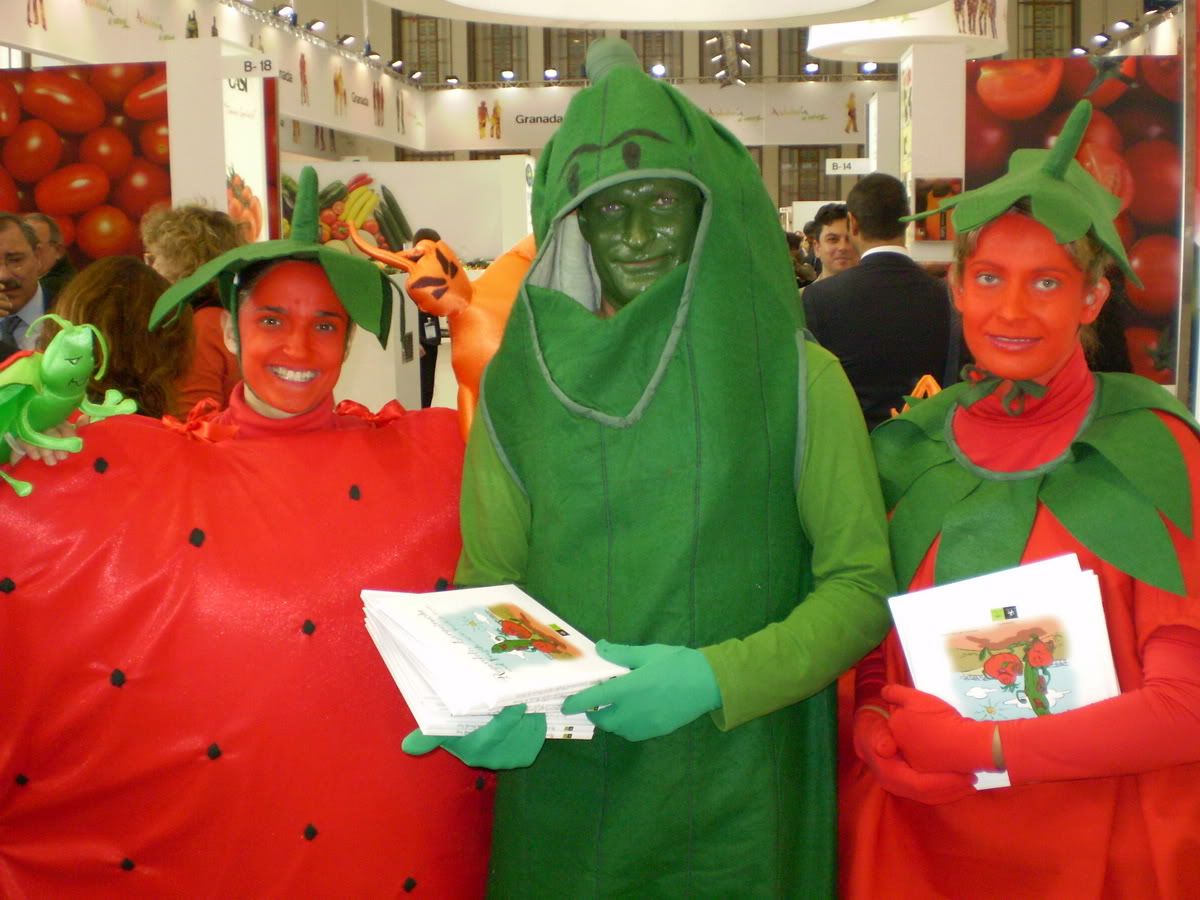 If there is A380 in these colours, surely it would be one of the most beautiful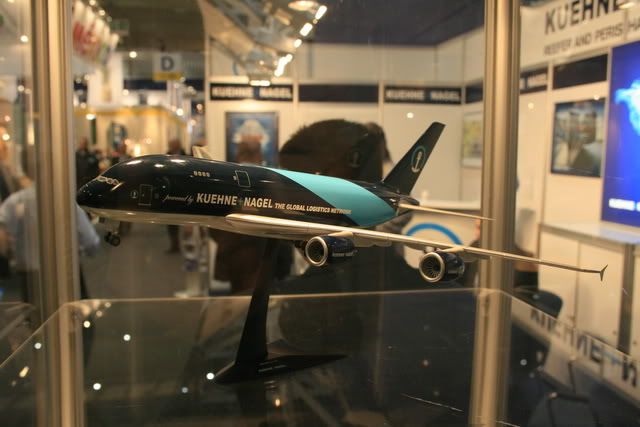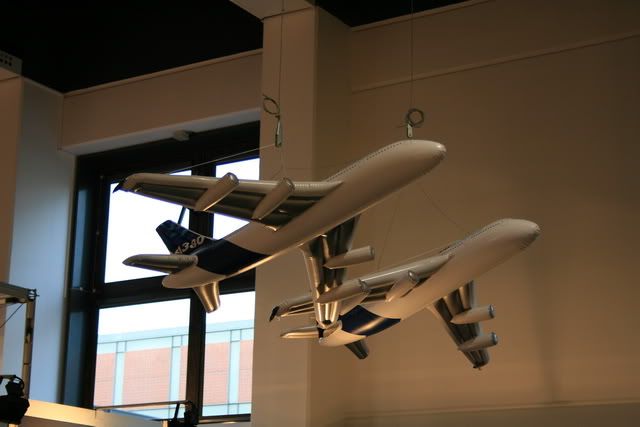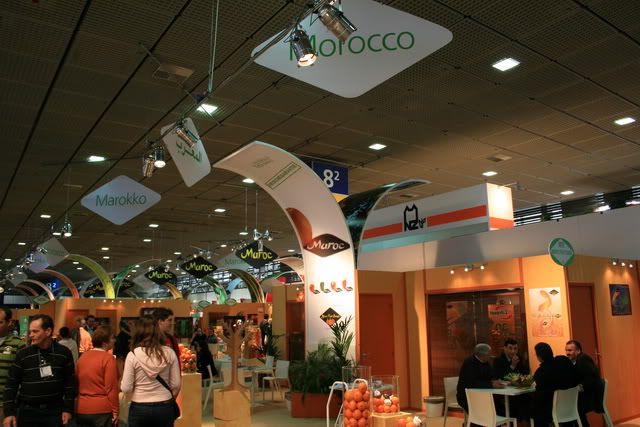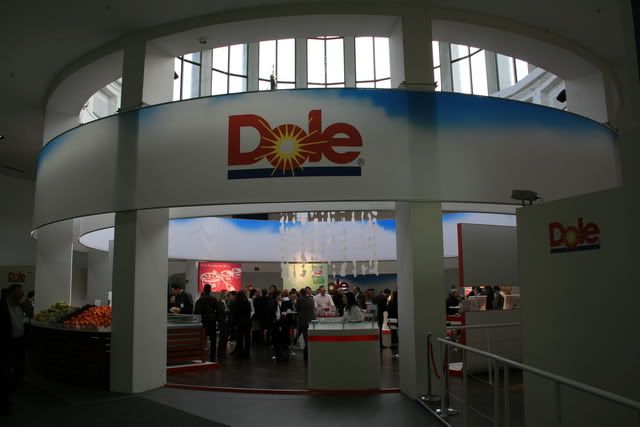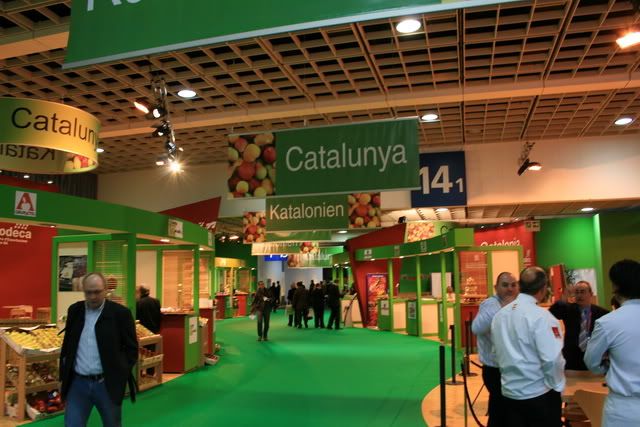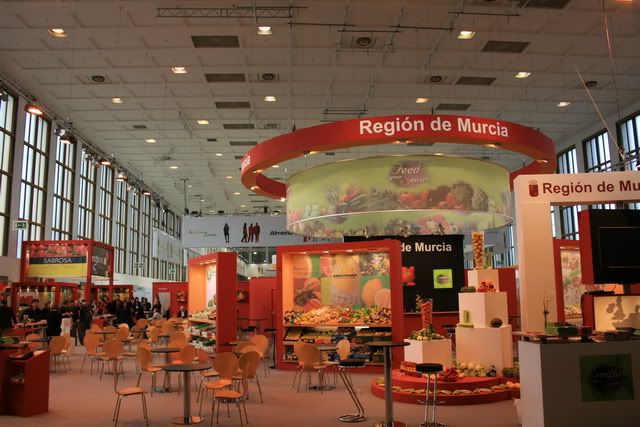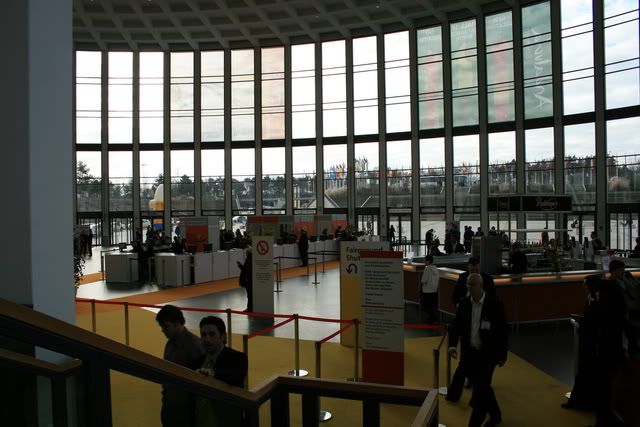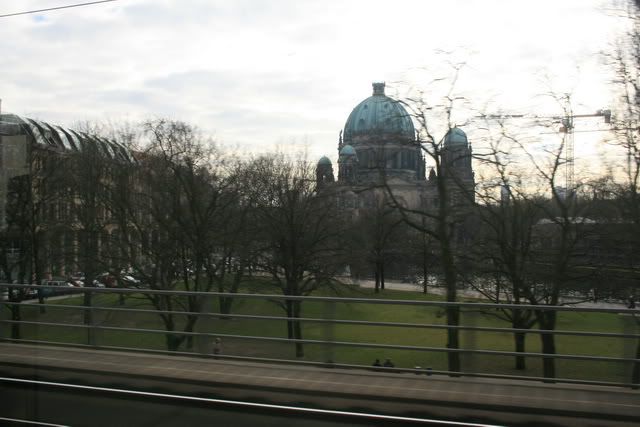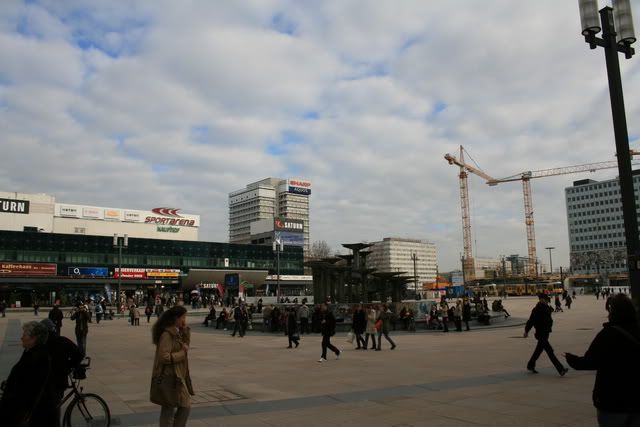 Alexanderplatz
TV Tower - Berliner Fernsehturm
View from inside TV tower
Checkpoint Charlie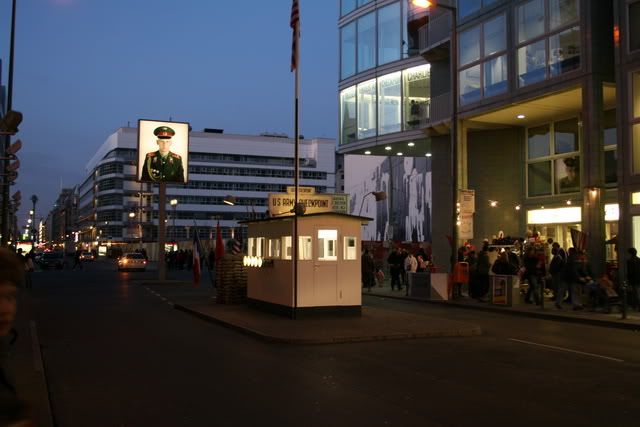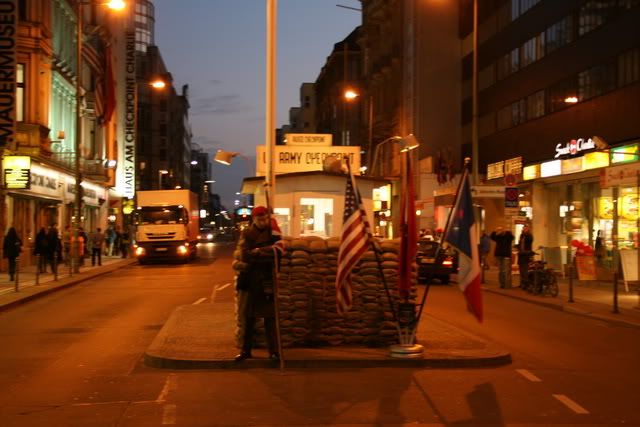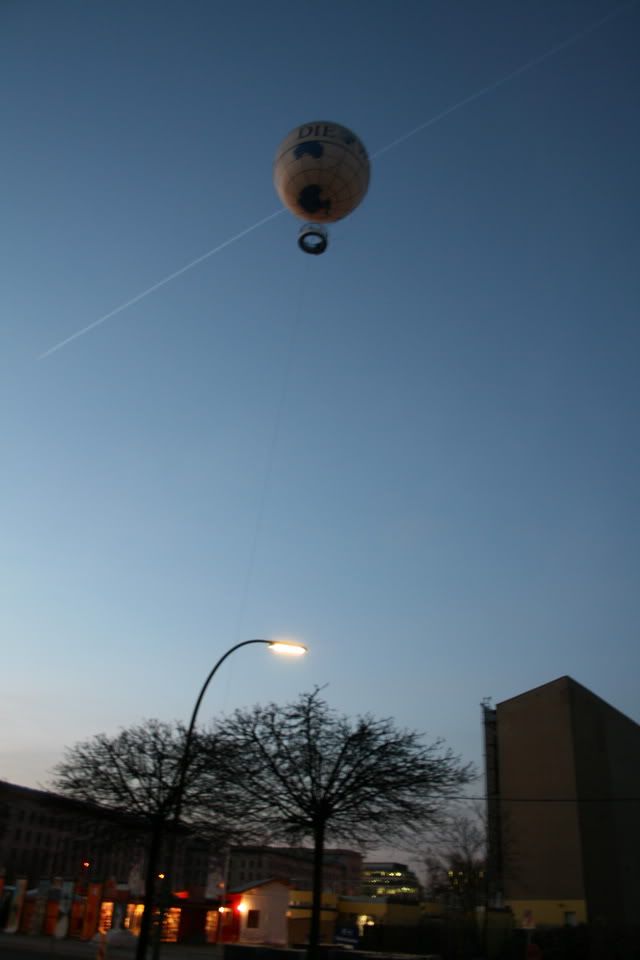 Sightseeing Berlin from the air -- near Checkpoint Charlie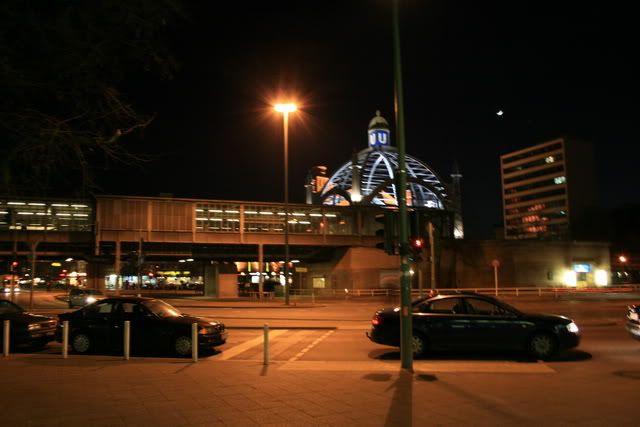 Nollendorfplatz
Kaiser Wilhelm Memorial Church @ Ku'damm
Reichstag -- the Parliament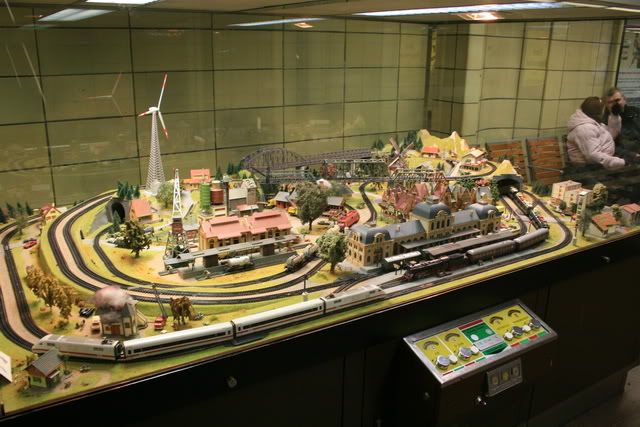 Train models @ Zoologischer Garten train station
Reichstag -- the Parliament
Dome designed by sir Norman Foster
While my cousin and I were at the roof of Reichstag, suddenly something started firing... It was fireworks along the river Spree, near Hauptbahnhof. It was opening of Berlinale!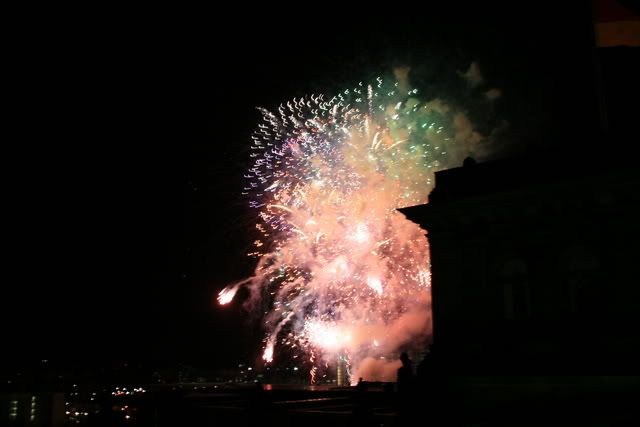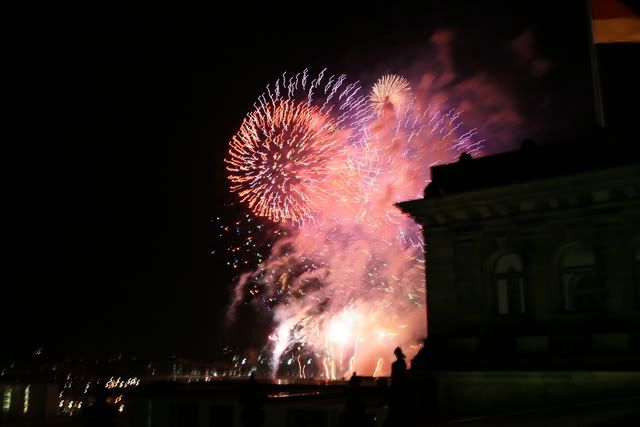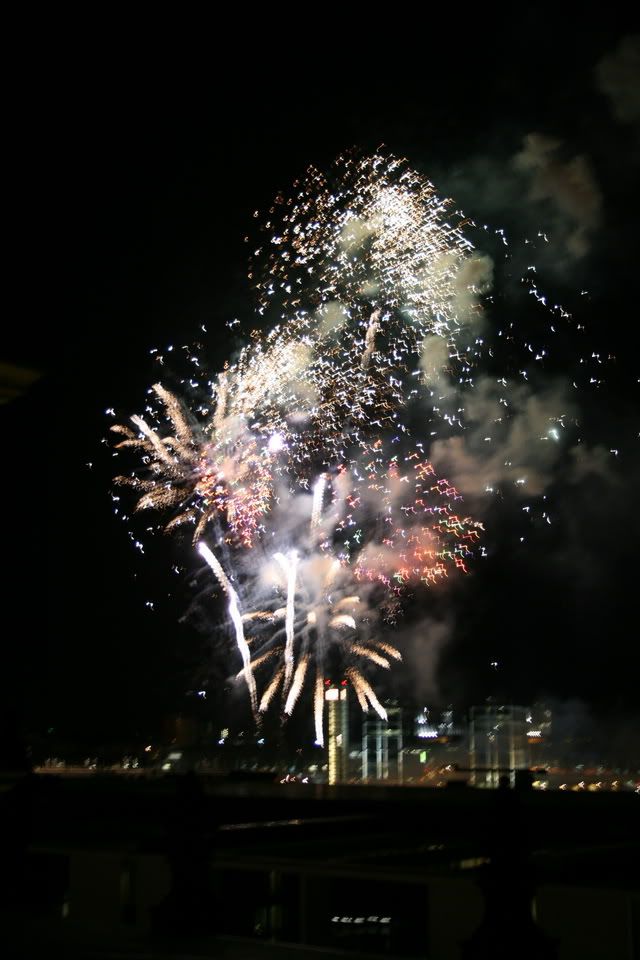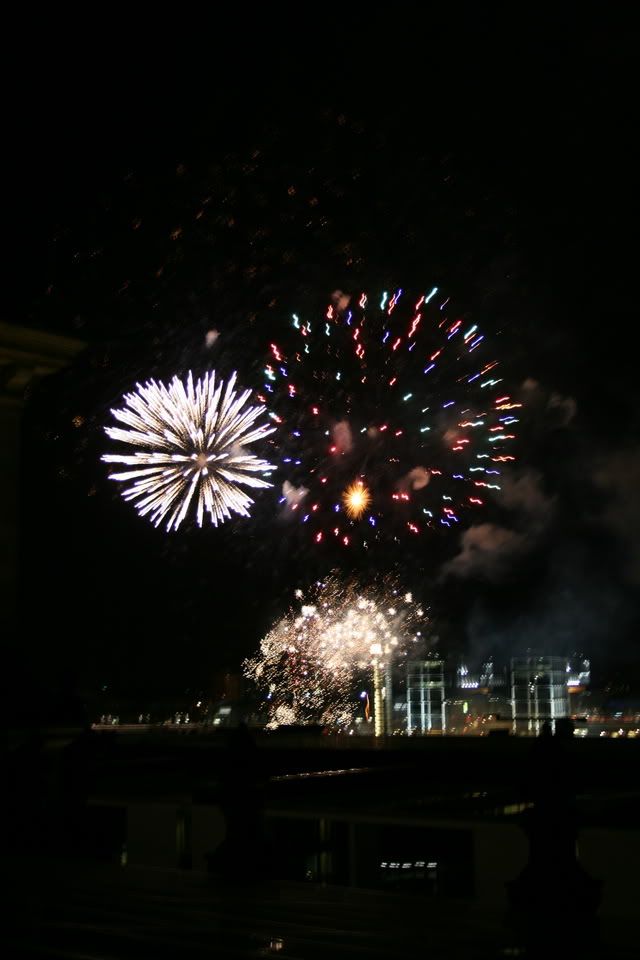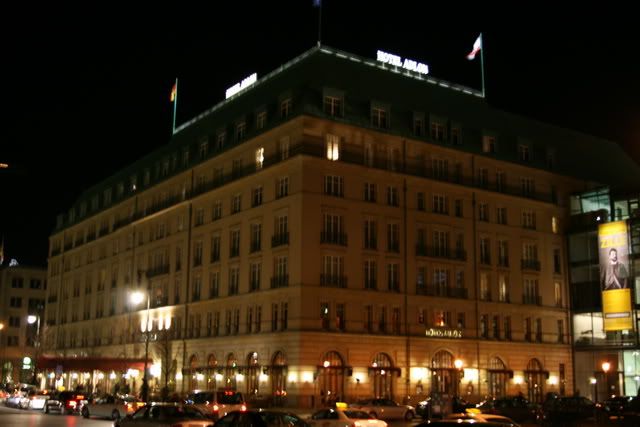 Hotel Adlon, one of the most famous hotels in Berlin, near Brandenburg Gate
Brandenburg Gate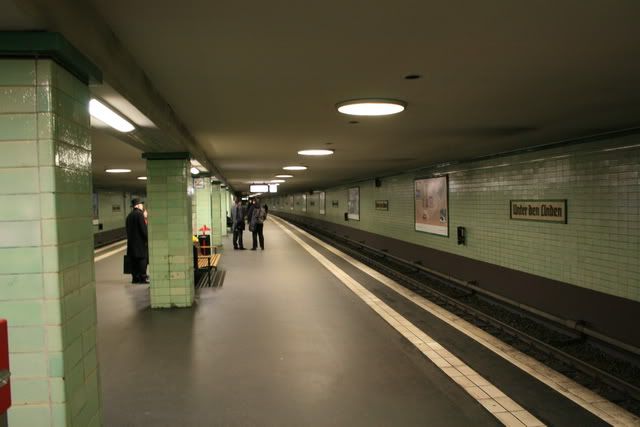 Unter der Linden S-bahn station
Potsdamer platz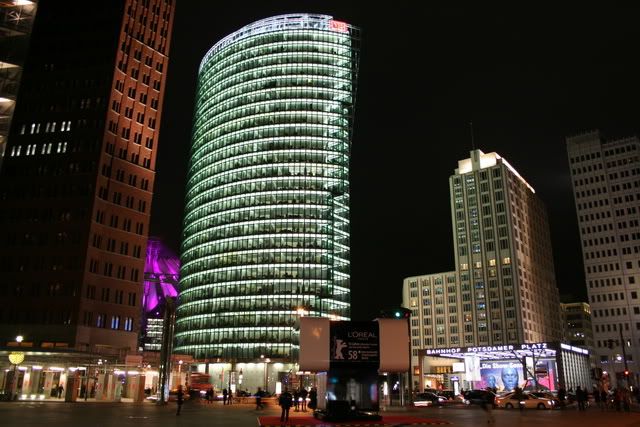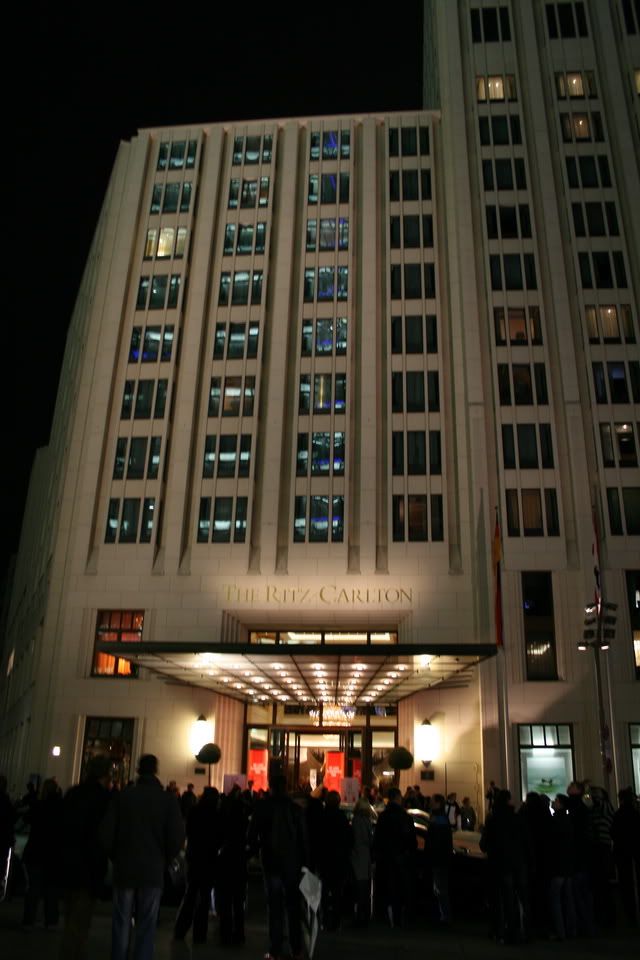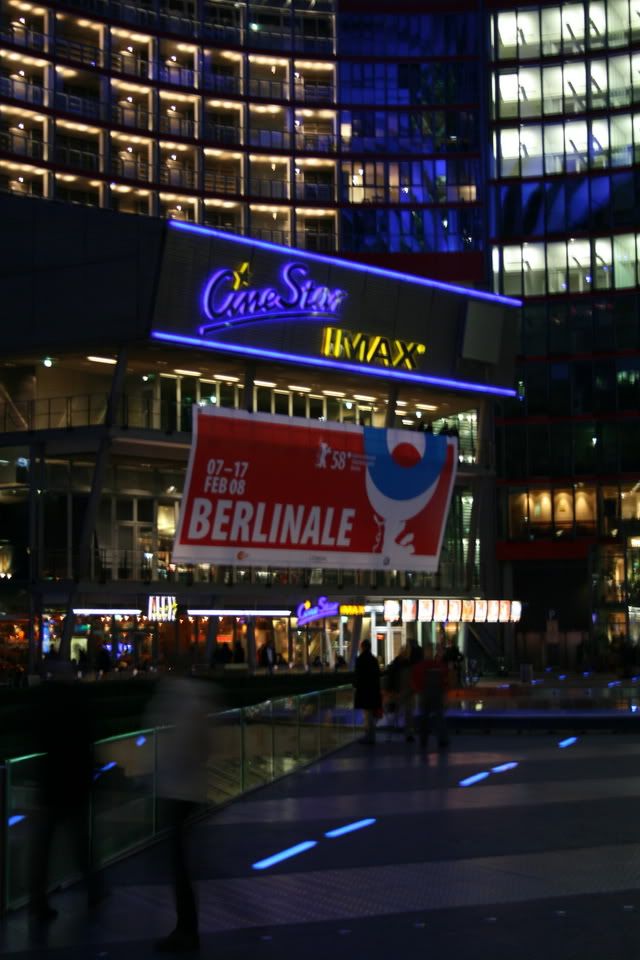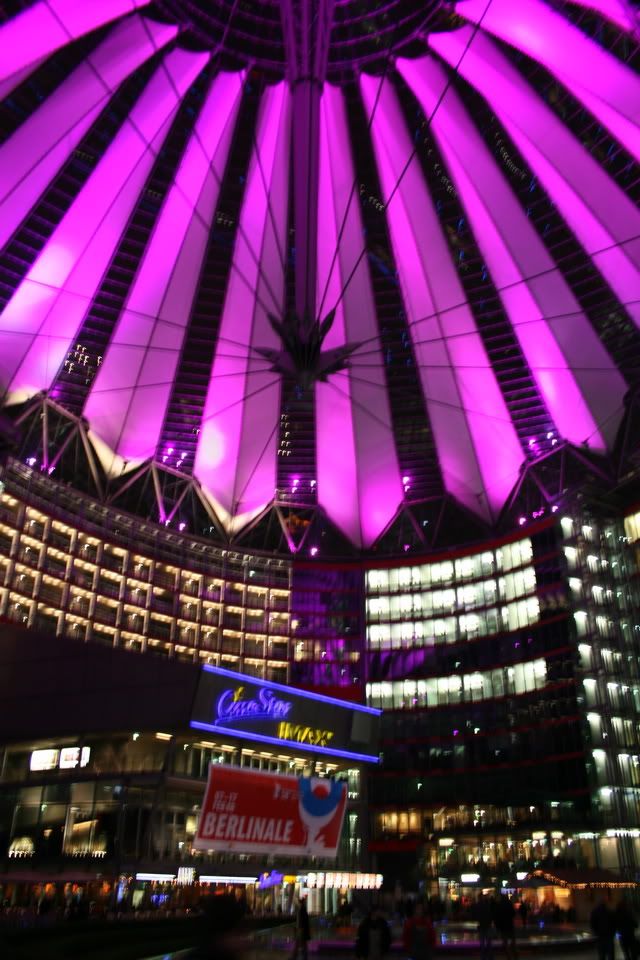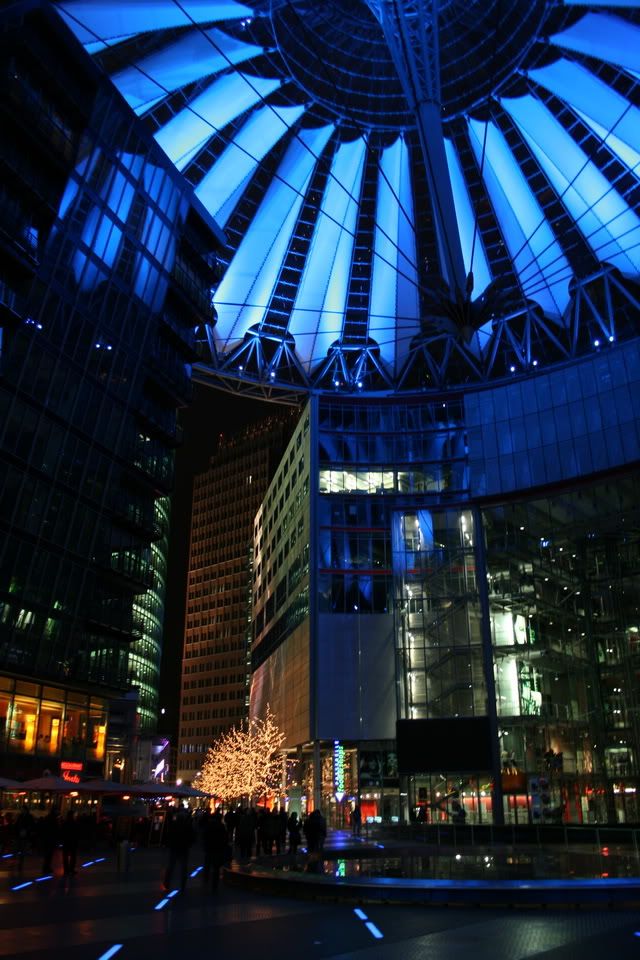 Our time in Berlin passed quickly, Sunday came and it was time to go back home
After breakfast we packed and then took a cab to Schönefeld airport.
During drive we passed along the south part of Tempelhof airport where I tried to photograph 2 parked Air Berlin's Fokkers, but I wasn't much successful at it...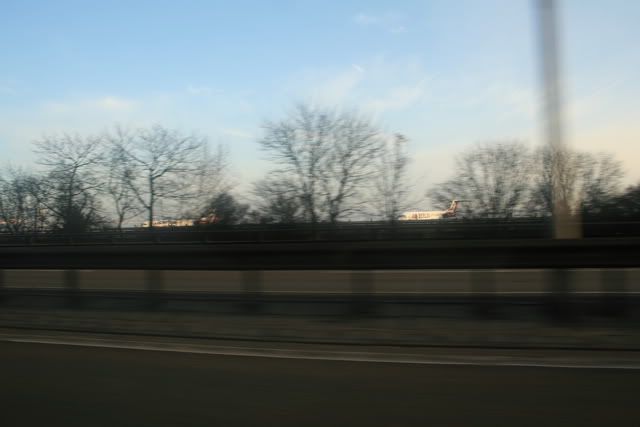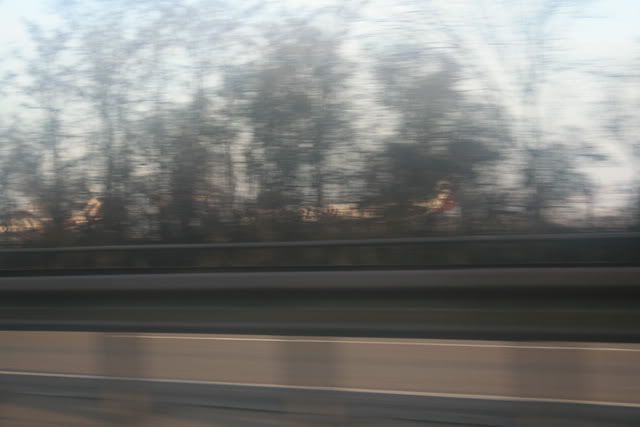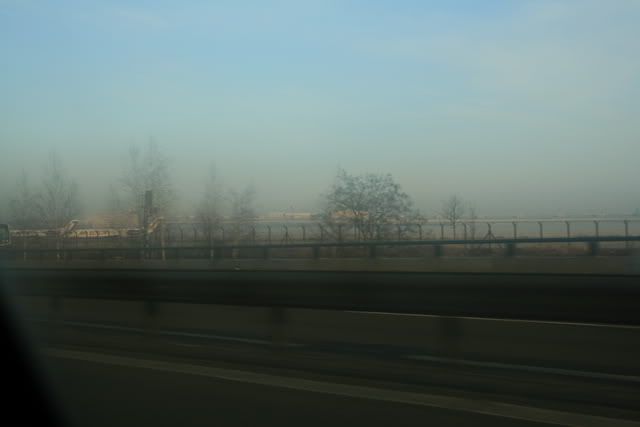 After 30 minutes we arrived at airport's terminal where I saw tank for protection El Al's Boeing.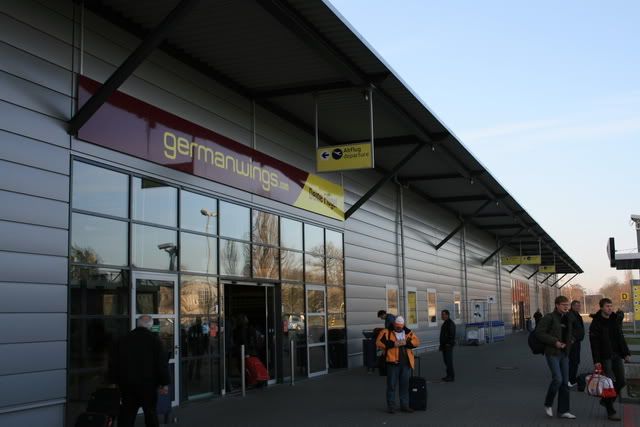 In the building we directly went to check-in where the line was pretty long. After 15 min of waiting we finally reached the agent who was checking-in passengers to Zagreb, and then we noticed that our cousin's suitcase was heavier than 25 kg. To not pay unnecessary expense we took out some of his stuff and put it in our other suitcases
We got our boarding passes and went directly to departure zone. Upcoming jam (there were 4 planes taking off from terminal D in next 40 min) airport service solved really quickly by opening all security points so controlling lasted only few seconds.
We didn't go to duty free shop but straight to passport control and to departure saloon.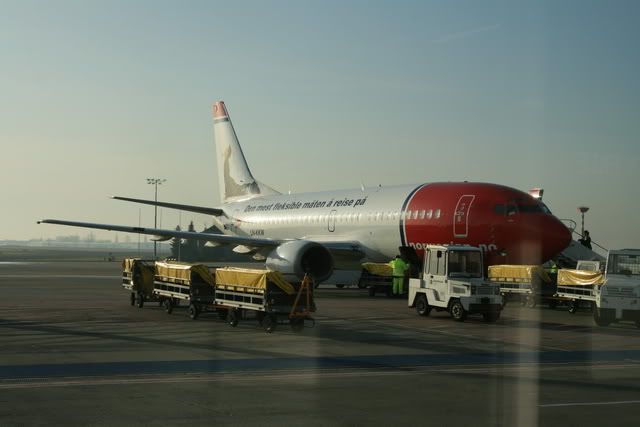 DY to Stavanger.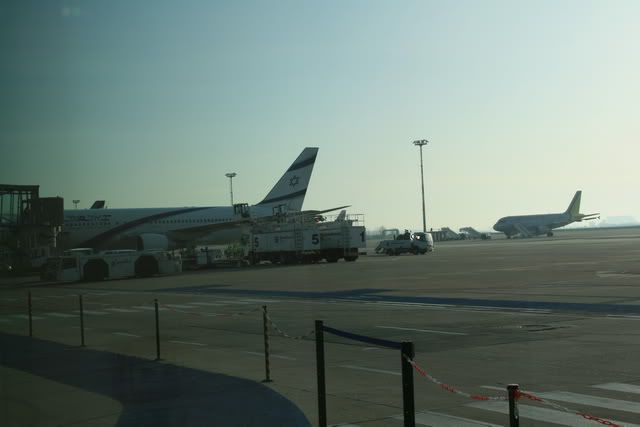 LY to TLV & 4U to ARN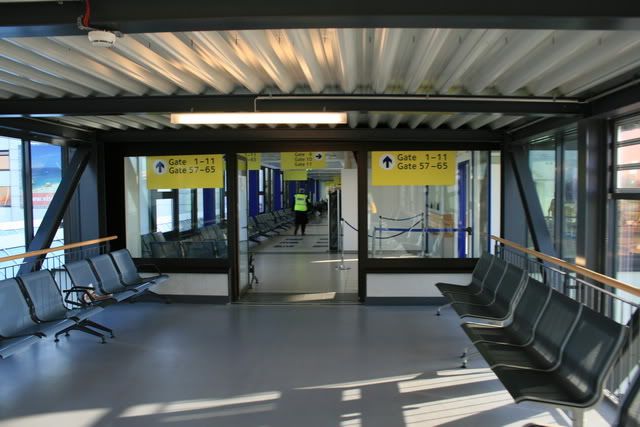 Corridor to non-Schengen zone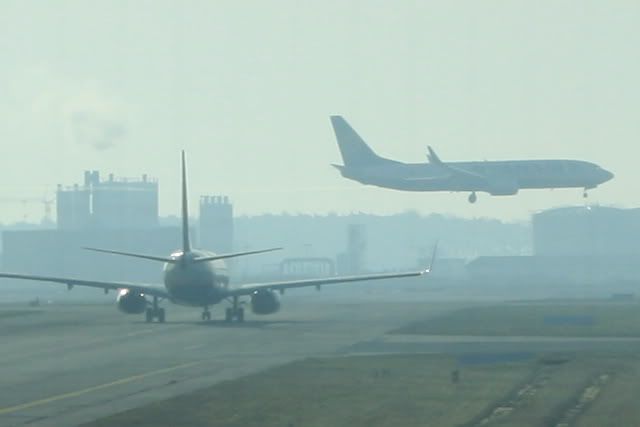 While one FR's 738 waits take-off to Dublin, the other one arrives from Stansted.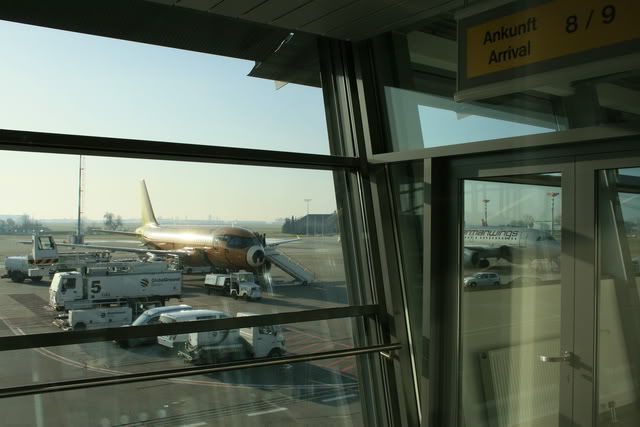 4U's A319 in Bearbus colour scheme is waiting for passengers to ZAG
Boarding soon begins
When they announced beginning of boarding, agent first called parents with little children to come to the counter.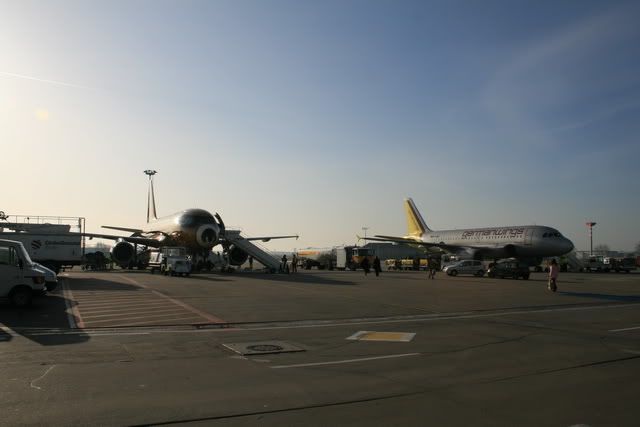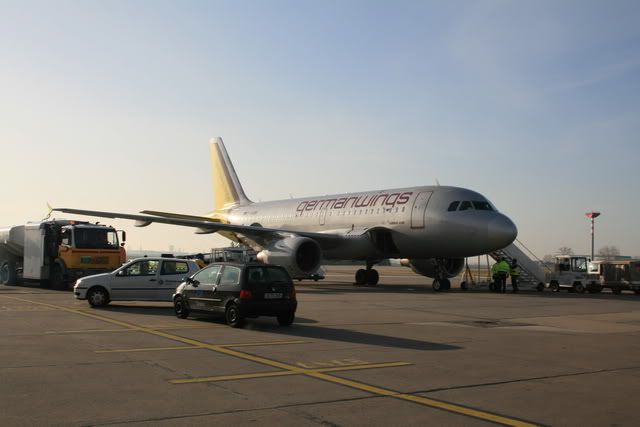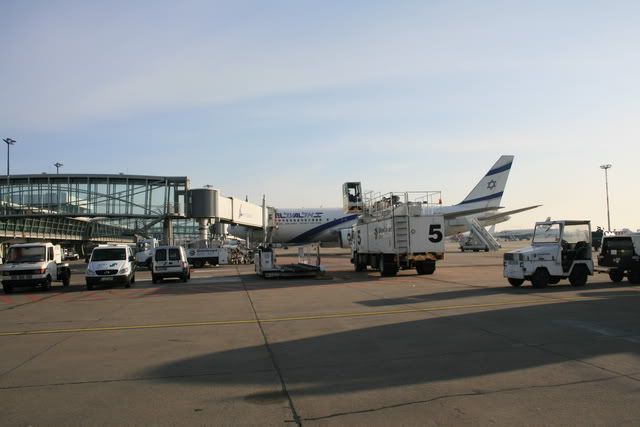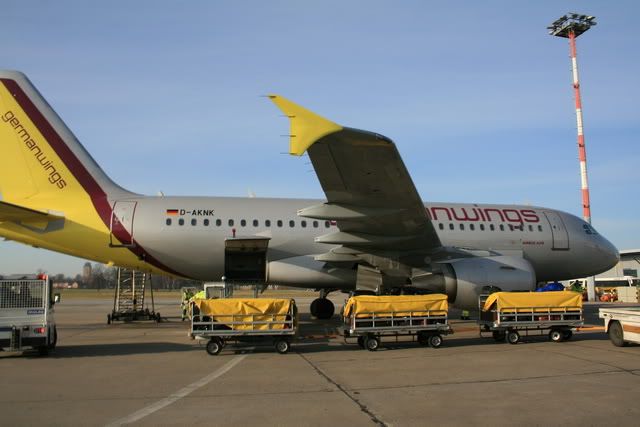 November-Kilo waiting for passengers to VKO
I got into plane through the back door where I was saluted by the host. In the cabin there were already my co-passengers; my cousin was sitting a seat in front of me next to the window and our ladies were seated behind me. We were among the first passengers to be boarded so we had to wait about 10 min for others to board. The whole 140
SXF-ZAG
Flight No.:
4U 8978
Date:
10 FEB 08
A/C:
Airbus A319-112
Reg No.:
D-AKNO "Berlin Bearbus"
STD:
1015
ATD:
1015
STA:
1155
ATA:
1143
Flight time:
1h13min
Gate:
08
Seat: free seating -
22F
Load factor:
140/142 (98,59 %)
My 18th ride on A319, and 2nd on this same machine.
Delivered new to US Airways: 16/12/1999
Delivered to Germanwings: 31/05/2005
The crew, consisted out of 3 FAs, did their sacred duty of informing passengers what to do in a case of emergency. And here we go... On time.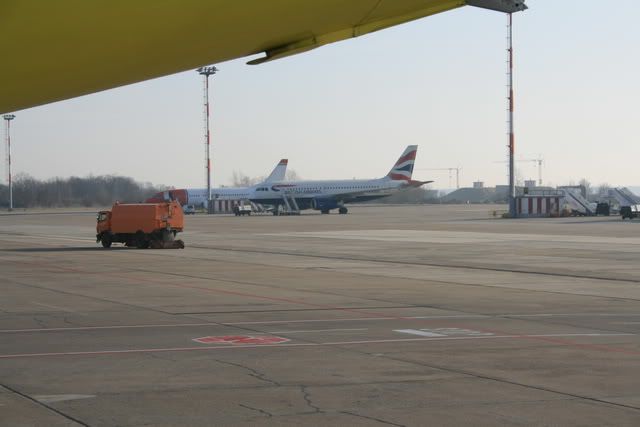 DY to OSL & BA to WAW (probably diverted flight LHR-WAW)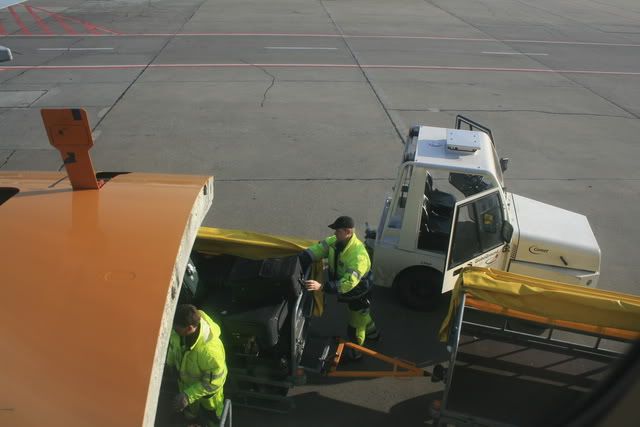 It's unbelievable how workers throw luggage from the cart onto the line -- like they are empty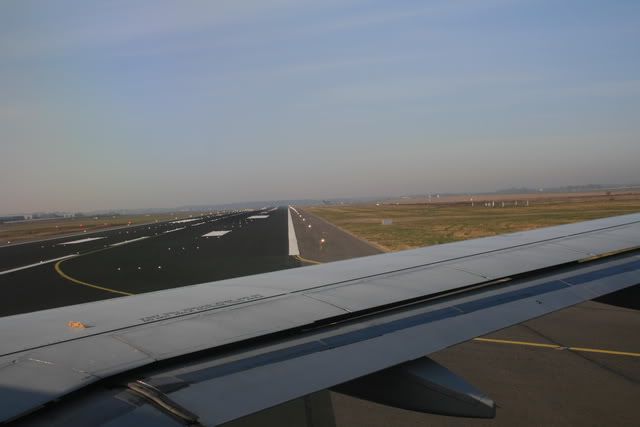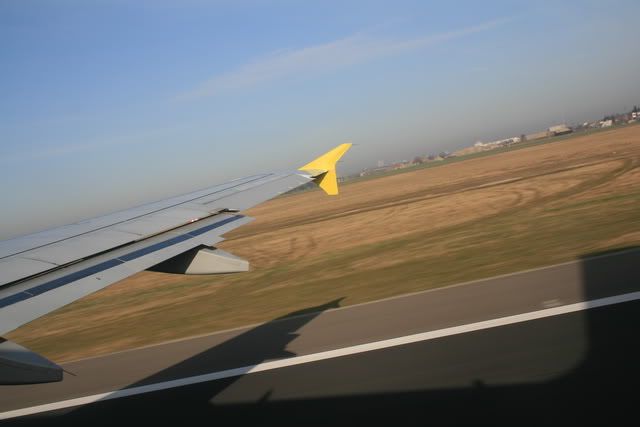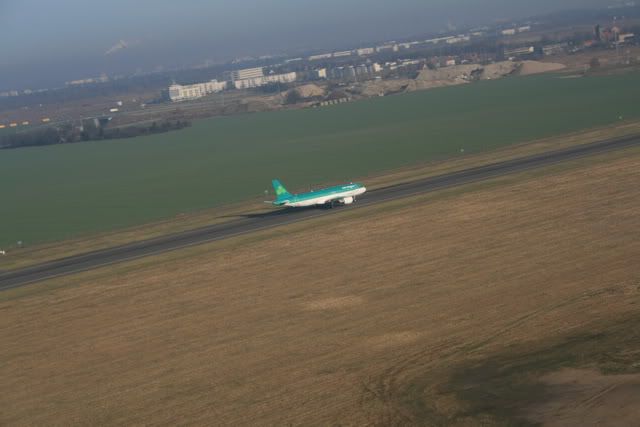 EI from Cork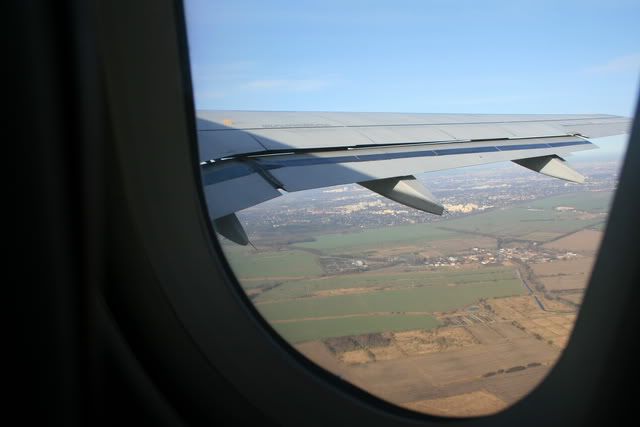 After 4 minutes spent in the air the plane made sharp turn to left.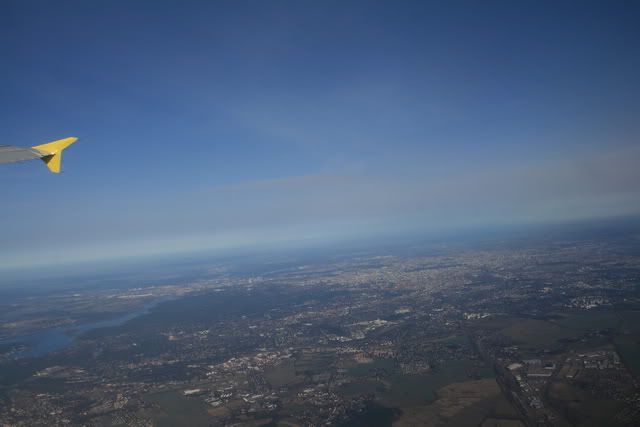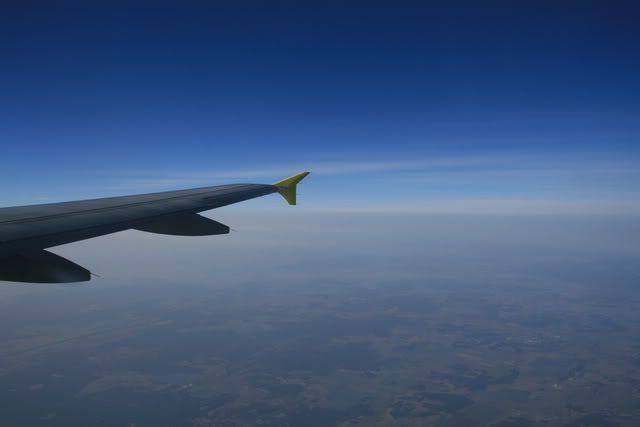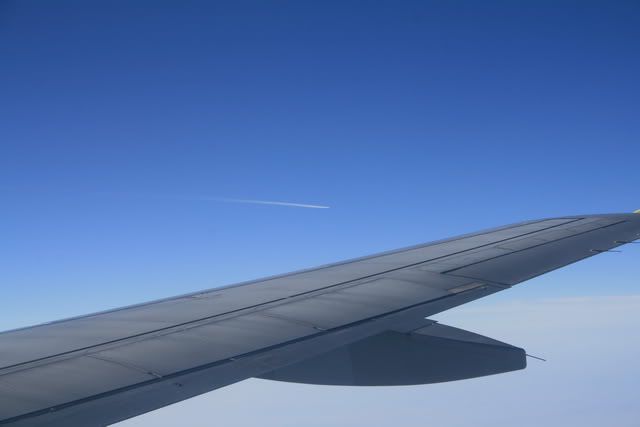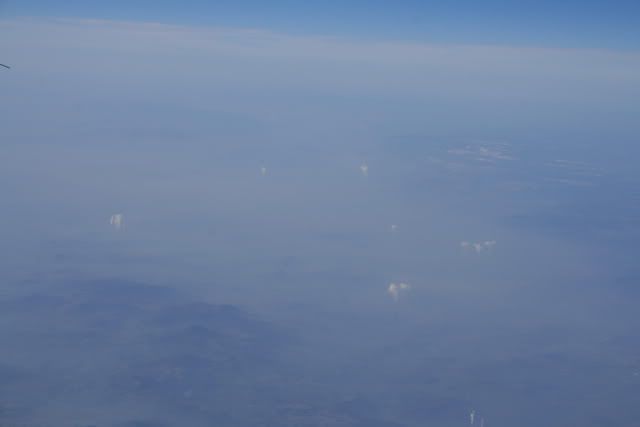 Hard industry or even worse, something nuclear?
Because we were thirsty, we bought ourselves some apple juice. GWI charges 2,60€.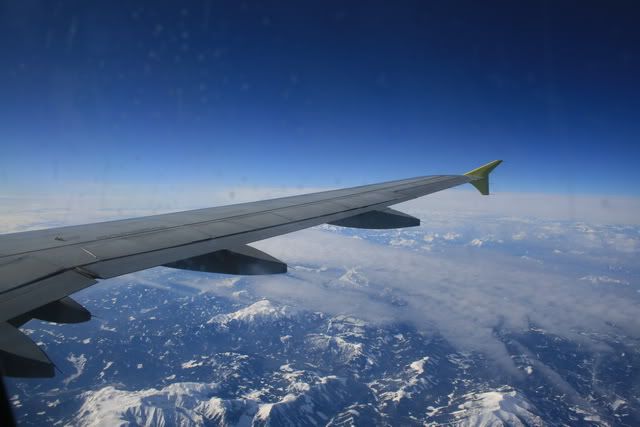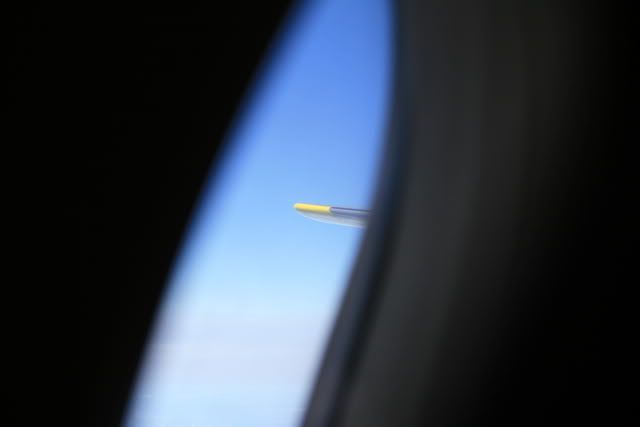 Tail visible from my seat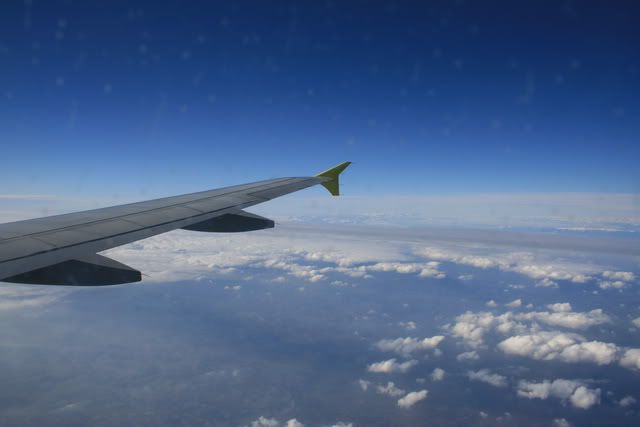 Before we begin landing, the captain called but his English through PA was so understandable that from everything he said I only understood that it was the captain.
The landing had begun...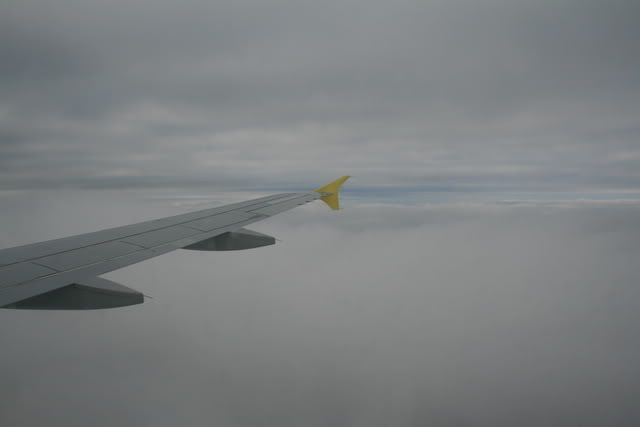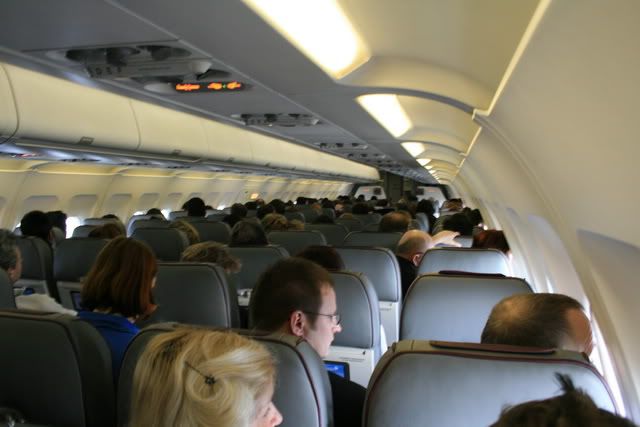 Passengers are looking to them familiar territory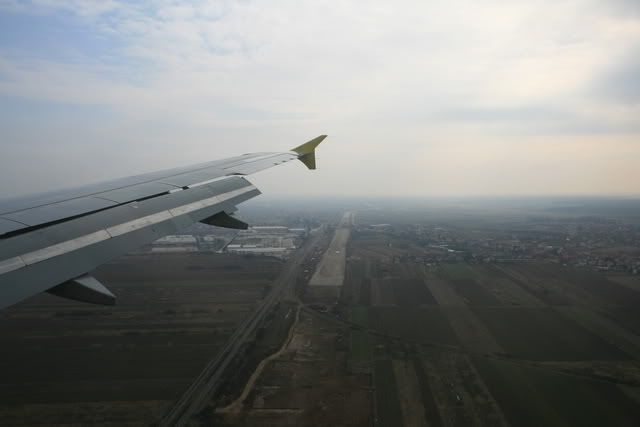 Route for the future high-way Zagreb-Sisak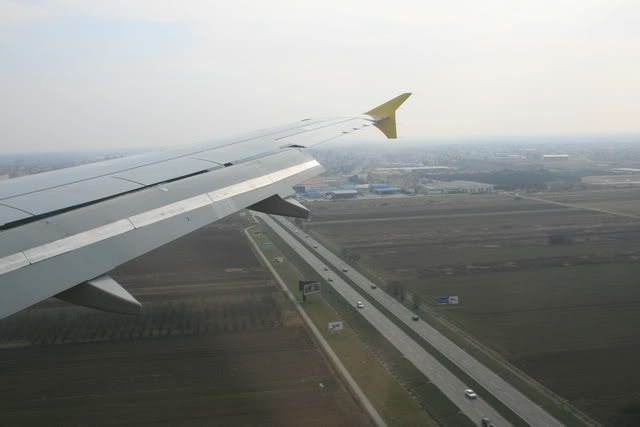 Present route of the road. You can see Velika Gorica, the home town of the Airliners' photographers Nikola Kovacevic and Tomislav Muic.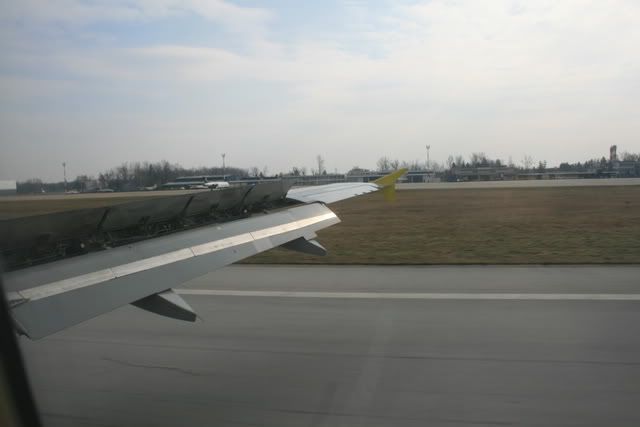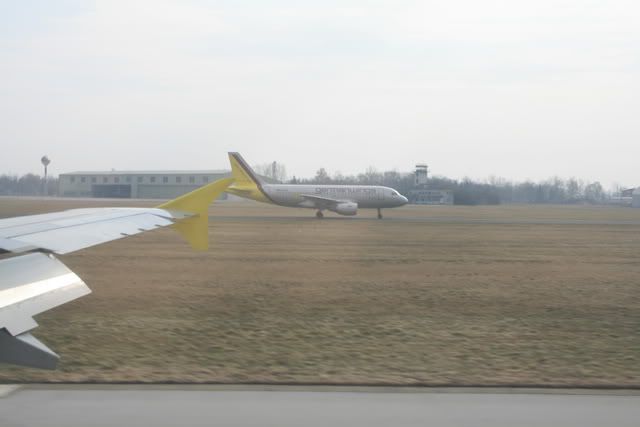 Between 11.30 and 13.30 most of Germanwings' planes land on flights to Zagreb, and this one from Dortmund just landed before us.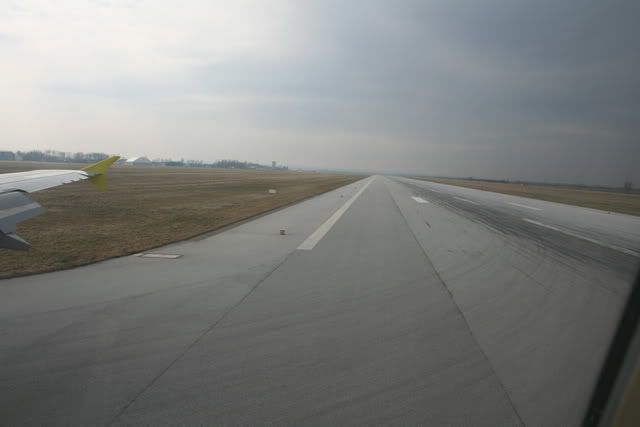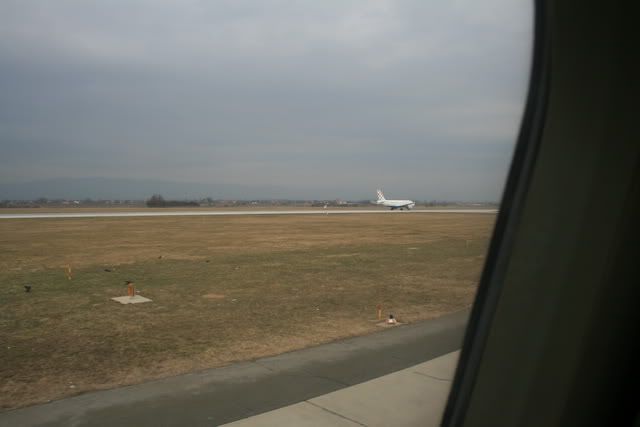 9A-CTG doing training flights
My fellow passengers got up from their seats as soon as the plane stopped and before safety belts sign went off. When the jam got smaller I got up, went down the stairs and went to the bus.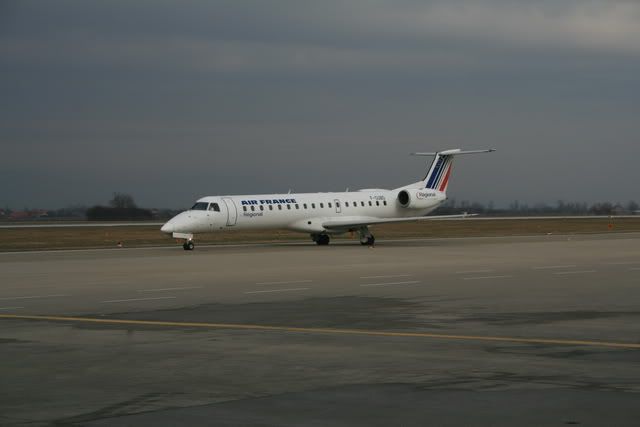 ERJ-145 from CDG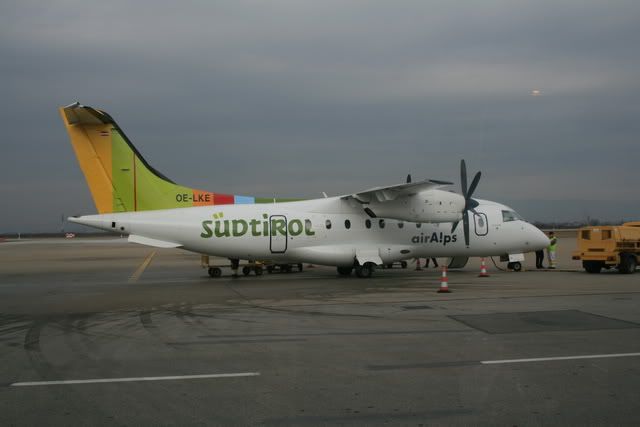 Air Alps on behalf AZ to Milan-Malpensa.
It drove us in front of the terminal where passport control was. After waiting for about 10 min, I received a stamp and got in Croatia again. We waited another 15 min for the luggage, and when we finally picked it up we went straight towards the exit. A custom officer stopped us and asked if there was something we wished to report (and why shouldn't I be suspicious when I was pulling cart with 4 suitcases
Nevertheless, we passed without control. Outside there was an employee of the company waiting to drive us back home.
Summary
Germanwings
: since 2 years ago they haven't changed a bit. The flights arrived on time, planes were clean with leather seats and the FAs were good looking. The negative part was definitely that I was prohibited to take cabin pictures (even though it wasn't the case on SXF-ZAG flight). I will fly again with them if there is ever a need.
Air Berlin
: after the first flight I was pleasantly surprised. We paid only 29€ per person, so rate between invested and gained was very good. The flight was accurate, I wasn't banned from taking the pictures and to top it I was served with free food and drink.
Even tough their plane had more seats then Germanwings', there was much more space for legs.
Maybe the Recaro seats should take credit for that. When I go flying for fun again I will definitely take them in consideration.
That's all from me now! Greetings from Croatia, Sanjin