If you've taken the time out of your busy lives to read my recent trip report...:
Turkey With LX, TK And 8Q (LONG + Pics)
(by
BAViscount
Mar 22 2008 in Trip Reports)
...you will know that I had a number of trip reports that I've been meaning to get round to finishing. This is one of those reports, and is actually for an LHR-IST-LHR trip that I took in February 2007. The outbound section was written shortly after my return, but all I have to go on for the return flight are distant memories and a bunch of pictures. So apologies, but as far as the return trip is concerned I shall generally let the pictures do the talking. I also don't remember details of flight numbers etc., so if you need that type of information...thanks for your attention...it was short, but sweet!
Anyway, here goes:
Sometimes I think I just wasn't meant to fly!
For one reason and another I had let the whole of 2006 pass me by without setting foot inside a plane. The last flight I had made was when my sister and I took our mother on a day trip to Venice with easyJet to celebrate her birthday on December 13th 2005 and I was suffering SERIOUS withdrawal symptoms!
High time to rectify the situation. I had always wanted to visit Istanbul, so when I found a great hotel deal that had me forking out £55 for 3 nights in a 3 star hotel, I went for it. The usual surfing for flights ensued, and this time the best deal was to be had with TK out of LHR. A few minutes later, not only was I in possession of my booking, but had also enrolled in TK's 'Miles and Smiles' programme via their website. HURRAY, I was finally taking to the skies again!!!
My chosen departure date was Thursday February 8th, on the 07:55 departure from LHR. With a lunchtime arrival, this gave me the whole afternoon and evening to start my sightseeing. Or so I thought.
But guess who had other ideas? Yep, it's those pesky flight gods again! This time, the one feeling frisky is known as "SnowChaos" - the god of crippling snowstorms.
Now, those of you that are familiar with the south east of England will know that generally we hardly ever get snow these days (shame...I like snow...but never mind). And you will probably also know that it only takes a few flakes to fall for the country to grind to a halt. You see, SnowChaos had obviously been looking over my shoulder when I was booking my flights, and being the mischievous little sod that he is, decided to dump at least four inches of the white stuff all over London and the south east on the very morning of my departure.
My alarm woke me from my slumber at the horrible hour of 4:30. I stumbled out of my pit and peered out of the window into the street below me. My heart sank. It appeared that the weather forecasters had been right for a change and, there before me, illuminated by the orange glow of the street lights, was a Christmas card-perfect winter wonderland. My usually distinctive bright red car was sitting outside shivering under a thick blanket of snow and I immediately knew that I didn't stand a snowball's chance in hell of making it through the icy suburbs to the airport in time for my 07:55 departure. The roads would be clogged and treacherous and everything would be chaotic.
My next thought was to try and call Turkish Airlines to see if my flight would be leaving on time. Handily, the BAA website had a list of numbers for airlines, so I dialled the number listed. Not so handily, the number was incorrect. I then tracked down a number for them in Istanbul, so gave it a try. The nice lady assured me that the flight was indeed leaving on time, but when I explained that I couldn't be sure of making the flight due to the bad weather, she offered me a seat on the next flight at 11:45 for an extra £50. I said I would think about it (lord knows why...I guess I wasn't properly awake yet!) and that I would call back.
I called back a few minutes and a bit of an old think later to change to the next flight. I spoke to a man this time, who seemed to take forever in completing the transaction (I suspect he nipped out for a crafty cigarette half way through). He told me that I needed to call Turkish Airline's London office immediately to confirm the change, and gave me the number. Once again, I was given incorrect information, and found myself talking to someone at Turkish Airlines Cargo (I suspect it was a cleaner!), although she did have the correct number to hand. I called the new number and eventually got through to someone I shall refer to as Mr. Harassed. He confirmed that the office in Turkey had indeed changed my flight for me, but that I had to pay the difference at LHR as they had been unable to take the payment in Turkey because I had already checked in online the night before.
"What time did they tell you to be here?", Mr. Harassed enquired.
"They didn't", was my honest response.
"You have to be here by 9am, but I will try and change that to 9:30 in the system. If you are NOT here by 9:30, you will NOT be getting on the 11:45 flight!!" he yelled (well...yelled-ish)! I was a little frightened!
Oh gawd. By this time it was 6:30, and although I was generally ready for the off, I still had to load up the car and get the now 5 inches of snow off it before I could leave.
Twenty minutes later my red Mondeo and I set off up the skating rink that my road had become, with me shivering at the wheel. I now had 2 hours and 40 minutes to get to Heathrow and pay the difference on my flight. Under normal circumstances and at that hour of the morning that would give me a contingency of a good hour and a half at the very least......but not today!
I skidded and crawled along the suburban roads...or at least I did when I wasn't stuck in traffic jams. At first, I sat there and admired how pretty everything looked wrapped in winter's white blanket as I tapped away on the steering wheel to the tunes on the radio, but I soon grew tired of that as the minutes ticked by and I was no closer to Heathrow. Capital Radio's breakfast show host Johnny Vaughn kept telling me that London's airports were closing, but that Heathrow was still open - I prayed that he was right, but gotta respect the Vaughnster!
Waiting patiently in the snow in Thames Ditton:
To cut a long story short ("Why didn't you do that earlier?" I hear some of you ask!), I arrived puffing and panting at Terminal 3's Turkish Airlines desk at 9:29...with one minute to spare!!!!!
By the time I got to the front of the queue it was 9:40. I had a speech all prepared to explain how I was actually there by 9:30 as instructed, but had been waiting patiently to be seen. I explained my plight to the lady behind the desk, but my ramblings were just met with a shrug of shoulders and a look that resembled "don't worry about it mate". I paid my dues, was issued with a replacement ticket and all was done...YES, I WAS GOING TO ISTANBUL AFTER ALL!!
As you may have noticed, I usually berate the flight gods, but I think on this occasion SnowChaos realised that he had gone a tad too far, and remorsefully decided that it was time that he smiled on me.
When I had originally booked my flight I had selected seat 17A on the Boeing 737-800 that was due to serve my original flight. Indeed it seems that all sources of information show that TK schedules the 738 to serve all of its London flights (at least at this time of year anyway), and that was also what I was expecting from TK's second flight of the day. But one look at the photos on the database of TK's presence in London will show you that they often send in some nice Airbus surprises.
Before I left the desk, I asked if I could request a window seat. After a bit of keyboard tapping and staring at the screen, these words dropped like gems from the lady's mouth:
"I can offer you 22K sir." she said.
"K???? What type of aircraft is it??" I asked a little too excitedly.
"Oh it's a big one...a 330...it's a lovely plane" she said with a wry smile.
"YES!!" I said as I thumped the desk.
"Freak!" she thought to herself!
Before I could check in for the flight I had to go and retrieve my car from Car Park 3, where I had parked it temporarily while I sorted out the formalities, and take it to the off-airport long term car park that I had booked online. So off I went 50 quid worse off, but with a new-found spring in my step!
A shuttle bus ride from the off-airport car park later I was back in Terminal 3 at the empty TK check in desks. There was a bit of initial confusion as the agent had pulled up my original booking that said I had been taken off the flight, but it all got sorted when I explained the situation. This being Britain, we had a bit of a chat about the weather and the trials of my journey to the airport, although the sting in the tail of the pleasantries was that the flight was delayed by one and a half hours.
Oh well...all the more time to hit Heathrow Mall.
Security was a breeze, I was even told that it wasn't necessary to remove my belt when I asked if I should do so. The scanner was silent, my bag went unsearched and I was happily airside.
No gate had been published for my flight, so I browsed the shops, considered buying something for a Turkish colleague that I was to meet for dinner in Istanbul (the souvenirs of London were all far too tacky so I declined!) bought a movie for my PSP (I'm too embarrassed to tell you what it was!) and had a cheeky vodka in a bar.
By this time, boarding for the flight had been called, so I headed off to the gate. And there she sat, the gleaming A330 that would whisk me to IST in comfort and style. This was to be only my second ride on an A330 - the first being on EI's short sector from Dublin to Shannon, so I was looking forward to a longer ride.
And let me tell you, I wasn't disappointed!!
Boarding was in true AA style, being done in groups rather than by seat numbers. I was in group A, which seemed to cover the rear cabin. We were actually told to ignore the seat numbers on our boarding passes, which worried me for a moment until it became clear that they just meant for boarding purposes!
OK, seat 22K was an exit row seat, but this has its good and bad points. There wasn't actually a window that I could look out of without some kind of neck contortion going on (we all remember 'The Exorcist' right?!), although there was one of those tiny windows in the door that I could use if I leaned forwards, but to be honest, I wasn't that bothered. The plus point is of course that I had tons of legroom, and could get up and down without disturbing my neighbour!
From the tiny little window during flight:
I've heard talk on here about the unfavourable nature of the colour scheme of TK's newer cabins, although I have to say that I really liked it. I think you could probably describe the cabin walls as being "dusky pink" (although I'm not 100% sure what dusky pink really is! Pink with a tinge of grey??), and together with the turquoise blue seats it all looked very stylish and calming.
The cabin...with its interesting colour scheme...:
The view from 22K:
So I settled in to 22K in the first row of the rear cabin and watched the goings on. It seemed that we had a fairly light load, I guesstimate about 65% in Y. Eventually the safety demo started via the screens - now, I know it was shown in both Turkish and English, but it seemed to go on forever! This may be because rather than showing it all the way through in one language then the other, they alternate between the two, meaning that you're compelled to watch all the way through rather than just tuning in for your language section. Or it could just be...really
really
long!
We eventually lifted off the runway at 13:45 - two hours late, and no explanation or apology offered...although I'm guessing it had something to do with the weather! We had a scheduled flight time of 4 hours, but an estimated flying time of only 3 hours 20, so we would make up a little time.
Shortly after takeoff the cabin crew started a drink service. I requested a vodka and coke, but I was misheard the first time and I watched the F/A pour me a glass of coke from a 2 litre bottle. When I said that I wanted a vodka with that, she just poured away a third of the coke and topped the glass up from a litre bottle of Smirnoff. It worked for me!
A drink and a Turkish snack:
A little while later the meal service started, with the choice being fish or pasta. Not being a fish eater I chose the pasta, which seemed to be the vegetarian option, consisting of pasta spirals with broccoli and tomato sauce. I'm not really a broccoli lover either, but was quite hungry by this time, so ate it anyway. It wasn't the best meal I've ever had on a plane, but wasn't the worst either. The Turkish wine I asked for was a nice accompaniment.
The meal: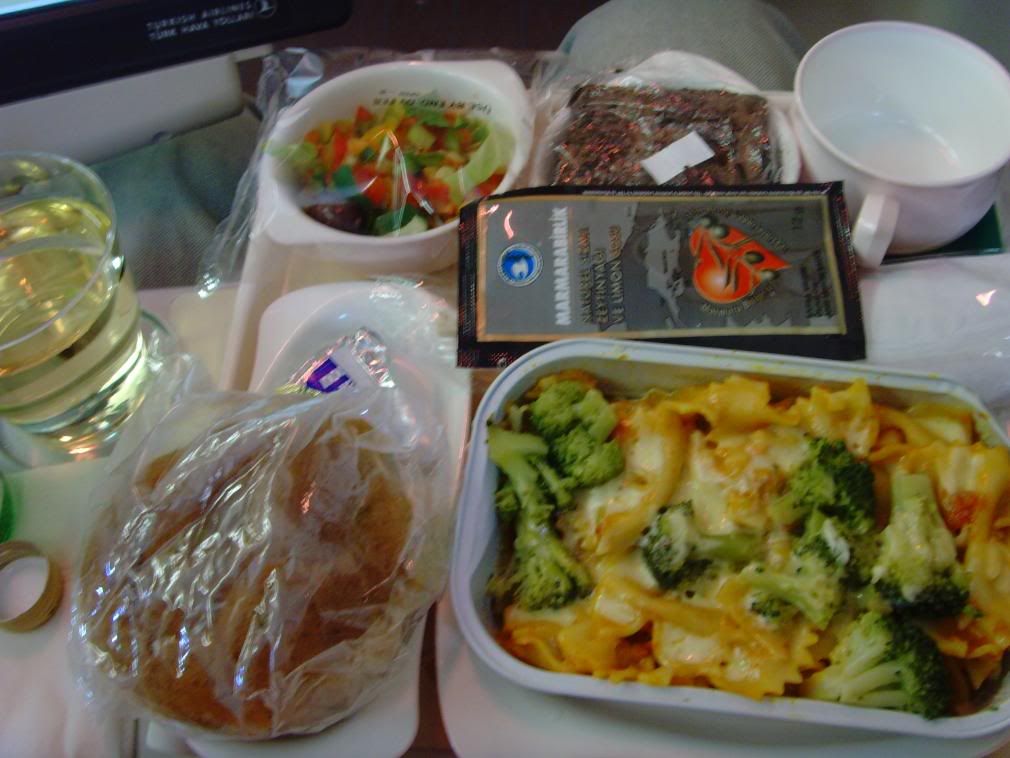 Once the empties were cleared it was time to properly check out the IFE. Earlier I had extracted the rather large screen from between the seats, and was surprised to see that it was an AVOD system! This was a first for me (remember that I wrote this a while ago)! I tried to look at the route map, but the system hung, so I had to ask one of the F/As to reset it for me, but after that, not really being in the mood to watch anything, I set about creating a music play list. By the time I'd finished, I had a list of 45 songs - a tad ambitious for the remaining flight time, but I'd enjoyed myself! Although I did realise later that the majority of the songs I had chosen were already on my iRiver mp3 player that was up in the overhead locker - I guess I knows what I likes and I likes what I knows!
Our route:
The rest of the flight passed quickly and smoothly, I listened to my play list, dozed from time to time, took a few snaps and generally relaxed after the hectic morning and early start. Before I knew it we were descending into IST. We touched down at 19:05 having passed straight over the city, which looks great lit up at night.
A few snaps: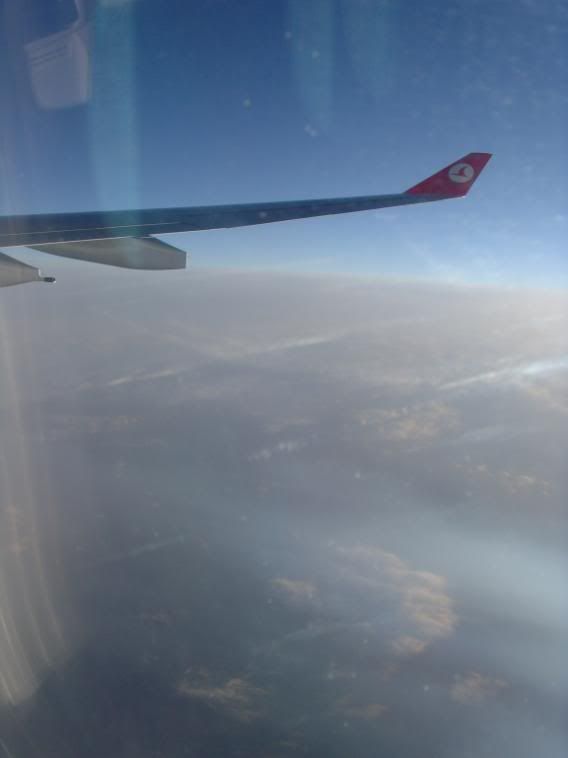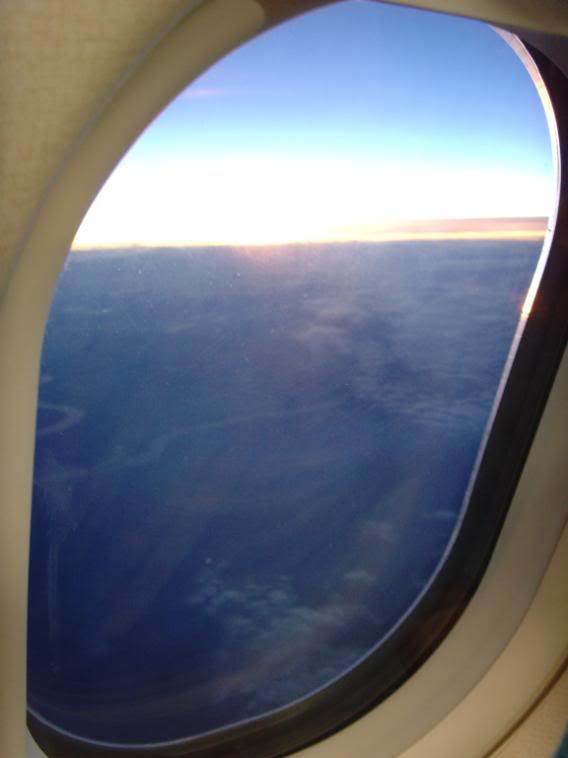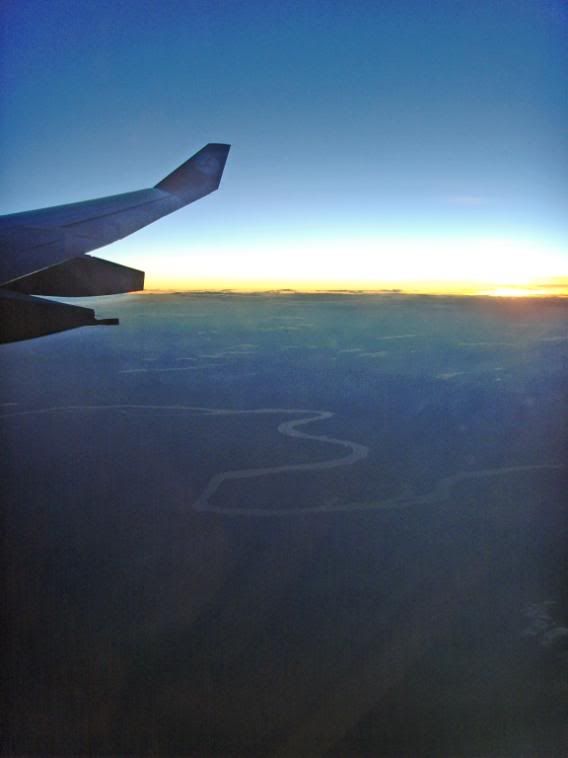 Overall, it was a really nice flight. The cabin crew weren't particularly friendly, but just went about their jobs efficiently, courteously and helpfully, although they weren't especially unfriendly either. The seat was comfortable (else I wouldn't have been dozing...trust me!), the aircraft was great, there was enough to keep me entertained for a 3 hour 20 flight and I arrived refreshed and relaxed - 5 hours later than expected, but at least I got there at all!
Formalities over at the airport on arrival (which included buying my Turkish visa), I attempted to take a cab to my hotel. There was a line of taxis waiting outside the terminal, and when I was approached by an old-ish man and asked if I needed a cab, I said yes. I had initially assumed that he was the driver, but after he'd dragged my suitcase (which, incidentally, has wheels...and didn't weigh a lot anyway) a grand distance of 15 feet, I noticed another guy remove himself from the driver's seat and walk over to lift my bag into the back of the cab. At this point the old man held out his hand, announced that he was a porter and requested a tip. I was amazed!! Not only did I not actually need that particular service (OK, I may need to lose a couple of pounds, but I'm no invalid!), but there was no way I was going to pay someone to wheel my suitcase 15 feet!! When I said that I had no small change in Turkish Lira, he happily informed me that he accepted "English money"! I gave him 50p and got in the cab, much to his disgust.
My hotel was great, even though I was moved to a sister hotel of the one in which I had originally booked. The hotel that I stayed in was actually more expensive, and was moved as there were renovations going on in my original hotel and they "didn't want me to be disturbed". It was centrally located, close to all the major sights, and considering I'd paid a total of £55 to stay there for three nights, I wasn't complaining.
Here are some snaps of Istanbul to keep your attention...!: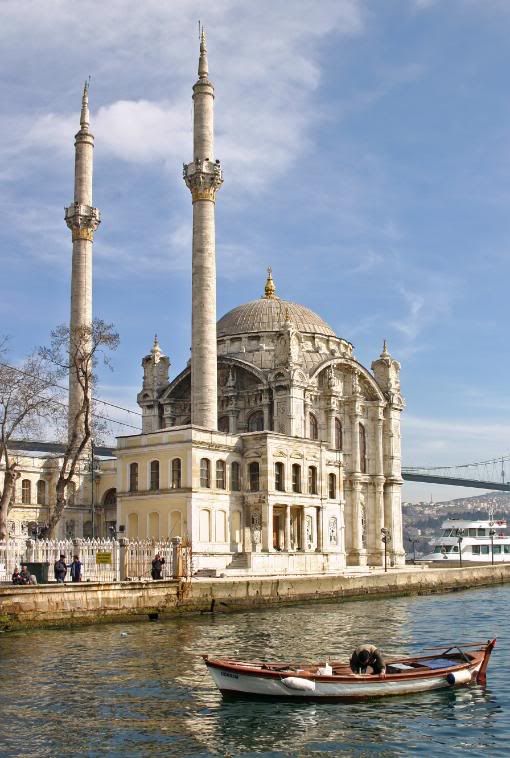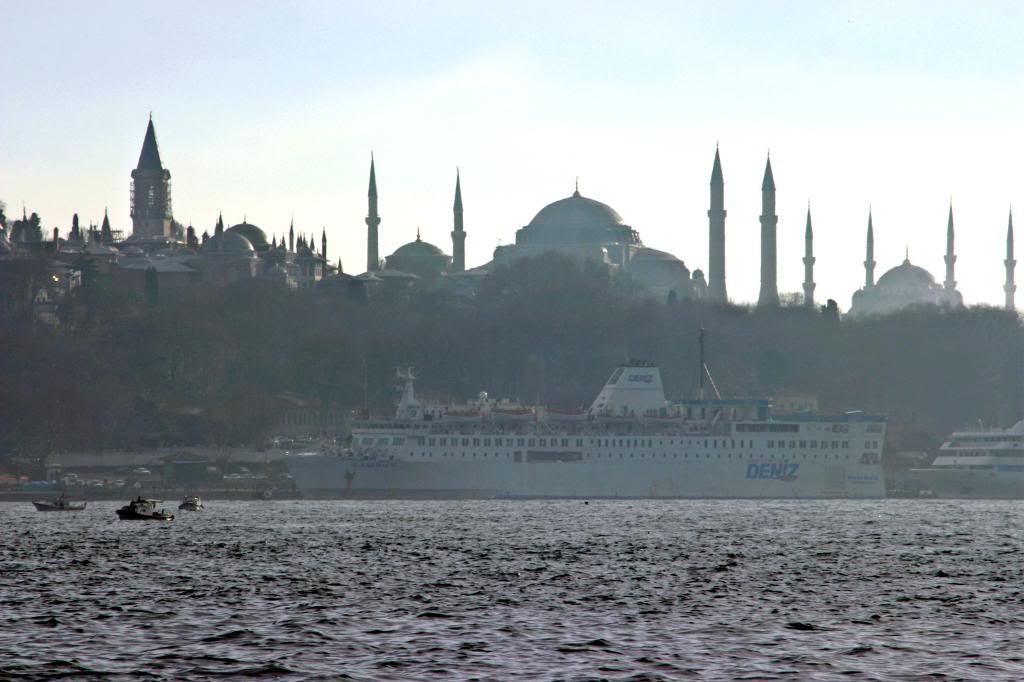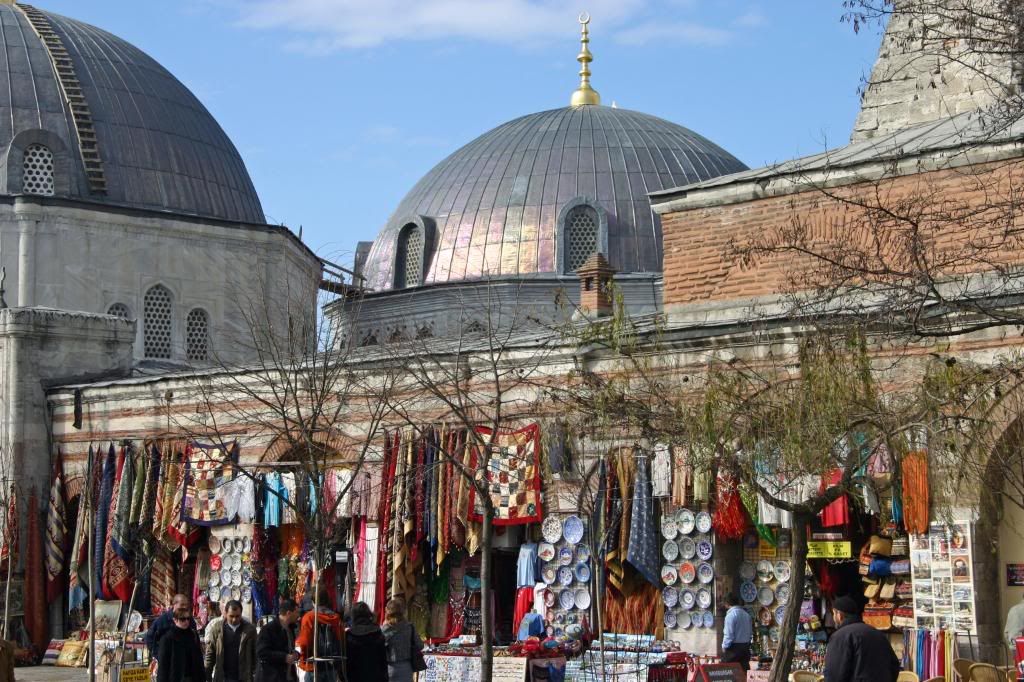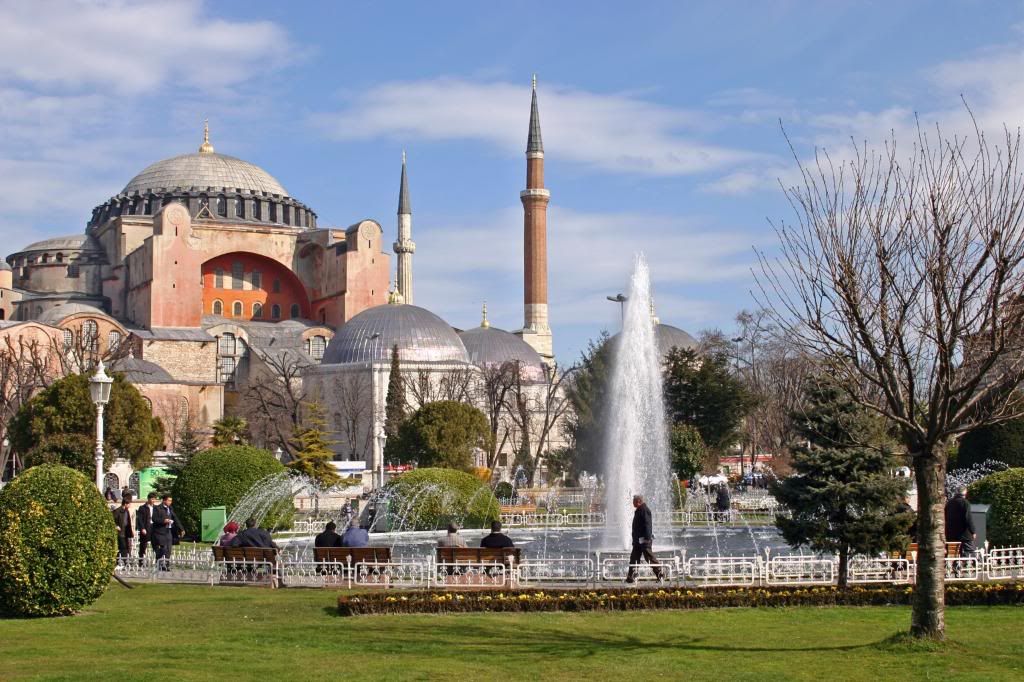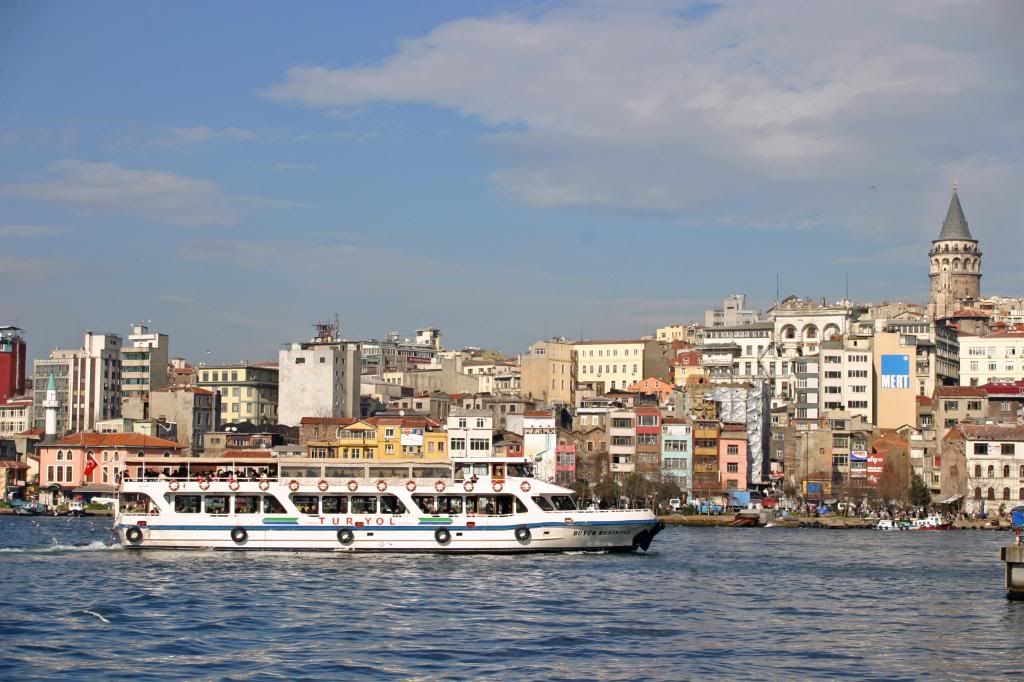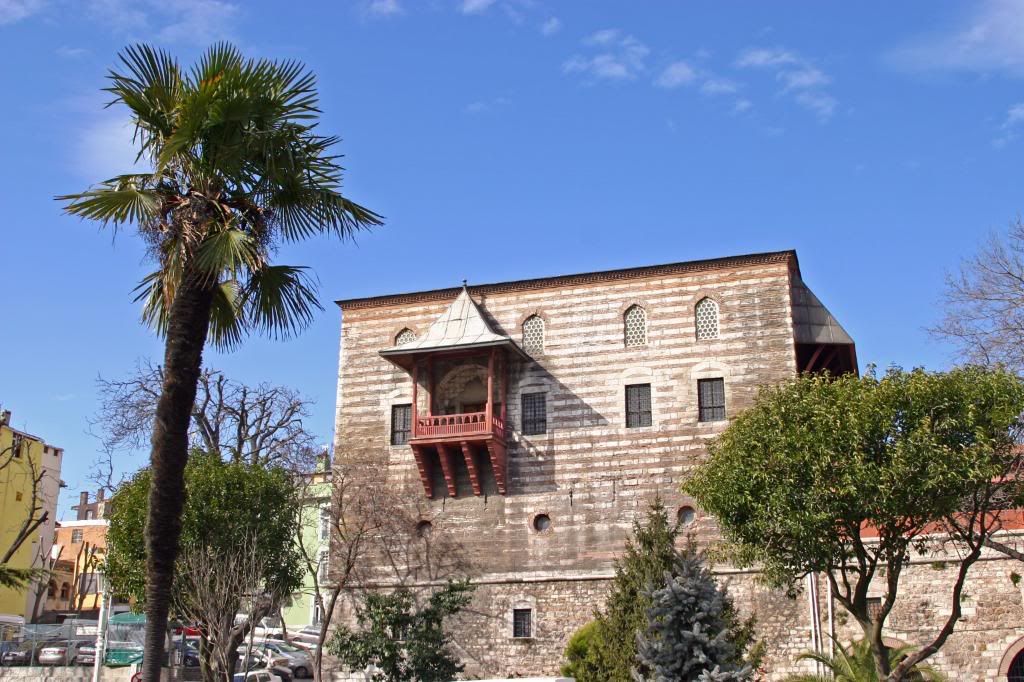 My hotel offered a shuttle bus to IST, so for considerably less than a cab, I availed myself of that service to get back to the airport when it came time to return home.
I passed the security check to enter the international terminal, and approached the TK check-in desks for London flights. As I queued behind a couple of people, my passport was checked, and a nice little collection of sticky labels was attached to not only my passport, but to my bag as well. Not sure what these are for...anyone care to enlighten me?
In front of me in the queue was a woman who had a young child. While she busied herself with the check-in formalities, her young son busied himself with causing general mayhem by unhooking the ropes that defined the check-in queue, attempting to topple people's baggage and overall being a bit of a pain in the a*s, to all of which his mother was totally and utterly oblivious.
Anyway, mother and son moved on to bother different people and it became my turn to check in.
Following my unexpected surprise with the aircraft type at LHR, I asked the check-in guy what type of aircraft would serve my flight home.
"Errr...it's a 737...errr...800" he eventually managed to tell me. Oh well, never mind. Off I headed through immigration, got my visa marked with an exit stamp, did a circuit of the duty-free and souvenir shops and settled down in a bar for a beer before boarding my flight home.
I eventually boarded the 738, being joined in my row by what appeared to be a father and daughter from the West Country (based on their accents).
This is when details get a bit woolly. I know that we took off towards the west, and that our flight time to LHR was announced as being exactly four hours. I know that we got fed at some point, but I really can't remember what we had. Anyway, here are the photos that I took of the flight...in between watching the movie that I had bought at LHR on my PSP.
Pre-push back:
The cabin:
In flight:
Nice legroom!: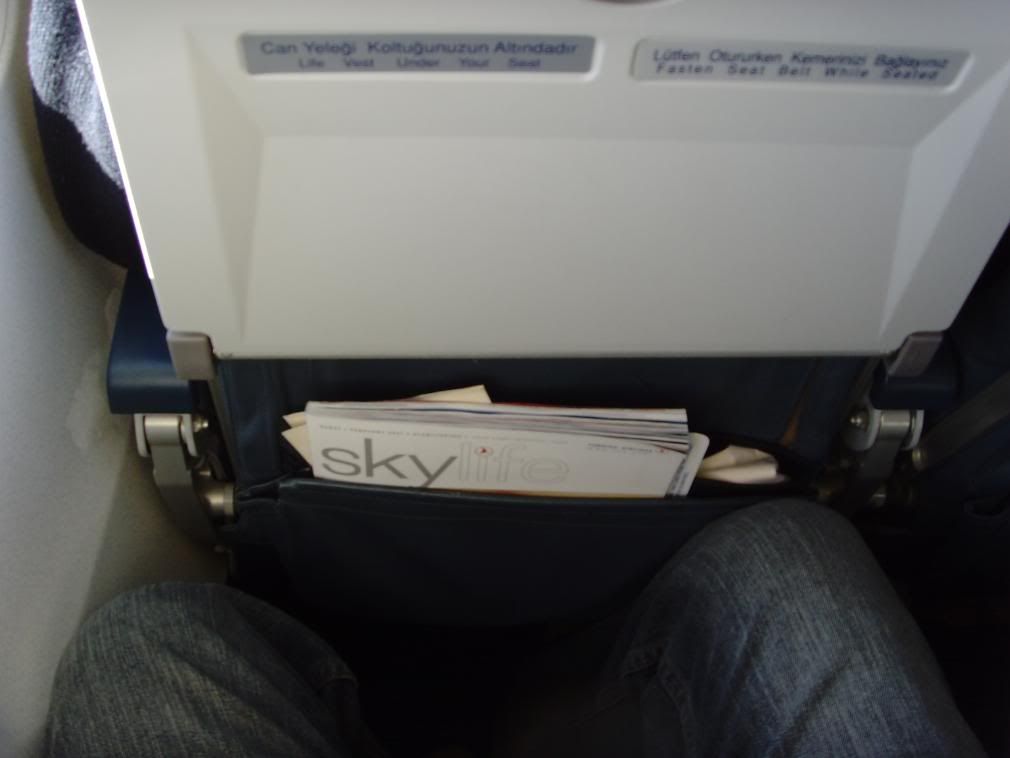 An ANA 744 beneath us in the stack for LHR: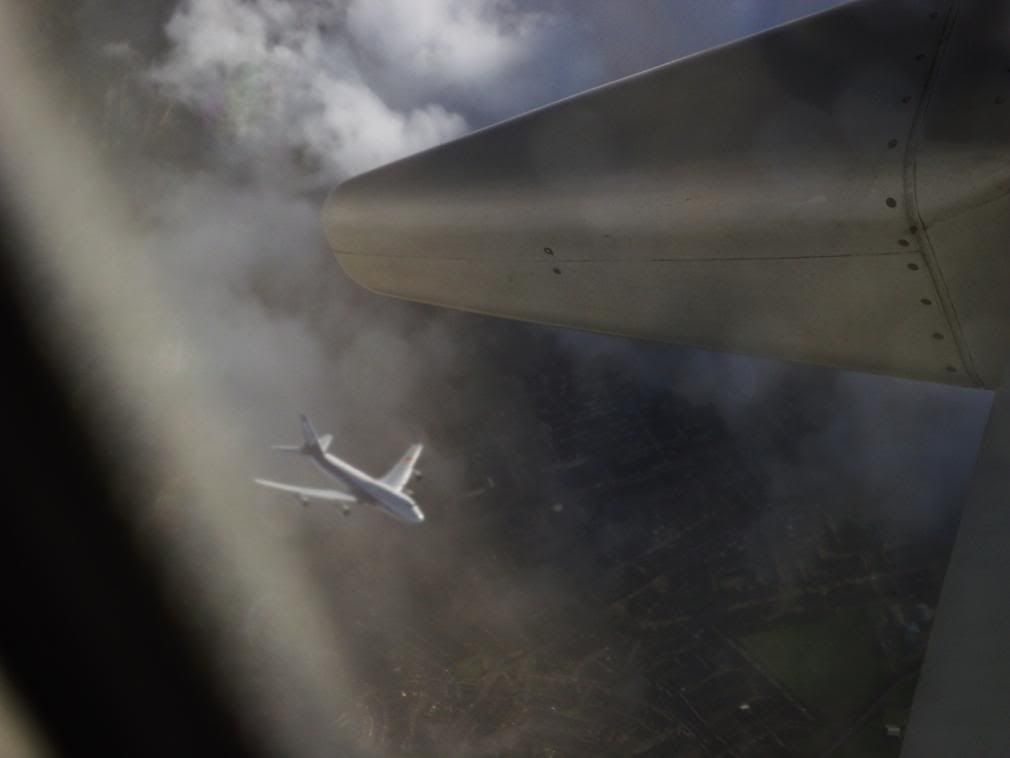 Round and round we go...:
The folks from the West Country didn't say a lot to me during the flight, probably because I was busy watching my PSP (oh OK...I was watching Pink Panther cartoons...OK?!?!) and taking photos, but what I do remember is that we had a particularly hard landing at LHR four hours later, which caused them to suddenly think of me as an aviation expert and to ask what on earth had just happened!! I made a flippant comment about the folks up front trying to plant the aircraft on the runway, to which they laughed politely...something which brought the colour back to their cheeks!
Finally...a hefty touchdown:
Taxiing to the gate: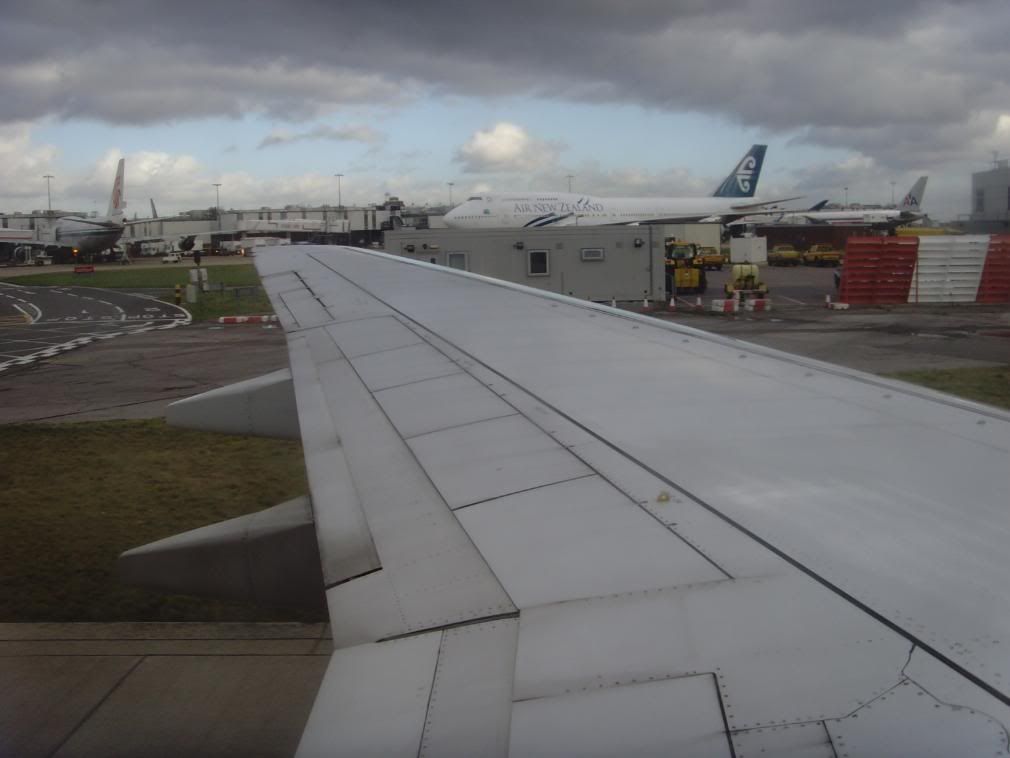 So, a couple of good flights with TK were had. A good time had been spent in Istanbul and I was happy with both my destination and my airline of choice for the trip.
Thanks for reading.
Andy.