This is my sixth airliners.net trip report, the last one you can read
here
. I hope you enjoy this one too.
Inspired by a few trip reports which I had read here on a.net I had made a plan for a tour of city's in Brazil and try to do this with different airlines and air planes. Plan was as followed:
3/11/2008 GIG - VIX with TAM or GOL
3/12/2008 VIX - IPN -PLU with Trip
3/13/2008 CNF - BSB with Ocean Air
3/14/2008 BSB - RAO - GRU with Passaredo
3/15/2008 GCH - SDU with GOL or TAM
So 10 different airports and 5 different airliners and probable 5 different airplanes.
Map with plan and what is realized

Monday at 1:00 pm I said goodbye to my girlfriend (she couldn't come with me) and I took the taxi to GIG. There a very friendly ground attendant of TAM helped me by the check in, drop my suitcase and went through the luggage control.
Flight 1
GIG Aeroporto Internacional do Rio de Janeiro/ Galeão -- VIX Aeroporto de Vitória
Date: 11 of March 2008,
Airline: TAM Linhas Aéreas
Flight: JJ3088,
Aircraft: Airbus 320,
Reg.: PT MZP,
Gate 30 Terminal 2,.
Scheduled departure time: 3:35 pm,
Actual push back: 3:24 pm,
Take off time: 3:38 pm, runway 10
Landing time: 4:20 pm, runway 05
Door open: 4:27 pm,
Gate: Door A
Load factor estimate 65%
GIG - VIX is a short flight, all was scheduled and perfect on time, no comments about it. Catering is simple, a toffee before the start and peanuts and a drink during the flight. VIX is very old fashioned airport, but now they modernized it. Over a few years then has Vitória an airport which you can compare with SDU or CNF. Nevertheless the handling is fast and simple. I had for example my suitcase after 5 minutes from the moment I leaved the aircraft.
Tail of the PT MZP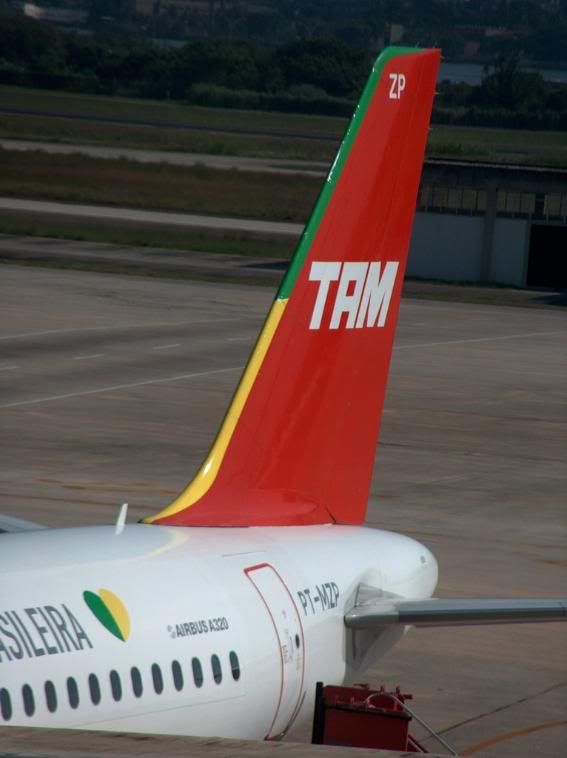 Just in the air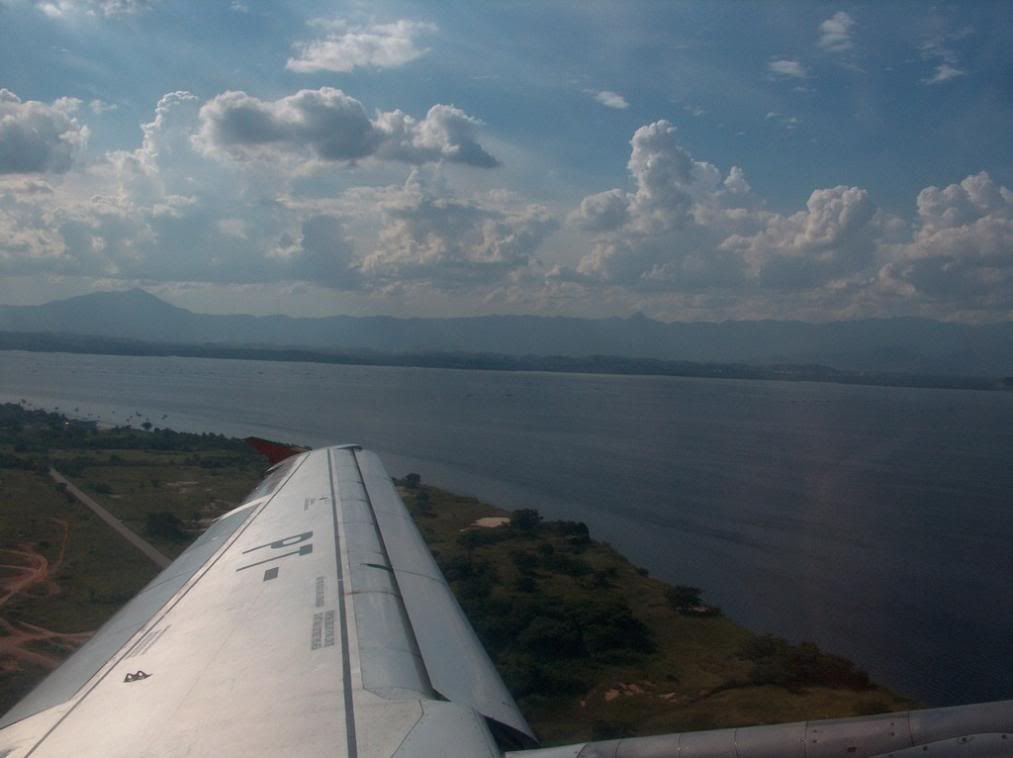 Seatpitch flight 1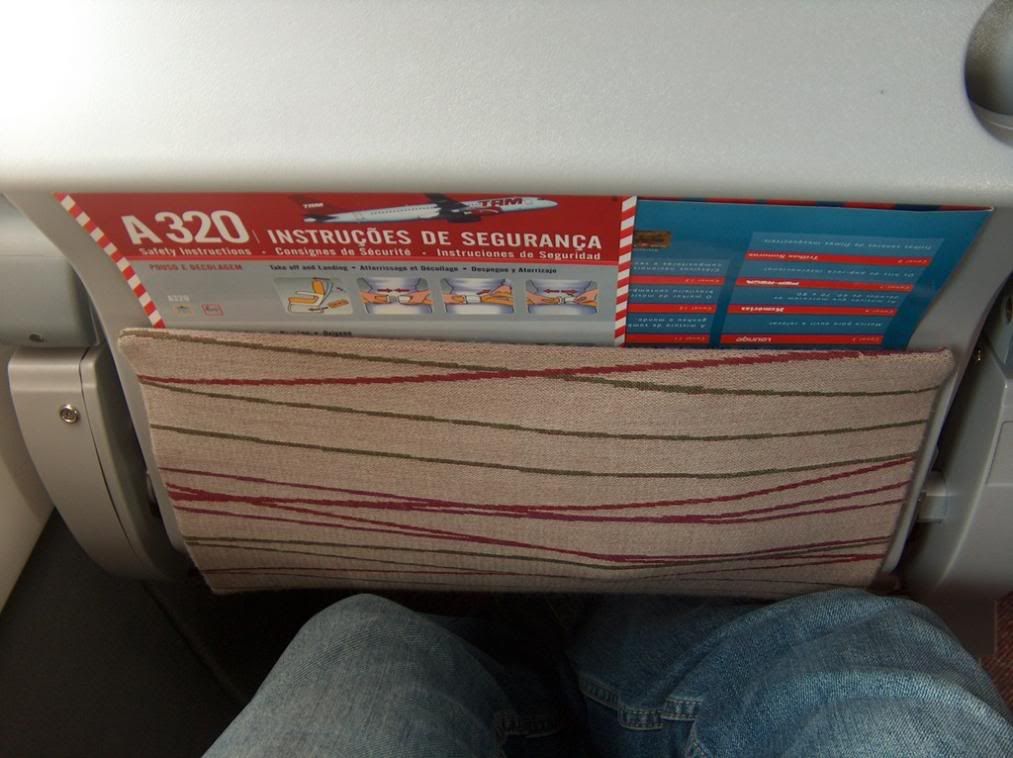 Catering flight 1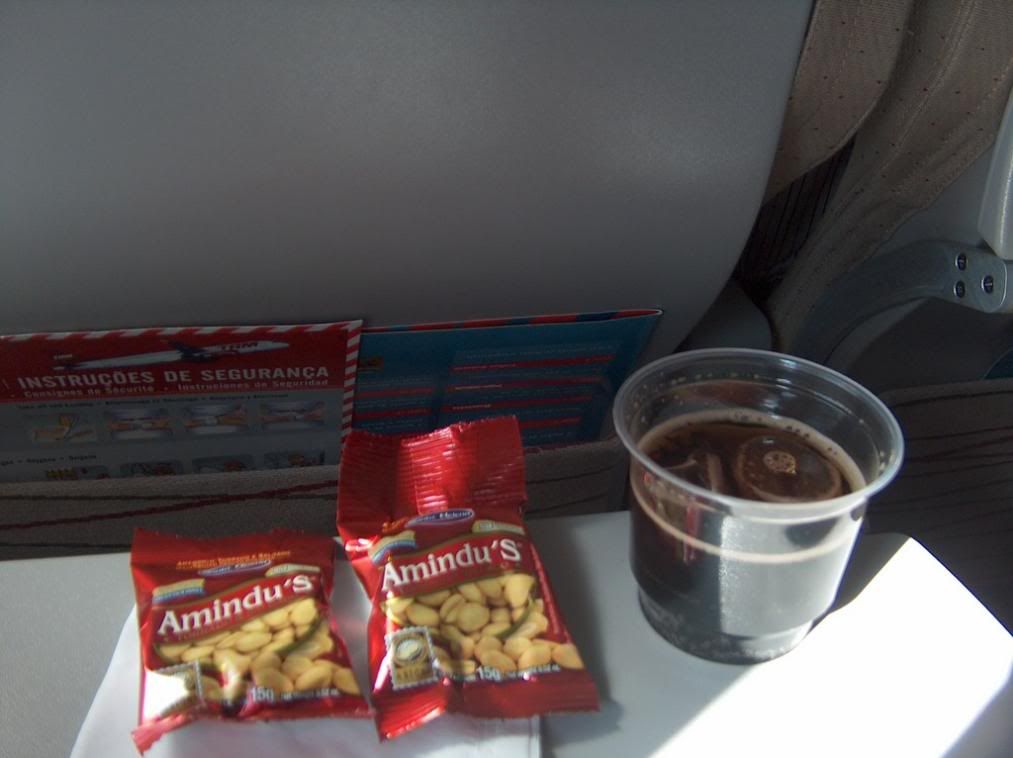 PT-MZP in VIX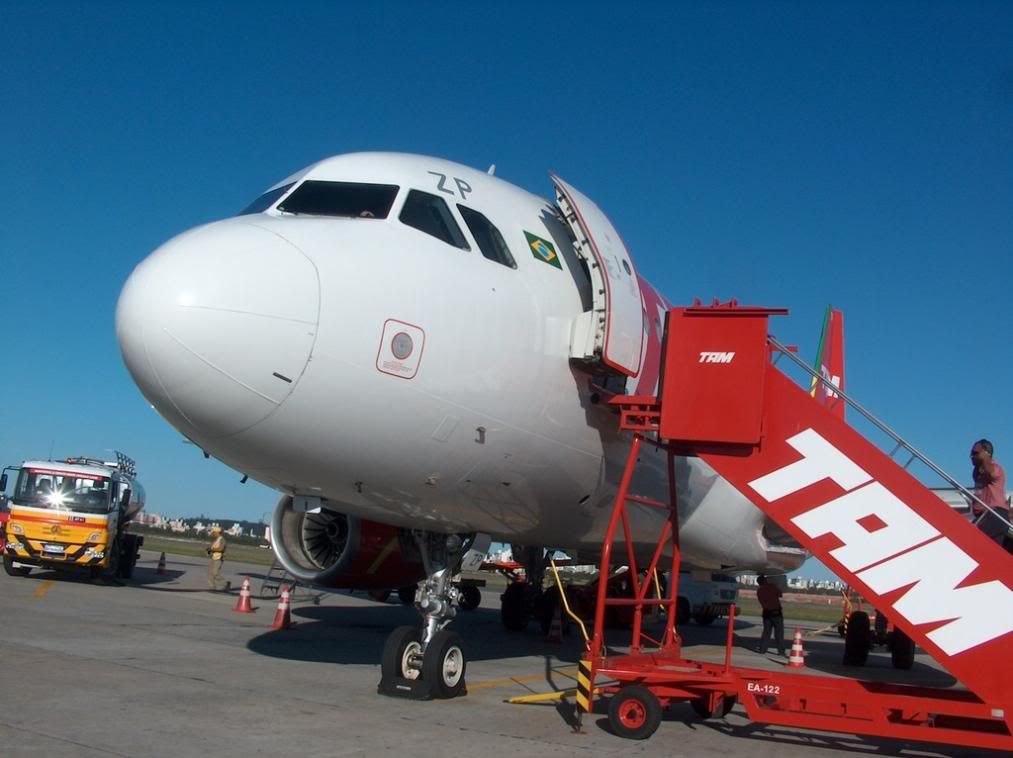 Unloading of the A320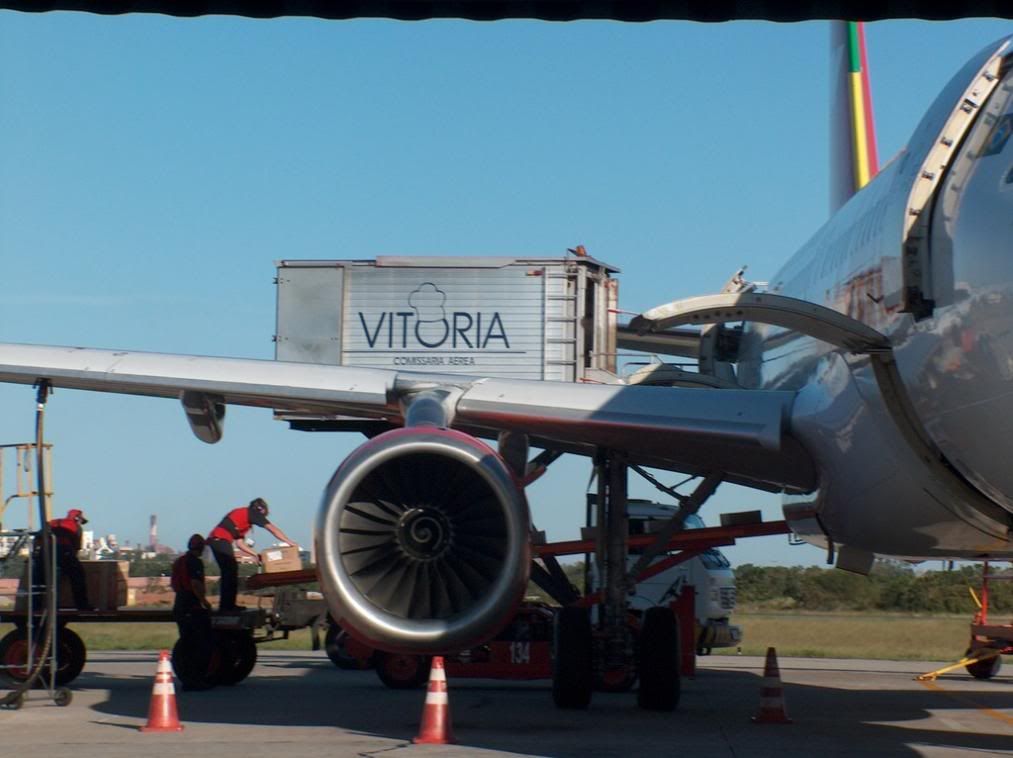 One of the beaches of Vitória
The weather in Vitória was that day more than 30 °C. The following day I went to the beach and burned there some parts of my skin. At 2:00 pm I leaved from the hotel and took the taxi to the airport. Twenty minutes later I was there and had there a lot of time, my flight was planned more than two hours later. Eat and drink somewhat, looked to the model of the new airport. Did my check inn and went to door C and waited for the call. Meanwhile I saw a GOL plane and a few helicopters landing, I guess from the nearby offshore oil platforms. At 4:20 pm. the call was for the Trip flight. We must about 50 meters walking to the aircraft. A turboprop, for me was it the third time in this kind of powered aircraft and the first time in a ATR 42.
Flight 2
VIX Aeroporto de Vitória - IPN Ipatinga Usiminas -- PLU Belo Horizonte Pampulha
Sector 1 VIX - IPN
Date: 12 of March 2008
Airline: Trip
Flight: Trip 9407
Aircraft: ATR 42 - 300
Powered by 2x PW 121 1800 SHP
Reg. PP PTJ
Gate: Door C
Scheduled departure time 4:30 pm.
Actual push back time 4:27 pm
Take off time: 4:32 pm, runway 05
Landing time USIMINAS: 5:12 pm runway 23
load factor sector 1: 77%
I was a little bit surprised the flight had 2 sectors, okay on the screens they displayed destination Ipatinga but I had no idea where it geographical was located. USIMINAS is a real small airport although 17 passengers had that destination, 18 passengers came in. Total time of the stop was about a quarter hour.
Sector 2 IPN -- PLU
Departure time 5:28 pm.
Take off time: 5:30 pm, runway 05
Landing time PLU: 6:27 pm runway 31
Load factor sector 2: 79%
Both sectors were short flights, in both they served drinks and a sandwich. The sandwich was awful and Trip can better give the passengers a candy bar or something. The ATR 42 is noisy but it was for me a nice experience.
In PLU was the weather terrible, heavy rain and the ground crew gives us umbrellas. We must walking for about 150 m to the arrival hall. There was my suitcase already arrived. I haven't see a lot of PLU, I was only inside the where I first tried to find an Ocean Air counter, couldn't find it so I bought by the GOL counter a ticket for the next day to Brasilia.
Trip ATR 42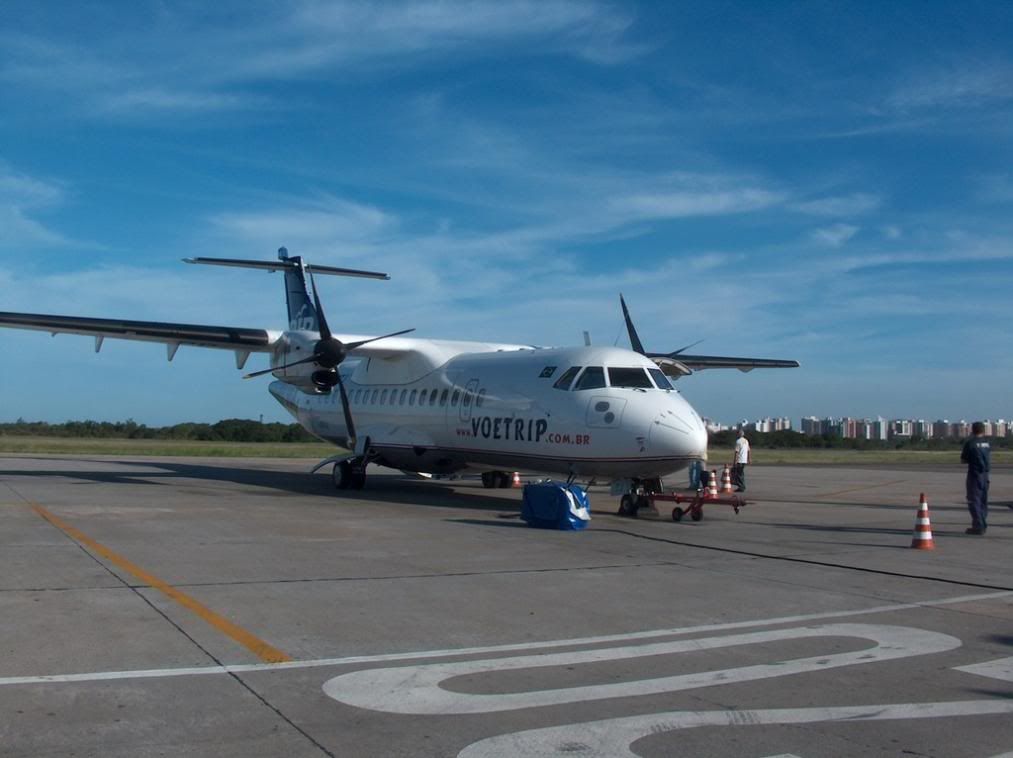 Tail of the PP PTJ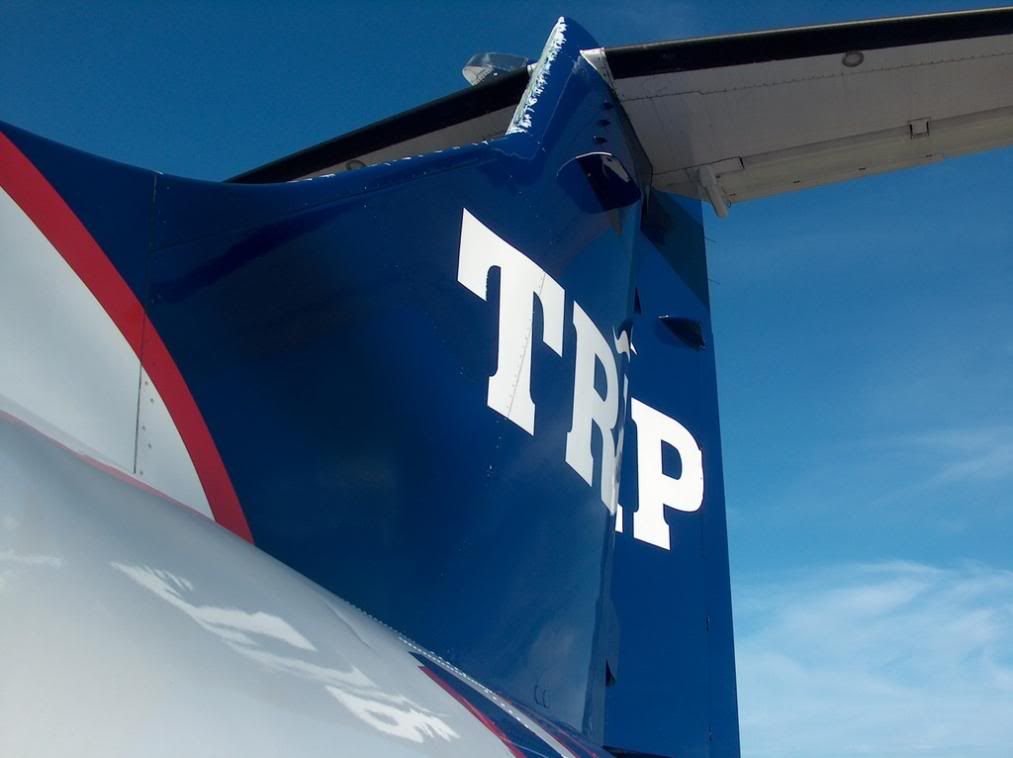 Seatpitch flight 2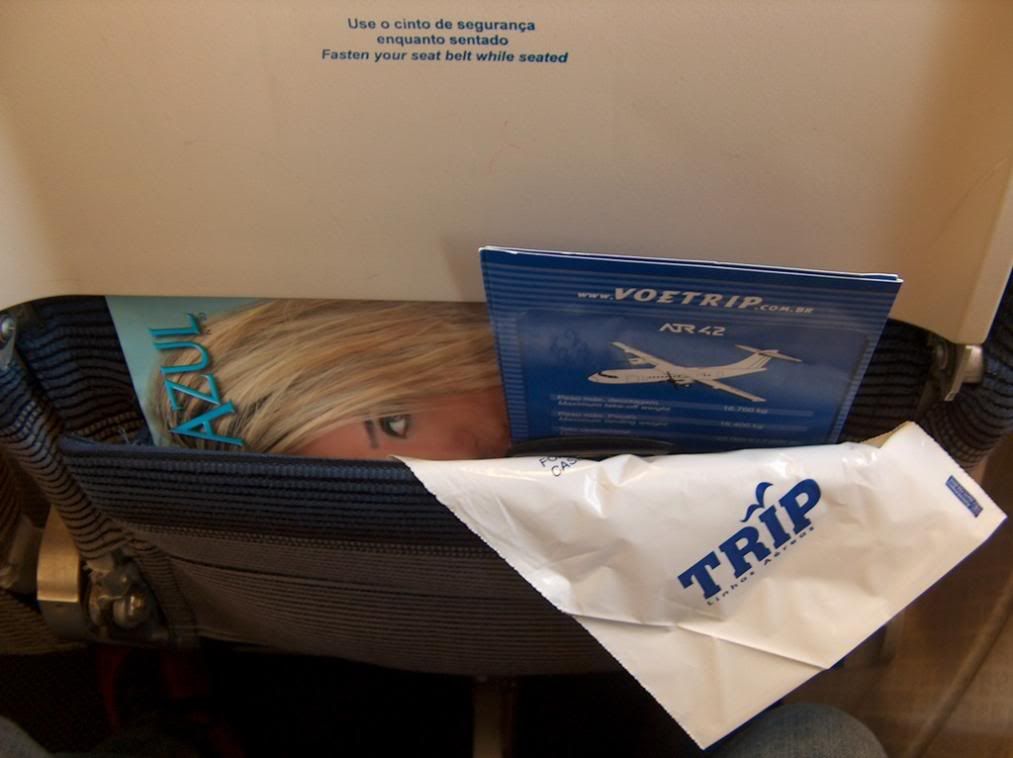 Catering flight 2
Aeroporto USIMINAS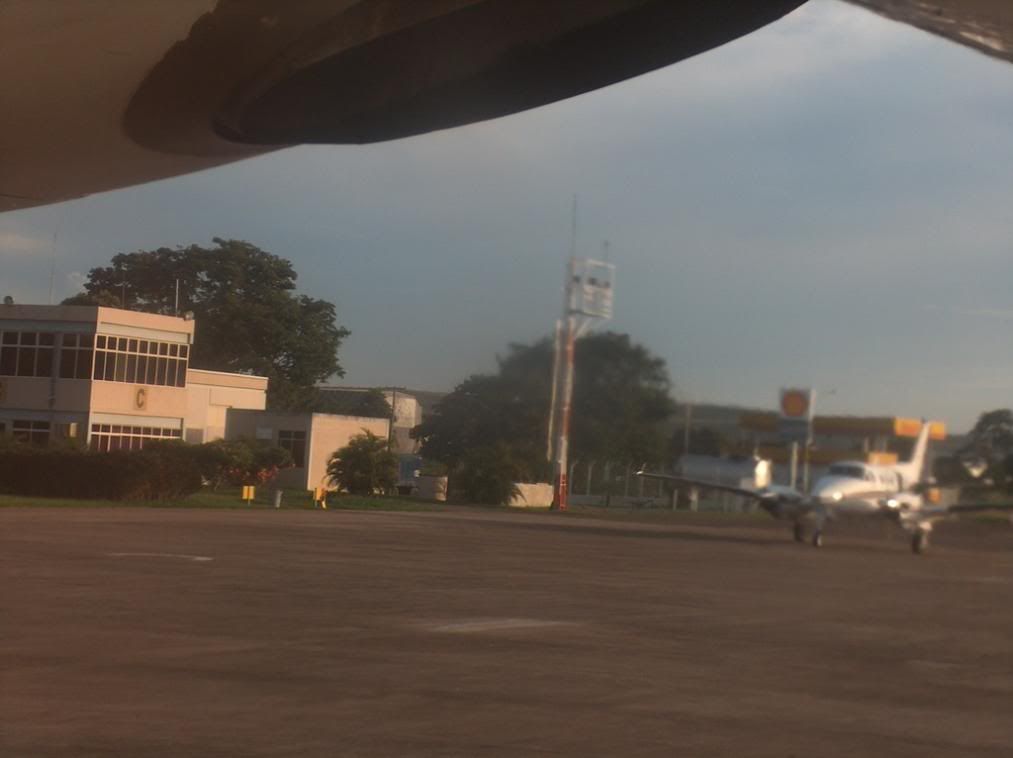 Didn't see much of Belo Horizonte, was there 18 months ago for a few days. It's a beautiful city with a city center with a remarkable street plan, a grid of large avenues and another grid of streets at a 45° angle.
Ten o'clock I leave my hotel, from there I took a taxi to the bus station, where I wanted to take the bus to the airport. Planned departure time was 10:30, but at 10:45 no bus. Sxxx I thought it's a 45 minute ride, and there is no sign that the bus arrived so I decided to take a taxi, cost a lot (about 40 Euro) but missing the plane cost me more. Later I blame myself that I not must think that the Brazilian public transport is as reliable as the Swiss or Japanese Railways. At 11;20 I was on the airport and as you always see the flight was delayed for about 60 minutes.
Flight 3
CNF Aeroporto Internacional Tancredo Neves/ Confins - BSB Aeroporto Internacional de Brasília
Date: 13 of March 2008,
Airline: GOL Linhas Aéreas
Flight: GOL 1802,
Aircraft: Boeing 737-800,
Reg.: PP-GTX,
Gate: Door B1,
Scheduled departure time: 12:05 pm,
Actual push back: 12:59 pm,
Take off time: 1:04 pm, runway 34
Landing time: 2:03 pm, runway 29L
Door open: 2:12 pm,
Gate: 9
Load factor estimate 25%
Flight was 1 hour delayed, info on the airport over the delays can IMO better. It was for me the first time in a 737-800 and with the winglets, I must say, it's a beauty. Boarding went fast (load factor was low) and catering was simple, a candy bar, peanuts and a drink during the flight.
Gate info at CNF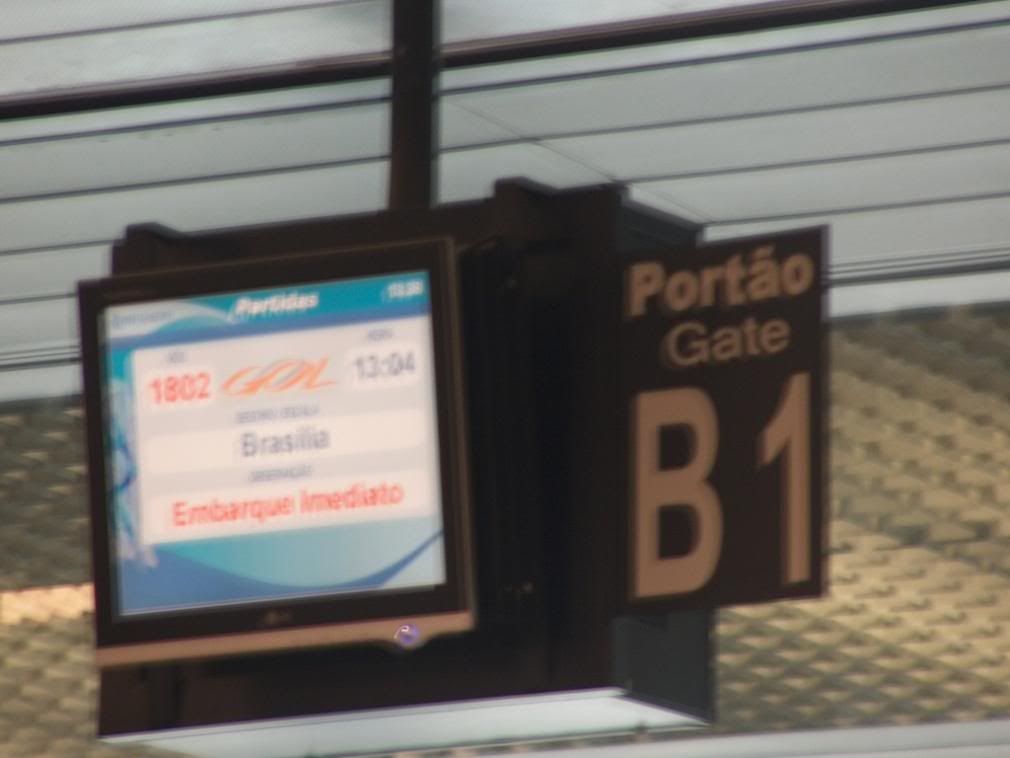 Seatpitch flight 3
Aeroporto Confins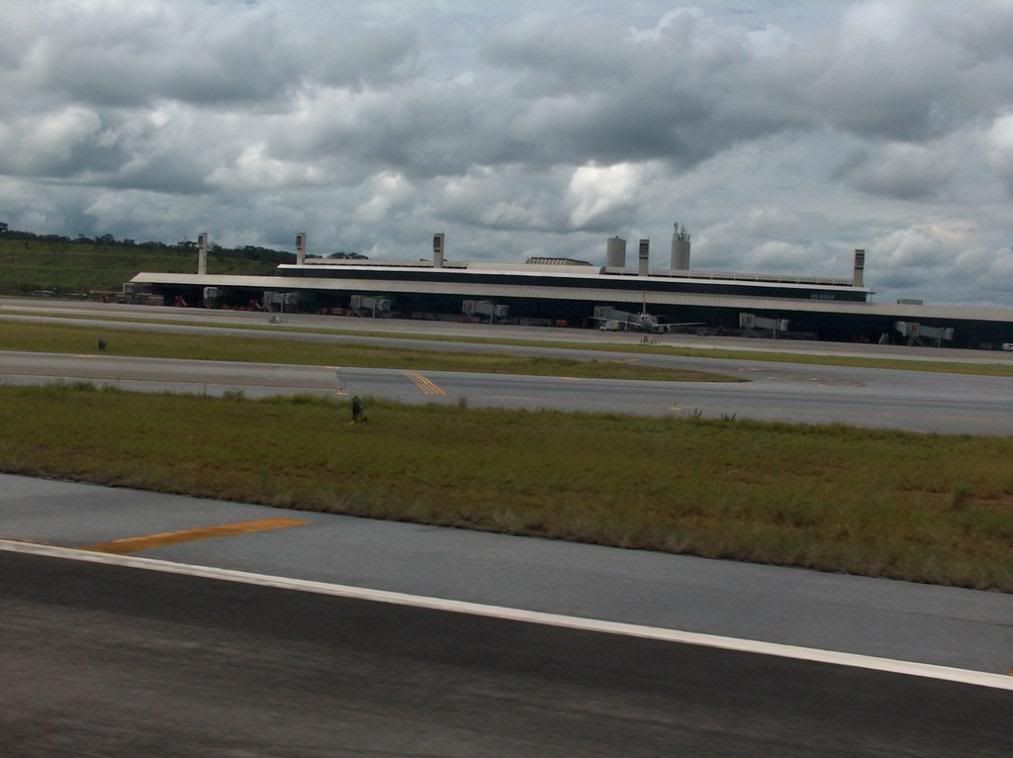 Winglet of the 737-800
Juscelino Kubitschek Bridge
The PP-GTX at gate 9 in BSB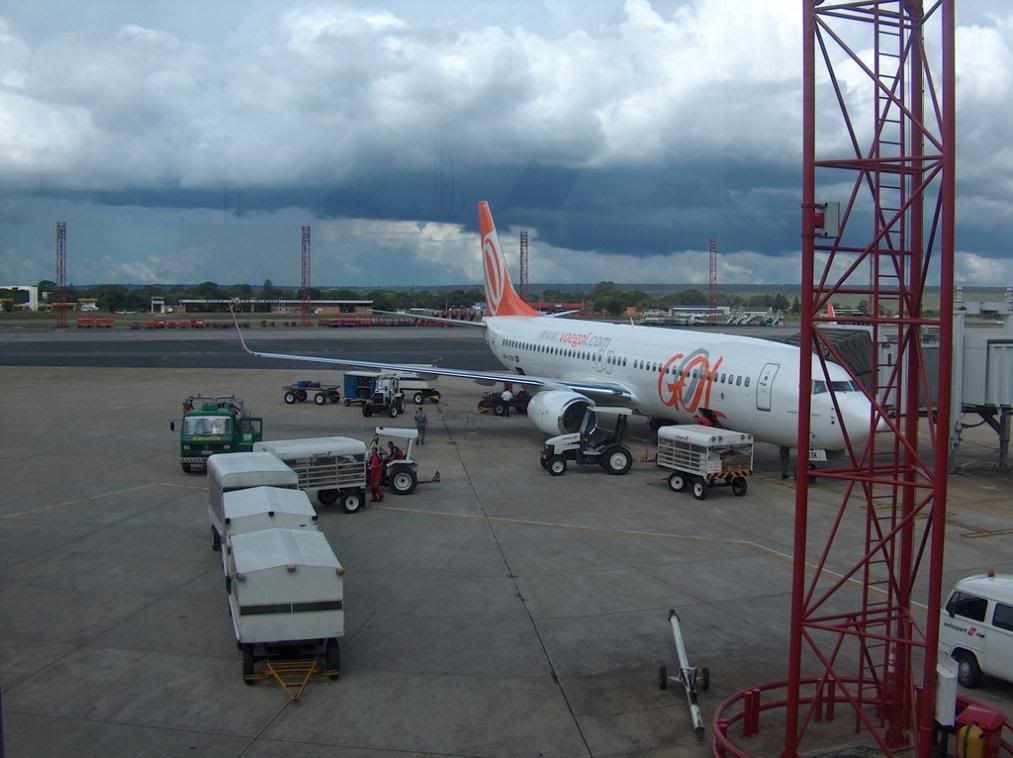 BSB is great airport, doubted there over my travel plan, I had fever, I think, due the AC in one of the hotels and I was tired. Sitting in one of the restaurants I took the decision that I change my plan. Decided to stay longer in Brasilia and return to Rio 3-15.
Friday I was the whole day in Brasilia, seen from above, this city looks like an air plane. I only visit the 'fuselage', the big malls and some of the impressive buildings of Oscar Niemeyer. Visited in the 'museu nacional' an exhibition of this famous Brazilian architect.
National Congress of Brazil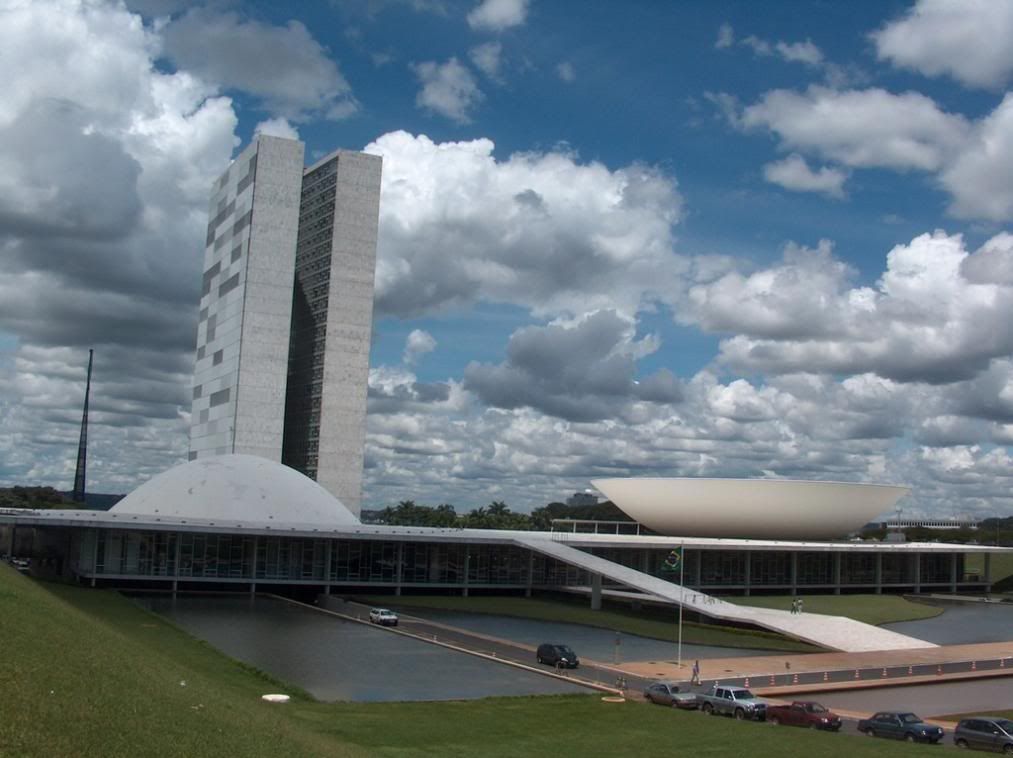 Museu nacional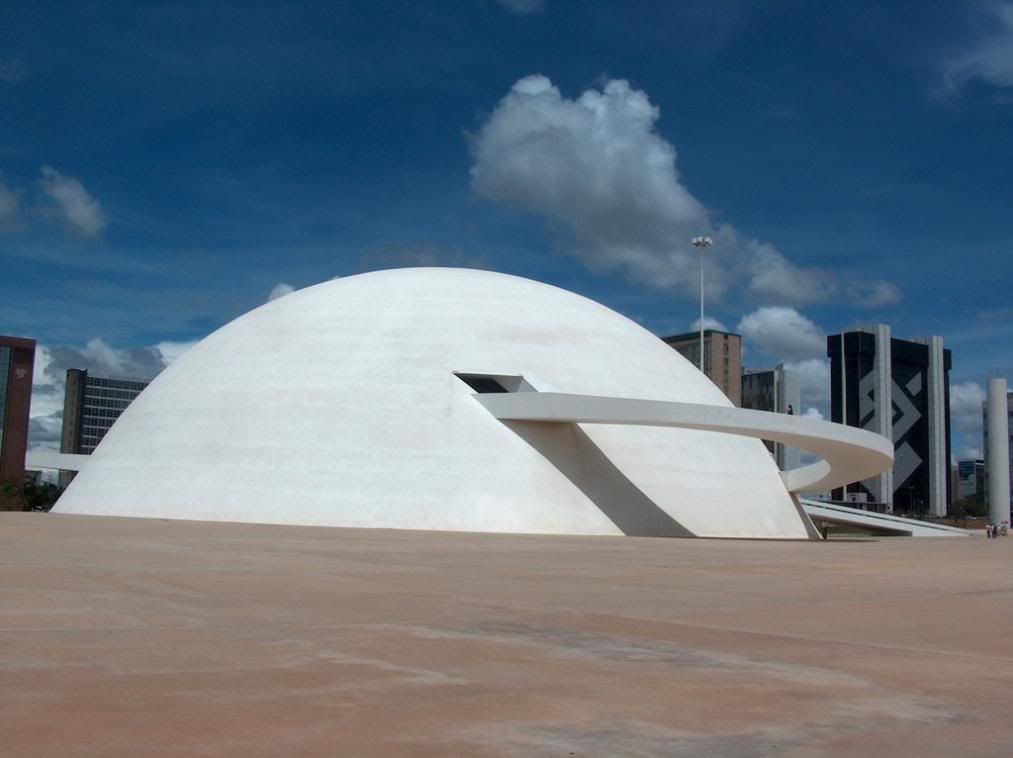 Saturday morning I leave the hotel and took a taxi to the airport, hadn't bought a ticket but did already a check on the internet which airliners fly to Rio. I could chose between RG/ JJ/ G3. The last one was the cheapest also I decided to buy a GOL ticket. Planned departure time was 1:15 pm thus I had some time visit the covered terrace of BSB. Through the window construction you can hear, when an aircraft arrived or depart a incredible noise. Besides a few Ocean air F100, Varig 737 and one Passaredo Embraer you see mainly GOL 737 and TAM 320 family. Further, on the apron near the runway 26L/11R you see some Transbrasil and Vasp planes.
Some Transbrasil and Vasp planes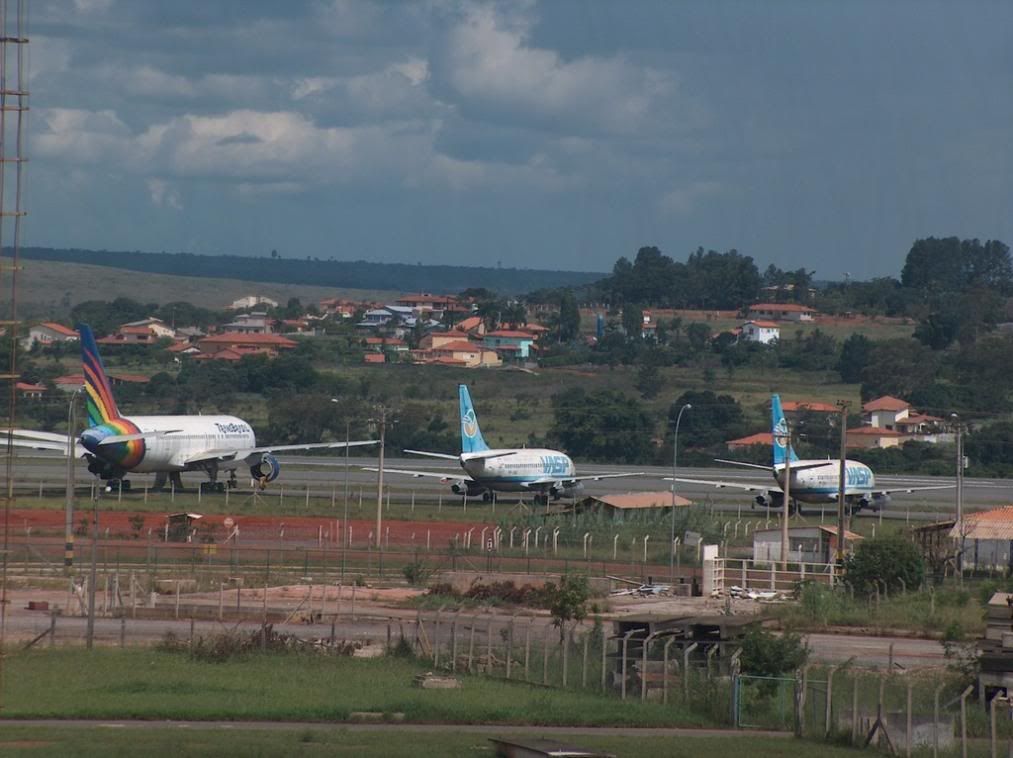 Covered terrace of BSB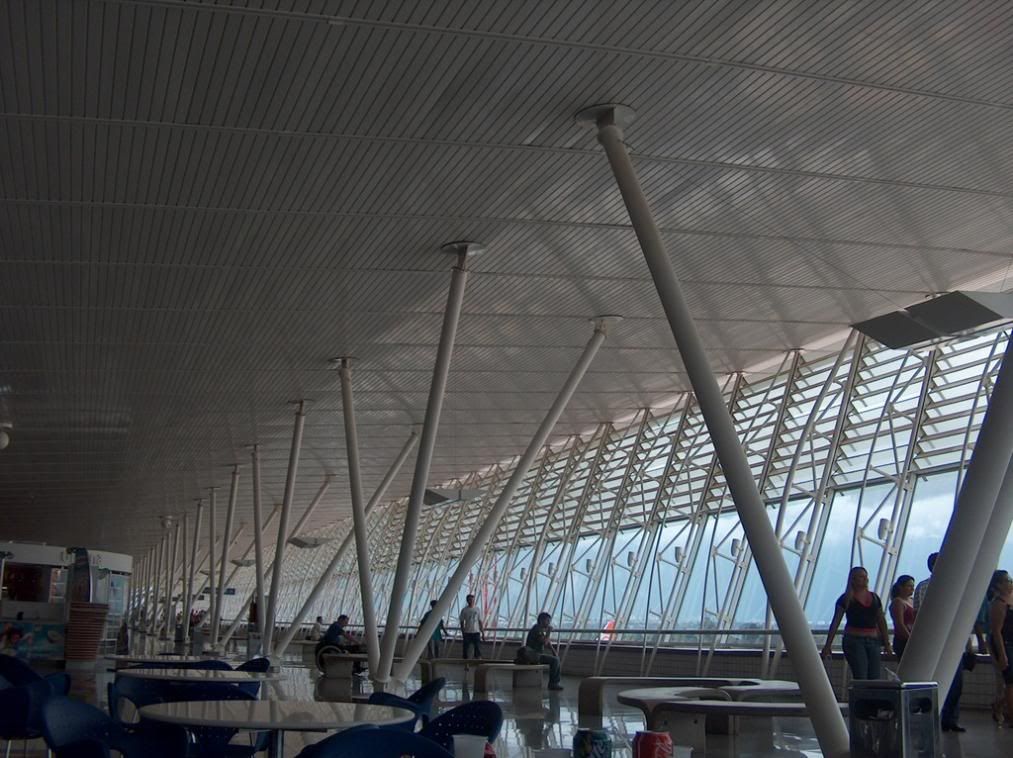 Passaredo Embraer EMB 120
Flight 4
BSB Aeroporto Internacional de Brasília - GIG Aeroporto Internacional do Rio de Janeiro/ Galeão
Date: 15 of March 2008,
Airline: GOL Linhas Aéreas
Flight: GOL 1109,
Aircraft: Boeing 737-700,
Reg.: PP-GOY,
Gate: Door B8,
Scheduled departure time: 1:15 pm,
Actual push back: 1:40 pm,
Take off time: 1:48 pm, runway 29L
Landing time: 3:03 pm, runway 15
Door open: 3:13 pm,
Gate: 2 T1
Load factor estimate 75%
By boarding direct a problem, me and another passenger had the same seat (15F). One of the F/A solved this, through me refer to seat 23F. Okay I had now an equal seat but stays that IMO that this with computerized seat choice not could happen. Further the flight was without any problems, catering same as flight 3. After an flight of 75 minutes we landed in a very wet Rio de Janeiro.
info screens at BSB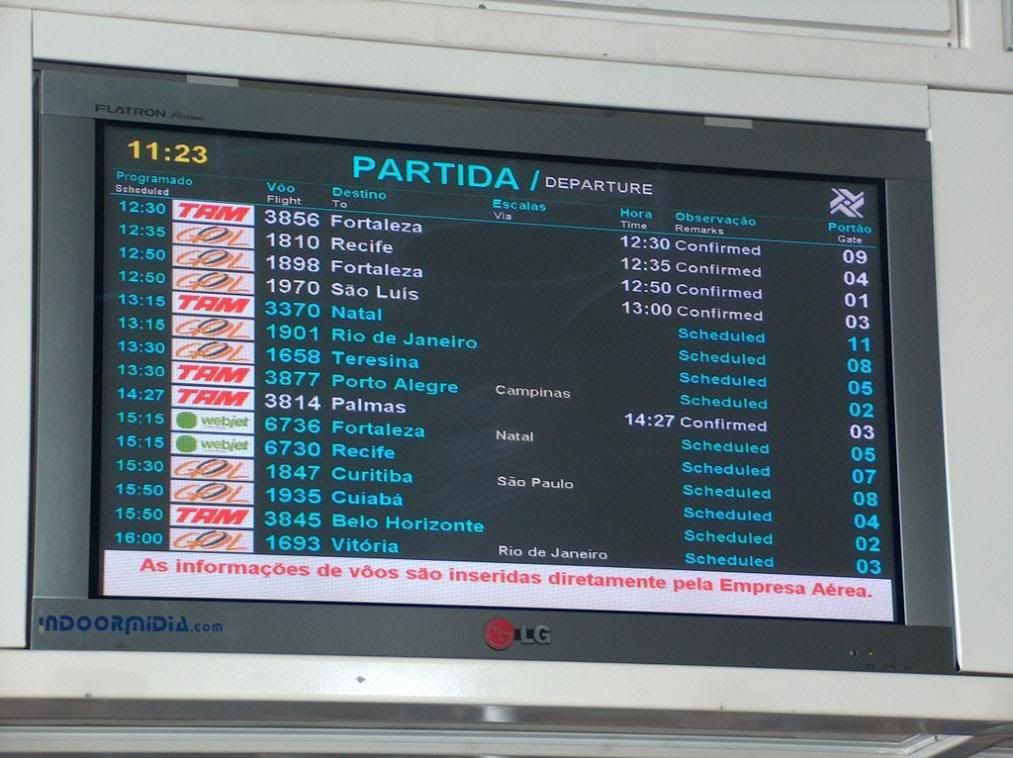 Seatpitch flight 4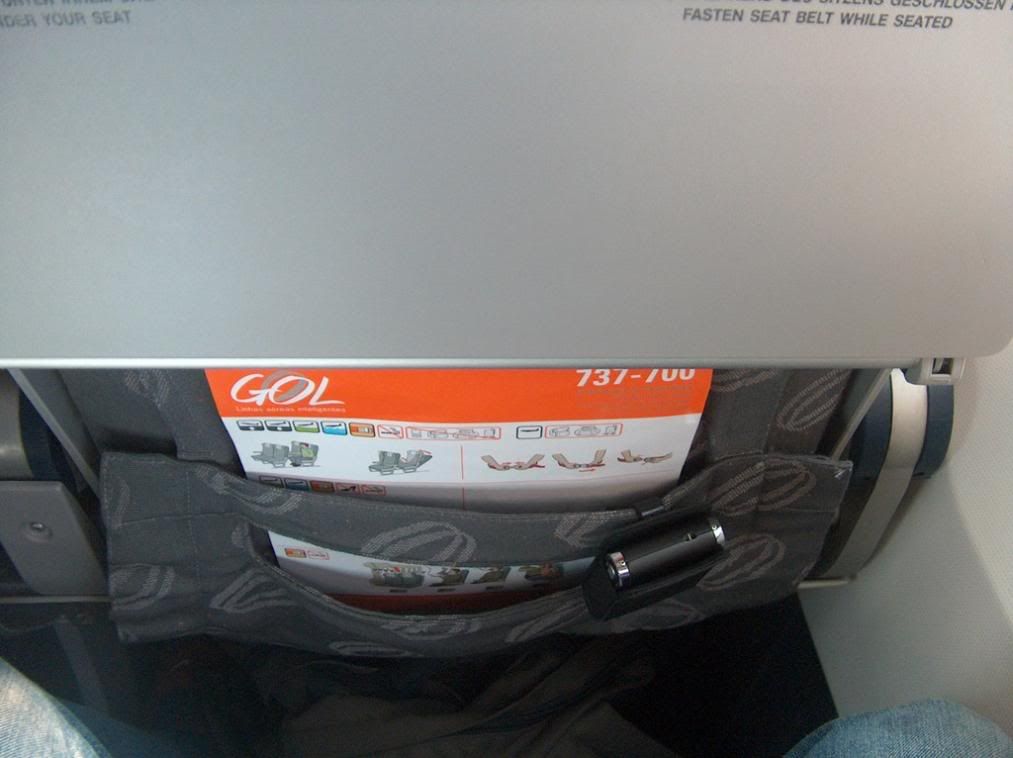 Catering flight 4 (flight 3 was equal)
The PP-GOY at GIG in a rainy Rio de Janeiro
General Trip and TAM were as scheduled, both GOL flights were delayed. I found the ATR plane and the GOL 737-700 noisy in opposite of the GOL 737-800 and the TAM Airbus 320. Maybe because of the seats which I had. The airports, BSB and CNF are great, GIG has potential, when they do an update of Terminal 1 is it an good and modern airport. In VIX, as mentioned, they started with an update, over a few years can we expected there an airport like SDU. PLU at least, I can't give an opinion, was and saw there too less.
Do I a such trip again, answer is 'yes, but' only with a better preparation and a longer stay over in each city where I make my stops. Next time Brazil North East or Brazil South.
BTW, next week I hope finishing my trip report 'From Brussels to Brazil with BA' and my 3/27 Terminal 5 experience.
Thanks for reading.
Regards,
Hans
PS
All my aviation and the to this report related pictures which I've taking during this trip you can see
here
.
[Edited 2008-03-29 04:18:53]