After a fantastic trip in India it was time to go. A 02:45 departure is definitely not ideal, however, most U.S. and European bound flights leave at odd hours. I guess this has to do with connections in Europe and the U.S.
Anyway, we arrived at the beautiful, state of the art, Indira Gandhi International terminal 2 hrs before our flight to JFK (Oops). We were greeted with about a 10 minute line to get into the terminal. This was so the security officials could make sure that everyone going inside the terminal had a ticket or e-ticket receipt. After entering the excuse of a terminal, we saw many ceiling panels had fallen out and the airport was basically a mess. As required in all Indian airports, we had to go X-ray the bags that we want to check, which was overall an easy process. Thankfully, other people in my family were flying in the Premiere cabin, so we were able to use the premiere desk to check-in. This ended up probably saving us as the economy line was extremely long and added with the lines for immigration and security, we would have missed our flight.
We gave the nice 9W agent our 9W DL e-tickets and asked if our bags could be through-checked to TPA. She said that she would certainly be able to to do that. After typing for about 10 minutes, she printed out boarding passes to JFK on 9W230 and surprisingly, also gave us our DL boarding passes. I didn't know 9W could do this, especially since the DL flight was booked separately.
Boarding pass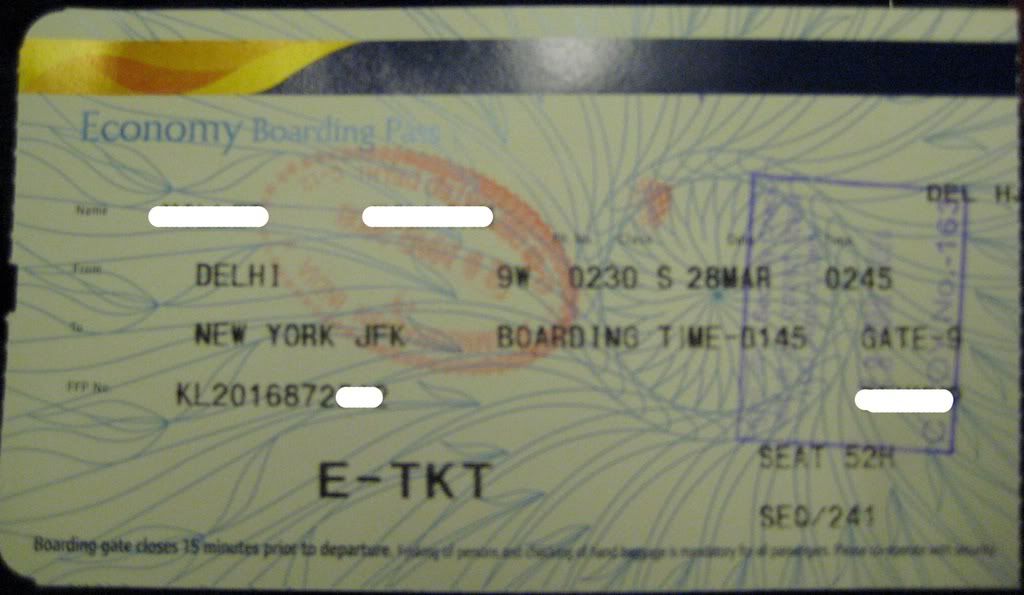 After check-in, we headed over to the line for immigration only to see that this line was HUGE. We then began to worry that we might have some problems making the flight. After about 40 minutes in the immigration line, we finally got through only to see that there was another long line for security. Thankfully, security only took about 20 minutes and we were through.
We decided to head straight to the gate since our flight was about 15 minutes into boarding. When we got there, we were greeted by another long line...thankfully we got to skip this one cause other people in my family were flying premiere. We also noticed a school group was being told that they had to re-clear security since their carry-on bags weren't stamped by the security agents. Lucky for them, it looked like they were being by a 9W representative.
After X-raying our bags again, we finally boarding the 77W.
Airline: Jet Airways (India)
Aircraft: Boeing 777-300ER
Departure Airport: DEL
Arrival Airport: BRU
Reg: VT-JEH
STD: 02:45
ATD: 02:50
Seat: 52K
Load: 95%
We were greeted by two or three 9W F/A's and directed to our seats.
Nice to see those huge PTV's again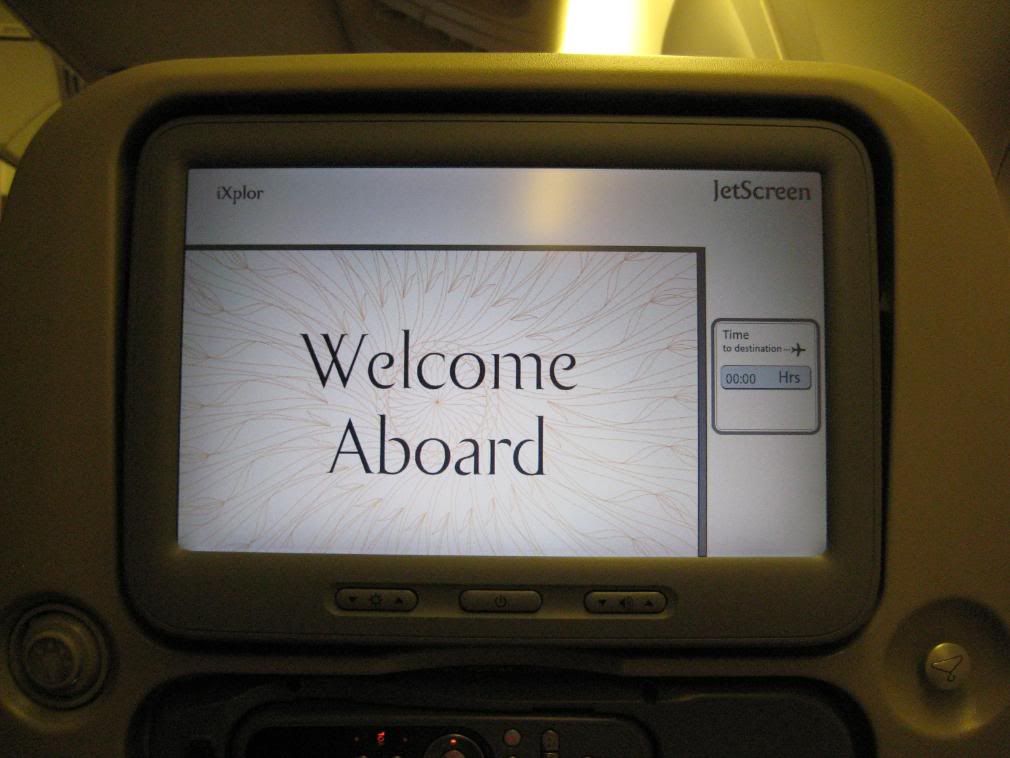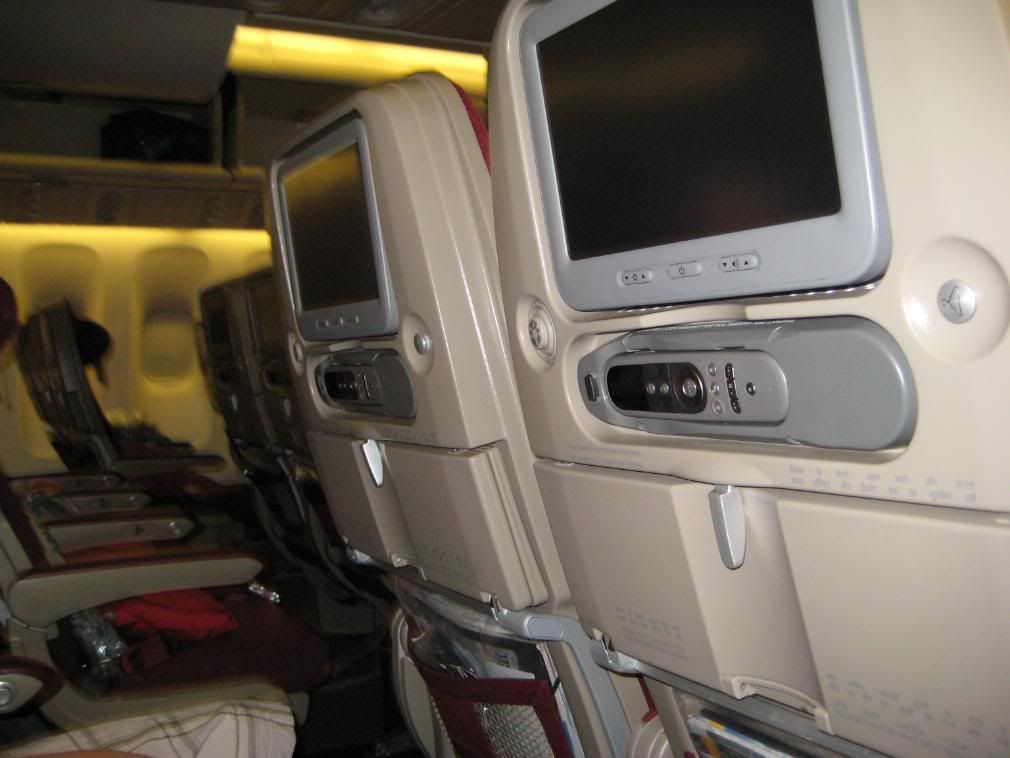 A CX A330 to HKG was parked next to us
Cabin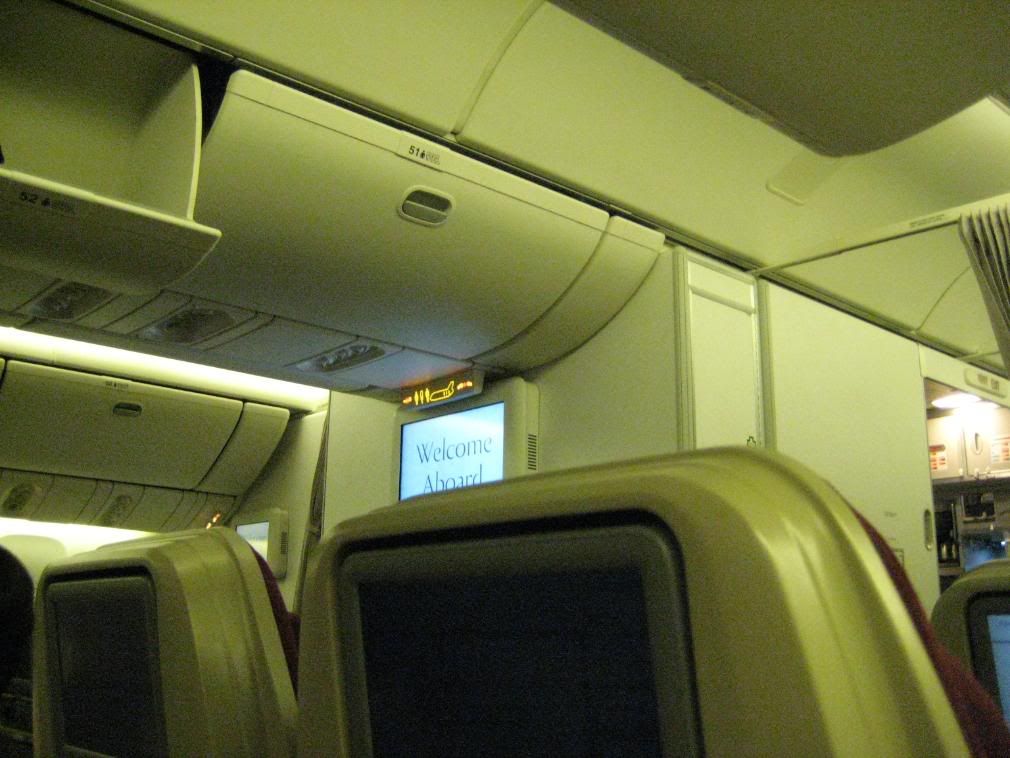 Menus were then handed out. For Y, this is a very nice touch

The captain then welcomed us onboard giving us some information on our route and told us the runway we would take off on. One thing I like about 9W is there is a lot of communication between the cockpit and the passengers, which is something you don't find on a lot of airlines.
Taxi to the runway was uneventful, however, for some reason, we backtracked to the end of the runway instead of using the taxiway. Not sure the reason for this but we did pass a 747 of some cargo airline.
Takeoff was extremely powerful and loud usual with the 77W and soon after takeoff, it got quite turbulent, along with the rest of the climb.
Soon, iXplor was switched on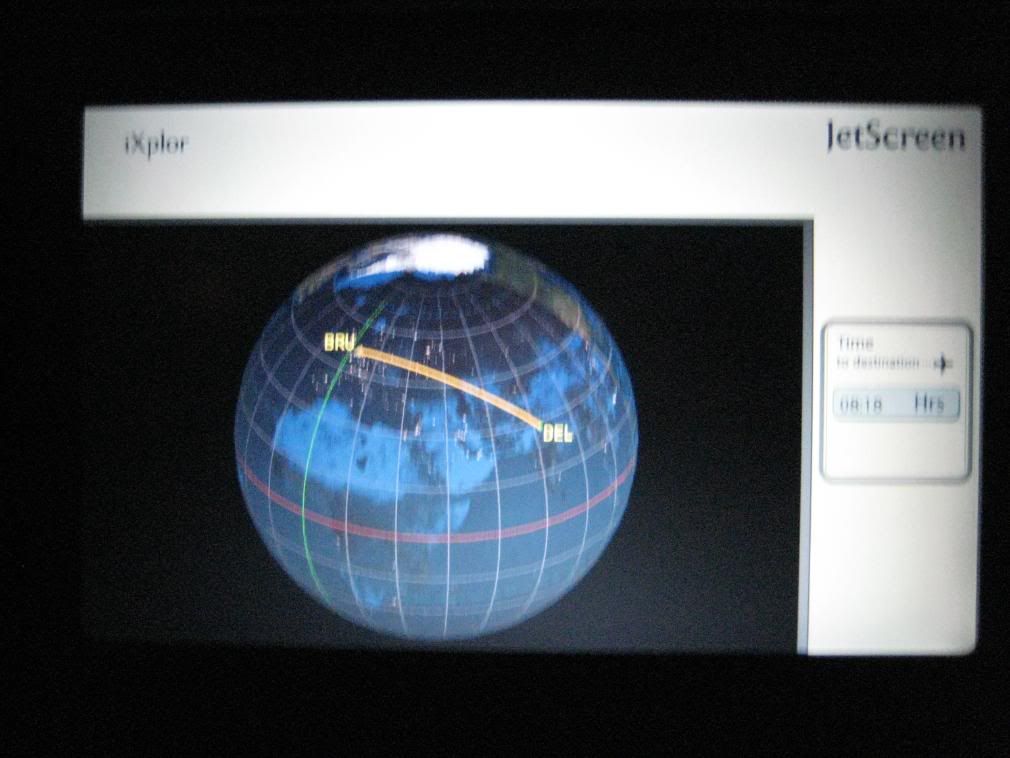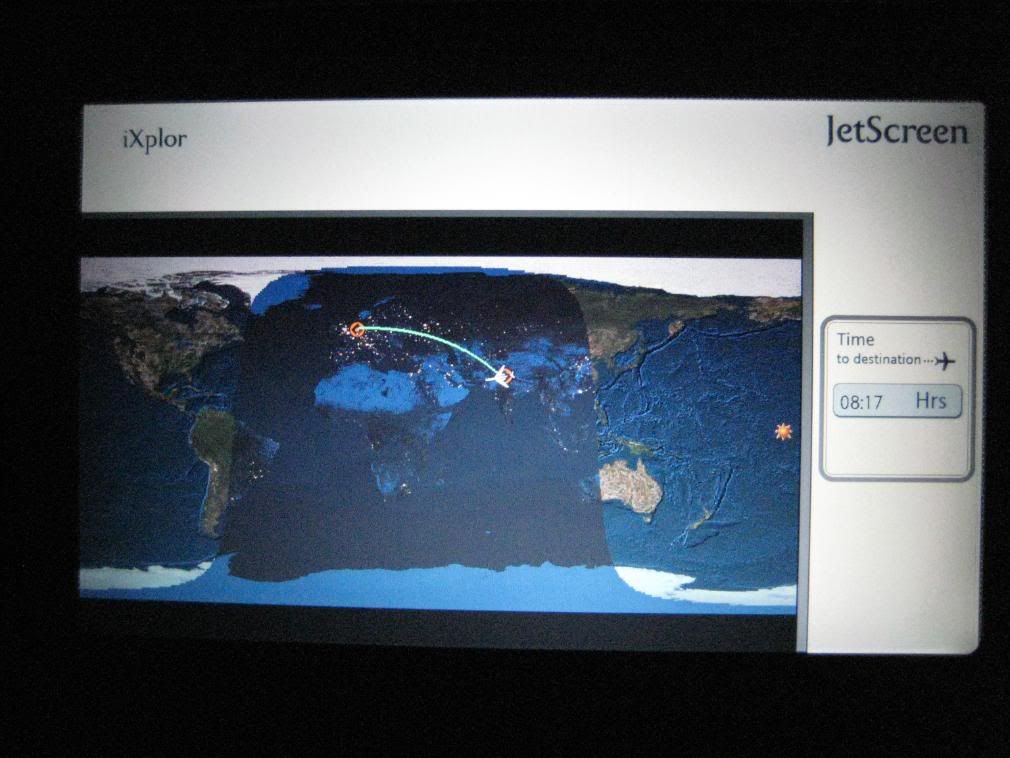 Once we were at our cruise altitude, the meal service was started. 9W referred to this as a "refreshment". I believe the choices were between chicken and cottage cheese. I got the chicken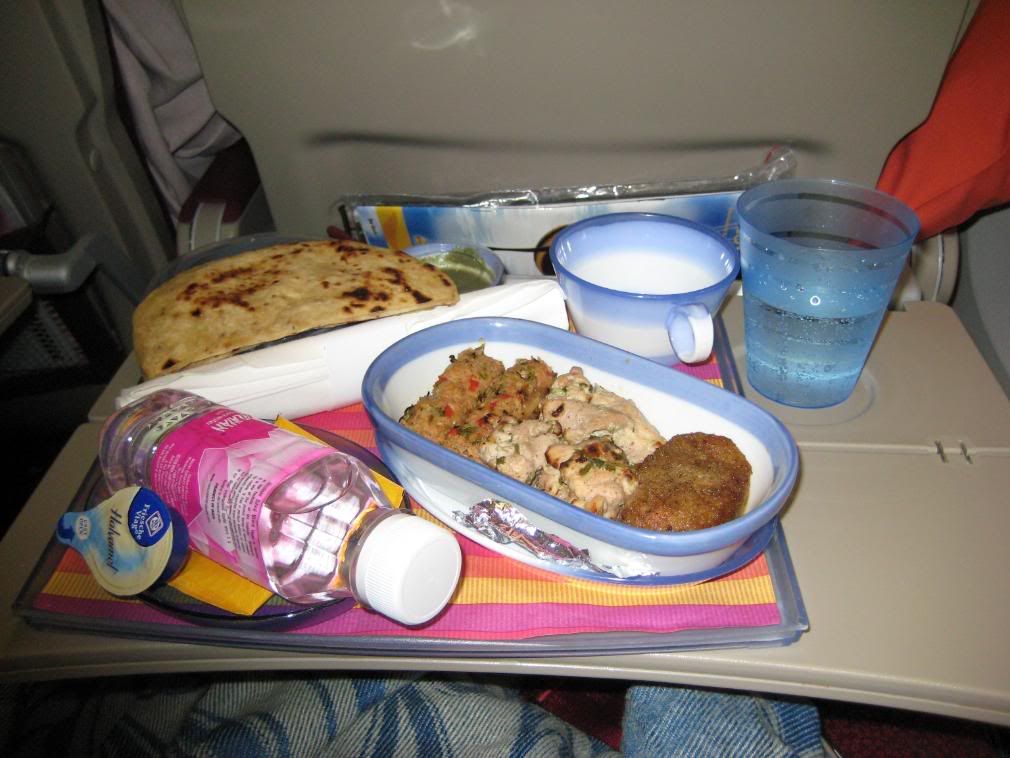 After the meal service, I decided to watch a movie, however I got very tired, so I decided to get some sleep. Slept for an hour until I was woken by a baby screaming and some pretty rough air. This lasted for a good thirty minutes and I fell asleep for another 2 hours after.
I then awoke to see that the sun was rising. This turned out to be about a 2 hour event since we were heading west.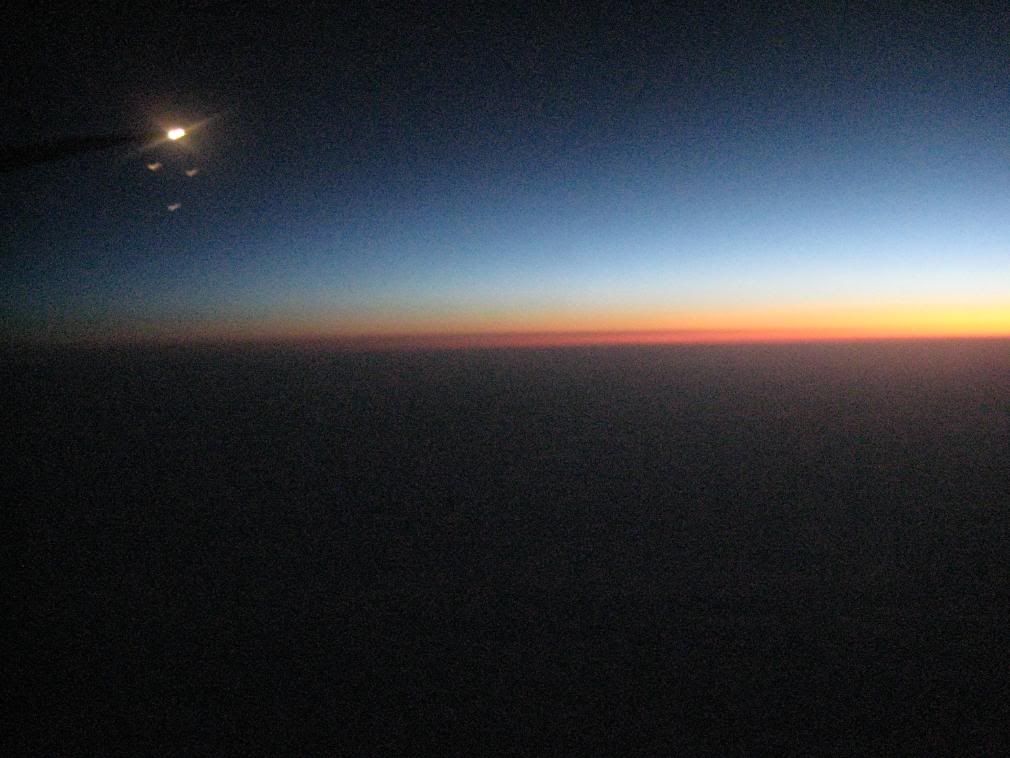 The mood lighting was then randomly switched on....not sure what 9W's deal with the mood lighting is, but they need to be more consistent with using it as they didn't even use it on the BRU-JFK sector.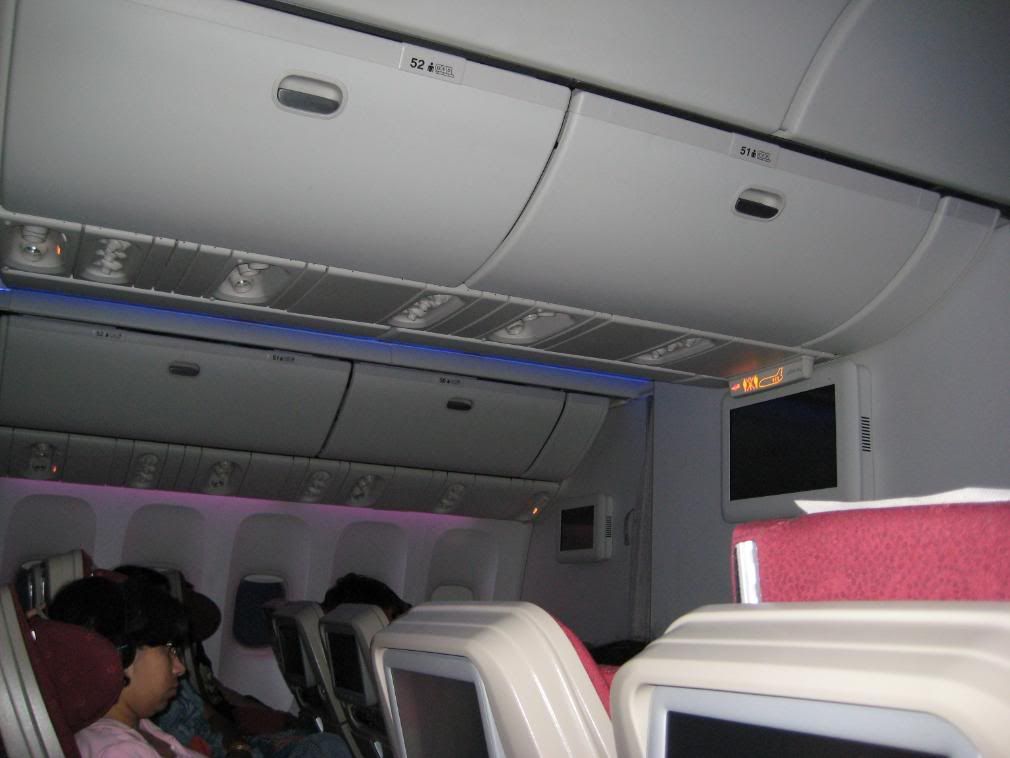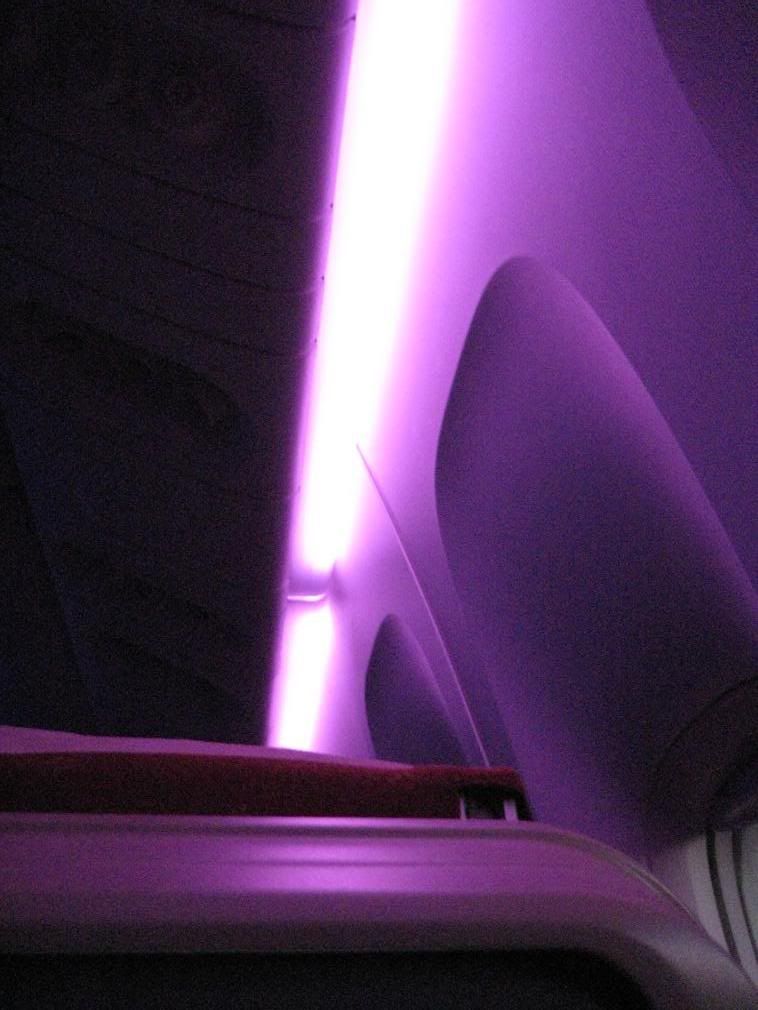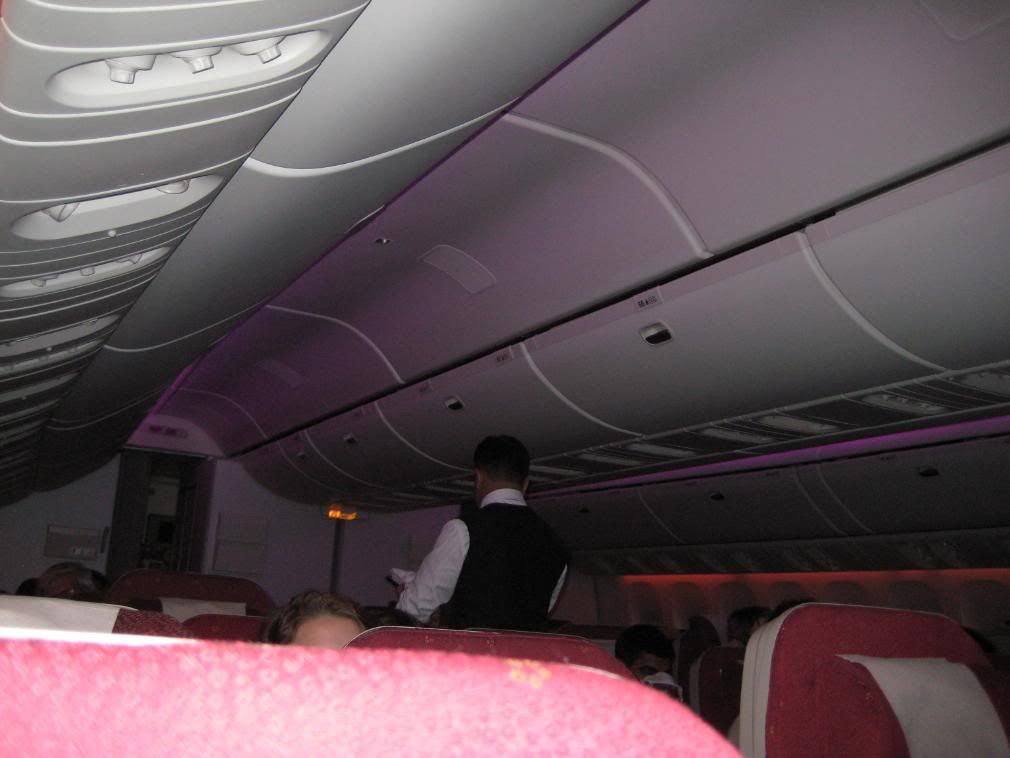 Decided to resume watching my movie....gotta love AVOD.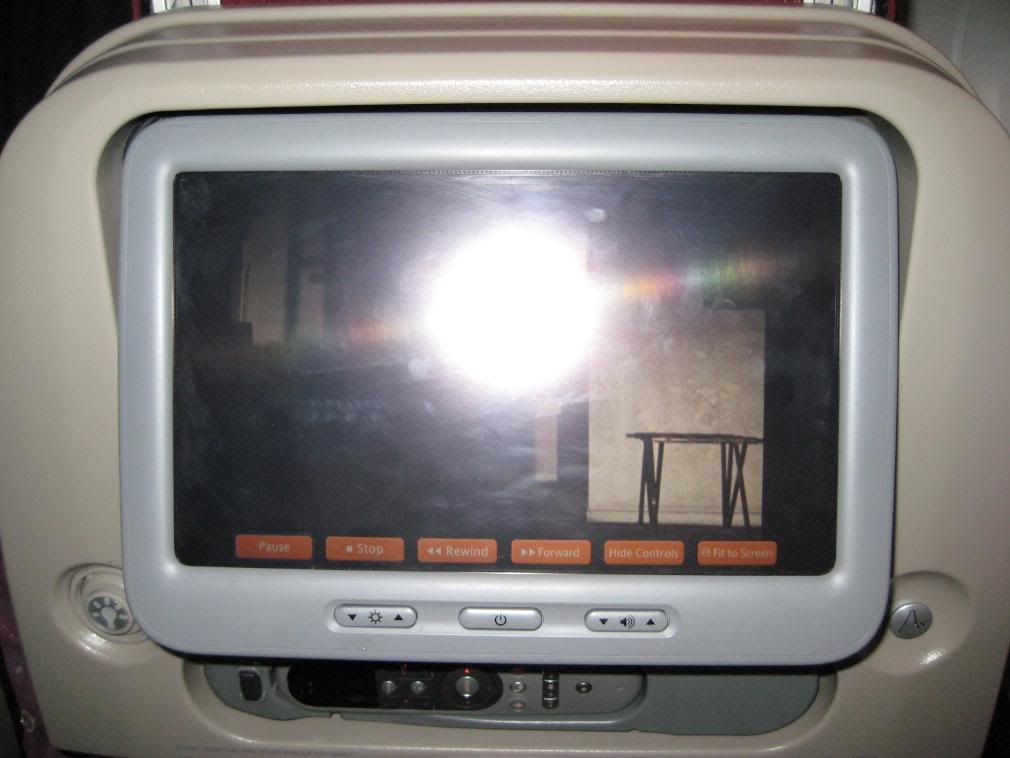 Also, 9W has a selection of music, also on demand, ranging from Indian music to Hip-Hop, etc. You can create a playlist also, which is nice.
Then, the F/A's came around and did a drink service. I have to say, the F/A's never smiled the whole flight and did not seem happy to be flying. Of course I wouldn't either if my job hours started at 2:45 AM.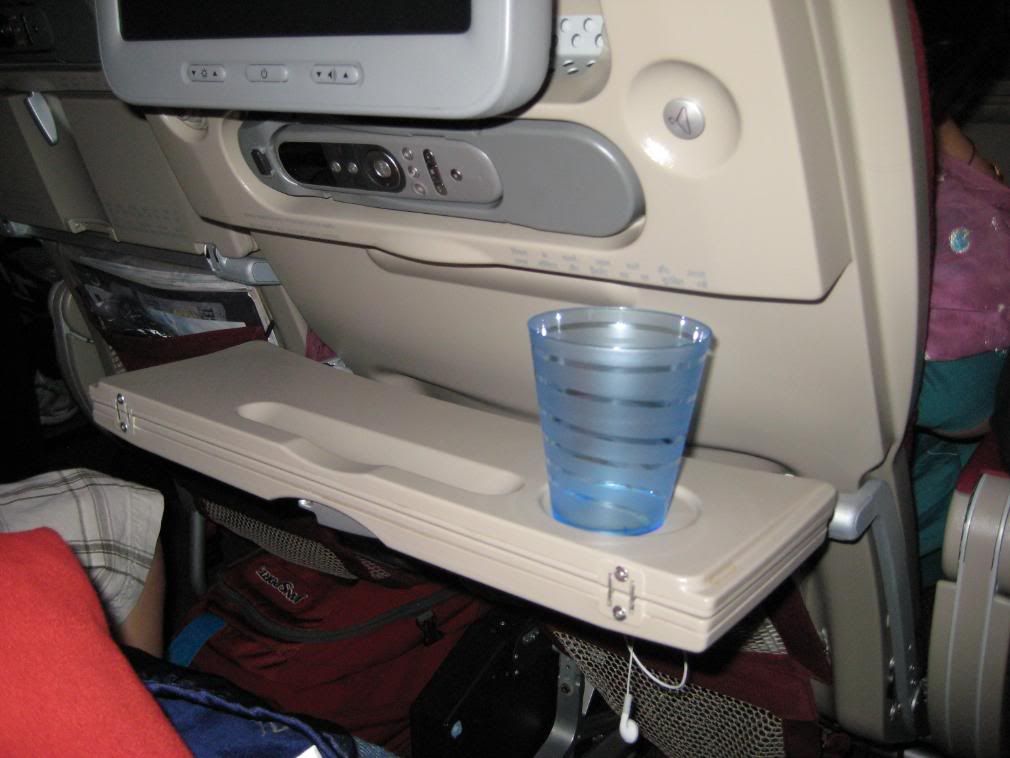 Next came the breakfast service. The choices were between Eggs and cottage cheese (what is 9W's deal with this).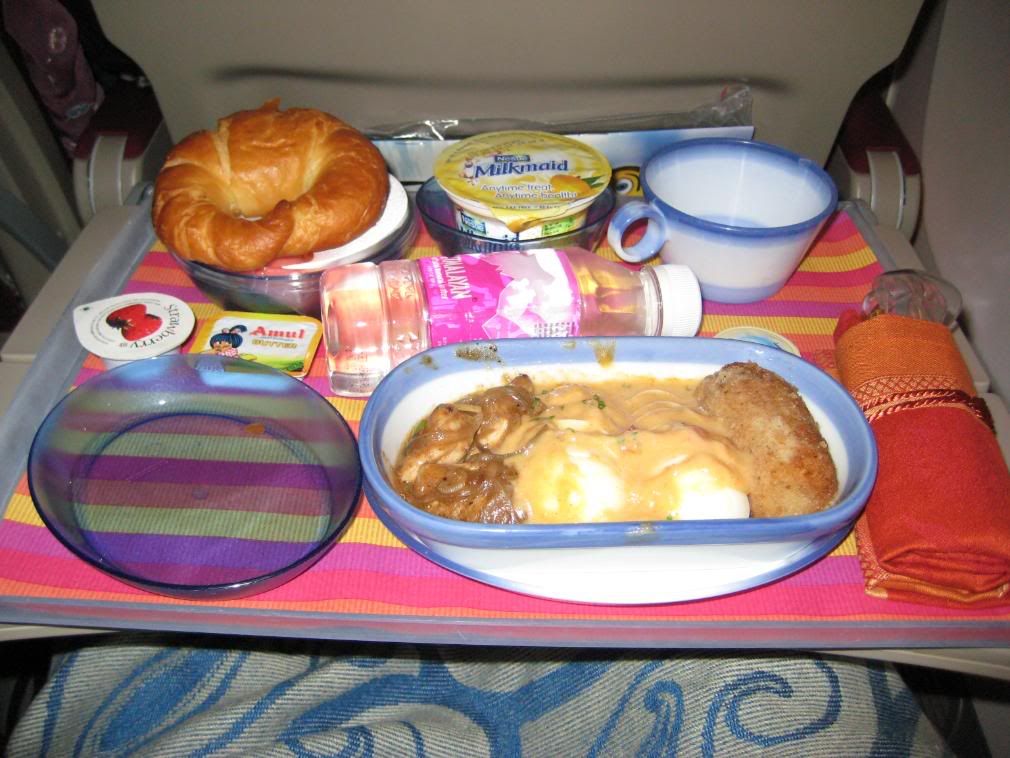 Sun still rising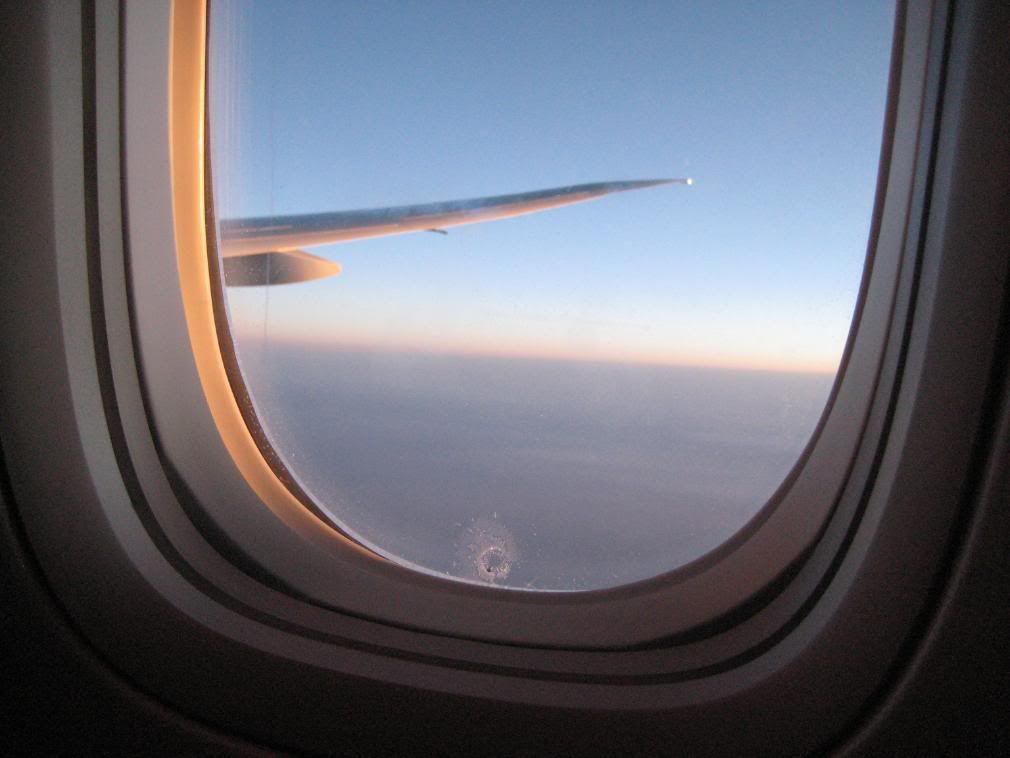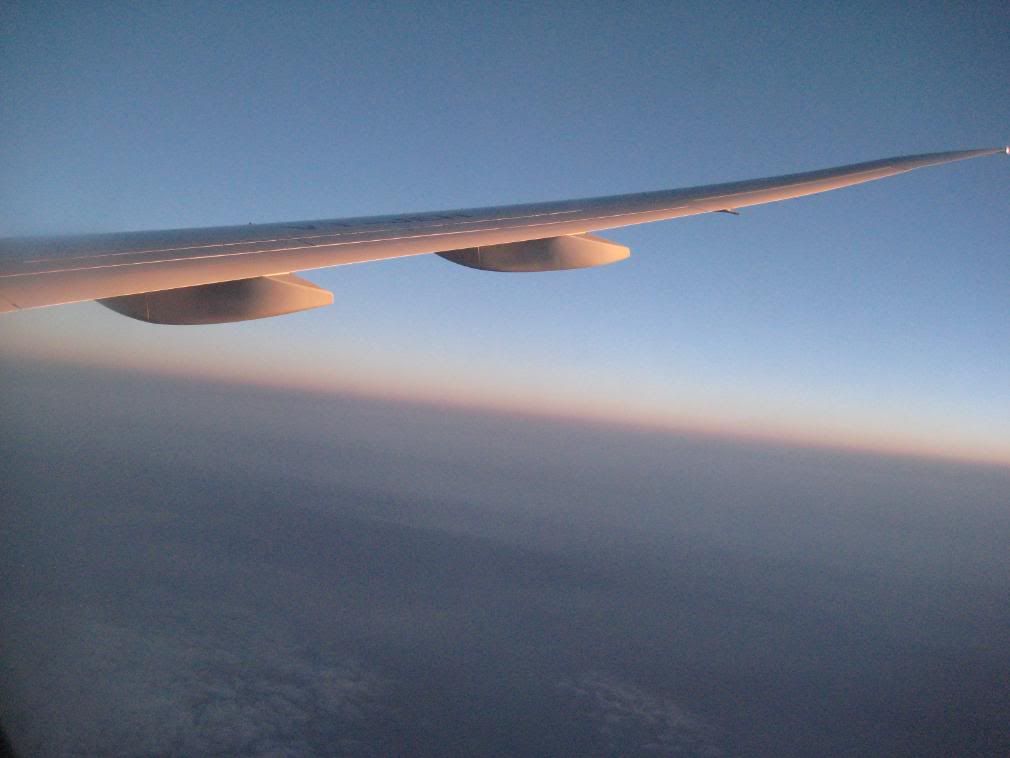 Legroom (note the missing cup holder)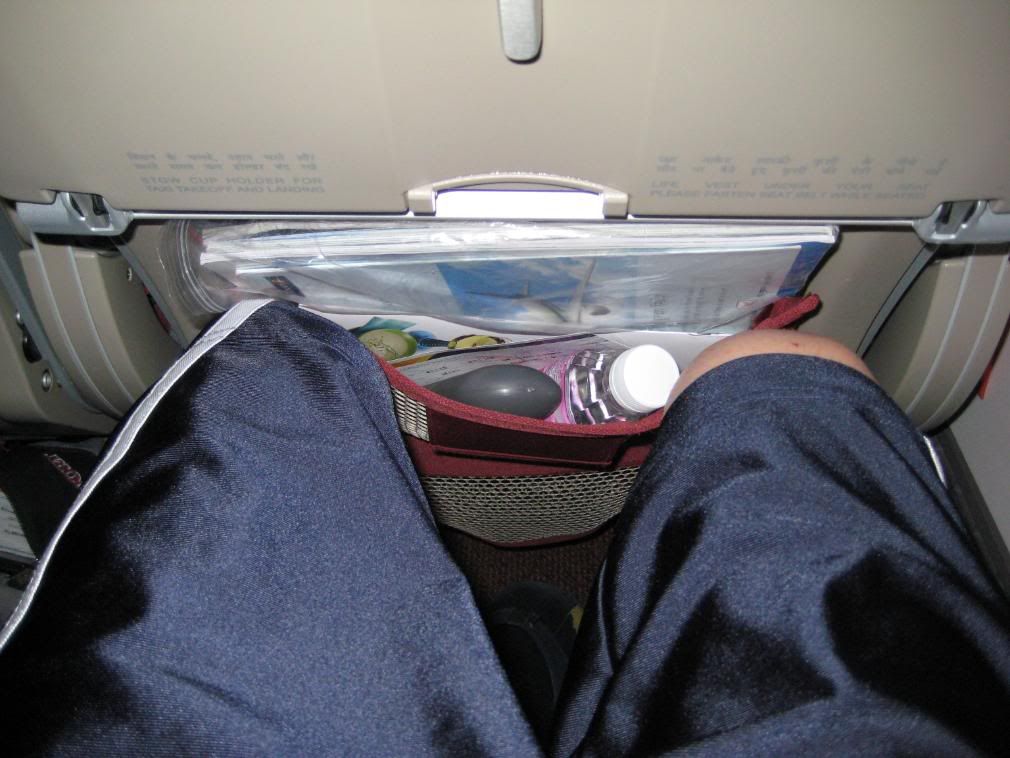 The captain came over the P/A announcing our descent into BRU and we should expect an early arrival.
Some spoiler action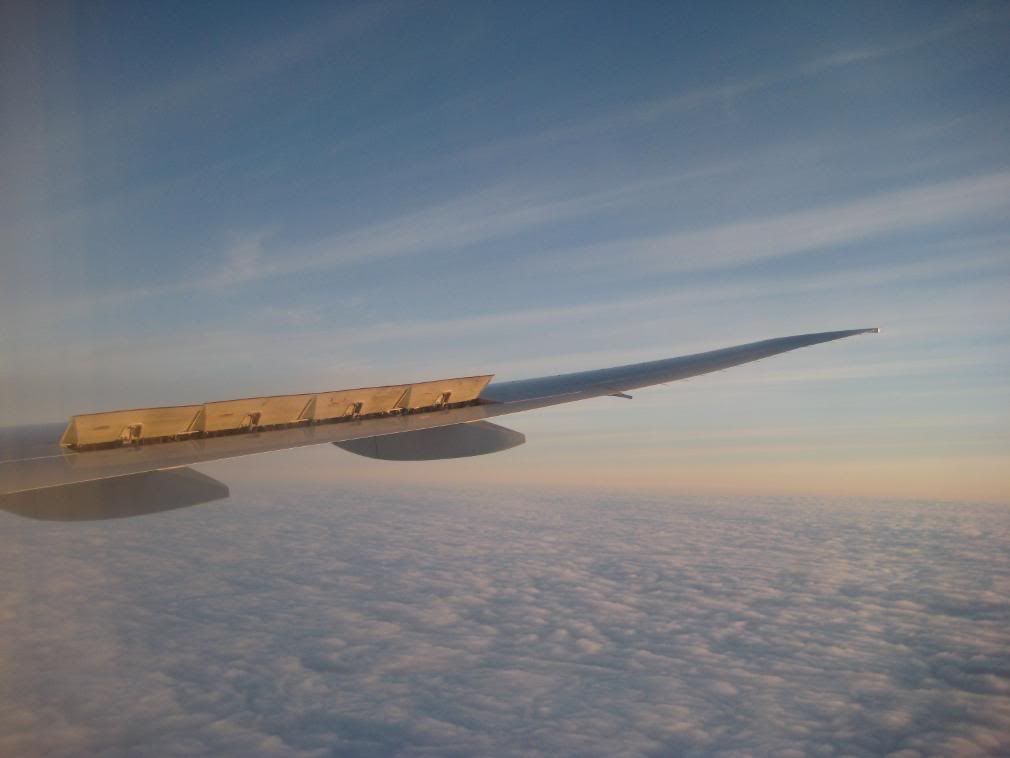 A video was then shown about BRU and then about making connection with SN and other European airlines.
Landing video
There was some crosswind on the approach and it was quite bumpy, but the pilot did an excellent job and put the 77W down extremely smoothly.
Disembarkation was without a problem and we all had to re-clear security, which was much better than in DEL. Since our flight arrived early in BRU, we to wait a bit longer for the departure to JFK at 09:20.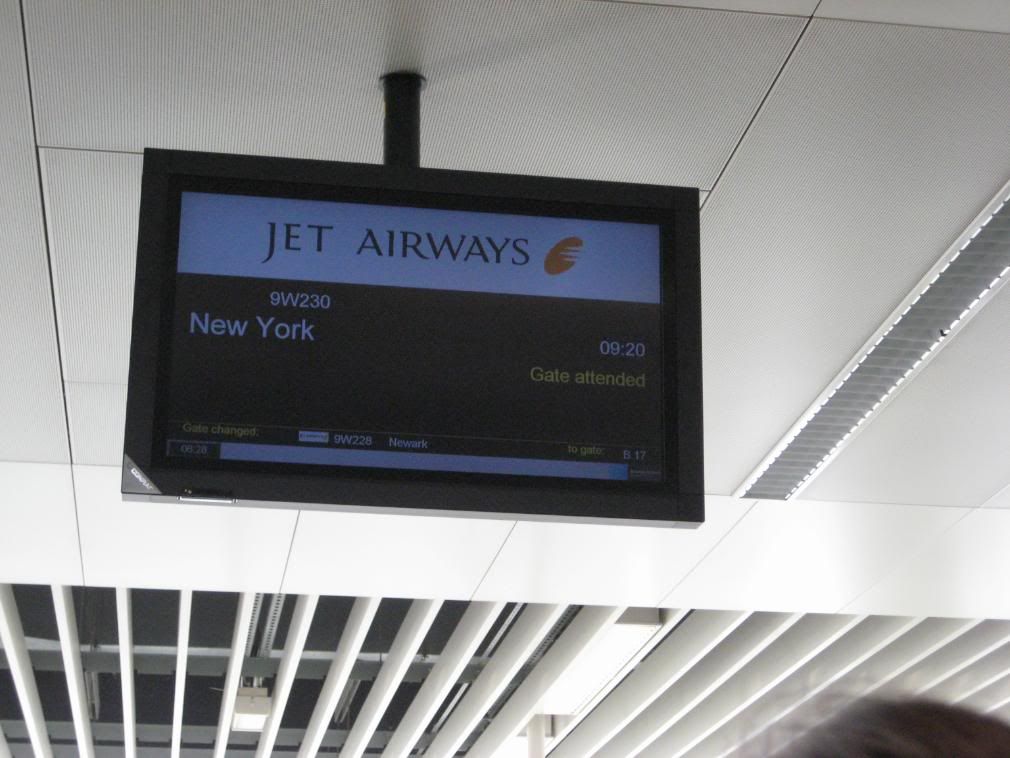 Airline: Jet Airways (India)
Aircraft: Boeing 777-300ER
Departure Airport: Brussels National Airport, Belgium (BRU)
Arrival Airport: New York John F Kennedy Airport, USA (JFK)
Reg: VT-JEH
STD: 09:20
ATD: 09:20
Seat: 52H (My brother wouldn't let me have the window, so sorry for lack of wing views)
Load: 98%
All PAX going from DEL to JFK are given one boarding pass for the whole sector, so that means you have to use an already used boarding pass in BRU. It would suck to lose your boarding pass on the DEL-BRU flight.
The gigantic 77W sitting at the gate waiting to take us to JFK
View of the window that I'm so far away from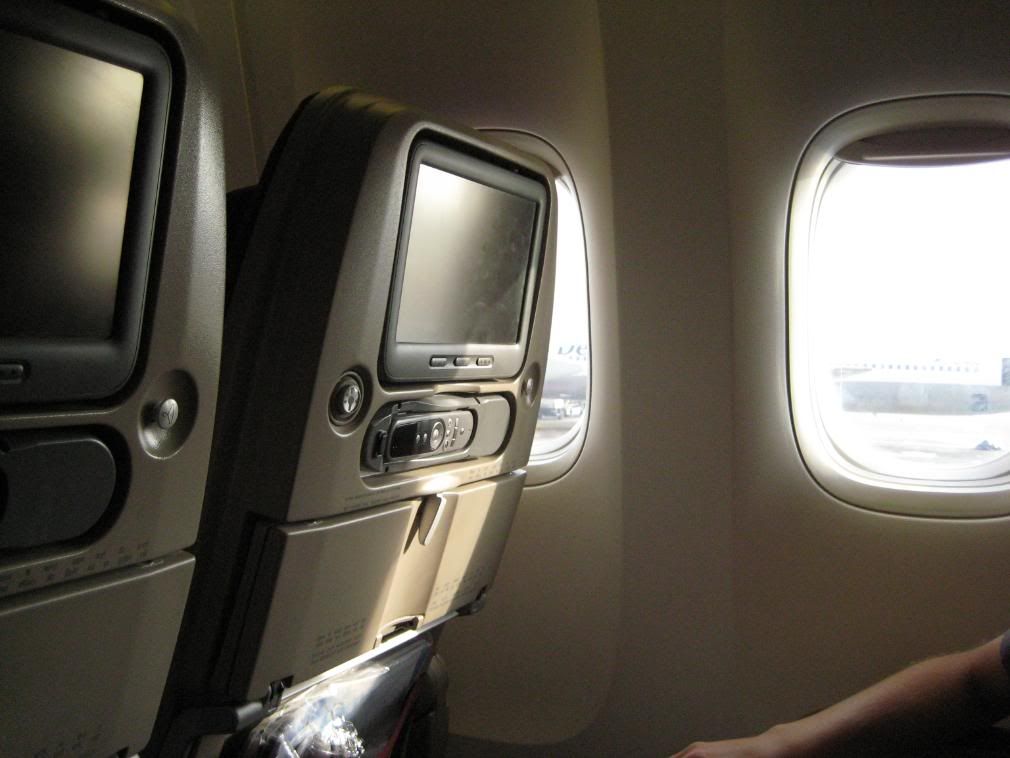 View of the aisle during boarding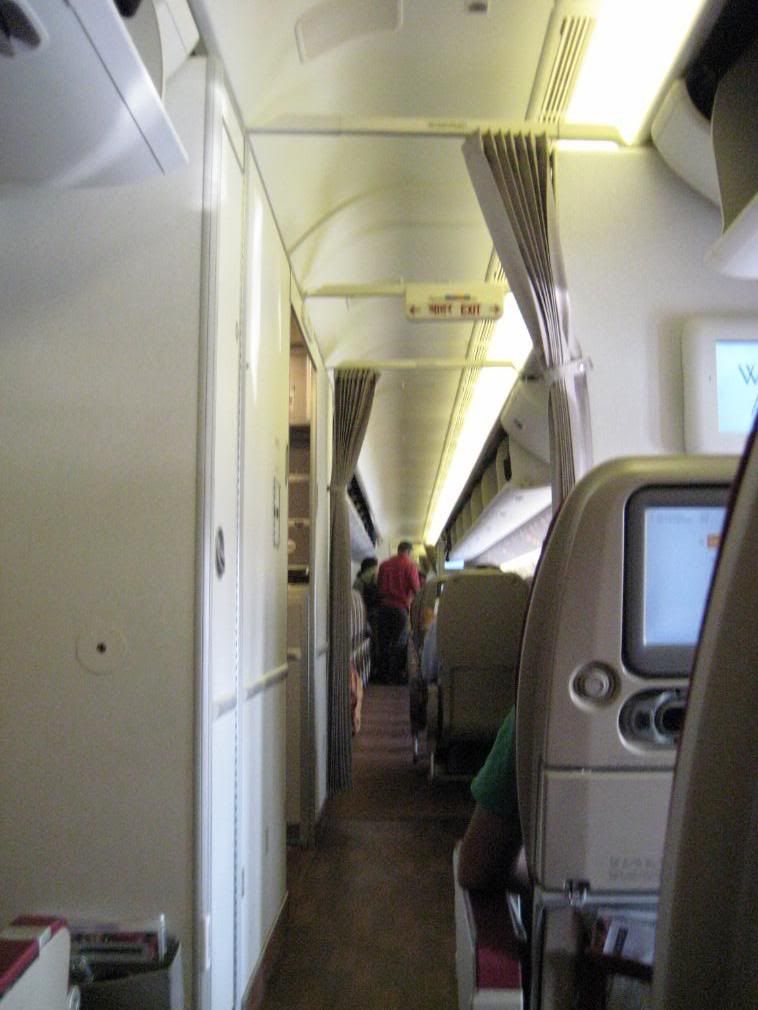 Welcome aboard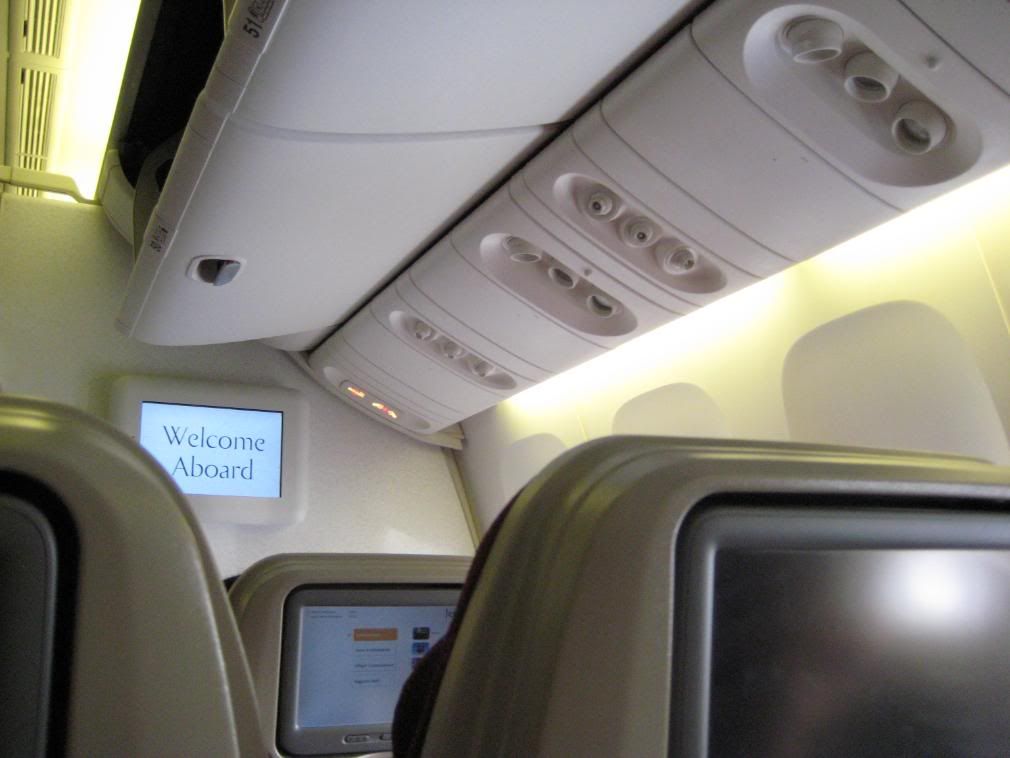 Boarding proved to be a very interesting process on this sector of 9W230. There were about 50 orthodox Jews going from BRU to JFK. I'm not racist against Jews in any way, however they made the boarding process quite interesting. Most of them were seated in the back half of thelast economy cabin, and they apparently were having some problems with their seat assignments. Most of them were standing in the aisles and walking around the plane to find a place to stow their huge amount of carry-on luggage, therefore blocking th aisles. The F/A's seemed overwhelmed at the amount of coats they had to stow and were busy trying to get them settled in their seats.
Also, I was surprised to see that this flight was almost 100% full. This was surprising, especially since my last flight from JFK-BRU was only 50% full. This is a good sign for 9W if they can keep the loads this high.
Once boarding had finished, the captain, this time American, welcomed us on board and gave us some information about our route. He said that we should expect a smooth flight except for the climb and descent, which could be a little rough.
Pushback was ontime and taxi and takeoff were once again, uneventful.
Once we got up to our cruising altitude, lunch was served. This time, the choice was between chicken, fish, or cottage cheese. Naturally, I chose the chicken, but unfortunately they were out. It looked like I was out of luck since I don't eat seafood or cottage cheese. I know I'm picky, but I was surprised that they ran out of chicken so fast. I ended up skipping this meal service, so you guys won't be seeing a pic of it....sorry.
The cabin crew were friendlier than the last group, however they still seemed to lack warmth. I guess my expectations are too high for Y but just something I noticed.
Wingview over the atlantic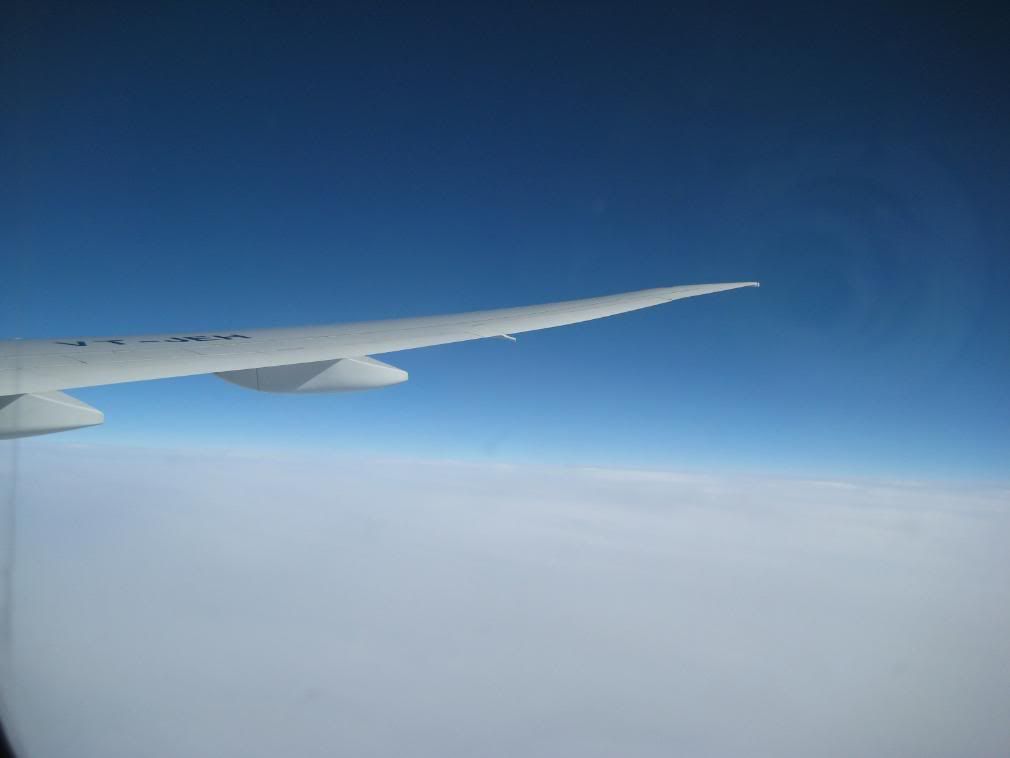 Bulkhead seat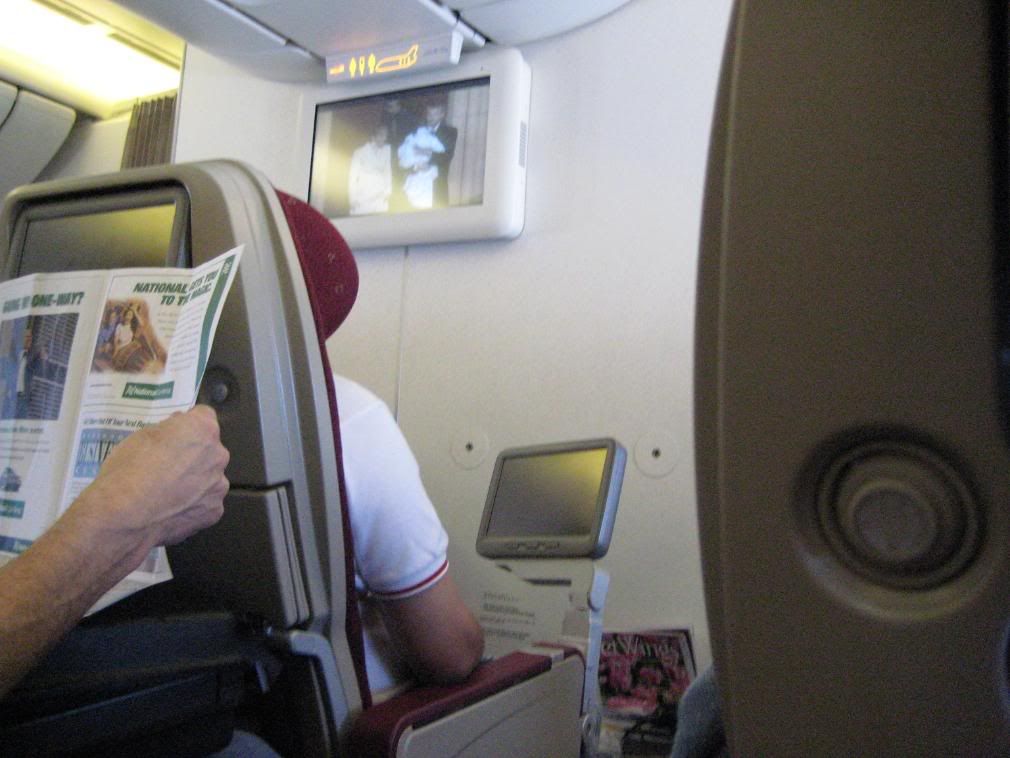 iXplor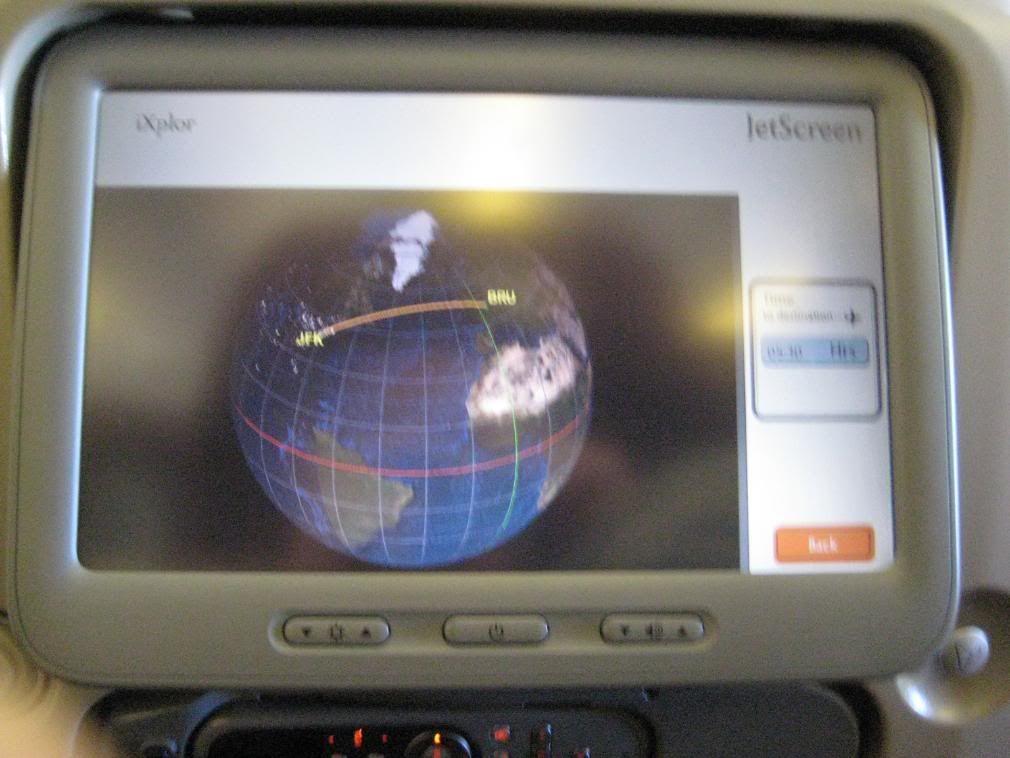 I decided to get a shot of the cabin. Note that the mood lighting wasn't used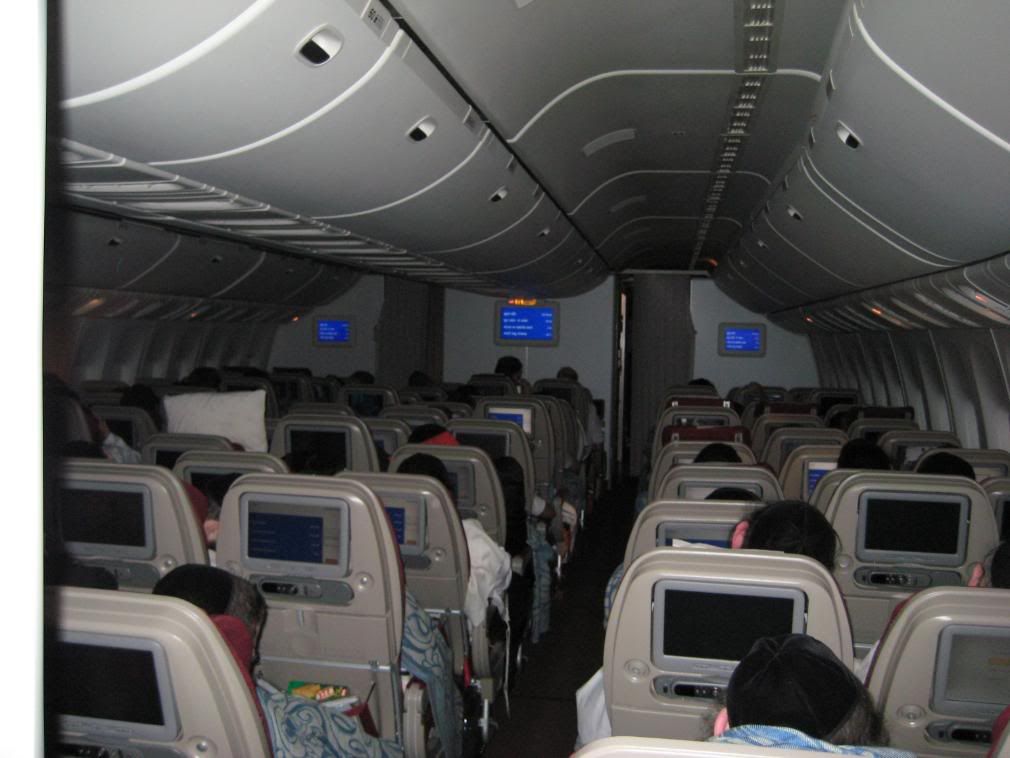 About 2 hrs before arrival, the F/A's served refreshments. Choices were between chicken and cottage cheese....this is starting to get quite repetitive lol.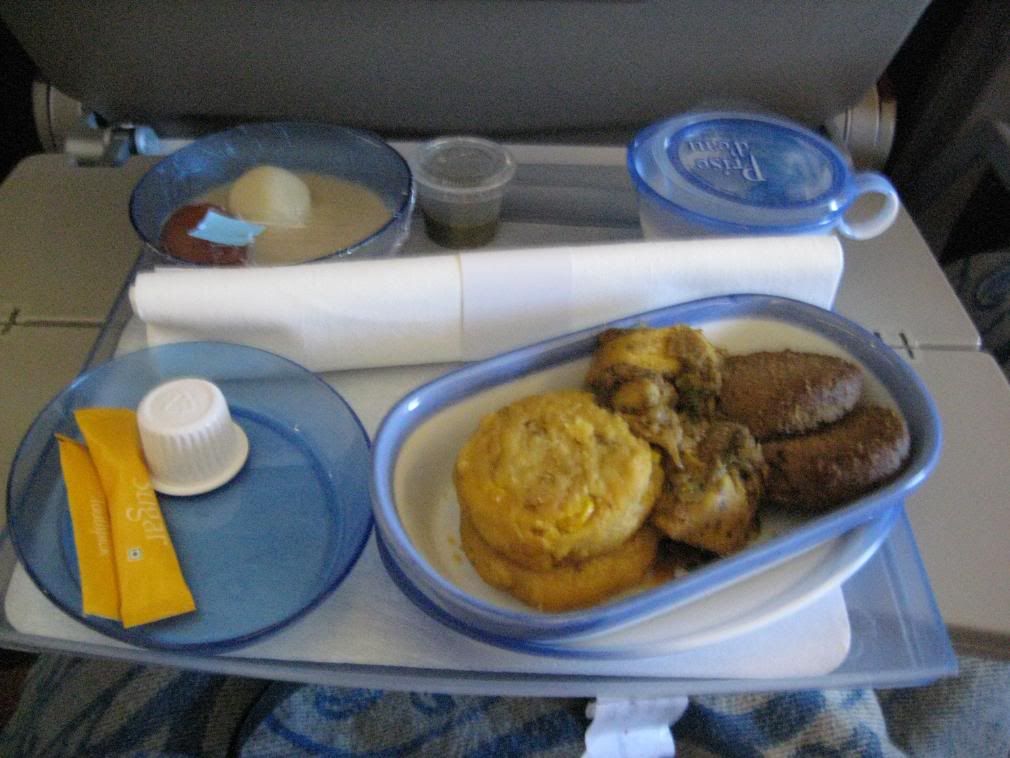 Another shot of the wing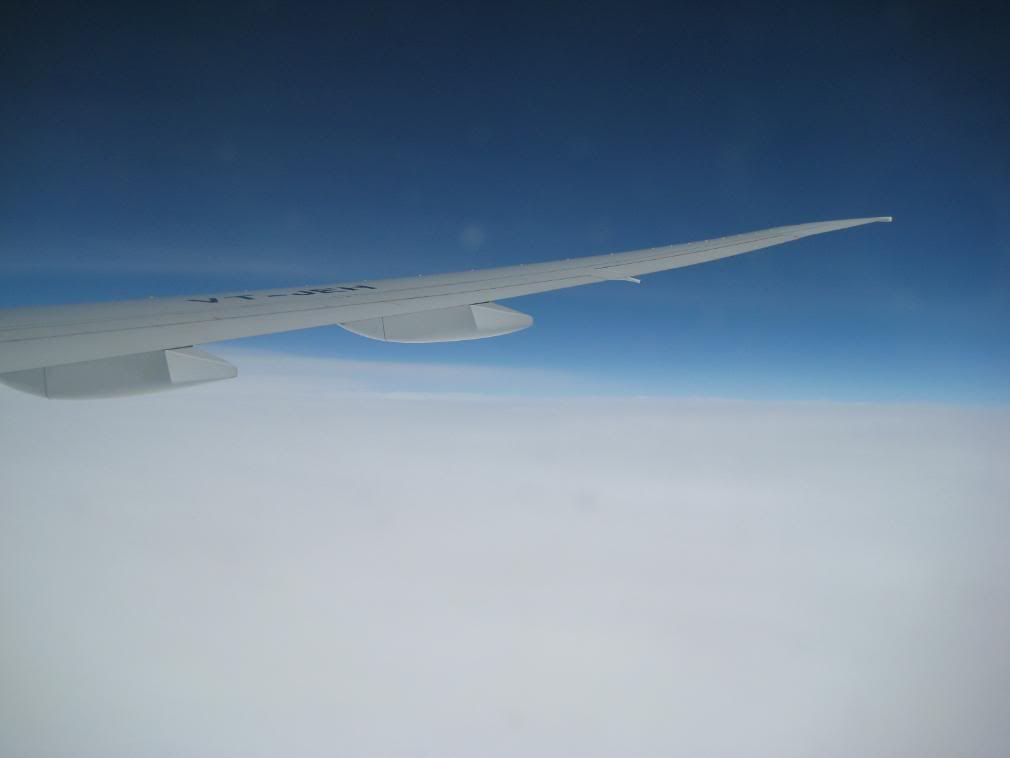 Non-mood light cabin
iXplor (sorry, I can't get enough of it...)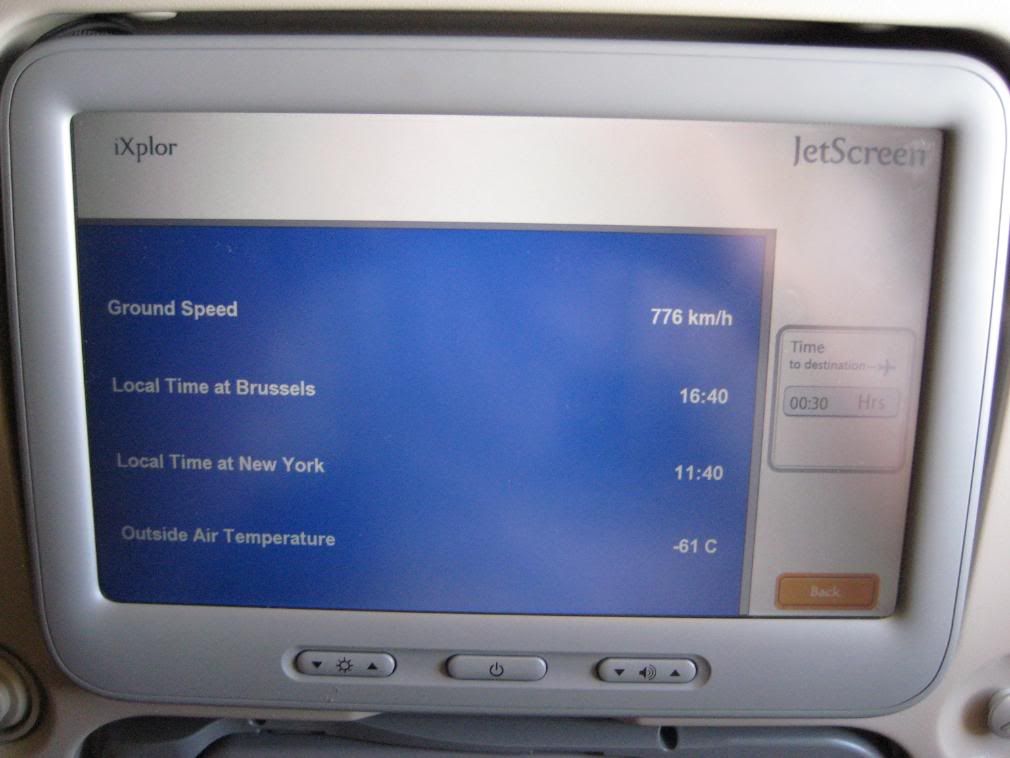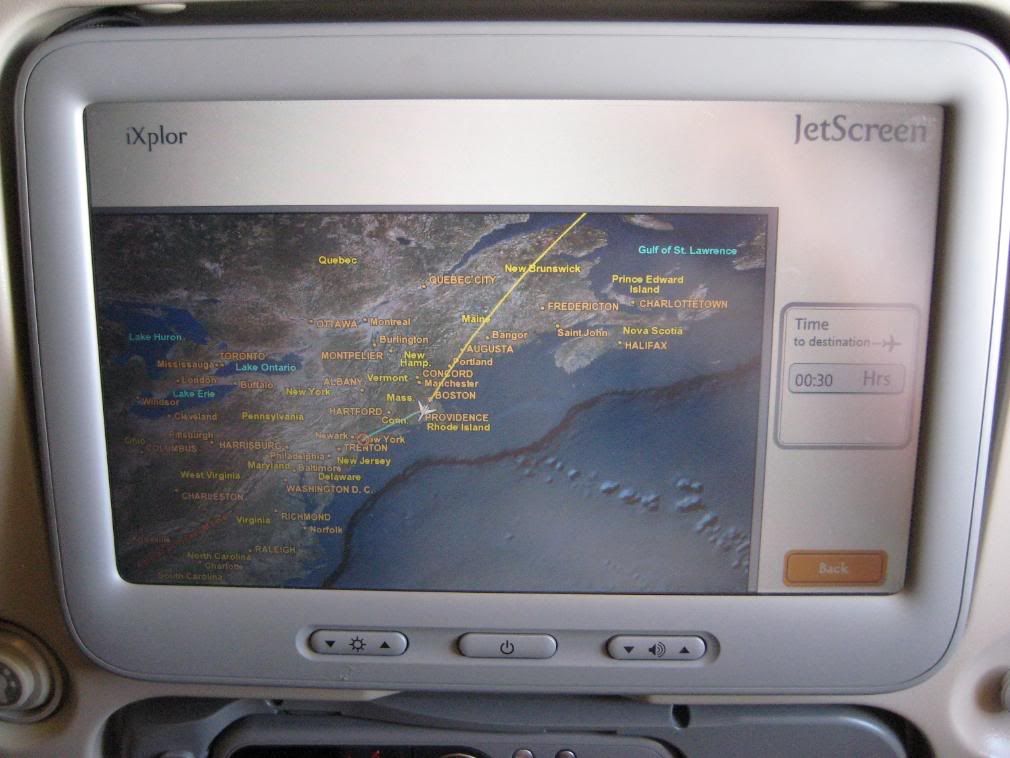 Landing on 22L was smooth with heavy braking and taxi to T8 was very lengthy.
As I was leaving, I asked the F/A if I could take a pic of first to which she said "certainly"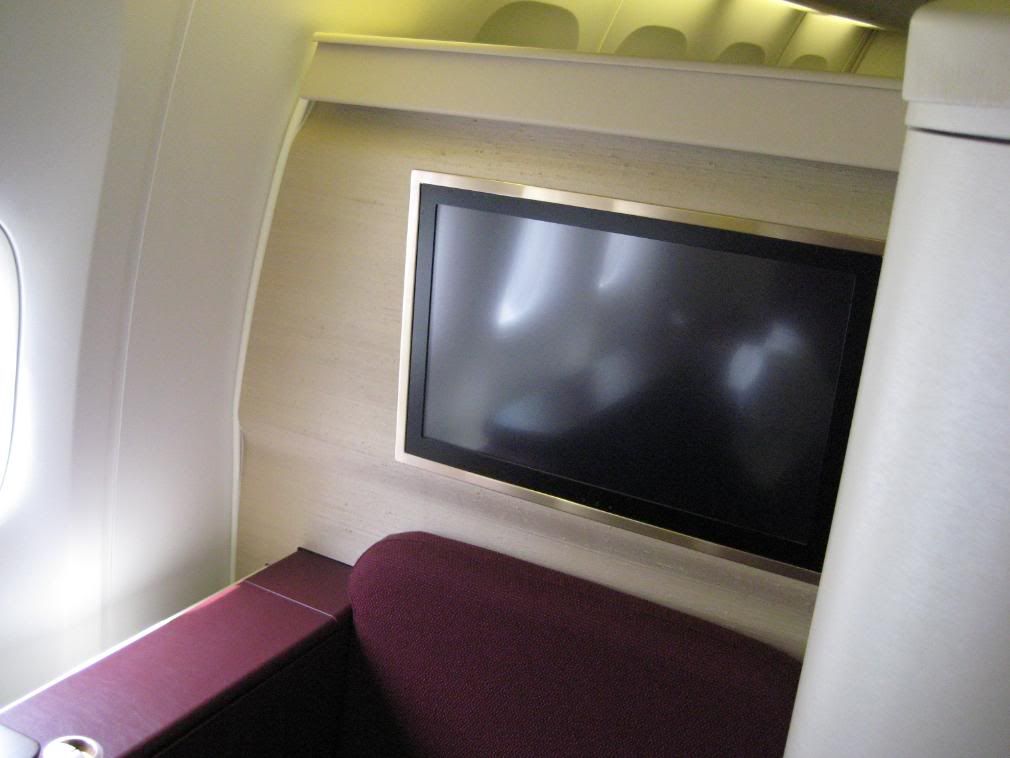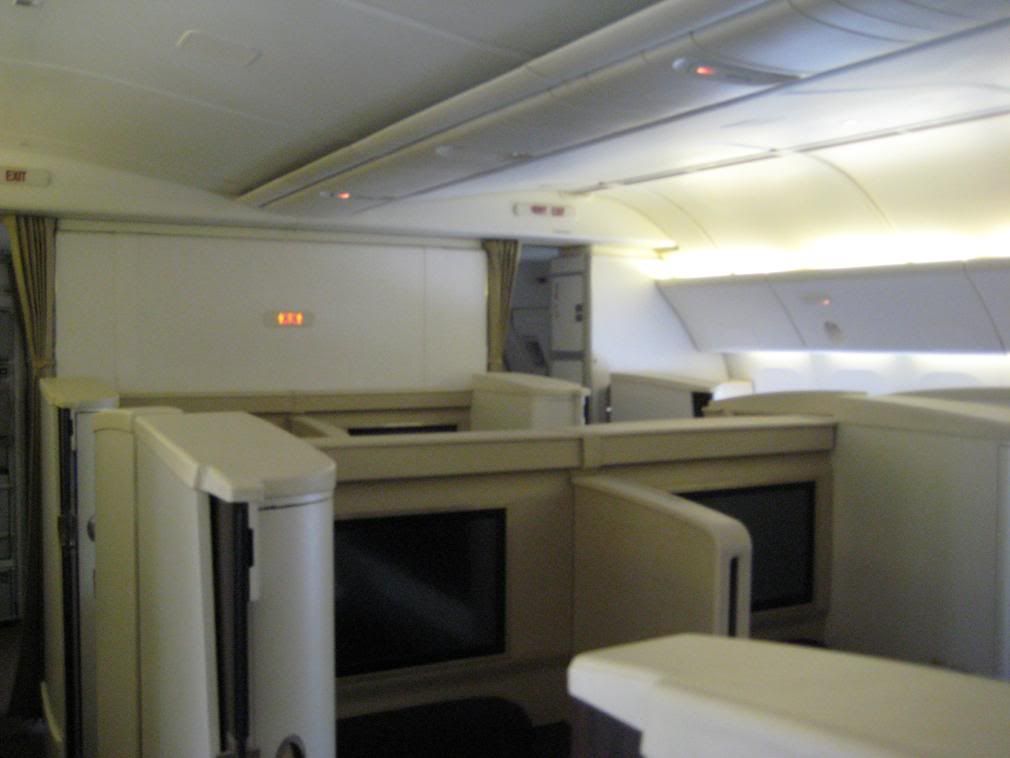 And a picture of VT-JEH on our way to customs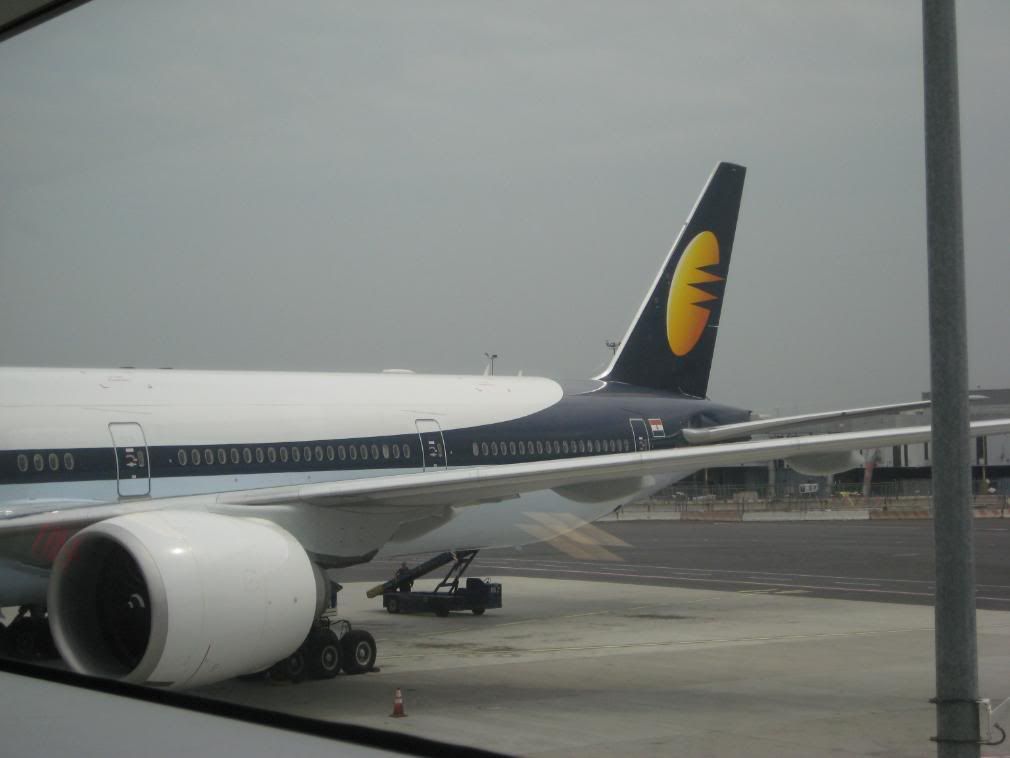 After customs, we dropped our bags on the domestic belt and went over to T3 for our DL flight to TPA, which I will be doing a TR on it soon.
Hope you enjoyed. Overall, 9W was great, but it wouldn't hurt if their cabin crew were a little nicer and smiled once and a while.