Hi
Yet another report out of my hands. I couldn't resist some low fares offered on the internet lately, and with not too many flights booked during these months, I just planned another crazy day of fun-flying. It has been some time back since I visited Ireland, especially the airport of Shannon was a long way back in my memory, and now it was time for a new visit to this airport on the Irish westcoast.
Tickets were booked just 15 days in advance, still very interesting fares on offer for all my legs.
Wednesday March 19, 2008
Not too early when my alarm clock went off at 6 am. A quick breakfast, finalizing my bag packing with some little food for the day, and I was able to jump on the public busservice just 45 minutes later.
With just about 20 minutes to the airport, this service is very convenient for me. When I walked into the terminal of Schiphol Airport, I found a remarkable calm airport for this time of the day. No large queues for passport control. I was able to walk on immediately, as I checked in for all my flights on the internet the day before. I was holding printed A4-sized boarding cards for all the flights.
I noticed my departure gate was, as expected, from the H-concourse. While waiting for my flight I followed the handling process of the various aircraft parked at the G-concourse, and the daily Air Berlin Boeing 737 which operates on the Palma route. Weather was fair, but large filled clouds were seen around the field.
My flight got announced for gate H2, and I walked to it. Before you enter the H-concourse you will have to pass the security checkpoint. No problems here, all smooth and friendly. During my wait upstairs near gate H2, I followed the arrival of 2x easyJet A319s and the SkyEurope flight from Vienna. After all these aircraft were on their stands, my plane was arriving from the UK. I was delighted to notice the registration, which was a 'new' one for my log!

My easyJet Boeing 737 arriving on the stand!
AMS-LTN
Flight No.:
EZY2156
Date:
19MAR08
STD:
0835
ATD:
0832
STA:
0845
ATA:
0837
A/C:
Boeing 737-700
Reg No.:
G-EZJJ
Seat:
20F – Economy Class
My 7th ride on the Boeing 737
-700
, and the first on this machine.
View Large
View Medium


Photo © Yuan Le
Pre-Boarding started immediately and everybody was put in the dedicated areas. Elderly people, the ones with young children and the passengers who opted for 'Speedy Boarding' or the ones who hold a easyJet PlusCard were separated from the ones in boarding groups A (including myself) and B. All people who check-in online are nowadays put in group A, which was a rather large amount of passengers.
About 10 minutes after the inbound passengers were off the aircraft, our boarding call was made. As it was my groups turn, I walked straight to the rear entrance. Greeted by a friendly female cabin-attendant, she checked my boarding pass (again), and I was able to choose out of many free rows. I decided for a seat just behind the wing, starboard side. Seats are comfortable enough for the European (short) flights, and legroom was pleasant enough. Other seats at my row remained empty, which was nice as well! I calculated the load at approximately 50%.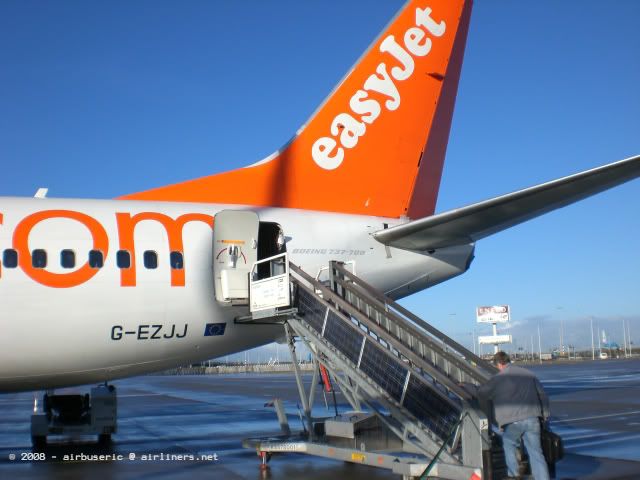 I boarded via the rear stairs onto G-EZJJ

Legroom/Pitch and seating on the B737-700
Boarding finished in time, doors closed. The captain came on the speakers to announce the on time departure and informing us that the First Officer was in control on this flight to Luton. This was followed by the safety demo in Dutch language (from tape).
We taxied out for a runway 36L departure, which meant a rather long ride on the ground. It was our turn after a heavy Martinair MD-11F and a LH CityLine CRJ-900 which was bound for Munich. We were followed by a KL Cityhopper F100 and the SkyEurope B737 to Vienna.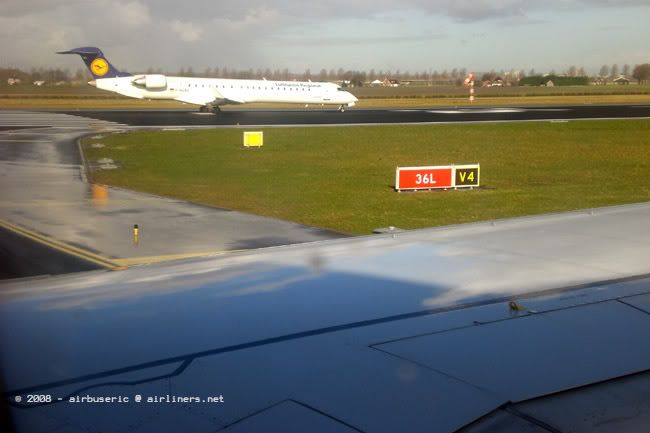 Lining up in sequence, runway 36L
Takeoff was powerful but I wasn't able to see much as I was facing sunlight. Lot of rainshowers in the vicinity now, and we almost caught one when we got airborne. We made a left turn towards the West and soon crossed the Dutch coastal line for a flight over the Northsea. Weather was fair again with some good views, and I really enjoyed it.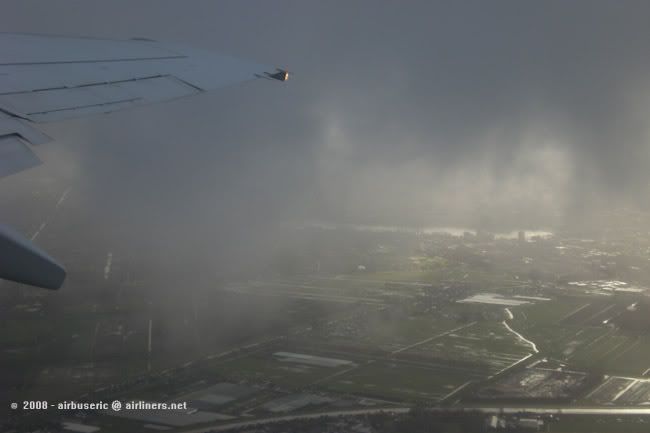 Airborne and into the clouds!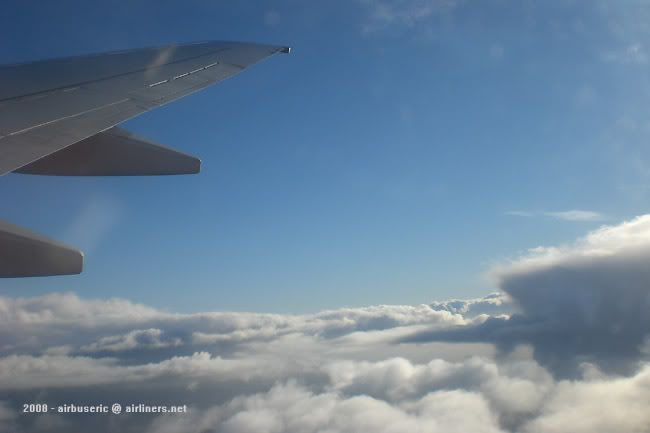 Beautiful views through my window …

Dutch coast line, ready to cross the North Sea
The male passenger in front of me (19F) was a bit annoying, to recline his seat about 20 times during the cruise. Why can't people just behave normal. Food and beverage service was announced and the crew came quickly through the aisle. I bought a Kenco cappuccino for EUR 2.50 (change in Euro is given as well), but the taste was not very good this time. The crew distributing the drinks were not very friendly, and didn't seem motivated at all.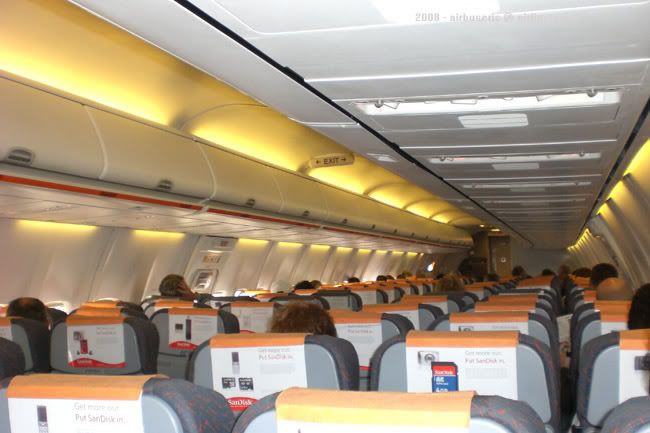 Cabin View on G-EZJJ. Note the 'Sandisk' advertisements on the seatbacks
Rest of the flight as calm and we soon entered UK airspace. Approach to Luton started and the crew collected all garbage, checked the cabin, and took their seats.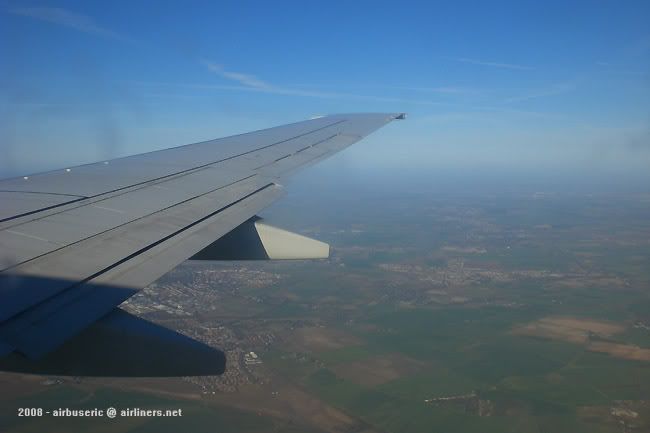 Approaching Luton Airport …
We got a very rough landing at last, on runway 26. I think the F/O needs some more experience, or it was just the difficulties for arriving aircraft at LTN ( I think this airport has some strange winds at this location ).
After vacating the runway we taxied over the bridge and parked in between several other easyJet aircraft. Our parking stand was number 8. I left the aircraft at the front door, using the aircrafts' stairs. And I was able to secure some more pictures.

Disembarking using the forward door

Bye Bye G-EZJJ: Leg no. 1 completed!
After entering the terminal, you'll pass the UK immigration service, were it was queuing a bit. After I cleared this check, I was having some free time at Luton. As the weather was still quite good, I decided for a walk outside. I noticed a dedicated (small) terminal for the Silverjet flights. For the remaining time I was able to photograph some traffic, while taxiing over the bridge. So I didn't become bored at all…
My next flight was on Ryanair. Yes, indeed the Low Fares Airline from Ireland. It has been some time back that I last flew them from Dublin to Eindhoven, on a B737-200! These oldies are long gone now, and I was hoping for a quite new –800. I walked towards the departure lounge, but at a certain checkpoint I was held because I couldn't use my homeprinted boarding pass. I asked what their problem was, and the officer told me that the Ryanair systems don't recognize these prints anymore since a few weeks! He told me to get it exchanged at the check-in counter. Huge queues at the 3 counters dedicated to FR, and I queued. But then I saw other people passing all queues and exchanging their printed boarding passes for another one without problems and complaints, so I decided also to do it this way. I was helped by a friendly groundstaff, but she told me that she only exchanged for Dublin flights. I had to use the left counter instead. So I walked to it, in front of all the other waiting passengers. Some were complaining to me, but come'on, it is not my fault that their systems make trouble. When I was served, the lady told me that she couldn't help me and I had to proceed to the Ryanair ticketdesk….
I got a bit upset now, with all these mis-information from the various staff. So I arrived at their desk and complaint about their communications. The lady behind the desk was not interested in it, and I got my new boarding pass now.
I thought, this is the real Ryanair experience. LOL! I quickly passed security, had to take off my shoes. An annoying security measure when you ask me. Let them clean the floor then as well! Walking in the dirt on my socks… OK, I was still able to buy a nice Vanilla Latte at Starbucks, accompanied with a Raspberry muffin. Then my flight also popped up on the screens with a departure gate mentioned so I decided to start my walk. The walk to gate 3 was rather long, and when I arrived at the very end of the terminal at LTN, I noticed a huge crowd of people waiting for my flight. An unimaginable amount of (crying) children, and a lot of older people. Probably travelling home after holidays around St. Patricks Day at March 17th or for Easter holidays.
Boarding was announced and I was able to board in the first groups of passengers, as I originally used online check-in. It was busy with people so I had to rush for my window seat. I noticed my aircraft on the tarmac in the latest colourscheme, bearing registration EI-DWE.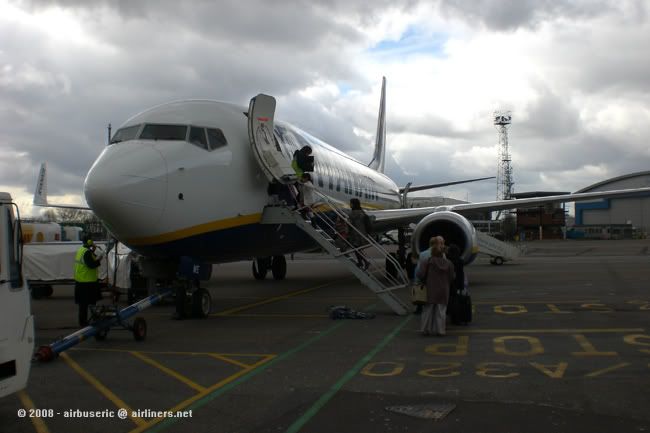 Rushing to get onboard EI-DWE …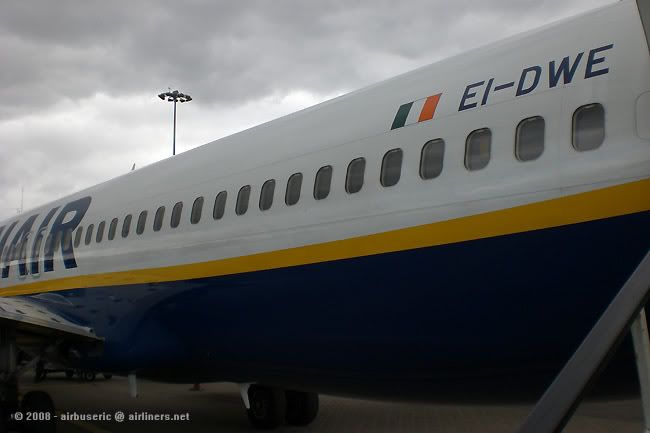 Using rear door again for boarding
LTN-SNN
Flight No.:
FR1323
Date:
19MAR08
STD:
1220
ATD:
1218
STA:
1340
ATA:
1330
A/C:
Boeing 737-800(WL)
Reg No.:
EI-DWE
Seat:
30A – Economy Class
My 33rd ride on the Boeing 737
-800
, and the first on this machine, so a new addition for my personal log! This aircraft is delivered to Ryanair on September 27, 2007 so still a young frame.
View Large
View Medium


Photo © Peter Tonna
Doors closed in time. Most of the seats were taken, load on this flight was close to 100%! So I can't imagine how it was possible to secure a fare of GBP 10.00 all-in just 2 weeks in advance…
Seats were the newest ones, darkblue plastic or leather covers, safety card glued on the seatback in front of me. No seatbag, no recline. And a small pitch on top of that. Lifevest above my seat, somewhere in the ceiling. Windows
are
having window blinds. Overhead bins in yellow tints, featuring ING banking advertisements.

Pitch and seating condition on the B737-800 such as this newer one: EI-DWE
Cabin crew were 3 females, 1 male, all from Spain. They did the safety demo quite professional. No jokes, and the voice of the purser was clear to understand.
Pushback on time, taxiing over the bridge again, but now in opposite direction, to runway 08. We had to do some backtracking on the runway before the aircraft turned in the correct direction for takeoff. Apparently we needed quite a lot of concrete to get in the air. When we got airborne, it was easily to feel the unstable conditions in the sky. Quite a bumpy climb. Sharp right turns to bring the aircraft into western headings. The aircraft levelled at the cloud base, probably due to the busy airspace around Northern London (Stansted & Luton).

In the air! Just after departing from Luton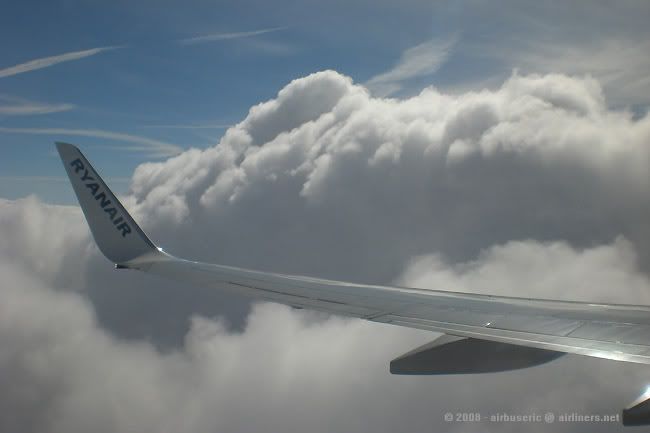 Again nice cloud formations outside
I started listening to my walkman SonyEricsson phone, because the children were still too noisy. After some minutes we climbed further.
During the cruise, crew sold some food & drinks. I didn't take anything on this flight, as I recently had my Starbucks experience. Overall the crew seemed nice and friendly. They also tried to sell the scratch cards on this flight. Also the captain came with inflight information, mentioning the flight altitude (32,000 ft) and visible on the left was the city of Waterford. He expected the flight further via Limerick and also an early arrival. He wished us an enjoyable stay in the West of Ireland.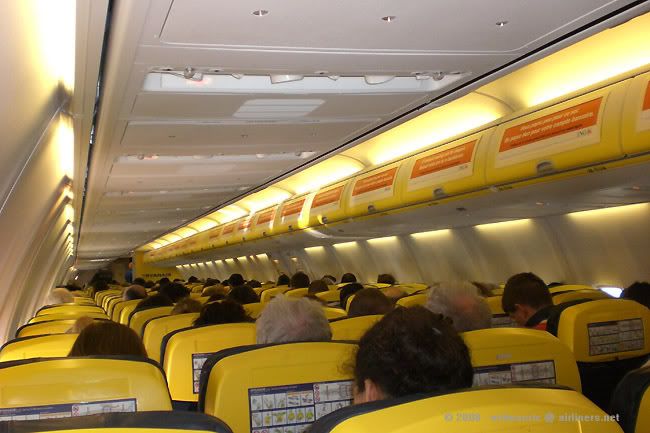 Cabin View on FR1323 LTN-SNN
The approach followed soon after, and crew checked the cabin (too) quickly. It offered me some good and nice views on the Irish landscapes below. We touched the concrete of runway 24 and while taxiing to the parking position a funny audiotape was being played on the speakers with the sound of yelling passengers and mentioning about 'another Ryanair flight arrived ON TIME', explicit mentioning their good on-time performance among other European airlines. I liked it for the moment, but it's not very professional, I think.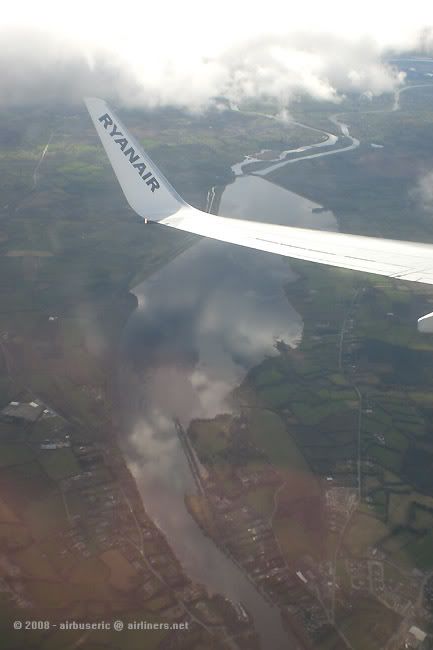 Nice views again during approach for Shannon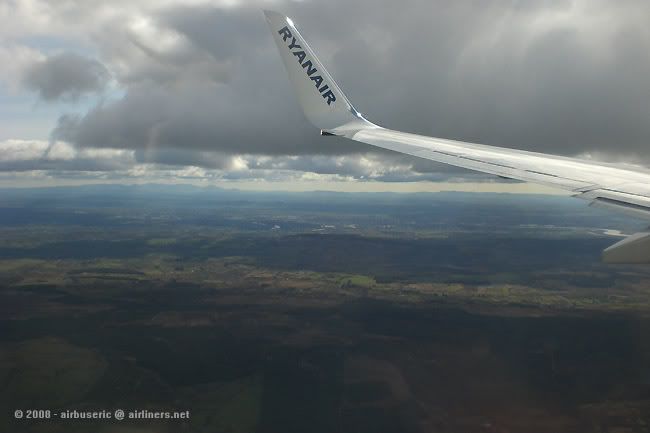 Final approach for Shannon…
Parking was on a remote stand about 200 meters away from the terminal. While the terminal was only used by a single Aer Lingus A330 bound for the US. We had to walk into the building ourselves, but I liked it, sun was shining and offering a good view on EI-DWE too.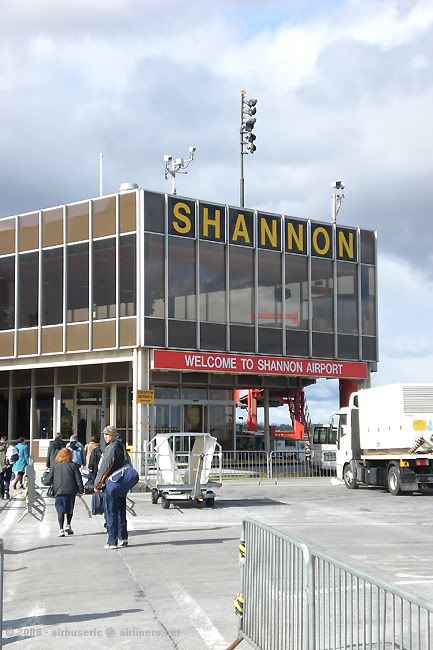 A longer walk from aircraft to terminal building. Pleasant enough though!
When I arrived in the old-fashioned terminal building, I decided to stay airside. So I turned left into the waiting lounge. I was the only passenger for that moment. The employees of the taxfree shop were re-stocking the shelves, and staff of US Customs and Border protection were just leaving their working place behind. No other US bound flights were announced for this day, so their work finished.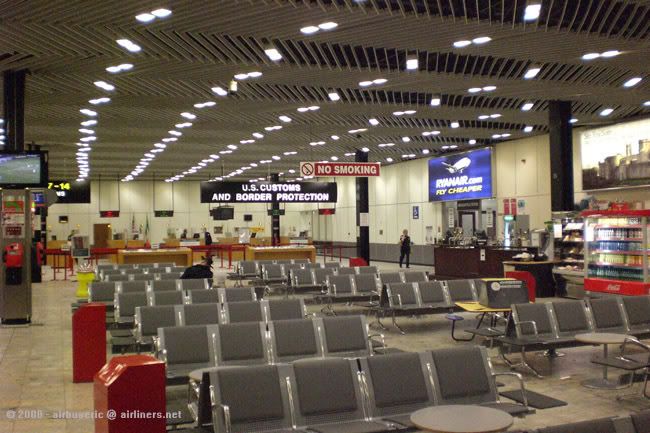 Passenger lounge at Shannon, with US Border Protection
I bought a softdrink and some souvenirs, and went for a comfortable seat with views on the apron. I had some chats with airport employees passing by. Overall, the airport was calm and no scheduled traffic at all, until my next flight departure.
Although I was surprised to see landing lights in a distance, and soon it became clear that a white/grey Boeing 737-300 was landing. I photographed it when it was taxiing in front of the building. Registation N34315…, a quick google search told me about this plane and the 'history'. It's thought to fly CIA rendition flights at strange places around Europe and the middle East. Interesting visitor for sure, especially to see it parked in the most far remote parking spot. About 30 minutes later, a USAF Gulfstream aircraft was seen departing. Do these 2 aircraft have close collaboration with eachother?
Later another plane landed, being an ATA Boeing 757-300 which parked at a fingergate. This was a simple refuelling stop. The aircraft was loaded with US Army troops.
I was expecting the same EI-DWE for my next flight (it didn't depart after my arrival), and I got a bit disappointed already. Too soon, as about 45 minutes before my departure another FR 738 landed, and another one!! Rush-hour LOL! It turned out to be EI-CSR for my next flight, one of the older frames in service with them nowadays (delivery was in 2001). It was in their older colours but the winglets had the new titles on starboard side, while the ones on the portside were plain white.

Ready to board EI-CSR, one of the older examples in Ryanairs' fleet
SNN-STN
Flight No.:
FR104
Date:
19MAR08
STD:
1620
ATD:
1617
STA:
1745
ATA:
1741
A/C:
Boeing 737-800(WL)
Reg No.:
EI-CSR
Seat:
25F – Economy Class
My 34th ride on a Boeing 737
-800
, and the first on this machine. Good for my logbook again!
View Large
View Medium


Photo © Jid Webb
Boarding was downstairs at gate 2. Not too many passengers waiting. I took my place in the priority boarding lane, which might be used when you've checked in online (Check n'Go). It was just a short walk to the aircraft and I boarded at the rear door again, giving the possibility for some pictures. I took a window seat, the other 2 seats in my row remained unused. Seats were the old styled ones, dark blue fabric, including seatpocket and yellow/red mixed headrestcovers. Pitch was fine, but not possible for little recline (although there is a button for it). Lifevest under my seat. Overhead bins with Ryanair's own advertisements. And finally; also this aircraft is having window shades.
Small detail; this aircraft was originally having 'eye-brow' windows for the cockpit, which are now covered for this aircraft, at least.
Cabin crew was the same as on my previous flight (LTN-SNN).
Door closed in time, and cabin was only about 40% full. Pushback was again a few minutes early. While taxiing to the runway the manual safety demo was performed.
We used runway 24 for takeoff, followed by a left turn, back heading for the UK. Flight was calm, comfortable and crew was friendly. I had some small money which just made it possible to spend on 1 scratch card, which was a loser: I didn't win anything.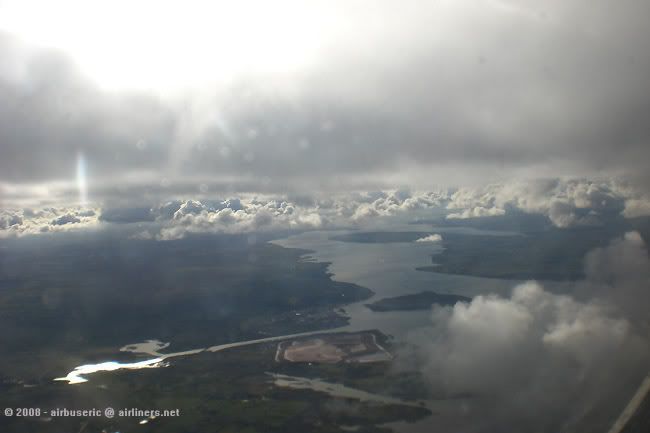 After take-off some good view on the ''River Shannon''
From the flightdeck we got some arrival information, including the weather forecast. Just a brief notice, nothing special. I noticed BHX airport below us, clearly visible.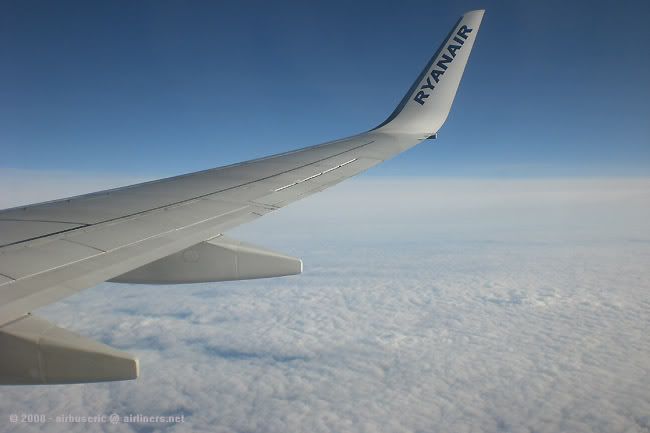 Just an inflight picture. I keep lovin' those winglets!!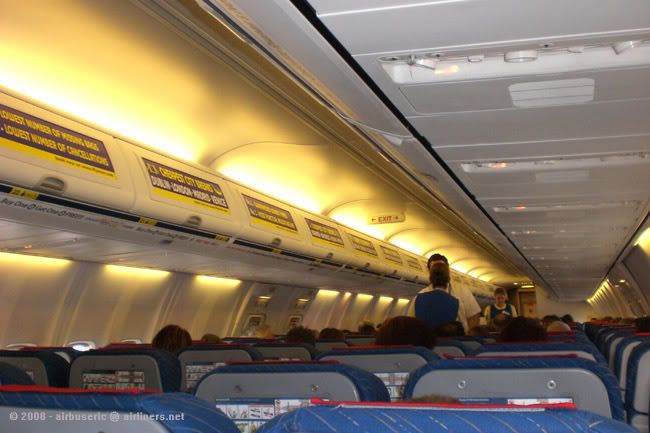 Cabin picture on EI-CSR, with the older interiour
The evening came, it got darker outside, when we approached Stansted Airport. We used runway 05 for landing, which was a smooth one. A lot of other traffic on the ground, including an EOS B752 and loads of Ryanair 737's! A short ride brought us on blocks at gate 63R. Disembarking using stairs, a short walk into the terminal building.

Ryanair Airport,…. Uhhhh Stansted Airport *sorry*
STN uses signs mentioned 'Connecting Flights' everywhere across the building, so I was hoping to be able to stay airside. I didn't want to wait for ages again for security at this airport. I know it's usually a mess here. But following all the signs, brought me finally with immigration control. I asked some staff, but I simply had to clear immigration, and needed to re-entry again via security control etc. Time-consuming and unnecessary nowadays, I think. Although the low cost airlines offer point-to-point transportation only, no connections possible, in the era of internet check-in, and handluggage only, it is basically possible to make short connections. Maybe some people will think about this idea in the future!
Good for me was that the queues for security were remarkable short now, and I cleared everything in about 10 minutes, including the 'at random' –take of your shoes and put them in the x-ray machine- control. I was one of their victims again…
I had my dinner at Pret A Manger that night. Bought some good sandwiches with Scottish salmon and a good mocha coffee.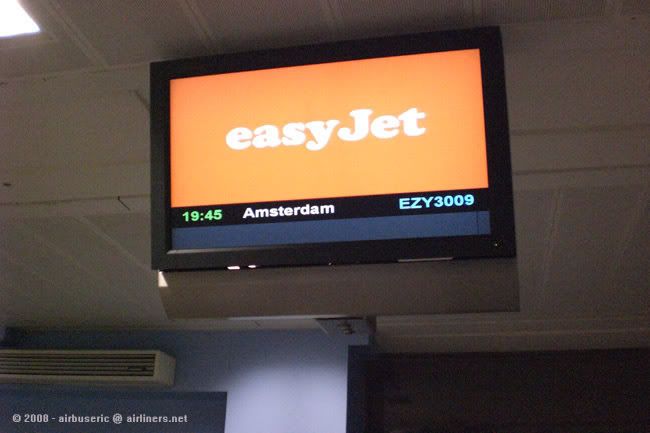 EZY3009 to Amsterdam on the screen
STN-AMS
Flight No.:
EZY3009
Date:
19MAR08
STD:
1945
ATD:
1944
STA:
2150
ATA:
2153
A/C:
Airbus A319
Reg No.:
G-EZEW
Seat:
17A – Economy Class
My 21st ride on an Airbus A319, and the first on this machine. Another good addition for my logbook!
View Large
View Medium


Photo © Remi Dallot
Boarding started at 19:25hrs, but long before a huge crowd of passengers was blocking all space in front of the gate. Mostly Dutch people,… yes that's 'our' behaviour. I feel really sorry for that to be honest. And some of them were complaining that there was no fingergate, some were complaining that it took so long etc. We left on time, and they paid maybe just peanuts. I really can't understand some people.
The groundstaff was polite and clear with instructions about the boarding. Normal boarding passes left line, Internet check-in on the right side. Clear to me, not for many others.
During the boarding I saw our loadsheet for a while, load: 151+1 (151 adults, 1 infant = 97% loadfactor)
I finally made it on board, via rear entrance. Boarding pass checked again at the door. I was able to secure a window seat at row 17. The cabin filled up quickly and people tried to seat with their friends or relatives, which was at the end not always possible anymore. The crew instructed them to take any free seat, as the plane was almost 100% fully booked. After this message, the process finished quickly and doors were closed. Pushback was also early on this flight.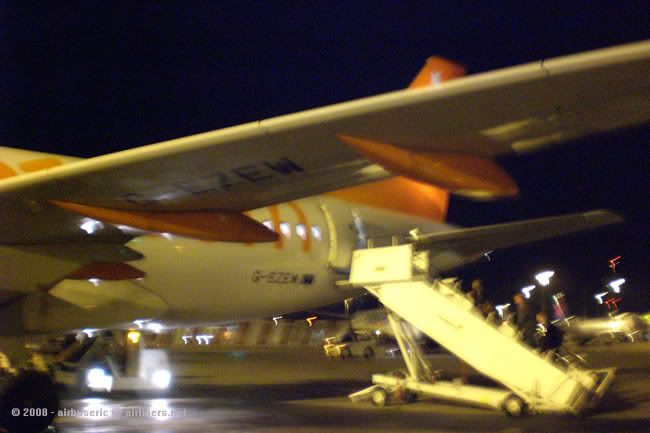 Boarding using rear entrance. Dark now, and photo conditions got worse…
Seats were the standard easyJet grey/orange ones, fabric covers. Pitch OK. Cabin was modern and in good shape, and clean.Crew was polite and friendly. We had to wait a while before it was our turn for takeoff. We followed a company A319, and an Air Berlin B737-700. Ryanair's 'Dreamliner' EI-DCL landed also, and then it was our turn. Runway use was 23 and we got airborne at 20.03pm.
After takeoff a sharp left turn, Stansted Airport clearly visible on the portside. Rest of the flight, at night, was uneventful. I decided to listen to some music and looked into the inflight magazine The cabin was noisy and it felt like being on a crazy holiday charterflight. Many people were talking loud. A lot of walking in the aisle.
About 20 minutes later we started decending for Schiphol Airport. Dutch coast was visible again. We flew around my village, and I was even able to see my own house (I live 1km from the runway 06 approach path). It has been a while ago that I got this runway for landing. Touchdown was at 21.44pm, just 41 minutes after takeoff.
Taxiing was rather long now to the H-concourse. Parking finally at 21.53pm, deplaning using stairs. I was disembarking rather late, row 17 is a bad position if you're in a hurry. So I didn't catch my bus… and had to wait for another 15 minutes for the next!
All together, these flights were a nice experience again. Happy as I was to score 4 new registrations again, my first time on a Ryanair –800 with winglets. In the past they flew all without at my flights.
It was sensational to see 2 of my flights nearly sold out! Never got that before on lowcost carriers. Overall, even Ryanair was fine and fun for flying, but ground service at LTN was just bad. Crew was pretty good and their fares as well. EasyJet was offering good fares too, and I was able to book separate flights in 1 reservation, saving on the creditcard fees. A big plus here for easyJet! About the performance time-wise: both carriers flew on schedule, or even ahead of it. Well done!
I hope you like the reading and I would like to read your comments
Thank you very much, and see you at my next report …
Cheers,
Eric