Feedback always appreciated.
Trip Report: 042
Flight Category: Y-IMR (See Report End)
Date: 12-Oct-07
SDT/SAT/Delay: 1800/1945+1/03:45 hrs
Flight:
Air New Zealand NZ 47
, 1502 miles
Routing: RAR-NAN
Aircraft: 733
Seat: Economy, 12A
I > Background:
Ok, I am back! After taking a sabbatical from trip reports for 5 months, here is the first installation from a series of trip reports. Mid-August to mid-November 2007 saw the craziest of my travel plans. 69 flights totalling 175,028 kms on 35 airlines, visiting 49 airports in 34 countries in all 6 continents. And, here is the best part … all of them were part of a 4 month break from life … pure vacation, and pure food for the mind, body, and soul. Together, they mounted to 21/2 round-the-worlds that was truly insane. As usual, all long haul flights were on Business or First Class; short haul was on Economy Class.
While there have been several TR's on NZ, I do believe this is the first time that their intra-Pacific island flights are going to be covered, and the first on the RAR-NAN run.
II > Pre-Flight:
a) Before Airport:
The geography and economics of the Pacific island states do not lead to a ton of intra-Pacific flights by "flag" carriers. Air NZ picks up a lot of these routes with "life-line" island hops either as triangular flights, or as continuation to flights to the U.S. The RAR-NAN flight provides a popular link between these 2 tourist meccas – especially now that Air Pacific does not ply the route anymore.
Booking for the flight was done using Air New Zealand's website at
www.airnz.com
. While simple to chose and book a flight, I was surprised at the lack of functionality to chose seats during or after the reservation. The only way to do so was call. Interestingly, both seat selection and check-in can be done for domestic flights.
b) At Airport:
RAR is a pleasant airport and has the hallmarks of Pacific touches such as open lounges, roaming birds and dogs, and an overall extremely low-key aura. Air NZ check-in at RAR was a breeze and I was pleasantly surprised with the dedicated Star Gold counter. It took all of 5 minutes and the pleasant agent was kind enough to meet my exit row request. Post check-in, immigration and security took all of 5 minutes, and I found myself to the open terminal/shopping area. Then another surprise happened … there was a Star Gold lounge! Yes. I made myself comfortable in the lounge and helped myself to the free alcohol and appetizers. 10 minutes prior to departure time, the lounge attendant announced final boarding. I lazily got up, bid her adieu, and walked to the aircraft parked 200 feet from the terminal … all while live music was being played in the background. This is how relaxed flying should be! Upon boarding, one of the members of the all-men FA crew greeted me as I made it to my seat 12A. Y Load (well, entire aircraft was Y) was around 70%.
Airport - External:
(Rarotonga International)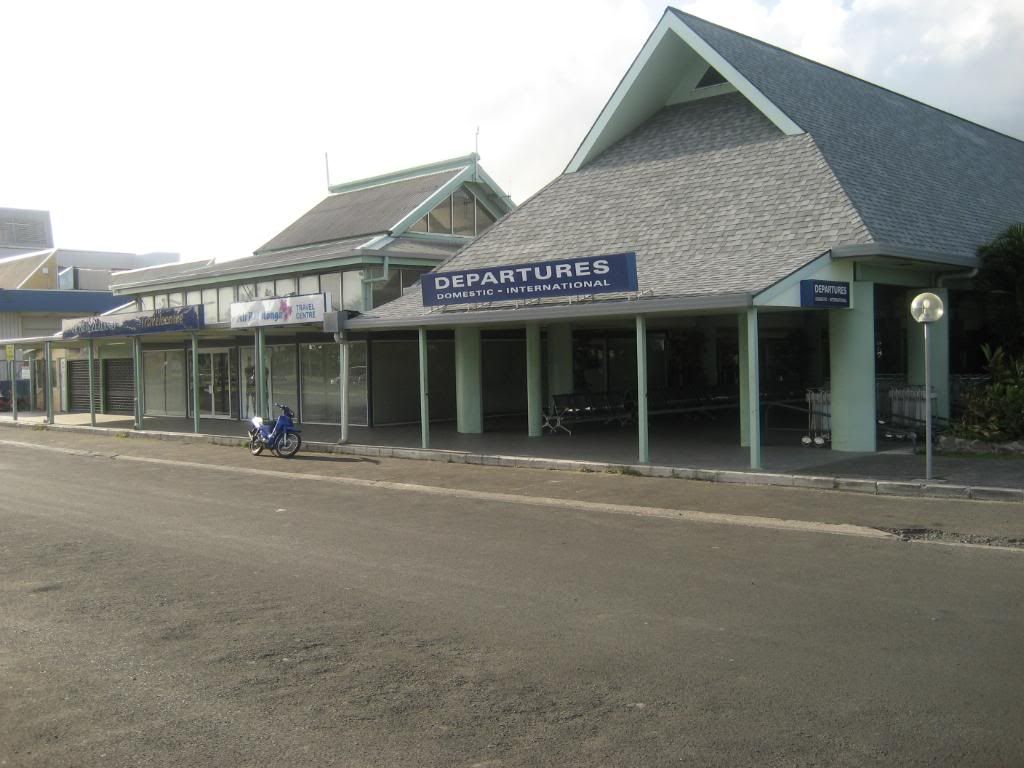 Check-in:
(Taken earlier. Star Gold is the first counter)
Airport - Internal:
(Terminal waiting area)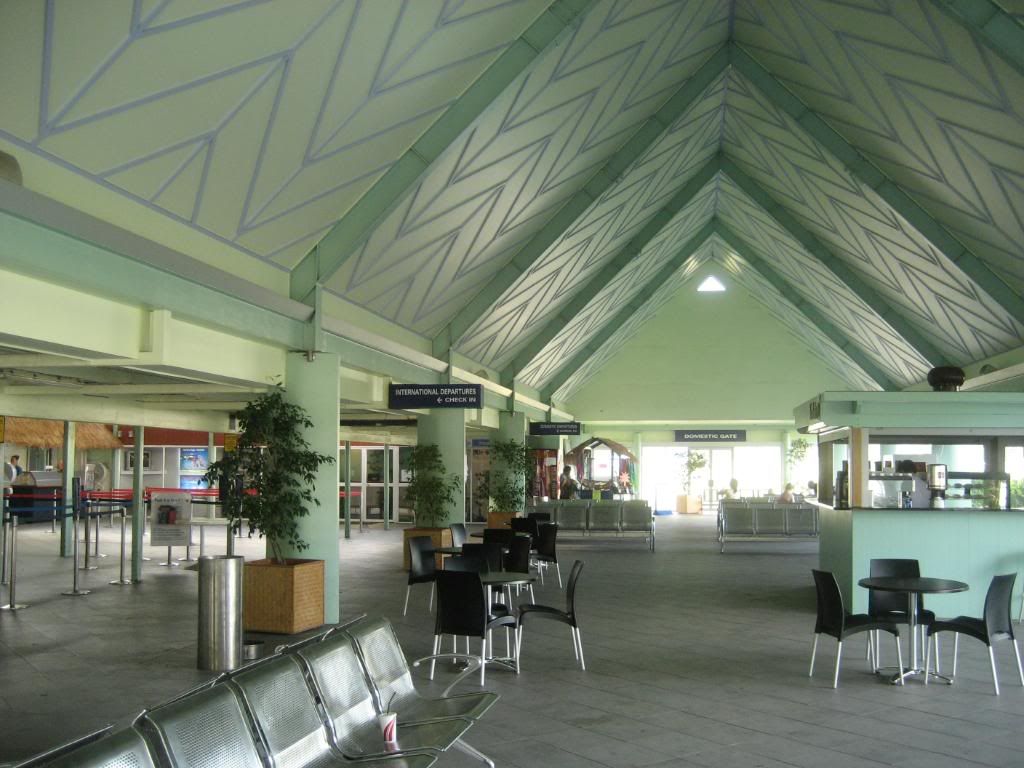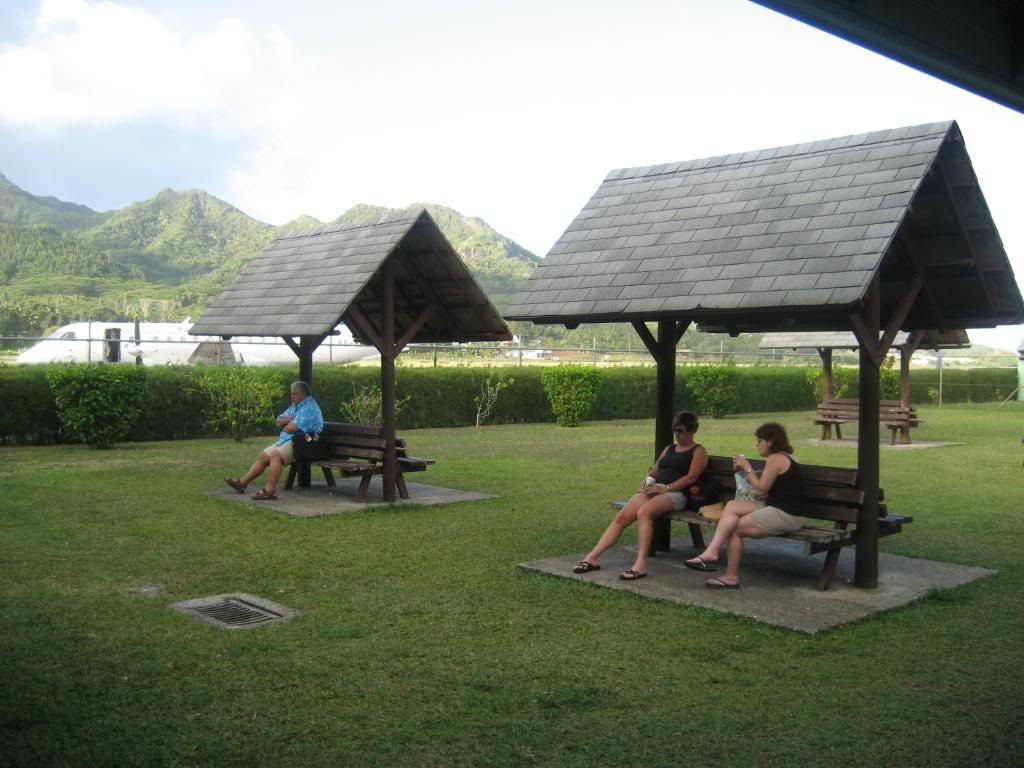 Scenes of the tarmac:
NONE
Lounge
(Super pleasantly surprised to discover a Star Gold lounge in RAR. Definitely one of the more random Star Gold lounges out there)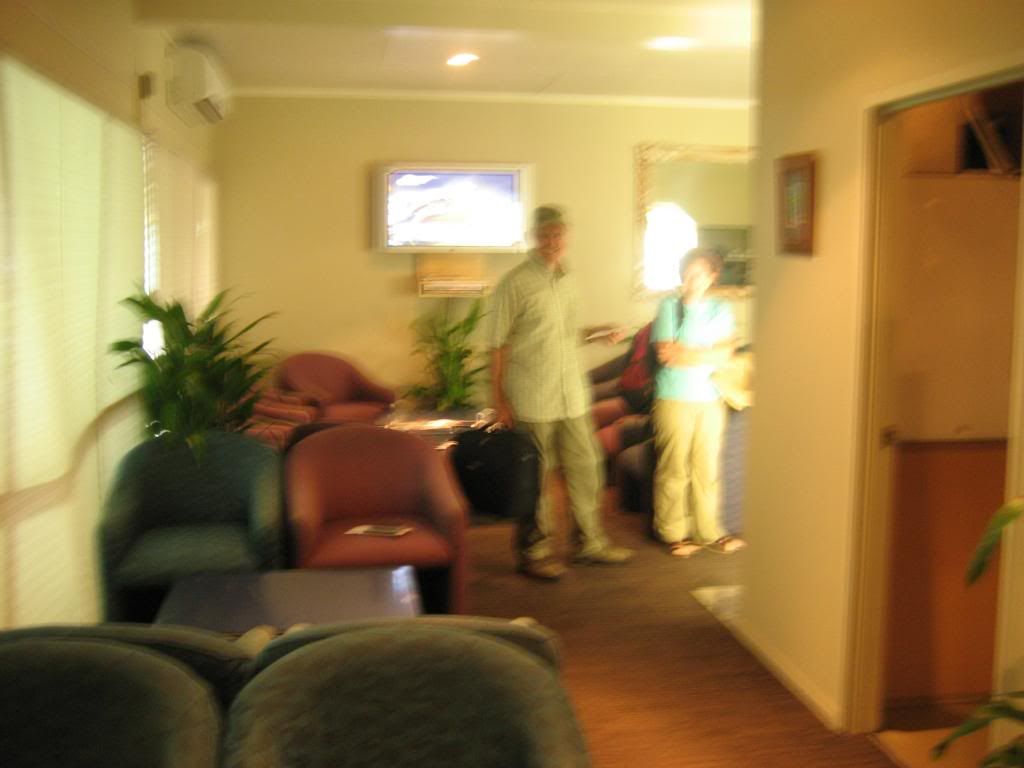 (Pre-flight wine)
Boarding:
(Stressful line)
(Soothing music)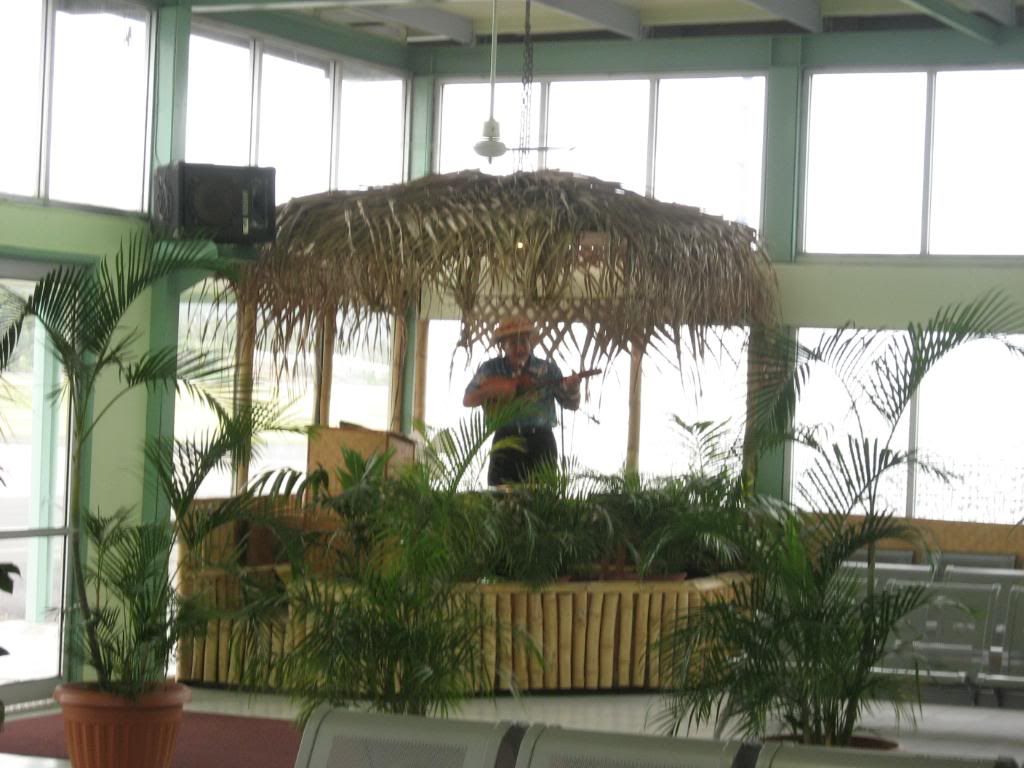 III> In-Flight:
a) Service Schedule + Impressions:
Dinner service after takeoff.
b) Aircraft + Seats:
NZ received the last production 733 (in 1999 AFAIR) and this showed in the relatively well maintained cabin. Also, it seemed like the aircraft had undergone recent upgrading and the seats were of good quality material. Leg room outside exit row was below industry average at a rather cramped 30". Moreover, recline was abysmal. In fact, had I not got the exit row seat, I would have been in for a very uncomfortable flight.
Aircraft:
(@RAR)
Views from Aircraft:
(International Terminal)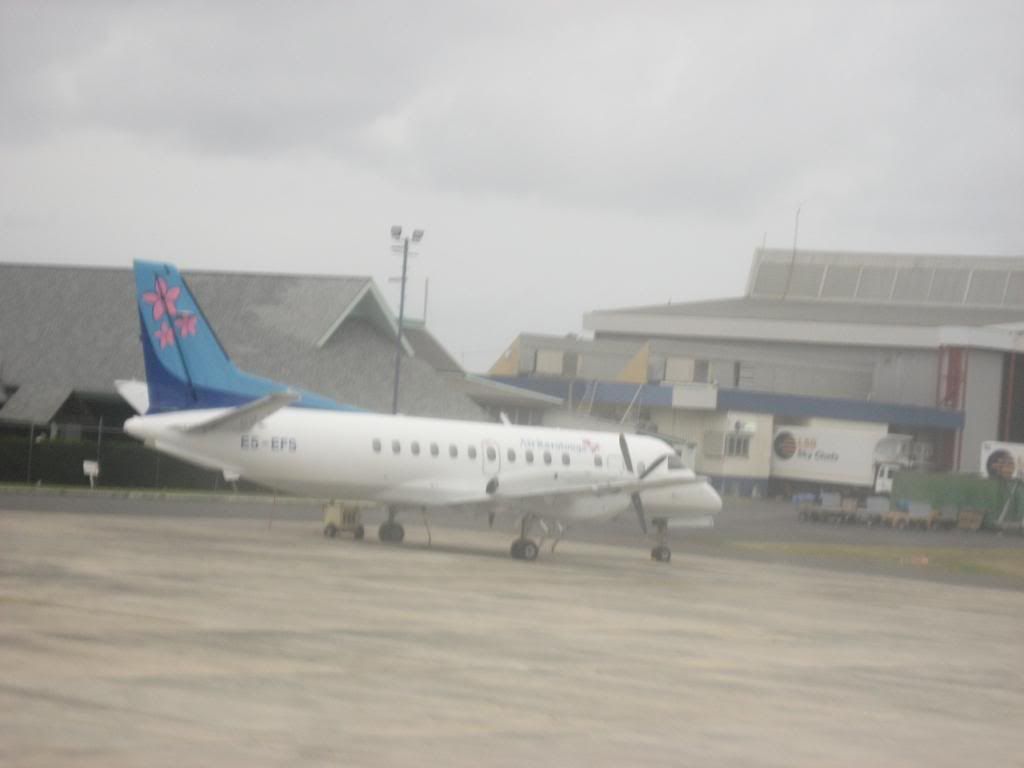 (Bye Bye Cook Islands)
Seat Leg-Room:
(Misleading exit row seat)
Seat Recline + Angle View:
(What recline?)
(Tight)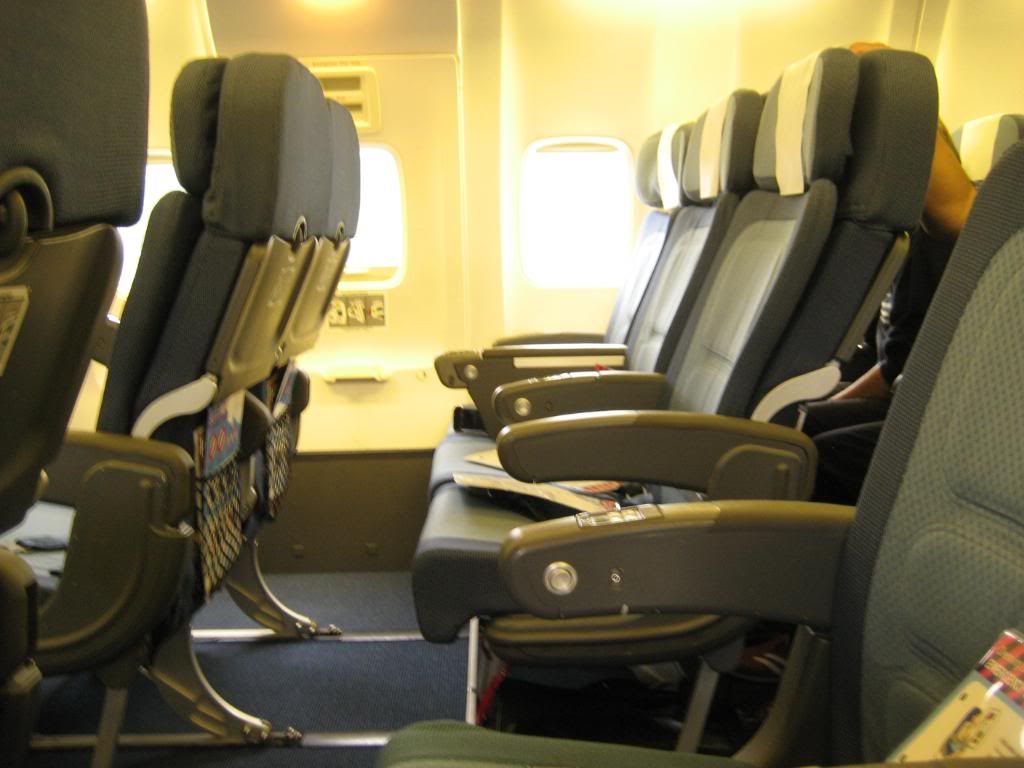 Cabin:
c) Meal + Beverage:
A few hours into the flight, dinner was served. There were no choices and the offering for the flight was a stuffed chicken quiche type thing with some random rice thrown in. Very unimaginative, and equally not tasty. The "dessert" was some kind of vanilla crème with chocolate sprinkles. Again, not appetizing at all. Thankfully, the gin and tonic (free) helped drown the rather poor catering.
(Not so appetizing dinner)
d) Inflight Entertainment:
Movie shown on old CRT overheads. Feature film on the flight was "No Reservations." In-flight magazine a good read.
(In-flight magazines, Boarding Passes, etc.)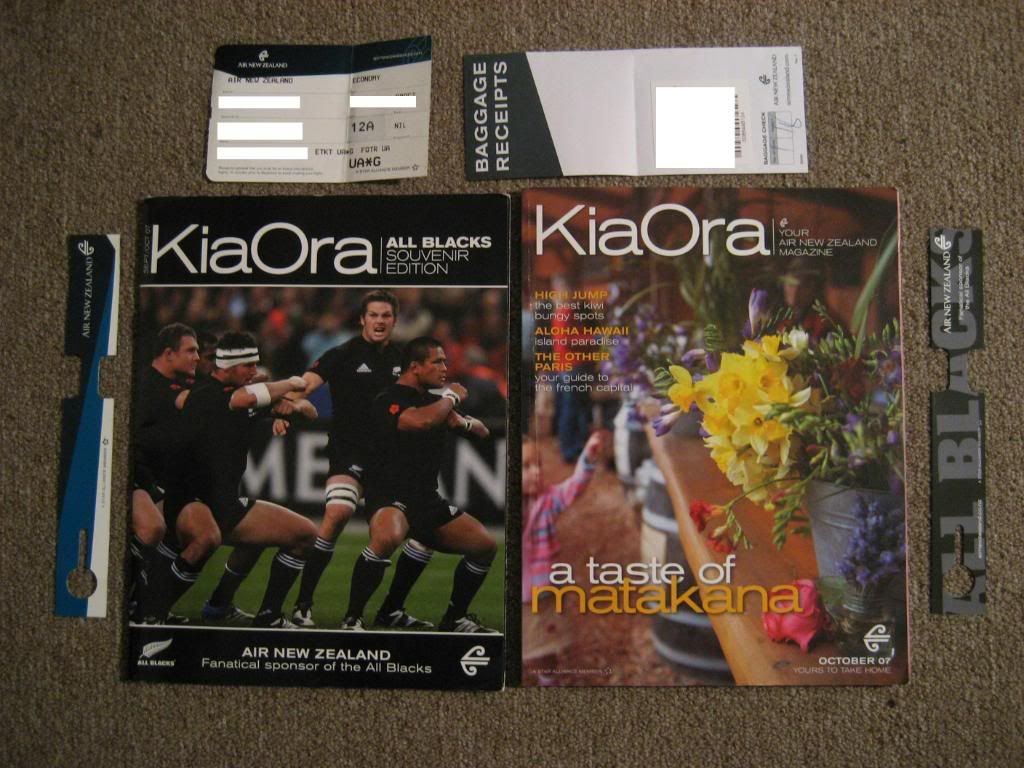 e) Crew:
Having usually had good NZ crew on J sectors between the U.S. and New Zealand, I was EXTREMELY disappointed at the bitter matronly crew onboard the flight. I don't think I ever saw them smile even once … service was abrupt and terse. After the meal service, they disappeared to the back. There were no apologies for the several catering snafus, and I noticed several call requests not attended to. Very poor. I am hoping that this is a one-off as Kiwis are usually very good hosts.
IV> Post-Flight:
Nadi (pronounced Nandi) airport is chaotic after Rarotonga … though, that is an unfair statement perhaps as all airports would feel so! No but seriously, immigration took over an hour to proceed and the Fijian immigration personnel were plain rude. After baggage claim, I was hounded by taxi and tour touts. I wanted to go back to Cook Islands immediately.
(Parked next to an Air Pacific 744 – I still find their livery very "wanna-bee")
(They just did not have the passion of the Cooks)
V> Impressions + Scores:
Rather disappointed with NZ service on the leg. While I can overlook the shoddy IFE on a mid-range 4 hour flight, there is no excuse for poor cabin crew. A good group of cabin staff could compensate for the stingy seat comfort, and for the poor meal. Given the lack of choices in the Pacific, I would probably be bound to take NZ on such a routing. However, given a choice, I would have no problem switching. Without any choices, I would probably fly with them in the future.
1.0 > RESERVATION: 7.0
2.0 > CHECK-IN: 9.0
0.5 > LOUNGE: 6.0
0.5 > BOARDING: 8.0
2.0 > SEAT: 3.5
0.5 > AIRCRAFT OVERALL AMBIENCE: 7.0
1.0 > IFE: 6.0
2.0 > CREW: 2.0
2.0 > FOOD: 5.5
0.5 > BEVERAGES: 7.0
0.5 > A.KITS + OTHER FREEBIES: 5.0
0.5 > DISEMBARKATION: 5.0
1.0 > ON-TIME RECORD: 9.0
WEIGHTED OVERALL IMPRESSION (WOI): 5.79
(Pre-flight WOI of all reviews: 6.42)
* Weighted Overall Impression (WOI) aligns scores with what matters most. Weights are indicated alongside each category.
(Scores are based on comparison with other airlines in THAT class of service – No comparison of Y vs. F for example)
VI> Other Trip Reports:
PREMIUM:
8.11:
Aeroflot (33): MOW-DEL: 09/2007
8.04:
Korean Air (40): NRT-ICN: 10/2007
8.02:
Delta Airlines (24): JFK-CDG: 08/2007
7.82:
Singapore Airlines (06): EWR-SIN: 09/2006
6.93:
Delta Airlines (18): SEA-JFK: 11/2006
6.81:
Air Canada (17): ICN-YYZ: 10/2006
6.70:
KLM: EBB-AMS: 08/2007
5.75:
Singapore Airlines (16): CCU-SIN: 10/2006
4.42:
Air France: CDG-JNB (25): 08/2007
ECONOMY: Long + Medium:
7.38:
Avianca (01): BOG-LIM: 07/2006
6.26:
Jet Blue (21): CUN-JFK: 02/2007
6.06:
Air Canada (04): YYZ-YVR: 09/2006
5.89:
USA 3000 (19): PUJ-BDL: 01/2007
5.79: Air New Zealand (42): RAR-NAN: 10/2007
5.46:
TAP Air Portugal (23): OSL-LIS: 05/2007
ECONOMY: Short
8.56:
Paramount Airways (38): BLR-MAA: 09/2007
8.24:
Kingfisher (14): IXA-GAU: 10/2006
7.87:
Indian (34): BOM-MAA: 09/2007
7.72:
Alliance Air (13): CCU-IXA: 10/2006
7.57:
Indian Airlines (10): DEL-CCU: 09/2006
7.23:
West Jet (03): YYC-YVR: 09/2006
7.15:
JetLite (37): BOM-GOI: 09/2007
6.70:
Spice Jet (09): CCU-DEL: 09/2006
6.58:
Air Tran (02): EWR-MDW: 08/2006
6.44:
CO Micronesia (39): ROR-YAP: 10/2007
6.33:
Kenya Airways (29): NBO-BJM: 08/2007
6.31:
Indigo (15): GAU-CCU: 10/2006
6.22:
Air Link Swazi (28): MTS-JNB: 08/2007
6.22:
Air India (36): HYD-BOM: 09/2007
6.13:
Adam Air (07): SIN-CGK: 09/2006
6.13:
Air Rarotonga (41): RAR-AIT: 10/2007
6.00:
Transairways (27): INH-MPM: 08/2007
5.95:
Air Canada (05): ALB-YYZ: 09/2006
5.85:
SAS Norge (22): OSL-AES: 05/2007
5.81:
LAM Mozambique (26): JNB-MPM: 08/2007
5.69:
Air Deccan (12): IXZ-CCU: 10/2006
5.67:
Rwanda Air Exp (30): KGL-NBO: 08/2007
5.07:
Go Air (35): MAA-HYD: 09/2007
4.96:
Valuair (08): CGK-SIN: 09/2006
4.74:
Fly 540 (31): MYD-LAU: 08/2007
4.33:
Viva Aerobus (20): ELP-MTY: 02/2007
4.11:
Air Sahara (11): CCU-BOM: 09/2006
(Note on Codes: Y – Economy, J – Business, F – First :: I/D – International/Domestic :: SR/MR/LR – Short/Medium/Long Haul)
VII> Other Pictures:
It has now become customary to share some other connected aviation images, and some images of the place I went to. Hope everyone enjoys!
(Arrivals form to Fiji. No wonder they have all kind of racial strife and such unfair treatments … look how they distinguish their own races … sorry, not a fan)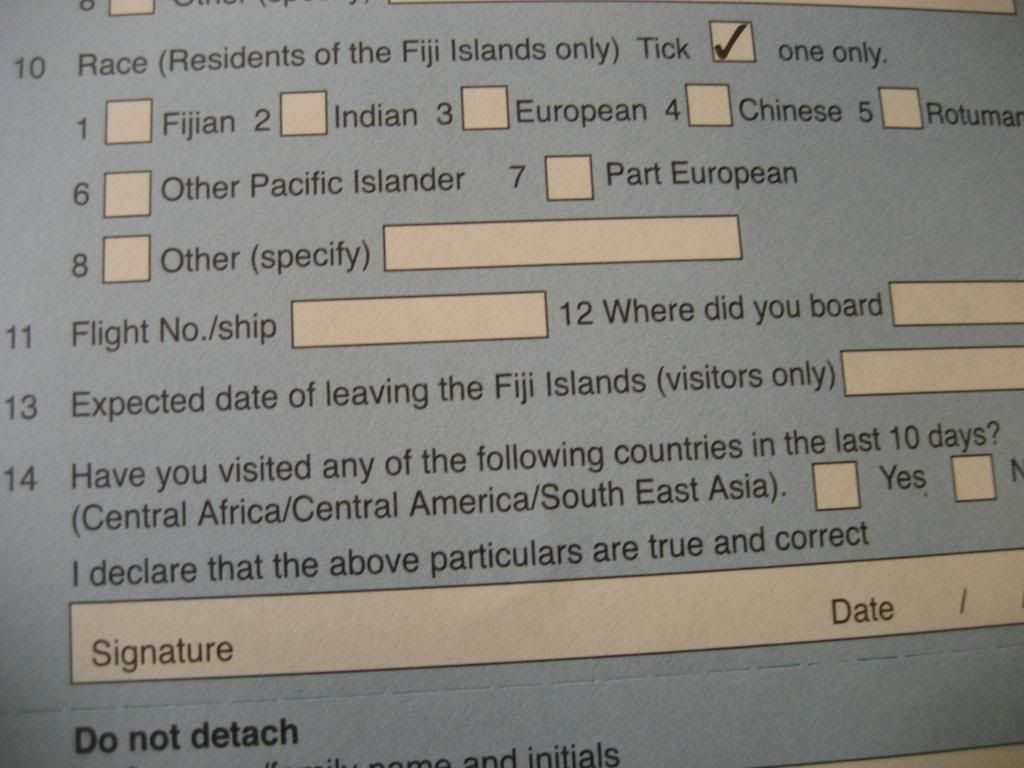 (Earlier in the trip, I went to AKL … found AKL airport outside unique)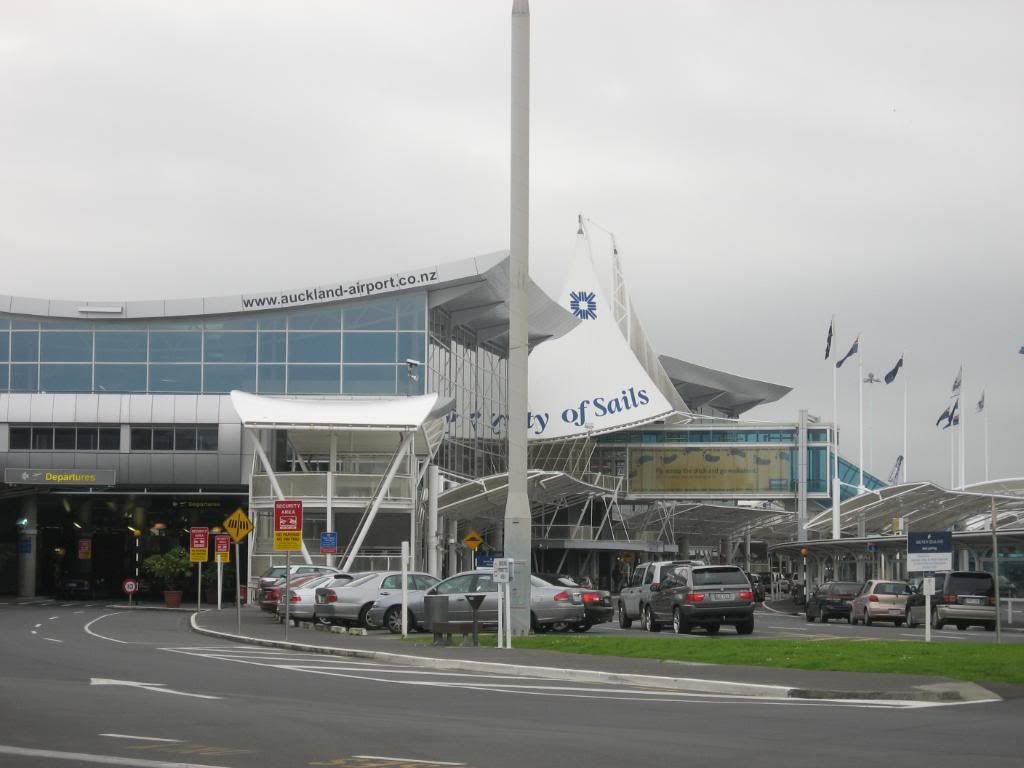 (AKL departure board)
(NZ Premium Check-in area, lounge, etc.)
(AKL Airport Inside)