When my parents suggested I flee the bitter cold of Minnesota to meet them in California, so we could visit my 96 year old grandmother in the Palm Springs area, I did not need to be convinced. I wouldn't be able to spend as much time in California as my parents, so we agreed they would pick me up at LAX, we would drive to Palm Springs together, then I would fly home from PSP.
Fares in / out of PSP tend to be at least $100 higher than elsewhere in Southern California, but I was able to find a fare of $304 round trip on United. The flights I chose would also enable me to log Ted, and (believe it or not) also log DEN. In almost 450,000 miles of flying, I'd never been through DEN - I'm one of the few people who logged IWD, ZSA, SAB, and ORK before logging DEN!
My parents asked me to arrive at LAX no later than 10 AM, so we could have an early lunch with one of my uncles in Irvine, before driving to Palm Springs. To get to LAX by 10 AM, I had to book a 6:20 AM flight out of MSP. Super Shuttle told me I should expect a 3:55 AM pickup, and the bus arrived ten minutes early - fortunately, I'd set my alarm for 3:30 AM!
The mood on the van, which was filled with other travelers fleeing Minneapolis' cold, was very upbeat despite the early hour, and the mood going through security was almost euphoric - everyone was thrilled to be leaving -3 behind. I cleared security at 4:25 AM, and was the first person to gate E6, where I read for 1 1/2 hours before boarding.
The very deserted North Star Crossing at MSP
A Compass Embraer 170 at the D Concourse
My 737 is on the left
8 Mar 2008 UA 497 MSP-DEN 737-322 N342UA Seat 19F
When I reached my seat, I was surprised to see several more rows behind me. UA 497 is normally operated with a 737-500. The door was closed a few minutes ahead of the scheduled 6:20 AM departure, and pushback was a minute or two early, too.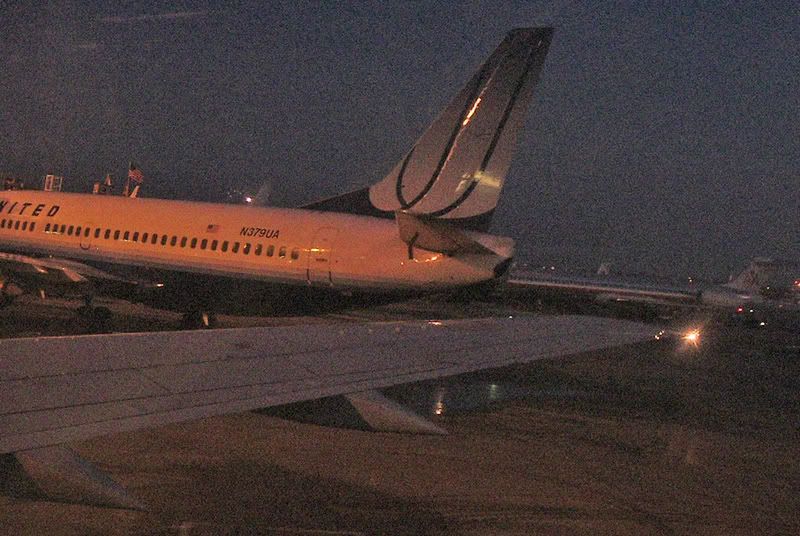 Pushing back from E6
Fortunately, we did not need to be de iced, and headed directly for Runway 17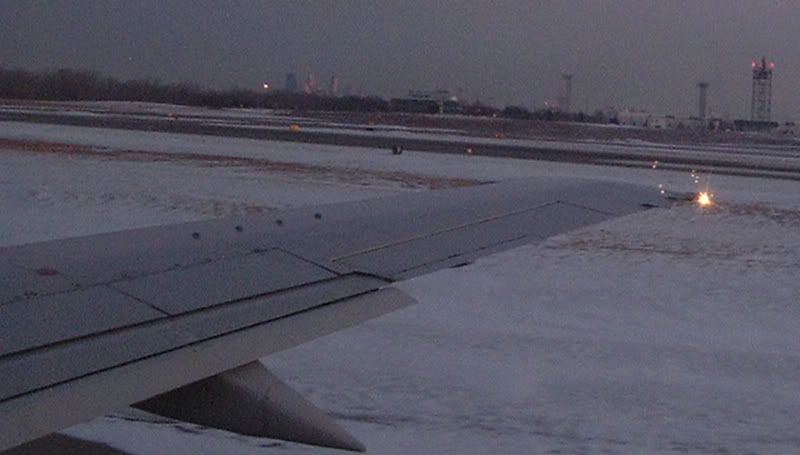 Taxiing to Runway 17. Downtown Minneapolis is faintly visible on the horizon.
We were cleared for takeoff as soon as we reached the runway.
After rotation, we passed just east of IKEA and the Mall of America, before turning southwest over the Mississippi River.
After we turned, I was able to get a nice view of Downtown Minneapolis, and the Chain of Lakes south of downtown, but it was a little disconcerting to have them much further away than if we'd taken off on 30R.
We left the Twin Cities behind after we passed Lake Minnetonka, and the 680 miles between MSP and DEN are so sparsely populated that I didn't recognize anything on the ground for the rest of the flight. Fortunately, Channel 9 was on, so I was able to have a general sense of where we were. As we grew closer to DEN, I could hear controllers sequencing UA 1235 from DSM behind us; I'd be connecting to the next leg of UA 1235, DEN-LAX.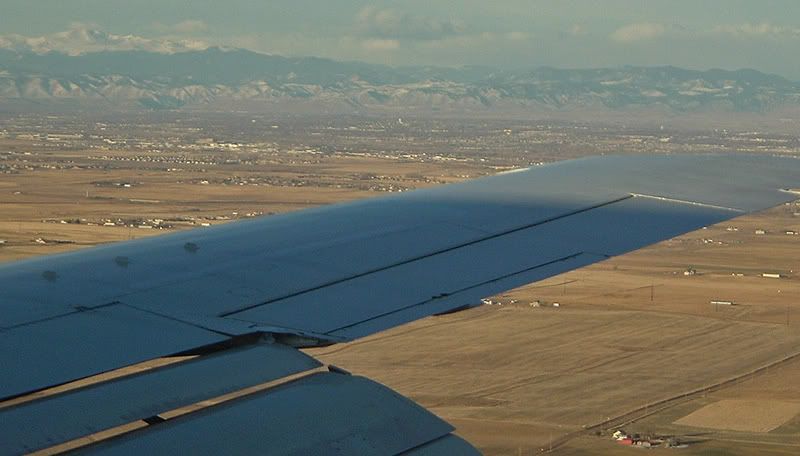 With the front range of the Rockies ahead of us, we began our descent into DEN. As mentioned earlier, this was my first trip to DEN (I never visited the old Denver Stapleton, either). I was amazed at how remote DEN is from populated areas. Even on final approach to 16L, we did not pass over any buildings more substantial than a farmhouse or two.
After landing, we had a brief taxi to gate B31. Our on time departure from MSP, and the absence of de icing delays, brought us into DEN about 20 minutes ahead of the scheduled 7:28 AM.
After I deplaned, I walked from Gate B31 to Gate B48, which is longer than it seems because I had to walk through the mid concourse subway stop / food court.

I wish I was taking this 777, but....
I was taking this 737 instead.
8 Mar 2008 UA 1235 DEN-LAX 737-322 N382UA Seat 21F
The door was closed right on time, at 8:25 AM.
We had to wait for one other aircraft to push back, before it was our turn. While I was on the ground, DEN switched from a southbound to a northbound / westbound runway pattern. Channel 9 was on again, and I enjoyed listening to the harried ground controller as he sequenced a string of United and Frontier aircraft coming off their gates for the taxiways at the west end of the terminal complex. When we reached the southwest end of the airport, we only had to wait for two or three other aircraft, before it was our turn on Runway 25. After takeoff, we followed the extended centerline of the runway out of town, passing just north of downtown Denver.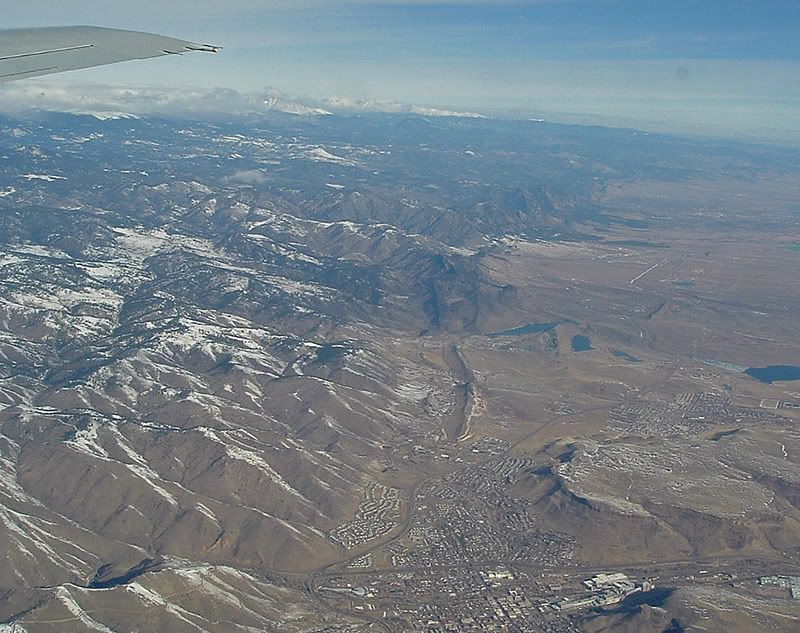 Crossing the front range of the Rockies
Just past the front range, it clouded up, and stayed cloudy until west of the mountains. I had chosen a seat on the right side of the airplane in hopes of seeing the Grand Canyon, and I was not disappointed!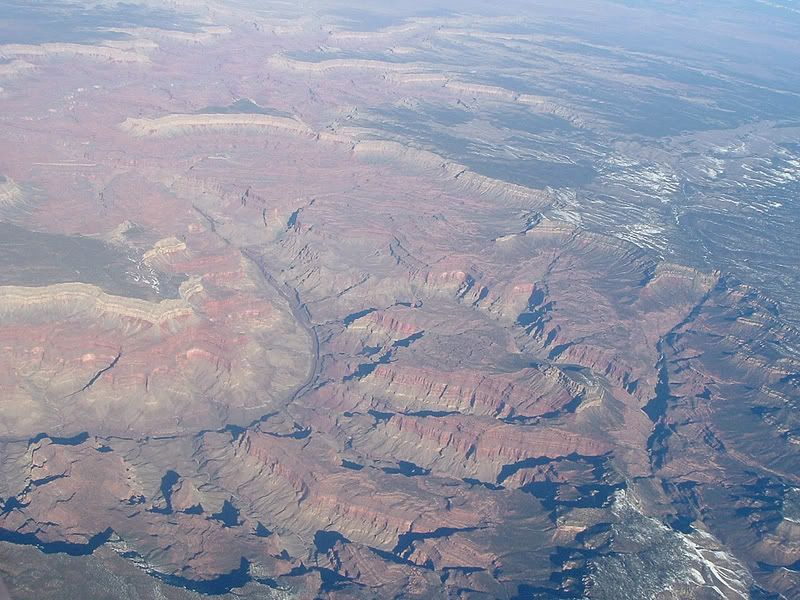 We passed a few miles south of the canyon, which was bathed in the strong light of early morning sun, highlighting the geological striations beautifully. For more than ten minutes, everyone on the right side of the airplane oohed and aahed over the view. It was so clear that after we left the canyon behind, I could see the Colorado River all the way northwestward to Lake Mead.
We finally crossed the Colorado River for good over Lake Mohave, with the spires of Las Vegas visible on the horizon. We began our descent soon afterward, entering the Los Angeles Basin through the gap between Mount San Gorgonio and the mountains around Big Bear Lake. After we entered the LA Basin, we made a gentle right turn, to intercept the extended centerline of LAX's runways. It was clear in Los Angeles, with just a thin layer of smog, so I was able to have a beautiful view of: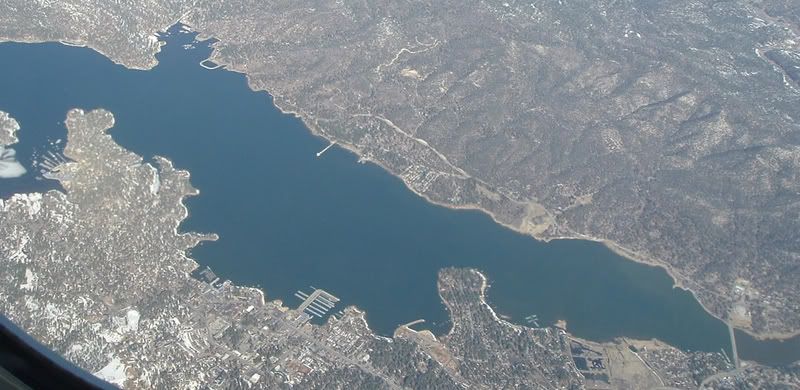 Big Bear Lake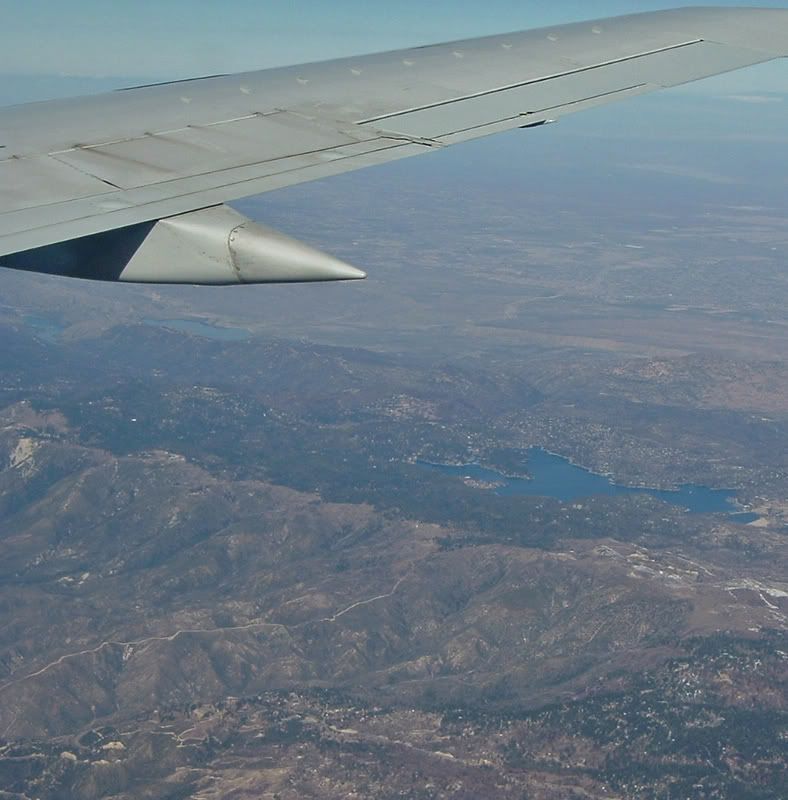 Lake Arrowhead
Mount Wilson
Downtown Los Angeles
Our landing was on 24R. After landing, we went all the way to the west side of LAX, crossing the overpass near the remote international gates, before taxiing all the way back to Satellite 7

The Imperial Hill, which I prefer to the In n Out Burger on the other side of the airport for spotting
We were assigned Gate 71A, the closest gate to the terminal. We had to hold near Satellite 6 for a few minutes before the alley between Satellite 6 and Satellite 7 opened. We pulled into Gate 71A almost right at the scheduled arrival time of 9:58 AM.
When we pulled into the gate, I called my parents, to see where they were. They had spent the night in Sherman Oaks, and unsurprisingly, were stuck in traffic on I-405. I asked them to call me when they entered the terminal complex, then headed for the pedestrian walkway between T7 and T6 to spot.

My 737 is the aircraft closest to the terminal, boarding passengers for SEA.
While I spotted, I saw a DL 777 land, and thought nothing more of it until I returned home, and discovered that I'd seen the first landing of The Delta Spirit.
Around 10:30 AM, my parents called to say they were at Century and Sepulveda, so I headed out to the curb to meet them. If I'd known they were going to be late, I would have taken a later flight, so I could have gotten more sleep.....
[Edited 2008-04-03 17:48:55]
[Edited 2008-04-03 17:50:44]
[Edited 2008-04-03 17:53:16]
[Edited 2008-04-03 17:56:39]
[Edited 2008-04-03 17:57:53]