Feedback always appreciated.
Trip Report: 043
Flight Category: Y-DSR (See Report End)
Date: 14Oct-07
SDT/SAT/Delay: 0610/0640/00:30 hrs
Flight:
Pacific Sun FJ 5
, 26 miles
Routing: NAN-SUV
Aircraft: ATR
Seat: Economy, FS
I > Background:
Ok, I am back! After taking a sabbatical from trip reports for 5 months, here is the first installation from a series of trip reports. Mid-August to mid-November 2007 saw the craziest of my travel plans. 69 flights totalling 175,028 kms on 35 airlines, visiting 49 airports in 34 countries in all 6 continents. And, here is the best part … all of them were part of a 4 month break from life … pure vacation, and pure food for the mind, body, and soul. Together, they mounted to 21/2 round-the-worlds that was truly insane. As usual, all long haul flights were on Business or First Class; short haul was on Economy Class.
I believe this will be the first TR on A.Net on Pacific Sun, the wholly owned subsidiary of Air Pacific.
II > Pre-Flight:
a) Before Airport:
Pacific Sun is the "new" wholly owned subsidiary of Air Pacific. It was formed in 2007 to provide primarily feeder service to Air Pacific's international operations and provides flight in competition with Air Fiji across the breadth of the Fiji islands.
Booking for the flight was done using Pacific Sun's website at
www.pacificsun.com.fj
. For a small airline, I was pleasantly surprised at the simple clean and well functioning website. It was much better than some majors out there. Within minutes, I had my tickets selected, purchased, paid, and e-tickets generated. Of course, there was no ability to change/edit/modify my booking; and none to select or change seats, but for such short island hoppers, does it really matter?
b) At Airport:
NAN domestic is a small airport. Check-in is done along with international operations. I woke up at 05.00am, was dropped at the airport at 05.20am, and had cleared check-in formalities by 05.30am. All very efficient. The check-in staff member was friendly and informed me that FJ has free seating on all its domestic flights. Post check-in, there is a café where I picked up some breakfast and waited for the boarding announcement. After the boarding announcement is made, you go through one door through one X-Ray machine (security) to the tarmac! I did so as well. Upon boarding through the rear stairway, I was greeted by 2 crew members. Y Load (well, entire aircraft was Y) was around 16%!!!
Airport - External:
(Nadi Airport)
Check-in:
Airport - Internal:
(Domestic Terminal)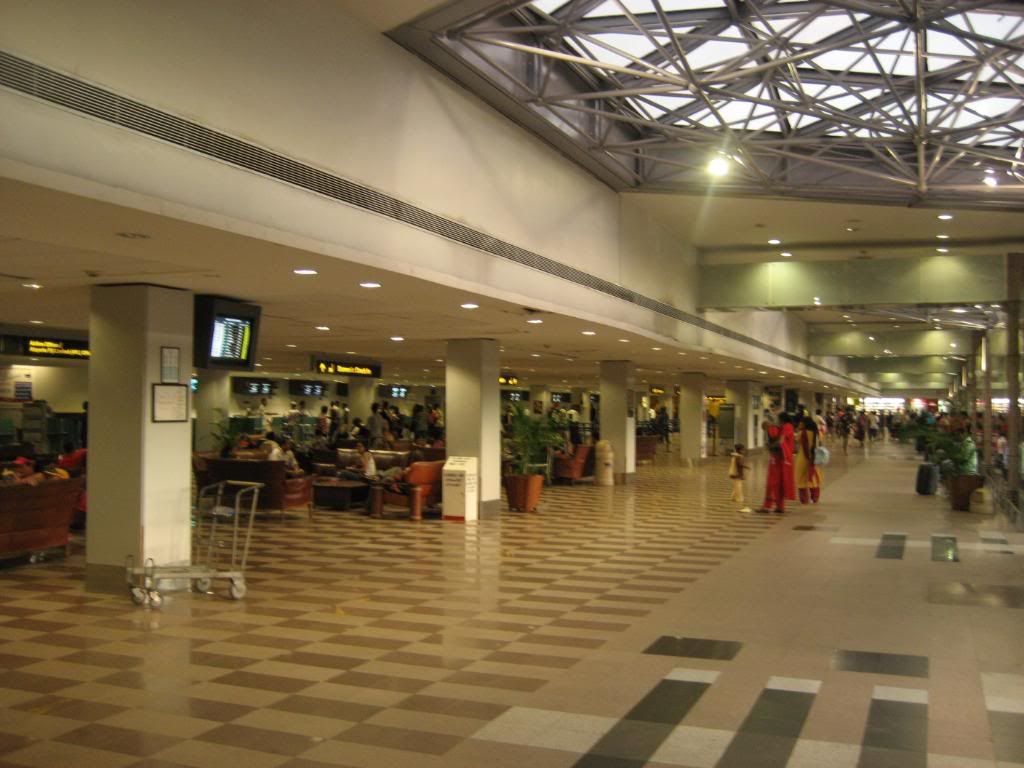 (I have many "issues" … one of them is an obsession with flight displays)
Scenes of the tarmac:
NONE
Lounge
NONE
Boarding:
NONE
III> In-Flight:
a) Service Schedule + Impressions:
Juice after take off.
b) Aircraft + Seats:
FJ uses a ATR for the routing. The aircraft seemed well maintained and I found pitch and recline for a turbo-prop to be very generous. On the other hand, the cleanliness of the lavatory left much to be desired.
Aircraft:
(@SUV)
Views from Aircraft:
NONE
Seat Leg-Room:
Seat Recline + Angle View: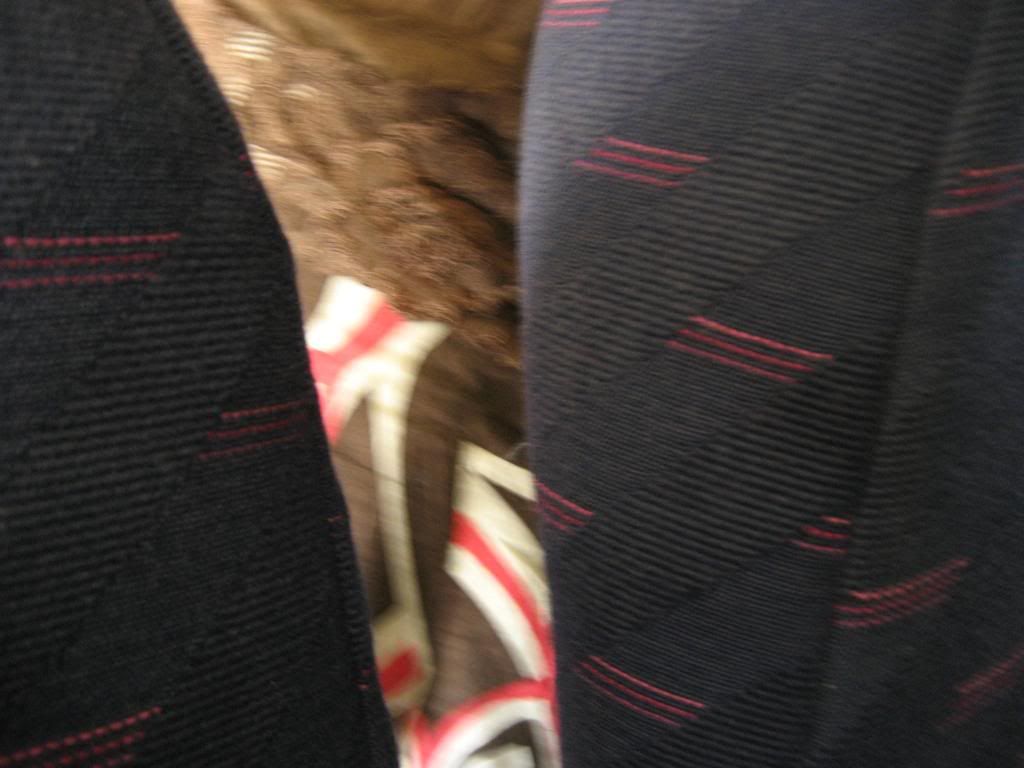 Cabin: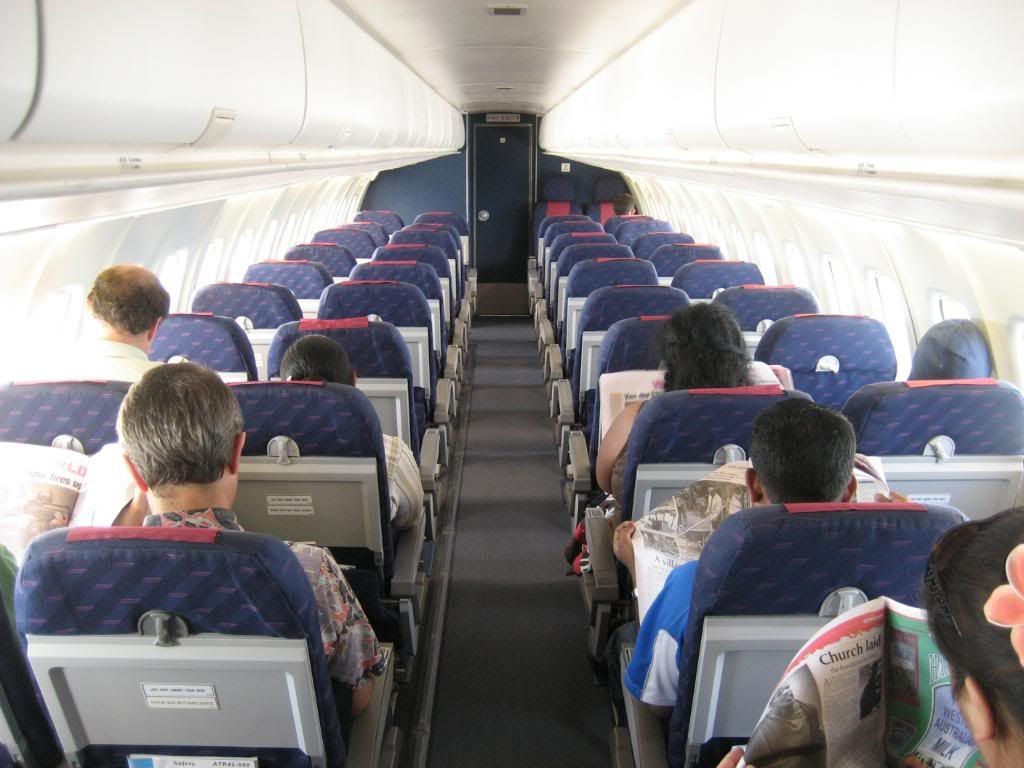 c) Meal + Beverage:
For a 26 mile flight, I was surprised (and pleased) with the orange juice service.
(Juice and Newspaper – pleasant surprise for 29 miles flight)
d) Inflight Entertainment:
In-flight magazine of Air Pacific provided a read to complement the beautiful views through the window. Distribution of newspapers was a good touch for such a short flight.
(In-flight magazines, Boarding Passes, etc.)
e) Crew:
The two attendants displayed warmth and carried out their limited responsibilities with dignity and efficacy.
IV> Post-Flight:
Suva airport is positively comatose. Upon landing, my eyes were immediately fixated on the parked Convair CV-580. Besides that, there really is no attraction. Bags are brought to a claim belt on the tarmac, and then you walk outside to the waiting taxis.
(Taxiing in next to the Convair)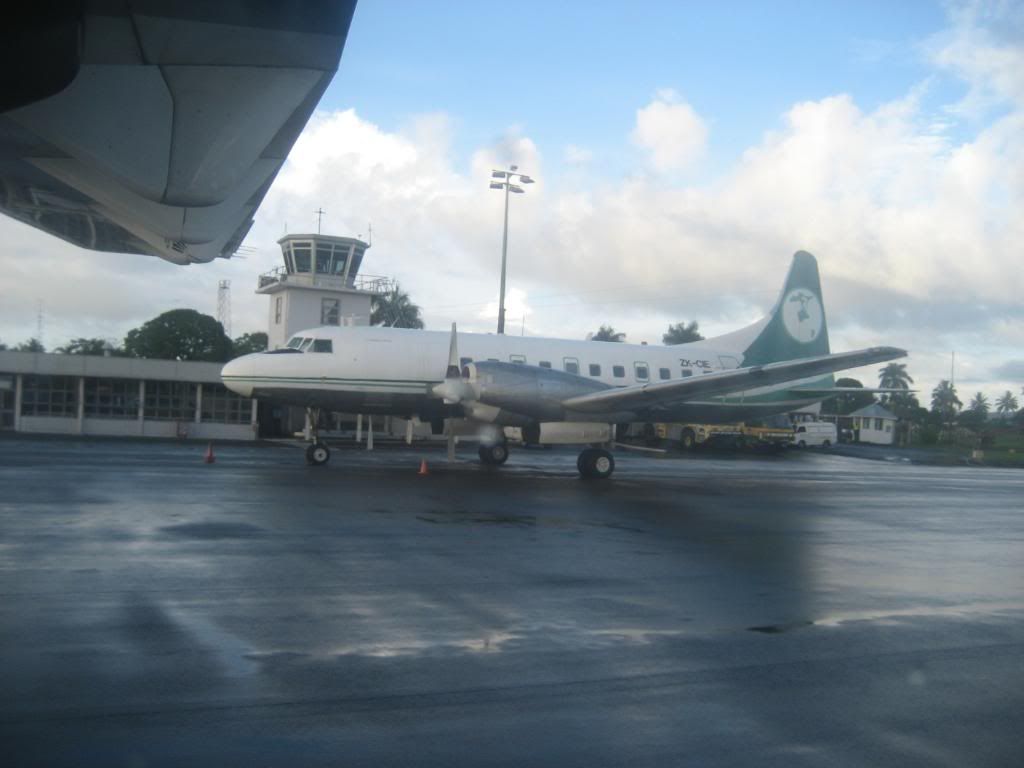 (SUV airside)
(Beautiful CV 580)
(SUV baggage claim)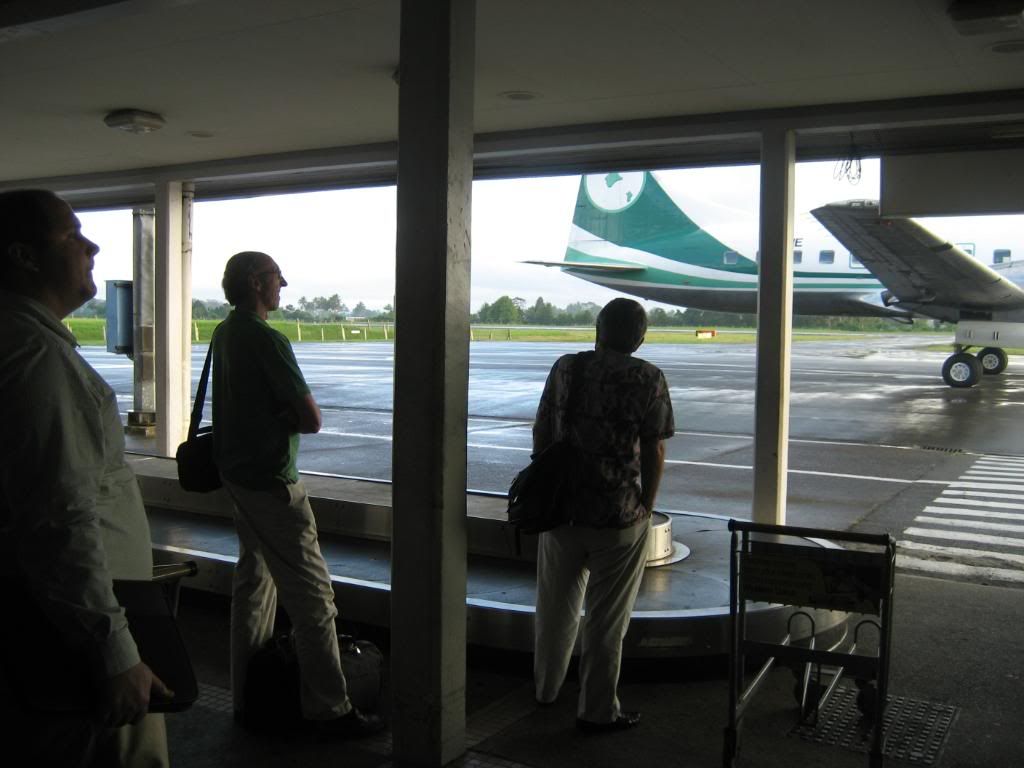 (SUV Airport)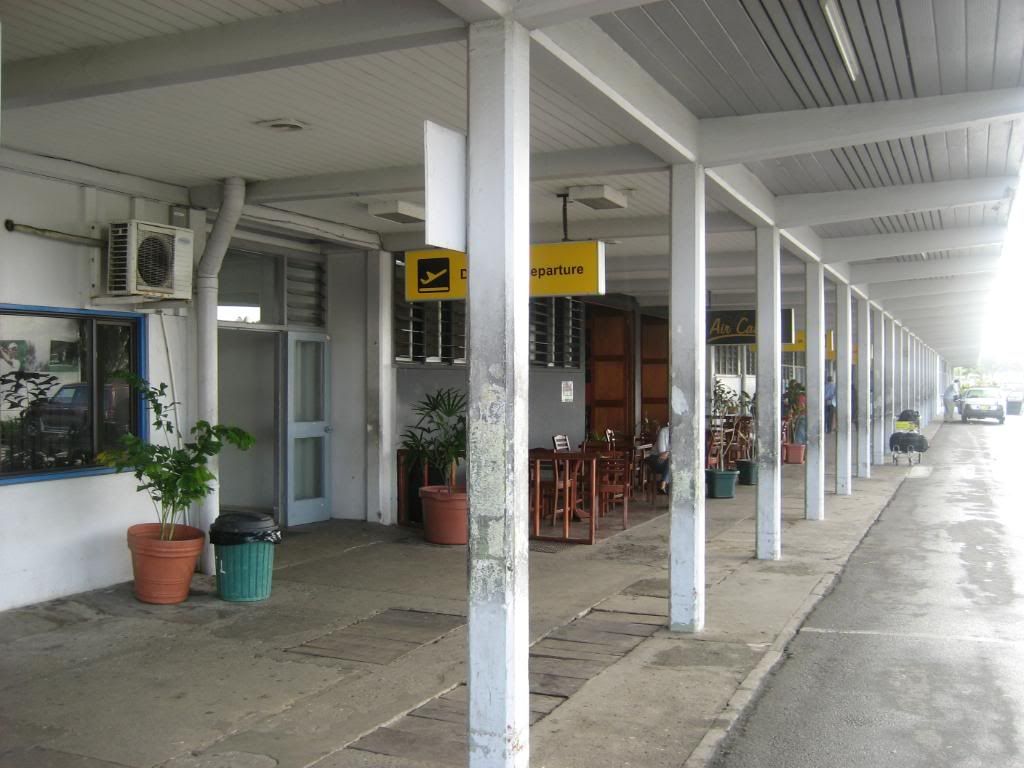 V> Impressions + Scores:
Short flight with low expectations. I wanted to share with A.Netters a Pacific Sun flight in Fiji rather than make a comprehensive evaluation. For the routing in question (26 miles), FJ provided all one can ask for … clean, efficient, on-time service, connecting seamlessly to an international network. Small touches like the orange juice, the newspaper, and the great crew are a definite bonus. Definitely would fly with them again.
1.0 > RESERVATION: 7.0
2.0 > CHECK-IN: 9.0
0.5 > LOUNGE: N/A
0.5 > BOARDING: 8.0
2.0 > SEAT: 7.0
0.5 > AIRCRAFT OVERALL AMBIENCE: 6.0
1.0 > IFE: 5.0
2.0 > CREW: 7.0
2.0 > FOOD: 1.0
0.5 > BEVERAGES: 5.0
0.5 > A.KITS + OTHER FREEBIES: 5.0
0.5 > DISEMBARKATION: 8.0
1.0 > ON-TIME RECORD: 8.0
WEIGHTED OVERALL IMPRESSION (WOI): 6.07
(Pre-flight WOI of all reviews: 6.41)
* Weighted Overall Impression (WOI) aligns scores with what matters most. Weights are indicated alongside each category.
(Scores are based on comparison with other airlines in THAT class of service – No comparison of Y vs. F for example)
VI> Other Trip Reports:
PREMIUM:
8.11:
Aeroflot (33): MOW-DEL: 09/2007
8.04:
Korean Air (40): NRT-ICN: 10/2007
8.02:
Delta Airlines (24): JFK-CDG: 08/2007
7.82:
Singapore Airlines (06): EWR-SIN: 09/2006
6.93:
Delta Airlines (18): SEA-JFK: 11/2006
6.81:
Air Canada (17): ICN-YYZ: 10/2006
6.70:
KLM: EBB-AMS: 08/2007
5.75:
Singapore Airlines (16): CCU-SIN: 10/2006
4.42:
Air France: CDG-JNB (25): 08/2007
ECONOMY: Long + Medium:
7.38:
Avianca (01): BOG-LIM: 07/2006
6.26:
Jet Blue (21): CUN-JFK: 02/2007
6.06:
Air Canada (04): YYZ-YVR: 09/2006
5.89:
USA 3000 (19): PUJ-BDL: 01/2007
5.79:
Air New Zealand (42): RAR-NAN: 10/2007
5.46:
TAP Air Portugal (23): OSL-LIS: 05/2007
ECONOMY: Short
8.56:
Paramount Airways (38): BLR-MAA: 09/2007
8.24:
Kingfisher (14): IXA-GAU: 10/2006
7.87:
Indian (34): BOM-MAA: 09/2007
7.72:
Alliance Air (13): CCU-IXA: 10/2006
7.57:
Indian Airlines (10): DEL-CCU: 09/2006
7.23:
West Jet (03): YYC-YVR: 09/2006
7.15:
JetLite (37): BOM-GOI: 09/2007
6.70:
Spice Jet (09): CCU-DEL: 09/2006
6.58:
Air Tran (02): EWR-MDW: 08/2006
6.44:
CO Micronesia (39): ROR-YAP: 10/2007
6.41: Pacific Sun (43): NAN-SUV: 10/2007
6.33:
Kenya Airways (29): NBO-BJM: 08/2007
6.31:
Indigo (15): GAU-CCU: 10/2006
6.22:
Air Link Swazi (28): MTS-JNB: 08/2007
6.22:
Air India (36): HYD-BOM: 09/2007
6.13:
Adam Air (07): SIN-CGK: 09/2006
6.13:
Air Rarotonga (41): RAR-AIT: 10/2007
6.00:
Transairways (27): INH-MPM: 08/2007
5.95:
Air Canada (05): ALB-YYZ: 09/2006
5.85:
SAS Norge (22): OSL-AES: 05/2007
5.81:
LAM Mozambique (26): JNB-MPM: 08/2007
5.69:
Air Deccan (12): IXZ-CCU: 10/2006
5.67:
Rwanda Air Exp (30): KGL-NBO: 08/2007
5.07:
Go Air (35): MAA-HYD: 09/2007
4.96:
Valuair (08): CGK-SIN: 09/2006
4.74:
Fly 540 (31): MYD-LAU: 08/2007
4.33:
Viva Aerobus (20): ELP-MTY: 02/2007
4.11:
Air Sahara (11): CCU-BOM: 09/2006
(Note on Codes: Y – Economy, J – Business, F – First :: I/D – International/Domestic :: SR/MR/LR – Short/Medium/Long Haul)
VII> Other Pictures:
It has now become customary to share some other connected aviation images, and some images of the place I went to. Hope everyone enjoys!
(View of Fiji's inland taken during flight)
[Edited 2008-04-05 09:07:07]