Hi Everyone at Airliners.Net
I have been a long time viewer of this website for quite some time and decided to take out a Premium Membership so I can add my own Trip Reports and contribute to the website. Below is my first T.R so please feel free to point out where I could have improved and give me some tips and advice.
Saturday, 5th April 2008
After waking up and getting my car washed this morning I was sitting at home very bored watching "Airline" on television when I decided to read some trip reports on airliners.net. It was a beautiful sunny, clear day in Sydney -- perfect conditions for flying. Before I knew it I was looking on the various Australian carriers websites (Virgin, JetStar and Qantas) to see if there were any cheap flights available leaving in the next few hours. I found DJ SYD-OOL for $59 and JQ OOL-SYD for $79 and considering the flights had only hours to go before take off I figured they were good prices and before I knew it I was holding the booking confirmations in my hand!
I drove my nice clean car to Wolli Creek railway station (2 stops from the Domestic Airport) and found a park. I caught the train from Wolli Creek to Domestic Terminal and walked up to the ticket counter at the station to pay the access fee. It was $11 for a return ticket (half price as I'm still a student).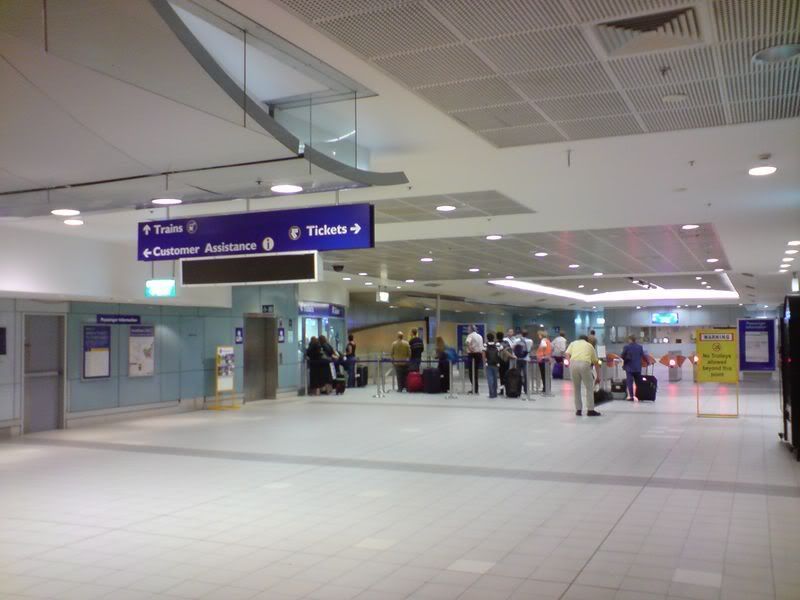 I walked upstairs from the railway station to the domestic check-in counters and asked for a re-print of my boarding pass as I had checked in online but could not print my boarding pass at home. With a smile the Virgin Blue lady who served me checked my photo-id, handed me my boarding pass and wished me a pleasant flight.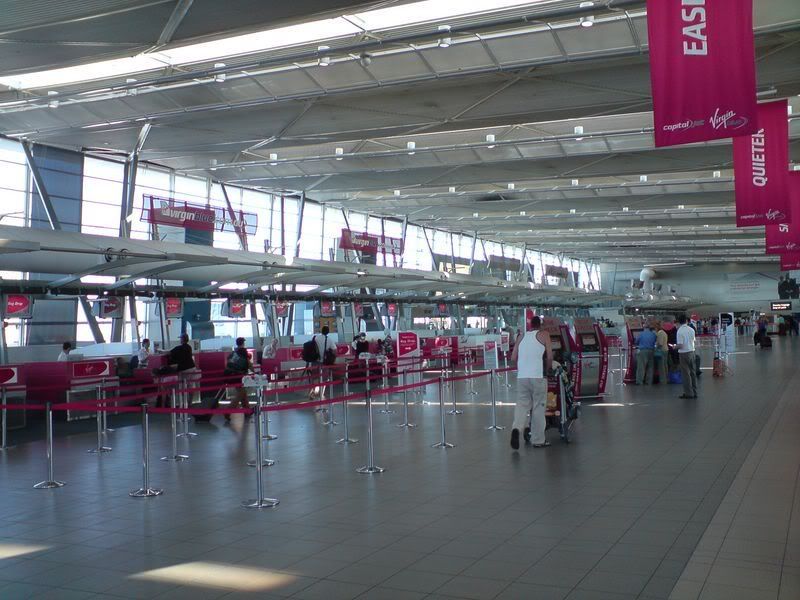 By this stage it was around 4:10pm and I still had another hour and a half to go before my flight boarded. I walked through Security which was fairly quiet for a Saturday afternoon and went straight to Krispy Kreme for 2 doughnuts and a coffee. I walked over to the Domestic Terminal food court and sat down eating my doughnuts, drinking my hot coffee and watched the planes land and take off. I had a look through the various shops at the terminal and purchased Don Watson's new book, "American Journeys". I had seen a book review on Sky News earlier that day and I knew I had a 2 hour stop over in OOL. After finishing the first chapter it was time to board my DJ flight to OOL.
5/APR/08
Virgin Blue Flight DJ 523
Sydney (SYD) to Gold Coast (OOL)
Plane: VH-VUI Boeing 737-8FE/W
Seat: 25A
Gate / Boarding: 40 @ 1715
Dep: 1745 (Pushback: 1743 Takeoff: 1752)
Arr: 1805 (Touchdown: 1757 At Gate: 1805)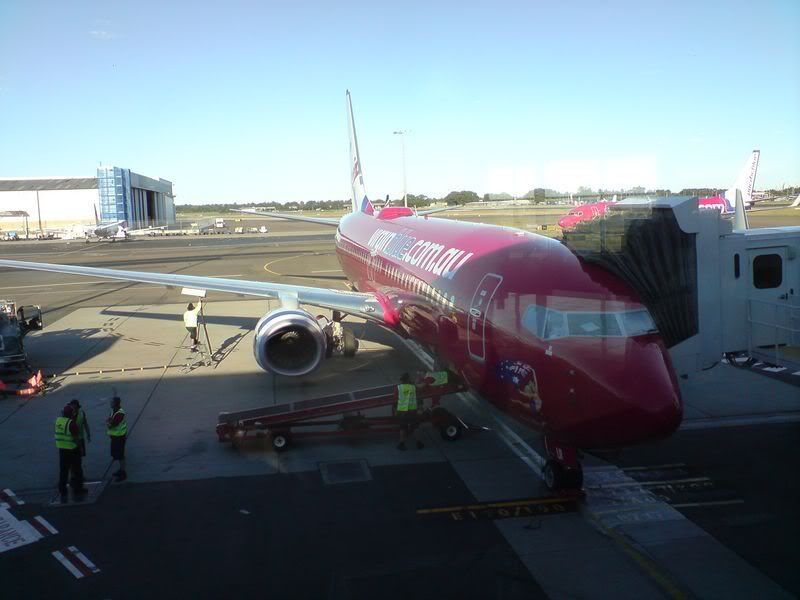 With Virgin Blue, who claim to be a "standard service" carrier, the flight experience depends a lot on the other passengers around you. Whilst I was waiting at Gate 40 for boarding to be called I noticed 2 young children running around the terminal yelling and screaming. I wondered if they were going to be on my flight or one of the others departing at around the same time as mine. At approximately 1715 boarding was called and everybody lined up in a civilised manner (unlike other flights I've had with DJ) and had their boarding passes scanned. DJ split boarding into two sections, rows 1-16 and 16 - onwards. Rows 16 and up board via the tarmac on the runway and to be honest, I quite like seeing the plane close up and enjoy smelling the familiar smell of avgas before the flight. As I walked up the stairs one of the DJ cabin crew looked at my boarding pass and addressed me by name before pointing to my seat. As I walked over to my seat I noticed the flight looked pretty empty and was probably only at 50% capacity. I sat down at 25A and noticed the young kids and their Mum were sitting in row 26 directly behind me. I sighed and stared out the window, just happy knowing I was going to be in the air in but a few minutes.
The DJ crew went through the safety routine and explained the features of the IFE which DJ call "Live 2 Air". It costs $4.90 and gives you access to around 25 pay television channels. My credit card was already feeling slightly hot considering the decision to go on this flight was only made a few hours ago and so I decided to give it a miss.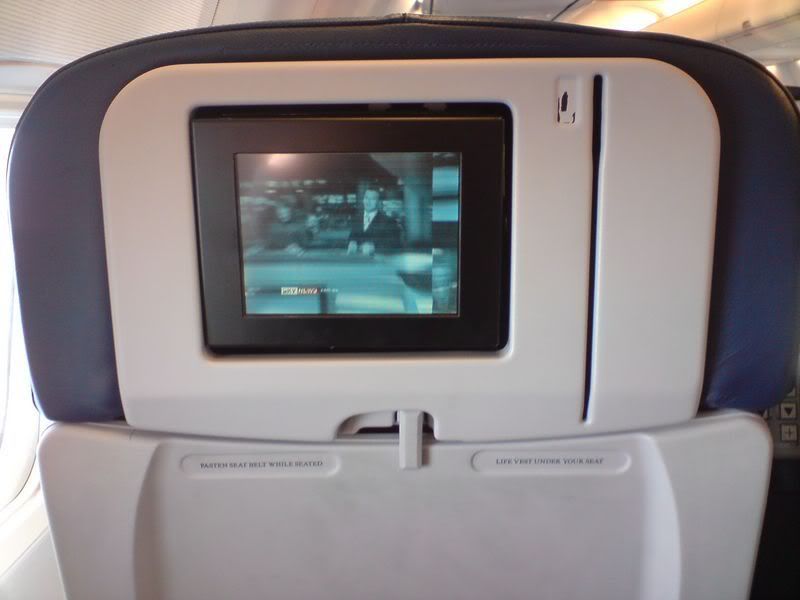 The aircraft taxied and before long we were in the air and I was experiencing the buzz and the thrills that make flying such a unique experience (even on a LCC).
At this stage the children behind me were making a lot of noise and swearing quite loudly whilst the Mum just continued to read the free DJ magazine, Voyeur.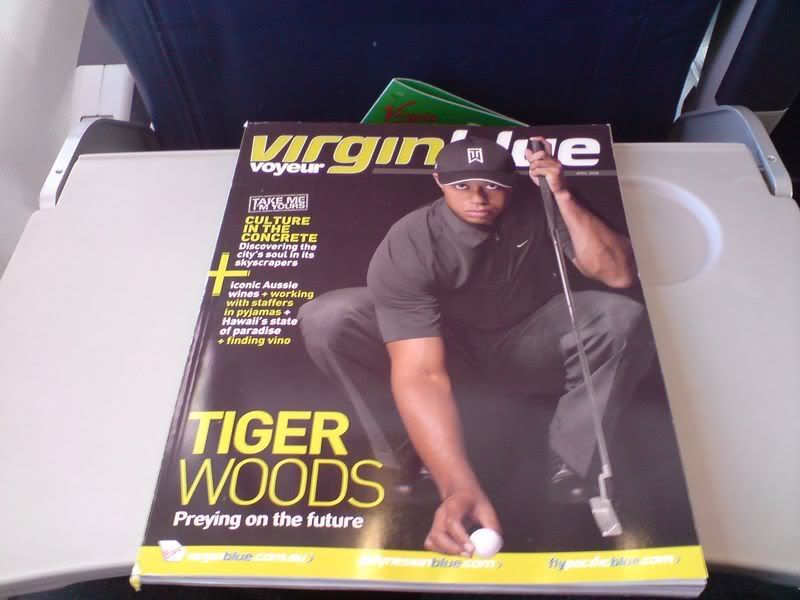 Whilst it was almost funny on such a short flight to have these pax on board I was glad we were not going to PER or even LAX as I think I would have stood up and done some swearing of my own.
After about 10 minutes into the flight the cabin crew came around and took orders for the food service. DJ have a menu in the seat pocket outlining the selection of food and drinks and of course, the prices.
V-LICIOUS Menu: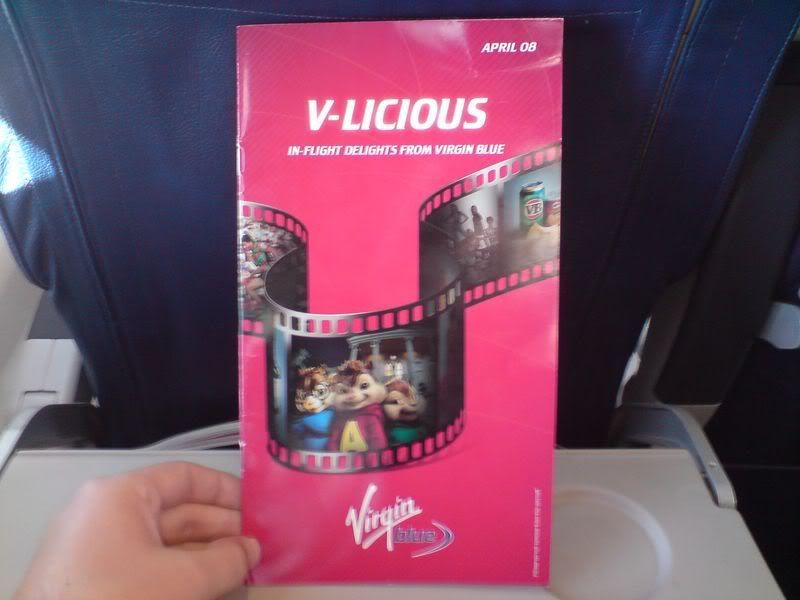 Drinks Menu: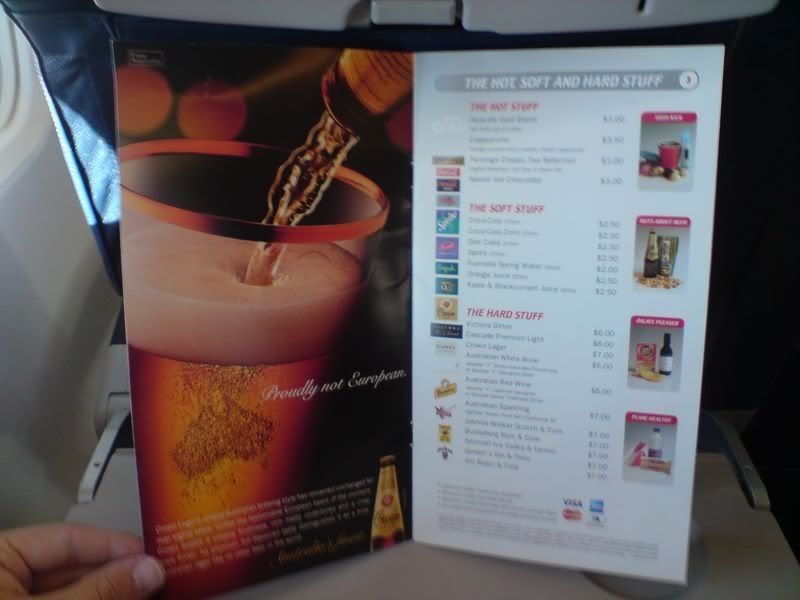 Food Menu: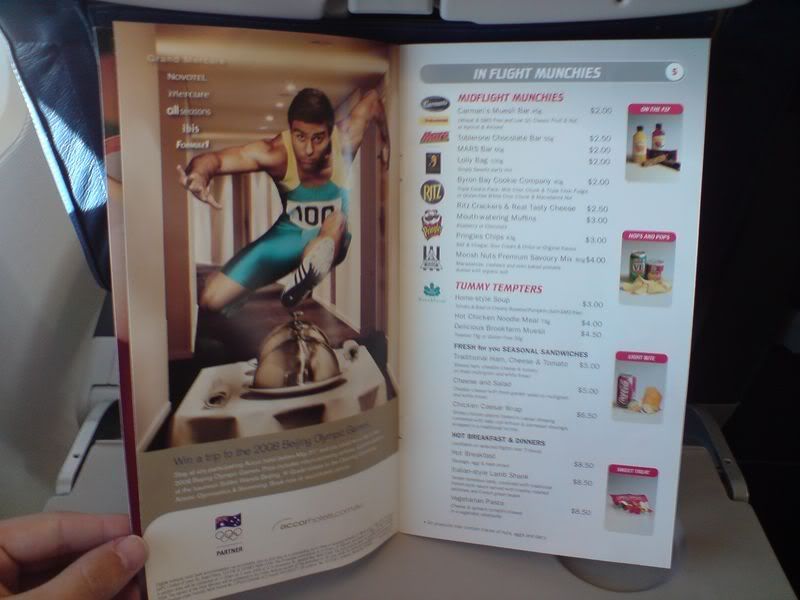 The food is quite well priced and I ended up ordering the Chicken Cesar Wrap for $6.50 which was absolutely delicious. This had to be one of the nicest wraps I'd ever had.
As we continued on our way to OOL I noticed there was heavy cloud cover which made for a bumpy ride and a beautiful view from the plane.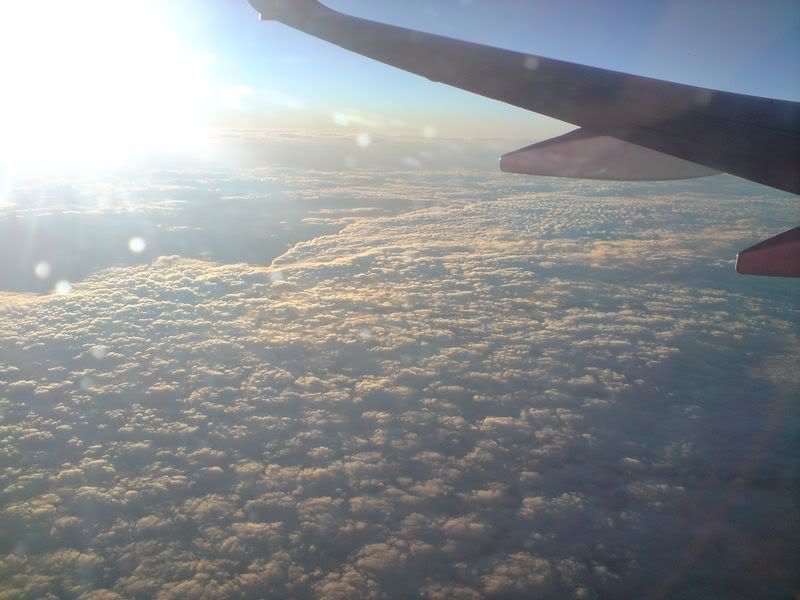 More Clouds
Even More Clouds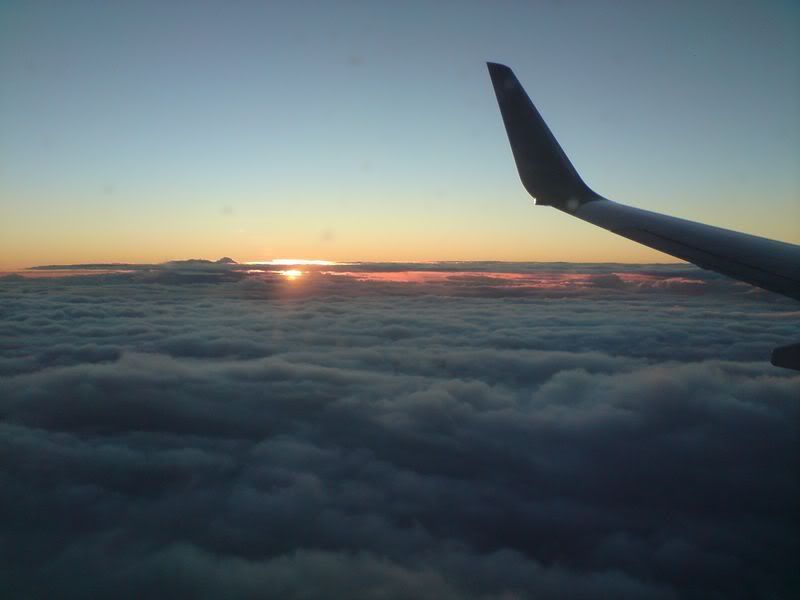 The cabin crew came around a second time to clear all the rubbish and the flight crew came across the PA to let us know we were about to start out descent to OOL.
There was some minimal turbulence on the way down and it was raining quite heavily, the plane touched down at OOL at 1757. We arrived at the gate at 1805, right on schedule. We disembarked via the tarmac and before long I was in Terminal 2 at OOL airport looking for the JetStar check-in. After 5 minutes of looking around at the empty JetStar desks I realised I was at the check-in for JetStar International and that I needed to go to Terminal 1 for the QF and JQ domestic check-in. I arrived and requested an emergency exit seat, near a window. Luckily there was one available and I was given seat 13F. I still had an hour and a half to go before boarding so I had a good look around OOL before ordering a coffee and bottle of water and sitting down to enjoy another chapter of "American Journeys".
5/APR/08
JetStar Flight JQ 429
Gold Coast (OOL) to Sydney (SYD)
Plane: VH-VQN Airbus Industrie A-320-232
Seat: 13F
Gate / Boarding: 2 @ 1945
Dep: 2005 (Pushback: 2006 Takeoff: 2016)
Arr: 2225 (Touchdown: 2227 At Gate: 2231)
I went through Security very quickly and was selected for the secondary explosion trace testing, probably because the Security Officer saw me taking photos of the terminal.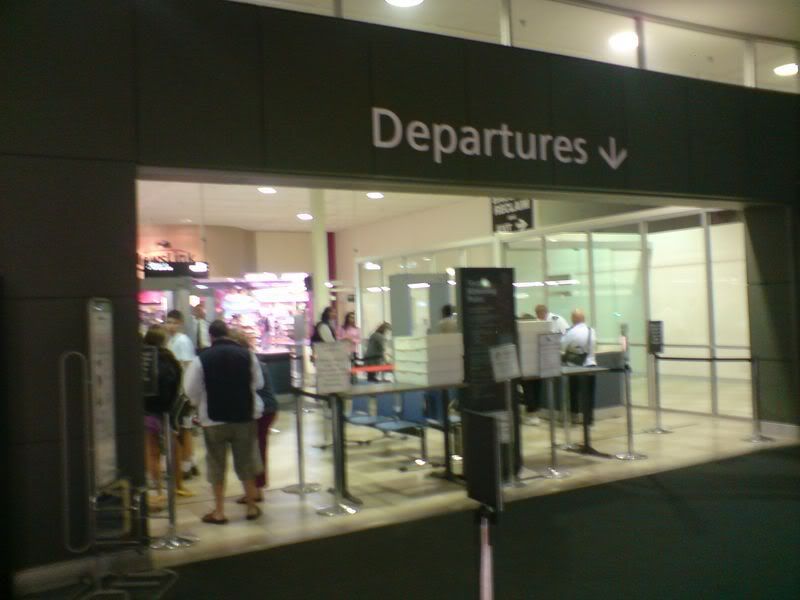 Terminal 1 at OOL was extremely busy with 2 flights leaving to Sydney within 30 minutes of each other. All seats were taken and people were standing on top of each other which I thought was very unusual for 7:40pm on a Saturday night.
JQ 429 was called and we all made our way like cattle to the gate in order to board. The rain was very heavy by this stage and everyone had to board via the tarmac. We all ran like dogs to the plane and I could hear older, disgruntled passengers blaming "JetStar" for the fact they were wet even though there was really no other option. Some passengers wanted umbrellas and towels on board to dry off, all for the low price of $79 LOL. It drives me insane to hear people complaining about service when the ticket price is so low.
The Cabin Crew still managed to squeeze out a smile even though we were completely soaked and I found my way to Seat 13F.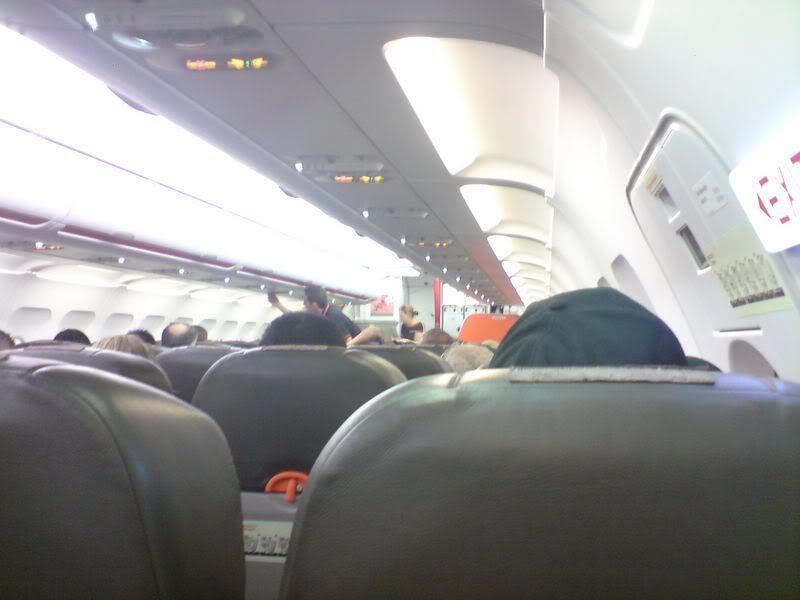 I was absolutely astounded at just how much leg room was available to me in the emergency exit row.
I settled back in and watched everyone board. I'd estimate the flight was at about 85% capacity. Luckily there was nobody sitting between myself and 13D so combined with the huge leg room, I was able to really stretch out and enjoy the flight home back to SYD. The cabin crew approached and did the necessary questioning with regards to assisting in an emergency before completing the safety instruction.
I was expecting some turbulence due to the weather after take off however nothing exciting happened throughout the whole flight. The cabin crew walked through taking food and drink orders however nothing on the JetStar menu appealed to me. The flight mainly consisted of older passengers and unlike my earlier flight with DJ it was very quiet, I fell asleep until we started our descent back to Sydney. Arrival in Sydney was hassle free and only 6 minutes behind schedule. Before I knew it I was on the train heading back towards my car and only then did I fully realise just how much I enjoyed that last flight back with JQ. Certainly not like other experiences I've had with them and the leg room in the emergency exit row was brilliant.
Thanks for reading! Feel free to comment.