Trip report: Manchester (MAN/EGCC), England to St. John's - V.C. Bird International (Coolidge Field, ANU/TAPA), Antigua. Friday 7th March 2008.
Flight Details:
Date: Friday 7th March 2008
Departure Airport: Manchester International (MAN/EGCC), England. Terminal 3
Airline: Bmi
Flight: BD721
Equipment: Airbus A330-243
Registration: G-WWBM
Destination Airport: St. John's - V.C. Bird International (Coolidge Field, ANU / TAPA), Antigua
Allocated Seat: 39G (40H/J actual)
Departure Gate: 54
Scheduled Departure: 0945 (GMT)
Actual Departure: 0945 (GMT)
Departure Runway: 23L
Scheduled Flight Time: 8 hrs 40 minutes
Scheduled Arrival: 1425 (GMT -4)
Actual Arrival: 1340 (GMT -4)
Actual Flight Time: 7 hrs 55 minutes
Arrival Runway: 07
Distance: 4031 nautical miles
Arrival Gate: remote stand
In the depths of winter, it's difficult not to dream of warmer climbs and turquoise seas. It was time to think about my next holiday for March 2008. Weather wise at this time of year, destinations east of England such as Indian Ocean tend to be warm but wet and destinations west such as the Caribbean warm and more settled. West it is! The problem with having Manchester as your local airport, only the more popular Caribbean islands are accessible by direct flights. Having visited the Caribbean region on 4 previous occasions including Cuba, Jamaica, Barbados, Dominican Republic and St Lucia, there are few other islands with direct flights in the winter season. Then I remembered Bmi offer a direct flight to Antigua. That had a certain ring to it! After searching around for deals to Antigua, I settled on the Jolly Beach hotel located on the west of the island in St Mary's province. The hotel looked to have everything required; a nice beach, good reputation for food and a dive centre just up the beach. Perfect! A few clicks of the mouse later and everything was booked; 2 weeks departing on Friday 7th March 2008.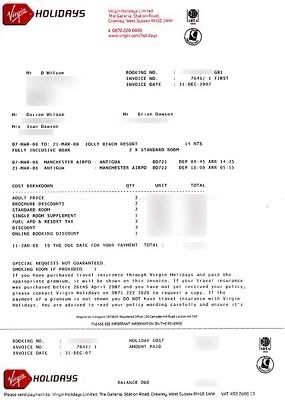 Virgin Holidays sent out the tickets 2 weeks prior to the departure date with all the flight details confirmed. We would depart from Manchester's Terminal 3 at 0945 for the 8 hours 40 minutes flight to V.C. Bird International. The last time I flew with Bmi was back in September 2005, a charter flight to Dalaman, Turkey. They operated out of Terminal 1 back then so this would be my first opportunity to have a look at Terminal 3. One of the plus points of travelling with Bmi is their generous luggage allowance; 2 piece's up to 23kg each. I normally have problems travelling with my diving equipment and underwater camera but wouldn't have a problem on this occasion. One suitcase for clothing and one for diving equipment! It would also give me over 8,000 diamond club air miles (Bmi / Star Alliance frequent flyer programme).
It was an agonising wait but the day of departure finally arrived. The airport taxi was booked for 0615 for the 45 miles / 1 hour drive to the airport. It arrived early at 0600, as we were to pick some other holidaymakers up on the way. The motorway around Manchester, M60 is normally quite busy from 0645 and today was no exception. The traffic was quite heavy in places but eased as we approached the M56 junction for the airport. The others were travelling with My Travel (Thomas Cook) from Terminal 1 so we dropped those off first before heading over to Terminal 3. We arrived in good time at 0730.
Terminal 3 is much smaller and quieter than terminals 1 & 2 and therefore much less congested. With all the security restrictions now in place, it can take a while getting through the other terminals so it would be interesting to compare this terminal. Once inside, we headed upstairs to the departures area and check-in desks. Bmi offer online check-in on their domestic and European routes, but not on their long haul routes. A look at the screens showed our flight, BD721 and the only other long haul flight that day, the daily BD705 service to Chicago were to check-in at desks 23-29. Two desks were allocated to business class travellers and the other 4 to economy and premium-economy. However, when the business class desks were empty, passengers were called forward to ease the queues but business class passengers always took priority. Before queuing for the desks, we had to show passports and tickets to an agent who scanned our passports and checked our tickets. This was presumably part of the advanced passenger information that was required and speed up check-in.
In took about 15 minutes to get to the front of the queue so not too bad. As there were no business class passengers checking in at the time, the agent at one of those desks called us forward. For some reason, she was a little rude and straight to the point with her choice of wards. I don't know what we'd done to deserve it; maybe she was having a bad day! I handed over our passports and tickets, along with my Diamond Club membership card to claim my air miles. I only have blue plus status at the moment but this trip would add over 8,000 miles so half way to silver status!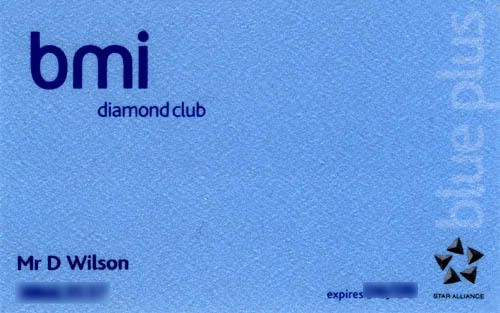 Both my suitcases were checked in along with the others I was travelling with. I mentioned to the agent one of them contained diving and camera equipment as in the past, I've had to take it to a separate desk to be x-rayed before it was sent down but she said it would be fine. Our boarding cards were issued; we were allocated row 39 seats C/F/G which is towards the rear of the aircraft. Bmi configure their A332's 2-4-2 in economy that reduces to 2-3-2 for the final 5 rows as the fuselage narrows. We were allocated 3 centre seats towards the rear so we were together. I was hoping for a window seat but it wasn't possible. I'd just have to hope one was empty once onboard.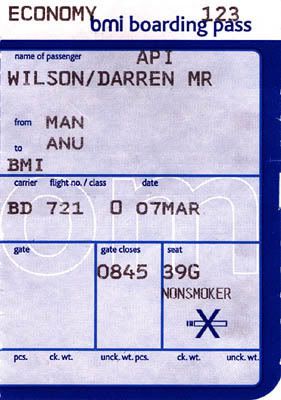 Once checked in, the smokers in our party (not me!) wanted to have a last smoke so we headed back outside so they could stock-up on nicotine before we went through to the departure lounge. The queue at security was small and only took a couple of minutes to proceed through. As usual, even though I went through security with no problem, no alarms on the x-ray or metal detector, I was pulled to one side to be searched. I must have one of those shifty looking faces or something as I always get searched! The transition from land to airside in Terminal 3 is a breeze compared to the other two terminals. I was pleasantly surprised.
Once in the departure lounge, we had about 1.5 hours before our flight was due to depart. The departure lounge is smaller than the other terminals but has the usual selection of shops; W H Smiths (newspapers & magazines etc), Boots, duty free shops and a large central food outlet. The executive lounges for those lucky enough to have access to them, Bmi's Diamond Club and BA's Club lounge were located upstairs. As the others browsed the shops for their 2 weeks supply of tobacco, I had a walk around the gates to view the aircraft waiting to depart. The daily British Airways BA1503 service to New York JFK (767-336/ER) was being prepare for it's 10am departure …..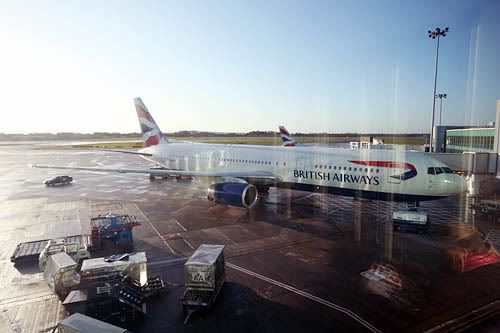 Along with the daily American Airways AA055 service to Chicago (767-332/ER) …..
At the far end of the gate area, 54 was the aircraft operating my flight to Antigua; a Bmi Airbus A330-243. G-WWBM normally operates the flight while G-WWBB operates the daily Chicago flight. As usual, G-WWBM was operating our flight …..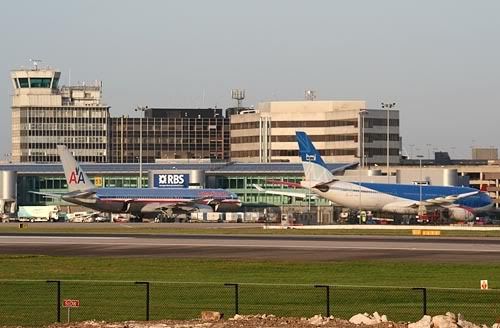 I couldn't see the other Bmi A332 since the gate area where that was located, 44 is obscured from view by advertising boards lining the windows. Other aircraft included several Flybe Dash8-402's and VLM F50's. At the other side of the gate area were some BA A319's and a 757-200 operating shuttles down to Heathrow …..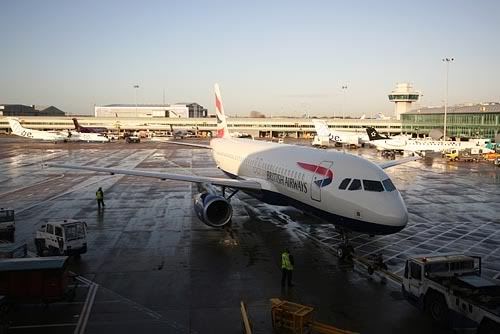 After having a walk around the gate area, I met up with the others and we decided to have some breakfast. 3 cups of tea, a full English breakfast (not for me I might add!) and two bacon and sausage sandwiches came to £21.50. They certainly know how to charge! As we finished breakfast, our flight was called for boarding and we were advised to proceed to gate 54.
We proceeded down to gate 54 and the business class passengers were just boarding the aircraft, probably for a pre-departure glass of champagne! A few minutes later, passengers in the rear cabin, including ourselves were called. We handed our boarding cards and passports to the agent and made our way down the jetbridge to the aircraft. By the aircraft door was a pile of Daily Mail newspapers if you wanted a copy to read during the flight. Once onboard, the friendly crew greeted us and I was directed to the starboard side of the aircraft for my seat towards the rear. Before reaching the economy section, we passed through the premium economy cabin. This looked very roomy with 48" seat pitch seats. These seats are the old business class seats which were replaced by lie-flat sleeper seats.
I took my seat, 39G and settled back for departure. I kept an eye out for empty window seats just in case my luck was in and one was free. There were 3 on the port side and 2 on the starboard side but as passengers boarded, all but two of the window seats were taken. As I waited, I thought I'd grab a quick photo out of the spare seat on the port side overlooking the wing and the AA 763 that was boarding adjacent to us …..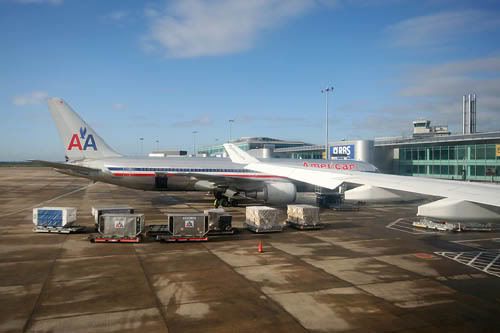 As I took the photo, the passengers arrived so I retreated by to my allocated seat. A few minutes passed and 40H/J, to my right were still free. The only window seat with no-one sat there in the rear economy cabin. I waited a couple more minutes and couldn't see any more passengers walking aft so decided to move over to 40H/J. If anyone came, I could always move back to my allocated seat. Just in case I had to move, I got a quick photo …….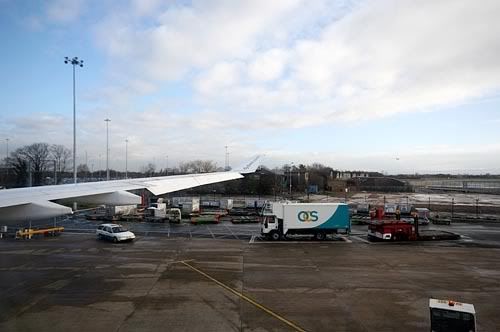 Then the announcement I was waiting for was made 'cabin crew doors to automatic'. The doors had been closed and no other passengers were due to board so I had my window seat! A minute or two later, we pushed back bang on time at 0945 and the distinctive noise of the Rolls Royce Trent 772B's could be heard as they spooled up.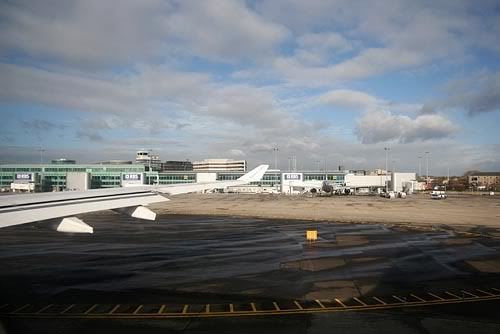 As we taxied over to 24L for take off, the safety video was played via the seat back screens and the nearest exits pointed out by the cabin crew. I was hoping the forward facing pilot camera would be active for take off, but it wasn't. We taxied on to 23L via tango link and didn't stop. The throttles were pushed forward making the Trent's sing, pushing us in to our seats as we accelerated down 23L …..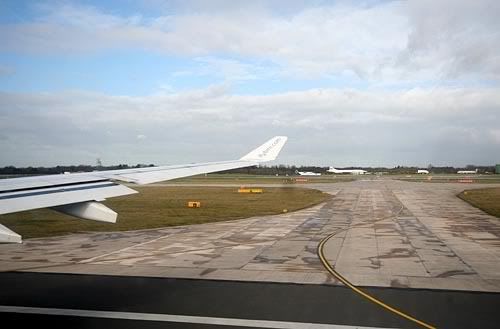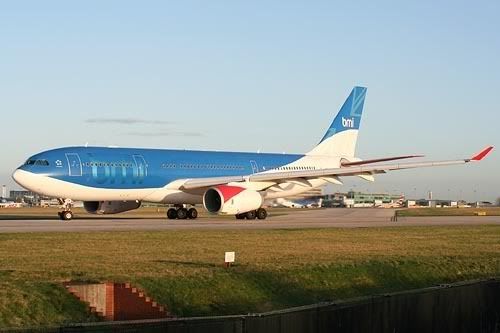 The A332 is quite a graceful aircraft and we rotated gently in the clear Manchester sky …..
View Large
View Medium


Photo © Darren Wilson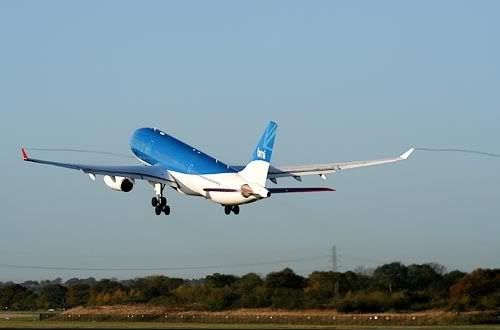 Take off was pretty smooth, just an odd bump as we powered away, making a gently right hand turn …..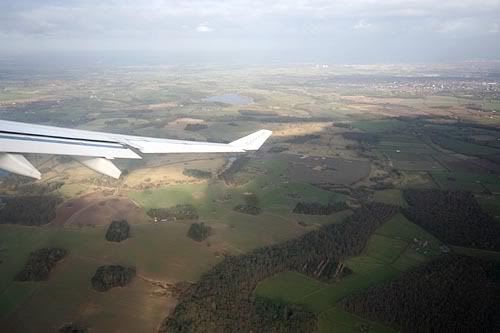 We headed out towards Liverpool and was soon over the coast. I recognised the long sandy beach of Formby and could see RAF Woodvale and the river Ribble estuary. I couldn't quite see Blackpool airport in the distance because of a cloud, but it was there somewhere!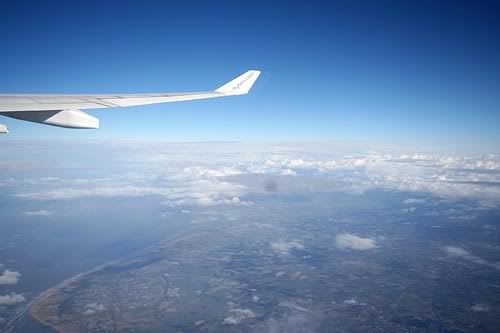 As we crossed the Irish Sea towards Ireland, I looked back at my photos and couldn't believe what I was seeing; a huge dust spot right in the middle of the frame. I'd only cleaned the sensor the week before this trip and didn't have anything with me apart from lens cleaning equipment. Damn!! I must have got the spot when I changed lenses in the terminal from my Canon 24-85mm to Sigma 10-20mm. I couldn't carry on as it was so I took the lens off and opened up the shutter to see if I could use the lens brush to dislodge the spot. I looked inside and it was a huge white spec of dust. I turned the camera upside down and gently used the lens brush to remove the spot before quickly re-attaching the lens to prevent any other dust entering the sensor chamber. Luckily, that did the trick and I had a clean sensor once again. By this time, we'd passed over Ireland towards the southeast around Shannon to start our flight across the Atlantic.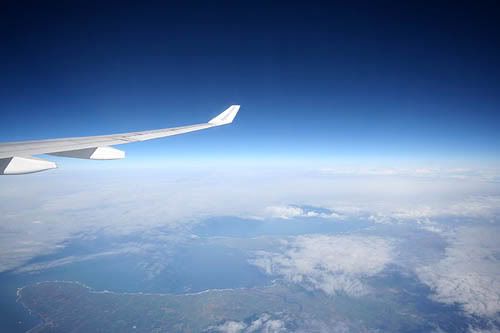 Our route from Shannon would take us on a southeastern track virtually straight in to Antigua, passing over the Azores. The flight time was scheduled to be 8 hours 40 minutes with a distance of 4031 nautical miles.
The Captain made an announcement to give us some routing and flight information as we reached our cruising altitude of 40,000ft. He said due to favourable winds, we were expected in Antigua 45 minutes ahead of schedule, a flight time of only 7 hours 55 minutes. Using the remote control, I switched the seat back screen to the skymap to catch up on our progress …..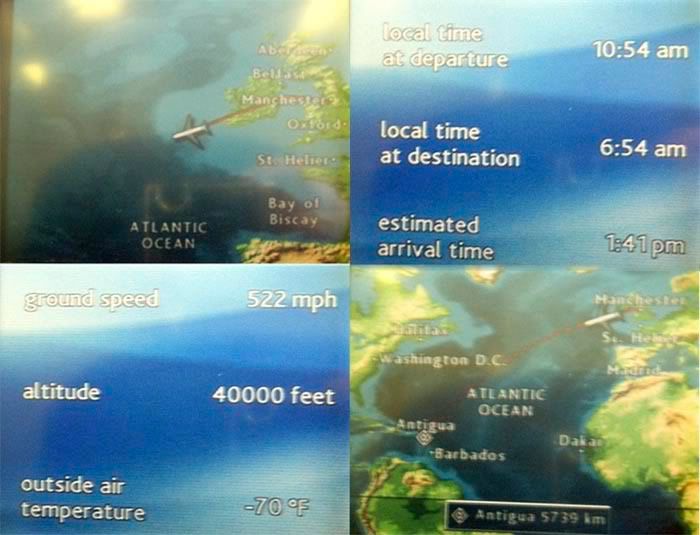 The cabin crew announced the itinerary for the flight. First thing would be our immigration papers for Antigua. A drinks service would then be made followed by lunch 2 hours in to the flight. After lunch would be the duty free and gift service followed by another drinks run and a snack 1.5 hours before landing. Soft drinks are complimentary but all alcoholic drinks and snacks are chargeable. Miniature bottles of spirits (50ml), wine (187ml), cider (440ml can) and beers (330ml can) are £3 each, champagne £6 (200ml bottle). I had a can of Carlsberg Export and a can of Coke, an unusual combination but both enjoyable! If you wanted a drink at anytime, we were instructed to visit the galley or press the call button. Once the drinks round was done, and since passengers were all in their seats enjoying the IFE, I thought it would be a good opportunity to get a cabin shot …..
View Large
View Medium


Photo © Darren Wilson
As we were well over the Atlantic at this stage and there was little to see out of the window, I thought I'd watch a film. I watched Sleuth starring Jude Law and Michael Cane, which wasn't too bad. One problem I found with the IFE, apart from it being a looped system rather than on-demand, was you didn't know what was showing on each channel. There are over 20 channels of movies, comedy, drama and documentaries but the guide doesn't give channel numbers so it's hard to work out which movie / programme is on which channel. I found I generally missed the start trying to work out which channel I wanted. Channels 26 and 27 were the pilot / belly cameras respectively (not available at take off) and 28 was the skymap / flight information screen. As the movie was coming to an end, the meal service commenced. We had a choice of sausage and mash, chicken curry or beef. I opted for the chicken curry …..
It was served with salad and balsamic vinegar starter, two bread rolls and lemon cheesecake desert. Cheese and biscuits, a carton of spring water and a choice of tea or coffee followed. The meal was ok, but I must say I've had better.
After the meal, I sat back and enjoyed another movie. This time it was Lions for Lambs with Tom Cruise and Robert Redford. I found it hard to follow with all the tooing and froing, but quite a good story. As I watched, the duty free service was conducted with some decent deals on cigarettes, £34 for 400. After the movie, I checked on progress on the sky map. We'd just passed over the Azores so over half way there already. It was a little cloudy below us so I never saw the Azores. As I waited for the IFE to loop and restart, I thought I'd stretch my legs and have a walk around the aircraft. First I visited the forward economy cabin …..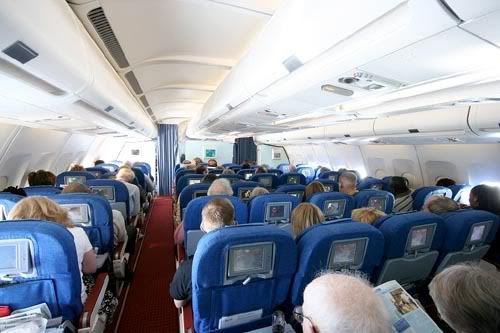 then had a sneaky look at those in premium-economy. It looks very spacious in their …..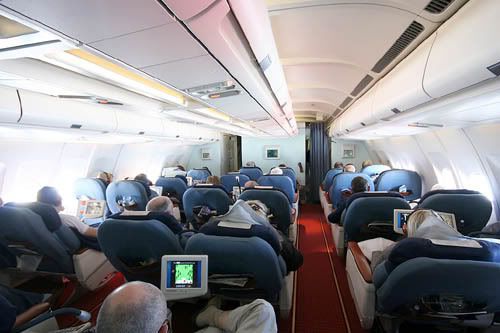 I was tempted to be very cheeky and try and get a shot of those in business but thought I'd better not so walked back to my seat. I thought it was about time for another beer, I'm on my holidays after all! I went to the rear galley to ask and was told the cabin crew would be making a drinks run in 5 minutes so if I took my seat, they'd be with me in a few minutes. A few minutes later, I was the first to be served. By this time, the IFE had looped so I decided to watch Zoolander with Ben Stiller and Owen Wilson. It was a little silly, but quite funny.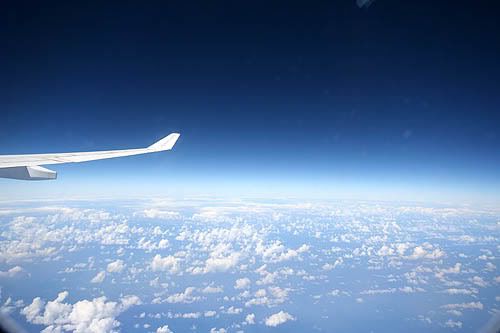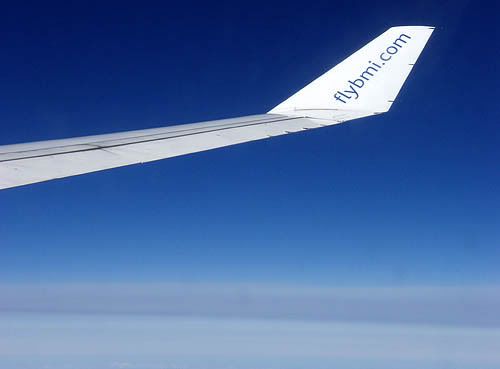 Before the movie finished, the cabin crew brought our snacks. We had a choice of chicken or cheese sandwiches followed by a kit-kat and tea or coffee. It wasn't much but a nice light snack before our arrival in Antigua.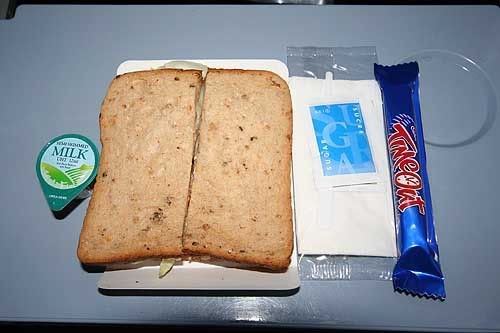 I checked the IFE and we were nearly there, only a few hundred miles to go. The cabin crew came through the cabin to collect any litter in preparation for landing. The Captain made an announcement to say we'd be starting our descent in to Antigua in the next 10 minutes and we were expected to land at approximately 1340, 45 minutes ahead of schedule.

I switched over to channel 27 to watch the pilot cam. At this stage, because we were still at a high altitude there was little to see other than an odd cloud.

The sound of the engines reduced and I felt the aircraft pitch down as we commenced out descent. We descended quite quickly and levelled out just below the cloud base.
We circled around the north of the island on the downwind leg of our approach as the prevailing winds are from the east. We would be landing on runway 07. As we passed over the north of the island, I got my first views of Antigua. It looked very nice down there and the sea's clear and tropical, perfect!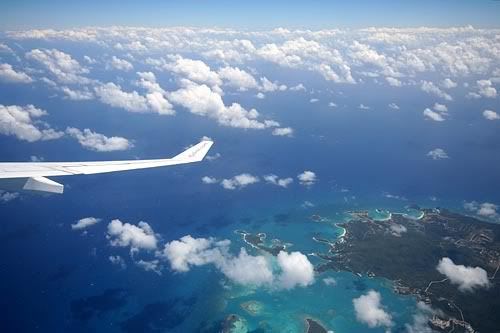 Once over the island, we flew west out over the Caribbean Sea before making a 180 degree turn for final approach, approximately 10 miles from touchdown. As the landing gears were being lowered at about 5 miles out, we passed over the western side of the island. I sort of recognised the beach and harbour area below from photo's I'd seen; it was Jolly Harbour and Jolly Beach where I'd be staying for the next 2 weeks. I could make out our hotel tucked away in the palms to the south of the beach …..
View Large
View Medium


Photo © Darren Wilson
As we descended over the island on final approach, we hit a bit of turbulence due to the hilly terrain. I had one eye out of the window and another on the excellent views offered by the forward facing pilot cam. I did try and take a photo of the screen but all I got was blurry images due to the turbulence. Luckily, Gianni Deligny has uploaded an excellent photo to the database while on approach to give you an idea …..
View Large
View Medium


Photo © Gianni Deligny
The airport came in to view on the screen as we descended over small towns and villages. A quick glance to the left located the islands capital, St John's …..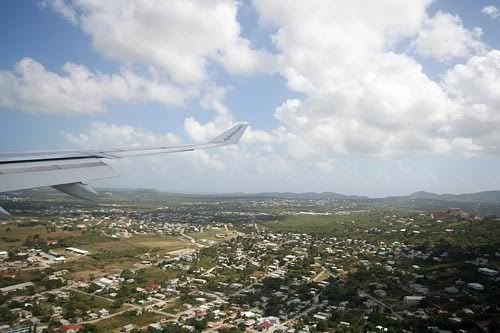 I felt the aircraft pitch up as we flared for a nice smooth touchdown …..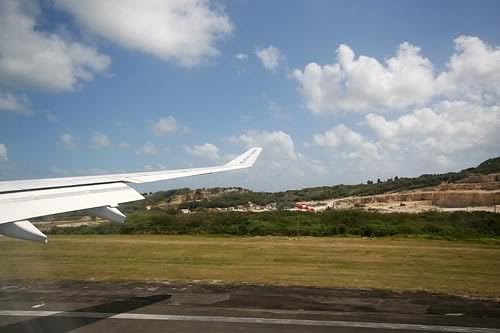 View Large
View Medium


Photo © Gianni Deligny
Lots of brake pressure was used and reverse thrust as we decelerated quite quickly. We rolled to the end of the runway to make a 180 degree turn as there is no parallel taxiway at this compact airport …..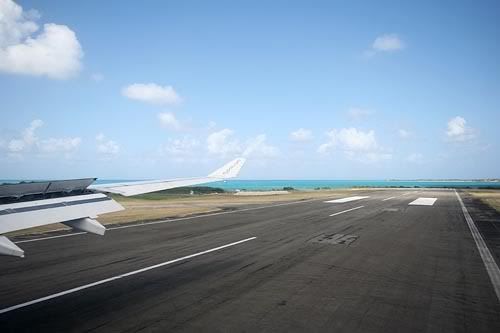 After making the turn, we backtracked up runway 25 and took the exit by the large remote parking area adjacent to the terminal …..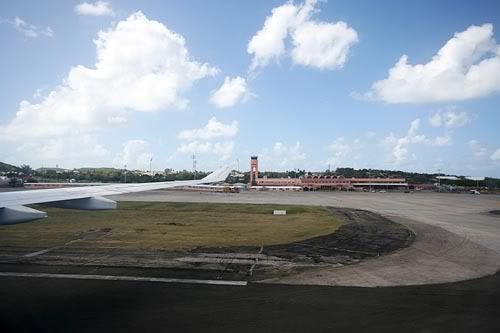 I could see two marshal's directing us on to our parking area as a Virgin 747-400 was due in from London Gatwick just after us. There didn't look to be much room for more than 4 aircraft at any one time. A First Choice Airways 767-300/ER was already parked at the rear of the apron that had arrived before us, also from London Gatwick.
Once parked, the Trent's wound down and the seat belt signs switch off. The cabin crew made their usual announcement 'cabin crew doors to manual' followed by 'welcome to Antigua'. Everyone were quickly out of their seats to retrieve their bags from the overhead lockers but I was in no rush, I wanted to go and have a look at business class. As everyone started to disembark, I got a photo of my two seats for this flight, 40H/J …..
View Large
View Medium


Photo © Darren Wilson
followed by a photo of the spacious premium economy seats …..
View Large
View Medium


Photo © Darren Wilson
Once at the 2L/R door area, instead of disembarking down the steps, I asked if I could have a quick look in business class, 'no problem, go right ahead'. The cabin looked very spacious and the seats very comfortable. It wasn't exactly as I was expecting though, very nice but not the same level of personal space other airlines offer. At 78" seat pitch though, even the tallest person would have plenty of legroom. I'm not sure I would pay the £4,000 fare for a return trip considering how nice the premium-economy cabin looked for a third of the price. Even if business class passengers do get a chef to cook your meal! If work was paying though (fat chance of that!), I wouldn't say no!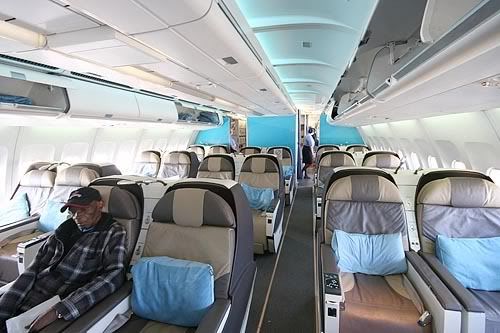 I grabbed a couple of shots and disembarked from the L1 door, down the stairs to meet the others in my party. We walked across the apron, following the arrows for arrivals. I had to get one last shot of the aircraft before entering the terminal so turned round and fired away …..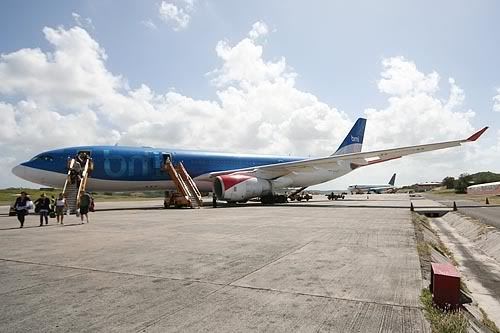 As I turned round to carry on towards the terminal, a security office approached and said 'sir, photography it not permitted here and can lead to a fine, please don't take anymore'. 60 seconds in the country and I was already it trouble!!
The terminal is quite small with only 6 departure gates. The immigration hall had 4 officers waiting for us so it took 10 minutes or so of queuing before it was our turn. I handed over my passport and immigration card, it was stamped without a problem. By the time we got to the luggage carousel, baggage was beginning to arrive. Repatriated with all our luggage, we headed through customs without a problem to be greeted by the Virgin Holidays representative just outside the terminal. A taxi was soon allocated to us for the 30-minute drive across the island to Jolly Beach hotel where I would spend the next 2 weeks relaxing and diving with sharks.
To sum up, the flight was uneventful, departed bang on schedule and arrived 45 minutes early due to favourable winds. The IFE was good but the entertainment guide could do with the addition of channel numbers to make finding things easier. The external flight cameras are a great addition; I just wish they were available on both take off and landing. Only My Travel's A332's (now integrated in to Thomas Cooks fleet) and Bmi A332's are fitted with these in the UK, other airlines should take note. Catering was ok, nothing special but a varied choice was offered. The cabin crew never stopped throughout the flight and would do all they could to make your flight as comfortable as possible. The flight was fine and enjoyable, but nothing special.
I'll get my return trip report written up, BD722 back to Manchester aboard G-WWBM's sister ship, G-WWBD as soon as I can. This flight was a little more dramatic on the approach in to Manchester with a 42kn gusting wind!
Happy flying,
Darren