The weather forecast on the Wednesday was looking good for Frankfurt so I decided to go spotting.
05.04.08 BA902 767-336 G-BNWB 4A
1st Flight on this aircraft & 25th 767 Flight (23 763's & 2 762's)
SCH DEP 07:25 SCH ARR 10:00
ACT DEP 07:39 ACT ARR 10:11
View Large
View Medium


Photo © Irfan Caliskan - AirTeamImages
The outside of T5 was nicely lit in the dark, looking so clean and fresh, next to no chewing gum ground into the floor yet!
View through the fence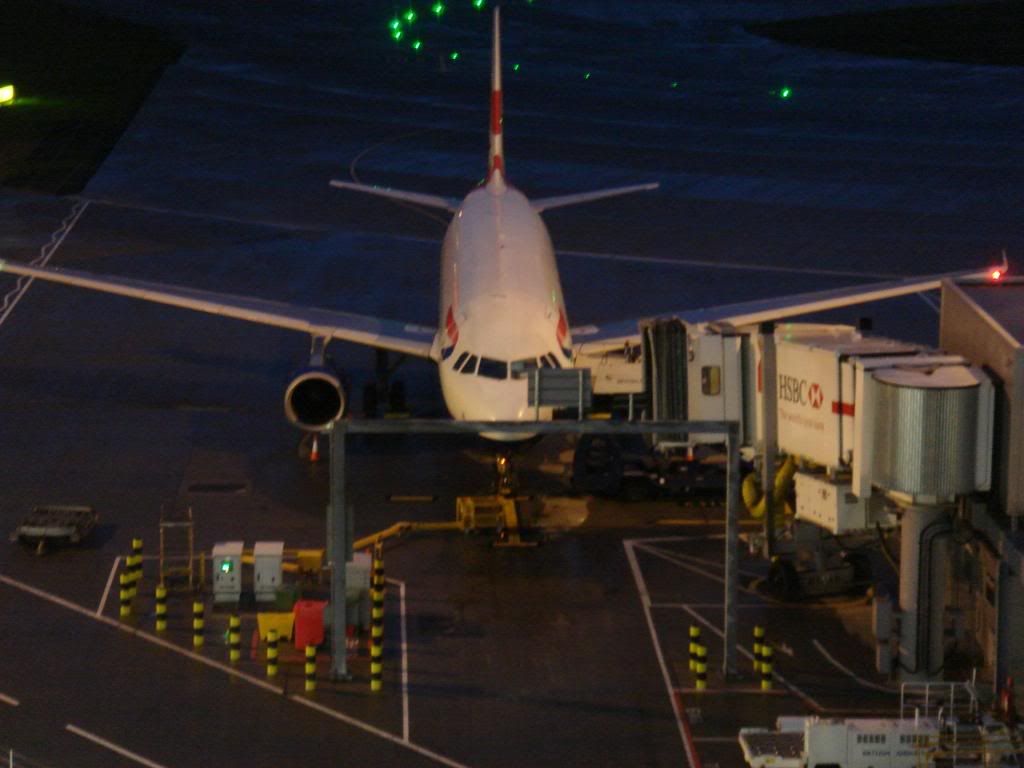 Hmm, someone forgot to install the lift!
Headed inside to a self service machine, plenty of them around. They print out the paper type tickets now instead of the card you used to get – I'm a fan of the card so don't like these flimsy bits of paper.
Here are a coupe of landside shots to give you an idea, it's pretty roomy, has a nice open and fresh feel to it.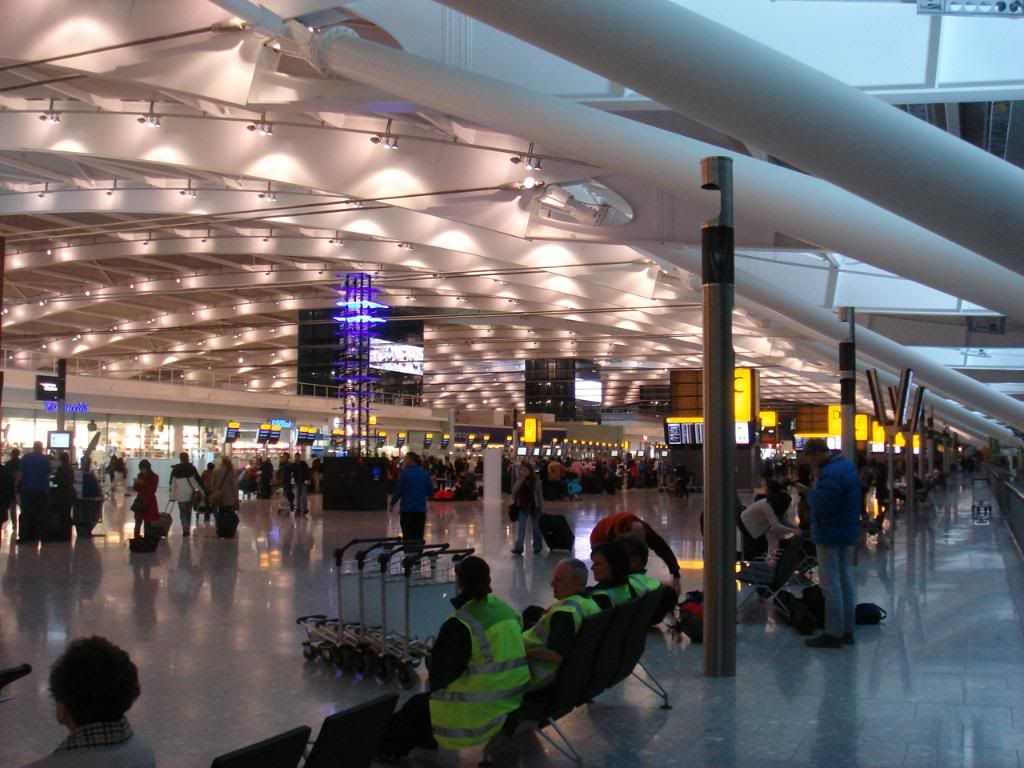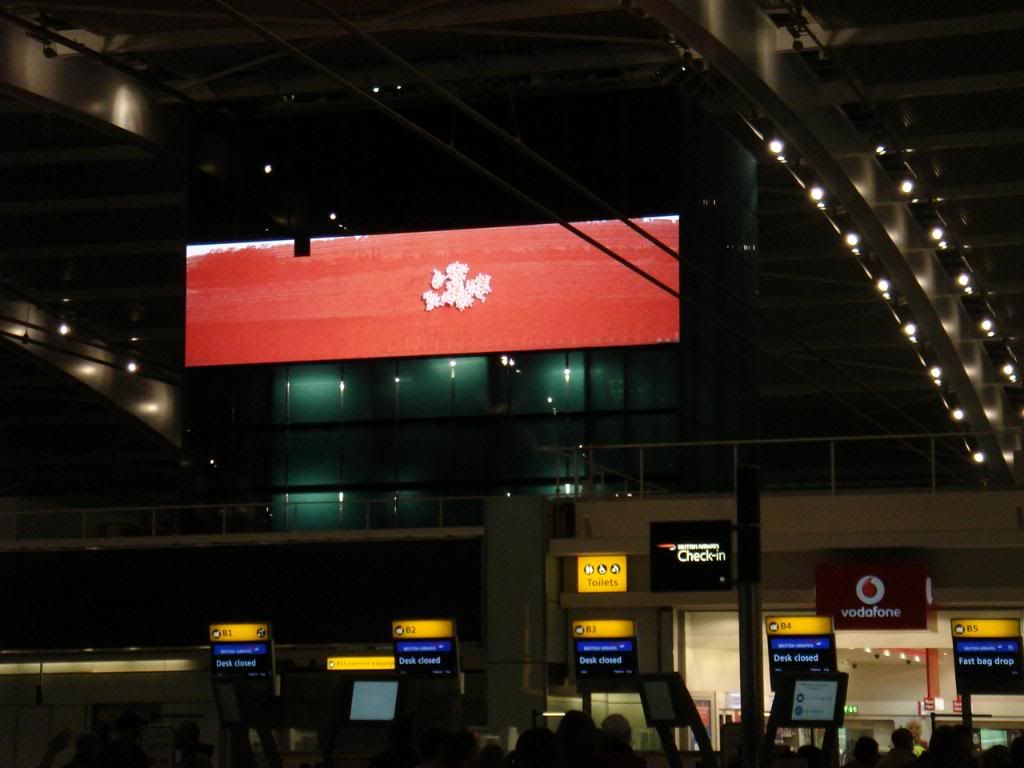 BA has decided to ignore Club passengers and not provide them with their own check-in or fast bag drop facility, they must share it with normal economy passengers, BA claim is it not required as passengers will never have more than one other person in front of them at the self service check-in or fast bag drop – let's wait and see shall we………….
Passport/security control was quite easy to find and get through. There are 2 areas in the terminal, North and South as they are called. North security has 14 lanes, ie once through there could be up to 14 x-ray machines open to process passengers, the South security lane has 4.
Once through passport control you hit the x-ray lines, a lady was on hand to direct passengers to the shortest queue, she noted my Business Class boarding pass and directed me to Fast Track, however once heading in the direction she indicated I noted there were no signs for it and there was a barrier blocking further access, some BAA security staff and I asked them where it was, they shrugged their shoulders and suggested I join the next nearest queue, hmm, good start!
Anyway, got through, here are a few pictures of T5 airside.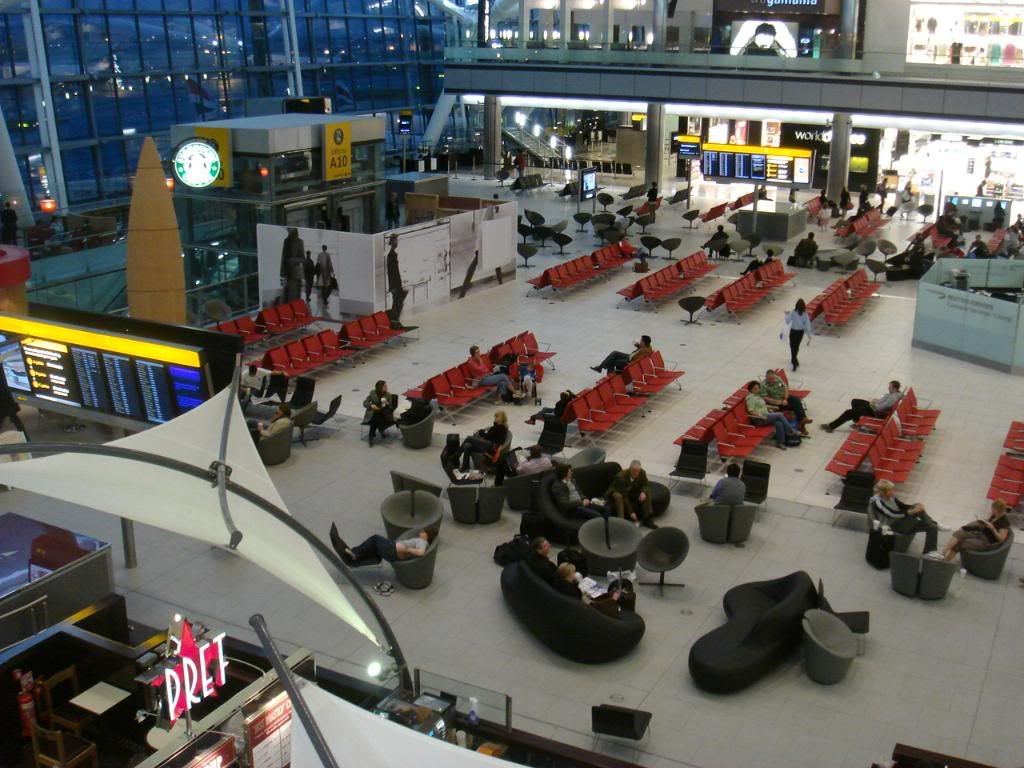 As always it looks like a shopping mall. I'm concerned the area is not going to be big enough in a few years, it really does not feel hugely roomy at all on the concourses.
Upon arrival at the North Galleries I discovered it was closed, no reason given.
I had to walk down to the South Galleries – well I wanted a few pictures for you good folks!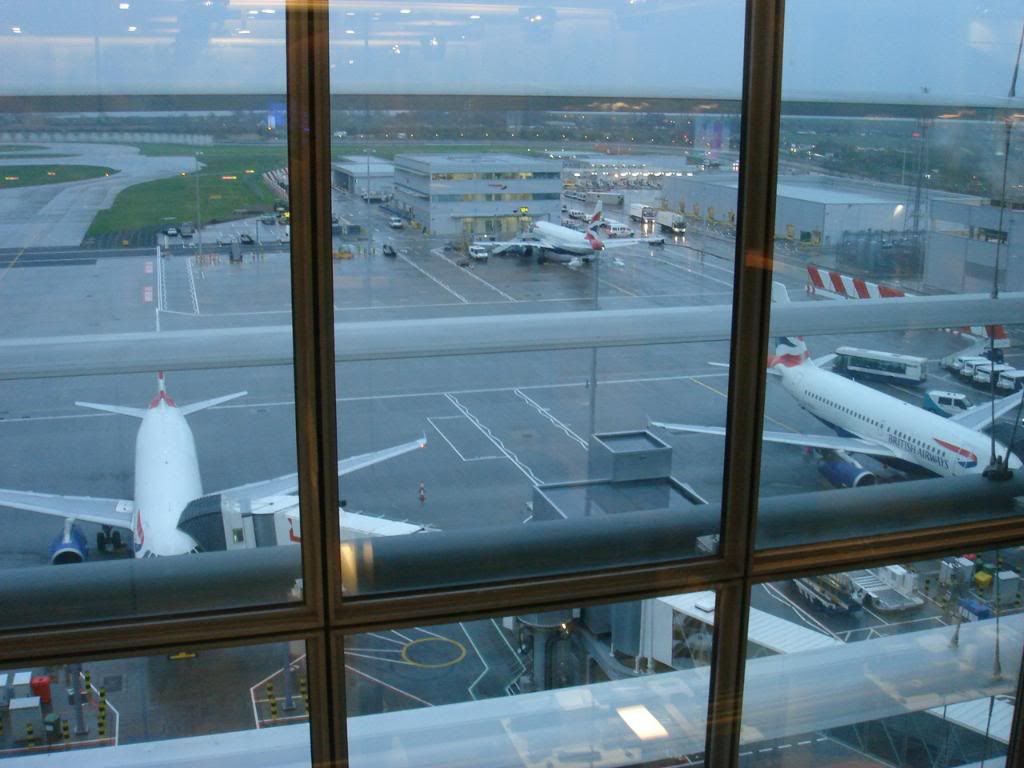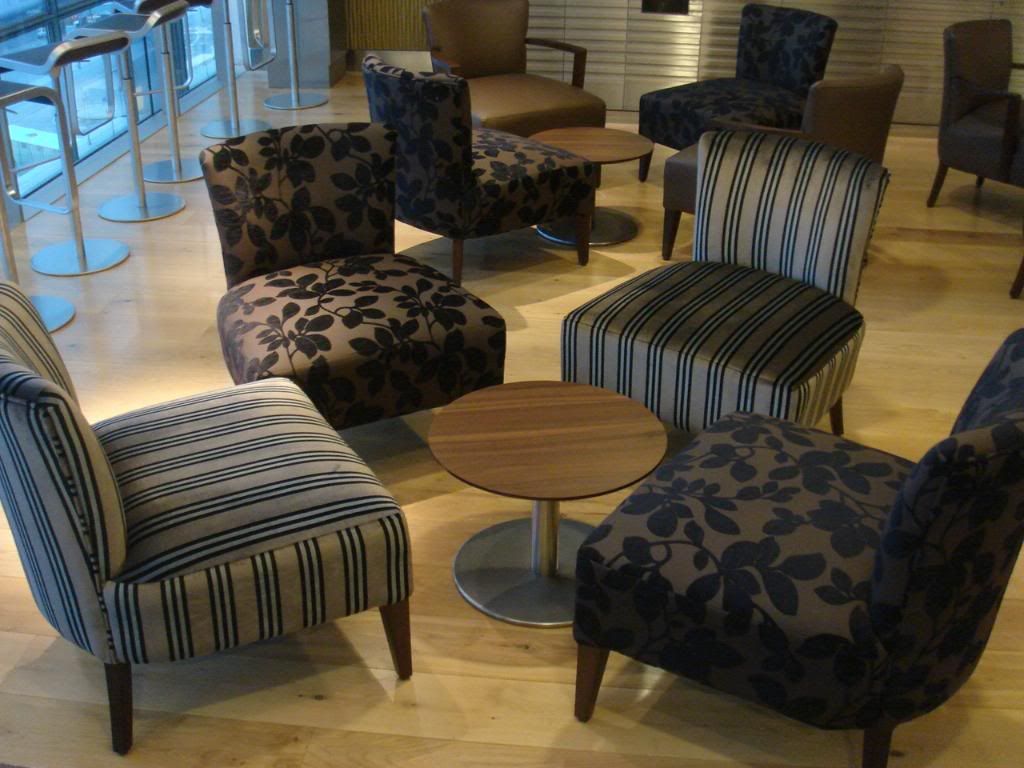 The lounge was nice, this being the Club lounge. Classical music is piped through the lounge, quite soothing! Food & drink offerings were up to the usual standards, nice variation of seating, chairs, sofas, benches at breakfast bars, it's pretty cool really.
The lounge is announcement free, though I discovered the FIS were not rotating, after pointing this out, boarding announcements were made over the PA system.
A quick visit to the toilet revealed individual units, complete with art work! – The bins are too small though, a few paper towels and they will be overflowing.
Looks like the builders forgot something else!
There are quite a few areas like this, I assume the BAA has some clause in the building contract which penalises the builders for late completion of the project, must be costing a fortune!
The aircraft was departing from A13 this morning, this being part of the main T5, so not far to walk.
On the way, Nicole's favorite shop.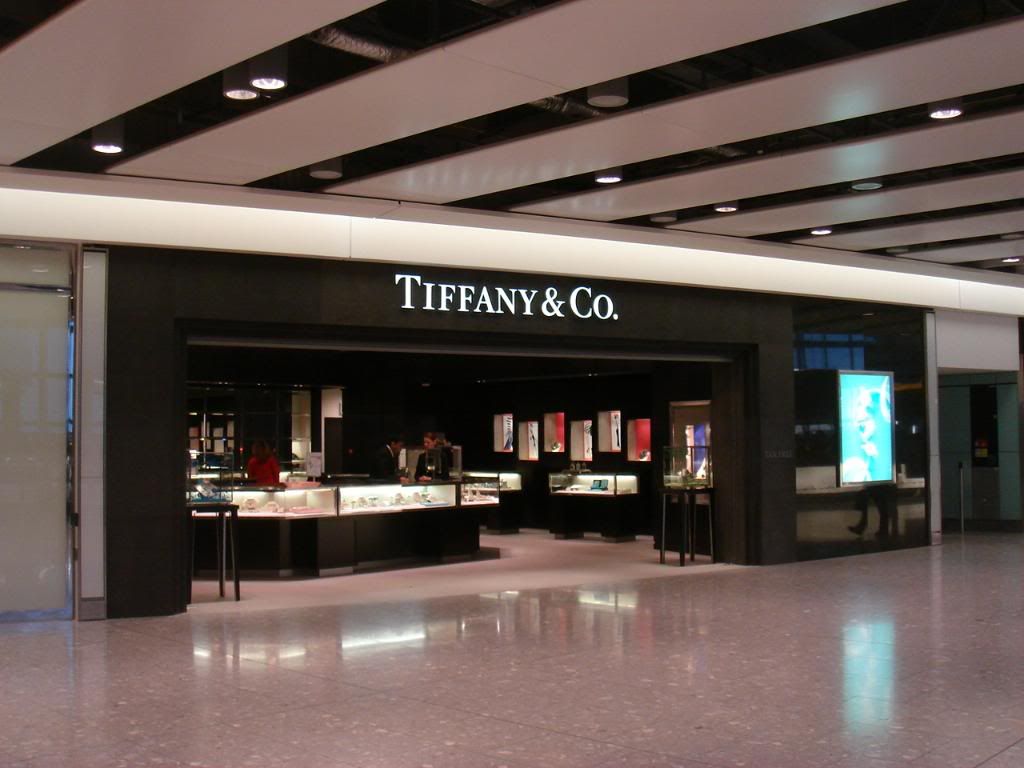 Again, no priority boarding for Club passengers, I had hoped BA would rectify this with T5, perhaps they have but not on this flight, that said, we were only 4 in Club this morning. Economy looked quite busy, but can't say for sure how full.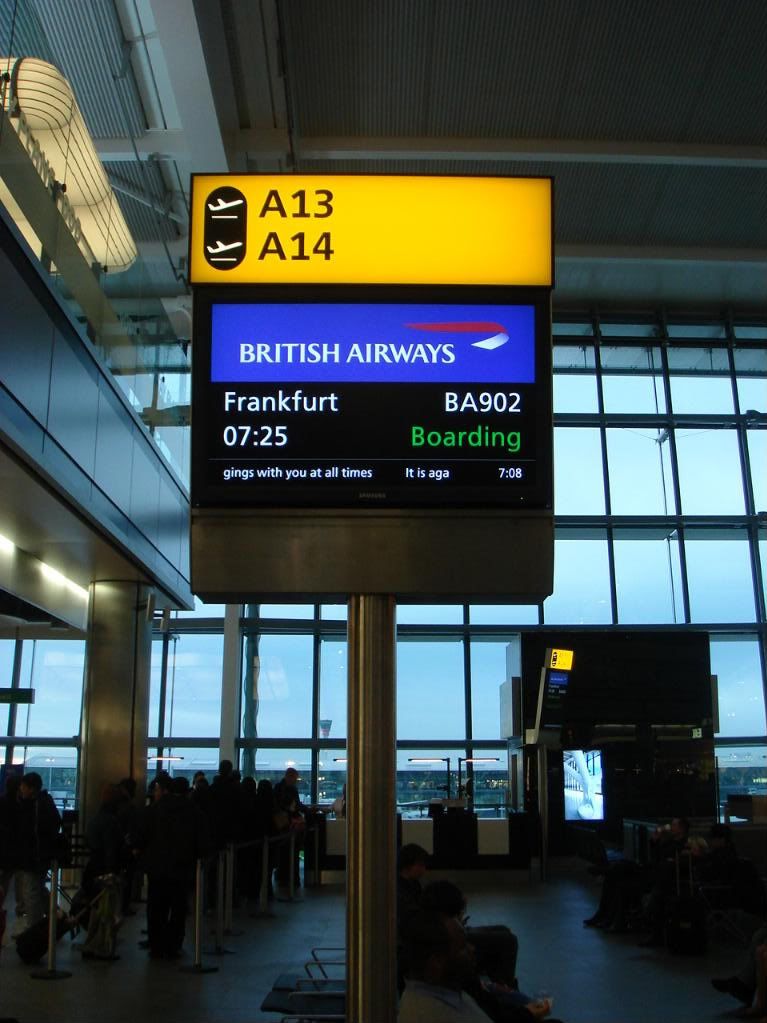 G-BNWB
Once aboard I took 4A as assigned, but moved to 6A as the guy in 3B was already reclining, thought it safer to move and have as much room as possible.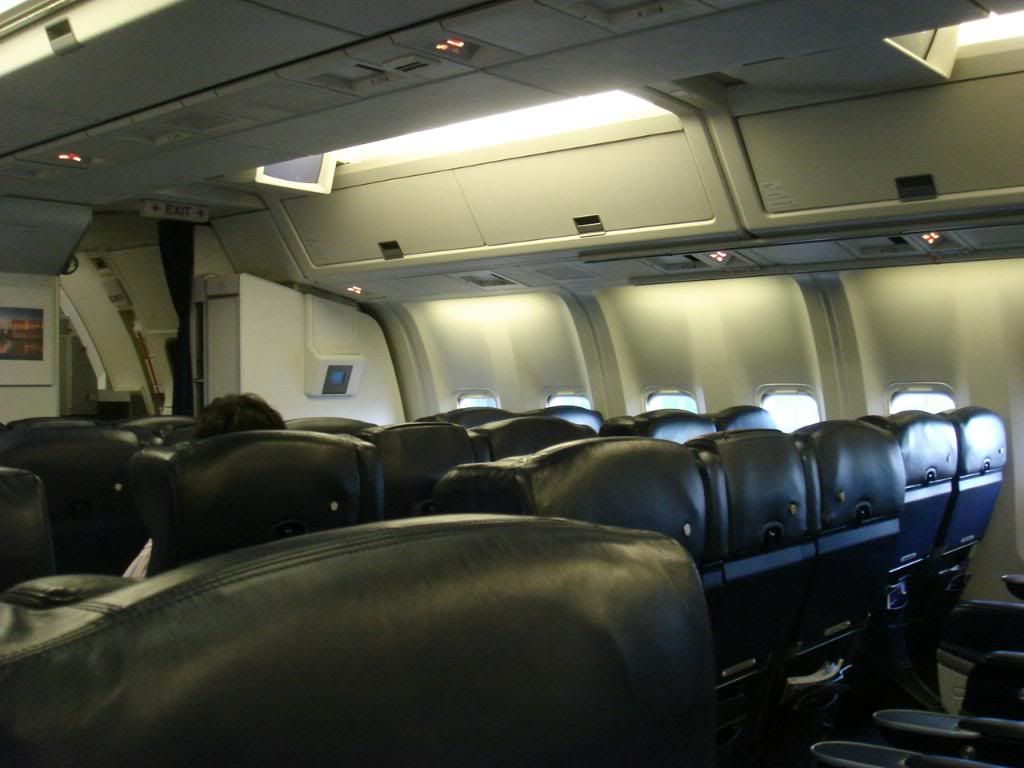 I'm not keen on these 767's, they feel quite dark and gloomy, much prefer the A32X series for my trips around Europe.
Due to ATC restrictions, our departure was slightly delayed - hence the late push back. We took a slow taxi out to 27L.
One of the Club passengers, an American, had asked one of the FA's if the A380 was here today, she advised yes and we would pass it as we headed out to the runway. The FA must have told the captain as he stopped behind the A380 and made an announcement, I thought that was a very nice touch.
Finally our turn to depart, wheels up at 08:05.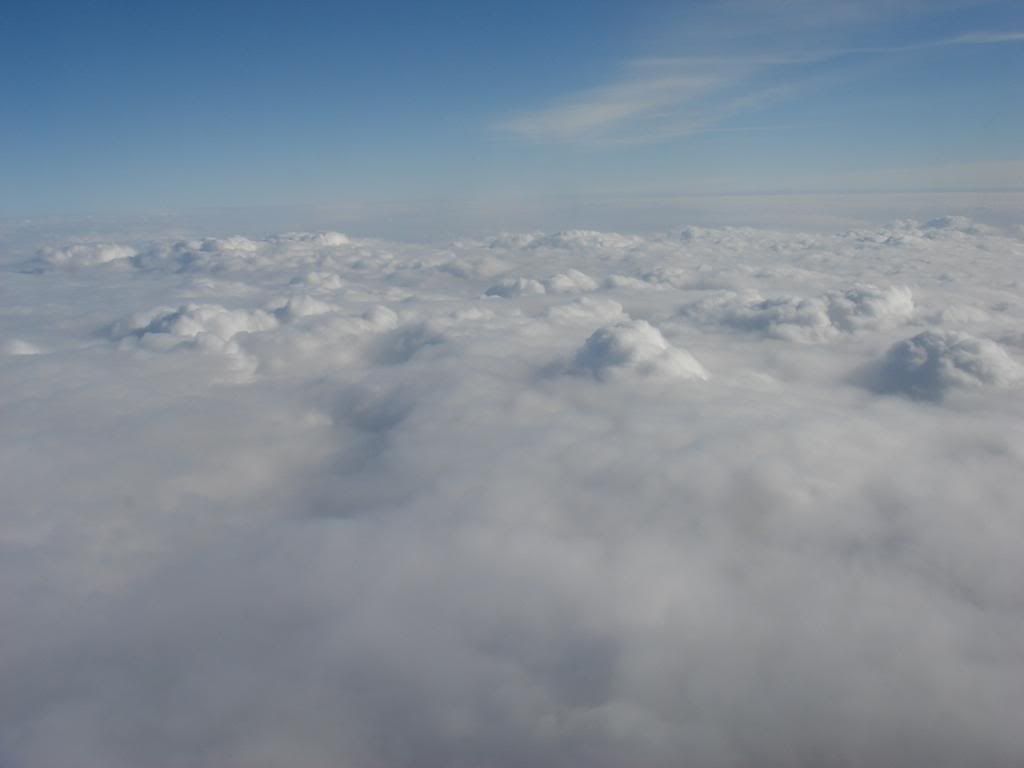 Breakfast was a choice of Continental or a Hot meal, I of course too the hot one, can't beat these BA breakfasts, a great start to a long day of spotting love them!
The rest of the flight was quite uneventful.
We began to descend in to the cloud, it seemed to take forever before I could see the ground. Weather this morning was terrible, not good weather for pictures, that's for sure!
Wheels touched down at 10:11, just behind schedule, we had to park on a remote stand as they have dug up the BA one for some work.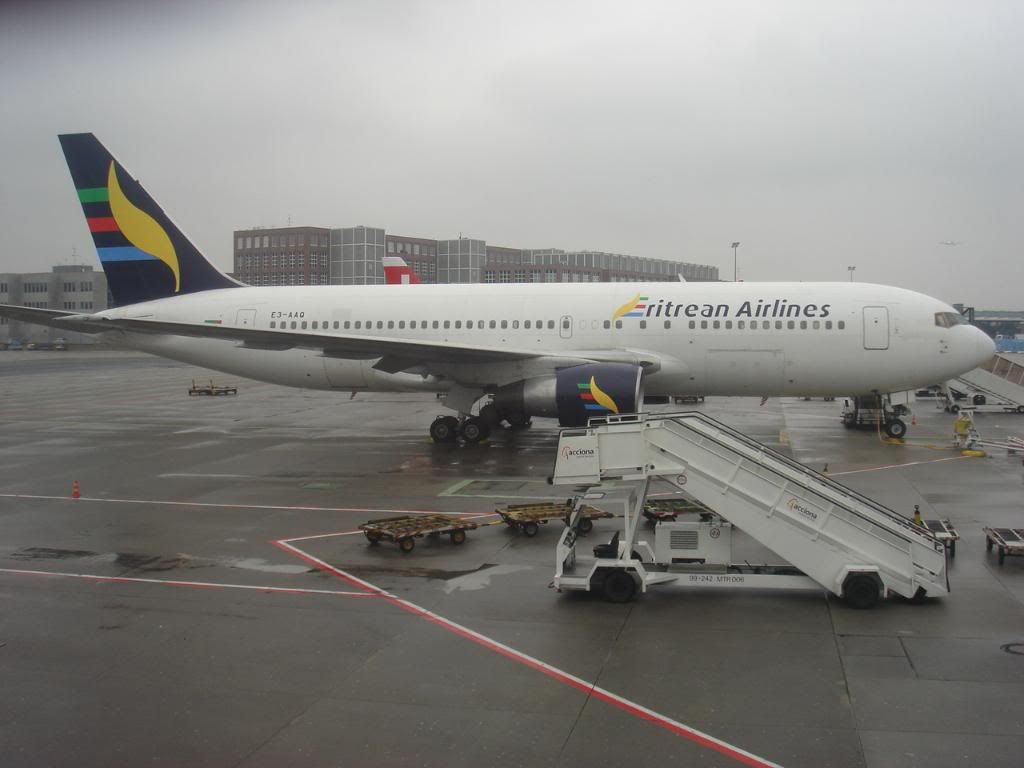 The police met the flight, we had to show our passports as we left the plane, they must have been looking for someone……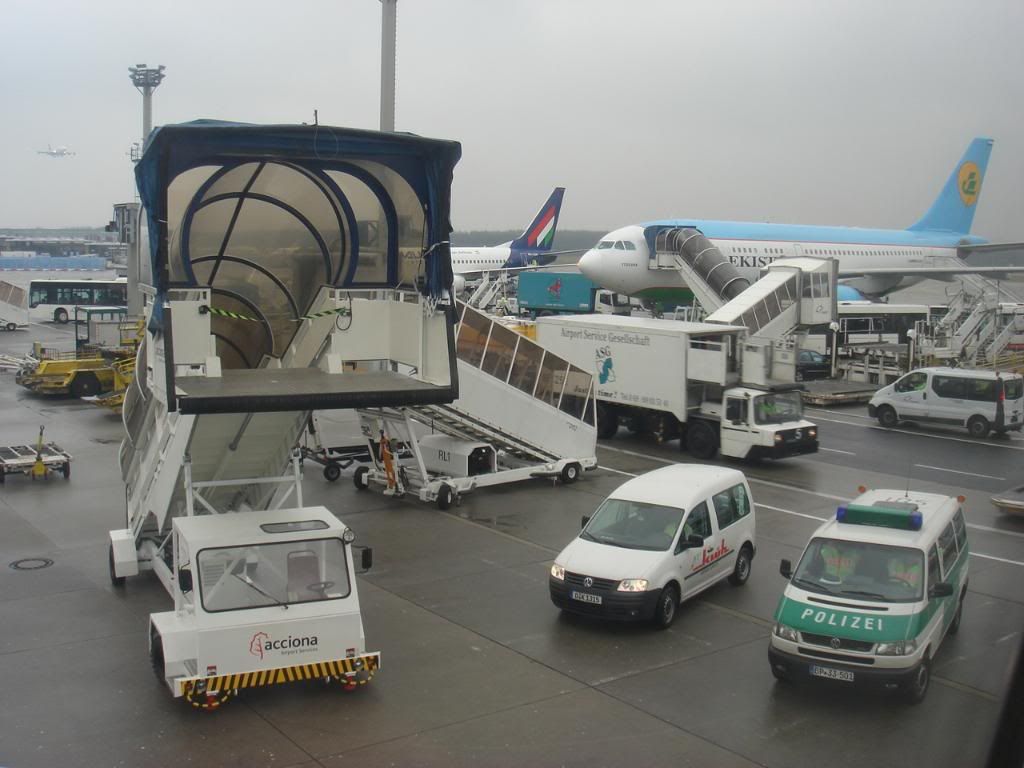 From the bus.
On the deck I managed to make 54 new planes, would have made more but some aircraft were using the far runway and never came close to T2.
Here are a few pictures from the day.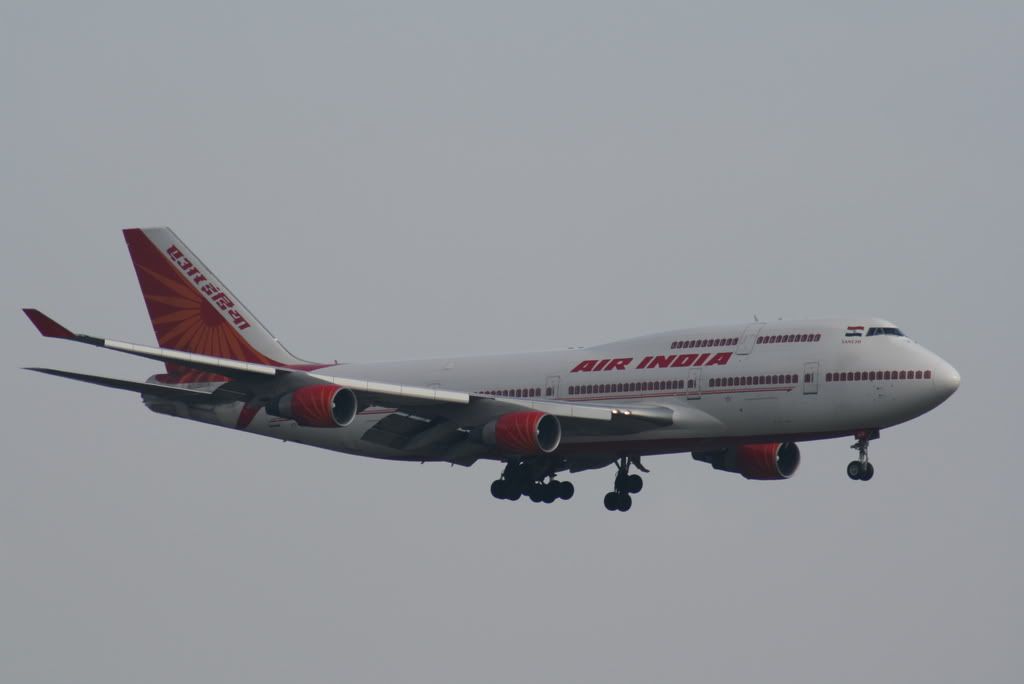 05.04.08 BA913 A319-131 G-EUOH 1A
1st Flight on this aircraft & 57th A319 Flight
SCH DEP 20:25 SCH ARR 21:10
ACT DEP 21:16 ACT ARR 21:42
View Large
View Medium


Photo © BernieC
After freezing my butt off, and thawing out in Macdonald's with a coffee to get more planes (the deck closes at 5pm, hopefully it's open longer in the summer) it was time to head home.
I noted the flight had picked up an hours departure, never a good thing when your tired and just want to get home.
Some lady was resting on the self serve check-in machine, didn't even bother to move off it as I used it, some people are just rude!
I by passed the duty free, and headed to the lounge, here are a few pictures.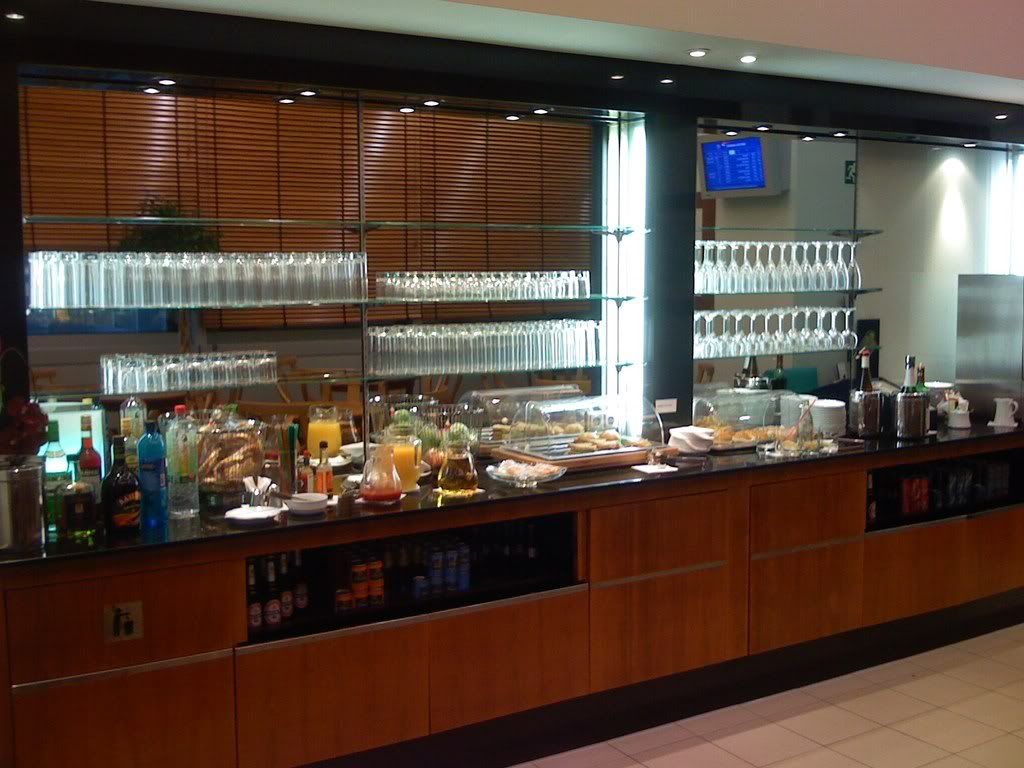 I don't recall the exact time boarding was called, however do recall the long walk to gate 50. The gates in this area are quite a walk and don't have any ramp views. The area is dirty, the lack of bins result in waste papers, drink containers etc being left on the seats, it's not a nice area at all, hopefully this is just a temporary thing until the ramp/gate area is repaired.
Bussed out, don't mind this, made my last registration of the day, or so I thought.
Crew seemed pretty nice as we boarded, took my seat and read Business Traveller, been saving it all day!
Doors were closed, I had the entire Club cabin to myself, it's been a while since that last occurred!
The captain apologised for the delay, he said it was down to the baggage system failing yet again, he sounded quite annoyed to be honest. I guess the crew's must be getting fed up as it messes them up too.
Push occurred at 21:16 and we headed out to the runway that feels like it's on the other side of the country, forget the number but you know which one I'm referring too!!
Wheels up as 21:34.
Since I was on my own this evening I figured service would be pretty good, unfortunately not so, the 1 FA for the cabin was not particularly attentive, took a good while to bring out any drinks, spent most of her time hidden behind the curtain.
That said, the food was tasty, even the coffee was pretty decent so can't complain.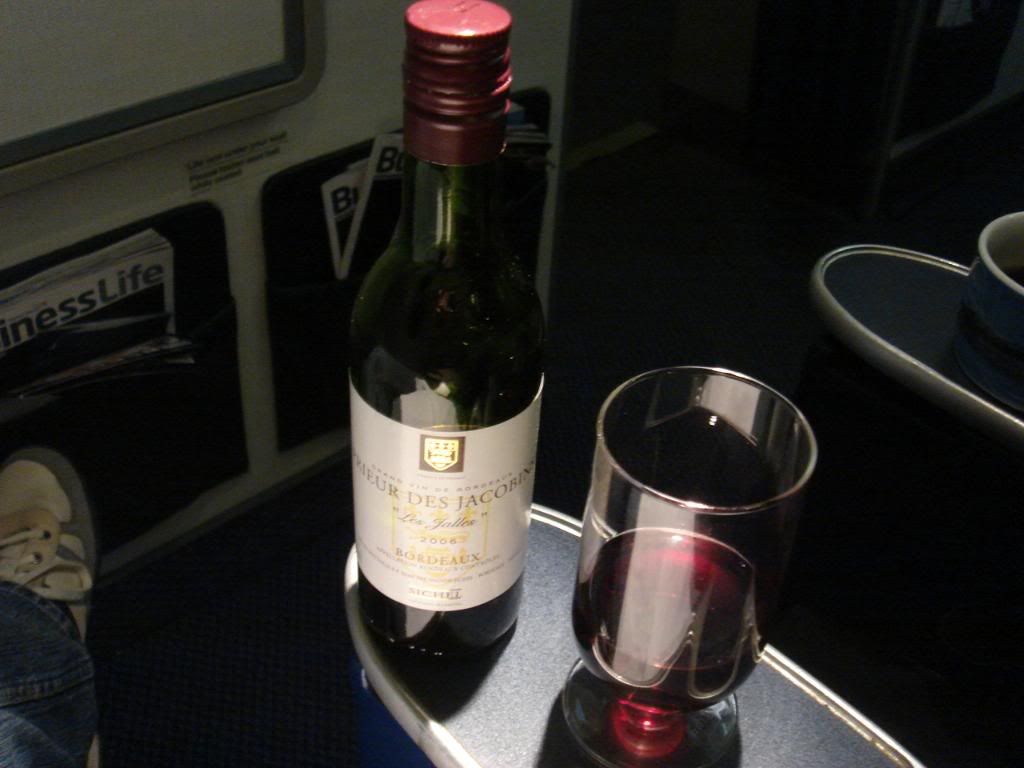 A pretty uneventful flight really, a bit of reading, listened to some music, that was it.
Descent was over London, not too much cloud either so it looked very nice, my pictures all came out terrible, really need to work on these night shots!
Wheels touched down at 21:34 on 27L, we taxied past my last new reg for the day, Air China's B-6075, the A332 which arrived earlier in the day carrying the Olympic torch.
EUOH pulled onto stand 548 which is T5 B after a few minutes of delay, appears we needed someone to see us onto stand.
The walk from this gate to the transit system is quite long, en-route some of the signage appears a little confusing. The ride to T5 main on the transit train is very quick.
The whole arrivals/immigration was quick though some of the signage appeared confusing.
Overall?
T5 is nice, it appears there is quite a lot of work required to finish it off, hopefully that can be done quite quickly and problems with the baggage system can be sorted even quicker.
BA, overall can't complain, though as with every carrier, they are only as good as the service the crews provide.
Thanks for reading, hope you enjoyed the trip.
Kind Regards
Mark
p.s.
Marcus, forgot to e-mail you, sorry, owe you a beer next time.
Future confirmed flights:-
BE MAN-IOM D84
BE IOM-MAN D84
BA LGW-PMI 735
BA PMI-LGW 735
BA LHR-JFW 744
CO EWR-HNL 764
AA HNL-LAX 752
BA LAX-LHR 744