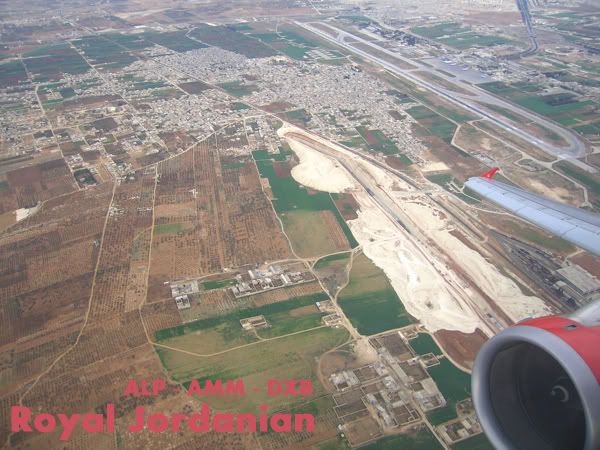 It has become a norm to associate the name 'Royal Jordanian' with many things such as bad service, poor on-time performance, revolting ground handling service delivery, and so on and so forth. Yes, all of that, and perhaps even more, was once a government-run National Carrier called Alia, also widely known as Always Late In Arrival (A.L.I.A); in fact, this alias on its own should just about sum it up back then.
Throughout its transformation to Royal Jordanian, which seemed to be nothing more than a cosmetic facelift, and a good one at that too, things remained as what one would expect out of a corrupt and mismanaged entity. However that was never what this airline was about. From its start, it was based around a strong vision to be Jordan's "ambassador of good will around the world in which [it] exchanges culture, civilization, trade, technology, friendship, and understanding with the rest of the world." Surely, traces of this vision were lost somewhere along the way. But what about now?
As a start, a positive management restructure proved to be profitable for the airline for years to come. Secondly, an invitation to join one of the world's three dominant alliances as the first Arab carrier was surprisingly, a jaw-dropper to say the least. Finally, the airline was fully privatized by December 2007. Yes, it seemed like things were improving, on paper at least!
But for the sake of Oneworld, Royal Jordanian Management promised to optimize and improve its regional reach, and as such, modernize its narrow-body fleet and improve service delivery. We saw the new A321's and the E-Jets come in, and we've also seen new destinations come online. But what about that one little aspect that matters to all of us; Service? They say they have improved it, but we rarely hear of that here.
So let's focus on the areas that the airline claims to have improved, and let's see where we have reached. What has become of this airline's service? Let's have a look!
Pure, honest, and simple, this is Royal Jordanian ….
Welcome to my 6th Trip Report,
This TR is on my Royal Jordanian flights. Initially this report was to cover flights from Dubai to Amman and back to Abu Dhabi however, that travel plan has been postponed till next month. Instead however, this trip sprung out of the blue which deemed it worthy to document.
This TR will cover the following flights:


Royal Jordanian: Aleppo – Amman, Crown Class (A321)

Royal Jordanian: Amman – Dubai, Crown Class (A342)

My previous Trip Reports can be found here:
CX: JFK-HKG-DXB In Y A346/772 (Lots Of Pics/Vids)
(by
Ronerone
Aug 28 2006 in Trip Reports)
Etihad: Pearl 2 AMM, Coral Right Back Pt 1 PixVids
(by
Ronerone
Jul 4 2007 in Trip Reports)
Etihad: Pearl 2 AMM, Coral Right Back Pt 2 PixVidz
(by
Ronerone
Jul 5 2007 in Trip Reports)
Cathay Delight: A Trip To Asia's World City
(by
Ronerone
Oct 5 2007 in Trip Reports)
Suvarnabhumi, The Etihad Way!
(by
Ronerone
Jan 18 2008 in Trip Reports)
Ultra-Competitive, Ultra-Long Haul: EY Vs EK
(by
Ronerone
Mar 21 2008 in Trip Reports)
This particular trip had only been planned for the night before I traveled. The Syria aspect of it however, was in the works for a very long time although I will not mention much about its background here since there will be a separate TR on that later. But for now, let's just assume that I got to Syria, and with a slight alteration to plans, I booked myself on RJ back to Dubai, where I had left my car parked.
So the night before I traveled, I was evaluating some flight options out of Aleppo, and even out of Beirut, and also Amman. Royal Jordanian was the most convenient as I was able to fly out of ALP. The downside of it however was the hefty premium I paid just to try Crown Class on the A340-200. Another downside was the 11 hour layover in Amman. But in my case, it was actually convenient because I used that time to get some sleep at the Alia Transit Hotel right by the airport, in time for work the next day.
The only milestone that I have achieved after this trip is that it was my very first time to fly on the Airbus A340-200.
Please excuse the quality of some, or all, of the pictures here, as I had to be very discreet considering how aviation-specific areas in this part of the world are considered to be highly sensitive. Let's put it this way, it was either poor quality pictures, or no pictures at all.
Saturday March 29th, 2008
I woke up at around 4am to give myself time to shower, get dressed, pack up, and head out to the airport, in time to catch my 7:30am flight to AMM. This was enough time as ALP was barely a 15 minute drive from the hotel. By 4:40am, I was at the lobby smoking a cigarette, as I waited for a cab. Shortly afterwards, the cab arrived and we headed off to the airport in the dawn of light. By 5am I was dropped off at Aleppo International Airport.
ALP Curbside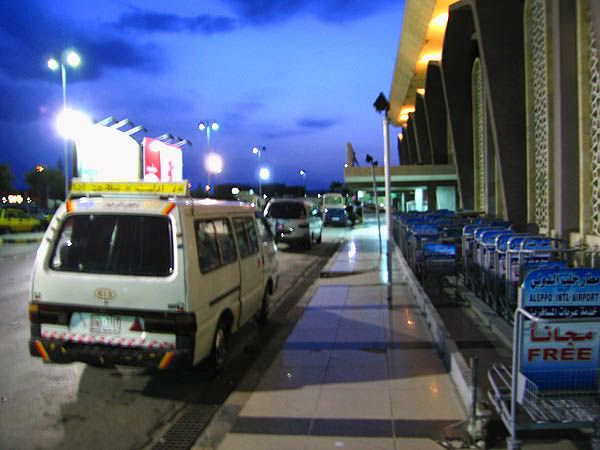 The airport seemed crowded at this time of day, as there were several flights departing, including Syrianair A320 to Abu Dhabi, and later on BMI to LHR. I headed through the security check at around 5:10am and found myself in a very crowded check-in hall. Aleppo Airport is very small, so a few flight departures can really cause quite the congestion.
There was a long line by the Royal Jordanian counter, which was mostly occupied by one tour group. I could not see any sign for a dedicated Crown Class counter so I asked the station manager if there is one. He ushered me to walk to the adjacent counter ahead of everyone else in order to check-in, and informed the agent that I was a Business Class passenger. Perhaps a little hand-written sign could do the job, however given the limited infrastructure of the airport, whatever was available had to do.
Check-in was quite smooth, except for the fact that I had to check my carry on. I was planning on not checking any luggage in because I did not want to waste time at DXB so I could get home as early as possible. So I took out some valuables and checked my luggage all the way through to DXB. Moments later, I was handed both my boarding passes to Amman, and to Dubai.
Boarding Pass: ALP-AMM
I paid my departure tax and then proceeded through immigration, which was a breeze, considering that most of the passengers on the RB flight to AUH had been cleared, while the RJ passengers were still checking in. So I was lucky! By 5:35am I was Airside.
I had some time to kill so I thought I would walk around and explore this rather interesting terminal. It did not feel like I was in an airport, but perhaps more like a ministry or some other governmental agency of some sort. In any case, I actually loved this airport. It was small, quite clean, and very retro.
There were two levels to the Airside of Aleppo International Airport. Check-In and immigration are on the ground level, and so are Ground Departure Gates 1, 2, 3, and 4, which are the remote stands that you get to by busses. On the upper level, which is the main departures hall, there is a Duty Free shop, a café, seating areas, and the upper level Departure Gates 5-10 if I am not mistaken. These gates are actually aerobridges.
I checked the FIDS to find out what the gate number for my flight was however, gate numbers are not 'disclosed' until it's closer to boarding time (ala LHR etc). However announcements seemed to be made on a regular basis, so I needn't worry about that.
ALP: Airside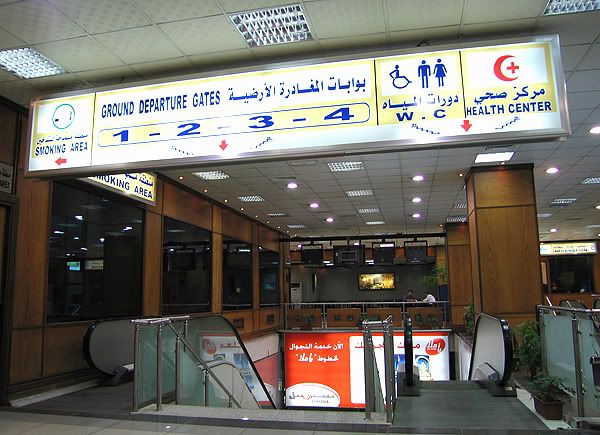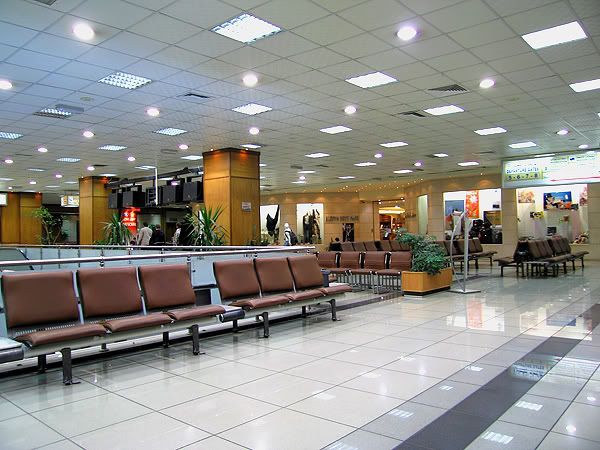 There is no premium lounge at ALP, so i headed for the café as I was in dire need for caffeine to wake me up. I ordered a Turkish coffee, and reached for my cigarettes, to find that when I had checked my carry-on in, I accidentally forgot my lighter in the bag. The kind man at the café however gave me his extra lighter to keep.
Turkish Coffee & Cigarette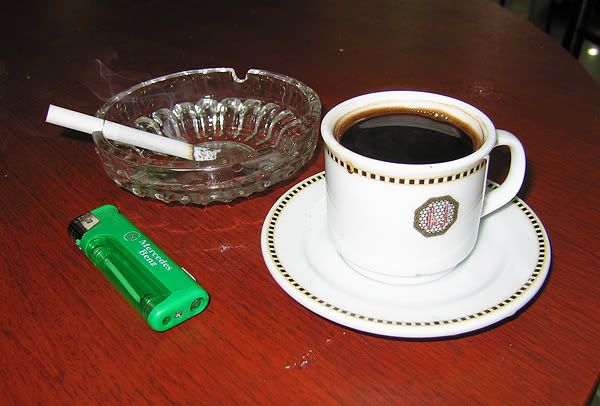 The View from the café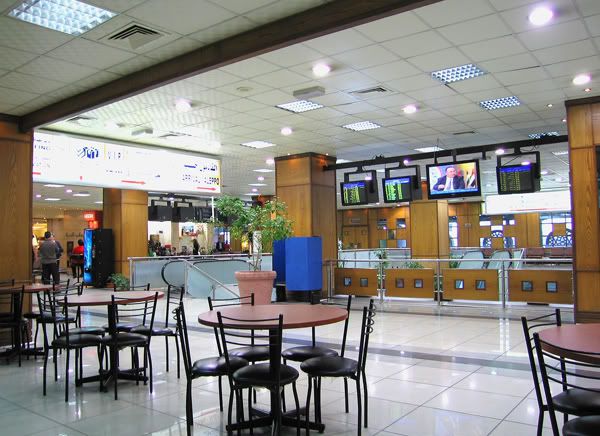 At around 6:10am an announcement was made that my flight would board from Ground Departure Gate no. 1. It was also around the same time that the flight had arrived from Amman. When I finished my coffee and my few smokes, I headed downstairs to the gate at 6:40am. A security officer greets you at the entrance to the gate, who checks your boarding pass and ushers you to proceed towards the security check. After the quick security check, I was inside the holding area by 6:40am.
ALP: Holding Area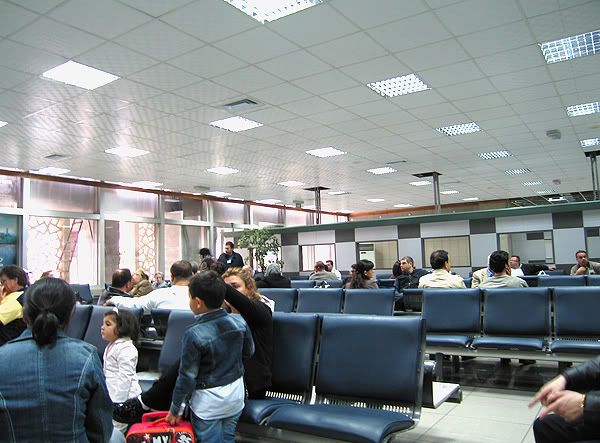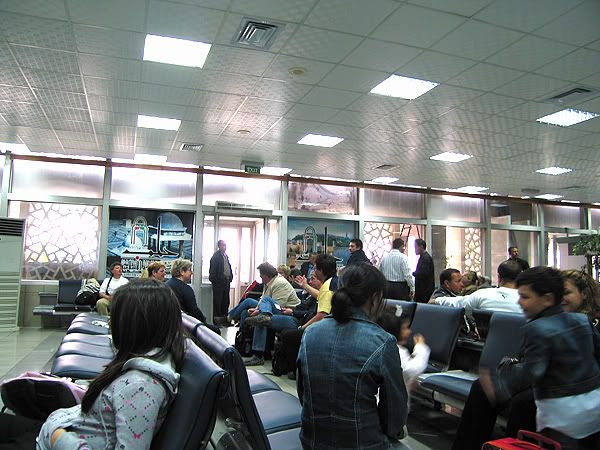 At 7:05am the bus had arrived at the gate and the doors were opened. While no announcement was made whatsoever, everyone got up and formed a queue to board. I stood in line and when it was my turn, I handed my boarding card to the ground agent who tore of his piece and handed back mine. By 7:10am I was inside the bus.
From The Bus: Syrian Arab Airlines A320 YK-AKD (notice the wing of the 747SP YK-AHB to the right of the picture)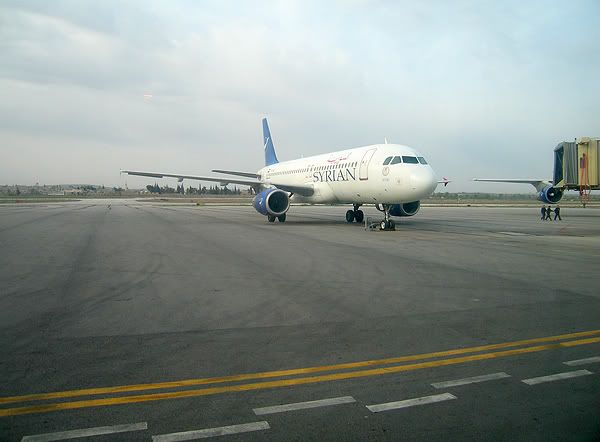 A short ride in the bus and we finally arrived next to the aircraft. As we got off the bus we were greeted by several Royal Jordanian 'undercover' security officers, who conducted a quick check of your belongings before allowing you to proceed up the stairs to board the aircraft. Royal Jordanian used to be notorious for its own security checks at the gate prior to boarding, however they have toned it down a little and it is conducted only during sensitive times like the Arab Summit that was in Damascus in my case. After I was 'cleared', I proceeded up the steps.
My Aircraft to Amman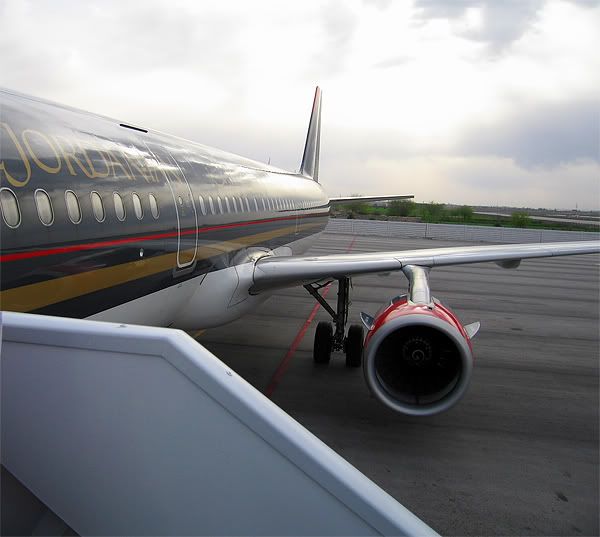 At the door was another security officer and a smiling Jordanian lead cabin crew who welcomed me on board. By 7:20am I was on board.
CONTINUED BELOW