One day back in January, I come home from college, and have the urge to book flights. I'd just been paid so thought "why not?!". I got speaking to Dave Chapman about a possible trip somewhere. LGW-GCI-LGW with Aurigny on an ATR 72 is something that always appealed to me for some reason, and the prices seemed to be co-operating somewhat. Dave then suggested, while we're there, we may aswell try out the legendary Trislander. Prices for that also seemed good. In the end, our trip, LGW-GCI-JER-LGW was born.
LGW-GCI GR601 Dep:0830 Arr:0935 ATR72. £34.90
GCI-JER GR854 Dep:1330 Arr:1350 Trislander. £25.00
JER-LGW BE950 Dep:1755 Arr:1855 E195. £29.99
This was perfect. Three new aircraft, two new airlines, two new airports, all for under £90. I was sold on the idea.
Channel Islands Part 1. Aurigny LGW-GCI ATR72
My alarm wakes me up at 0600 and I immediately look out the window to find beautifully clear skies. Perfect! The usual breakfast, shower etc and I'm out the door by 0640, ready for the drive to LGW. Heading past Crawley and up the M23, we're there in just 15 minutes. Saying goodbye to my Dad I headed straight to South Terminal departures, where it was usually busy. Walking through security the usual ignorant passenger ahead of me takes a good while taking her belongings off of the conveyor belt. Reaching up the plastic tube I grab my shoes, jacket, belt and wallet before walking off and putting my shoes on elsewhere. Not to mention my belt, which was pretty essential with jeans that I foolishly purchased a good few sizes too big for me.
I decide to try and find a decent place to sit and watch the day's traffic, but to no avail. Instead I decide to walk down to gates 1-10, where I assumed our aircraft would park up. I was amazed at how small the entrance to the gate area was, a door no wider than 2 metres with a large yellow "1-10" sign above it lead me down a dark, quiet, old corridor, where I eventually found somewhere to look out onto the flight path. I stand there while a BA737, 319 and CO 764 fly past. I call Dave who is just coming through security, and we soon meet up. Walking around duty free again we marvel at the size of the queues in some of the shops.
Finally our flight is called to the gate. 12 this would turn out to be. At around 0755 we head down to find that we're the only people at the gate. A serviceair agent (In the style of Singapore_air: who would make a suitable wife
) was perplexed by Aurigny's newly introduced online check-in boarding cards. Dave manages to explain how they work. We head over to the small portrait-style window and find an empty stand. Our flight soon arrives, and pulls in. We would be on G-BWDA.
Not long after arrival we're called to board. By this time a few more passengers had arrived, but certainly not enough to fill the ATR.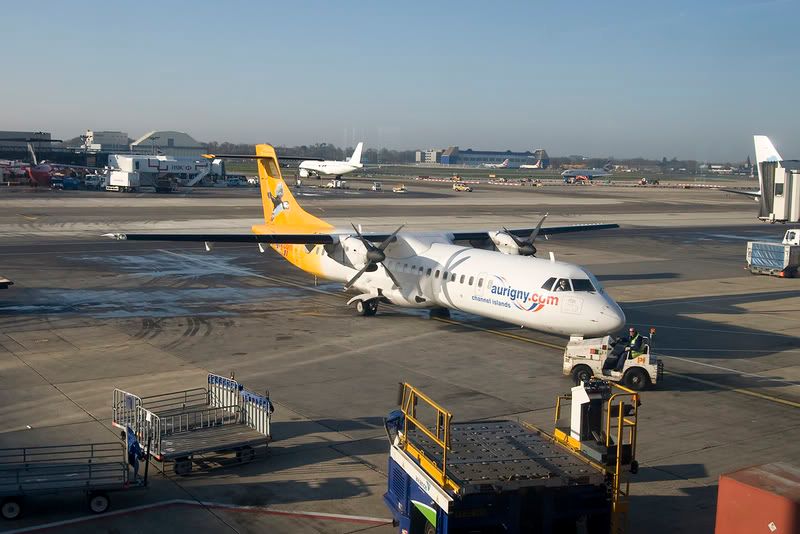 BWDA on stand.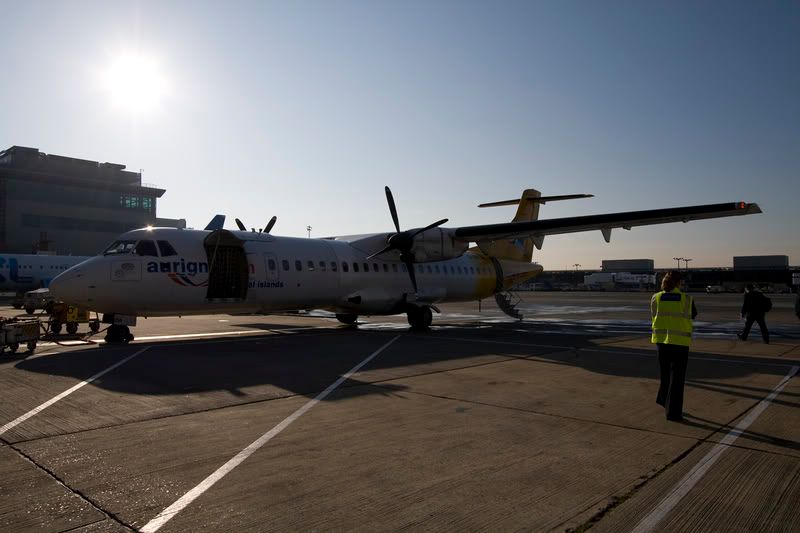 Walking out to board.
We're greeted on the rear stairs by a flight attendant, and walked down the aircraft. My initial impression of the cabin was that it was quite old and worn. Carpets were fraying on the edges and panels were slightly yellowed. Dave was seated in 9A, and myself in 9F. We chose our seats when we booked the flights, for an extra £1. The other 20 or so passengers sat down, and the door was closed. A good7 rows in front of me where empty, so a very low load factor for today's flight, and nobody sat next to me! Pushback commenced somewhere between 0835 and 0840, the engines were given some juice and we were soon taxiing to 26L.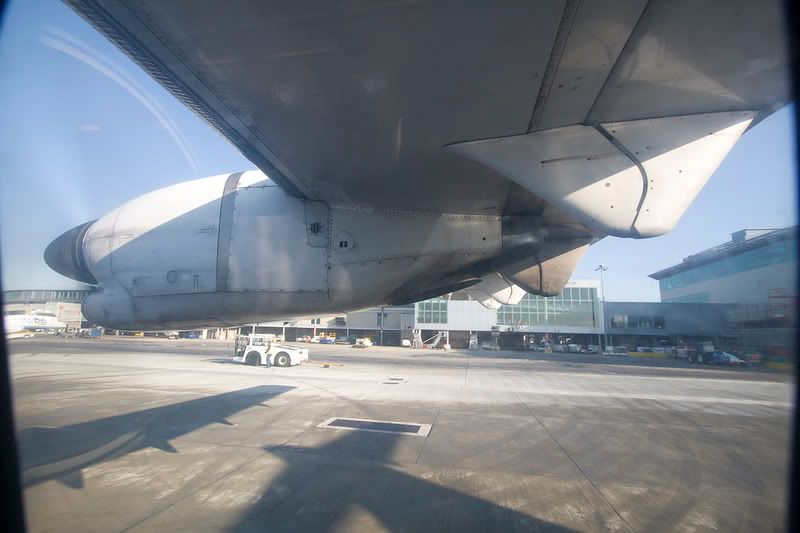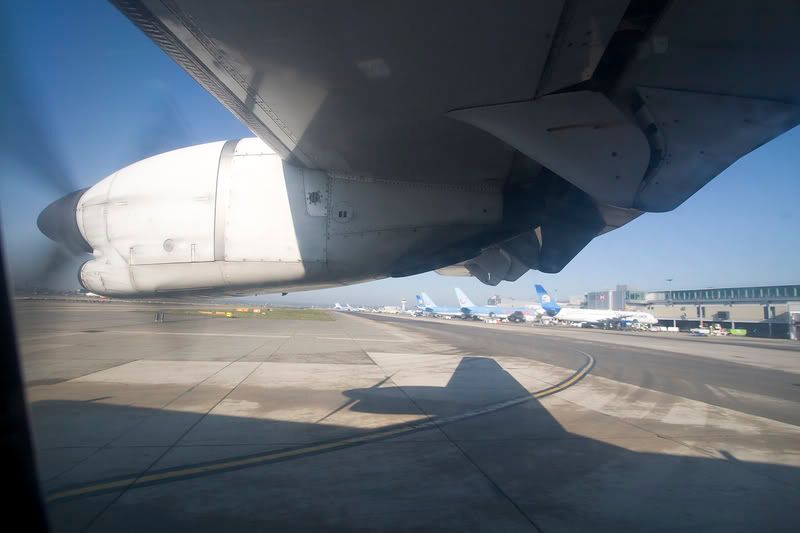 We were soon lining up in front of a couple of U2 A319's. The throttles were opened and with increasing noise and vibration, we were well on our way at 0844.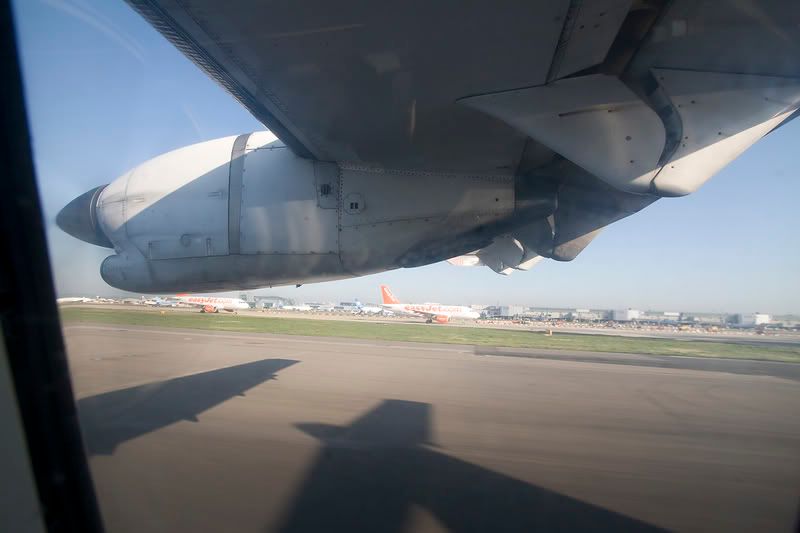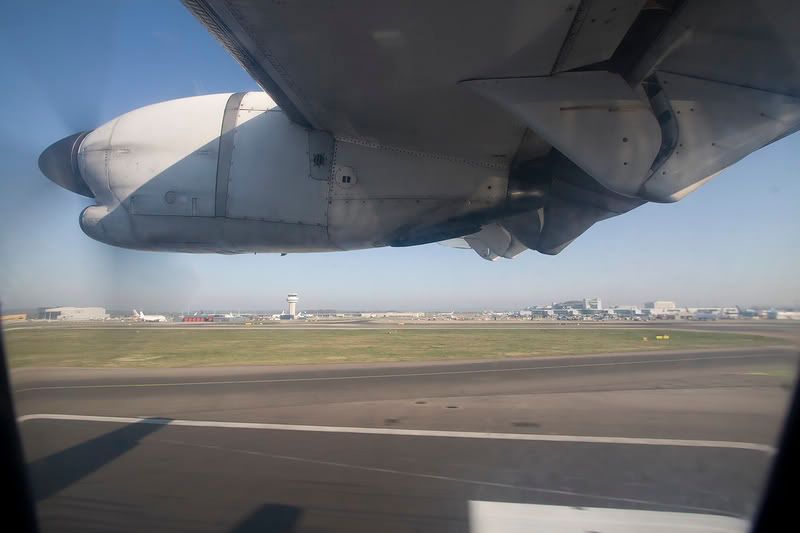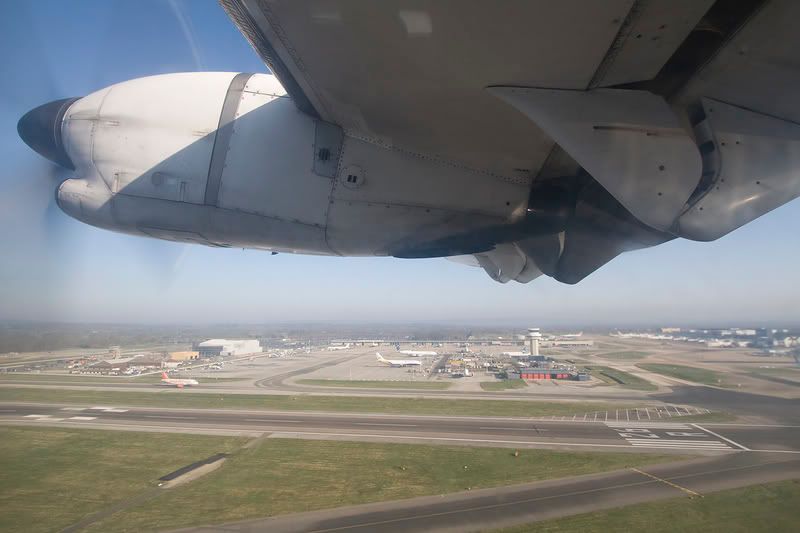 I was surprised at how quickly we gained height.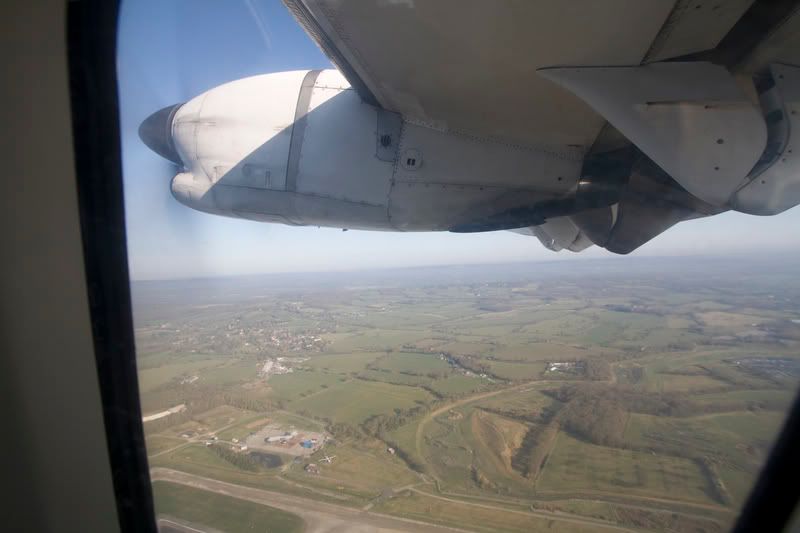 LGW's fire training rig named "Hot Wings". And to the right of a small river, a triangular hill where I spend many summer evenings photographing.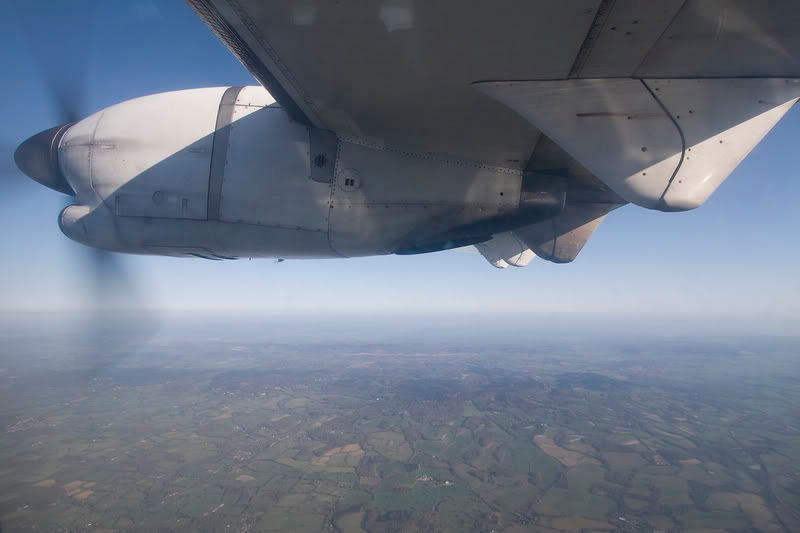 Levelling out slightly the view north certainly was beautiful.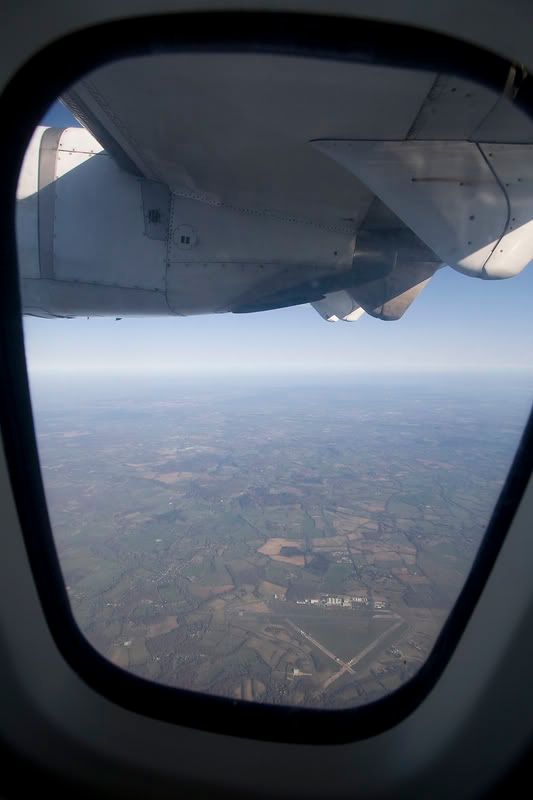 Portrait view and Dunsfold airfield where "Top Gear" is filmed in the bottom right.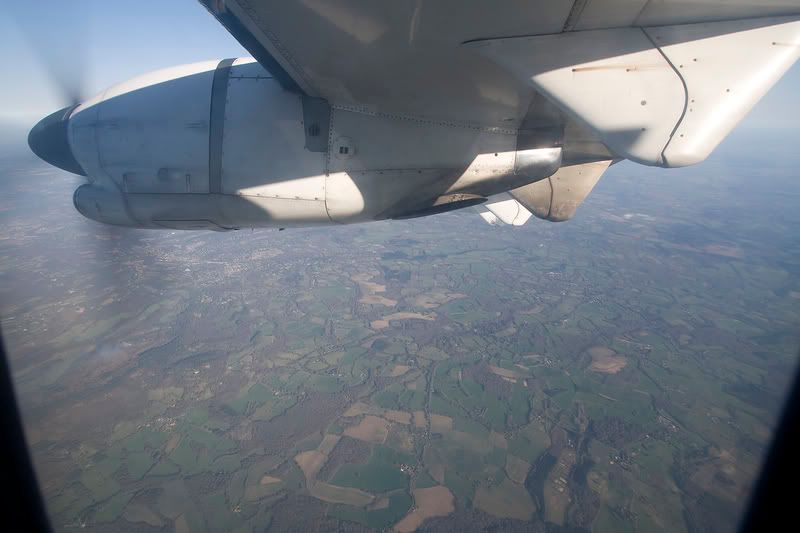 After turning to port and heading further south, we reached our cruising height of FL160. The FA's commenced their complimentary drinks service. I chose an orange juice and Dave a tea. I asked the FA if we could visit the cockpit after landing, only to be declined access. A bit of a disappointment.
I decided to have a wonder up front and see if the windows up there were any cleaner. Unfortunately not so. They were covered in thick dust. However I took the opportunity for a cabin shot.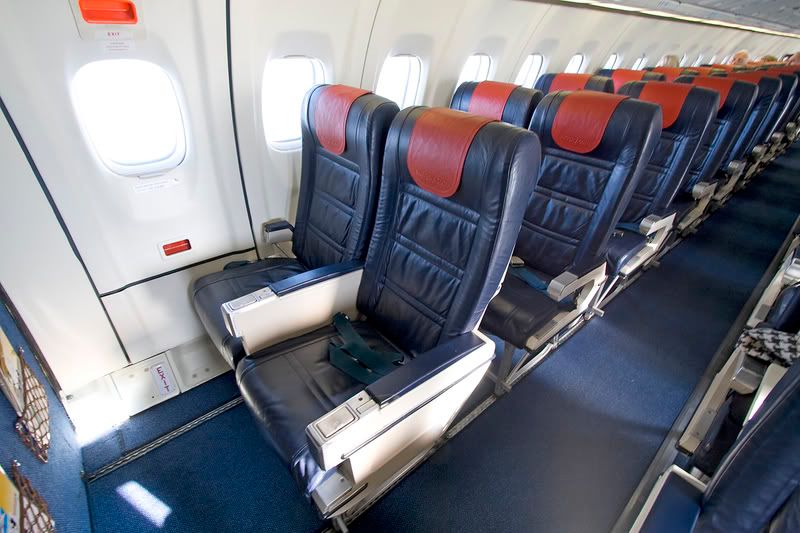 Soon afterwards, much to my surprise, it was time for descent. Sitting myself back down I spent the rest of the flight staring out of the window. The clouds came close and closer until we were skimming the tops.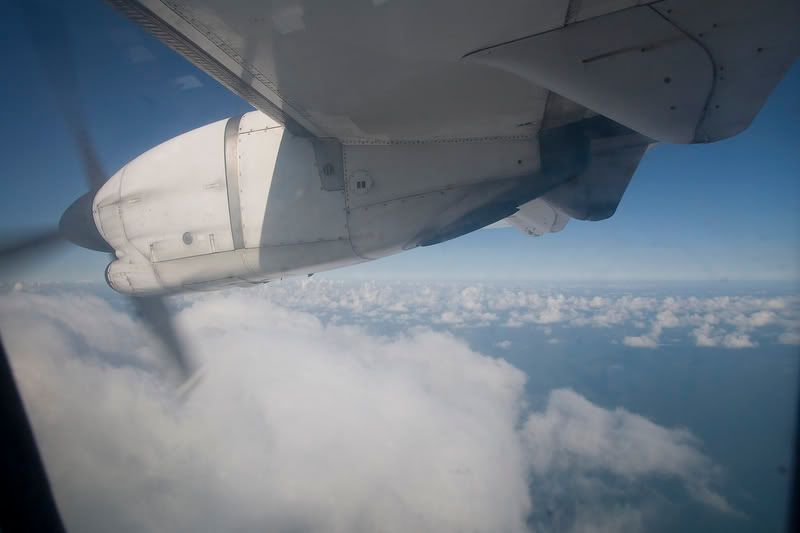 This is what I love about flying, skimming the tops of the clouds before being devoured, bumping around and coming out the underside. Such fun!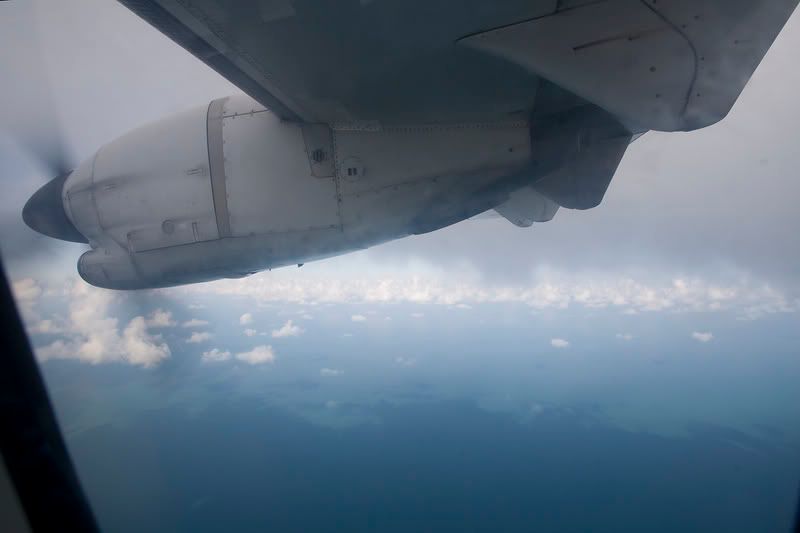 Visible out of the left side windows was the island of Guernsey. With a loud clunk, which made me jump, the undercarriage was extended for landing.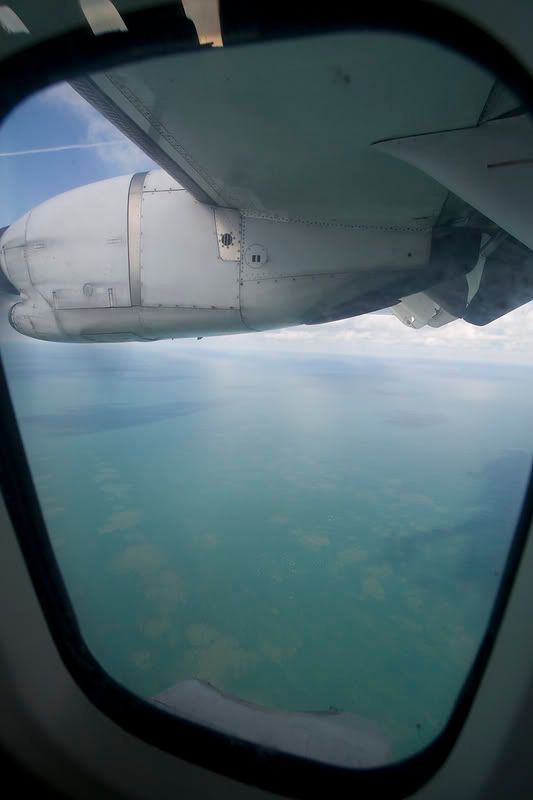 After our final turn onto short final, cliffs, farms, houses all whizzed close by.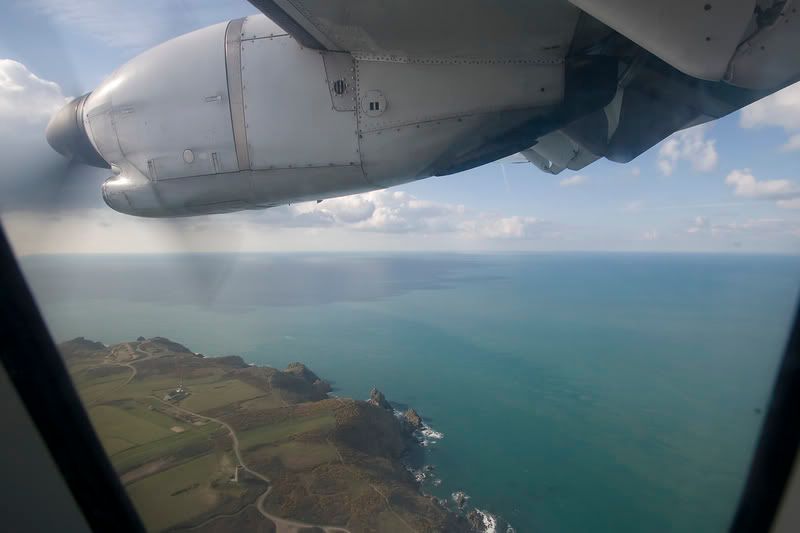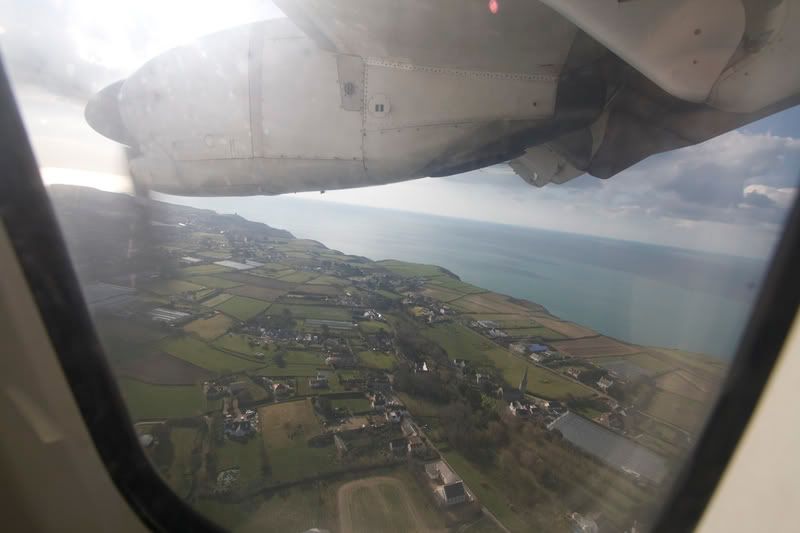 We were into the airport perimeter and with a short flare, touchdown was very smooth. Reverse thrust and adequate breaking sent us off of the last available exit.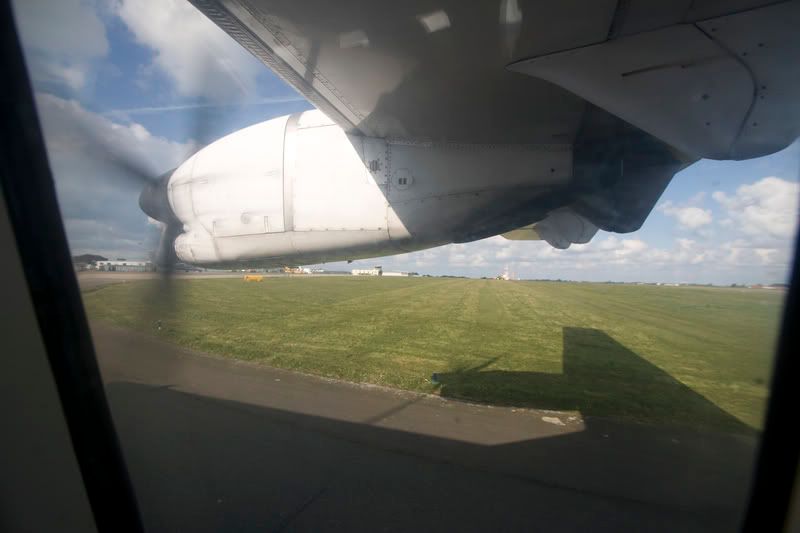 To the left Dave pointed out a couple of Cessna Citations and an ATP. After a 39 minute flight we pulled onto stand. Engines were shut down and the seat belt signs were turned off. Making our way back to the rear of the aircraft we walked out into the fresh air and sun. A short amble to the indoor glass walkway took us past the rear of the ATR, some trislanders and a FlyBe Dash 8 parked up silently.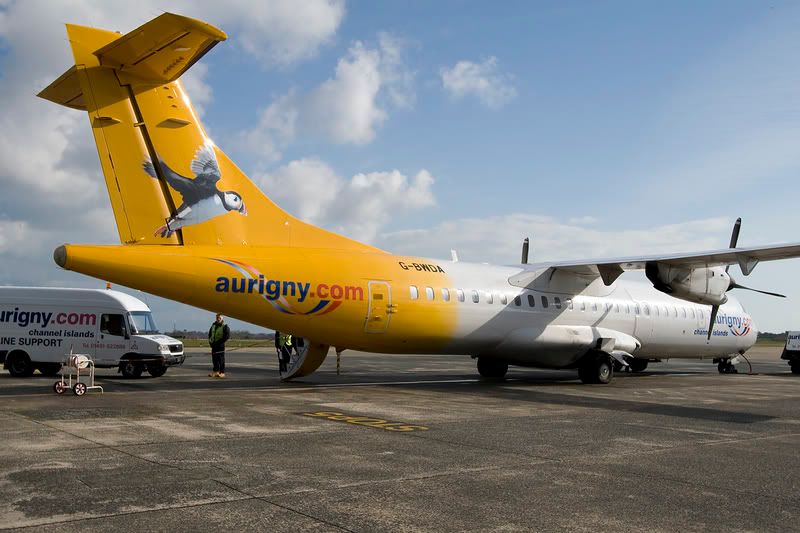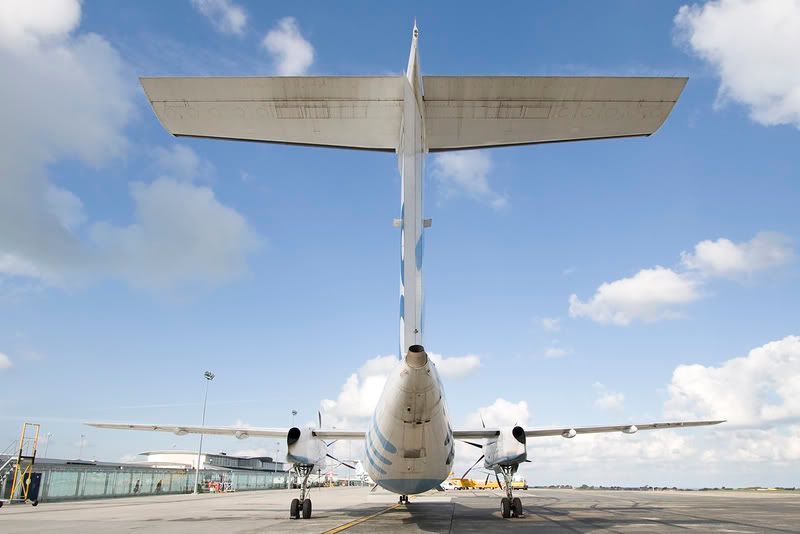 The corridor seemed to go on for a while before walking into an eerily silent baggage reclaim area. Walking towards a set of double doors took us straight out into the arrivals area. Thus our day in Guernsey begins!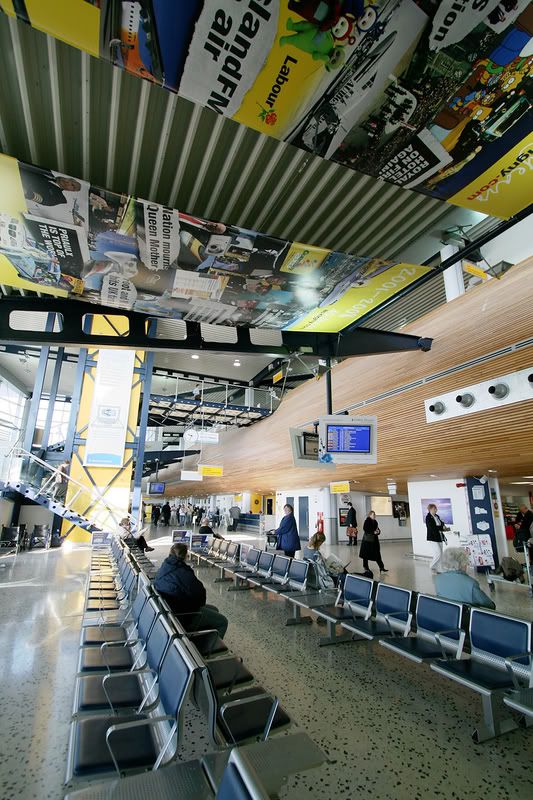 Terminal building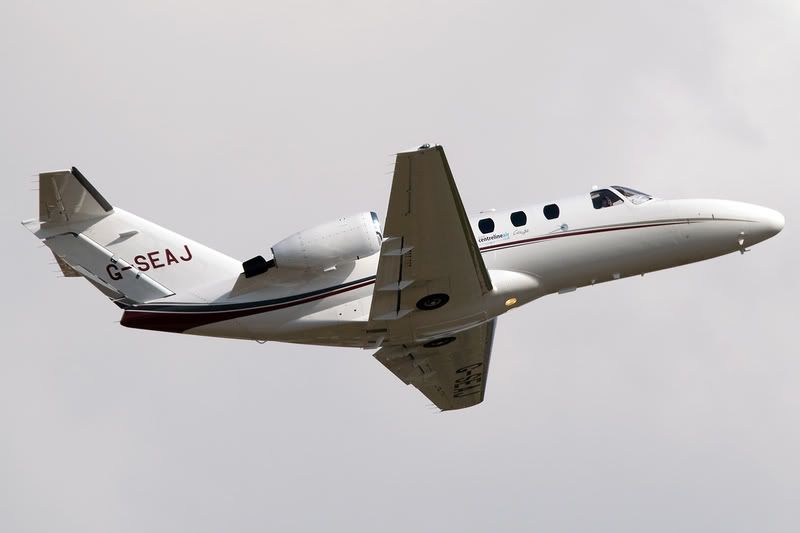 One of the Citations departing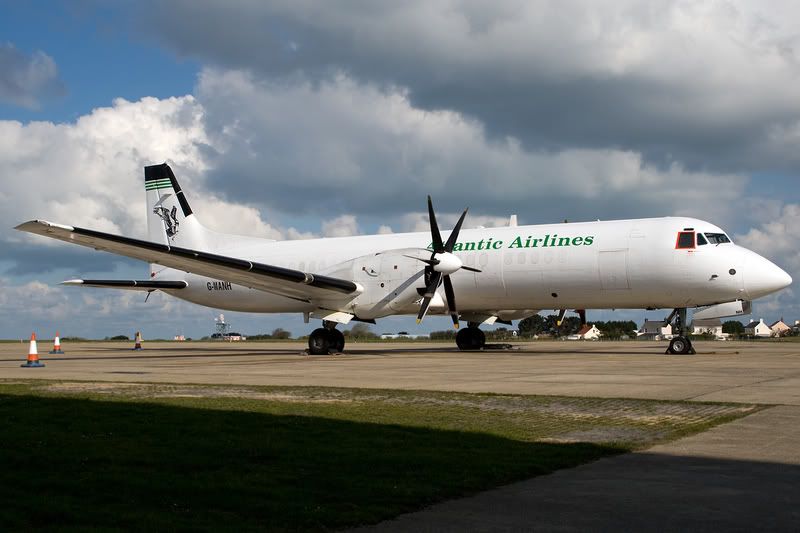 The ATP
Part 2, GCI-JER GR Trislander will follow within the next day or two. Hope you enjoyed this report as much as I enjoyed reviewing the details and editing the photographs!
Comments/Constructive criticism are more than welcome
Thanks for reading.
Tom