Four Airlines Around Napoli / Beluga pics included
Hello, dear readers,
after around four weeks of non-leisure flying its time for a new story.
My Blue Miles account was well feeded, some miles soon to expire in 2008, so I´ve decided to check the X3 timetable
for a sponsored flight.
Naples is mostly more expensive than other destinations in Italy, therefore booked a early morning one-way and
connected it with something new to my log.
Ready?, let´s go!.
Wednesday, 09.04.2008
STR (Stuttgart-Echterdingen) - NAP (Naples-Capodichino)
Duration: 1 hour 30 minutes
Service X3 3732 operated by TuiFly Boeing 737-800 D-ATUC
Scheduled: 06.40 // 08.40 finally after some small changes
Actual: 06.50 // 08.20
Gate: 360 Seat: 32A
Load factor: Around 80 %
Fare: 20.000 Blue miles and 27,74 EUR Taxes and fees
History:
15.02.2006: Delivered to HapagFly
15.01.2007: Renamed TuiFly
Leg no. 34 on the 737-800 and the first on this machine
No problem to check-in online at Tuesday evening, sequence no. 23, so it seems self service check-in goes also more popular with X3.
Boarding was announced for 06.10 am, I´ve decided to be present at 5.30 a.m. and so it was. No time to wait at security,
my gate was on the ground floor of T3, a bus one.
Boarding started well ontime, remarkable was a large group of mostly retired people going on a ship from Napoli on MSC cruises.
After several B737-700 flights the last time with X3 i´ve hoped for a 737-800 today.
D-ATUC wears the older, but not the oldest, blue livery, ok so far.
The early morning apron bus tour, no good pics today while it was still dark outside.
Rear stairs boarding, welcomed by two friendly FA´s.
HapagFly or TuiFly?:
Boarding early morning: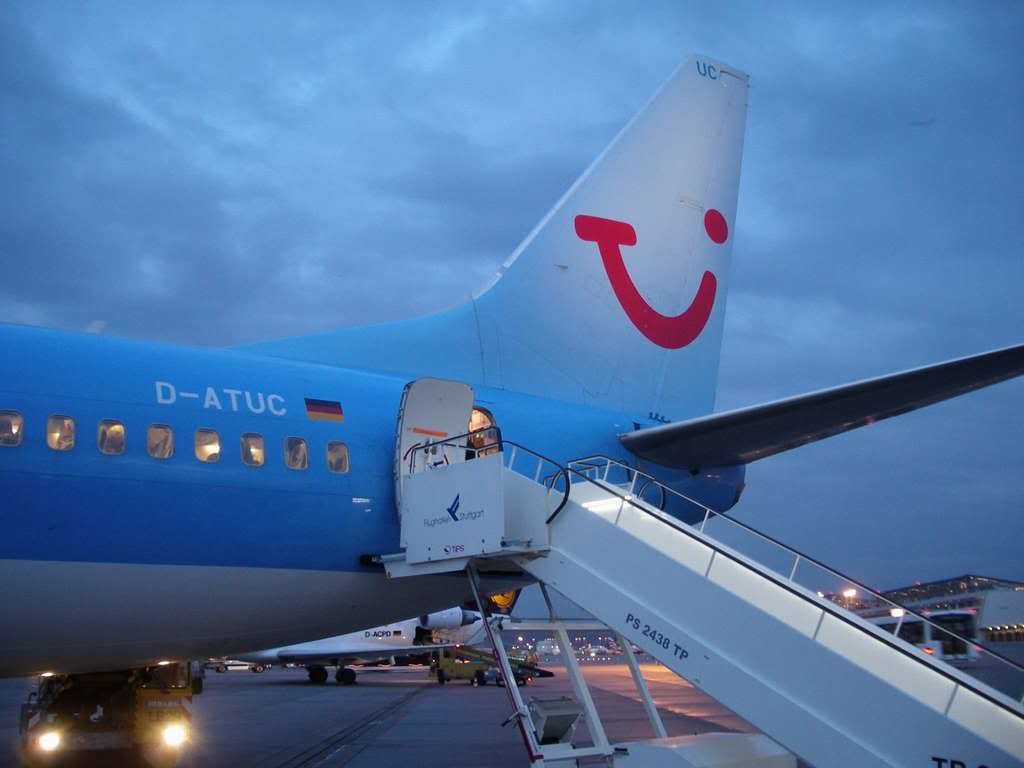 The cabin crew was two male/two female, all friendly.
Cockpit crew was from Germany.
The machine fitted with the new style slim Recaro fabric seats, clean and comfortable.
Inside D-ATUC: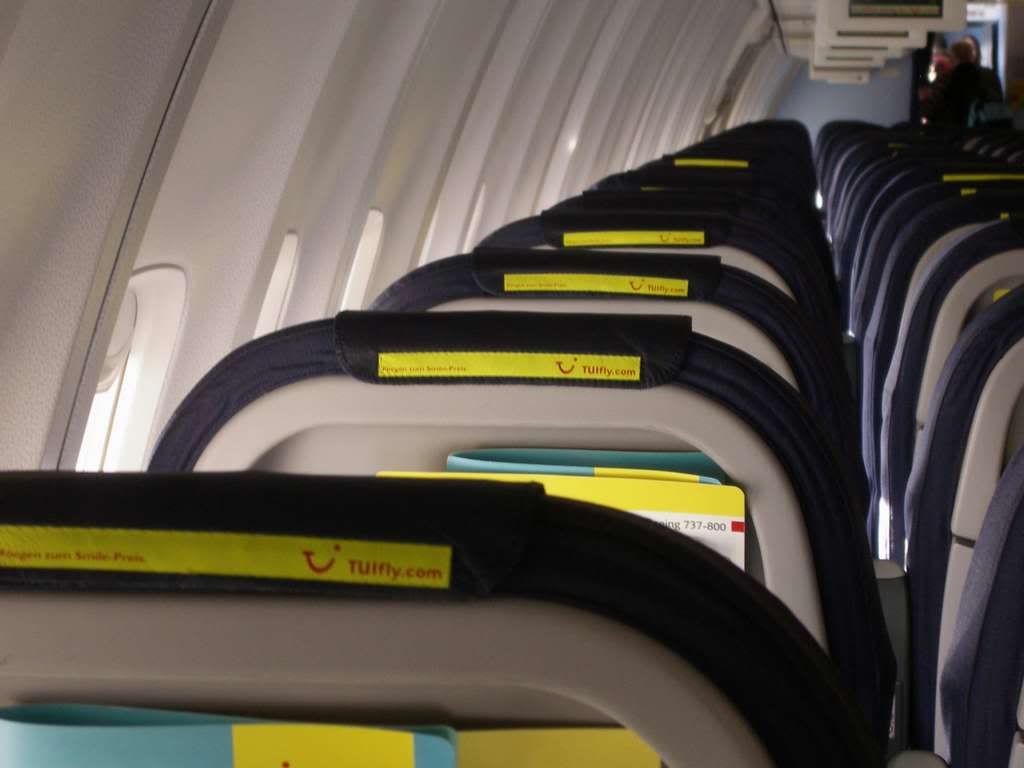 No time to wait for a runway 25 departure, we´re in front off the usual 07.00 am morning queue, not bad.
The route was: Zurich-Milano-Firenze-Rome, cruise level 35.000 feet, a calm flight.
Skiing might be good!: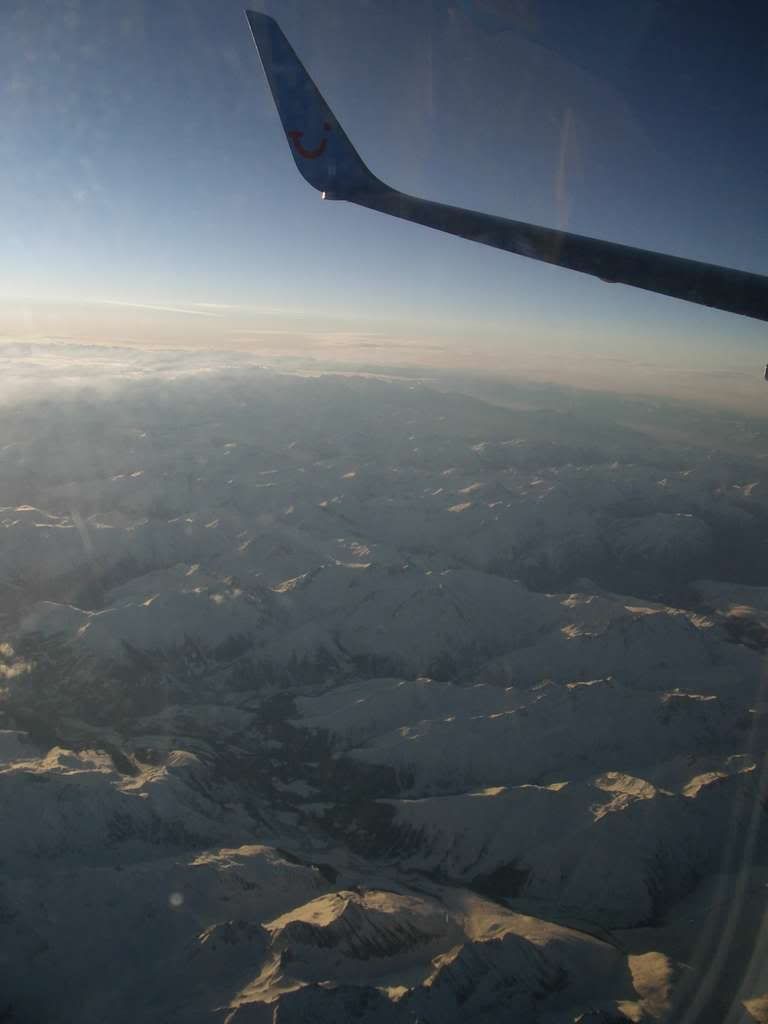 Good to follow by the map system on the screens and also noticed by the friendly captain during cruiseflight.
Service was ok, magazines/newspapers, a breadroll and beverages, coffee/tea all for free.
Cloudy sky over Italy, no good views along the route southside from the alps.
Arrival was well ontime after touchdown on runway 24 , real interesting from the landside, over the hills and steep down to NAP.
AZ and it´s rival:
Soon history?: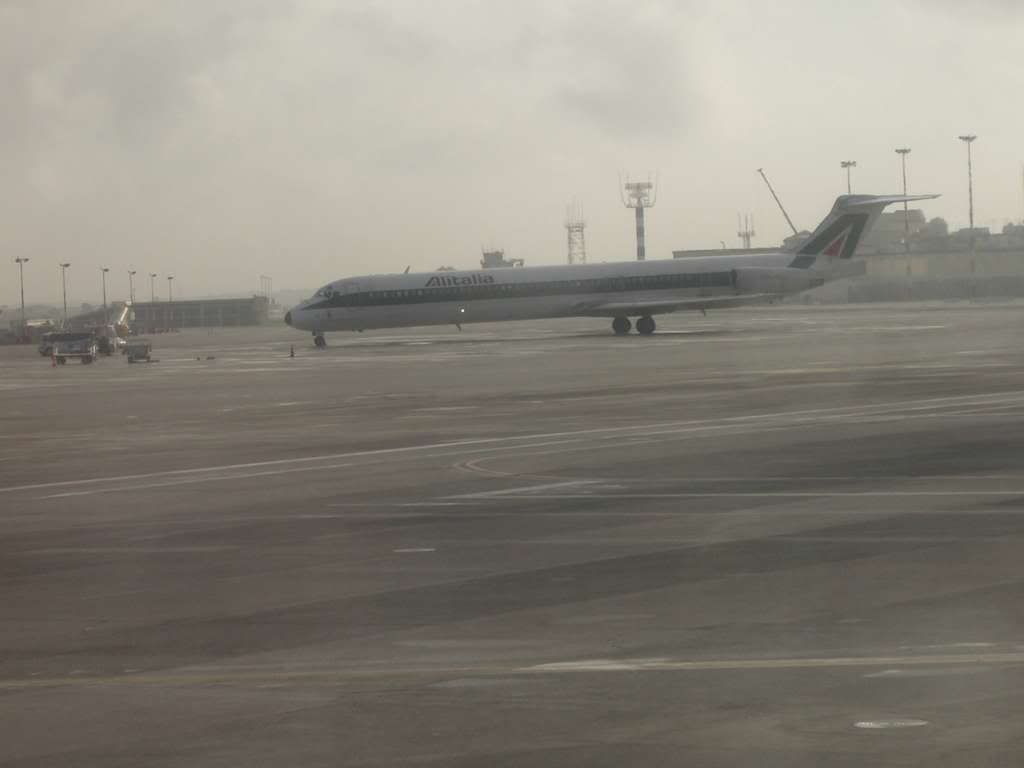 Deboarding by bus and only some minutes later I was on the way to the city centre, Municipio, with the direct Alibus service, 3,00 EUR oneway.
I was for the first time in the city, nothing to see about the garbage problems, nothing to notice about criminal action.
Naples is from my point of view a bit unkempt, but nevertheless an recommendable and interesting place to visit.
The Castel Nuovo: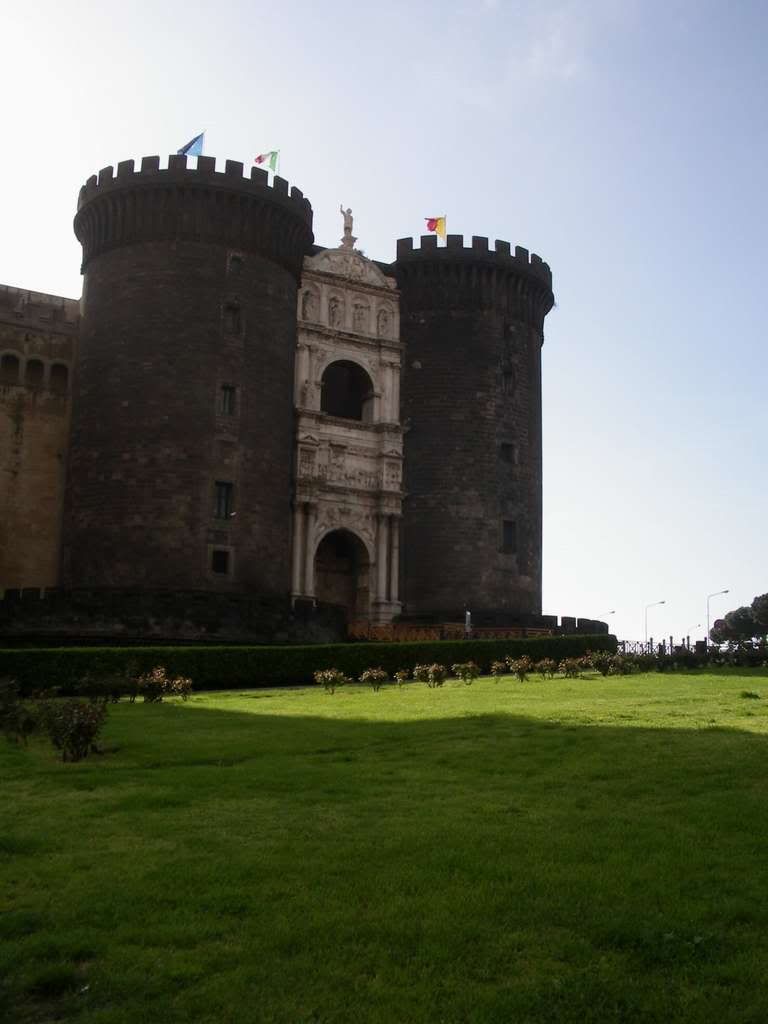 The entrance:
Famous Galleria Umberto: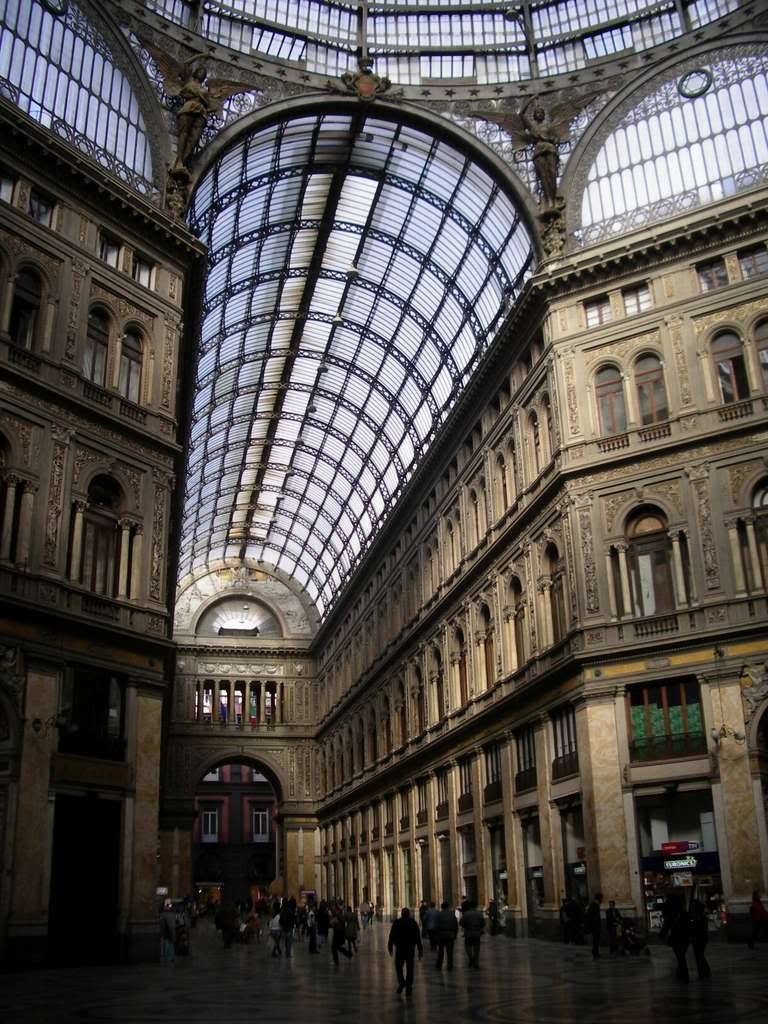 Piazza del Plebiscito:
Harbour...: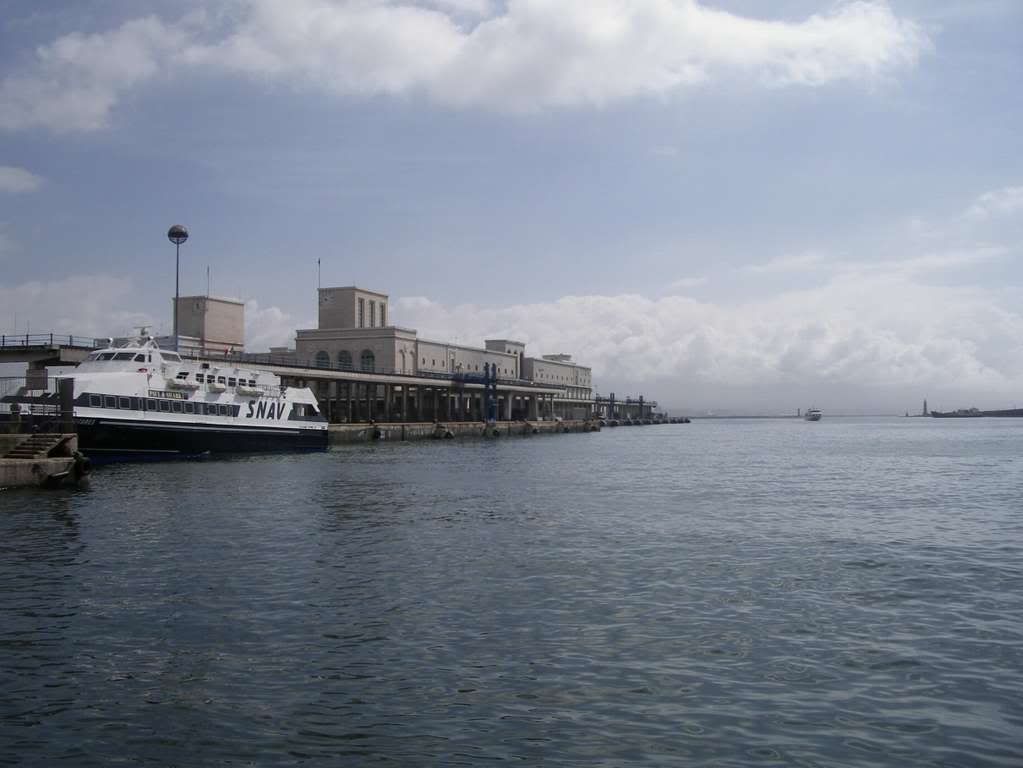 and ferries: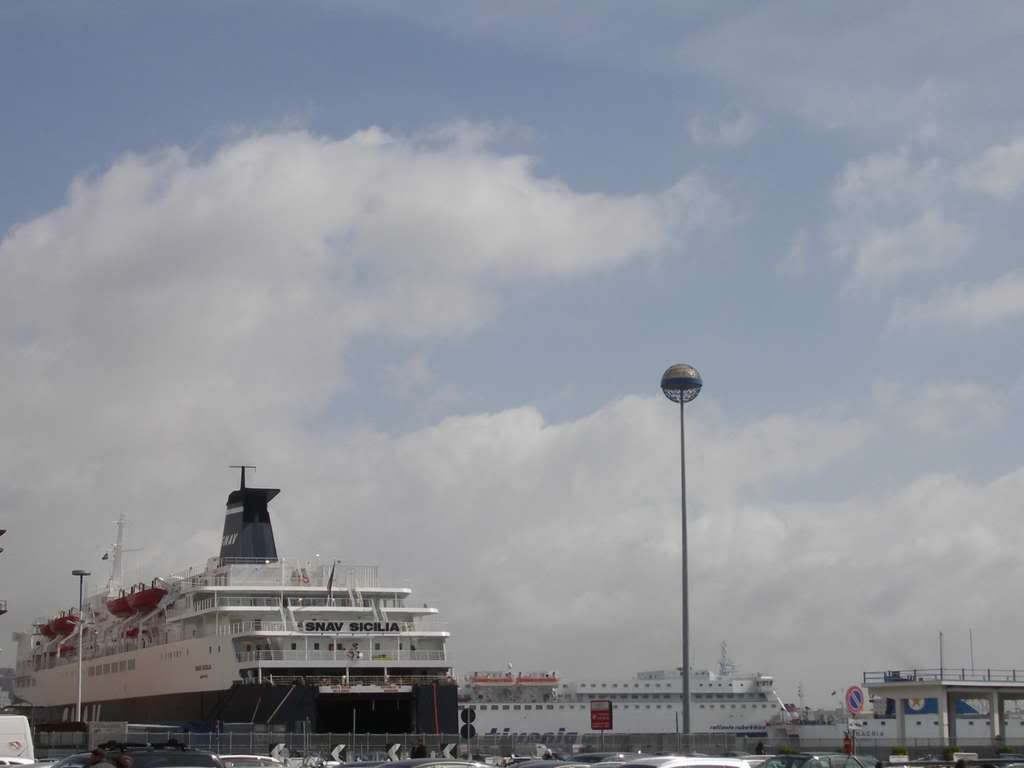 The Alibus runs every twenty minutes, theoretically, but according to the chaotic traffic, I´ve waited around 40 minutes till it arrived for the service back to the airport
and was ready for the next flight only 15 minutes prior to boarding time.
Wednesday, 09.04 2008
NAP (Naples-Capodichino) - VIE (Vienna-Schwechat)
Duration: 1 hour 40 minutes
Service NE 3407 operated by SkyEurope Boeing 737-700 OM-NGB
Scheduled: 13.30 // 15.10
Actual: 13.30 // 15.10
Gate: A06 Seat: 25A
Load factor: around 60 %
Fare: 48,40 EUR
History:
18.04.2006: Delivered to SkyEurope
Leg no. 17 on the 737-700 and the first on this machine
Online check-in with SkyEurope was available 48 hours prior to departure, so I´ve secured sequence no. 1, monday evening.
But it seems this feature is not well used by our italian friends.
The girl at the entrance to the security check looked sucpicious at my paper sheet and asked me about my boarding pass.
I´ve explained and showed her my ID too, so finally she let me pass trough.
A first look from the small departure lounge to the apron show´s me a total surprise.
This was not my first time at NAP, on the upper level is a small bar area with a perfect view to the apron.
Rushed upstairs and shot some pix from the Airbus Beluga plane, perfectly situated to follow the action there around.
Nice and for sure the number one of the day, from a spotters point of view.
Beluga: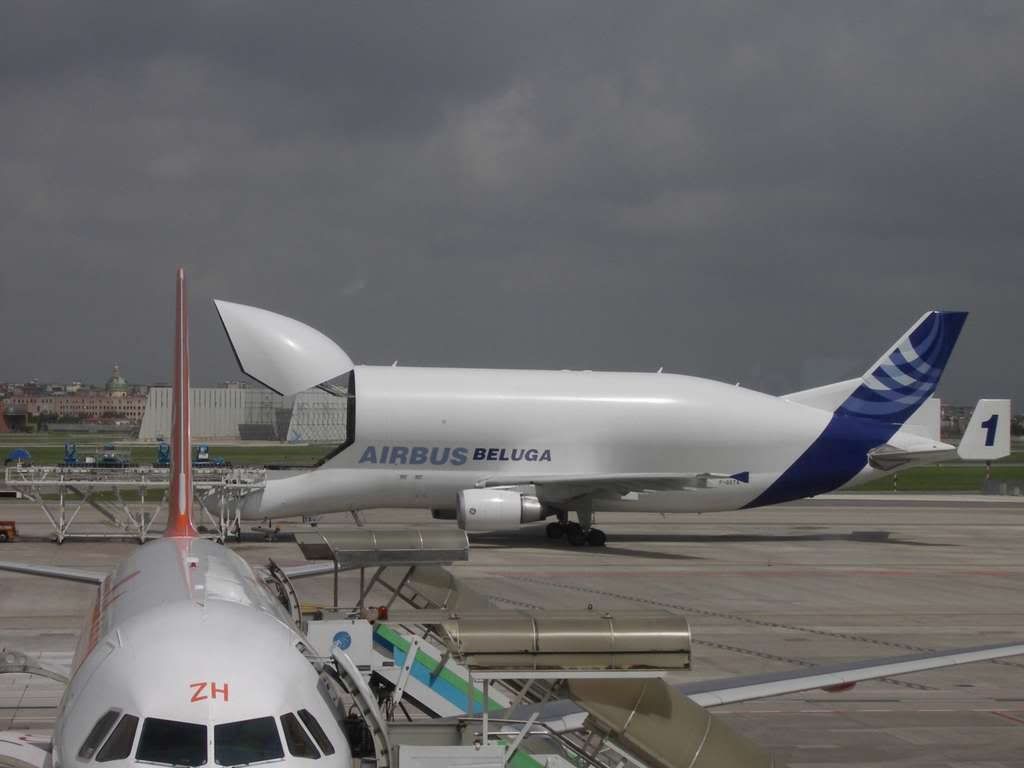 Again:
AirItaly: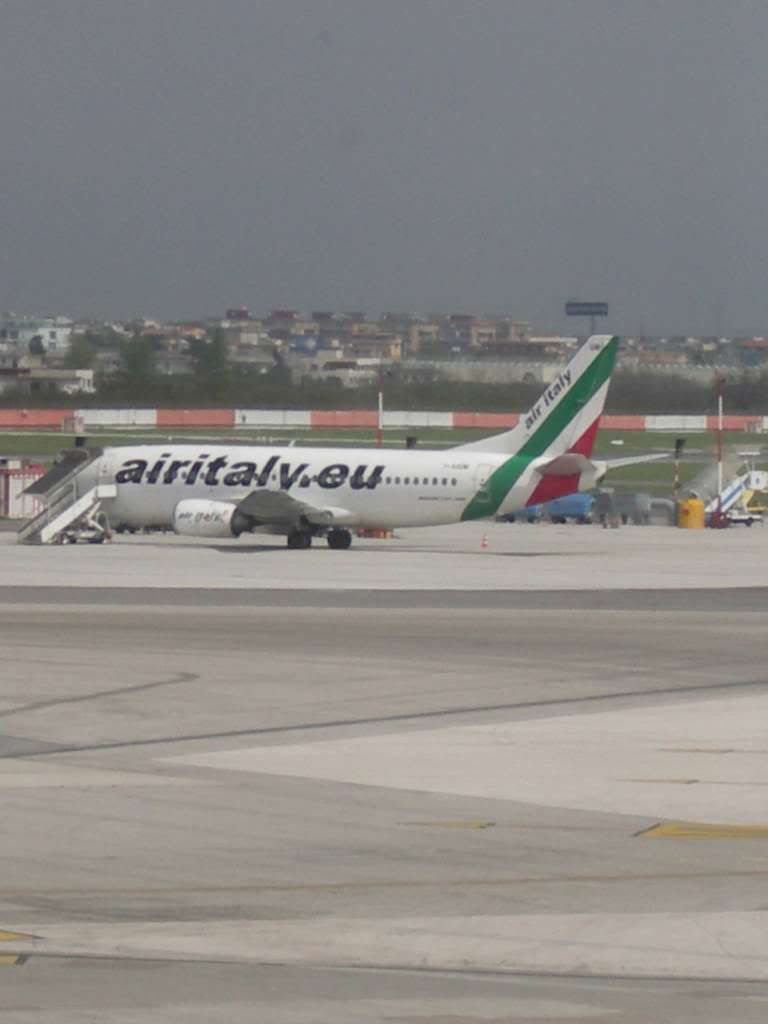 Beluga action:
Belua again:
This body was in this plane?.
Arrival SkyEurope: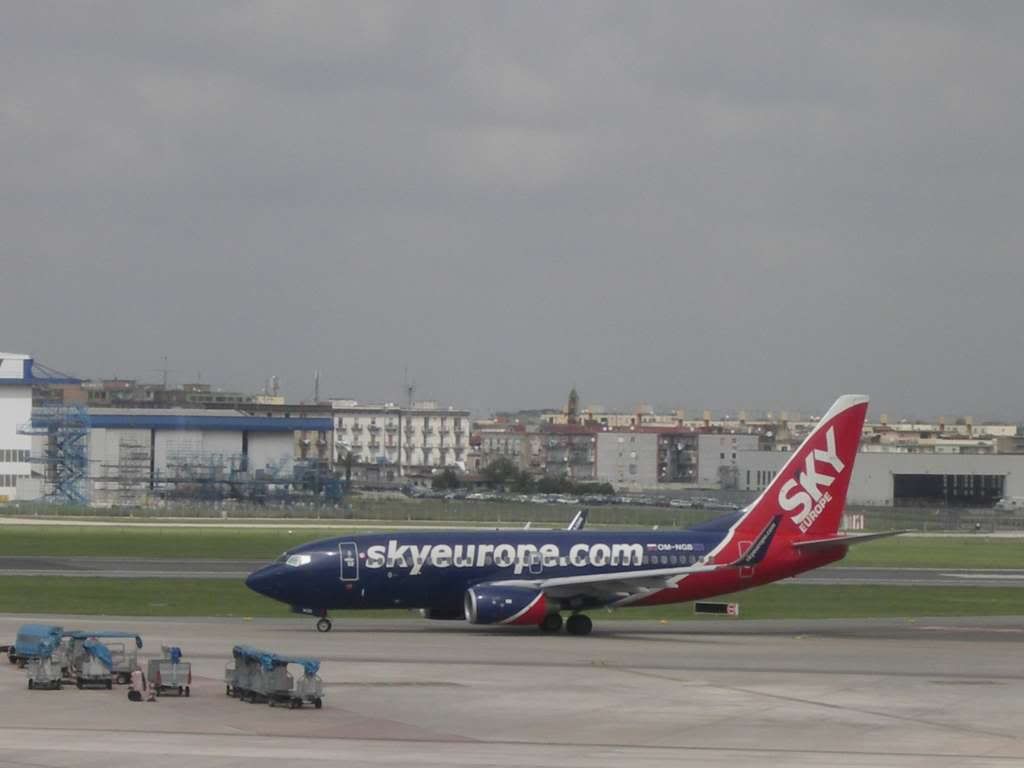 Taxi: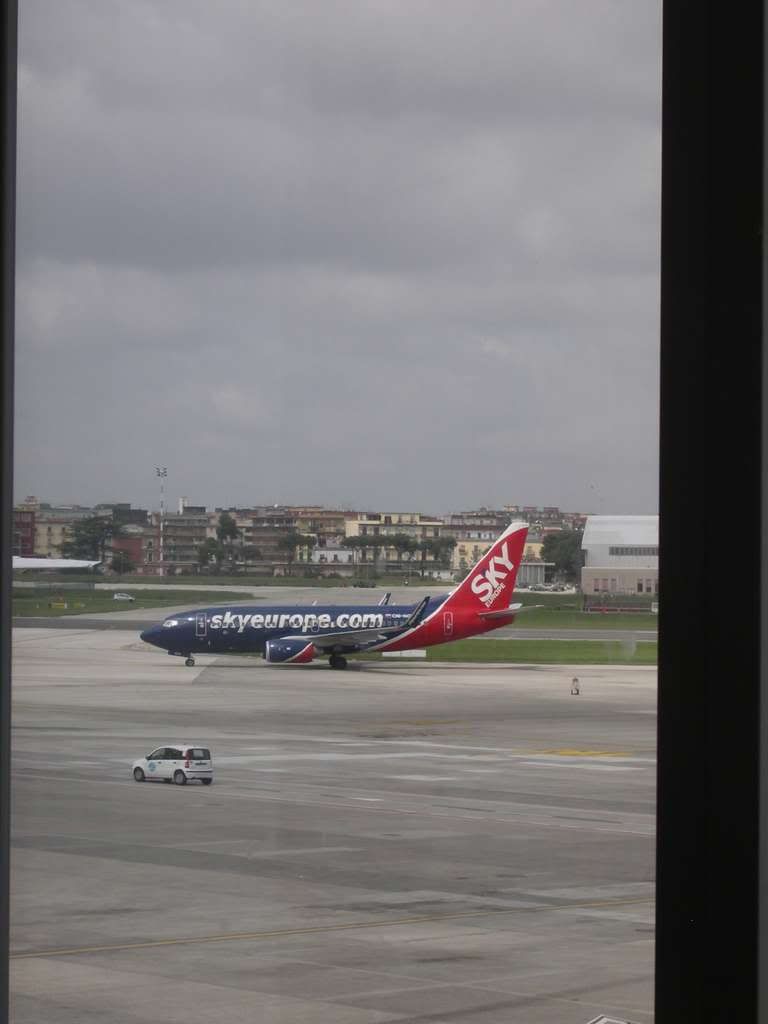 Boarding by stairs:
My machine arrived some minutes later ontime from Vienna, down the stairs again where boarding started as announced.
The same situation at the gate again, the not to friendly guy there shouted boarding pass and ID ready.
To me: Boarding pass, I´ve answered, that´s my self service boarding pass, again the suspicious view,
some debate with his colleague, some searching in the computer, finally they dont know wich part of the paper is mine,
I´ve explained and was soon after in the bus to the plane.
Boarding by the rear stairs, four female FA´s on the plane, but also some surprise there with my self printed sheet.
The machine real good looking, dark blue leather seats, red headrests.
Inside OM-NGB:
The captain was from eastern Europe this time, the FO from Germany or Austria.
A friendly welcome on the ground, more informations in flight and once more prior to arrival.
Flight level 39.000 feet. Departure from runway 06.
The route was Ancona-crossing the adriatic sea-Zadar-Graz.
Some heavy shakers over Croatia while we crossed a fast western air-stream,
the captain announced while the fasten seat belt sign was on: Cabin crew take the next free seat immediatelly.
Calm again after some ten minutes.
Absolutely nothing for free on SkyEurope.
Also limited views on this flight.
Arrival ontime at runway 11 and by bus to the main terminal area.
Just arrived at VIE:
Nice wheather at VIE: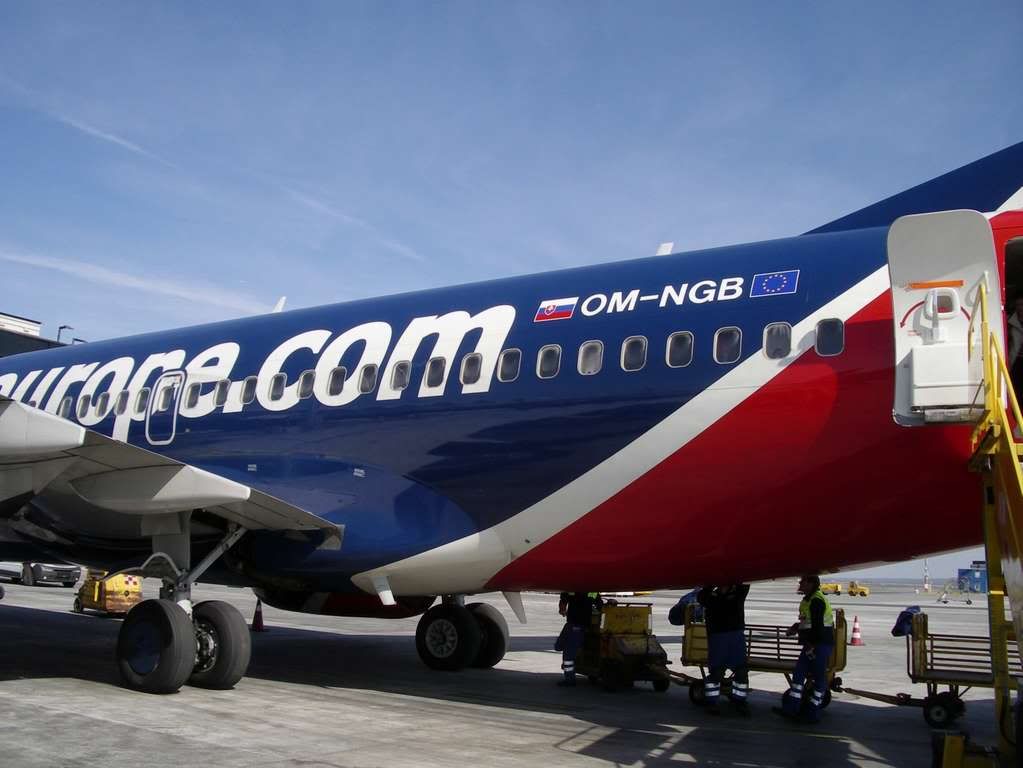 Bye-bye OM-NGB:
Wednesday, 09.04.2008
VIE (Vienna-Schwechat) - FRA (Frankfurt-Rhein-Main)
Duration: 1 hour, 05 minutes
Service HG 8772 operated by Niki Airbus A320 OE-LEU
Scheduled: 17.05 // 18.30
Actual: 17.25 // 18.30
Gate: B39 Seat: 30F
Load factor: Around 70 %
Fare: 35,00 EUR
History:
26.10.2006: Delivered to Niki
Leg no. 39 on the A320 and the first on this machine
Once again in Vienna, but somewhat new ahead, the first flight on Niki.
Check-in was also done online the day before, no problems, sequence no. 2.
The usual bus boarding gate area on the ground level, a separate security check at the entrance.
Crowded with pax as always.
View from the gate: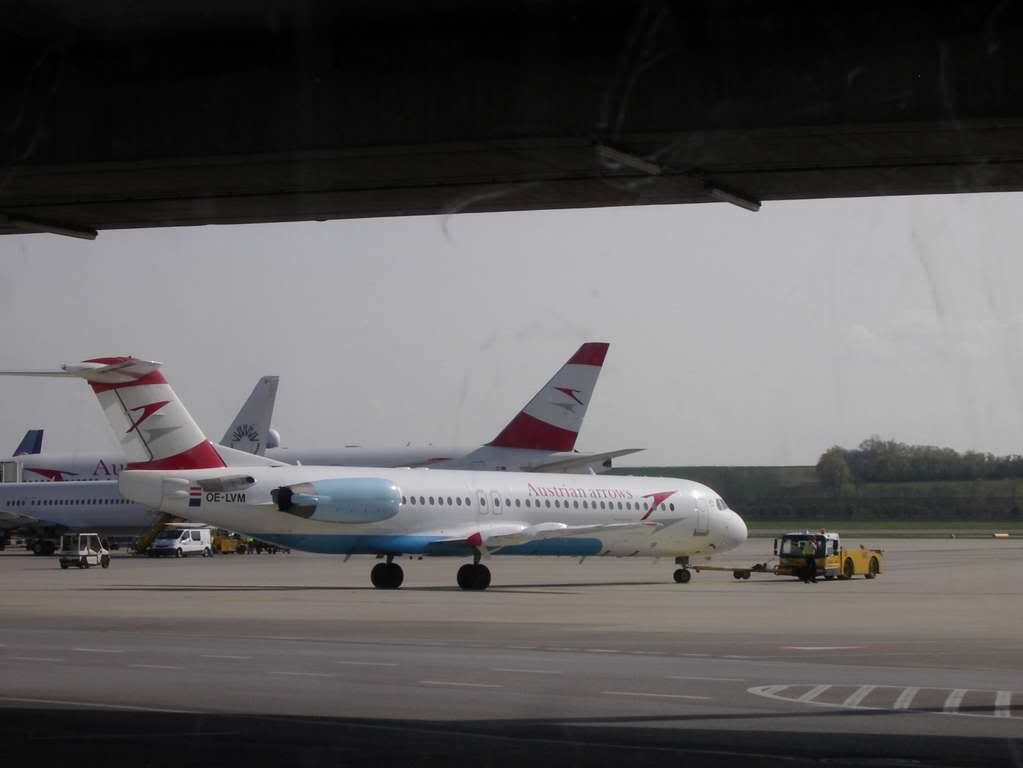 Boarding started ontime, lots of pax in the bus, it seems a good load for Niki.
Boarding Niki:
OE-LEU:
Up the stairs to the rear door, welcomed by a very friendly and goodlooking FA.
She and her colleague walked later through the cabin first with newspapers, later with magazines for free.
In total four female FA´s.
The cabin clean, fitted with bright grey comfortable Recaro leather seats.
A friendly welcome on the ground from the flightdeck, crew was from Austria.
Departure from runway 16 to Nuremberg and further to FRA.
The two girls in the rear part of the cabin done a real good job today, friendly, attentive, a first round with drinks,
a big sandwich called "Doppeldecker" and later on a second run with free drinks, all around a one hour flight,
for sure not bad. The map system on the screens, also not bad.
Some more informations from the cockpit inflight, very friendly, but less informative for the enthusiasts.
From light clouds with a fresh wind at Naples to warm and sunny Vienna, now its time to head back to german reality,
the captain announced low clouds and rain at FRA, like all my lasts visits there.
Nothing to see till short before touchdown on runway 07L , heavy breaks and thrusties
and a long way to taxi to the apron in front off T2.
Rainy FRA:
And again: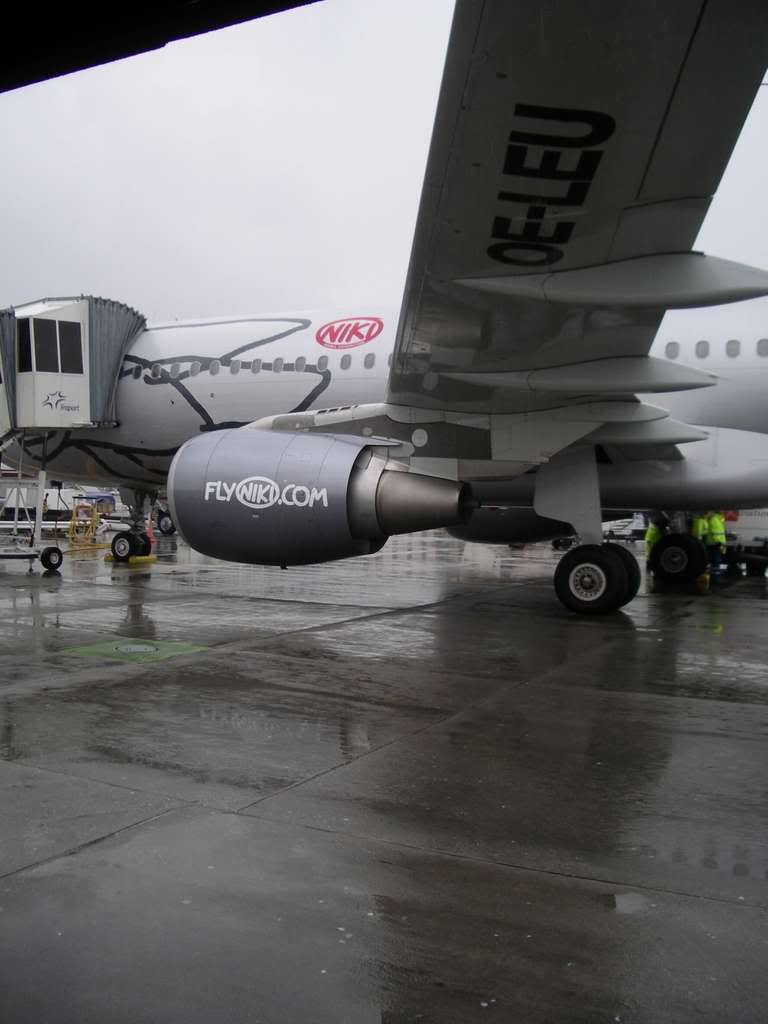 Bus deboarding, back in the non-secured area and on the Skyline to T1.
Wednesday, 09.04.2008
FRA (Frankfurt-Rhein-Main) - STR (Stuttgart-Echterdingen)
Duration: 30 minutes
Service Lufthansa LH 1358 operated by Cityline Bombardier CRJ700 D-ACPB
Scheduled: 20.35 // 21.15
Actual: 21.10 // 21.40
Gate: A02 Seat: 16F
Load factor: Around 95%
Fare: 59,10 EUR
History:
18.07.2001: Delivered to Cityline
Leg no. 3 on the CRJ 700 and the first on this machine
I switched on my mobile immediatelly after arrival in T2.
Fellow A.netter Ori (Stylo777) told me that he´s on work during my FRA connection and it might be possible to go for a
chat. Finally he worked in another area, but no problem, he informed me that my machine was ontime on the way to Gdansk/Danzig
and it will be D-ACPB, the second delivered CRJ 7 in Citylines fleet.
It is possible to drive with the Skyline to the Terminal 1 A gates, for pax only and usually a quick way to avoid the security queues in the main
terminal area. I´ve also checked in online for this flight late Tuesday, sequence no.4.
Not today, a group with some 30 retired Japanese in front, it seems they´re not only a little bit familiar with the safety regulations in the EU.
Unbelievable what they carried in their bags, the screeners seems despared, they found more and more liquids, so let us Europeans to pass by.
Finally down in the A area, heading for my gate A2, settled down and watched the action outside till boarding for the last leg of the day.
Boarding time comes and goes, the lady at the desk announced that we will go by bus some minutes later.
Some minutes means today 20 minutes till the bus drove along the whole cargo area towards the very last position, near the entrance to runway 18.
Heavy rain, all the pax rushed to the single door, a not to friendly middle aged female FA there.
In total two middle aged females on this machine, not unfriendly, but it seems they´re last flight at a long day and really stressed.
The captain was on the phone short thereafter, apologized for the delay and told us that the machine was ontime in the FRA area but had to
hold according to heavy traffic and the bad wheather.
The cabin ok, fitted with the usual bright grey leather seats. Departure from runway 18 without any time to wait.
Dark and clouds outside, so nothing to see along the whole flight.
No service on this leg. I´ve had a flight on LH mainline not the long ago on the same route with drinks and a small cake,
also on a Cityline ATR to MUC last month, roughly the same flight time there was a free drinks service, not a problem for me, but I´ve noticed these
differencies.
We arrived finally on STR´s runway 25 with 25 minutes delay, not that bad wheather there and so, after a last pic from the plane I was soon on the way back home.
Deboarding at STR:
Now, time for my personal rating:
1.) Niki, without any question, the nicest crew, the flight ontime, the service real good and the fare absolutely ok.
2.) Tuifly, also with an real friendly crew, flight well ahed schedule, a nice machine, also ok.
3.) SkyEurope, not that good like on my first one late last year, no service, the FA´s ok but not the especially friendly, flight ontime.
4.) Cityline, not that bad for sure, but the overall impression was not the best this time, especially in comparison to the very friendly Niki girls,
but clearly no problem for me, to fly all these airlines again.
Comments welcome,
Markus (FLIEGER67)