Okay, it's a trip i made last year, but always postpone to include on A.Net and today decided to share with all of you.
Leg 1 JJ8082
GIG-GRU
PT-MVK
A330-200
Seat: 1K - Class C
ETD: 0645
Effective Departure: 0705
ETA: 0800
Time of Arrival: 0807
Leg 2 JJ8082
GRU-JFK
PT-MVF
A330-200
Seat: 1K - Class F
ETD: 0845
Effective Departure: 1115
It was one of my returns from Rio de Janeiro after a short term and visit to some of my customers, thanks God mostly in Rio (as i work with Brazilian Corporations, the 5 biggest are in Rio)
I arrive at GIG on a Sunday early morning, just a few minutes before 5 AM after 20 minutes from my fathers house near Barra da Tijuca. Yes, it's not that unsafe !
By the time i arrive there are only 2 more people for Business/First Class Counters, but noticed a huge line for Economy (the early morning JJ8082 GIG-GRU-JFK also connects pax from Rio to EZE and SCL as on Sundays, MIA is not connectible at that time, only if someone fly the last GIG-SSA on Saturday night)
After a couple travelling also to JFK on C, i begin my check-in with a very nice and sympathy TAM agent. Passport checked (we need visa to be accepted on US borders/airports), ticket issued (travelling on 1K both legs) and FF miles added (Tam is funny, it give you 7,500 if you are a top customer on Economy or first time customer on F or even top customer on F.. there is no extra-miles for class of service if you already achieved a higher status)
I went to buy some magazines and in 15 minutes decided to go thru Security Check. Very quick (that's the main advantage of an early morning flight), without problems i reach the gates area and after went to TAM's lounge.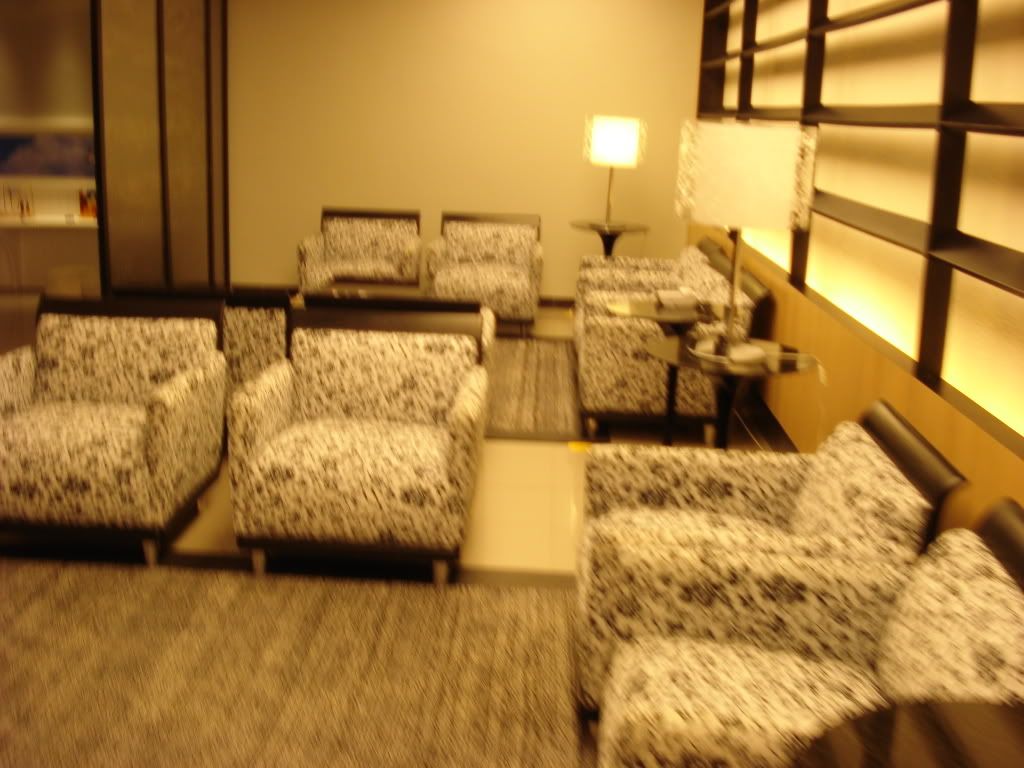 [
As you can see, the lounge it's very comfortable, accommodates about 40 to 80 people without problems (was designed for 2008-end... where GIG will have EZE, CDG, MIA and JFK non-stop night flights)
As a First Class passenger you got the option to board before or after Economy Class. As i'm familiar with the lack of service on GIG-GRU legs, decided to board after all other passengers, so by 6:50 (delayed by the late arrival from CDG) i was invited to board.
As soon as i board they closed the door and i realize the seat (considering MVK is a C+Y plane) is very limited in space and promptly require to change while i was informed that the first cabin was empty and i was the sole passenger. So i moved to 2K and receive a pillow and a blanket (even for the short trip!). Later on i realize they got informed that i was on F.
During the way to runway 10 i manage to take some photos of the airport. The cabin was very dark which does not allow me to take photos.
Please note it's bad quality, it's fog !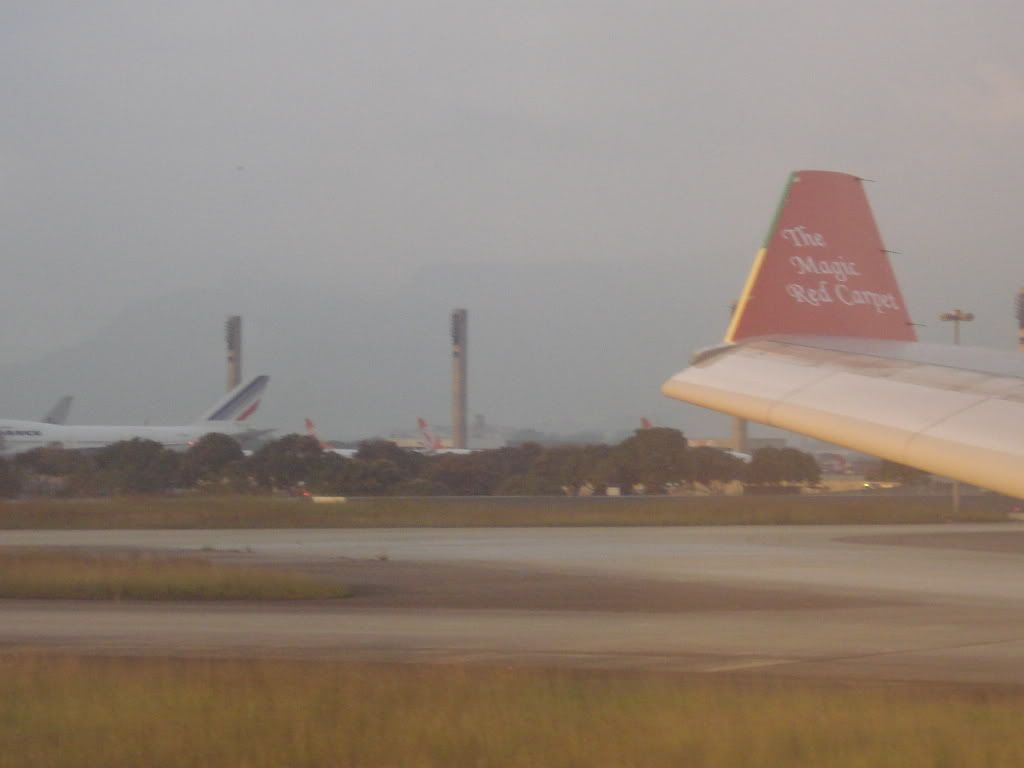 And at 7:05 the Captain announced "Crew, Take-off authorized" and the A332 begin it's run. Departure from runway 10 always shows nice spots from Guanabara Bay.
The flight is very short (55 to 65 minutes) and i was very tired (can't sleep too much because of the need to be in the airport so early), so just tried to take some pics inside the plane and sleep at least for 35 minutes.
PTV
Seat
Approaching to land in São Paulo also shows a fog during early morning.
Some plane activity in São Paulo/Guarulhos
This seems not be so good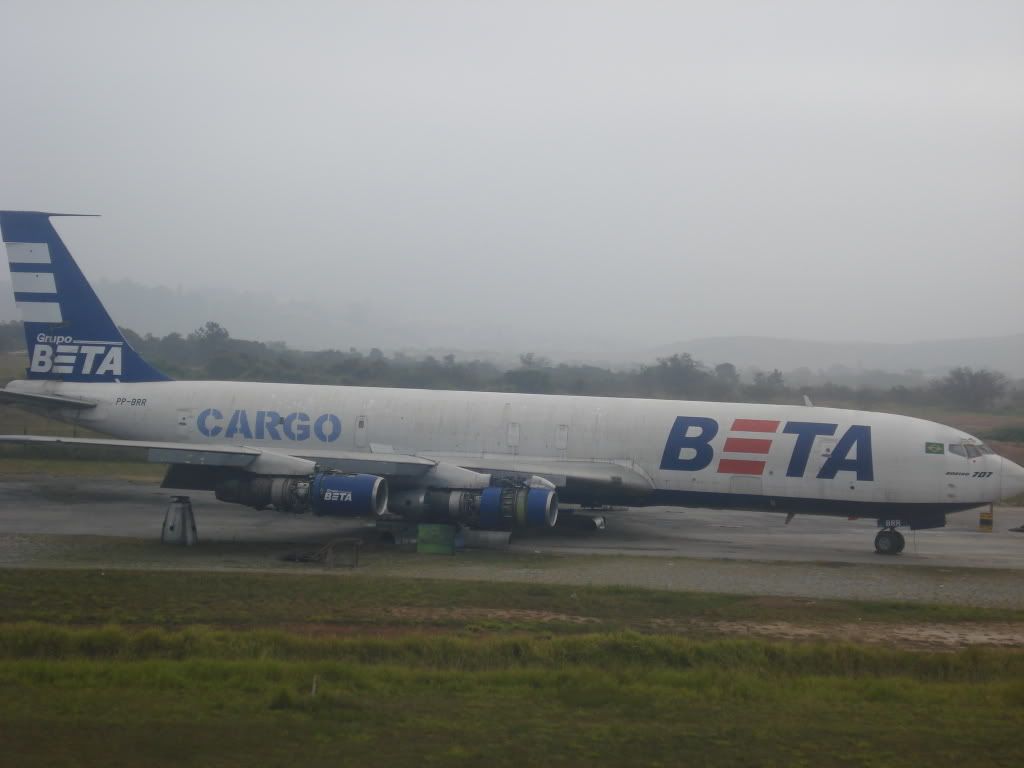 Ocean Air and Air Brasil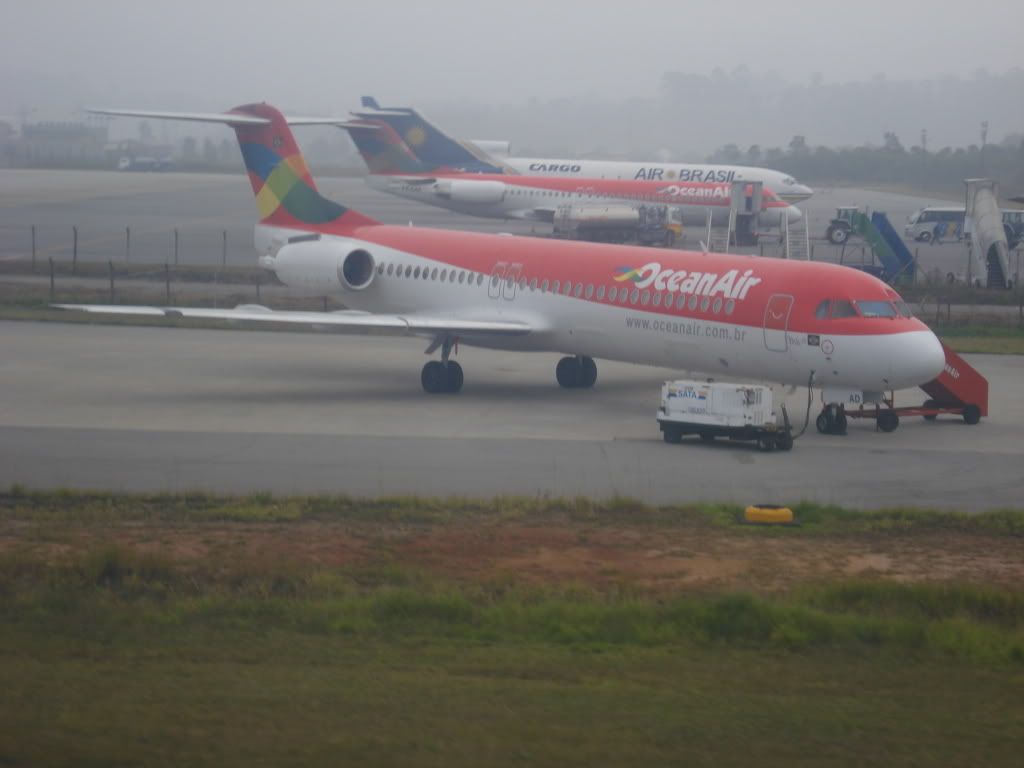 Gol-Land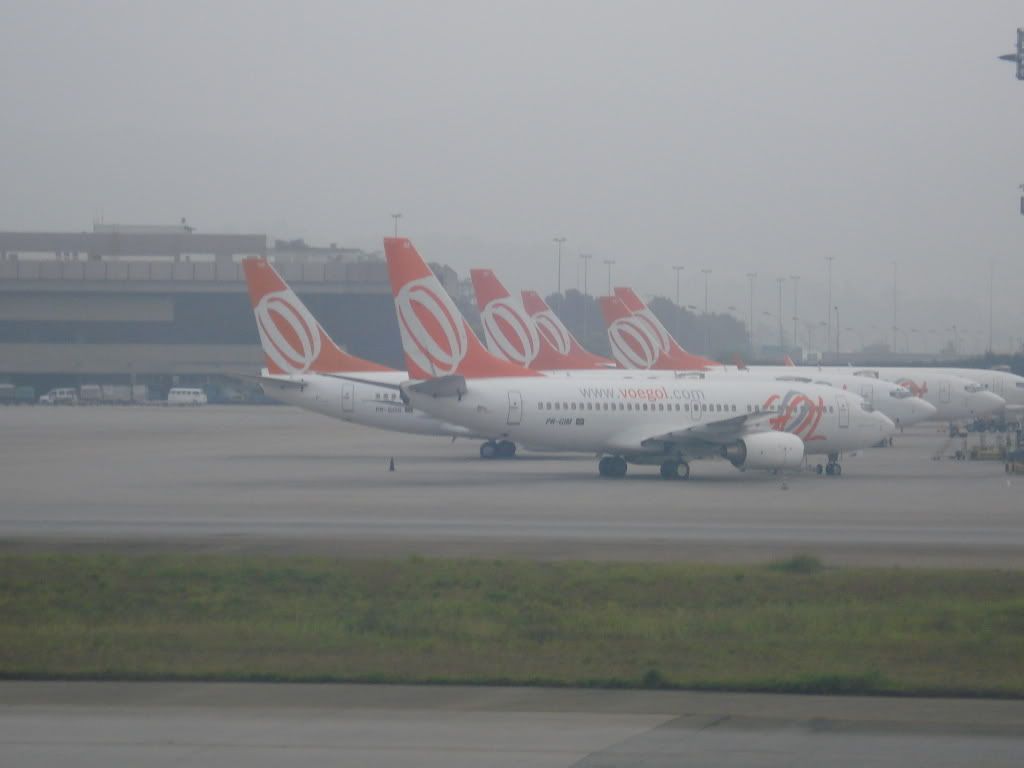 We landed at around 8:07 and went straight to a gate (thanks God!). In just a few minutes the door was opened and them a Tam Special Services employee asked for me. TAM really knows how to take care of a First Class pax, and they manage to escort all passengers from connecting flights to their international long-haul flights. On this date, i manage to go to the Lounge as there are some time available for that. Again they ask you about the best time to board (could be before or after all other passengers) and they also let you know that they will come to the Lounge to escort you till the plane.
At 8:30 approximately they invited Business Class passengers to board but advised me that i can wait comfortably on the lounge.
Only by 9:20, which means the flight will be delayed, the Special Services employee come to the lounge to invite and escort me to the plane, PT-MVF as i realize later on. Before departure i requested two newspapers as because of early departure, i was not able to buy at GIG. The Special Services take care of this and delivered them on my seat (don't ask me why, but TAM doesn't handle newspapers on sunday mornings on JFK route as i already experienced in past trips)
At the door of the plane the Chief F/A was waiting for me (the captain wasn't there anymore) and take me to my seat.
TAM First Class Seat is very nice and comfortable. The F/A also advise me that i was ALONE on First Class... seven seats available for me, 2 exclusive F/A ... and i decided also to stay on 2K.
Space...
Ottoman..
Necessaire
7 Seats...
Another view of F Cabin...
By 9:45 the Captain advised that because of 5 Passengers that made Check-in but decided not to travel (!?!), they need to locate and de-board their baggage which should take about 30 minutes.
While my position was not the best, i manage to take more pictures from planes, as well as the F/A offered a basic coffee , magazines..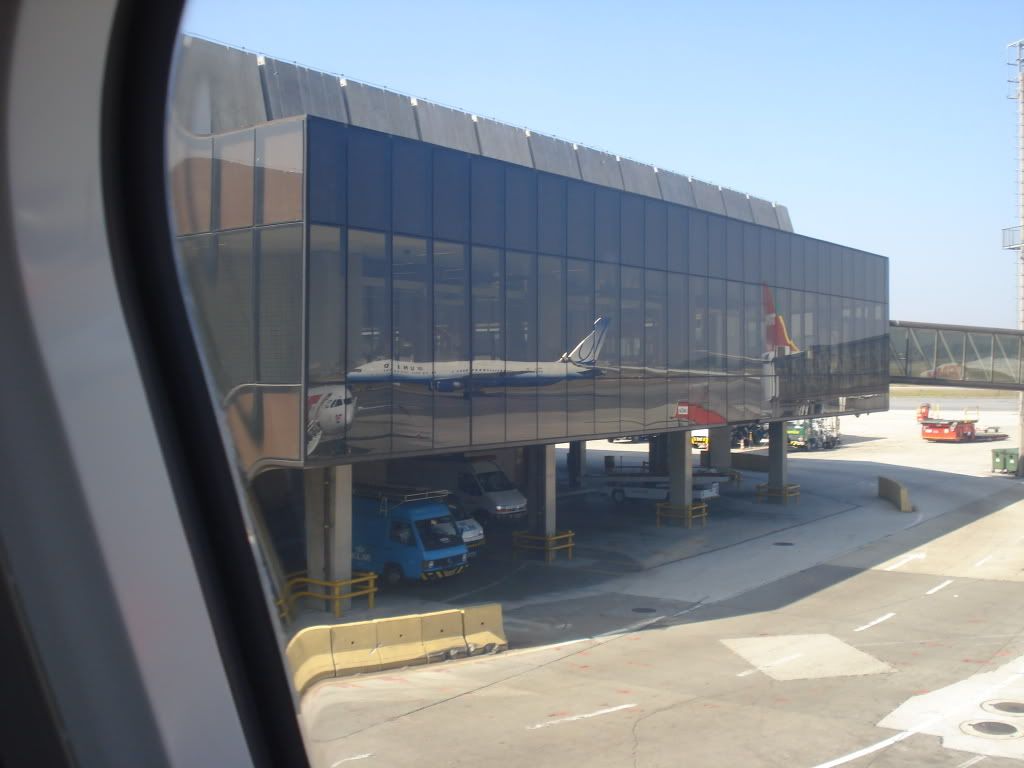 Coffee
Only at 10:25 they announce the "ready to go", the door has been closed and we begin our taxi very shortly (by 10:30)
PT-MVA, MBC, IB, AZ and AF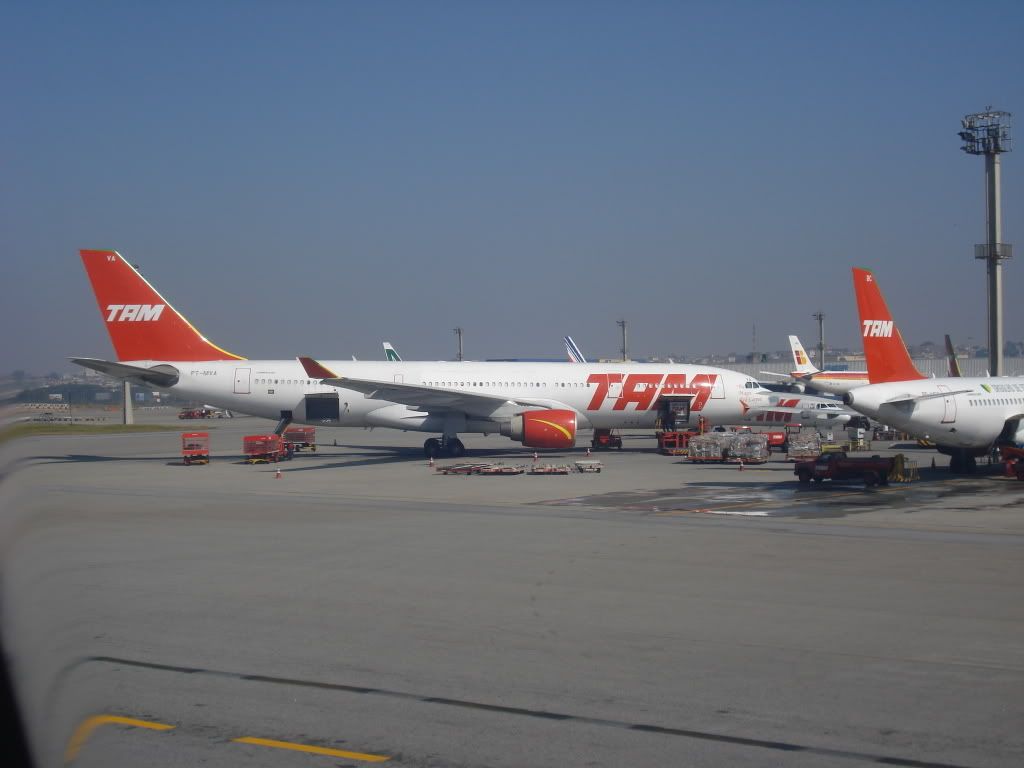 At 10:45 we take off from Runway 9 (2 hours delayed).
Just after take-off the F/A come to me and ask about at what time i want to have lunch and that i can manage both breakfast and lunch to me convenience. I decided to have Breakfast immediately (i was a little hungry, 5 hours after wake up and just eat "paes de queijo" on GIG and GRU lounges), sleep for 6 hours, and lunch by 2 PM NY Time. She just ask one more question, if she can wake me up and my time is due to any remedies. As i advise no, she comment will allow me extra 15 minutes if i agree. I just say... wow... okay.
It's one of the most wonderfull features on TAM F Class. You manage everything. And as a side-note, First Class menu brings Statue of Liberty while Business Class Menus brings Sugar Loaf on it's first pages.
Well, straight to the Breakfast. I will only mention as to prove i'm hungry, i forgot about taking pics !
Basically, seasonal fresh fruits (with a fantastic pineapple), assortment of cold cuts, warm rolls, corque-monsieur, omelet served in a tomato sauce with Grilled Chicken Breast and potato, yogurts, cereal, jam and honey... and lots of different breads.
After this the F/A mentioned to me she would prepare my bed any time i want and i asked her to do that on another seat as i would try to see a movie (and in fact i hold on for less than 20 minutes).
Sleep for long 6:30 hours ! As i asked them to serve my lunch by 2:00 / 2:30, they allow me fifteen minutes more of sleep and called me with a hot towel and a nice good afternoon.
So, now i have pics from the lunch !
First the Appetizer.. a nice grilled shrimp served with Coconut Salad. The salad is prepared in front of you ! If you need more green, just ask for !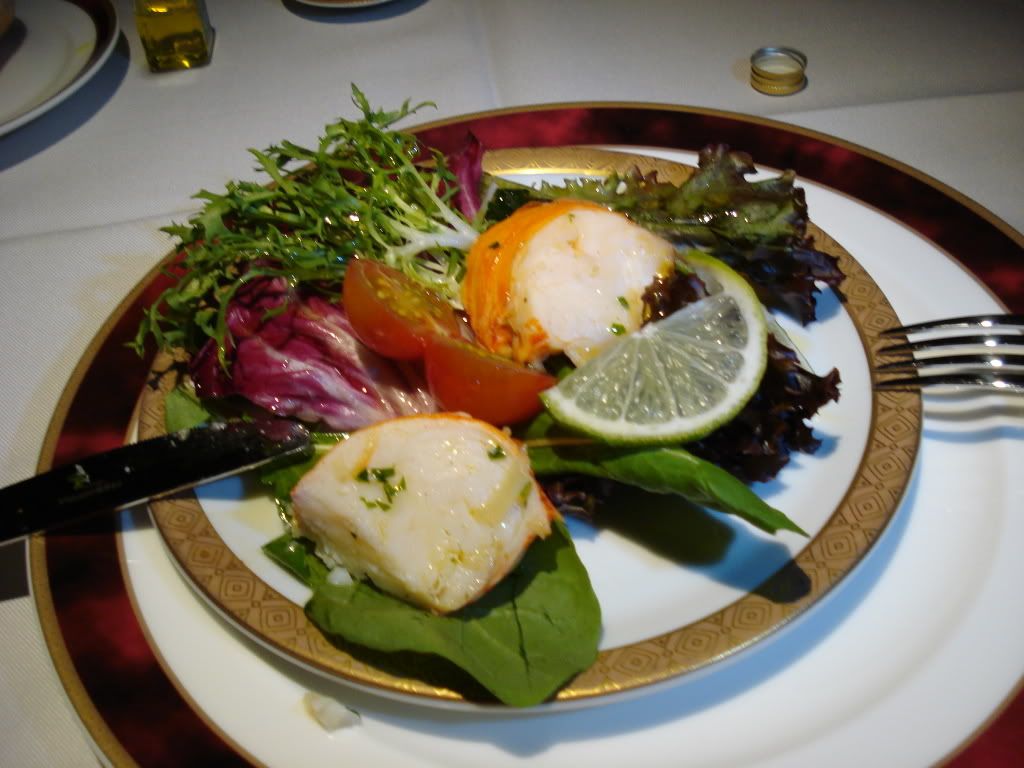 After.. a Boysernberry Sorbet, very taste!
Main course... Filet Mignon served with roasted potatoes, Ratatouille and Red Onions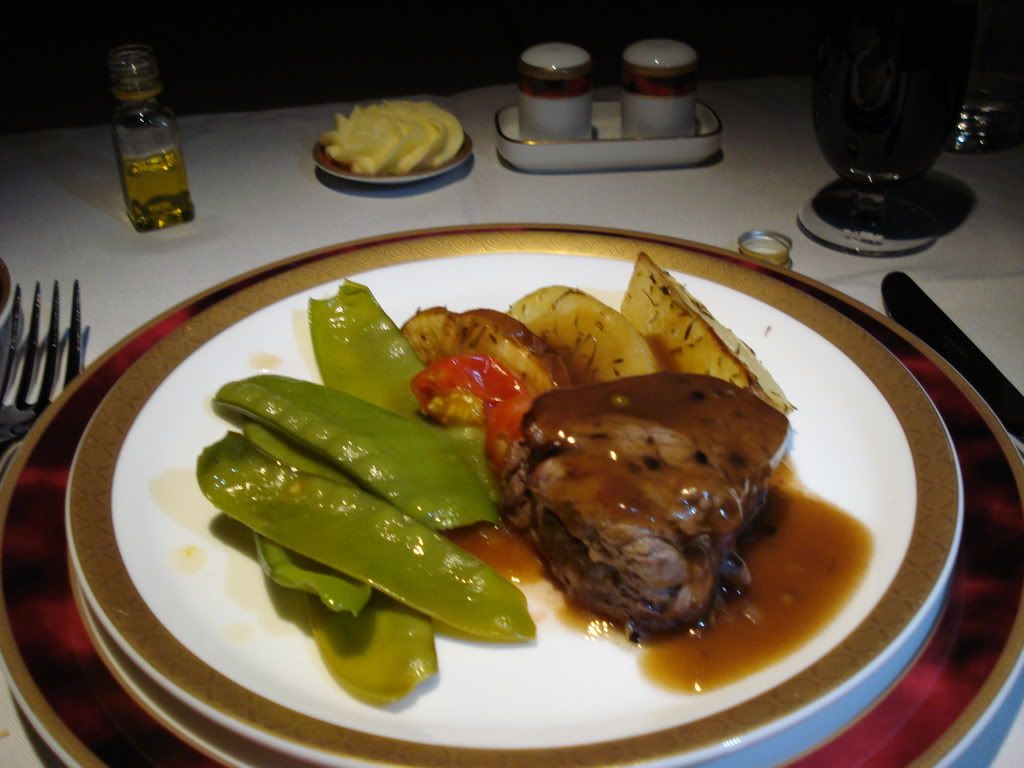 Other options are Chicken Fricasse, Salmon Filet and Ravioli Stuffed with Salmon.
The Filet i choose was just perfect, could be more, but it's very good. As wine, TAM F class offers at least 5 options (3 of them are red wines). I select Chateu Le Grand Verdus Reserve - A Bordeaux. Great choice!
As a dessert, i select orange cake and also a haagen-dazs ice cream.
At that time we were closer to MIA coast line
About 1h45 from our Destination
Despite the 6:30 sleep, i manage to sleep a little more and wake up about 40 minutes from JFK.
So i begin to put everything in order, store the magazines i can't read, put my shirt back, use lavatory, etc...
Closer to JFK....
Very close to JFK... Beach view in NYC.
We landed about 1:50 delayed and of course, the gate was not available any more. We have to wait for 30 minutes for a new gate to be assigned and we can de-board.
In front of me, just a Travelspan B738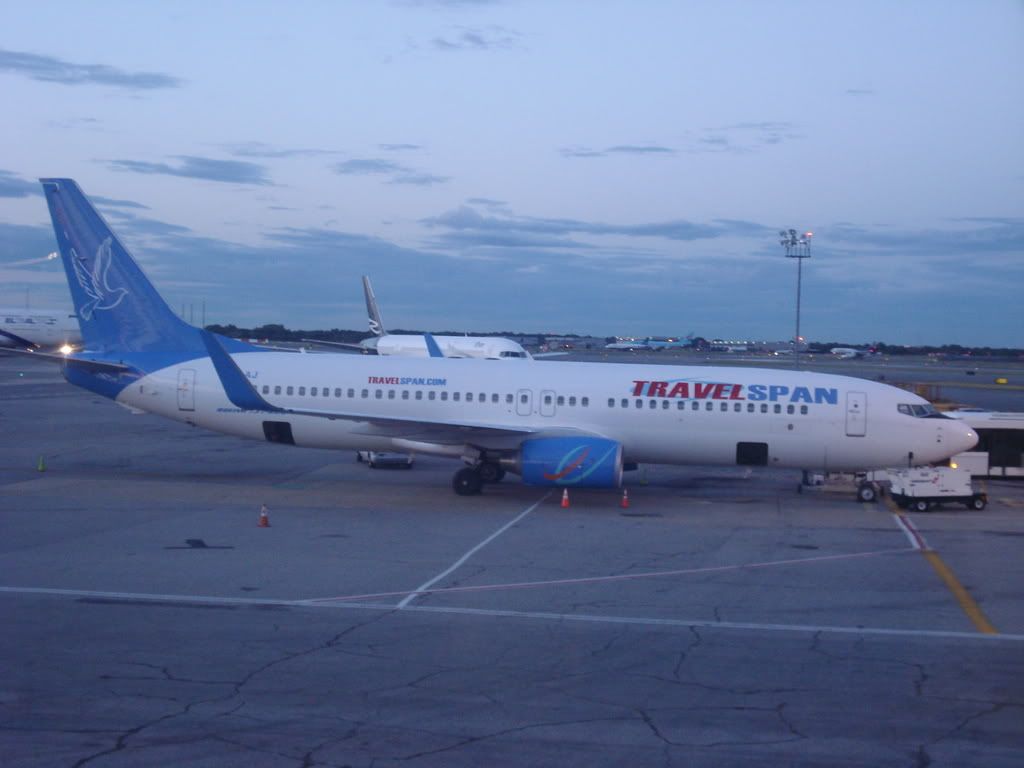 Well, F is different the travel isn't come to an end by the time the door is open. Another Special Services employee escort you till the Bag Claim (and it's include something is valuable at congested JFK, the TAM staff manages to take you very quickly through immigration.). By the time you got your bag (i only dispatch one), they accompany you to the exit (in my case i required the car service from JFK to my apartment in NYC), and show to you who is your driver.
A kind of marvellous airport-home service !
Hope you all enjoy.
Felipe