Delta AirLines
Flight: DL060
Origin: GIG - Aeroporto Internacional do Rio de Janeiro, Galeão / Tom Jobim
Destination: ATL - Aeroporto Internacional Atlanta Hartsfield, Atlanta, GA
ETD: 22h55
ETA: 05h45 (+1)
Aircraft: Boeing 767-300ER - N1501P
Load: 29C / 186Y (Full)
Date: January 08
I use to fly this route every month, but use to be difficult to take photos because in general i travel after a hard work of visits (Rio) or work (NYC/ATL) and mostly times together with business colleagues. This time i was returning from my vacation in Rio and manage to get early to the airport.
Well, lets begin.
DL operates in Rio a non-stop flight to ATL (during summer, 2 weekly additional flights has been added) departing at night, which means the aircraft remains on ground for long 13 hours. They use Terminal 1 which is out-dated, but still offer a comfortable option for those with Lounge access.
I arrived at the airport 4 hours before departure time, and just a few instants before they open the counters. I was the first customer of the day... as i was flying on BusinessElite, the Business Class DL product, could check-in on the 2 C Class Counters.
My 2 bags...
In three minutes i got my Boarding Pass, as i reserved, seat 3G. GIG during the summer season in Brazil receives two of ex-Gulf Air B767 with 30C/186Y but 1C is blocked for crew use.
The line for DL flight
With lots of time available till boarding begins, i went to the panoramic terraces of T1 to take some pics
TAAG to LAD, CO to IAH, and DL/AA planes on remote positions
AF 744 and TAAG 743
After, just tried to see next flights on monitors. GIG T1 has a huge concentration of flights during 6-11PM.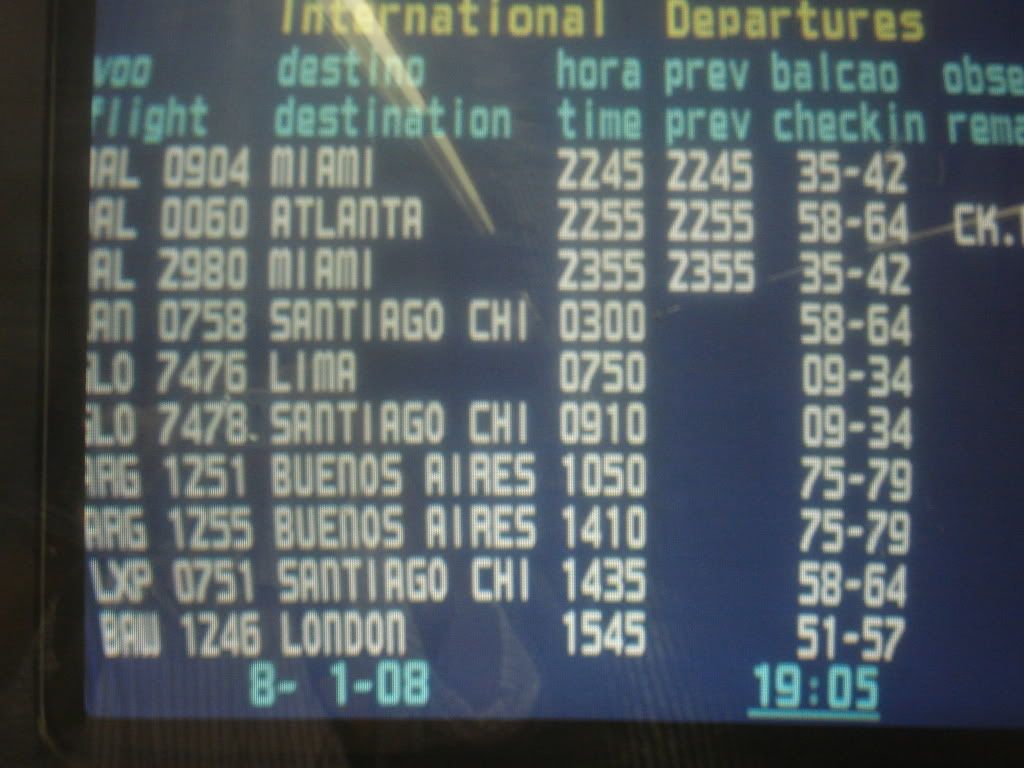 No lines to board, so i take advantage of this moment and go thru security check and Passport control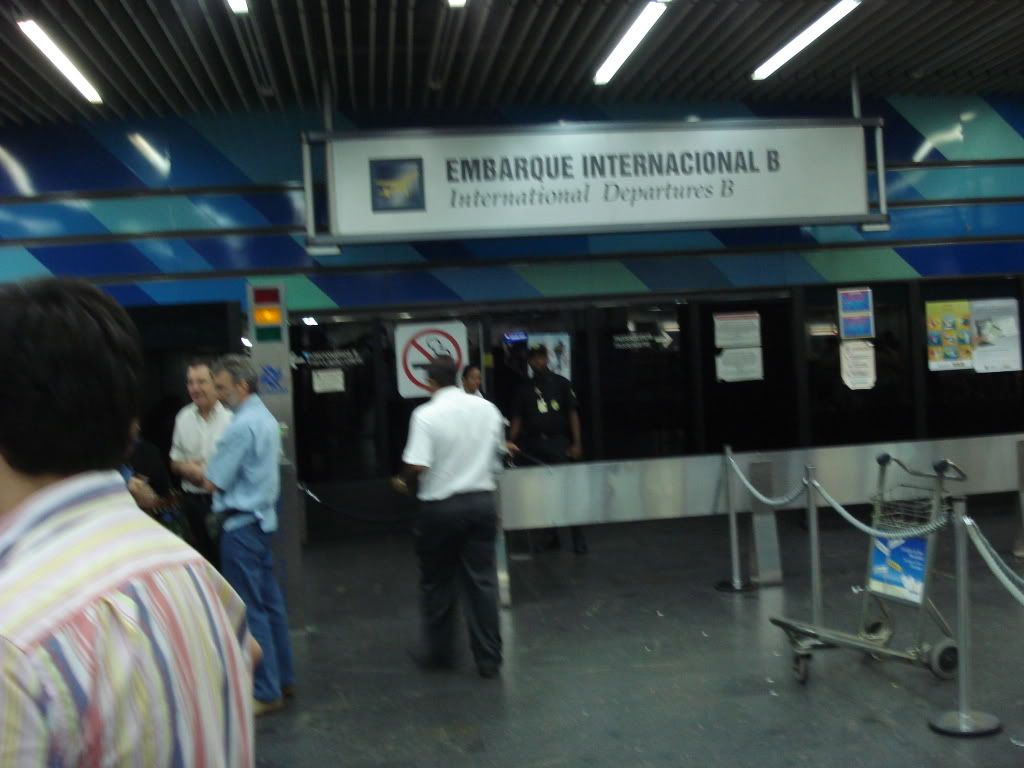 In five minutes i was on the gate area, and you can see that the airport is not that bad, this gate area is for the second AF daily GIG-CDG flight, an Airbus A330-200 also full at this night. Imagine how to handle the 747-400 with twice the number of pax !
So i went to buy some Brazilian stuffs (Cachaça, Garoto Chocalate Box) and Perfumes (which are very cheap!) on third floor. Seems a little busy.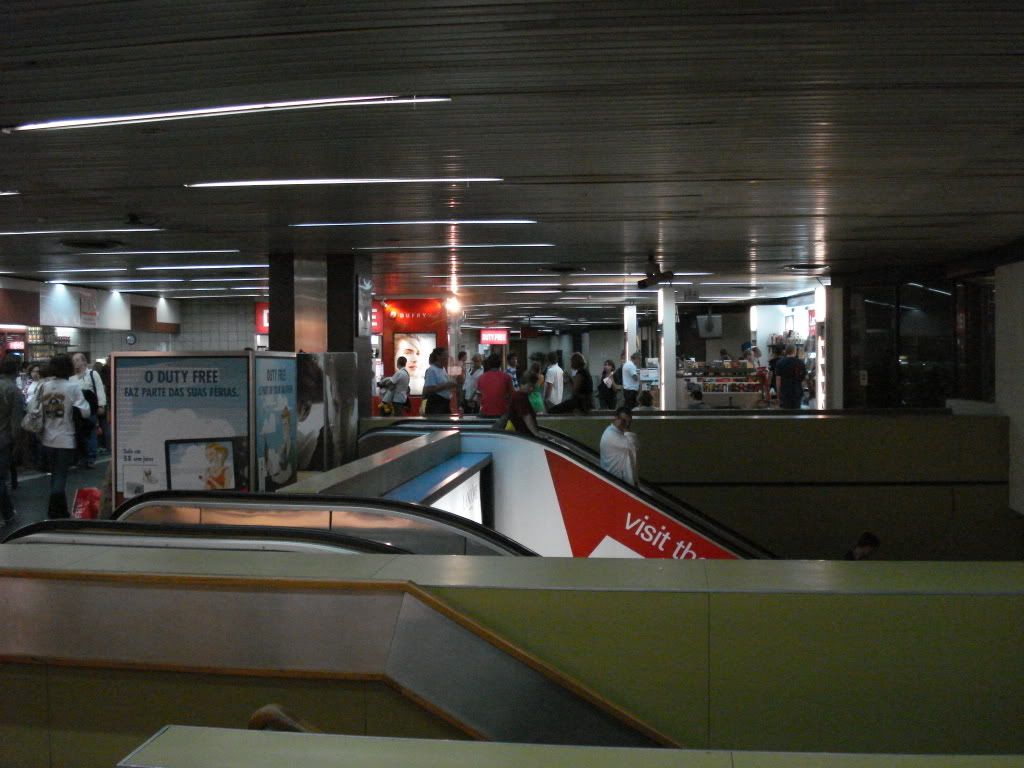 After, time to relax on AF overcrowded lounge at GIG (the very first on NEV)
The way to AF lounge on 3rd Level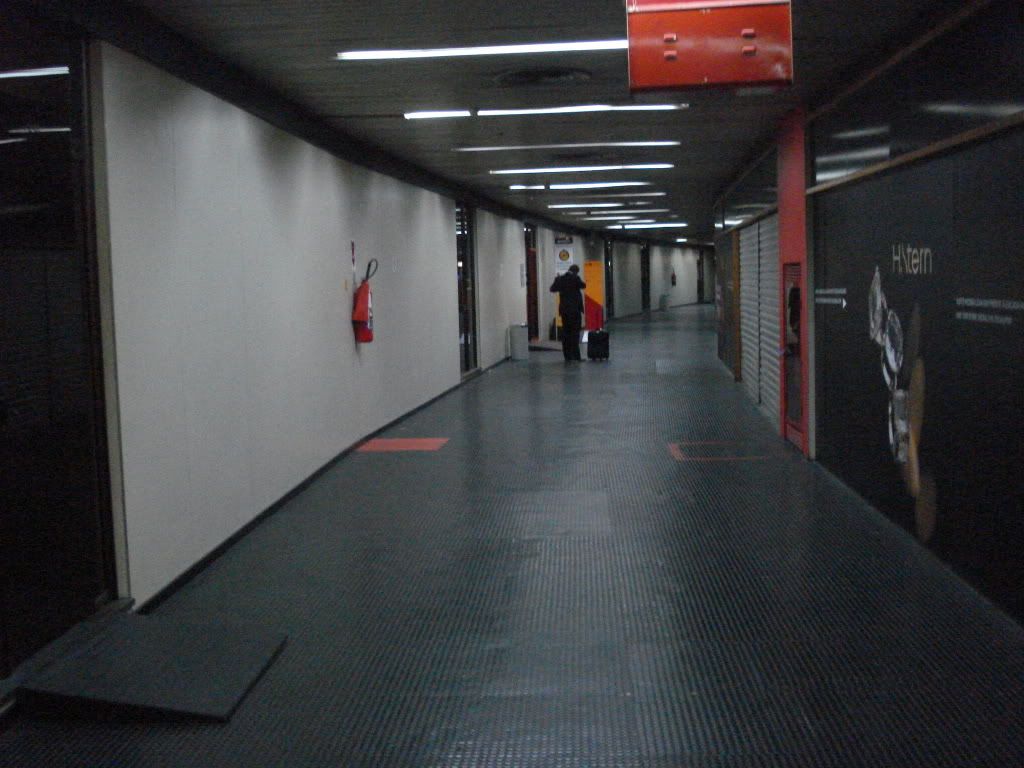 The lounge, at this time, almost 90% passengers are for AF 2nd GIG-CDG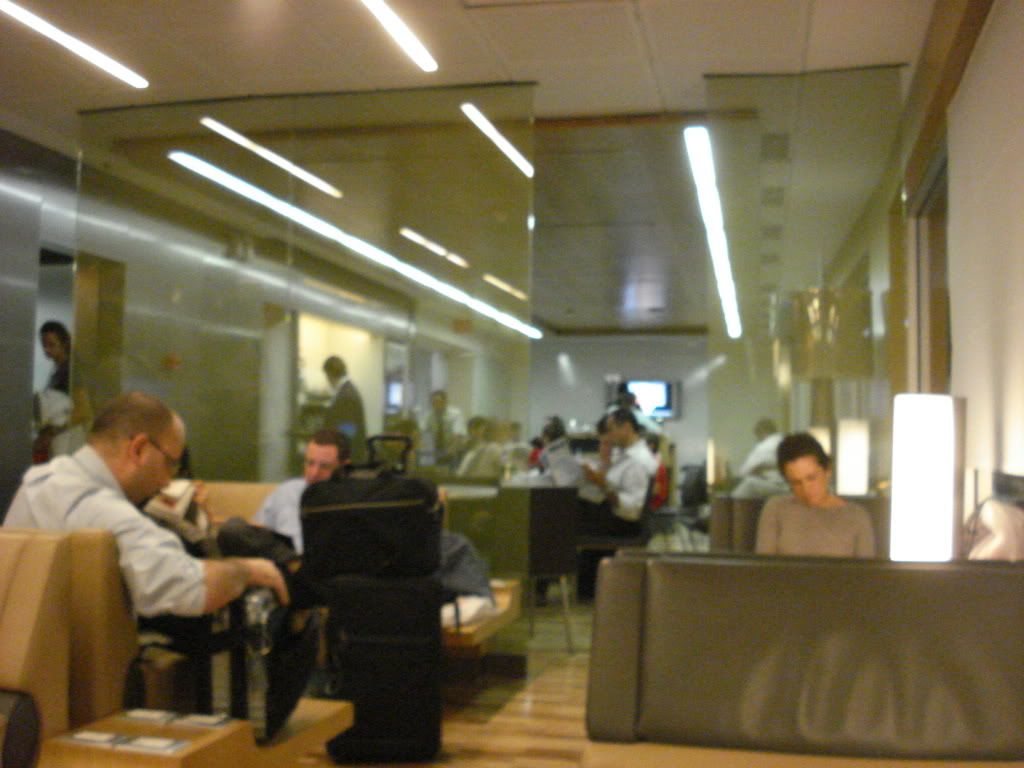 The lounge is okay in terms of food and services, offers a lot of newspapers (mainly from Europe and Rio) and beverages. Only SkyTeam ElitePlus and those travelling on Business Class are allowed to join.
I stay over there till 22:20 when they announce boarding for DL60 begins.
The view of the aircraft on gate 12
After some small security procedures (check the bag with me), they allow me to board, and i could reach my seat, the 3G. Note that the aircraft at that time does not feature the newer seats neither AVOD on PTV.
View of BusinessElite seat:
F/A introduced themselves and called me by my last name, asking if i want a welcome drink (champagne or orange juice). As i like to drink wine and don't like to mix, decided to go with the orange juice which is served in a plastic cup.
After, they offer newspapers (O Globo from Rio and US Today... but from Yesterday). DL does not offer magazines (other than yours) which could be an improvement in the future. I decided to read the US Today to update myself.
The space is very good as you may see here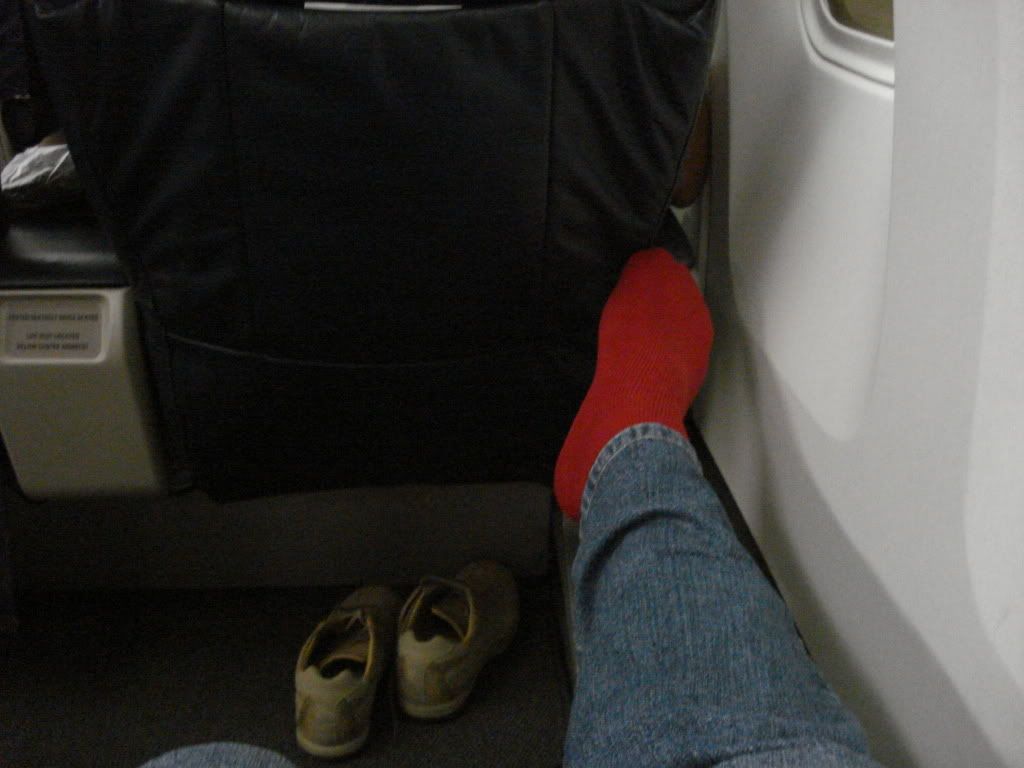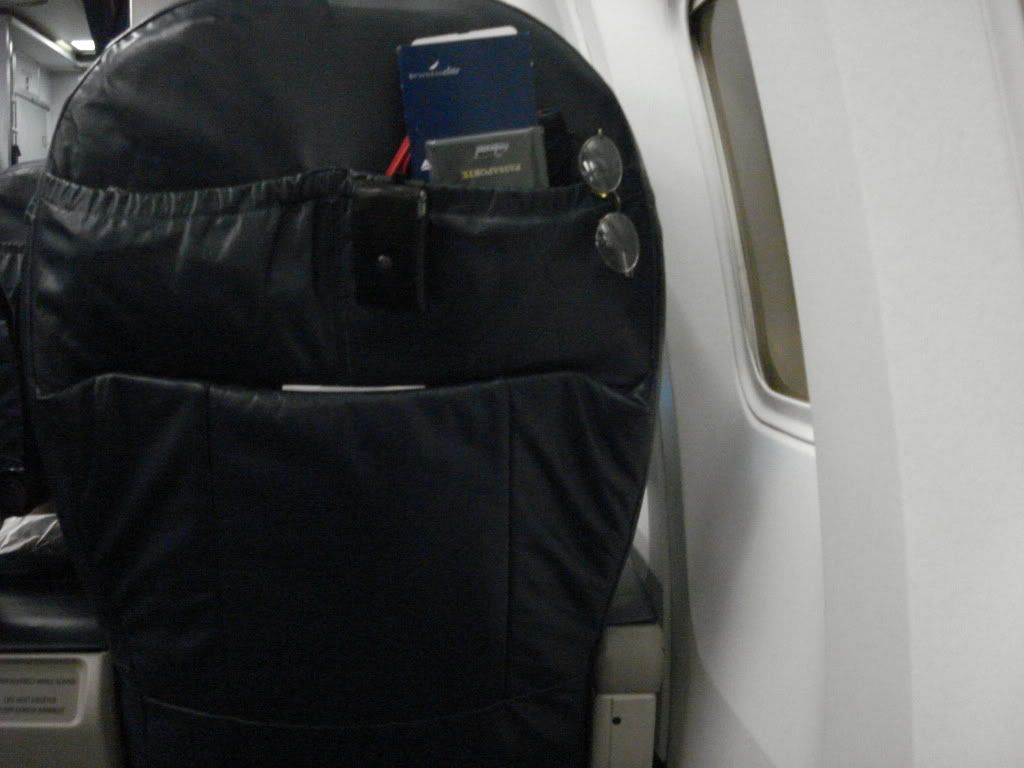 View of BE cabin
While waiting other passengers to board, they come with the menus that bring 4 choices (Steak, Chicken, Ravioli or Soup). As i was looking for a light choice, took the chicken. A Breast of Chicken braised in Red Wine with Tomatoes.
To drink a very good red wine.
We pushed back about 40 minutes delayed because of a confusion about the right spot for a dog on the main cabin.
Almost ready to take off
We took off at around 11:35 from runway 15 which allows a very nice view of Rio
Rio-Niteroi Bridge View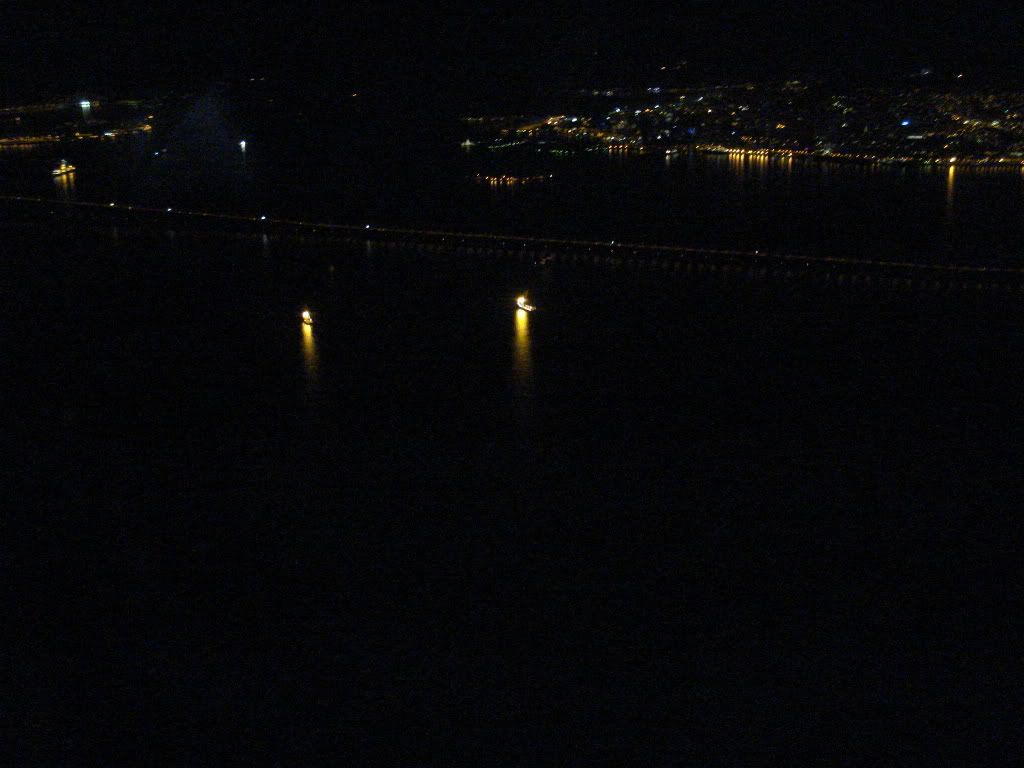 Just after we reach the 10,000 feet the F/A come to the BE cabin and offer reduction noise phones
And as the flight were a little delayed, very shortly they begin Dinner service
Appetizer, cold cuts
Salad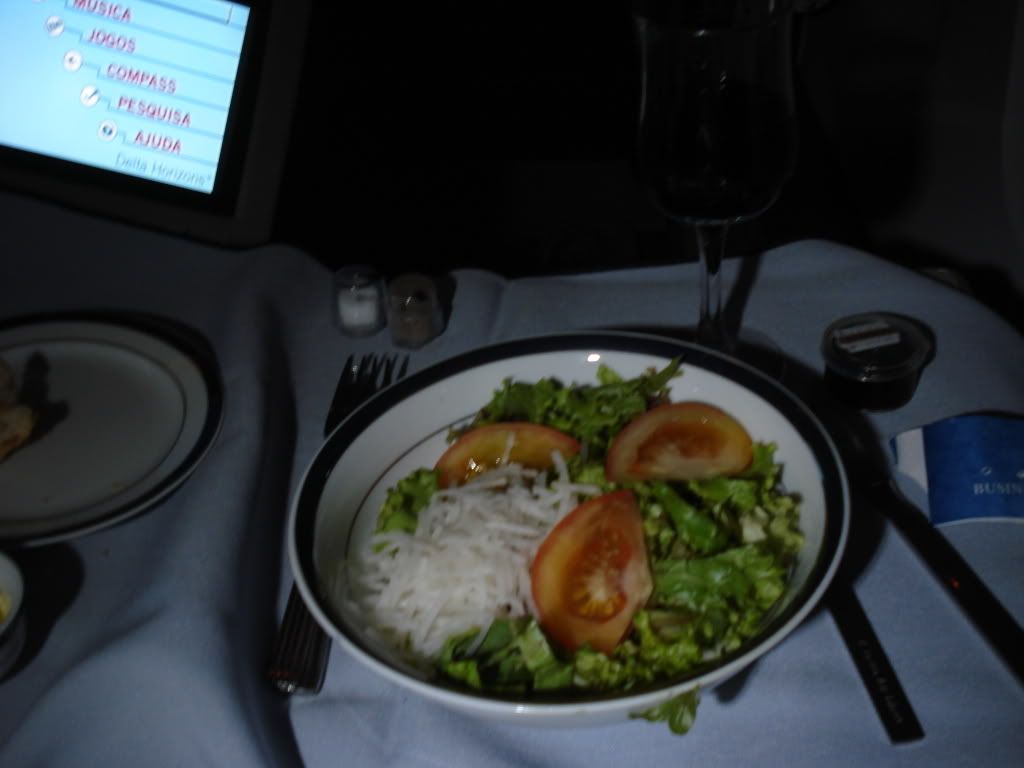 Main Course
Dessert
After all this the F/A ask if i want anything more like Coffee or Tea. I decided not to have anything more and reclined my seat to rest at least 5 hours. The lack of AVOD drives my decision also as it's very bad to waste time waiting for the begin of a movie.
Before that, take a picture with some people sleeping (sorry for the lack of light and flash)
I wake up closer to Florida coast line and the F/A immediately offer me the breakfast. Very complete...
Omelet with tomatoes, roasted potatoes, sausage, cheese, seasonal fruits, a croissant, coffee and orange juice.
And there was even people still sleeping
In a few moments the Captain has began the initial approach to ATL area, F/A ask for the Noise Reduction Phones, and begin to prepare the cabin for landing. And something very interesting, a F/A come to each customer on BE to say "Thanks for flying with us today"
At 6:02 we were on finals for Landing.
We finally landed at 6:07 and in about 8 minutes we reach our gate.
As i can't take pics on Immigration, the last one is the moment everyone waits for the door to be open
Conclusion is that DL has a good product that could be improved. In my opinion the seats they will install in the future will update the comfort a lot, but nowadays it's very bad to doesn't know if your next flight will have or not AVOD. If in my case DL faces competition from NYC area to Rio non-stop, i would say that i easily move to another airline.
Hope you enjoy this one!
Felipe