Part 1:http://www.airliners.net/aviation-forums/trip_reports/read.main/123953/
Part 2:http://www.airliners.net/aviation-forums/trip_reports/read.main/123971/
Now before I get writing, I'd like to apologise for any poor writing. My space bar is a little temperamental and I may miss some areas in the proof-reading!
Channel Islands Part 3. Flybe JER-LGW Embraer E195
After our jaunt around the second island of the day, Jersey, myself and fellow traveller Dave Chapman head back to the terminal, where we're greeted by the large open and very quiet hall. We contemplate whether to explore the airport some more before passing through security but decided against it, considering we'd walked miles already.
Check-in was very simple. Flybe's self service computers are very easy to use and pretty quick too. After typing in our booking references, names, and selecting our flight (BE950), we were asked if the allocated seat was okay with us. I was given 22F, which suited me fine. Dave was given 16F. This seemed a little bit of a con. You pay £5 on the internet when you book to choose your seat, yet when you check in, you can select which seat you sit in anyway. A flimsy piece of paper protruded from a small slot in the machine. I can tell I'm going to end up ripping it before we get anywhere hear the aircraft...
Heading through the small security area took no-time and we decided to head up to the viewing gallery. This is a massive, empty hall with a panoramic view in all directions, except east. Aircraft at the gates, on approach to 09, taxiing could all be seen. We spend a good while up here before getting a bite to eat. I bought a pawn sandwich and some apple juice before Dave decided to go for a full meal of bangers and mash, slightly overpriced at £6.
Back at the viewing area we took some seats and watched some movements. Trislanders, Jetstreams, Dash 8's, BA737 (Which I get plenty of back at LGW!
), A319, and some GA.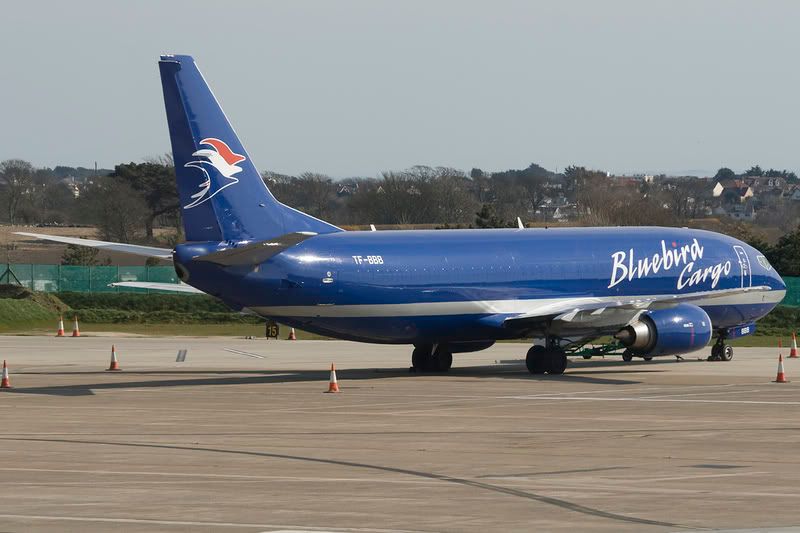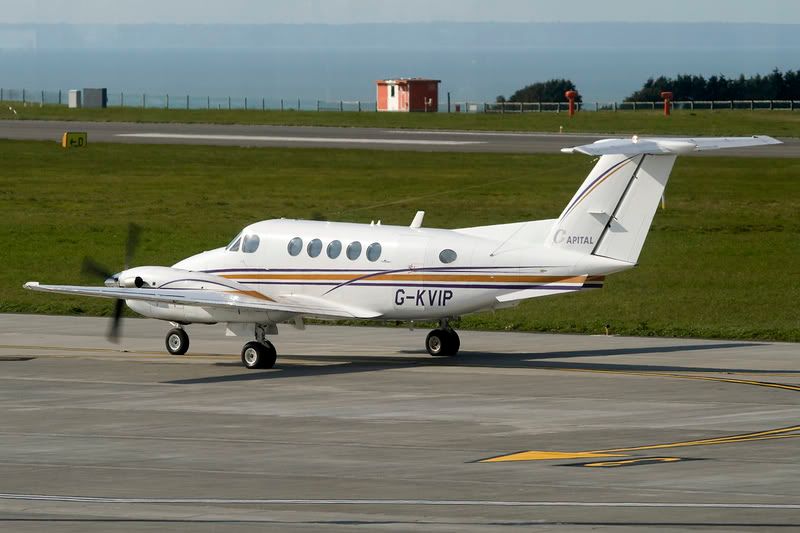 And finally our Embraer, G-FBEG, just 5 months old.
View Large
View Medium


Photo © Darren Wilson
We were called for boarding and made our way down to the gate. Rows 16 onwards were called to board via the rear stairs.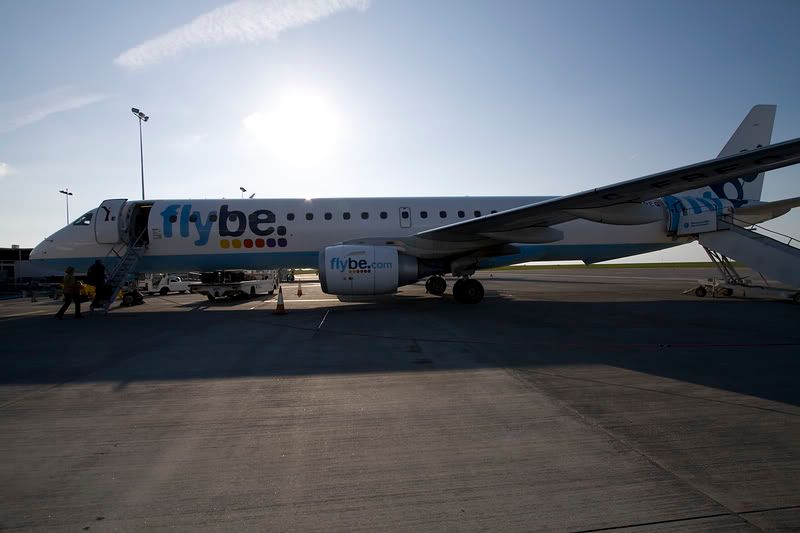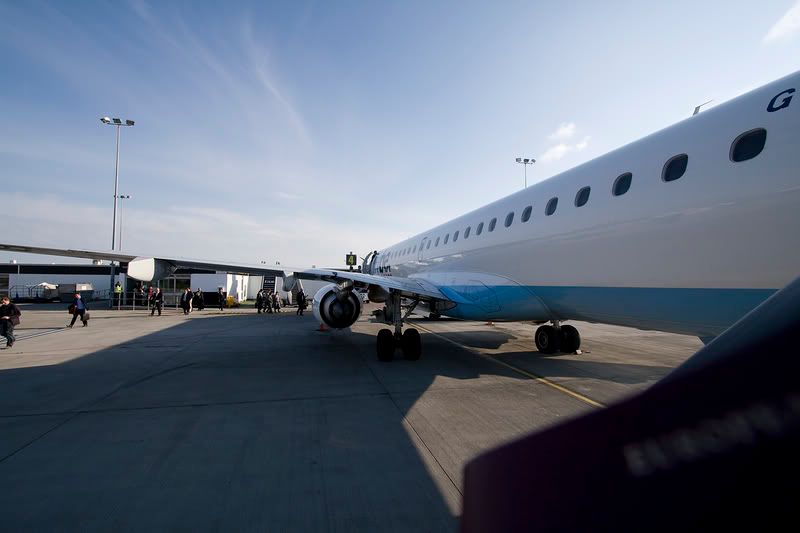 My first look down the cabin of the JungleJet impressed me. No dividers, just one long cabin. It was bright and very spacious. I take my seat of 22F.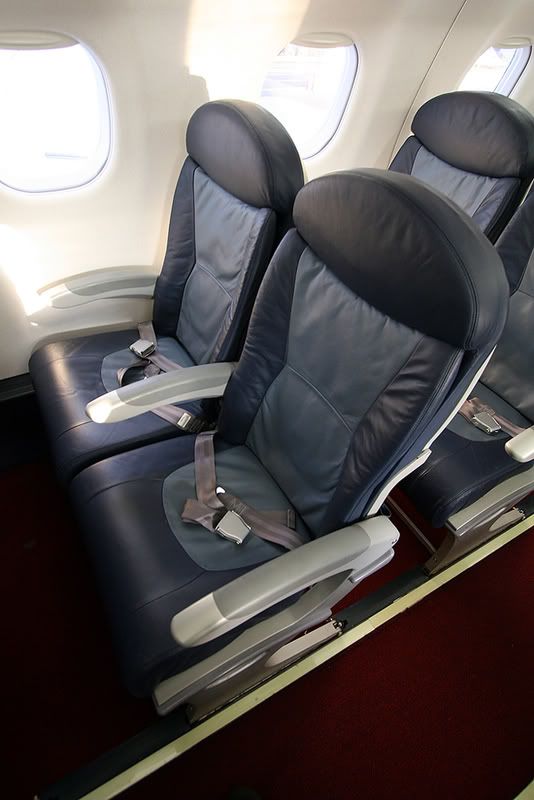 It may have been due to the width of the Trislander and ATR seats, but this one was definately wider. And seat pitch was more than enough for my height. Windows were at a good height and of a good size, too.
I sat myself down in the seat and soon found out that it was very comfortable. This was going to be a good ride
. Load factor was quite low once again, with plenty of rows of empty seats up ahead.
The cabin crew consisted of two stewardesses and one steward, all from foreign origin. The safety demonstration was given and we were soon on our way to runway 09 at roughly 1800. With no traffic about we were shown a rolling takeoff.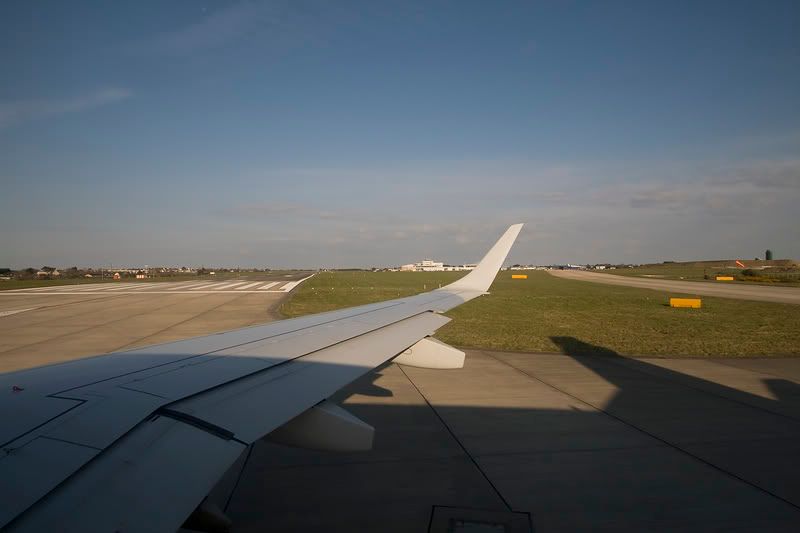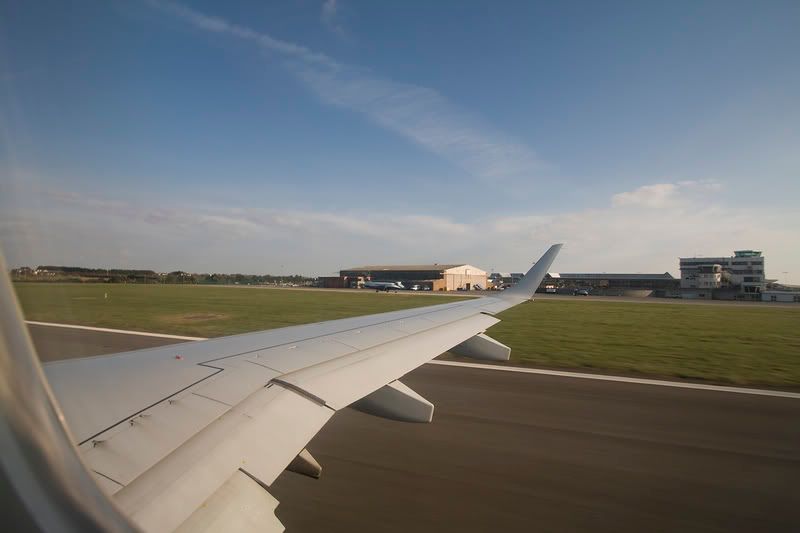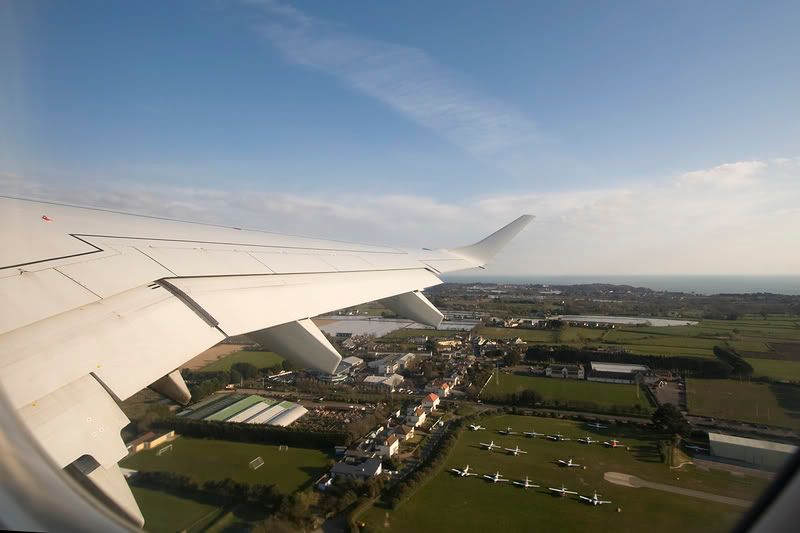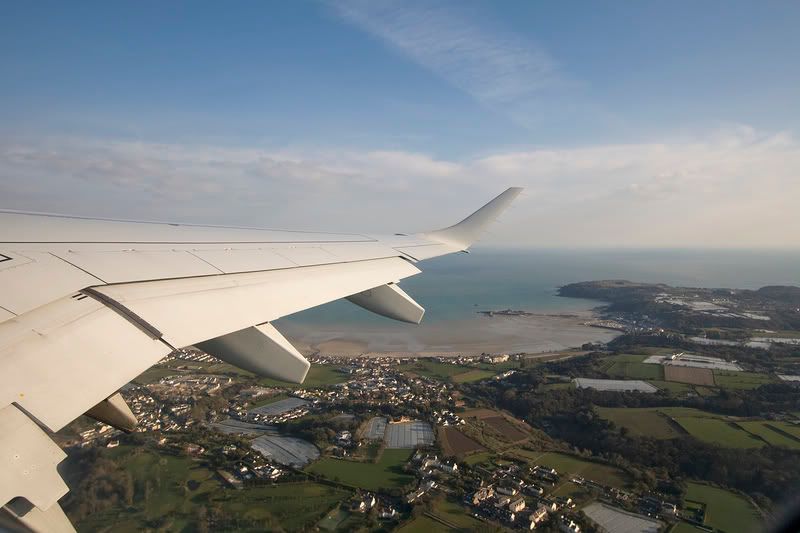 After a sprightly takeoff we banked to the northeast.
Our route took us over the northwestern tip of France, over the channel and over the Isle of Wight, before heading East, turning 180 to make a landing on 26L. The flight was uneventful and I spent 99% of the flight perplexed by the view out the window. Just before making landfall we were joined by an Easyjet A319 at the same height as us. Not high enough to draw a contrail,however.
The weather in the south was partially cloudy.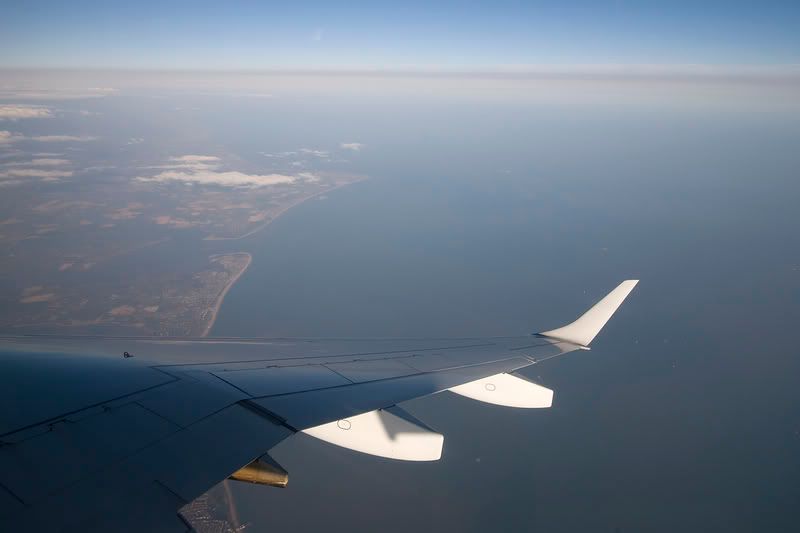 South coast
After descending over Sussex, bouncing through clouds (
) the scene became alot darker.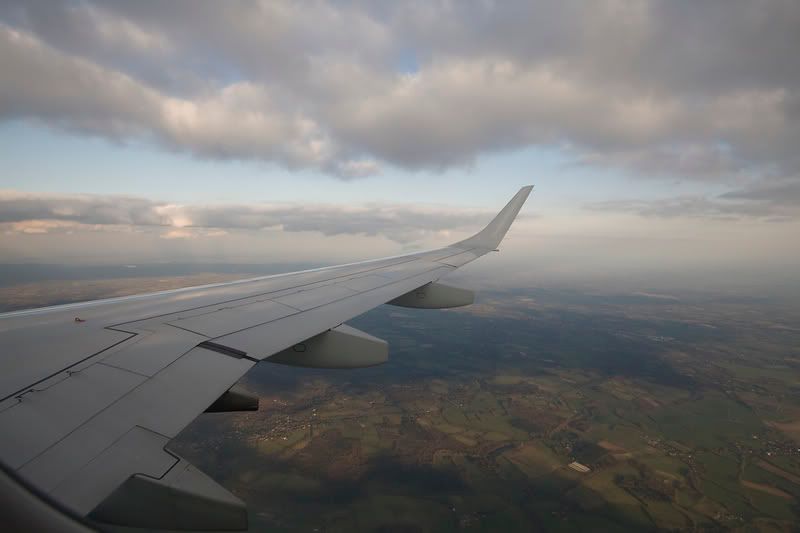 All to soon we were on final for 26, with the gear down, the ground came closer and closer. Passing overhead the M23, railway, perimeter road (where the majority of LGW photos are taken) and soon kissing the tarmac after 35 minutes of flight.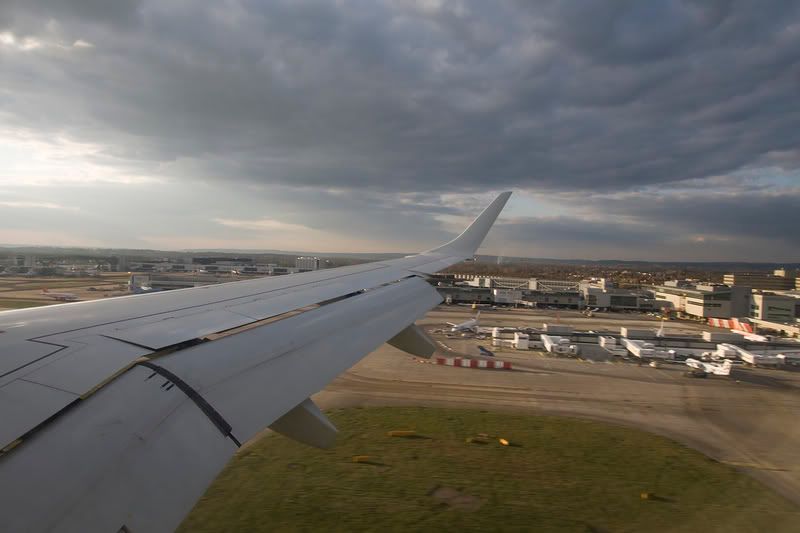 .
After vacating onto taxiway Juliet, we followed 08L until a certain point where we crossed both runways. I have watched some aircraft taking this route before, but never really known why. It's not particularly shorter due to the fact you have to hold to cross 26/08, then hold to go beneath the flight path. I have watched ATR72's and E195's pass very close to the perimeter fence, which is great for noise!
Here's the taxi-route: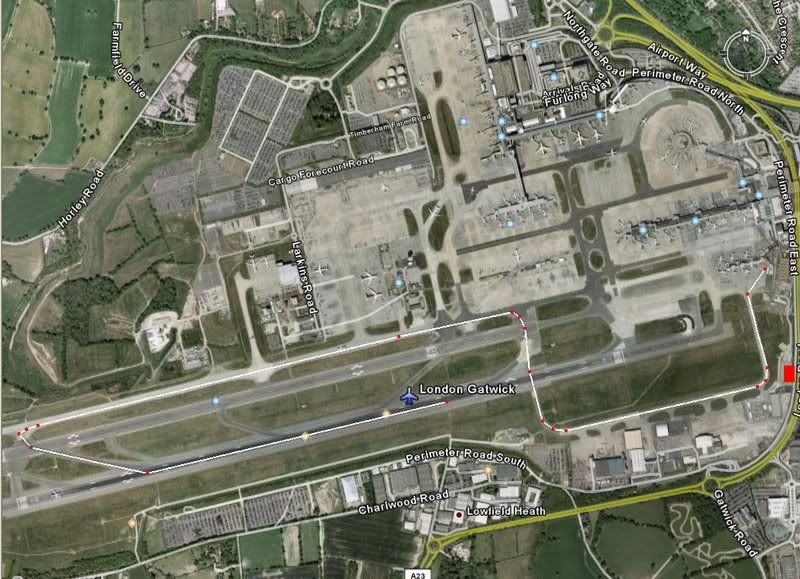 The large red block is where the majority of photographers hang out at LGW.
Once parked up at, what I assume was gate 1, the engines were inaudibly shut down and people began to gather their things in the typical fashion. I was looking forward to seeing the E195's cockpit for myself but unfortunately we were denied access. Heading down the air stairs we were definately back in mainland UK.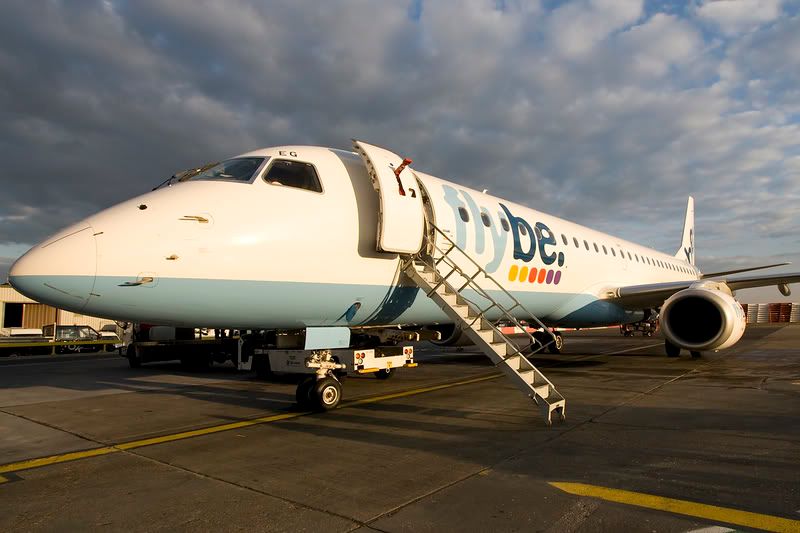 Old, dark, dirty, damp and cold metal walkways took us inside the dim terminal to be welcomed by huge queues for immigration. Fortunately we were re-directed to a doorway which took us straight into arrivals, not before having our boarding cards snatched by a grumpy immigration officer.
And thus our adventure ends. A number of flights for fun was something I had wanted to do for a while, and now I have! Next time, we'll be doing the same again, except with BE LGW-GCI Dash 8 400, GCI-JER Blue Islands J31, and JER-LCY VLM F50. Another three new aircraft and 2 new airlines!
Thanks for reading, once again, comments are most welcome!
Tom