Shortly after arriving from our 9W flight from DEL, we dropped our through-checked luggage at the belt in T8. This helped ALOT as we didn't have to carry all of our luggage all the way to T2/3. We then made our way to the airtrain station only to discover that the airtrain was in fact not working. The train was just sitting at the station with its door open. We decided that in the best interest of making our connection that we should just get a cab to T3/4. Cab driver remarked that the airtrain basically sucked cause it broke all the time. Have no clue if there is any truth to that statement. Anyone from the NYC area care to shed some light on that?
Anyway, once in T3, we weren't required check in again as 9W already issued our boarding passes for DL, however, we just made sure that our bags were in the DL system.
9W issued boarding pass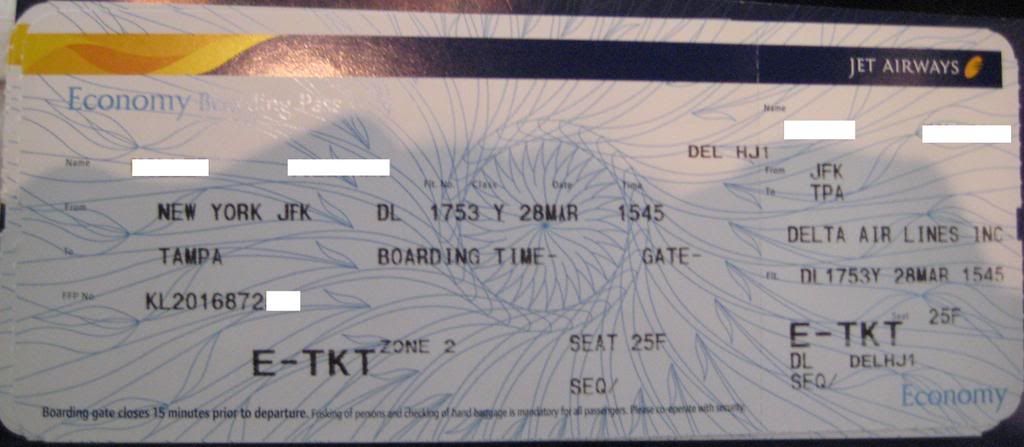 After clearing security, we checked the FIDS only to discover that our flight's STD had been moved from 3:45 to 3:35. I didn't know it was possible for airlines to do this but I guess it was related to ATC slots. Would suck to miss that flight cause of the time change.
We then made our way to the Crown Room Club, which was somewhat disappointing considering DL's major presence in JFK. Got a pic of the scene down below.
About 40 minutes before the flight was supposed to depart, we made our way to the gate where we saw a 737-800 in the 2000 colors without winglets
. Oh well there's always a next time. Soon, those poor quality recorded gate announcements were played and then boarding was announced by zones. Walked on board to find out that this 738 had the new leather seats but without AVOD. No problem I wasn't going to be able to stay awake anyway.
Airline: Delta Air Lines
Departure Airport: New York John F. Kennedy Airport (JFK)
Arrival Airport: Tampa International Airport (TPA)
Aircraft: Boeing 737-800
Flight #: DL1753
Reg: No clue
STD: 15:35
ATD: 15:35
Load Factor: 100%
Date: 28Mar08
A DL 763 next to us....not sure where its headed.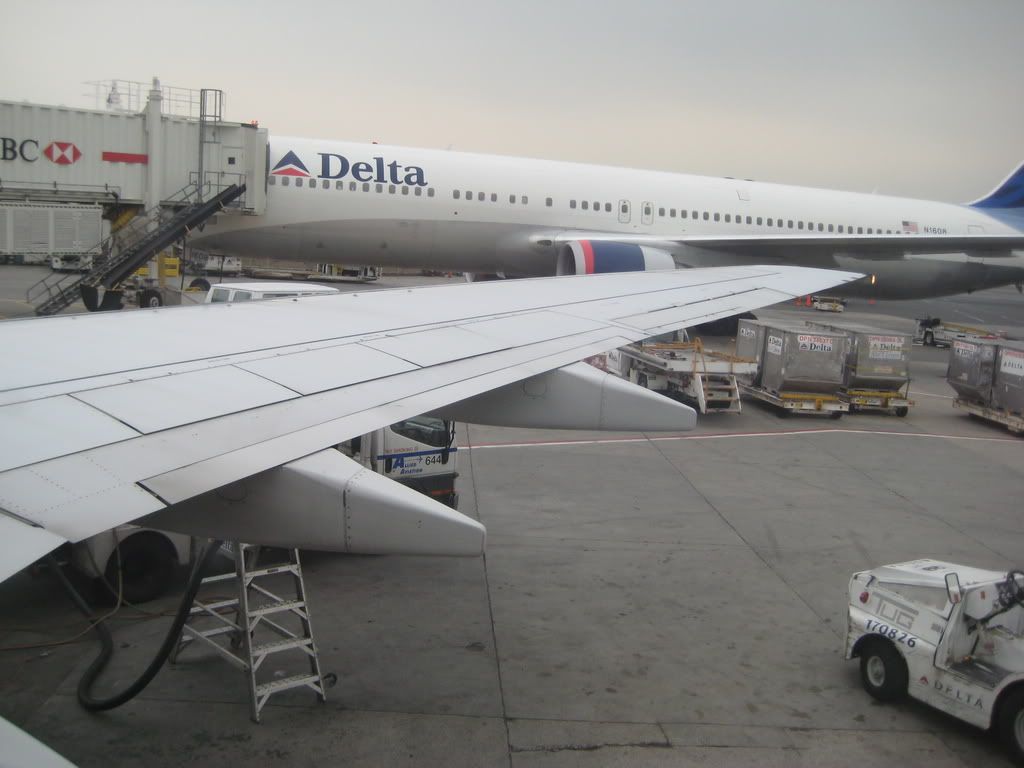 Several welcome announcements were made by both the cabin and flight crew. They mentioned it was also supposed to be a full flight and that we should expect an on time departure.
Tarmac scene behind us. An LH A340-300 just arrived to make T1 completely full.
Captain asked for the cabin crew to prepare the cabin for departure and crosscheck.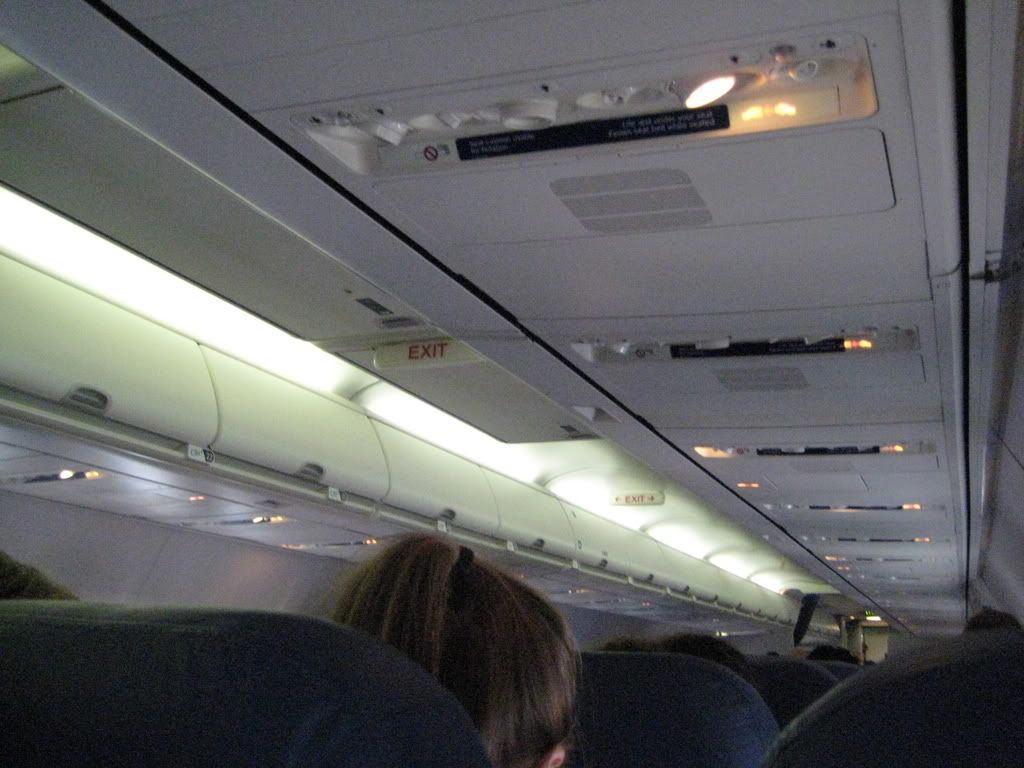 Shortly after, the safety video was played, however, I was disappointed to see the old one. I didn't know that the new safety demo wasn't supposed to be playing until April. I dozed off during taxi but I thankfully woke up in time to get some shots before takeoff.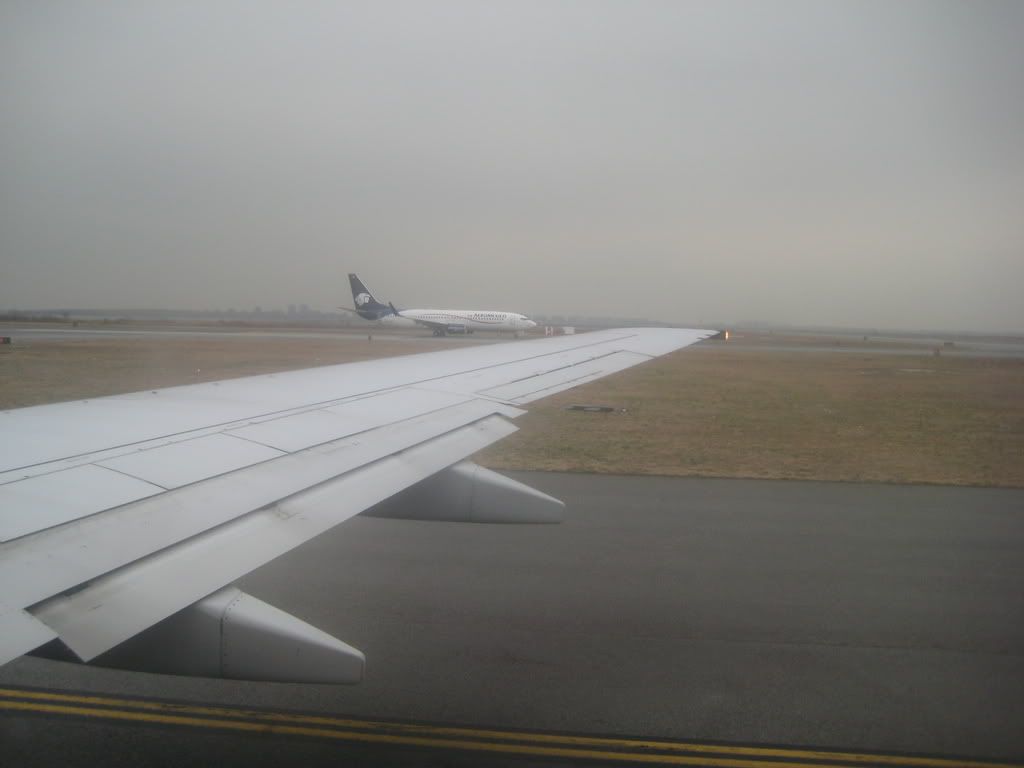 The line was lengthy as usual at JFK but thankfully airlines have learned to add this time on the ground into the block times so that you can still arrive on time.
We began our powerful takeoff roll down 31L and began the Canarsie climb, which is really cool to watch planes fly from the ground.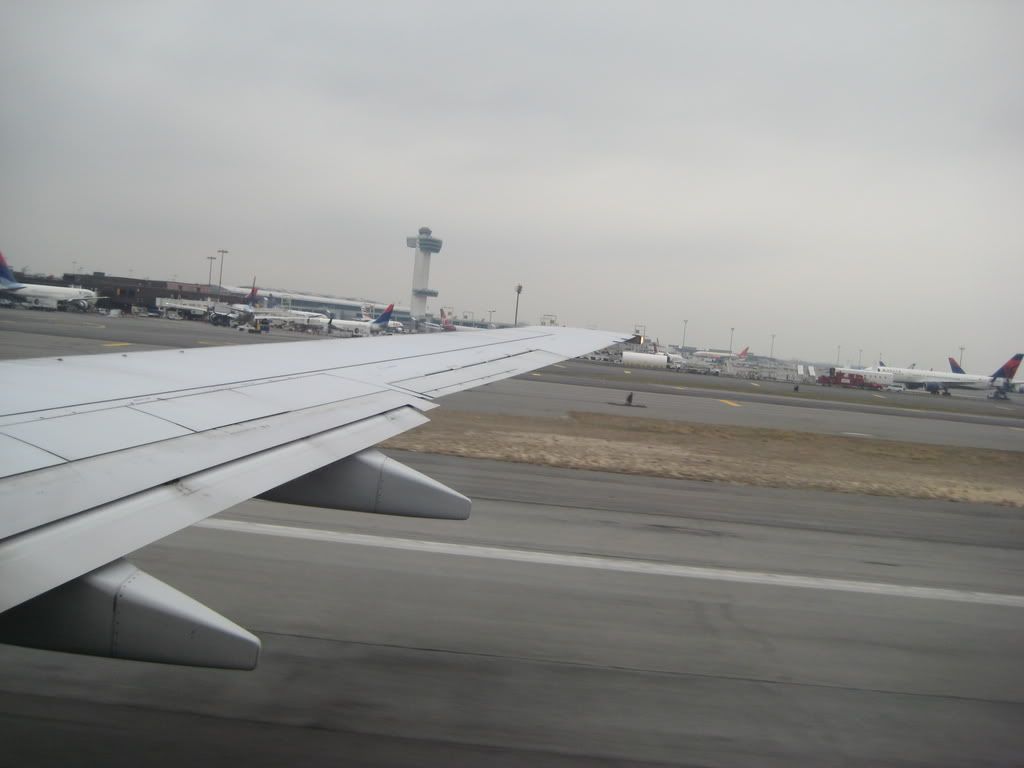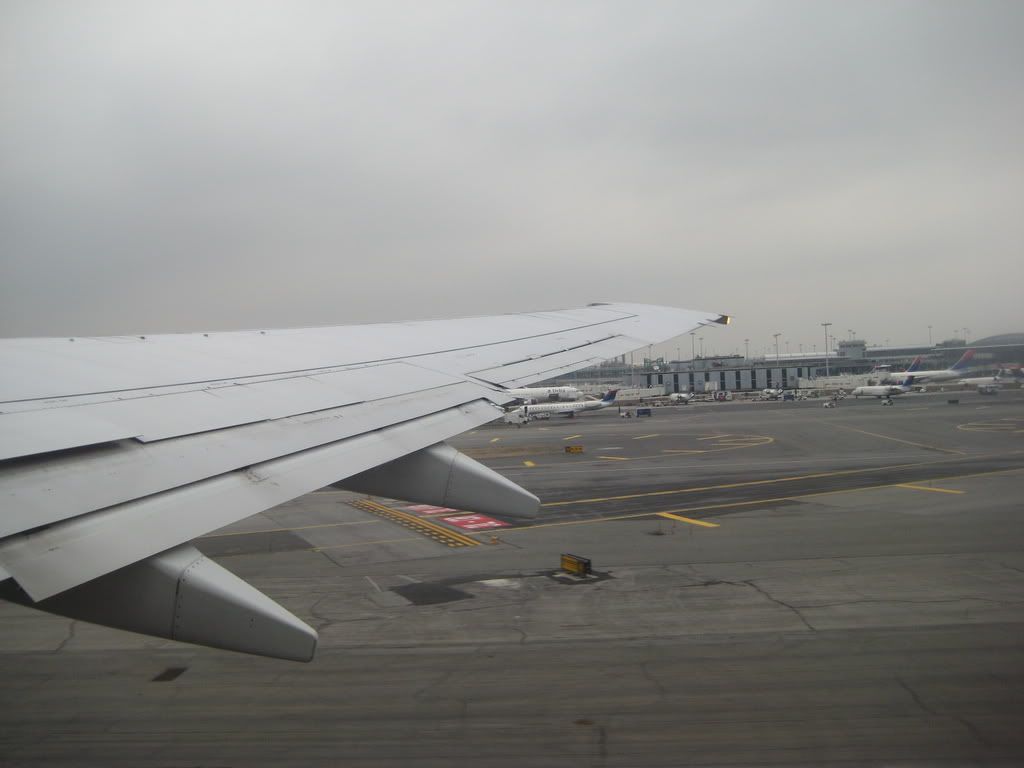 Shortly after takeoff, I fell asleep for almost the whole flight, so I unfortunately missed the meal service. Otherwise I would have gotten a picture of the oh so interesting sprite and crackers. Some TV program was shown on the flip-down TV's, but I'm not sure what it was.
Descent in TPA was uneventful with many turns during the initial descent. The pilot then came over the P/A and announced that we should expect to arrive on 36L in TPA. This is my favorite runway to land on as it usually offers a fantastic view of the city and the bay.
I decided that I would attempt to keep my eyes open just long enough to film the landing lol. So here is the landing on 36L in TPA. Includes the full arrival announcement made by the F/A.
Once again navigating through TPA was extremely easy and our bags were among the first to come out.
Overall DL did not disappoint, however, it was no doubt a let down after getting off a gigantic Jet Airways 77W with state of the art IFE and seats. If it was not for DL's interline agreement with Jet, I would have much preferred to fly with B6 as the PTV's really make a huge difference.
Oh, and oh course I can't forget the pic of the bag tag.