INTRO:
It's already April and I don't have any flights in my log for this year yet. So it was time to open the season. Another reason was that my mother was fear of flying her whole life. Some time ago I bought a ticket for her and we flew together from PAD to FRA (30 minutes) on a 733 and back on a BAe 146. She was enthused and some time later we made another daytrip from PAD to MUC (1 hour) and back on a Dash 8-400. Since then she wanted to fly again to FRA or MUC. I wanted to show her some bigger aircrafts, because we have some relatives in YYZ and I wanted to detect if my mother would be brave enough to stay 9 hours on board. On these short flights it is difficult to get a wide body. I decided to make a daytrip to FRA and MUC together and I looked for an A300-600, which can give you a feeling of a wide body. So I was looking for a good mixture of various aircrafts and ended up with the following trip:
Our to-do-list for today:
TRIP:
Flight: LH 1177
Route: PAD-FRA
DATE: 19. April 2008
TIME: 6 am
DURATION: 30 min.
A/C: CRJ 200LR
REG: D-ACHE (named after the city of Meissen) 14th flight on a CRJ200, 1st on this one
SEAT: 4D
CLASS: ECONOMY
Check in was fast and soon we were airside. The gate area was a bit crowded because of a X3 to Tenerife and an AB to FUE. Boarding started on time. There was only one pax in c-class, economy looked very full. Take off was fast and very zoomed. The flight was uneventful. Just some beverages and we began to descend.
After disembarking: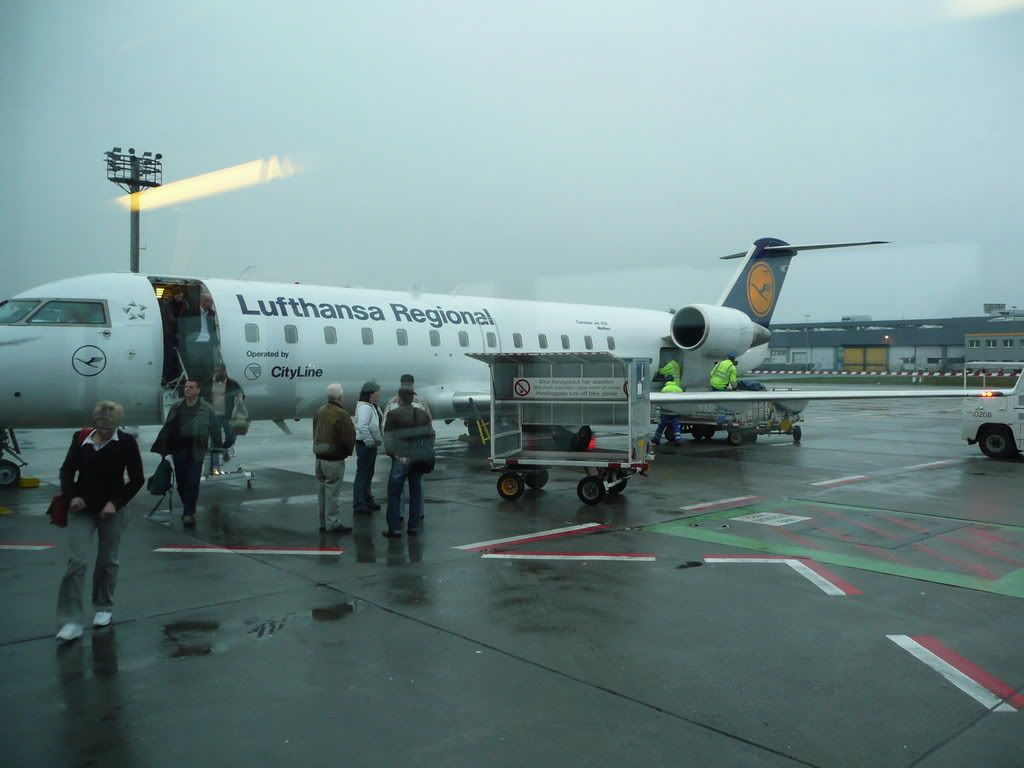 We landed on rwy 07L and parked on the tarmac close to the Cargo City. A bus brought us to Terminal 1. Usually the bus stops at concourse A, but today we were driven to concourse B, maybe due to the extensive modification and construction works.
First we stayed airside and went to concourse A through the tunnel under the apron.
It was just after 7 am and we had to kill some time, because our next flight departed at 1:05 pm. So we went landside and wandered around hall A and B. I heard about the new order of the LH check in desks. First class and business class passengers are checking in in hall A now. Economy passengers use hall B.
Then we headed to Terminal 2 via the Sky Line. Terminal 2 was not that busy and the air not that musty like in the busy Terminal 1. We had breakfast at the food plaza and a table at the big window front with a great view onto the aircrafts. I noticed some LH wide bodies at Terminal 2. Later I noticed that they belong to the gates C14, C15 and C16, which seem to be the new gates after the construction works at the C concourse. Did anybody of you used these gates already?
Later we headed back to Terminal 1 and to the bridge to the long distance train station. There is the airport forum located, where you get many information about Frankfurt Airport and some movies are shown.
Some pics of the Airport Forum: (I was relaxing in the comfy seats)
After that we made a guided bus tour. It took 1 hour. The bus drove us on the apron and we got some interesting data about the airport. Not very new to me, because it was my 8th bus tour and I worked at Fraport when I was studying in Mainz. But my mom was very glad to see what was going on on the apron.
Flight: LH 970
Route: FRA - MUC
DATE: 19. April 2008
EDT: 1:05 pm
ADT: 1:40 pm
DURATION: 35 min.
A/C: A321-100
REG: D-AIRU (named after the city of Wuerzburg) 2nd flight on an A321, 1st on this one.
SEAT: 25A
CLASS: ECONOMY
LOAD: 32 in C-CLASS, 102 in ECONOMY
After the bus tour we went through security and to our gate A11. The flight was delayed, because our aircraft was coming in delayed due to bad weather.
Our A321-100: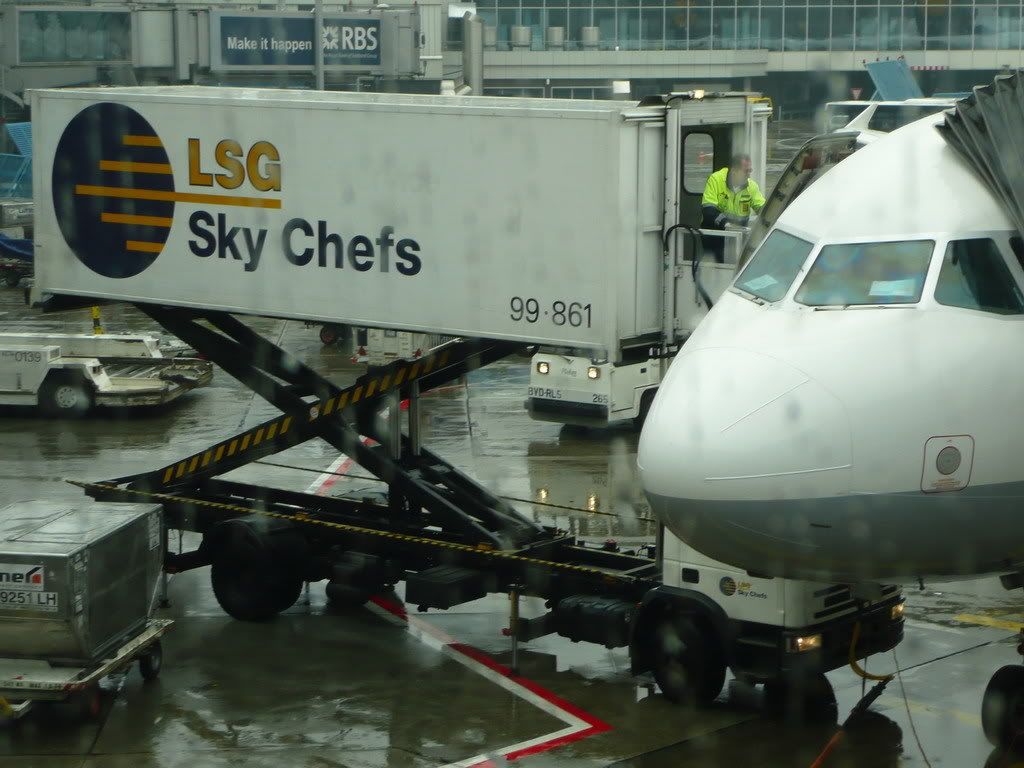 The push back tug arrived: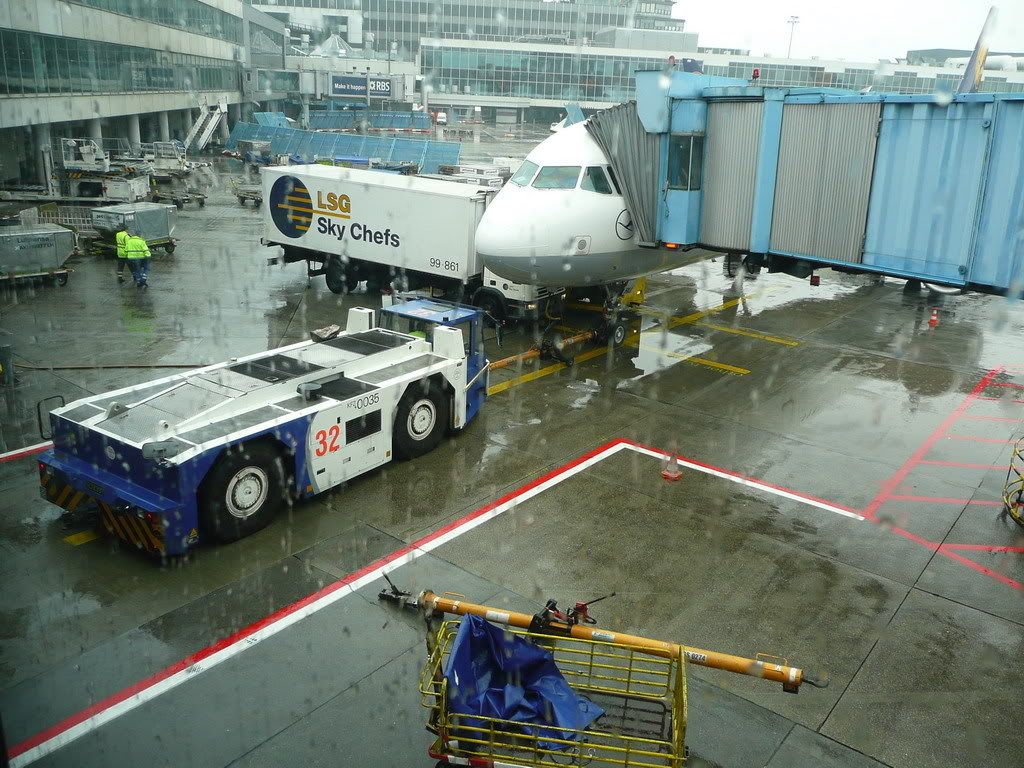 Around 1:20 pm boarding started: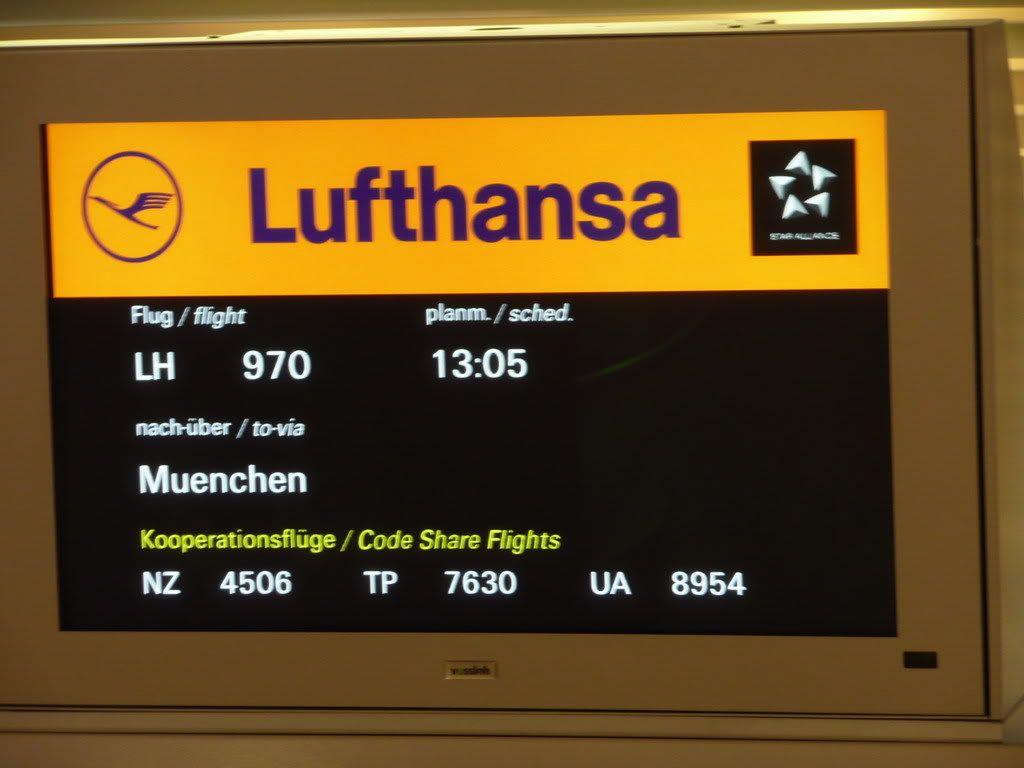 View from my seat: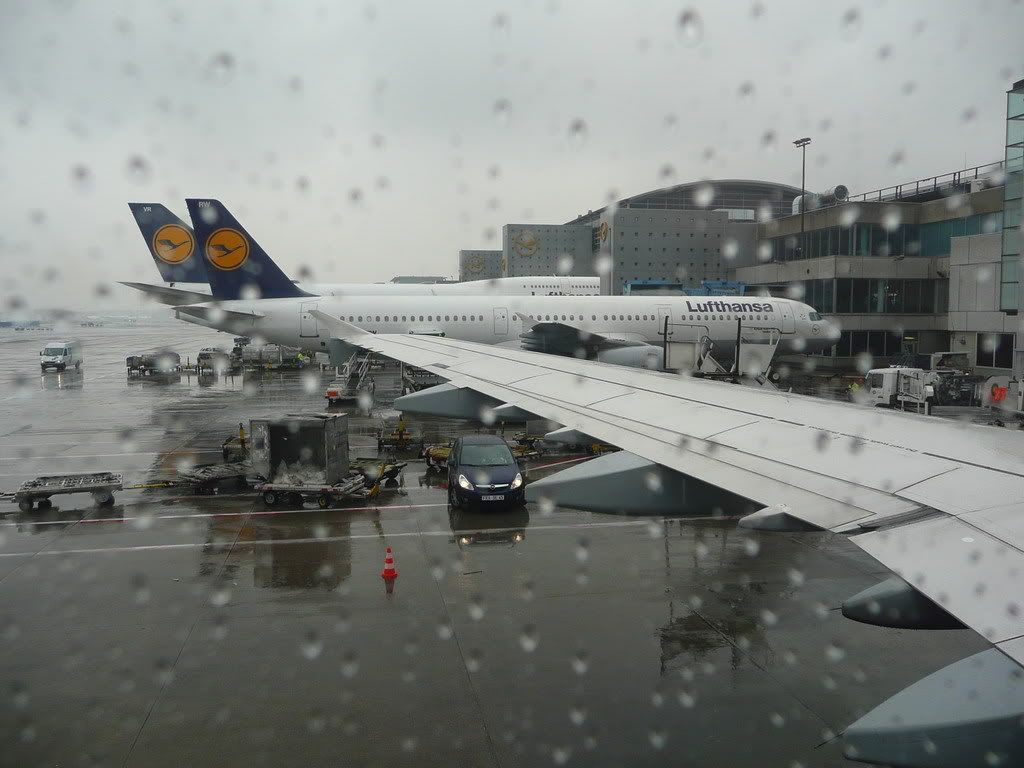 The captain came on the PA and apologized for the delay. We would soon be pushed back and start from rwy 18, the well known Startbahn West. At rwy 18 we had to wait for another LH 320 in front of us. Behind us were a LH 321 and a LH 737 lining up.
The start was smooth and soon we were over the clouds on our short flight to MUC. Beverage service started and we were lucky to get a coke, because shortly after the service had to stop because we were already on our approach to MUC.
Some inflight shots: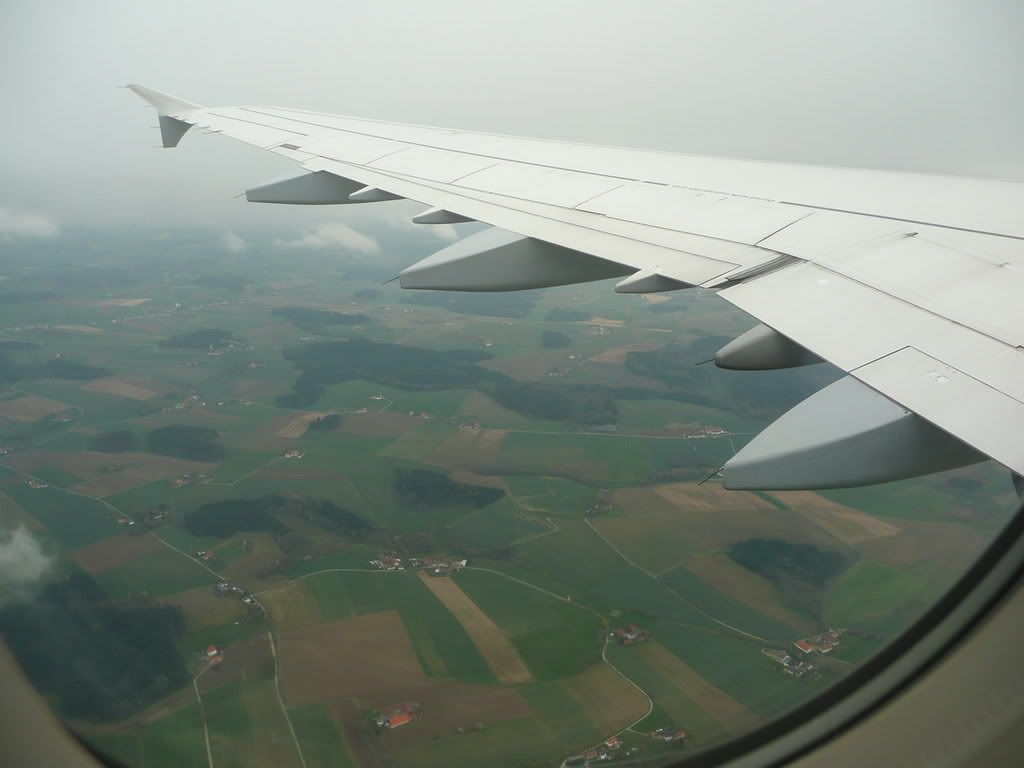 A LH RJ85 on approach to the other rwy in MUC:
Touch down on rwy 26R:
Soon we arrived at the gate and I noticed some ice with blood under the wing. Did a bird hit the wing or was shreddered through the engine? The ground staff noticed it, too, and called the ramp agent.
Disembarking was fast and soon we were down to the regional train and off to downtown Munich.
Here are some pics from Munich:
Customs in Germany: This guy is going to marry
My mother wanted to eat in the Hofbraeuhaus. It was very noisy at too touristic in my opinion.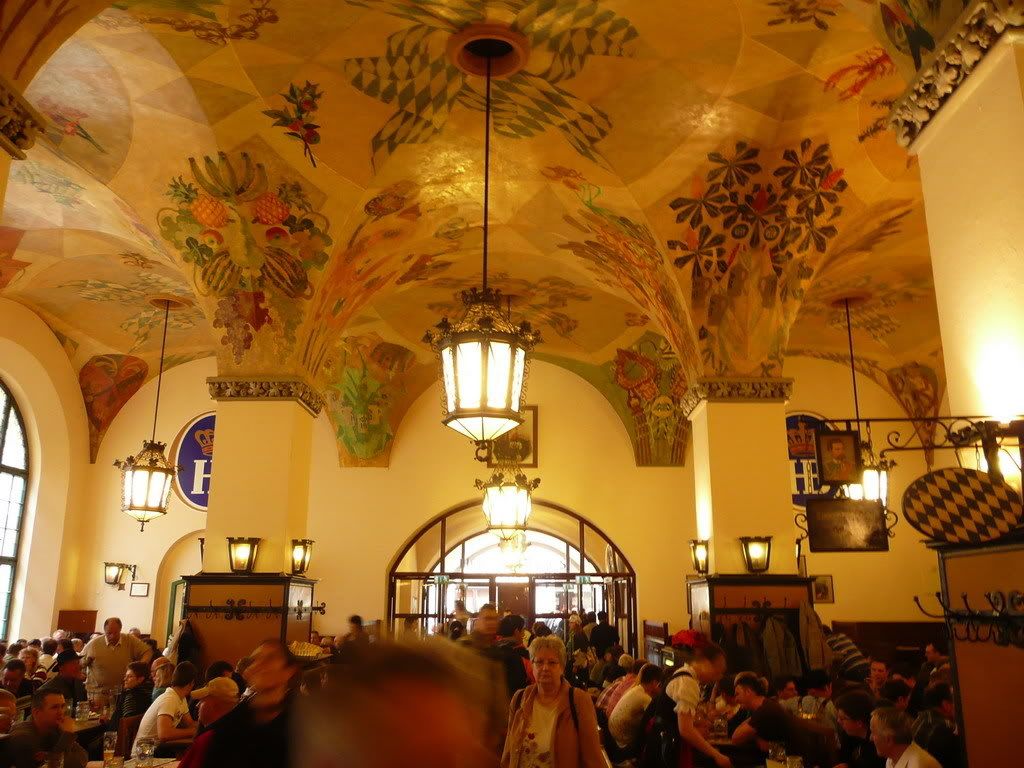 PROST: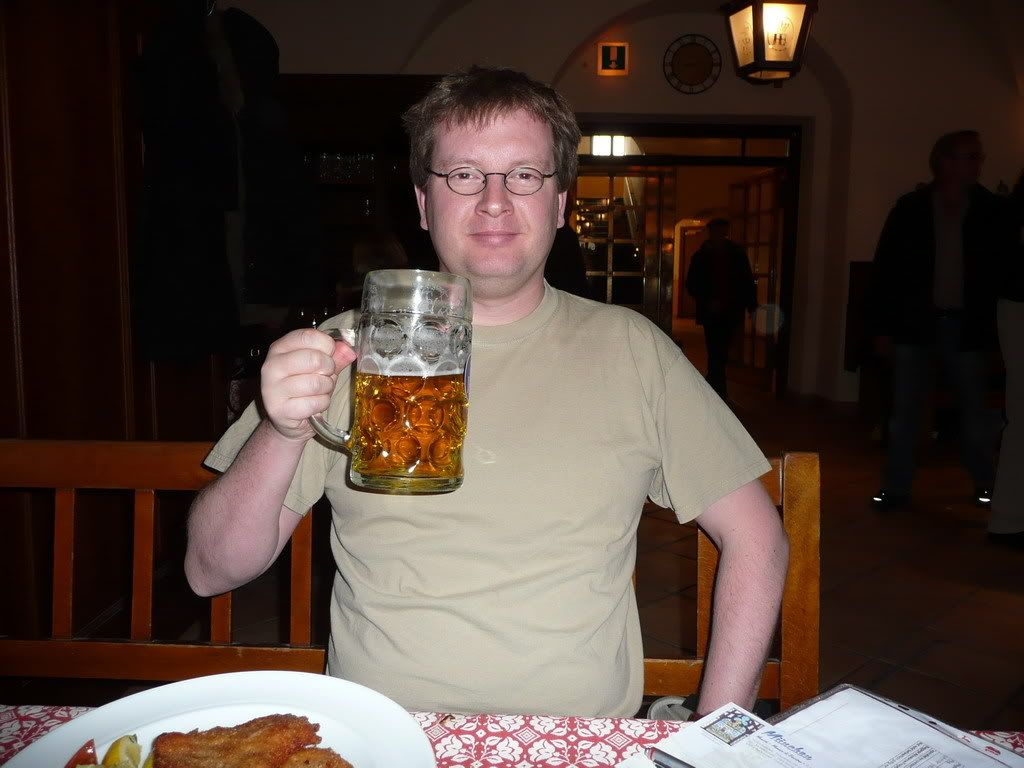 Yummy: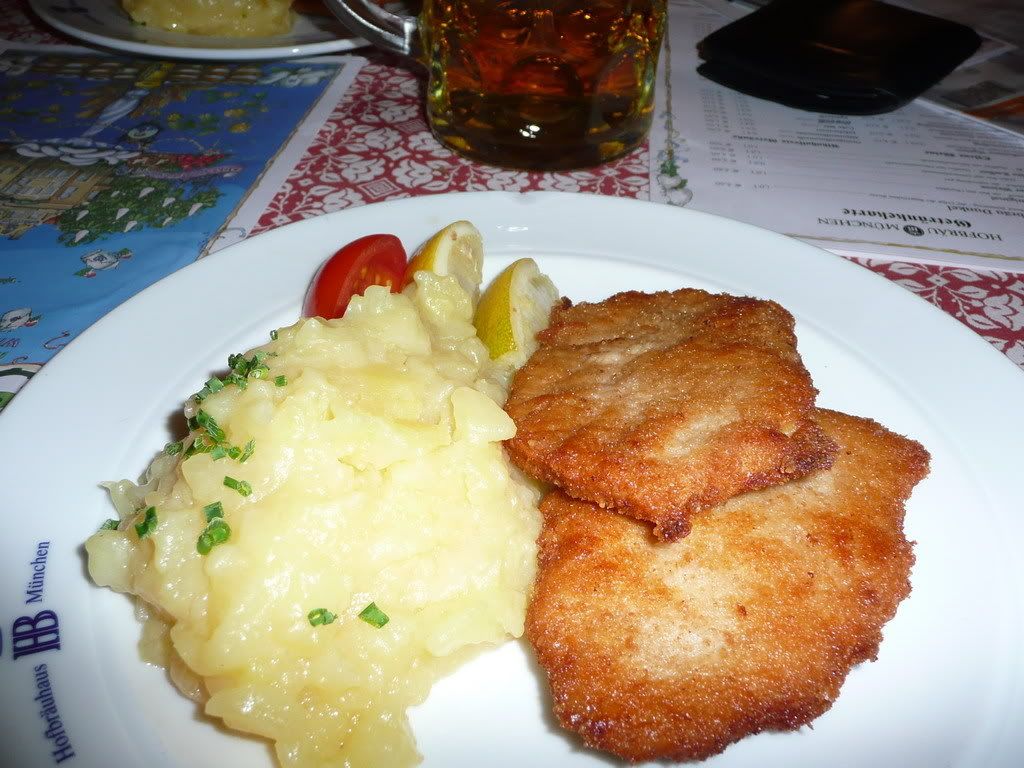 After the meal we bought some Bavarian food for my dad and took the train back to the airport.
Flight: LH 983
Route: MUC - FRA
DATE: 19. April 2008
EDT: 7:05 pm
ADT: 7:00 pm
GATE: G24
DURATION: 45 min.
A/C: A300-600
REG: D-AIKA (named after the city of Kronberg/Taunus) 12th flight on an A300, 1st on this one.
SEAT: 27K
CLASS: ECONOMY
LOAD: less than 40 % in ECONOMY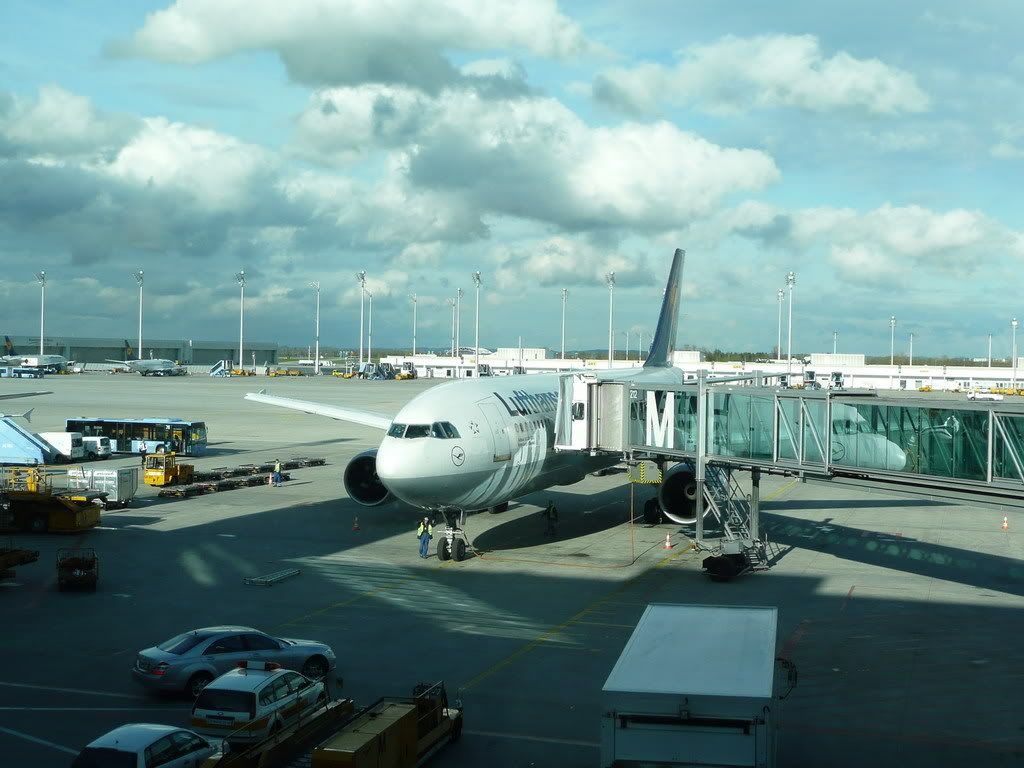 Boarding was on time. When the doors were closed the captain came on the PA and mentioned that the weather in FRA was again very rainy. We pushed back and headed to rwy 26R.
Take off was powerful and smooth:
Cabin shot: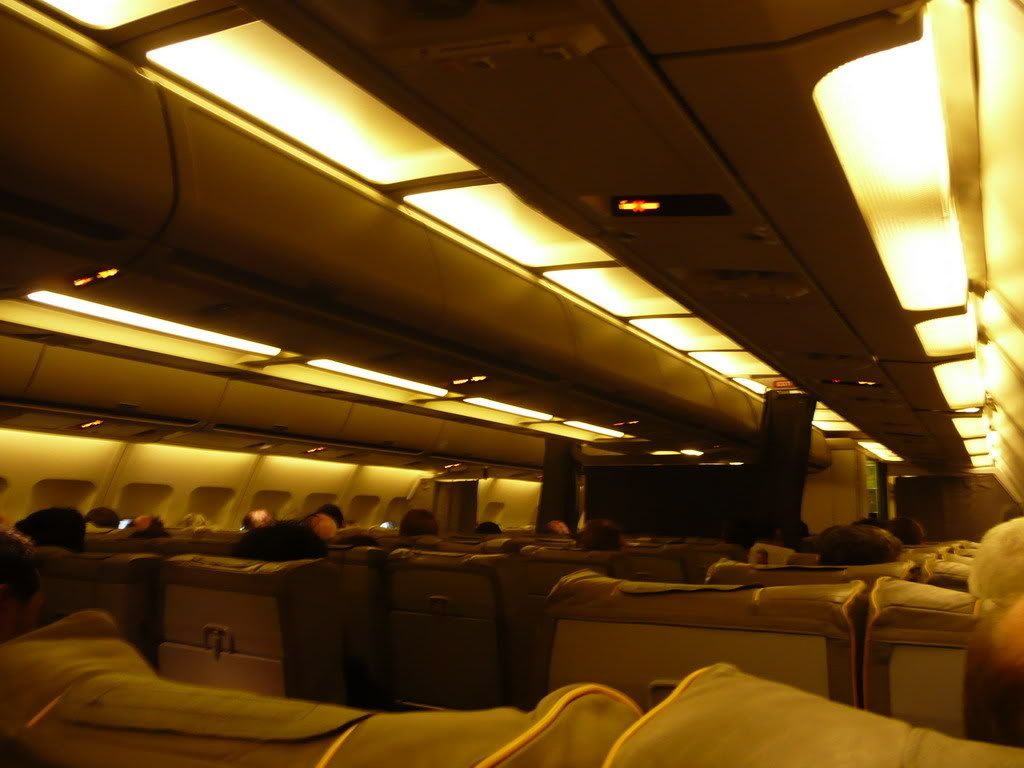 The cabin crew was very friendly. With the low load they had less work. My mother wanted a Coke and I opted for a water. The f/a offered us some bubbly as well, because the bottle was open and this was the last flight for today. Otherwise the beverages would have been junked. So we had a nice flight with bubbly and nice sunny weather.
Then we started our descent into FRA. We got into clouds and I could see the runway just seconds before touch down. We landed on rwy 07R and had to wait some minutes before crossing rwy 07L.
On our way to our arrival gate A20 we passed an OS A320 in a soccer livery because of the European Soccer Championship which is staged by Austria and Switzerland.
Sorry for the bad quality, but the weather was awful.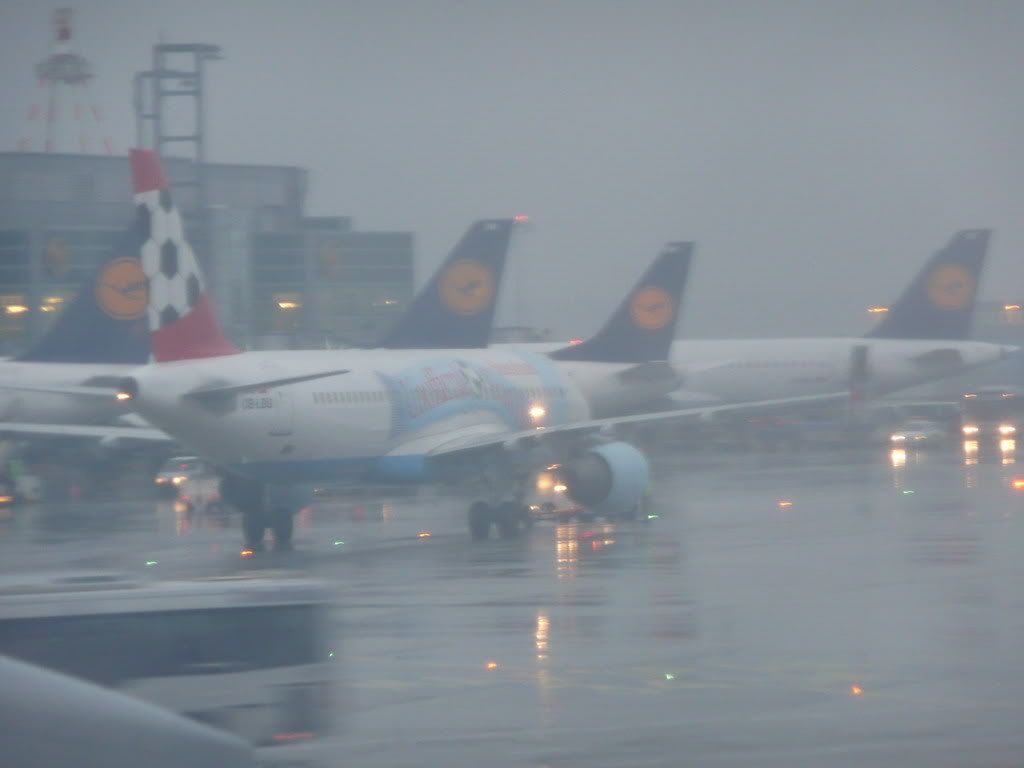 After disembarking the aircraft I noticed this feature. Very good idea. All connecting flights for the passengers from my flight: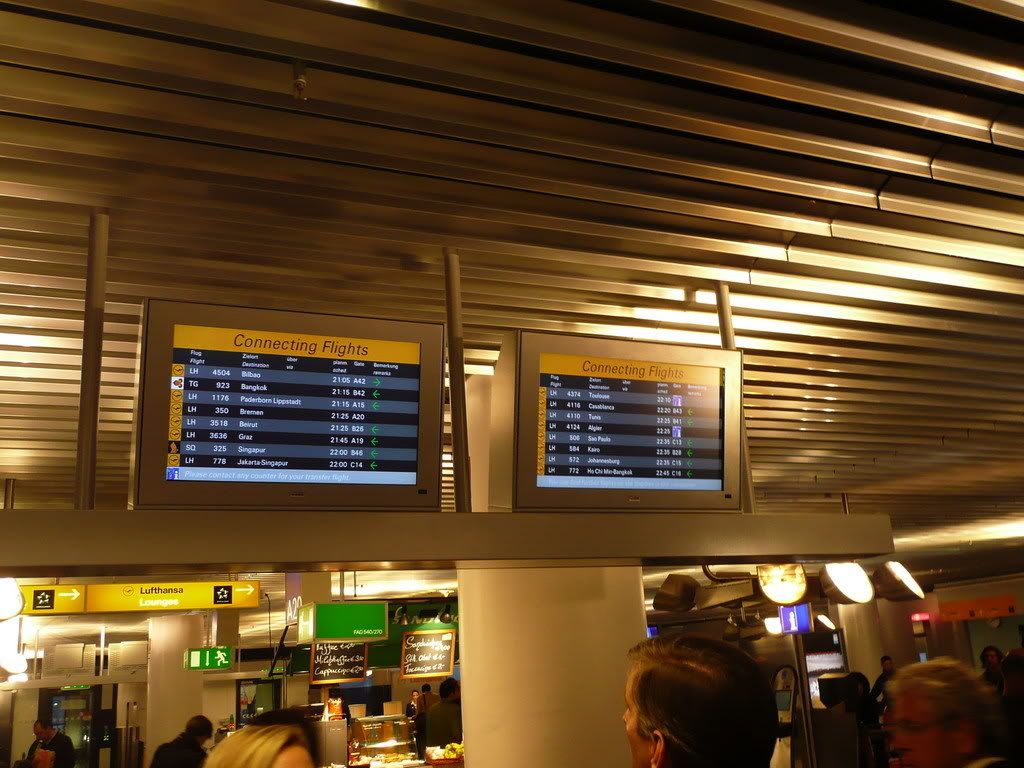 Our connection (and last flight for today) was LH 1176 to Paderborn/Lippstadt: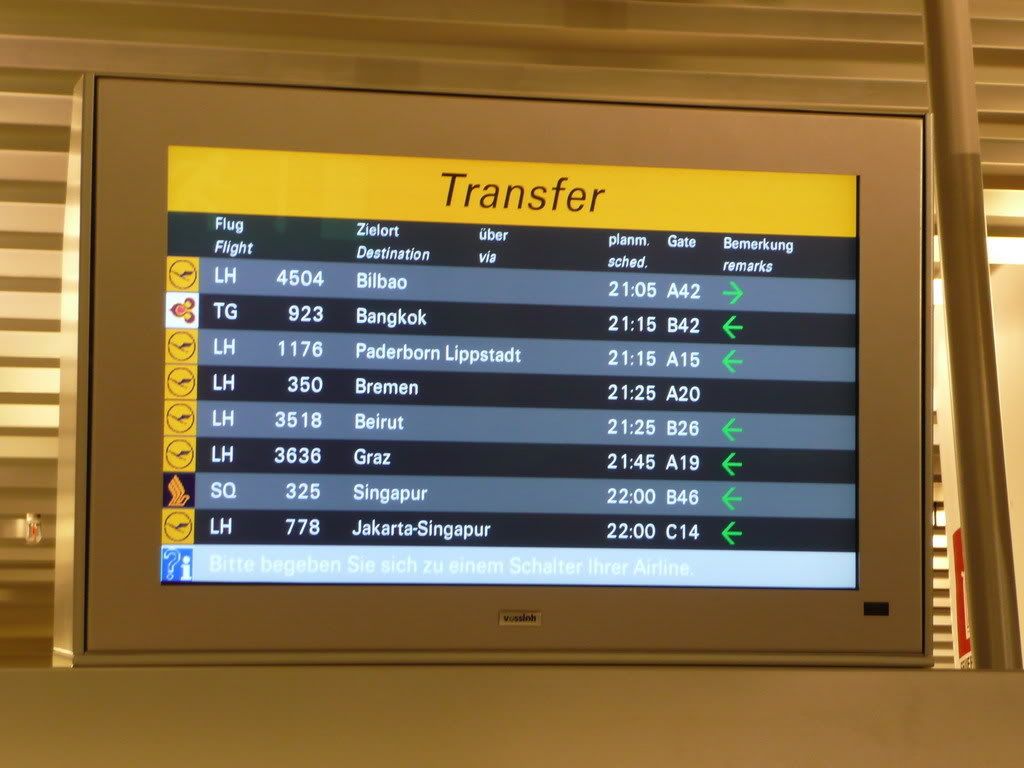 Flight: LH 1176
Route: FRA - PAD
DATE: 19. April 2008
EDT: 9:15 pm
ADT: 9:10 pm
GATE: A15
DURATION: 25 min.
A/C: CRJ200LR
REG: D-ACJD 15th flight on a CRJ200, 3rd on this one.
SEAT: 7A
CLASS: ECONOMY
LOAD: about 100 % in ECONOMY, 2 pax in C-class
We headed to our assigned gate A15 and waited about 25 minutes for boarding. The terminal was getting calm.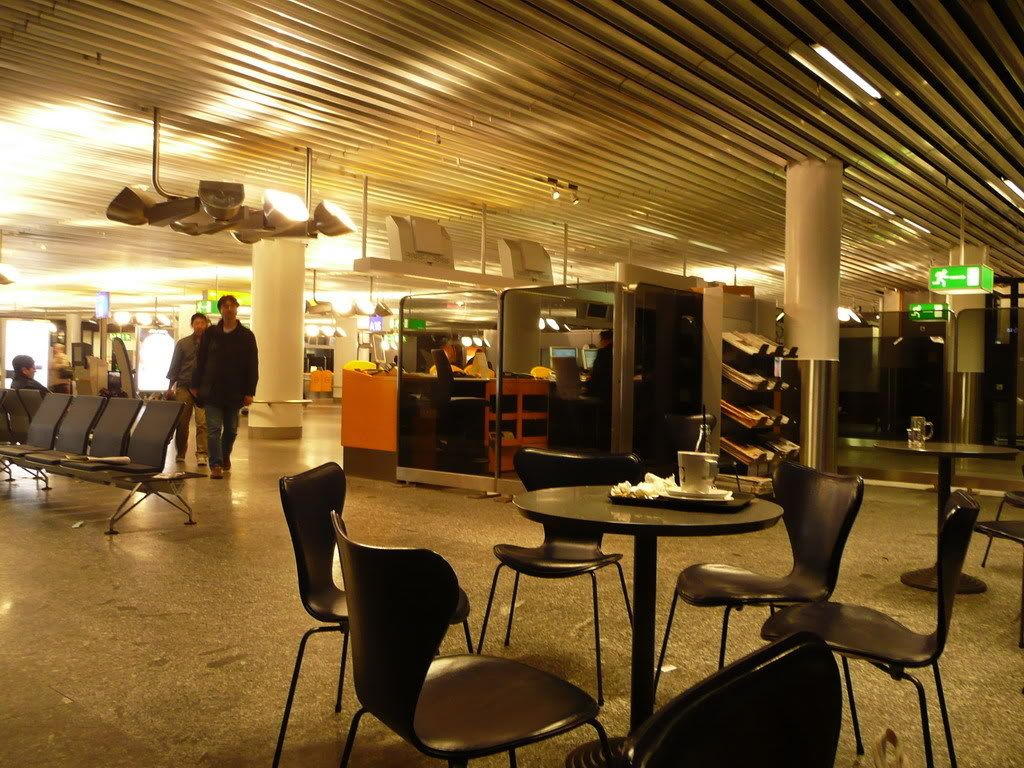 Our gate was a bus gate and boarding was called on time.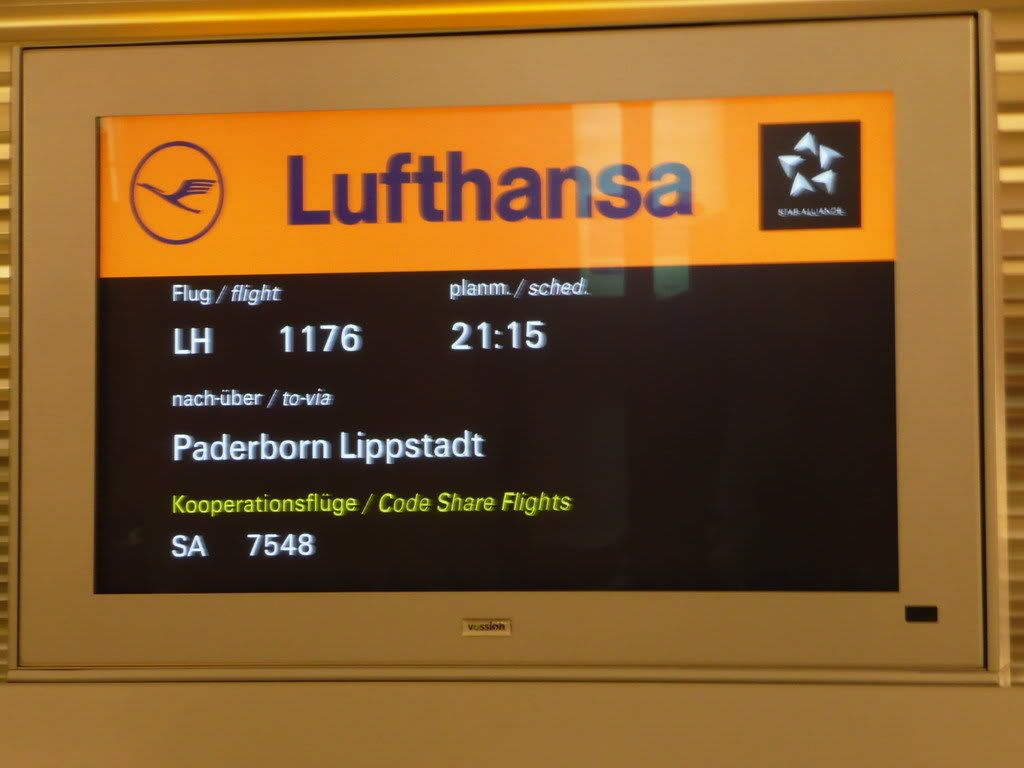 We were driven out to the Cargo City, where A-ACJD was waiting for us. Boarding was done quickly and soon we were at rwy 07L. We had to wait for a LO Embraer ERJ-170. Then it was our turn to take off. The flight was uneventful. Just some last beverages.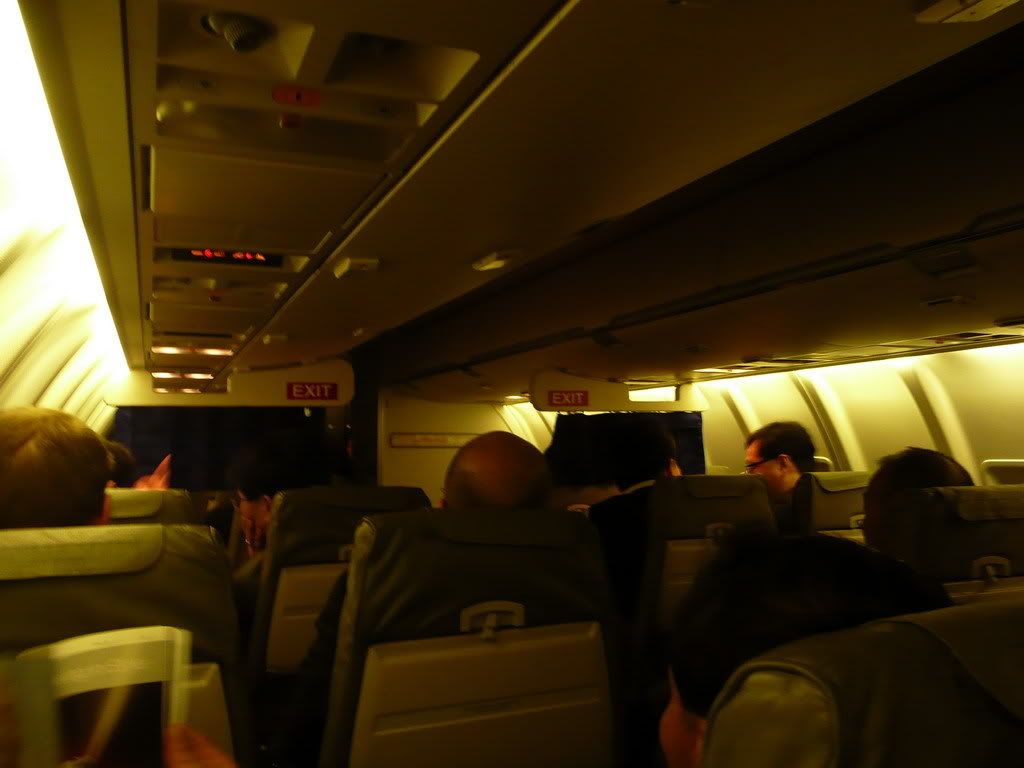 The landing was smooth and we parked on an apron position. This was the last flight for the aircraft today, too. The crew will stay overnight and the next morning the aircraft will start as LH 1177 back to FRA.
Disembarking:
EPILOGUE:
This is the end of my report. All in all it was a great day. The weather in FRA was crappy all day long. But it was interesting to get back to my old workplace. The weather in MUC was sunny. My mom was enthused about all flights. Her favourite aircraft was the A321. I love it, too, but my favourite was the A300-600. LH has 14 AB6 in their fleet. Today I got the 9th of them to my log.
I hope, you enjoyed my TR.
Comments and questions are welcome.
Coming up next: HAJ-ZRH-MUC-HAJ on LX and LH next weekend.
Regards,
Stefan