Dear Readers,
for a long time I wanted to visit Berlin Tempelhof airport, however I never made it. Last year when I read some articles that it will be closed by Oct 2008, I thought I need to made a trip to THF. I wanted to fly in and out of the airport to experience both take off and landing there.
I started my search for the tickets. The best option from PRG came with Brussels Airlines via Brussels.
I have purchase following ticket. PRG-BRU-THF-BRU with Brussels Airlines and BRU-PRG with SkyEurope. I decided to spend one night in Berlin, and do little bit of sightseeing as I have never been there.
This part will cover the flight PRG-BRU-THF on April 17, 2008.
As I am not a writer, I thought I will share my pictures with you which tell much more than words.
I have checked for my flights the day before online. Brussels Airlines online check in is very easy and one can choose his/her seats as well.
April 17, 2008
Prague (PRG) - Brussels (BRU)
Flight no. SN2808
Dep. 8:35 - 10:05
A/c: Airbus A319
Seat: 18 A
I went directly to the bag drop off desk in Prague to drop my bag. Check in desk 219 at Terminal 2 at Prague Ruzyne Airport.
Boarding pass PRG-BRU
Baggage Tag all the way to THF
Departure screen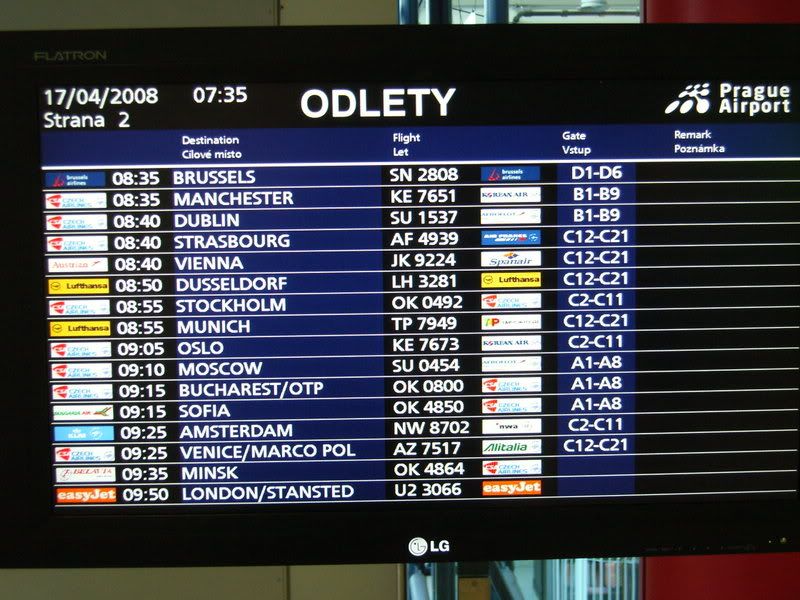 Than i went to watch some planes before boarding the a/c.
Morning rush to various European Destinations of CSA a/c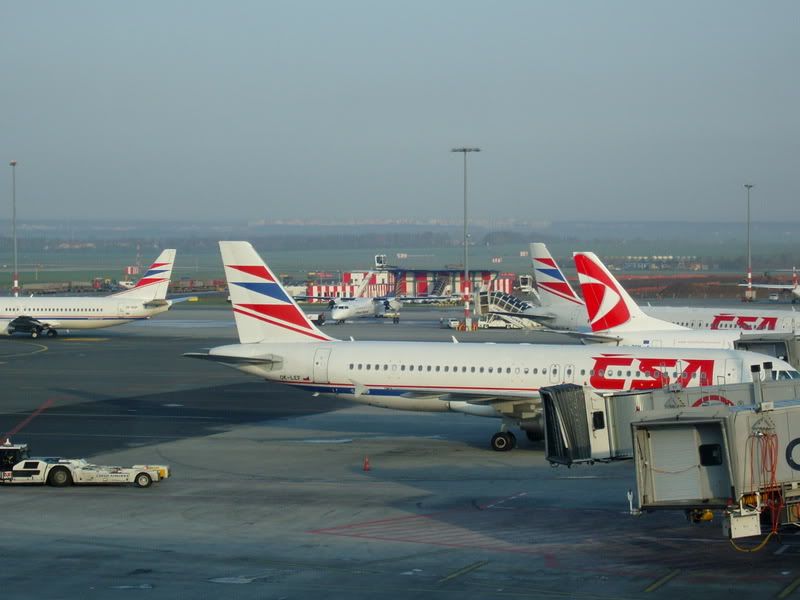 CSA ATR 72 in new c/s
Lufthansa Regional operated by Augsburg Airways heading to MUC
Finally my a/c that I will be taking to BRU today.
Cabin shot. I would say the load factor was about 60% on this flight
Couple of Fisher Air's B737s stored at PRG airport.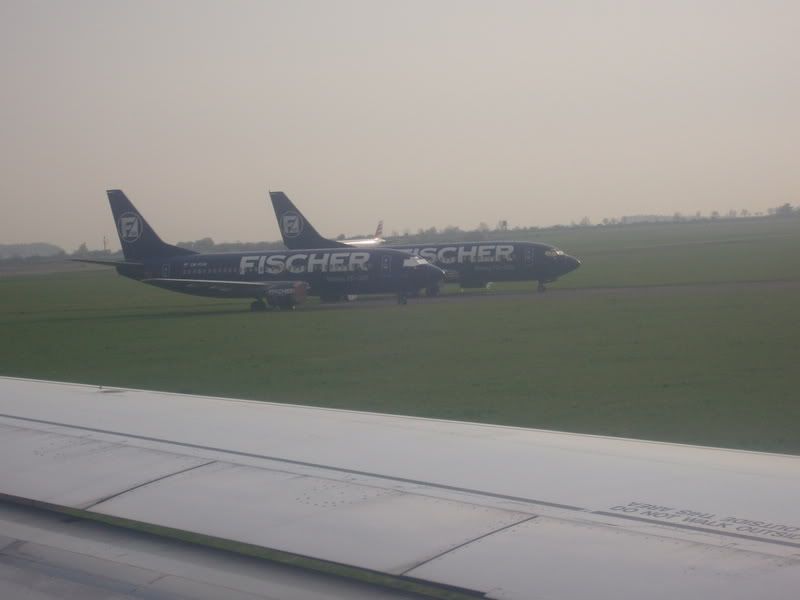 Just before landing in BRU
Couple shots on the way to the gate.
Inside the modern BRU Terminal.
Jet Airways after arrival from India awaiting flight to USA
Vueling heading to Valencia
Sun Adria Fokker 100 - was heading to Kuusamo (maybe a charter)
April 17, 2008
Brussels (BRU) - Berlin (THF)
Flight no. SN2583
Dep. 12:35 - 14:00
A/c: Avro Jet 85
Seat: 14 A
Flight to THF was about 78% full.
Boarding Pass BRU-THF
Few shots before landing in THF.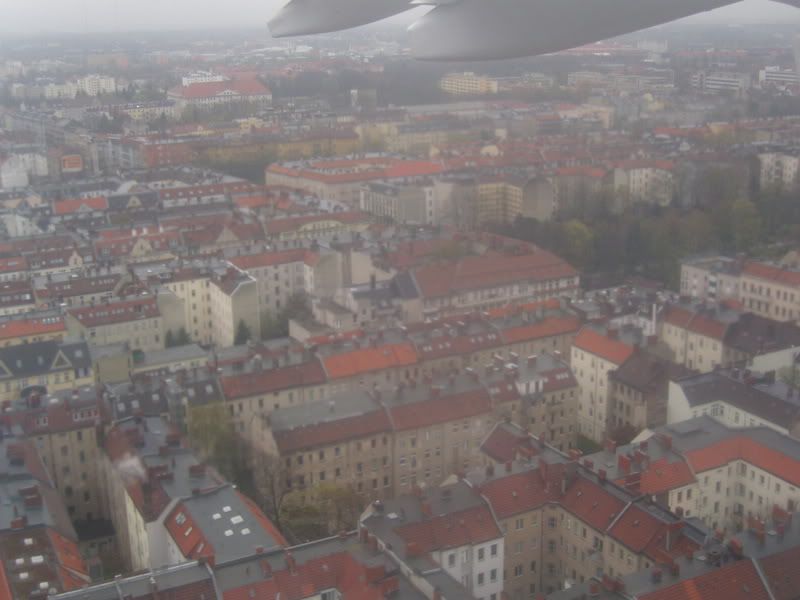 First snapshot of the terminal bldg. It was raining very hard.
Leaving the a/c under the famous roof.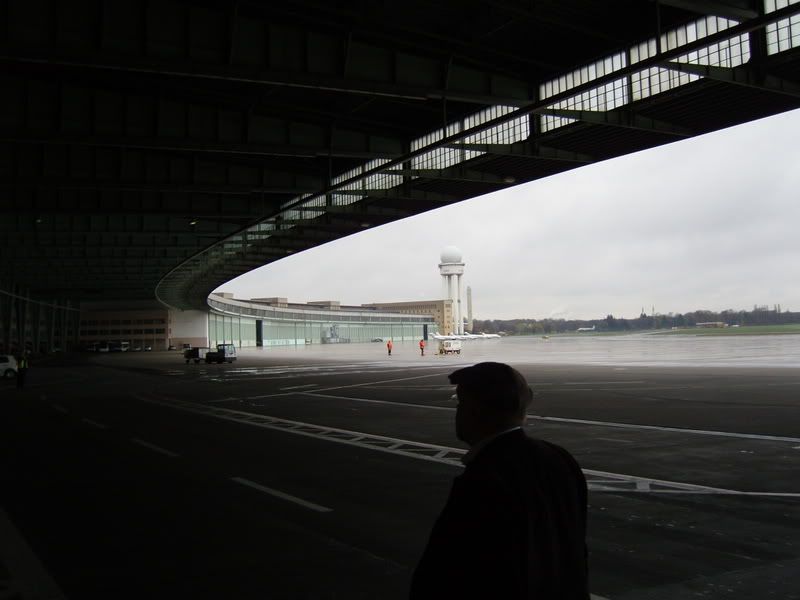 Intersky after its arrival from Graz, Austria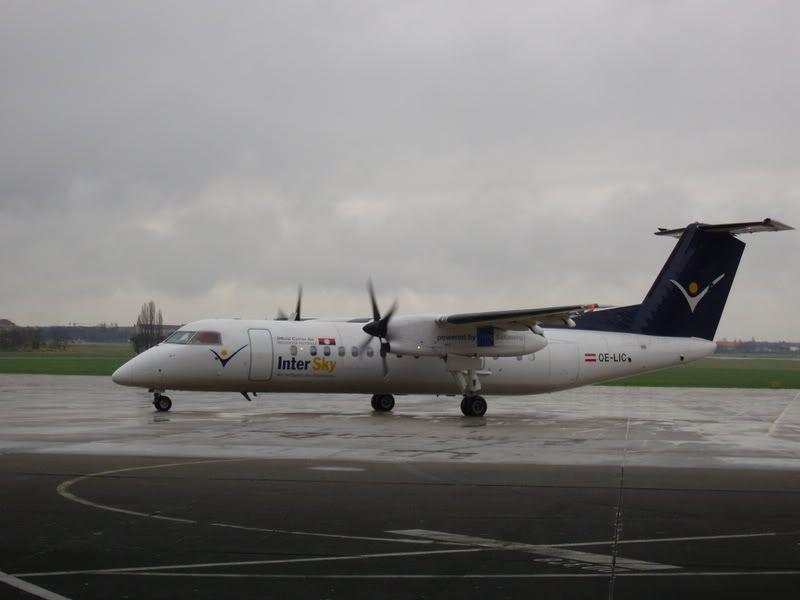 Shot from the steps heading toward the terminal building
My a/c that i have arrived on
Intersky again.
Arrival's board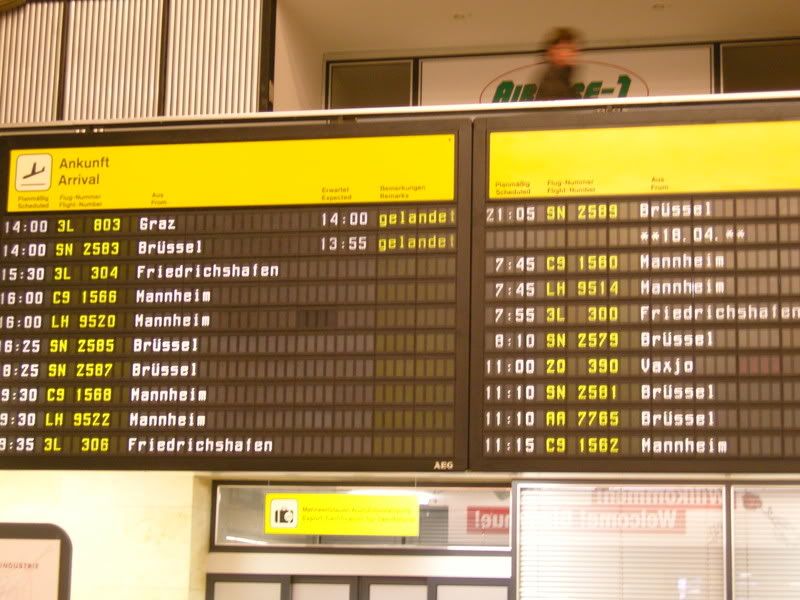 Air Services Berlin
Inside this old and lovely terminal.
Outside the terminal. Tempelhof airport building is the 3rd largest building in the world.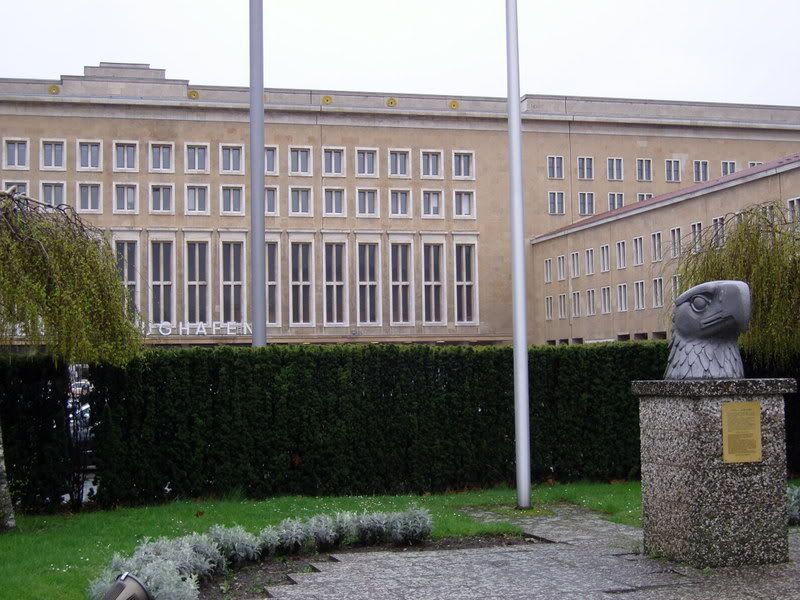 Few pictures from downtown Berlin.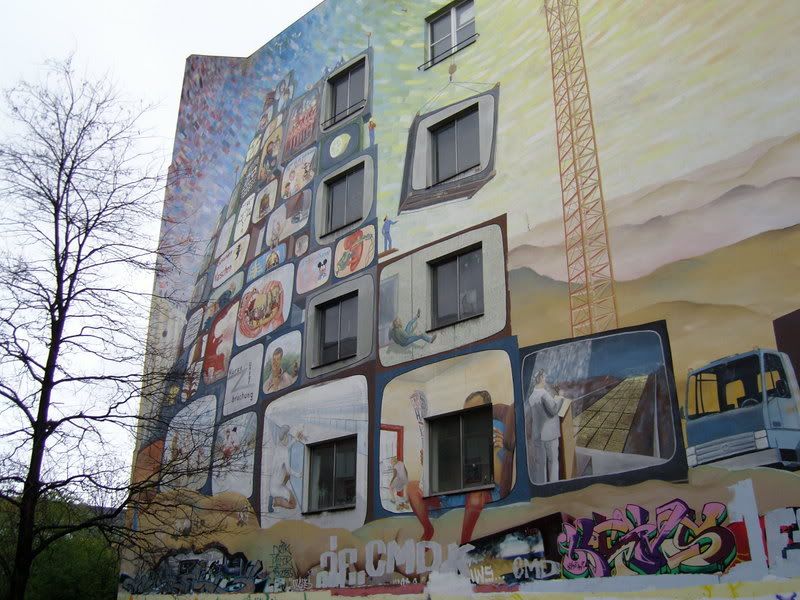 Checkpoint Charlie that divided East and West Berlin.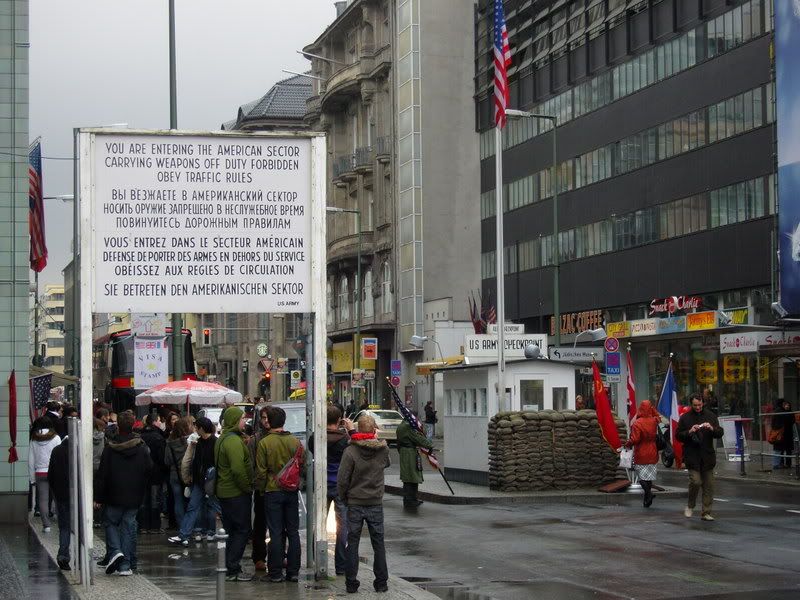 Brandenburg Gate
Nice Bugatti in the shop
Remains of the Berlin Wall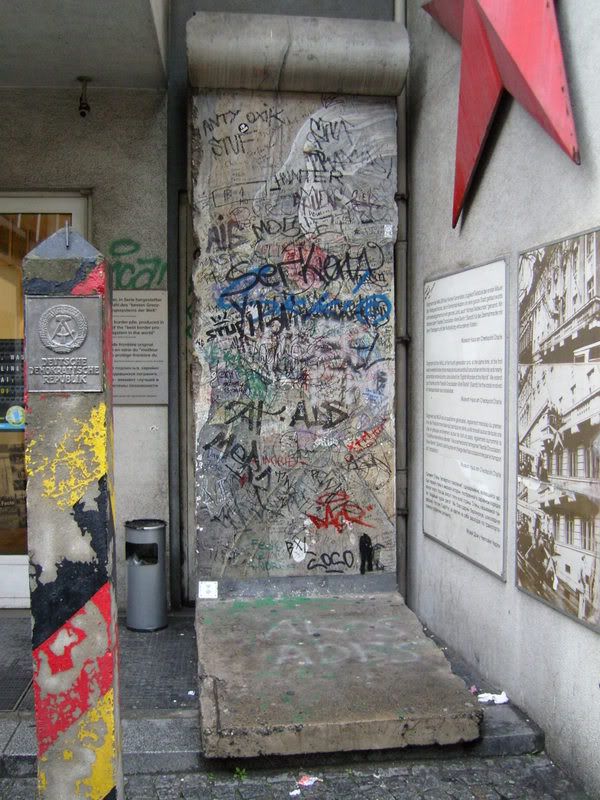 I hope you have enjoyed part 1 of my trip. Part 2 will follow shortly.
Comments are welcomed and appreciated.
[Edited 2008-04-21 13:01:08]
[Edited 2008-04-21 13:04:21]