For as long as I can remember I have been intrigued by the Boeing 747. Next to the Lockheed L1011 Tri-Star, I've always considered the 747 to be the premier commercial aircraft flying the skies. That being said, I didn't get the chance to fly on one until 2004….United from SFO to DEN….just a quick 2-hour flight. It was a flight to remember. After we landed in DEN, the F/A's let me take a brief tour of the cabin. My first stop: the upper deck. I just thought it was the coolest thing ever. I knew that I had to fly "upstairs" one day. It would be a question of when, not if. And so it was with much delight and anticipation that I noticed that UA would be flying a B744 between ORD and SFO for most of the month of April. And seeing as I had around 17K miles on UA, I decided to use 15K miles to upgrade and book a one-way ATL-ORD-SFO trip, for the sole purpose of hitching a ride…finally…on a 747 upper deck. I would be flying AA and DL through LAX on the way back…initially I was going to use a F9 buddy pass for the return, but the loads out of SFO made that impossible. Indeed, the upgrade on UA was easy. I was confirmed in seat 17A…upstairs. I was on cloud nine.
The day before the trip…4/19/08…with my seat 17A still confirmed to me…I noticed something unusual. Something that sort of disturbed me. While my reservation still showed UA149 listed as a B744 with the B744 seat map still shown, the United.com flight status page showed the aircraft to be a B777. I immediately started to try to find out the scoop. I called UA reservations and they confirmed to me…twice…that the plane would indeed be a 744. But I didn't really believe them. So, I made a post on A.net inquiring about the ship number to be certain. The news I received confirmed my suspicions. UA149 on 4/20 would be flown with a T7. I even got a friend of mine at UA involved and he did some research for me and verified what I found out on A.net. So at this point, I was officially bummed out. I decided I would call UA once more and see if I could just switch my flights to an earlier one, and cancel my upgrade, as the whole point of this trip was to fly on a 747 UD. The agent…who barely spoke a word of English…INSISTED that the flight was going to be operated by a B744 and that since that was the case, there was no way for them to switch me to an earlier flight…and besides, everything was full, anyway. So, with my dream shattered, I decided to just stick to my original plans. Business Class on a 3-class 777 is pretty nice, after all.
I arrived at the UA counter in ATL at about 9:45am on 4/20/08 and decided to reprint my boarding passes. Mind you, just two hours earlier, my seat STILL showed 17A confirmed…and the seat map still showed a 747…so there was still a small shred of hope in my mind that things would work out. But when I saw the BP's, those hopes were quickly dashed. While ATL-ORD still showed seat 1A as it should have, ORD-SFO switched from 17A to 19J…C class to Y+ class. I spoke with an agent and she said that I was involuntarily downgraded due to the aircraft swap, but that there was nothing she could do for me there. She suggested that I see Customer Service in Chicago and they'd probably give me a "downgrade kit"…not sure what that is…and would certainly refund my miles to me. I asked whether or not flying ATL-ORD in F would cause my miles to not be refunded, and she said no, that wouldn't be an issue, since SFO was my ticketed final destination. So, I made my way down to the T gates and waited patiently for flight 7267 to board. I had no idea what to expect when I got to Chicago because this was a first for me. There's a first time for everything, I guess.
United Express operated by Mesa
Flight #7267
ATL-ORD
Canadair CRJ-700
Depart: 1126 (1126)
Arrive: 1231 (1230)
Load: 95%
Seat: 1A
Boarding started for this mostly full flight at 11:00am. I only had a back pack with me so I didn't have to gate check anything. I entered the cabin of the CR7 and I was impressed…all leather seats throughout. Seat 1A is a great one. Of course, it's on the one seat side, so not having a person next to you is a plus. Also, there is a ton of legroom. The seat itself was very comfortable and padded well. I convinced myself to just not think about the unfortunate change in circumstances and just try to enjoy the flight but I must admit it was hard to. We pushed back right on time and took the skies about fifteen minutes later. It would be 1h36m flying time to Chicago. About twenty minutes after the smooth climb out the in flight service began. Beverages only in Y, but all F pax got a snack box which contained pretzels, mixed nuts, a can of cold vegetable pasta (didn't try that because I don't like mushrooms), and some fruit snacks. I guess it's better than nothing….certainly not bad for such a short flight. The service was very good overall thanks to the courteous and attentive F/A's. I know Mesa gets a bad rap on here due to their management but from my first experience with them, their front line employees are not bad at all. We made a smooth landing and parked at gate C7. Here are some pictures from UA7267: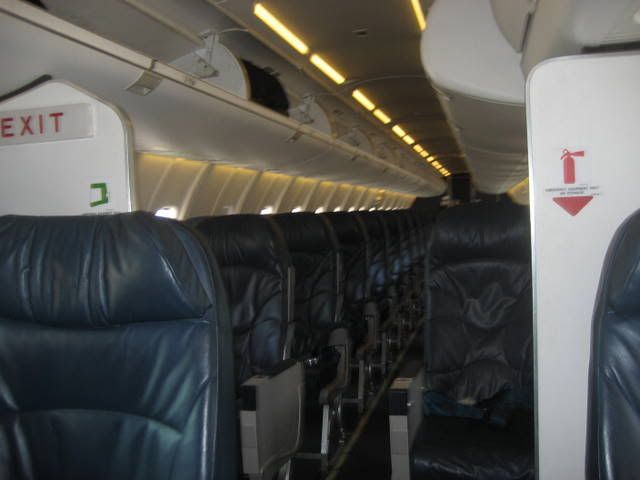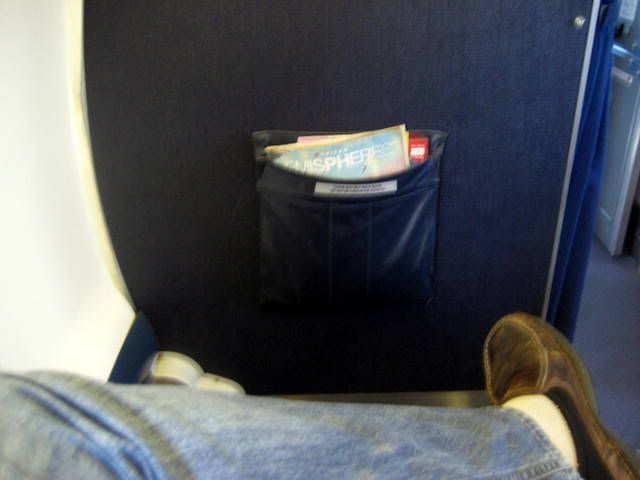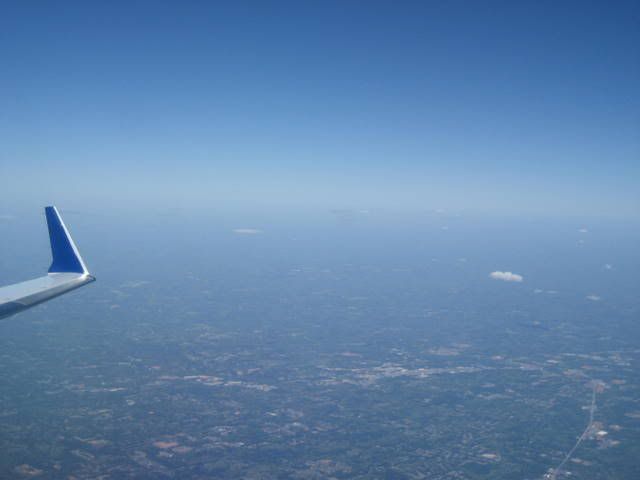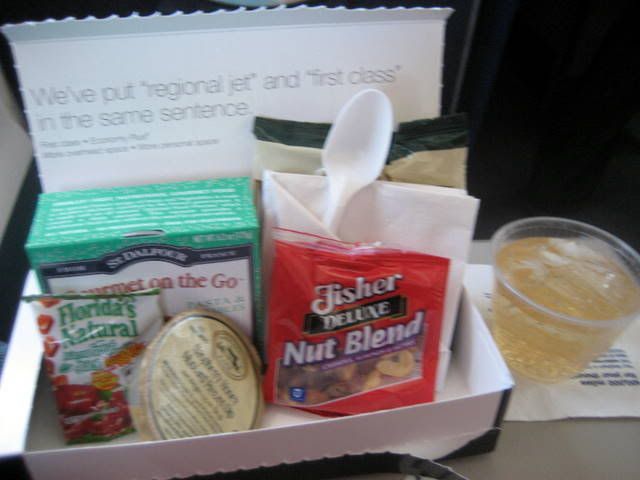 It was a cruel twist of irony that we parked just across the hall from a B744 getting ready to push for HKG. I caught her just as she was pushing back and imagined for a moment that I still had a 747 to look forward to in two short hours. Back to reality, I made my way to the Customer Service counter in the middle of the C concourse to see what my options were…perhaps a seat had opened in C…perhaps they could put me on a new flight….perhaps I could get one of those elusive "downgrade kits"…or perhaps I could get some or all of my miles back. The answer to all of those things was an emphatic NO. The agent I spoke to said she couldn't do anything but give me the number to customer relations. She said the chances of me getting my miles back were not good since I flew F out of ATL. I told her that the agent in ATL said it shouldn't be a problem, SFO was my destination and the reason for my trip was the 747…not that that last fact would make much of a difference, I know. She said "maybe" Customer Relations can give me an upgrade certificate. I left fairly pissed off. The lady seemed to have a willingness to say "no" too quickly, and her attitude was pretty poor…she just didn't want to be bothered. It's not like I was ugly to her or anything. She gave me the Cust. Relations number and that was that. Oh well. I decided to wait it out and talk to the gate agent when the gate opened up at approx. 2:00pm.
2:00pm…the gate opens…and madness ensues. You see, switching from a full 744 to a 3-class 777 is not the best move from a business standpoint. There were around 100 people left without seat assignments. The agent did his best to clear the massive line in front of the podium but people still had questions for him…and lots of them. I was second in line and when I approached him, I was as empathetic to his plight as much as possible. I said "Look, I know this is really crazy for you, but I do have a question…I was invol downgraded to Y, which, while it sucks, I understand…but I don't even see my name on the list to be upgraded to C…I had a confirmed C seat…can you just put my name on the list in case something happens?" I was told no, because it wouldn't make much of a difference. And of course, he told me to have a seat, since there was absolutely nothing he could do for me. Fine. I walked away muttering a few choice expletives under my breath all directed towards United Airlines. They screwed the pooch big time today. As disappointed as I was, at least I had a seat. About 100 others didn't, and wouldn't be able to leave for SFO until the next day, I assume, because the next two SFO flights that day were full.
United Airlines
Flight #149
ORD-SFO
Boeing 777-200ER (downgraded from Boeing 747-400)
Depart: 1500 (1535)
Arrive: 1724 (1755)
Load: 100%
Seat: 19J
Gate C10 is a terrible gate from which to board anything larger than an A320….very congested area…so boarding a full widebody was quite interesting to experience. They did use two jet ways…one for F/C, and one for Y….but when they called Y boarding, it was just one massive call…they didn't specify zone numbers, or at least they didn't by the time I got on. It was insane. Anyway, I made my way down to my seat…3rd row of coach smack dab over the wing. To be honest, I was in a pretty bad mood at this point. It was probably the first time in my life where I was not looking forward to a flight. I just wanted to get to SFO.
We pushed back late, as expected, and taxied for around twenty minutes before taking off on runway 32L I believe it was. As usual, it was a quick and powerful takeoff, and we quickly climbed up to altitude. Flying time would be 4h04m at 38,000 feet. The F/A's said there would be three movie choices for this flight on the PTV's, but I decided to just listen to Channel 9…that is, until it stopped working, about twenty minutes after takeoff. It never worked again for the remainder of the flight. So, I switched on the flight tracker map, ate a pack of pretzels, drank a double Rum and Coke (I said no to the $5 snack box), put on my iPod, cranked up the new R.E.M CD and put it on repeat, and closed my eyes. I decided that just concentrating on the music would take my mind off the massive disappointment which I faced today.
Apparently I fell asleep because I woke up about one hour out of SFO. Not much to see outside since I was right over the huge wing, but I did snap a few shots for posterity. The approach was very smooth, but the landing, not so much. Honestly most of my B777 landings have been smooth as silk, but when you are landing in a 20 knot crosswind with gusts to 30, it can get a little shaky. After a five minute taxi we parked at gate 86. Here are some pictures from UA149. The window was very dirty so they aren't all that clear…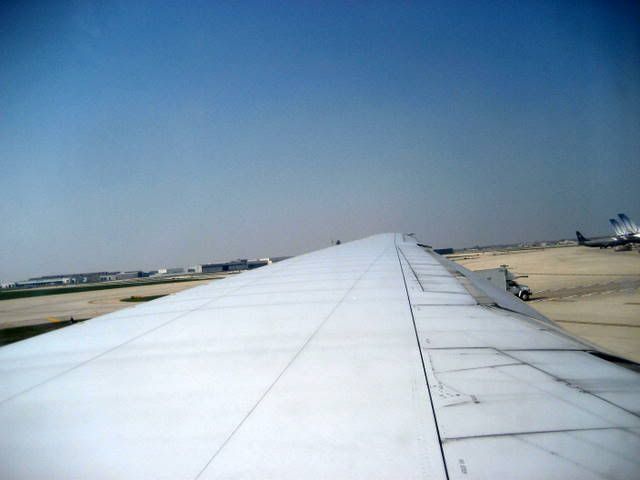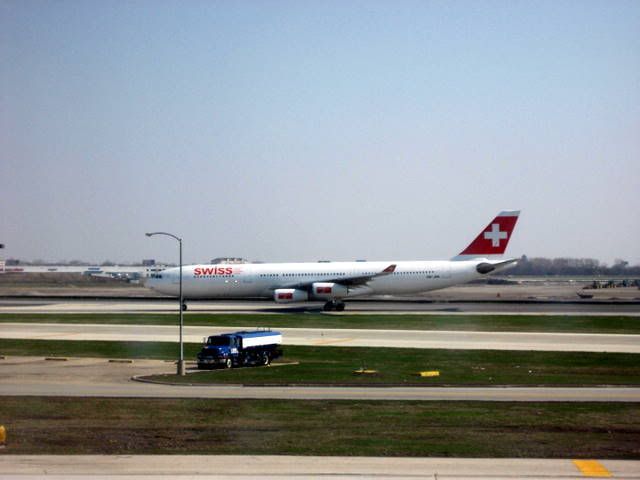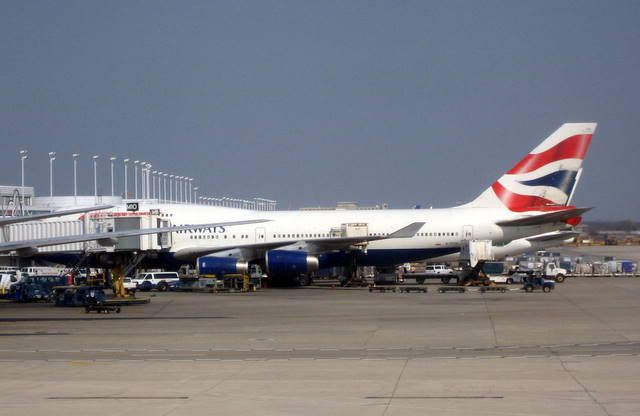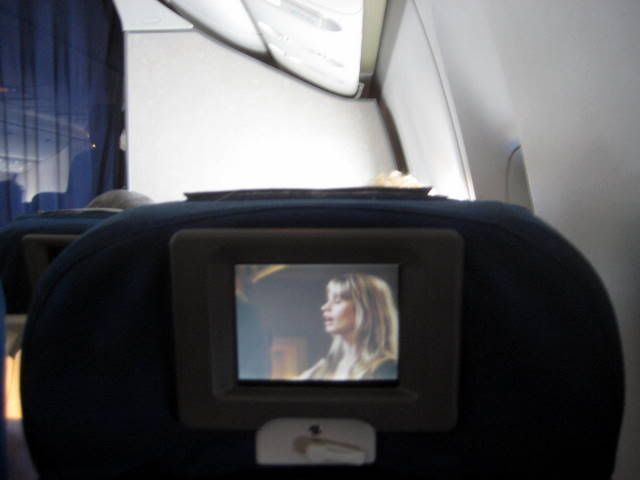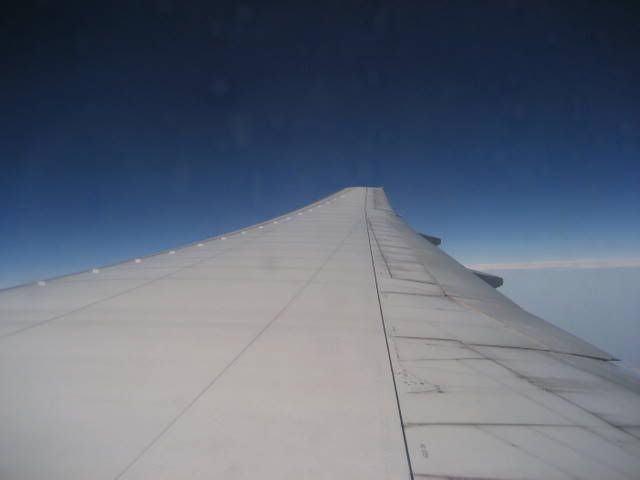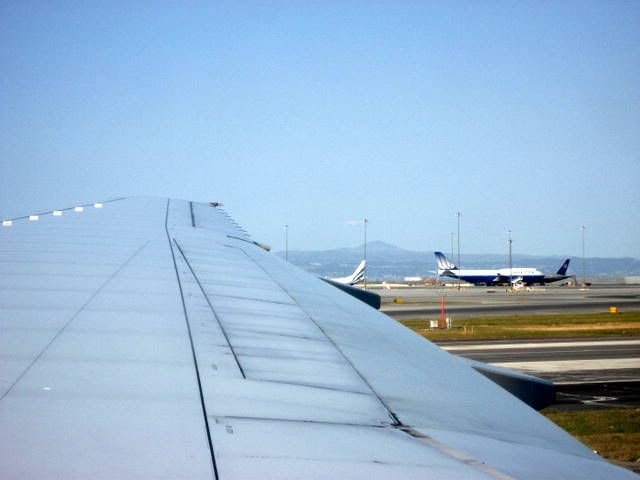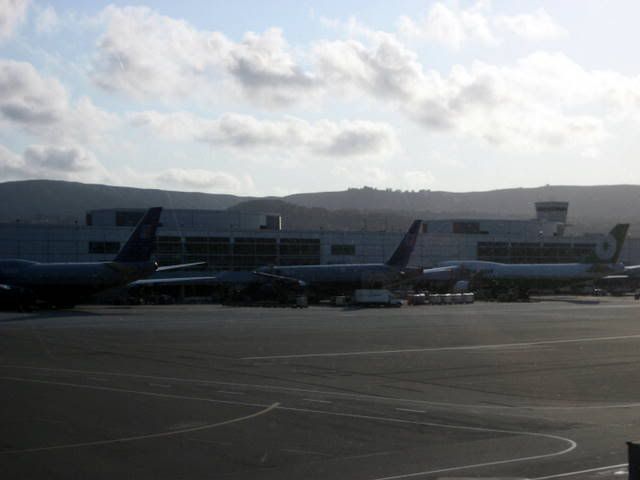 I made my way out to the UA baggage claim area and stepped outside to enjoy the amazingly fresh San Francisco air. Fifteen minutes later my friend and European travel partner Pierre picked me up and we met a friend of his for dinner at Eliza's in downtown SFO, one of my favorite Chinese restaurants in the city. It was a nice meal, although the quality wasn't as good as last time. After dining on Peking duck and Honey Walnut Prawns, we drove around the city for a while before stopping to get some coffee and then finally going back to his place to hang out. I was out like a light by 11:00pm. It was a long day, and it would be an early day tomorrow since I would have to get back to the airport bright and early for 6:30am.
The next day, after a quick 20 minute drive from his place, Pierre dropped me off for 6:40am at the American counter. I quickly checked in on one of the kiosks and made my way through security, which took me about fifteen minutes. After arriving at the gate for my LAX flight, I decided it was time to call United Customer Relations, as advised by the lady in Chicago. It would turn out to be one of the weirdest conversations I would ever have. When the agent answered, I explained the entire situation to her. I told her how I booked this trip for a 747 only and how even though I was a mad at the downgrade, I understood it…I told her that no one in ATL or ORD offered much assistance…and I told her that all I want is to get my miles back. She then said "Wait you said you were in 19J? 19J is a business class seat". I was confused. Um, no, it certainly was not a C seat. So I told her that…19J was definitely coach. She came back with the same thing: 'Sir, I show you that you were in C class, and 19J is C class." Again, I said that wasn't true. I then said "If you pull up a 3-class 777 seat map, you'll see that 19J is listed in coach." She said the information she had shows that 19J was in C, so she "wasn't sure what the problem was." I couldn't believe what I was hearing. So, pretty infuriated at this point, I said her information obviously must be wrong then. She said the only thing I could do was to mail in my boarding pass to "PROVE" that 19J was in coach class. I'm pretty sure I just laughed at that point, told her I couldn't believe what I was hearing, told her that United just lost my business, and hung up the phone more pissed off than ever. She was either incompetent or had poor information…not my problem. It left me with a very bad taste in my mouth. I knew then I would have to send off a pretty long complaint email to UA when I got back home. I really hate doing that…I hate complaining…but the poor service I received over the past two days was too much to take.
I boarded the AA Super 80 for LAX at about 7:20am. The :52 flight was uneventful. In flight service wasn't much…all they had was a 3oz. pre-packaged container of OJ or Apple Juice to pass out…no water or coffee, even. All I could think about on the flight down to L.A was that damn phone call. We landed on time at 8:55am, and came to a stop at one of the gates in T4 at 9:05am.
After deplaning, I made my way to T5 so that I could check in for my 12:45pm DL flight to ATL, which was scheduled to be operated by a 777-200ER. To my surprise…well, not really to be honest…the 777 had been downgraded to a 764ER, and my window seat 50A had been changed to a middle seat 27E. Joy. I just shook my head and said to myself "that figures". The security line was long so instead of walking around outside or hitching over to the TBIT, I just got in line. It took a good twenty minutes to get through. After clearing security, I hit the McDonald's for a biscuit and a coffee, and then made my way down to the DL ticket help desk to see if I could get a seat change, by chance. The nice older lady said the flight was oversold, so the chances were slim. I told her thanks for looking, and took a seat next to the window to do some spotting. Here are a few shots I took…lots of VX action in LAX, and tons of 747 action, which I always appreciate…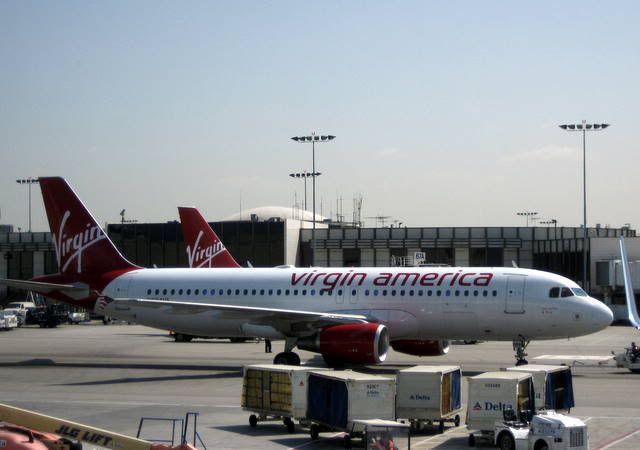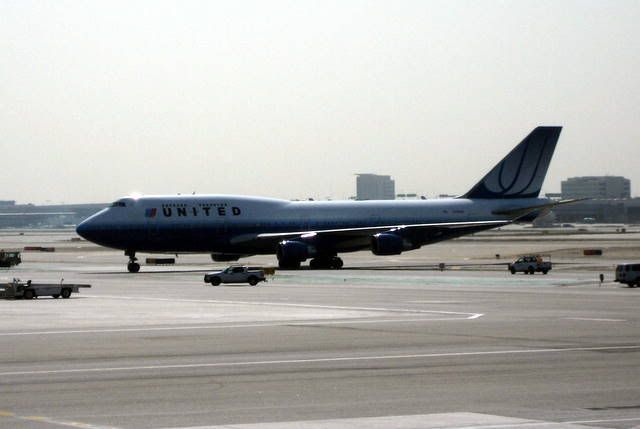 When the gate opened for DL152 at approx. 11:45am, I told the agent that I'd be willing to give up my seat as long as I could get to ATL sometime today. She said she'd probably need my seat and that she could get me on the next flight at 2:00pm. So, I waited. In the end, they didn't need my seat, but due to a few no shows, I was able to get a window…27A. I was relieved, to say the least. I boarded the newly reconfigured B767-400ER at 1:00pm.
Delta Air Lines
Flight #152
LAX-ATL-TLV (A/C change in ATL)
Boeing 767-400ER (downgraded from Boeing 777-200ER)
Depart: 1245 (1315)
Arrive: 2007 (2012)
Load: 100%
If first impressions are anything to go on, this plane knocked my socks off. The cabin was gorgeous. DL has really outdone itself with the new interiors on its 767 fleet. The seats are the most comfortable Y seats I've ever sat in, with decent sized PTV screens for the IFE junkies. Seat 27A was right on the back edge of the wing, so the view was decent. Lots of elbow and shoulder room. I wouldn't hesitate to fly on this bird around the world, if need be. We pushed at around 1:25pm and were airborne about ten minutes later. Flying time would be about 3h55m at 37,000ft. The in flight service was fantastic: two rounds of drinks, two dedicated coffee services, and two snack services, which consisted of free snacks as well as DL's new EATS BOB program. I bought the Chicken Parmesan sandwich and was not disappointed…it was filling and tasty. Also, I liked how menus were passed around to all passengers…very nice touch, instead of just having them stuffed in the seat back pocket. The only negative thing about this flight was that the IFE was mostly down, with only the moving map display and trivia game working…but, that's all I needed to stay occupied. The cabin was quiet, the flight was smooth, and we ended up landing just a few minutes behind schedule after a pretty rough touchdown…you'll see what I mean on the video below. We parked at one of the E gates next to a 757 bound for MSY and near a 777 I assume bound for TLV or DXB, both of which are shown below. This flight really impressed me, and it reminded me again of why I've been flying DL more and more lately. The widget is back, folks. Here are pictures and two videos of this flight…note that the takeoff video is pretty shaky since I was sitting right over the wheels and well…I couldn't keep the camera steady for the life of me…sorry.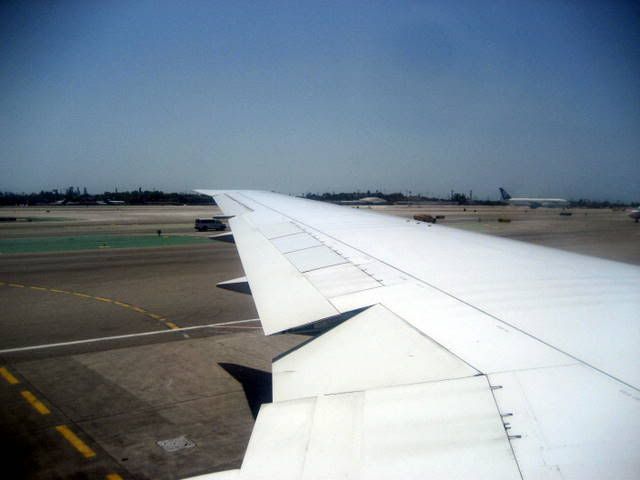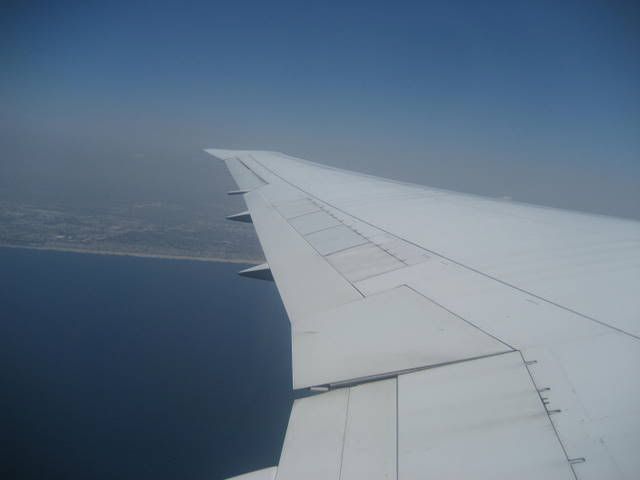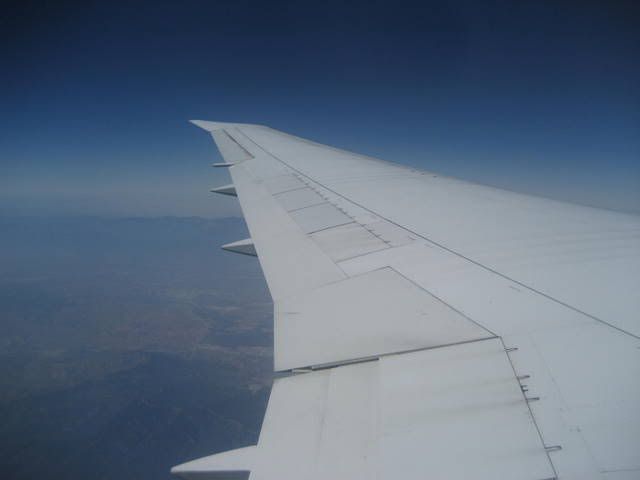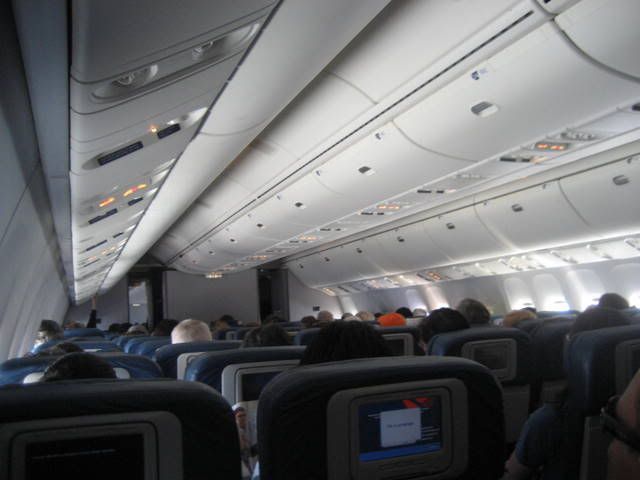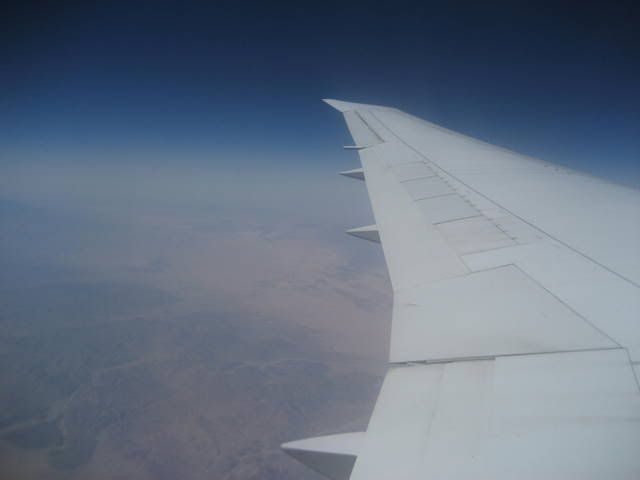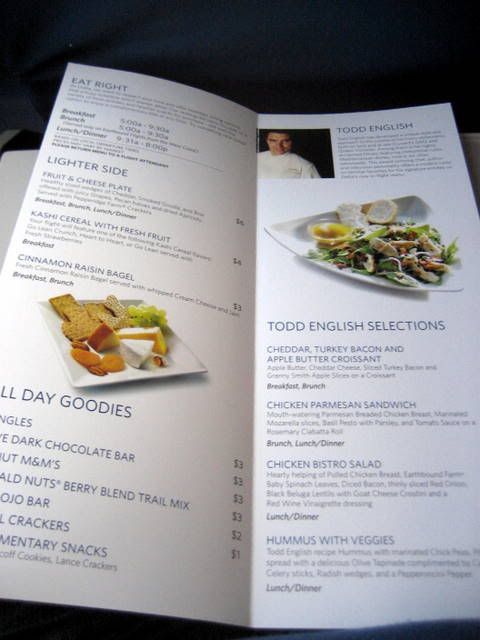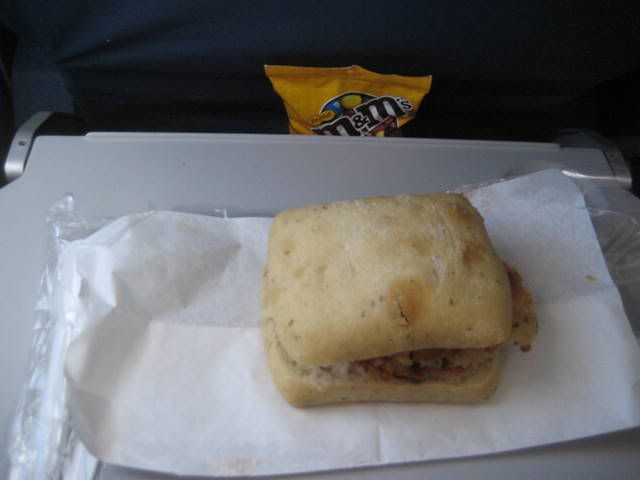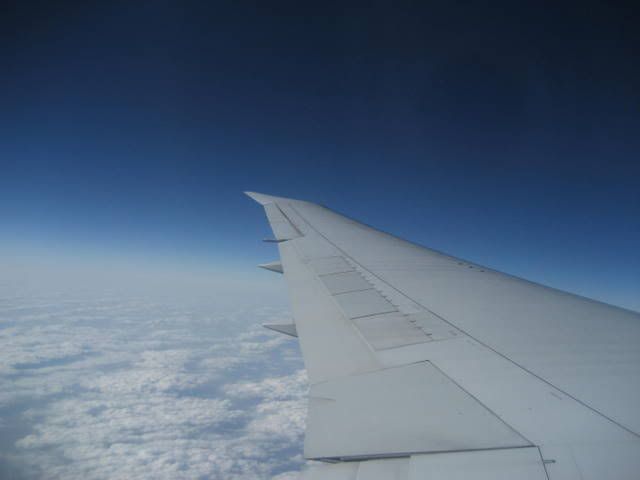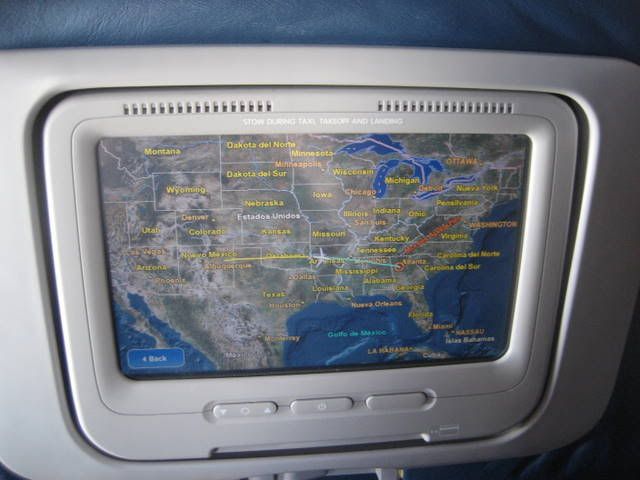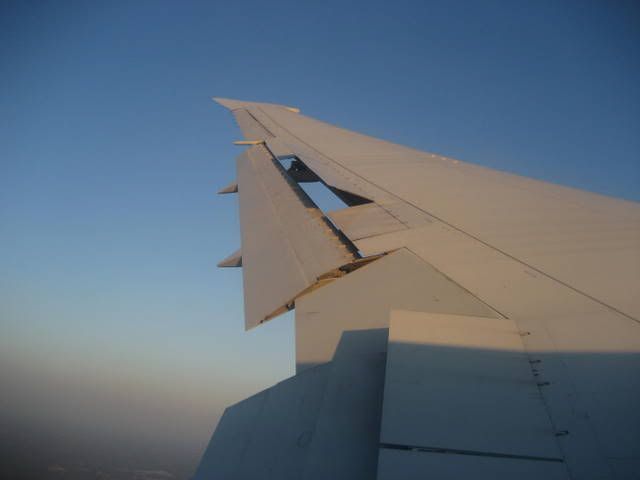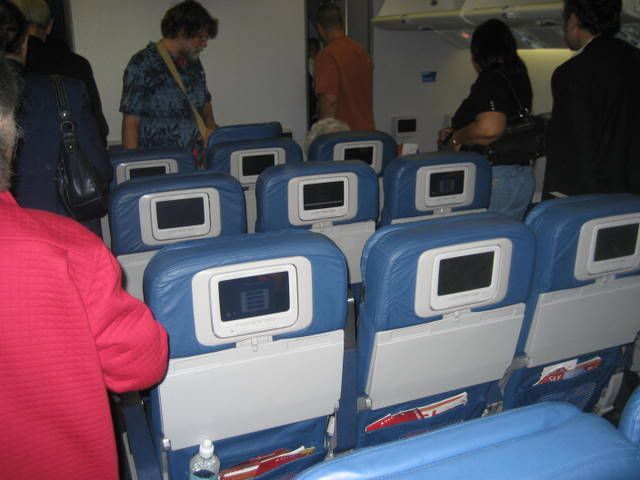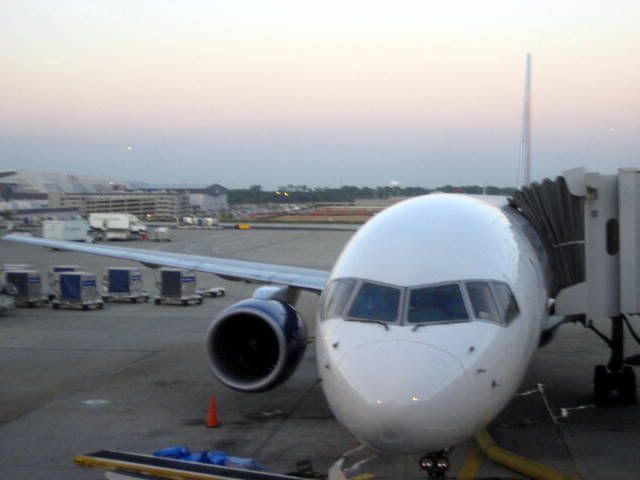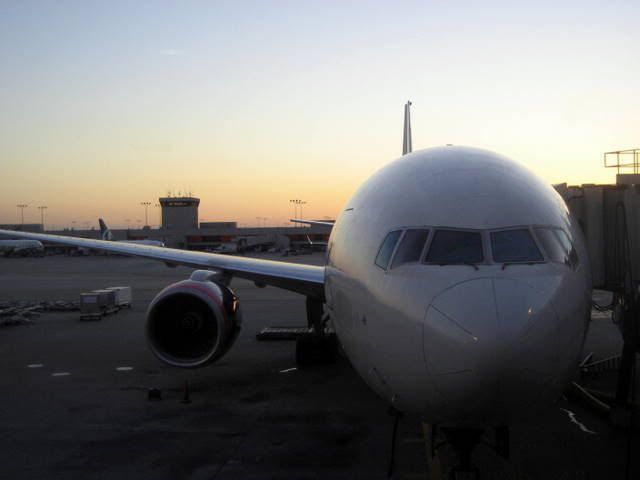 When all was said and done, this was a very disappointing trip. I did end up writing a long and detailed email to United in the hopes that I get at least some of my miles back. I've been flying United fairly consistently since 1997….I probably have racked up in total about 70K miles with them, which, while nothing compared to all the Premier's and Elite's out there, does show some loyalty. We'll see if they have any loyalty to me.
As for me and the 747 Upper Deck…I guess I'll just have to keep on waiting.