Hello dear readers,
I would like to welcome you to my recent day-trip to Thessaloniki in Greece. Please take some time to read the introduction to this report, if you don't like feel free to skip it go on with the report.
Intro:
The past weeks we did a lot of fun-trips all around Europe. We visited several cities like BCN, ATH, PRG, IST and more. I didn't wrote any trip reports of these flights, because Lufthansa and Airbus A32x/Boeing B73x is very well covered here on a.net and nothing too spectacular at all. The usual Lufthansa intra-European service, nothing worth to tell and even write about. Also these trips were together with my friends or colleagues so I rather concentrated on the 'visiting a city' as on the 'flying is my hobby' fact. But now it was time again to make some fun-flights without anybody along with me just to enjoy the freedom over the skies and get away from the everyday life. I decided that LX is my choose this time. It was more than half a year ago I took them the last time.
Within Europe LX is my number one choice of all carriers eventhough the fact to log a unspectacular Airbus A32x is rather boring and sometimes disappointing. Nevertheless they are a great airline and I've never experienced a bad flight.
Looking throughout their routemap I discovered SKG which is served daily. Last weekend we've been to Athens and we had a great time there: warm weather, some sea, very stylish people and great Greek food. After experienced that last weekend I didn't hesitate to choose SKG.
As the return flight of LX departs to an unusual time of 4.40am it perfectly fits into a 24h-daytrip. I would arrive around afternoon, enjoy the whole day there, have some good time in the evening and fly back the night. There were several options for me and I finally managed this itinerary:
LH FRA-MUC
A3 MUC-SKG
LX SKG-ZRH-FRA
Initially I would have flown from Monday to Tuesday and would have taken a Condor 753 to MUC instead of Lufthansa, but due to some major issues and malfunctions I couldn't print my tickets that morning and therefore missed the early 6am departure to MUC. After looking throughout the loads of the later LH flights I discovered something rather unusual. At that time an A340-600 was scheduled for tomorrow mornings FRA-MUC flight so I postponed all my plans for one day. Unfortunately they switched again the schedule the evening before and instead of D-AIHS now D-AISK, yet another boring 321, is going to operate my flight.
Also my intention to make this trip alone changed the night before when my colleague spontaneously appealed to accompany me as she was off-duty and never visited Thessaloniki.
trip report:
Tu., 22/04/08 Frankfurt (FRA) to Munich (MUC)
STD: 0755 // ATD: 0819
STA: 0850 // ATA: 0854
OFF: 0804 // ONB: 0902
Lufthansa LH962 operated by D-AISK (A321-231)
aircraft built and delivered very recently, February 2008, makes it the second newest aircraft in their fleet
View Large
View Medium


Photo © James Mepsted
The day before the load on this flight looked ok, fully booked, but nothing to be afraid about too much. Unfortunately for us standby-flyers the situation changed and this particular flight was now heavily overbooked. I guess a bunch of passengers missed the first FRA-MUC flight that morning (LH960) and are now rebooked on ours. We waited very long and trembled a lot, but fortunately my colleague managed to take us both on jumpseat. Otherwise we would never be onboard this flight for sure.
We made ourselves known with the cabin crew and the purser and I took my jumpseat in the front galley.
Please forgive the lack of information and details at this point. It was a usual LH-A321 ride. The flight time was very short and maybe the shortest I've experienced between FRA-MUC (35min. wheels up/wheels down). The inflight service with a high-load of Business Class passengers (almost the half of the flight was Business Class) went by very fast. In the end they ran out of time and couldn't serve any Economy passenger.
We arrived MUC almost on time, I thanked the crew for the jumpseat and made my way out of the plane. In the terminal we met each other again and made our way from G28 to G09 where the Aegean flight was supposed to board.
Tu., 22/04/08 Munich (MUC) to Thessaloniki (SKG)
STD: 1020 // ATD: 1054
STA: 1335 // ATA: 1335
OFF: 1041 // ONB: 1338
Aegean Airlines A3 501 operated by SX-BGQ (B737-4Y0)
View Large
View Medium


Photo © Ben Wang
built: 12/1991 and delivered to British Midland
later delivered to Aigle Azur (04/2003) and finally to Aegean Airlines (06/2006)
At the departure gate which is almost at the end of the Terminal we checked in for this flight and get our seats from the LH-agent. Due to the close partnership Lufthansa handles all A3 flights in MUC as well as in FRA. As the flight is fully
booked only middle seats were available, but nevertheless in the same row (18B and 18E).
I bought a rather expensive sandwich, but enjoyed the free coffee and tea service of MUC airport. This is only available in T2 Lufthansa Terminal.
As no aircraft was on this position it was clear that we would board a bus. Some cloudy weather over Munich...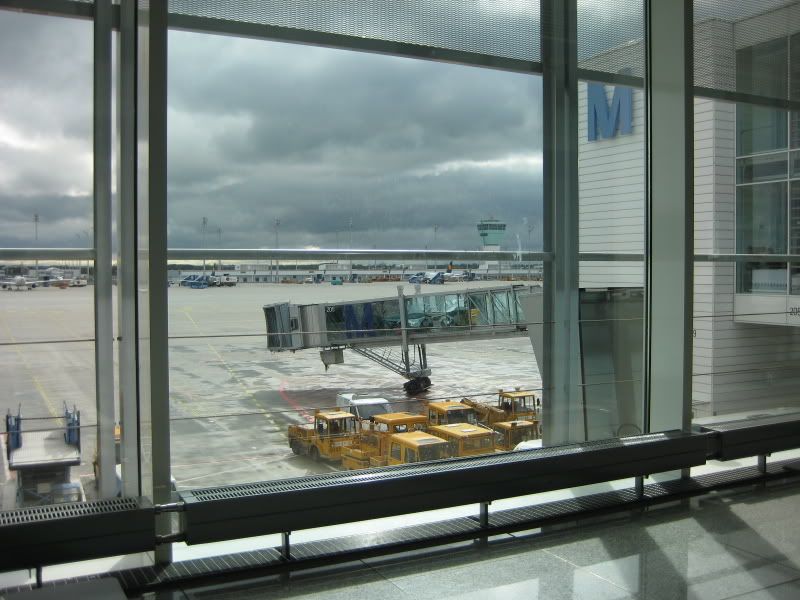 It was shortly before 10am as they started with boarding. At the scheduled departure we were still inside the bus awaiting an elderly Greek couple. Shortly after the bus departed and took us to stand 317 where this B737-400 was parked.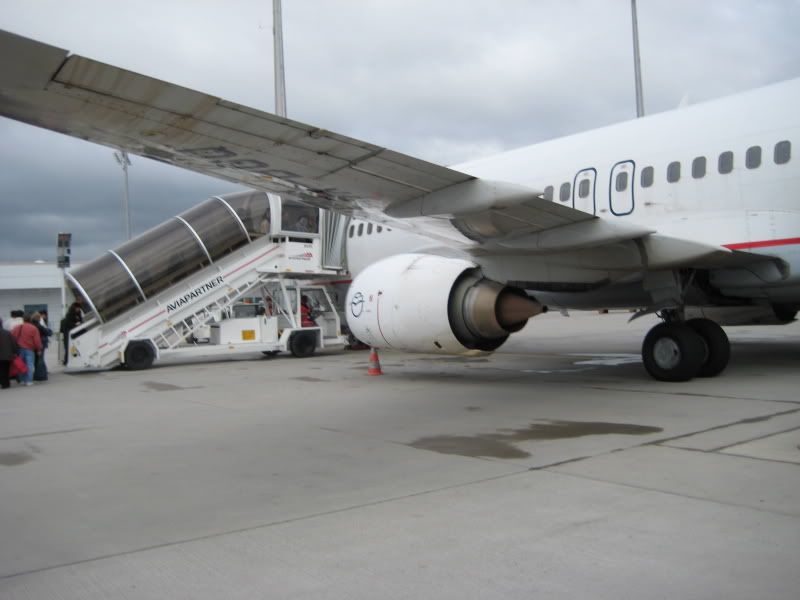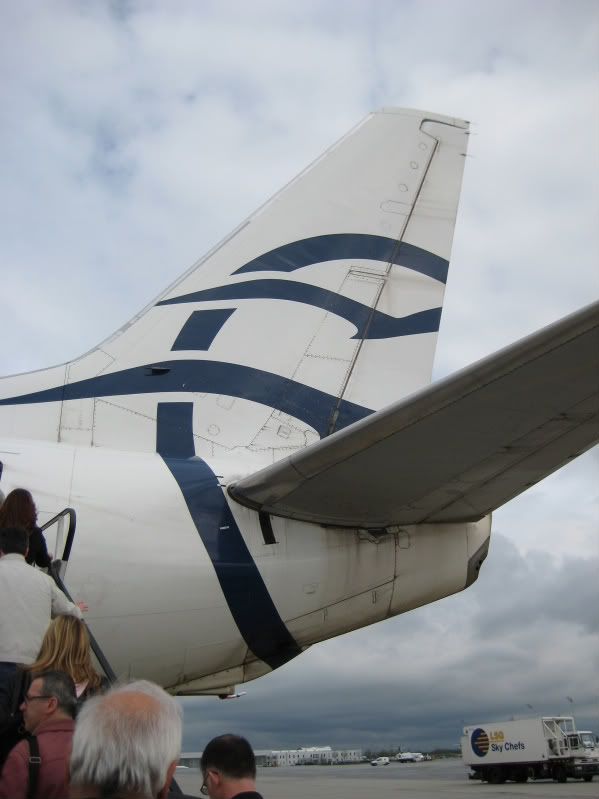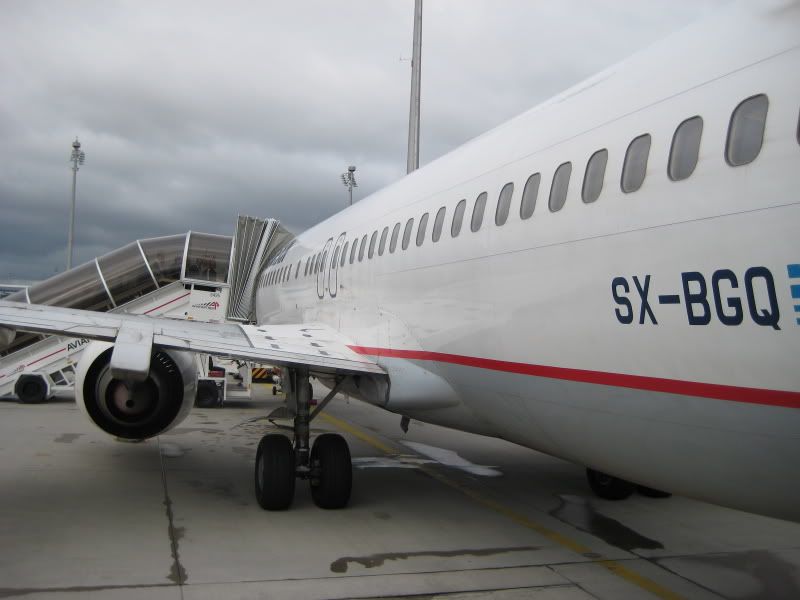 Two very, very attractive flight attendants welcomed us at the rear door and one of them closed it after me. I took my seat and awaited the departure. At this time I remarked that I flew only a very few times with a B737-400, the last time two years ago onboard a domestic TK flight between ADB and IST.
With a 20minutes delay all doors were closed and push-back began. The chief cabin attendant came on PA and welcomed us in both Greek and English.
During taxi to runway 08R also the captain welcomed us onboard. No aircraft in front of us, so we departed straight out.
Shortly after take-off the clouds over Munich enclosed the aircraft.
After a rather long period (20-25minutes) the captain switched off the seat belt signs and the crew prepared the meal.
Meanwhile the Captain came on PA again and gave us some information regarding this flight:
After a right bank to SZG we were now close to LJU. Our routing would take us through the Croatian airspace towards SJJ. After passing Montenegro and the Southern part of Serbia we would enter Macedonia and overfly SKP. Flightlevel was 310 and regardless the 35minutes departure delay he still expected to arrive SKP ontime.
I forgot to mention that no reason was mentioned for the delay!
An all-women crew onboard this flight and all of them very attractive! They served a hot meal, a very tasty pasta with olive-tomatoe sauce. I also got a bottle of a dry white wine. As I'am used to a cheese sandwich (greetz to LH) this was very welcome for me. After the meal service they served coffee and tea.
For any reasons they didn't clear the tray tables until our approach to SKG. Therefore the comfort in the middle seat wasn't the best at all.
The very bumpy approach made it difficult for the crew to clear the trays. I mean it was REALLY bumpy and some passengers even cried. In the end they gave up trying with the trolley and took a big bag and threw everything including the tray inside the bag. Why make it difficult when it is possible easier and faster?
We approached SKG from the West, passed the city and the coastline and touched down on runway 16, exactly on schedule. After a short taxi we were on the blocks again. During de-boarding I took a picture of the cabin and the black leather seats.
Ours was the only aircraft on this airport. We parked in a short distance to the terminal from where we could easily walk across, but not here. A bus took us all the way to the terminal. By the way there are no jetways available at this airport.
Our bus and the short distance to the terminal: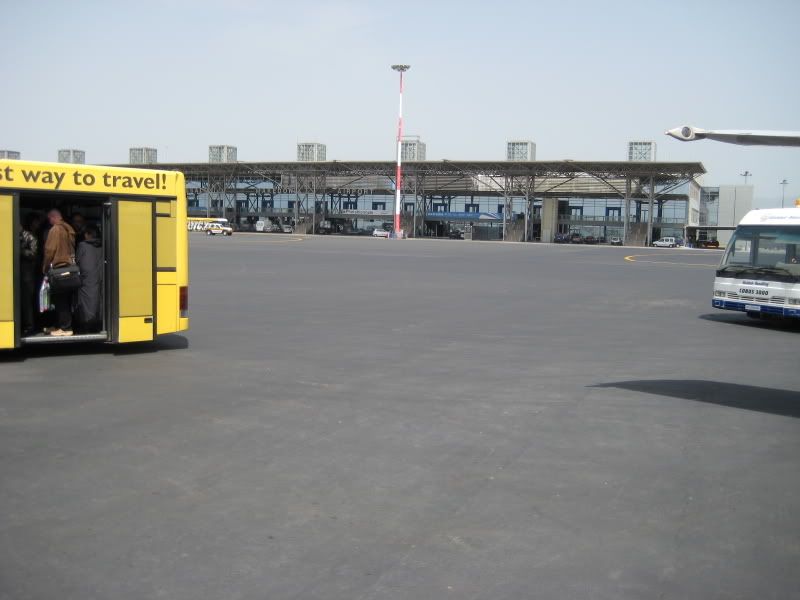 and a final shot on the the Greek tarmac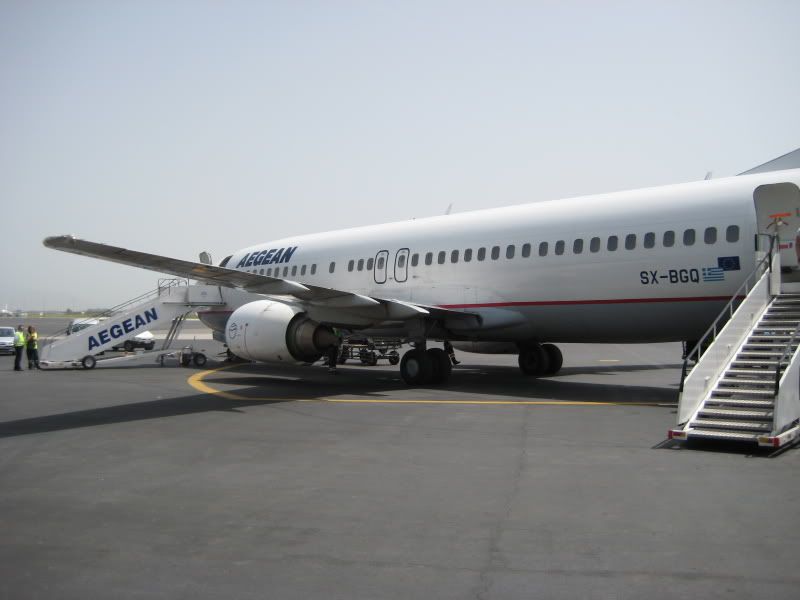 as you can see no clouds, only sunshine compared to Munich...
Without any bags we were soon outside the terminal and inside a taxi to the city where we spent the whole day, evening and night. We saw some old architectures, discovered the city and relaxed at the promenade (Nikis). Here are some pics of Thessaloniki
the White Tower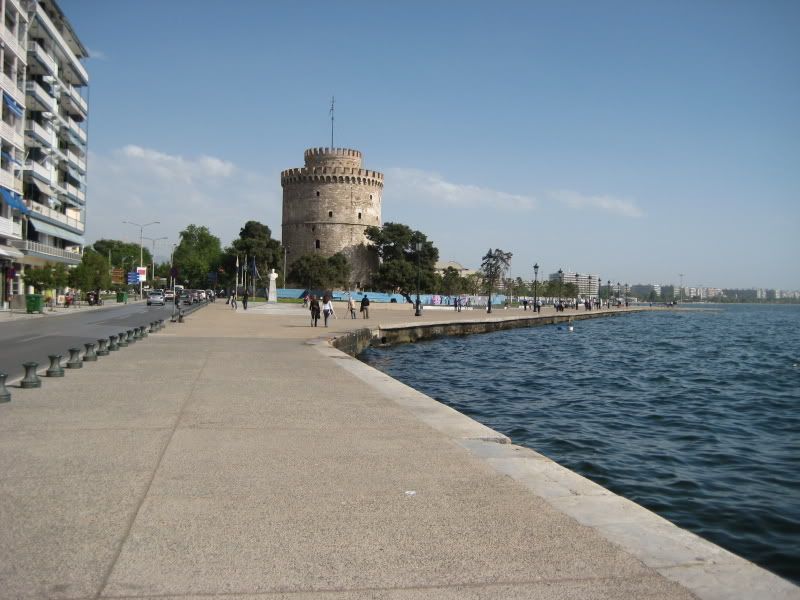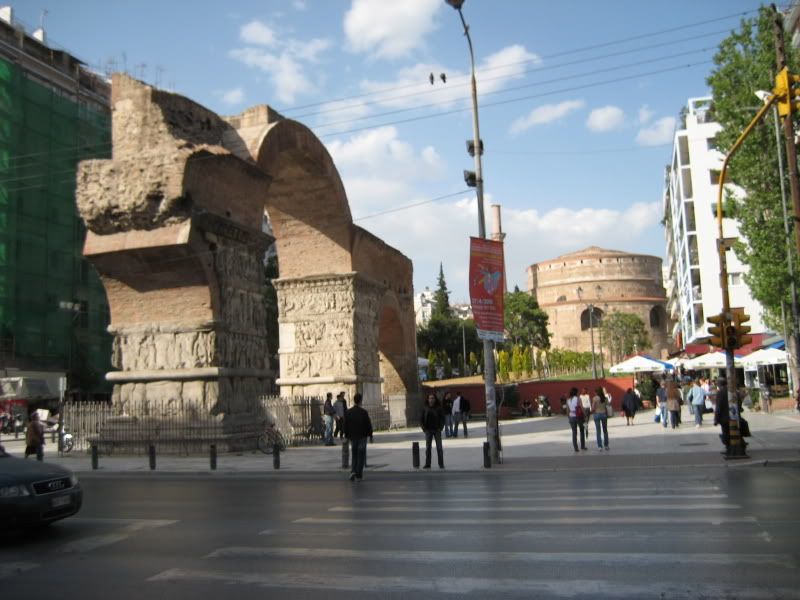 Rotunda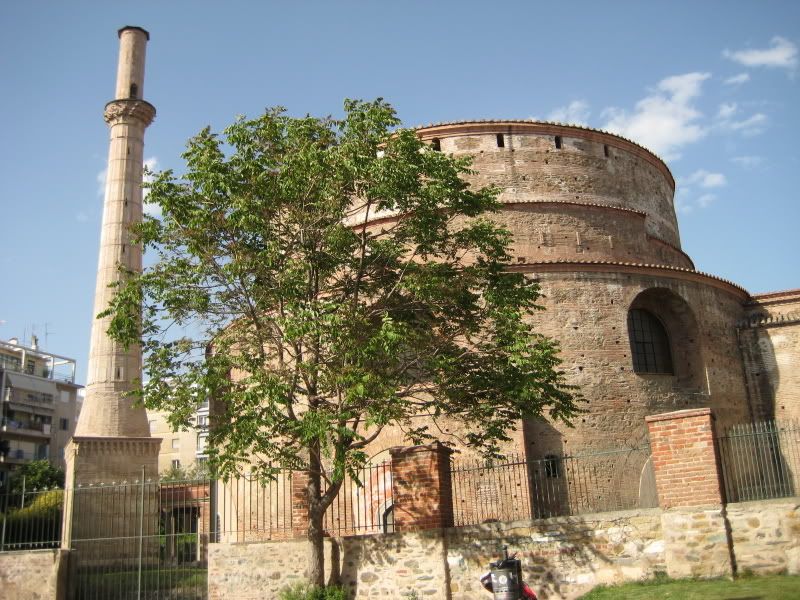 Turkish embassy and the birthplace of M.K. Atatürk (the founder of the Republic of Turkey as well as its first President)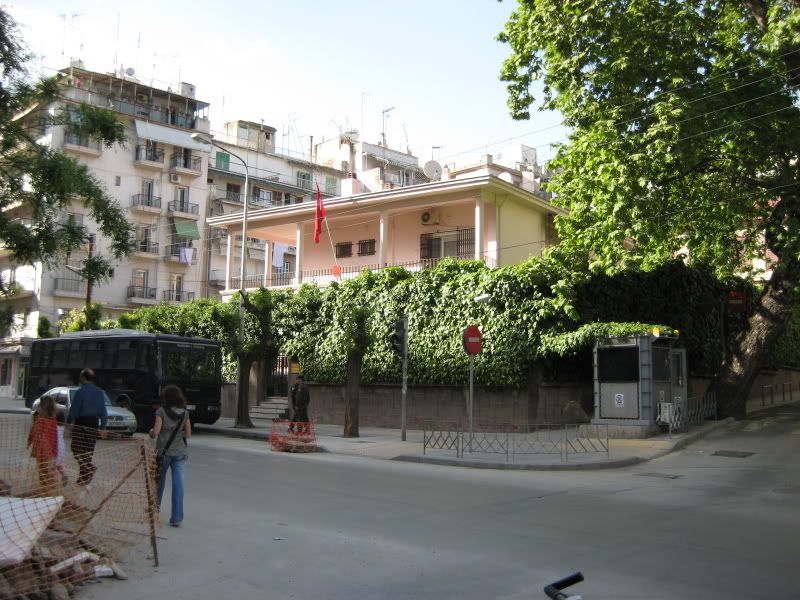 Thessaloniki from the top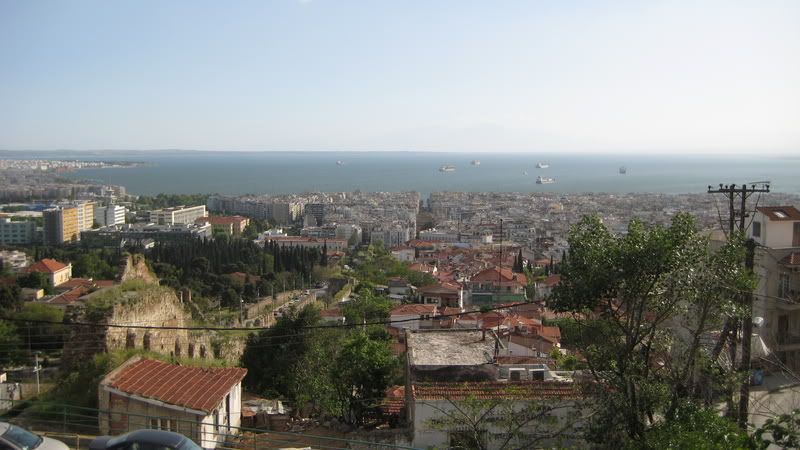 ...and the sun!
I've to admit that I liked the city very much. Mediterranean flair, some good food and A LOT OF hot girls. The population of Saloniki seems very young in general. For sure I'll come back again for a longer stay!
After a great dinner and some drinks at several stylish bars we picked up tasty crepes. As we enjoyed this midnight sweet together with some local students we get to know at a bar an aircraft was overflying us. It was flying very low so that I could clearly see the cross and the red tail. Great, our aircraft back home arrived.
Soon after we said goodbye to the locals and took the night-bus to the airport. The ride is convenience in the night and cost only 0.60EUR.
We., 23/04/08 Thessaloniki (SKG) to Zurich (ZRH)
STD: 0440 // ATD: 0455
STA: 0610 // ATA: 0610
OFF: 0445 // ONB: 0616
SWISS LX1851 operated by HB-IOC (A321-111)
built and delivered to former Swissair (03/1995)
View Large
View Medium


Photo © Jerome Zbinden
It is not the main travel season as the airport looked very deserted again. Only a bunch of people were around. From outside the terminal we could see the LX plane, yet another A321. I took some shots outside the terminal, but the quality is very limited.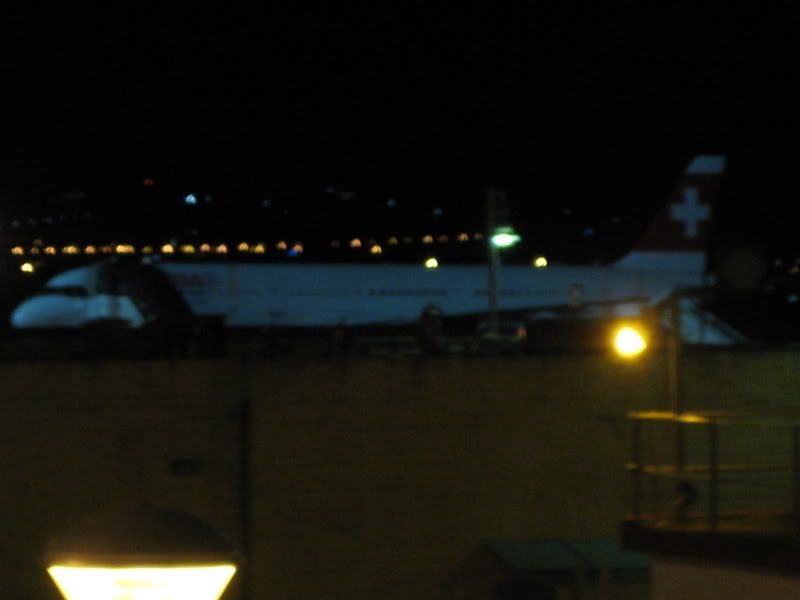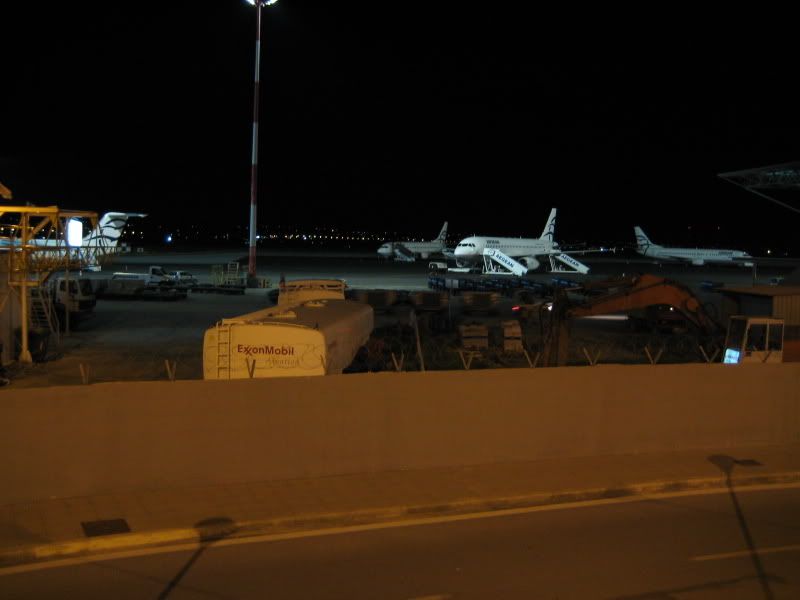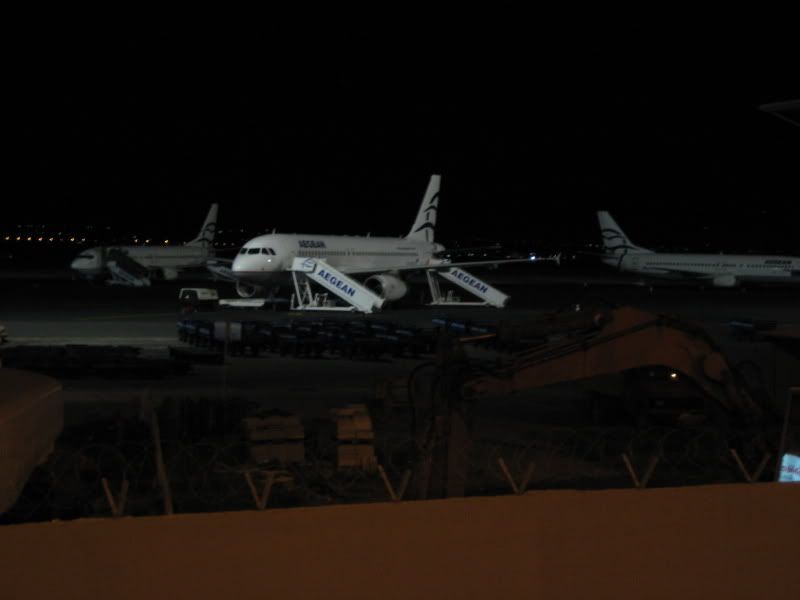 The lady at the checkin-desk asked us to come back again 45minutes prior to departure 'as the flight is almost full and she couldn't hand-out the seats at this time'. That's the life of us standbyers...
As we had more than a hour to kill my travel-mate decided to strech out on one of the bench to take a nap. I was tired too, but decided to stay awake. After freshening up I discovered this small airport. There is a corner where they show spotters at work and I'm pretty sure that I saw almost 70% of the pictures already either here on a.net or somewhere else. Outside the terminal there are some good views onto the apron where following aircrafts rested until their respective services this clear, but cool morning:
Our LX 321 to ZRH, OA with AT4 to the Island of Limnos LXS and 734 to ATH, A3 with 320, 734 and AR1 to ATH as well as a 734 to MUC.
It was time again to show up at the desk where we picked up our boarding passes with seat numbers 6E and 6F. Great! Window seat, close to the front to get off the plane very fast to catch the FRA flight in ZRH (we had a short connection).
Passing the security went by fast, also no lines at the one-man passport control (Switzerland is still not in Schengen). Fast boarding and again a bus took us to our aircraft. From outside the terminal I couldn't get the registration of this SWISS plane. As they have only six 321 in their fleet and I flew already with three of them my chances to catch a new rego is 50-50. Unfortunately I lost this time as soon as we approached our aircraft. HB-IOC took me already from IST to ZRH last summer.
The 'Maitre De Cabin" welcomed us onboard as well as the Captain. I made myself comfortable in my seat and I've to admit that SWISS offers by far the most comfort onboard their A321s. I love this black, slimline Recaro seats and the seatpitch. The whole cabin looks really modern, comfortable and nice!
With a slightly delay of only five minutes the cockpit crew spooled up the engines and turned around the aircraft on the
stand. I think slot related the taxi to the rather close runway 34 was very slow, much slower than usual taxi speed. We held short for another two minutes, but finally entered the active runway and departed exactly at 04.55am.
Luckily I had a window on the right hand side, because the view over Saloniki was so incredible. No clouds and a clear sky allowed us really great views of the area during our climb to cruising level. Also the sunrise was almost viewable at the horizon. The Captain switched off the seat belt sign, but the cabin crew kept on dimming the cabin. It was still dark inside and this was welcoming to doze off. So I did and wake up again during our approach to Zurich.
My travelmate saved the whole things for me they apparently served on this flight: a yoghurt and a muffin
I didn't expect that, because I'm used to more on LX flights. Anyway I wasn't in the mood for any food so it didn't hurt me too much.
ATC put us in a holding over ZRH. Ten minutes later they cleared us to runway 34 where we touched the ground at 0610am. Due to bad weather the approach and the landing was rather bumpy. We used 3/4 of the runway and immediately after us another LX A332 touched down. Arrival gate today A65, the gate for our connection flight was shown as A81 on the screens inside the aircraft. OK, it is very close so we don't have to hurry up.
We., 23/04/08 Zurich (ZRH) to Frankfurt (FRA)
STD: 0700 // ATD: 0706
STA: 0815 // ATA: 0804
OFF: 0658 // ONB: 0815
SWISS LX1068 operated by HB-IJU (A320-204)
built and delivered to SWISS (03/2003)
View Large
View Medium


Photo © Andrew Hunt - AirTeamImages
After passing an additional security control we arrived at the gate half a hour before departure. The situation for this flight was doubtful as it showed an overbooking the day before. Nevertheless we tried to get on and was lucky enough to be assigned with seats by the nice gate agent. A little bit surprised about that I took both boarding passes to discover seat 36D on the pass of my mate. Nice, they upgraded the equipment from A319 (which was still shown in the schedule the day before) to a bigger A320. My seat was 30C.
I went for the lavatories to freshen up again after the red-eye flight from SKG. Soon after I remarked that almost all passengers as well as my travel had boarded already. So there was no time to make some shots outside the window.
Unfortunately I wasn't lucky enough on the whole in terms of catching new registrations. HB-IJU, still with the old black leather seats, was also the aircraft last year in June which took me from FRA to ZRH. Too bad!
This was an almost full flight, but luckily the middle seat in my row remained empty. Ontime pushback and take-off (runway 28). A nice addition to the flight experience is the view on the screens captured by the outside camera.
To be honest I dozed off again on this flight so I missed again the service which usually consists in only a drink on such short flights, so very limited details of this flight, sorry for that!
Also on this flight ATC put us into a holding I think somewhere over Hunsrück. Fortunately only for some minutes, afterwards we were cleared to FRA, approach from the West overflying Wiesbaden/Mainz and the river of Rhine. Shortly after 8am we smoothly touched down on 07R. Some traffic on 07L made us wait: DE 763 arrived shortly after us, LH CR2, LH 744. Exactly on schedule we came to stop on V155.
Bye-bye to the two female FA's at the door and two quick shots of -JU.
note the sticker advertising the UEFA EURO 2008 in Austria and Switzerland 'Airline For All Fans'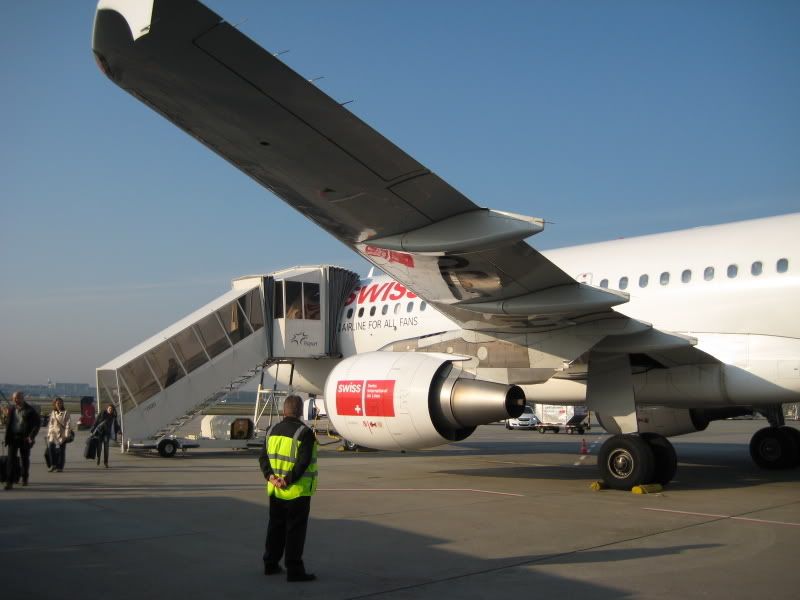 Conclusion...
Airlines:
LH: I couldn't experienced it on my own this time, but the same and usual service of Lufthansa. Again an A321 for me (6 of my last 10 have been operated by this type), but this time at least a very brand new one.
A3: old aircraft, dirty outside, but clean and maintained inside, black leather seats, usual Boeing 73' illumination inside the aircraft, very attractive and also attentive FA's, great catering and free alcoholic beverages in Economy. Definately a good airline and I would definately fly them again, maybe on their brand new A320?!? A good partner Lufthansa and maybe a future candidate for Star Alliance Regional (like OU and JP)???
LX: the comfort onboard their A321s are the best at all in my eyes. Ontime performance on all flights, attentive and smiling crews, the usual good SWISS product, my number one airline within Europe.
Airports:
FRA: surprised that I didn't wait too much in the security lines
MUC: clean, modern, easy to connect, nothing to complain about. free coffee/tea service is my personal favourite at this airport
SKG: nice regional airport with good views outside the terminal, the approaches to runway 16/34 are by far the best as you can view the whole city of Saloniki because of the low approach. Taxi to/from the city maximum 10EUR, bus 0.60EUR, both rides take about 30-45 minutes.
ZRH: this time only a very short stay here in transit, but everybody know that ZRH is one of the best and also one of my favoured airports in Europe. short walks between connection flights, clean terminals and good views outside to the apron.
All in all I enjoyed four great flights and discovered the nice city of Thessaloniki. I recommend a visit to this city a lot!
Thanks for reading until the end. Comments are always very welcome! Sorry for the bad quality or even the lack of some pictures.
Regards