After my final working day with LH I decided that I needed to go and fly.
So I figured out that 4 flights with LH Cityline, LH and Cirrus would be a nice package of various flights and aircraft types. Then a routing was mandatory and after some investigation in timetables I found AMS-HAM-STR-FRA-AMS would be a nice one.
This routing would mean 4 flights, 3 airlines, 2 new airports, 1 new aircraft type so sounded perfect!
So I purchased the tickets and got listed on the flights. Stay on as stand-by flying can mean surprises!
To be at the airport on time I needed to catch the first trainservice from my local railway station of Anna Paulowna to Schihol airport, which is just over 1 hour of travelling time.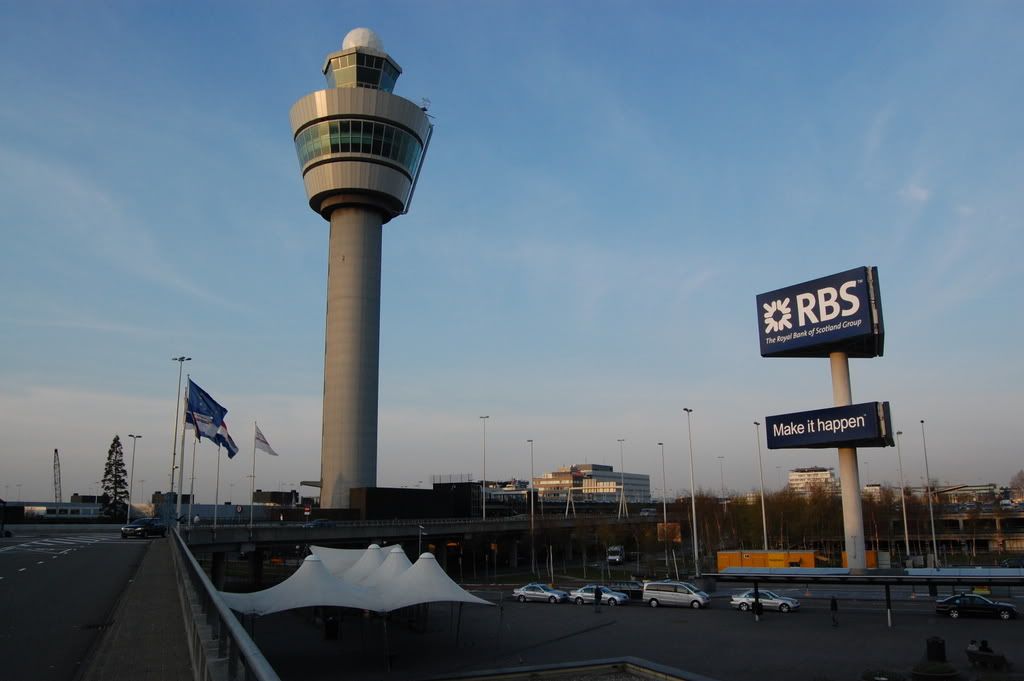 I arrived at the LH desk around 7.00 and checked in without trouble for the first two flights to HAM and STR.
After a quick smoke outside, knowing that it would be the last before flying ( AMS is a non-smoking terminal ), I went through security which was a true breeze, no waiting lines, just put your stuff on the x-ray and walk on!
Our departure gate was B23, which is a bus-gate downstairs on the B-concourse.
For me it was only the second time to go by bus at AMS, so a nice feature for this early morning service to HAM.
Flight : LH 4661
Stretch : AMS-HAM
Date : 22april 2008
Aircraft : Canadair CRJ-200LR
Registration : D-ACHC
Delivered : 19may 2000 to LH Cityline
Seat : 12F
Load : 75%
Gate : B23
3th flight on the CRJ-200LR and the first on this machine
The flight before our flight was also a HAM-flight operated by KLM Cityhopper, which seemed confusing for a lot of passengers. KL groundcrew were calling for the last passengers to board and a lot of people with LH tickets went towards the gate. I think it was not a smart move of Schiphol to plan 2 flights with the same destination with 25 minutes difference on the same gate.
Anyway, our boarding started on time and we were bussed with a Cobus 2700 to our CRJ parked on the commuter parking in front of the KLM Cargo buildings.
My seat was almost at the back of the aircraft and found it very narrow. Legspace was sufficient for a 45 minute hop. Within minutes the boarding was completed and the door shut. I tried to see something through the windows, but then remembered that they are positioned very low.
We taxied across the A4 highway and continued at a high pace, then I knew we would take off from the infamous "Polderbaan" Like a racecar we went and whilst turning onto the runway the engines already spooled up and we rocketed away!
We made a turn to the right and were routed via Urk-Drachten-Groningen-Oldenburg-Bremen towards HAM.
Our cabin-crew existed of 2 female attendants who really did their best to make it comfortable to the passengers.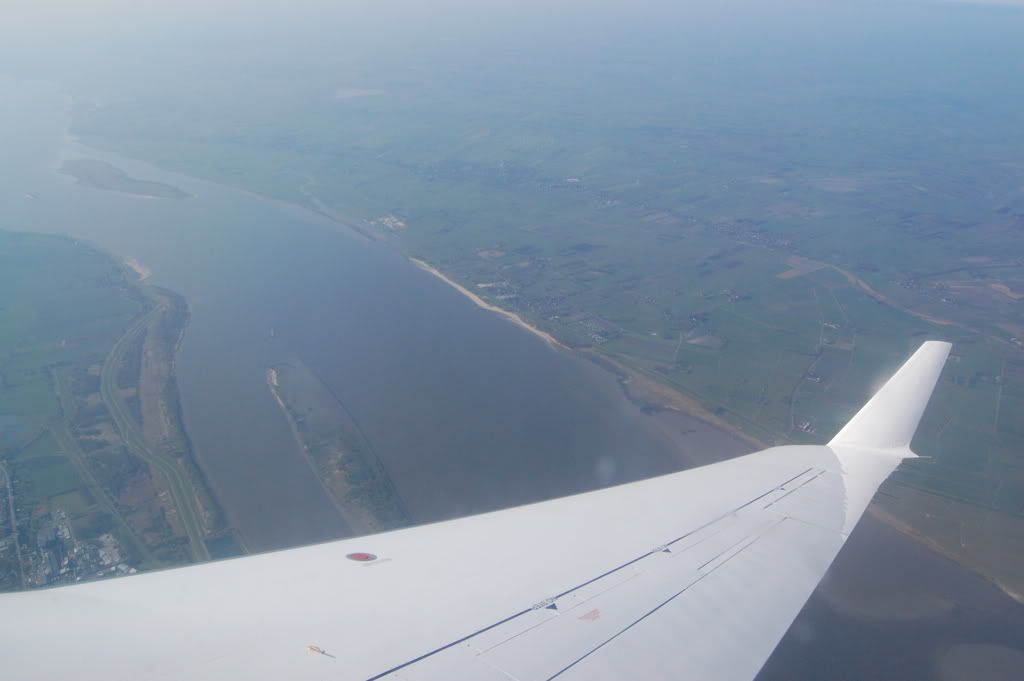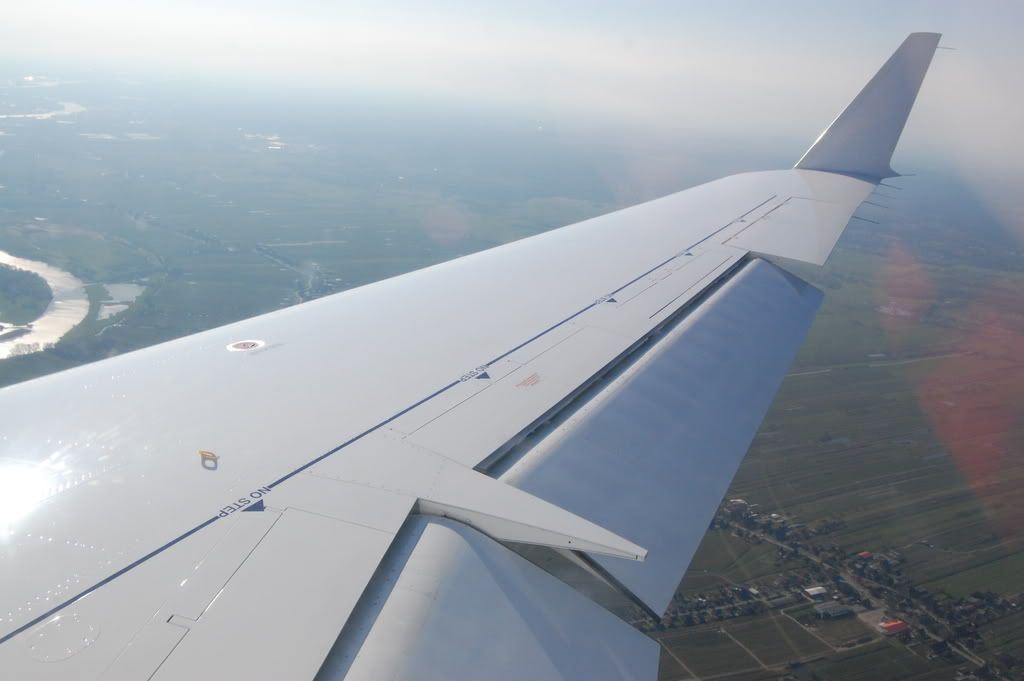 As standard on LH for such a short hop, we got a small sandwich and coffee / soda of your choice. The rest of the flight was quite uneventful, and to me it was just another addition to my log. Nice was that we passed XFW were the Airbus factory is located. I spotted a Super-Guppy and a Beluga as you can see on the ( not too good ) pictures.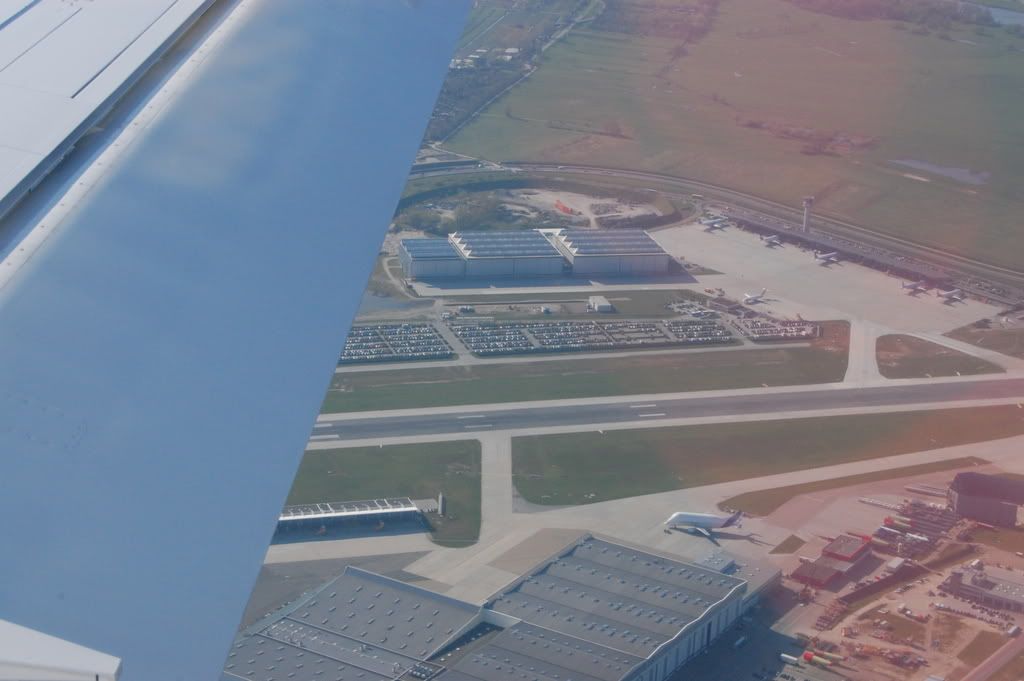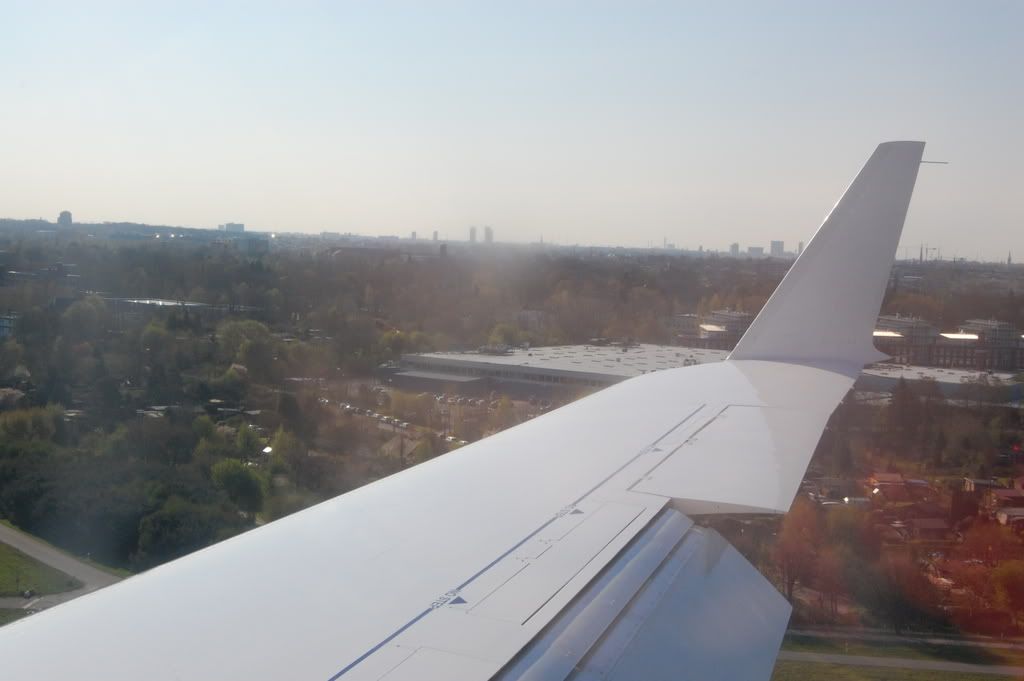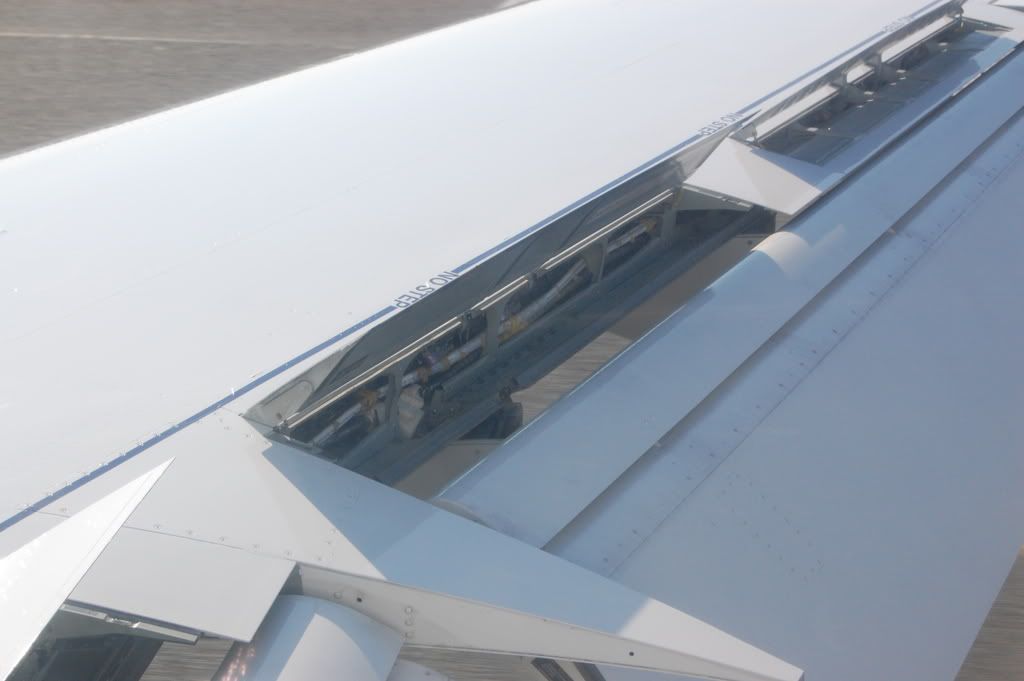 After arrival in HAM I checked my departure gate for the HAM-STR leg, and I went to the visitors terrace, which was very nice with some good apron views and the active take-off runway directly in front of the terrace. Also thumbs up for HAM to have the access free, with most airport charging for entry.
Then back downstairs and through the security, which again was a breeze.
I was a bit early so I made some pictures of aircraft movements there, and after a while "my" plane popped up and taxied into the gate.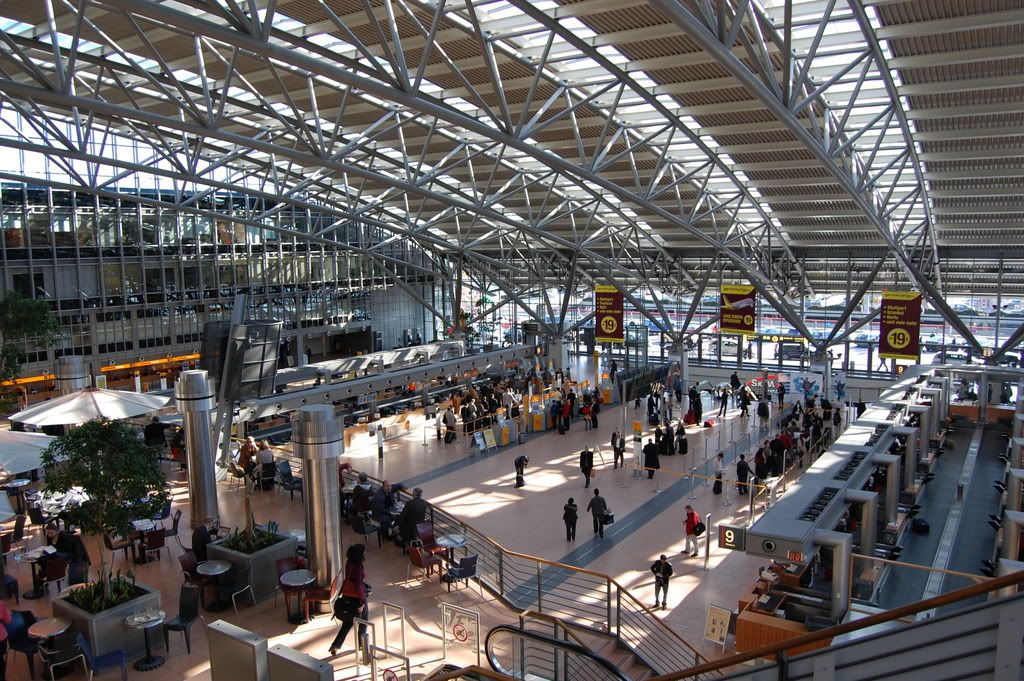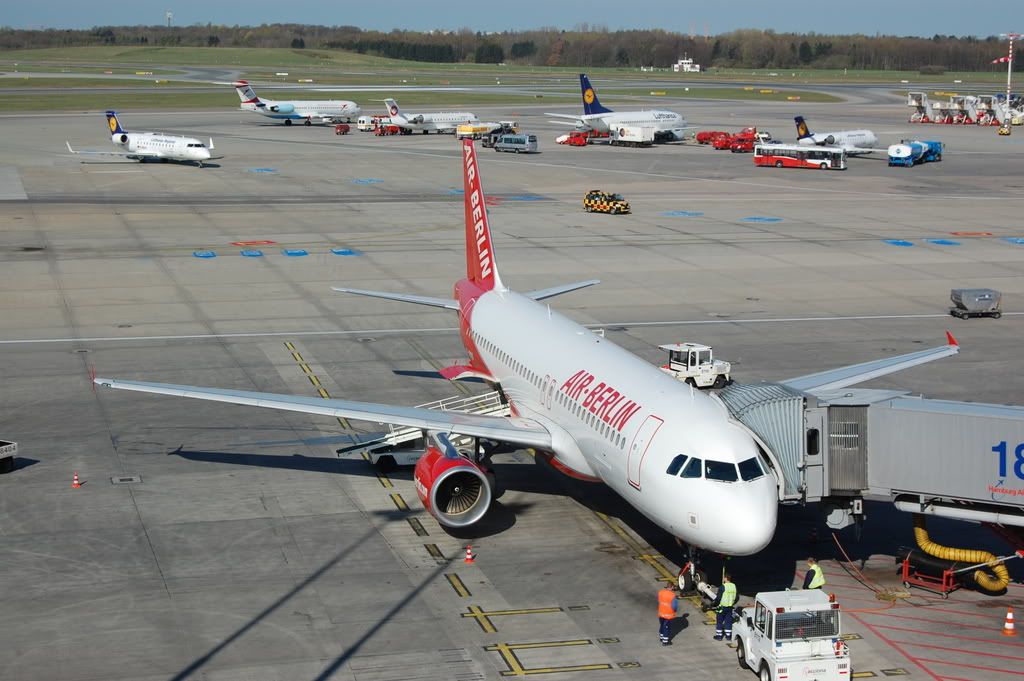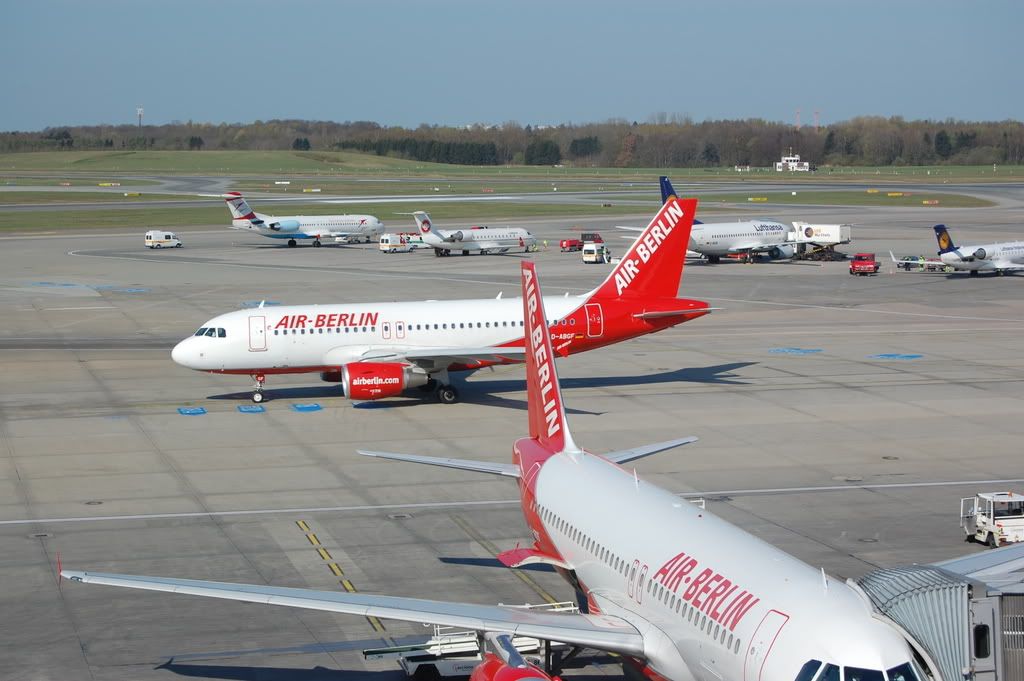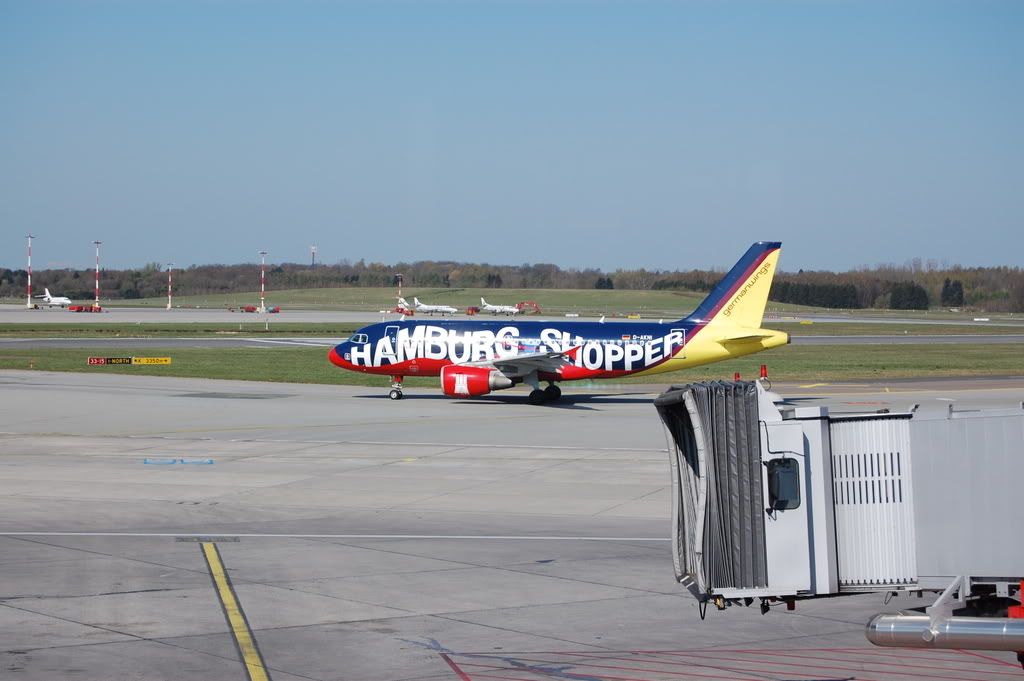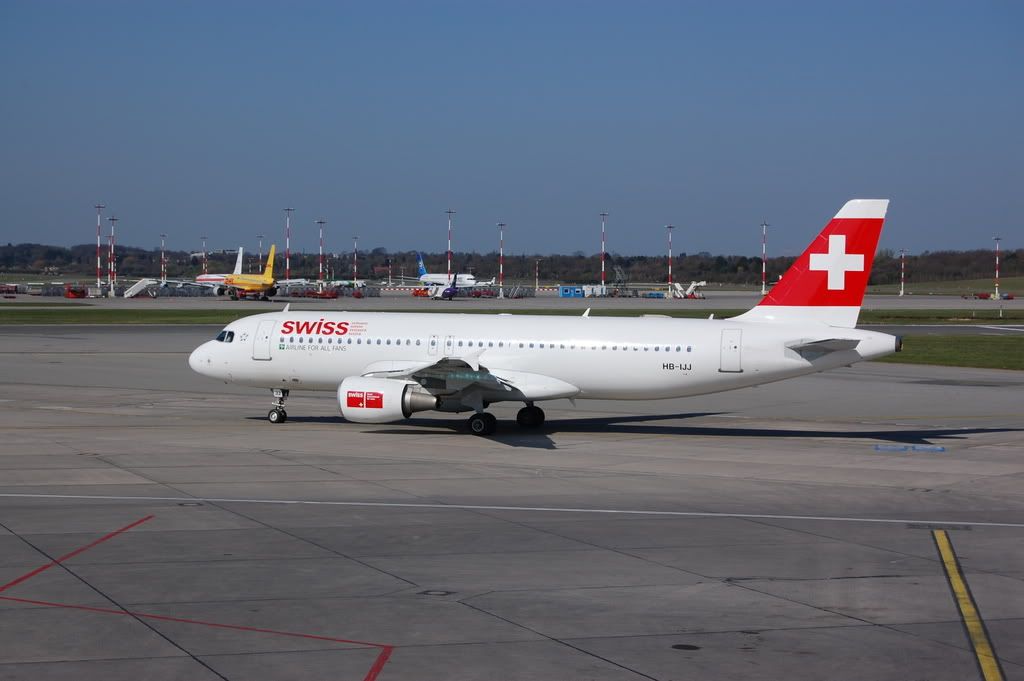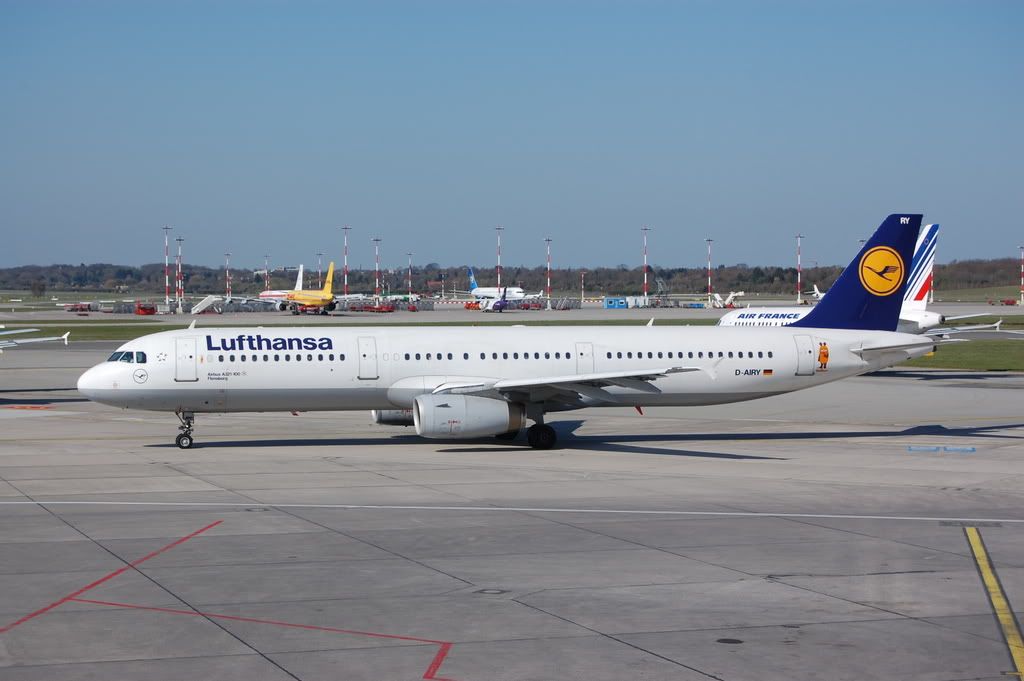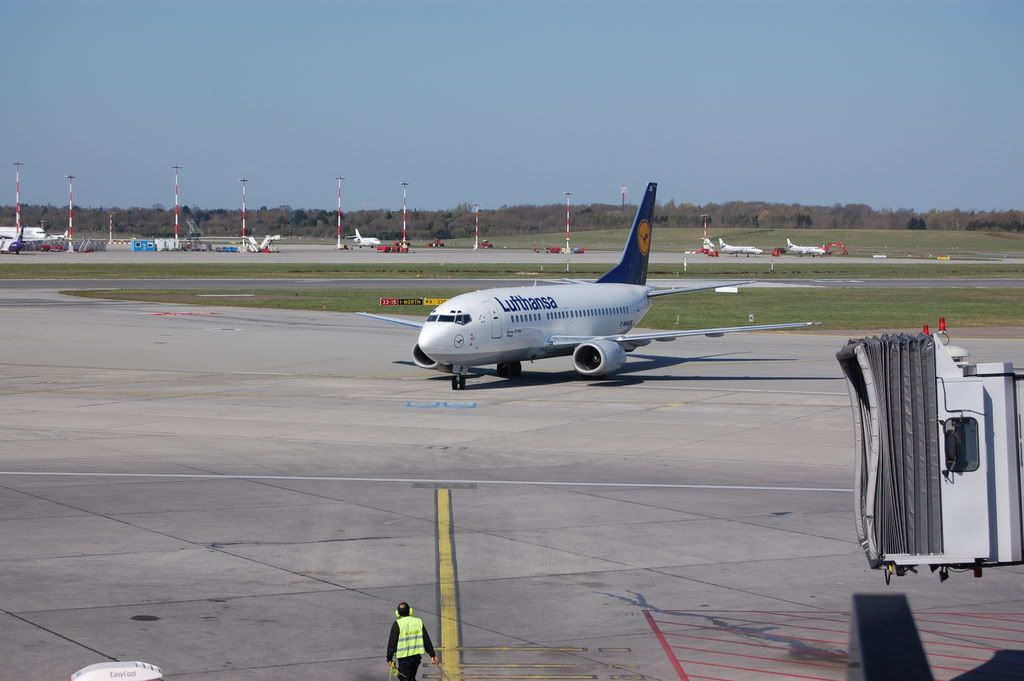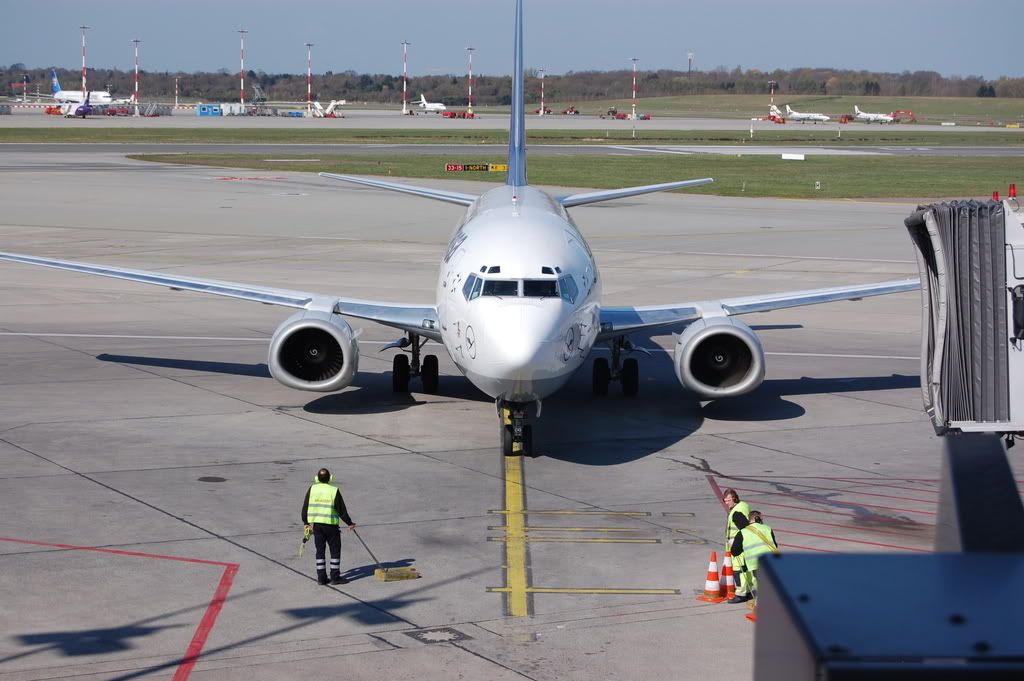 Flight : LH140
Stretch : HAM-STR
Date : 22apr 2008
Aircraft : Boeing 737-530
Registration : D-ABJB
Delivered : 12sep 1991
Seat : 16A
Load : 60%
Gate : A38
8th flight on the 735, and the1st on this machine.
Boarding went quite smoothly and we were ready for taxi within minutes.
Then the captain came on the intercom and informed us that a "punktliches departure" was possible.
I always love it when Germans use the word "punktlich".
The cabin crew on this flight existed of 3 female attendants and were all friendly and helpful.
Push-back followed soon and after the shortest taxi time in my flying career we were ready for take off. I think the distance from gate to the active runway was about 50 meters.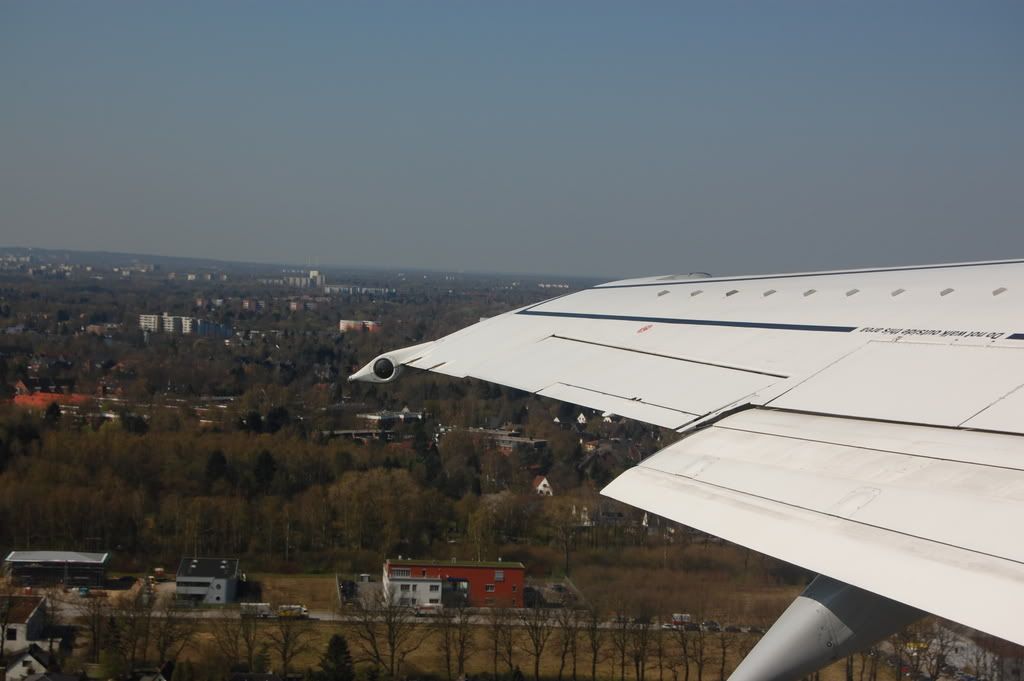 We took off and made some turns, which gave us a nice view of the river Elbe and the city of Hamburg. Then we turned to a southbound route and during the flight more and more clouds popped up. I think it must be around Kassel were the clouds took over completely and we couldn't see the ground anymore.
The 737 was nodding like a nice cat and was in excellent condition. Just as the other 737's refitted with the slimline seats, and service consisted of drinks only.
Our approach into STR was not too eventful as we couldn't see anything.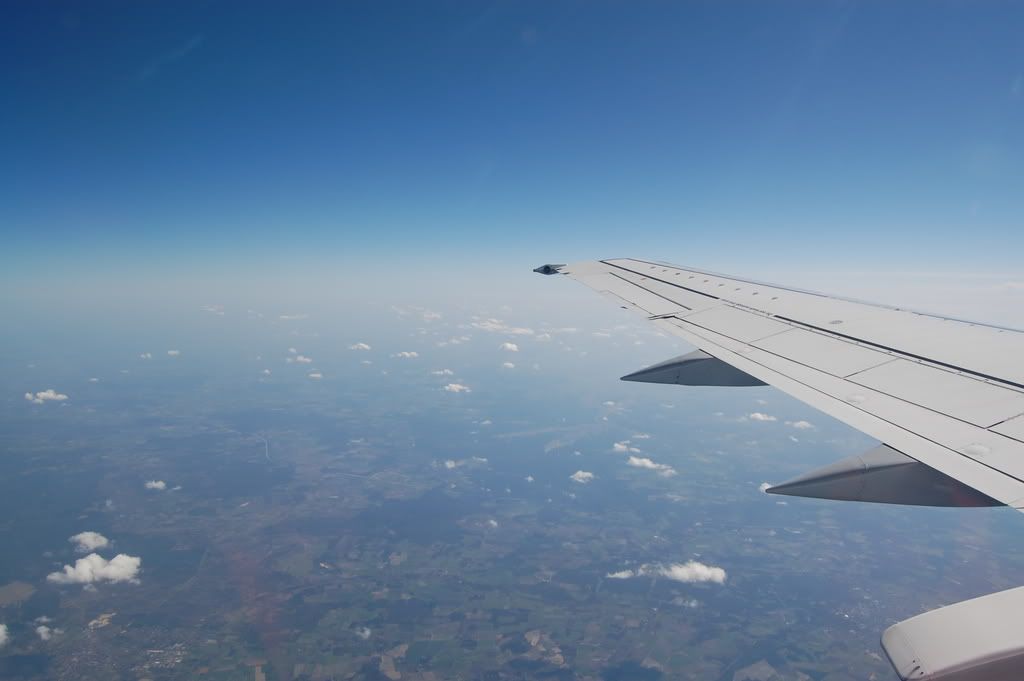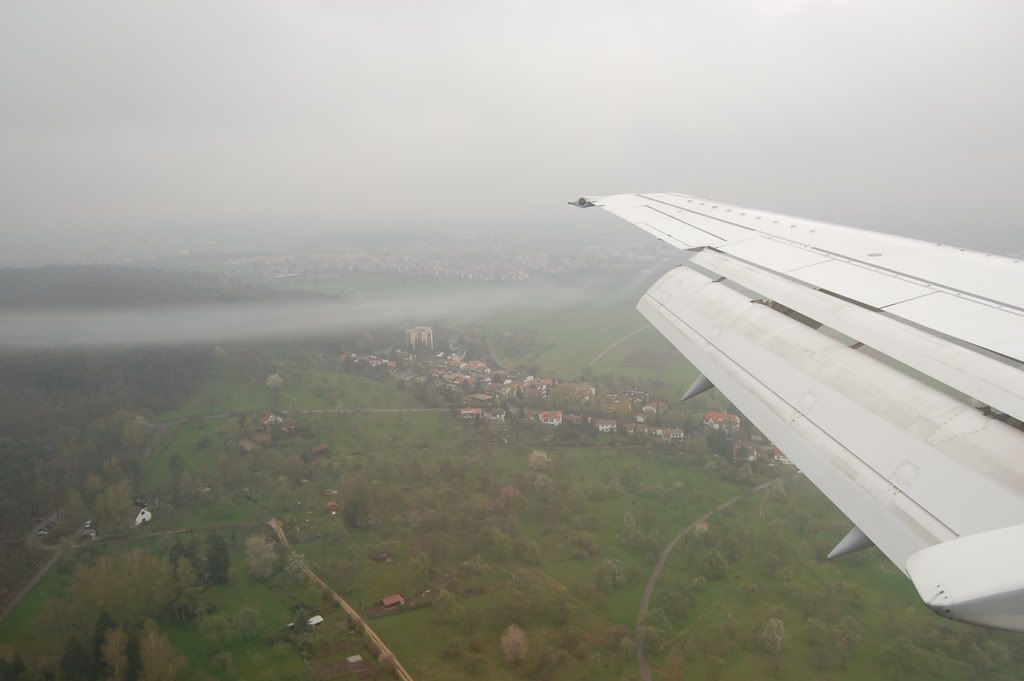 According later information we had a somewhat rare approach with rwy 07, which is not used too often in bad weather due to some hills in the approach path.
Our aircraft was parked at a finger gate, but nevertheless we were informed that we would be bussed to the terminal, due to construction works in the building.
For me the first time to exit a 737 through the backdoor. A Cobus 3000 was waiting for us, and after all passengers entered the bus, we drove off for a short airport tour, towards the arrivals hall.
As I had no luggage with me, I could walk on to land-side within minutes.
Meanwhile I activated my mobile phone to see if I had some messages.
One new message was there, it turned out to be from well-known Trip report writer Flieger67, with whom I was to meet at STR. As I did not know him, I send a message back to him, and directly he tapped me on the shoulder, as he saw me writing a text-message.
So we went for a tour at the airport, and grabbed a cup of coffee in the Burger King restaurant, and chatted about aviation, holidays, etc.
After that we walked to his car and drove around the airport, which was very nice.
Then we went back to the terminal to check in for my Cirrus flight with the E-170 to FRA, and we said our goodbyes. Markus, thank you again for your time! I really appreciated it!
As I knew on forehand, the flight was very full, so I just went through security to the respective gate, which was 164 I think. There my plans changed instantly, as I got offloaded.
In my career as Stand-by flyer I have been offloaded twice, and both times it was the Embraer 170 which ruined it. Quite a relationship it is.....
So back to the terminal and check my options. It turned out that all flights to MUC/FRA and HAM were full and my best chances would be with KL on the direct flight.
So I purchased a new stand-by ticked with my LH-id and tried to check in for the flight.
I had to wait for 1,5 hours before they could give me a seat, if any available.
The visitors terrace was opened, and I went outside to shoot some action on STR airport.
It was not too busy, but still spotted some nice aircraft.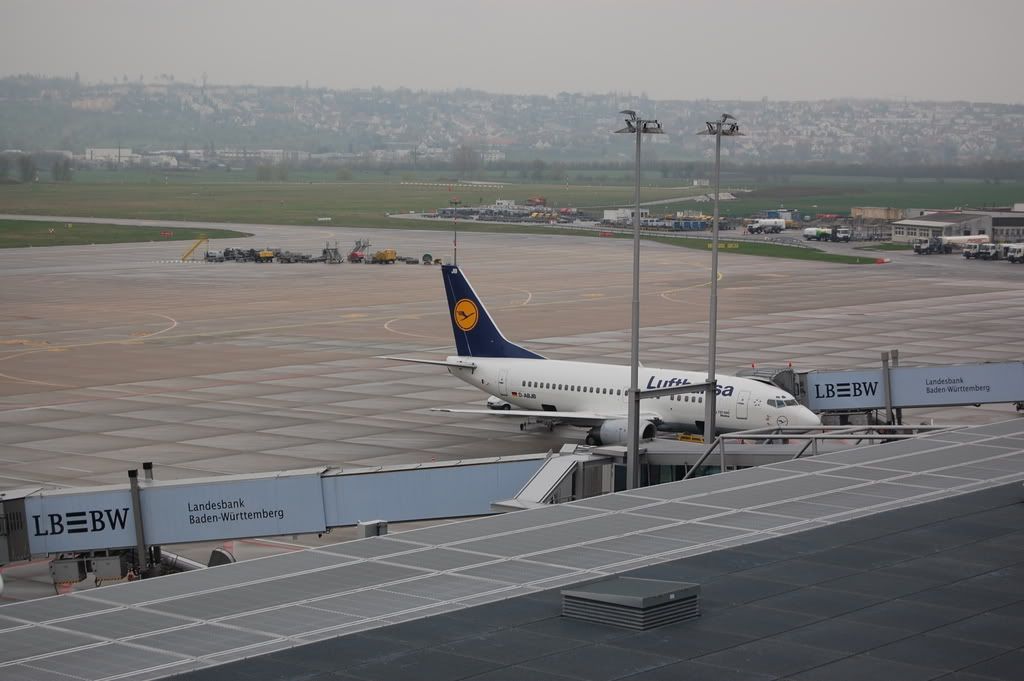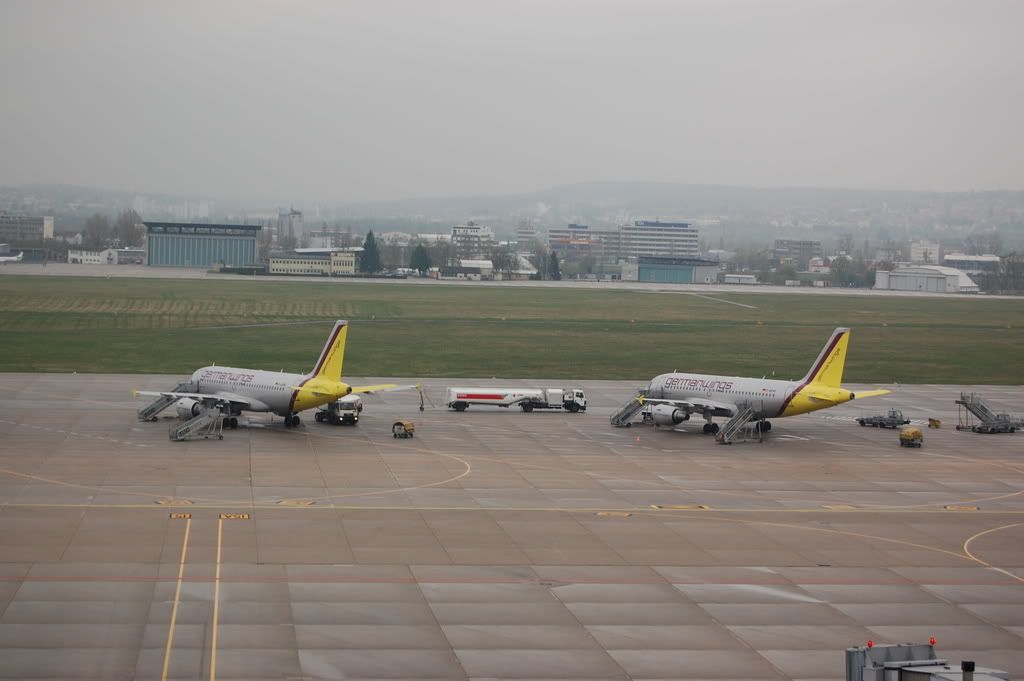 GermanWings made my day with showing me the Berlin Bearbus, T-Mobile special, Hamburg Shopper and also the Baden-Württemberg machine. Nice!!
Back in the terminal in checked if I could get a seat on the flight, and I got the last seat available on the flight.
Security again! No waiting lines, but still it took me over 15 minutes to get passed it, as the officer on duty wanted to do an extra explosive test on my camera. I followed him into a small room were I had to unpack my camera. He then wiped a special sort of paper over all sides of the camera and put it into a machine. After a short while the test result was printed and I was free to go again.
Flight : KL 1876
Stretch : STR-AMS
Date : 22apr 2008
Aircraft : Fokker 70
Registration : PH-JCH
Delivered : 26apr 1995 to America West Express
16sep 1997 to Austrian Airlines
05oct 2002 to KLM Cityhopper
Seat : 14F
Load : 100%
Gate : 316
1st flight on the Fokker 70 so also the first on this machine
Boarding went through the finger and I soon found my seat at the back of the aircraft, it was not the very last row, but there was only one row behind me I think.
Luckily again I had a window seat, which was great, I could see all action.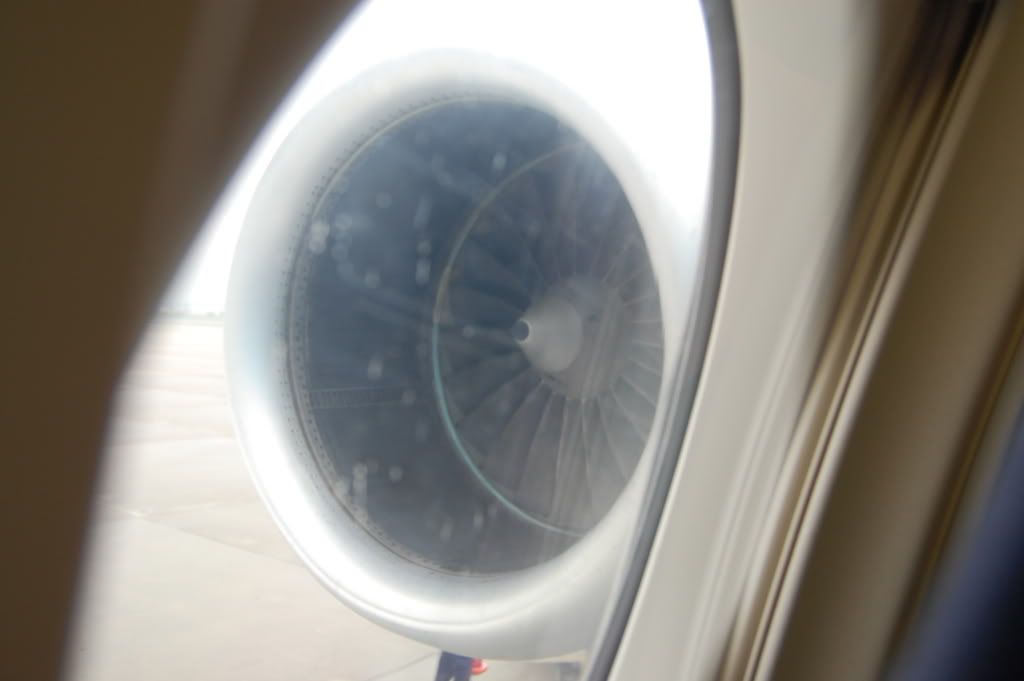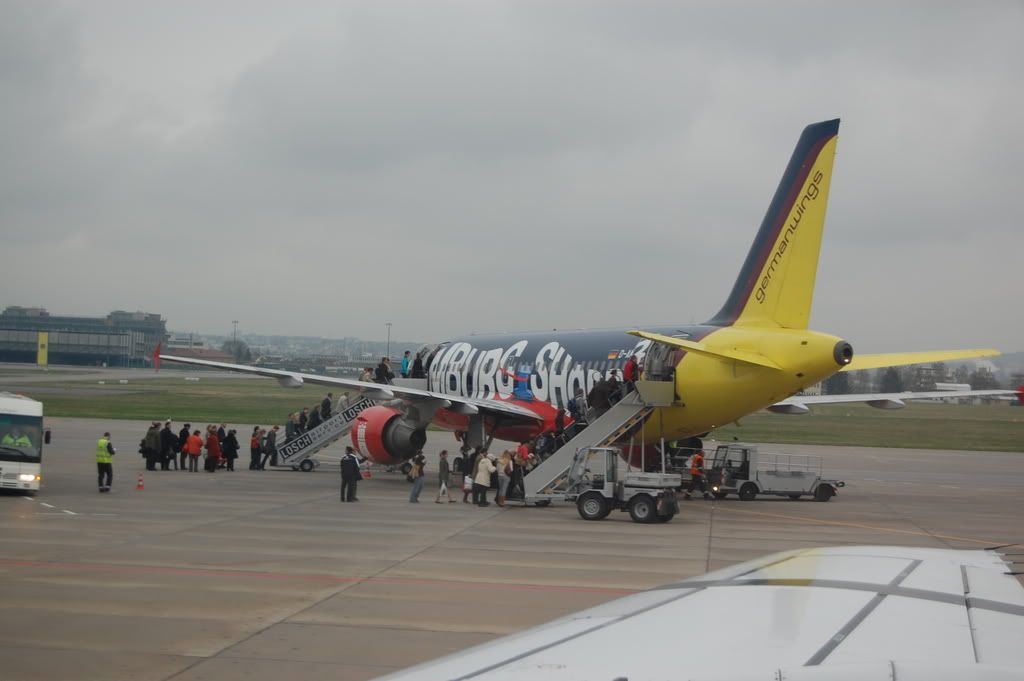 Pushback commenced quite soon and we had a long taxi time to the very end of the airport.
Rwy 25 was the active runway and the Rolls-Royce Tay engines spooled up.
I was surprised that the aircraft was not too noisy.
Cabin crew existed of two female attendants, one English native, and a young dutch girl.
They were both very friendly and did a good job. The blue fabric seats were really from a different era, as they were worn, and not comfortable. Also the overhead bin, was duct-taped together. Legroom was really the worst I have seen so far, even EasyJet offers more space.
But hey, who am I to complain, I was on my way home so that was the good news.
Somewhere mid flight we were served some drinks and a bag of salts. Suddenly the temperature nosedived into freezing cold, and some passengers even took their coats from the bin, and put them on. I think there was something wrong with the airconditioning as it never got warmer again.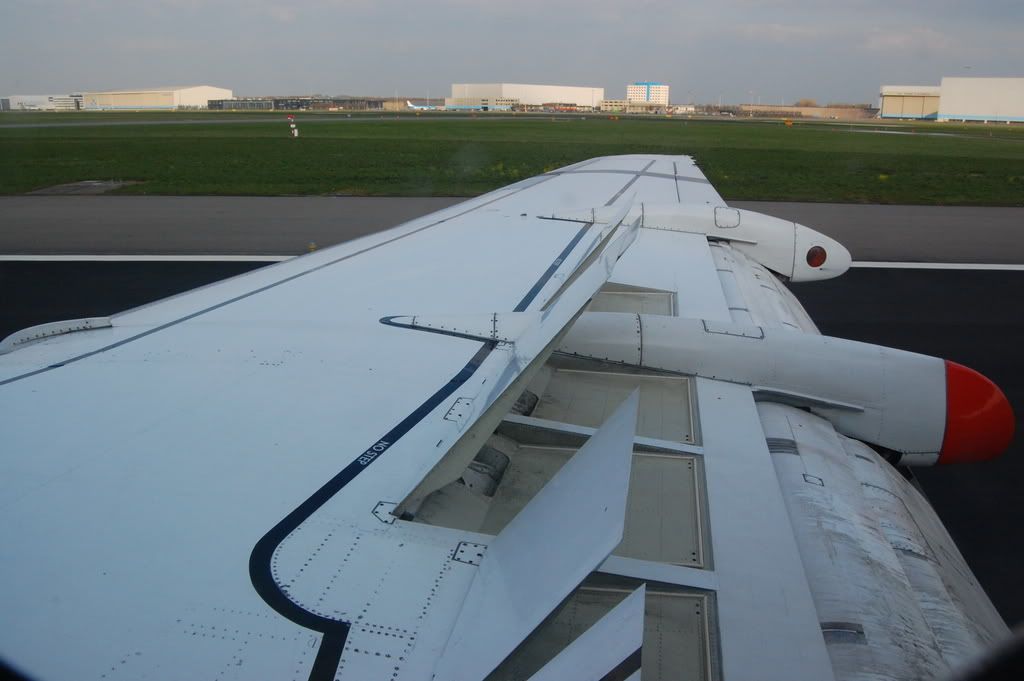 Also the captain came on the intercom and told us the route we were flying aswell as the weather forecast for AMS. Our route was STR-FRA-Venlo-Utrecht-AMS and we landed on rwy 01R.
We taxied to the commuter area and were bussed to the arrivals hall.
So all in all, a very nice and interesting day of flying.
I could make a nice comparison of two regional airlines with Cityline and Cityhopper.
My vote goes to LH Cityline as my flight with KLM was really disappointing.
The state of the Fokker aircraft was just below standard.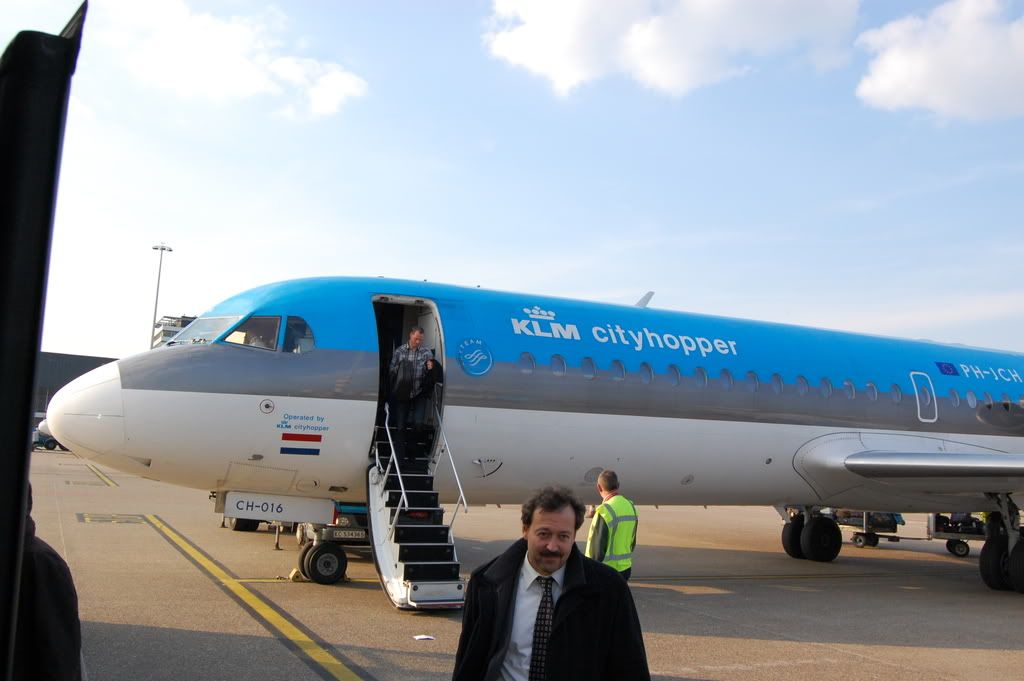 My personal wins were, 3 new registrations for the log, 2 new airports and 1 new aircraft type.
Not too bad for a Tuesday in April I would say.
My special thanks go to Flieger67 for his time to show me STR airport and the area around it.
Thank you for reading my report, and feel free to give your comments!
Cheers,
Joost ( D-ALCE )