There are not many places in the world where you can get off a pick-up truck to board a Boeing 747 but Chiang Mai, Thailand's second city, is one of them.
The pick-ups known as
song thaew
are Chiang Mai's most ubiquitous forms of transport and they play the role of both bus and taxi in the city. Of course, regular buses and taxis, as well as
tuk-tuks
, also exist here – but
song thaews
are what locals take, and they're also my favorite way of getting to Chiang Mai International Airport.
I am only headed for Bangkok – a short one hour flight away – and as this route is also the one I frequent the most, it's hardly stuff that trip reports are made of. But the holiday spirit must have got the better of me. It's
Songkran
– Thai new year – where everyone gets a drenching over three days of water-centered festivities and Chiang Mai is, arguably, the best place in Thailand to be. Having spent the holidays in the company of celebrating friends who've so wisely decided that alcohol consumed should match water doused, it's a wonder I get to the airport at all.
But anyway I'm here.
Just to recap…this is a
SONG THAEW
(circa early 1990s)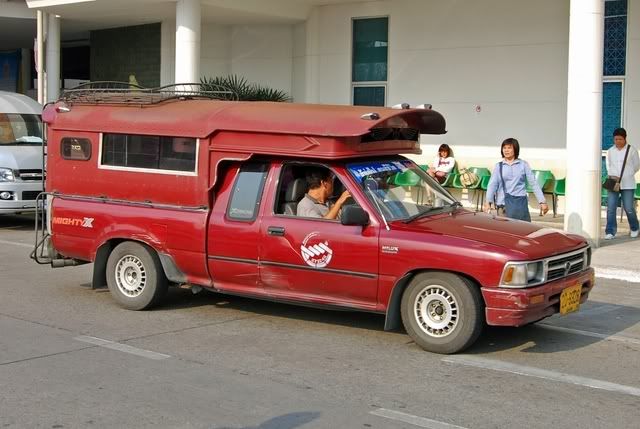 And this is a
BOEING 747-400
(circa early 1990s)
This is the domestic wing of Chiang Mai airport. It still has a provincial feel I rather like. However refurbishment work is being carried out to upgrade the facility into some steely glassy thing, no doubt.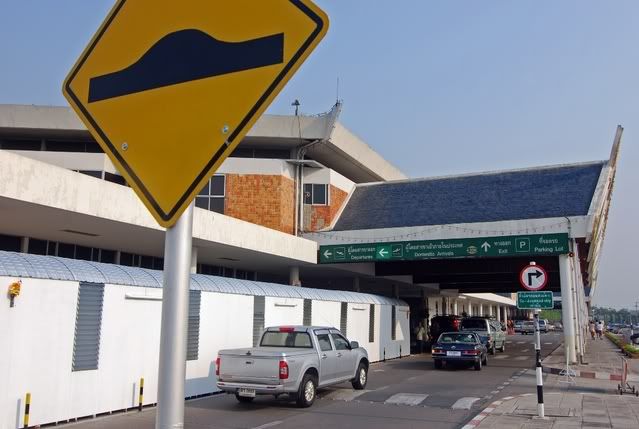 Chiang Mai to Bangkok Suvarnabhumi
Thai Airways International flight TG 103
Dep 1004 Arr 1113 (arrives 18 minutes late)
B747-400 HS-TGL
17 April 2008
Thai Airways domestic check-in area at Chiang Mai International Airport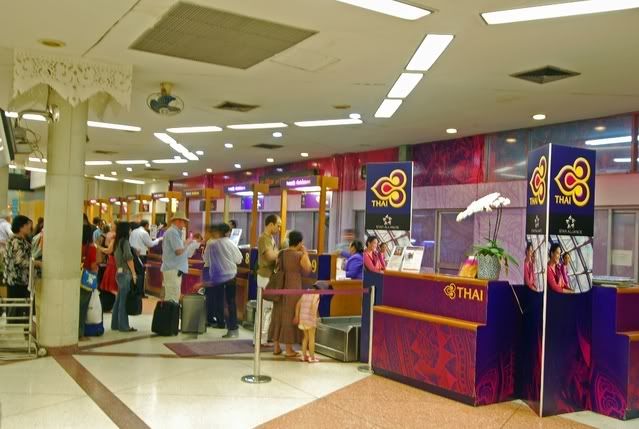 Check-in. A friendly THAI agent notes my pre-selected seat – 71G – as being in the last row of the 747. Didn't I want a seat further forward? Most people do, she says. I say no. Was I sure, she tries to reconfirm. I answer in the affirmative: yes, I want to sit at the back. She smiles and says: "I haven't seen a TG frequent flier wanting to sit at the back before – you're funny." I wanted to reply: you don't know the half of it ma'am; you should see the stranger things I do on board! But fearing it can be misconstrued, I just respond with what people in this country do best: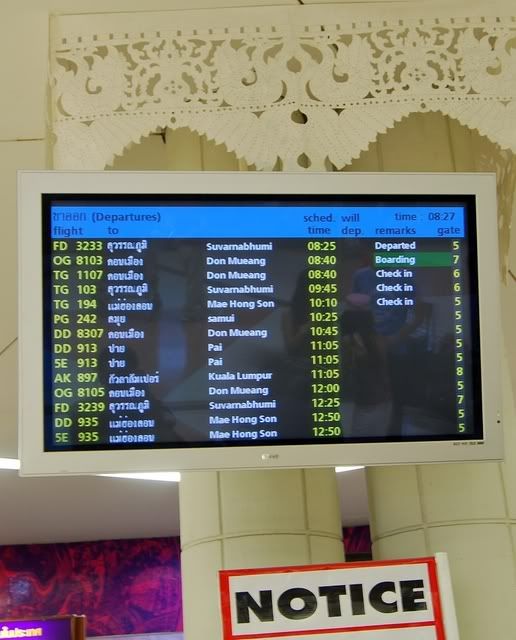 Chiang Mai to Bangkok is one of the key domestic trunk routes in Thailand and competition is intense. Apart from THAI, four other airlines – Nok Air (DD), One-Two-Go by Orient Thai (OG), Thai AirAsia (FD) and Bangkok Airways (PG) – fly multiple daily frequencies between the two cities. FD and PG fly into Bangkok's new Suvarnabhumi; DD and OG use close-to-city Don Mueang; but only TG flies to both Bangkok airports from Chiang Mai.
As for equipment, you can't ask for a more varied selection on a short sector:
DD uses B738 and B734;
OG uses MD82;
FD uses A320 and B733;
PG uses B717 and ATR72; and
TG uses A333, AB6, B744, B773 and B772.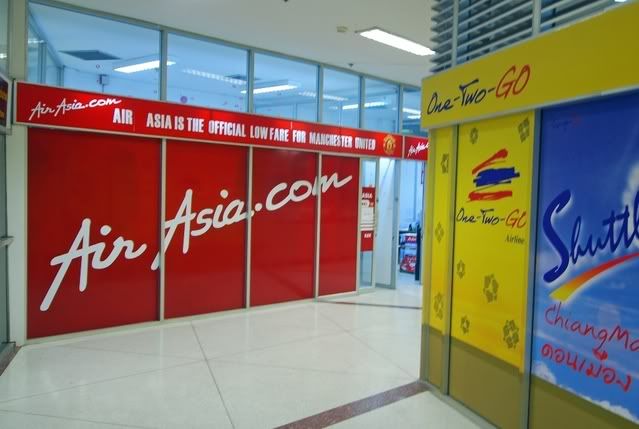 This way up. You have to go up one level to departures.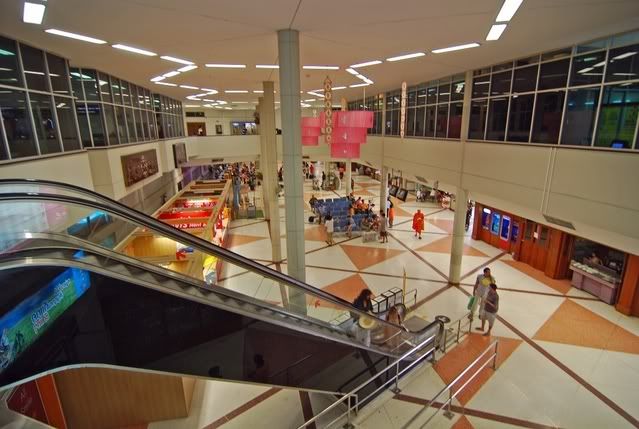 With renovation happening, the common departure lounge is smaller than it should be. It's not so bad now but this place gets very crowded in the early evenings when a couple of flights are leaving at around the same time.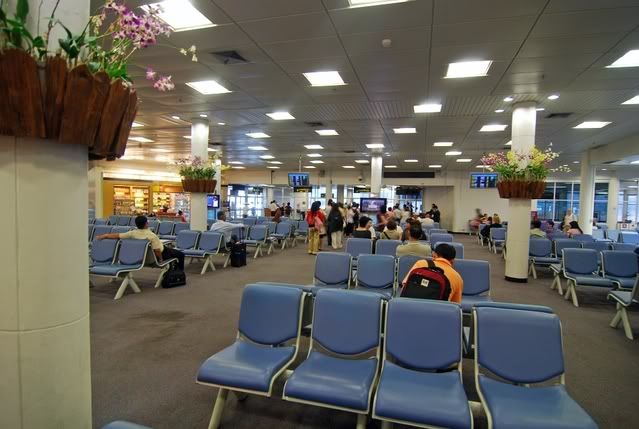 I was hoping to get you some snaps of TG's Royal Silk Lounge but that too has become a victim of the airport upgrade. (At least that's what I think – it has disappeared since my last visit.)
The only "special" lounge is this one, but you'd have to make some pretty big sacrifices to use it.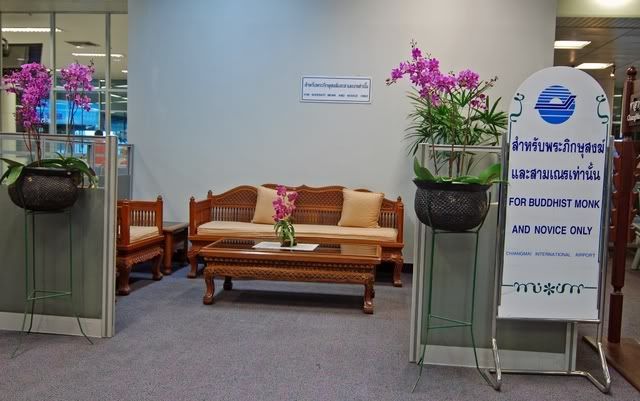 Boarding is not any more chaotic than it usually is at Chiang Mai, but at least it's fast. Leaving the lounge, I spot my plane – an old liveried B744 – for the first time. There's not much else on the tarmac at this time of day.
Apart from its A340s, TG dispatches every widebody equipment type in its fleet (and there are quite a few of those) to Chiang Mai on a regular basis. Today, for instance, sees two of the six flights to Suvarnabhumi being operated by B747-400s – more typical of the winter schedule when seat demand to Chiang Mai is high but as it's the busy
Songkran
period now, that's not surprising. There are also B773s and B772s scheduled today but if your preference is for the AB6, you're guaranteed one on the Don Mueang run.
HS-TGL fills up with holidaymakers returning to Bangkok after the three-day break.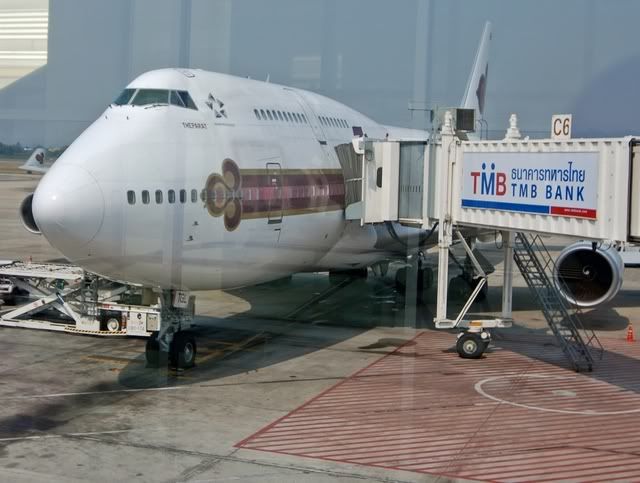 Boarding is through Gate 6, one of five gates at the airport fitted with aerobridges. Unless you're leaving or arriving by props, it's extremely rare not to use one of these gates – even the notoriously aerobridge-allergic AirAsia use them.
Never mind it's a short domestic flight, there's always excitement associated with boarding a 747. Here's the view from the last row in the last cabin: the new colorful TG seats are growing on me and they give this 17-year old jumbo a fresh new lease of life.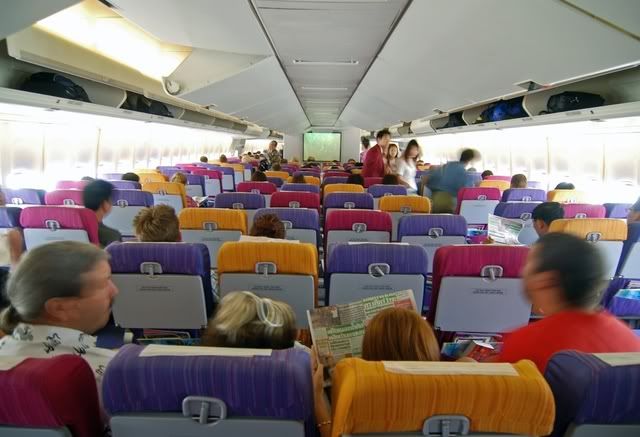 I may be seated at the center aisle, but I do have a window by my side. The curvature of the fuselage here makes this exit door look unhinged and strangely deformed.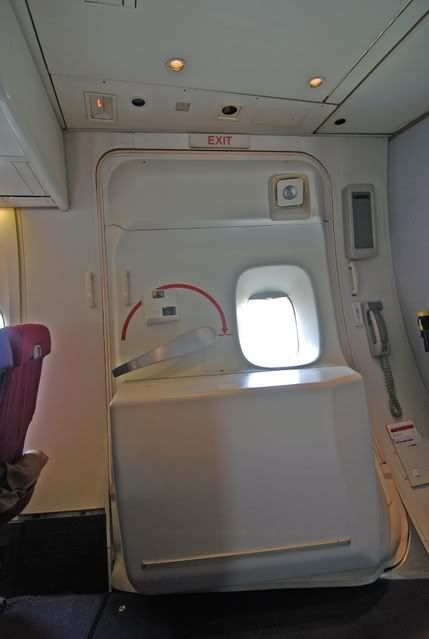 Service aboard this short flight is classic TG with lots of
wais
and friendly discourse. Our flight departs and arrives a couple of minutes behind schedule, as is usual on this route. The catering on board comes in a small box containing a Danish, an overly sweetened OJ and a plastic cup for coffee. (sorry no pics here – though I know submitting an A.net TR without a meal photo is almost sacrilegious
) I guess you'll just have to take my word for it... hehe
Here's another cabin shot from the very back of the plane.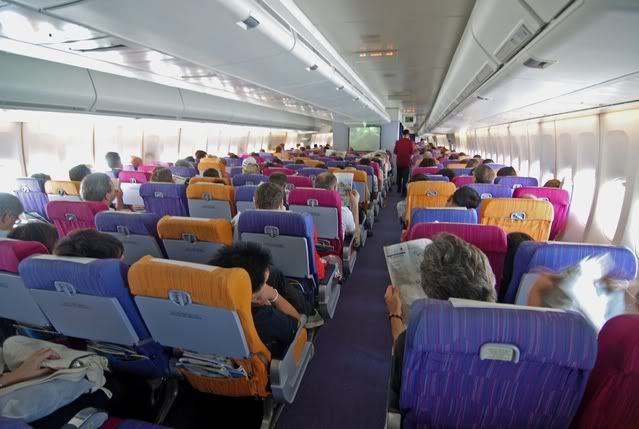 We have landed. Exiting through the front door, I get the opportunity for a shot from the very front of the plane. This is normally TG's long haul First Class cabin but it is sold as Business Class on domestic flights. (As an aside, you can travel in this cabin by paying just 2860 baht [US$90] for a one-way J Class ticket.)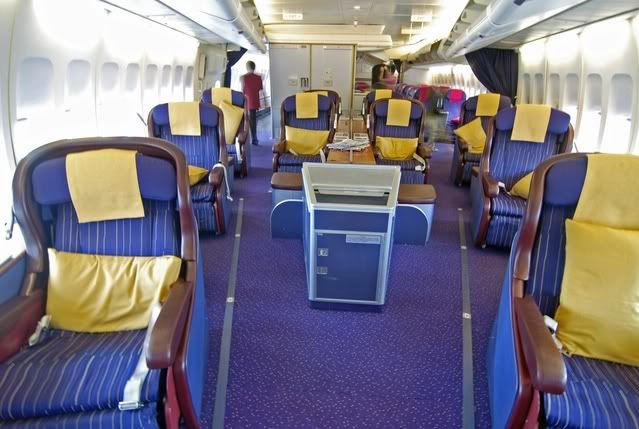 THAI cabin crews do not change into their graceful Thai silk costumes on domestic flights, but they still look quite smart in their "ground" uniforms. This is taken in the Business Class cabin.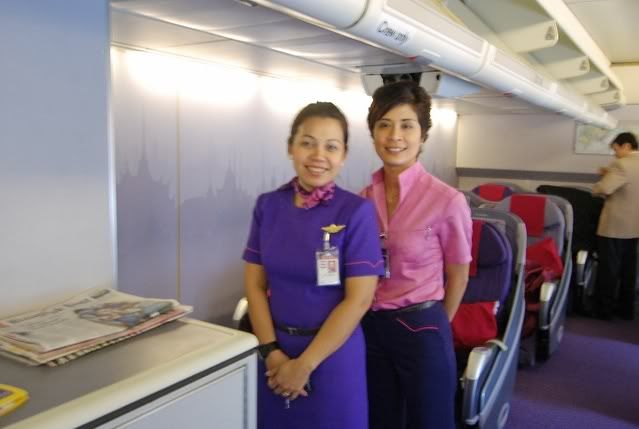 I am the last passenger to exit at Suvarnabhumi.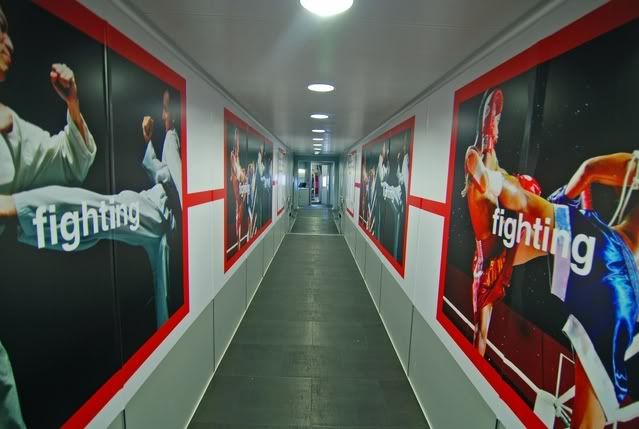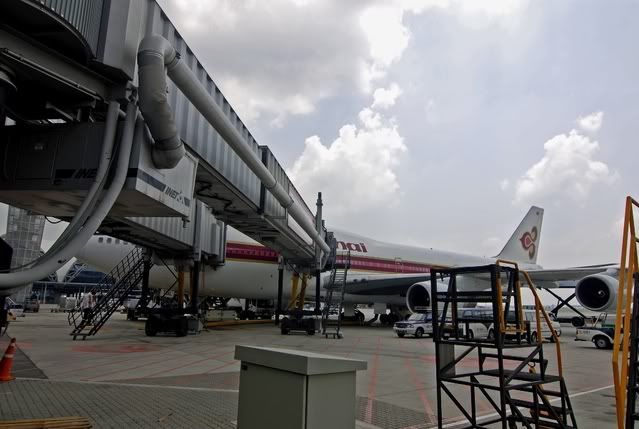 Turns out we have parked at an international gate; HS-TGL is set to do a nonstop to Europe this afternoon. That means, we disembark via aerobridge at gate C1 but then down the stairs to the buses that will shuttle us to domestic arrivals.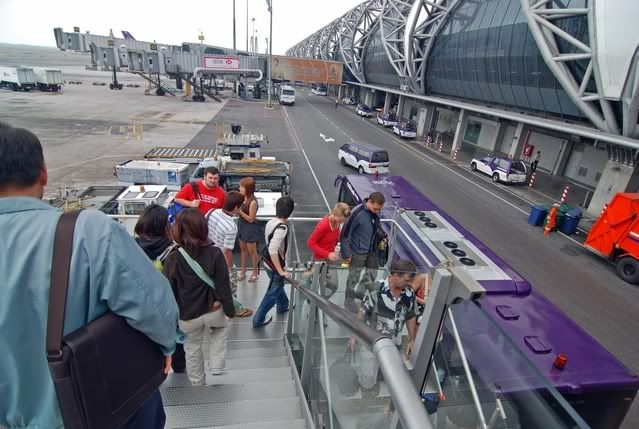 Next door, gate C3 is one of those making Suvarnabhumi an A380-ready airport.
Thanks for reading!