US Airways USA1061
N936UW
B757-2B7
Seat 3A/3B
BOS-PHL
Scheduled 7:15AM EST
Departed 7:35 AM EST
Terminal B – Gate B10
Flying Time – 1 Hour 5 Mins
April 11th, 2008
FL280 @ 431KTS
My wife and I previously visited Sint Maarten two years ago and we immediately fell in love with the Friendly Island. So when the opportunity to rent a friends timeshare for $700 a week came up, we quickly booked our flights on Orbitz! The last time we flew to SXM was on UA via Dulles from BDL. I really enjoyed UA's service, especially when they upgraded us on the return flight to Economy Plus without even asking.
This time the cheapest flights we found were out of BOS on US for $461.65 R/T each. This was okay since we have friends that live right in Boston, so we left our car with them vs. paying for parking. I booked our tickets via Orbitz.com and selected our seats based on the best views arriving and departing SXM. I had selected row 5A/B going down and row 5 E/F for the return. The day before leaving I went online to print our boarding passes and no seats were selected. I called US and they indicated that the only seats they had were in the row 30's and were not together. Damn you Orbitz, why ask to select seats if you don't keep record of them? The representative said to check with the counter as they block off certain seats together.
Our flight was scheduled to depart at 7:15 AM EST, so I wanted to be at Logan no later than 5:15 AM EST. We were up at 4 AM and at the check-in counter at 5:15 on the nose (pays to have friends in Everett!) We were fortunate enough to get seats 3A/B from BOS-PHL and 4A/B from PHL to SXM. Check in was a breeze as well as the security check. Soon we were relaxing at gate B10, both excited for our upcoming week in paradise. Boarding began promptly at 7:00 AM EST and we were soon settled in to our bulkhead seats. I'm a pretty "big-boned" guy, so I do not suggest these seats to the larger crowd. The center armrests are fixed; therefore it is a bit snug on the hips. Our neighbors across at 3 D/E/F had an unstill toddler with a cold as he was continuously coughing. Thankfully, it was only an hour flight as I did not want to get sick too. We pushed back on time and taxied out to 33L. There was the normal morning ramp traffic so we didn't begin our takeoff roll until 7:30 AM EST.
Lining up on 33L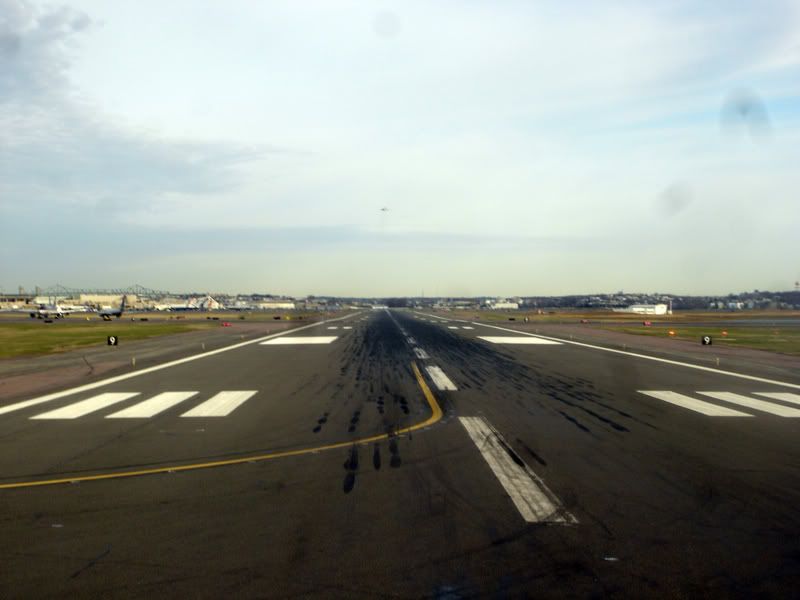 A quick blast of the RB211s, then V1, Rotate!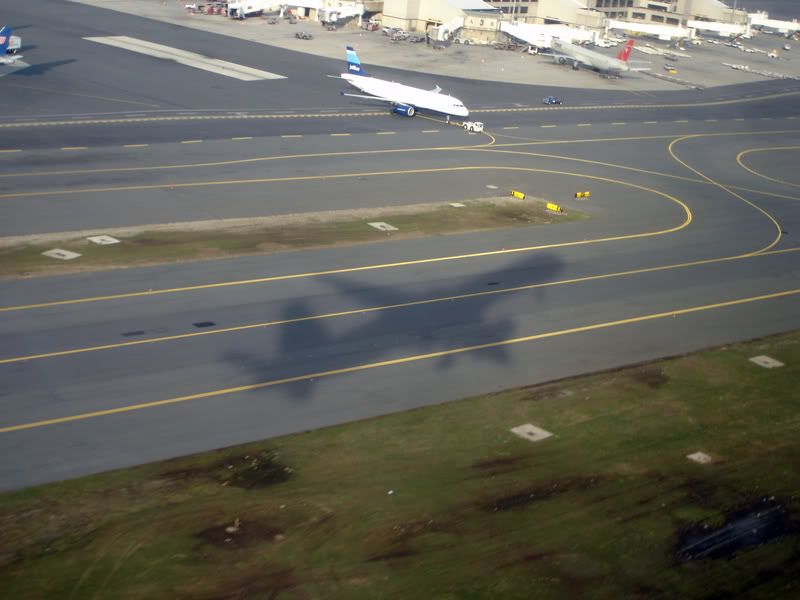 View of Downtown Boston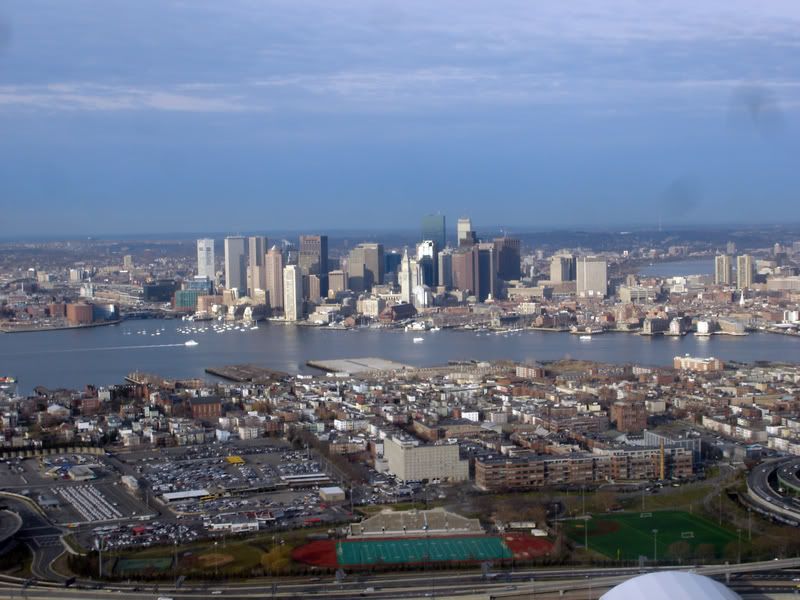 The Leonard P. Zakim Bunker Hill Bridge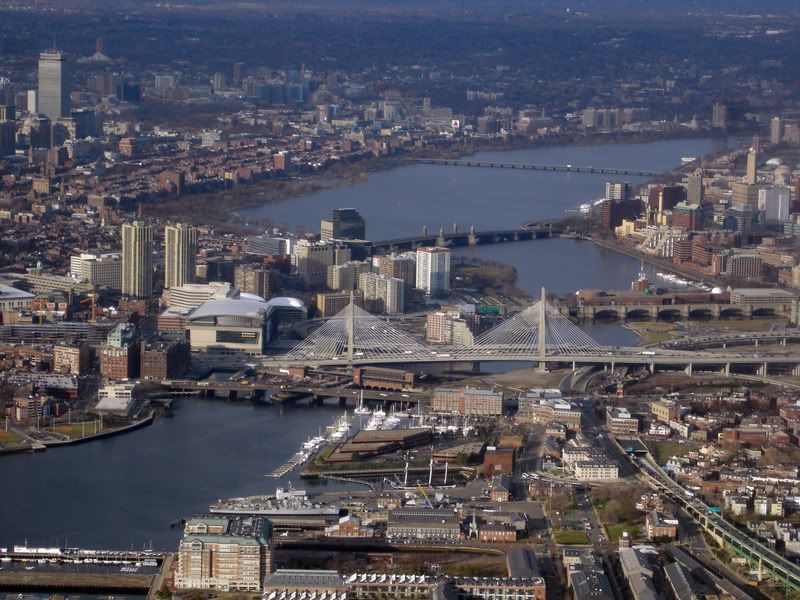 Fenway Park – GO SOX!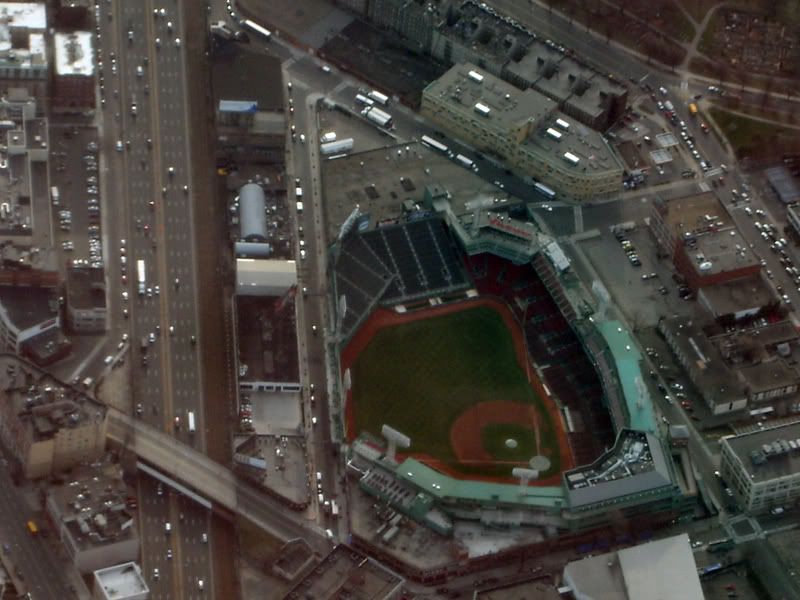 Cape Cod passing off to our left
Soon we were at FL280 in smooth as glass air and the friendly US crew offered us juice, water or coffee. It was nice having a bulkhead seat as you don't have to stare at the top of someone's head. Before long, our little neighbor started running around and yelling, so I fired up my iPod and cracked open Tucker Max's,
I Hope They Serve Beer In Hell.
It only felt like mere moments before we started our decent into PHL. It was overcast, so there were no good views or photo/video opportunities. We quickly broke the cloud layer and were on finals for 9R, enough time for me to snap this one of the Ridley Park Boeing facility.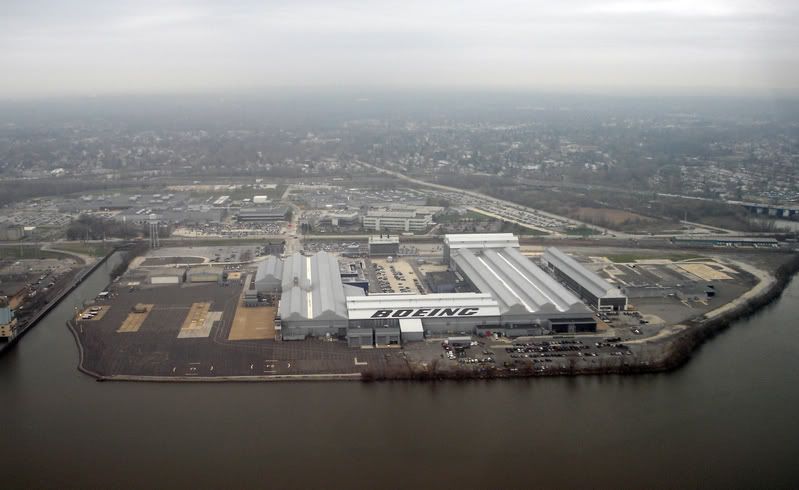 Wheels were on the ground at 8:37AM EST, right on time. I was relieved because PHL is not known for "on time" performance and our SXM leg was leaving promptly at 9:35AM EST. I silently wished a fond adieu to our toddler neighbor and made our way to our next leg.
US Airways USA1209
N205UW
B757-23N
Seat 4A/4B
PHL-SXM
Scheduled 9:35AM EST
Departed 10:31 AM EST
Terminal A West – Gate A20
Flying Time – 3 Hours 25 Mins
April 11th, 2008
FL370 @ 457KTS
When we got to A20, there was no one there. My wife and I turned and looked at each other with that &$!@ look on our face. Upon reaching the agent, we were happy and relieved to learn that they just boarded the aircraft early. Looking out the window, I noticed that this aircraft was equipped with the blended winglets, cool. Once on board, I was also happy to see that N205UW had a "newer" interior with leather seats. We quickly found that 4A/B were also bulkhead seats. But with this interior configuration, the bulkhead was "cut-out" at the bottom allowing our legs to stretch out more. Nice. There was also a LCD monitor on the bulkhead too. The seats again were a bit restrictive, but comfortable, more comfortable than the last leg. I quickly learned that the windows were too filthy for any photography. It appears that the jet way canopy rubs on these windows, leaving them marked and dingy. I was looking forward to videotaping our SXM approach; I guess it won't be as clear as I hoped.
As we waited for more passengers, my wife elbowed me and motioned towards the door. It was our neighbors from the last flight! Would they turn and go towards the rear? Nope, they moved to the front and sat again directly across from us in 4 D/E/F. Oh well, you can't win them all.
We pushed back on time and taxied out into the PHL traffic. About five minutes into our taxi, the captain came on the PA and advised that the tower was reconfiguring the runways, so we had to turn and make our way across the opposite side of the field. After about another 20 minutes of taxing, he then came on again and said there were some more delays, so we wouldn't be airborne for another 40 minutes or so. No problem, as long as I was on board, I had expected delays anyway. I just kept my head in my book and imagined the white sandy beaches awaiting me.
At 10:31AM EST, we spooled up and departed PHL. Once we got up to FL370, the once again friendly US crew offered some drinks and pretzels. Then they offered some food for a small amount, so my wife and I ordered some chicken sandwiches with sun dried tomatoes. I believe they were $6 each and were very, very good. Entertainment soon went underway as they played the movie, "The Devil Wears Prada". I paid the movie no mind and went back to my book and iPod. The crew on this leg was very upbeat, probably because this was a "holiday" flight. I recall one of the crew members on the PA announcing that if you looked out the left side of the aircraft (which everyone did) you'd see the "Black Pearl" from the Pirates of the Caribbean. Remember, I said they were upbeat, not funny. Halfway into the flight our young neighbor decided how many times he could open the stowable tray table and then slam it back into the armrest. I proceeded to crank up the volume on my iPod some more.
The flight was very smooth and calming. The soothing sound of the RRs turning behind us and the deep blue Caribbean Sea and small puffy white clouds below made for a tranquil trip. The occasional yell and fuss from our neighbor didn't even faze me.
Before I knew it, we began our decent into SXM. You could see Anguilla off in the distance, then Sint Maarten! We then tuned for our finals and I tried my best to capture our approach.
Back on terra firm at 2:56PM EST, thirty minutes after our scheduled arrival time. We were finally, back in SXM! We taxied past the Air France A340 to the new Princess Juliana International Airport terminal, which is very beautiful and efficient. We spent only about 30 minutes total to clear customs and get our bags (which both made it) and didn't sweat our arses off!
I'll have the return leg written for a.net tonight, but in the interim, here are some photographs from Maho Beach: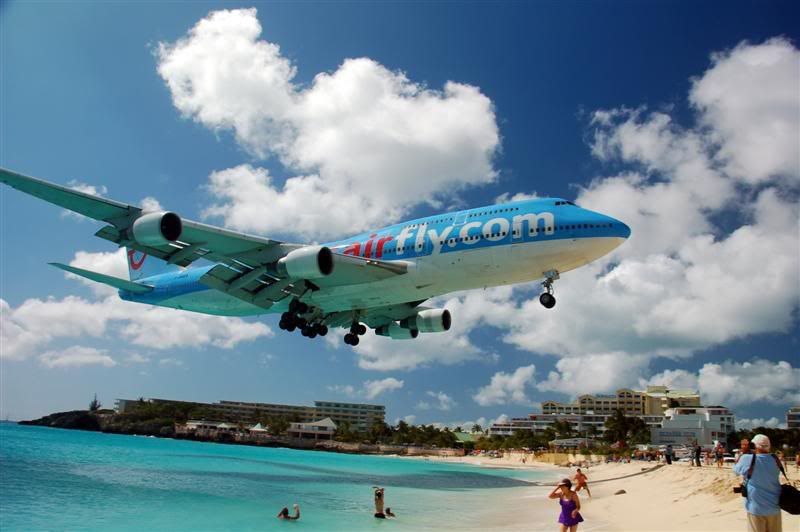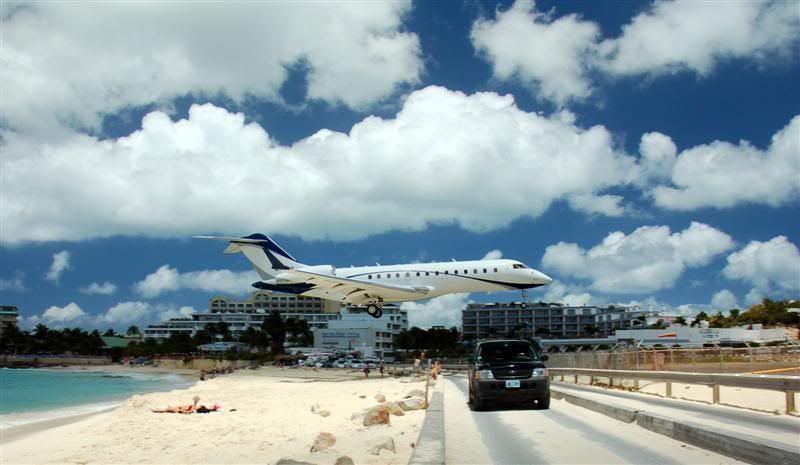 [Edited 2008-04-24 14:28:36]