United Airlines (Star Alliance)
Flight UA 839
First Class, Seat 4J.
Departure Date: February 17 2008 (10:28PM)
Arrival Date: February 19 2008 (8:05AM)
From: Los Angeles, CA, (LAX) International Airport
To: Sydney, Kingsford-Smith International (SYD)
Aircraft: Boeing 747-422, N197UA (delivered July 21 1997, MSN 26901/1121)
Distance: 7487 miles.
Gate-to-Gate Scheduled Duration: 14hr 37.
View Large
View Medium


Photo © Mark H
View Large
View Medium


Photo © Ben Wang
I arrived at 3pm after a flight on United from SFO (as a result of having a voucher on there, and picking the cheapest flight down). This meant I had a solid 7hr30 in LAX. After retrieving my checked baggage, I went up to the Premium check-in terminal to check-in. The line was really long and nothing was being done to shorten it. Once it was eventually my turn, the lady barked at me for being too early, with her collegue telling her that she could check me in.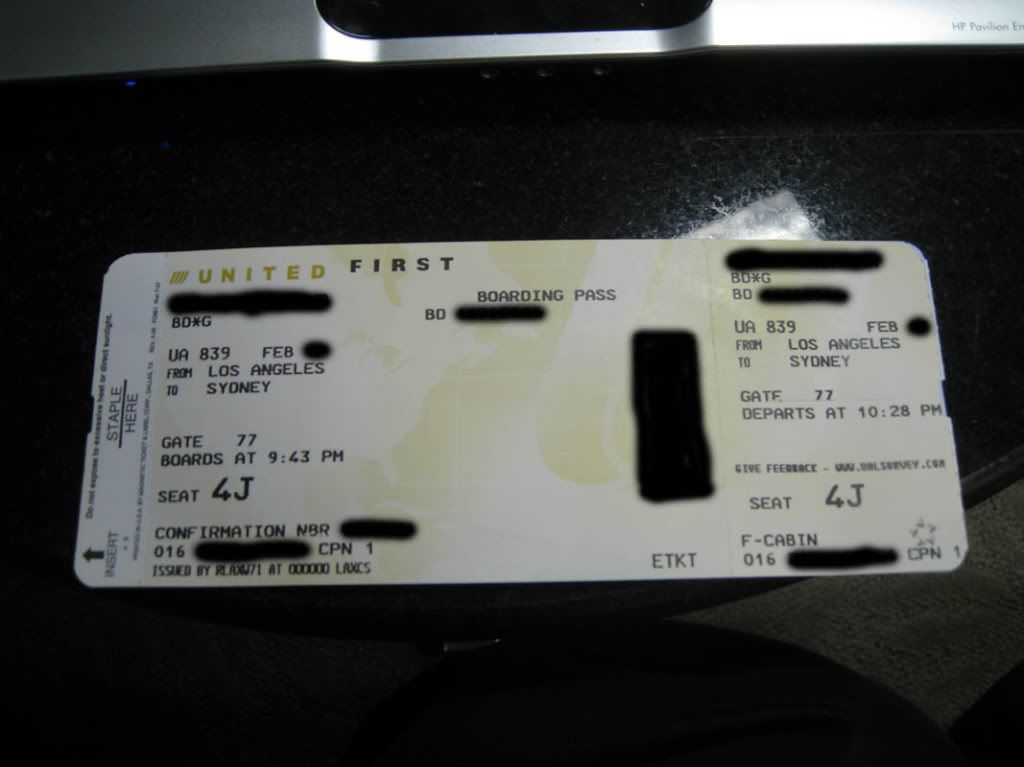 As my ticket was a fare error to Auckland via Sydney (found thanks to flyertalk), United had been unpleasant with me (& others) and annotated in my PNR that runway23=evil. I had aborted an Online checkin with UA, but had seen they were proposing upgrades to First for 689USD, a bargain in my eyes for a 15 hour flight. I asked the lady about that who screamed at me for even daring to ask, in her words "I knew that United was doing me a favour and that no upgrades/changes were allowed". That part was debatable as others on the same fare had upgraded (and I had changed return dates and even created a stop-over). In any case, I told her that I had to talk to people and would come back. Of course, that really meant I was going to the nearest hotel to checkin online. That day, the first van to come was the holiday inn van. Off I went to OLCI and buy the upgrade there. Two hours later I was back, unfortunately the lady was still there. My game of catch me if you can continued, with me heading back to the normal terminal and going to another agent (after a lengthy wait, but I didn't want to lose my 4J seat). After that was done, I was back to the other side to use the premium security, going past the same agent again (about the 7th time that day). I could see her talking with other agents about me. By that time, it was already 7PM and I had probably walked a good mile and a half just to avoid the unfriendly CS. United were really customer friendly in all regards.
After passing the communist checkpoint (my mistake only the TSA), I walked over to the International First lounge. Unsurprisingly, I was the first one there. More surprisingly, there was no free wifi, no computers and the dragon did not understand when I asked if there was a free internet voucher for t-mobile. There was however a good selection of beverages (including United labelled water bottles) and food (I was impressed with United on that point). I tried everything on display. Closer to boarding, the lounge filled up and the dragon went around requesting our Boarding passes and passports, which were stamped with data checked. This meant that come boarding time, I did not show ID at the gate (similar to a domestic flight). I found this a nice touch which other airlines could inspire themselves on.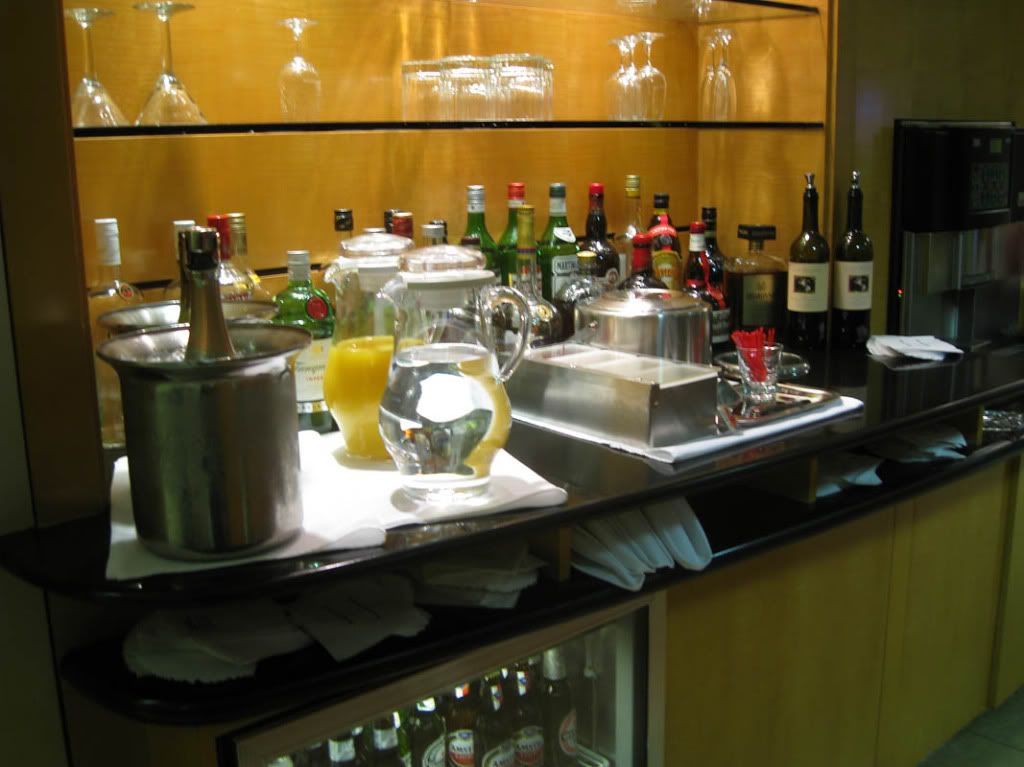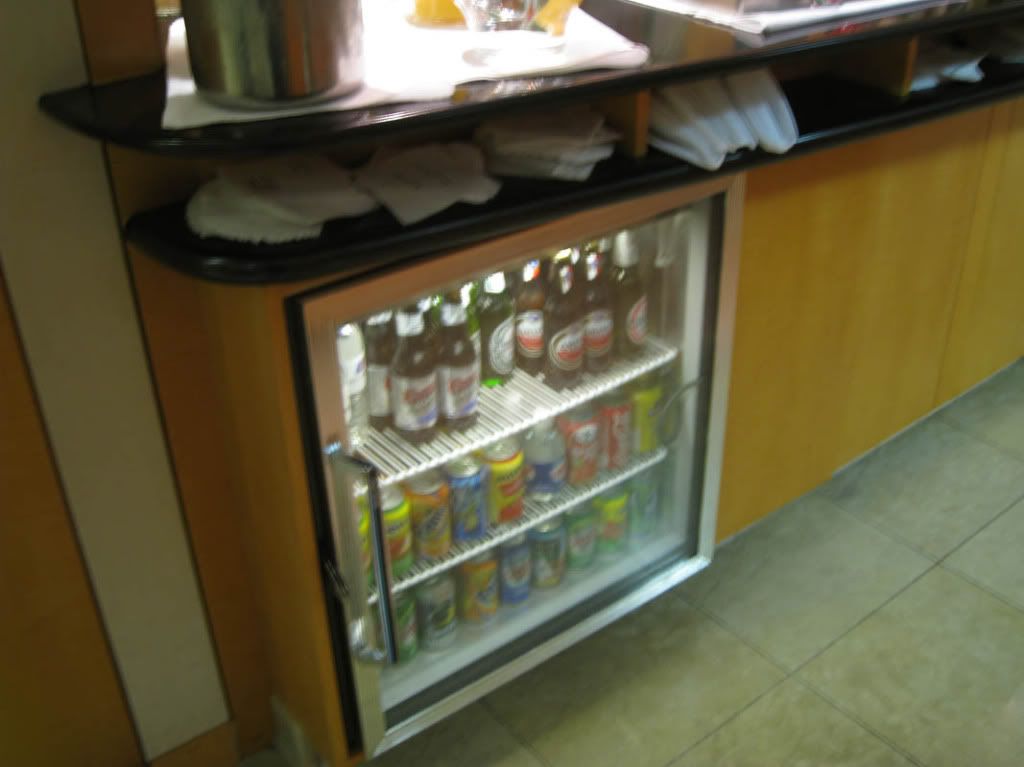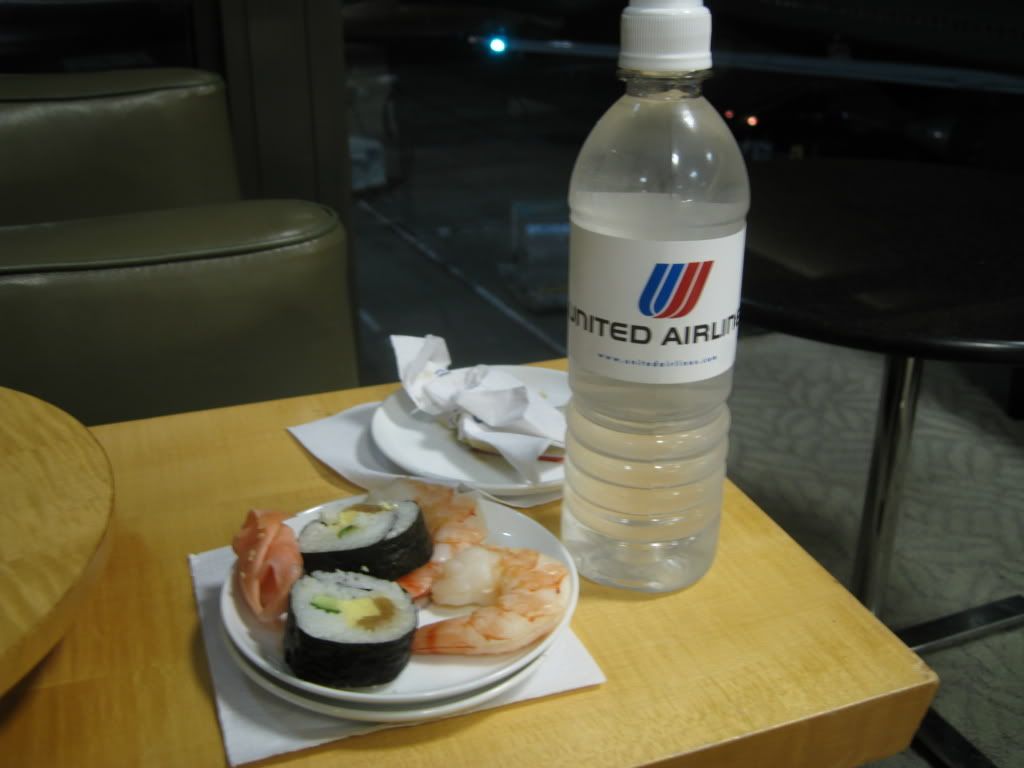 Boarding was 45 minutes prior to departure, and when I reached the gate at that time, boarding was already underway, I didn't wait though and was straight on the aircraft and to my seat. Menus were handed out, as were pre-flight drinks and museum style cassette videos (super8 type). Our departure was about 20 minutes late due to problems loading. In the mean time, I got comfortable with my suite.
Once we were underway, it was a usual departure towards the pacific ocean and directly on to Sydney from there (7450ish miles).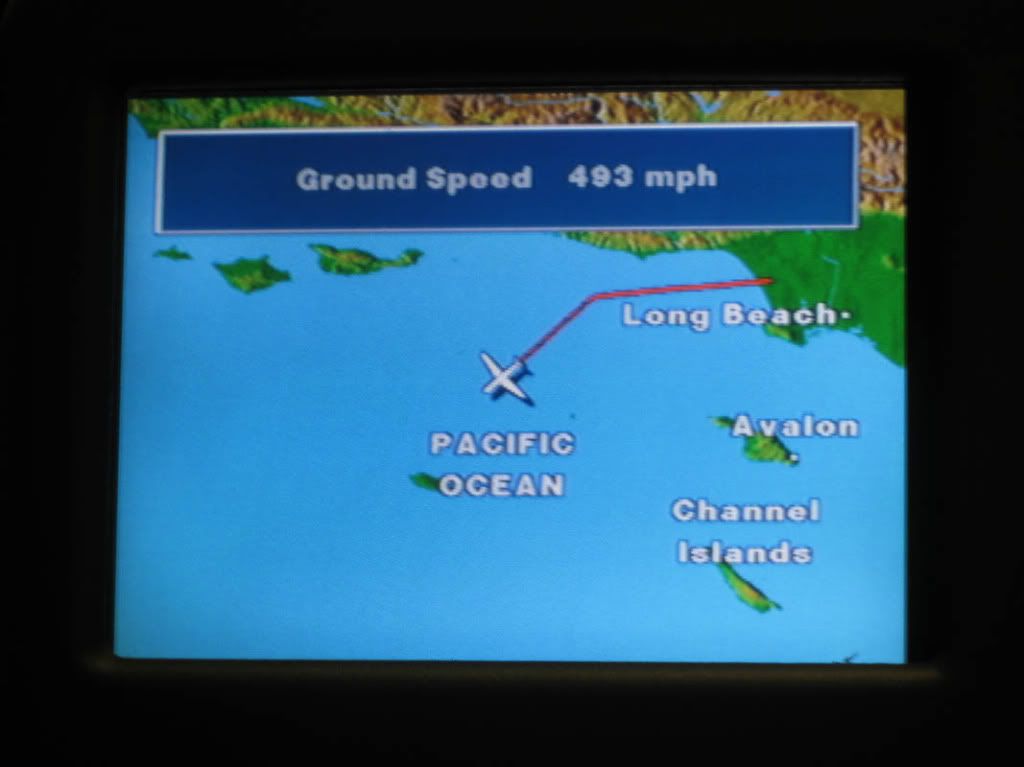 The chief purser's voice and accent (New York/Bostonish) sounded like Brad Garrett, whilst his assistant was called miss piggy. I don't like to slag FA's off, but she had trouble getting around the First suites and always bumped into each and every one. Both FA's were in their late 50's and the service left much to be desired.
For example:
"Hi, do you have "name of wine from the menu".
"no we only have red or white"
That was despite the menu having 5 red wine names on it and him having at least 3 red wines on his trolley.
Similarly, it was pointed out that we could eat dinner at any time, although it would be a lot more convenient to eat with the rest of the cabin. I found that a touch out of place, but I was hungry anyways. The seat itself was comfy and did what I wanted it to do (become a good bed).
Meal service started with a beverage choice (champagne for me), water and the usual nuts.
Following that a roasted tomato and red pepper bisque soup was served.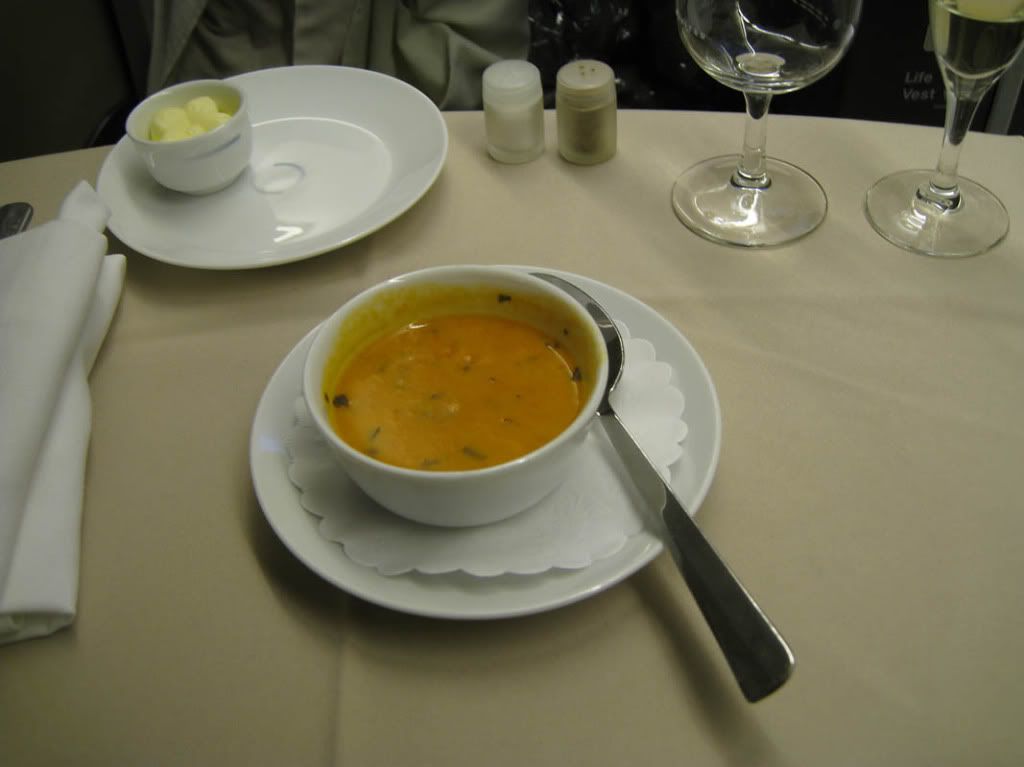 The following course was a Fresh seasonal greens with yellow bell peppers, red teardrop tomato, jicama and seasonal croutons with a choice of ranch or asian sesame ginger with a hot pan-seared herbed salmon. This and the salad tasted good.
The main course which I chose (from a choice of four) was a pan-seared filet mignon with bacon, crumbled blue cheese and green peppercorn sauce. This meal was good, except for the blue cheese which in my opinion did not really fit in.
The desert was then served. It was an ice cream with sundae toppings. Unfortunately, when you are used to what Continental or American serve you in terms of sundae's, United's did not really compare.
After the meal, a number of small (read poor choices) of snacks were put out. These included smoked turkey sandwiches, lay's chips, granola bars, chocolate and mini pretzels.
After the meal, it was time for me to sleep. I woke up about 9 1/2 hours later, somewhere half way between Noumea (New Caledonia) and Brisbane with 2 hours remaining.
A little while later, it was time for Breakfast. I was feeling a bit bloated and chose the fruit plate and yogurt. Admittedly, the whole thing was deceiving, small and tasteless.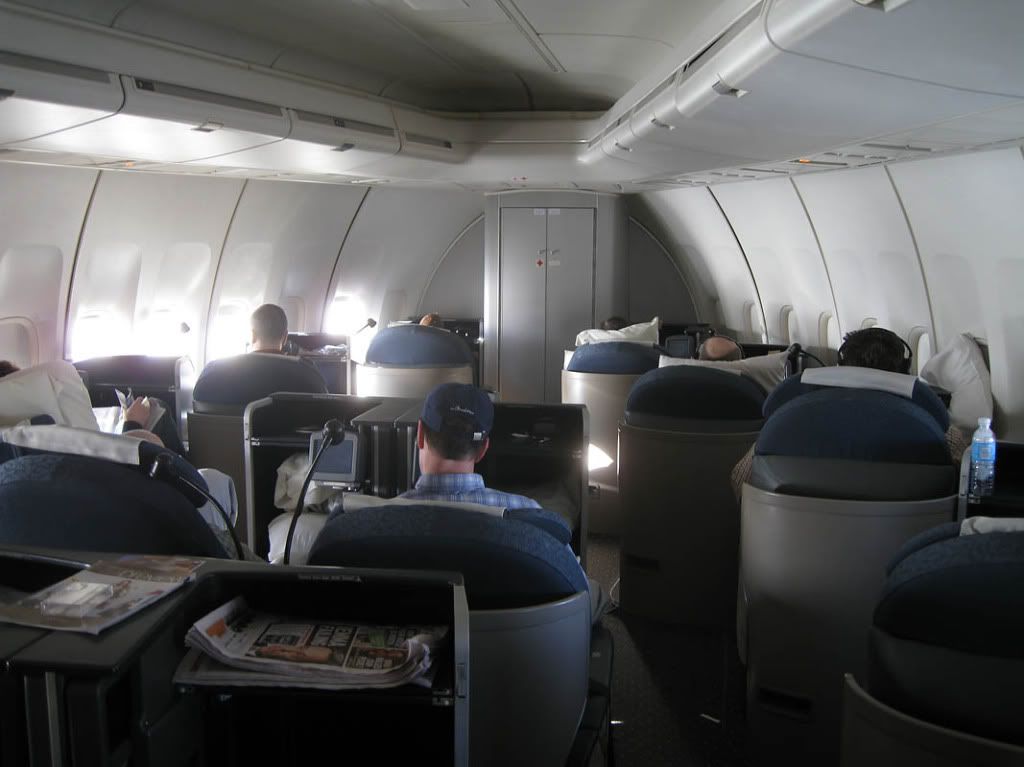 We began our descent and approach to Sydney, with a Virgin Blue landing parallel to us.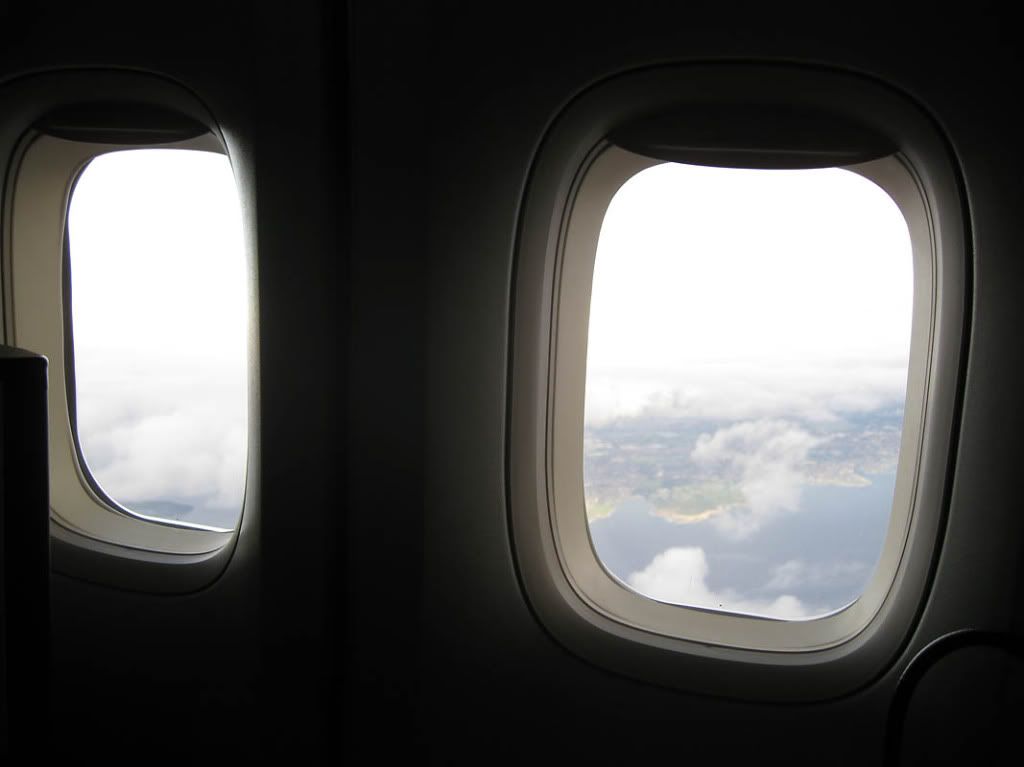 Once we arrived in Sydney, we were held back in the plane for 15 minutes as quarantine had to come and spray the aircraft against bugs, dragonflies, dinosaurs, pro-continental merger fans, rats and mice. Once that was done, we were underway and I went to collect my NZ boarding pass and walked to the opposite side of the airport where NZ departed from (and their lounge). That flight is for another trip report. I will be posting a video of the landing later on in this thread.
As a whole, United's first was deceiving in that the only difference was the seat. The meal was pretty equal to a business class meal and offered little more. The service aboard was poor (probably just the luck of the draw). The meals (except the breakfast) were good as was the lounge in LAX.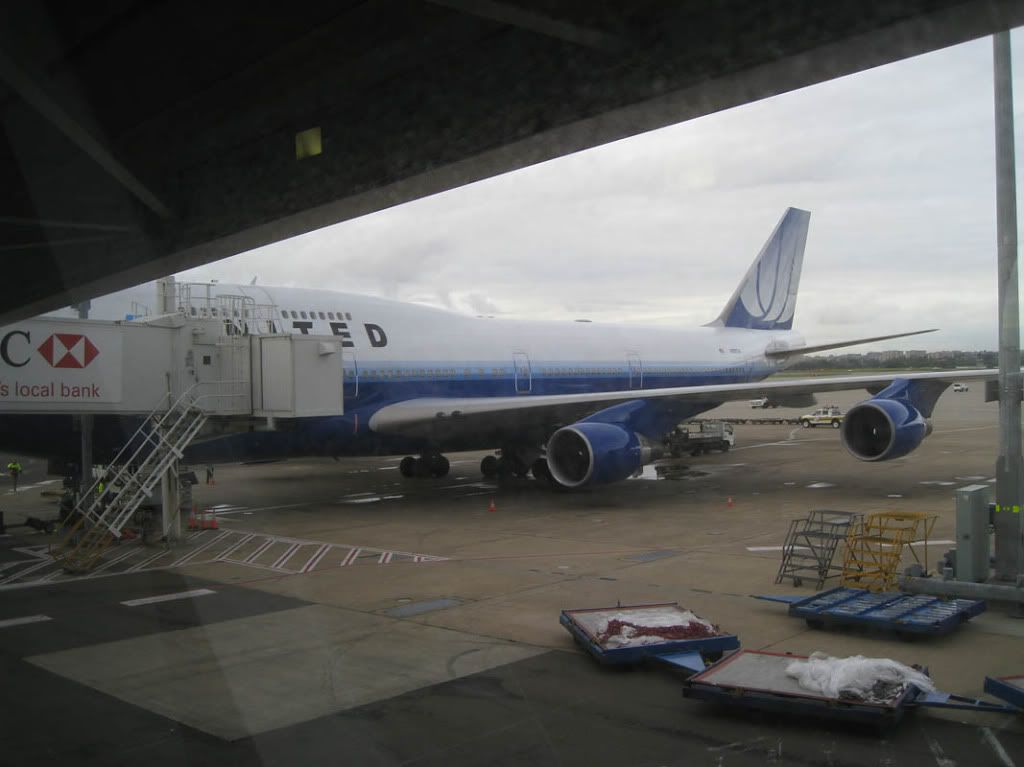 [Edited 2008-04-25 00:54:58]