Feedback always appreciated.
Trip Report: 045
Flight Category: J-ILR (See Report End)
Date: 24Oct-07
SDT/SAT/Delay: 0955/1740/10:45 hrs (Delayed by 1:20)
Flight:
Korean Air Lines KE 822
, 5042 miles
Routing: NAN-ICN
Aircraft: 332
Seat: Business, 9A
I > Background:
Ok, I am back! After taking a sabbatical from trip reports for 5 months, here is the first installation from a series of trip reports. Mid-August to mid-November 2007 saw the craziest of my travel plans. 69 flights totalling 175,028 kms on 35 airlines, visiting 49 airports in 34 countries in all 6 continents. And, here is the best part … all of them were part of a 4 month break from life … pure vacation, and pure food for the mind, body, and soul. Together, they mounted to 21/2 round-the-worlds that was truly insane. As usual, all long haul flights were on Business or First Class; short haul was on Economy Class.
This is definitely not the first Business class flight review of Korean Air. However, it is definitely the first review of the NAN-ICN sector which provides an insight on KE's long haul Asian product, and also on product positioning on the rarely discussed Oceania-North Asia market.
II > Pre-Flight:
a) Before Airport:
Korean Air provides an excellent hub-spoke system from their beautiful and efficient hub at Incheon airport in the outskirts of Seoul. ICN is a far cry from those of us who remember SEL. Though, I must admit that getting to/from ICN is so much worse than SEL.
Given the complicated routing, booking for this segment was done through my super awesome travel agent in Caracas. She is an angel and my life here in CCS would be a logistical nightmare without her! I was surprisingly issued a paper ticket (despite all being e-ticket stations, and the entire itinerary being on Skyteam) which was viewable online on the websites of CO, but not on KE. I called KE's toll-free number in the U.S. and procured ideal seat selections with ease.
b) At Airport:
Woke up at 08.00am for a short 10 minute drive to Nadi airport. Upon arriving at the KE line, I was greeted by an extremely unruly crowd of Koreans who had taken over all of the 6 open counters including the Premium check-in desk. There was this one guy who apparently led a group of small term investors and was checking in boxes that would put the Balikbayan boxes of the Philippines to shame. This random guy was driving traffic and I thought for a long time they were all flying J. So anyways, lets call him Mr. Korean Leader (MKL) decides to yell to coordinate queue flows and talk loudly as others fought to get into appropriate queues. Then, a random Korean woman comes in and talks to MKL and he allows her to proceed to check-in. After she is issued a Y class boarding pass (its been like 30 minute of waiting by this time), I start figuring out that the "J" line wasn't really for premium passengers … so ignoring the clearly bullying commentary in Korean, I push myself past MLK to check-in where I am greeted by a super incompetent KE manager who has no excuse for MLK's behaviour. When questioned on whether he or MLK was in charge of queue management, he gave me a blank stare and looked confused. Additionally, he had a hard time changing my FFP number to Delta from Air France?! How the hell did Korean send him to Nadi to be the airport manager. GRRRR. Anyway, after the 45 minute ordeal, I got my boarding passes and headed to the immigration and security.
After a relatively painless immigration and security, and a lacklustre Air Pacific lounge, I went to the boarding area to witness even more chaos. KE Nadi does not have a remotely logical boarding process. There is no priority to J class passengers and absolutely no zone based boarding. So as soon as boarding was called, everyone rushed to the gate and there was much pushing and shoving from the mainly Korean clientele. I have been to over 120 countries and never had I witnessed such a farcical boarding process … especially disappointing as KAL is trying to move upstream with its products and services.
Anyways, I gave up on trying to board early and waited until everyone had boarded. When last call is made, I gently went to the KAL airport manager (the same check-in dude) and politely asked him if he had heard of sequenced boarding and/or J boarding first … this dude has the nerve to tell me that Korean Airlines has a system wide policy NOT to give priority boarding at any airport outside Incheon. HAHAHAHAHAHA! Anyways, I took his name and moved on … as all I wanted at this point was my welcome drink. Boarding happens through outdoor gateways and I am welcomed on board the beautiful 332 by two FA's in KE's striking new uniform. I super appreciated the cold water bottles placed on our seat and the immediate welcome drink order. The aircraft cabin was hotter than the Sahara and its always not comforting when the engine starts giving out black smoke (see pic)!!! Apparently there was some engine issue. Throughout the whole thing, the pilot made no announcement on the smoke and never apologized for the subsequent hour long delay. Uugh. J load was around 60%.
Airport - External:
(Nadi Airport)
Check-in:
(Super Chaotic)
Airport - Internal:
(Check-in area)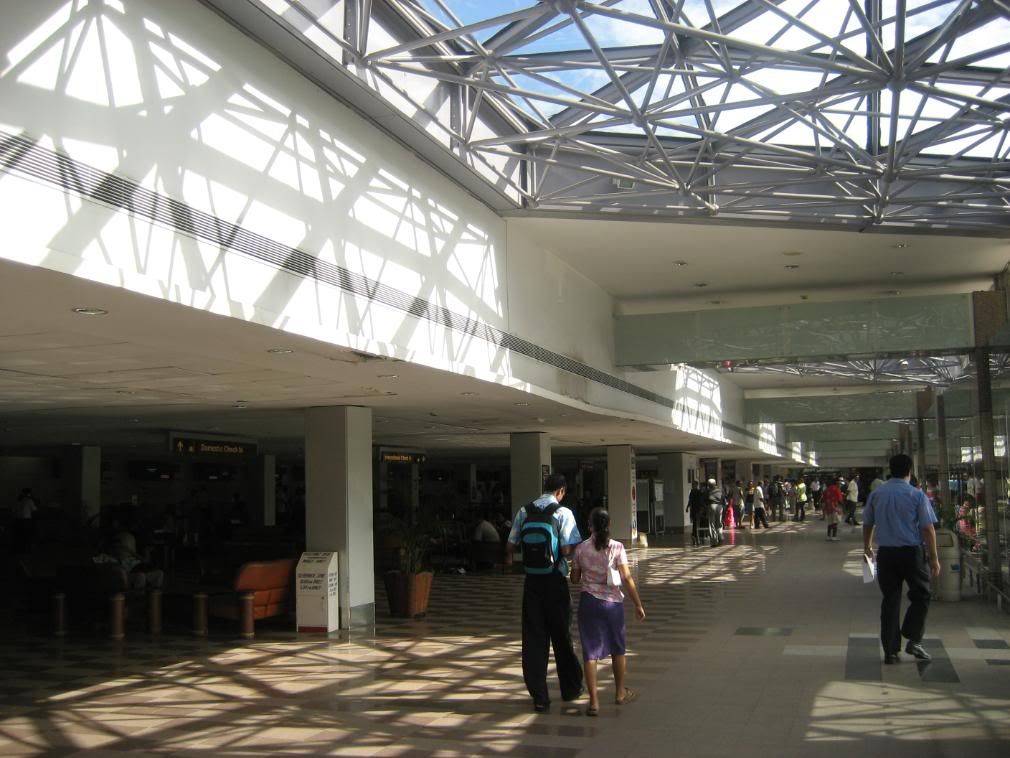 (FID)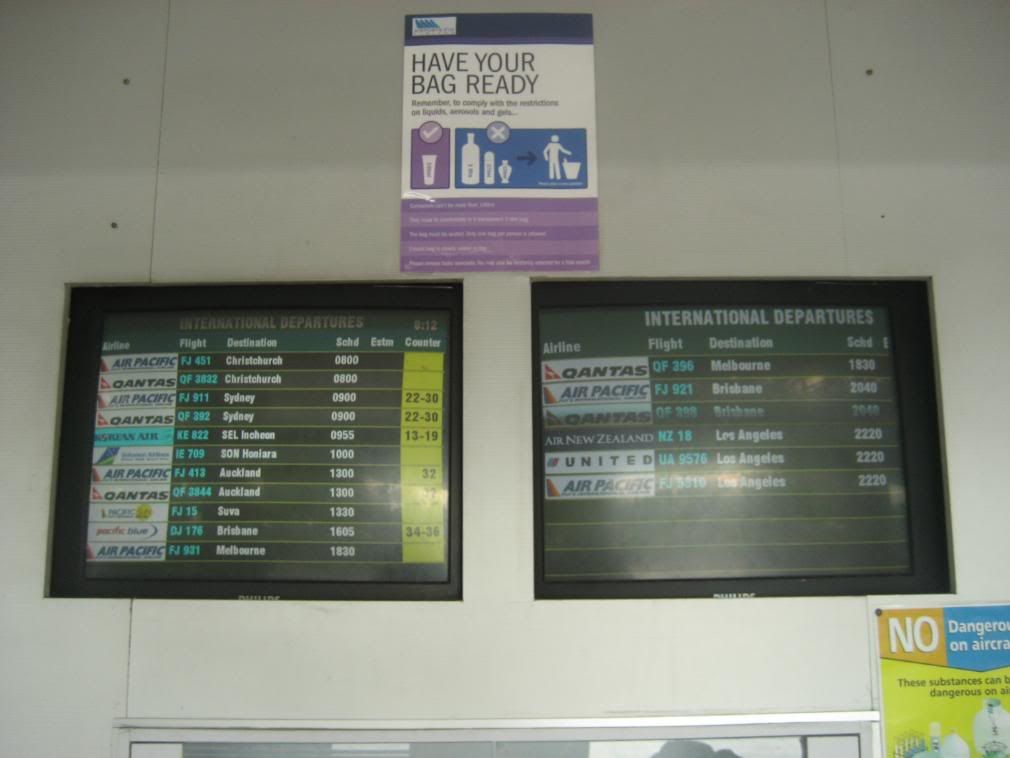 (Post security and immigration duty free)
Scenes of the tarmac:
(FJ 744)
(FJ 763 and 738 – the entire international fleet type)
Lounge
(Entrance to the Tabua lounge)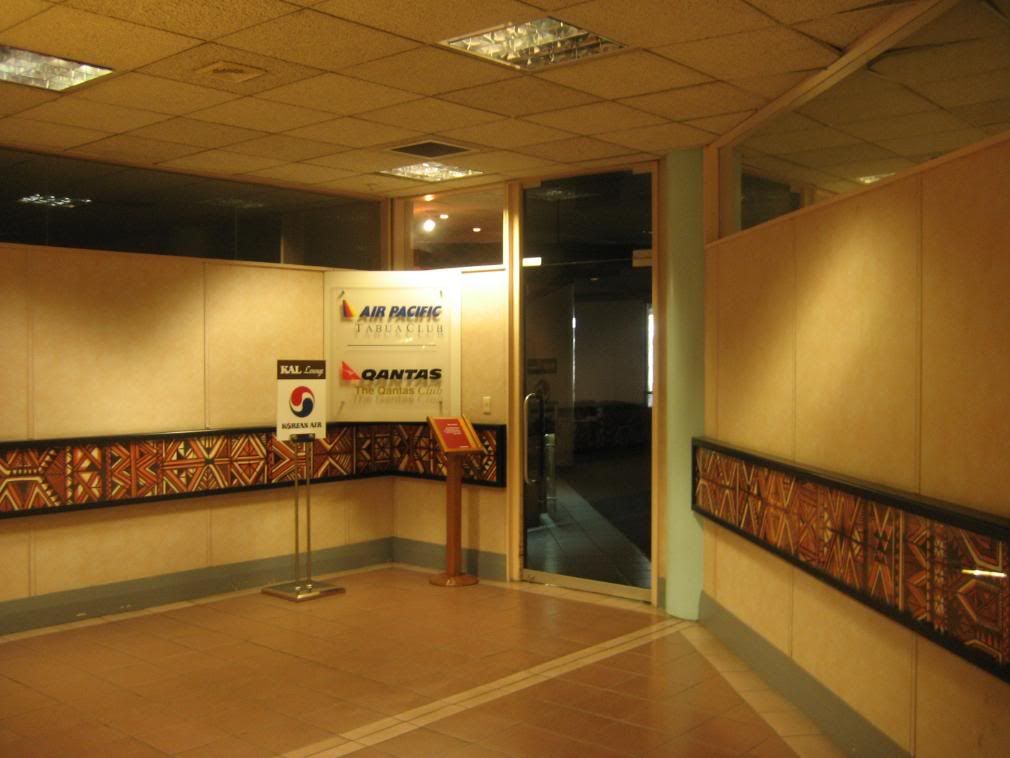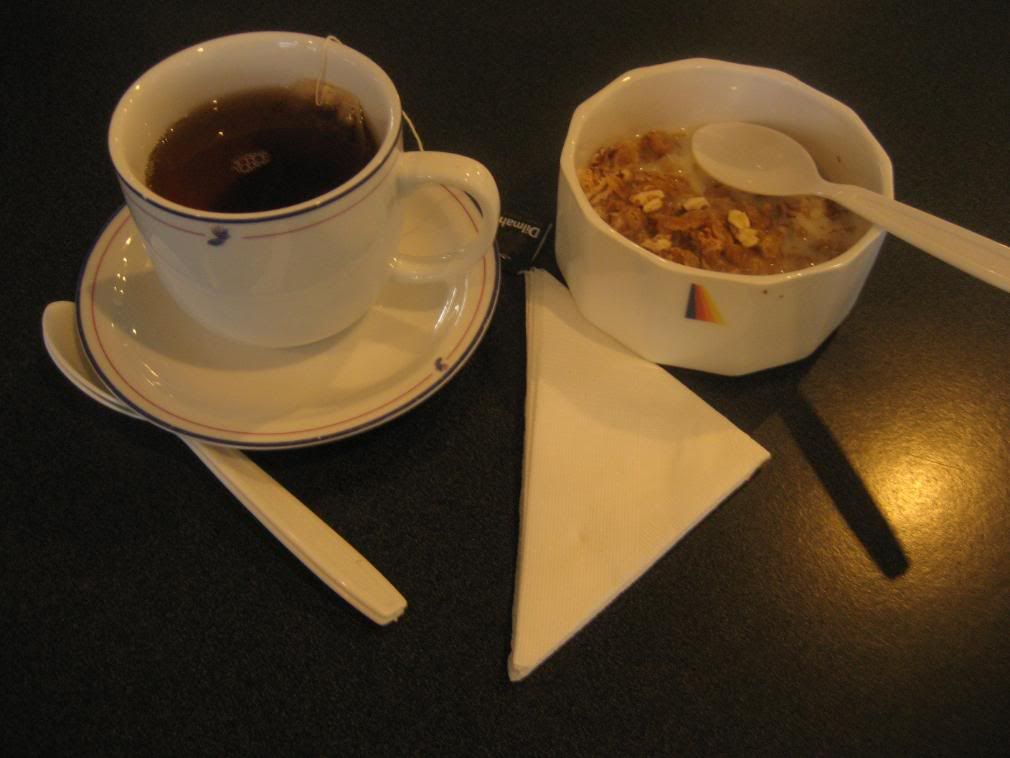 (A nice touch – a shower)
Boarding:
(Boarding area)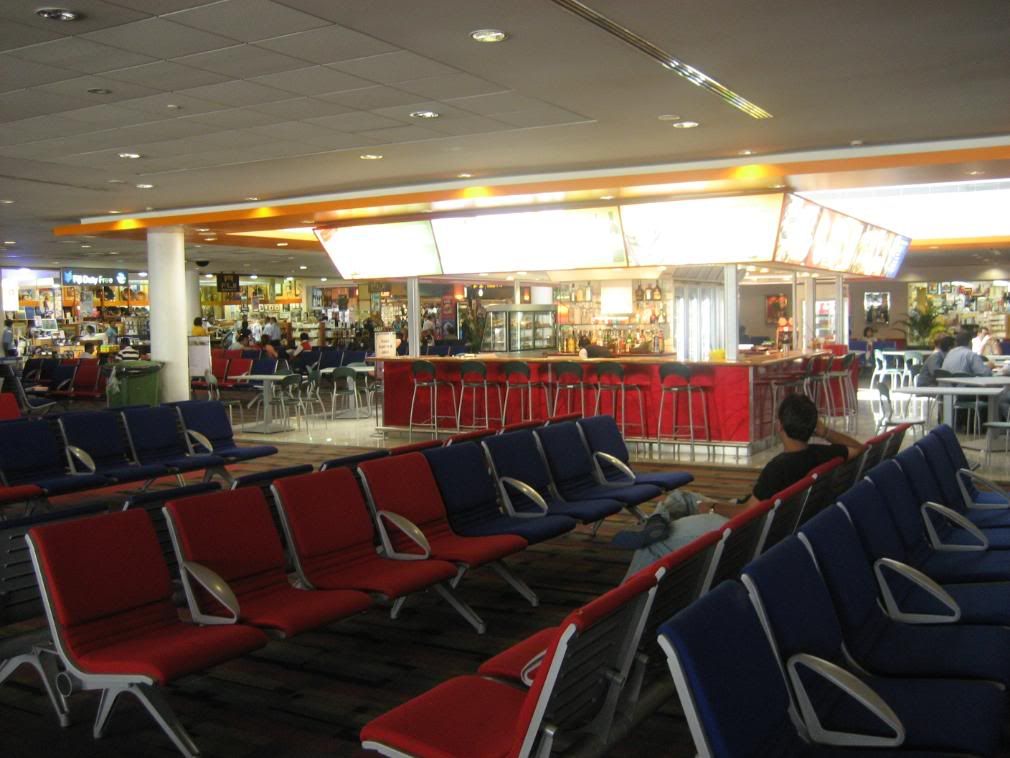 (Chaotic boarding)
III> In-Flight:
a) Service Schedule + Impressions:
Drink at take-off. Hot towel post take-off. Brunch service and a lunch service.
b) Aircraft + Seats:
Korean's 332 are configured in old style J seats. I can understand that lack of competition on primarily leisure routes such as NAN-ICN can lead to complacent cabin offerings … but these old style seats are also the norm on the 772's that I flew on BKK-ICN and ICN-AKL routes which are long … and which I assume generates significant premium traffic.
The 332 is a beautiful aircraft and I am always impressed by the sense of space in the aircraft. KE has maintained the aircraft well – it was clean throughout and the bathrooms are especially well maintained. Alas, I wish I could say the same thing about the J class seats. For a 10 hour 45 minute flight, there is absolutely no reason why a "premium" airline cannot have flat beds in J. Why am I paying up the wall for these crappy seats? They are made of crappy cloth, and the recline is mediocre at best. The only saving grace was the super generous pitch. C'est la vie.
Aircraft:
(I LOVE KE's colors)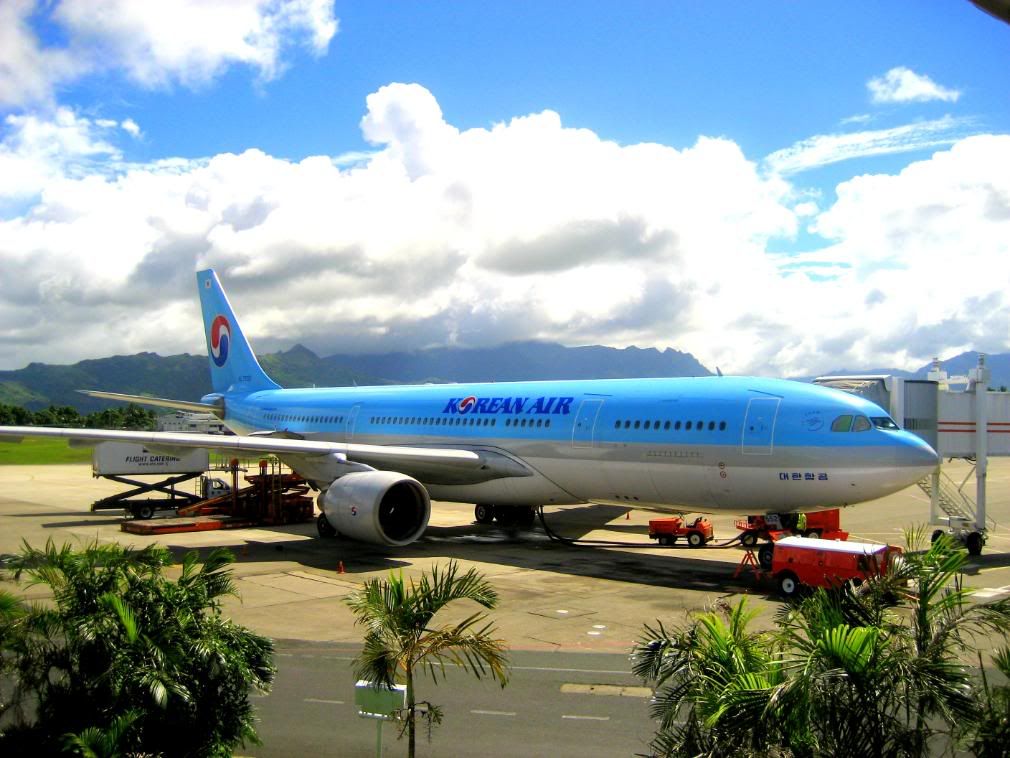 Views from Aircraft:
(No idea what the source of the smoke was)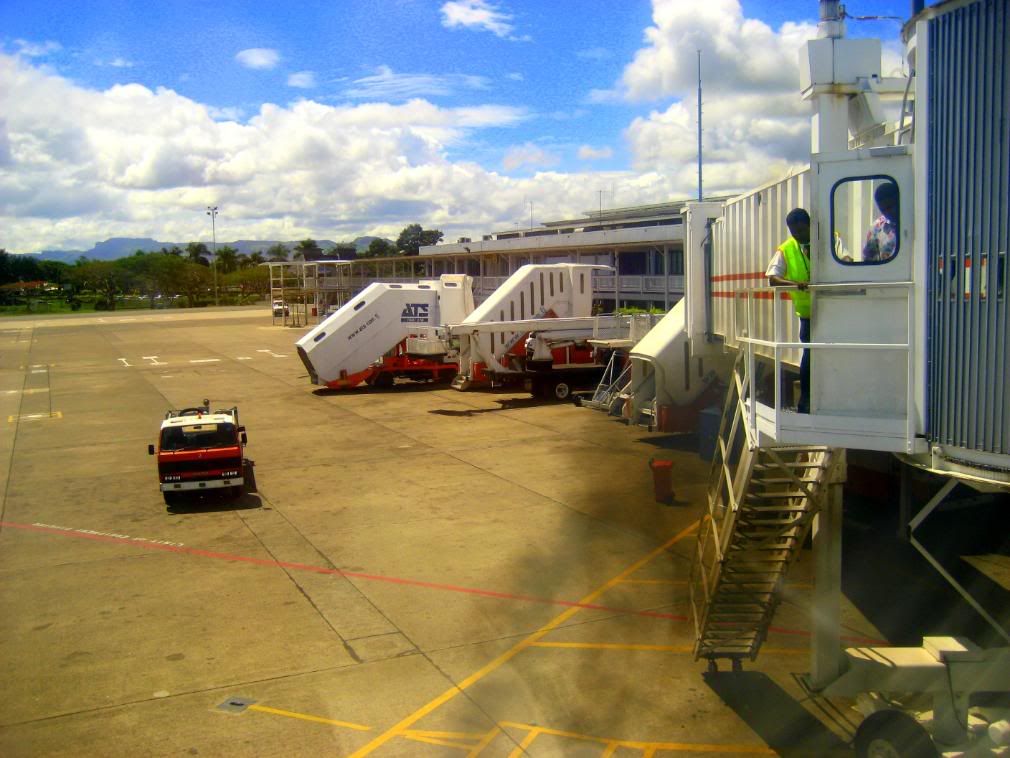 (Nadi airport)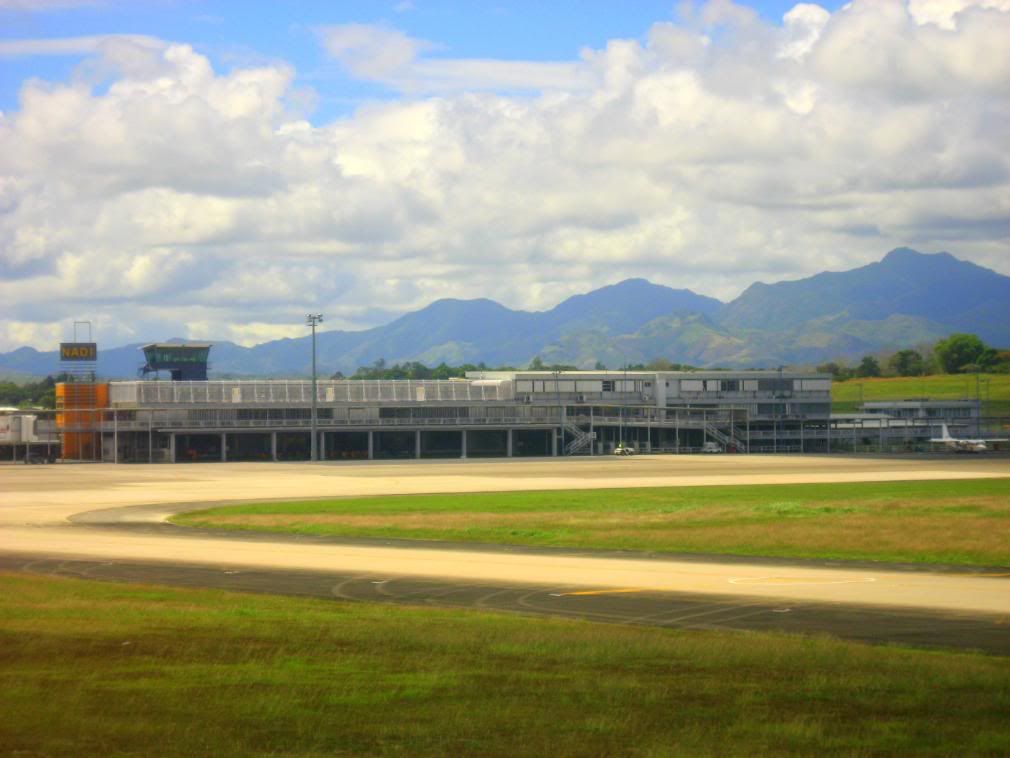 (FJ)
(Goodbye Fiji – interesting country – not my thing – I am not a fan of resort after resort after resort after …)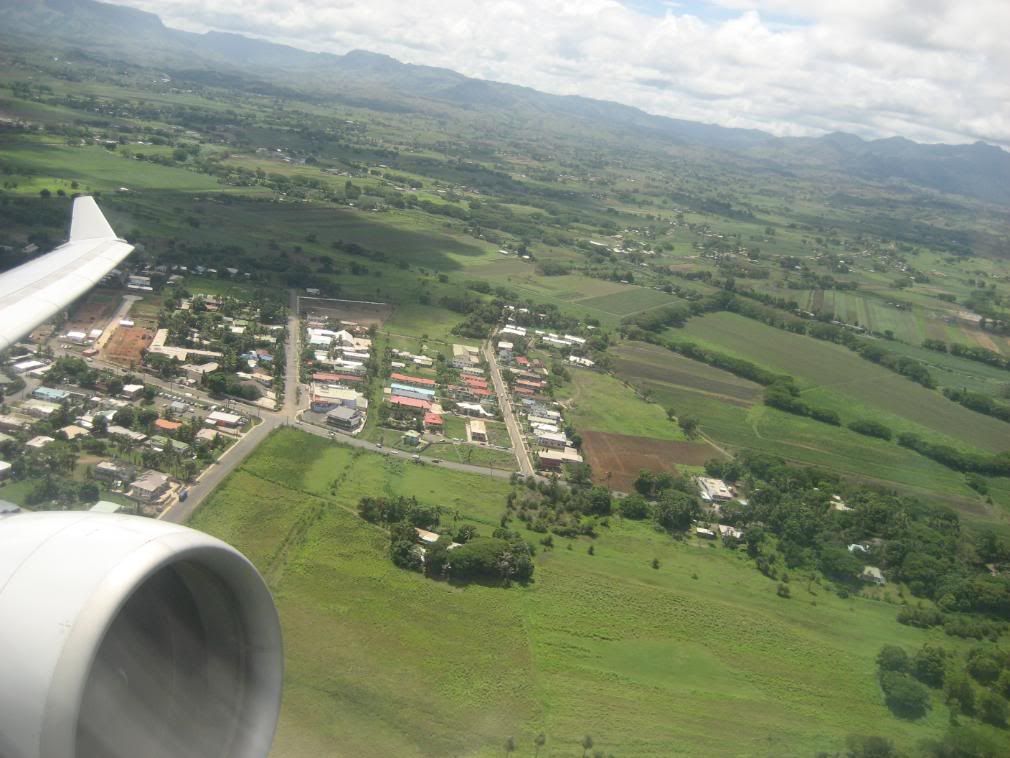 Seat Leg-Room: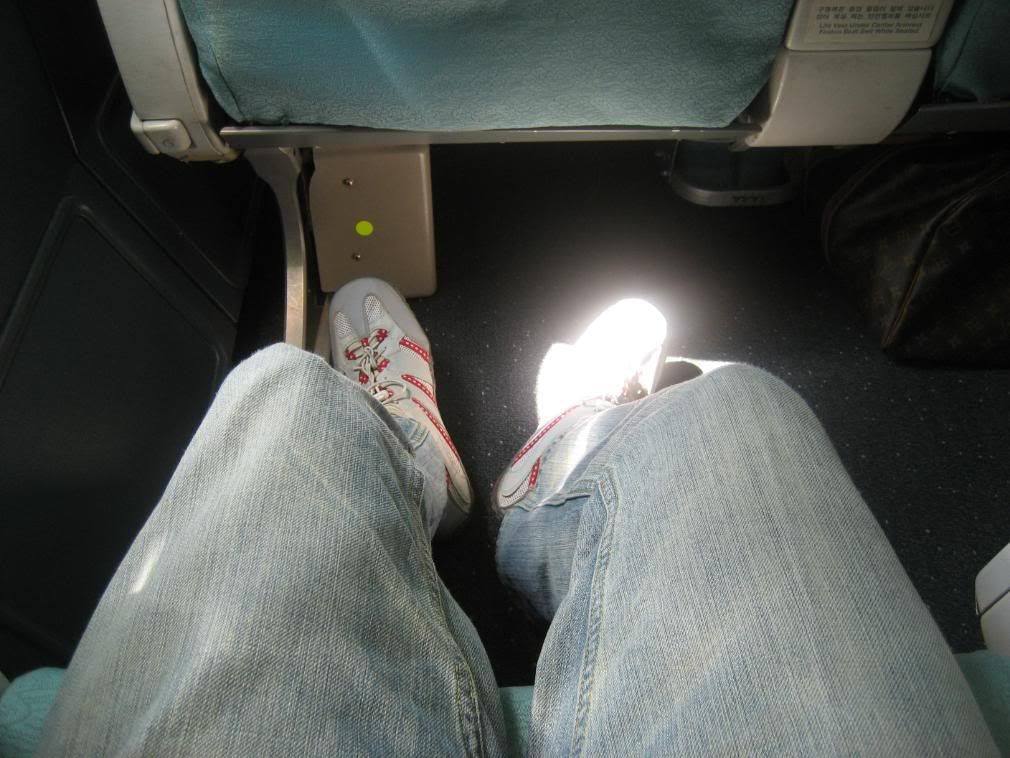 Seat Recline + Angle View: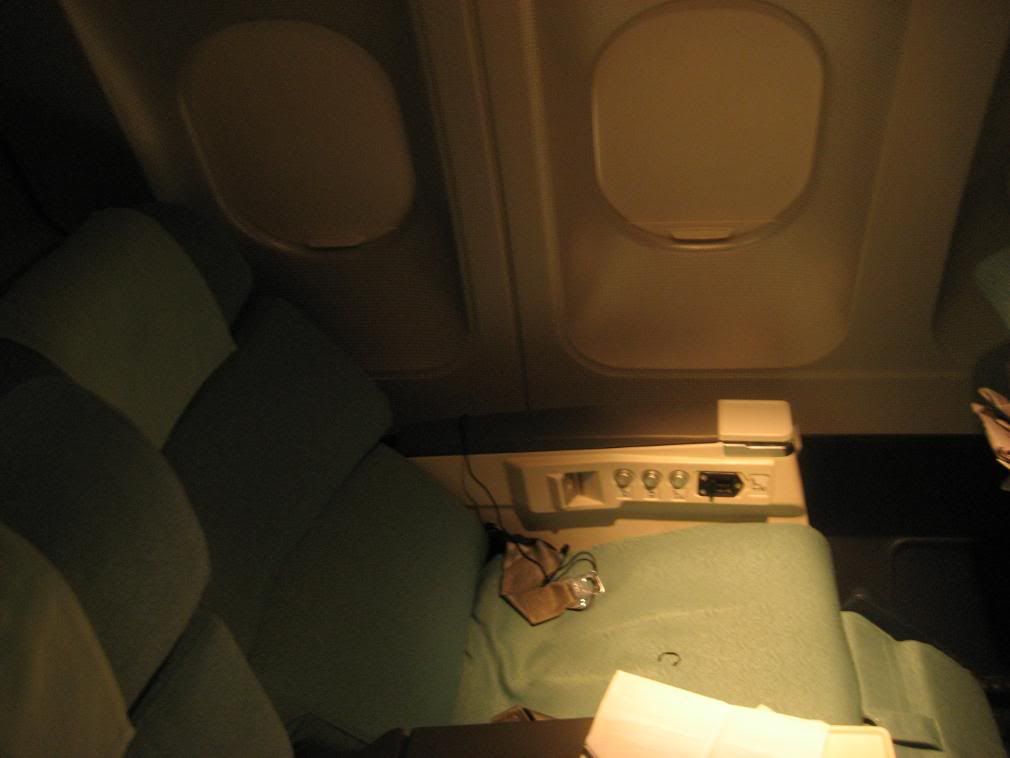 Cabin: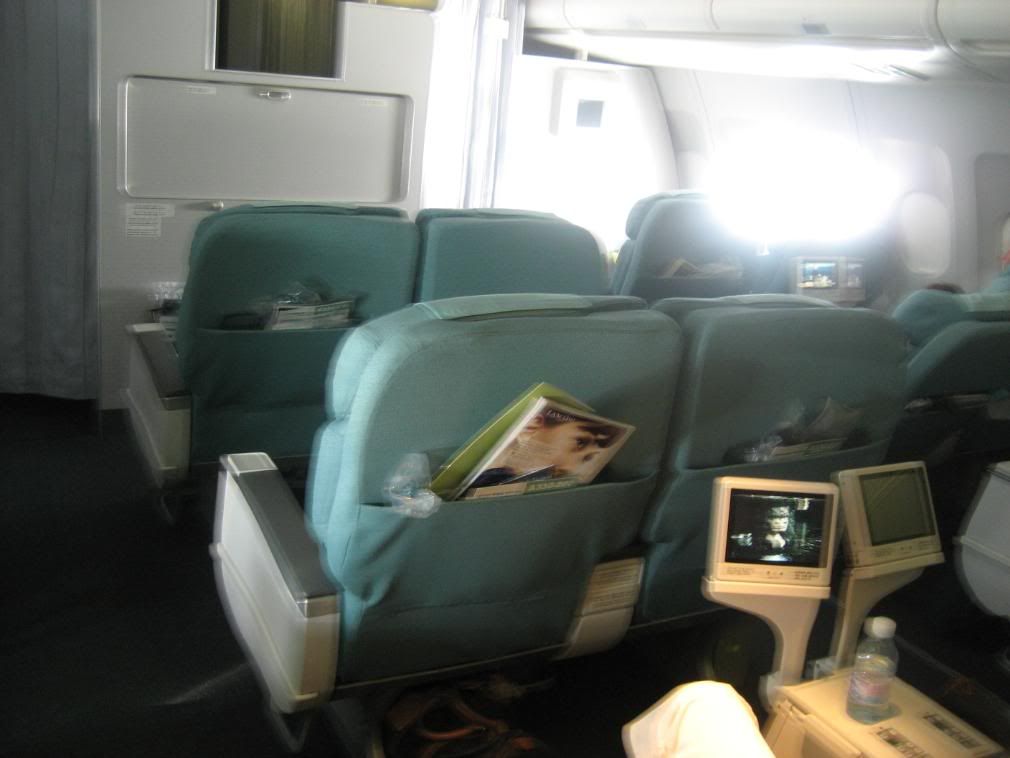 (Old school)
c) Meal + Beverage:
Korean Air had 2 meal services on this flight. A brunch service an hour after take-off, and a "lunch" service an hour or so before landing. Throughout the time, you can also avail of the snack bar located in the front galley for snacks and refreshments.
For my brunch (see menu for options), I had the fresh seasonal fruit accompanied by yoghurt. For my main course, I chose the rather filling Pork wonton noodle soup – which surprised me by the sheer quantity as well as the taste. Along with my soup, I had a rather stale croissant … but overall, a pretty decent meal that kept me filled until "lunch."
In between the meals, and while watching IFE, I also was able to get some of the excellent KE guava juice and crackers … enough sugar to keep me going. An hour or so before arrival, "lunch" was served. This included an interesting asparagus and prosciutto roll – which was as unappealing as the weird shrimp pre-drink starter served by AC on its transpacific flights. Some airlines should just not experiment! Both the soup and the appetizer were good. Of course, one of the three main courses was the Korean "bibimpap" … and of course, I chose it. Uugh. Why do I fall for it each time? But seriously, as I have complained before, as much as I LOVE "Bibimpap", I really hope KE got a little more creative with their food options. I have had "Bibimpap" on 10 KE J flights this year. Korean food is so diverse and there could be so many exciting things that Korean could present. Despite the unimaginative menu, the actual "Bibimpap" as always was excellent. Finishing it off, was a uninspired cheese trolley and a very limited dessert option. All in all, pretty good … but MUCH room for improvement.
(Welcome drink – refreshing guava)
(Menu Options)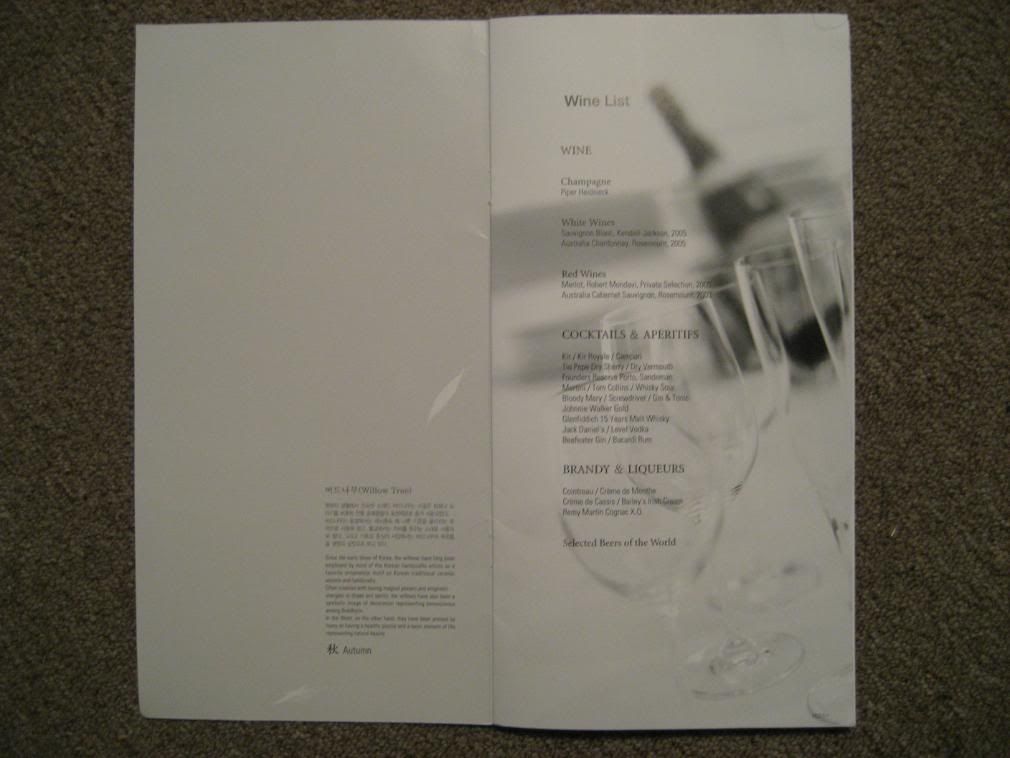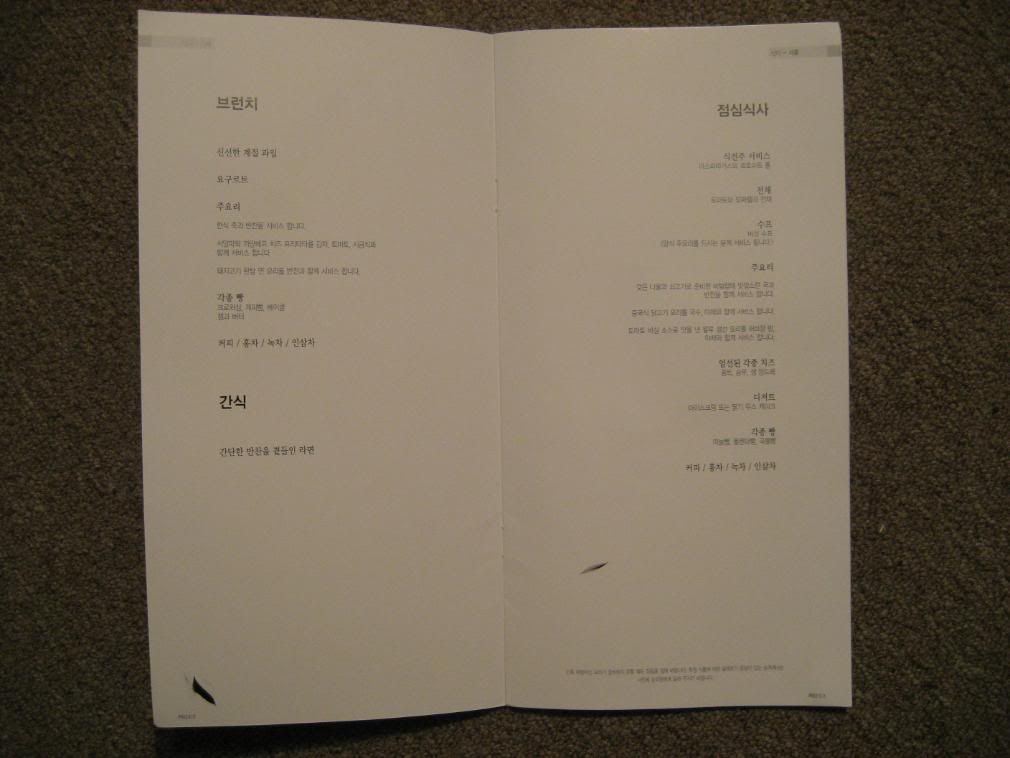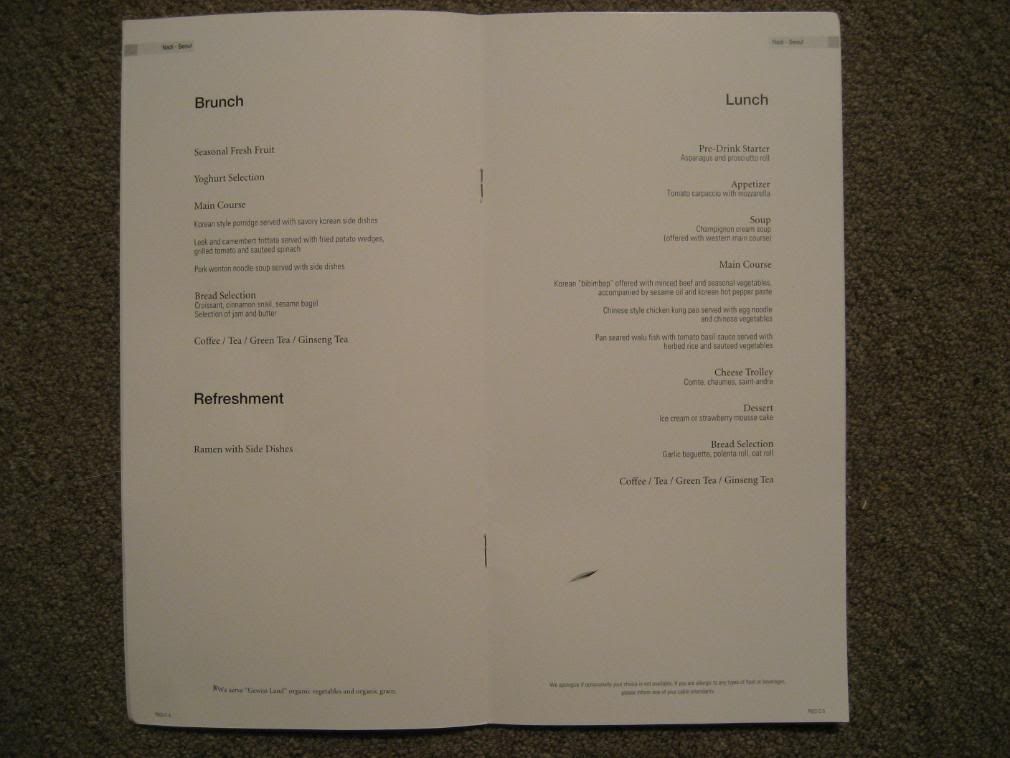 (Brunch)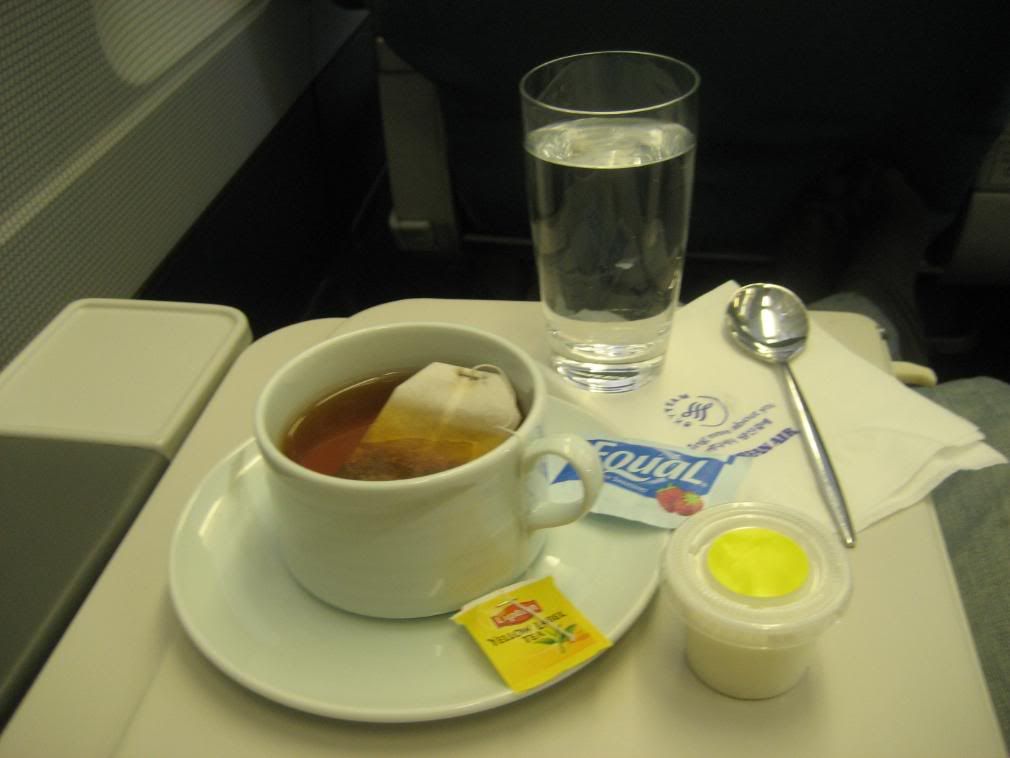 (Lunch)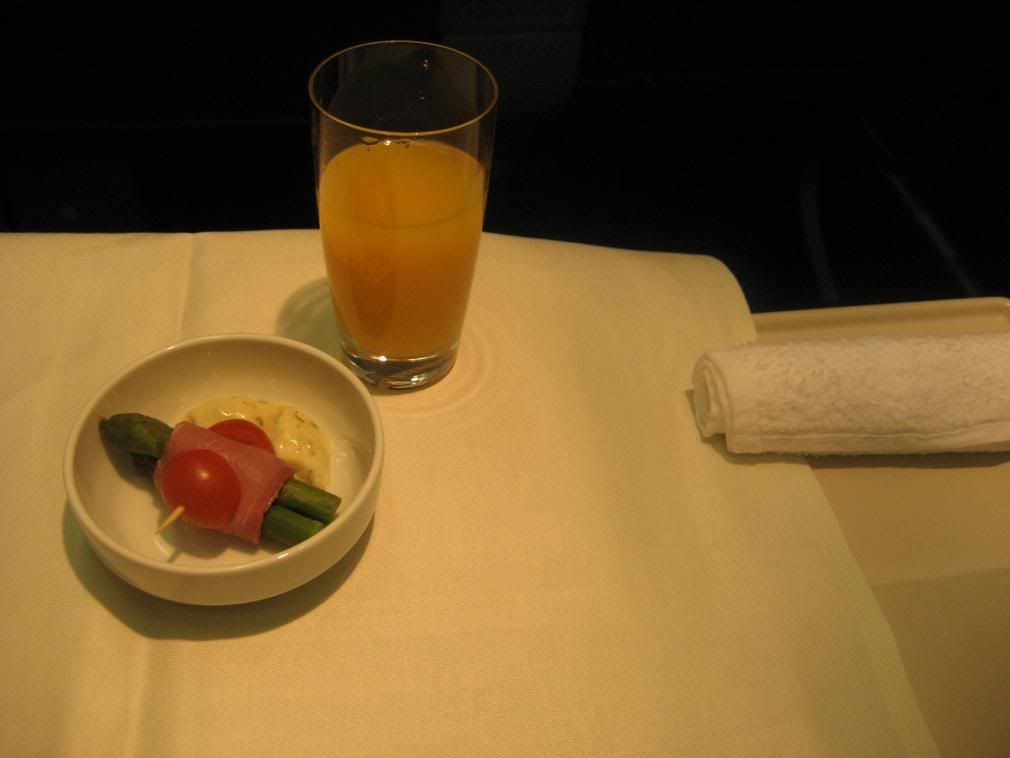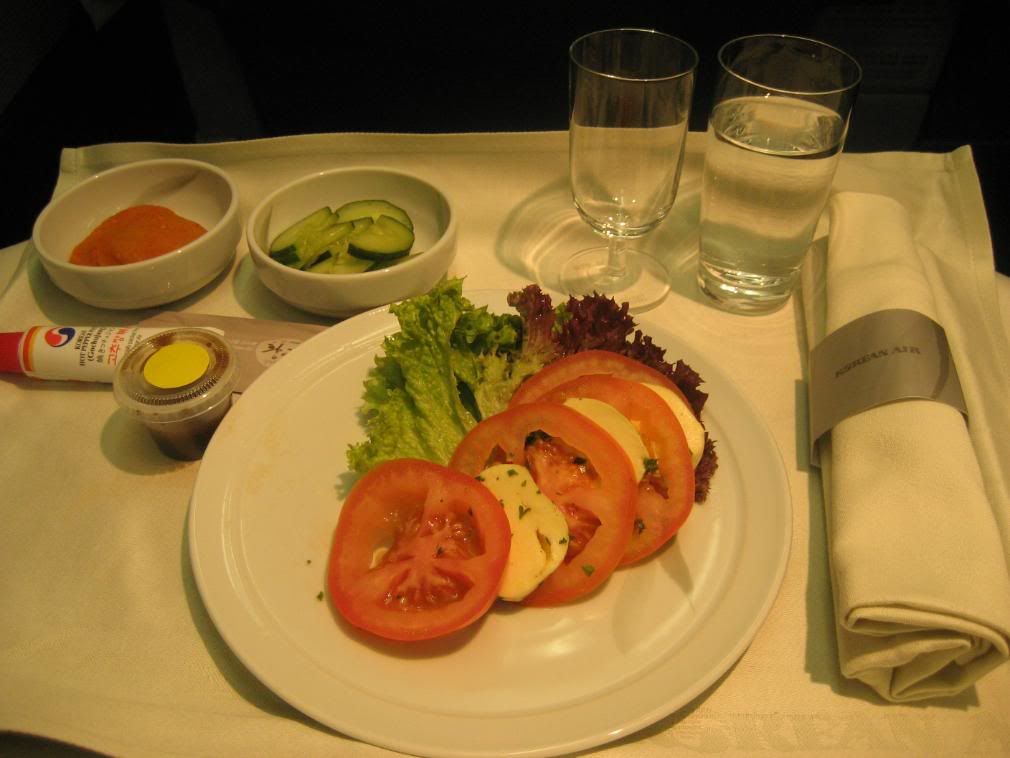 (The famous BIBIMPAP)
(Drinks at arrival – something with honey)
d) Inflight Entertainment:
Old style uninspired IFE left me uninspired as well. Very limited selection of movies (10) played on loop is not my thing. Worse, the selection of movies were outdated, irrelevant, and just bad. Thankfully, I had my iPod and the always excellent MORNING CALM magazine which calmed from an overall poor product offering. And, what is up with the cheap headphones?
(Outdated IFE)
(Outdated IFE controls)
(Movie and snacks)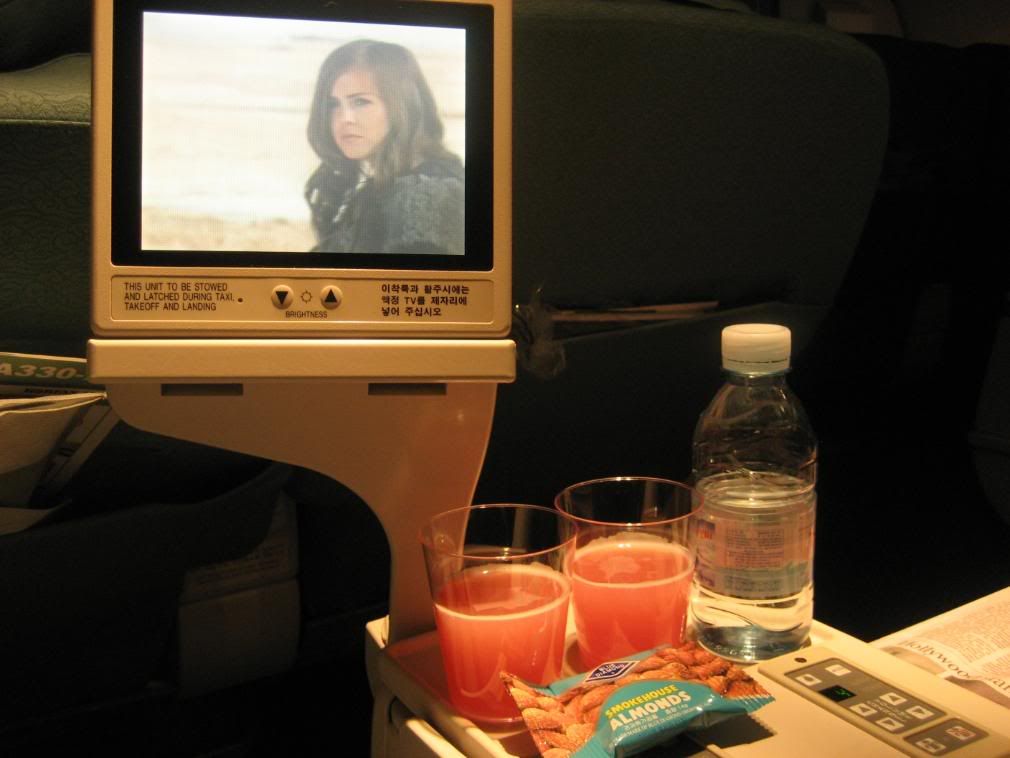 (In-flight magazines, Boarding Passes, etc.)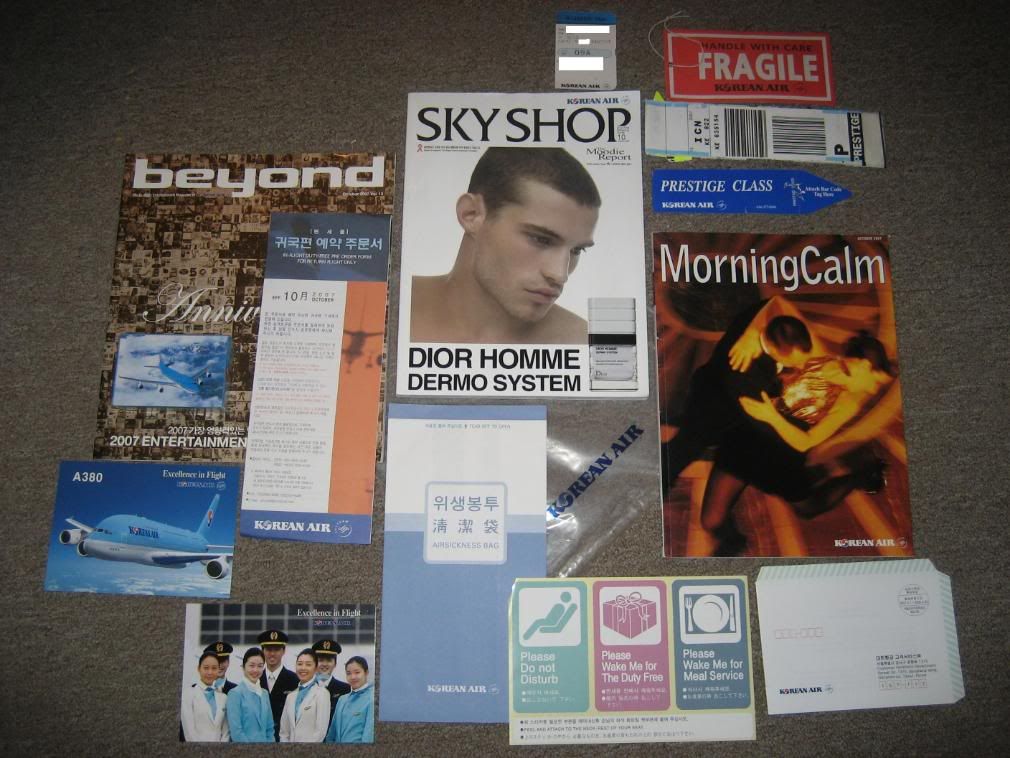 (Boarding Pass)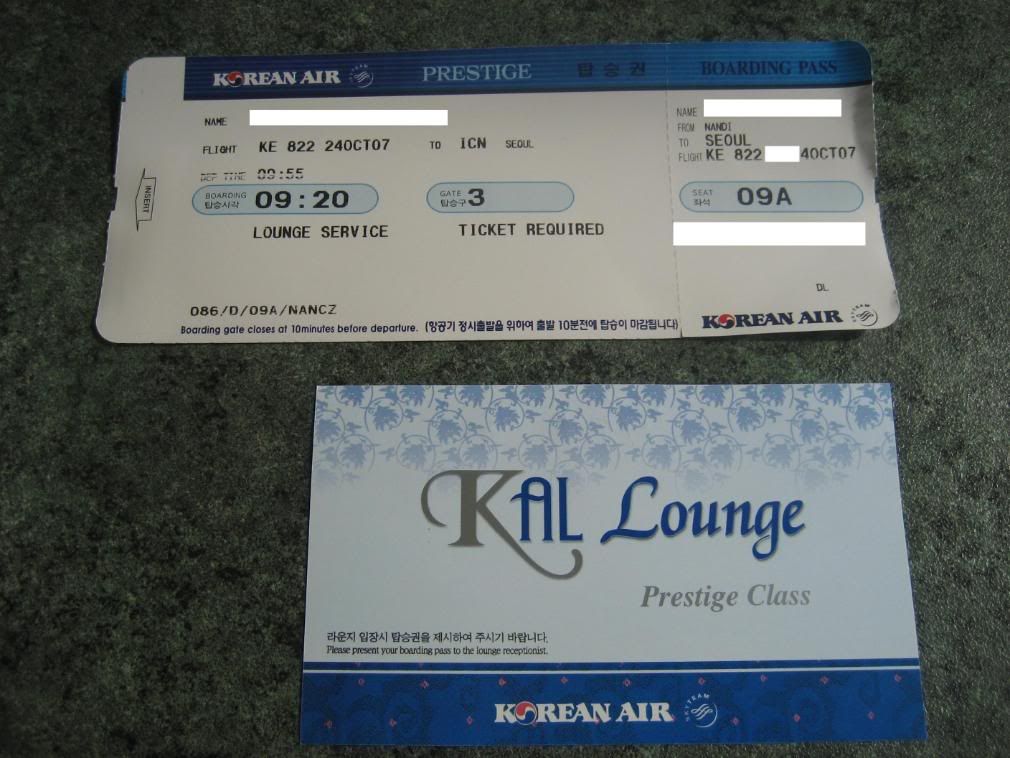 e) Crew:
Probably the highlight of an otherwise mediocre flight. They were charming and radiant throughout and always willing to be on call. Best part is how they handled an interesting situation. So, in the seat in front of me was a super obnoxious drunk Australian who insisted on turning around and sitting on his chair and unfurling rather obscene language. The rather "docile FA's tried to calm him down and were constantly talking to him and asking him to sit down and just handle things gently. Since he was on the seat in front of me and was bothering me most, I went up to him and basically told me if he didn't shut up, I would file charges and have KE security wait for him at ICN. Clearly that freaked him out, and he restrained himself for the rest of the evening on the flight. The FA's were "won over" my behaviour and I was treated like a "knight in shining armour" for the rest of the flight. Each of them came up and thanked me in the end. As a token of their appreciation, they made me a KE gift bag … which included all these cheesy gifts they give to children … but it was sweet and the thought is what matters.
IV> Post-Flight:
Touchdown in Incheon was perfect and I was soon waiting for my bags after clearing a super efficient immigration and disembarkation procedure.
(Landing in ICN haze)
(ICN Traffic)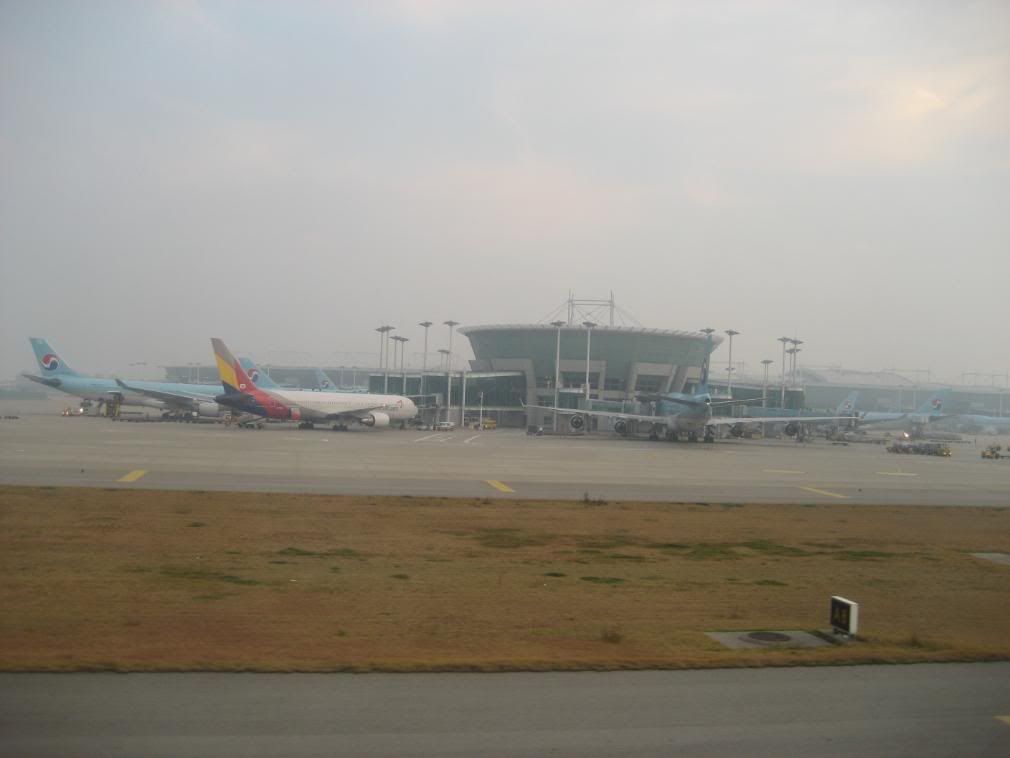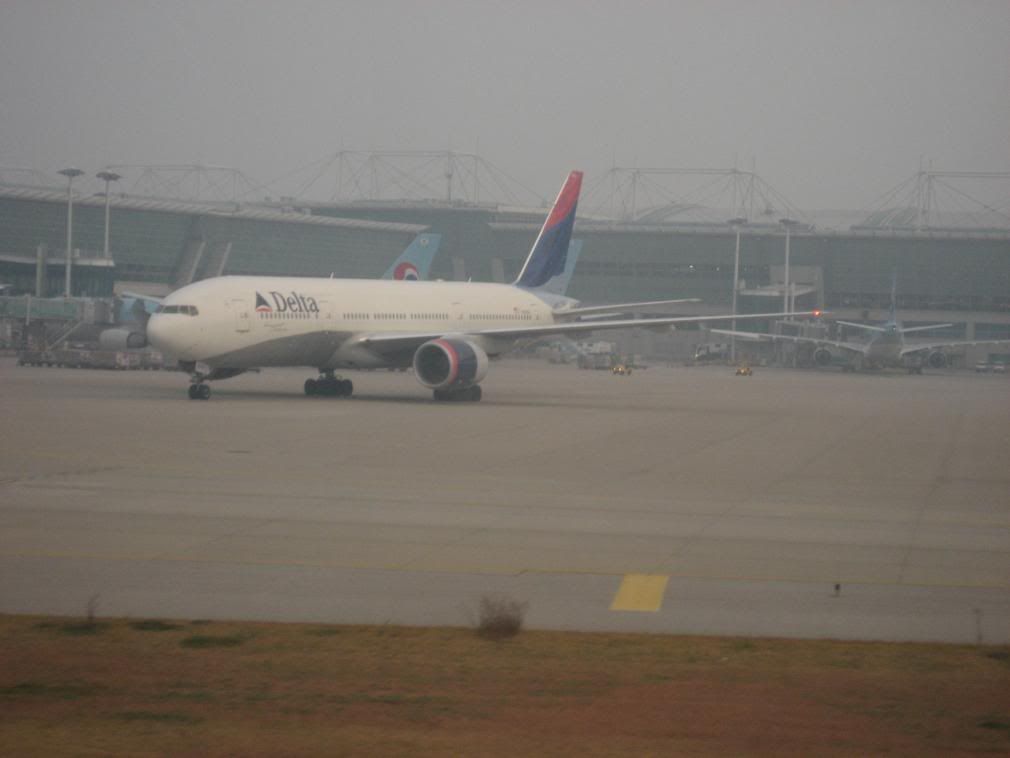 (Both flights arriving from BKK)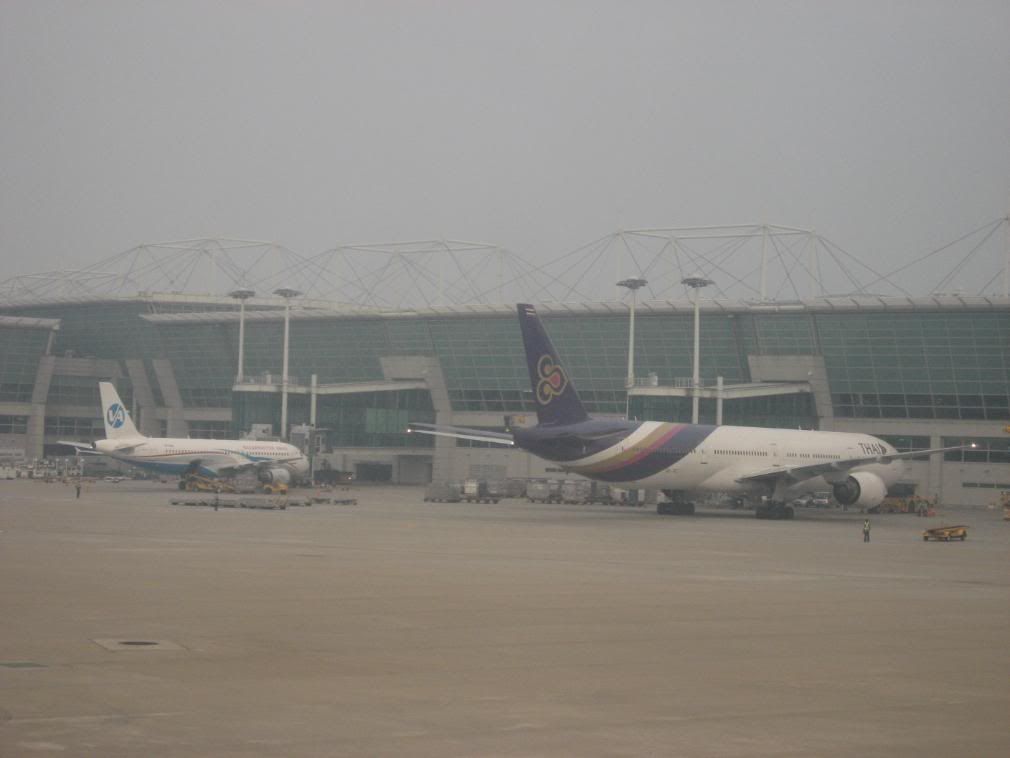 (ICN Arrivals)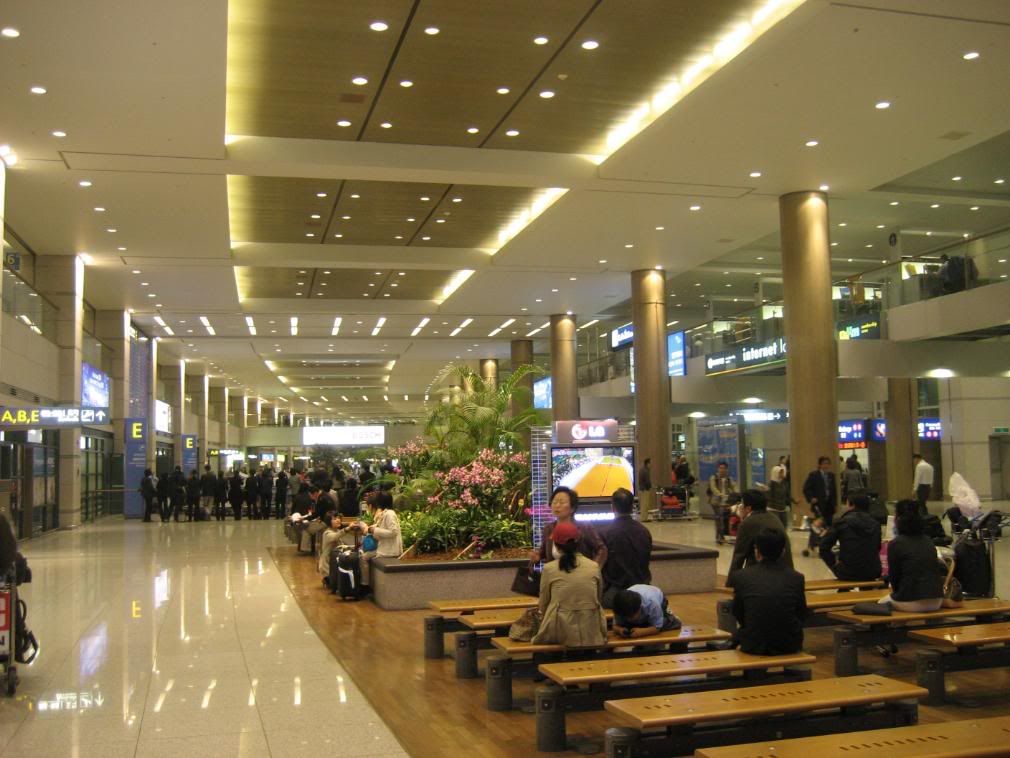 V> Impressions + Scores:
While cosmetic changes are underway, KE needs to operatinalize the new seats and IFE throughout their entire fleet. There is absolutely no reason to pay for a premium J seat if the seat itself is so poor. The almost 11 hour flight highlighted this deficiency and made their poor IFE arrangement stand out even more. Additionally, their menu needs to be changed and the Nadi ground handling manager needs to be fired. While the cabin crew made up for some of their overall shortcomings, it wasn't enough to leave me convinced that KE is still an airline that can be taken seriously in Asia. Definitely would fly with them again … but they would not be my choice when far superior products exist in Asia … such as NH, OZ, JL, CX, MH, SQ, TG, 9W, etc.
1.0 > RESERVATION: 7.0
2.0 > CHECK-IN: 1.0
0.5 > LOUNGE: 6.0
0.5 > BOARDING: 1.0
2.0 > SEAT: 7.0
0.5 > AIRCRAFT OVERALL AMBIENCE: 8.0
1.0 > IFE: 6.0
2.0 > CREW: 9.0
2.0 > FOOD: 7.0
0.5 > BEVERAGES: 8.0
0.5 > A.KITS + OTHER FREEBIES: 7.0
0.5 > DISEMBARKATION: 9.0
1.0 > ON-TIME RECORD: 7.0
WEIGHTED OVERALL IMPRESSION (WOI): 6.25
(Pre-flight WOI of all reviews: 6.40)
* Weighted Overall Impression (WOI) aligns scores with what matters most. Weights are indicated alongside each category.
(Scores are based on comparison with other airlines in THAT class of service – No comparison of Y vs. F for example)
VI> Other Trip Reports:
PREMIUM:
8.11:
Aeroflot (33): MOW-DEL: 09/2007
8.04:
Korean Air (40): NRT-ICN: 10/2007
8.02:
Delta Airlines (24): JFK-CDG: 08/2007
7.82:
Singapore Airlines (06): EWR-SIN: 09/2006
6.93:
Delta Airlines (18): SEA-JFK: 11/2006
6.81:
Air Canada (17): ICN-YYZ: 10/2006
6.70:
KLM: EBB-AMS: 08/2007
6.25: Korean Air (45): NAN-ICN: 10/2007
5.75:
Singapore Airlines (16): CCU-SIN: 10/2006
4.42:
Air France: CDG-JNB (25): 08/2007
ECONOMY: Long + Medium:
7.38:
Avianca (01): BOG-LIM: 07/2006
6.26:
Jet Blue (21): CUN-JFK: 02/2007
6.06:
Air Canada (04): YYZ-YVR: 09/2006
5.89:
USA 3000 (19): PUJ-BDL: 01/2007
5.79:
Air New Zealand (42): RAR-NAN: 10/2007
5.46:
TAP Air Portugal (23): OSL-LIS: 05/2007
ECONOMY: Short
8.56:
Paramount Airways (38): BLR-MAA: 09/2007
8.24:
Kingfisher (14): IXA-GAU: 10/2006
7.87:
Indian (34): BOM-MAA: 09/2007
7.72:
Alliance Air (13): CCU-IXA: 10/2006
7.57:
Indian Airlines (10): DEL-CCU: 09/2006
7.23:
West Jet (03): YYC-YVR: 09/2006
7.15:
JetLite (37): BOM-GOI: 09/2007
6.70:
Spice Jet (09): CCU-DEL: 09/2006
6.63:
Air Fiji (44): NAN-SUV: 10/2007
6.58:
Air Tran (02): EWR-MDW: 08/2006
6.44:
CO Micronesia (39): ROR-YAP: 10/2007
6.41:
Pacific Sun (43): NAN-SUV: 10/2007
6.33:
Kenya Airways (29): NBO-BJM: 08/2007
6.31:
Indigo (15): GAU-CCU: 10/2006
6.22:
Air Link Swazi (28): MTS-JNB: 08/2007
6.22:
Air India (36): HYD-BOM: 09/2007
6.13:
Adam Air (07): SIN-CGK: 09/2006
6.13:
Air Rarotonga (41): RAR-AIT: 10/2007
6.00:
Transairways (27): INH-MPM: 08/2007
5.95:
Air Canada (05): ALB-YYZ: 09/2006
5.85:
SAS Norge (22): OSL-AES: 05/2007
5.81:
LAM Mozambique (26): JNB-MPM: 08/2007
5.69:
Air Deccan (12): IXZ-CCU: 10/2006
5.67:
Rwanda Air Exp (30): KGL-NBO: 08/2007
5.07:
Go Air (35): MAA-HYD: 09/2007
4.96:
Valuair (08): CGK-SIN: 09/2006
4.74:
Fly 540 (31): MYD-LAU: 08/2007
4.33:
Viva Aerobus (20): ELP-MTY: 02/2007
4.11:
Air Sahara (11): CCU-BOM: 09/2006
(Note on Codes: Y – Economy, J – Business, F – First :: I/D – International/Domestic :: SR/MR/LR – Short/Medium/Long Haul)
VII> Other Pictures:
It has now become customary to share some other connected aviation images, and some images of the place I went to. Hope everyone enjoys!
(Random gifts complimentary of KE crew and the amenity kit)