Hey everyone, and welcome to my very first trip report! Ive spent along time observing what other people have written and i hope that this somehow matches up to what a good trip report should be like.
Well, it was time for another nice overseas holiday break to my families favourite holiday destination Thailand. This trip would be my 3rd trip there since i was 8 years of age and the second time i have flown on a Oneworld alliance airline in both directions. Anyway.. we started to book this trip around 12months in advance due to the fact that Award seating availability in QF and BA international flights in peak time such as Australian school holiday periods dry up like Warragamba dam has done in the last couple of years. Also the fact that we were booking 2 return tickets on my mums Gold Frequent Flyer Status meant that we didnt have access to every conceivable award seat open on every flight. Anyhow we booked in April 2007 for April 2008 and that was that. Lets get on to the interesting part.
British Airways (Oneworld)
Flight: BA 10
World Traveller Seat: 29A
Dep: Sunday 13th April 2008 4:35pm
Arr: Sunday 13th April 2008 11:00pm
From: Kingsford Smith Int'l Sydney, NSW, Australia
To: Suvarnabhumi Airport Bangkok, Thailand
Distance: 4662 miles
Aircraft: Boeing 747-436 Reg: G-CIVE
Scheduled flight time: 9hrs 15mins
I had been looking forward to flying another Oneworld alliance airline other than Qantas. That is why this time instead of heading out on QF1 the only Qantas flight to Bangkok i decided to book for British Airways. My mum has many times previously flown on BA in Club World and cant tell me enough how good each of her experiences have been on them, plus i have taken a liking to the airline gradually after looking through photos.
We got to the airport at around 1pm for a 4:35pm sch departure time ex Sydney, we had already pre booked our seats for both of our flights so we could've used the Bag Drop counter that BA services in Sydney but because mum has Gold status Frequent flyer and Sapphire on Oneworld, we decided to head for and check-in at Club World for the sake of it! The lines were extremely minimal at almost all of the check-in counters for International flights which suprised me for the time we were leaving. We checked in for BA10 as some other passengers to our right were at the FIRST counter checking in for the only other daily flight from Sydney to London via Singapore BA16 which leaves 1hr before BA10
After the normal formalities of check-in we headed straight for outward immigration and security and went straight to the airside of the airport. Once thru, we headed to the Qantas Business Lounge which lies above the rest of the Departure level with a fairly good view of the approach and landing on rw16R in Sydney and departures of 34L. Whilst i was there it was interesting listening to my scanner and due to a thunderstorm over the airfield all ground operations were halted and so heaps of planes that had just arrived or were outbound taxiing were stopped in their tracks. I did hear of an A330-300 pilot for QF187 that had arrived from Melbourne continuing to Hong Kong getting angry because ground wouldnt let him move from the International Apron queue.
After a little while in lounge boarding was finally called and it was time to head for gate 36 which given my luck was the farthest gate from the Qantas Lounges. Boarded through the fast lane, again, coz of mums status and were finally on BA10 BRITISH AIRWAYS YAY! The overall feeling of the airplane atmosphere was very bright and cheerful as the CSM welcomed us on board the plane. I sat along with my mum in 29A/B and was highly impressed with the amount of legroom i had before me.
After fixing the difficulty of the aerobridge being stuck to the side of the plane, and 10mins of taxiing to rwy 16R we were cleared for takeoff via the SYD2 departure Richmond Transition.
After a fairly quick takeoff, and reaching our initial cruise altitude of 30,000ft dinner was served. (sorry about not having any more pics of this flight) There was a choice of 2 dinners,
Braised Lamb with mixed vegetables
or
Tomato Fettucini Pasta with chinese Greens Morning Glory.
Numerous drink carts and trays were passed around the World Traveller cabin which i thought was rather generous. The best part about the cabin service was that no matter what, the cabin crew were always so lovely and warming to all the passengers. Great Job BA
I chose the Pasta, it was really delicious, and, included in that was a yumbo the gumbo apple crumble for desert! After eating our dinner it was now time to calm down and relax and watch Australia go bye...It became dark after not a long time. We flew over Richmond, then on to Nyngan, then directly over Darwin, Brunei, Surabaja, some other indonesian islands then over Vietnams, Ho Chi Minh City and then after 8hrs 55mins flying time it was time to descend into Bangkok just out of Chon Buri (South-East of Bangkok).
We did a fairly sharp descent into the mist of steamy Bangkok which whoever has been there would know that that is what you expect on arrival. We did a long base leg of the airport which gave us a glorious night time view of Suvarabhumi Airport. It looks huge from the air! We then landed at 11:05pm local time after 9hrs 24mins in the air. At which time the people completing their journey in Bangkok were asked to disembark first after which time the people continuing onto London Heathrow left the plane which separated the passengers by about 10minutes. Luckily, i got to visit the flight deck!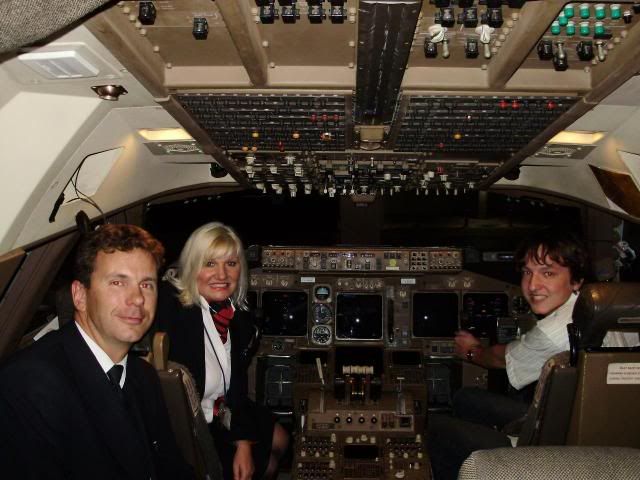 Overall
Aircraft: 10/10
Service: 10/10
IFE: 8/10
Would recommend BA to anyone!
Qantas Airways (Oneworld)
Flight: QF 2
Economy Class Seat: 54A
Dep: Sunday 27th April 2008 5:15pm
Arr: Sunday 28th April 2008 05:15am
From: Suvarnabhumi Airport, Bangkok, Thailand
To: Kingsford Smith Int'l Sydney, NSW, Australia
Distance: 4662 miles
Aircraft: Boeing 747-438 Reg: VH-OJU
Scheduled flight time: 8hrs 55mins
After a fabulous 2 week holiday in thailand it was about time to head home again. This time on Qantas again flight QF2. This time we got to the airport around 2 hours before departure at around 3pm for a 5:15pm departure. As we closed in on Suvarnabhumi Airport from the distance, the velocity and size of the airport itself could already be recognized. We arrived at the departures level where we were greeted by an absolutely massive combined Check-In hall. We headed straight to the Qantas Business Class all flights check-in counters and reserved our seats 54A/B (a little further back but that was fine.) We then proceeded directly through passport control and through to the shopping center of duty free shops within Bangkok International Airport. Did some last minute gift shopping and then headed for the Qantas Business Class Lounge which was between the arrivals and departure levels 1 and 3. (All the airline lounges are on level 2 of the airport which is under the main Departure hall and above all Domestic and International Arrivals) After grabbing a bite to eat and a drink and a brief email check and having a short self guided tour of the lounge i left mum behind and went for a spot. The lounge at this airport is the same basic layout as the older Bangkok Airport just around twice the size.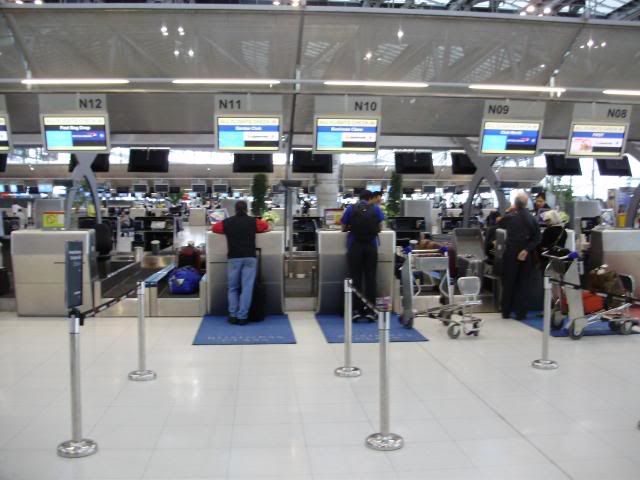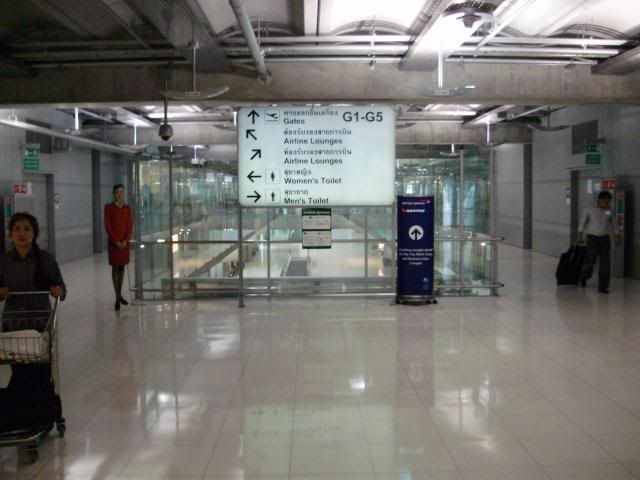 It wasn't too busy at that time of the day but i manage to get a peak at some foreign airlines that im not used to seeing such as: Royal Jordanian, Turkish Airlines, Austrian, British Airways, Nok Air,El Al Israel,Thai Air Asia, Bangkok Airways and of coarse Thai Airways. I think that was it! after taking some final photos of the giant Terminal/Thai Buddha Shrine, boarding was called very quietly, and so i headed for the gate F6. Again the farthest gate on the F councourse!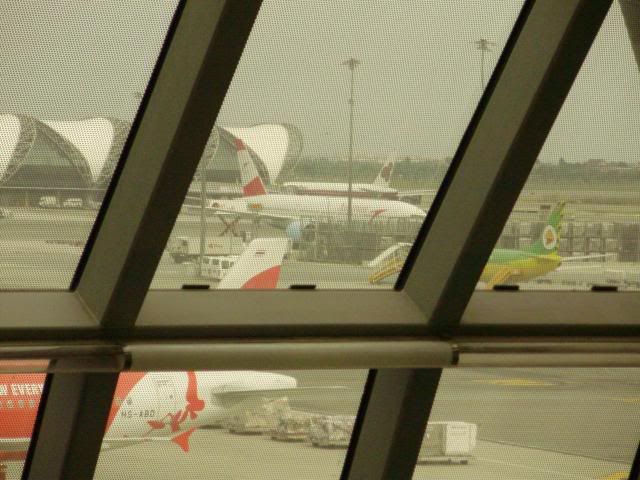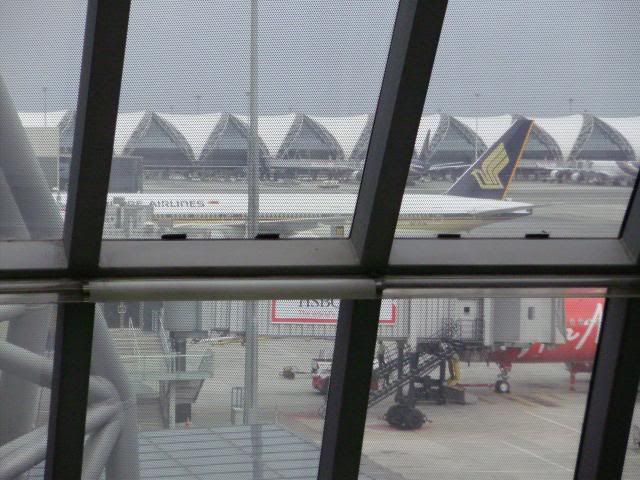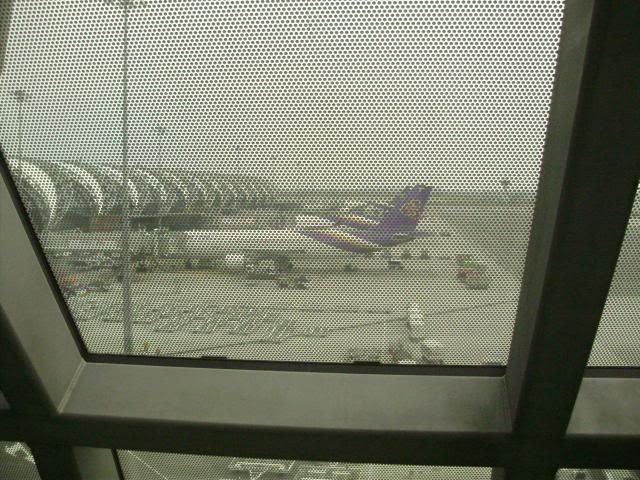 I finally got aboard QF2 VH-OJU to be greeted by a not so pleasant chief service manager which pretty much set the tone for the remainder of the 9hours flying time that i had to come. We pushed back from the gate rite on schedule 5:15pm Bangkok local time and did the most perculiar pushback i have ever experienced. The plan basically did a Z shape pushback to become inline with the end of F Concourse. Then after a long taxi to the other side of he airport, we performed a rolling start takeoff and was in the air after an unusually long takeoff for a flight that only seemed around 80% full passenger wise. It then amazingly took us 1.5 hours just to exit the smog and cloud of Bangkok during what seemed like the slowest climb to 35,000ft i have ever experienced!
From this point onwards the cabin crew never really displayed any form of passion for what they were doing nor any kindness or generosity towards the paying passengers they were serving. Pre dinner drinks or lack-thereof were thrown at us which comprised of a single bottle of water per passenger. Followed by dinner in an hour which we were supposed to have the choice of either a Pork or Fish dish but only had the choice of Pork by the time they had serviced 20rows of passengers!
To be quite honest this was the worst International Qantas flight i have ever been on. I have flown on this particular flight once before with the airplane at 100% passenger capacity and the cabin crew made the flight turn out to be more of a fun party than anything else it was simply amazing! This crew was either suffering from i high dosage of a lack of sleep or they were just having a bad day. Either way i thought they were a disgrace. One last example was when dinner came around nooone was offered a drink at all. The drinks were on the cart but it was as though they were only there for 'Display Purposes'. We soon realised that instead of waiting to be offered a drink we would have to ask for one since the trolley was now 2 rows behind us. So, i ordered my mum a wine and myself a Diet Coke and the people behind us had to duck so we could get our dinner drinks passed to us. Not to mention the paddle pop stick ice cream for desert that was also passed to us at the beginning of the dinner service that was forced to pour into a plastic drinking cup as by the time i had finished my dinner it was Milk with a wooden stirrer and not an ice cream.
The remainder of the flight went on and for the first time in all the flying ive done i didnt get a single minute of sleep for the entire 9hrs. We began descending into Sydney at arund 4:50am Sydney Local time and approached over the northern beaches and then based down to Wollongong for a noise abatement rw34L 5am curfew arrival. We were at Gate 9 by 5:11am.
Overall
Aircraft: 8/10
Service: 3/10
IFE: 8/10
That service really loses browny points with me!
Thanks for reading my very first trip report. I hope you enjoyed. Please feel free to leave feedback of any sort however good or bad.