In February, Condor had their Fliegenpreise special running again, and I was searching their website for interesting daytrips. I found out that daytrips from STR to PMI were possible on nearly any date in April, as they had two daily flights. I booked a daytrip for April 2nd, 58EUR return all-inclusive, quite a bargain.
In March, I got an e-Mail from Condor informing me about a schedule change, the morning flight STR-PMI had been cancelled, so they re-booked me to the evening flight. Which was nonsense of course, as my stay in PMI would have been reduced to only one hour. So I decided to call Condor to ask for any alternatives. During my first call, I was informed that flights booked for April could not be re-booked to May, as May is "summer period" and they don't re-book cheap "winter period" tickets into May (where twice-daily flights are running on several dates). But the originally twice-daily services were reduced to once-daily for all dates I was able to travel. The friendly callcenter agent told me she'd want to ask her supervisor about what to do, and I should call back in two hours. Two hours later, I called again, of course it was a different agent on the phone, I had to tell my story again, only to hear again that they couldn't re-book my flight into May. But the agent gave me a list of dates where two daily flights are flying, in fact it was just a single date, 25th April, a day on which I would have to work. So what should I do? An hour later I called them again and re-booked my flights to 25th April, not knowing if I could arrange to get the day off. Again another callcenter agent, he confirmed that he re-booked me to 25th April, STR-PMI in the morning, PMI-STR in the evening, "unless we cancel your flights again, ha-ha!"
According to my telephone bill, I paid 3.18 EUR for calling their 01805 service number, which is quite cheap considering the time I spent on the phone, thumbs up to Condor for not having an expensive 0900 service number like certain other German airlines.
Fortunately I found a colleague who worked for me on 25th April, and I think I was lucky, because I don't think they had re-booked me again free of charge if I had called them to tell them I couldn't fly on that alternative date. All in all the callcenter agents were really friendly, though I really wonder why Condor first offered so many STR-PMI flights, then couldn't seem to fill them even though offering cheap tickets, just to cancel nearly half the capacity on this route?! Anyway, 25th April came and it was my time to fly again (haven't flown much this year so far).
STR-PMI
DE7364
25 April 2008
A320-200
D-AICA
Built and delivered to Condor Berlin in 1998
Number of passengers: 172
STD: 06:05
STA: 08:00
on-time
View Large
View Medium


Photo © Georg Noack
Some older pics of this aircraft:
View Large
View Medium


Photo © French Frogs Aviation Pictures
View Large
View Medium


Photo © Tom Mousel
View Large
View Medium


Photo © Joachim Graeber
I checked in the evening before using Condor's late-night check-in in Terminal 3. One counter, no queue, as this STR-PMI flight would be Condor's only morning departure of the following day. A friendly agent checked me in and gave me a window seat in the last row, just as I had requested.
The next day I arrived at the airport by train at 05:15 and went straight to my gate in Terminal 1, a gate area normally used by Lufthansa flights. Some Lufthansa staff delivered newspapers to this gate, and when everybody rushed forward to catch a free newspaper, an announcement was made that these Lufthansa newspapers are NOT for Condor passengers.
Soon the started boarding via the jetway. Two of the four female flight attendants welcomed us at the front door, where a collection of newspapers was offered. An amazing variety of magazines was available in a box in one of the overhead bins in row 9. This didn't help for a quick boarding, as everybody was searching through the box to find his/her favourite magazine. As I'm a man who keeps to traditions, I only took a "Bild" newspaper to read it later at the beach in Mallorca. Just imagine if I had taken a "Zeit" newspaper, come on, what would the other Germans at the beach say
Finally, everybody found his/her seat, boarding was completed and we pushed back on-time.
On our way to runway 25, captain and cabin crew made their welcome announcements, and the safety video was shown on the flatscreens which are installed at the ceiling every four rows. I was still dark outside, so no pics so far. At 06:17, we took off.
The B27, exit "Stetten":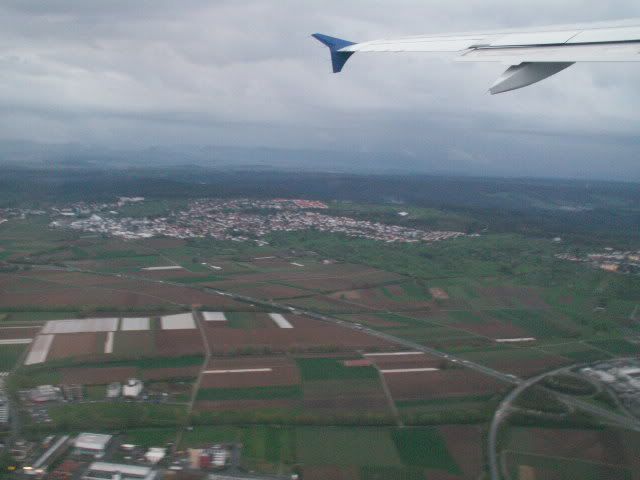 Between Waldenbuch and Steinenbronn: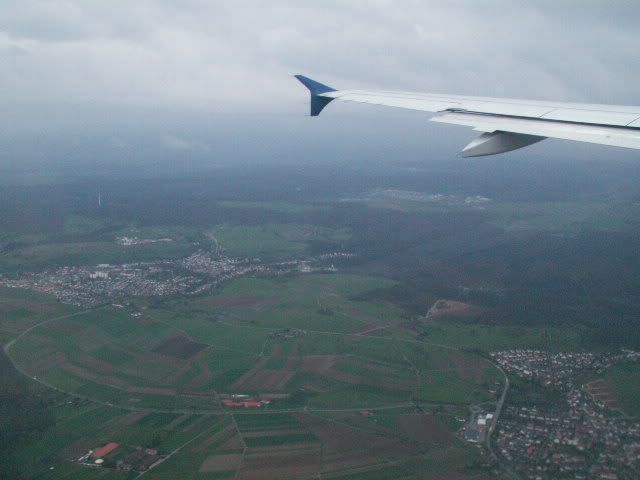 Into the clouds: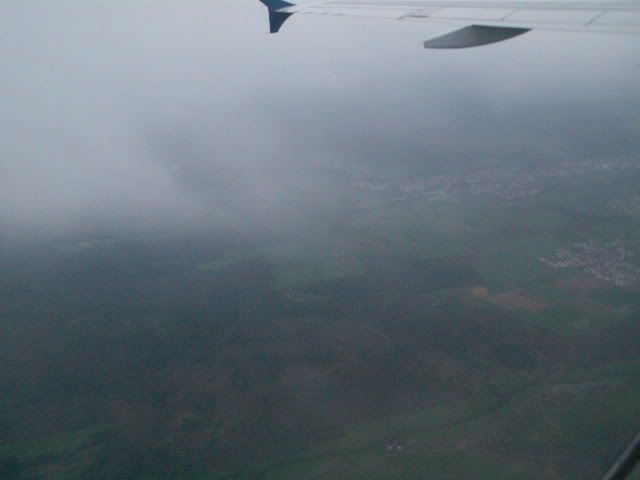 Link to a short video I made after departure, showing the cabin:
http://smg.photobucket.com/albums/v5.../?action=view&current=PMIVid01.flv
As you can see, each seat is equipped with an audio socket. 12 audio programs were available, including two audio programs for the inflight video (German and English), a comedy channel, a children program, and eight radio channels. The radio program on Condor is so much better than on my recent TUIfly flight TFS-STR, where the "Schlagerradio" was the only available audio program...
During take-off, outside cameras showed the take-off. Soon after take-off, the video entertainment was started. First a music video (Rihanna "Please don't stop the music"), then an episode of "King of Queens". Normally I don't watch TV in English language as long as I have the German option as well. But as I had seen this episode already in German, I decided to break with my tradition and switch to original English language.
Later they showed some Pink Panther episodes, and a Condor advertising video.
The first officer made an announcement about the routing, which would be STR - ZRH - GVA - LYS - MRS - PMI.
Meal service was being started: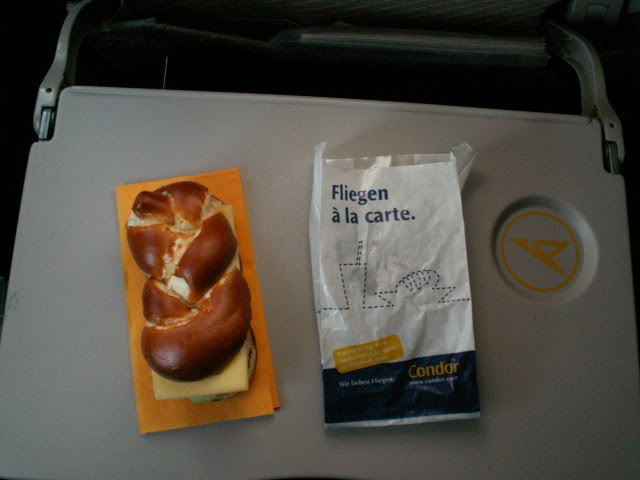 Only one drink service on this flight, I had a tomato juice.
The Alps: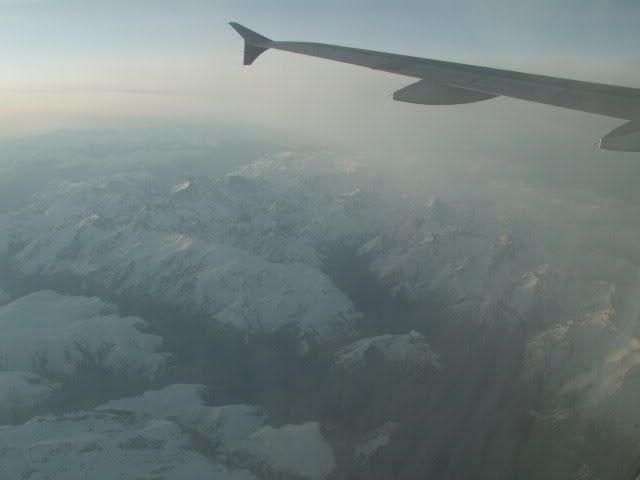 We started out descent into PMI: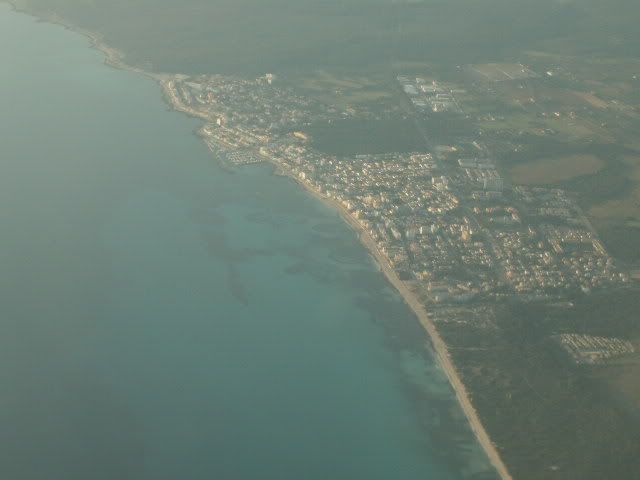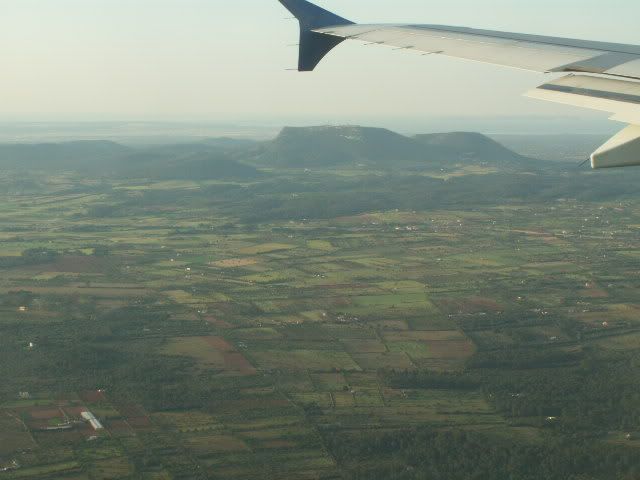 The landing video:
http://smg.photobucket.com/albums/v5.../?action=view&current=PMIVid02.flv
We arrived on-time on a remote parking position and were bussed to the terminal. Our aircraft would fly back to Germany, not to STR but to MUC.
I wanted to spend the day in Palma and on the beach, however I didn't want to leave the airport without doing some aircraft spotting. So I decided to check in already for my return flight. Several counters were opened, no queues. The agent was surprised to have a passenger for the 18:00 departure, this flight was not on her morning shift schedule. She checked my flight number, asked her supervisor if she could check in already for this flight, and then gave me my boarding pass, sequence number 002. I had asked for a window seat as far back as possible, and got 9F.
No queues at security, a huge (but empty) queueing system was installed in front of security. I didn't see the need to walk through this queueing system, so I took a shortcut and jumped over one of the ropes. Immediately I was told by security staff not to do this, they wanted to see my boarding pass. When they saw my departure would be in 10 hours, they looked at me like mad, anyway they finally let me pass.
Here are some pics I took from the gate area. Air Dominicana (Hola Airlines) B737-300: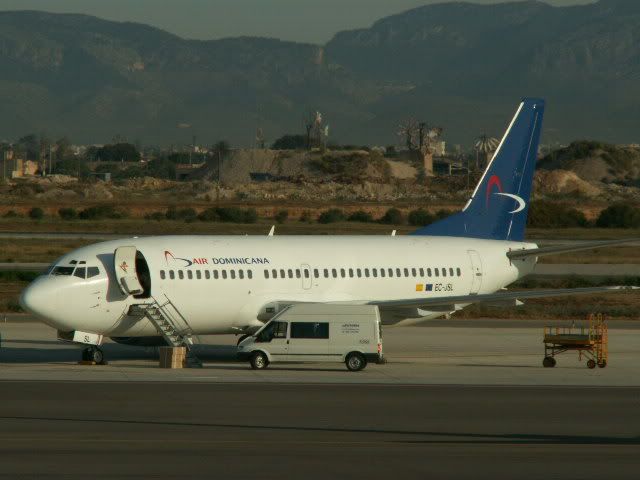 All-white GB Airways A321: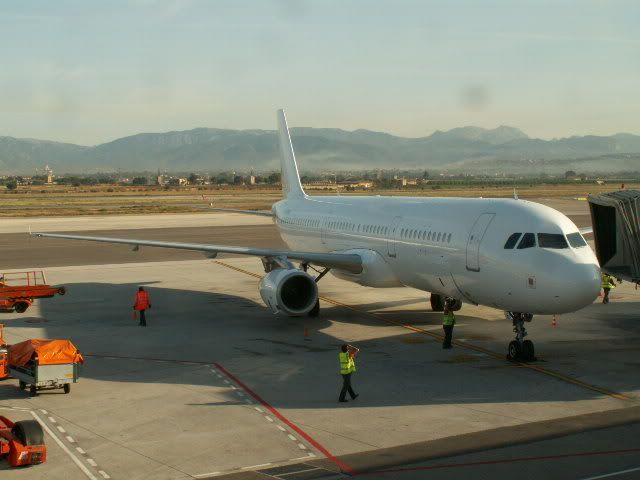 I left the gate area again and took a bus to Palma. The bus connection is very convenient, no waiting time, the bus is running quite often, I would guess every ten minutes. 2,85EUR for the ticket. I spent the day in the city of Palma and on the beach, some pics: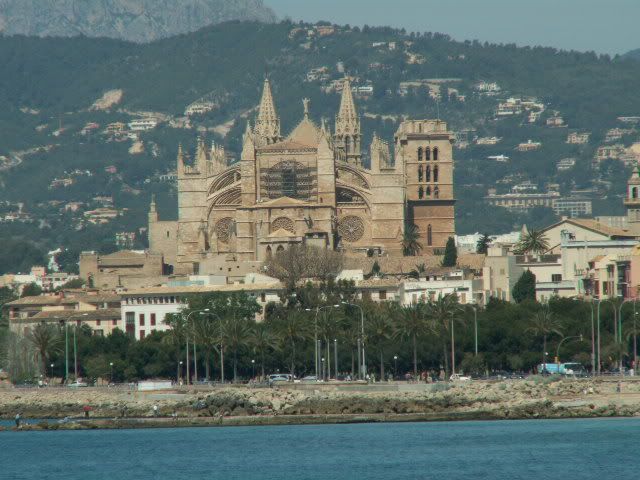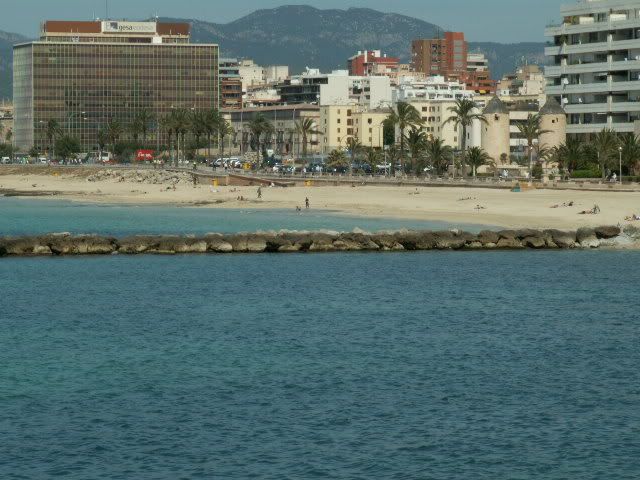 When I visited Palma last time in 2005, there was a huge construction work for the new subway train. This train connection is now in service, however I didn't use it and stayed in Palma this time. In the afternoon, I took the bus back to the airport.
At 17:00, we saw our aircraft arrive at PMI. According to the number of passengers at the gate, this would become another fully-booked flight. Boarding was called by 17:30.
PMI-STR
DE7365
25 April 2008
A320-200
D-AICE
Built and delivered to Condor Berlin in 1998
STD: 18:00
STA: 20:05
on-time
View Large
View Medium


Photo © Markus Hahn - dc10fans
Some older pics of this aircraft:
View Large
View Medium


Photo © Tibor Mester
View Large
View Medium


Photo © Stefan Welsch
View Large
View Medium


Photo © Jens Flunkert
The same newspaper/magazine offer as in the morning, this time I decided to pick a "TV Today" TV schedule magazine. My seat was 9F, soon there was a couple boarding who were sitting on 9D and 9E. The woman in the middle seat was friendly, but the man in the aisle seat kept moaning throughout the whole flight about the limited legspace on this flight. That guy was not much taller than I, and I had no problem, yes legspace was not too much, but it's a normal charter flight configuration. He kept on standing in the aisle during boarding, in order to show everybody that he disliked the limited legspace. Oh, remember, we were sitting in row 9, where the magazines were stowed in the overhead bin. This guy shouted at anybody who took a magazine, he would have to stand as he doesn't fit into the seat, and the passengers should not disturb him by taking magazines out of the overhead bin next to him. Oh well, we Germans...
When boarding was completed, he had to sit down, we pushed back, and took off soon. Take-off video:
http://smg.photobucket.com/albums/v5.../?action=view&current=PMIVid03.flv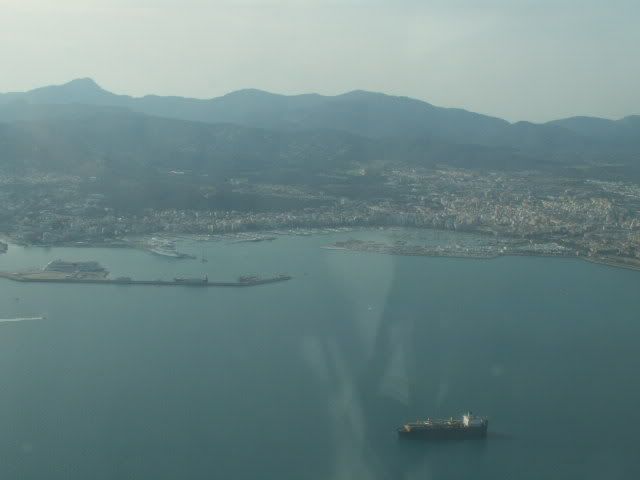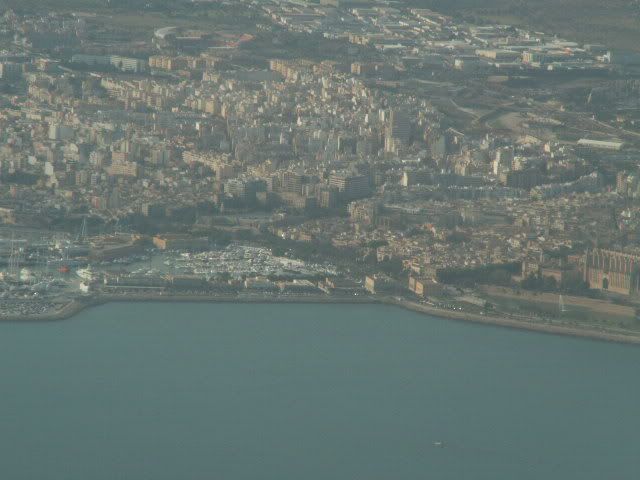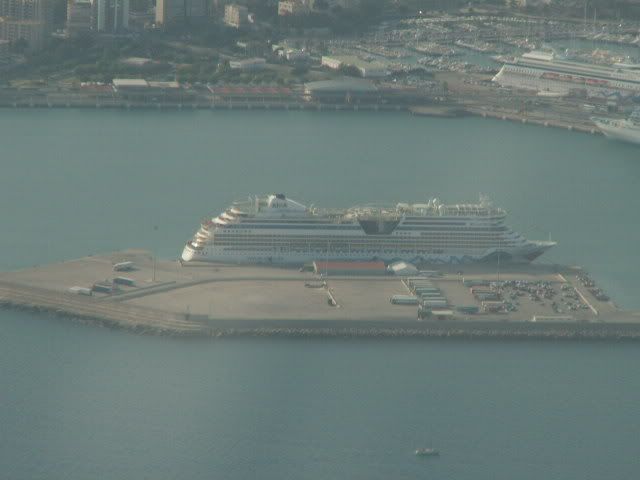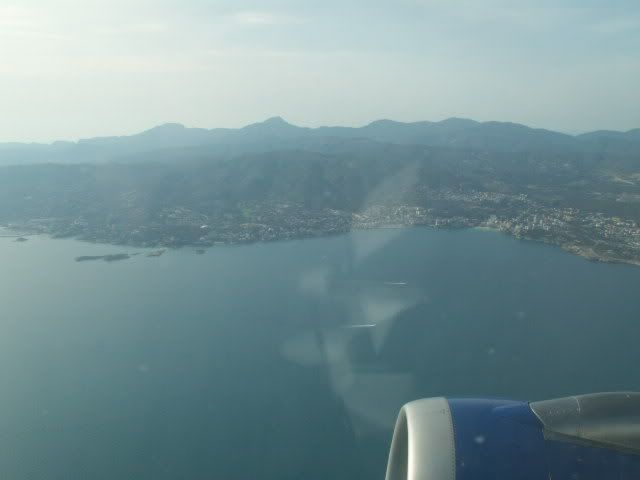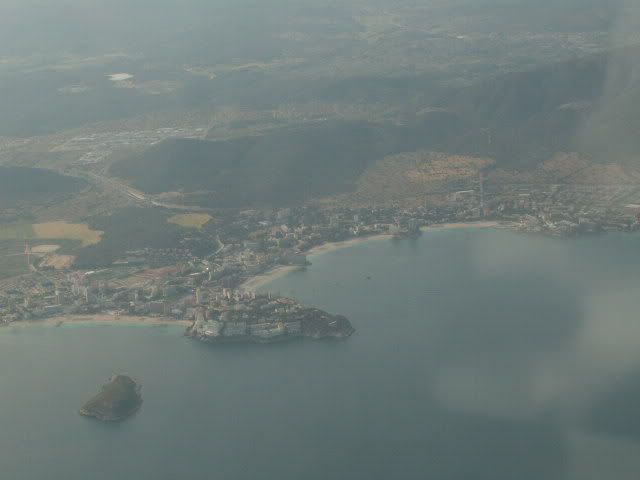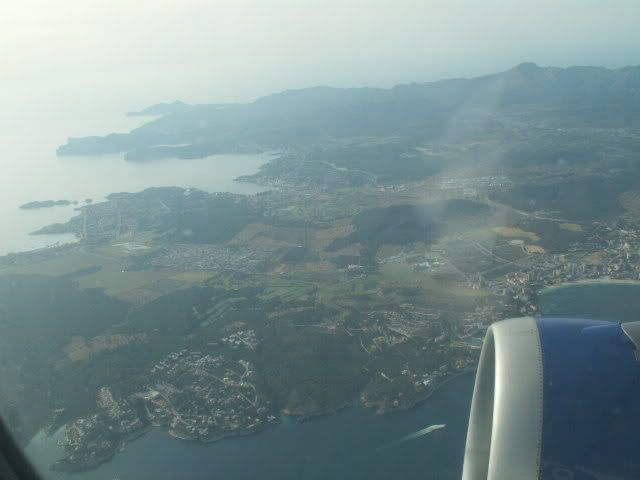 The airport: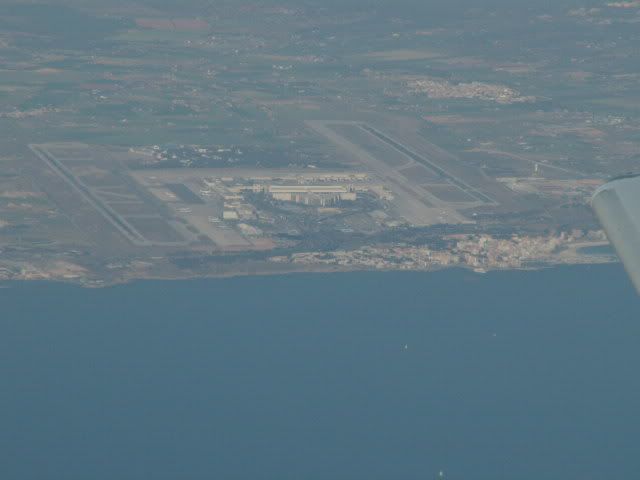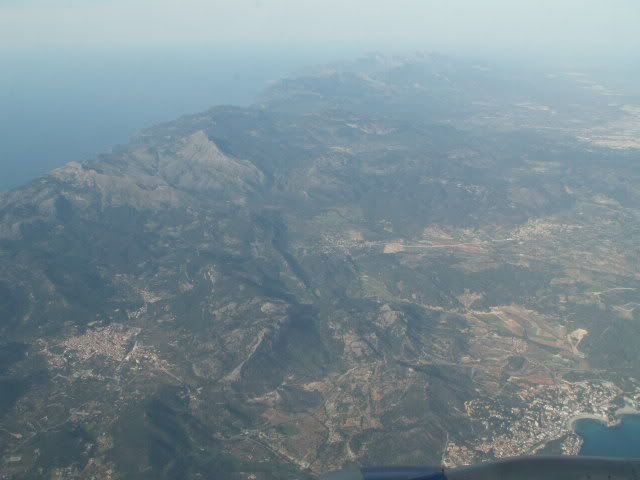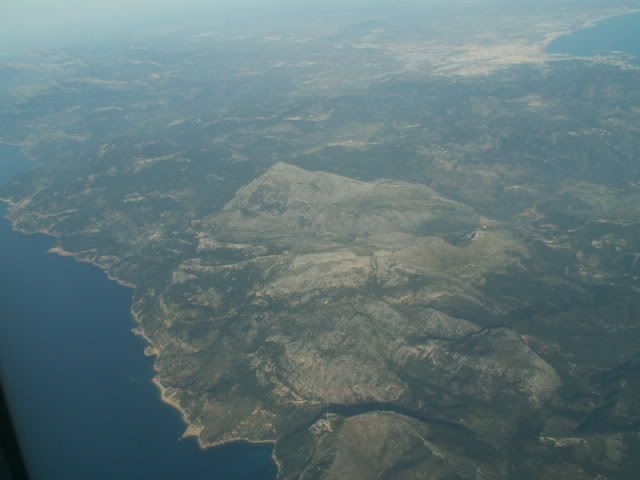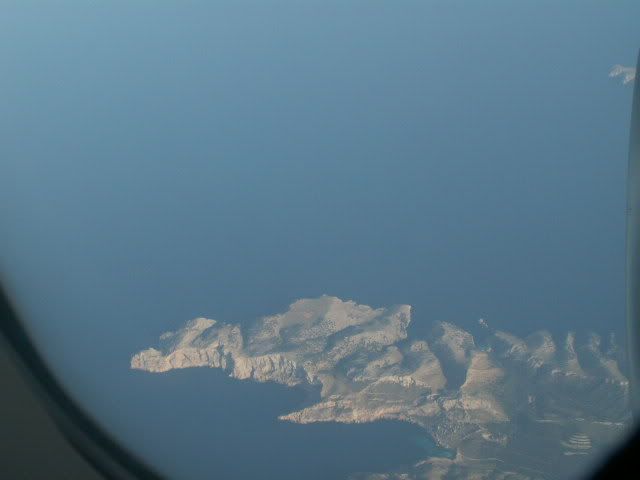 As soon as the fasten-seat-belt-signs were switched off, the guy on 9D stood up and kept standing throughout most of the flight. I took out my headphones and watched the "King of Queens" episode, then listened to some music.
The meal quantity was just the same as in the morning: one cheese sandwich. However the quality was much lower - as already mentioned in several other trip reports, those PMI-catered bread rolls are simply awfully hard: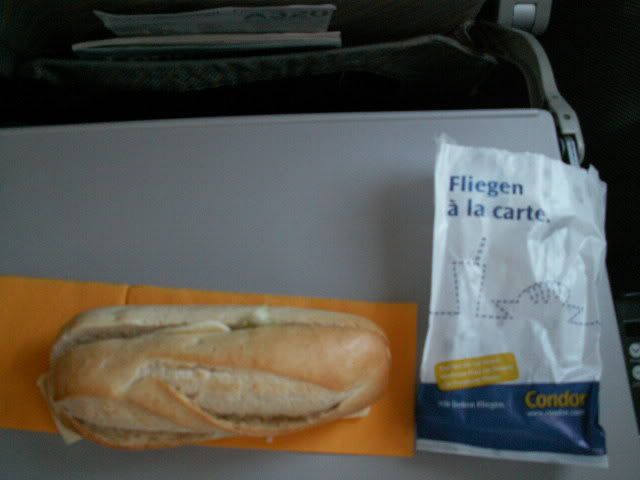 Again I had a tomato juice.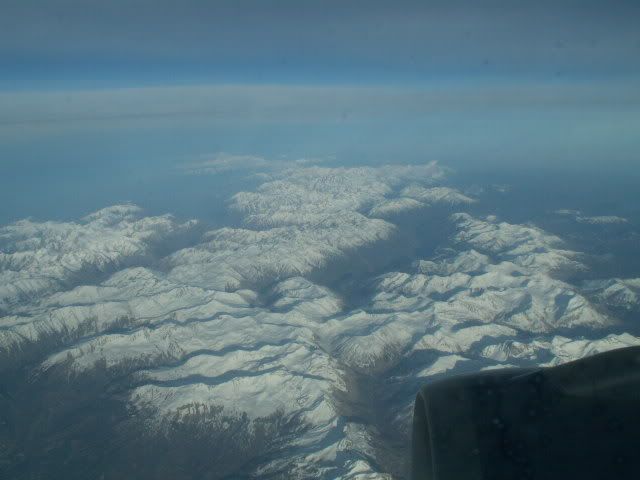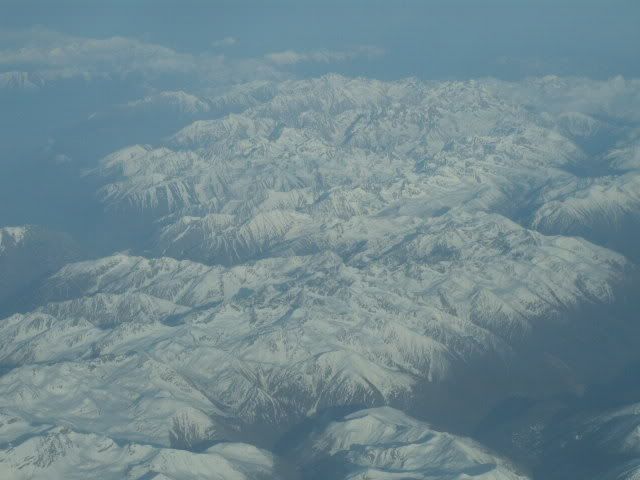 The captian made an announcement about the routing, basically the same as in the morning. He came on the phone again to tell us that the mountain "Matterhorn" would be visible soon on the right-hand side of the aircraft. Now something I have never seen before: When we were over the Matterhorn, he made a short sharp turn to the right, and moments later back to the left. It just didn't feel like a route correction, did he really make this sharp turn to give us a better view of the Matterhorn? I can hardly believe it, but I really had the impression.
Soon we started our descent into STR.
I'm not sure, is this Gomaringen? If so, then this is the Trigema factory: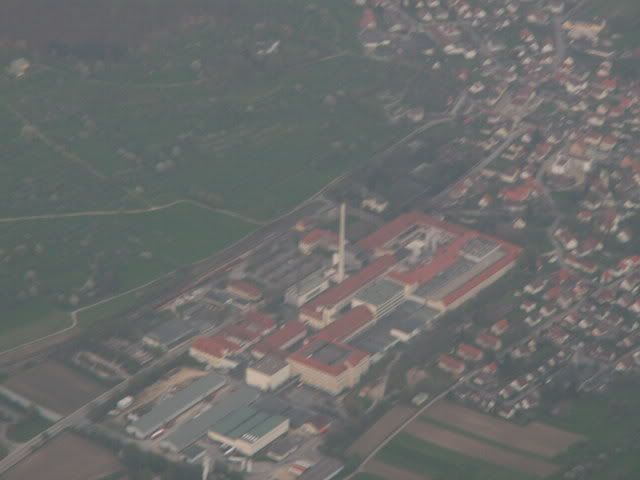 Autobahn A8 Gruibingen: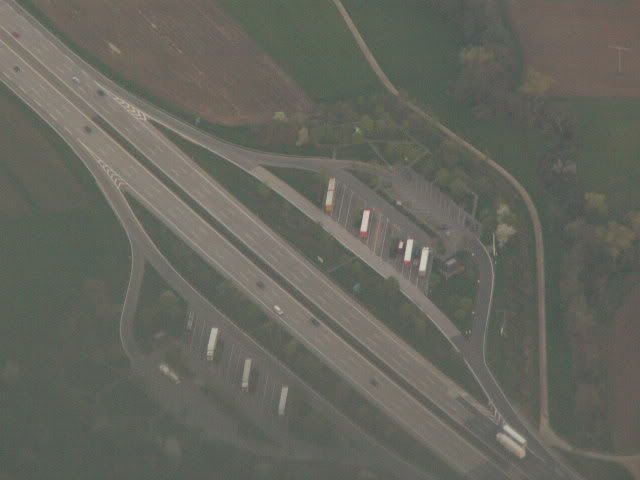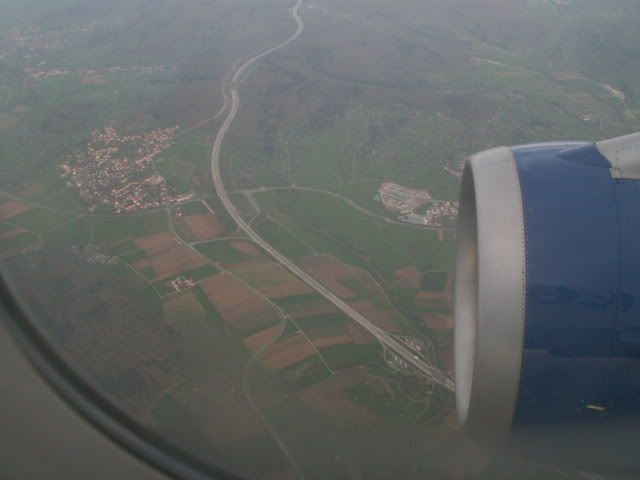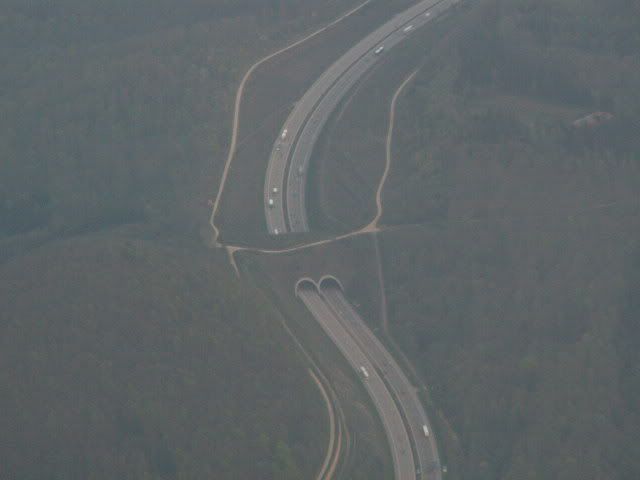 Goeppingen: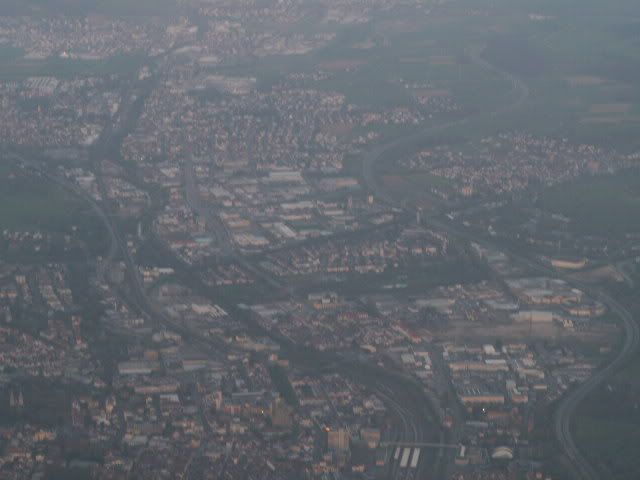 The landing video:
http://smg.photobucket.com/albums/v5.../?action=view&current=PMIVid04.flv
DaimlerChrysler Aviation A319CJ in front of the Lufthansa Technik hangar: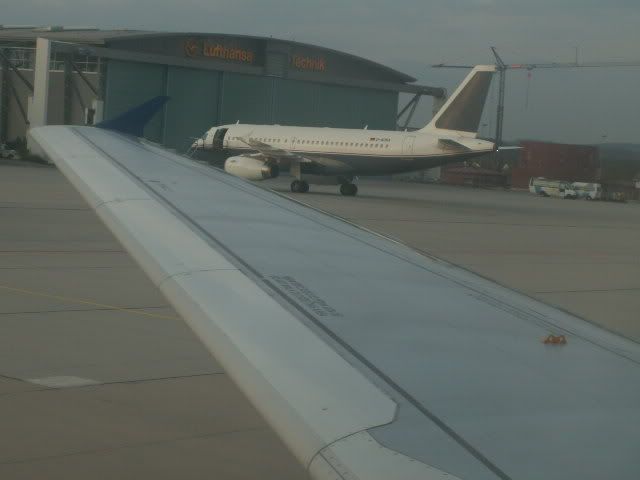 We were bussed to the terminal, and I took the next train home.
Conclusion:
The flights were on-time and ticket was really cheap. The service was friendly, and for the flight-time sufficient. On my flights to the Canaries, I always prefer Condor over TUIfly, as Condor offers a far better meal, more drink services, and a better inflight entertainment on the longer flughts. On these shorter flights, there was not much difference to my TUIfly flights to PMI last year. Anyway, it was more than alright for the short flight. It was a nice daytrip, I would fly Condor again - and I will, STR-FUE in november.
Thanks for reading my report, I'm looking forward to reading and answering your replies! Have a nice day, Alex.