Thanks y'all for the great response to my first post of this trip. I hope y'all definitely enjoy it as much as I enjoyed flying it! Since I promised this on Cinco de Mayo, enjoy reading this trip report with your favorite cervesa, tequilla, and/or margarita!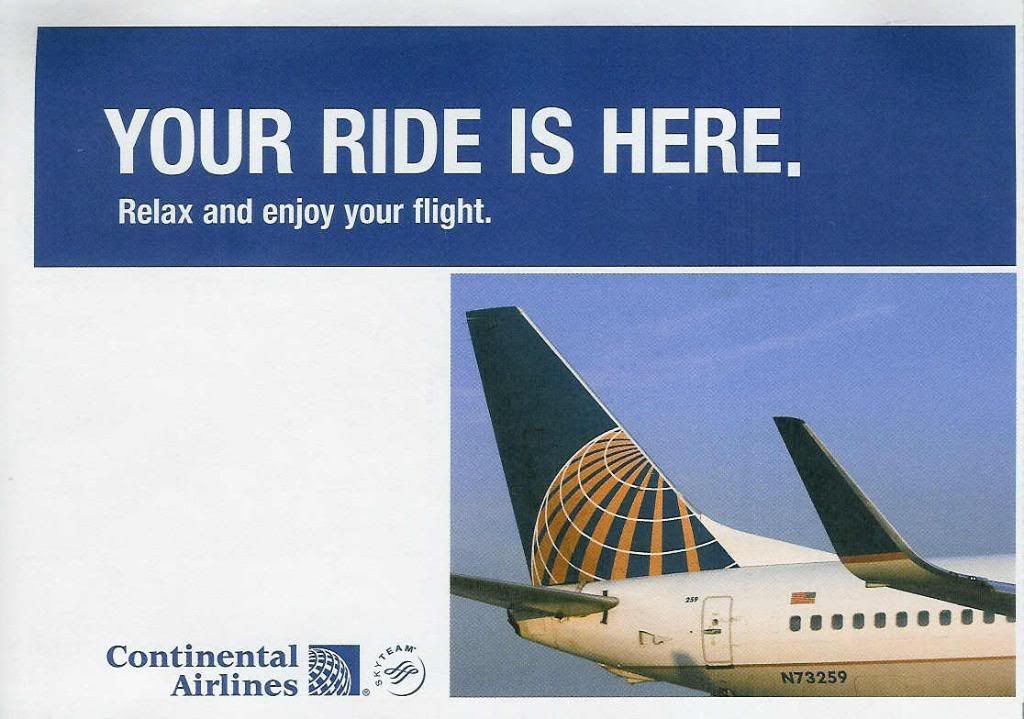 Preface
  This trip report will be slightly different than my previous trip reports I have posted. Each post will be about each flight as there will be many pictures from each segment. Comments are definitely welcomed!  
I also added a music component to go with this trip report. May I suggest "Little L" by Jamiroquai as well as Rihanna's "Don't Stop the Music".  
Enjoy!
Trip Report
So far, I've posted my reports on the following flights:


http://www.airliners.net/aviation-forums/trip_reports/read.main/125262/

After we touched down on CO 52 at 14:12, we taxied and deplaned via C95 at 14:15. I double checked the monitors to a rather nice shock. Initially, we were to have departed from C80. Instead, I discovered our new departure time was at 16:15 departing out of C123.  
  I like departing out of the new C3 concourse, but I have yet to arrive either domestically or internationally at the new terminal. With at least 1.5hr to run around before boarding my flight to HKG, I first headed off to Au Bon Pain for EWR usual, the roast beef sandwich on croissant, and then the C2-C3 President's Club. I actually got a bit carried away with the number of pastries in addition to the two roast beef sandwiches I bought at Au Bon Pain that I needed to reorganize my bags, again!  
With all my goodies barely stuffed in one of my carryon bags, I headed up to the President's Club that's between C2 and C3. This is my favorite one at EWR because you get better apron views rather than crowd views from the C1 location. Upon reaching the entrance, I queued up to show them my "pink slip" that indicated I bought a day pass to use the facilities.  
  This was peak travel time as there was a long line to enter and very few seating options throughout the club, but I managed to find a couch by asking nicely if anyone was sitting there. First, I rearranged my carryons so that I would have space to zip up and easily obtain my Au Bon Pain goodies! Afterwards, I ventured to the workstation area so I could plug my laptop in since there were no outlets around the sofa, which could mean why no one was sitting there.  
I found a nice spot to power up my laptop and run to the bar for a Coke for a quick jolt and a few bags of crisps that would go nicely with my sandwiches! I was surprised there was no espresso machine similar to the one at IAH in the Terminal E President's Club.
I returned to my seat and tried to check in for my EK flight to BKK. On the US EK website, I was able to view my reservation and make seat changes and do passenger updates when needed. However, when I tried to check-in for my flight it would not let me. I changed to the HKG website, and I checked in with ease, even receiving a PDF file that confirmed my check-in status, but indicating it was not an official boarding pass. Very interesting! Once checked in, I did some last minute searches on things to do in Bangkok as well as take a few pictures of apron activities at EWR before I decided to pack up and walk around C3.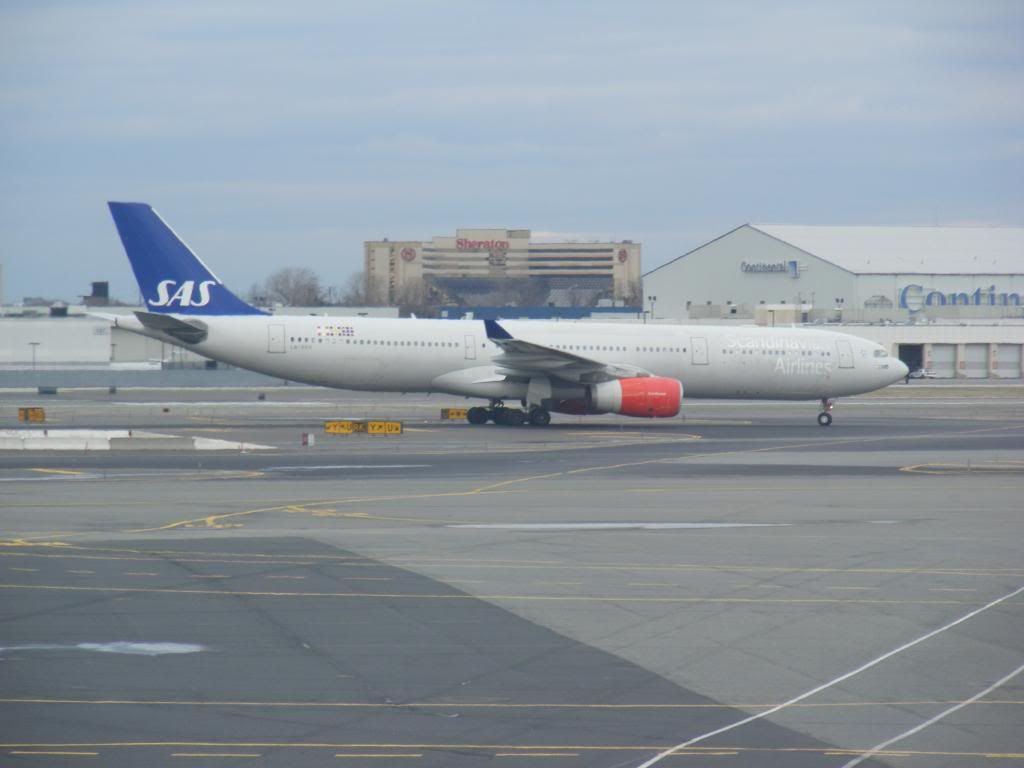 SK A330 from I believe CPH taxiing on arrival to Terminal B.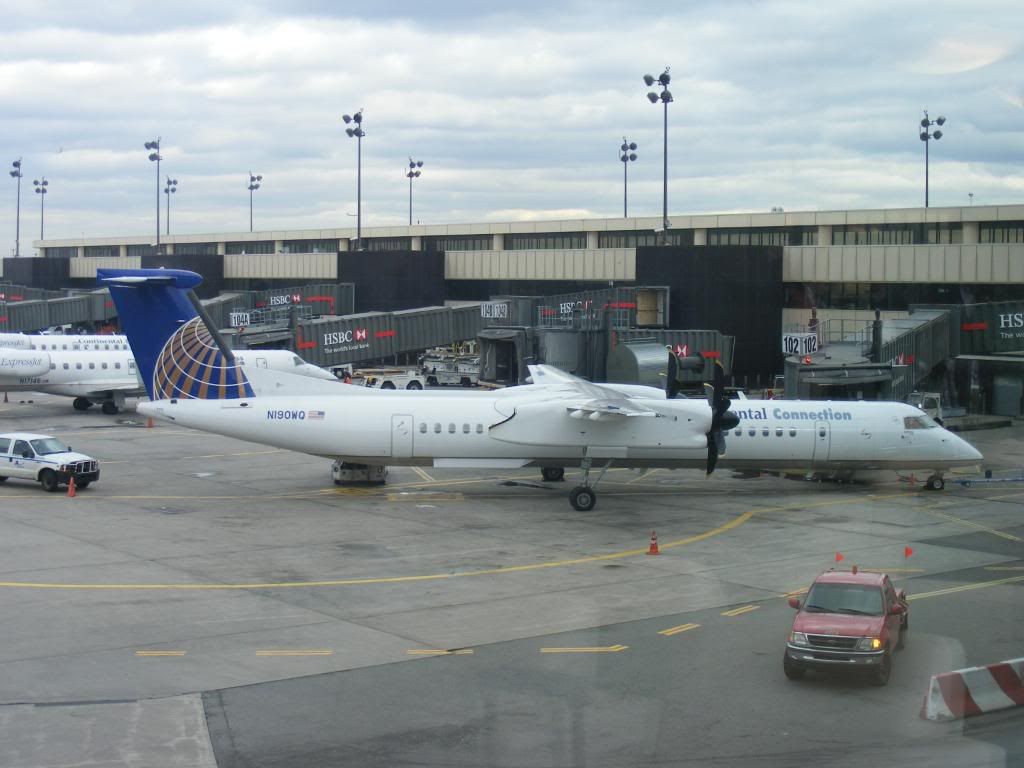 A Q400 in CO colors. Rather nice, long, sleek, white plane!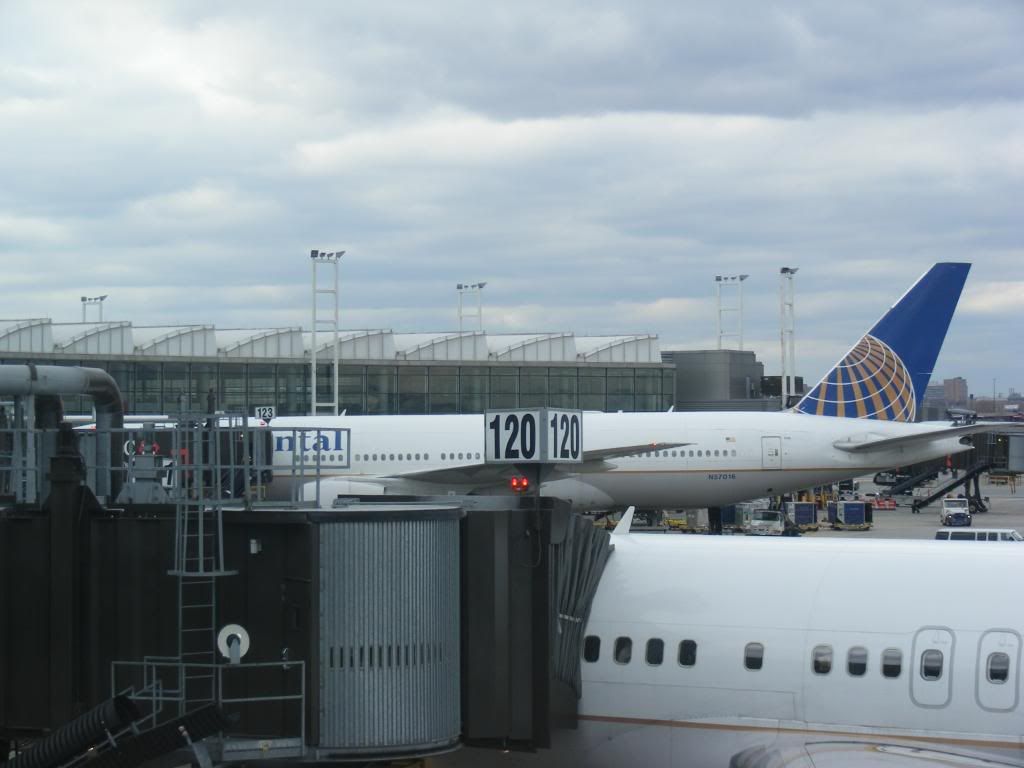 Plane #10 awaiting in the distance at C123 to take others and myself to HKG!
Before leaving, I asked one of the agents the current status of the HKG flight as well as reprint my boarding pass on traditional cardstock. She confirmed that boarding was about to start in the next few minutes and graciously printed out a new boarding pass for me, as well as handing back my original printed one since it had my passport information on it. With a smile and a thank you, I wished her a good day and bid farewell to the President's Club for my next adventure, C123 and HKG!  
05 March 2008
CO 99
B777-200
Gate Departure: EWR C123
Departure Time (scheduled/actual): 15:00 / 16:15
Arrival Time (scheduled/actual): 18:50 / 20:20
Gate Arrival: HKG 21
Seat: 17F
Registration: #03
Gate C123 is not too far from the President's Club. When I arrived at the gate there was a big crowd waiting to start boarding. No one was standing directly in front of the C123 podium, so I walked up and asked if they were verifying boarding passes and passports. With a quick thank you and a smile, one of the male agents checked both and informed me that general boarding would start in a few minutes.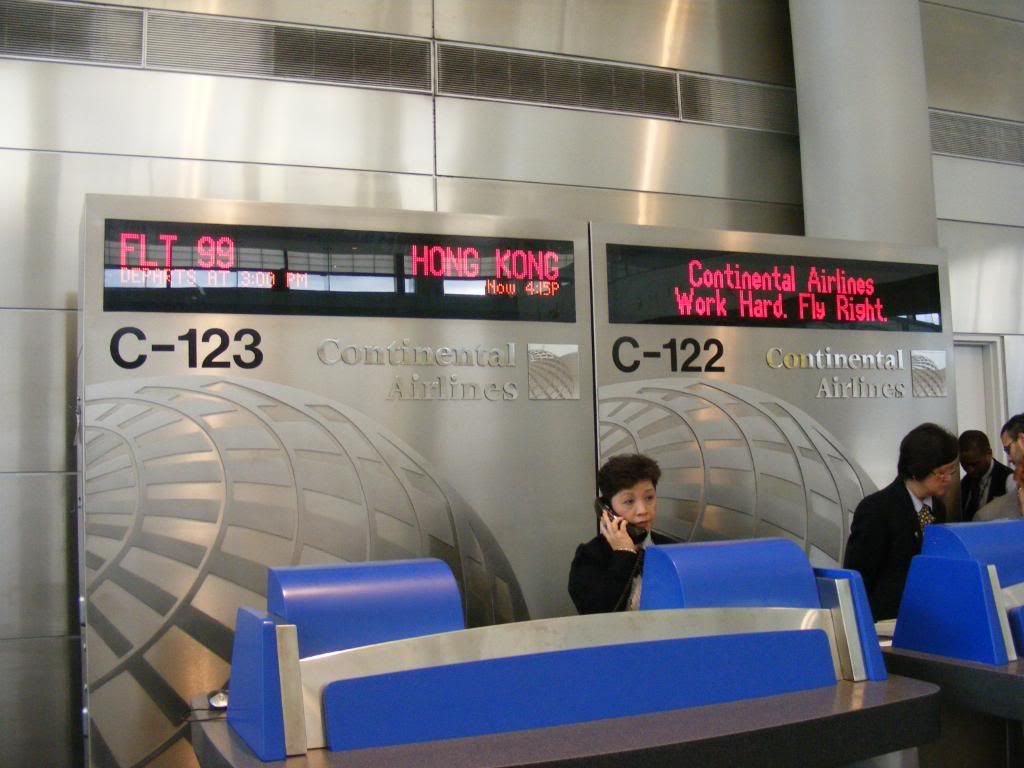 I waited next to the group gathering around the Elite Access line, who would later be the majority flying in BusinessFirst. While we continued to wait, US Customs & Border Patrol agents walked around the gate with a substance-sniffing German Shephard. The dog would sniff every bag, even standing up on its hind legs to sniff bags and persons standing much taller.  
In terms of the ethnic diversity of the flight, it was a nice mix of about 60% Asian, which includes South Asians, and 40% non-Asian, which includes Middle Easterners. There were constant messages from the podium in both English and Cantonese regarding the delay and the strict adherence to boarding by rows during general boarding.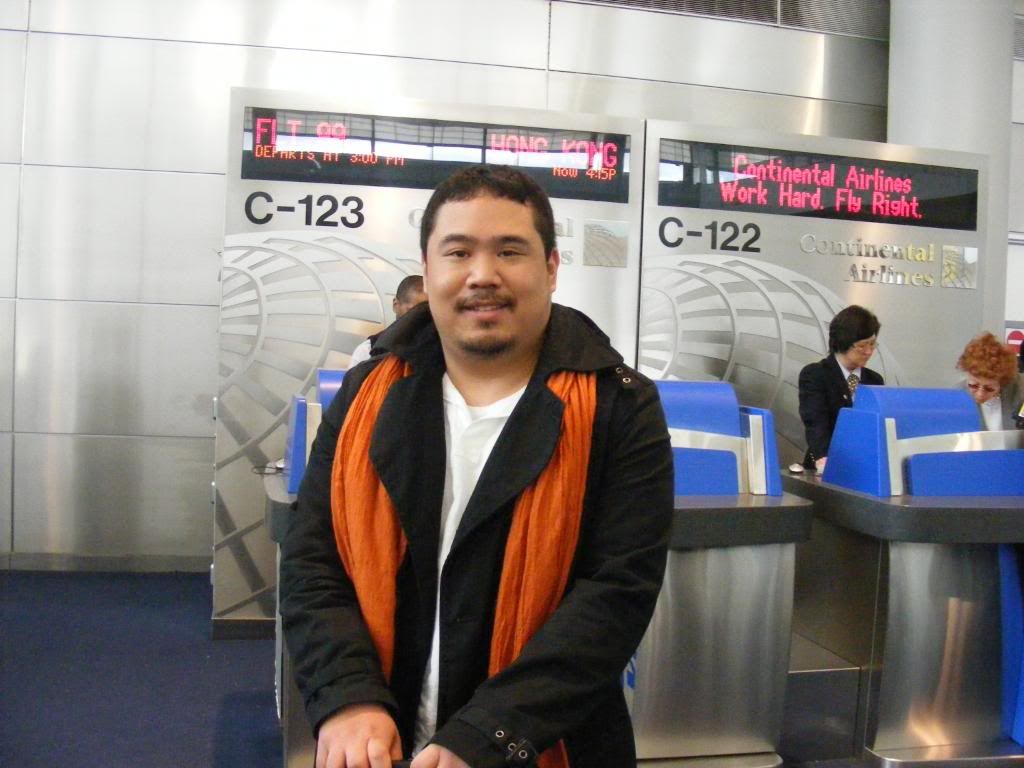 Me getting very excited to board my flight to HKG!!!
At about 15:45, the gate agents announced pre-boarding only for those in BusinessFirst cabin seated in rows 1-10. They advised that pre-boarding for EliteAccess members will be done shortly and for all passengers who have not done so, to have their boarding passes and passport checked at the podium to expedite the general boarding process. When the group of BusinessFirst passengers standing by the EliteAccess line made their way through, a bunch of elderly Chinese passengers pushed their way through both lines, only to be yelled in Cantonese that only for BusinessFirst and that they would have to go to the end of the line. At this time, the Cantonese-speakers stood at the very front of the general boarding and EliteAccess lines to double check boarding passes to see if passports were checked and if passengers were following the groundrules set by the gate agents. From the picture above, the agent on the phone was the agent at the EliteAccess line, while the agent on the computer stood in front of the general boarding line.  
I did see a few older Chinese passengers who were not among the initial barrage to board told that their row was not called and to return to the end of the line. I was in a good position when most of the BusinessFirst passengers had boarded and EliteAccess was next up to pre-board. When no one was boarding, an elderly Chinese guy went to the general boarding line and demanded he board at this time (or at least that's what I interpreted his body language to portray). The agent at front said no as general boarding had not started. At that time, EliteAccess was called and I was the first to board for EliteAccess. As I was about to hand my boarding pass to the first agent, that same elderly Chinese guy pushed me aside and thrusted his boarding pass into the agents hands.  
  If he wasn't elderly I would have taken down the SOB since it was uncalled for. Luckily, the EliteAccess agent and the US CBP agent and dog were right there and it looked like the agent was about to get the dog to attack the old man. Another gate agent was in the area and saw what had happened. He took the old man's boarding pass and pulled the old man out of line and told him to tell me he was sorry and to follow him and wait while everyone else boarded the plane. I laughed at the old man's face when he had to stand next to the US CBP agent and her dog, both watching him.  
  The EliteAccess line agent took my boarding pass, said "sorry about that and enjoy your flight" and then it was off to a trainee who then scanned the barcode, smiled, and wished me a pleasant flight.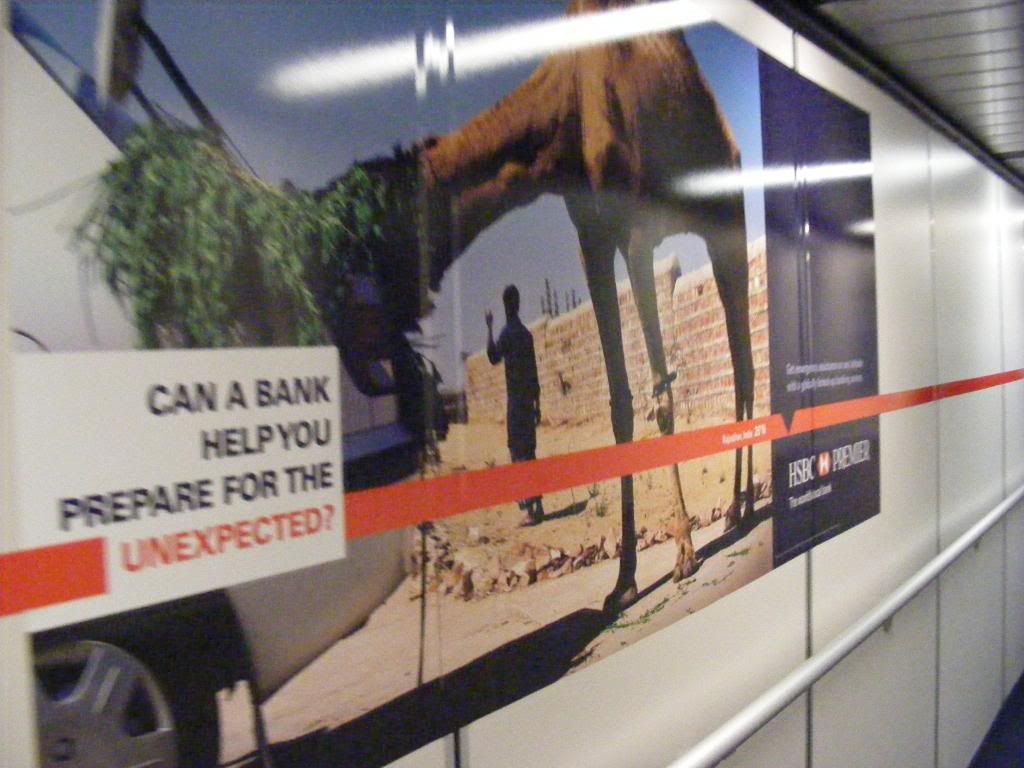 HSBC adverts in the jetway.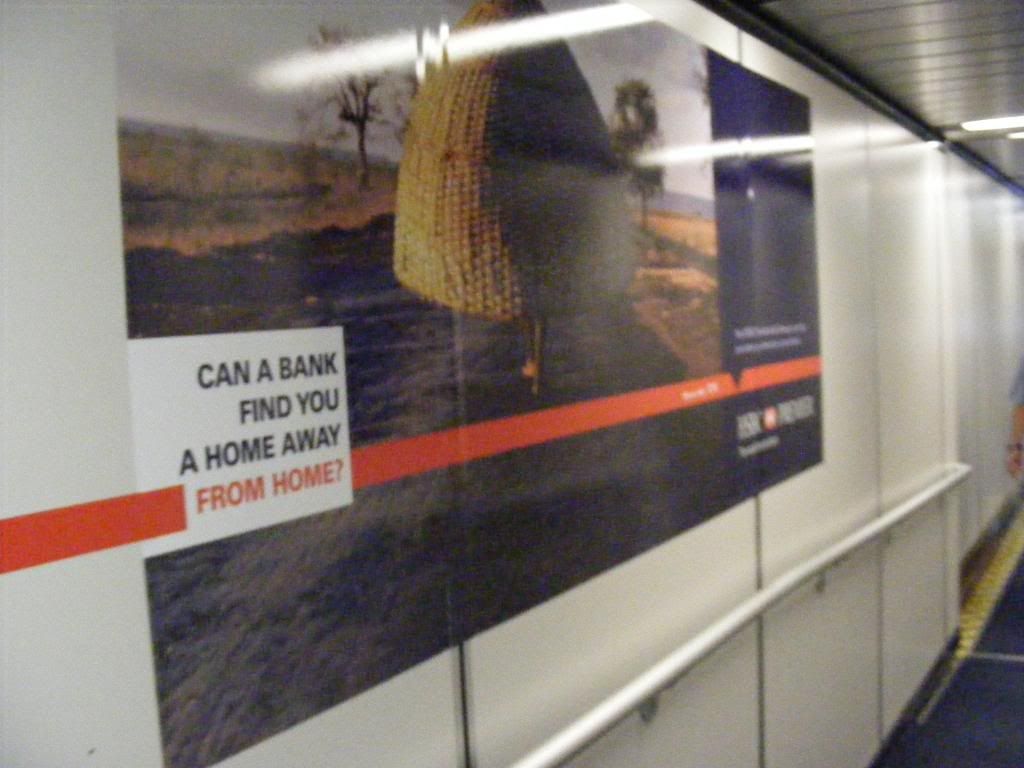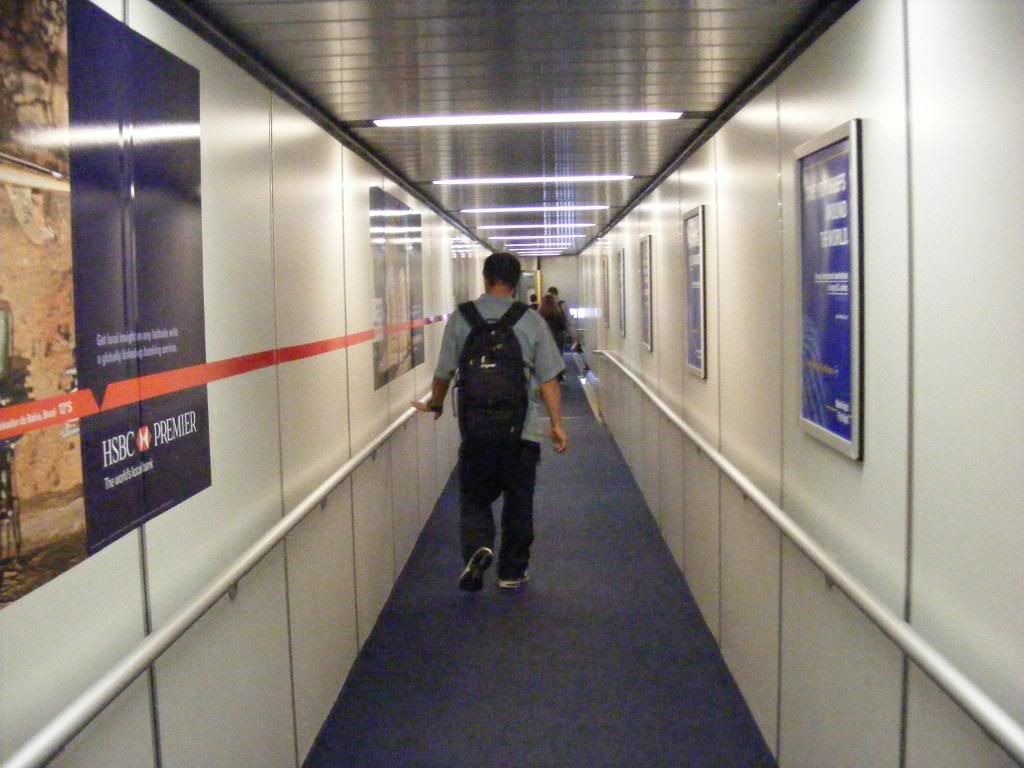 HSBC adverts on one side and CO adverts on the other side.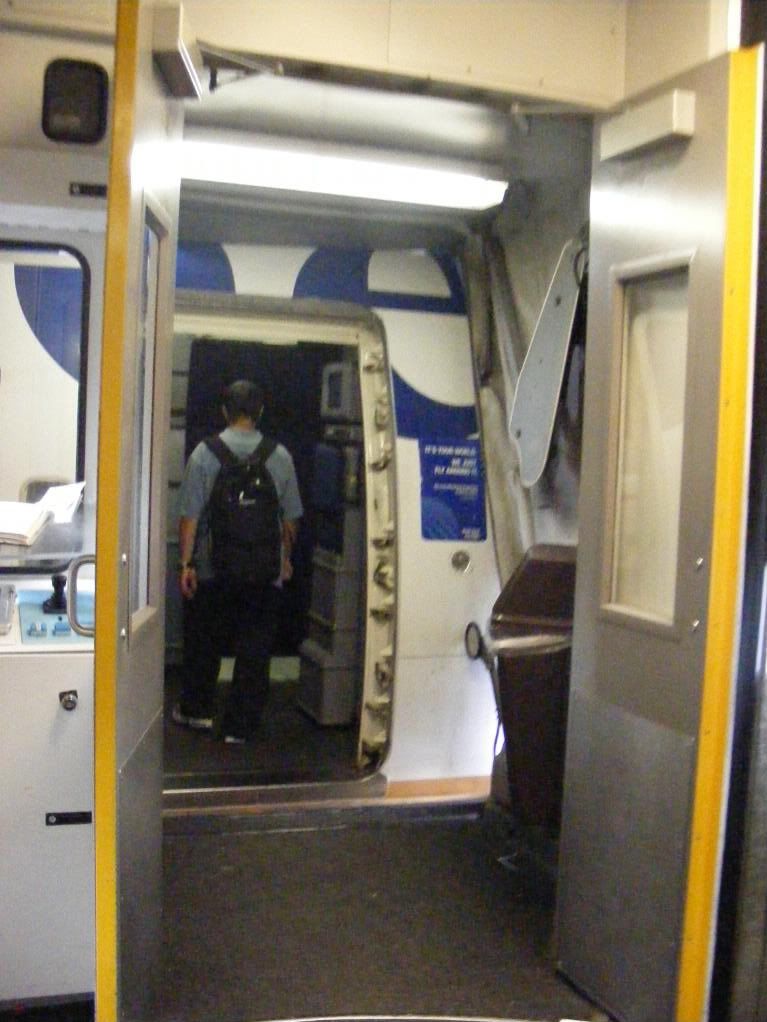 Welcome aboard!
I was welcomed on board by one of the helpful male Chinese FAs, aka Mr. Canton, and directed to my seat. When I checked in for my flights the day before, I was able to get Seq. No 1, the first person to check in for this flight. I was also a bit excited because I thought I would get on an AVOD plane since there was no 28DEF, but there was 31DEF, two indications for AVOD when checking in. When I had double checked later both rechecking in and on
http://pdf.continental.com/info,
I was a bit bummed that we would not be on one of the six 772s with AVOD. I was still hoping out for my return HKG-EWR flight, then.  
  On this flight, I chose 17F because I like the aisle seat and would have been easier letting one person out rather than 2 if I was on the sides. When purchasing these tickets online, 16DEF and 17DEF are blocked off and mainly used for crew rest seats. On this flight, these seats were not used for crew, so I got to enjoy a 2nd row in coach aisle seat. Not bad for my home for the next 15hrs.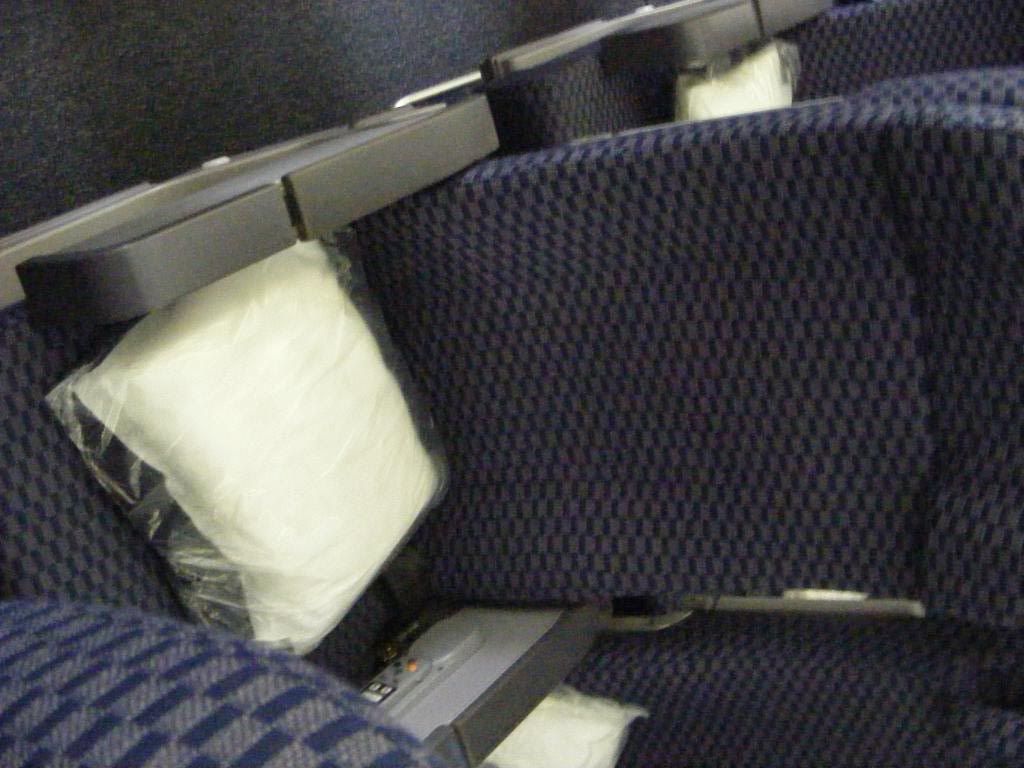 17F, my home for the next 15hrs.  
View of the cabin behind me.  
My neighbor at 17D was a Chinese guy with a Canadian passport, whom I assumed was also an OnePass elite member as he was right behind me in the queue and was comfortably holding his Continental currency coupons in his hands and put them in the seat back pocket in front of him. We were to have a young Chinese lady sitting in 17E, but apparently she knows the crew and they moved her towards the crew rest area in the back of Y. Overall, this was looking to be a bearable flight! When she moved, I decided to claim 17E and placed my coat, my travel journal which I am writing this report, and my camera.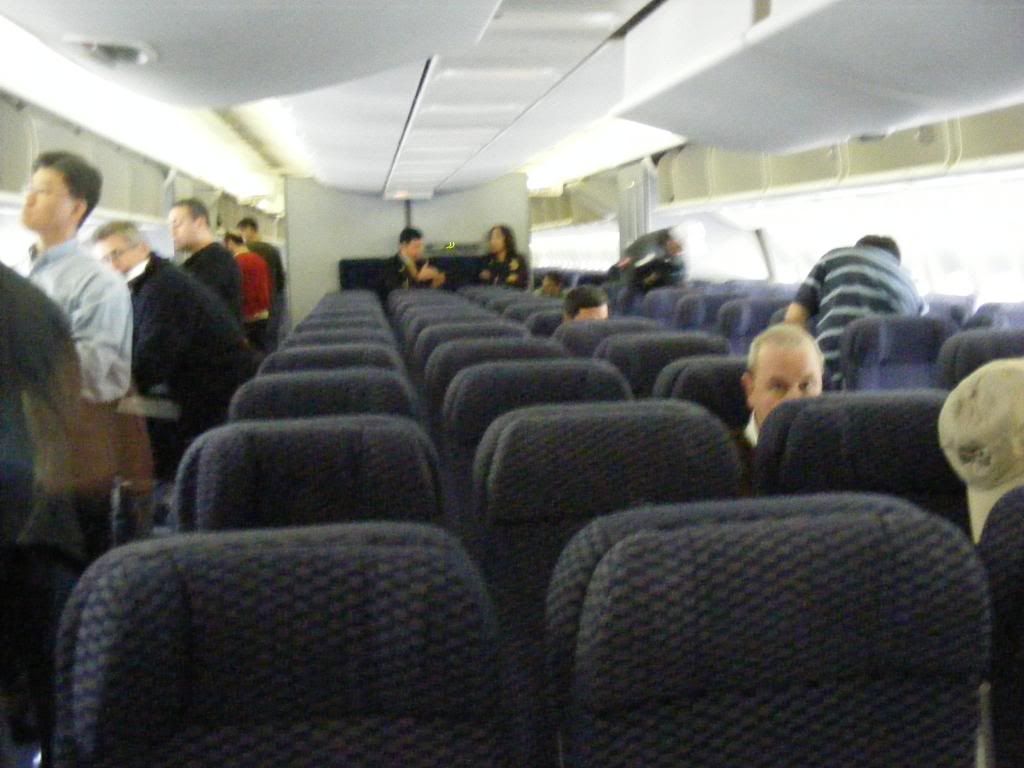 The front half of the Y cabin.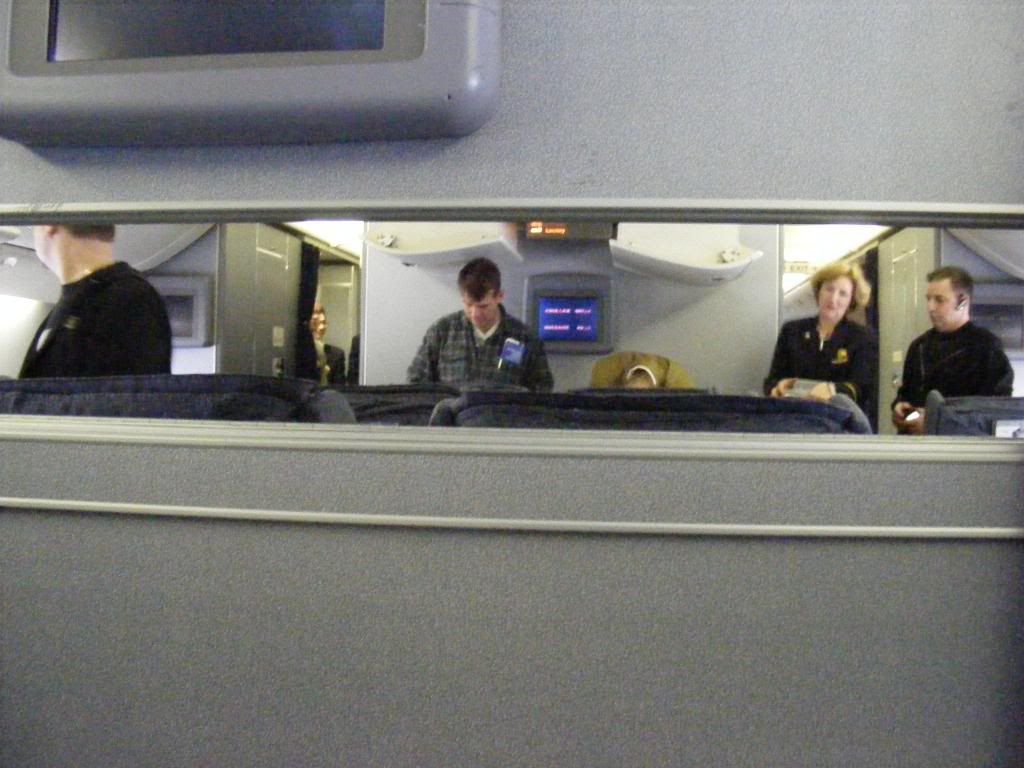 A view into the back BusinessFirst cabin from an odd opening at the partition between BF and Y.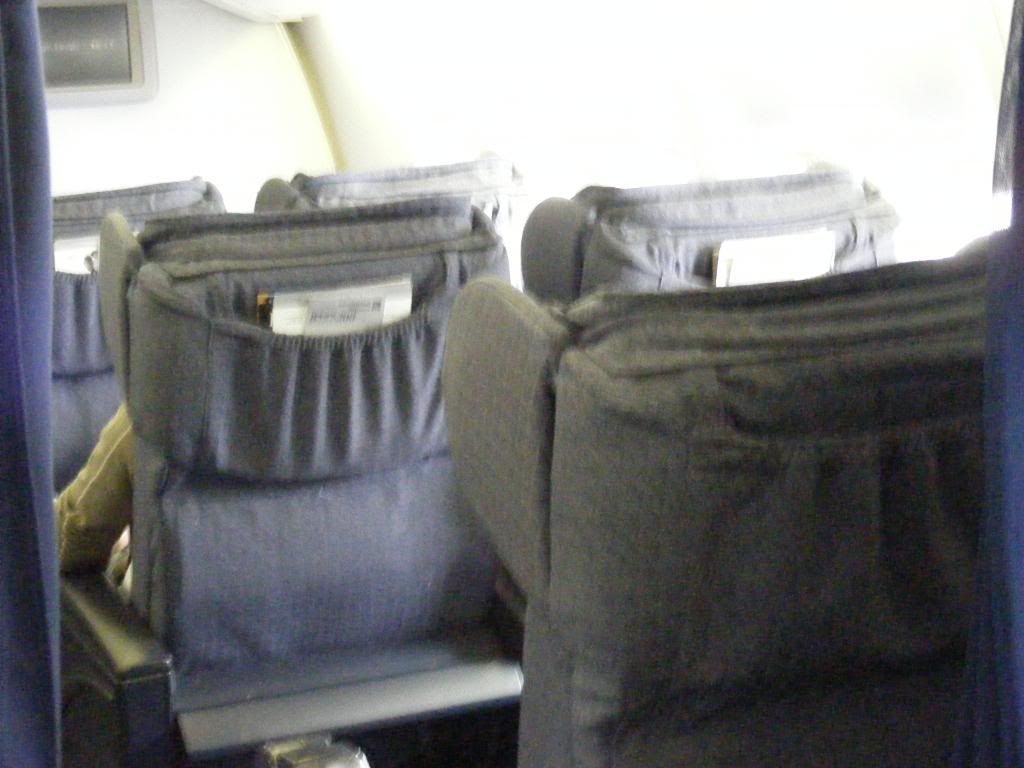 Peaking into the BF cabin.
As the rear section of Y began to fill up, ISM Todd welcomed everyone on board CO 99 to HKG following the memorized standard message of all carry on items needing to be securely stowed as well as mobile phones permitted while aircraft doors still open. We had a female Cantonese speaker, Miss HK, who worked the front BF cabin serve as our announcement interpreter for the flight. I was hoping Todd would play an automated in flight announcement in English and Cantonese so that I could record them, but that was not to happen.  
By 16:15, Todd announced boarding complete and doors closed. He requested all mobile phones be shut off at this time and for flight attendants to prepare doors for departure and standby for oncall. After this announcement, the Captain welcomed everyone to the flight to HKG and apologized for the mechanical delay. Today's flight time would be 15hrs and hope to make up some lost time since the flight would not encounter any major headwinds. At the end of his message, Miss HK did the translation for the Cantonese passengers. At this time, FAs Stephanie and Don walked down the aisles and handed out menus for each passenger, with English on one side and Chinese on the other.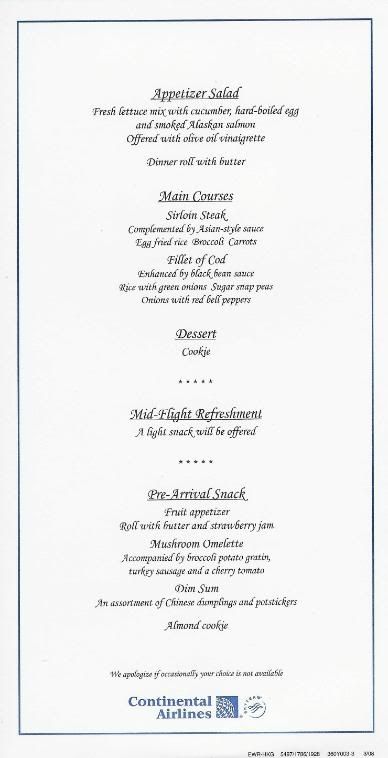 English menu for CO 99.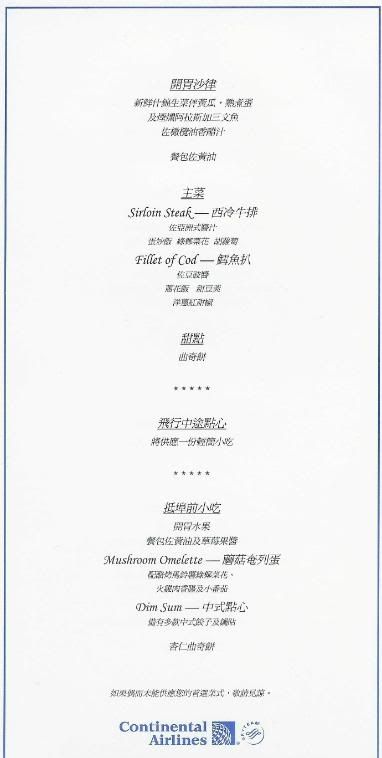 Chinese menu for CO 99.
By 16:27, power to the airplane was turned down and we were manually pushed back from the gate. After push back, FAs took their position and Todd started the flight safety video in English and then in Cantonese once the pilot resumed power to the plane. Since I was in the center section, I was not able to see which planes were around or who we were behind. However, once the videos were finished, it was just a short taxi until we turned to runway for takeoff by 16:45.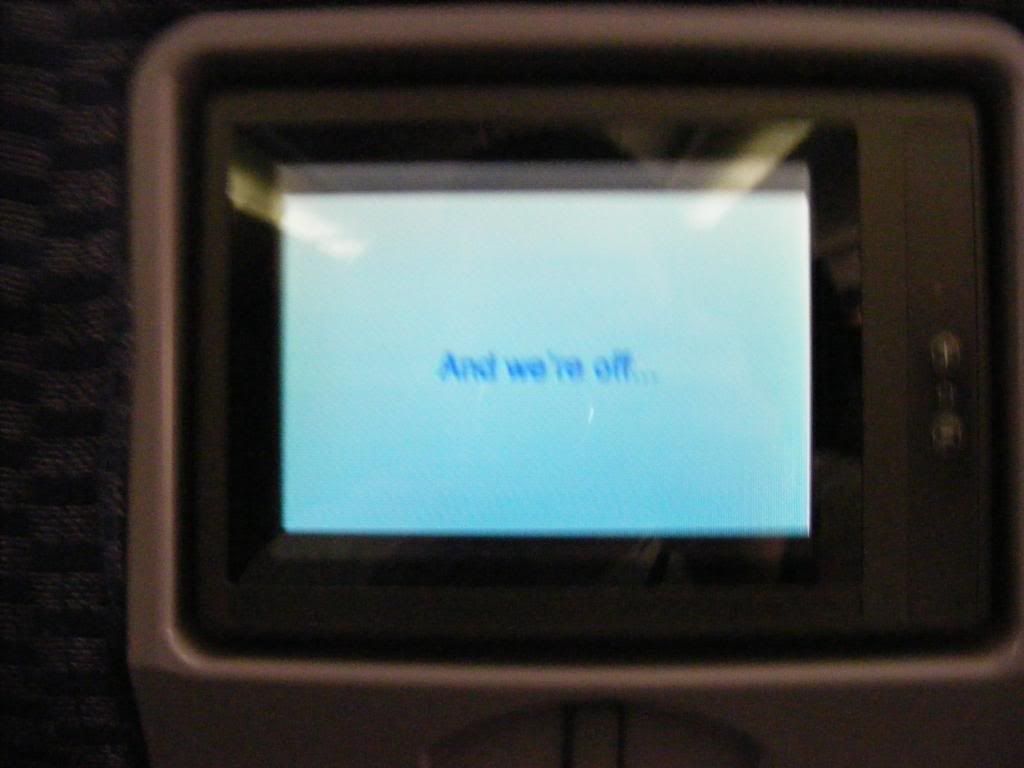 And we're off! (Sorry it's a bit blurry!)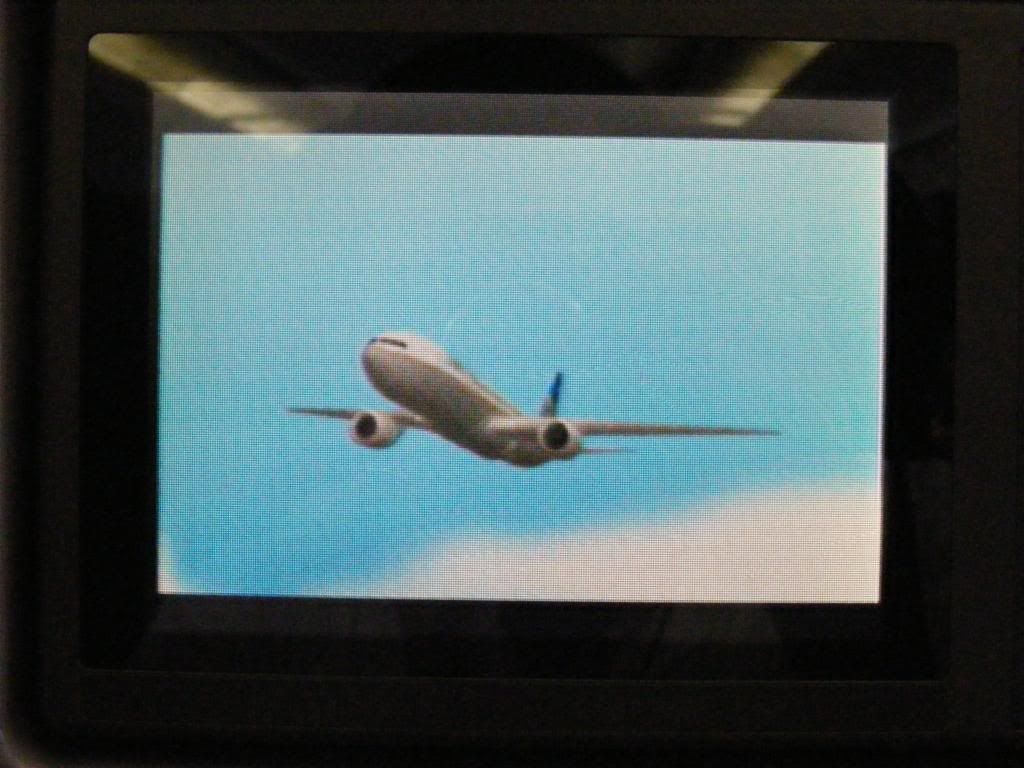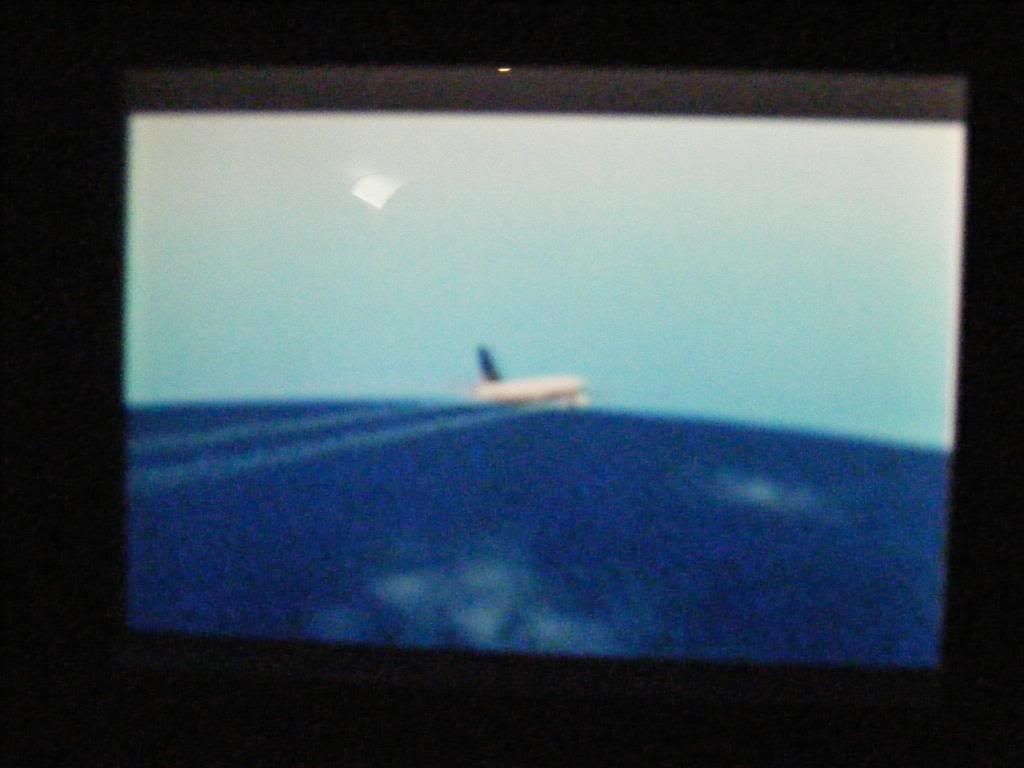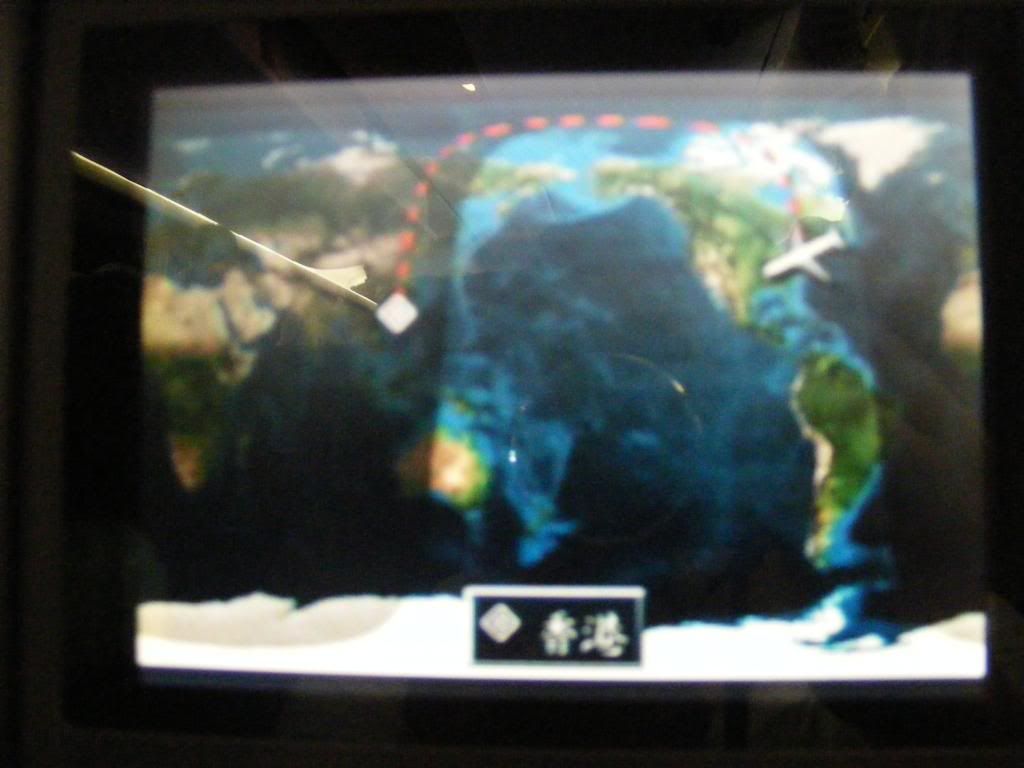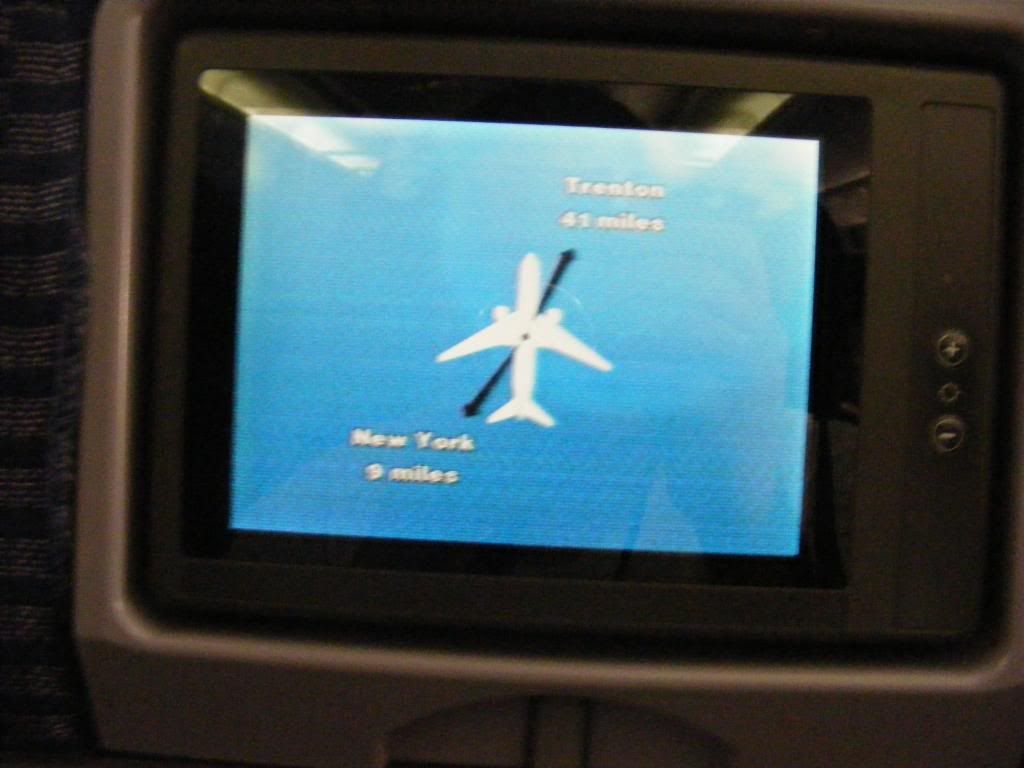 About 5min after takeoff, Todd, again, welcomed everyone on board, especially a special welcome to OnePass members who would be earning valuable miles for this trip to HKG. He then proceeded to give a description of the services offered on this flight:


Just after announcements he would play video on how to use the PTVs.

Twenty minutes later, PTVs will be turned on for passenger viewing.

First round of drinks service will commence at the start of the inflight entertainment.

Proceeding this would be dinner service as well as another round of drinks.

Six hours into the flight, a mid-flight snack service.

An hour prior to arrival, the pre-arrival meal.

Once he gave us this outline, he invited everyone to sit back, relax, and enjoy the flight; welcome onboard!  
  As usual, this same message was repeated in Cantonese by Miss HK.
A few key things were noticed on this flight that were different than previous CO international flights I have taken. First, FAs handed out menus to each passenger. I realized this was a helpful tool for FAs to ask Chinese customers what they would like for dinner by just pointing to the selection.  
  Second, hot towels were actually distributed to all passengers in Y! The last time I was given something remotely similar was a lukewarm moist toillette on an EWR-FCO flight back in 2001. On this flight, this was a small square hand towel that was nicely wet and hot.  
  Third, first round of alcoholic drinks were free. No reason was given, just each time the FA said that first round would be free and all others would require 5USD or CO currency coupon. The FAs would note which seats did receive free drinks as they marked it on a chart.  
  For me, I ended up declining a possibly free Fosters beer that could help me sleep because I knew I would immediately get dehydrated and drink tons of water causing me more visits to the lavatories which would prevent me from sleeping!  
After the hot towel service, the FAs started with the first round of drinks along with a selection of peanuts or pretzels. Since I sat on the second row of Y, I was mainly served by Mr. Canton and Stephanie, both were very nice and friendly throughout the flight, and eventually both remembered my drinks of choice after dinner, which included a switch from orange juice to hot tea.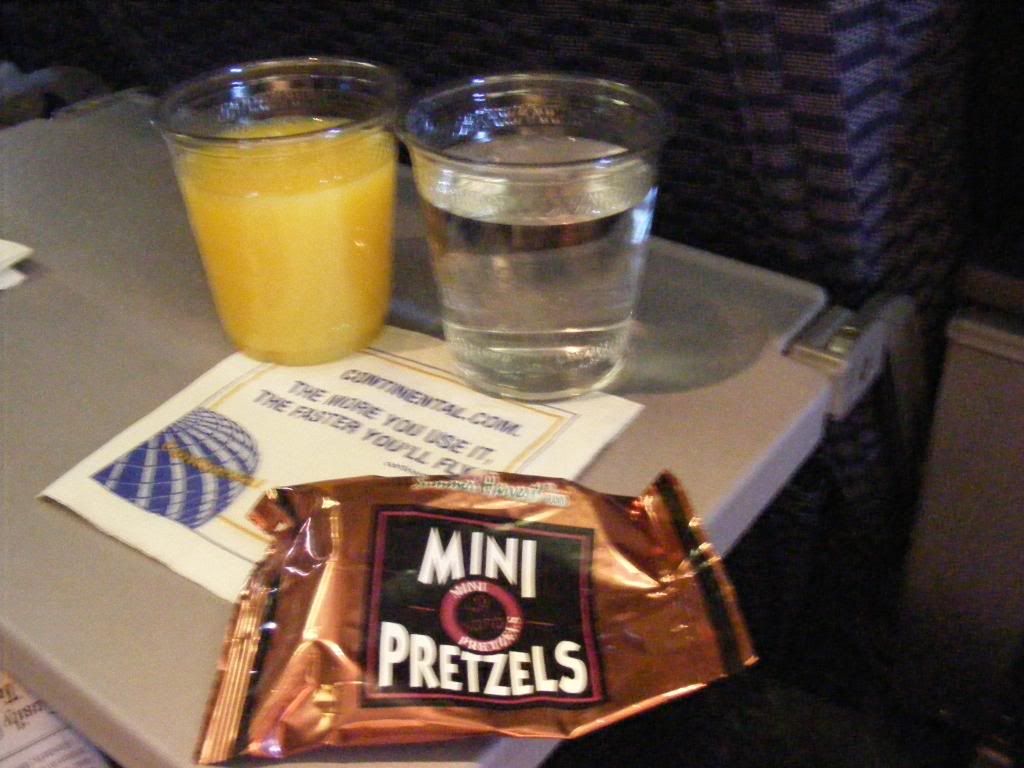 My usual choice of orange juice and water for first round of drinks, along with some mini pretzels.
After they served the entire Y cabin, the drink carts were rolled down the aisle again in addition to the dinner carts.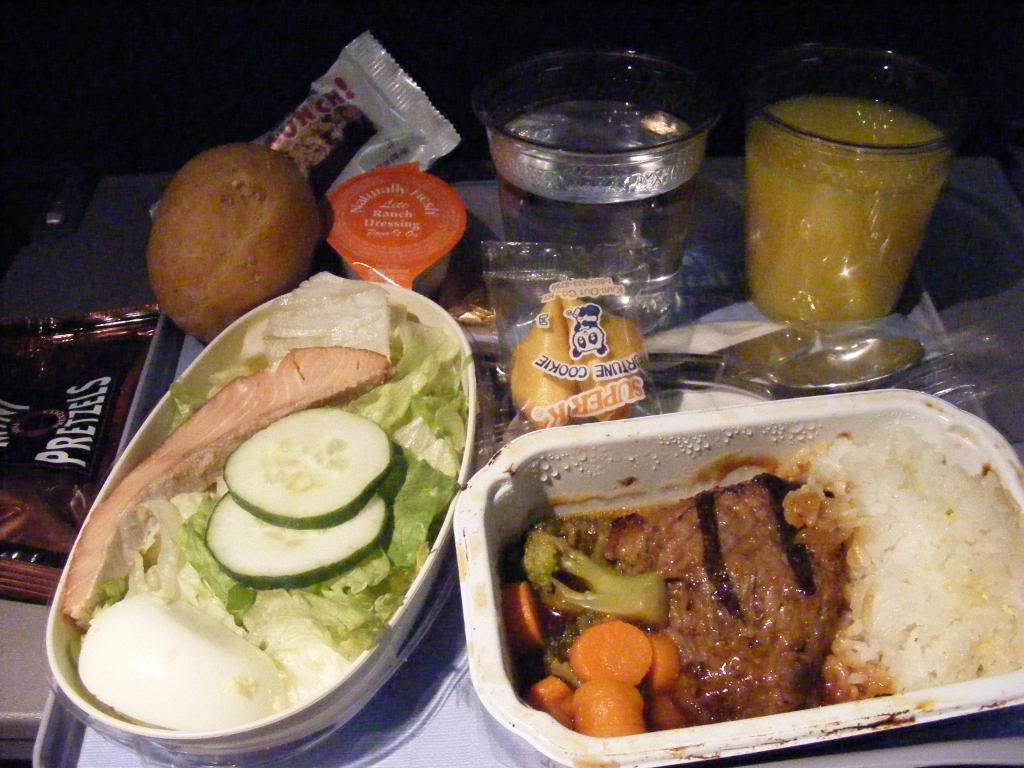 I had the sirloin steak with a salad that was not as appetizing, especially with the lite ranch dressing rather than the vinagrette on the menu. We even got a fortune cookie. Of course I don't remember what my fortune was!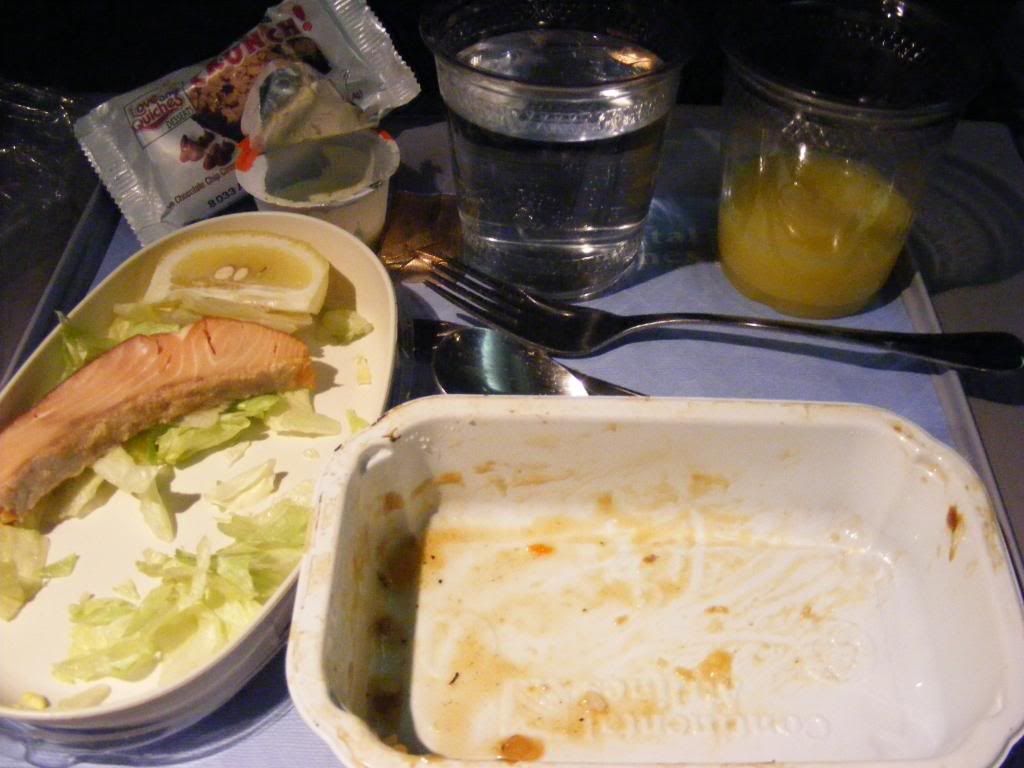 As you tell the sirloin steak was good, rather hot, too. I didn't touch the salad since I have this thing of eating seafood on the airplane. Maybe I should blame
Airplane, the Movie
for not liking fish served on planes!  
Once lunch service concluded, the FAs came through with the carts to pick up trays and dispose of trash while offering after-dinner coffee, tea, or ... (cheeky buggers thinking ME!) water. By this time, the first cycle of programming had ended and the FAs tried to dim the lights in the Y cabin. It turned out that the lighting in the rear Y section by doors L3/R3 remained on for the duration of the flight preventing many not getting any sleep. I lucked out sitting in the front section and was able to get at least 3hrs of sleep despite not utilizing the help of a sleeping aid. Also, I was not quite sure where I had put them with all the shuffling and rearrangement of my carryon items. I was excited for the rest of the trip, but in the back of my mind, I was a bit nervous that I might not make my EK connection to BKK.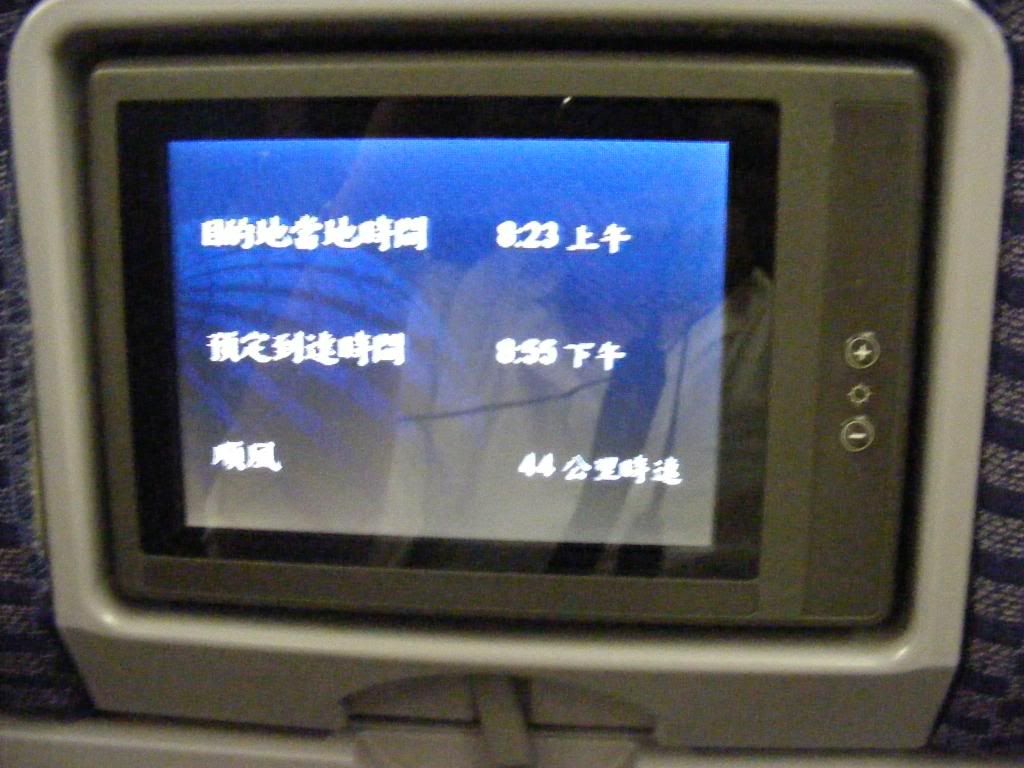 In Chinese: "Local Time at Destination", "Estimated Arrival Time", and "Tailwind"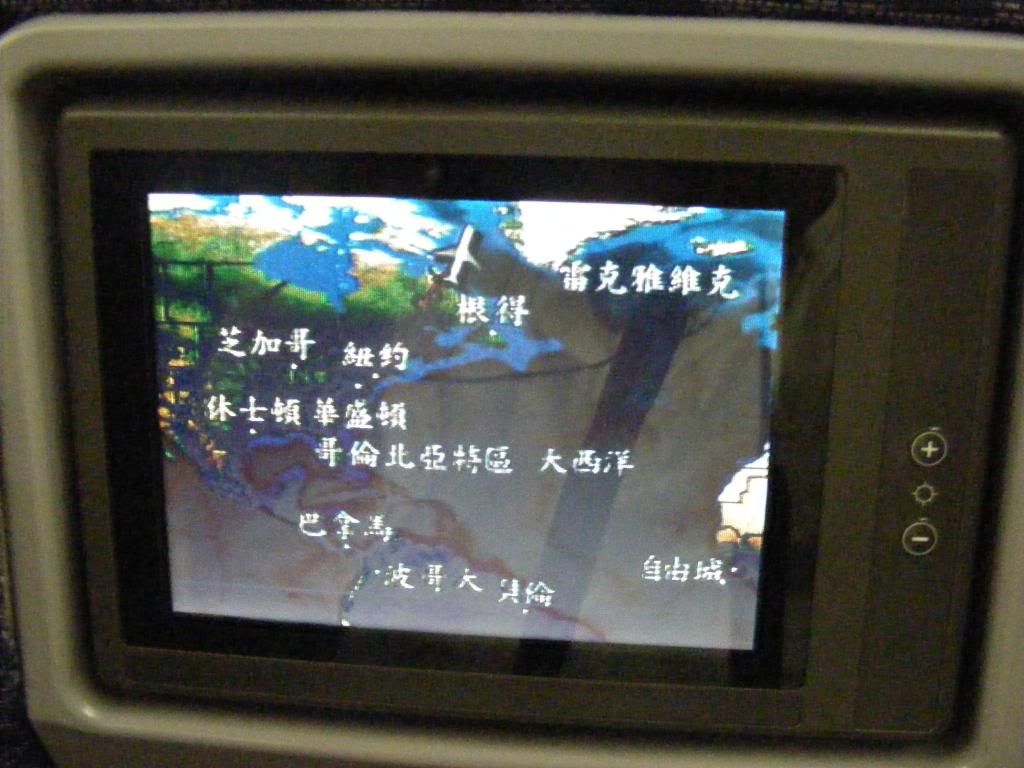 In terms of service, the FAs on this flight were really on their toes.  
  It seemed like 30min intervals they would walk down the aisles with trays of water or even writing down drink orders for those who the noticed awake. I rarely heard the FA call chimes go off with many passengers opting to walk back to the galley and get water or whatever. The times I went back to the galley for some hot tea, Mr. Canton would kindly get it for me and tell me "enjoy!"  
The one slighly annoying thing about the flight were the people who would stand by the lavatories. For most of the flight, I thought there were long lines to utilize the lavatories, but later realized those groups of people were mainly standing, stretching, and some chatting while blocking any free space.  
  That overhead lavatory sign does really help when you finally decide to get up and go and find an available one. Yet I tried to be careful and not get any surprises because I remember on my second ever international flight to MNL on a DTW-NRT sector on NW, I saw an available one, but when I walked in it was an elderly lady who did not lock the door and she was sitting there with her pants down to her knees. Scary sight!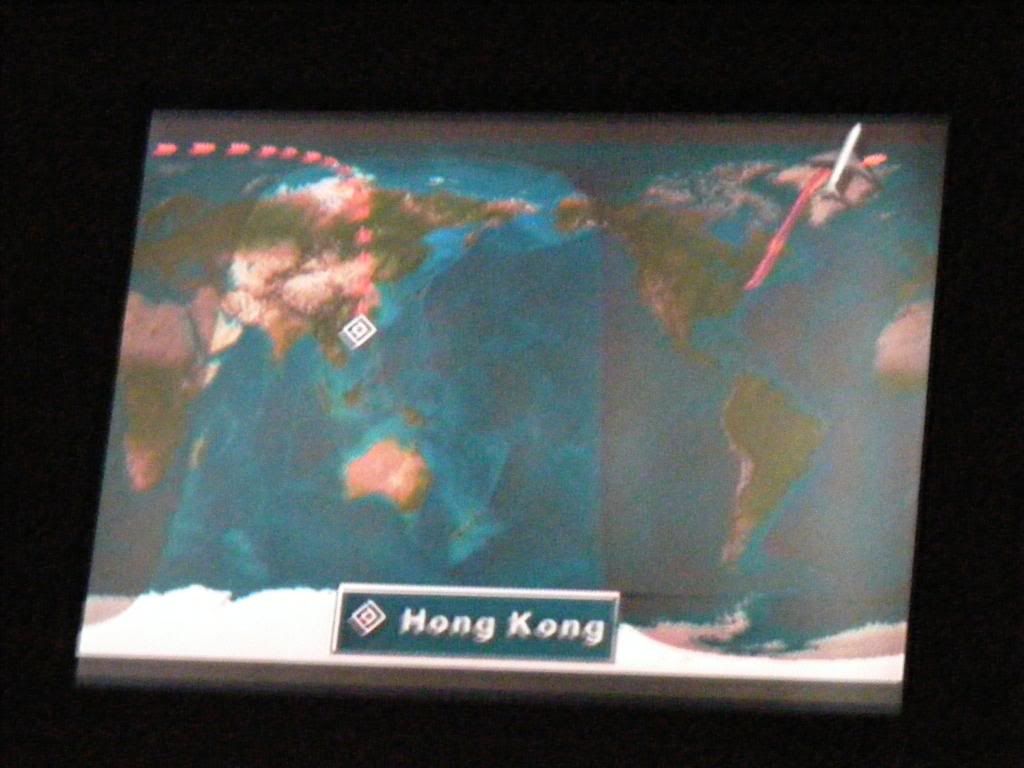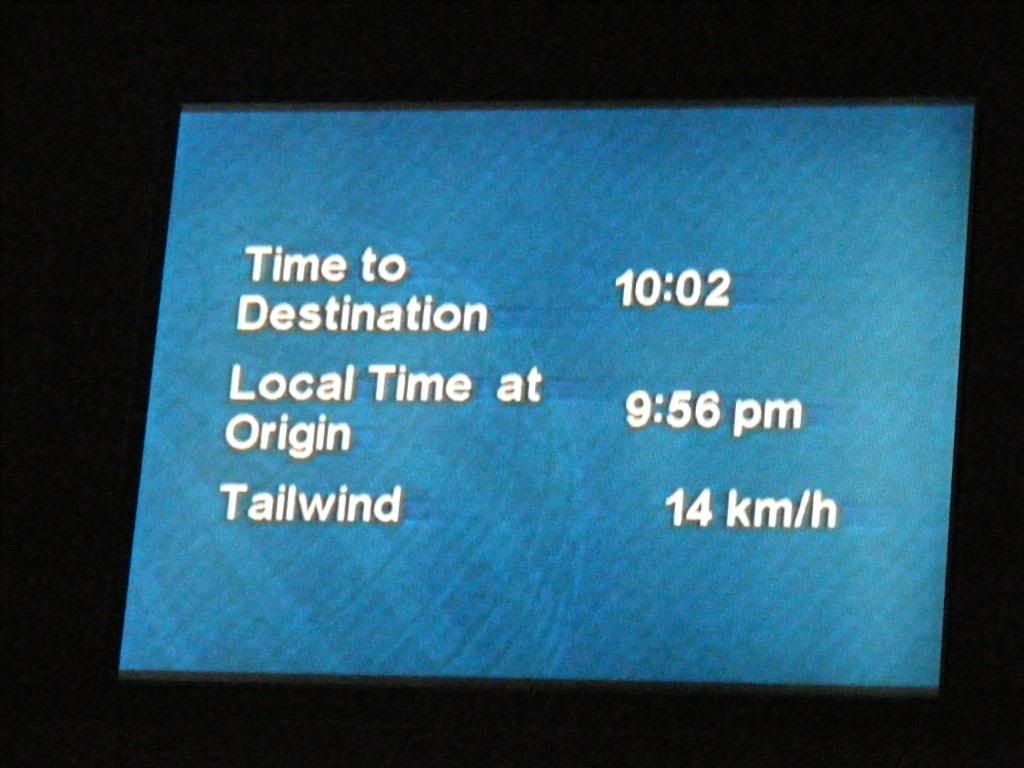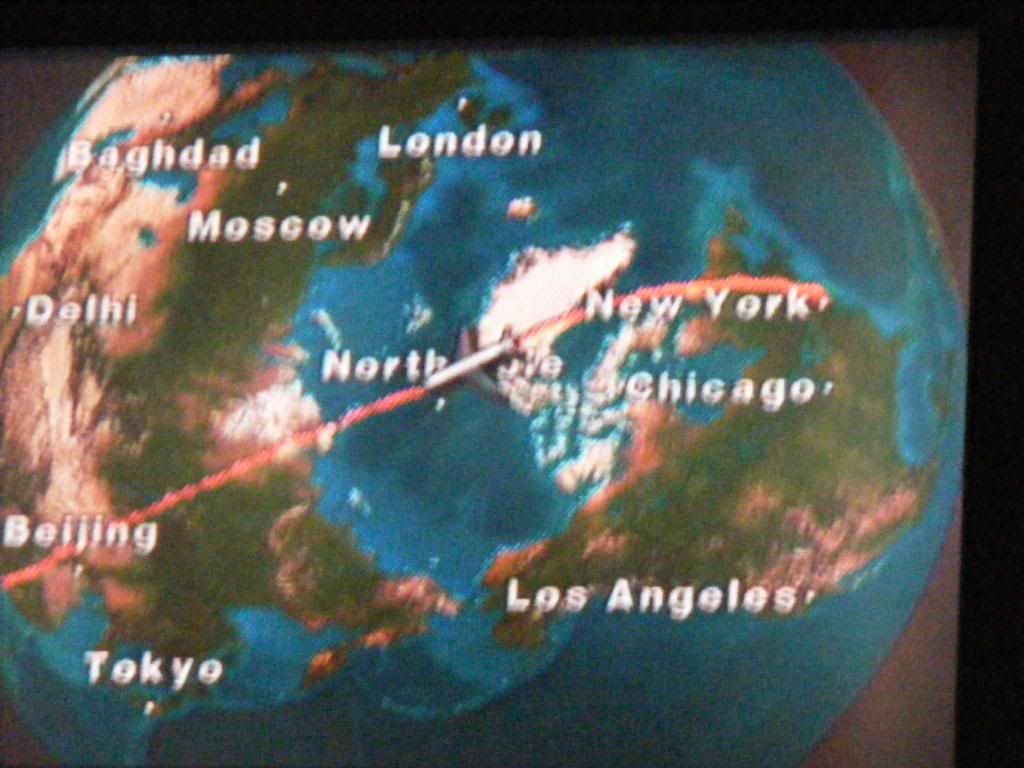 After 6hrs into the flight while the first group of FAs were still on their rest period, all the FAs on duty in both cabins helped distribute the midflight snack consisting of a cheese pizza and the cup of Haagen-Daaz vanilla ice cream!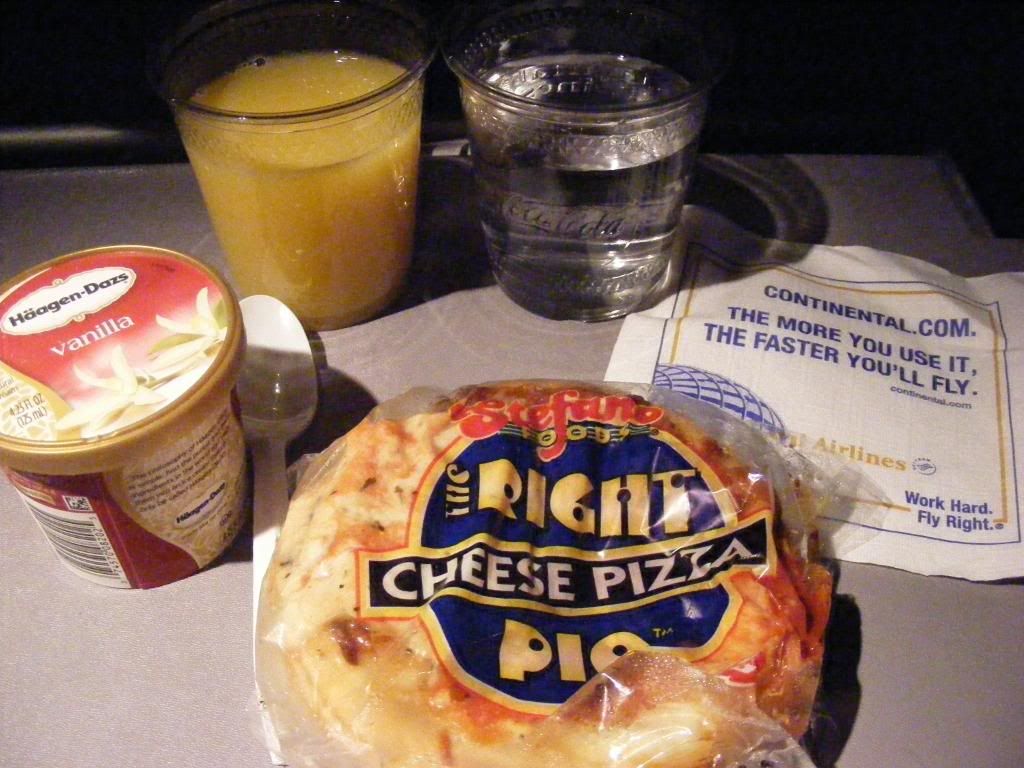 Some might not like these, but it's one of the best comfort foods on a nice long flight, especially somewhere close to the North Pole!
Though I loved the pizza, I wish CO served the typical Nissan Cup-O-Noodles, which also never tasted better than heading towards Asia! Overall, I'm not complaining, just wish FAs would come by and say if they had leftovers and distribute to them who wanted another pizza, or, ice cream, or both! Before handing out the pizza and ice cream, they started with a drink service where I ordered my usual orange juice and water.  
  After they came through the cabin to pick up the rubbish, they did another round of drinks where I ordered some hot tea and water. While I was enjoying this midflight snack, I watched various episodes of CSI, endings of a few movies, and then the air map with Rihanna singing "Don't Stop the Music".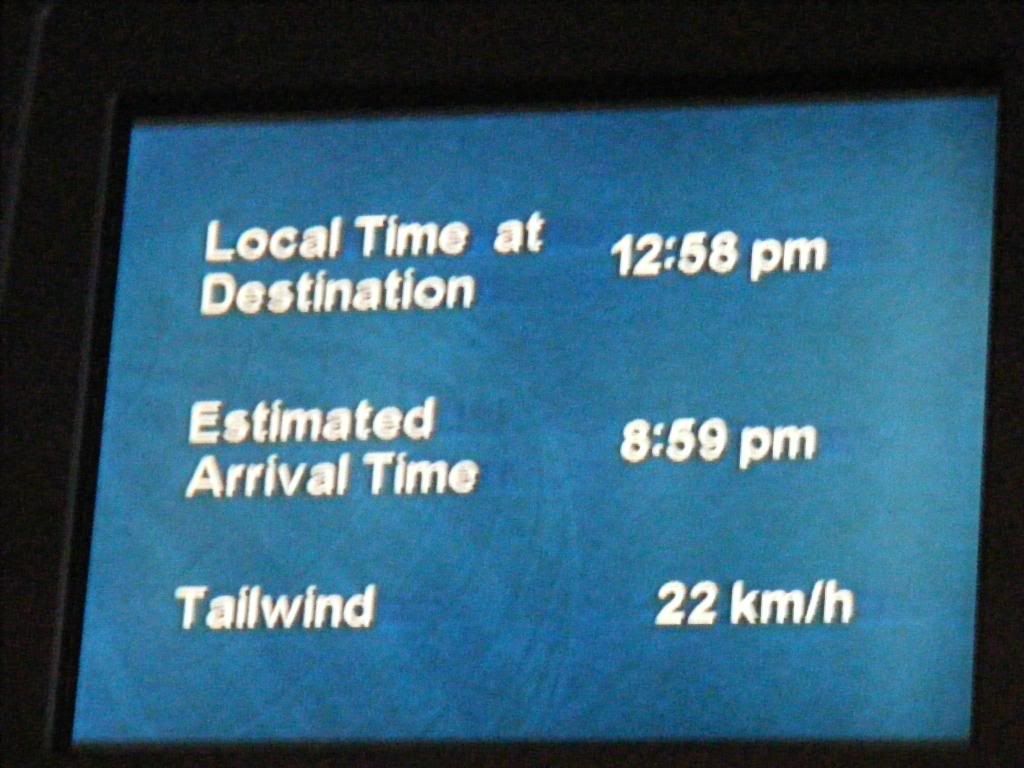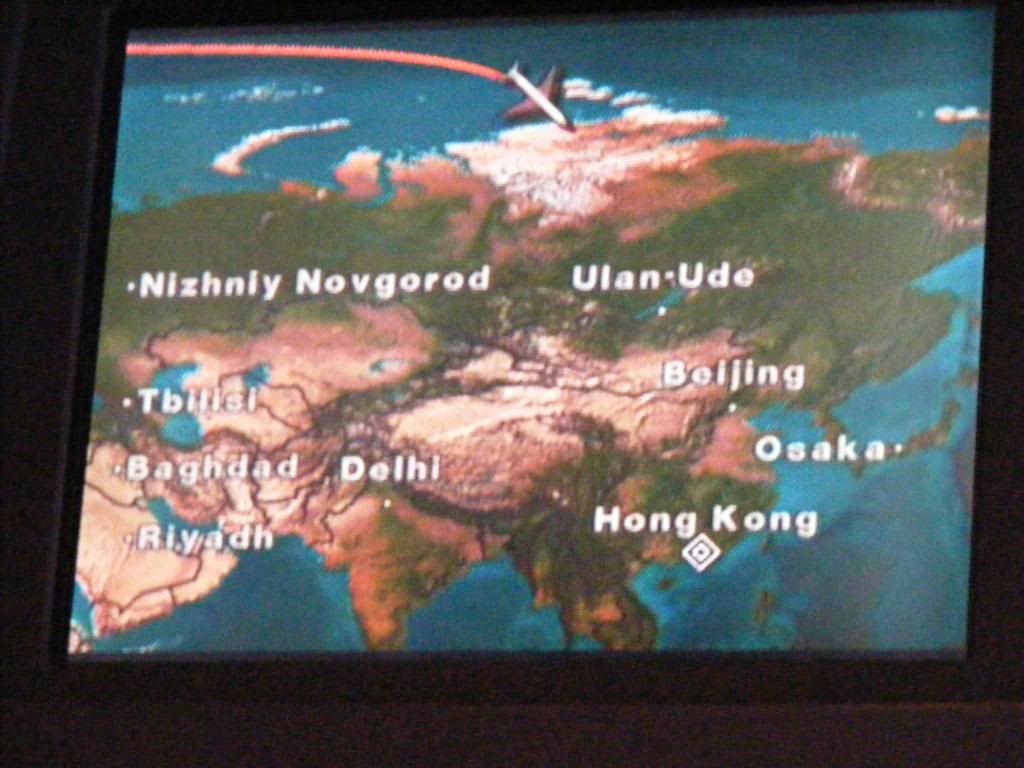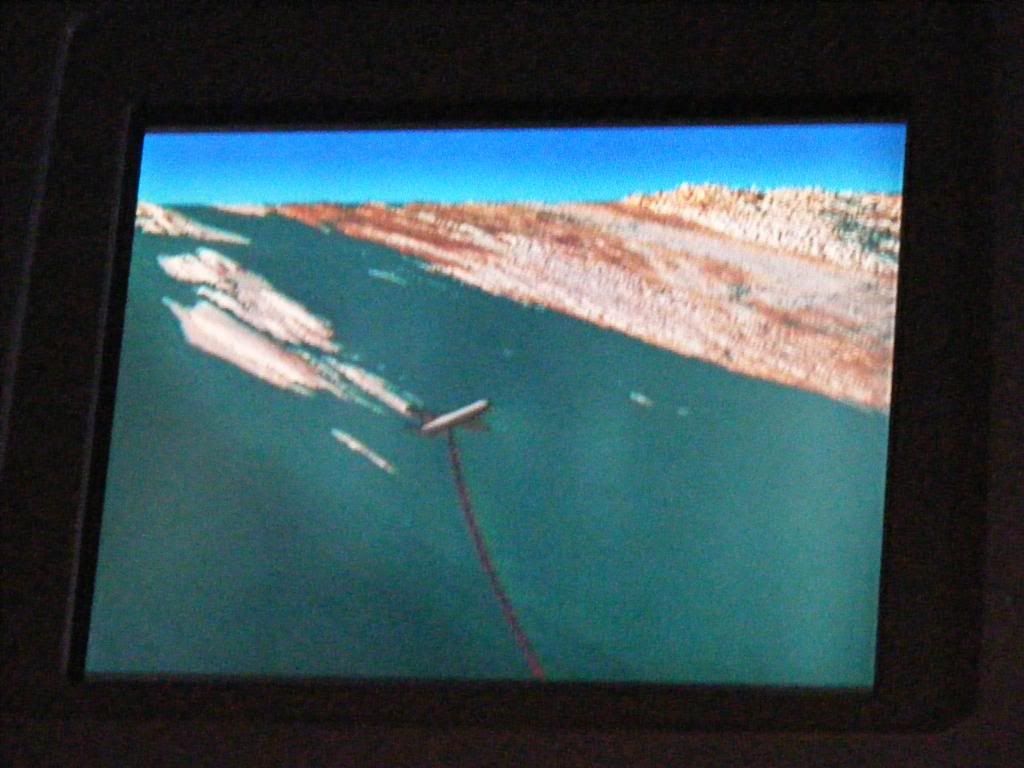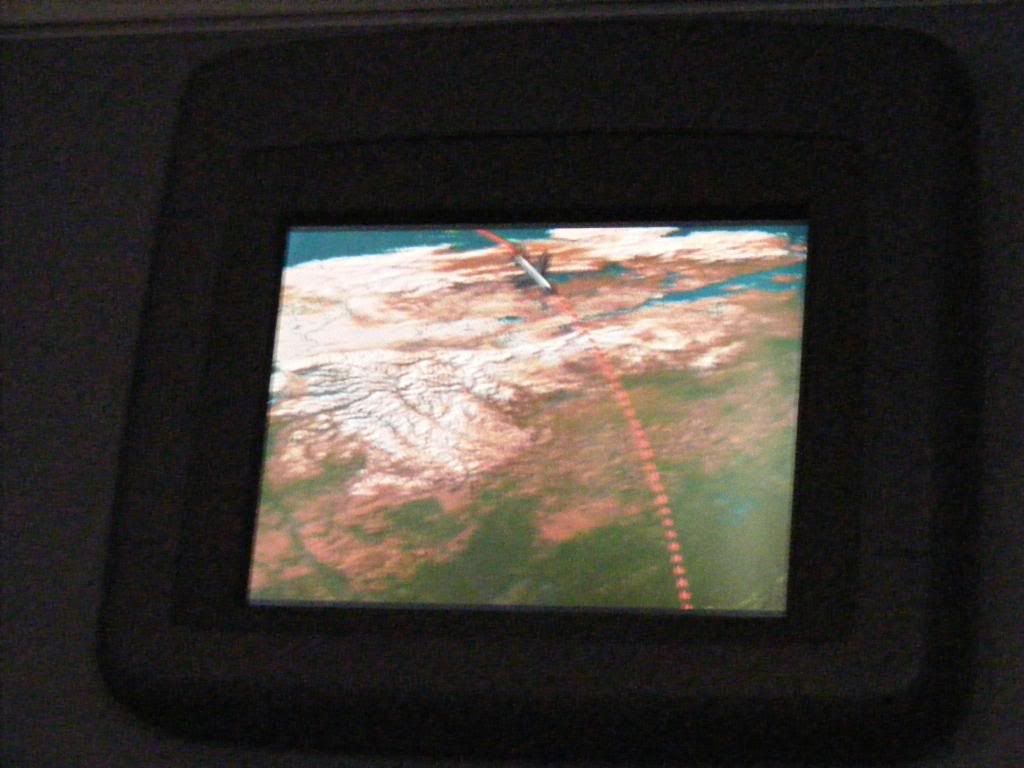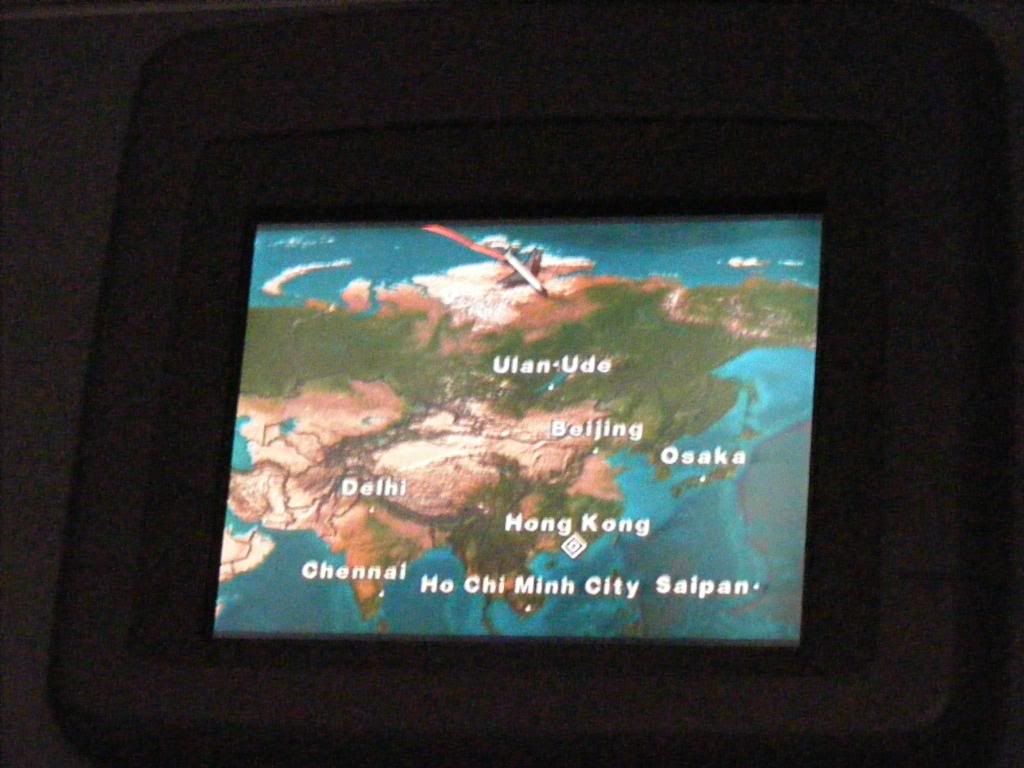 So far, the flight seemed to go by rather fast as we made our way south over Siberia, Mongolia, and Mainland China to HKG. During the boarding process, the guy at 16D was downgraded from BF to Y, but he was generously taken care of by both BF and Y crew. He was asked if he wanted the BF meal, but declined while he was seated in Y. Four seats on the last row of BF were blocked off as crew rest. Once all the crew had taken their rest, they moved Mr. 16D to 10K. Lucky bum!  
The view from the last row of Y.
A galley view from the rear of the aircraft.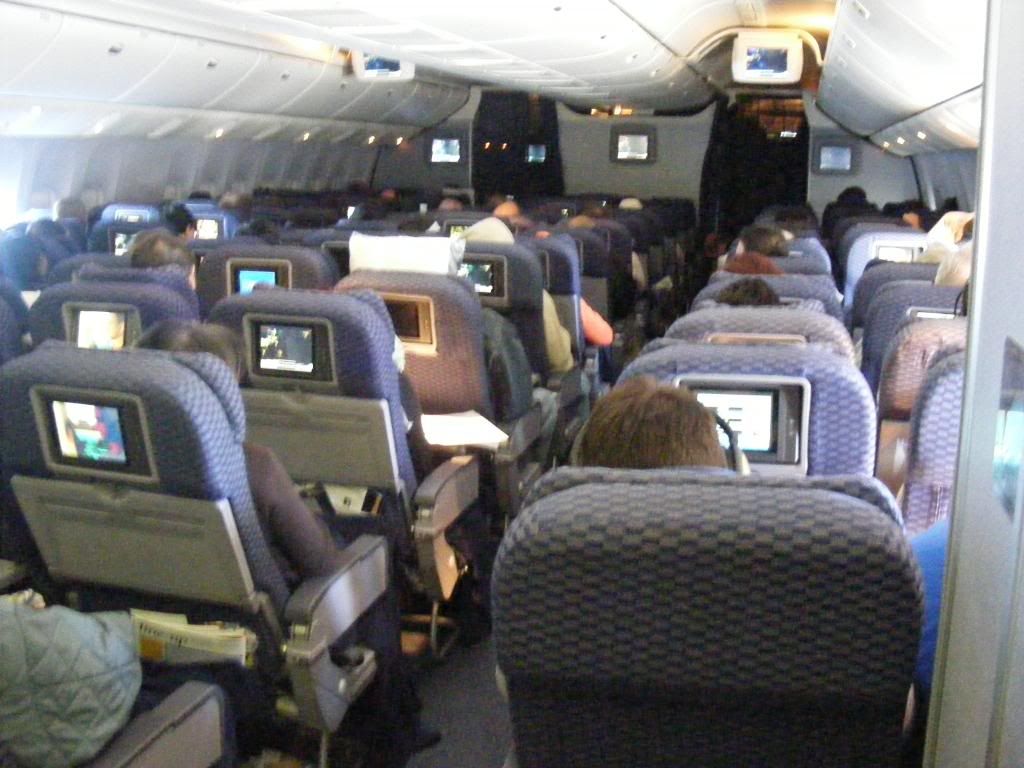 A view of the forward Y cabin by the lavatories on the right side of the plane. The BF cabin is very dark.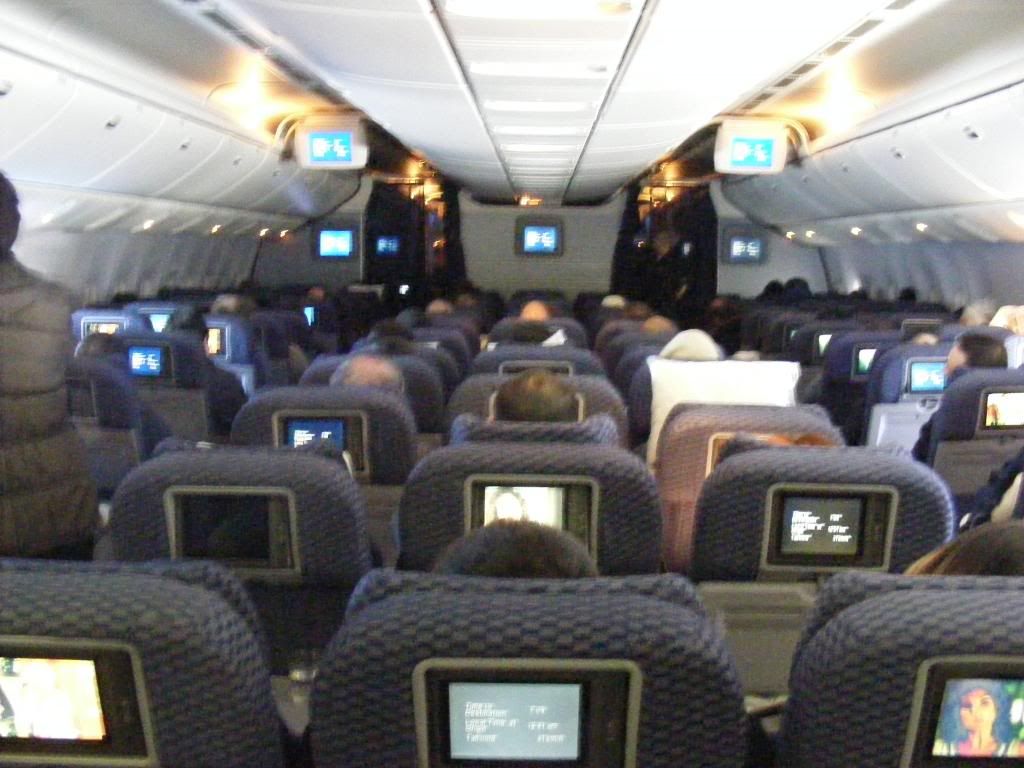 Mid-cabin shot of the forward Y cabin.
A little more than an hour before arrival into HKG, the FAs started the pre-arrival meal service. From the menu, our choices were "Dim Sum" or an omelette. Though I love eggs, I can have that on any other CO flight, but not the Dim Sum option. This choice was rather tasty though very oily, especially the noodles. This was nicely washed down with a full cup of hot tea and water.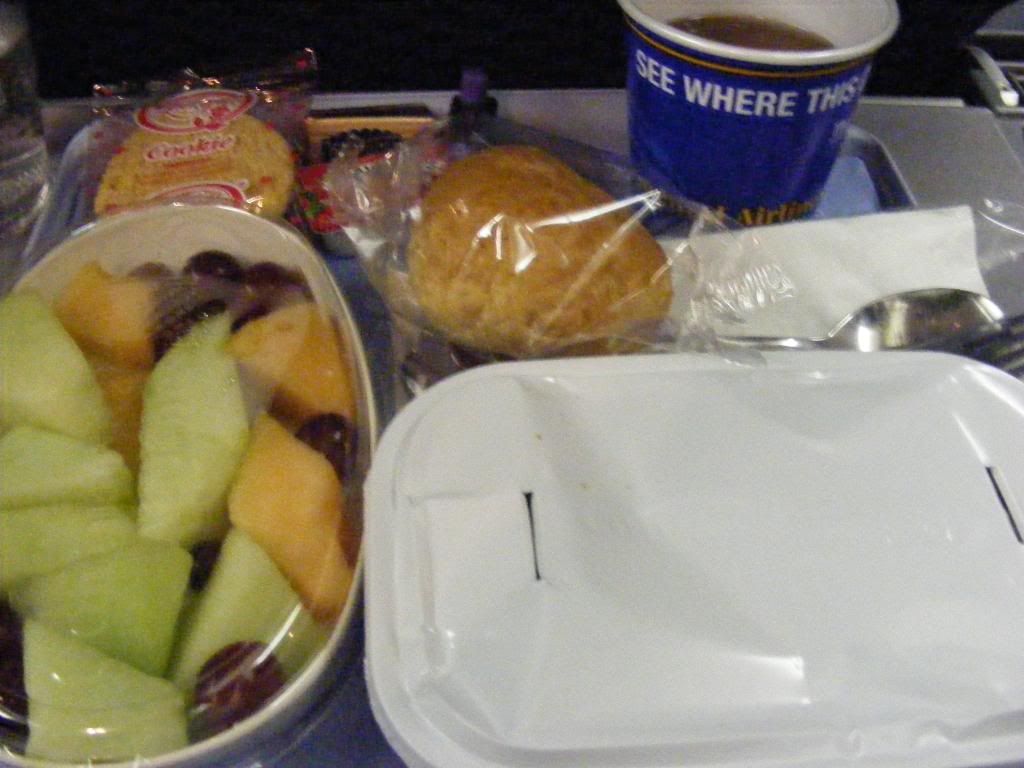 My covered Dim Sum pre-arrival meal.
Tah dah! Dim Sum on CO!
After the FAs collected trays from the pre-arrival meal service, Stephanie and Don walked down the Y cabin distributing HKG Arrival/Departure Cards. As we started our descent and many were filling out their cards, they were asking if people were making any connections onto other flights at HKG. Stephanie asked me if I could change seats, but I informed her that I would be making a connection onto an EK flight. The true colors of my neighbor came out when he refused to switch seats to allow this Filipino-Chinese couple move when all Y FAs came up and asked him to move. I told him he could sit in 16D, since he had now moved to BF, while the couple would sit next to me. He didn't want to until he realized and made it seem like he was the only one to think of it that he could sit in 16D and let them sit in 17DE. Total  
 !!! The elderly couple were rather friendly, though assumed I would be joining them on a PR flight to MNL. Though they assumed that, I assumed that they knew how to speak Tagalog and started talking to them in Tagalog. After clarification, was a bit shocked their their children that were my age who had still yet to visit Asia and visit family, though their trips would be paid for by their parents.
As we continued our descent to HKG, Todd informed all about the conclusion of the inflight entertainment portion of the flight and that he would now show us a video regarding arrival procedures at HKG and a bit of Hong Kong tourist information. On a number of my international flights, the English version of this arrival video tends to be messed up at the beginning of the video, while the foreign language version is rather clear.  
I had filled out my form just in case something happened if I missed my connection. Once the video was completed, the Captain went onto the PA system and informed us that we would be landing into HKG in 15min and had tried to make up 30min of our delay. He did apologize for both our delayed departure as well as the lighting problem at the rear of the aircraft. With that, he thanked us for joining him and the rest of the crew to HKG. Todd immediately followed his announcement by first thanking everyone for joining him and the crew to HKG. He did apologize to those seated in the rear Y cabin and did inform them to contact CO via email to list the problem and possibly see if there might be any compensation CO, which he said was doubtful, but one would never know. I thought it was nice suggestion to do and wonder how many would send their complaints.  
While the Chinese speaker did her announcement, I noticed we were getting closer and closer to HKG. It was funny on the zoomed out air map that we were over HKG, but the plane was turning in circles. On the zoomed in map, we were still aways from the airport, but I liked that juxtaposition.  
Within 5min of the final chime, we touched down at HKG 2hrs behind schedule. Todd welcomed us to HKG with the local time of 20:45. Though we arrived earlier than predicted on the air map, we had a rather long taxi to I believe Gate 21. This taxiing felt as if we were doing laps around the airport. Eventrually we made it to gate, and L1 and L2 were open. The elderly couple jumped out of their seat once the fasten seat belt signed was turned off and rushed to L2 so they could make it to their flight. I hope they did! As for my connection ...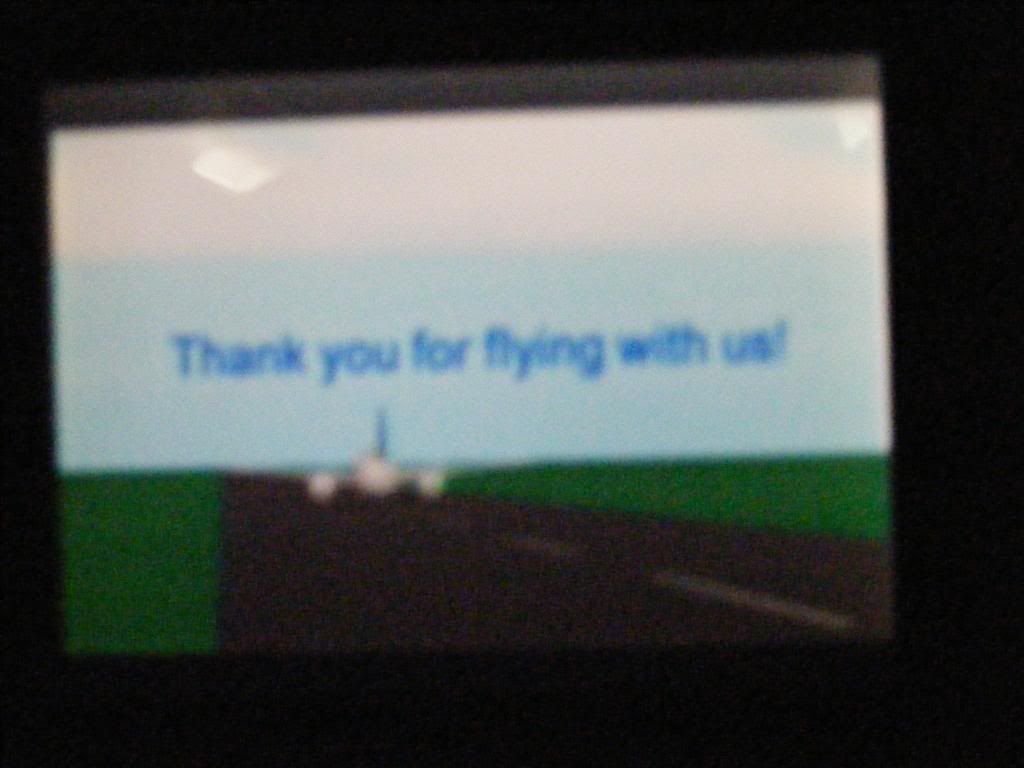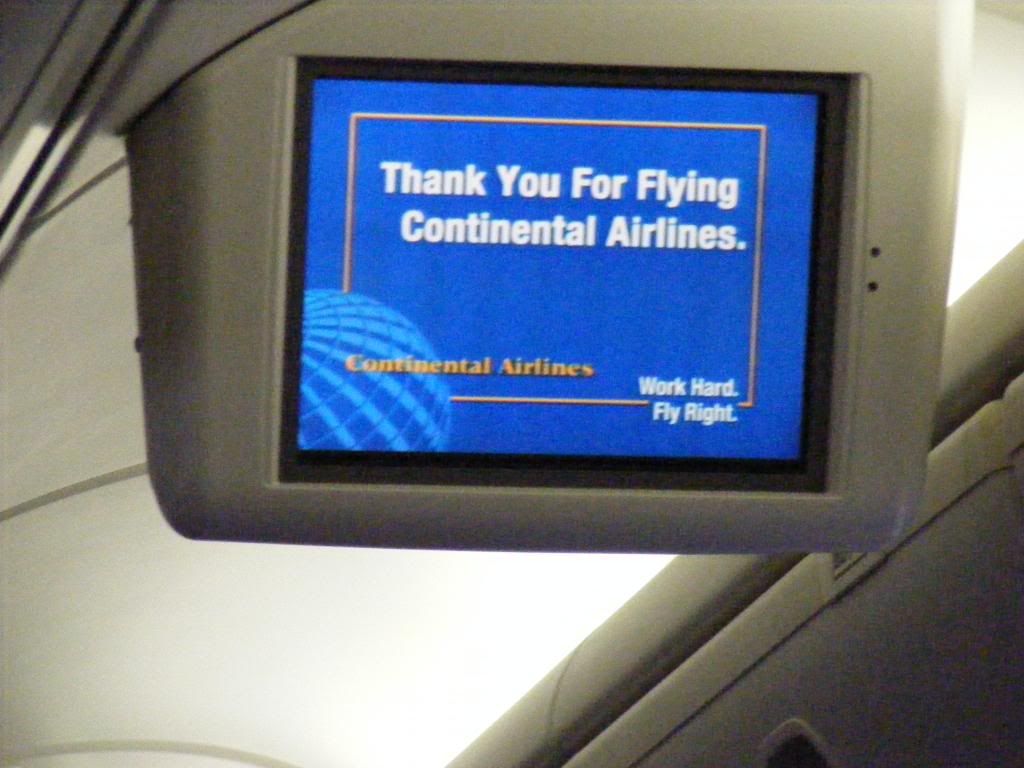 The journey continues!  
Colin  
[Edited 2008-05-04 22:23:01]
[Edited 2008-05-04 22:24:34]