Hello dear readers! There is my next report with only a week between my last flights and these!
A couple of weeks ago my girlfriend and myself decided to go on a nice city trip in Europe and selected some interesting cities to visit. We doubted between Lisbon, Vienna and Milan. For this time we choose for Milan and will leave the other cities for any time soon to visit as they are well worth a visit as well.
To make the trip interesting for the flying I selected some nice flights with different airports. The planned route was AMS-FRA-LIN and MXP-MUC-AMS which gives a nice selection of airports and aircraft types. It includes 2 new airports for the log and 4 different aircraft a type of which 1 is new for the log.
So here we go, enjoy reading and enjoy the pictures.
Flight : LH 4689
Stretch : AMS-FRA
Date : 28april 2008
Aircraft : Airbus A320-211 (msn 401)
Registration : D-AIQS
Delivered : 22-march-1993
Seat : Jump
Load : 110%
Gate : B9
8th flight on the 320 and the first on this machine
Our alarm clock woke us up at 04.00hrs in the early morning and we stood up some minutes later.
We had some time left to eat some breakfast and drink some coffee and tea.
At 05.30 my father picked us up and brought us to the airport. Traffic to the airport was not too light with a 5km traffic jam around the Purmerend area 20 km north of Amsterdam.
Nevertheless we arrived at AMS around 06.45 and we were a bit shocked as there were huge queues at the LH check in desks. We had E-tix but had to drop off our checked luggage. One of the agents was quite rude to the passengers and worked very slowly. We managed to check in just in time and proceeded to security. This was done in a couple of minutes as the big morning rush was already gone. We quickly walked to the gate, which was B9 this morning and asked the gate agent if there was space for us, as we both fly on stand-by tickets. The flight was really full this morning with all seats taken. Therefore I asked whether we could fly on the jump seat. The captain came to us and asked us some questions. In the end we were invited on the jump in the aft galley.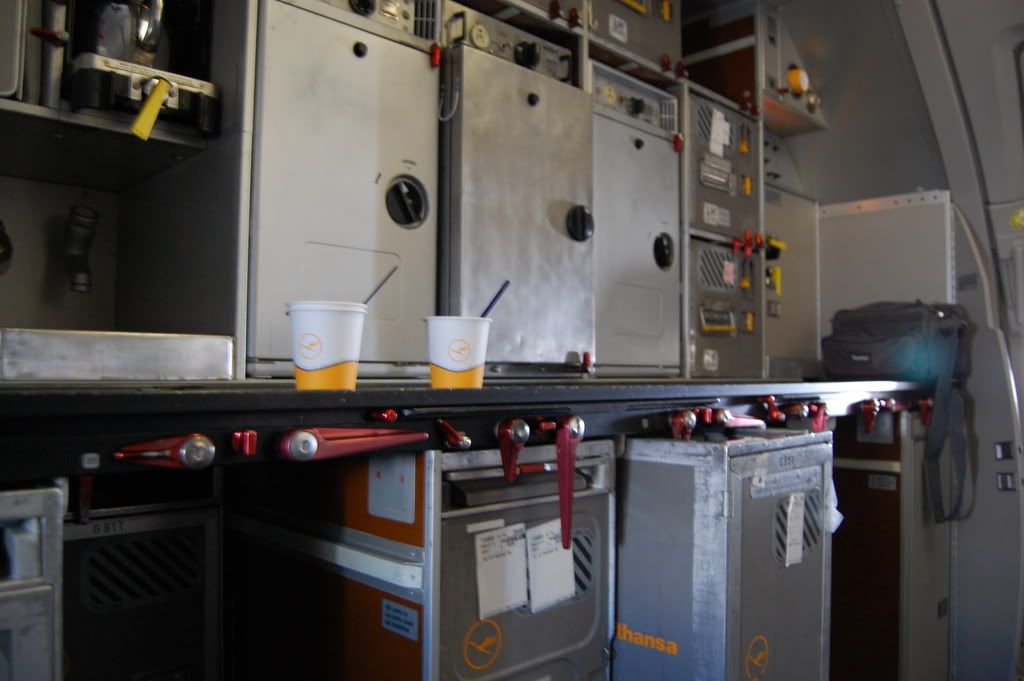 Our view on our flight to FRA
As we were amongst the last pax to board, boarding was completed soon and the doors were closed.
The cabin crew existed of 2 female and 1 male attendants, with the male attendant serving the doors 3L and 3R. He instructed us how to open the doors in case of emergency and then went on with the normal safety instructions for the other passengers.
Engines were started and we taxied to rwy 24 for take off. A quick turn left into an easterly direction and we were on our way. The seatbelt sign stayed on for quite a while as the weather caused some moderate turbulence during flight.
We were served coffee and tea, and then the attendant quickly started service. With all the seats taken, and a short flight time, they did not serve any sandwiches to the passengers this flight.
Although we both had one
Landing in FRA was smooth as silk and actually one of the softest landings I have had so far. Real good job from the F/O who was the pilot flying on this leg. The active runway was 25L and we parked shortly afterwards on finger gate A17.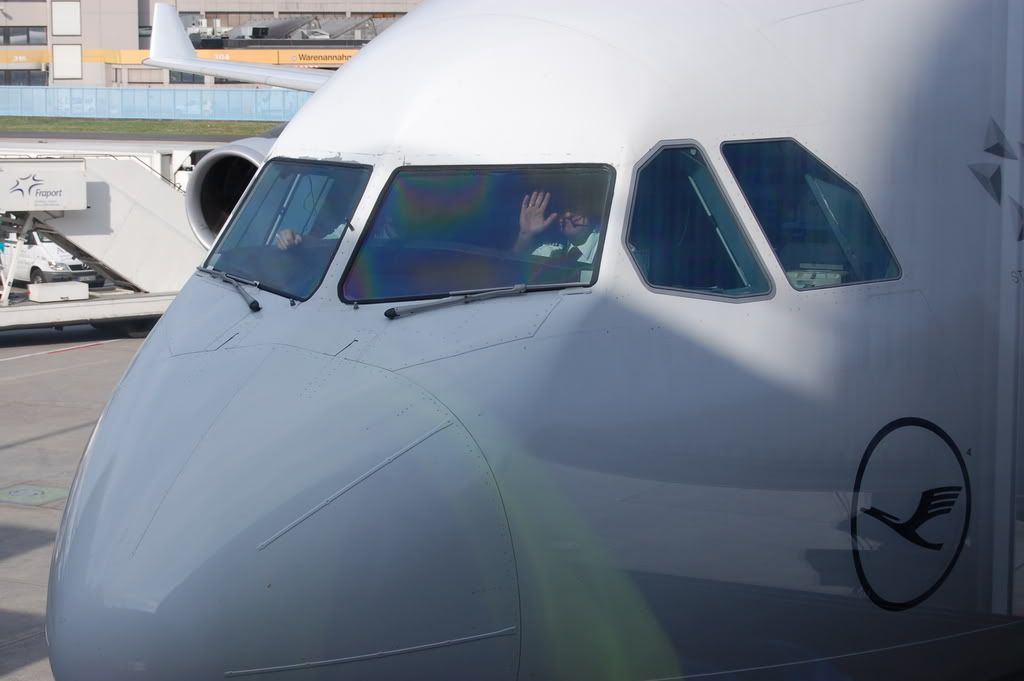 Friendly captain preparing his flight across the atlantic
LH 747-400 being pushed for a departure across the atlantic
Flight : LH 3956
Stretch : FRA-LIN
Date : 28april 2008
Aircraft : Boeing 737-330 ( msn 23871 )
Registration : D-ABXM
Delivered : 27-aug-1987
Seat : 19E / 19F
Load : 65%
Gate : A16
7th flight on the 737-300 and the first on this machine
We had some time to kill but were not feeling to go outside as we also had no seats yet for the FRA-LIN stretch. I knew on forehand that this flight was very full with only a few seats left. So we walked up and down the A concourse a bit and when I saw a gate agent at A16, I walked up and asked for the situation. She smiled and gave us seats instantly, as the flight suffered an equipment change from 735 into a slightly larger 733.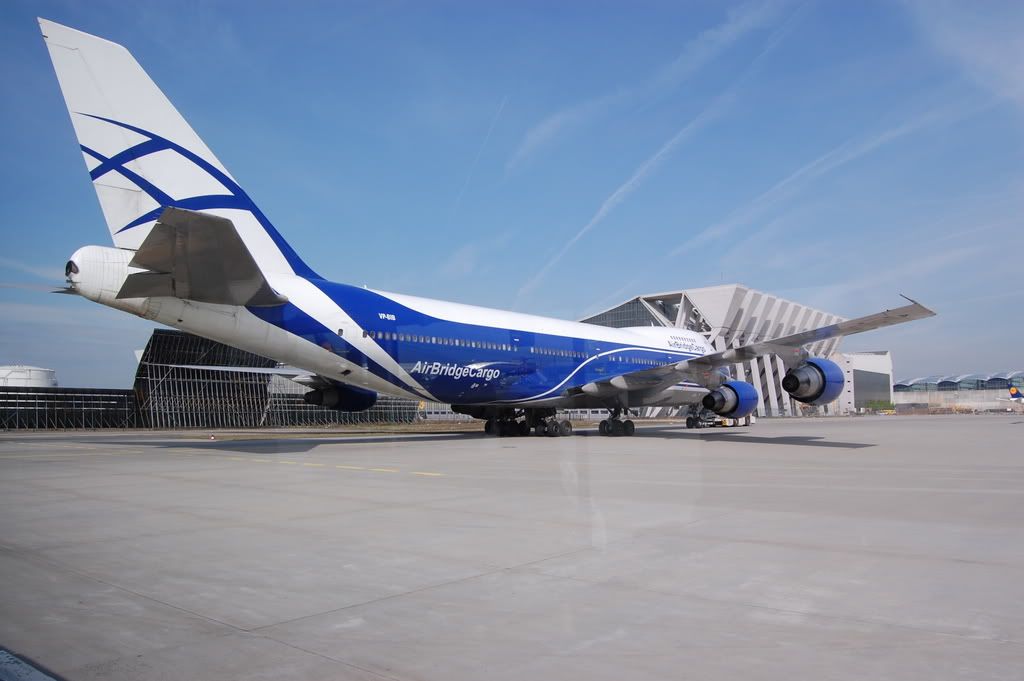 AirBridge Cargo 747-200F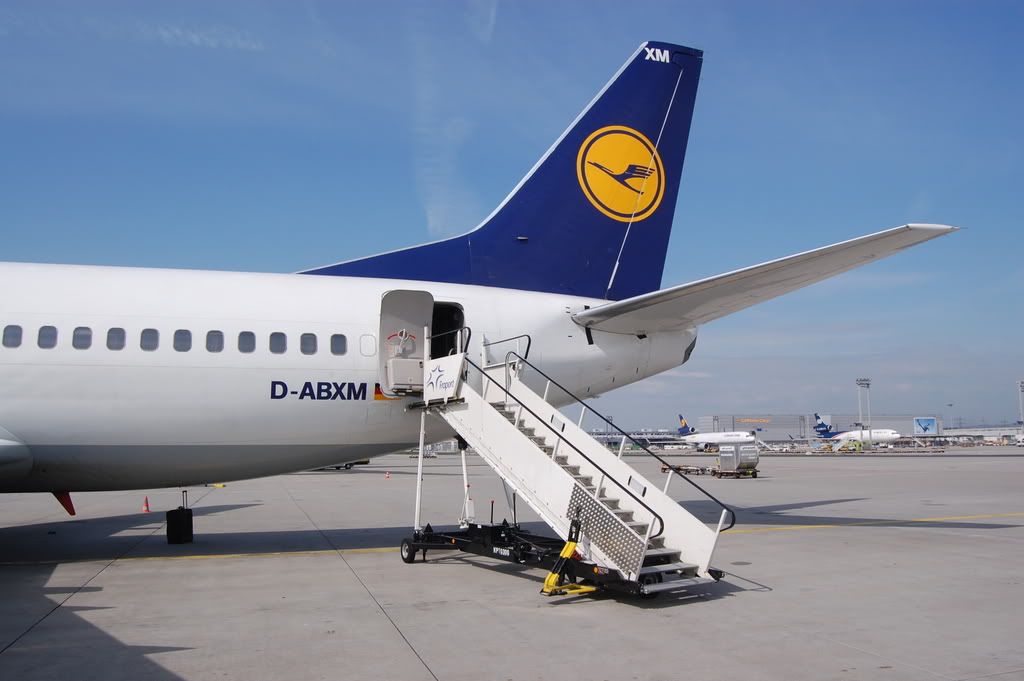 Our bird en route FRA-LIN
This saved us, as we could now enjoy the flying and the views over the Alps. The cabin crew existed of a male purser and 2 female attendants. Service was a cold and warm drink supplemented with a turkey sandwich and a sweet, Standard LH service.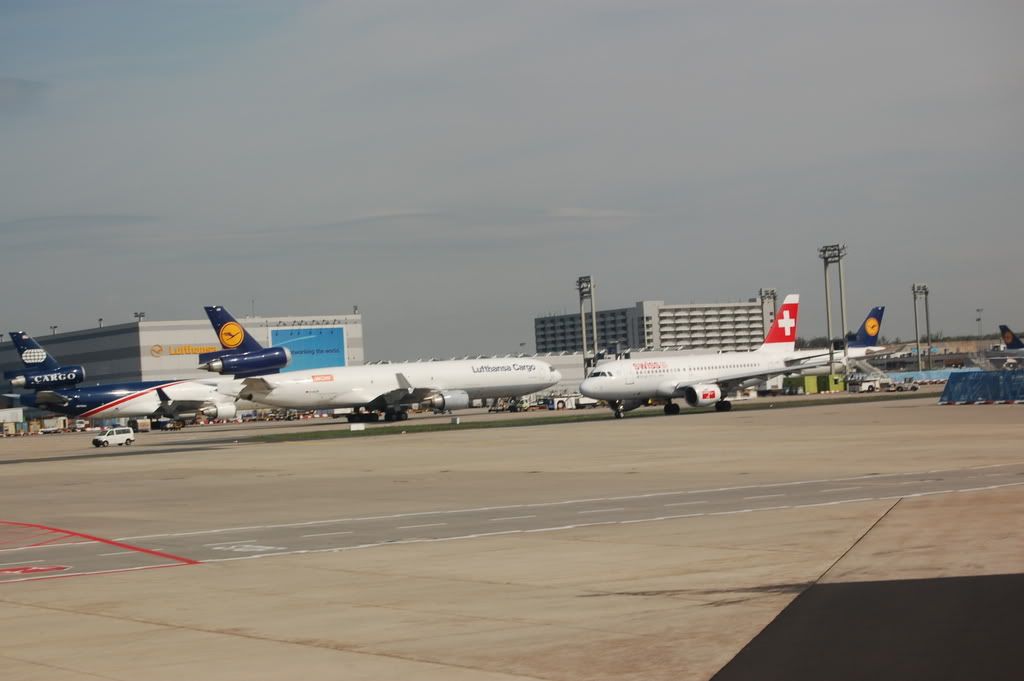 Old boss meets new boss ( LH meets LX )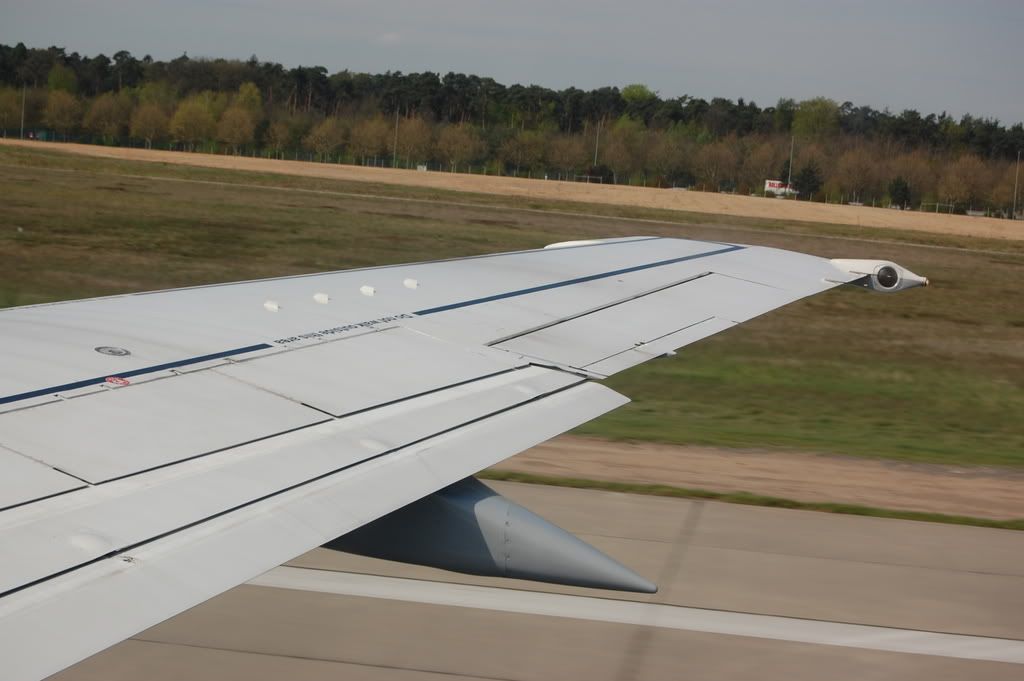 Thundering down rwy 18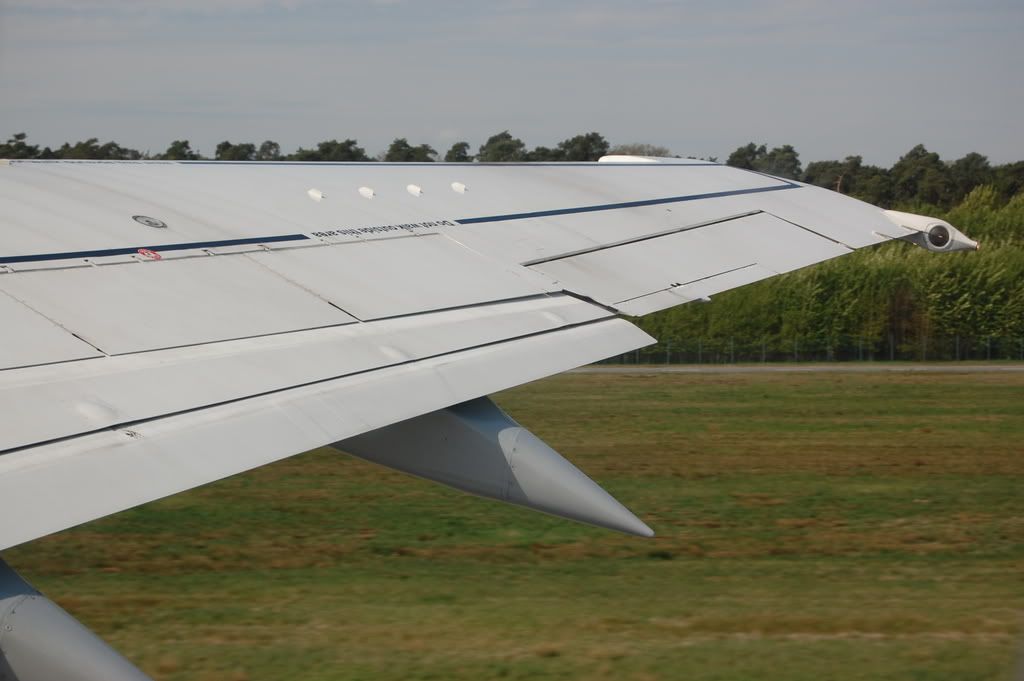 And take off....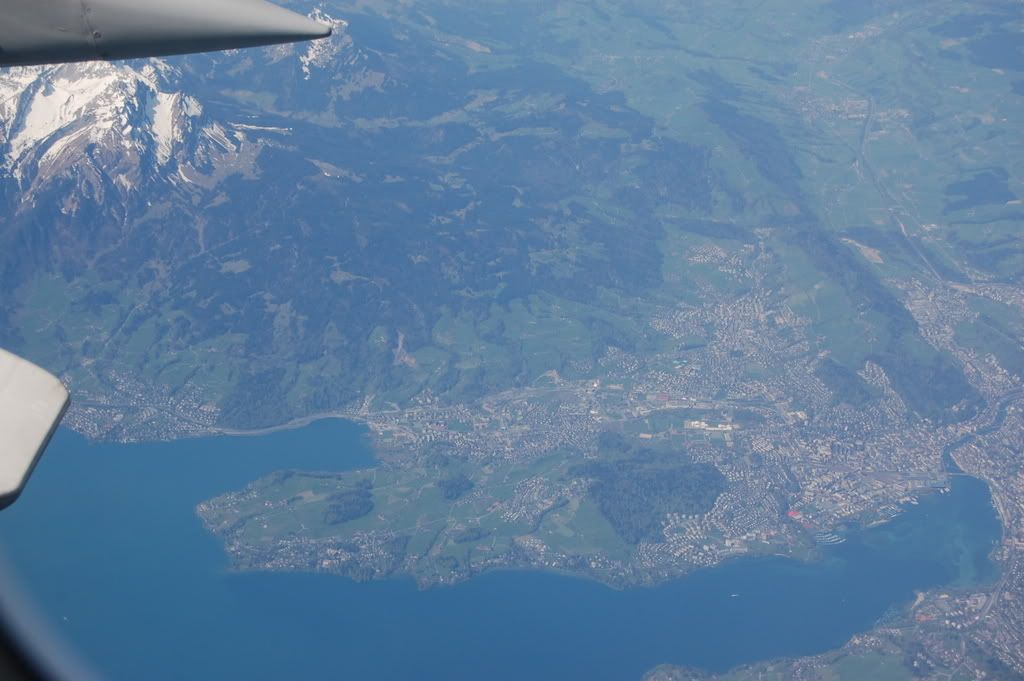 First signs of snowy mountains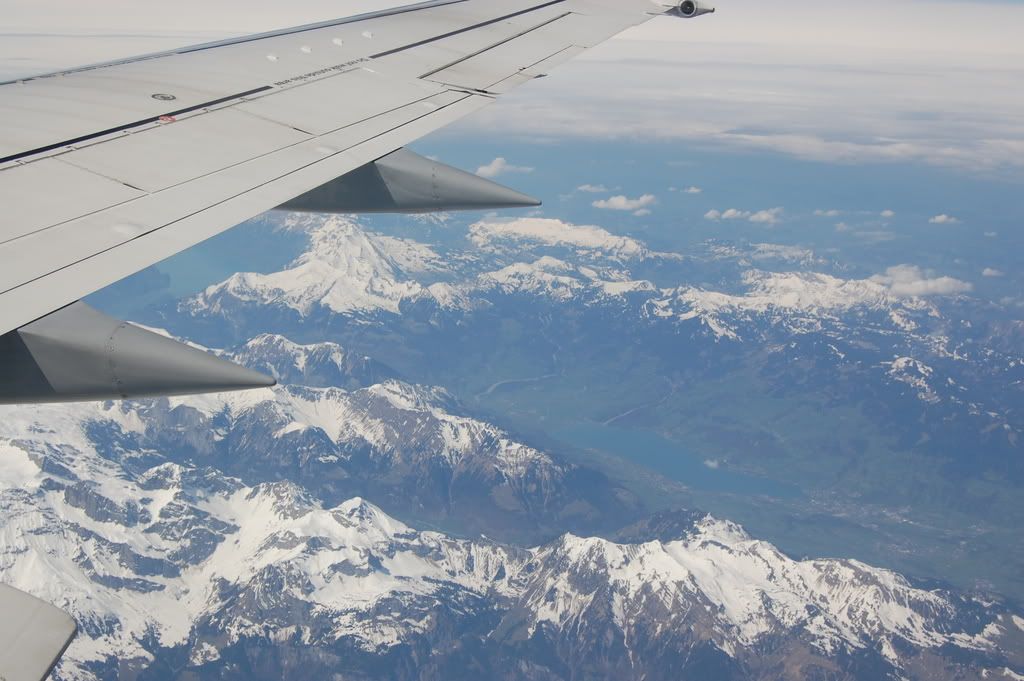 Amazing views over the alps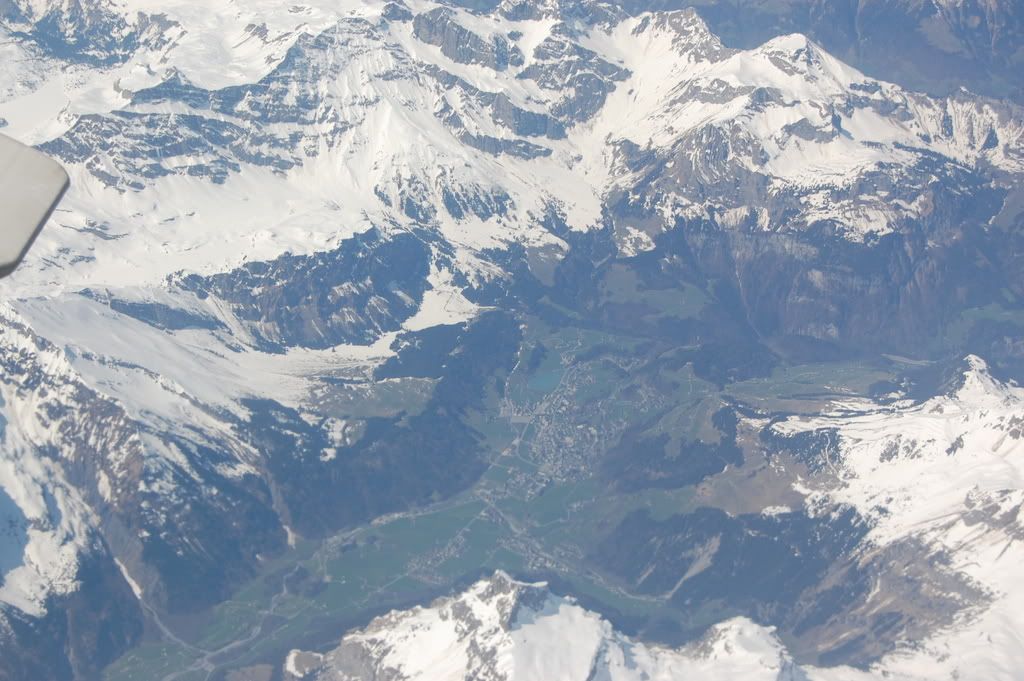 No words, just great!
Some more Alps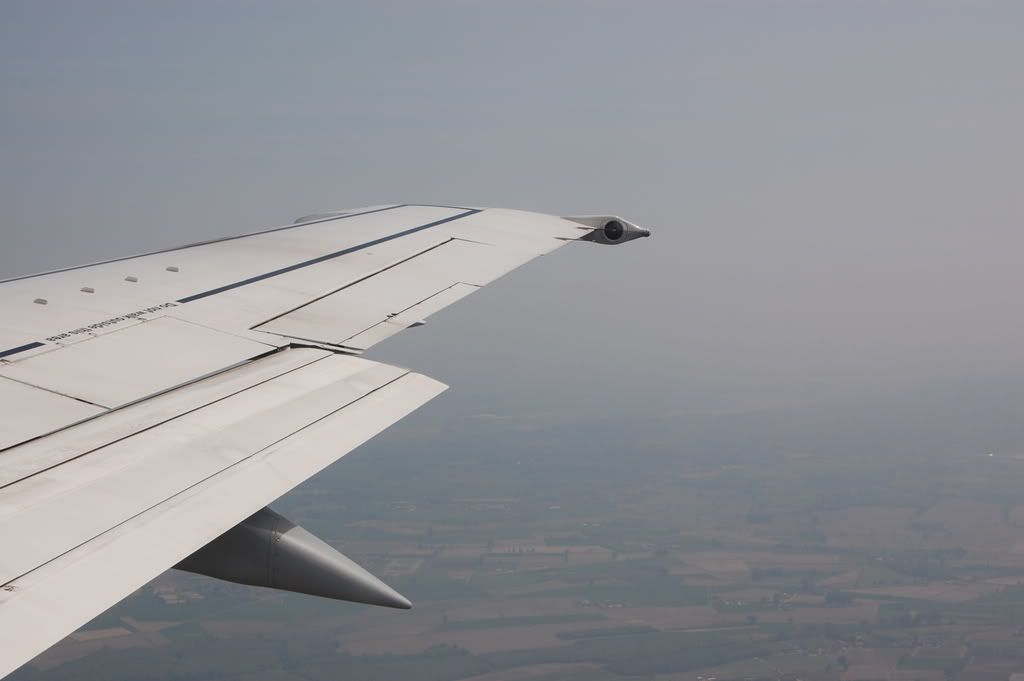 Approach into LIN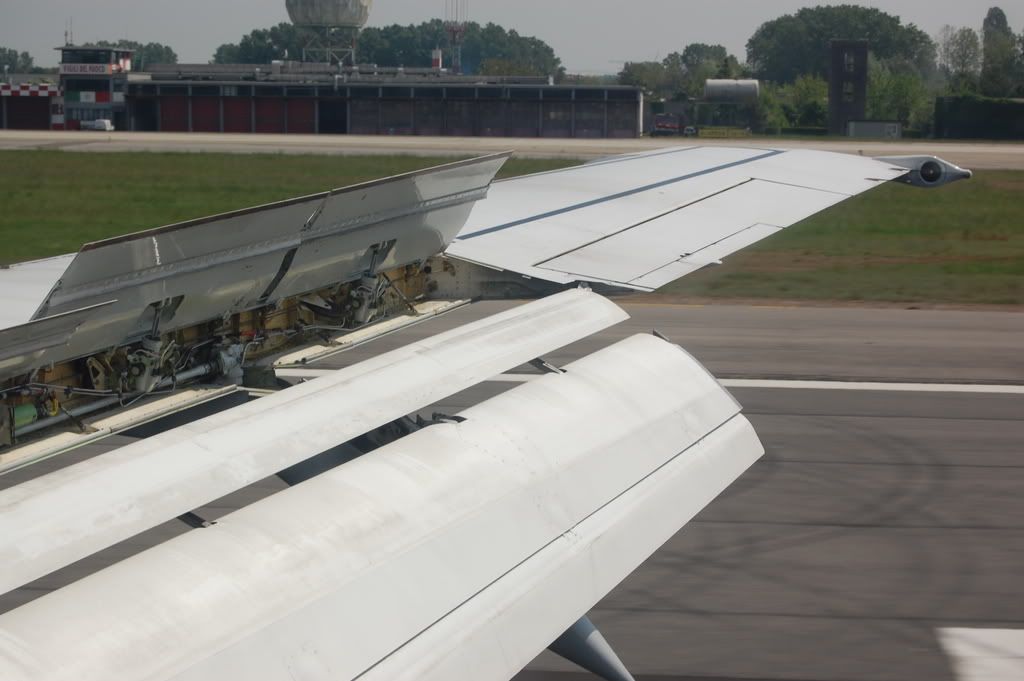 Speed brakes
We had a very good view over the Alps and soon we were already starting our descent into Milan Linate airport ( LIN ) on our approach path we came by some toll highways, with huge traffic jams, and some nice suburban areas. Touchdown was average, but still comfortable.
We parked and got of the 737 via the backdoor. A very ugly bus awaited us, it was a Van Hool bus with doors at all 4 sides, and 2 steering wheels. Never saw this type of airport bus before, but a nice experience. I think the bus already has quite some experience as it was not exactly new.
Nevertheless the bus brought us to the Shengen arrivals gate, where 4 baggage belts served the incoming flights. Our baggage was on belt 3 after some 15 minutes, but that's fine for me.
At the apron there were only a couple of AZ MD 80's a SK MD 80 and the Eurofly 319, so not too much action here today.
Outside we walked to the Star-Flyer bus stop, which offers a service to central station for Euro 4,00 which is very convient. From there we took the tram to the hotel were we dropped of our baggage.
From here we started to explore the city and started walking
I will let the pictures do the talking here.
I thought it was a nostalgic tram, but it turned out to be the standard tram in Milan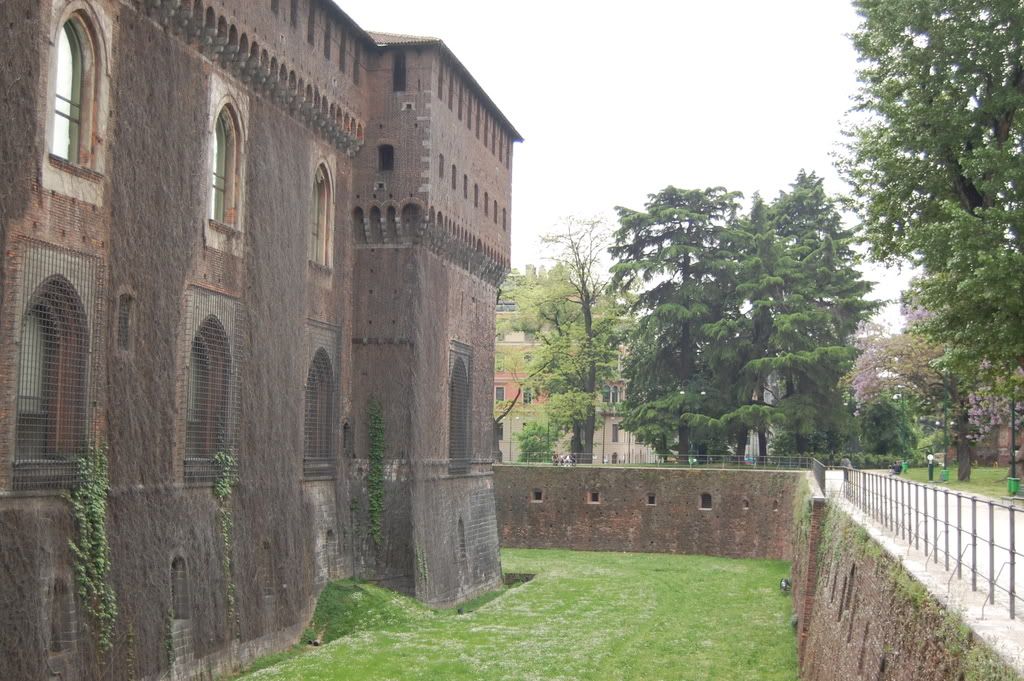 Castle wall and dried up ditch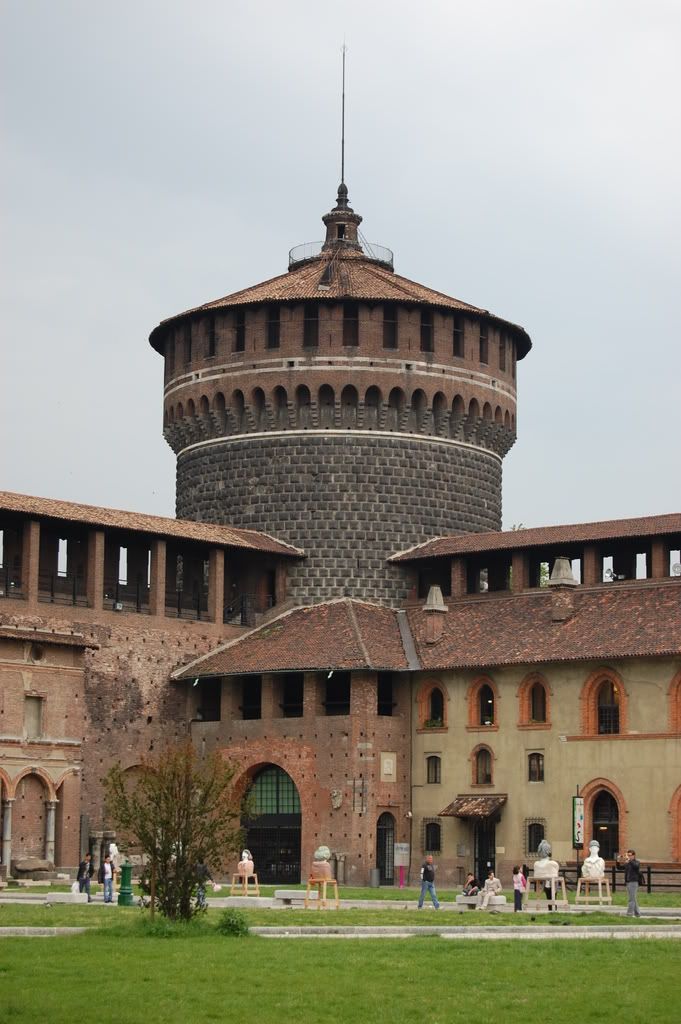 Corner tower of the Castle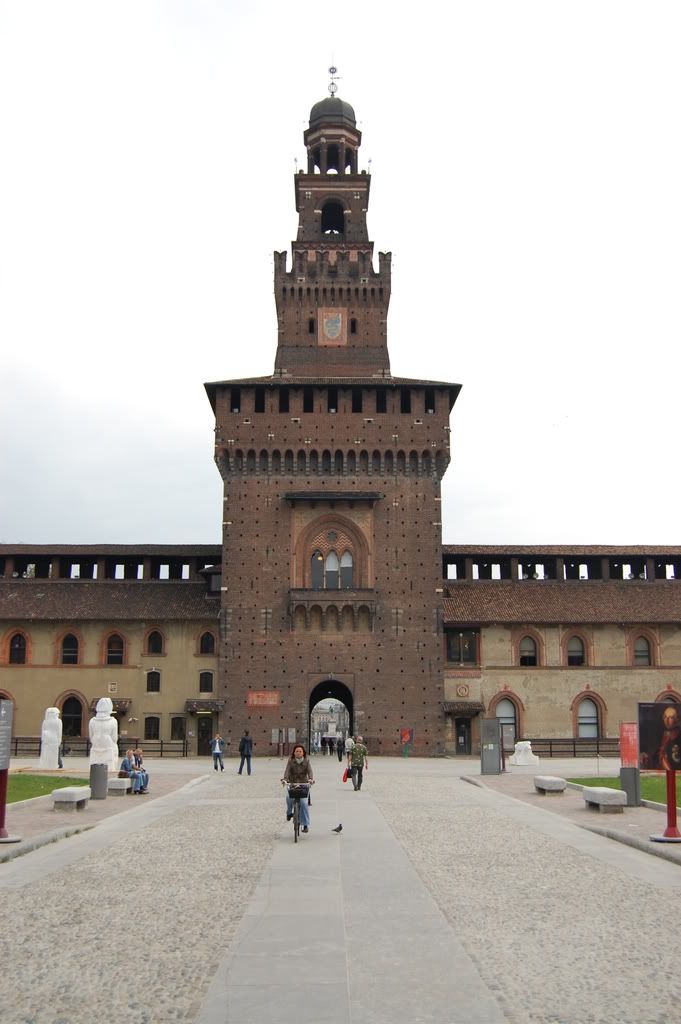 head entrance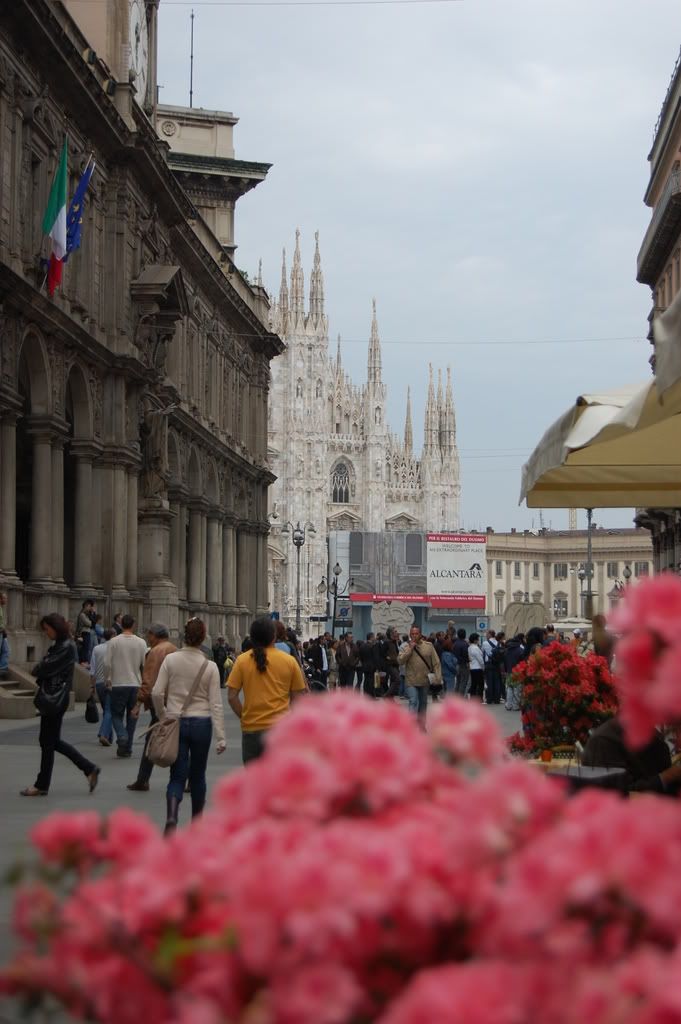 Flowers 'n Church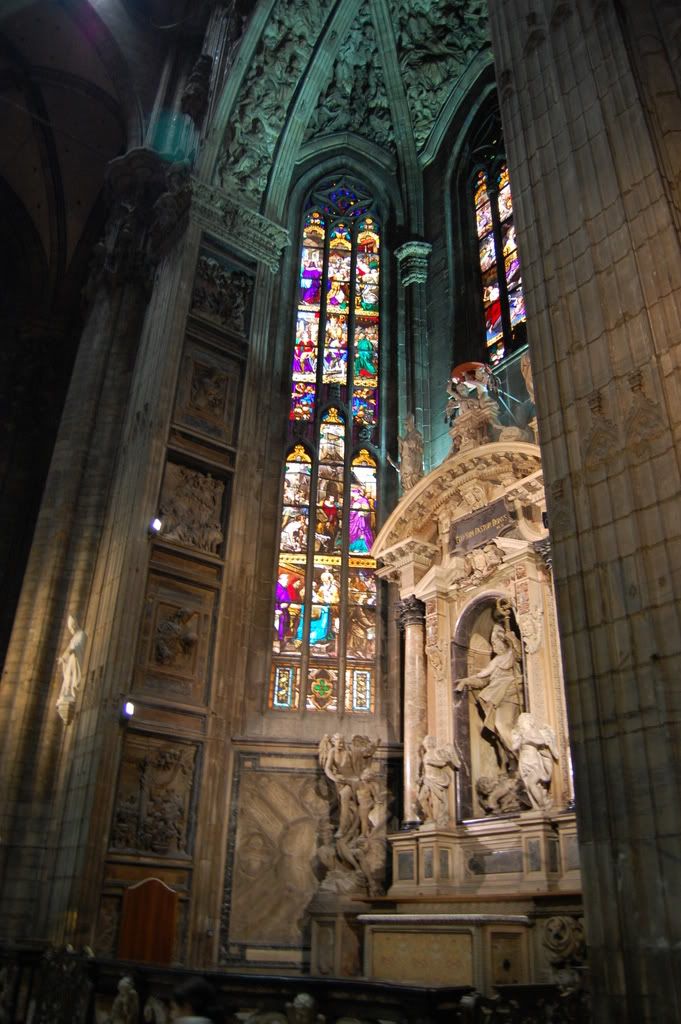 Inside the Duomo church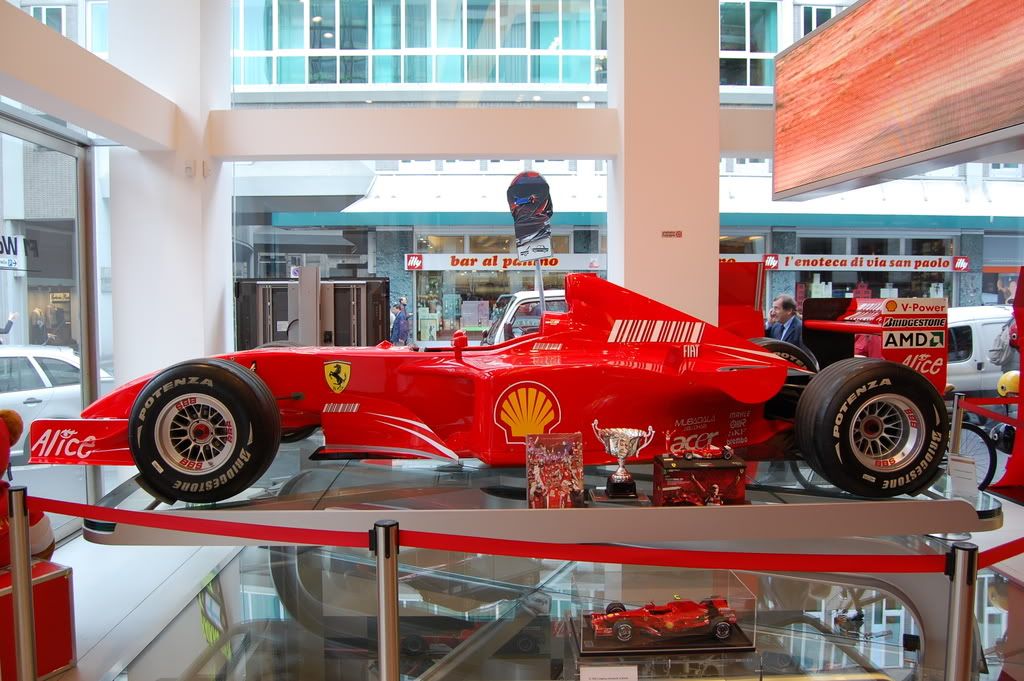 Ferrari Formula One Car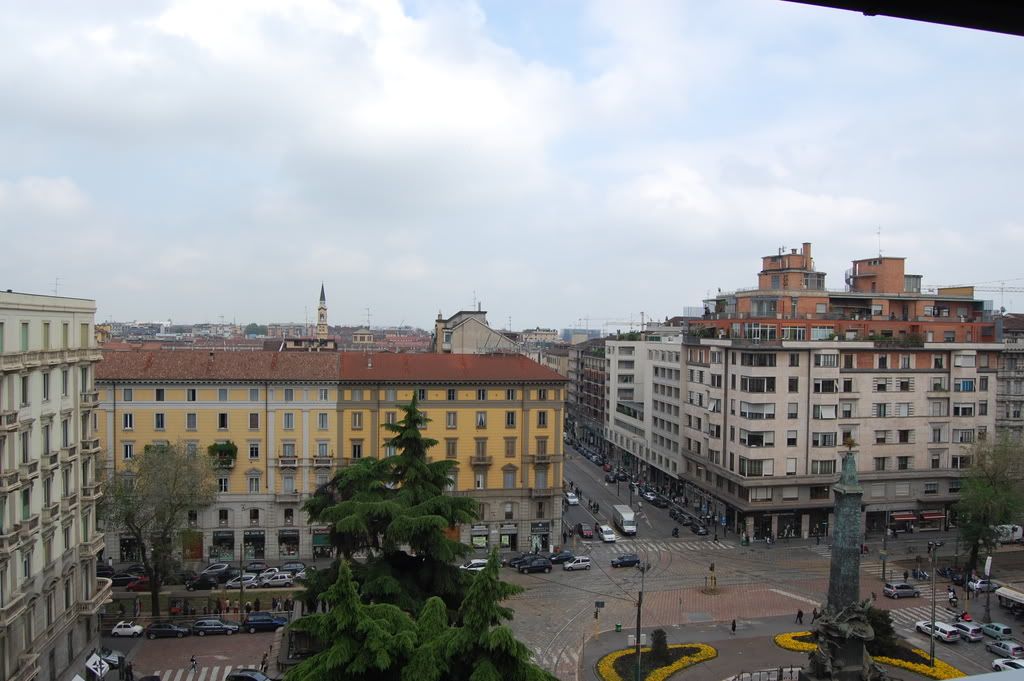 Overview of a Milanese Square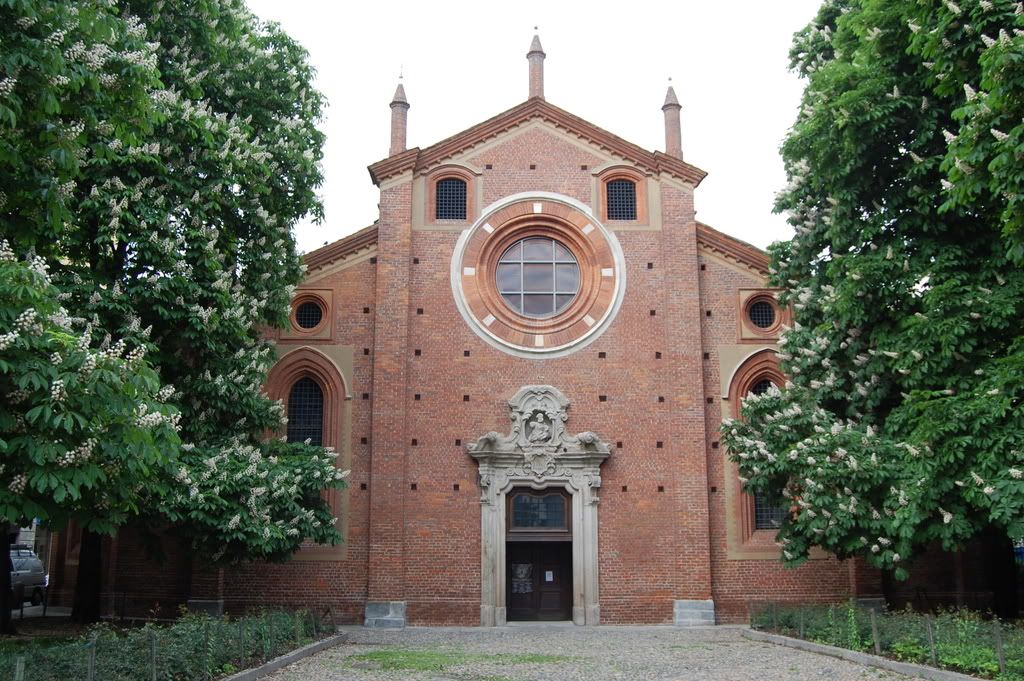 One of 1000+ religious buildings in this beautiful city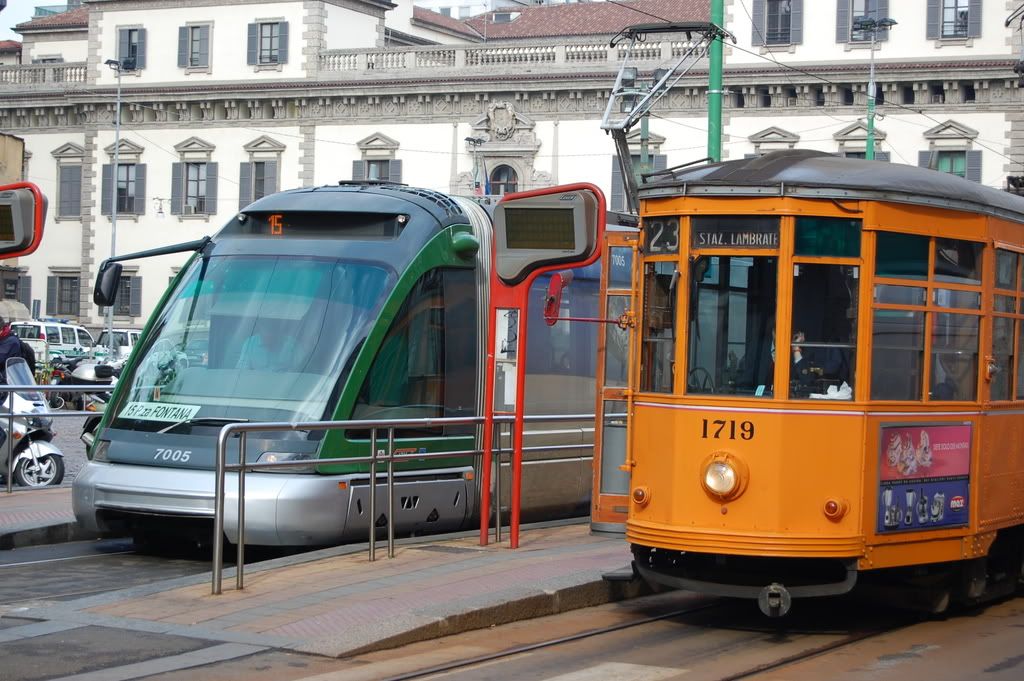 There were also some modern trams, which one do you prefer?
Duomo, The 3th largest church in the world.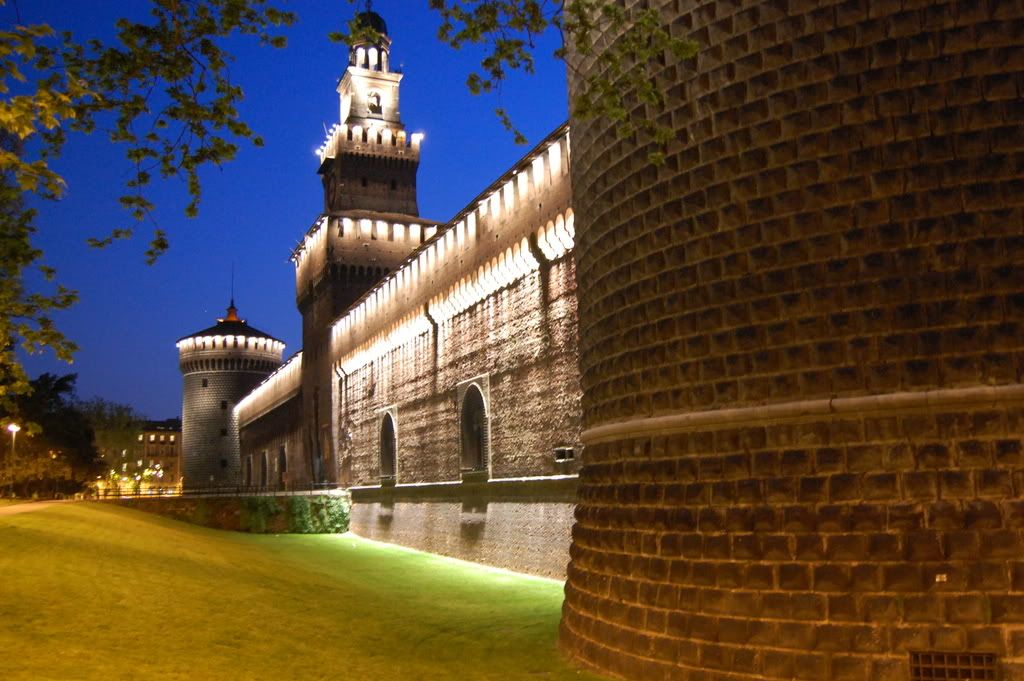 Castle in the dark
Flight : LH 3905
Stretch : MXP-MUC
Date : 30april 2008
Aircraft : British Aerospace 146-300 ( msn E3155)
Registration : I-ADJJ
Delivered : 15-aug-1990 to Dan-Air London
03-feb-1996 to Aer Lingus
21-jan-2003 to Trident Jet ( Jersey )
01-feb-2006 to Air Dolomiti
Seat : 7B / 8B
Load : 90%
Gate : A33
1st flight on the BAe146-300 and the first on this machine
After a couple of very nice days in the beautiful city of Milan, it was time to get back to the airport.
Check-in Area at MXP
For the way back home I thought MXP-MUC-AMS would be an interesting route as it is another new airport for the log, and the MXP-MUC leg is operated by Air Dolomiti, which is a nice addition to my log also. We arrived at MXP a couple of hours early to make sure that if our pre selected flights were full, we could try to go home via FRA or HAM. But the agent had good news for us, and gave us the info that we would probably get seats at the gate, as the flight looked quite good.
We went through security and found the gate fairly easy. I was short of caffeine so I bought a cup of coffee at the bar. The price was really a bargain, it cost 1 Euro total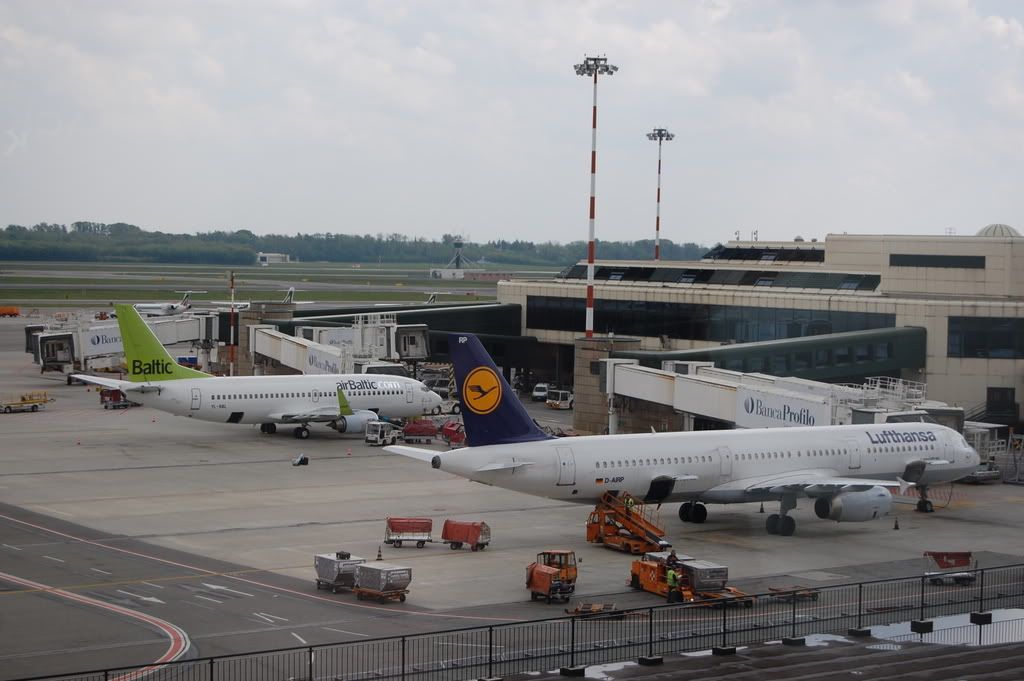 LH 321 and Air Baltic 733 ( WL )
After a while the gate agents arrived and started their work. Our tickets were already printed and we had seats. Unfortunately it were middle seats in the BAe146. Narrow seats, but enough legroom.
Actually besides the clean green leather seats I found the aircraft a rockbox ( loud, worn and not comfortable )
We also did not sit together, but that was not a problem as we were directly behind each other.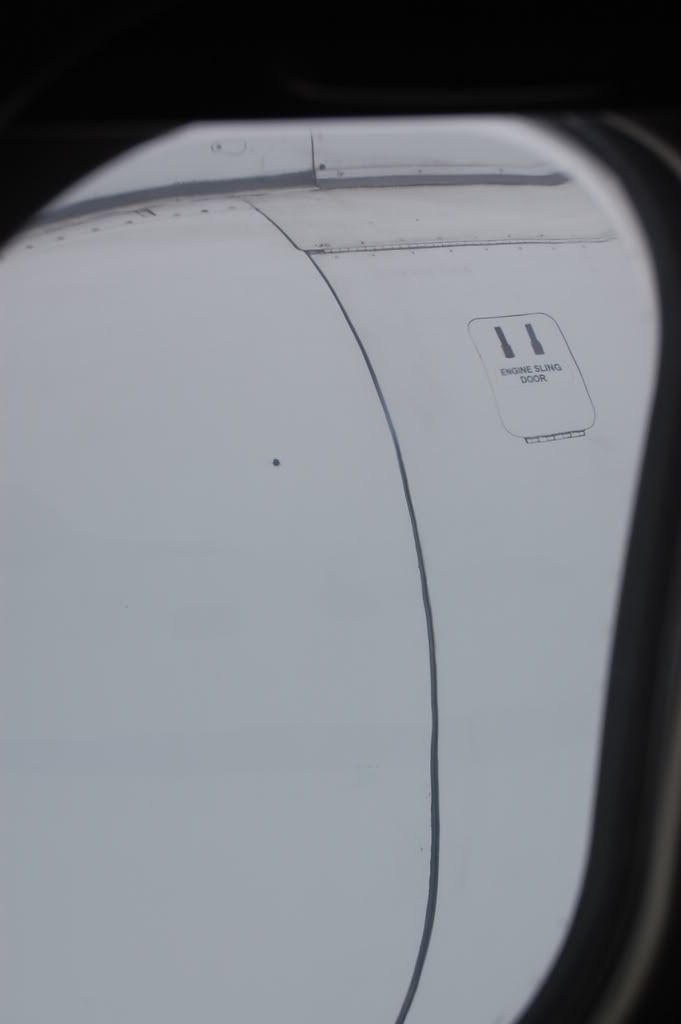 My view out of the window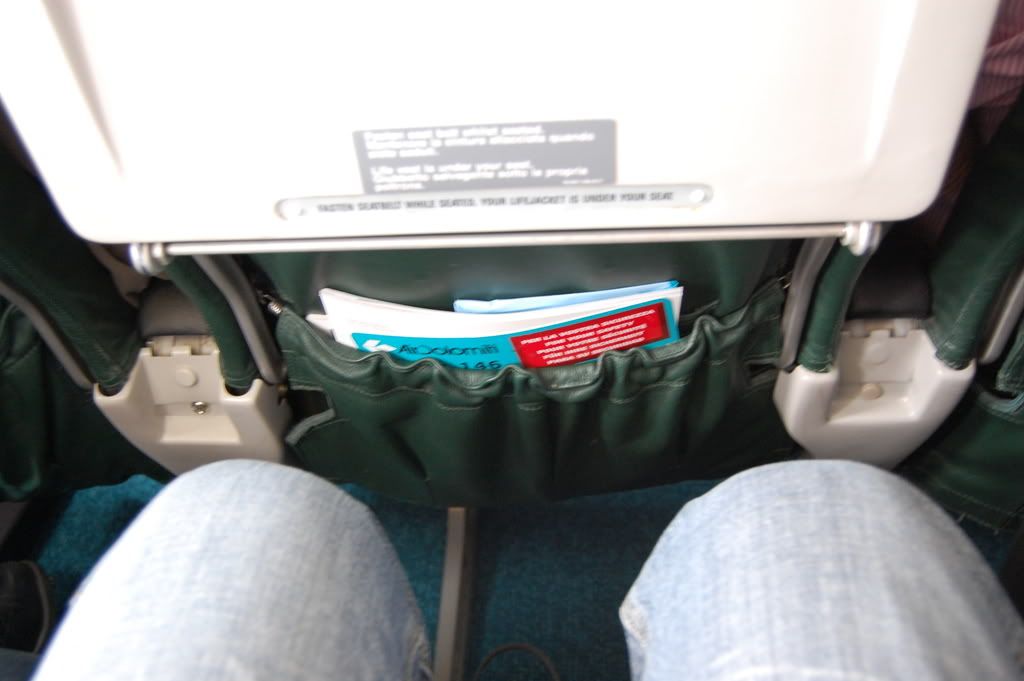 Good legspace on this machine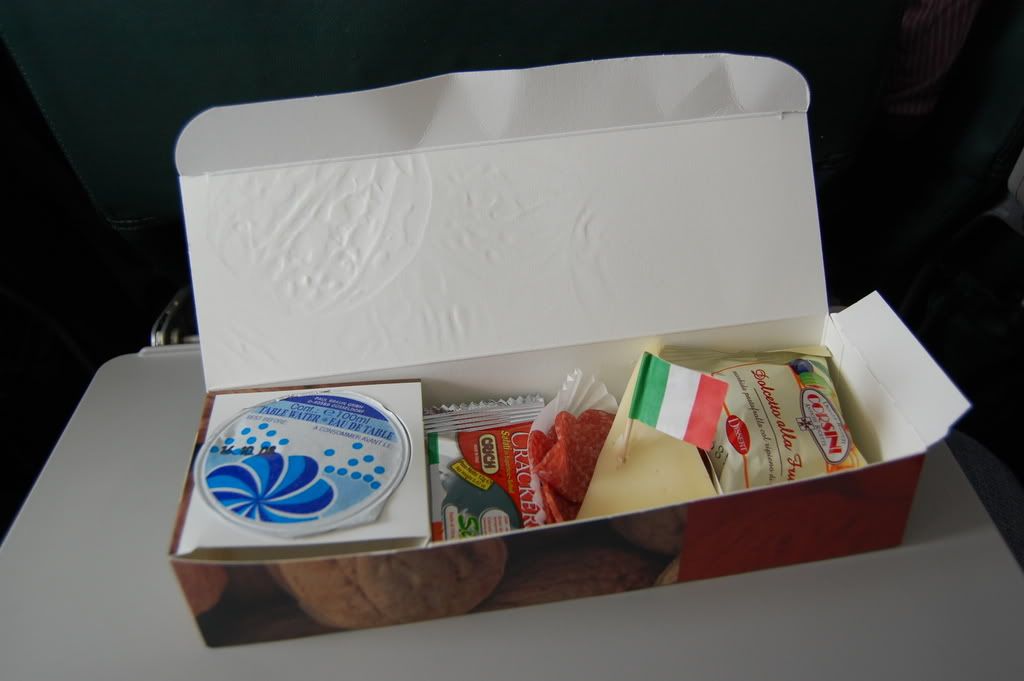 Nice snackbox, also very tasty
2 hairdryers under this wing
The cabin crew existed of two female attendants, both quite young. They did a good job in serving the passengers on this short flight to MUC. The snackbox also was very good, with some typical Italian style cookies, some cheese and salami with crackers. To drink there was a small pack of water.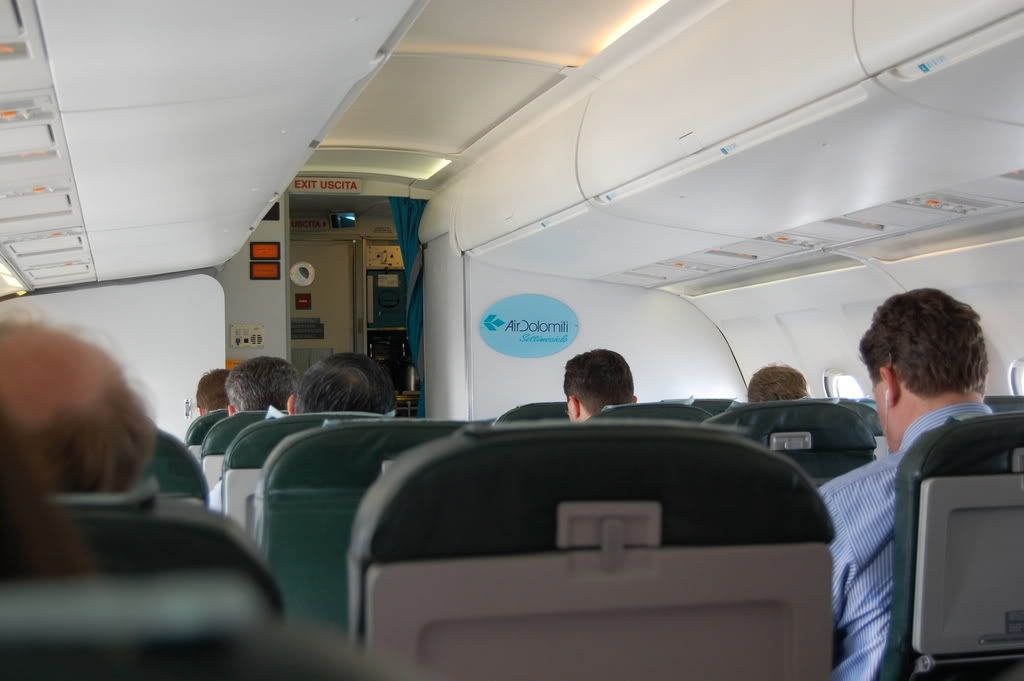 View from my seat into the C-class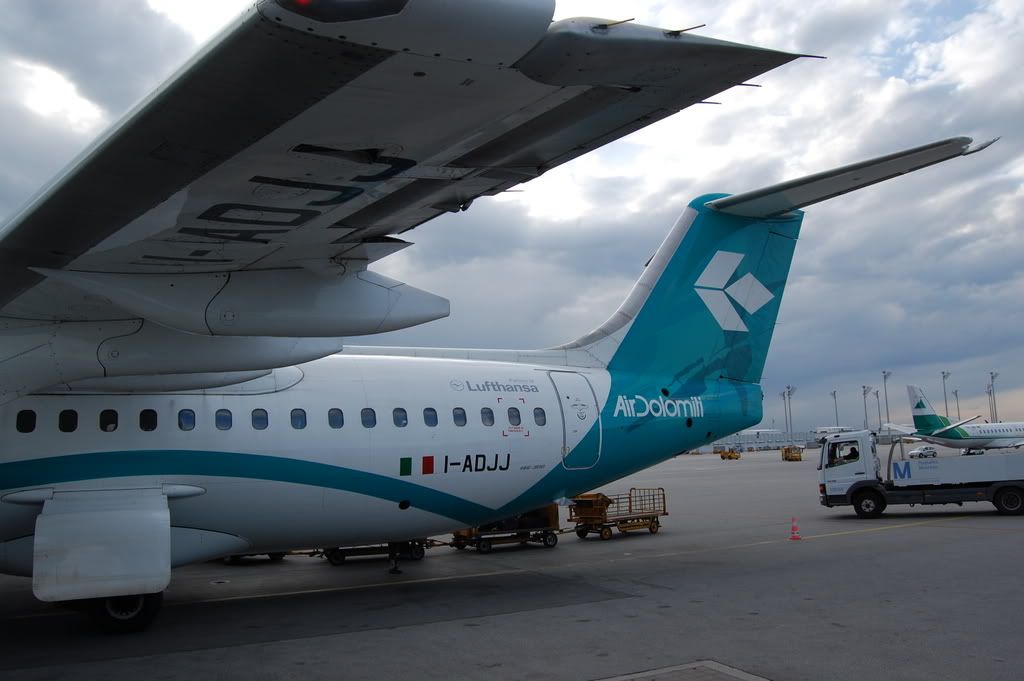 And in the bus at MUC
Soon our descent started and we approached MUC airport.
Touchdown was smooth and braking average, also because the 146 is not equipped with Thrust-reversers. We taxied at average speed to our remote stand and were bussed to the terminal.
We had some time to kill before our last flight would depart, so we walked through some shops ( keeping the lady happy ) and then proceeded to our departure gate, which was all the way at the end to T2. I believe it was gate A16.
I asked the gate agent if she could already give us seats on the flight, and she instantly printed out our boarding passes for the MUC-AMS segment.
Flight : LH 4703
Stretch : MUC-AMS
Date : 30april 2008
Aircraft : Canadair CRJ-900 ( msn 15081 )
Registration : D-ACKE
Delivered : 28-jul-2006 to LH Cityline
Seat : 14 D/F
Load : 70%
Gate : A16
4th flight on the CRJ-900 and the first on this machine
Boarding started on time and we went through the doors and downstairs to the waiting bus.
One insane idiot lighted a cigarette on the apron before entering the bus. The security guy got ballistic and almost started to hit the smoking guy......not so strange as there was an A340-600 being refuelled some 50 mtrs away.... How stupid some people can be.... unbelievable.
But nevertheless all went ok and the bus drove us to a remote stand were a shiny CRJ-900 was awaiting her passengers for the AMS service.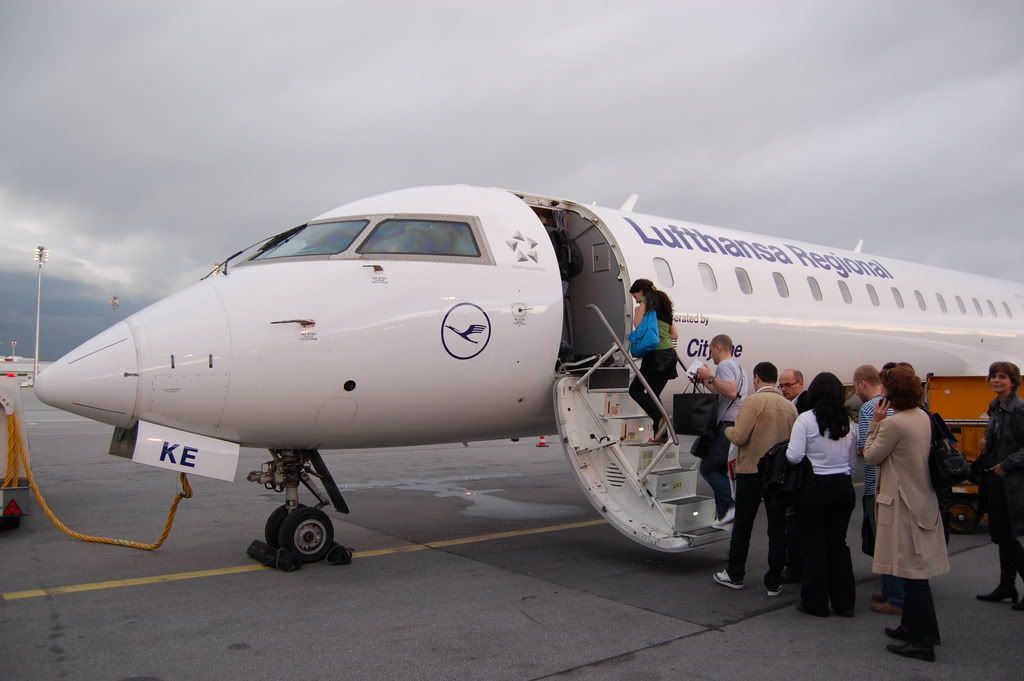 D-ACKE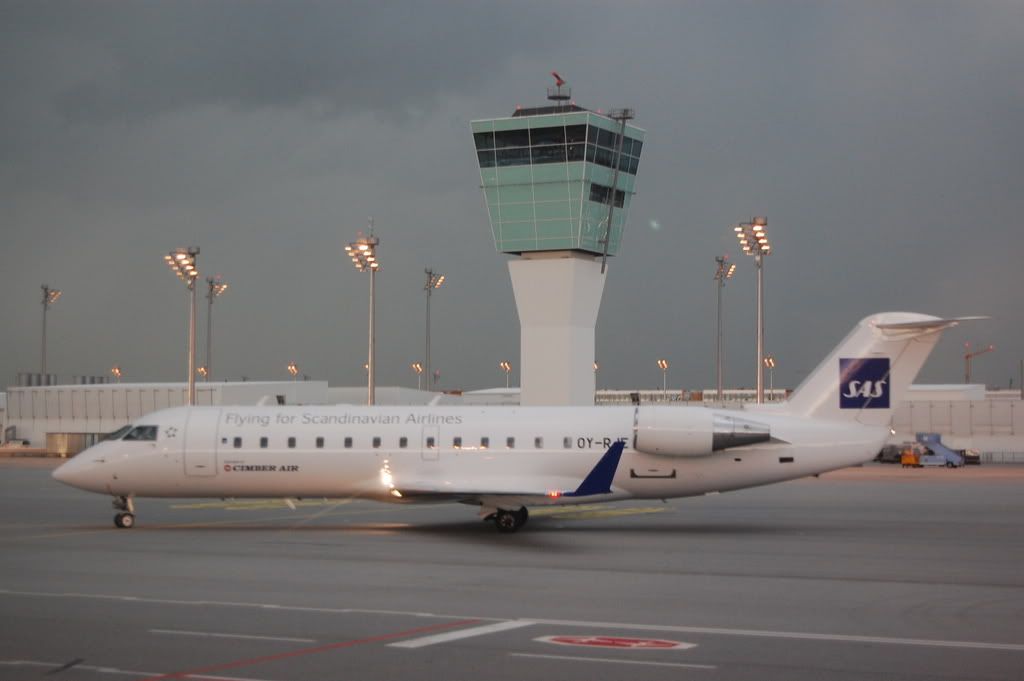 Cimber Air CRJ
We took our comfortable seats, and I immediately felt the difference with the CRJ-200.
This aircraft is just a very comfortable piece of machinery, just great.
In the 2 rows in front of us there were some kids. They were presented a nice mini-computer with a tetris like game from the flightattendant, which was very nice!
The cabin crew existed of 2 female attendants and they did a good job.
When the doors were closed the engines spooled up and we started our taxipath to the active runway.
The sky got darker and darker and we stopped at the runway with on our left 3 aircraft waiting t/o clearance and on the right 2 heavies waiting and a very dark sky with wind, water and some lightning.
Big Girl you are beautiful, the almighty Antonov 124 Ruslan freighter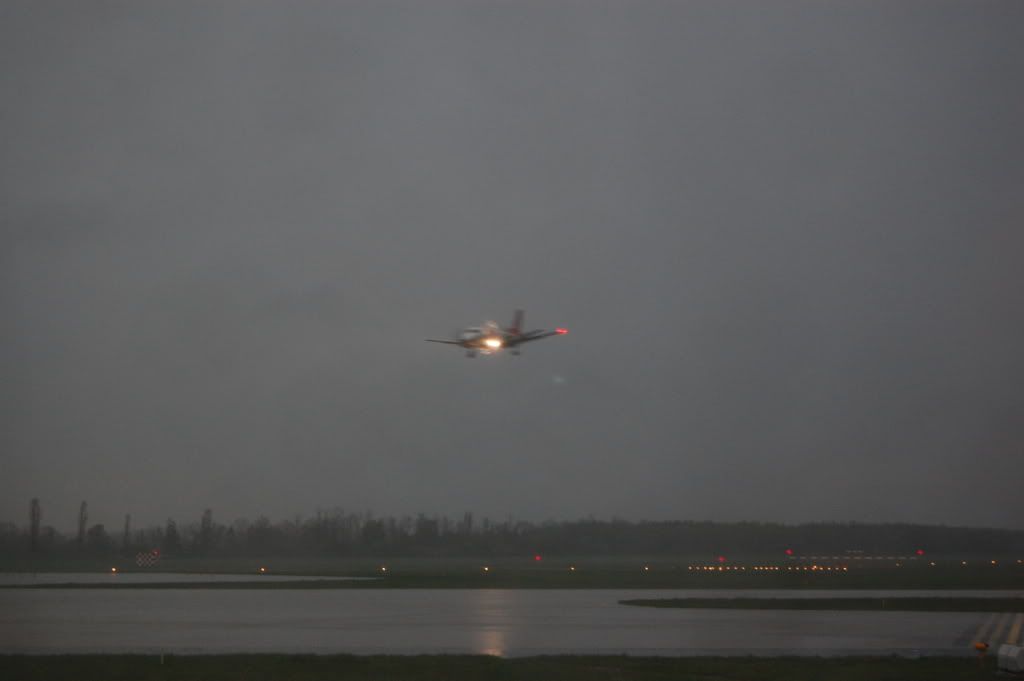 Little prop in bad weather approach
I said this could take a while, and so it did. After 10 minutes the pilots shut down the engines and we awaited the bad weather to leave the direct surroundings of MUC. Finally after 45 minutes it was our turn to take off, and we made a silent rocketing start.
Just above the clouds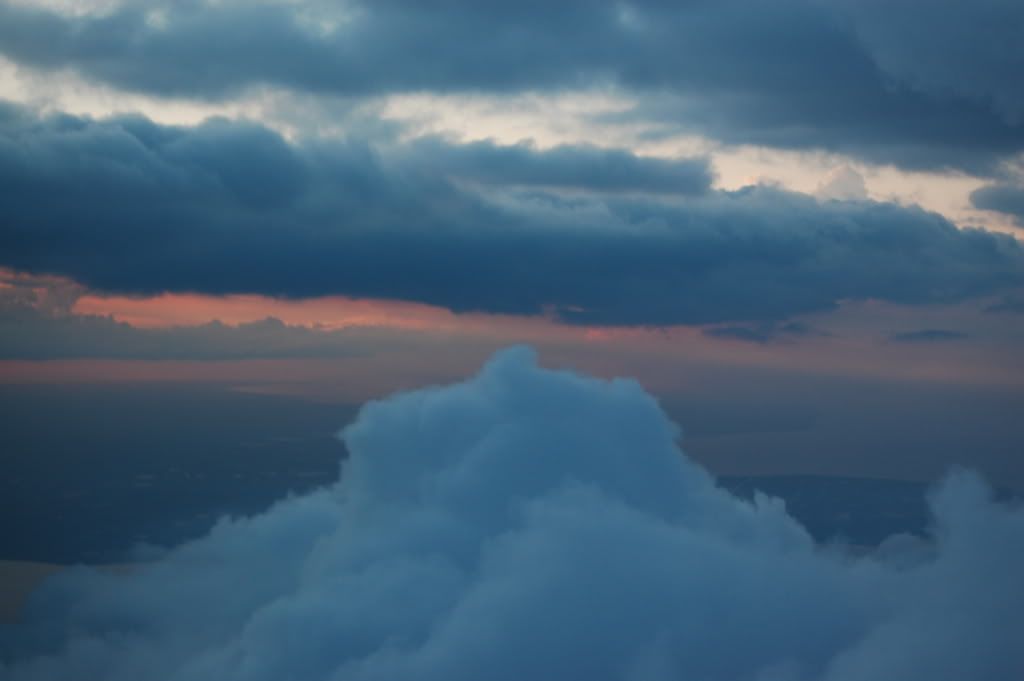 Nice cloud formations
Soon we were above the cloud layers, and enjoyed a very comfortable flight back to our home airport.
The remainder of the flight was uneventful, although we enjoyed some very nice cloud formations.
Landing was on my favourite runway the 'Polderbaan' or 18R.
The parents of my GF picked us up and we drove back home. Tired, but very pleased with some very nice days in beautiful Milan / Milano / Milaan / Mailand.
Thanks for reading another report and please feel free to comment.
Cheers,
Joost ( D-ALCE )