Speedbird over the pond
Saturday April 4th, 2008, late night. While browsing the web, I found out a too-good-to-be-missed offer on Travelocity. Consider : spending the next week-end in New York, flying in and out on BA, all that for a mere 500 euros. Weak dollar, low season, a BA 747, it would be my first time in New York. Where's my credit card ? Booking complete, Big Apple here I come !
I spent the next few days surfing the Internet looking for things to do, bought some guide books, and as it was quite a busy time at work, I barely realized we were now April 10th, the day before my departure. I just needed a few minutes to pack some vital stuff in a small bag and went to bed as I had to wake up quite early the next morning.
Leg 1 : Brussels, Belgium, to London-Heathrow, England, on a British Airways Airbus A319
Date : 11 April 2008
Flight : BA389, departs BRU 07.25, arrives LHR 07.45
Aircraft : Airbus A319-131, G-EUOF, MSN 1590, first flight 10-SEP-2001
This particular aircraft made its maiden flight the day before the September 11th attacks, which was also my very first day at work ever, after finishing school.
It would be my 17th flight of the year, but I just felt excited like every time I'm on my way to a place I'll discover for the first time. A shower and some much needed coffee and I was in the car driving to Brussels Airport. No sign of the morning yet, low traffic on the highway, radio volume just enough to keep me awake, my foot was sleeping on the right pedal, no speed cameras, I just needed 35 minutes to reach the airport.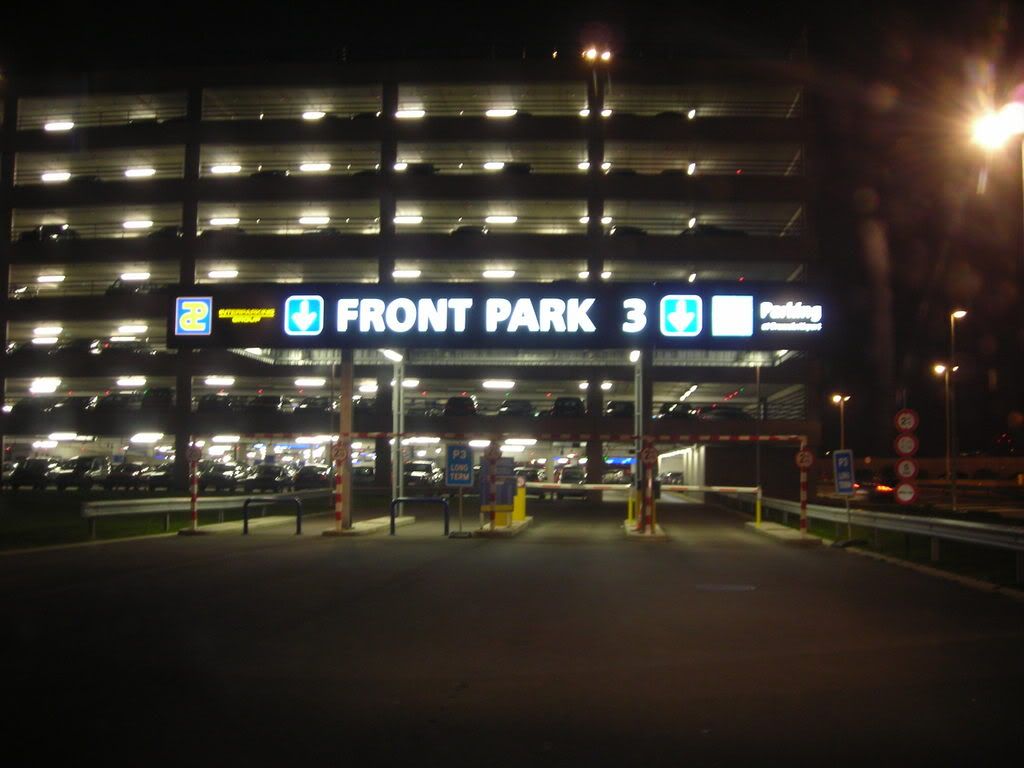 Parking the car in Front Park 3 at BRU.
I can't remember the last time I used a manual check-in counter (actually I can but I prefer not to, it was at a VERY crowded Bergamo airport), I checked-in online the day (no, the night) before, secured window seats on the BRU-LHR as well as on the LHR-JFK flights, and passing security was easy and fast. I entered the B concourse of BRU airport, that's where non-Schengen flights depart from, I was a bit early but didn't feel like having breakfast now. A parked A319 could be seen through the windows : G-EUOF was still sleeping at gate B07 but it wouldn't be long before it takes me to London. As I was waiting for the flight, an airport agent came to me and asked me whether I'd like to be called in a few days to give my opinion about the airport. I said no problem, but it was the last time we talked to each other... they never called me.
We boarded on time (at 7.00 am), but had to wait for a while before being pushed back... We sat in the plane for 50 minutes before something happened, but the friendly captain explained that because of congestion near London, we had to wait for the next available ATC slot. In the meantime, our neighbour, a BMI A319, departed to LHR... While taxiing, I watched the Brussels morning traffic : some Brussels Airlines departures, Jet Airways arrivals (I spotted a 777 and 332), along with the usual suspects...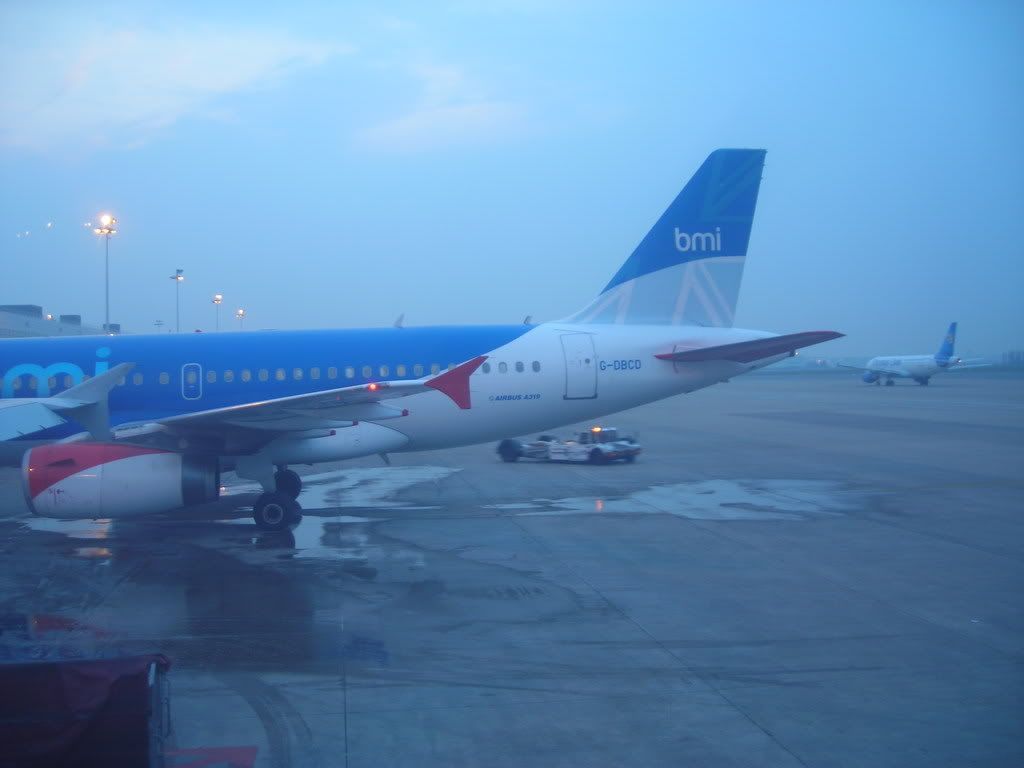 Our neighbour, a BD A319, about to leave to LHR ahead of us.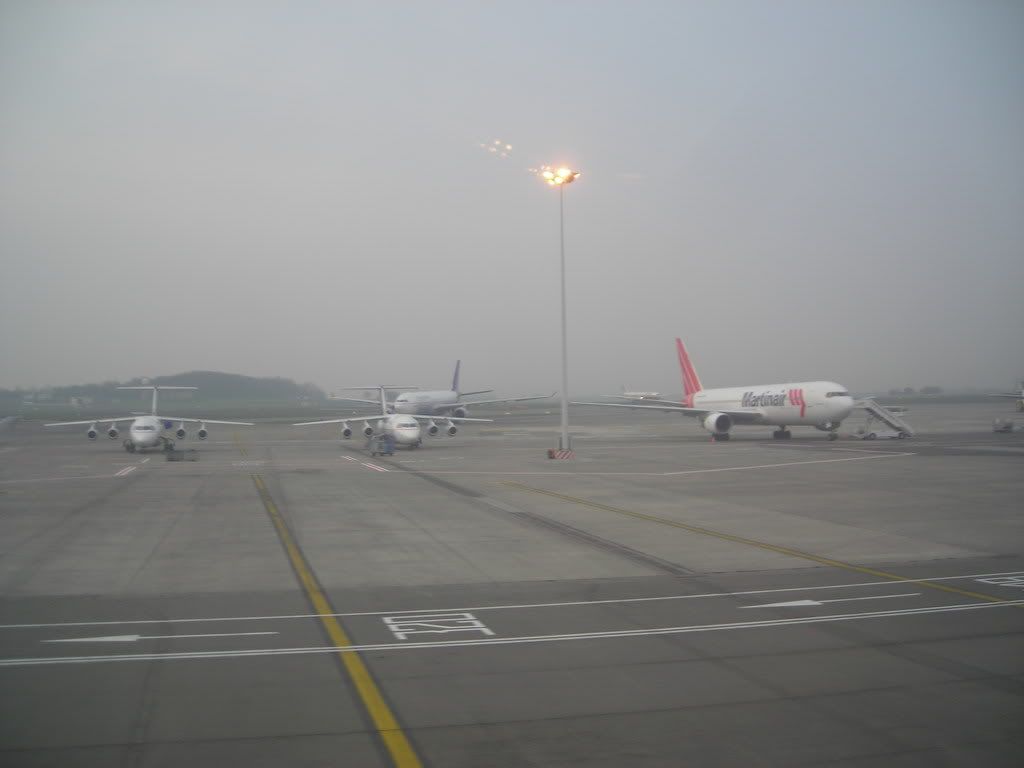 On the apron as we are pushed-back : Brussels Airlines Avros, Martinair 767, SN A330 arriving from Africa and in the background, AA 763 arriving from either ORD or JFK.
We made a *very* short take-off roll on runway 25R before disappearing into the clouds. The flight between Brussels and London is not (supposed to be) long, so it's amazing to watch how efficiently the cabin crew tries to complete the beverage and breakfast service (sandwich filled with bacon and salsa sauce). Thumbs up for the BA crew as they ran to deliver every tray as soon as practically possible while trying to look friendly and relaxed. I like BA, and I like them more everytme I fly them.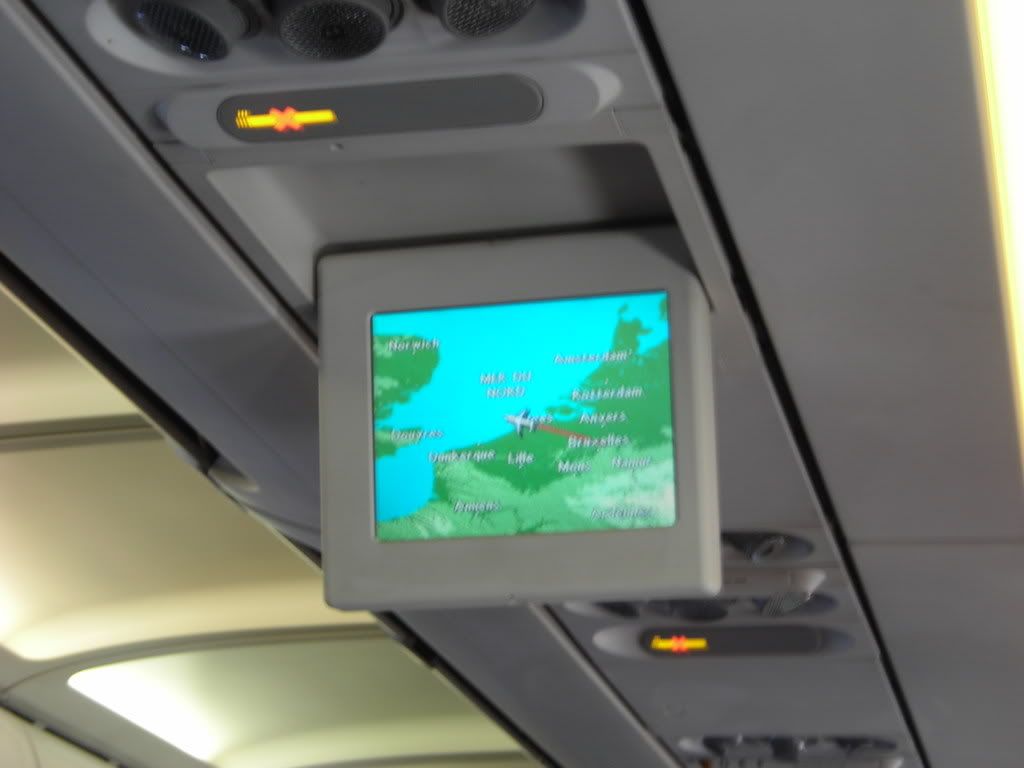 Leaving Belgium behind...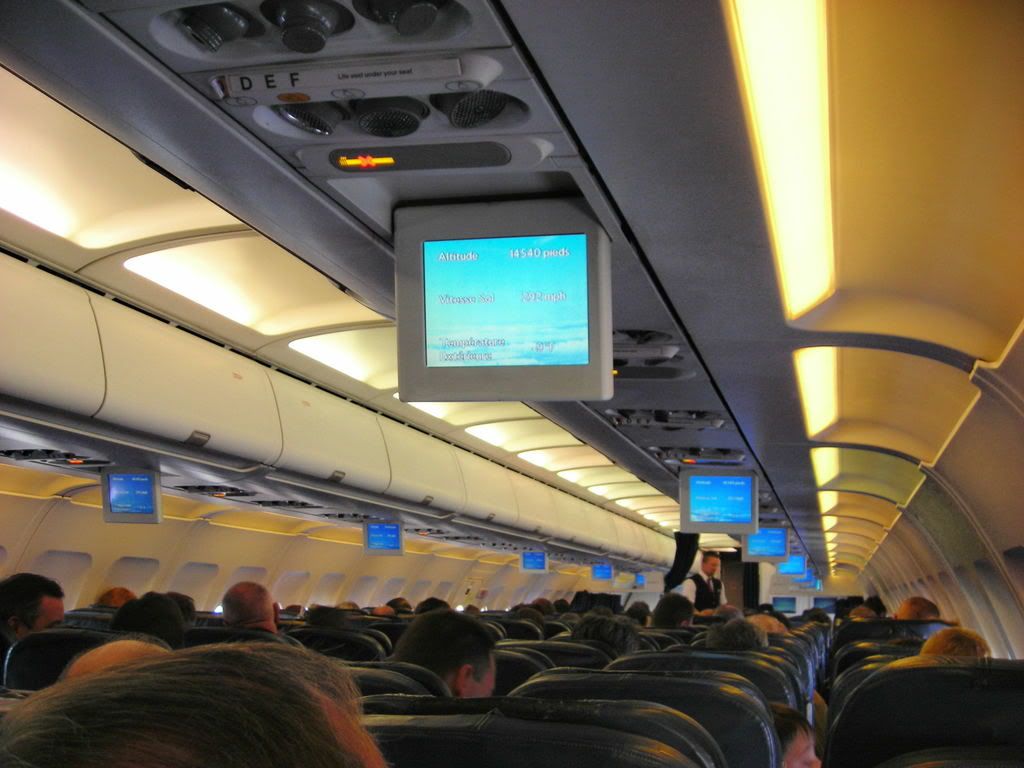 Reaching FL150, and it's about as high as it will get today. The breakfast service has begun.
There was actually no reason to hurry up, as we were put in the infamous Lambourne holding stack for quite some time upon reaching the London area. On the row behind me was a non-reving BA captain working on his laptop. Looking out the window, I watched a VLM Fokker 50 entering final approach for London City airport. I had already seen it a few minutes earlier above North Sea, the lucky guy did not have to wait for the privilege to land at Heathrow. Anyway, I didn't regret the hold, as I enjoyed an *amazing* view of Stansted airport, eastern London (including the Dartford bridge where I spent some time the year before at the Holiday Inn Express), and, most of all, central London , with the Tower Bridge, the so-called "Gherkin" and Westminster.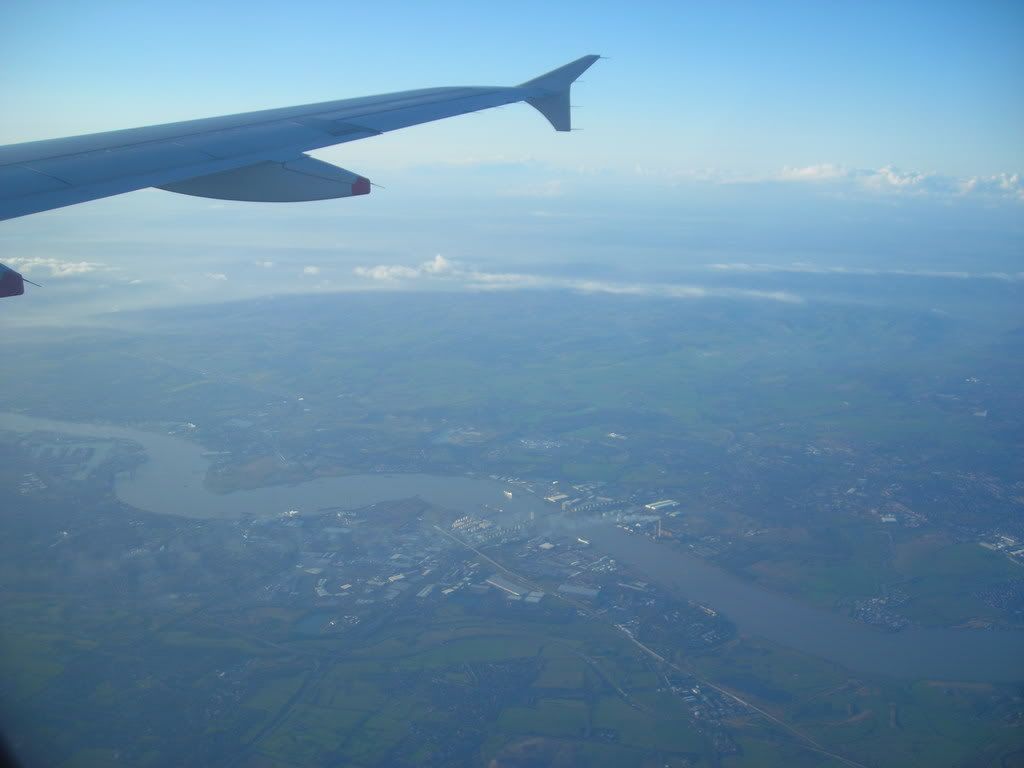 The Thames, the town of Dartford, and the Dartford crossing, while holding around the Lambourne VOR.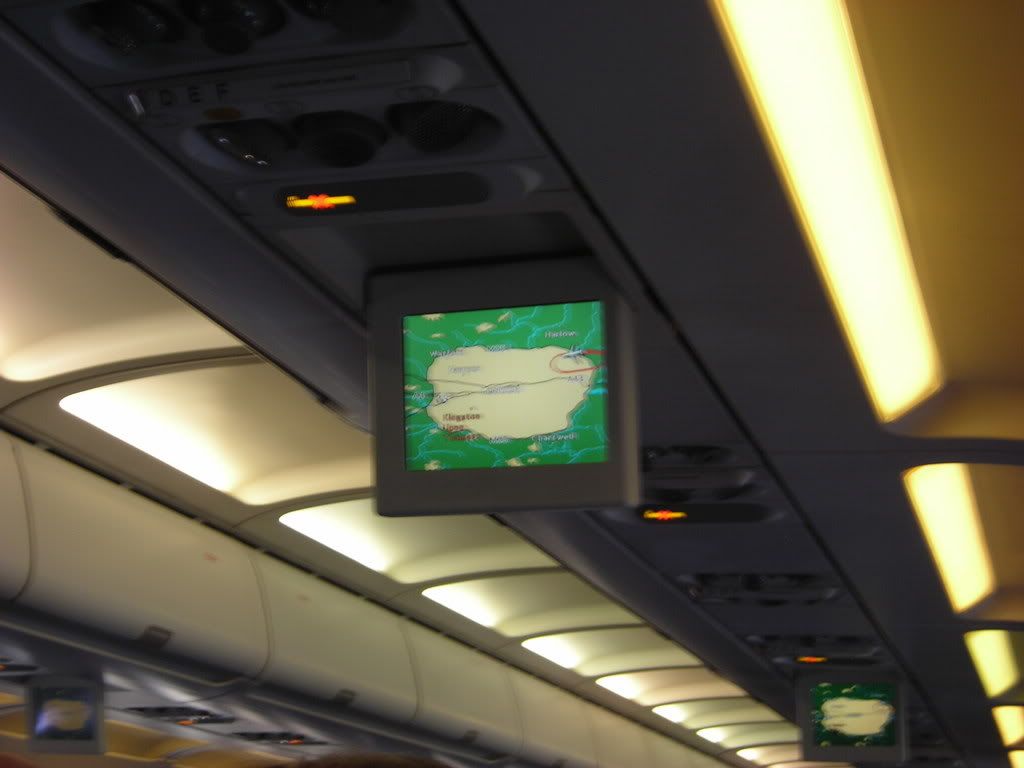 Third loop in the Lambourne holding stack.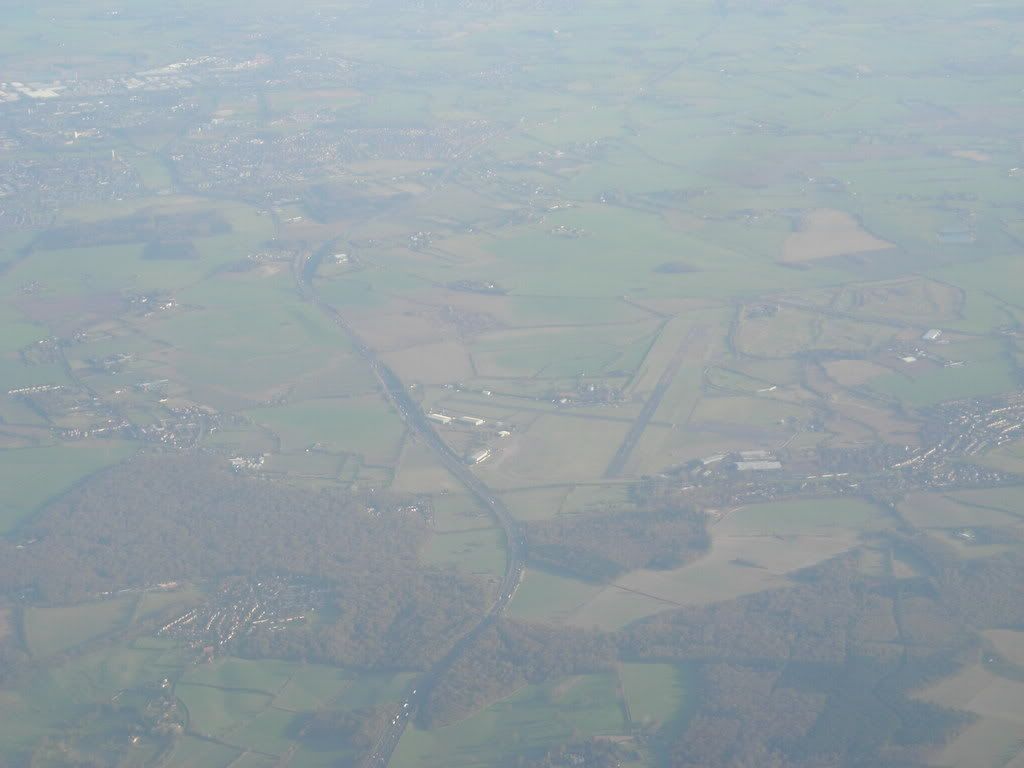 North Weald airfield
Everytime I come here, I realize how London is my favorite city in the world. The approach over central London was in the same vein, with a gorgeous April light, simply amazing (I got a clear view of famous landmarks such as the Tower Bridge, the London Eye, the houses of parliament...). We landed on LHR runway 27L somewhat behind schedule, but I still had plenty of time to connect to my flight to New York. Taxiing to our gate was like a tourist tour for aviation enthousiasts : an SQ A380, VS A346, well, plenty of aircraft, before we reached the brand new terminal 5 where we parked on stand 517, beside G-EUUA.
Some pictures of the final approach over central London for you to enjoy :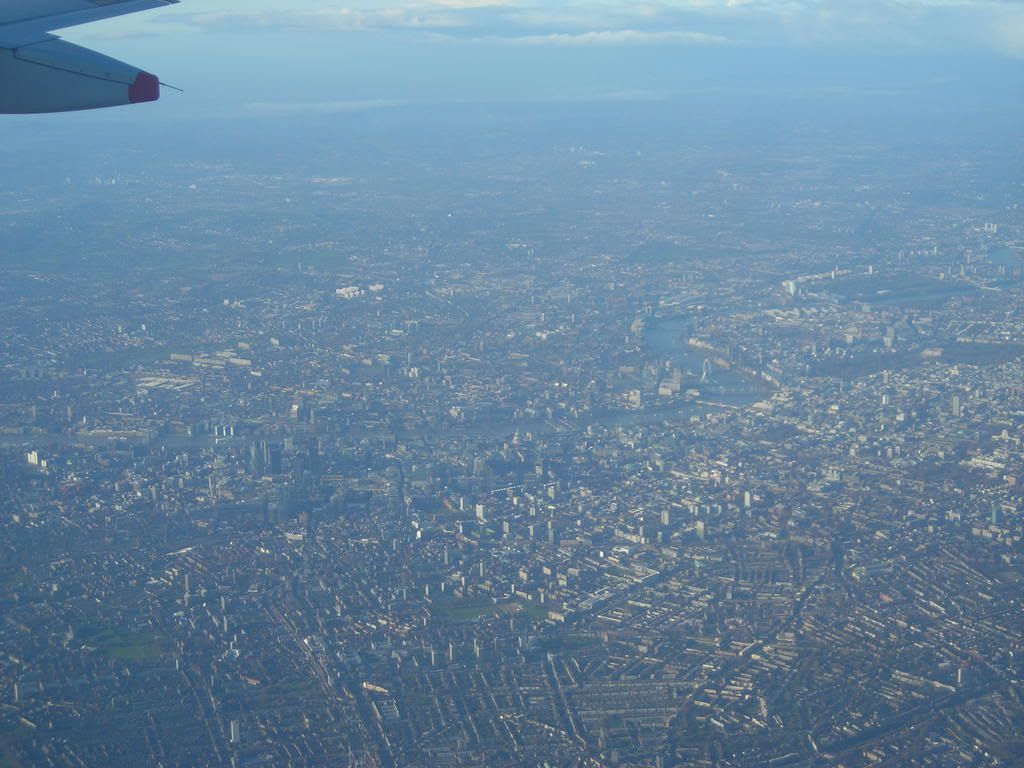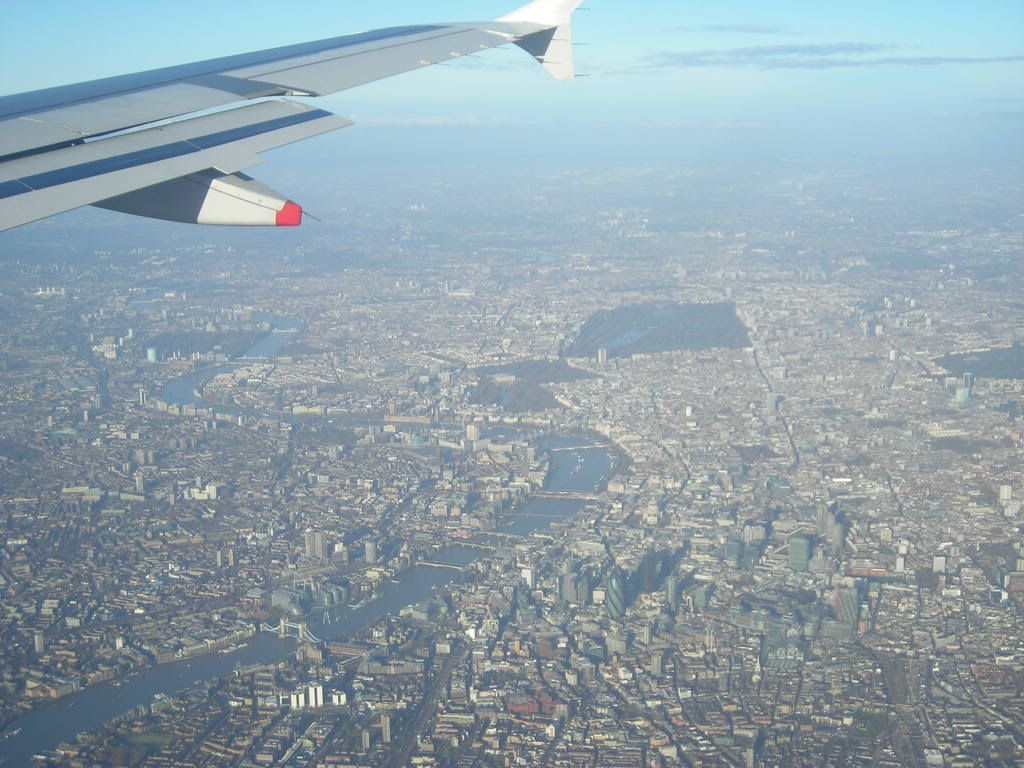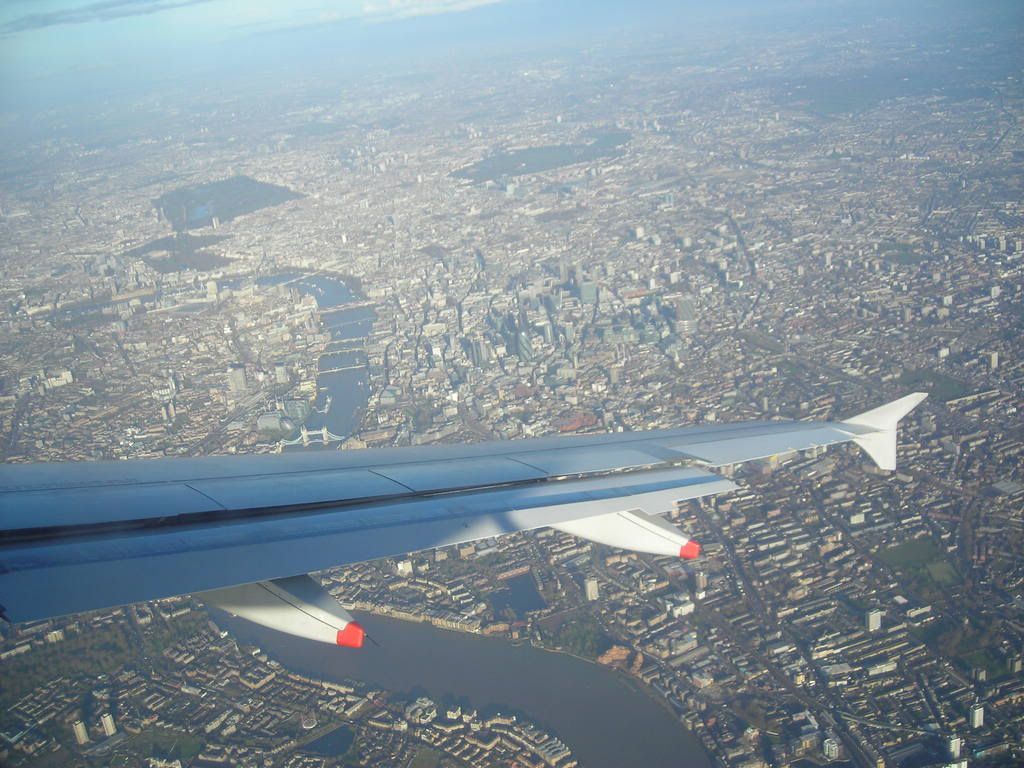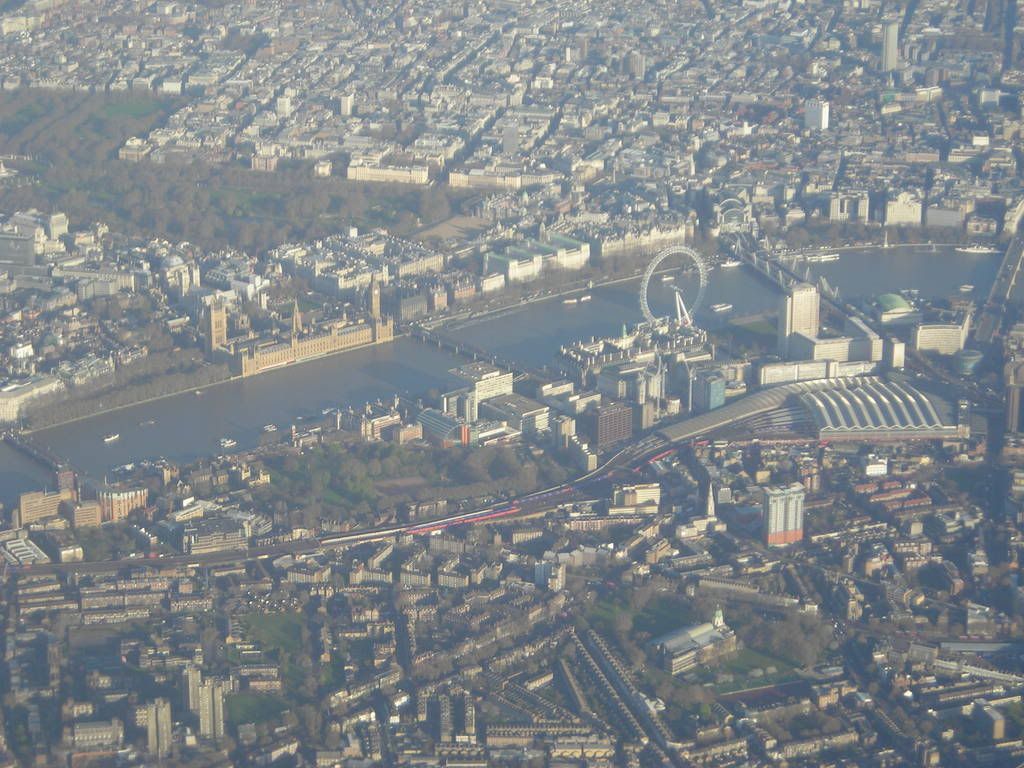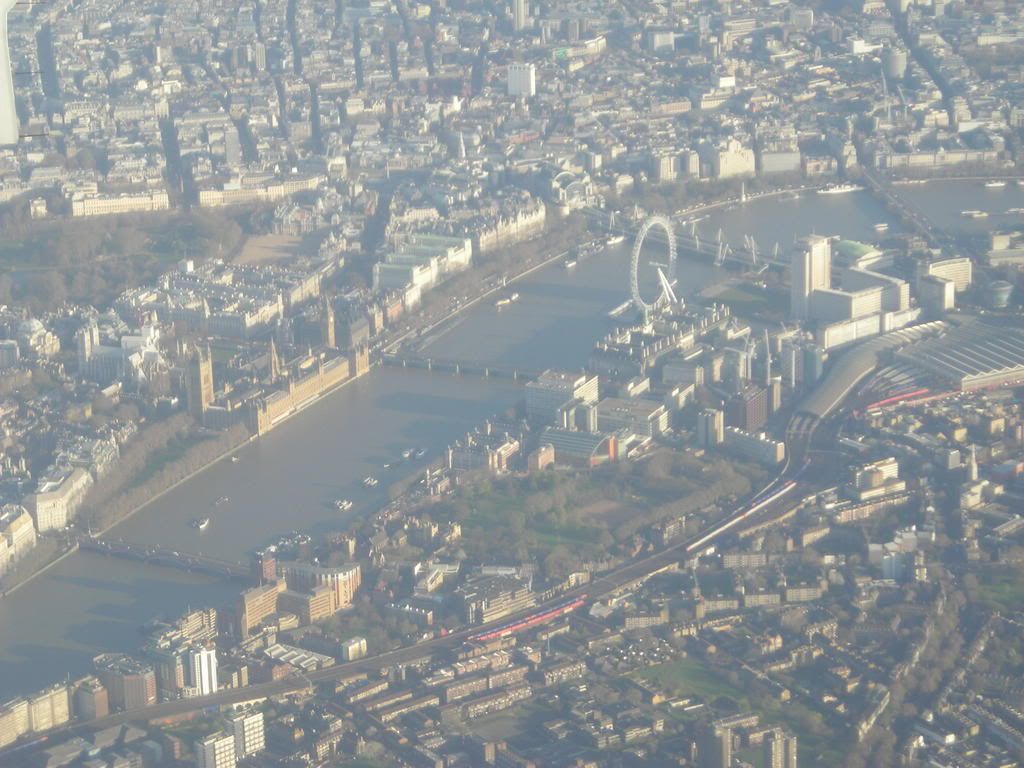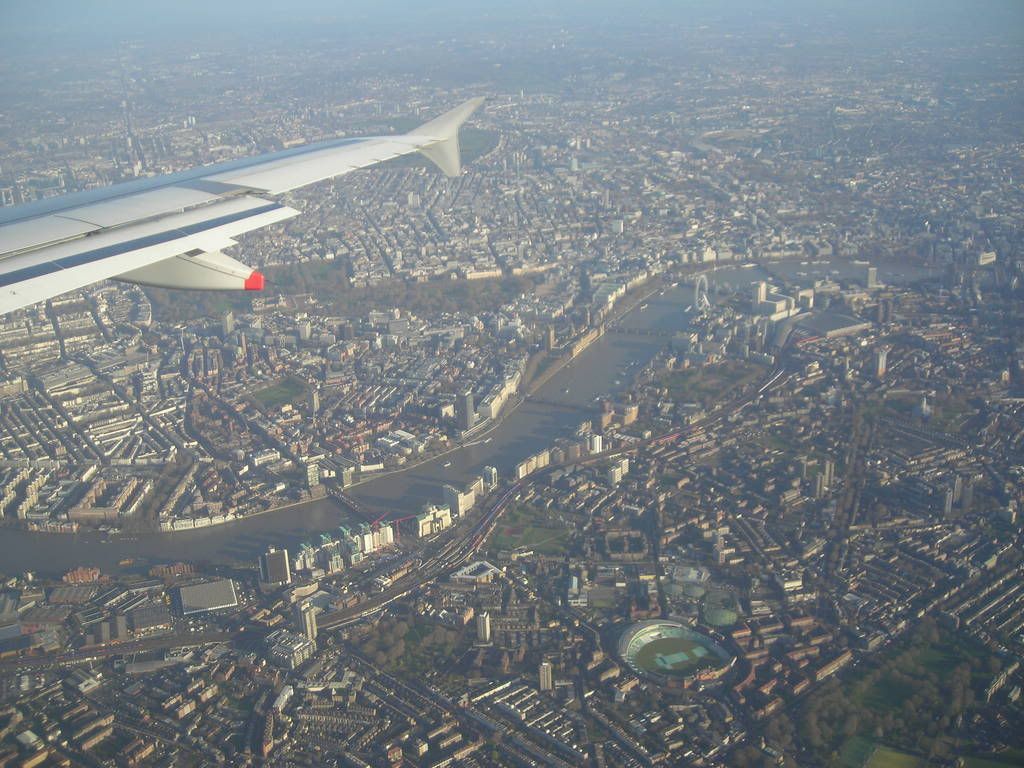 Upon entering Terminal 5, the words that came to my mind were the likes of : huge, shiny, new, clean, modern. I had already used LHR in the past (terminals 3 and 4) and wow, T5 is so nice it does not seem like Heathrow anymore. Anyway, I knew I would have some time to explore the place during my return trip, so I decided to immediately transfer to T4. Transferring is not complicated as the signage is good (although some people, including on this forum, complain about it being the real downside of T5), and airport staff are everywhere to help you, but the bus ride between T5 and T4 is quite long (something like 25 minutes). Long but certainly interesting as we drove past (and very close to) the SQ A380 and an incredible variety of widebodies that remind you you're at Heathrow and nowhere else !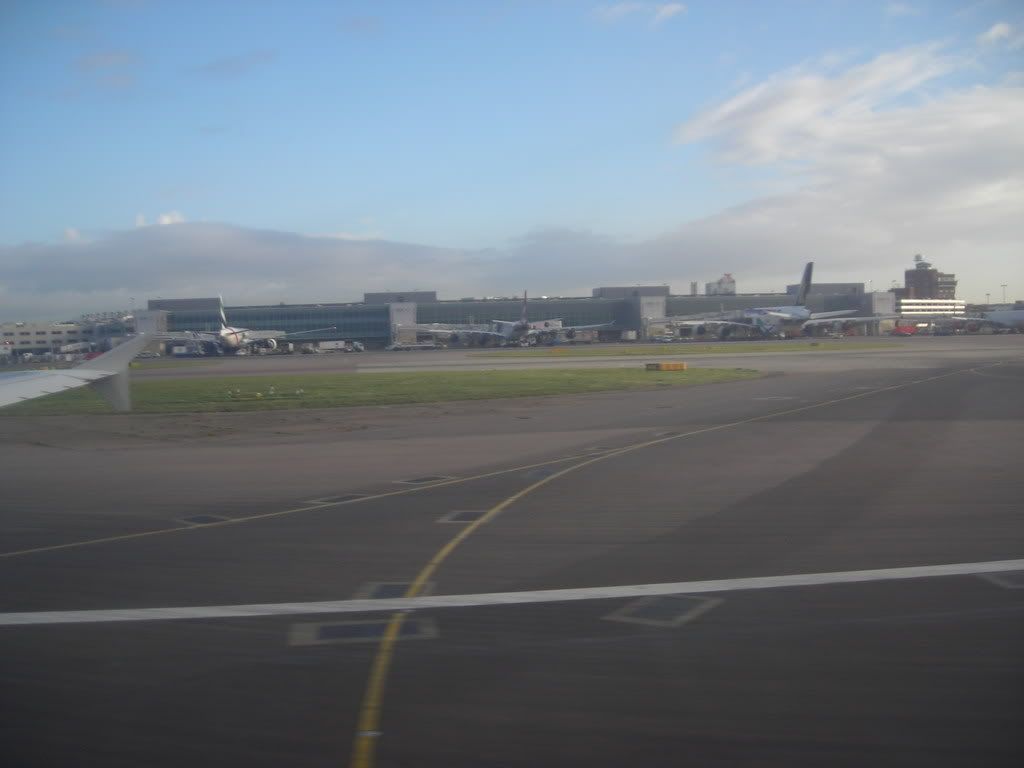 Picture quality is far from good, but here are an EK 773, VS 346 and SQ 380 parked at the central terminal area.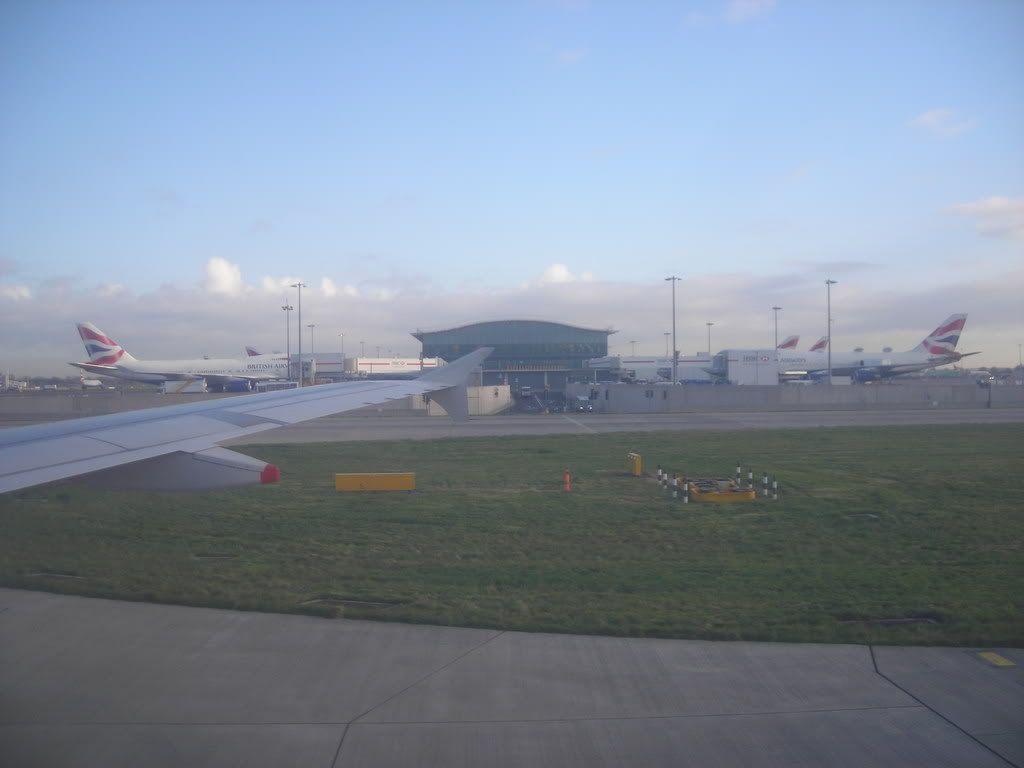 Terminal 5B with a bunch of BA widebodies.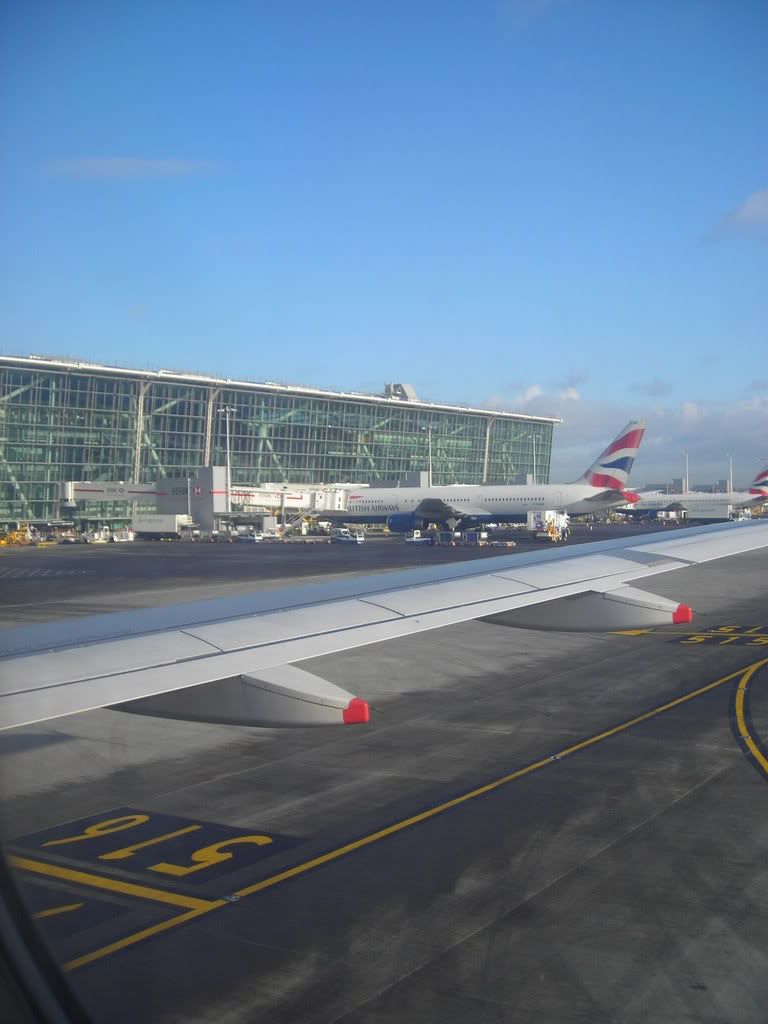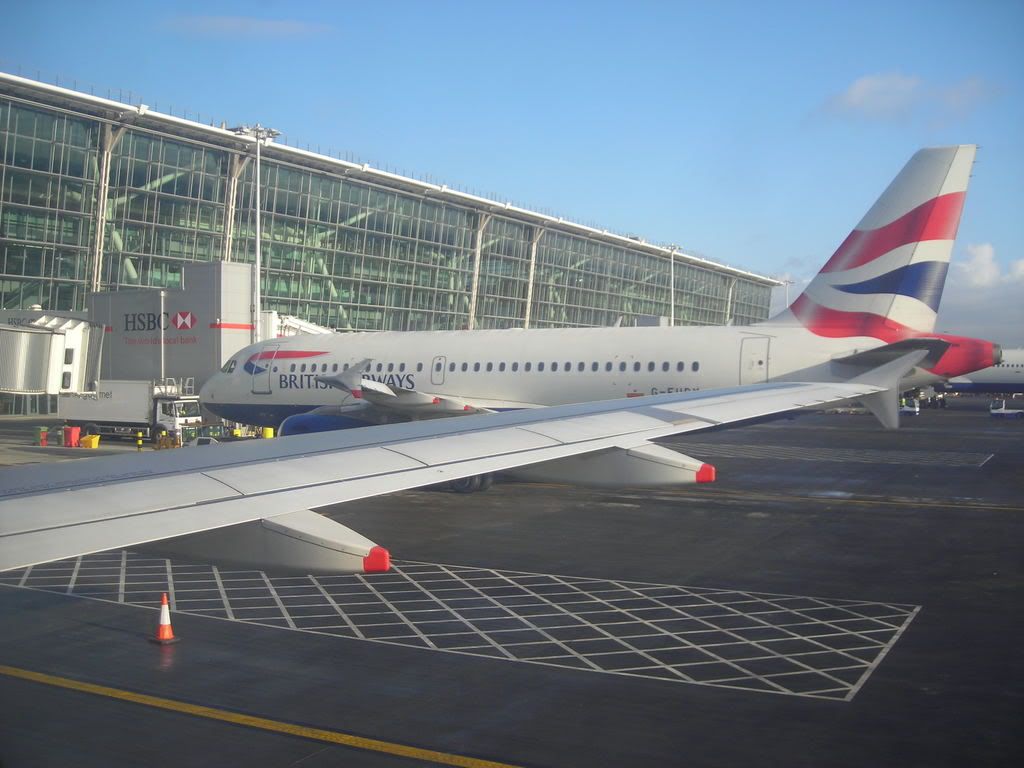 Parking at Terminal 5.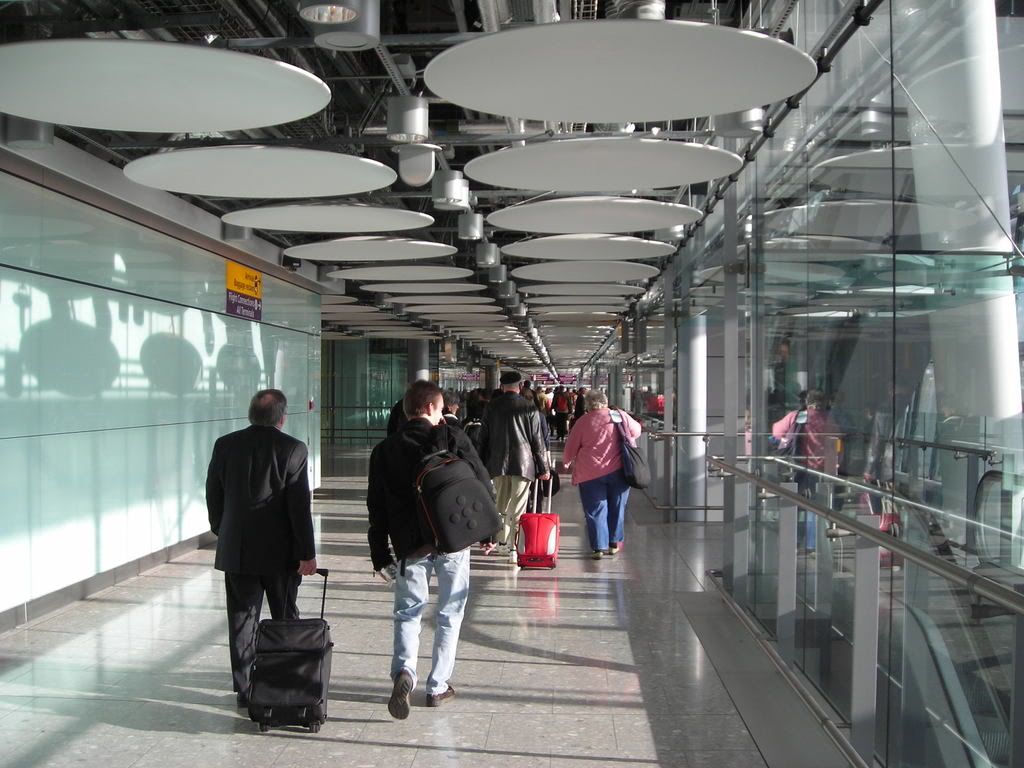 Entering into T5 after arrival.
Leg 2 : London-Heathrow, England, to New York (JFK), USA, on a British Airways Boeing 747-400
Date : 11 April 2008
Flight : BA175, departs LHR 10.25, arrives JFK 12.55
Aircraft : Boeing 747-436, G-CIVX, CN 28852, first flight 23-AUG-1998
In terminal 4, I had to pass through a security check then took a vacant seat facing towards terminal 5 and the runway to watch the action,a nd again, in Heathrow there's no lack of it. After a good bit of spotting, I went to gate 10 where G-CIVX, a shiny 747, was being prepared for flight BA175 to New York. Soon enough, boarding was called, and crossing business class and the economy + cabin, I made my way to my seat 48K at the back of the aircraft. The World Traveller (economy) seats are certainly not bad, I found them quite comfortable, and with the complimentary pillow and blanket, I was ready for the hop across the pond.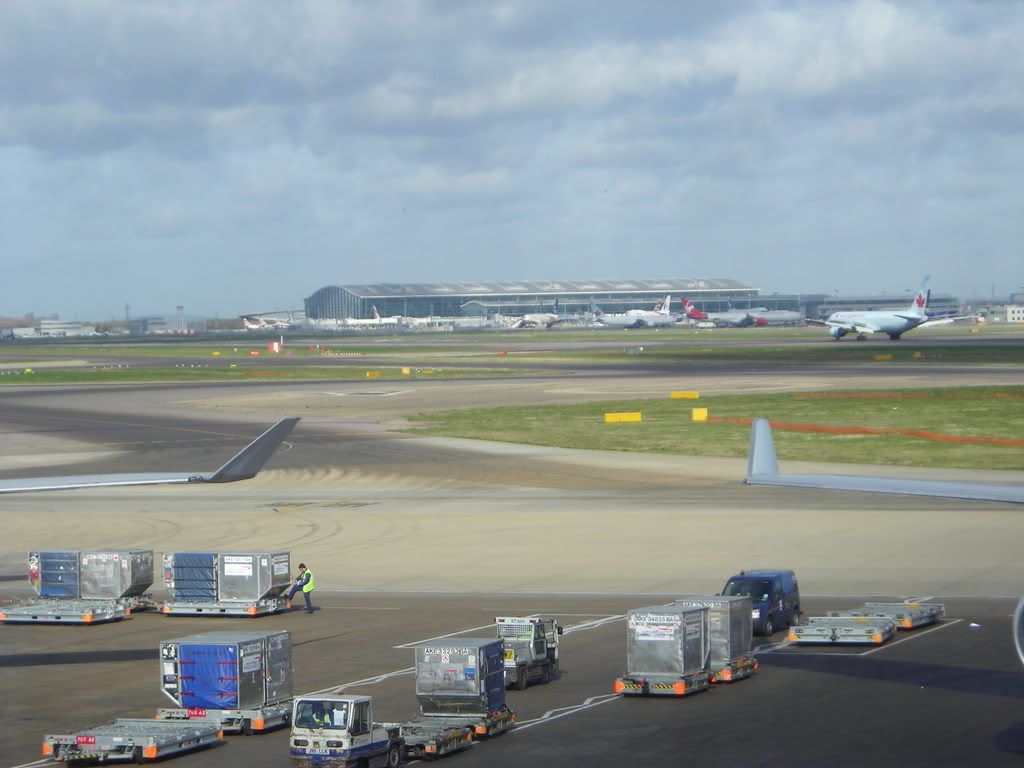 Terminal 5 as seen from Terminal 4.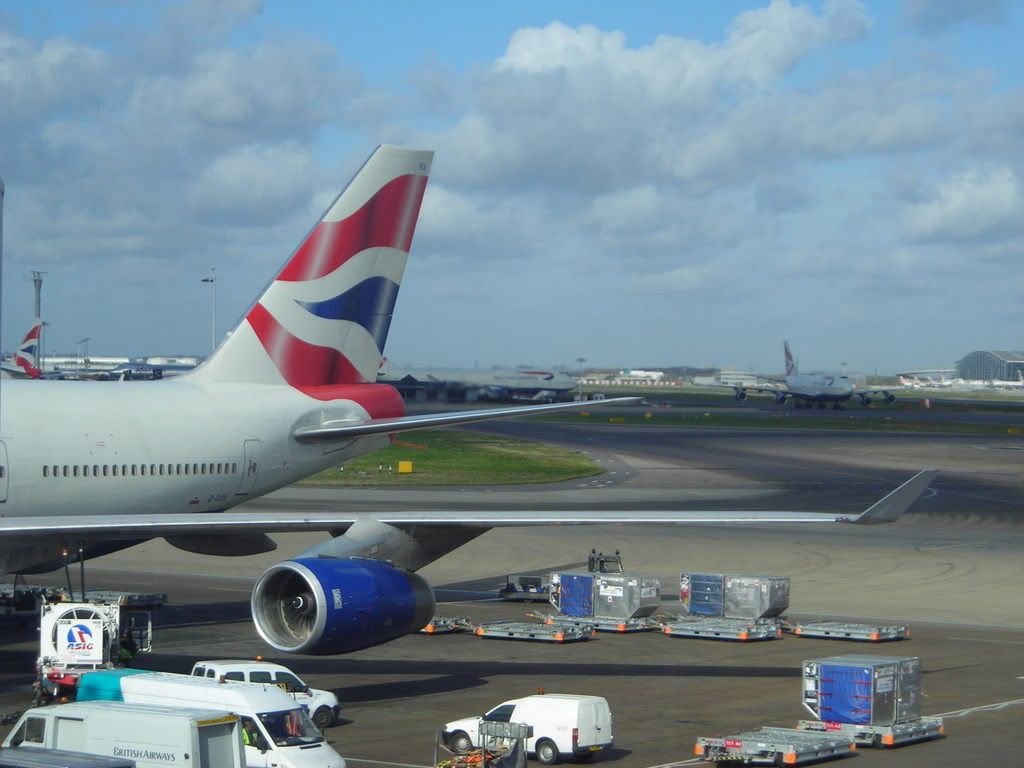 G-CIVX, the 747 that would take me to New York.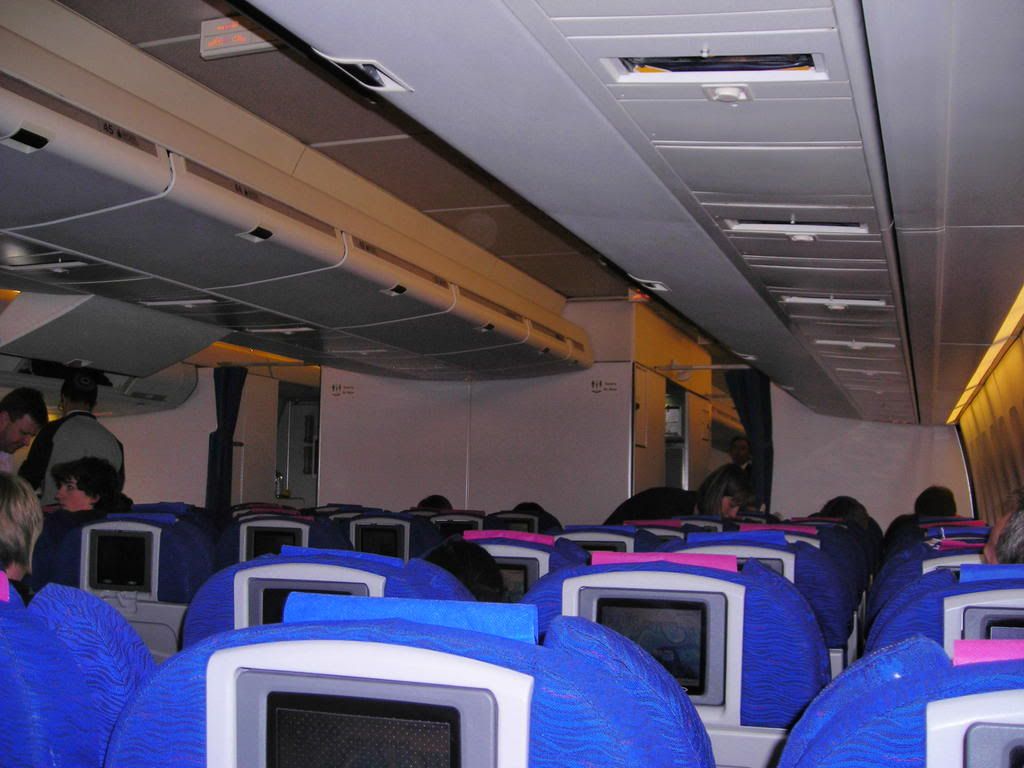 Inside G-CIVX during boarding.
We were pushed back on time (10:28) but because of the long taxi to runway 27R and multiple holds, we only took off at 10:53. For my first time onboard a 747, I did not find the acceleration so impressive, but the sound of the 4 Rolls Royce engines was simply beautiful. As soon as we got airborne, we hit some turbulent air, and being at the back of the aircraft, I was a bit shaken (by a strong lateral oscillation, a feeling I'd never felt onboard smaller planes). While we were still in the initial climb, my IFE screen displayed the welcome page and got blocked on it. Whatever button I pushed, there was no reaction (even the overhead reading lights couldn't be controlled). As I like to watch the flight map to know where I am, I called a flight attendant to ask him to fix it, but after trying, he told me he was unable to understand what was happening. He then kindly proposed me to take any vacant seat I'd like, but I declined (and thanked him) as there were no window seats left. Apart from the flight map, I'm not a great fan of IFE, so I took a book and read instead, randomly looking out the windows when there were no clouds. As we were leaving Europe above Shannon, Ireland, I ordered an orange juice at the drink trolley, then a few minutes later, I received the lunch tray : I could chose between fish and chicken and took the latter, which was very tasty (with carrots and peas, plus a good smoked salmon salad and dessert). All in all, a very decent meal. The flight went on uneventful, my seat was somewhat broken and had a tendency to recline by itself, but it was not so annoying. As we were above eastern Canada, the crew came for another small meal service (drink + sandwich and fruits), then they distributed immigration and customs forms just as we began our descent towards JFK.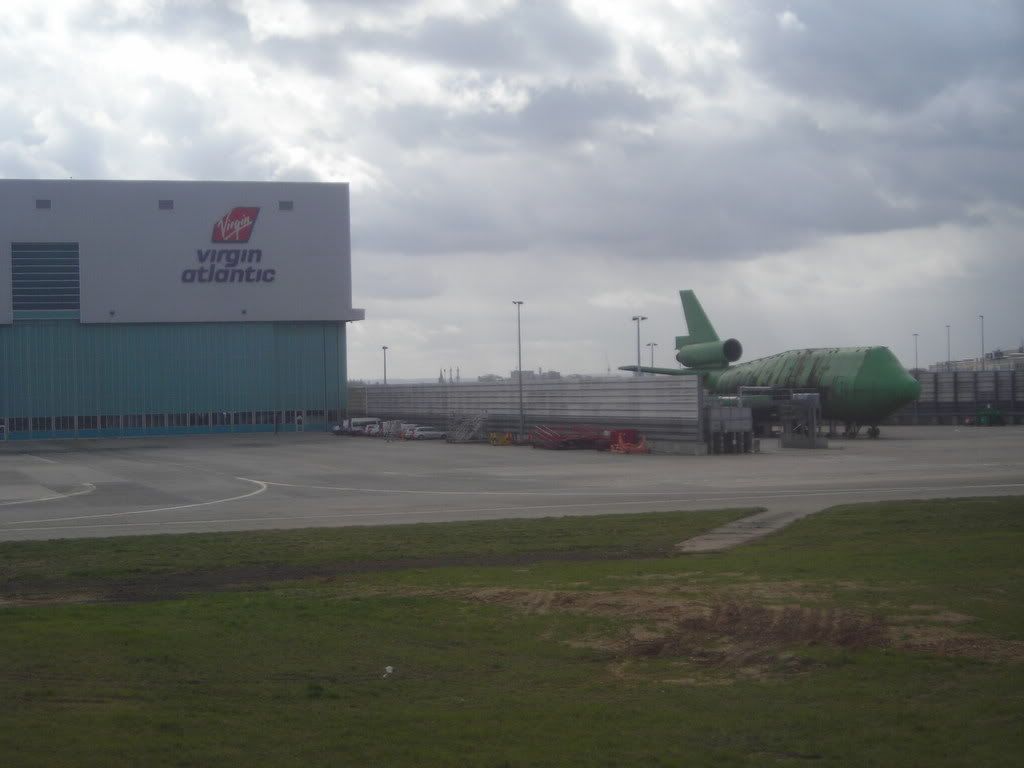 The stange mockup used for fire training, near the runway 27R threshold.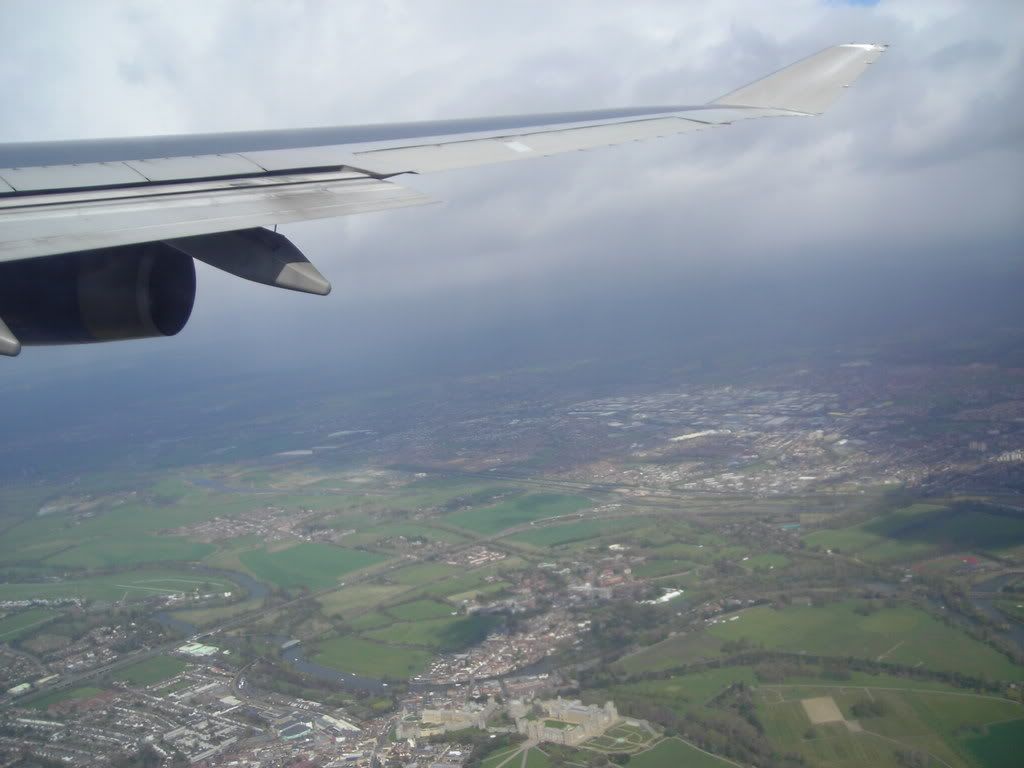 Just airborne ! The Windsor castle and Eton college are visible.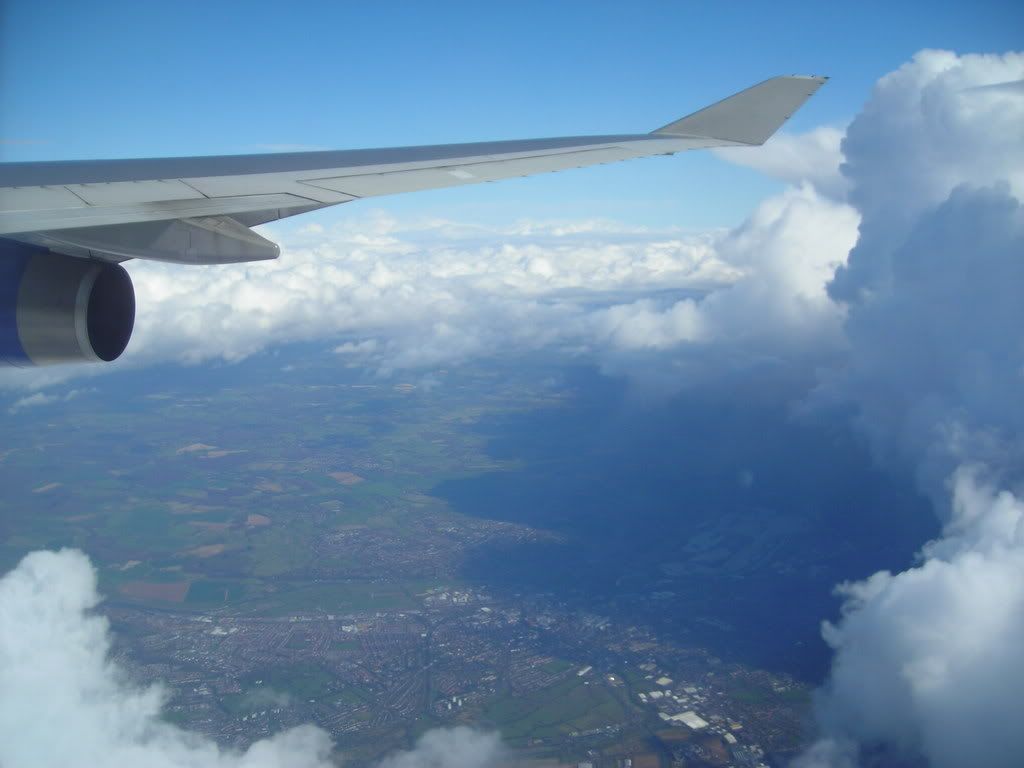 Still above England.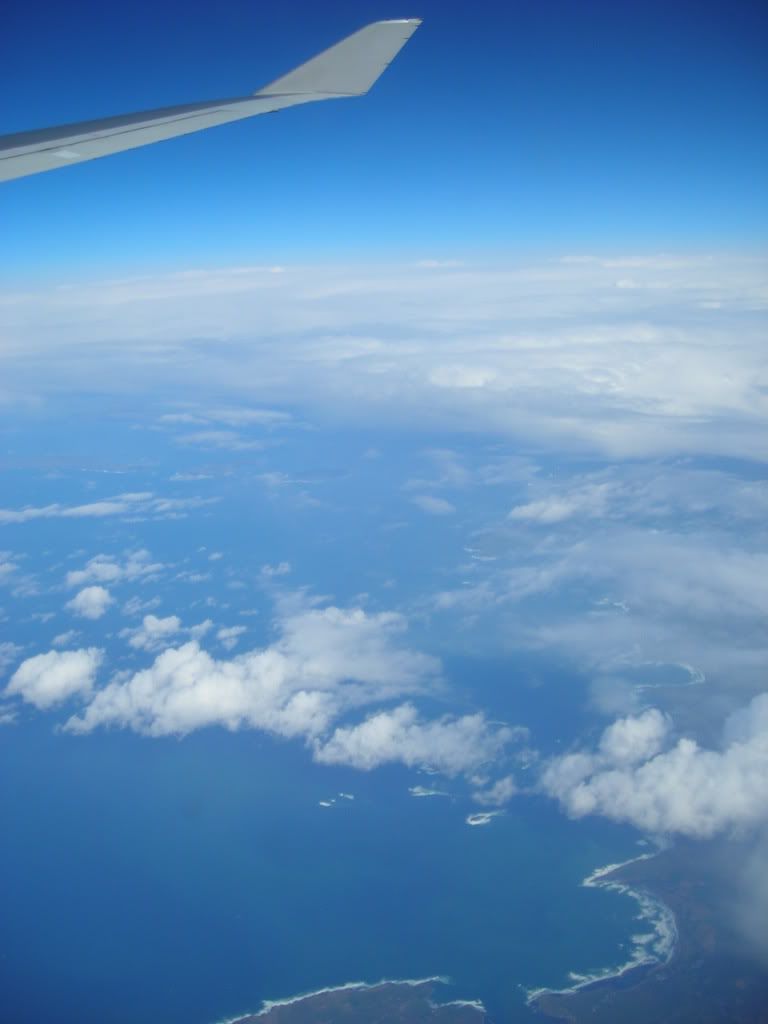 Bye bye Europe (above Shannon, Ireland).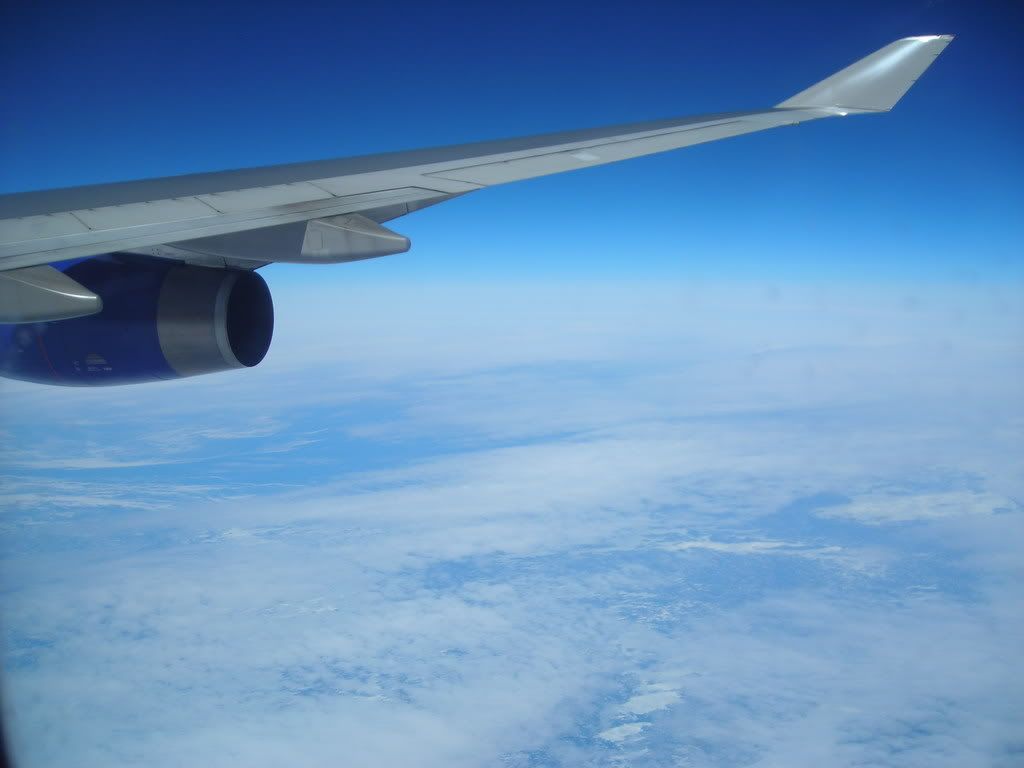 Above North Atlantic.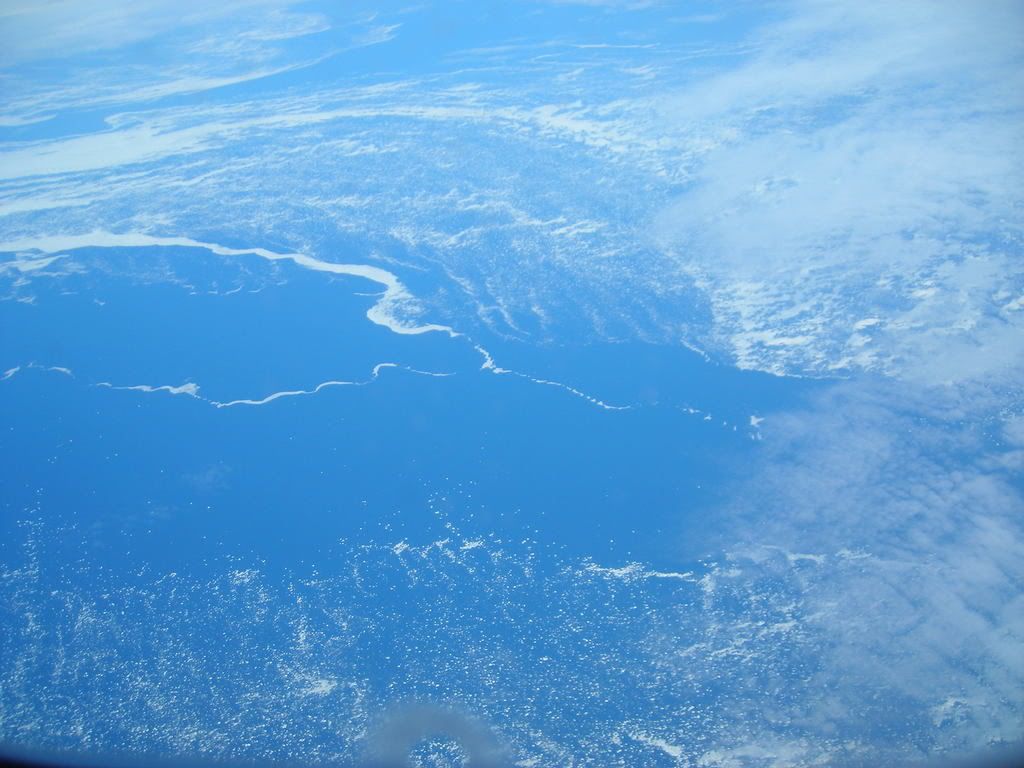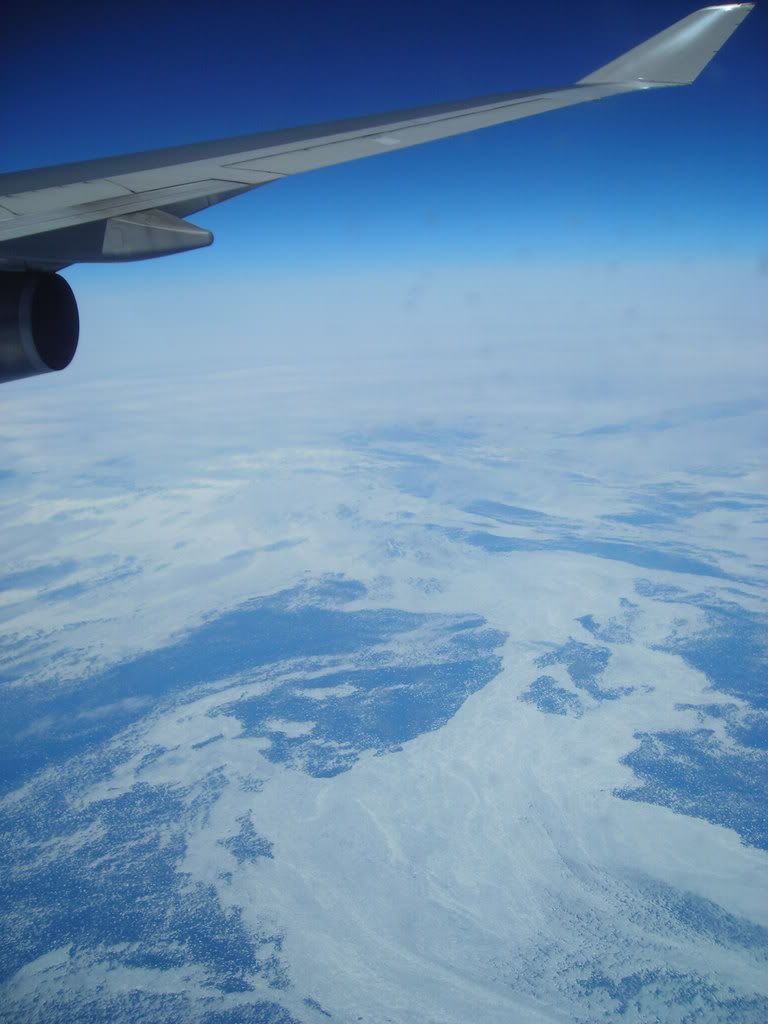 Lots of ice down there !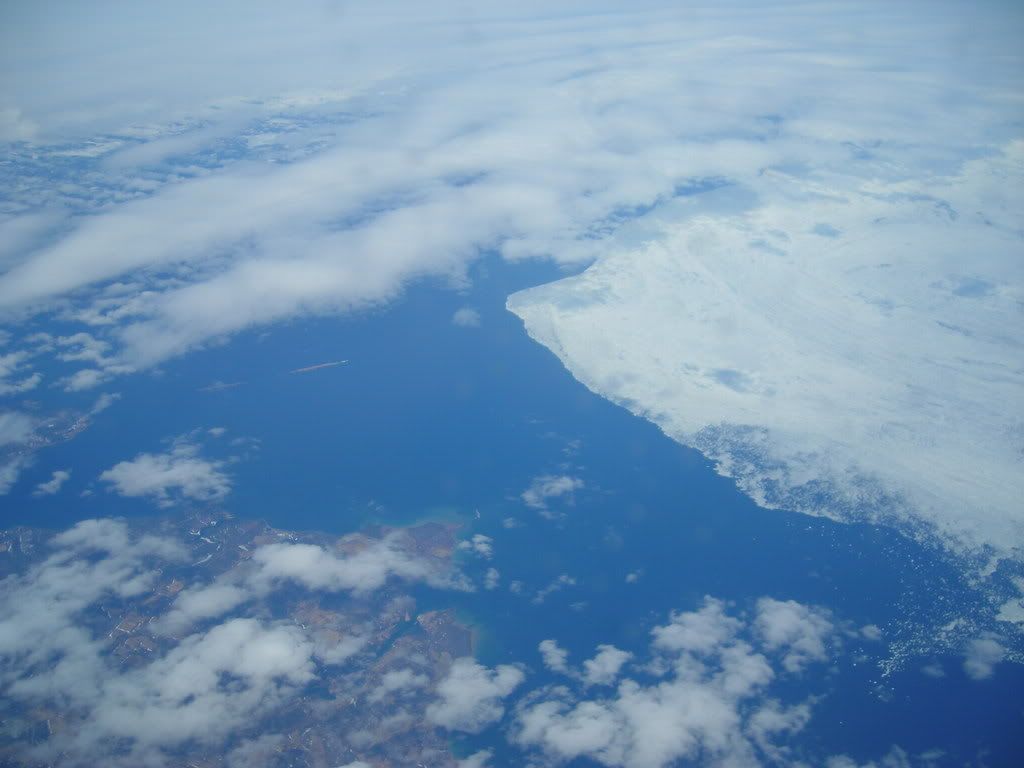 Finally ! Leaving the iced land above Sydney, Nova Scotia.
Judging by the view outside, it was clear that it was going to be cloudy in New York, but I did not expect so much fog ! As we were coming in from the north-east, we passed east of the airport and made a large right turn to line up with runway 04R. We touched down at 13:05, almost on time (10 minutes late) in a very foggy JFK. We vacated the runway using taxiway fox-bravo, then made a long taxi to terminal seven via echo-alpha, bravo and whiskey-alpha (we had to wait a bit before crossing 04L which was active for departures). There was no queue at all for immigration (I was among the first there as I only had a handbag), but I had to use the restrooms, and by the time I left those, a big queue had formed... Fortunately, it was progressing fast, and after the usual questions (how many days am I going to stay, where, why, what's my job in Belgium, ...), fingerprinting and photography, I was out of the terminal for my first time in New York. As I realized, JFK airport is well linked to New York public transportation system by the AirTrain (an automated train linking all terminals with the subway).
Although I was alone, I had a great time in New York, visiting a lot of places in Manhattan (and a small bit of Brooklyn where my hotel was located), including Central Park, Midtown, Chelsea, Greewich Village, the East Side, Chinatown, the financial district, ground zero, and some other less-known areas... I also took the ferry to Staten Island to watch the Statue of Liberty, and the Roosevelt Island tramway which is a very different and pleasant experience. Another highlight of the trip was the view from the top (well, almost...) of the Empire State Building. The day of my arrival, the weather was cloudy and foggy, but the next two days were reasonably sunny and allowed me to walk a lot in the city. I took A LOT of photos and couldn't find one that summarizes my trip as it was so varied, anyway here is a couple of them (again, not representative of a very varied trip).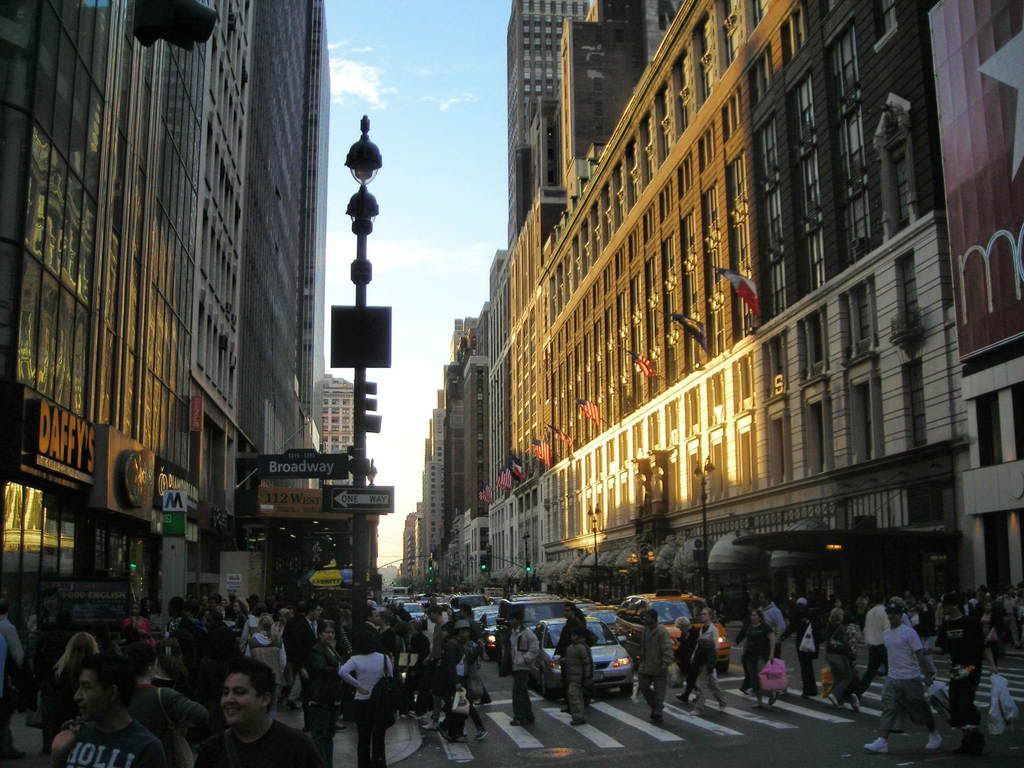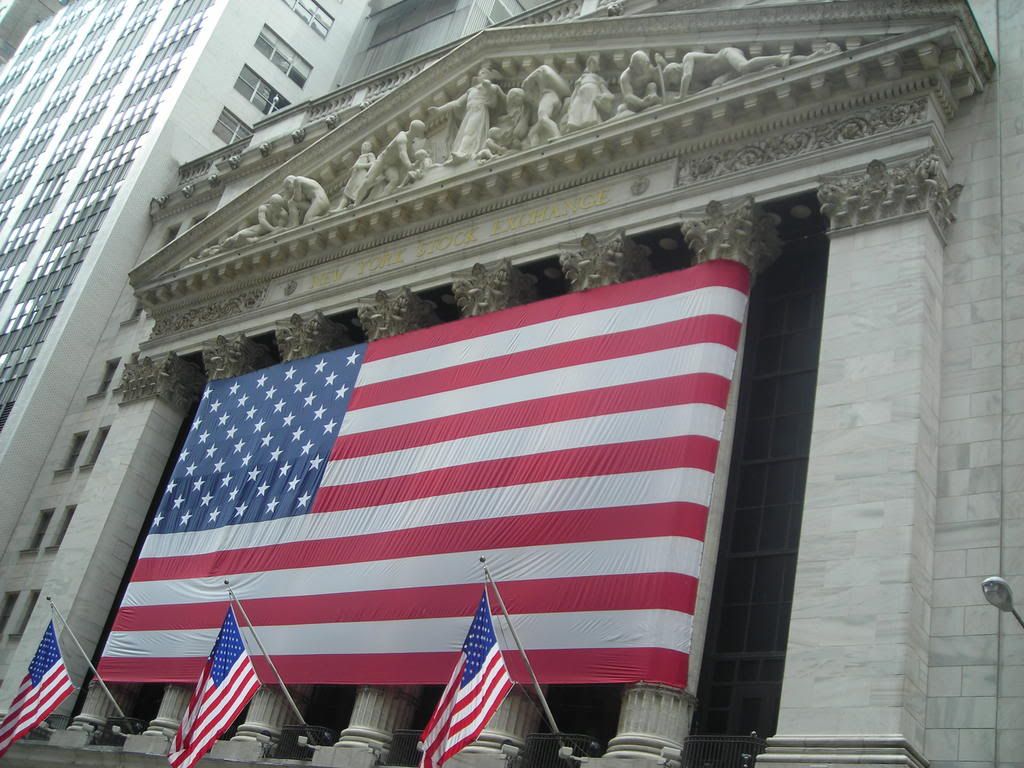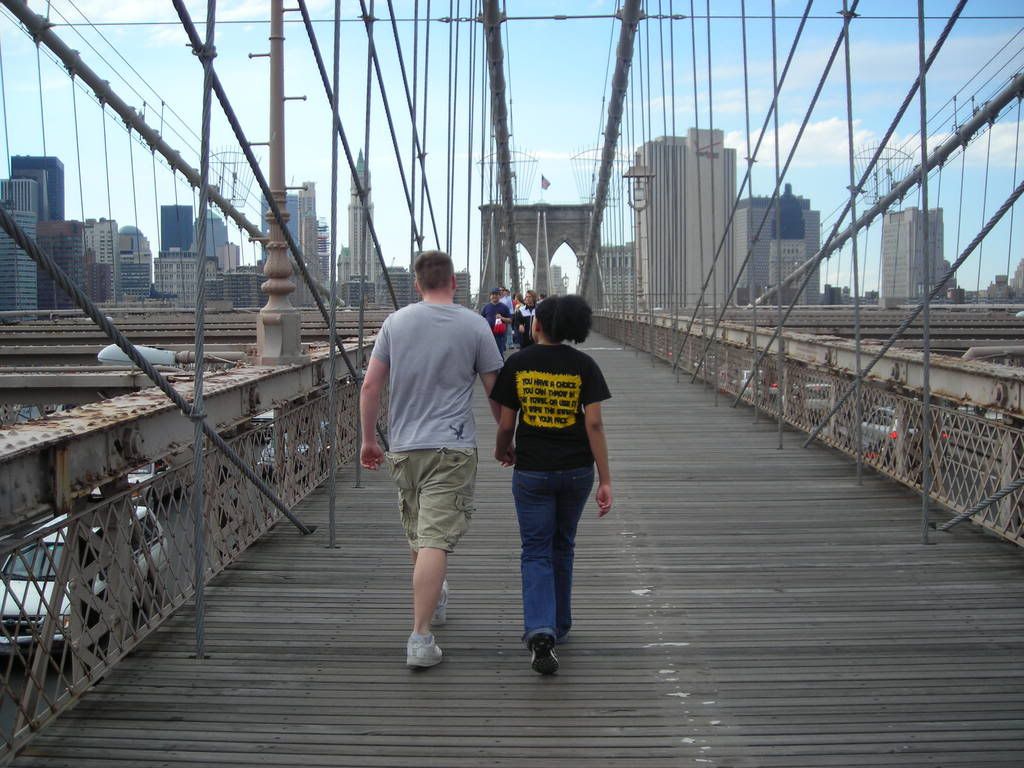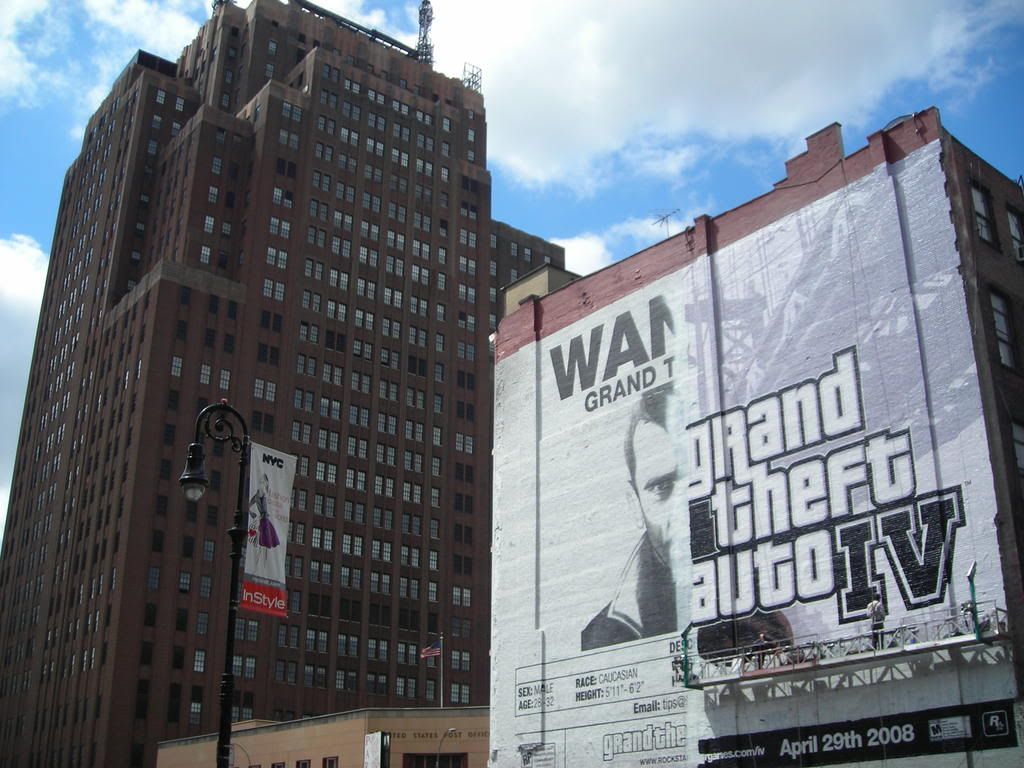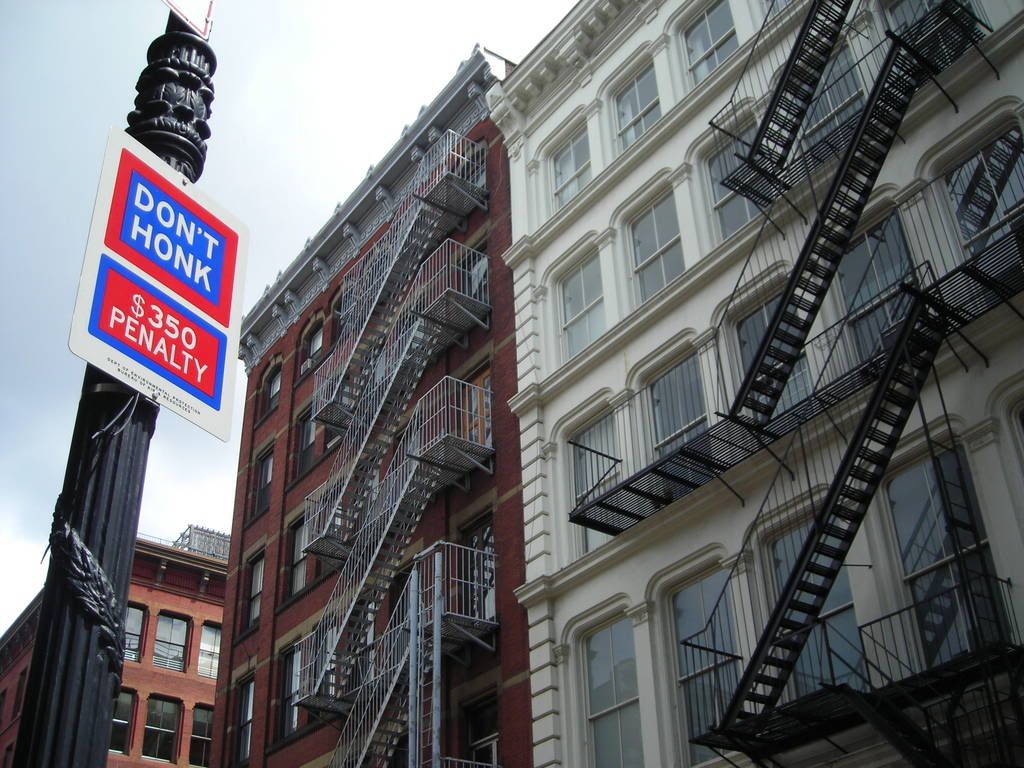 When Sunday came, I was happy but very tired, so I decided to go to Newark airport (by train) well in advance and to relax at some bar there. The New Jersey Transit train from NY Penn Station to Newark Liberty Airport station took only 25 minutes, and there I took the AirTrain (small automated airport train) to terminal B (from inside the AirTrain, I had great views of the continental and CO Express aprons (I think it's terminal C)).
Leg 3 : Newark, USA, to London-Heathrow, England, on a British Airways Boeing 777-200ER
Date : 13 April 2008
Flight : BA188, departs EWR 21.00, arrives LHR 09.15
Aircraft : Boeing 777-236ER, G-VIIL, CN 27493, first flight 28-FEB-1998
Once inside the airport, I went to the BA check-in counters, which are separated from other airlines check-in counters as they are alone at the lowest floor. I politely asked for a window seat, but there weren't any left, too bad I did not check in online at the hotel ! Anyway, the agent gave me a window seat for the LHR-BRU leg.
I then found a quiet bar and sat there for a while, watching golf on TV while converting part of my remaining dollars into Chardonnay. After two glasses of it, I quickly ate some hot dog then proceeded through security. As I had some electronic items in my hand luggage (I had bought them for some friends in Belgium as it's much cheaper in the USA thanks to the weak dollar), the TSA agents took me in a separate place to throughly inspect my bag. I had some fears due to the worldwide spread bad reputation of TSA agents (and due to my not-so-good level of spoken English), but to my surprise they were extremely friendly (also, it probably helps to be friendly with them too). Entering the gates area, I took a seat at an empty gate and made some spotting. I had generally good views of the runways as well as taxiing aircraft, but a double layer of windows prevented me from taking good photos, anyway the beautifully lit Manhattan skyline made for a great background. I watched an Air India 747 pulling into its gate, then some european arrivals (including G-VIIL that was to take me back to Europe, and a LH A340), a lot of CO departures, and went to another bar near gate 67 (where my flight was scheduled to depart from). After eating and drinking a bit (I liked the atmosphere of this bar near the gates, as it was quiet and relaxed, with lights dimmed, while I could watch the planes departing), I decided that it would not be reasonable to convert all my dollars into wine, so I went to a shop and bought some perfumes for my wife and me. Again, the low exchange rate of the US dollar made the prices very interesting for us Europeans.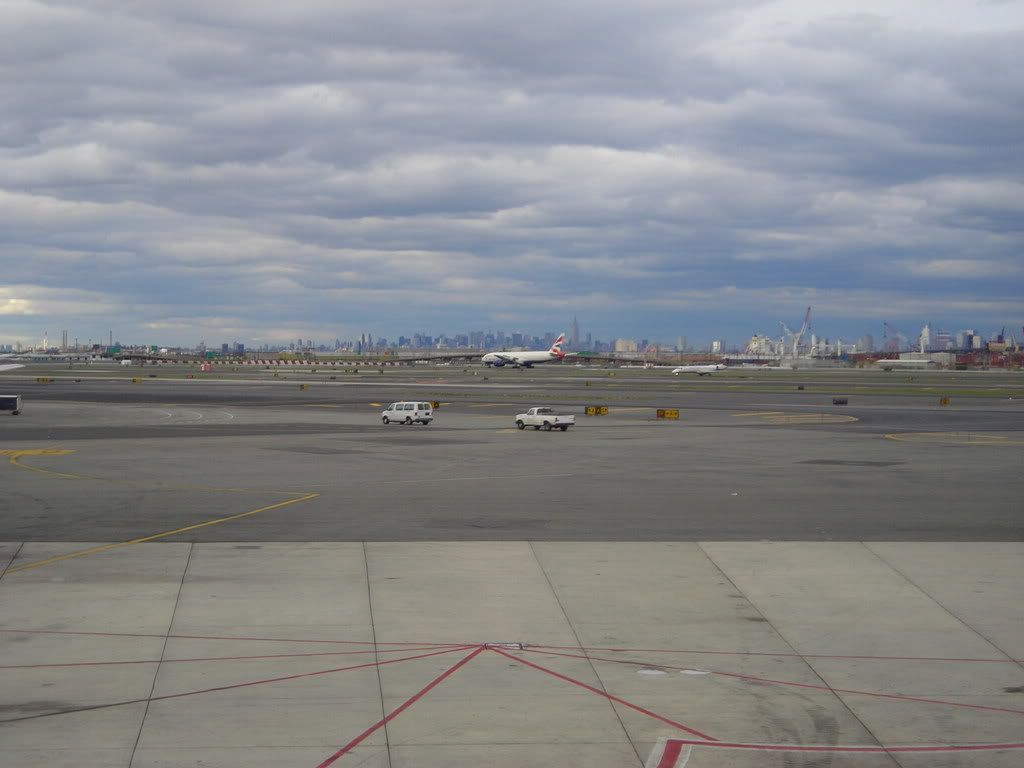 "My" plane, G-VIIL, arriving from LHR in front of the Manhattan skyline.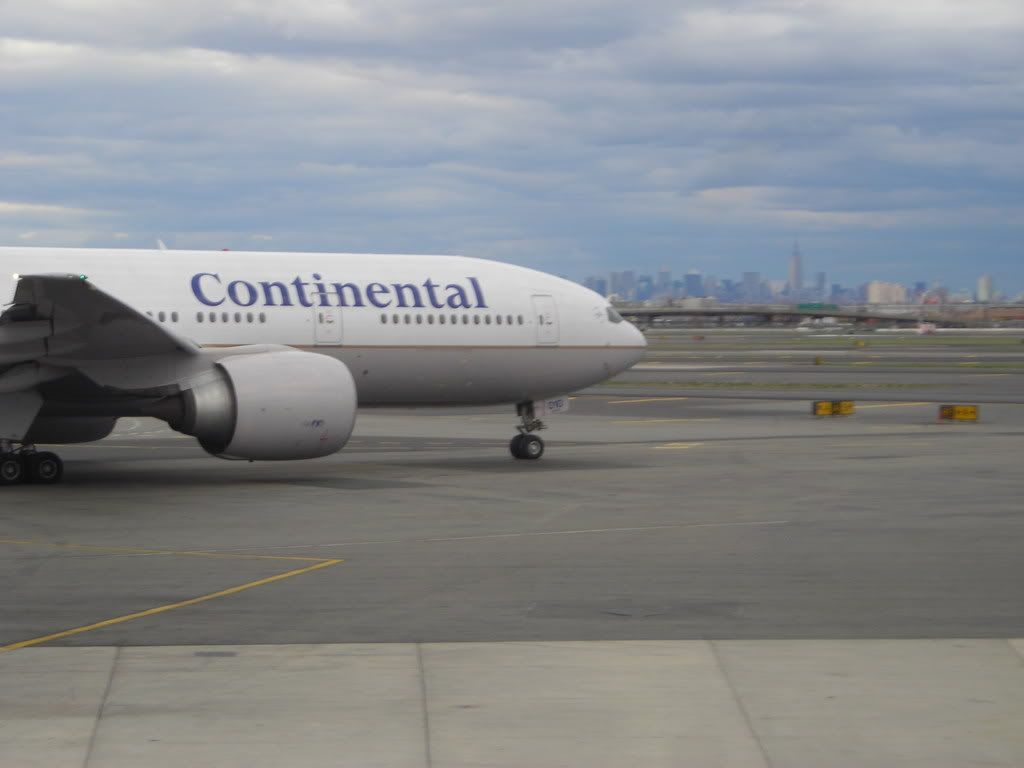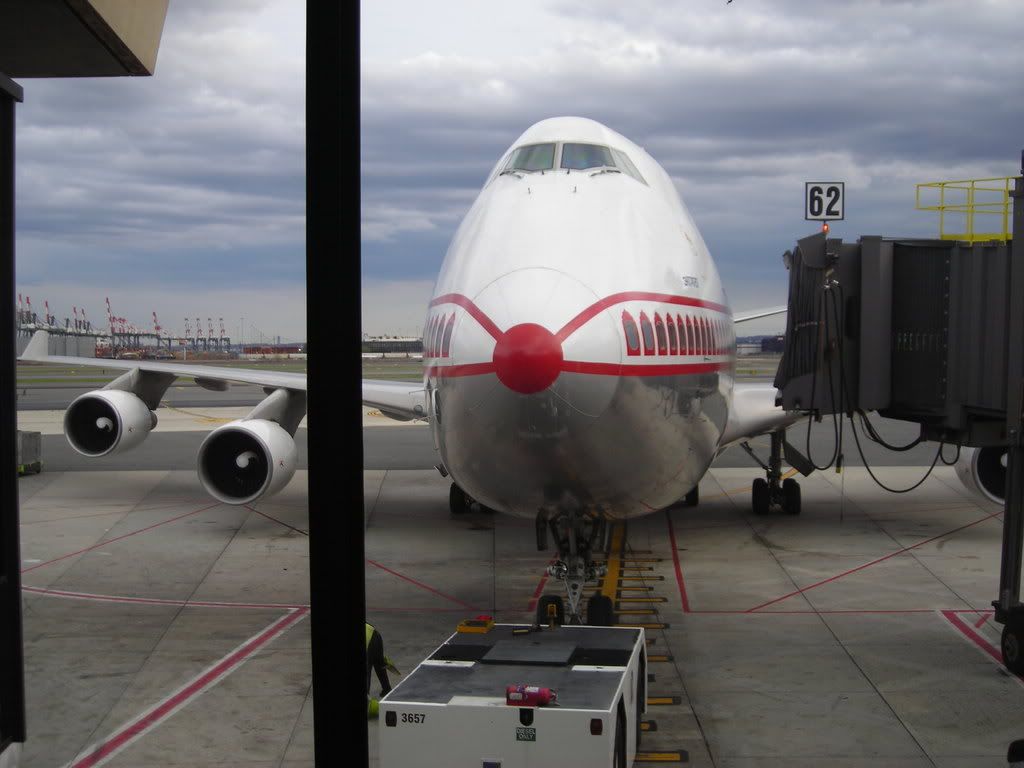 Boarding time approached so I sat near the gate (I was in a remote part of the gate area, but had to change as a seemingly *very* loving couple found it sufficiently remote to began kissing and... hmmm... a bit more, totally ignoring my presence). Boarding began at 20:30 and push-back occured 40 minutes later. I went to my seat 32C, with a young woman occupying 32A (32B remained empty). She slept during litterally the whole flight, too bad I couldn't have her window seat... The taxi to runway 04L was the longest I ever experienced (52 minutes !), then we took-off towards the North-East (those looking through the windows must have had a great view of NYC at night !). Immediately after departure, the cabin crew came to offer a drink (I took a beer), then the dinner (choice of salmon or chicken, I took the chicken, with red wine). I have to say that once again, the whole meal tasted pretty good, and this time the IFE worked perfectly fine. After dinner, I tried to get some sleep, but as always when I travel during the night, I couldn't get much of it. Our routing was something like EWR, Trumbull, Hartford, south of Boston, Atlantic crossing, Cork, Bristol, some holding in the stack at Biggin Hill, then approach to LHR runway 27L. Upon reaching Europe, we were served a breakfast which was correct but nothing special. The captain announced some turbulence during the approach, but we didn't encounter any, and made a perfect landing on runway 27L, followed by a short taxi (for a change !) to terminal 4 where we arrived right on schedule.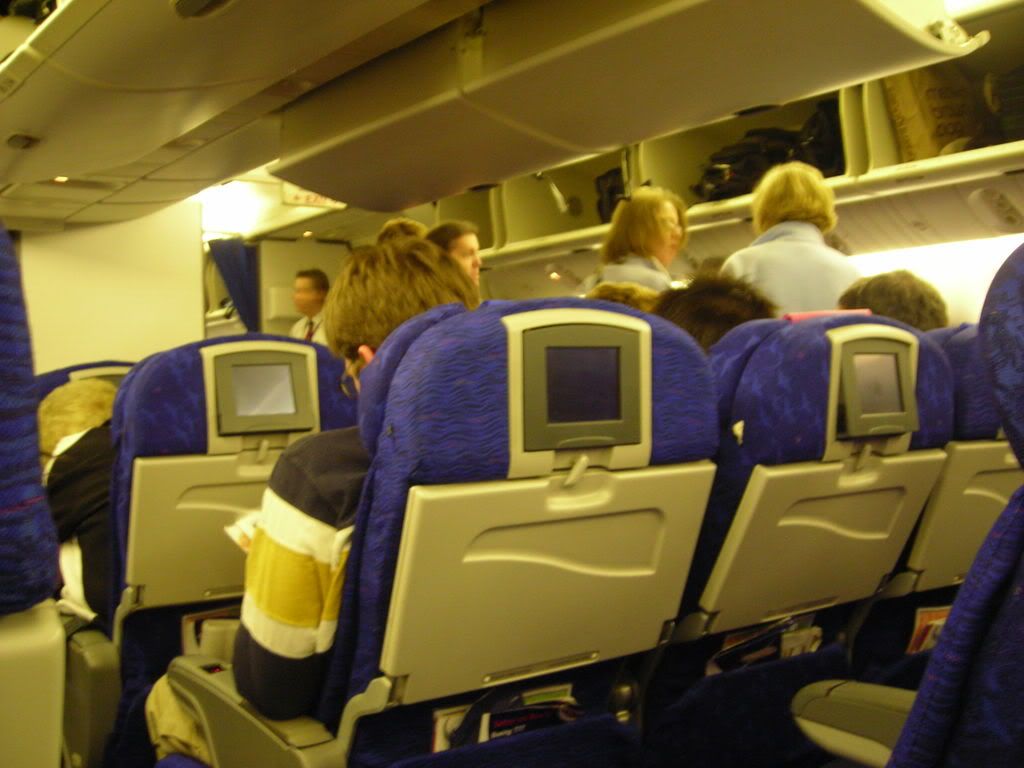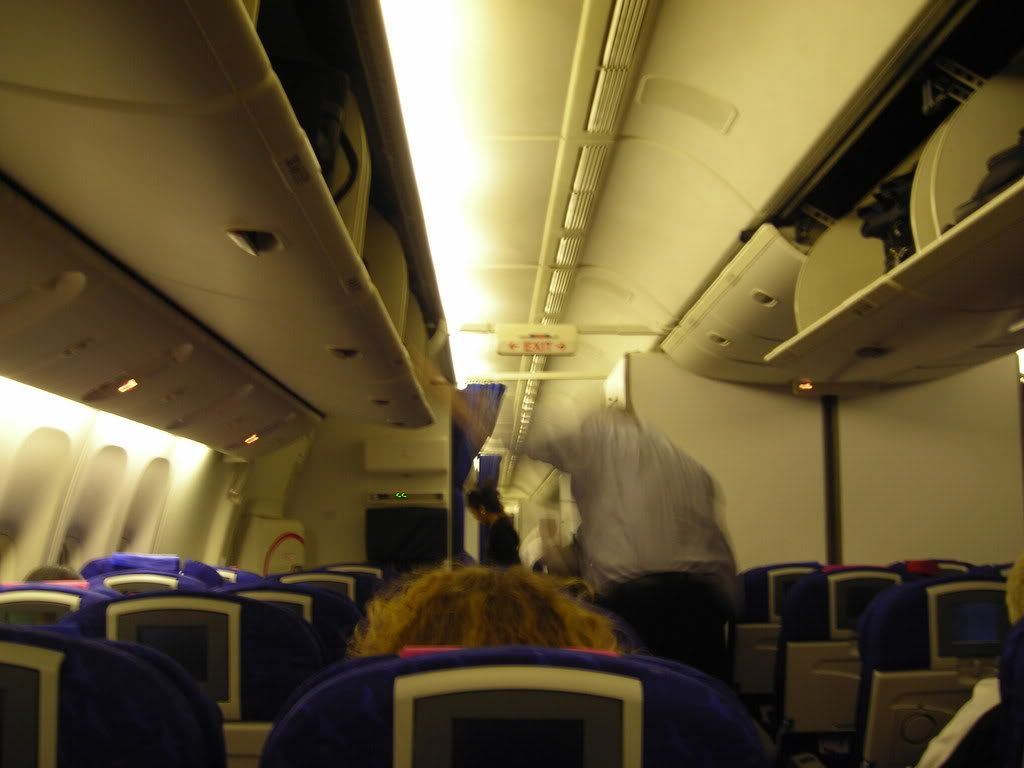 Boarding G-VIIL for BA 188 EWR to LHR.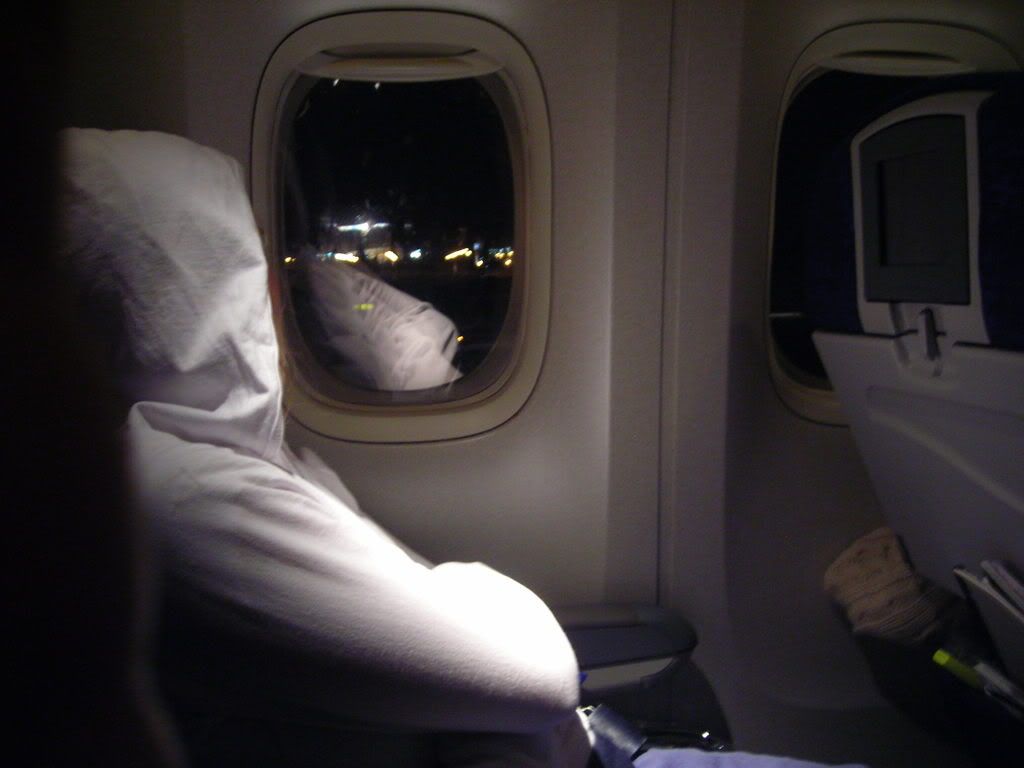 My seatmate, already sleeping during taxi.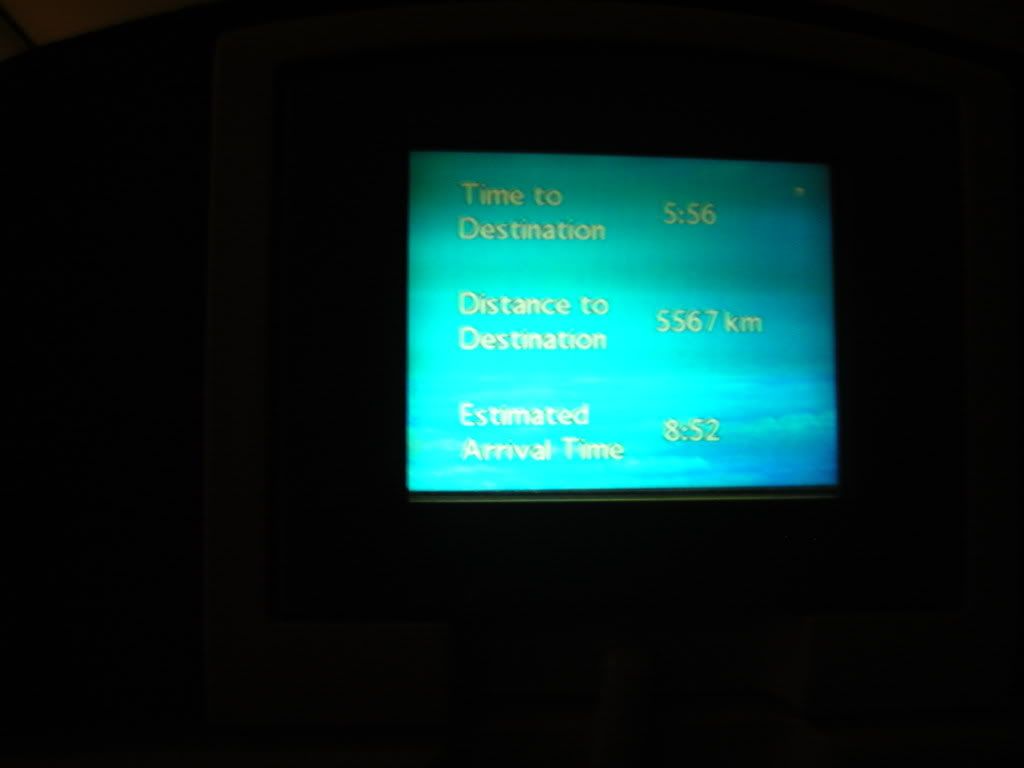 Still a long way to go...