I almost feel like this is a trip report, except I didn't really go anywhere.
I recently discovered that organized tours are now being given of San Diego's Lindbergh Field. The
Terminals To Tarmac Tour
gives you a behind-the-scenes adventure of SAN's daily operations and plans for future growth.
The tour begins at the Commuter Terminal, built in 1996: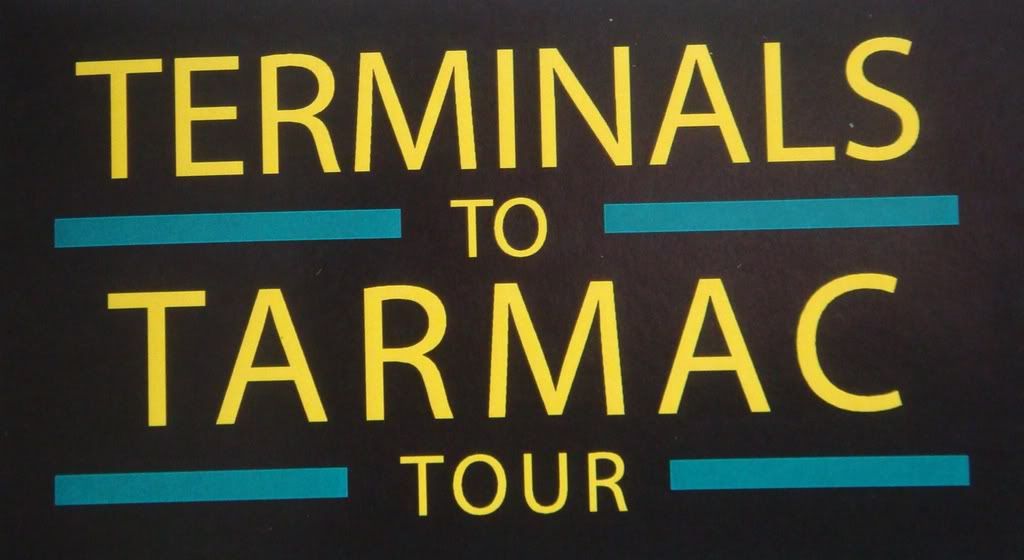 A brief introduction is done on the short bus ride from the Commuter Terminal to Terminal 1, then the walking tour begins in T1, constructed in 1967, home of 19 gates and the busiest Starbucks in San Diego County:
Between Terminal 1 and Terminal 2 is this "backyard" for traveling dogs: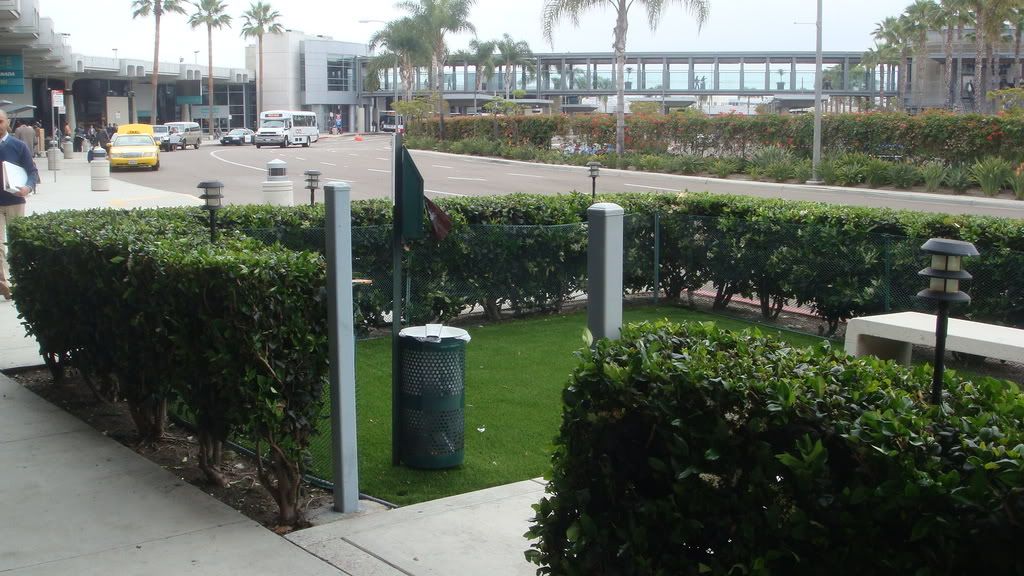 Good dogs get a drink from the doggie water fountain:
The Airport Authority works with local schools and artists to display their work throughout the airport. Here are some sculptures made completely of paper I thought were very cool:
The man himself, Charles Lindbergh:
Spirit of St. Louis replica:
T2 Window of Art:
T2 West down low, finished in 1998 (The original T2 - now T2 East - opened in 1979):
T2 up high:
A quiet T2 outside:
Future T2 West West. The Airport Authority is currently spending $60,000,000 to remove non-toxic waste (as this land was a landfill 50+ years ago). This will add 10 more gates to the airport and would allow United to get out of Southwest's way at T1. Could open as soon as 2011:
After the walking tour through T1 and T2, we boarded the bus and hit the tarmac. I quickly discovered the sun-deflective material on the window was not going to be my friend, but nonetheless the first plane we see up close is a DL 763:
F9 A319:
AA Super 80, AA1900 to DFW:
I feel like we should have honked at this guy for cutting us off, jetBlue A320, B6 273 from SLC:
Again, window tint not being friendly, but made for a kinda cool photo:
Taxiway busier the
The 5
:
A view of Pt. Loma, the hurdle for pilots at the west end of the one and only runway 27:

Lined up at the end of 27 (measuring 9400ft in length) facing east:
Since WN holds 35% market share at SAN, the Airport Authority thought they better invest in a $11,000,000 Engineered Material Arresting System (EMAS) for overrun safety.
The customized material is designed to crush under the weight of an aircraft providing a controlled deceleration:
"Spooky Eyes", jack-o-lantern looking balloons used to scare birds away from the runway:
SAN shares a property line with the San Diego's Marine Corps Recruit Depot. Take notice of the thin black wire than runs horizontally through the fence...this is a Perimeter Intrusion Detection System. Isn't the barbwire enough?? The alarm was installed because apparently Marine recruits didn't care what it took to escape boot camp, so they entered the airport's secured property:
SAN Fire, centrally located as they must be able to respond to either end of the runway in 3 minutes: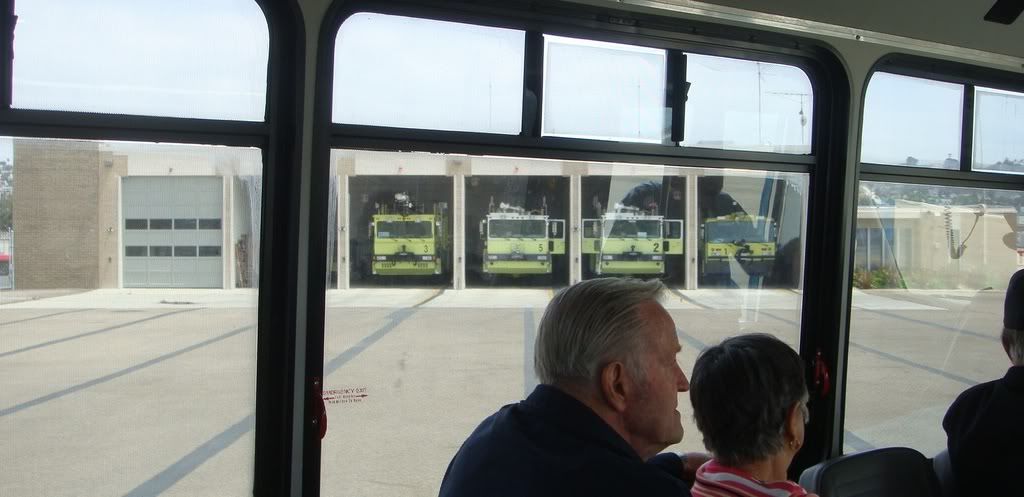 SAN Fire has a rare tanker that can penetrate foam through the skin of an aircraft, proof from their training:
US 1500, A321 to PHL, amidst the downtown growth: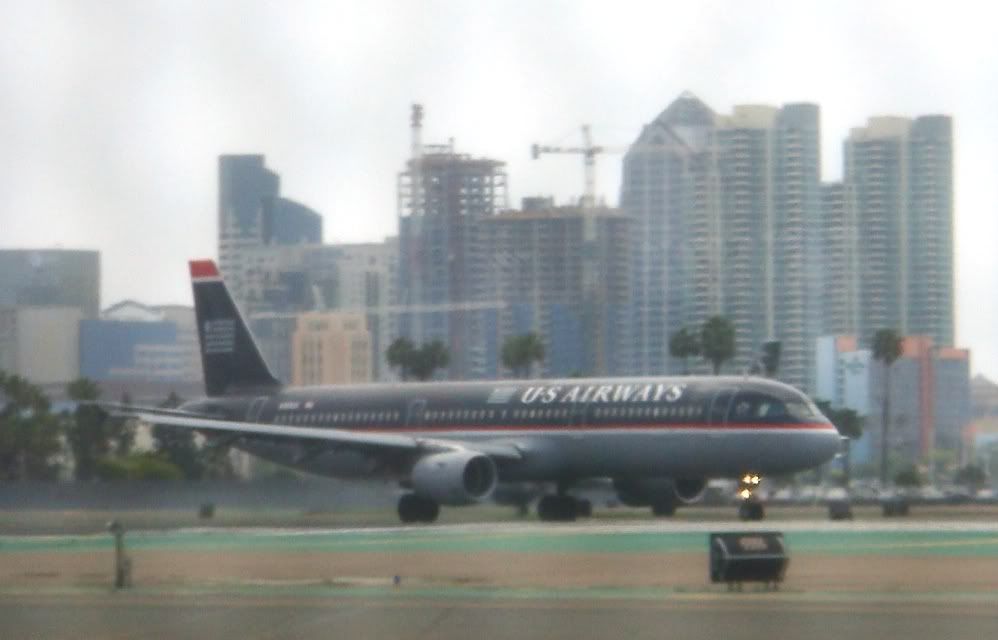 F9 A319 + San Diego skyline:
Is it a race to DEN??? Literally and figuratively, Southwest breathing down Frontier's neck. F9 558 to DEN & WN 2538 to SJC:
Our 767 buddy of to ATL, DL 776: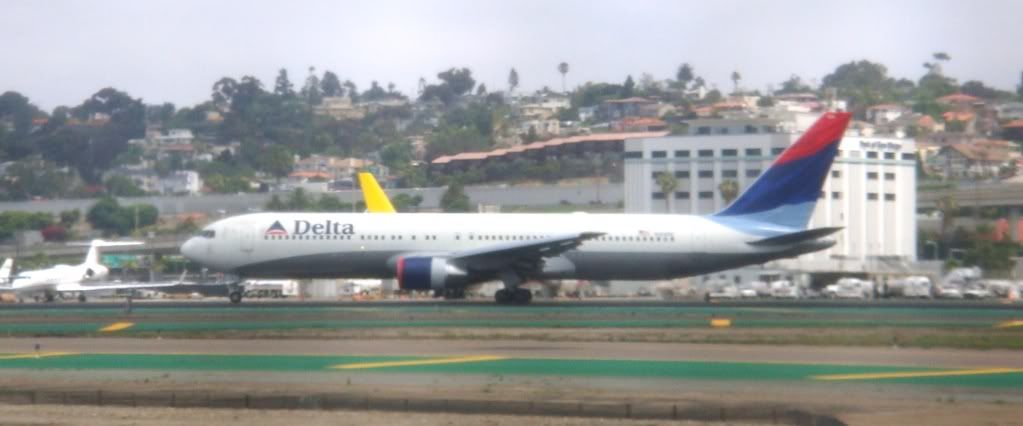 Midwest 2, 717 from MCI: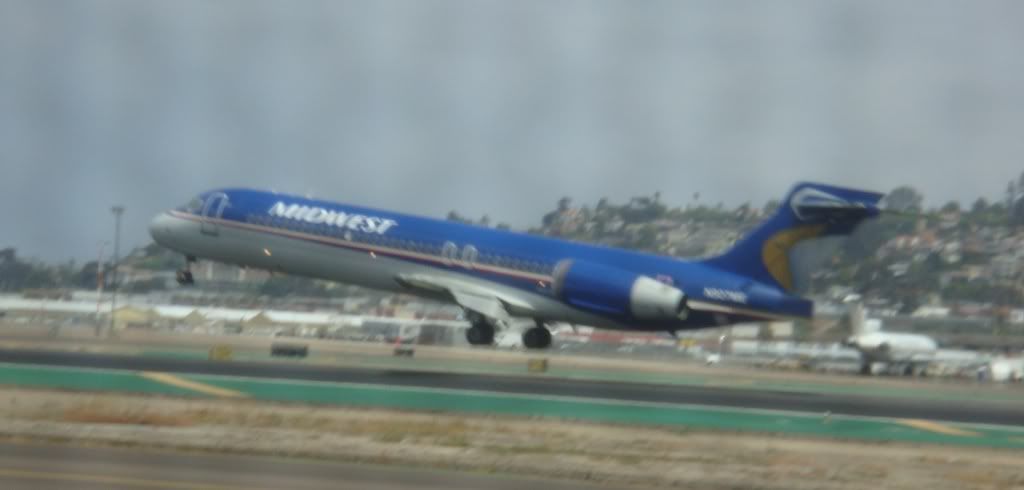 DL 1159, 738 from SLC:
The tour lasted just over 2 hours from wheels-up to touchdown.
At the end, I asked if Keith (SAN Airport Authority Director of Operations/our tour guide) if there were any new carriers we may see land at SAN in the near future. His direct answer was Zoom, June 20th. I didn't let him off the hook that easily, so he beat around the bush and said they are currently in talks with other airlines from Europe. I bounced British Airways back to him, he said you'll have to wait and see. I think it's fair to say BA is back on the table, as well as Lufthansa and Air France. When the 787 arrives, I believe more European and Asian carriers will more seriously consider serving us here in San Diego.
Overall, the tour was very informative, unique in that you view many new aspects of Lindbergh Field, learn more about the history and better yet the future and options (or lack thereof) on the table for the future of SAN, best of all...it's free!! I highly recommend joining in on a tour. I get the feeling these tours might be a short term affair, because their mission is to get your feedback on future plans at the airport. Go now, before it's too late!
As seen on NBC San Diego:
http://video.nbcsandiego.com/player/?id=182338
To book your own your tour, visit:
http://www.sanplan.com/signup_airfield_tour.asp
Thanks to Keith and Katie!!
Hope you enjoyed!!